Teas are beverages that have been loved around the world for centuries! From loose leaves to those that are already in bags that you just need to steep without straining, and many flavors from aromatics to fruity and minty and strong ones, they really came a long way. Teas also provide lots of benefits to our body like keeping our gut healthy, our skin looking great, or even relax and sooth our senses. There's a reason why it's the second most popular drink after water!
See what our readers think to help you decide on which tea subscriptions to try as they voted for what they think are the ones fit to be included in the list for the best tea subscriptions. See even more prime selections in our full list of tea subscriptions!
The Best Tea Subscription Boxes As Decided By Our Readers!
And here are those that are hailed as the Best Tea Subscription Boxes for 2020!
What you get: Each month, get four hand-selected, loose-leaf teas with added goodies and explore new flavors from Simple Loose Leaf Tea. If you're an adventurous tea drinker, you can try their different variants, from sweet to earthy and strong. You will definitely find your perfect cup of tea.
Check out our Simple Loose leaf Tea Reviews to know more!
Price: The subscription costs $10 per month.
Deals:
Get $3 off on your first tea order! Use coupon code 3B1TEA.
Get $5 off on your first box! Use coupon code 05BOX001.
---
What you get: If you want teas that match you and you'll definitely enjoy, Sips By is giving you the freedom to taste teas from different brands around the world! Each month, receive four premium teas that are matched to you based on your Sips By profile. They also include disposable tea bags for your loose leaf teas.
See our past boxes by visiting the Sips By reviews page to know more!
Price: The subscription is $15 per month.
Deal: Get 50% off your first monthly box! Use coupon code HELLOSUBSCRIPTION.
---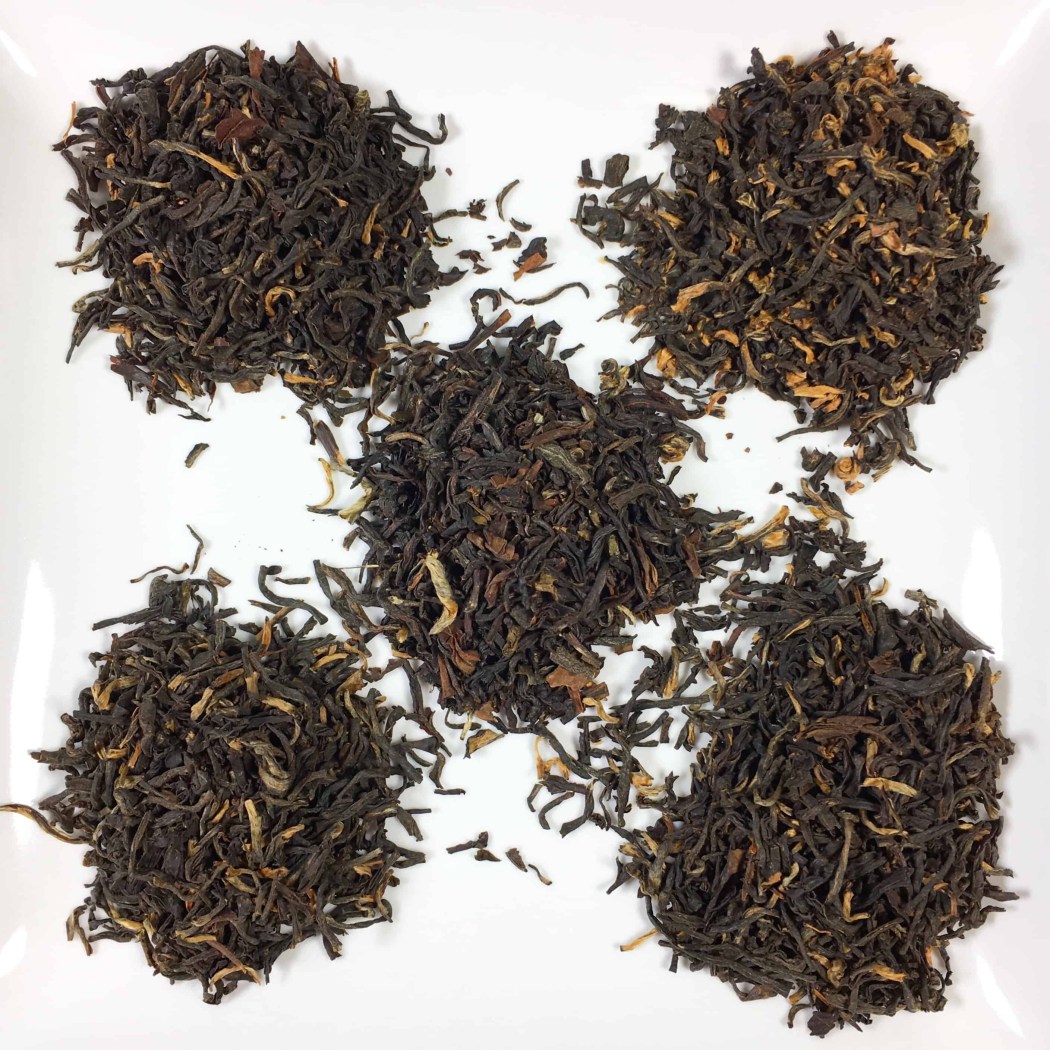 They send a lot of tea each month, plus a variety of flavors. It's very tasty tea, nothing artificial. -Debbie
What you get: Enjoy the freshest teas from Darjeeling, Nilgiris, and Assam, from India, with TeaBox! You can have teas from healthy greens to rare whites, and they are also made from all-natural ingredients. Each month, receive 5 new teas based on a theme, and one more thing, it's free shipping!
Find out more about this subscription by visiting the Teabox reviews page!
Price: You can get the box for $29.99 each month, with discounts for longer subscriptions, and no extra charge for shipping.
Deal: Get 20% off Teabox subscriptions! Use coupon code TEACLUB20.
---
What you get: A tea subscription started by tea lovers, Tomotcha selects an authentic Japanese tea and ships it worldwide from Osaka each month, for tea lovers and people who are just curious about Japanese teas. If you want to broaden your palate and try different teas from the different regions of Japan, you've stumbled upon the perfect box!
See more of this subscription by checking out our Tomotcha reviews page!
Price: The subscription costs $20 per month.
---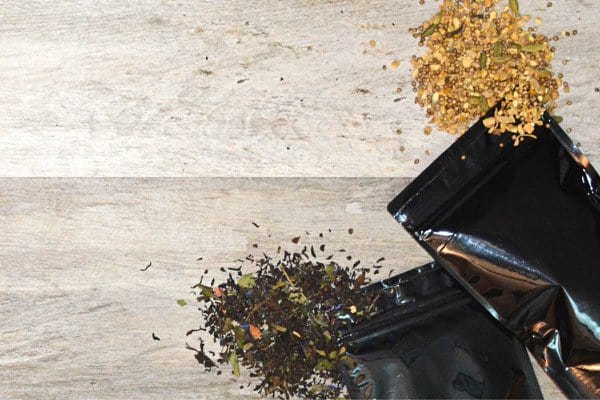 What you get: With Capital Teas, you can get three 1-oz. foil bags of hand-selected teas from their vast collection of over 200 organic and natural flavors, plus a foil bag of 10 pyramid tea sachets, and some cool tea accessories. You can experiment with their new flavors while growing your tea collection!
Price: The subscription box costs $19.95 per month, plus free shipping
---
What you get: MyTeaBox is a canadian tea subscription ships from the East Coast and sends three delicious bags of teas, enough for 5 cups of each tea (or 15 cups altogether). Get fun new blends like green, black, rooibos, herbal, white, fruity, flowery, bold, light, smooth, sweet and tangy.
Check out the MyTeaBox reviews page and find out more!
Price: The subscription is $24.99 CAD ($19.15 USD) per month, and ships free in North America.
---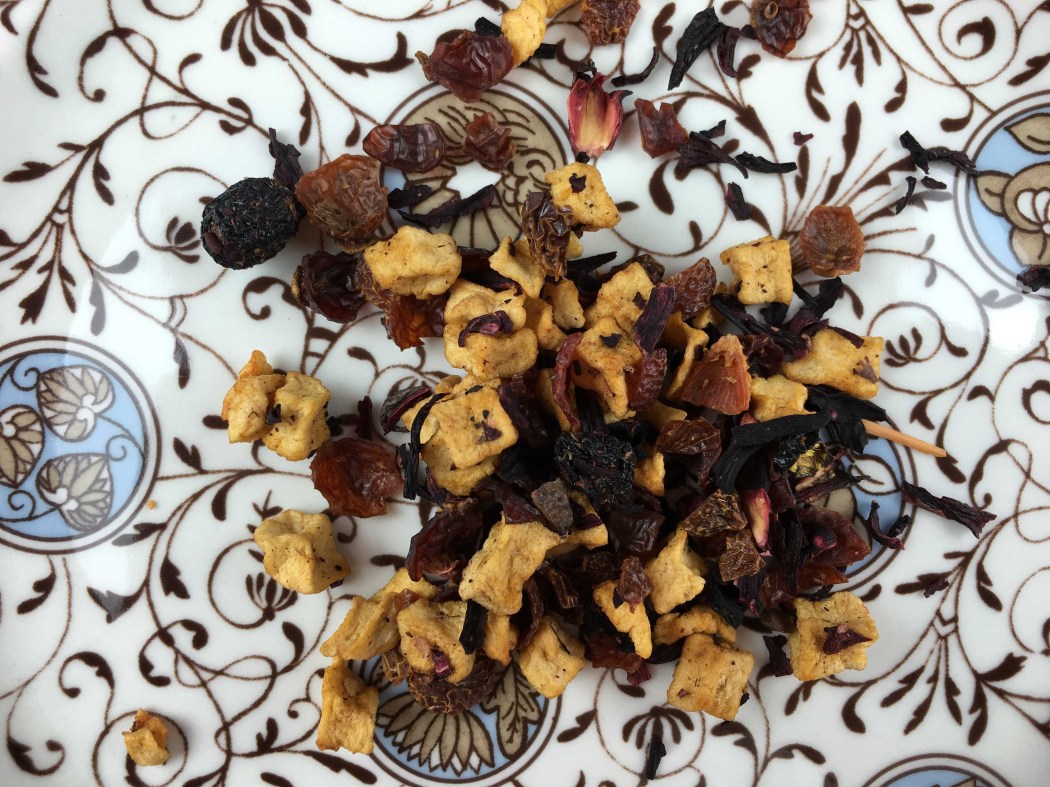 What you get: Every 2 months, receive fresh loose teas that will let you discover new and amazing flavors that will tickle your senses. Adagio Teas source their teas from the most delicious ingredients currently available. You can also choose from their varieties: black, flavored, decaf, herbal, green or oolong teas. Each month, they will send two bags of loose leaf teas that match the general type of teas that you select.
Check out our Adagio Teas reviews to know more!
Price: Subscription starts at $6.99 each month. 
---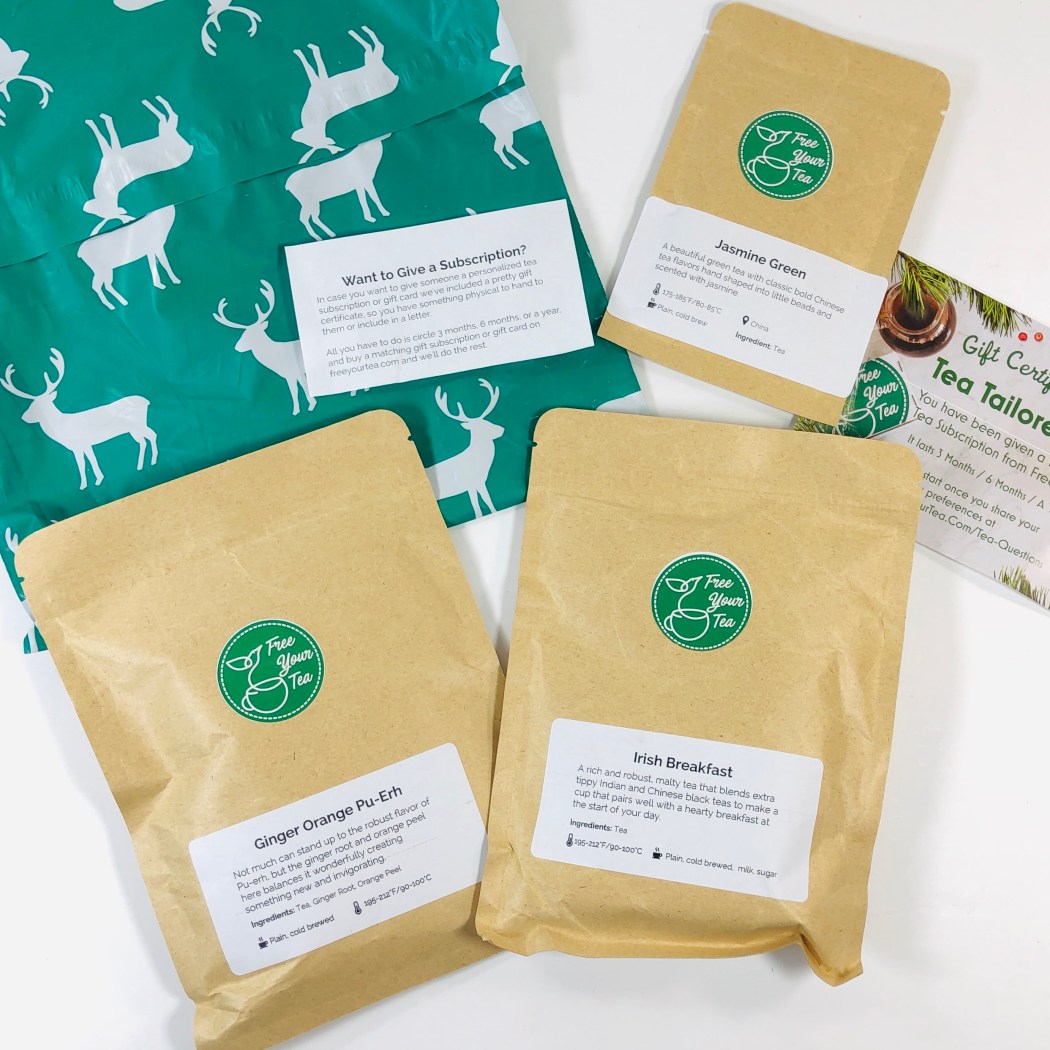 What you get: You can rate their teas first before getting the one that really suits your taste! In your first month, you'll get 6 samples of Free Your Tea that you will rate on their website, and the next month, you will receive a large bag of tea plus another sample so you can keep on discovering new flavors and flavors that can be a potential favorite. You can also gift this box to a tea lover you know!
See more about this tea subscription by visiting the Free Your Tea reviews page!
Price: The subscription starts at $16 per month, and save more when you get the 3-, 6-, or 12-month subscription for $19, $18, and $16 each month, respectively.
Deal: Save 10% on 3+ month prepaid subscriptions! Use coupon code HELLOPREPAY.
---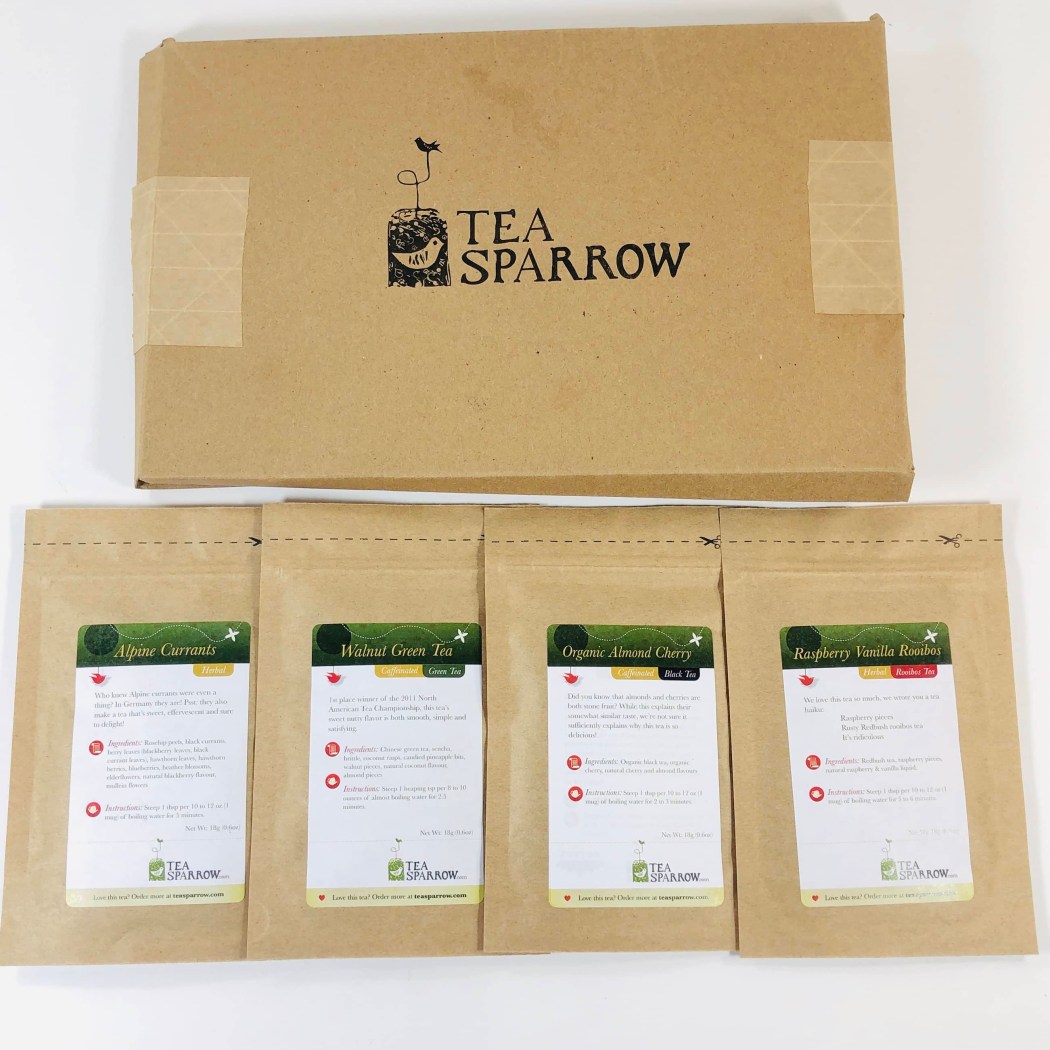 What you get: Tea Sparrow will send you four packs of high-quality tea that are also free from artificial ingredients and have been specially selected by tea tasters who sends only the best teas. You can choose from an assortment of traditional loose-leaf teas or caffeine-free herbal ones.
Check out the Tea Sparrow reviews page to know more!
Price: The subscription costs $20 per month.
Deal: Get 20% off everything, including the first month of a subscription as well as one-off tea purchases! Use coupon code welcome20.
---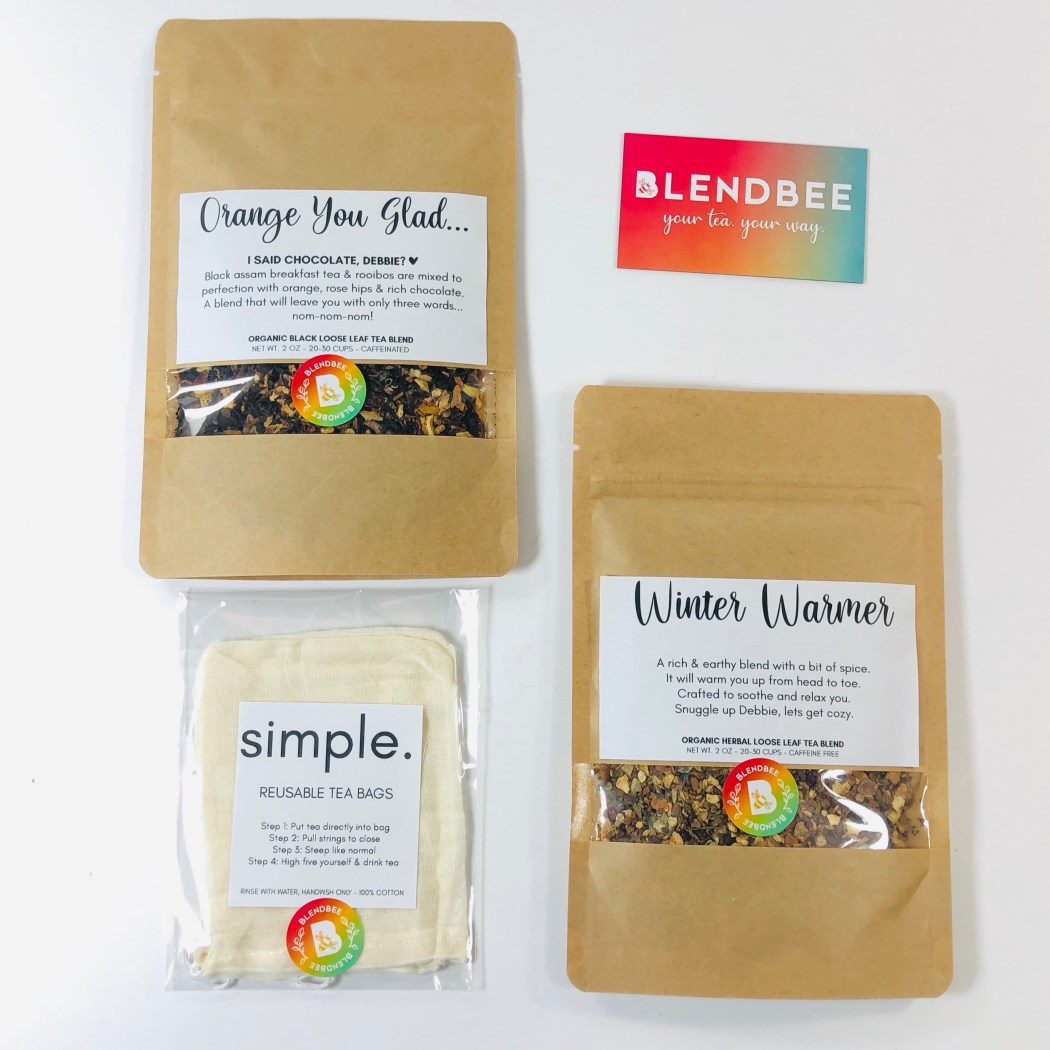 What you get: You will receive 2 personalized bags (with your name!) of delicious loose leaf tea blends each month. BlendBee Tea Club lets you choose your blends and choose the frequency of your shipment too, which can be monthly, every other month, or even once a quarter, and you can have caffeinated, decaf, or both, it will all depend on what you like! Also, they only use organic and fair-trade ingredients that you can enjoy or share with another tea lover!
Check out our BlendBee Tea Club Reviews to know more!
Price: The subscription box costs $25 each month, shipping included within the US.
Deal: Get 20% off! Use coupon code Hello20.
---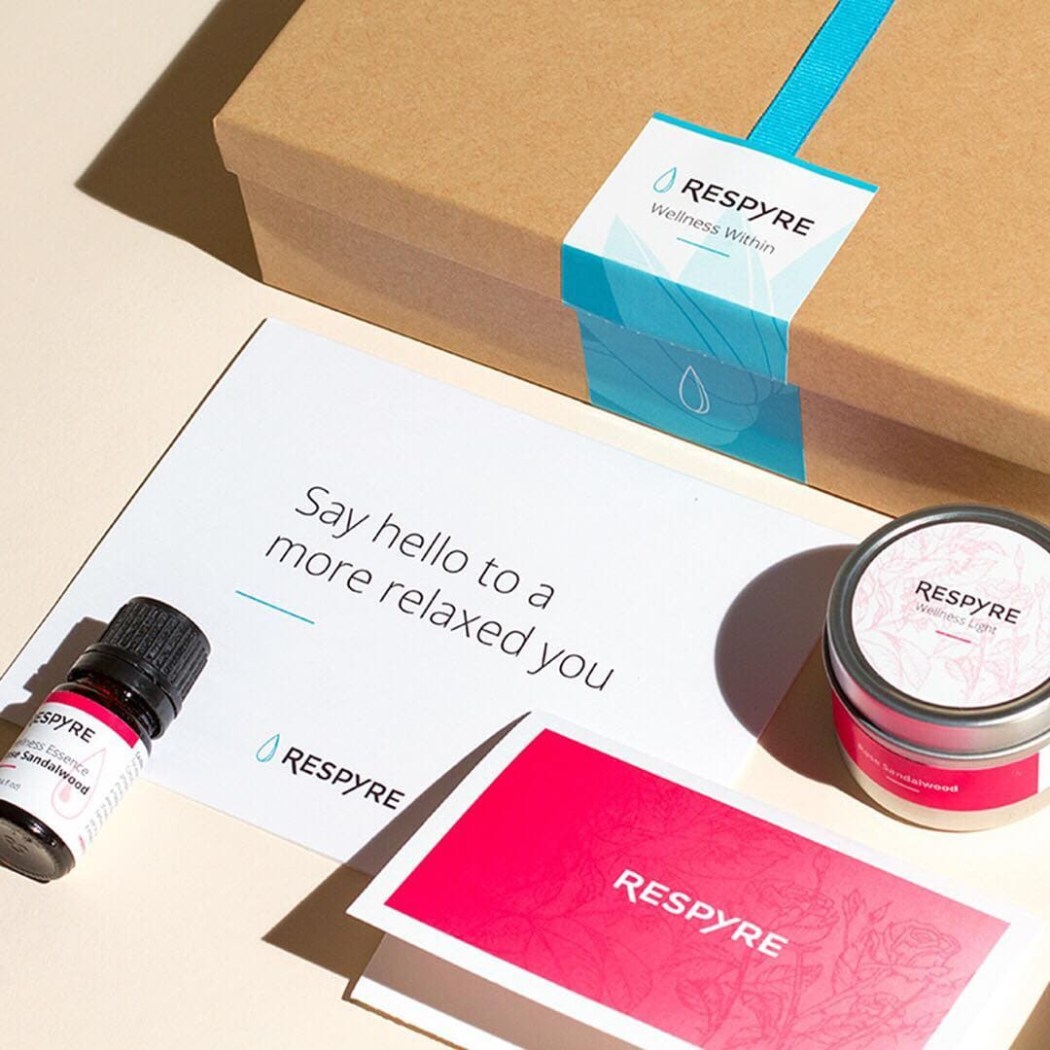 What you get: If you want to de-stress by sipping some warm and delightful teas, Respyre has got you covered. You can treat yourself with a seasonal collection of wellness essentials from this box that not only include loose leaf teas but they also come with essential oils, and a soy wax candle made with essential oils. Everything is 100% natural, it's the perfect routine when you just want to relax and pamper yourself!
Price: Subscription costs $14.99 per month, and save $6 or up to $36 when you go for a 3-month or an annual subscription, respectively. Shipping is $2.99 within the US, and $9.99 to Canada.
---
That's our best picks for the best tea subscriptions! Have your favorites made it to our list?
Don't forget to check out our readers' choices for all the best subscription boxes in every category!
Say Hello to more great subscriptions for tea aficionados!