Tea is a versatile and comforting beverage that can be enjoyed in countless ways. From the ritual of a morning cuppa to an afternoon pick-me-up or an evening wind-down, there's always a good reason to enjoy a cup of tea. For those looking to explore the world of tea and try new blends, tea subscription boxes offer a convenient and exciting way to do so.
Show More (9 items)
When it comes to tea subscriptions, the possibilities are endless. Not only can you discover new and exciting flavors, but you can also find unique and hard-to-find blends that aren't typically available in local tea shops. You don't even have to leave the comforts of your home to find them – simply wait for your package to arrive and indulge in a delicious cup of tea whenever you please!
We've narrowed down the best tea subscription boxes that offer only high-quality and delicious tea blends. Keep reading to find your perfect cup of tea!
The Best Tea Subscription Boxes For Your Daily Cup!
Here are the brands that are hailed as the Best Tea Subscription Boxes for 2023!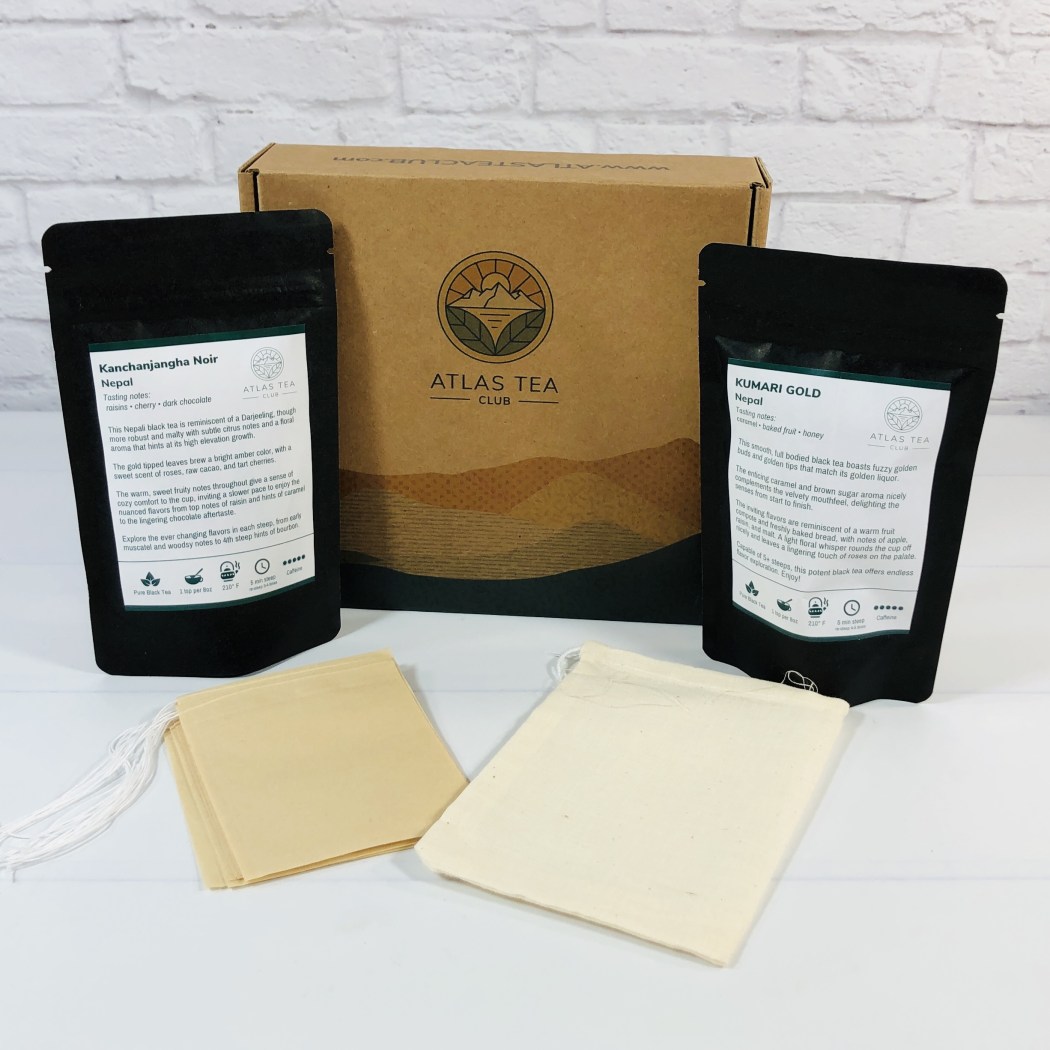 Image from: our review
Atlas Tea Club takes you on an exciting journey of tea discovery around the world! Enjoy new tea flavors each month while learning about different cultures and communities from where your favorite teas originate. Each box is a curation of the world's best single-origin tea, and it includes two new tea flavors you can't find anywhere else, accompanied by tasting notes, a postcard, and steeping tips. With this tea club, you can finally say it's your cup of tea!
Deal: Get 50% off your first subscription purchase! Use coupon code HELLOSUBSCRIPTION50.
---
Image from: our review
A real treat for tea lovers, Sips by is a tea discovery club that brings you premium top-rated teas from around the world – curated based on your unique preferences. Simply fill up a profile with your flavor and dietary preferences to get matched with amazing teas that have the potential to be your new favorites. Included in the box is a personalized insert with all the information you need to know about the teas, plus a drawstring bag with disposable tea bags to use for loose-leaf samples!
Deal: Get $8 off your first month of personalized tea! Use coupon code HELLOSUBSCRIPTION.
---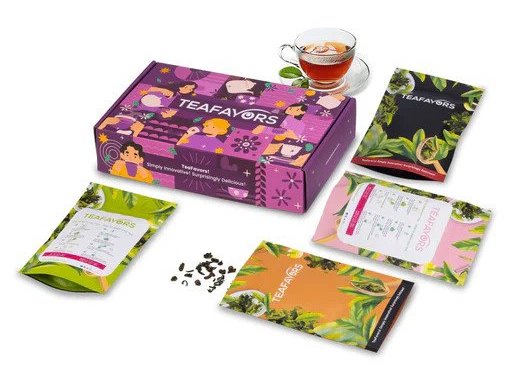 Image from: TeaFavors
TeaFavors offers green tea, black tea, rooibos tea, and fruit tea in each box, perfect for the tea lover who prefers a little bit of variety. Everything will be packaged in a colorful box, along with a booklet to serve as your guide as you explore your new-found tea flavors. Many of their teas are organic, vegetarian, and vegan, and they even give you information about the health benefits of each one so you can make the most out of it!
---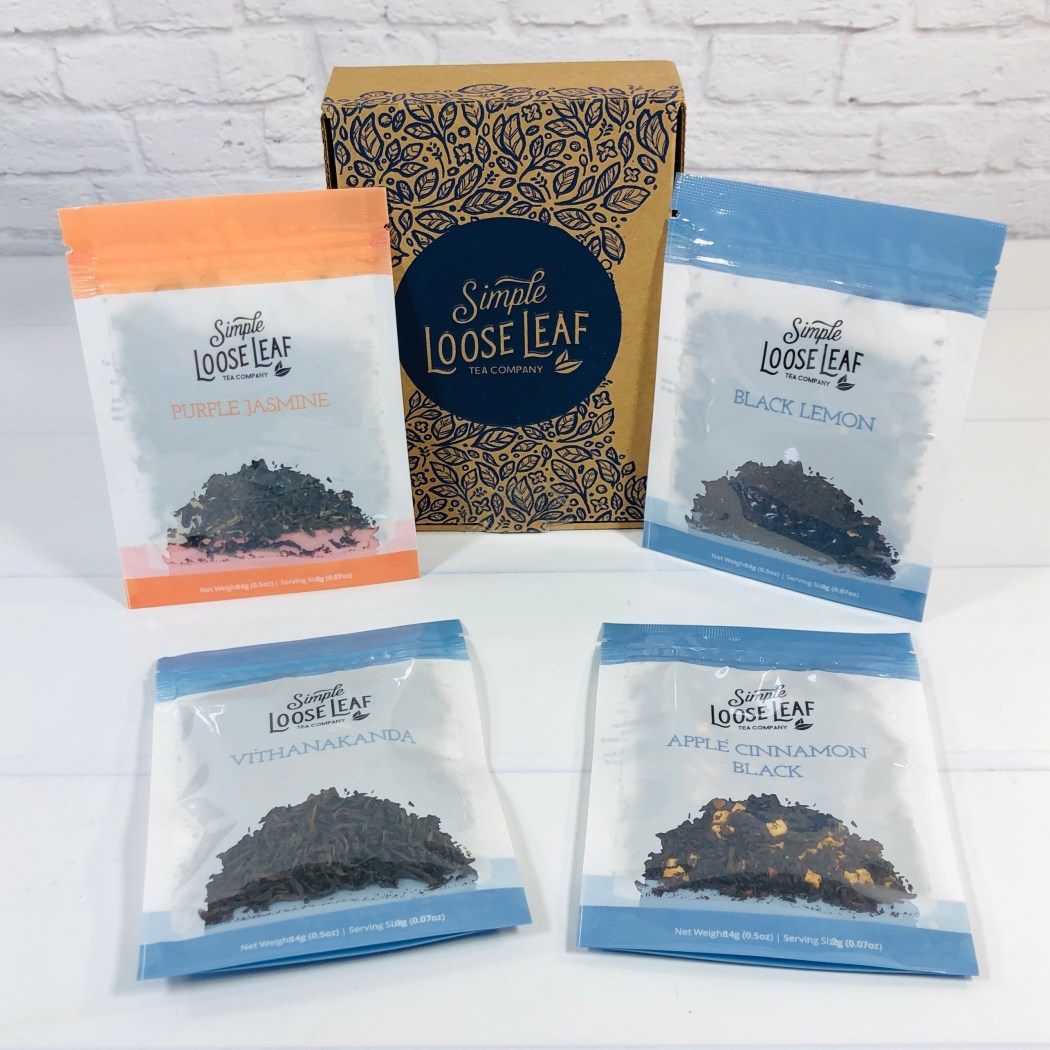 Image from: Simple Loose Tea Leaf
Simple Loose Leaf Tea is a subscription for anyone who enjoys drinking loose-leaf tea! Explore new flavors and get 2 to 4 hand-selected, loose-leaf teas with added goodies every month. If you're ready for a unique tea-drinking experience, you can try their different variants, ranging from sweet to earthy and strong. Just choose your ideal box type (Variety, Herbal Tea, Black Tea, Green Tea), and set a schedule of how often you want tea boxes delivered directly to your door! It also comes with helpful tasting notes and four USA-made linen filters for easy steeping. You will definitely find your perfect cup of tea in this box!
Deals:
Get 10% off on any gift memberships! Use coupon code 10TEABOX.
Get $5 off on your first box! Use coupon code 5TEABOX.
---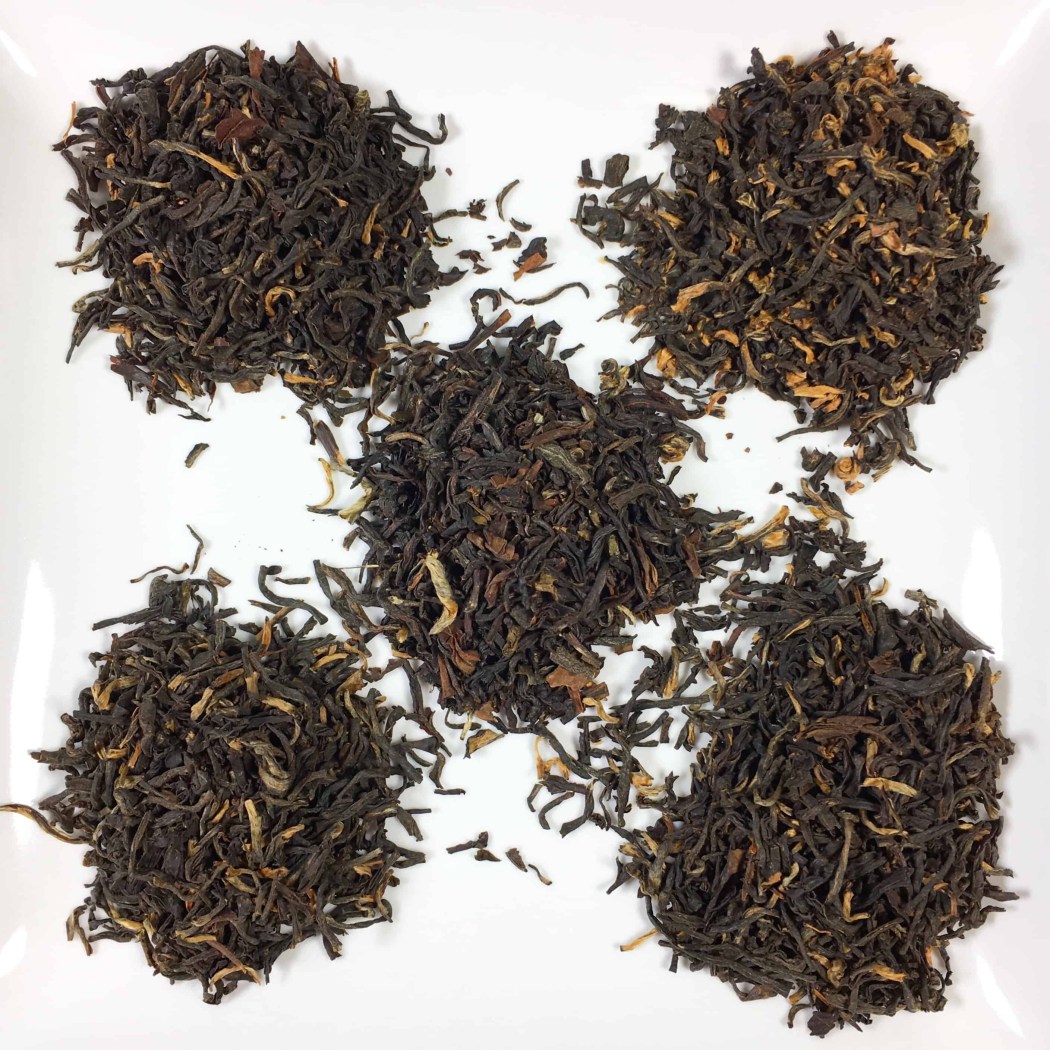 Image from: our review
TeaBox lets you enjoy the freshest teas from all over India. From Darjeeling to Assam, Nilgiri, Chai, and more, this subscription is a great chance for tea enthusiasts to discover the best Indian teas without having to travel abroad. Their aim is to break down the walls between tea growers and tea lovers across the globe by sending five new and exotic, yet familiar, teas based on a theme and without the hefty price tag. It's an ideal go-to subscription if you want the freshest Indian tea available!
Deal: Get 20% off Teabox subscriptions! Use coupon code TEACLUB20.
---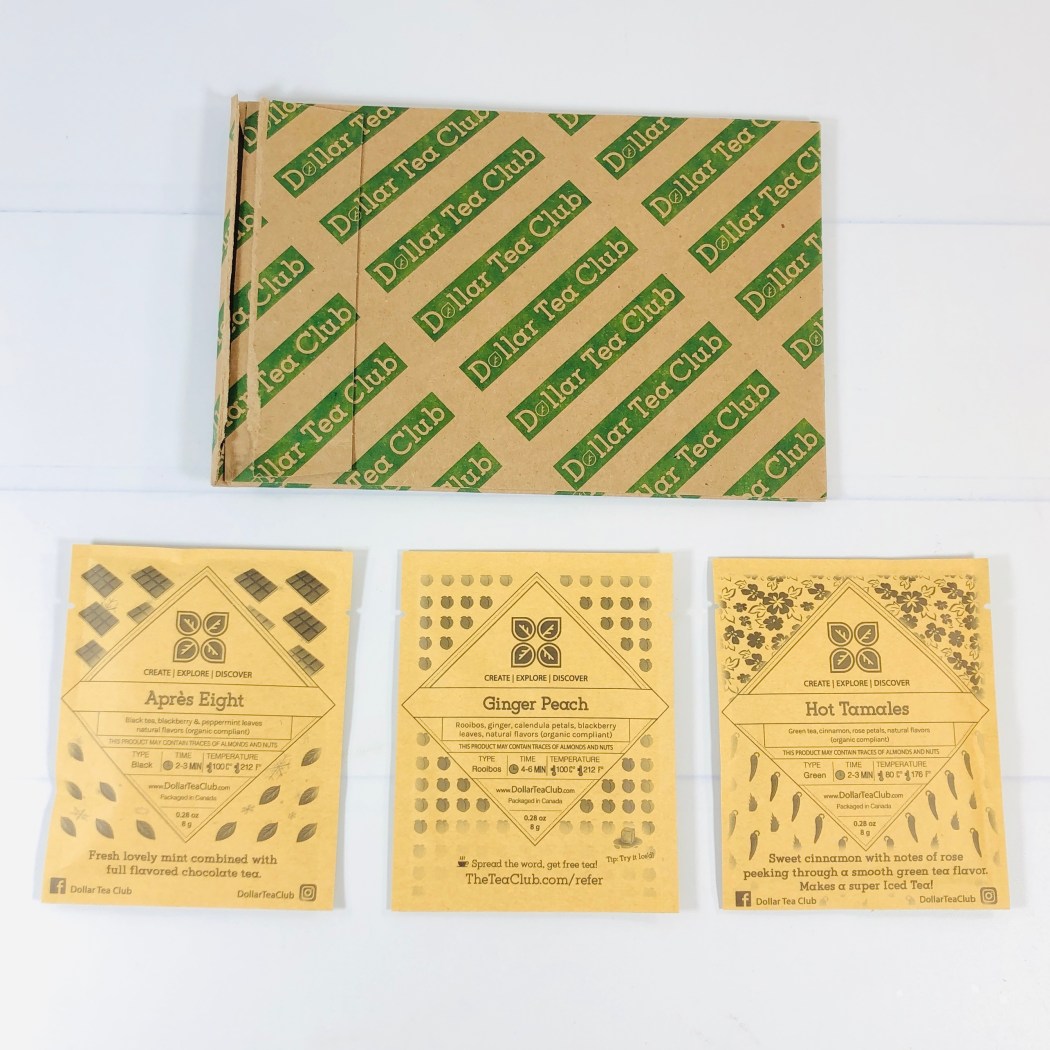 Image from: our review
Getting clean teas without splurging is possible with Dollar Tea Club. This monthly subscription sends loose-leaf teas made without artificial flavors. Choose a plan – The Explorer (3 new monthly samples), The Sensei (one 50g pouch, monthly samples, plus a little more), and The Sommelier, which sends you the perfect amount of tea based on how much you drink, monthly samples, plus filters and a tea infuser for the first order. With this tea subscription, you have a fun way to explore teas!
Deal: Save 15% on your first order! Use coupon code HELLOSUB15.
---
Image from: our review
Get unique tea blends created in-house by Plum Deluxe at their Oregon-based studio! This Tea of the Month Club delivers delicious seasonal flavors directly to members – join to steep fresh and organic teas comfortably in your home. You'll receive one or two teas per month, depending on your chosen plan. Aside from your teas, you'll also get sample tea from their shop, brewing instructions, tea pairings, and recipes to further enhance your tea-drinking experience. As a member, you'll get free shipping on all orders as well as members-only specials and discounts!
Deal: Get a bonus surprise tea in your first box! Must enter HelloSub in the "How did you hear about us?" Box. Use coupon code HelloSub.
---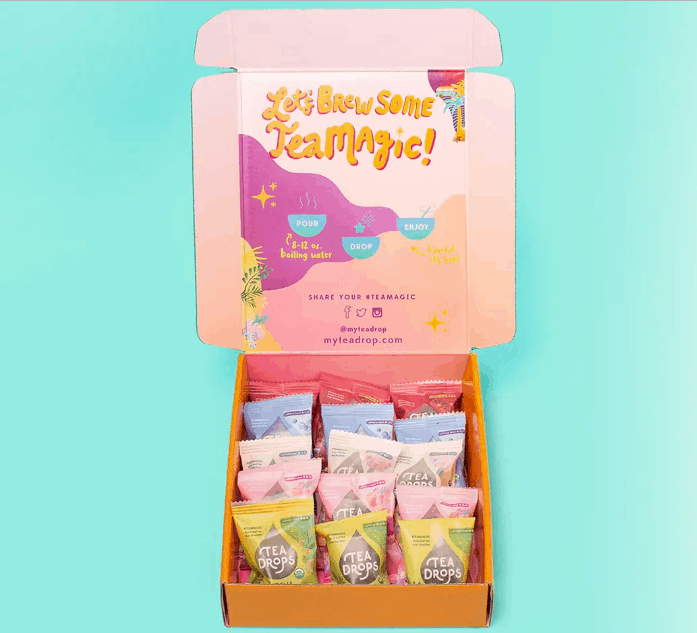 Image from: Tea Drops
Tea Drops is reinventing how we drink our tea! Instead of the usual tea bags, this eco-friendly subscription created tea drops to lessen waste. Every month, they send bagless, organic, whole-leaf teas for you to try – delivered right to your door on a schedule that works for you. You can also choose your tea varieties and the number of tea drops you want in your order. Such tea blends include apple pie, aloha pineapple chamomile tea, and blueberry acai tea. No tea bags are needed, just drop your tea in hot water, and let it steep!
---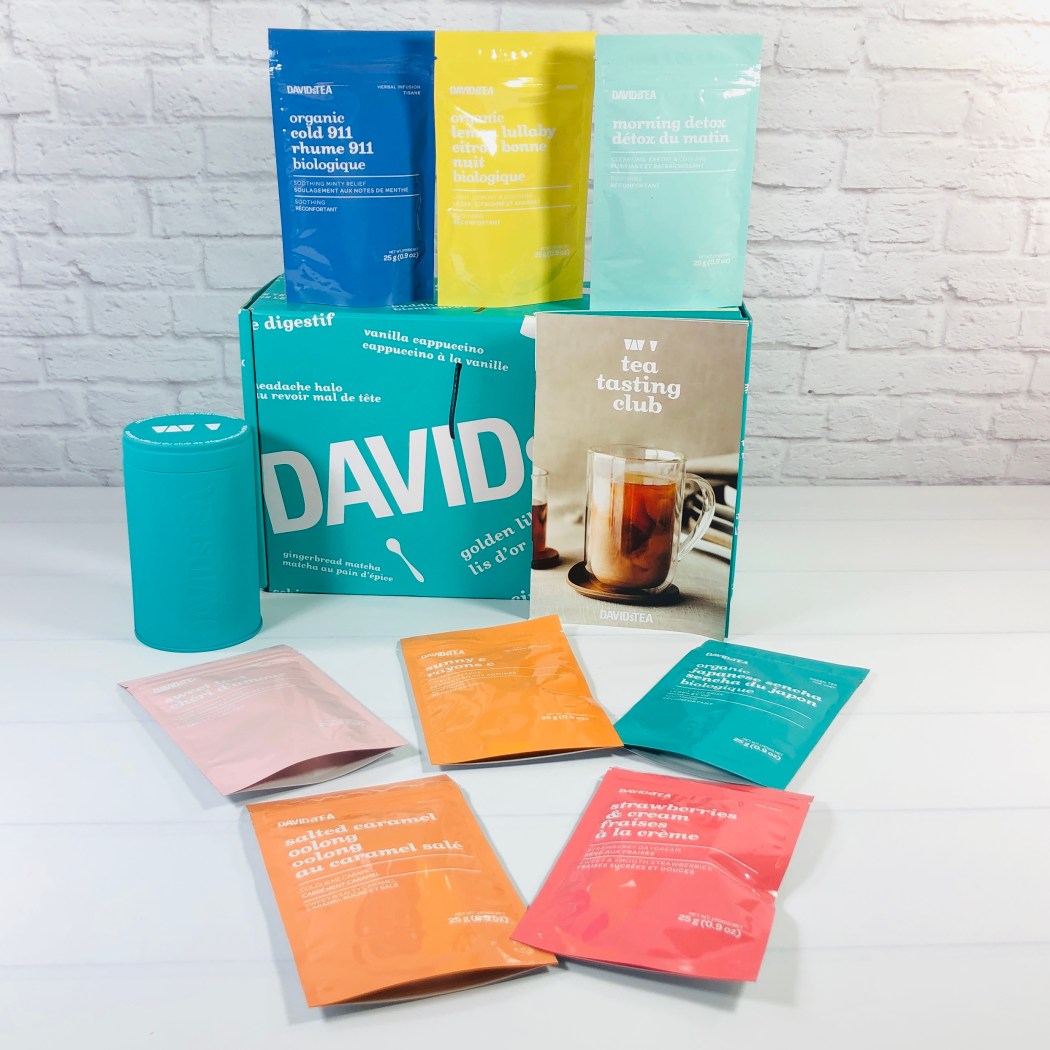 Image from: our review
David's Tea Tasting Club delivers tea boxes you can enjoy four times a year. They feature up to 8 blends per box, which is over 50 cups of tea! Explore your options and choose one of the their plans: David's Picks, Organic, Caffeine-Free, or Garden to Cup. With a full variety of seasonal newness and exclusive teas, you'll never run out of blends to enjoy. Did we mention that it's not just tea that's in there? There are other surprises too! Enjoy a calm afternoon sipping a warm cup of tea from this subscription.
---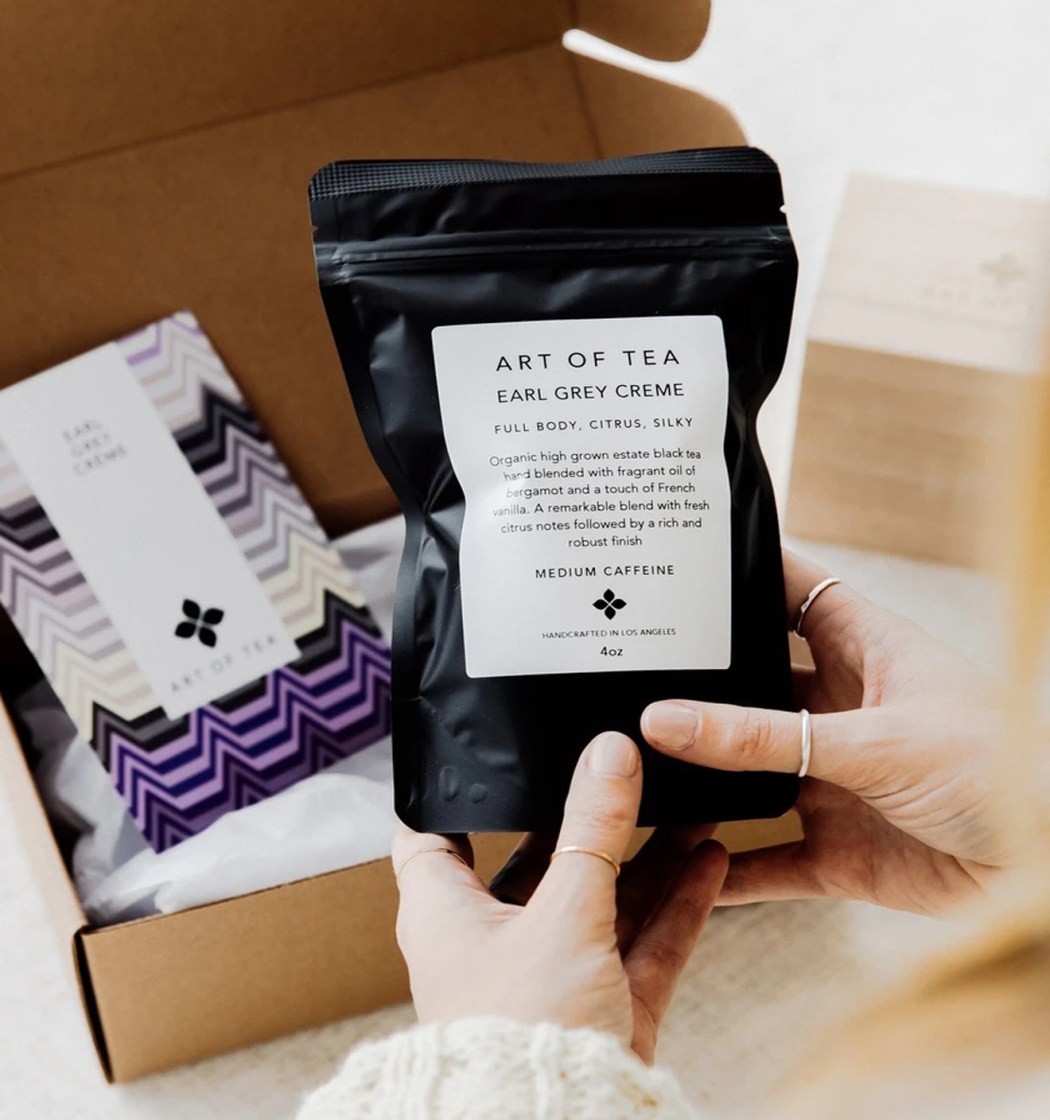 Image from: Art of Tea
Art of Tea turns you into a tea expert in no time! Learn more about the world of tea as each box will bring you new tea knowledge and discoveries surrounding tea. The Tea of the Month Club offers various tea categories: Caffeine-Free featuring herbal and botanical fusions, Classic which includes the best and most popular blends, Single Origin for the tea purists, Explore which covers exotic teas from around the world, Pyramid Tea Bags for the on-the-go tea drinker, and Wellness showcasing teas crafted with Ayurvedic principles.  Join and receive 2-4 ounces of tea (or 12 teabags) to steep and sip.
Deals:
Save 10% on your first month! Use coupon code HELLOSUB10.
Save 15% Off Any Order of $50 or More! Use coupon code HS.
---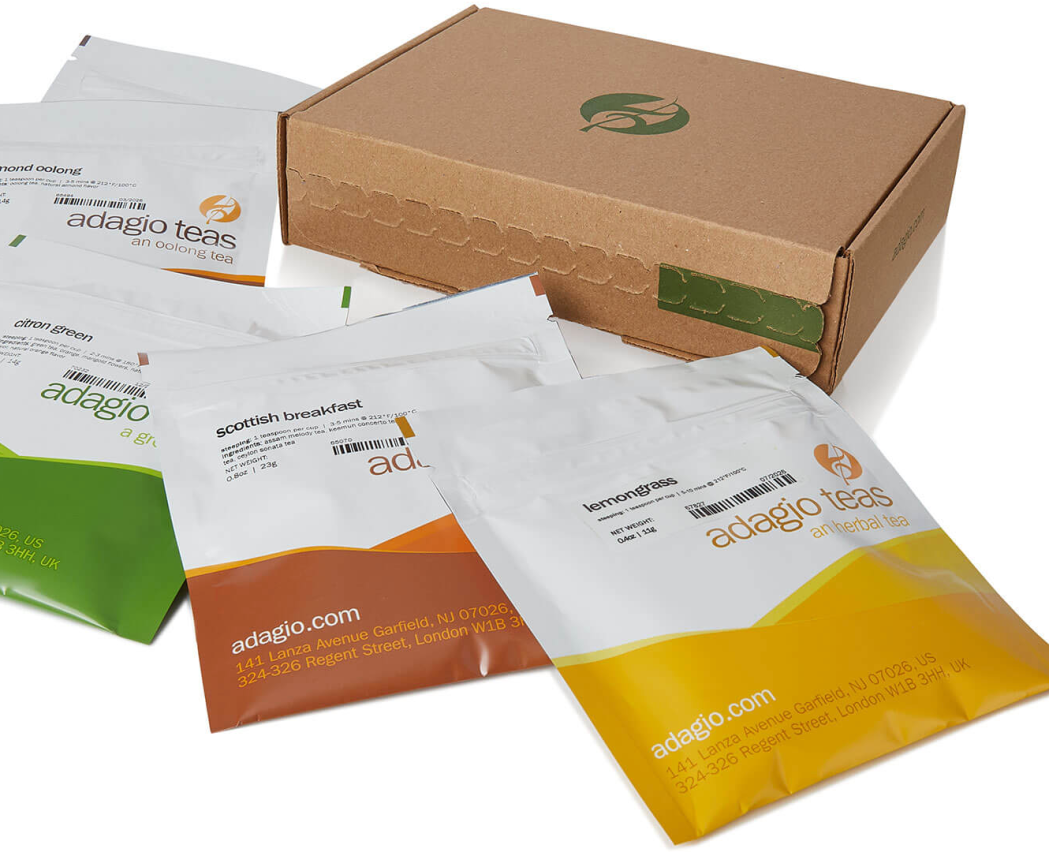 Image from: Adagio Teas
With Adagio Teas, you'll discover new and amazing flavors that will tickle your senses. These are made with the most delicious ingredients currently available to treat tea lovers to an assortment of fresh teas! Choose which of the three club varieties you want to be a part of – Popular Teas, Decaf Teas, or Gourmet Teas. Receive 5 sample-sized pouches of loose tea each month, with enough tea to make up to 50 delicious cups. You can also opt to join the communiTEA, where members receive one portion of loose-leaf tea for each day of the month!
---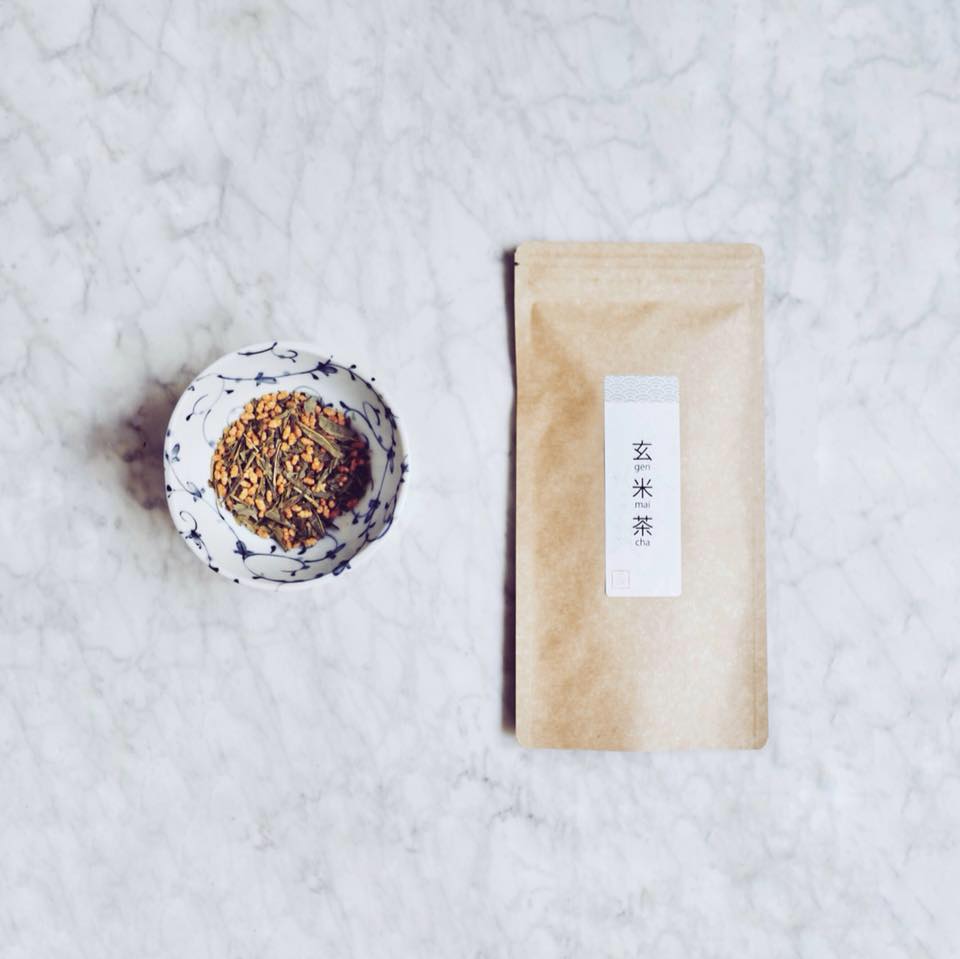 Image from: Tomotcha
Tomotcha selects authentic Japanese teas and ships them worldwide from Osaka each month! Tea types vary in each box because they want to help you discover the best Japanese teas, one brew at a time. It's an excellent subscription for anyone who wants to broaden their palate and try different teas from different regions of Japan! Whether you pair them with snacks or enjoy them on their own, you'll enjoy these teas that promote the Japanese tea-drinking culture.
---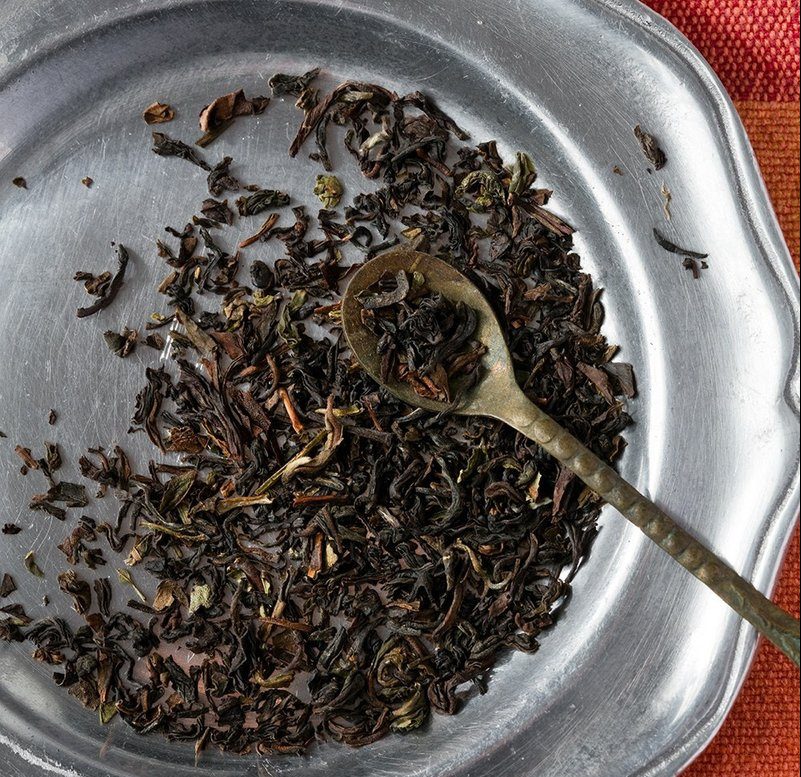 Image from: Harney & Sons Tea of the Month - Premium Loose Tea
Harney & Sons Tea of the Month – Premium Loose Tea lets you discover and taste premium loose leaf teas all year long. They'll send a variety of loose leaf teas to your door each month, which may include white, green, oolong, or black tea. It comes with exclusive information and brewing instructions so you can maximize your tasting experience! This tea club runs through a 12-month period, and for the first month, members will receive a teapot, a tea strainer, and the tea of the month with tasting notes.
---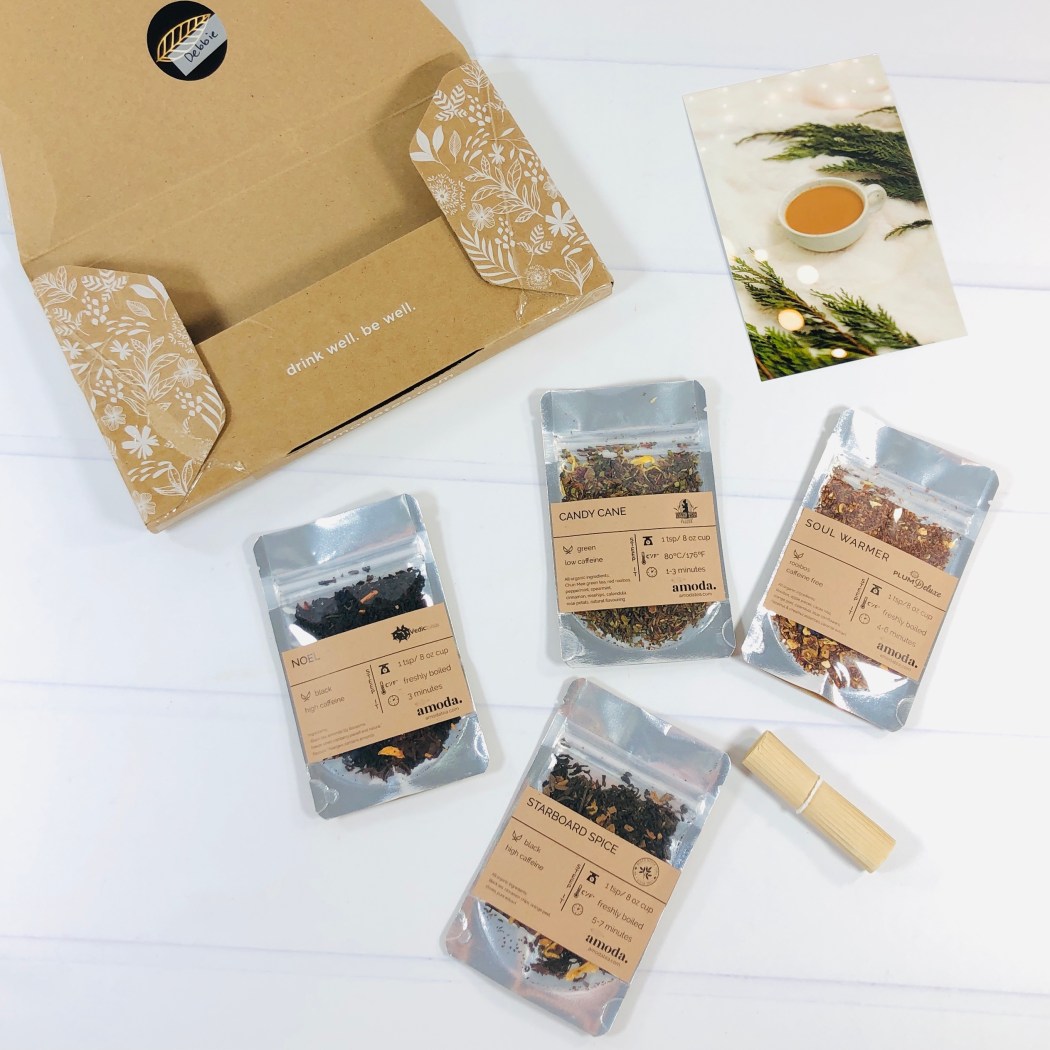 Image from: our review
Amoda Tea caters to tea lovers by sending all-natural premium and hand-selected teas carefully sourced from small, independent tea companies. There are two boxes available — the Original Monthly Tea Box, which includes a selection of premium teas with a variety of caffeine levels, and The Low Caff, which contains a mix of caffeine-free and low-caffeine teas. Each box includes four teas and biodegradable tea filters, along with tasting notes, and a collectible tea postcard. You can also add extra items to your box, like a perfect teaspoon or extra tea bags. In case you don't like the tea in your box, they'll replace it in your next box!
Deal: Get 40% off of your first month! Use coupon code HELLO40.
---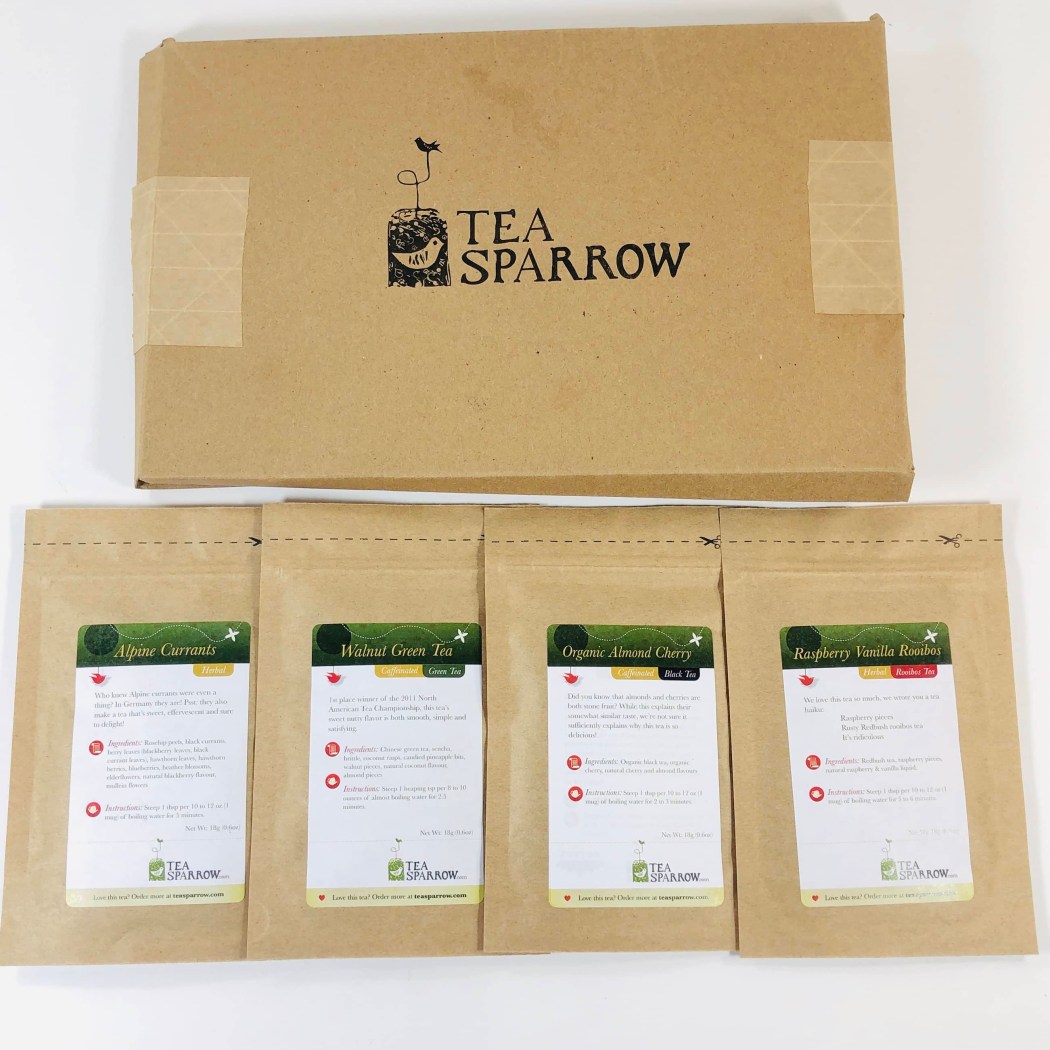 Image from: our review
Tea Sparrow brings your monthly tea fix right to your doorstep! They offer four subscription types: Original Box, Tea Bag Box, Herbal Tea Box, and Caffeinated Tea Box. Simply choose which matches your taste or drinking habits! Each box contains four packs of high-quality teas, all free from artificial ingredients and specially selected by tea tasters who know the best tea flavors. They offer loose leaf teas, as well as tea in fully compostable teabags!
Deal: Get 20% off everything, including the first month of a subscription as well as one-off tea purchases! Use coupon code welcome20.
---
That's our list of the best tea subscriptions! Have your favorites made it to the top?
Want to try more amazing subscriptions? Check out our list of all the best subscription boxes in every category!