Jewelry has the ability to add flair to anyone's style! Pairing clothes with fine sparkly jewelry can definitely spice up your look, whether casual or formal. Adding a little touch of accessory feels like magic that turns an ordinary fashion sense into a glamourous one. So for monthly (or maybe even quarterly) jewelry you can wear, there are subscription boxes that provide an excellent way to freshen up your look!
Jewelry subscription boxes and rental services come in handy, especially if you're in the look for beautiful pieces to match your outfit every day or on any occasion. Some are even customizable, so you can receive the type of jewelry that fits your preferences the most. There are also subscriptions that allow you to rent gorgeous jewelry pieces you can wear for however long you want and return them in exchange for a new set, while others send jewelry pieces for you to keep forever!
Whatever styles and tones you prefer, these subscription boxes will make it more fun for you! Here's our list of the best jewelry subscription boxes to jazz up your look!
The Best Jewelry Subscription Boxes To Try for Added Glam!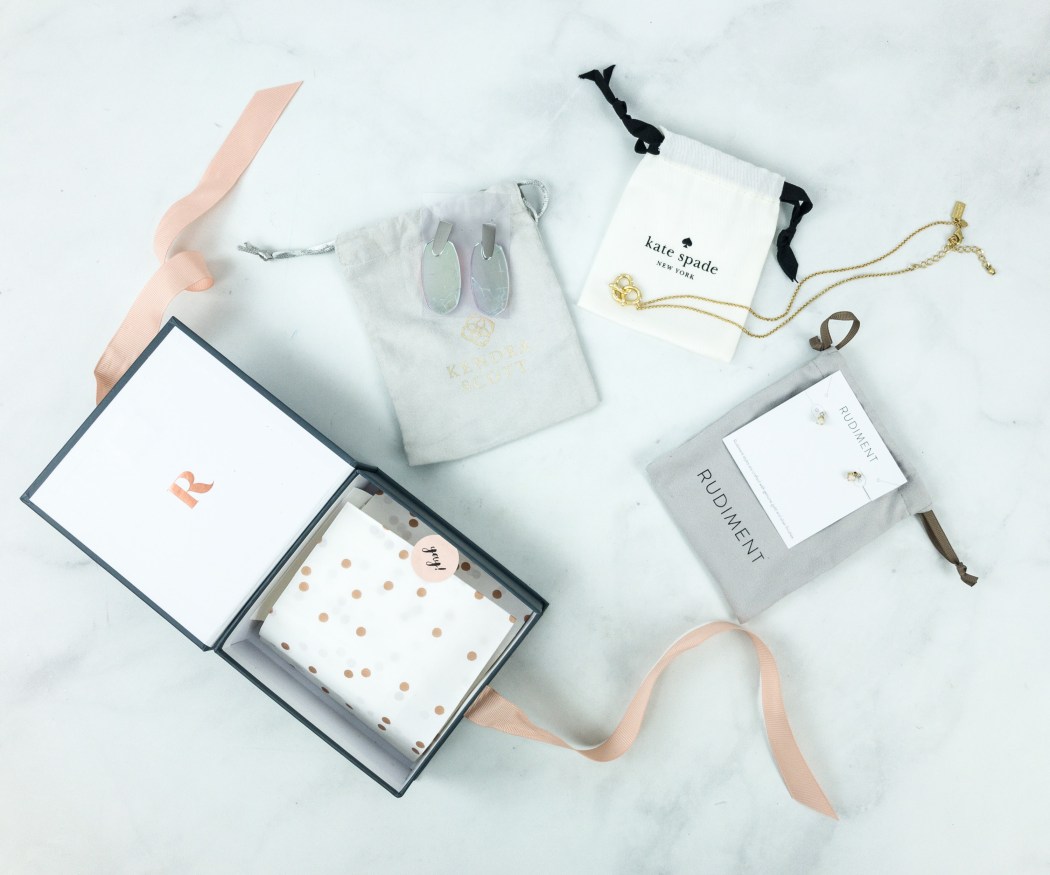 Image from: our review
Why We Love It: Rocksbox is an unlimited jewelry rental subscription that lets you try three designer pieces for a flat monthly fee! You have the freedom to express yourself through jewelry and experiment with different looks without breaking the bank! Upon sign up, you will take a quiz to determine your style, and then your stylist will curate your box based on your wish list and tastes. Wear them as much as you'd like, and return them whenever you're ready for a fresh batch! There's also a wish list that you can easily update to get the styles you'd like to try!
Price: The subscription costs $21 per month.
Deal: Get your first month free! Use coupon code mommysplurgexoxo.
---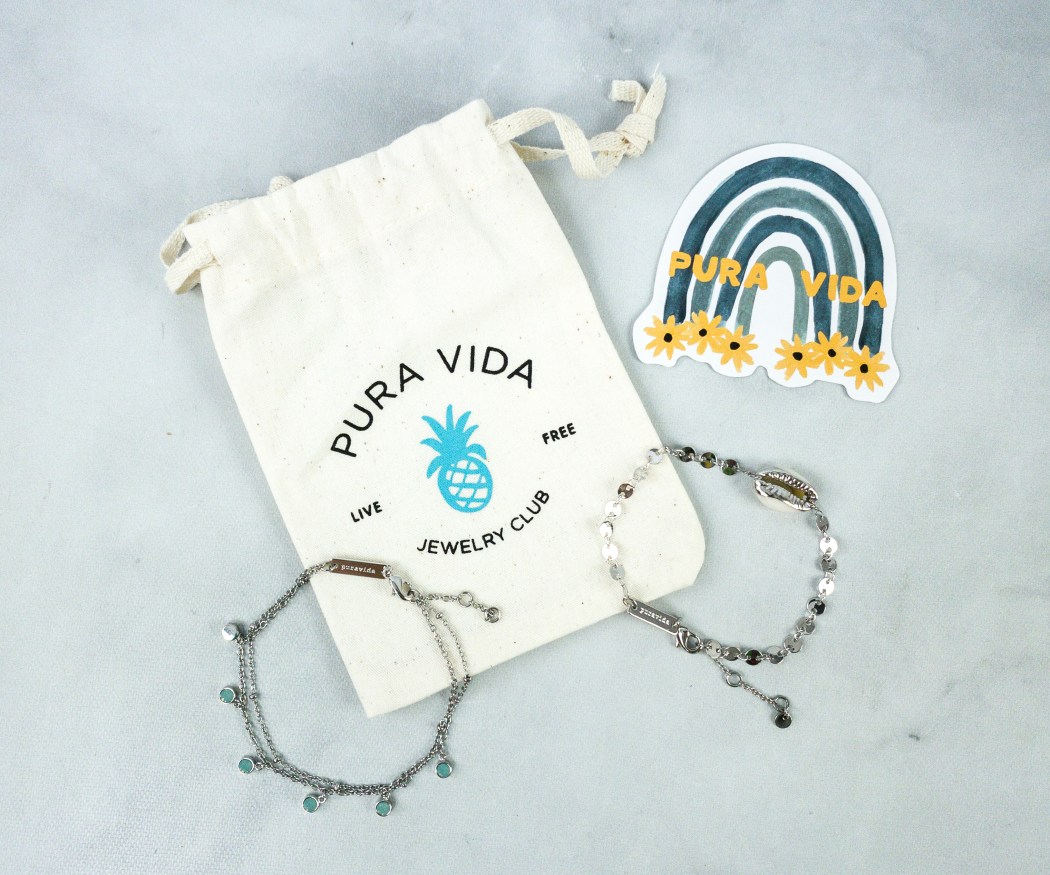 Image from: our review
Why We Love It: Step up your fashion game with beautiful jewelry pieces from Pura Vida Jewelry Club. This monthly subscription offers an exclusive collection for artisanal jewelry lovers and collectors. Receive at least two exclusive pieces of artisanal jewelry each month, with up to $60 in retail value plus an exclusive sticker! Whether it's an earring, a necklace, a bracelet, or something else, you are sure that the pieces are perfectly on with the latest trends! They also offer free shipping on US Orders.
Price: The jewelry club costs $19.95 per month or less on prepaid plan options.
Deals:
---
Image from: Switch
Why We Love It: Finding the best jewelry to pair your mood and on any occasion is as easy as pie with Switch. It is a jewelry rental subscription service created to empower people to discover and express their best selves. It allows you to try authentic luxury designer jewelry pieces from iconic brands like Hermes and Chanel in the comforts of your own home without breaking the bank! You can wear one, two, or three pieces, depending on your chosen membership plan, for as long (or as little) as you want and send them back when you're ready for more. Plans include Gold (1 piece at a time), Platinum (2 at a time), and Black, where you can borrow 3 pieces at a time. And if you've fallen in love with a piece, you can purchase it at a special member price! As a member, you also have full access to their carefully curated collections and earn credit each month toward future purchases.
Price: The Gold membership is $45 per month, Platinum is $75 per month, and the Black membership is $95 per month. Save 20% when you subscribe with an annual membership!
Deal: Get $10 off your first box! Use coupon code FIRST10.
---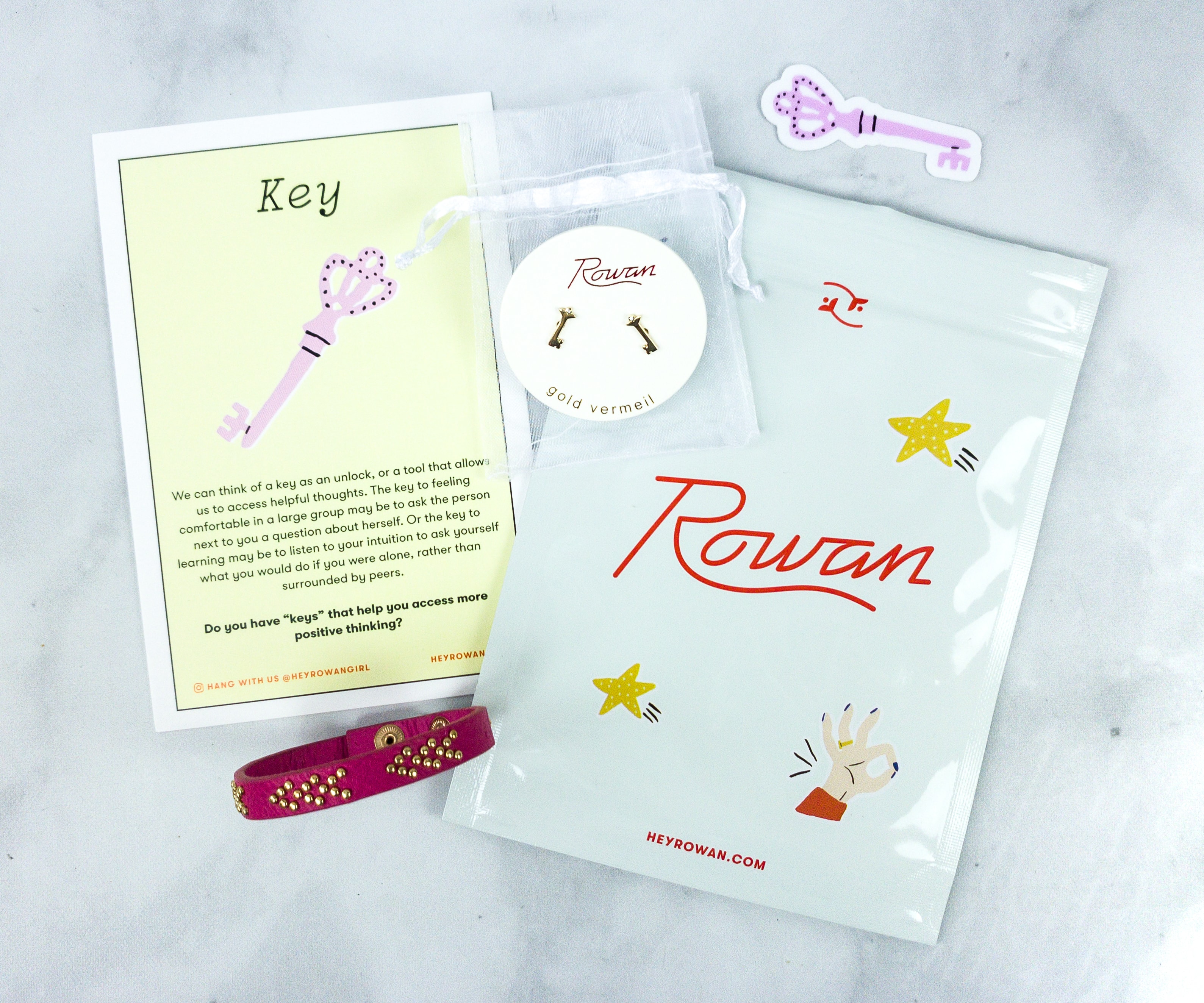 Image from: our review
Why We Love It: Rowan Earring Club is a special monthly surprise for tweens, kids, and even kids at heart! Each monthly box comes with a fresh pair of earrings (Sterling Silver or Gold Vermeil) and curated content designed to initiate meaningful conversation, all revolving around a theme. Get your first box and receive an earring together with an earring stand, so you have a place to display the pretty pieces when not in use! It also includes an earring pouch, a journal, and a pen in there. Then, for the succeeding months, you'll get a special surprise. Past themes include Growth, Cactus, Cherry, Shark Tooth, and more!
Price: Subscribe for $35 a month with more savings when you pay upfront for 3, 6, or 12-month subscriptions.
---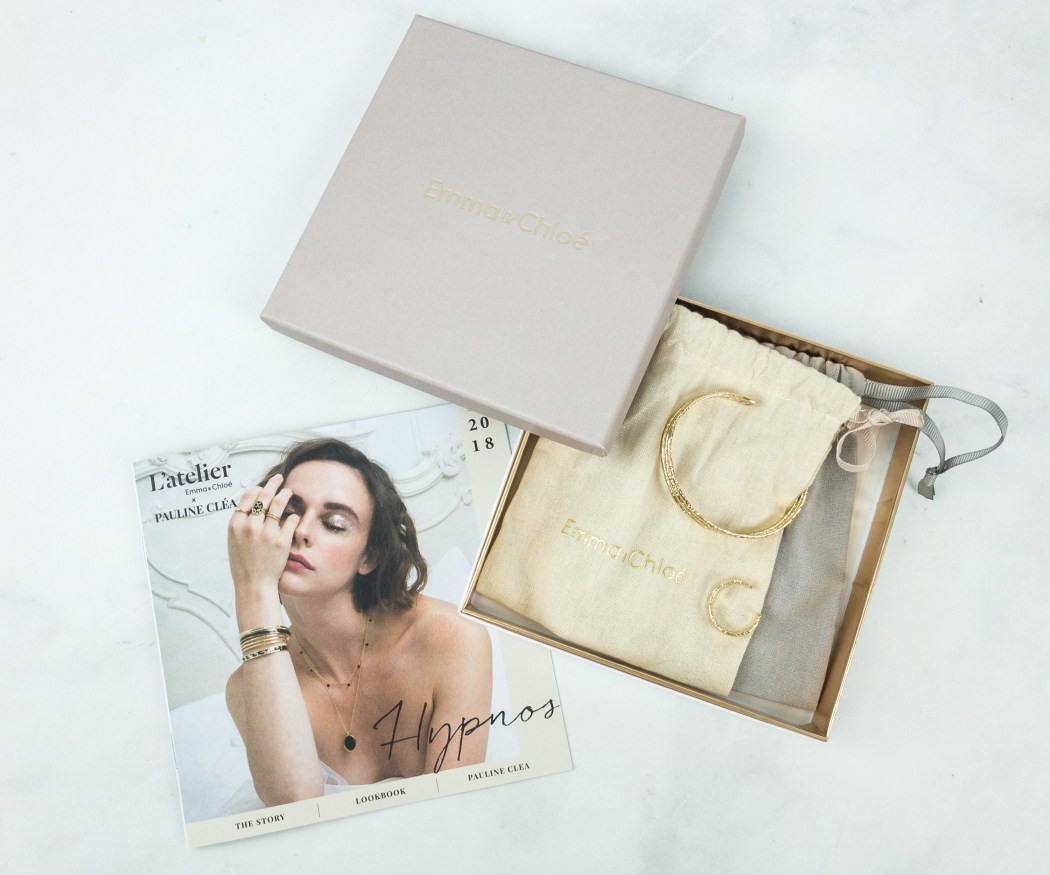 Image from: our review
Why We Love It: French-designed jewelry that looks stunning without having to break the bank! Emma & Chloe transports you to a luxurious jewelry shop in the heart of France without leaving the comforts of your home. They'll send amazing pieces from new and upcoming designers, so you're sure they're trendy and gorgeous! Each handmade piece comes in a protective pouch along with a certificate of authenticity. They also include a fashion guide where you can see look inspiration for your jewelry and a 3-month warranty. Subscribers even get perks that are hard to resist, like getting a 20% off Emma & Chloe's entire online shop. C'est Magnifique!
Price: The subscription costs $35 per month.
---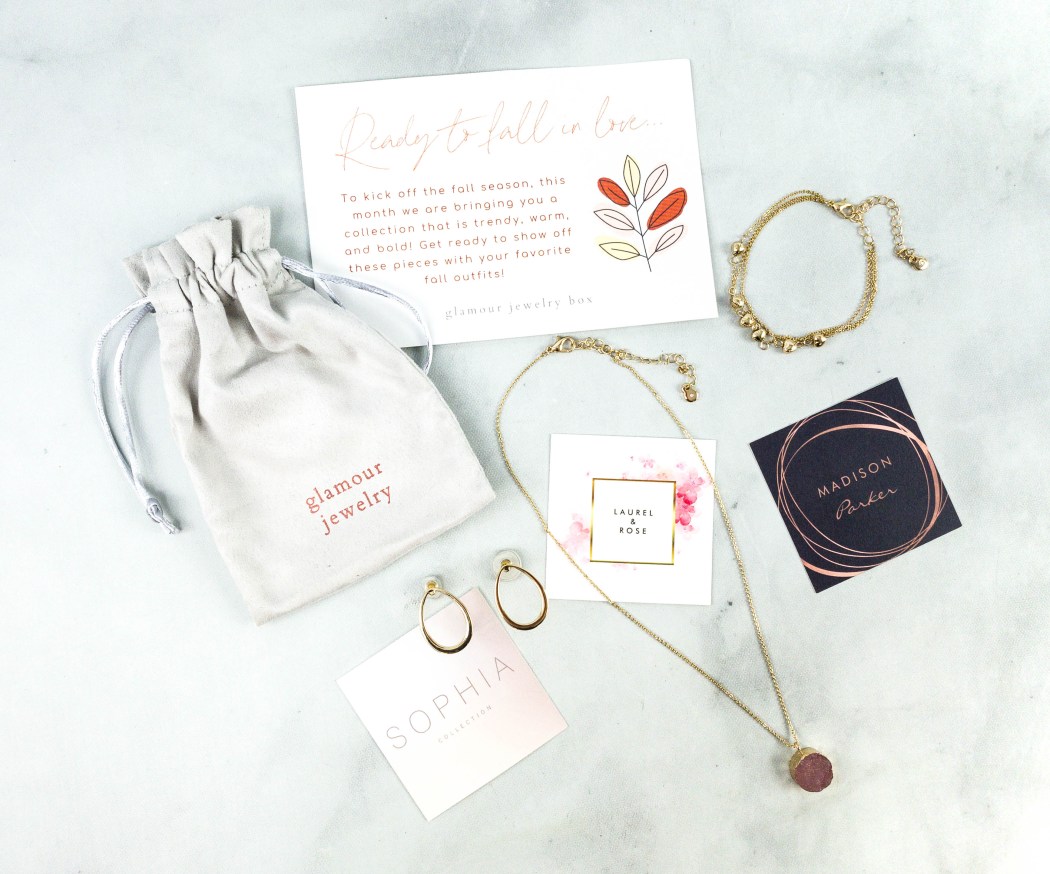 Image from: our review
Why We Love It: Glamour Jewelry Box is all about trendy boutique accessories! This jewelry subscription keeps your accessorizing game on point by sending 3 trendy boutique pieces monthly. It can be a mix of necklaces, rings, bracelets, or earrings with a promised retail value of over $75 in each box, and they're all for you to keep! If you don't want to keep them all to yourself, you can share the beauty and gift them to a friend, family, or a loved one.
Price: The subscription costs $34 per month.
---
Image from: our review
Why We Love It: The Jewelry Box by Silver and Gold is a small company that wants to grow, so they curate handpicked jewelry with amazing quality that you can wear and enjoy each month! Each box comes with two or three pieces of real sterling silver and gold jewelry that you get to keep all for yourself! Glam up your look each month with a variety of styles, including rings, earrings, bracelets, pendants, and more, sometimes etched and embedded with stunning gemstones like amethyst, topaz, cubic zirconia, and more. They also throw in a free ring sizer on your first order, so you're sure you get the right size of rings on the next boxes! Also, shipping is free to the continental USA, and you can pause and cancel anytime if you feel like doing so.
Price: Subscription costs $49 per month with a price drop when you subscribe for more months!
---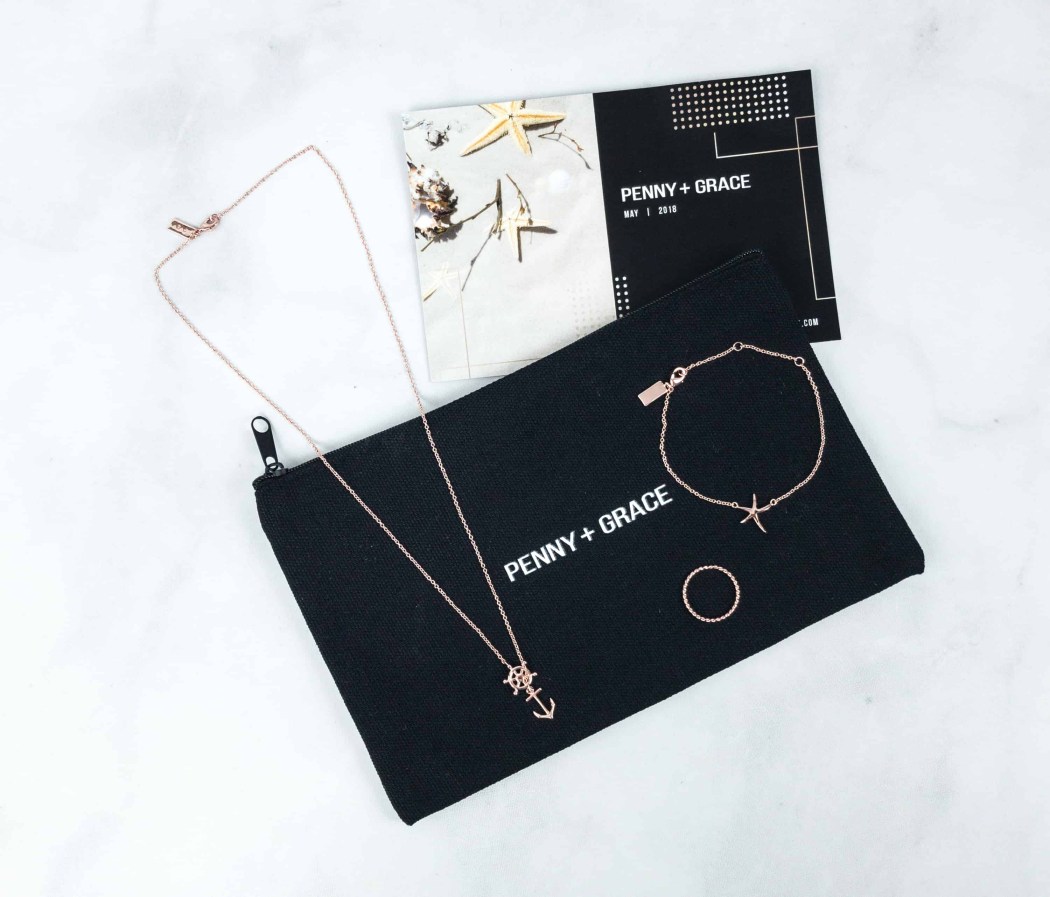 Image from: our review
Why We Love It: Penny + Grace delivers a trio of fresh styles and glamorous jewelry that you can wear every day tailored to your color/metal preferences each month. Mix and match them, or layer them with other accessories that you have in your collection, and they'll still look gorgeous! Subscriptions are available in 18k Yellow Gold, Silver, or a rotation of the two, which you can change any time throughout the life of your subscription. These jewelry pieces are made from 100% lead- and nickel-free materials, so even those with sensitive skin can wear them! You can also opt for no earrings if you wish so.
Price: The subscription costs $29.99 per month.
---
Image from: our review
Why We Love It: If you're looking for the perfect jewelry pieces to rock out, there is Jewelry Subscription. This exclusive Jewelry of the Month Club customizes the jewelry pieces they send to your door based on your style preferences. They offer such fine and tasteful pieces ranging from classic styles to trendy ones that you can keep forever, handpicked by an expert jewelry curator! You have the freedom to choose what particular style to include and exclude in your box. You can choose from their two plan options: Silver Plan, which will give you a piece, or Gold Plan that will include 2-3 pieces of jewelry each month, plus free shipping!
Price: The silver plan costs $25.99 per month while the gold plan costs $38.99 per month.
Deal: Get 30% off on all subscriptions! Use coupon code HELLO30.
---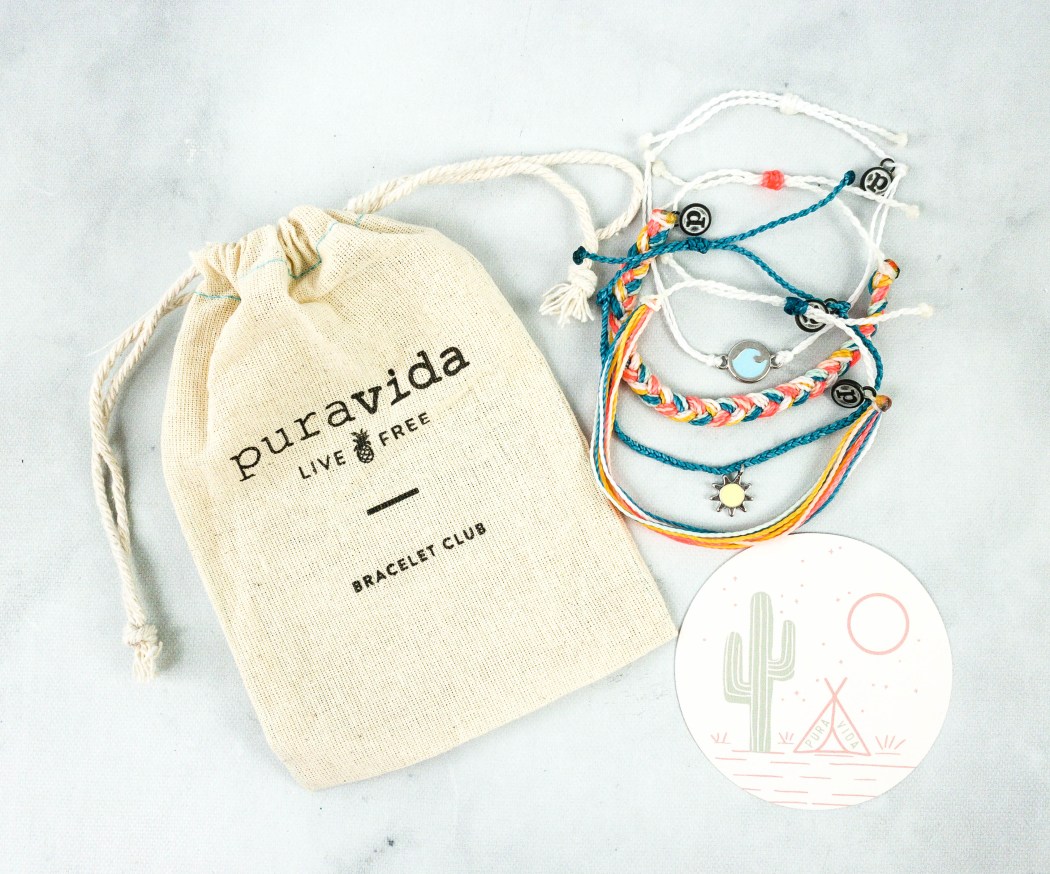 Image from: our review
Why We Love It: For fashionable bracelets, Pura Vida Bracelet Club has got something to surprise you with! This subscription asks you to choose between two exclusively designed bracelet packs every month or leave it as a surprise! Each pack has over $45 in value and includes 3 hand-picked bracelets from their latest and most popular collection, plus an exclusive monthly sticker. Everything is fun and stylish! You'll want to stack them on your wrist as most of the designs go well together. What's even great is for every order made, aside from providing sustainable employment to artisan communities, they also give back to charities and help protect the planet.
Price: The Bracelet Club costs $14.95 per month.
Deals:
---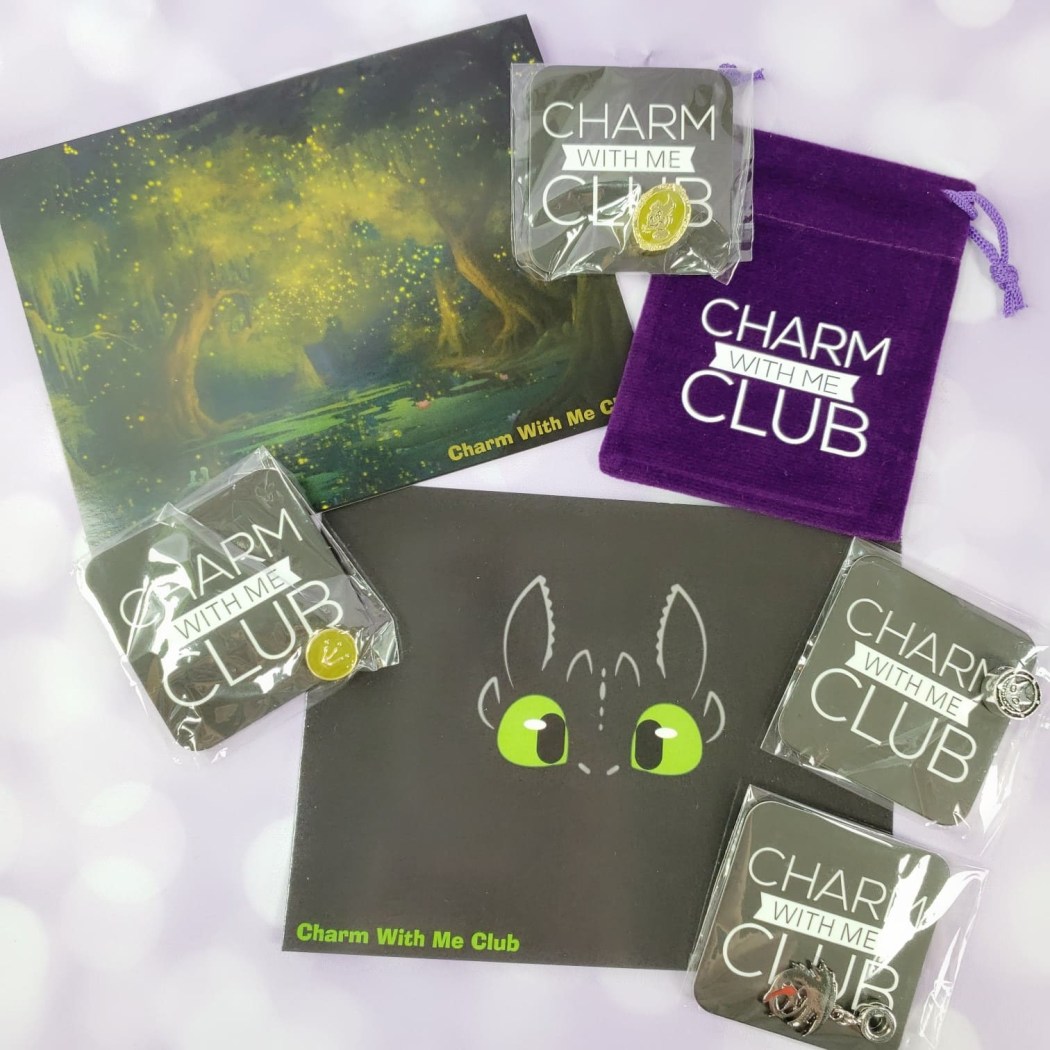 Image from: our review
Why We Love It: Charm With Me Club will bring you the most amazing fandom-related charms so you can build your own bracelet to your liking! There are two themes featured each month for you to choose from. You'll get a starter bracelet when you sign up, with the option to pick The Single Wrap Bracelet or The Double Wrap Bracelet, along with a set of 2-4 custom charms matching the theme you've chosen. These charms also fit all major brands of bracelets, so there's no need to worry! Past themes include How To Train Your Dragon, Wreck-It Ralph, Friends, Deathly Hallows, and more.
Price: Get the box for $19.99 per month
Deal: Save 10% on your subscription! Use coupon code HELLO10.
---
Image from: our review
Why We Love It: Kal-Elle Fandom Monthly is a monthly subscription created by a lover of all things geek. They want to share high-quality fandom-inspired items to all geek lovers by sending a themed box, which includes 4-7 specially hand-selected products with a retail value of $40+! Such items include jewelry pieces, art prints, pillowcases, flask, magnets, exclusive pins, and more! There's also a theme that they announce each month ahead of time, so you can go and skip it if you don't like it. The themes are always fun and exciting! Past boxes have featured PacMan, Nightmare Before Christmas, Fantastic Beasts, Wreck-It Ralph, The Goonies, and more.
Price: The subscription costs $19 per month.
---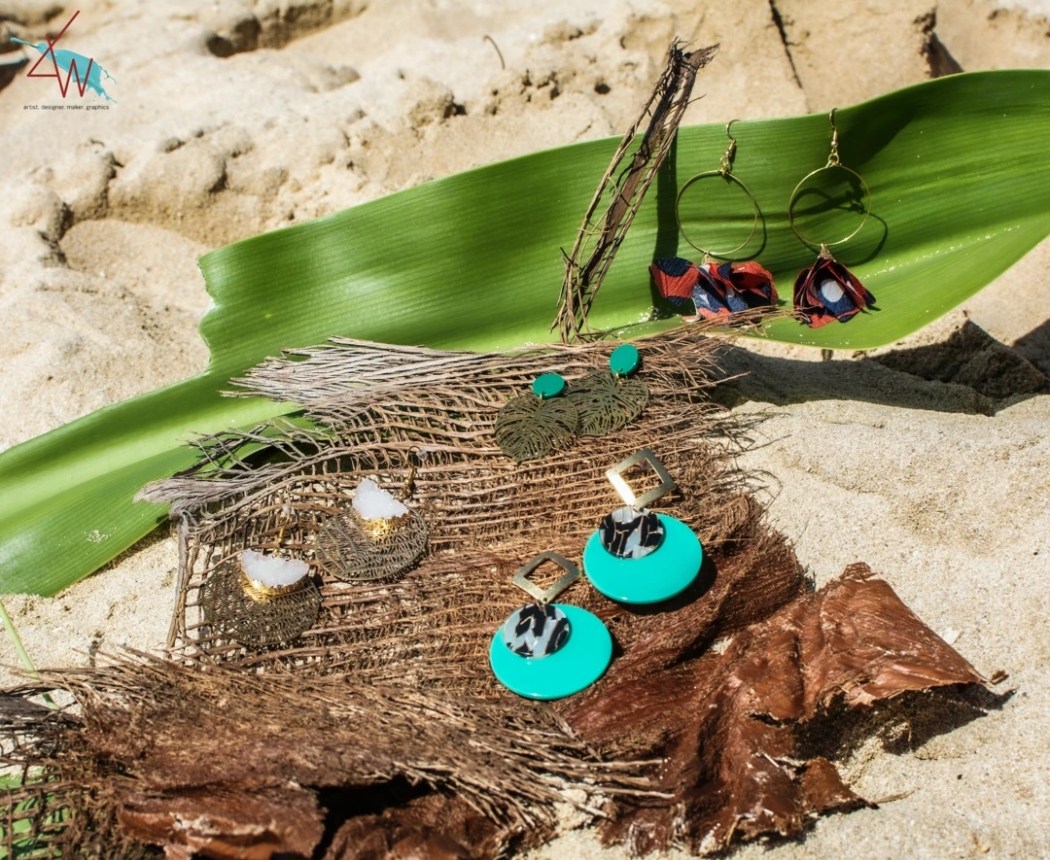 Image from: LWS Boutique Artisan Jewelry
Why We Love It: LWS Boutique Artisan Jewelry sends unique pieces of artistic jewelry crafted by artisans specializing in bold mixed materials and inspired by the African American eye to create designs that transform the world around! They are passionate about designs and firmly believe that design is life. So if you want unique pieces that will actually start a conversation, this artisan subscription is a great option! The pieces are custom-made from Hawaii with tropical motifs, clean lines, and bold colors.
Price: Subscribe for just $25 a month!
---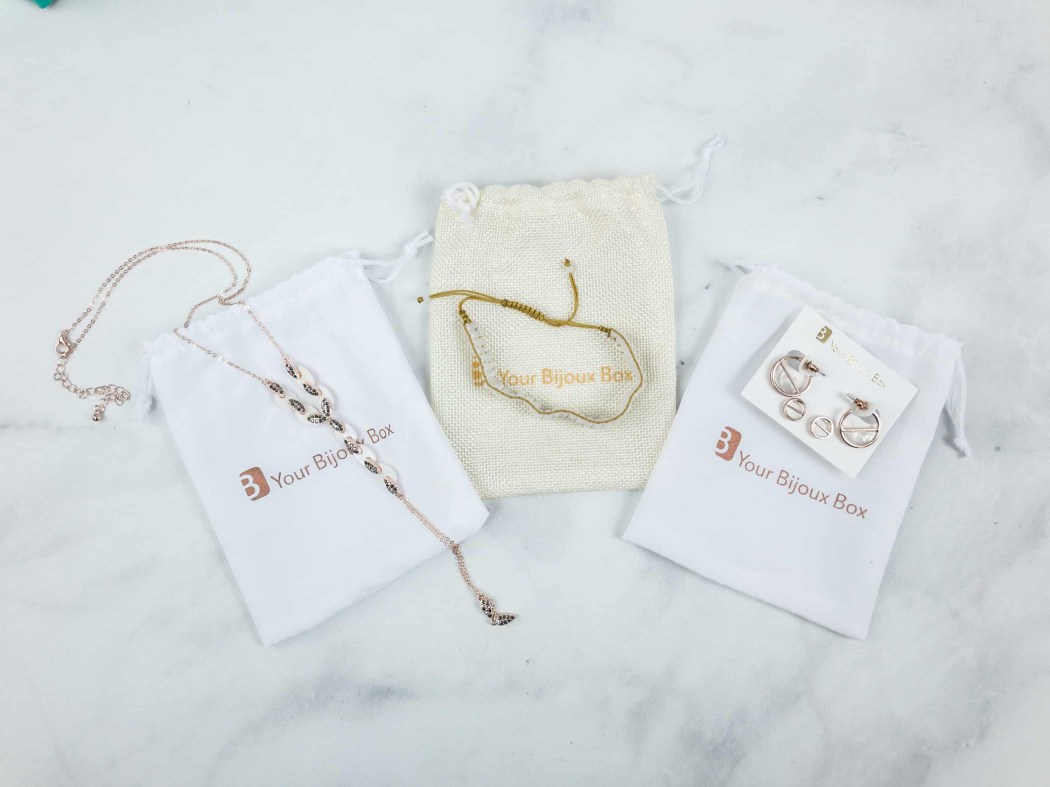 Image from: our review
Why We Love It: Your Bijoux Box doesn't just send you jewelry pieces, but they also include styling tips to get the most out of your pieces! Each month, you will receive 3 fabulously curated jewelry pieces, plus a bonus item to delight you with and an explanation on why they included it in your box. The box always comes with a value of at least $100, and contents are always on-trend and versatile. You may also choose 18k gold and sterling silver plating rotation on your jewelry or sterling silver only. And if you don't want earrings, you have the option to leave them out!
Price: Shipped monthly for $49.99 per month.
Deal: Get a FREE piece of jewelry worth up to $38 value with new subscription! Use coupon code FREEHELLO.
---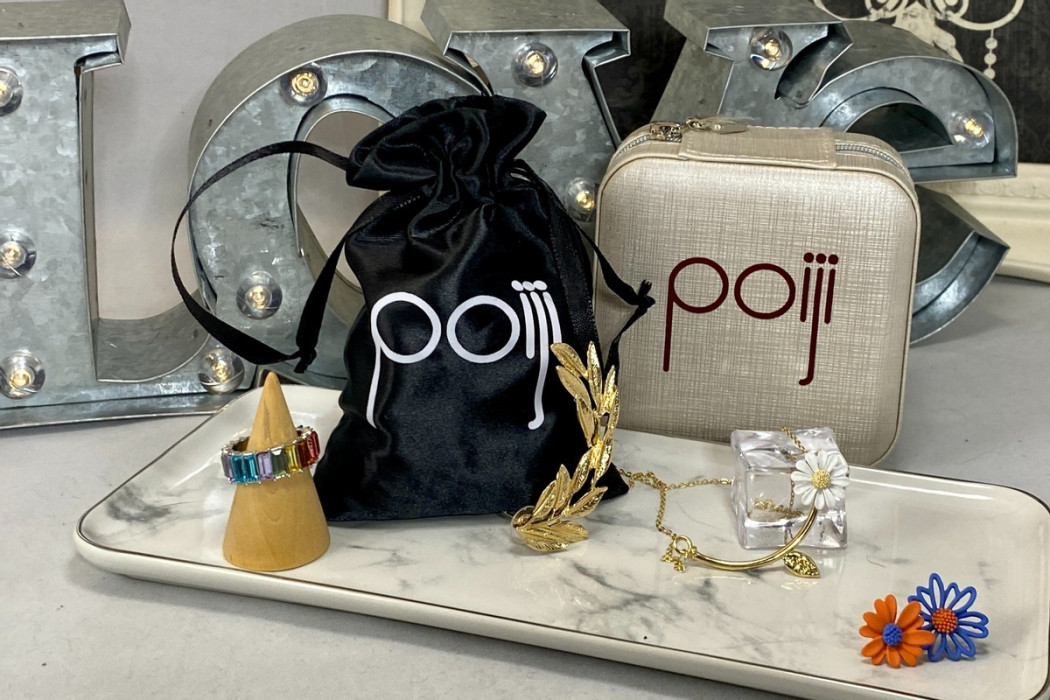 Image from: Poiji
Why We Love It: For different styles of jewelry to wear and match any outfit, there is Poiji that'll take care of just that for you! This monthly jewelry subscription lets you take full control over your subscription by letting you choose what exactly you want from their four curated collections – The Poiji Box for classic styles with a modern twist, The Phoenix Box for statement pieces with bold colors and/or vintage inspirations that go well with LBD, The Dragon Box for edgy and trendy pieces with a sense of humor at times, and The Rocket Box with fun, flirty and colorful pieces. If you want a surprise, you can just let them choose for you based on a style quiz. You'll keep everything in your box, and the best part, shipping is free!
Price: A box costs $10 each month.
---
That's our list of the best jewelry subscription boxes! Have you chosen what you want to try?
Interested in more subscription boxes? We have a full list of the best subscription boxes in every category!
Say Hello to More Accessories And Lifestyle Subscriptions!