Women's subscription boxes are the best gift to give to yourself! Jampacked with top-quality goodies, any woman will surely fall in love with month after month! Clothing, accessories, makeup, skincare, lifestyle goodies, and wine, to name a few, can all be found in subscription boxes. There's a large variety no matter what your interests, passions, and hobbies are, you'll find a subscription box that suits you!
These women's subscription boxes are here to celebrate womanhood all year long! What's a better way to reward and pamper yourself than to gift it with fun boxes you'll definitely be excited to unbox! Also, they're great to give as gifts to any woman in your life like your mom, grandma, best friend, colleagues, and to whomever you could think of!
On this list, we've rounded up 22 of the best subscription boxes for women in 2022. These subscriptions curate and deliver top-of-the-line items straight to the comforts of your home at reasonable prices!
The Best Subscription Boxes For Every Type of Woman!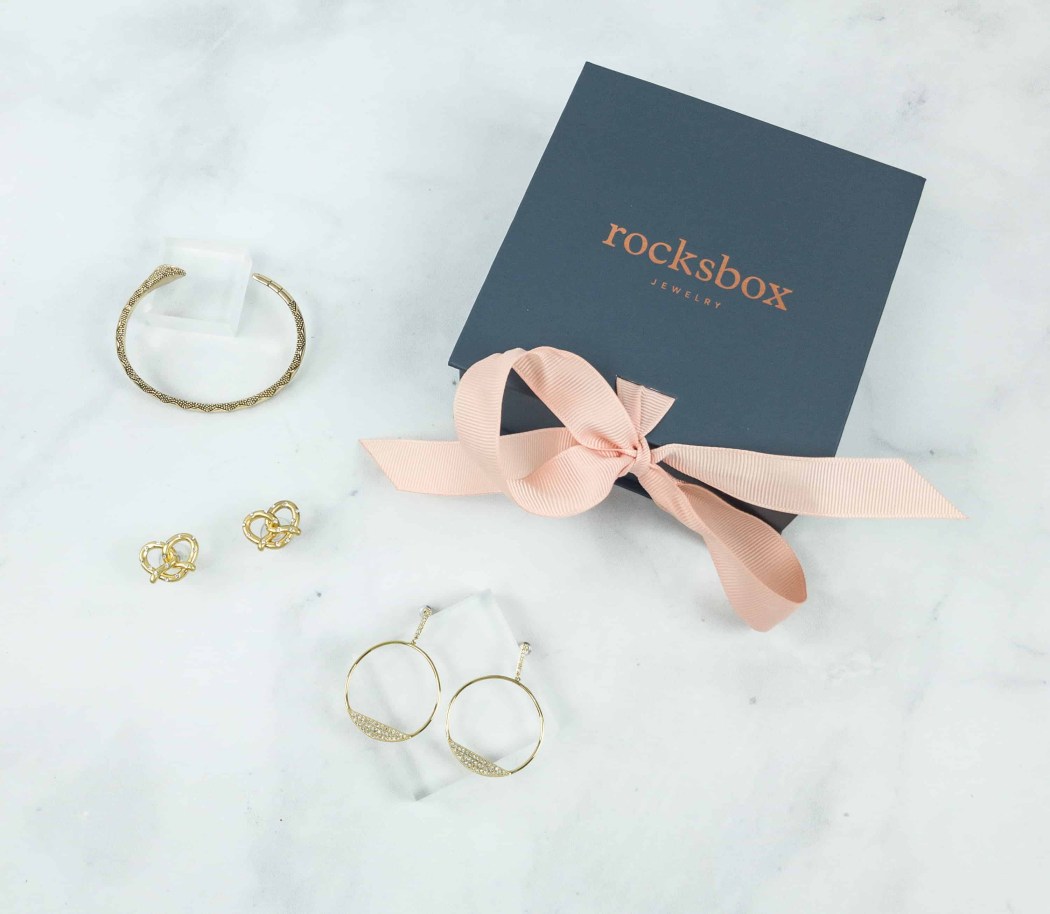 Image from: our review
Why We Love It: RocksBox is the ultimate jewelry rental subscription! It adds flair to your style without overloading your jewelry box. Freely express yourself through jewelry and experiment with different looks without breaking the bank! Upon sign up, you will take a quiz to determine your style, and then your stylist will curate your box based on your wishlist and tastes. Once it arrives at your door, the set is yours to wear for as long as you'd like, and return the remaining set when you're ready for more! They also have a wishlist that you can easily update to get the styles you'd like to try. Who wouldn't love this convenient subscription that lets you glam up minus the hefty price?
Visit RocksBox Reviews to see past box contents.
Price: Subscription starts at $21 per month.
Deal: Get your first month free! Use coupon code mommysplurgexoxo.
---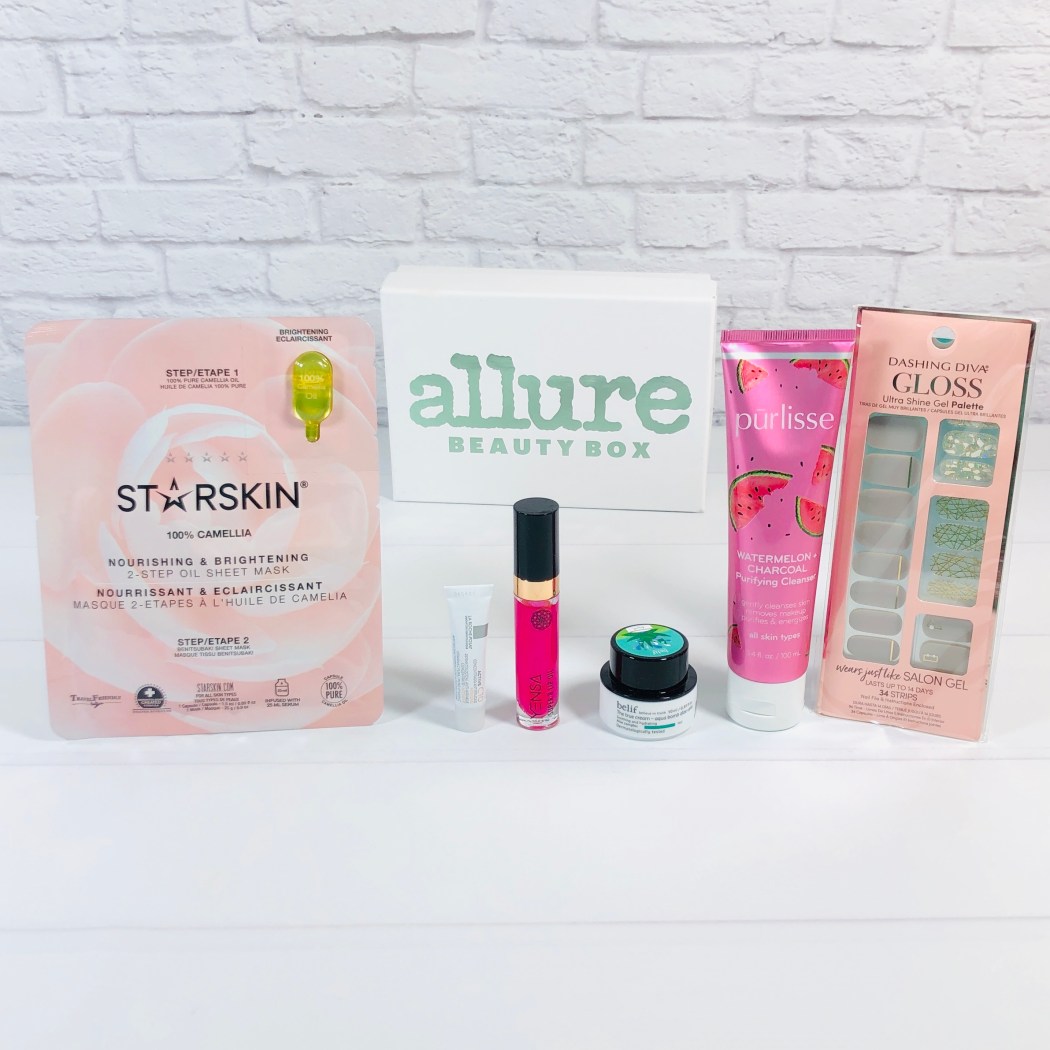 Image from: our review
Why We Love It: Allure Beauty Box offers top-trending, editor-tested makeup and beauty items with at least $100 in value every month. In short, it's the best in beauty delivered to your door monthly! Each box includes 6 or more products with at least 3 that are full-sized. Sometimes, they also include a bonus product or two from a mass brand as a gift! It also comes with a mini-magazine that contains tips and product reviews. They keep things even more exciting for new members by sending them a mystery gift that will ship separately from the regular box!
Read the Allure Beauty Box Reviews for details.
Price: The subscription is $23 a month. Sign up for a year-long subscription, pay for 11 boxes, and get 1 box for free!
Deal: Get a FREE new member bonus item with your first box! Deal applies automatically, just visit and subscribe.
---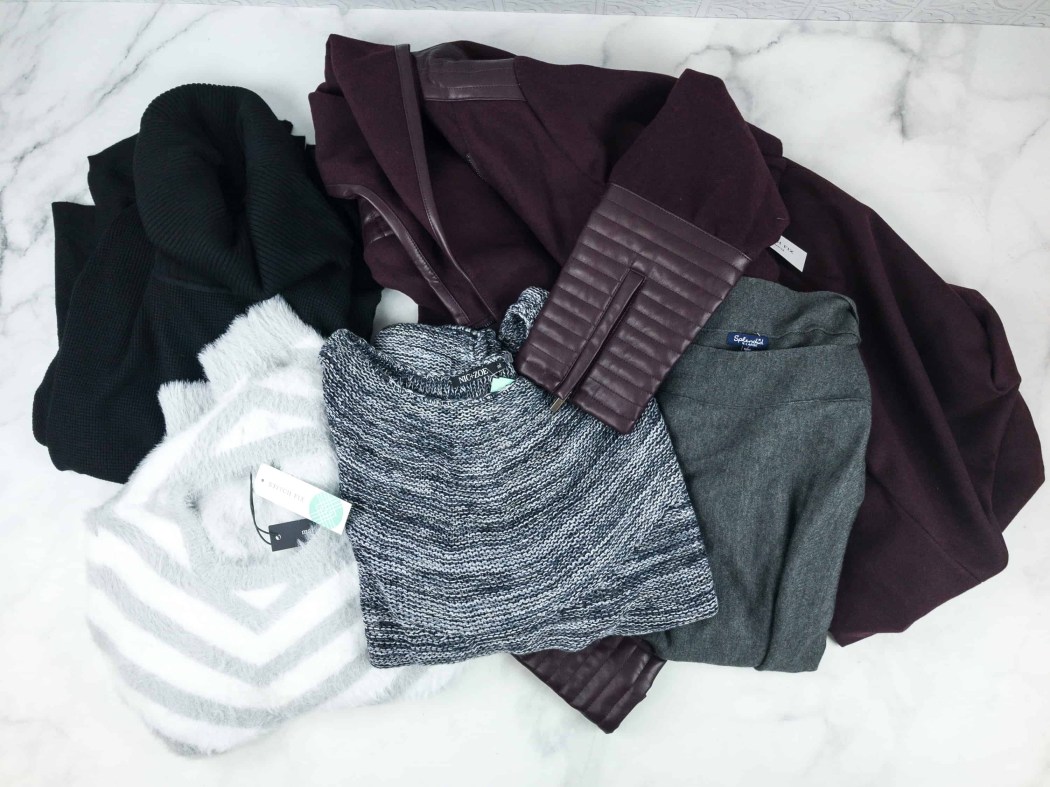 Image from: our review
Why We Love It: Stitch Fix offers personal styling for everybody! They'll help you find your perfect fit with personalized pieces hand-selected for your individual style, unique size, and preferred price range. There's an easy style quiz you need to fill out upon sign up, and it will serve as a guide for your personal stylist in curating your boxes. Once you receive 5 clothing items, you can take three days to fit and decide what you'd like to keep and checkout online. The ones you won't pick will then be shipped back to them, free of charge! A styling fee of $20 will be credited toward the pieces you keep. Stitch Fix also allows sign up for automatic fixes or schedule one anytime.
Want to know more? See Stitch Fix Reviews.
Price: You set the price range that suits your lifestyle and pay a $20 fee per fix, which gets credited back towards anything you keep.
---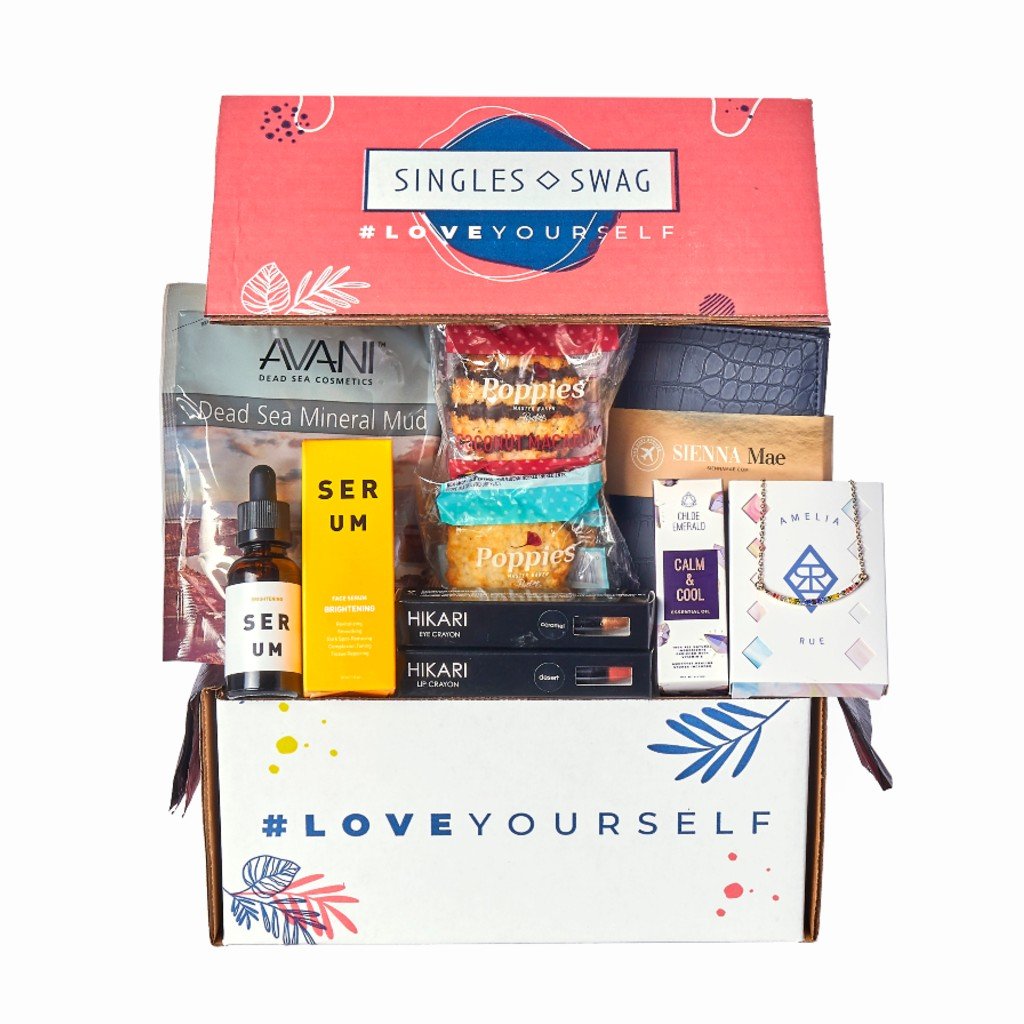 Image from: SingleSwag
Why We Love It: Put your hands up, single ladies! There's nothing wrong with being single, and SinglesSwag is here to help you realize that! It's a fun monthly surprise box for amazing single women, promoting self-love and self-care all year round! Each box usually includes organic beauty, trending fashion accessories, delicious snacks and treats, bestselling books, and more! This subscription loves making single women look and feel beautiful while empowering and inspiring them. With SinglesSwag, your opinions matter! Pick your box – SinglesSwag (7-8 items) or SinglesSwag Petite (4-5). All that's left to do is for you to celebrate and enjoy singlehood!
Check out SinglesSwag Reviews to learn more.
Price: Monthly boxes start at $39.99.
Deals:
---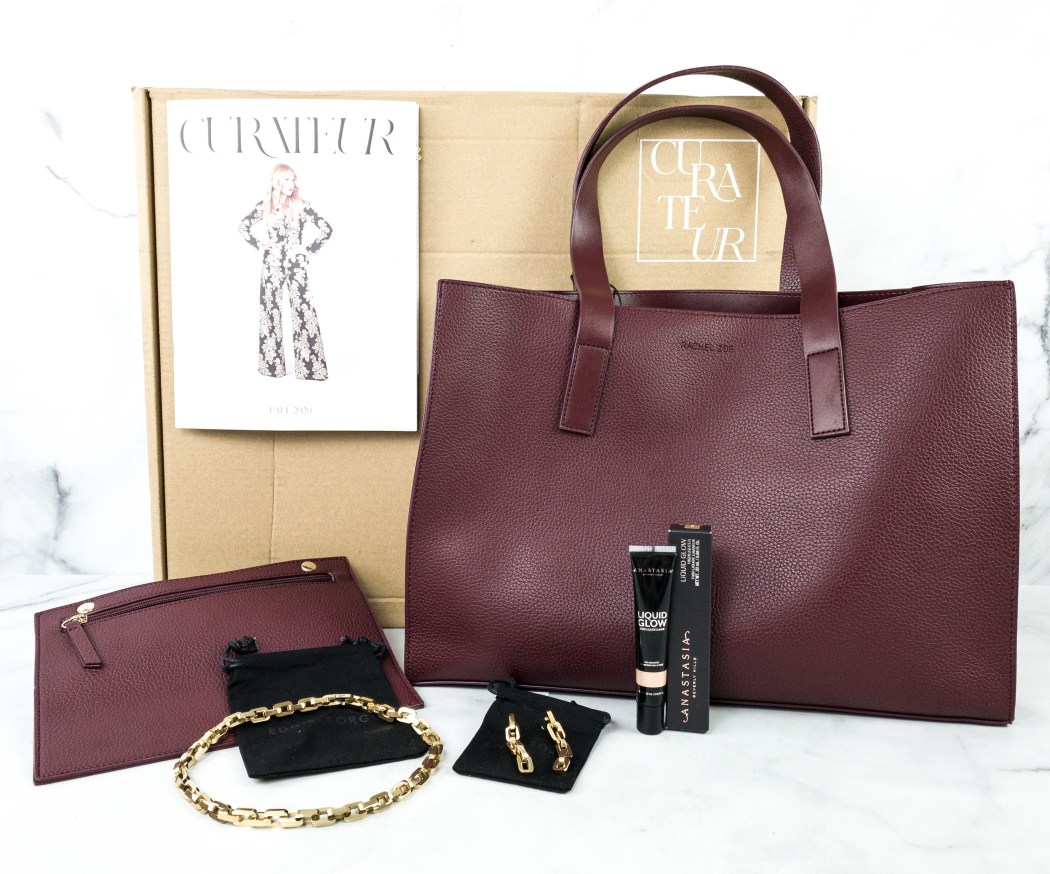 Image from: our review
Why We Love It: CURATEUR is one of the most coveted box subscriptions around, and we're not surprised why. Getting this subscription is like being styled by Rachel Zoe herself! It ships quarterly and is filled with an expertly styled assortment of fashion, beauty, and lifestyle obsessions that'll keep any woman looking and feeling chick all season long! Aside from amazing fashion finds, subscribers get first dibs on the latest beauty items and styling tools. Imagine getting a sleek box containing over $400 worth of products? It's exactly what you get from this lovely subscription. Be a member (Star or Icon Membership) and gain unlimited access to members-only Shoppe all year round!
Read CURATEUR Reviews to know more.
Price: The box is $99.99 per quarter.
Deal: Save 25% on your first box! Use coupon code SUMMER25.
---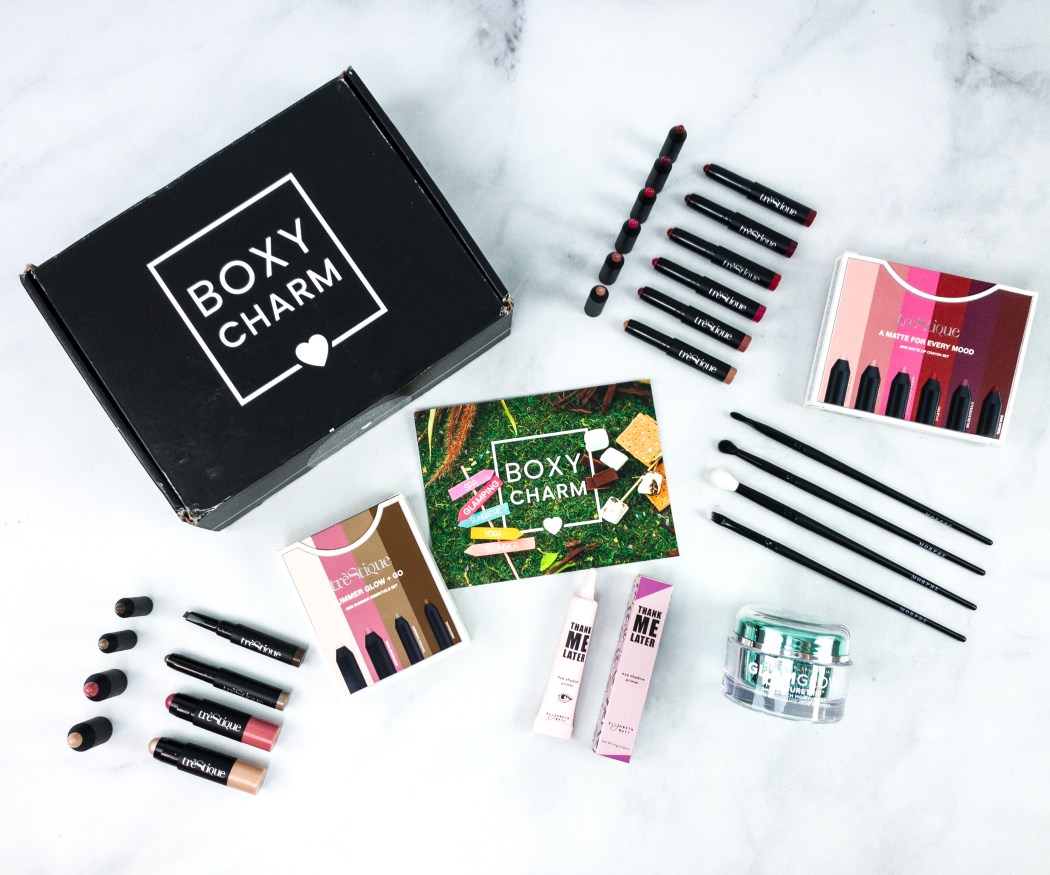 Image from: our review
Why We Love It: Discovering the best beauty items is made more fun and easy by BOXYCHARM! Subscribers receive 4 to 5 full-sized beauty products from well-known, popular, chic, and up-and-coming brands each month. Items are selected based on current and emerging trends and often include full-size palettes and makeup tools, like high-quality brushes and magnetic pan holders. This subscription is ideal for heavy makeup users, teens starting out with their own makeup collections, and anyone who loves to have fun experimenting with full-size makeup products! Aside from makeup and cosmetics, they also include nail care, skincare, haircare, fragrance, and more. It's always a good variety of high-end products from the best beauty brands without paying the full price!
Visit BOXYCHARM Reviews and see past box contents.
Price: Subscriptions start at $25, with minimal savings for longer subscription plans.
Deal: Get a FREE Gift with Boxycharm - enter code on site! Deal applies automatically, just visit and subscribe.
---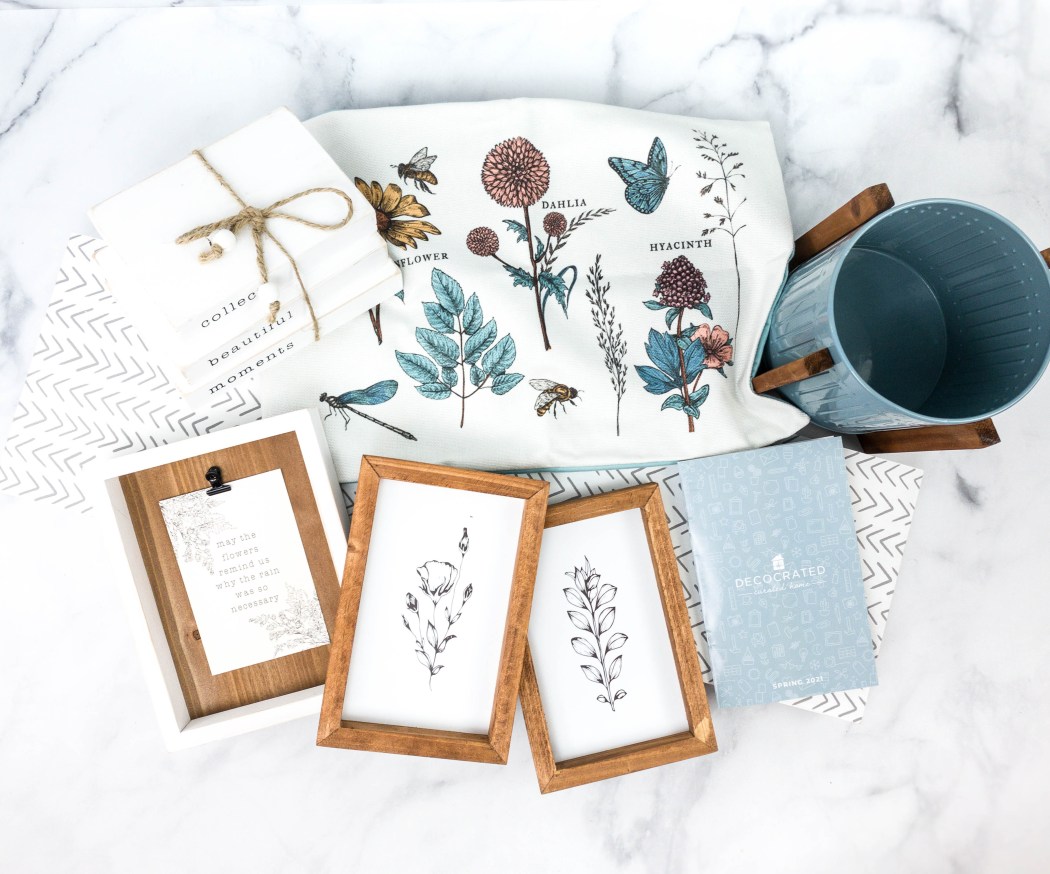 Image from: our review
Why We Love It: Decorating one's home is fun, and Decocrated makes it more exciting! Liven up your home's mood by putting up high-quality decorations that go well with the season. Each quarter, they'll send you 6-9 handpicked, seasonally inspired home décor (full-sized!) that has over $200 in value to give your home a new and fresh look, which includes interchangeable items you can use for years. You may receive tabletop decors, pillowcases, table runners, printed arts, and more that fits and works with any home décor you have at home, making it a great smoking deal! It also includes a booklet with product descriptions, tips, and inspiration for décor placement.
See Decocrated Reviews for more information about how this subscription works.
Price: Each box is $89.99 and you can save 10% by signing up for an annual subscription.
Deal: Get $15 off on quarterly or annual subscriptions! Use coupon code HELLOSUB15. Valid to new subscribers only!
---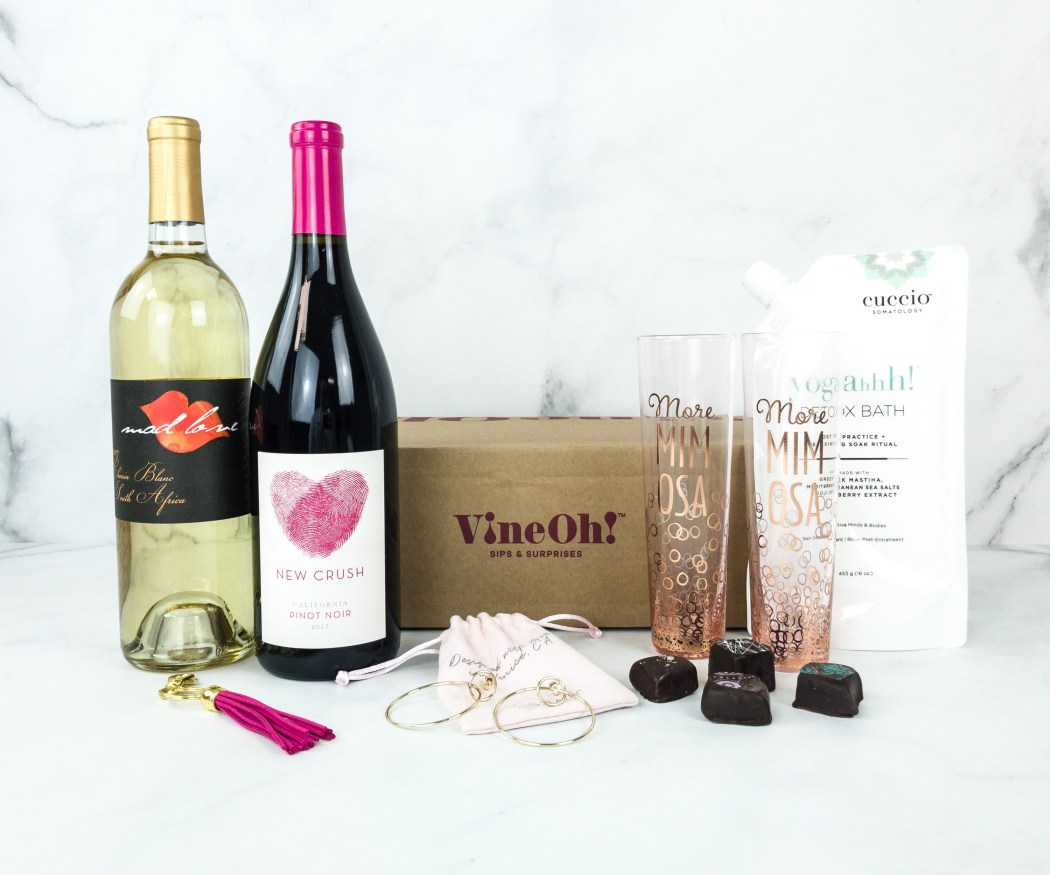 Image from: our review
Why We Love It: Vine Oh! treats all the wonderful women in the world with sips and surprises! Shipping quarterly with the two bottles of California wine and 5-6 full-size products in every box, all you have to do is sip and relax. You also have the chance to pick your wine whether you want it to be all whites, all reds, or a mix! To top it off, there's a promised incredible value of $120 in every box! You can also opt for the wine club, wherein you'll get four or six 750ml bottles of premium California wine monthly at a great price. It's the subscription to try, so you'll always have an excuse for an all-girls wine night!
Check out Vine Oh! Reviews to see past box contents.
Price: Each quarterly box costs $59.99.
Deal: Save $10 Off + An Extra Bottle of Wine with your first box! Use coupon code HELLOWINE.
---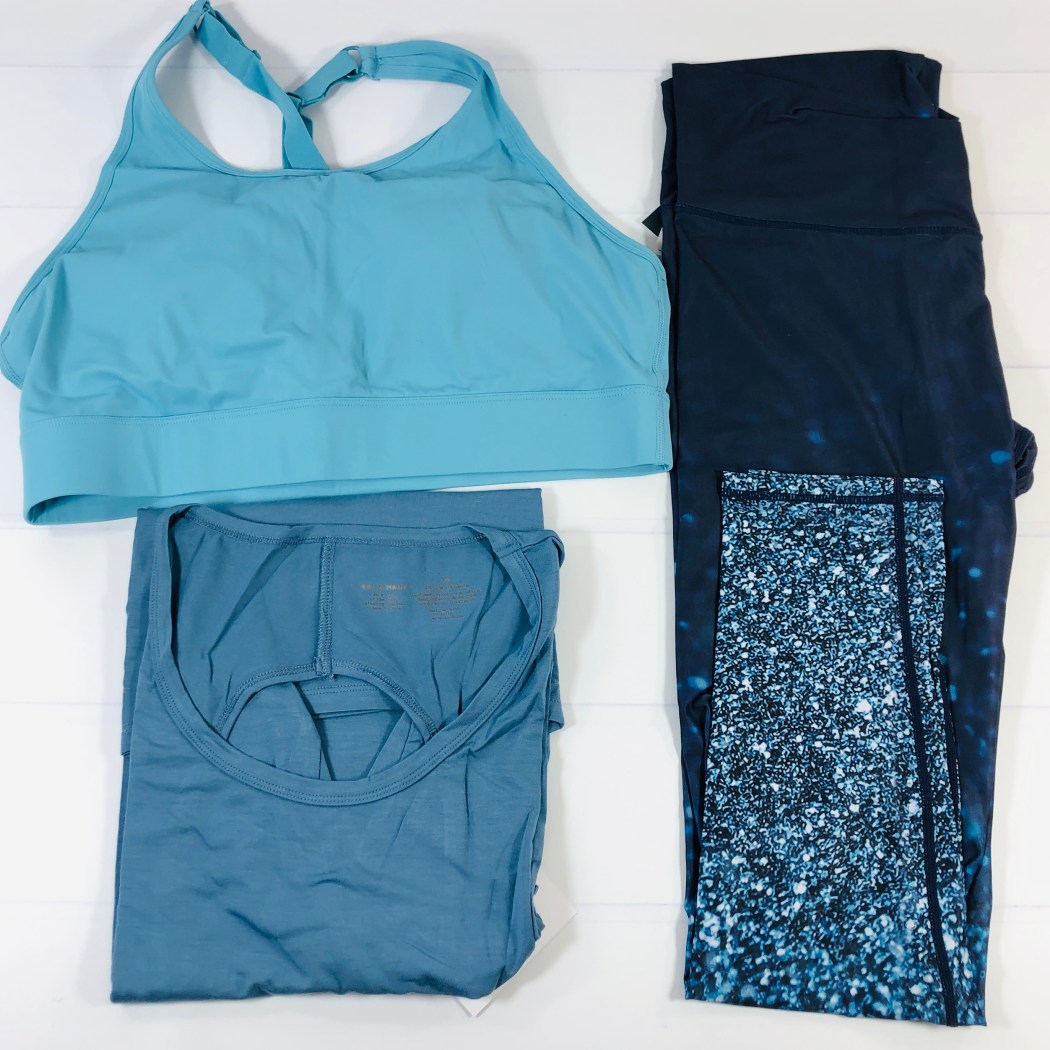 Image from: our review
Why We Love It: YogaClub is a women's subscription service exclusively made for yoga apparel. Every box includes brand-name athleisure styles that are way much cheaper than the retail prices, customized to give you comfort while you work out. Its mission is to go beyond empowering people to be more active and health-conscious. You'll get one, two, or three pieces from brands that you love and trust like Teeki, Beyond Yoga, Onzie, Columbia, and more, depending on your chosen package – The Mantra, The Karma, and The Guru! Each box delivered provides a yoga and meditation education for elementary school children in at-risk communities.
Learn more when you visit YogaClub Reviews.
Price: Each box costs $79 per month.
Deal: Get an additional FREE Legging ($92 VALUE!) with your first Seasonal Guru Box! Use coupon code FREELEGGING.
---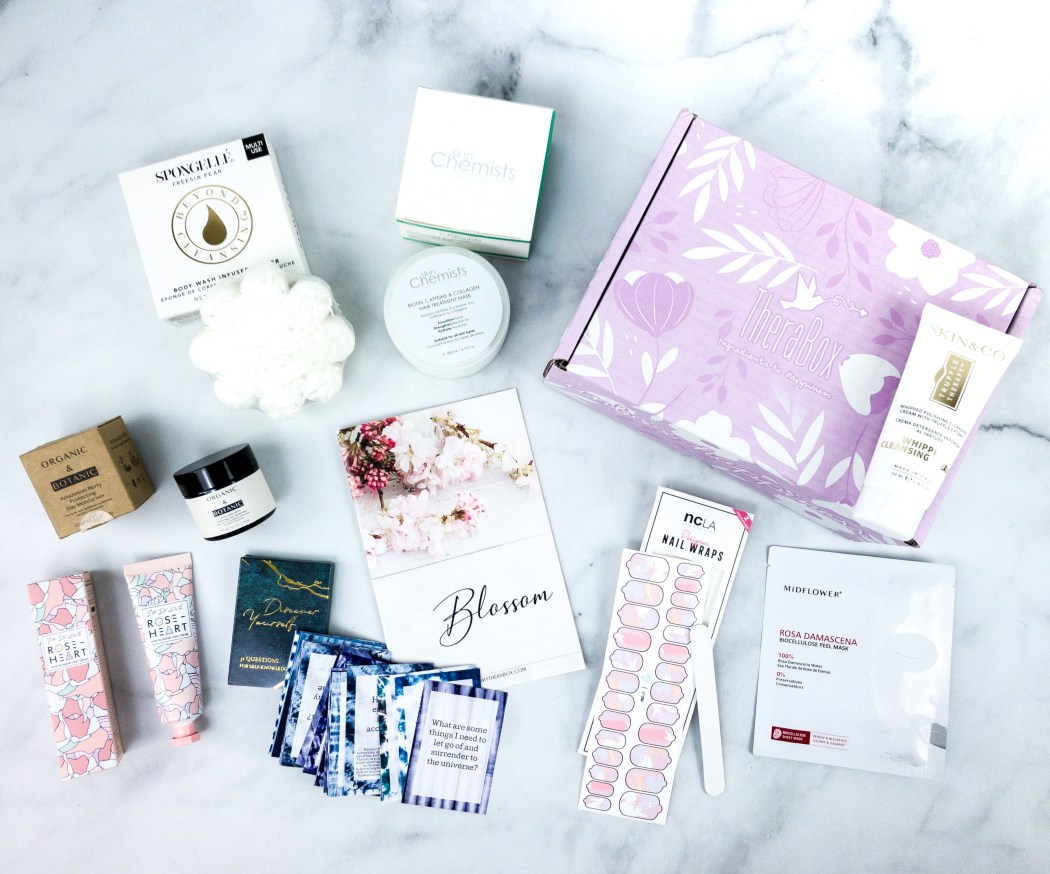 Image from: our review
Why We Love It: With TheraBox, you can take all your stress away. It focuses on wellness and relaxation products, curated with the aim of encouraging a happier life! Enjoy 6-8 natural, organic, and feel-good wellness goodies like aromatherapy, clean skincare, and other unique lifestyle items, along with 1 happiness boosting activity inspired by research in mindfulness, psychology, and neuroscience. Monthly boxes are themed differently to keep your happy neurons flaring! These items will help you discover yourself and find positivity in your life.
Check out TheraBox Reviews for more details about how this subscription works.
Price: The monthly plan costs $34.99 with savings when you prepay for more months!
Deal: Get 10% off your first order! Use coupon code HELLO10.
---
Image from: our review
Why We Love It: With Annie's Creative Woman Kit-of-the-Month Club, you'll surely learn a new craft each month! This subscription offers DIY projects that are super fun and easy to make that are ideal even for beginners. You'll get a project to work on in your free time complete with everything you need, including easy-to-follow instructions to start creating gorgeous, handmade, and special treasures you can keep for yourself or gift to someone you love. It even comes with new techniques that can expand your skillset and creativity! You can hone your skill in painting, needlecrafts, beadles, candle & soap making, and more with each kit that they'll send directly to your door. Open one kit and be inspired to make something beautiful that can keep your heart full of warmth and joy!
Browse through Annie's Creative Woman Kit-of-the-Month Club Reviews to learn more.
Price: It costs $19.99 a month, plus $5.95 postage and processing ($6.95 in Canada).
Deal: Get 50% off your first month's kit on any clubs! Use coupon code SHARE50.
---
Image from: our review
Why We Love It: Any wine-loving woman can find their perfect bottle of wine through Winc. This monthly subscription takes the guesswork out of your way by sending unique wines best suited to your own palate profile. Upon signing up, they'll give you a series of questions, defining your tastes so they can customize wine selections that are up to your liking. It's also up to you how many reds and whites you want in your order. If you're a health-conscious wine drinker, they also offer low-sugar wines you can enjoy without the guilty feeling! To get better recommendations, all you have to do is to rate the wines on your account.
Want to learn more? Visit the Winc Reviews.
Price: A monthly order starts at 4 bottles a month for $59.95 plus a $9 flat shipping rate and tax. If you order 4 more bottles, shipping is free. Bottles start at $12.99 a piece.
Deals:
---
Image from: our review
Why We Love It: Calling all beach babes, The Wanderlust might be the lifestyle subscription you need. Get ready to travel to different beach destinations every quarter with no passport required! Each box is themed after an iconic beach destination and has a promised total value of over $250. It includes high-quality beauty, fashion, travel, and fitness items, and they're full-sized too! Some of the previous beach destinations they've featured include Maui, Santorini, The Hamptons, and more.
Read more at The Wanderlust by Bikini.com Reviews.
Price: Subscriptions start at $85.
Deal: Save 10% on your subscription. Use coupon code hellosubscription10.
---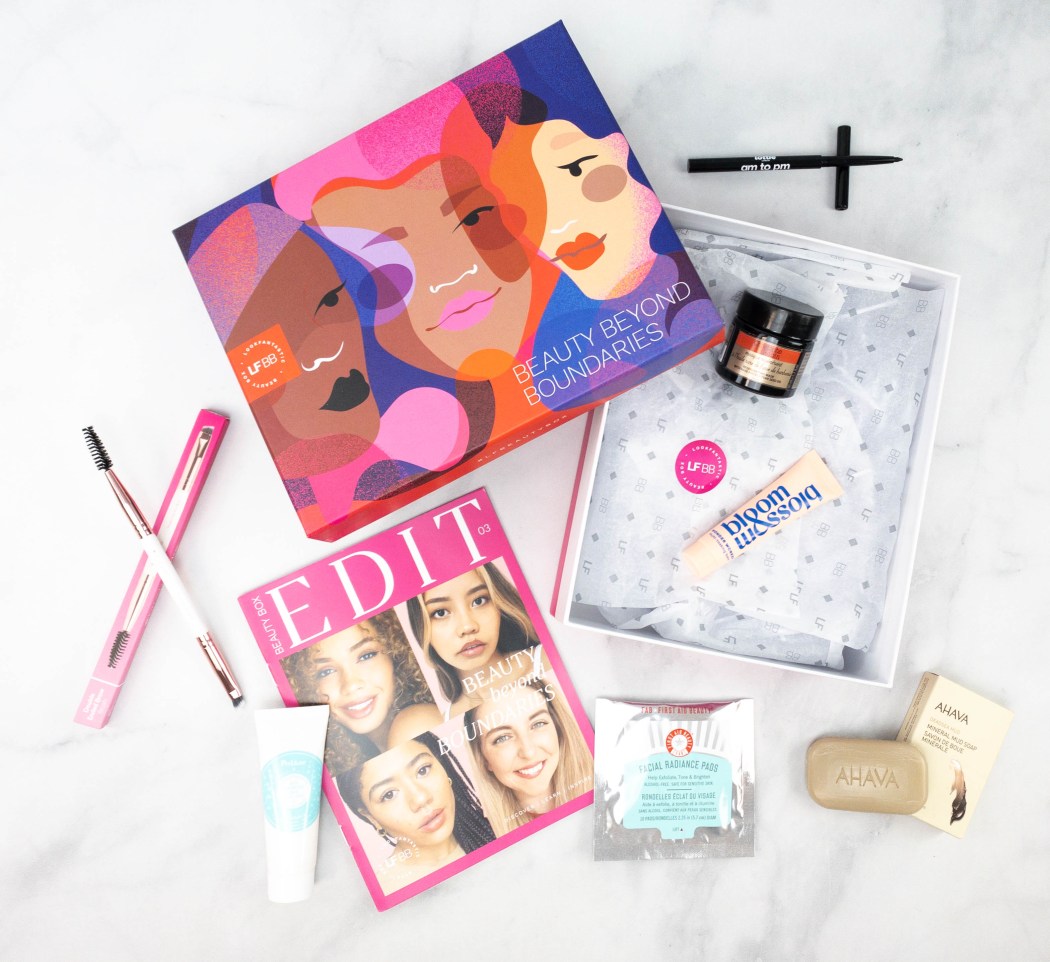 Image from: our review
Why We Love It: If you're looking for something to cater to all your beauty needs, Look Fantastic Beauty Box is the subscription to go! It is a UK subscription beauty box that sends 6 or more hand-picked beauty products with an incredible amount of value in just one themed box, including haircare, skincare, makeup, and beauty tools. From Eve Lom to Korres, Philip Kingsley to Molton Brown, this subscription is an introduction not only to leading beauty brands but to new and promising talents too. You can get this box for even less on an annual subscription (but still pay monthly), which is an amazing deal considering the high-end goodies! Subscribers can also get early access and exclusive discounts on all limited edition and seasonal boxes.
See past box contents and be amazed by their selections on Look Fantastic Beauty Box Reviews.
Price: This box is currently $19 per month, but goes down to $16 per month on an annual plan and ships free to the US and Canada!
Deal: Get your first box for $10 on a 3+ month subscription! Use coupon code TREATBB.
---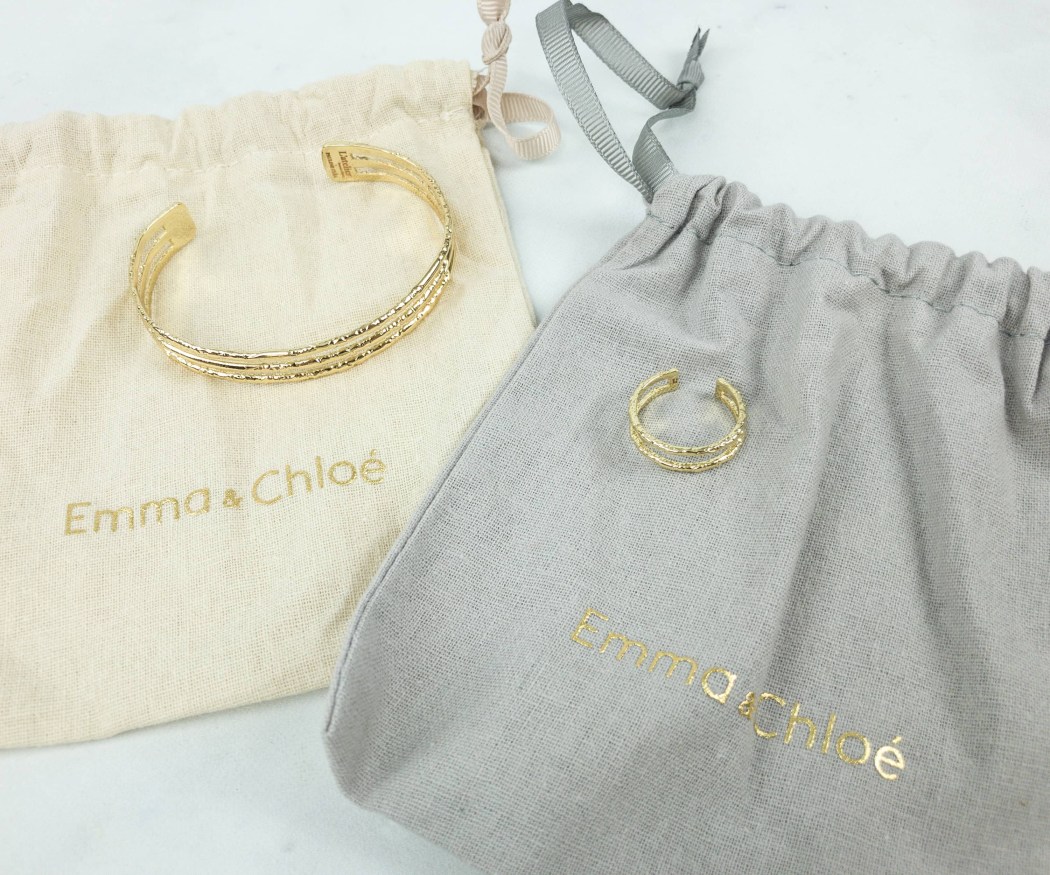 Image from: our review
Why We Love It: Feel like shopping at a luxurious jewelry shop in the heart of France without leaving the comforts of your home! Emma & Chloe offers expertly curated, handmade, unique designer jewelry at an affordable price. Each month, you'll get to discover an exclusive piece made with brass and gilded with fine gold or silver-plated with rhodium, designed in their Parisian atelier from a new featured designer, which includes popular and up-and-coming artists. Every jewelry also comes with a certificate of authenticity, a magazine, and a 3-month warranty. Subscribers even get perks that are hard to resist, like getting a 20% off Emma & Chloe's entire online shop. C'est Magnifique!
Make sure to check Emma & Chloe Reviews for more information.
Price: Every month you'll get a new piece ($50 to $200 of value) for only $35. The monthly membership comes with 20% off the shop.
---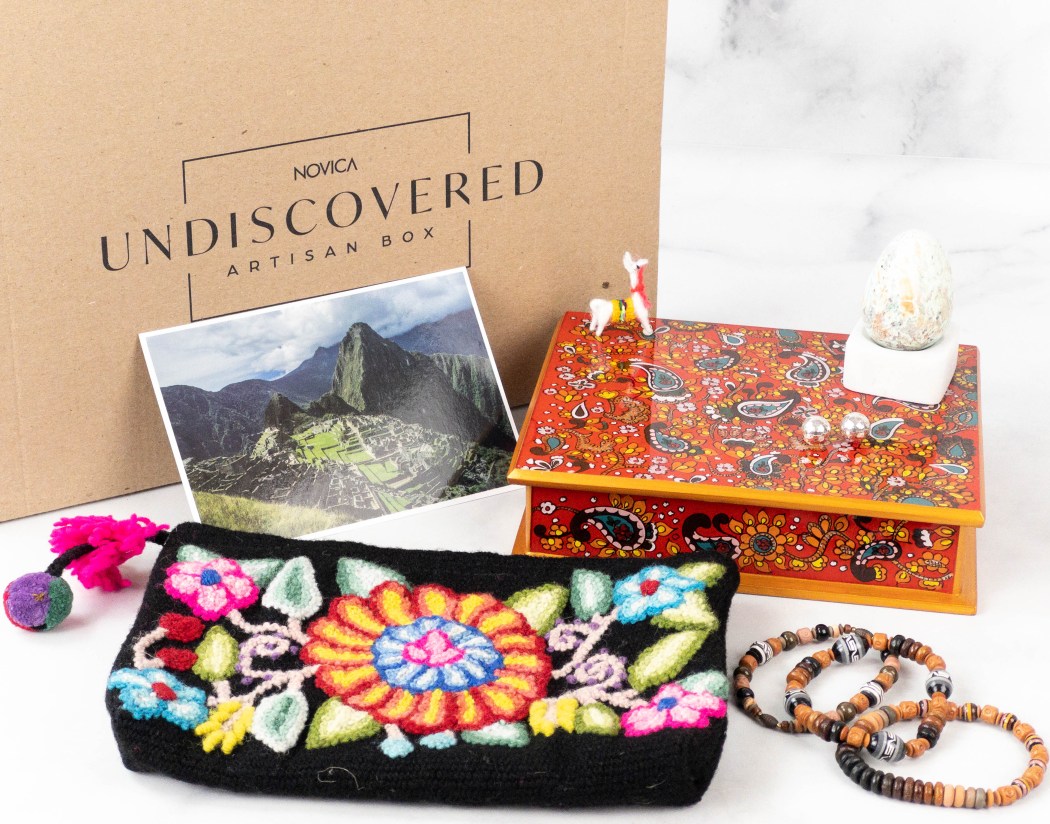 Image from: our review
Why We Love It: When it comes to artisan-made products, Novica Undiscovered doesn't disappoint. This artisan subscription box features handcrafted and fair-trade items from all over the world, including Asia, Africa, and Latin America. Each box will include at least 5 items and they will be wrapped in a beautiful gift box. Women who love artisan goods can look forward to beautiful accessories, home decor, and even novelty items in their quarterly boxes!
Take a peek at the past boxes filled with artisan gifts in our Novica Undiscovered Reviews.
Price: Get the seasonal artisan subscription box for $59.99 per box.
Deal: Save $10 on your first subscription! Use coupon code ARTISANBOX10 .
---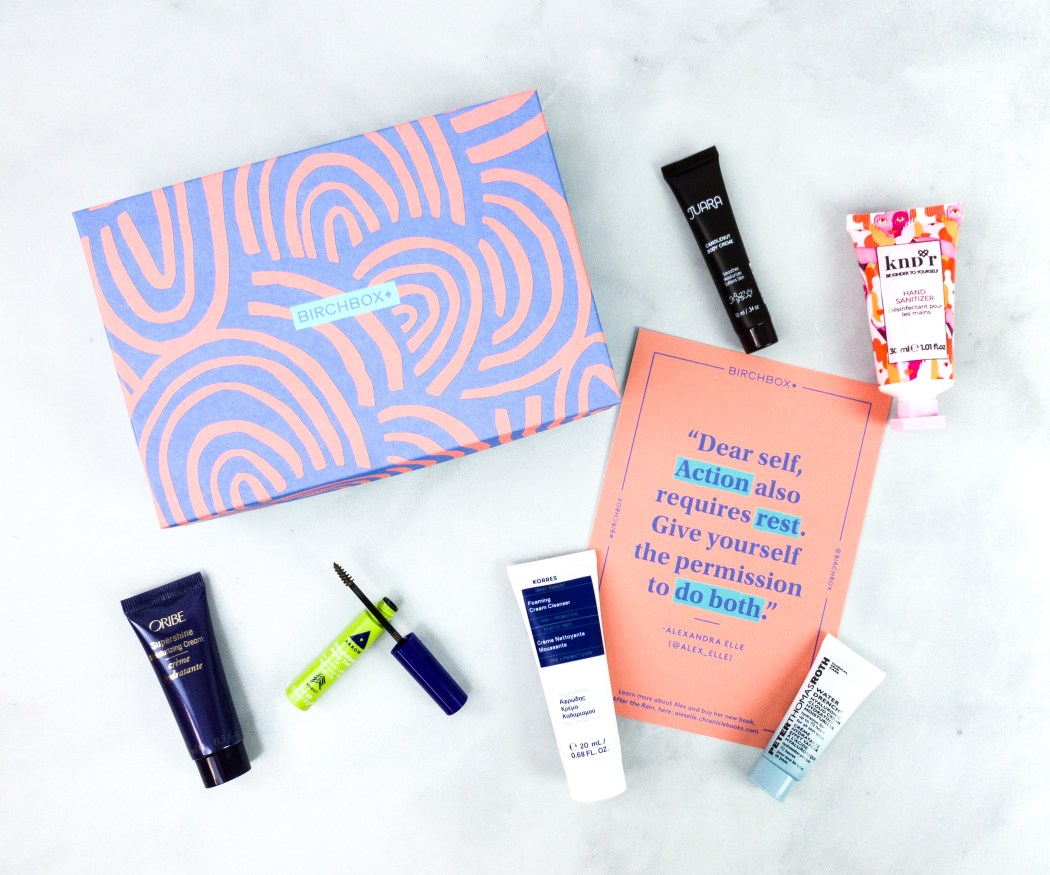 Image from: our review
Why We Love It: Birchbox gives us a premium "try before you buy" experience by sending at least 5 samples and deluxe size makeup, skincare, and hair care products (with an occasional full-size item!) every month. Boxes are customized to your beauty profile, so you're more likely to receive something you can actually use and add to your beauty routine. Some of the brands they've featured include Sunday Riley, MAC, Benefit, DOUCCE, and more. Also, it's worth noting that Birchbox sends the cutest boxes that you can keep or repurpose!
Check out past box contents by visiting Birchbox Reviews.
Price: Subscription is $15 per month or less on longer plan terms.
Deals:
---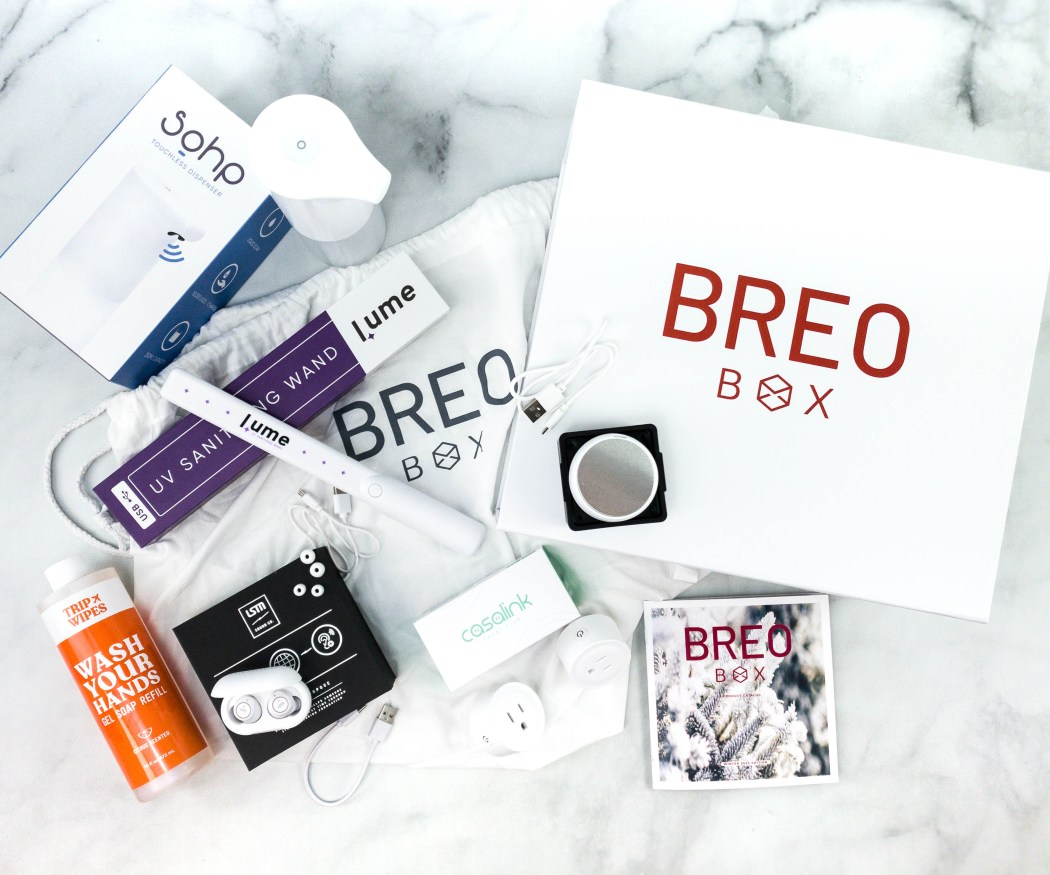 Image from: our review
Why We Love It: Shipped quarterly, Breo Box curates boxes that cater to both men and women! Each handcrafted customized wooden box will contain between 6 and 9 high-quality products revolving around health and fitness, as well as everyday lifestyle essentials. They also make sure that the items are curated around the season. It always includes fun items and even extras that make the box really jampacked every quarter. Another great thing about this subscription is that they value their subscribers' loyalty. The longer you're with them, the more they reward you with discounted rates and exclusive perks!
Learn more by visiting the Breo Box Reviews.
Price: The box costs $159 for the first quarter.
Deal: Get $15 off your first box! Use coupon code hs15.
---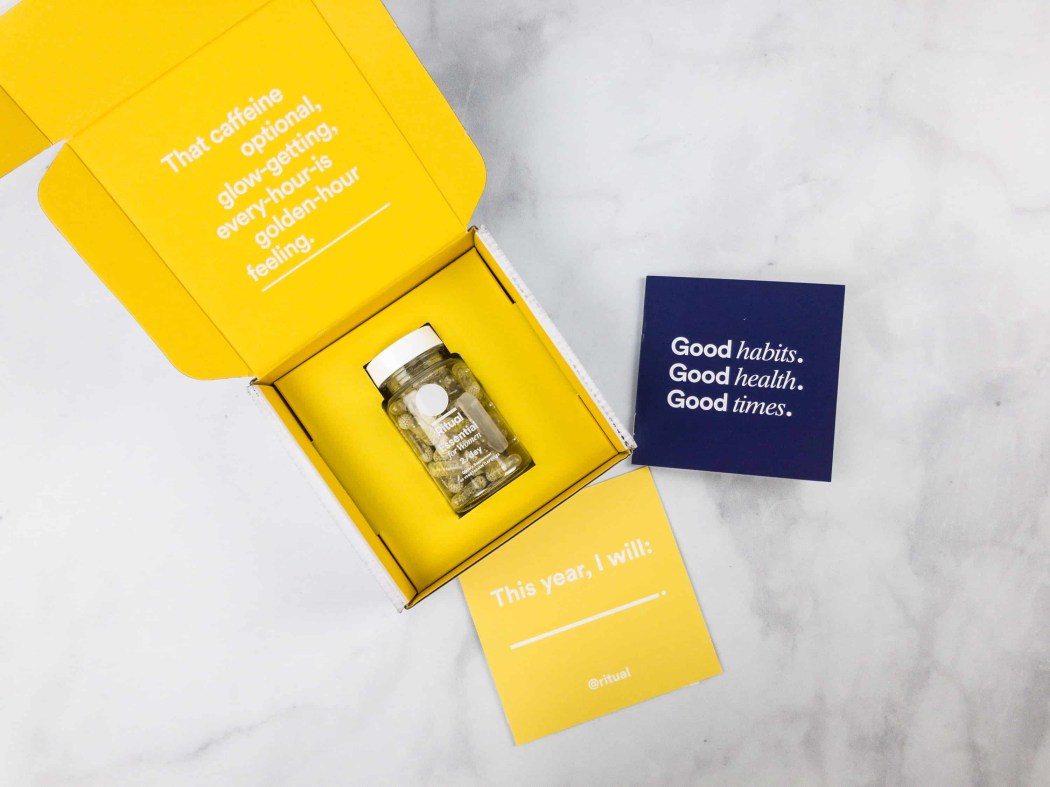 Image from: our review
Why We Love It: Ritual is one of the simplest subscriptions around. This subscription makes health care more accessible (not only for women but also for men, teens, and kids) by sending supplements that contain essential vitamins for their overall health.  Stay healthy, and be in your best shape with 60 capsules in each bottle that are good for 30 days. These vegan-certified vitamin capsules are designed to dissolve later in less sensitive areas of the stomach, which means it's safe to take them even without food! Plus, it is made with no additives or shady fillers, just clean ingredients.
See Ritual Reviews for more information.
Price: Each box costs $30 per month.
Deal: Save $15 on your first month when you bundle any 2+ Ritual products! Deal applies automatically, just visit and subscribe.
---
Image from: our review
Why We Love It: It always feels good receiving fresh flowers, and Enjoy Flowers is here to impress. This farm-to-door flower subscription service won't disappoint if you love decorating your home with various kinds of blooms or if you want to send a loved one a bouquet! You can choose from their three different collections: Signature, Farm Fresh, and DIY, and select the size of your bouquet. They ship these flowers directly from eco-friendly farms in Colombia, so freshness is always guaranteed!
See beautiful flower arrangements we've received on Enjoy Flowers Reviews.
Price: Bouquet prices start at $44.10 per delivery.
Deals:
---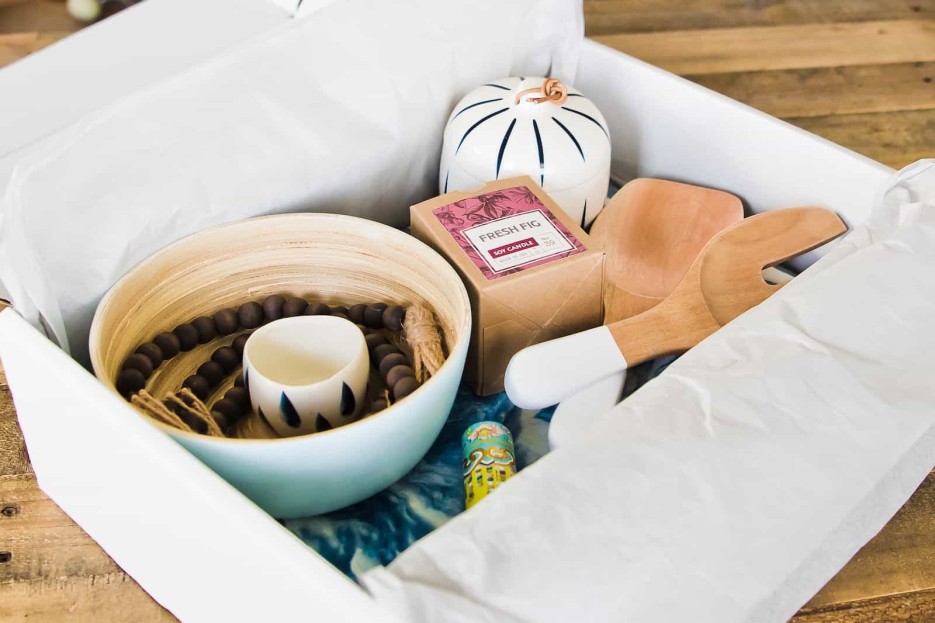 Image from: Designed Life Delivered
Why We Love It: Nothing beats coming home to a pleasant and relaxing space, and with Designed Life Delivered, it's pretty easy to achieve because this subscription sends premium home items every quarter. Each box is seasonally inspired and contains 5 to 8 items you can use in different corners of your home, like candles, wall art, blankets, pillows, serving utensils, bowls, and more. Also, at least one of these items is from a female-owned business!
Price: Try the home decor subscription for $99.99 per box on a quarterly plan, or $92.00 per box on a yearly plan.
Deal: Get $15 off your first box! Use coupon code WELCOME15.
---
Image from: our review
Why We Love It: FabFitFun curates the best of the season in one box — from beauty to homeware and everything in between. Each box comes with full-sized premium products, delivered 4 times a year. Members can customize some items, and there are also customization options for annual members, but the rest of the items are FFF picks. Or they can choose to keep everything as a surprise! Some of the brands they've partnered with are Michael Kors, Kate Spade New York, Tarte, and Oribe. Also, members have access to seasonal Edit Sales and Add-On Sales.
Check out FabFitFun Reviews to learn more.
Price: This box is $49.99 per quarter.
Deal: Take $10 off your first box. Use coupon code FAB10.
---
And that's our list of the best subscription boxes for women in 2022 that you can try! Did you find the box that matches your needs and preferences? Loving these boxes and want to see what's next? Peep the spoilers for women's subscription boxes!
Don't forget to visit our list of the best subscription boxes if you want to discover more!
Say Hello to More Subscriptions for Women!