Whoever said that women can't have it all clearly hasn't heard of subscription boxes. Whether you're into fashion, beauty, wine, self-care, hobbies, or home decor, there's a subscription box out there that's tailored to your interests and needs. And the best part? You don't even have to leave the house to enjoy the excitement of receiving a box full of surprises every month.
Show More (16 items)
Subscription boxes for women are the ultimate treat-yourself indulgence that celebrates womanhood all year round. And with the wide range of themes and goodies that these boxes offer, it's no wonder that they have become a popular way for women to shop for the things they love. But it's not just about convenience and quality products, it's also about having fun and exploring new things.
Treat yourself or a special woman in your life to a subscription box – it's the gift that keeps on giving and brings joy month after month. Below, we've rounded up some of the best women's subscription boxes that cater to a variety of interests, tastes, and lifestyles. Get ready to discover your next obsession!
The Best Subscription Boxes For Every Type of Woman!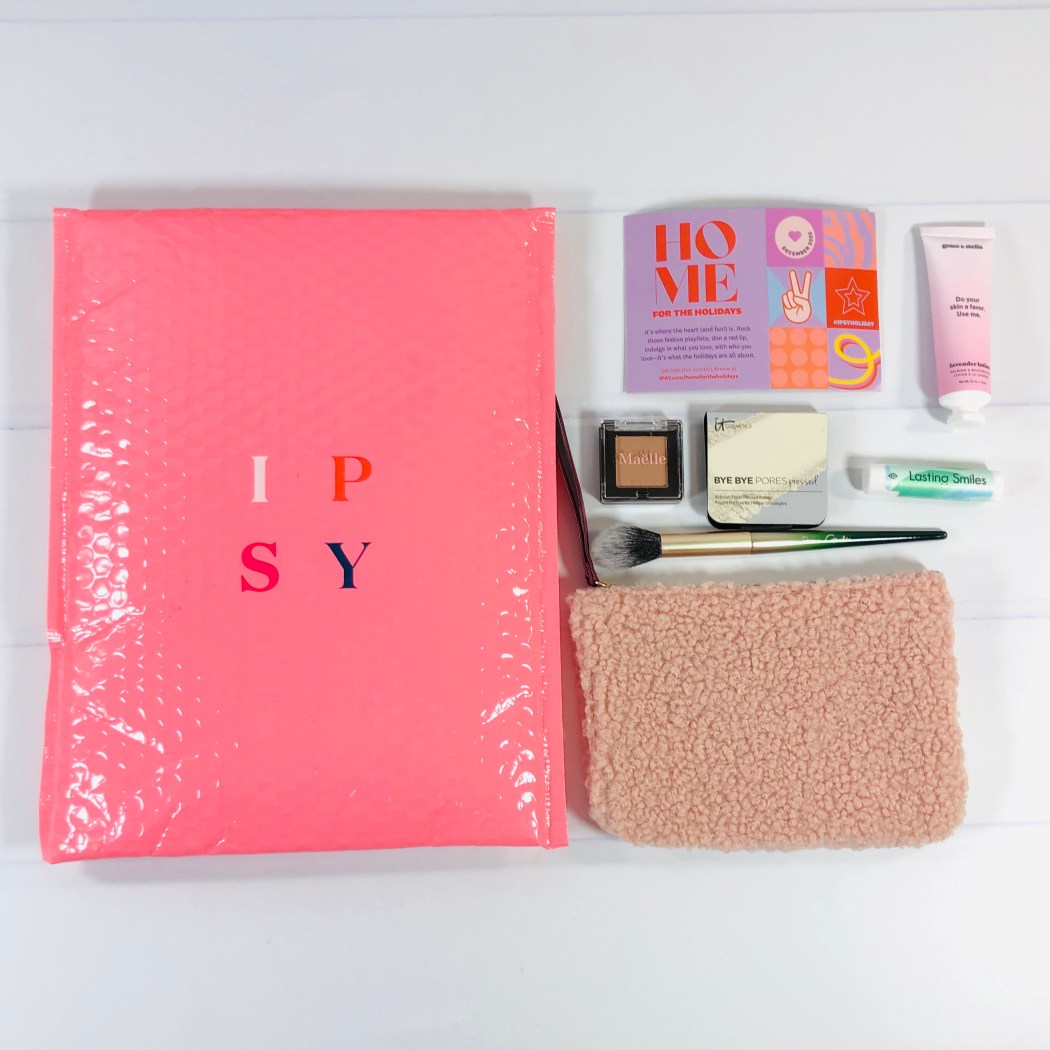 Women who love to experiment with new beauty products will love Ipsy Glam Bag beauty subscription service, which brings a personalized selection of products right to their doorstep. Designed for beauty junkies with new skincare, nail care, hair care, and makeup products, Ipsy begins with a short questionnaire to tailor your experience. Each month, subscribers receive five deluxe and full-size beauty products in a super chic beauty bag that you'll want to show off to all your friends.
Deal: Get FREE month of Refreshments when you subscribe to any Ipsy subscription – that's up to $15 value!  Deal applies automatically, just visit and subscribe. FYI, Refreshments is an add-on subscription to your Ipsy membership. Must cancel after trial if you don't want to be charged.
---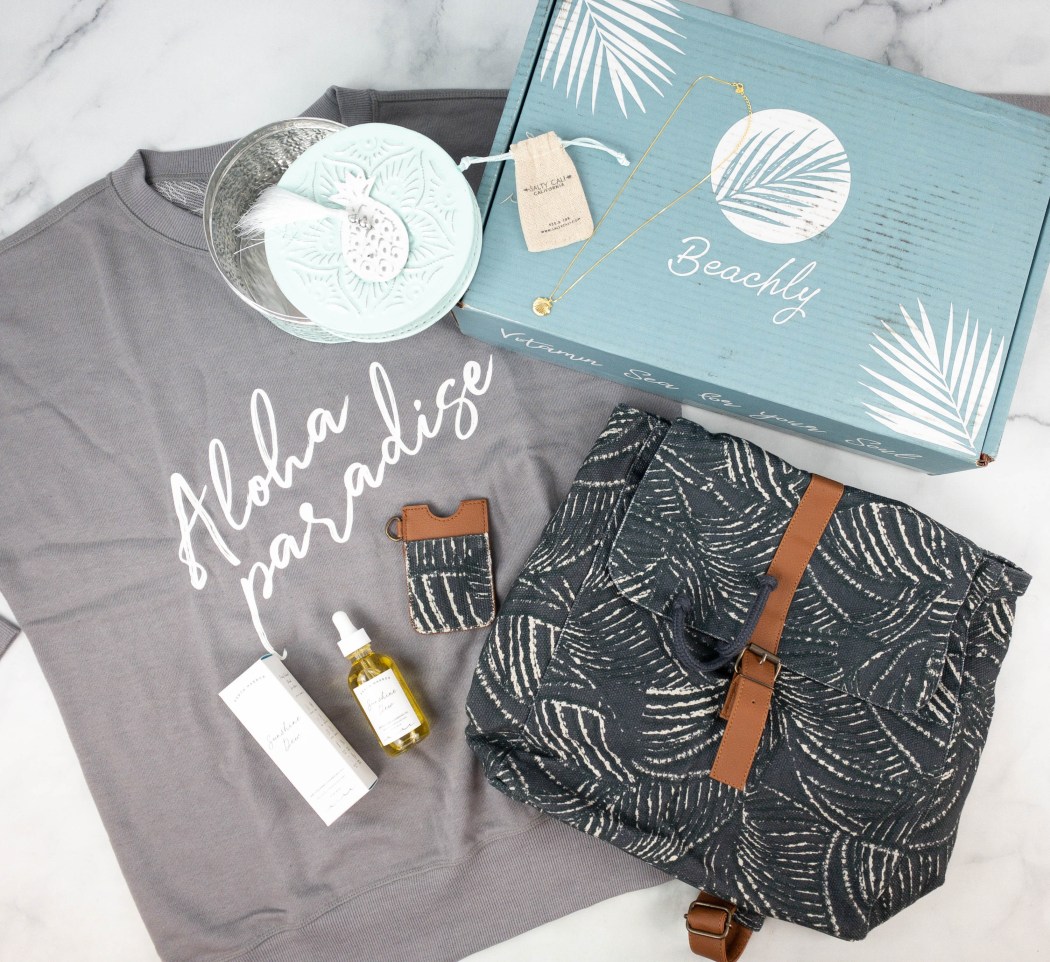 Image from: our review
Created for beach babes and ocean lovers, Beachly is packed with premium beach-inspired goodies including apparel, accessories, home decor, and other lifestyle products. Each item is carefully chosen from both established and up-and-coming brands, so you'll always be ahead of the curve when it comes to seaside style. But the Beachly Women's Box isn't just about looking good – it's also about doing good. Every box sold helps fund beach clean-ups, so you can feel good about giving back while you enjoy your beachy treasures!
Deals:
Get a FREE BONUS BOX ($100+ value) with your first box! Use coupon code BONUSBOX.
Save $30 on your first box! Use coupon code SAVE30.
---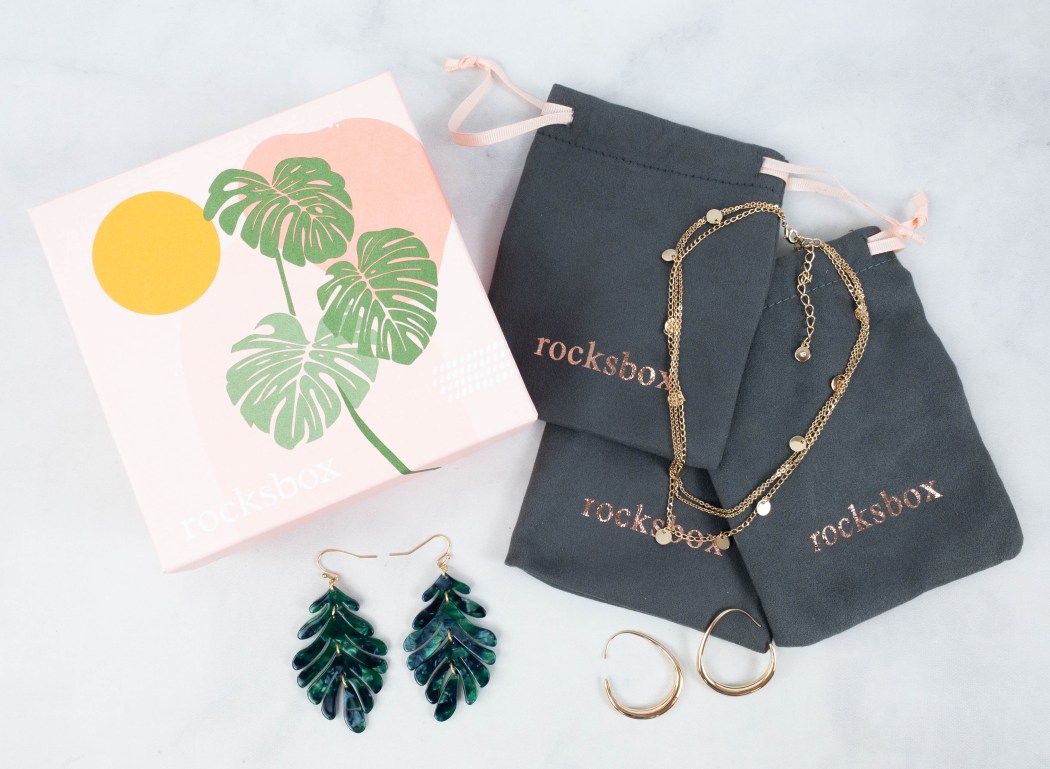 Image from: our review
With Rocksbox, you get access to a wide range of jewelry that can totally transform your look! Experiment with different styles without buying expensive pieces – just take a fun quiz that will determine your unique style, and expert stylists will curate a box of jewelry that fits you perfectly. Each piece can be worn as many times as you'd like, for however long you want! When you're ready to switch things up, simply return your set and they'll send you a fresh batch of gorgeous jewels.
Deal: Get your first month free! Use coupon code mommysplurgexoxo.
---
Image from: our review
Allure Beauty Box offers top-trending, editor-tested makeup & beauty items to treat every beauty enthusiast every month! Each box includes six (or more!) expert-approved products from luxury and indie brands (all valued at over $100), with 3+ items that are always full-sized. It comes with a mini-magazine that contains tips and reviews, so you'll have an idea about the products you are getting. Also, they occasionally throw in an extra item or two from a mass brand as a gift. It's a great way to discover more beauty products and brands without stressing out!
Deal: Get a FREE new member bonus item with your first box! Deal applies automatically, just visit and subscribe.
---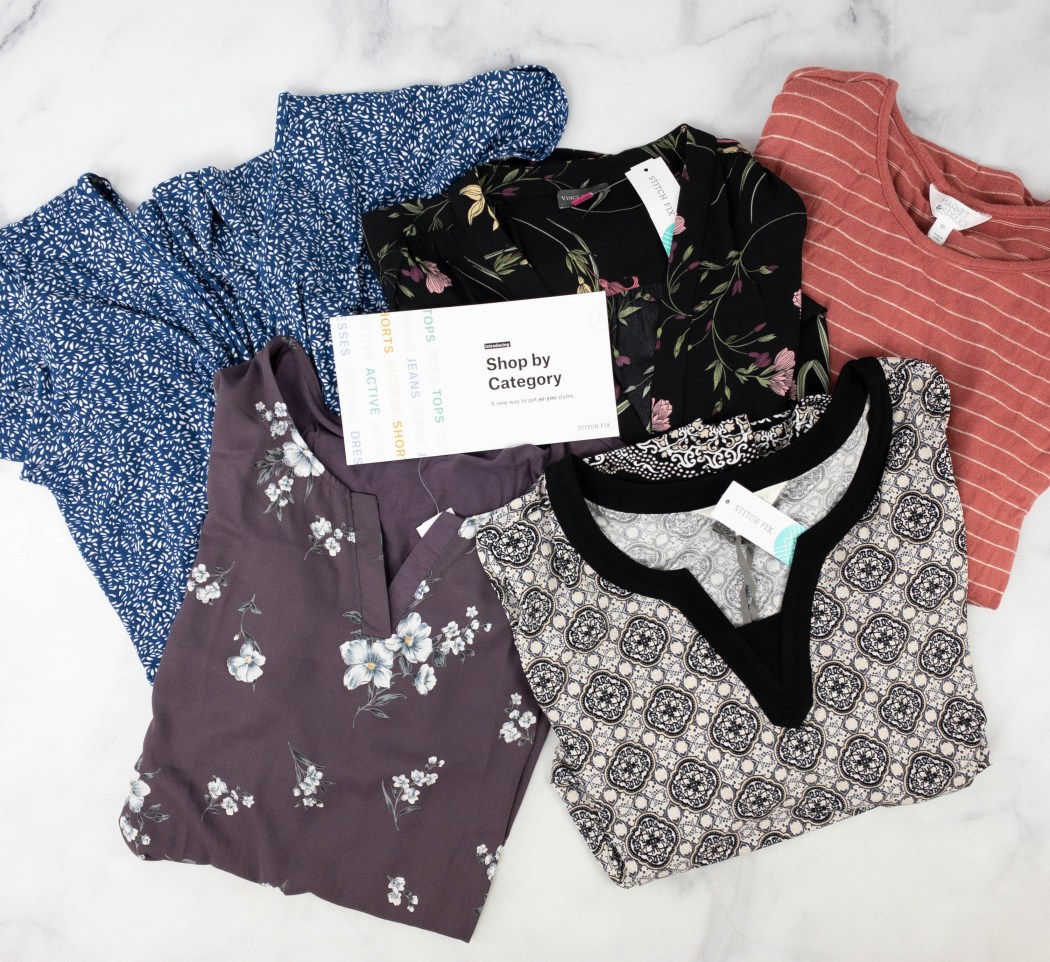 Image from: our review
Stitch Fix offers personal styling for women, helping you find your perfect fit with personalized pieces hand-selected for your individual style, unique size, and preferred price range. There's an easy style quiz you need to take, and it will serve as a guide for your personal stylist in curating your fix. Feel free to leave notes to your stylist to help them curate the perfect fix for you! Once arrived, try the clothing items comfortably at home and decide which ones to keep and what will be shipped back to them, free of charge. And yes, no subscription is required! With brands like Madewell, Beyond Yoga, Paige, Mother, and more, you'll discover new items and outfit suggestions again and again!
Deal: Get $20 off your first Men's or Women's fix! Deal applies automatically, just visit and subscribe.
---
Image from: our review
BOXYCHARM by Ipsy made it much more fun and easy to discover the best and the latest products in the beauty scene! They keep us up-to-date, so we're always in the loop about what's new in the beauty community. Subscribers receive 4 to 5 full-sized beauty products from well-known, popular, chic, and up-and-coming brands each month, all selected based on current and emerging trends. They send a nice selection of beauty and skincare products, as well as hair care, nail care, and fragrances now and then. It's always a great variety of high-end products from the best beauty brands without paying the full price!
Deal: Get FREE month of Refreshments when you subscribe – that's up to $15 value!  Deal applies automatically, just visit and subscribe. FYI, Refreshments is an add-on subscription to your Ipsy membership. Must cancel after trial if you don't want to be charged.
---
Image from: our review
Decocrated makes it more exciting to refresh your home's mood every season! Each quarter, they'll send you 6-9 handpicked, seasonally appropriate, high-quality home décor (full-sized!) that has over $200 in value to give your home a new and fresh look, which includes interchangeable items you can use for years. You may receive tabletop decors, pillowcases, table runners, printed art, and more that fits and works with any home décor you already have at home. It also includes a booklet with product descriptions, tips, and inspiration for décor placement.
Deal: Get $15 off on quarterly or annual subscriptions! Use coupon code HELLOSUB15. Valid to new subscribers only!
---
Image from: our review
"Self-care equals self-love" – that's what TheraBox believes in, and so do we! With a package sent to your door every month, you can shrug off all the stress away. Focused on wellness and relaxation, each box is curated with the aim of encouraging a happier life! Enjoy 6-8 natural, organic, and feel-good wellness goodies like aromatherapy, clean skincare, and other unique lifestyle items, along with one happiness-boosting activity inspired by research in mindfulness, psychology, and neuroscience. Monthly boxes are also themed differently to keep your happy neurons flaring!
Deal: Get 50% off your first box when you sign up for a 3-month subscription! Use coupon code HELLO50.
---
Margot Elena Discovery Box is one of the most elegant boxes we've seen! It is a collection of extravagant goods made from the finest ingredients, beautifully and carefully packaged for anyone's enjoyment. It contains a great assortment of product colors and scents from Margot Elena's family of brands like Lollia and TokyoMilk. Boxes are always filled with high-quality surprises that won't disappoint! It's sent 4 times a year with over $200 value in each box—luxury, but for a lesser price. With this subscription, you can discover the world of all things beautiful!
---
Image from: our review
With Annie's Creative Woman Kit-of-the-Month Club, you'll enjoy learning a new craft each month and improving your creative skills! This subscription offers DIY projects that are super fun and easy to make, ideal even for beginners. You'll get a project to work on in your free time, complete with everything you need, including easy-to-follow instructions, to start creating handmade treasures you can keep for yourself or gift to someone you love. Time to hone your skills in painting, needle crafts, beadles, candle & soap making, and more with each kit they send to your door. It even comes with new techniques that can expand your skillset and creativity!
Deal: Get 50% off your first month's kit on any clubs! Use coupon code SHARE50.
---
Image from: our review
Vine Oh! treats all the wonderful women in the world with sips and surprises! It ships quarterly with two bottles of California wine and 5-6 full-size products in every box, so all you have to do is sip and relax. You also have the chance to pick your wine, whether you want it to be all whites, all reds, or a mix. To top it off, there's a promised incredible value of $120 in every box! Wine lovers can also opt for the wine club, where they'll receive four or six 750ml bottles of premium California wine monthly at a great price for more cheers. It's the subscription to try, so you'll always have an excuse for an all-girls wine night!
Deal: Save $10 Off + An Extra Bottle of Wine with your first box! Use coupon code HELLOWINE.
---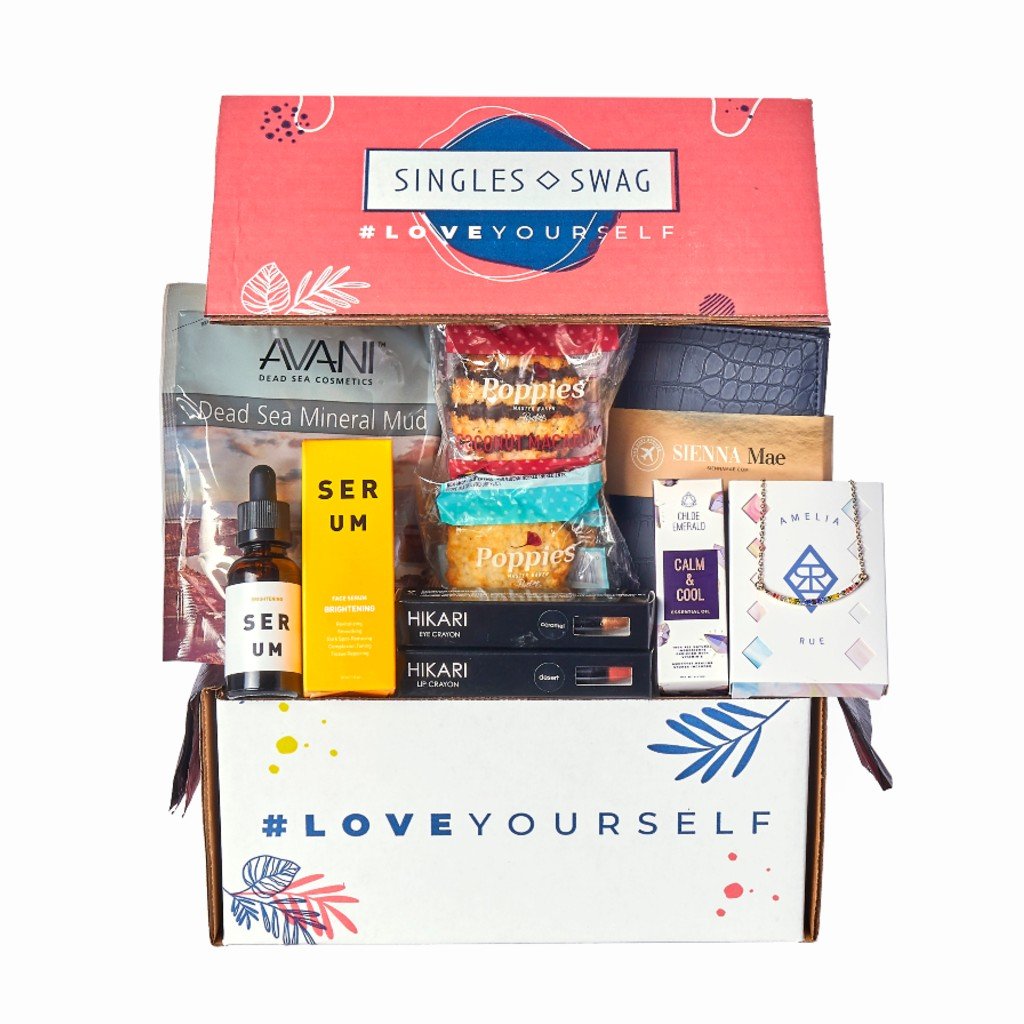 Image from: SinglesSwag
Put your hands up, single ladies! The perfect picker-upper SinglesSwag contains almost anything and everything under the sun. It's a fun monthly surprise box for amazing single women, promoting self-love and self-care all year round with a great range of products – from organic beauty products to yummy snack treats, fun and trending fashion accessories, best-selling books, and more! Just pick your box: SinglesSwag (7-8 items) or SinglesSwag Petite (4-5) to celebrate and enjoy the single life! Although designed for single women, it's still a fantastic pick for any woman in general. What also makes it one of the best subscriptions is that they share the love by donating a portion of all proceeds to the Breast Cancer Research Foundation.
Deals:
Save 40% off your subscription! Use coupon code SPOOKY.
Receive 20% off your subscription! Use coupon code HELLO20.
---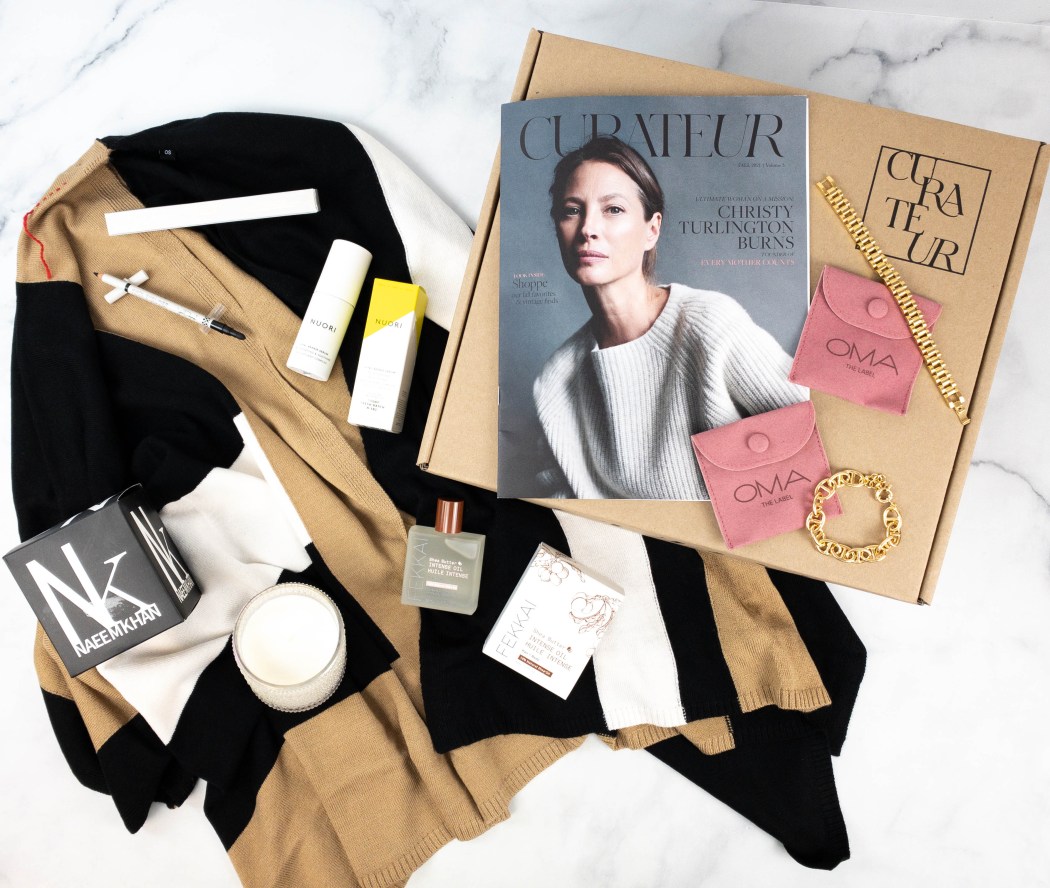 Image from: our review
CURATEUR is one of the most coveted subscriptions around, and we're not surprised why! Shipping quarterly, it is filled with an expertly styled assortment of fashion, beauty, and lifestyle obsessions that'll keep any woman looking pretty and feeling chick all season long. Aside from fashion finds worth over $400, subscribers get first dibs on the latest beauty items and styling tools! You can also choose to pay per box (Star) or get an annual prepaid membership (Icon), which has more perks.
---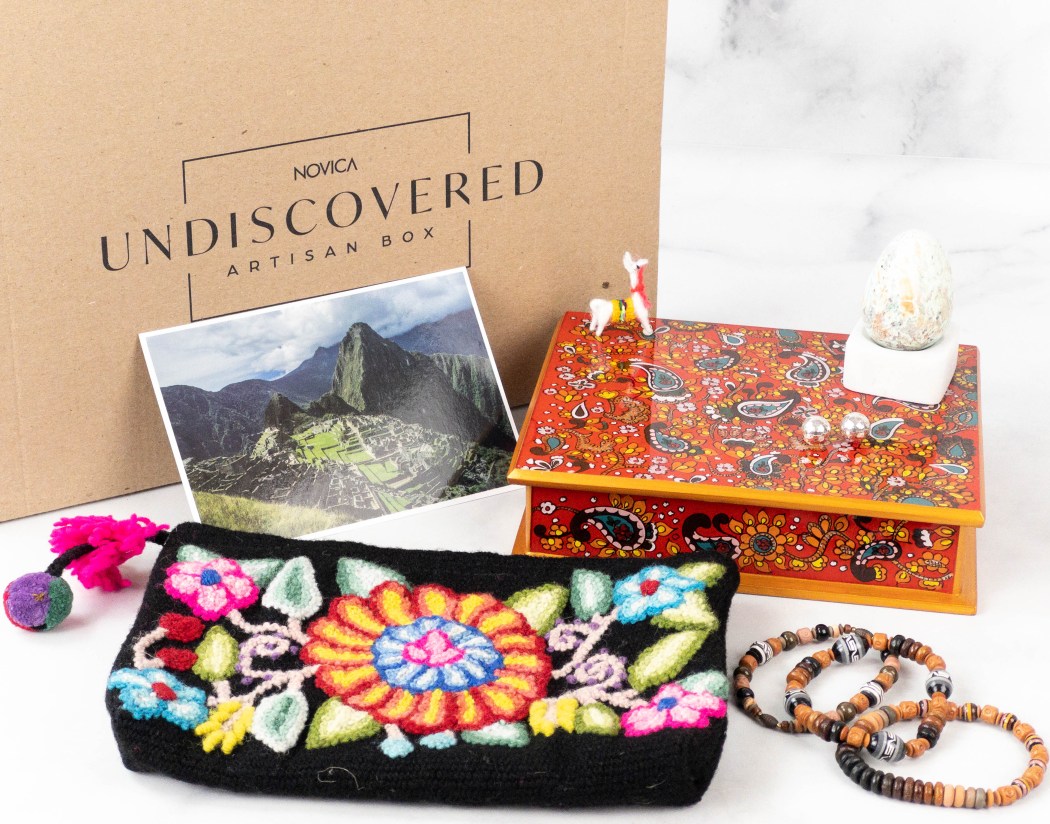 Image from: our review
When it comes to artisan-made products, Novica Undiscovered doesn't disappoint! This quarterly subscription box features handcrafted and fair-trade items from different regions across the globe. Each box will include at least five items, and they will be wrapped in a beautiful gift box. Women who love artisan goods can look forward to beautiful accessories, home decor, and even novelty items in each box. What's even cooler about it is that subscribers can choose some items they really want to receive. There will also be insider tips, behind-the-scenes stories, and special recipes from the land each featured artisan of the month calls home!
Deal: Save $10 on your first subscription! Use coupon code ARTISANBOX10.
---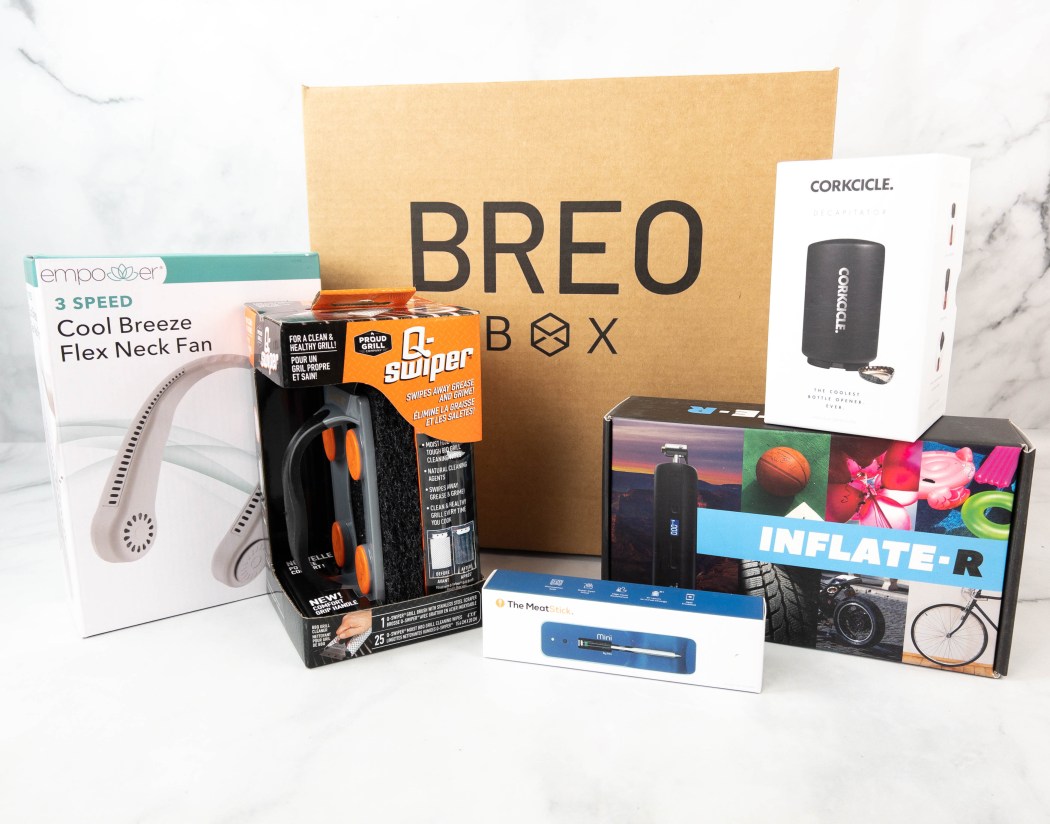 Image from: our review
Shipped quarterly, Breo Box curates boxes with the coolest and most unique, gender-neutral products that you never knew you needed! Each box contains 6-9 high-quality products revolving around health and fitness, tech gadgets, home goods, and everyday lifestyle essentials – all curated around the season. It always includes fun items and even extras that make the box really jam-packed every quarter! Another great thing about this subscription is that they value their subscribers' loyalty. The longer you're with them, the more they reward you with discounted rates and exclusive perks!
Deal: Get $15 off your first box! Use coupon code hs15.
---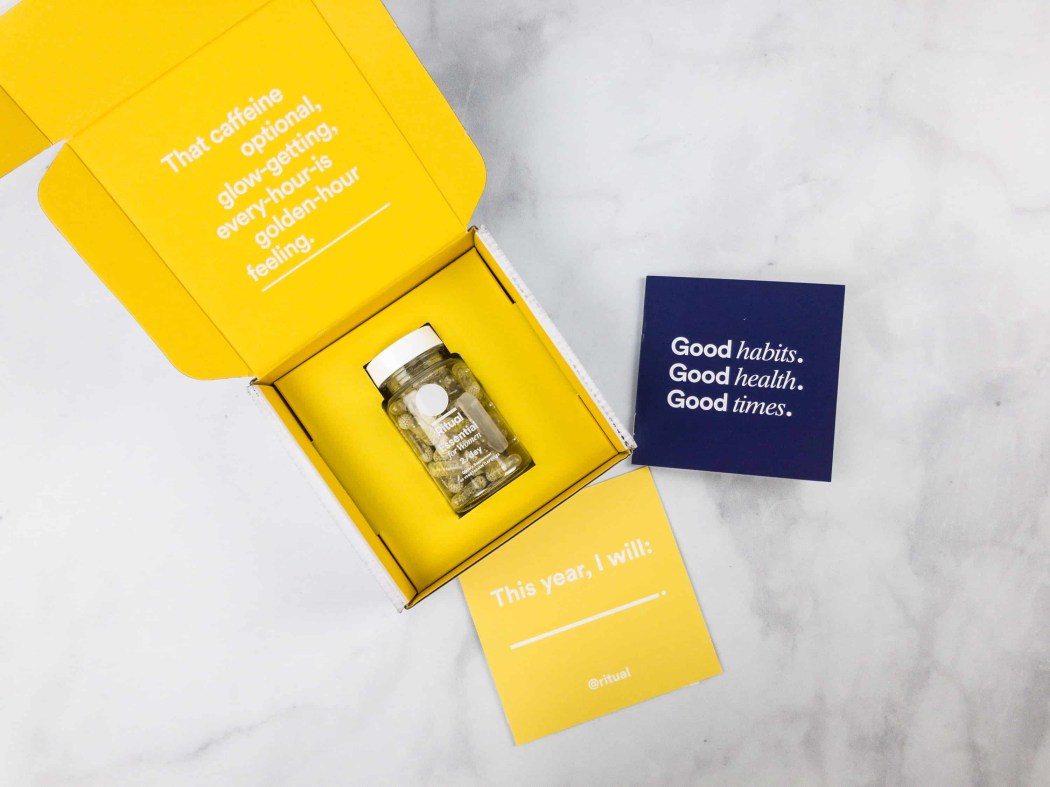 Image from: our review
Ritual is one of the simplest subscriptions around. It makes health care more accessible for women (as well as for men, teens, and kids) by sending supplements that contain essential vitamins for overall health and well-being. Stay healthy and be in your best shape with 60 capsules in each bottle for a month's supply. These vegan-certified vitamin capsules are designed to dissolve later in less sensitive areas of the stomach, which means it's safe to take them even without food! Plus, it is made with no additives or shady fillers, just clean ingredients.
Deal: Save 5% on your first month when you bundle any 2+ Ritual products! Deal applies automatically, just visit and subscribe.
---
Image from: our review
It always feels good receiving fresh flowers, and Enjoy Flowers is here to impress! This farm-to-door flower subscription service won't disappoint if you love decorating your home with various kinds of blooms or if you want to send a loved one a bouquet! Grab The Garden Collection to live life in full bloom with a bundle of farm-favorite varieties. They ship these flowers directly from eco-friendly farms in Colombia, so freshness is always guaranteed!
---
Image from: our review
FabFitFun curates the best of the season in one box. From beauty to fashion to wellness to homeware and everything in between, it is packed with an insane amount of value! Shipped four times a year, it comes with 6-8 full-sized products and premium items from brands they've partnered with such as Dr. Brandt, Coach, Fenty Beauty, Kate Spade New York, Michael Kors, and more! Members can customize their boxes and buy add-ons or keep everything as a surprise!
Deal: Get $10 off your first box! Use coupon code HS10.
---
Image from: our review
Vellabox sends just the perfect aromatic candles to warm up any space. These vegan scented candles are handcrafted in small batches using 100% natural soy wax and lead-free cotton braided wicks, then infused with seasonal fragrances – no parabens, artificial dyes, and definitely, no animal-by products! When burned, each gives a long-lasting aroma that helps set the mood. Choose from 3 different candle sizes – The Lucerna Box (one 4 oz candle), The Ignis Box (one 8oz candle), or get both candles with The Vivere Box. Each box even includes a gift for that extra surprise!
Deal: Get 50% off your first box! Use coupon code HELLOSUB50.
---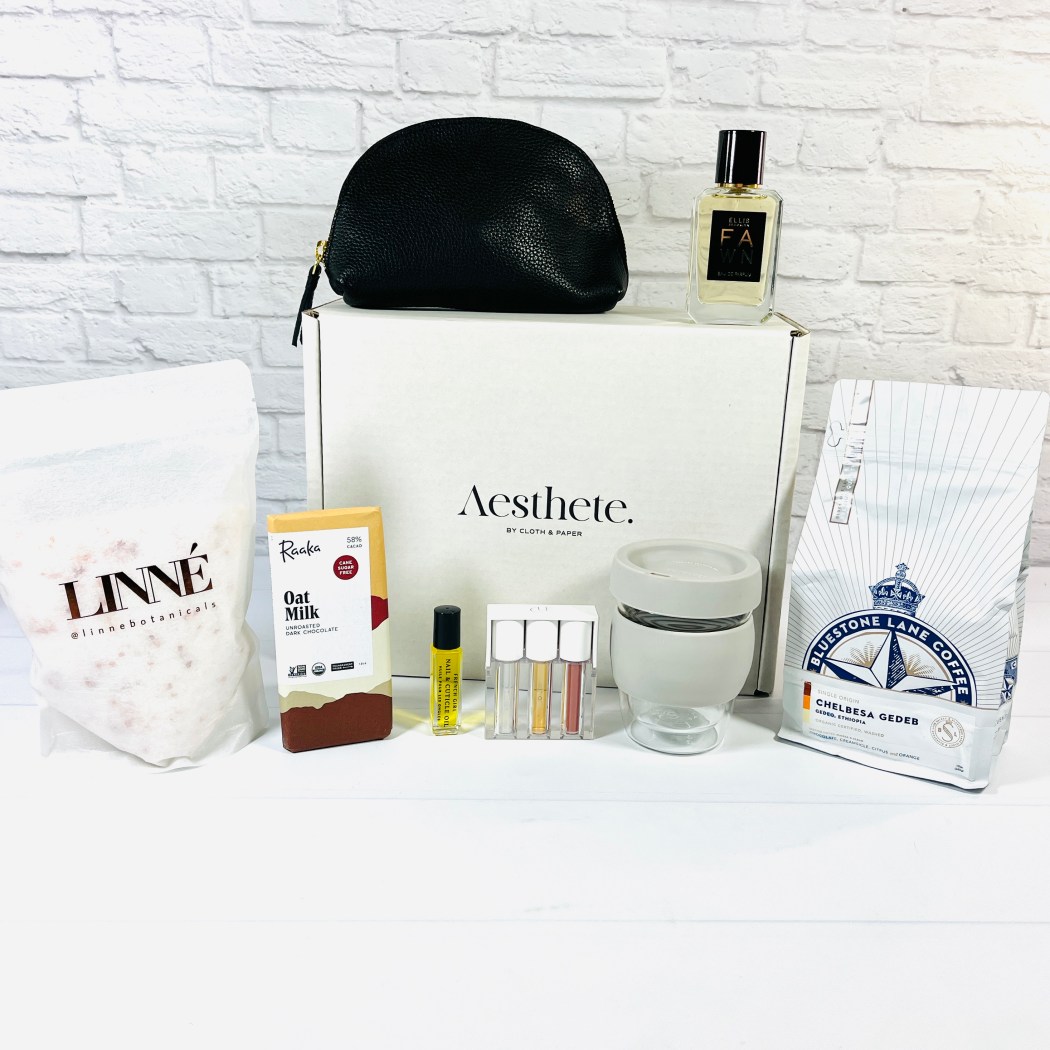 For Aesthete Box by CLOTH & PAPER, it is all about innovative design and functionality! This deluxe quarterly subscription revolves around the idea of minimalism but is still full of surprise elegance. Each themed box includes one deluxe item, plus six or more goodies from brands you love and will love. Products vary and range from makeup to home goods, with a total value of $300 or more! It's a full-blown aesthetic box, approved by your luxurious style preference! Simply saying, it's the personal shopper you didn't know you needed.
---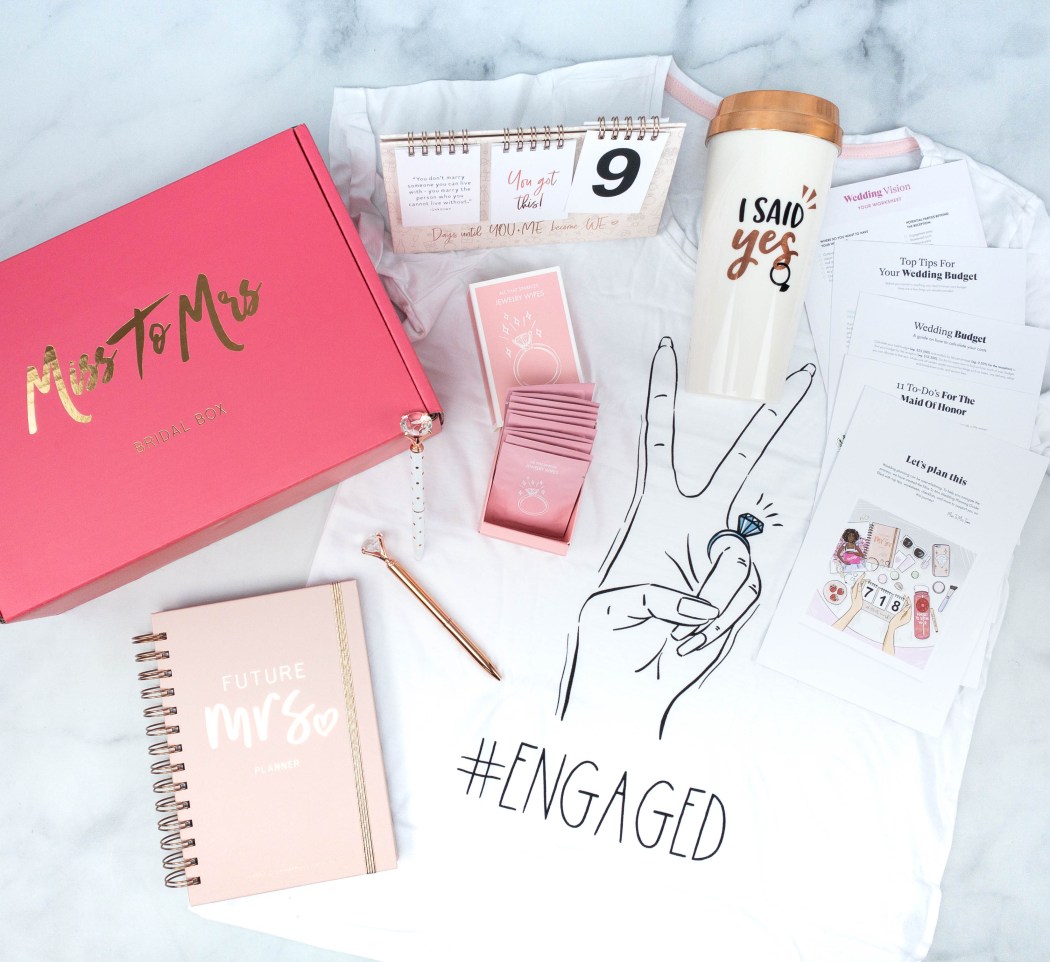 Image from: our review
Miss to Mrs Box is a fun subscription box for the soon-to-be bride, customized to a specific stage of wedding planning! It makes preparations more exciting with a selection of bridal goodies you can use before the big day, on your wedding day, and even after. Themed boxes contain 6-7 exclusive full-size products, including accessories, planning tools, apparel, decor ideas, and other wedding day and honeymoon essentials valued at over $100. The box also comes with a planning guide with checklists, tips, and inspiration!
Deal: Get $30 shop credit when you sign up for a Miss to Mrs Box subscription! Deal applies automatically, just visit and subscribe. Valid for new subscribers only.
---
Image from: Nuuly
Designed exclusively for women, Nuuly is a clothing rental subscription service that helps you rock your style without breaking the bank. Members can choose up to six items to rent from a continuously updated collection of clothing styles. Options include receiving only dresses or a mix of tops and bottoms. The collection features popular labels and up-and-coming designers, as well as pieces from Nuuly's own Anthropologie, Free People, and Urban Outfitters family of brands. For those who fall in love with the items they rent, there is the option to buy them. Additionally, Nuuly offers free shipping and returns to its members. With its focus on both style and convenience, Nuuly is the perfect choice for any fashionista on a budget!
---
And that's our list of the best subscription boxes for women in 2023! Check out the spoilers for women's subscription boxes!
Don't forget to visit our list of all the best subscription boxes!