Imagine a world where taking care of yourself is not just a luxury, but a necessity. In the midst of our chaotic lives, finding a moment of respite becomes increasingly elusive. However, it's high time we prioritize our well-being and reclaim some precious "me-time." That's where the wonders of self-care subscriptions come into play. These services offer you the chance to reward and pamper yourself in ways you truly deserve.
Show More (7 items)
Each package holds a treasure trove of carefully curated products, tailored to support your personal journey towards ultimate well-being, self-love, and self-care. From delightful treats and luxurious spa products to enchanting candles that flicker tranquility, or perhaps a collection of captivating books and a melody-filled playlist that transports you to a realm of serenity—the possibilities are boundless. With these subscriptions by your side, embracing self-care becomes an exquisite adventure you never want to miss.
We've carefully selected the best self-care subscription boxes to help you indulge and unwind like never before. Get ready to discover a world of pure bliss and rejuvenation with these amazing boxes.
The Best Self-Care Subscription Boxes To Treat Yourself!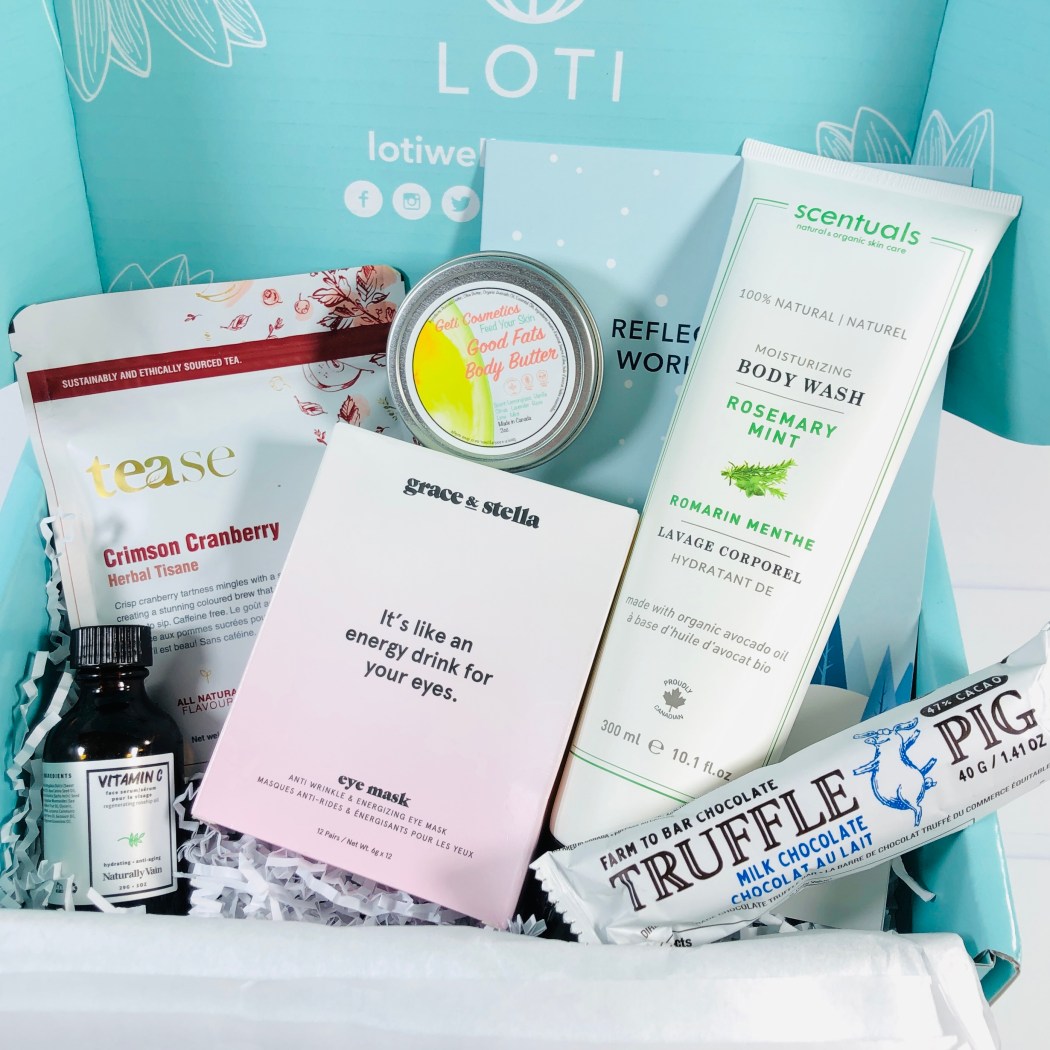 Image from: our review
What You Get: Self-care in a box – that's what Loti Wellness is! This subscription is all about giving self-care through monthly curation of boxes packed with wellness products. Using research-based psychology and psychotherapy, this wellness box helps improve your overall well-being and relieve stress and anxiety. Each month, you'll receive a box containing 5-8 quality wellness and lifestyle products with a retail value of over $90! Items include 100% natural, cruelty-free, and sustainable products like bath and body products, candles, skincare, aromatherapy, and more! Through this box, you can create your own "me-time".
Deals:
Get 50% off on your first box when you sign up for a 6+ month subscription! Use coupon code WELCOME50.
Get 10% off on your first monthly subscription box! Use coupon code LOTIBOX.
---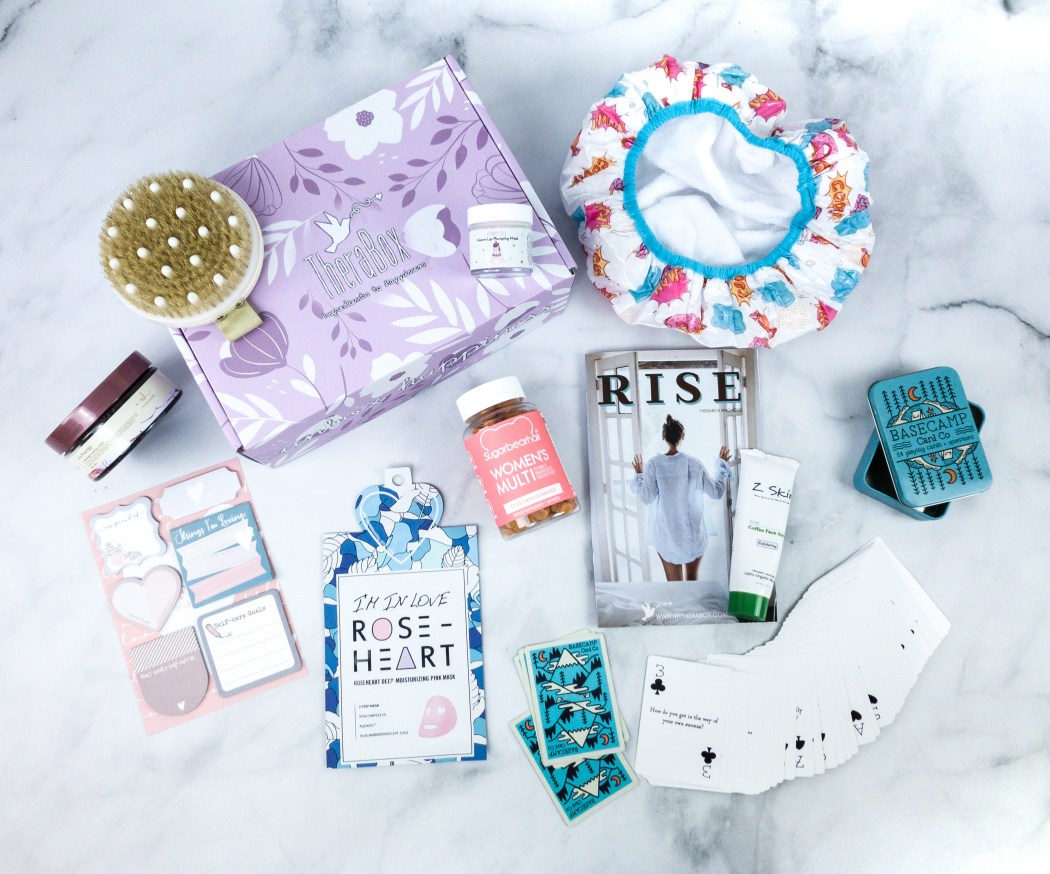 Image from: our review
What You Get: Having to care for yourself is the best gift you can ever give yourself. TheraBox provides the ingredients for a happier life. It is a monthly subscription that sends practical joy-boosting activities and thoughtful self-care products. Each box includes 6-8 wellness surprises like aromatherapy, clean beauty/skincare, and other unique lifestyle items! Products are sourced from vendors that produce natural, organic, and feel-good products leaving all the bad behind to give you happiness, relaxation, tranquillity, and inspiration. Keep your happy neurons flaring and make yourself feel cared for and loved with boxes that are differently themed each month!
Deal: Get 50% off your first box when you sign up for a 3-month subscription! Use coupon code HELLO50.
---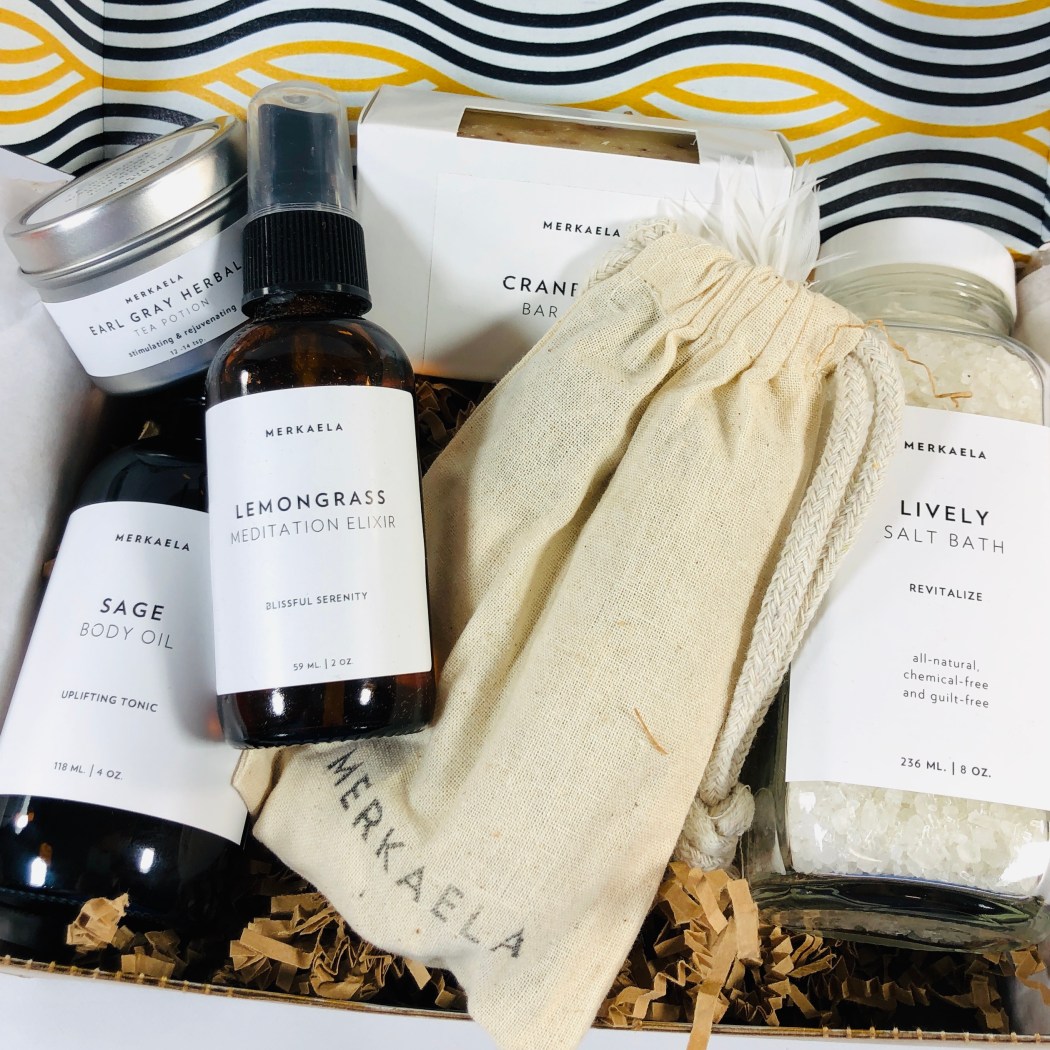 Image from: our review
What You Get: Merkaela is no exception when giving the best self-care to everyone. It creates sustainable and chemical-free products that nourish not only your body but also your mind and soul. They engage all of your senses by offering all-natural self-care and wellness products, made from ingredients you can pronounce and handcrafted in small batches. Each month, you'll receive a box filled with a careful selection of essentials that are safe and absolutely cruelty-free. Choose the best box you think you need and please yourself with all the goodness it brings: Smudge Stick subscription, Deluxe subscription, Herbal Body Butter/Oil subscription, Soap subscription, and Essential subscription.
Deal: Get 22% off all subscription plans! Use coupon code NEWMOON .
---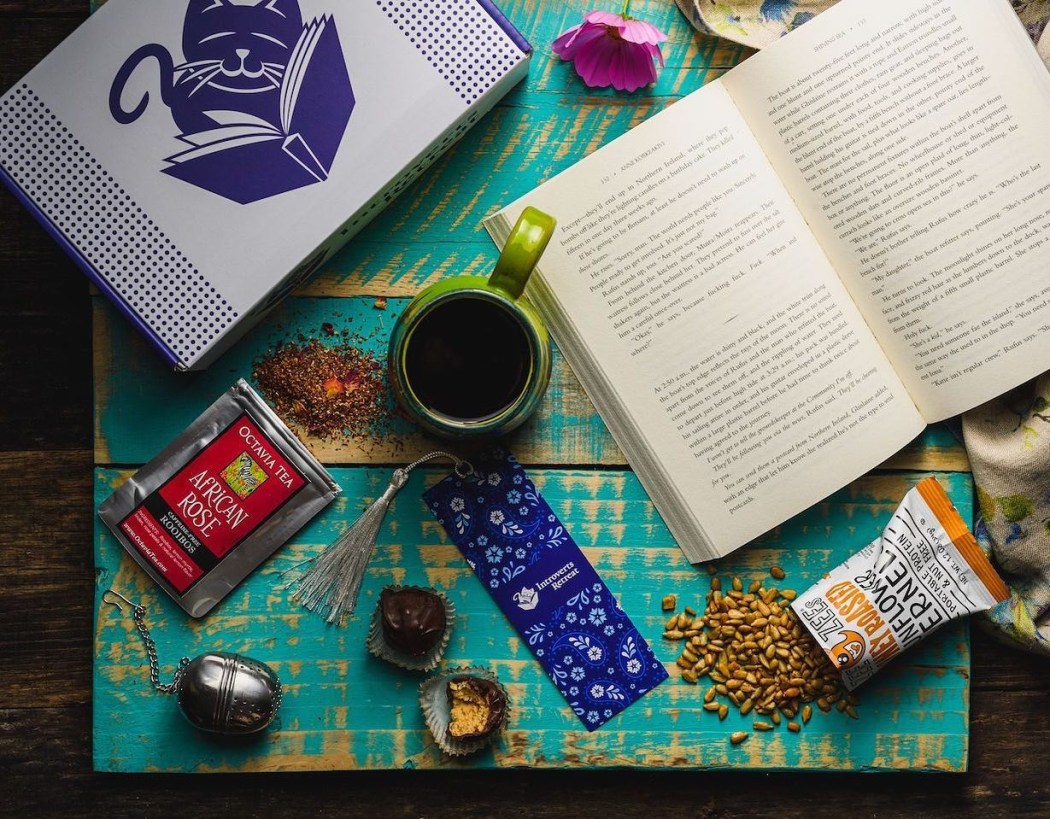 Image from: Introverts Retreat
What You Get: Being an introvert means you got to spend most of your time with yourself. Recharge emotional battery with Introverts Retreat. It is a self-care box filled with hand-picked goodies that reminds you to always take care of yourself, which includes novels, soy candles, bath salt soak, scented soap, and delicious handmade snacks. You can also opt just for a book and candle only. Whichever plan you consider getting, you'll surely be relaxed and rewarded with the perfect self-care you need!
Deal: Get 30% off on your first box with 3+ months subscription! Use coupon code 30PERCENT.
---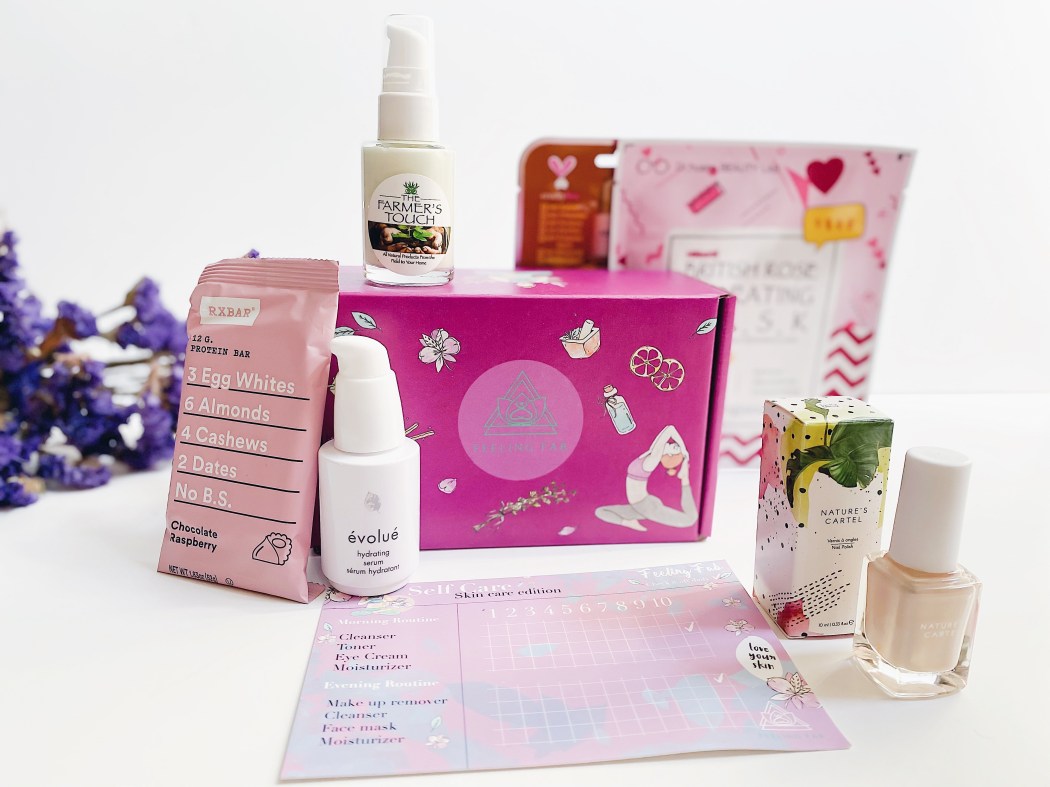 Image from: Feeling Fab Box
What You Get: A premium wellness and self-care box is what Feeling Fab Box offers. They aim to spread wellness and self-love with clean, balancing, and spiritual products that are cruelty-free, natural, and non-toxic. Each box comes with 4-10 products based on the plan you've chosen to give you a cleaner life without having to break the bank! Get the Tiny box, Mini box, and Self-Care Ritual box to help you enhance and elevate your self-love. With the goal to help you discover new and exciting clean brands, you can build your own unique self-care regimen and make yourself the very best every day!
Deal: Get 15% off month-to-month plan! Use coupon code HELLOFAB.
---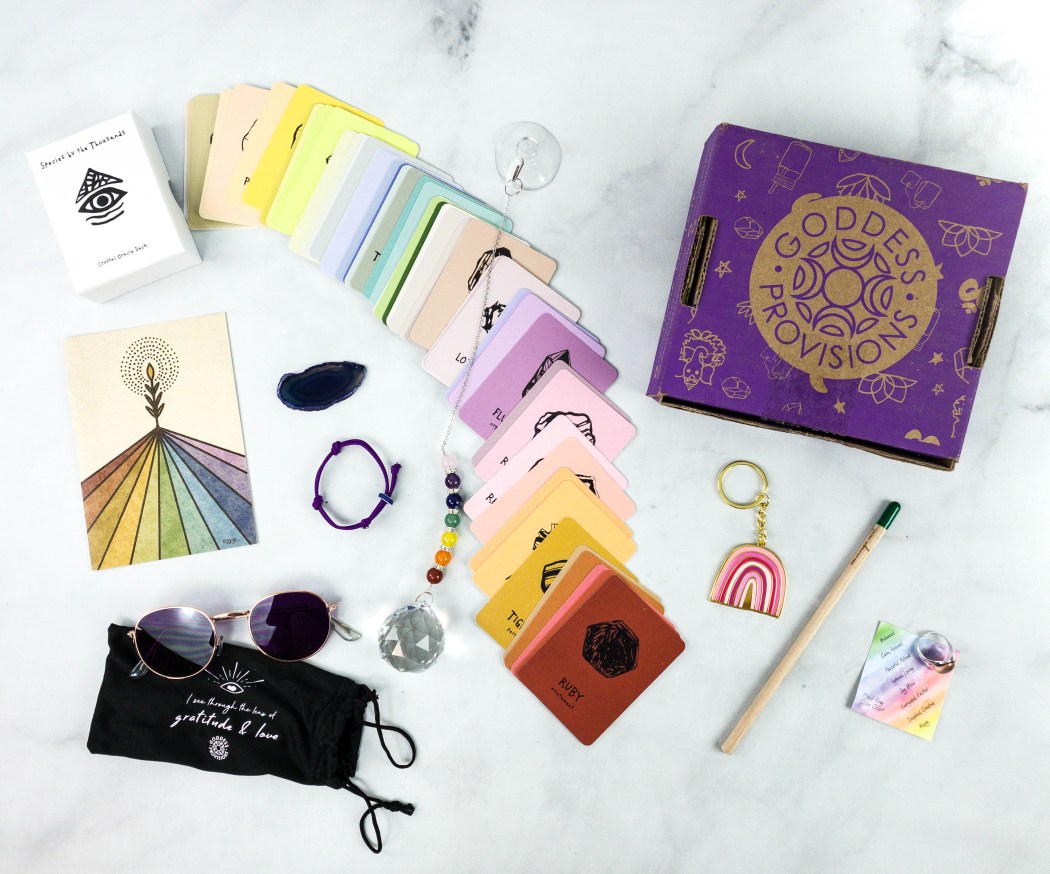 Image from: our review
What You Get: Gift yourself the relaxation and comfort it needs. Goddess Provisions is created to serve goddesses anywhere in the world. Packed with 5-7 products, it will surely light up your mind, body, and soul. Each box has great value and includes a mix of self-care products, teas, ritual tools, sacred space décor, crystals, and much more that can alleviate stress and enhance self-love. Not to mention, these products are always cruelty-free and vegan! Sample-size products are sometimes included as bonus gifts. What's great is they also plant a tree for every box sold!
Deal: Save $5 on your first box on any-length subscription! Use coupon code 5SAVHS.
---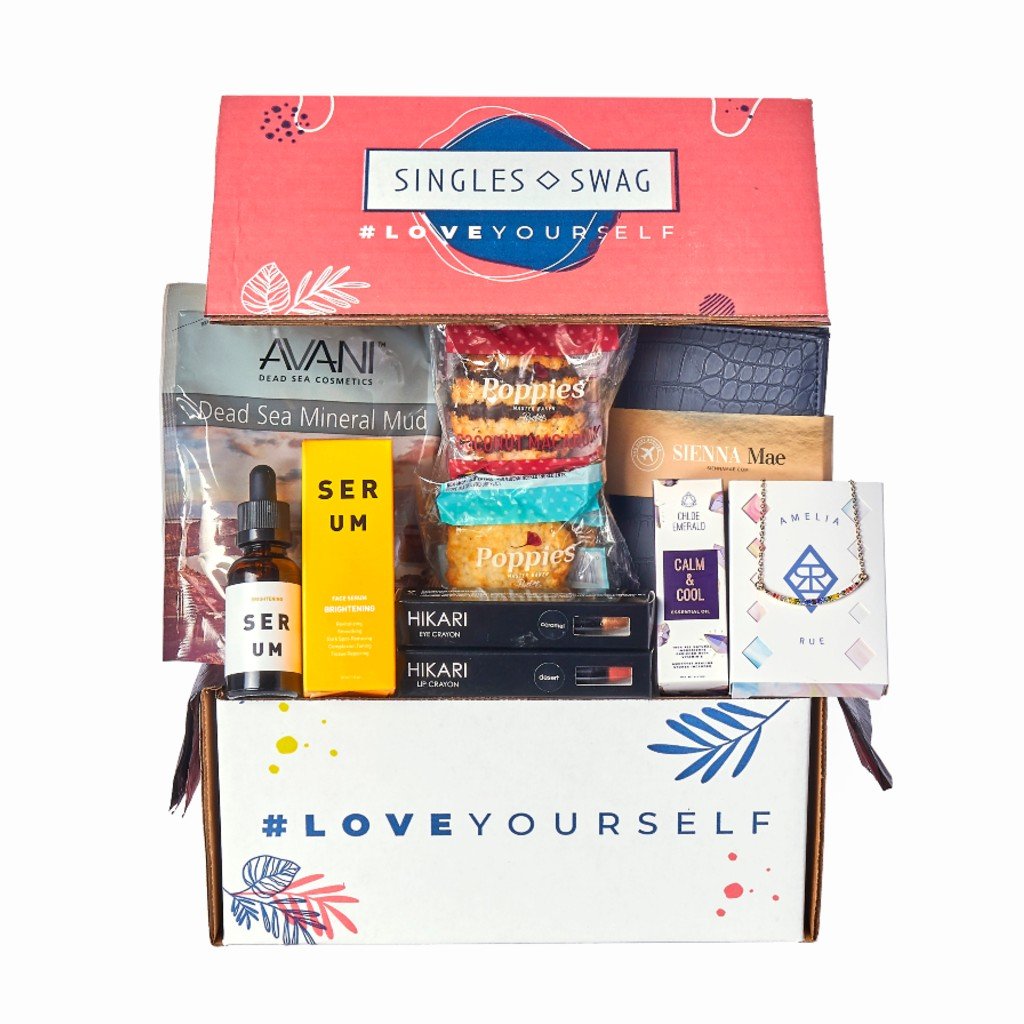 Image from: SinglesSwag
What You Get: It doesn't mean you're single you cannot care for yourself, and SinglesSwag is here to help you realize that! This subscription promotes self-love and self-care all the time. Aside from making every woman look and feel beautiful, they also empower and inspire them through incredible products like bath & beauty, accessories, food, and best-selling books. You can select your own plan (SinglesSwag or SinglesSwag Petite), and they'll do all the work for you! All you have to do is use these products to pamper yourself and celebrate your "me-time"! They also share the love by donating a portion of all proceeds to the Breast Cancer Research Foundation.
Deals:
Save 40% off your subscription! Use coupon code SPOOKY.
Receive 20% off your subscription! Use coupon code HELLO20.
---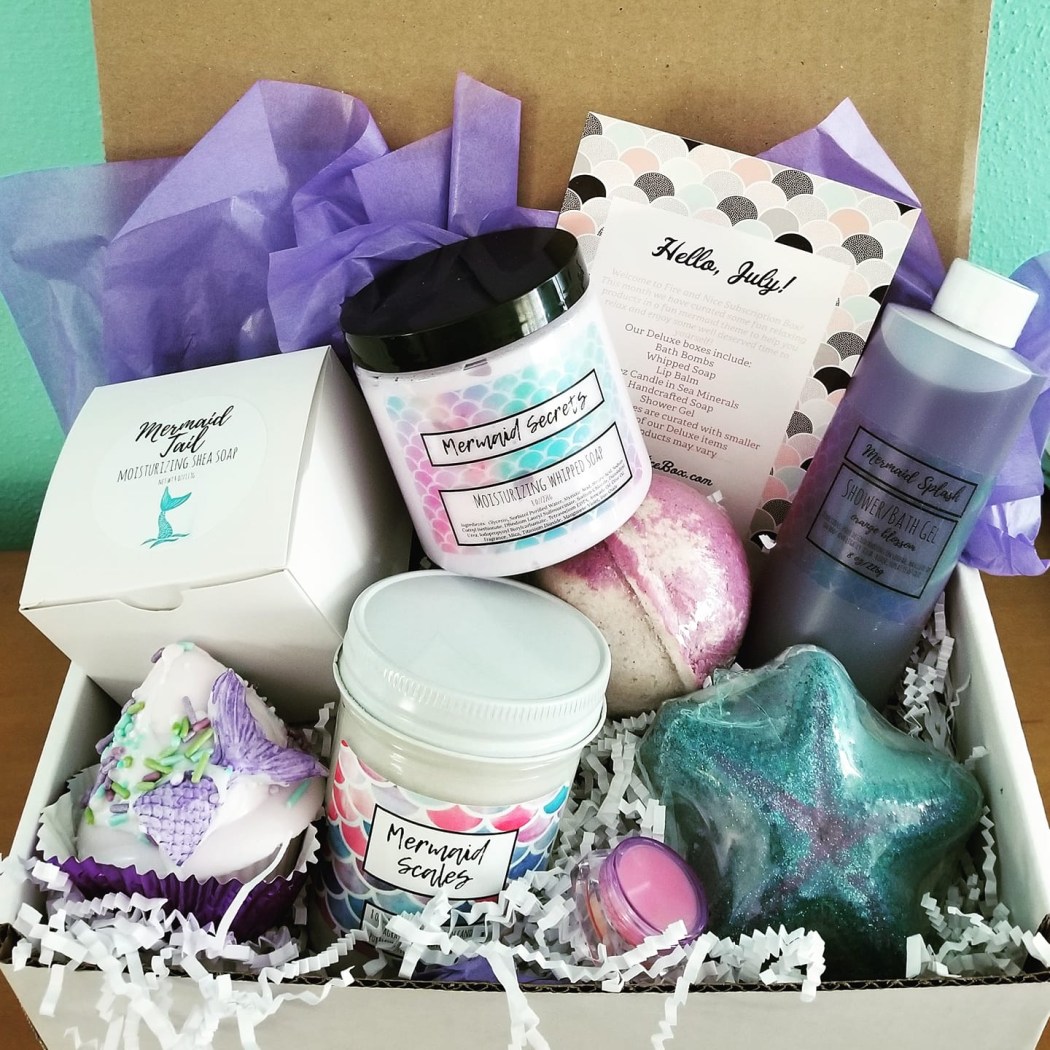 Image from: Fire and Nice
What You Get: With fun and relaxation in mind, Fire and Nice contains items designed to give self-care, self-love, and wellness to anyone. You'll get a box each month with a fun theme jam-packed with handcrafted artisan self-care products. Get the Deluxe Subscription Box and experience nothing but luxury, or choose the Mini Subscription Box, where you'll receive 4-5 self-care products like soy wax artisan candles, bath bombs, wax melts, body care, soaps, and other varieties curated by artisans. Subscribe and get special offers, free giveaways, and once-in-a-lifetime deals. A perfect way to treat yourself!
---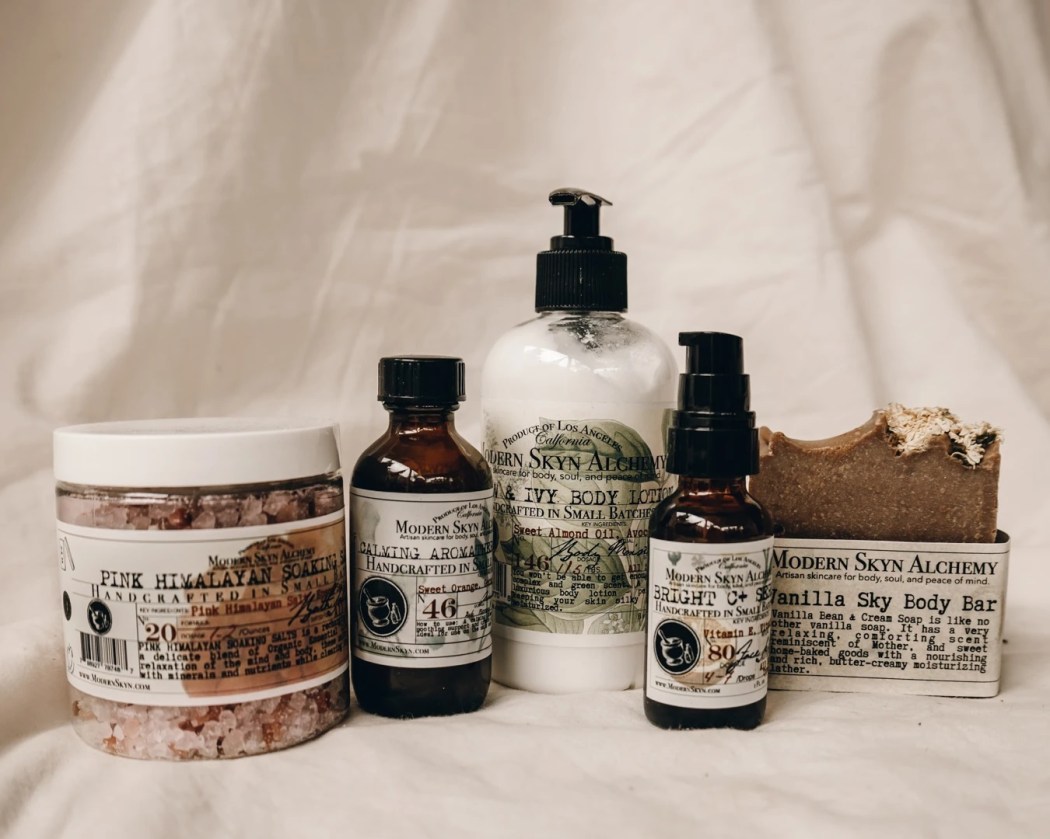 Image from: Bath & Body Ritual Box by Modern Skyn Apothecary
What You Get: If you're looking for great self-care products at a great price, then Bath & Body Ritual Box by Modern Skyn Apothecary is the one you're looking for! It is a box filled with full-size skincare products worth over $100 and revolves around a theme. Did we mention that all products are cruelty-free, all-natural, and made from organic ingredients? Yes, quality products without parabens, silicone, sulfates, aluminum, synthetic dyes and fragrances, and any other bad stuff you can ever think of! Through this subscription, you can always take care of yourself the way it should be, and help you feel good every day!
---
Image from: Authentic Books
What You Get: If your definition of self-care is having alone time reading good books and sipping your fave drink, then you might want to try Authentic Books. It is a monthly subscription that touches all of your senses (sight, taste, smell, touch, sound, and a bonus to the heart) by delivering curated boxes that will give an incredible experience. All you have to do is choose from 2 newly released hardcover book choices for the month, and they'll pack it up for you along with a custom bookmark, aromatic candle, delectable treats, a custom playlist, and a whole lot of experience! This subscription also touches your heart as 5% of your membership will be donated to support girls' education.
---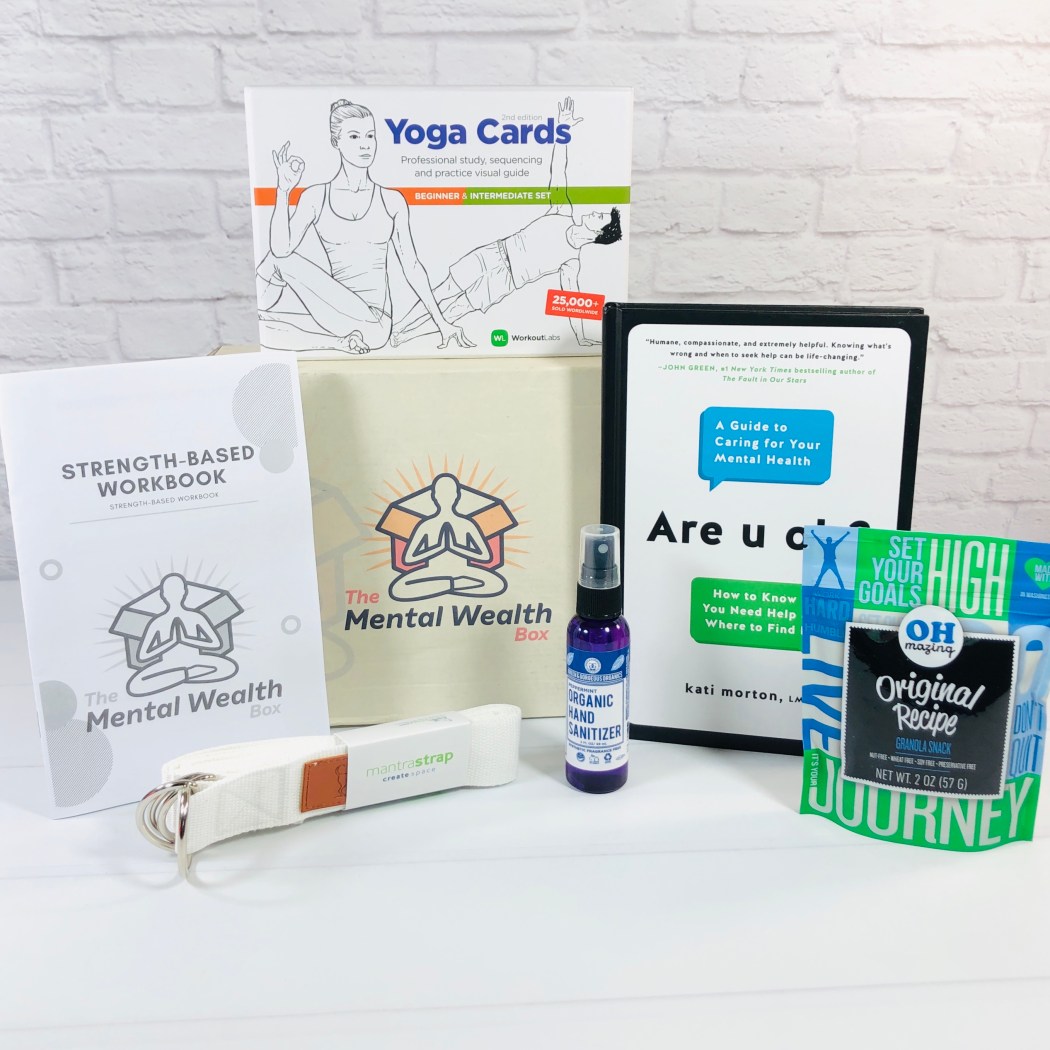 Image from: our review
What You Get: The Mental Wealth Box cares for you and your wellness! They specialize in anxiety, depression, and PTSD and provide educational resources relating to these issues. This subscription sends boxes to educate individuals on mental health topics and support everyone on their journey of wellness and self-care. Choose which box you needed most (Anxiety Box, Depression Box, or PTSD Box) and get 4-6 self-care products like books, journals, aromatherapy oils, beauty products, herbal teas, and other unique items that can help you regain a healthy and worry-free life.
---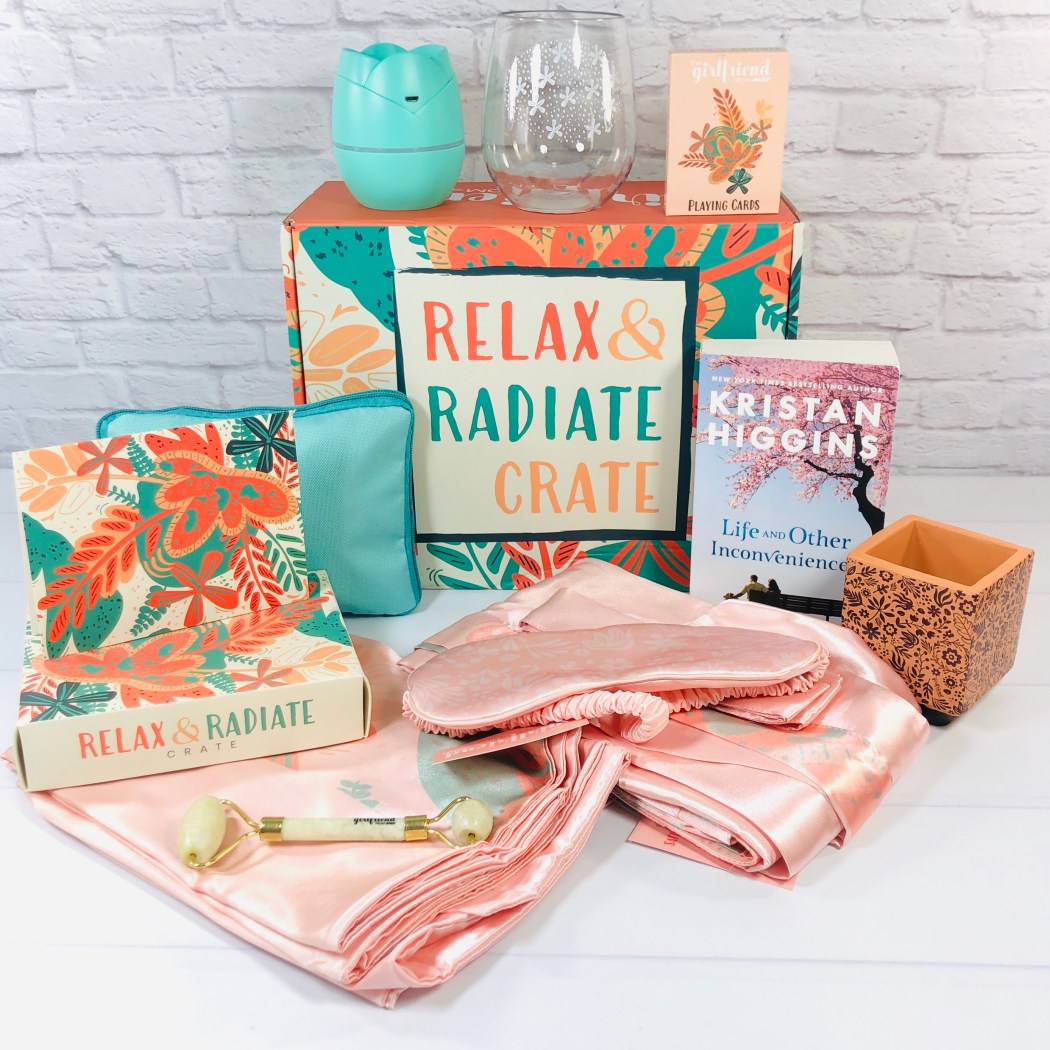 Image from: our review
What You Get: If you ever need some help to relax and radiate your best self, Relax & Radiate Crate has your back! It is a subscription box filled with a collection of unique and custom-designed wellness and self-care products to bring you comfort while nourishing your mind, body, and soul. Shipped every season so you can be your best self all year round! Each box has an average retail value of over $200, and it includes 7-12 items handpicked by their team, like home goods, beauty, collectibles, and other fun finds! For some time, you may also receive apparel, wearables, and accessories. It also includes a copy of an all-new Girlfriend magazine that's exclusive for subscribers. As a subscriber, you'll also gain access to special giveaways, personal stories, inspiring self-care content, and more as a part of their FB Group.
---
Image from: Kindra
Experience unparalleled comfort and relief throughout menopause with Kindra and its exceptional selection of estrogen-free products. Meticulously designed to address your specific menopause symptoms, Kindra's range is tailored to provide the utmost care and support. With personalized product recommendations and the convenience of a subscription, taking charge of your well-being has never been easier. Kindra's supplements and body care products are carefully formulated to target common menopause concerns, including hot flashes, night sweats, mood swings, and sleep disturbances. By embracing Kindra, you can embark on a journey of tranquility, serenity, and enhanced quality of life throughout this transformative phase.
Deal: Get 10% off on your first order, including subscriptions! Use coupon code WELCOME10.
---
And that is all for the top self-care subscription boxes!
There's more subscriptions for you to try when you check out our list of all the best subscription boxes in every category!