Savor the convenience of delicious, wholesome meals without the hassle of planning and shopping! With meal kit delivery services, you can effortlessly prepare appetizing and nutritious dishes for yourself or your loved ones. Say goodbye to tedious prep work – all you need to do is unbox a carefully curated package of premium ingredients, pre-measured for your ease, and follow the simple recipes provided. You'll be amazed at how much extra time you'll have to bond with your family over the table. Whether it's breakfast, lunch, or dinner, meal kit subscriptions make every mealtime a culinary adventure!
Show More (18 items)
Meal kit delivery services and subscription boxes cater to diverse dietary needs and preferences. Whether you're a keto devotee, a vegetarian, or follow a paleo lifestyle, there are meal kit options for you. Planning meals for a big family or a small group can be challenging, but meal kit subscriptions make it easy by offering servings that accommodate groups of all sizes. What's more, many meal kit services provide the flexibility to customize delivery schedules that fit your busy lifestyle.
Your taste buds will be impressed with the best meal kit delivery services and subscription boxes! With their premium ingredients and easy-to-follow recipes, you can create restaurant-quality dishes right in the comfort of your own kitchen.
The Best Meal Kit Delivery Subscription Boxes!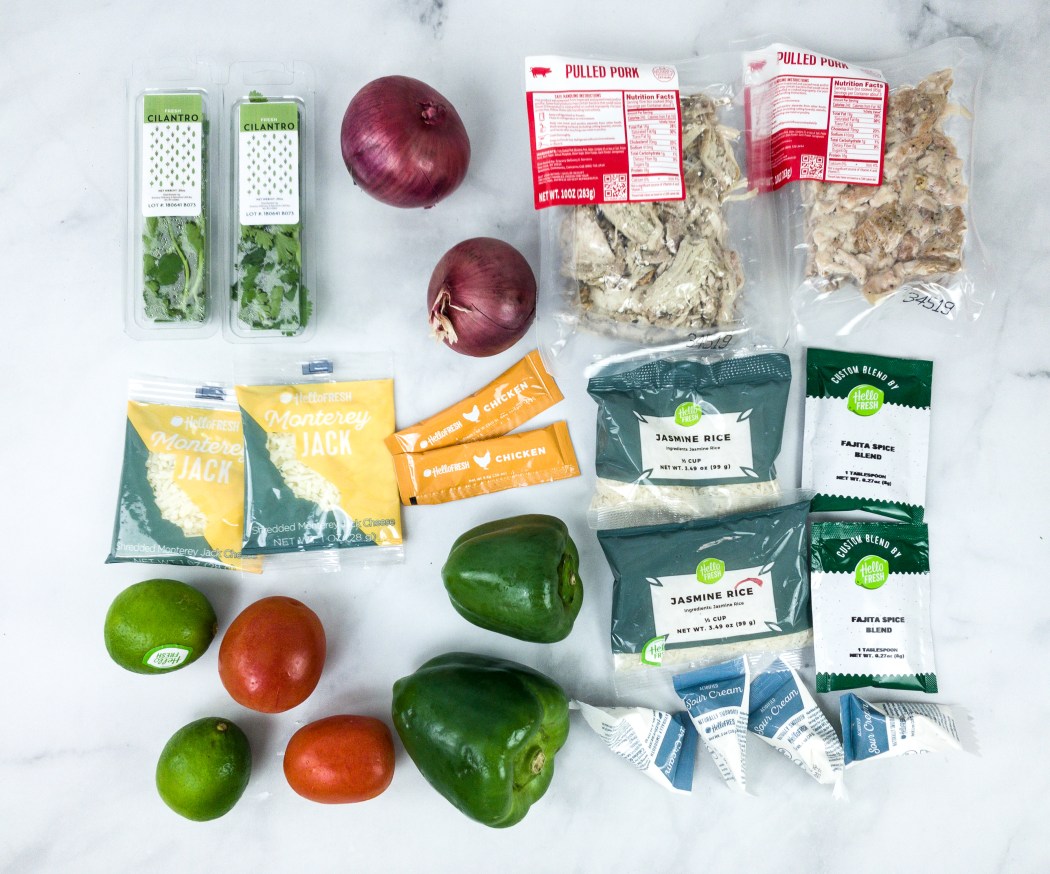 Image from: our review
HelloFresh is a flexible meal kit subscription that enables anyone to make fresh, healthy and gourmet meals. Subscribers can customize the box based on their needs and dietary preferences (Meat & Veggies, Veggie, Family-Friendly, Fit & Wholesome, Quick & Easy, and Pescatarian), how many people they need to cook for, and how many recipes per week they would like to include in their kit. The best thing about this subscription is that you can pause your deliveries, especially when you have other plans, like a dinner date or an out-of-town trip. It's that convenient!
There are many recipes to try per week, ranging from breakfast and lunch to dinner and more! Some of the popular meals and recipes are Mozarella-Crusted Chicken, Butter-Basted Sirloin Steak, Creamy Shrimp Tagliatelle, Spanish One-Pan Chicken, and Ginger Beef Stir Fry.
Deal: Get up to 16 FREE Meals + FREE Shipping on your first box + 3 surprise gifts! Deal applies automatically, just visit and subscribe. Valid for new subscribers only.
---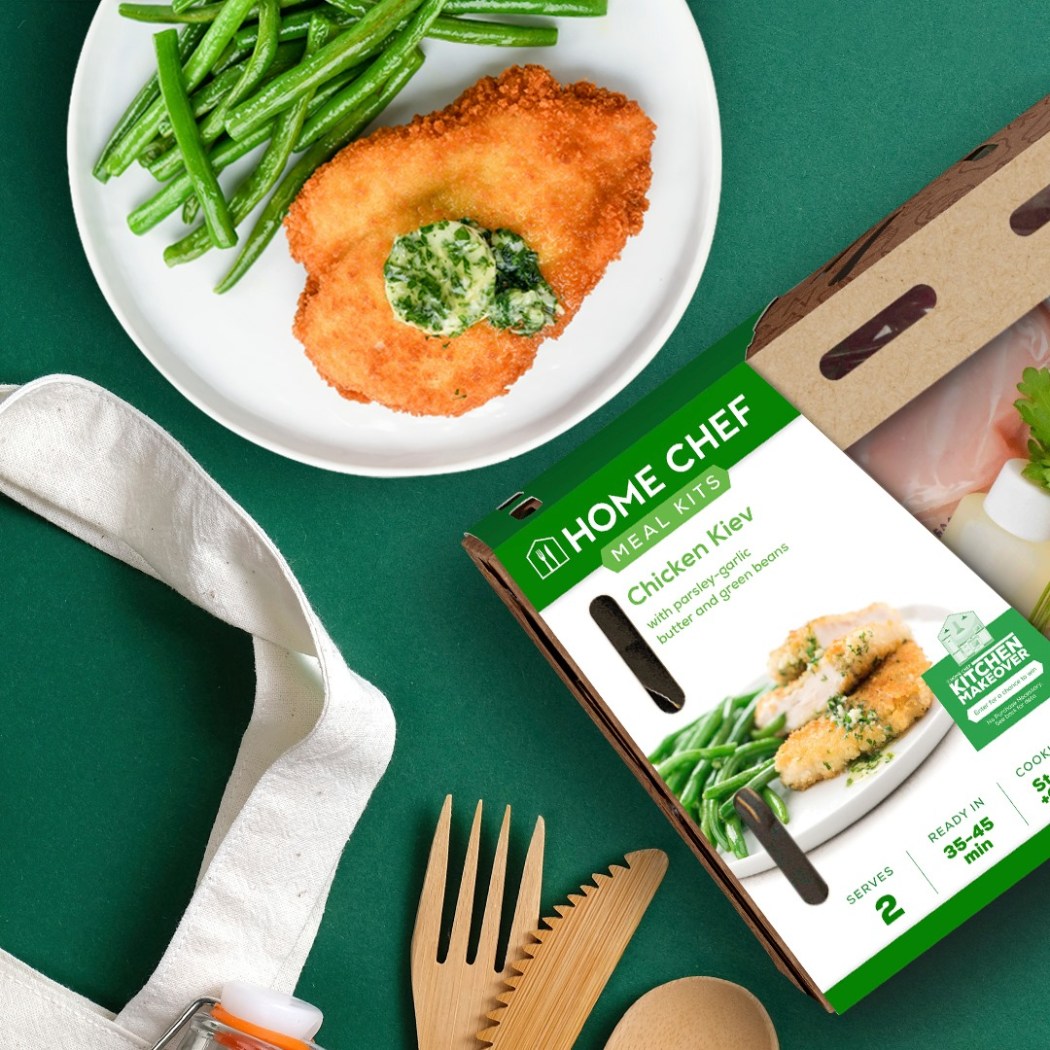 Image from: Home Chef
Home Chef lets you take a break from grocery shopping by supplying you with easy recipes and fresh, pre-portioned, ready-to-cook ingredients. They first get to know you by asking questions like your nutritional preferences (calorie or carb-conscious) and the food you like to avoid. Every week, you get to choose from a variety of recipes and have all the ingredients and preparation instructions delivered to your door. You can customize your box to fit your needs, including the number of people you need to cook for and how many recipes you like to make per week. It's an ideal choice for anyone who needs a helping hand in serving good food on the table!
You can choose from classic meal kits to convenient Oven Ready and Fast & Fresh options. Some of the recipes featured are Jalapeño Popper Chicken, Bolognese Florentine Penne, Creamy Parmesan Shrimp Gemelli, Beef Stroganoff, and Cheesy Baked Spinach Rigatoni.
Deal: Get 50% off your first FOUR boxes - that's up to 18 meals FREE! Deal applies automatically, just visit and subscribe.
---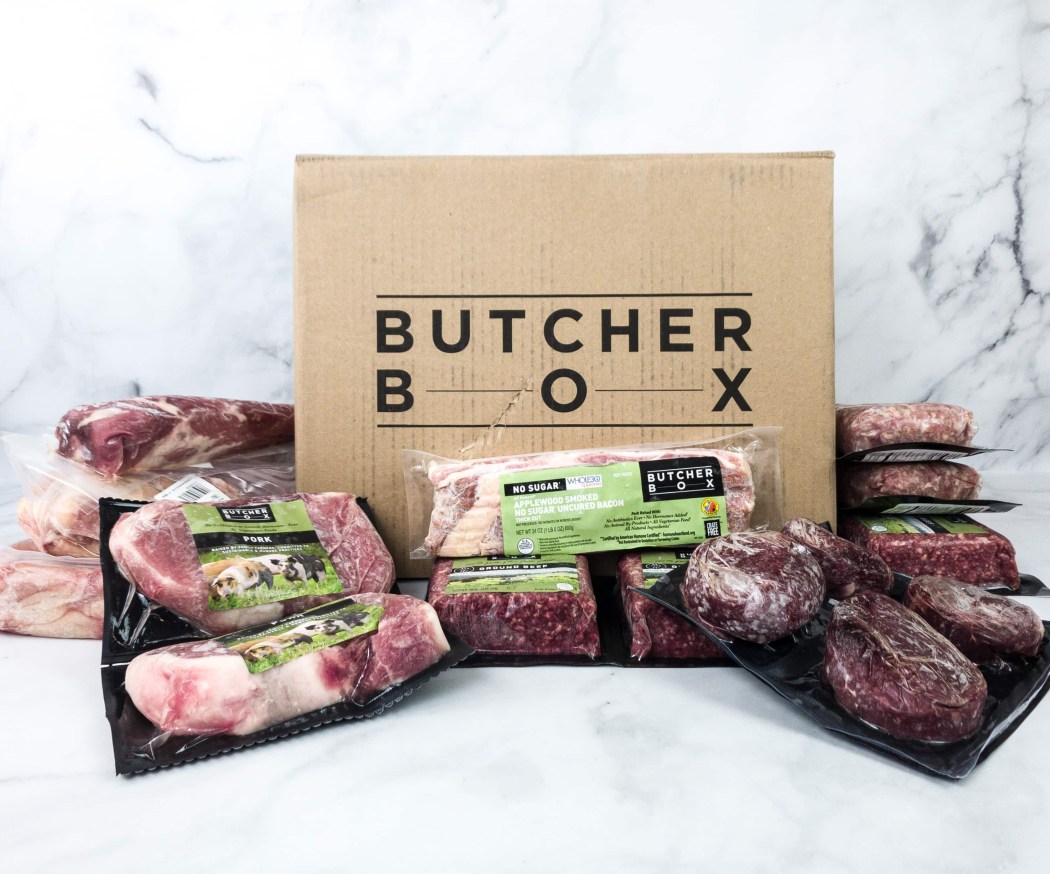 Image from: our review
If you want to get premium quality meat for a yummy meal fix, there's the Butcher Box! Each box contains a selection of premium meat that's about 15-20 meals worth. Everything has been carefully cut and prepared, saving you a lot of time compared to visiting butcher shops, fish markets, and grocery stores. Their 100% grass-fed, grass-finished beef is top-notch, and you always get good cuts of meat! They also offer heritage pork, organic chicken, and wild-caught seafood. You can also have the box delivered every two or three months, depending on your needs.
They even provide tailored recipes to help home cooks discover and explore new cooking ideas. Some tasty recipes featured on their site are Seared Scallop Pasta with Kale Pesto, Pan Fried Pork Chops with Tangy Mustard and Pickle Sauce, Pineapple-Pork Noodle Bowls, Za'atar Crusted Chicken, and Shrimp Étouffée. This delivery service also offers ButcherBox Complete, which sends fully cooked products to make mealtime easier!
Deal: Check for the latest special offer for Butcher Box! Use this link to get the deal.
---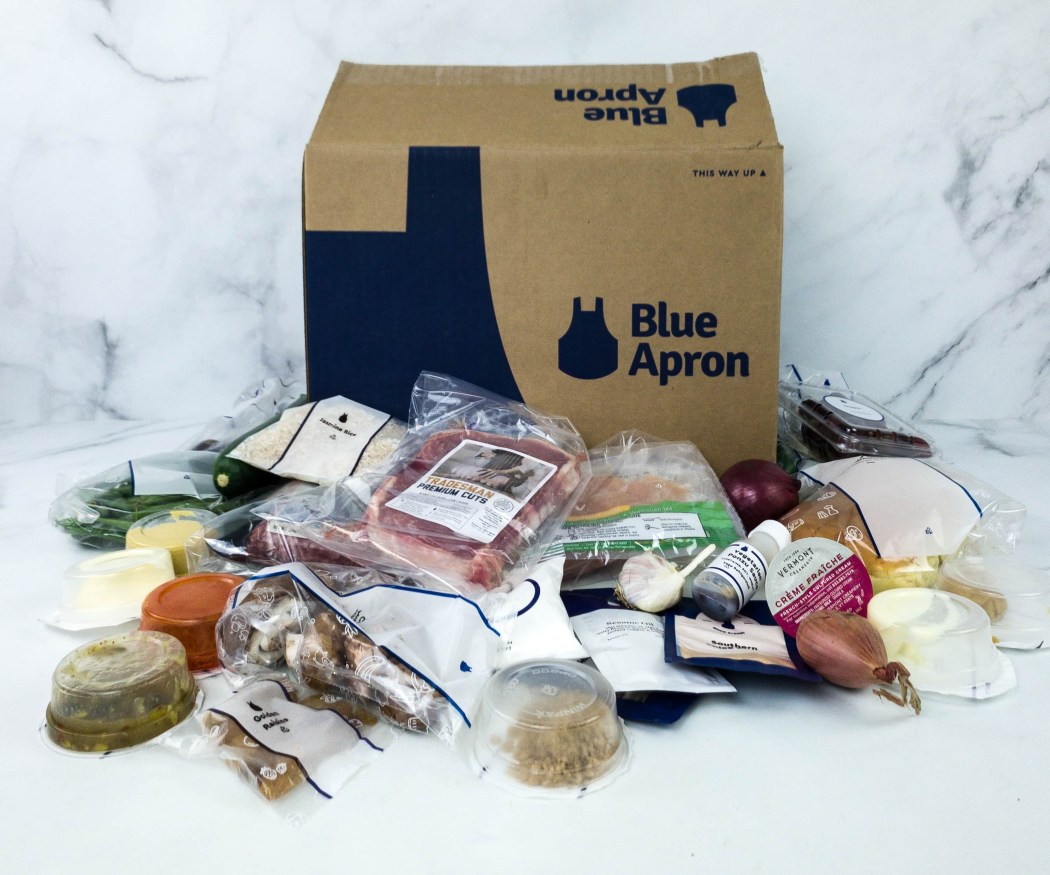 Image from: our review
Cooking meals at home is easier with Blue Apron. This meal kit subscription delivers healthy recipes straight to your doorstep weekly. Subscribers can get their hands on chef-designed recipes that may include meals inspired by international cuisine, one-pan dishes, classics, and customer faves without spending big bucks! Every box comes with detailed step-by-step instructions and responsibly sourced ingredients, packed with recyclable ice packs and eco-friendly packaging that keeps your meal kit in its best condition while in transit.
Tell them your preferences — Chef Favorites, Wellness, Family Friendly, Fast & Easy, and Veggies, then select your plan and the exact recipes you want in your box to get started cooking! There's an ever-changing menu to choose from, which includes recipes like Tenderloin Steaks & Cherry Pan Sauce, Pork Belly Fried Rice, Sweet & Spicy Noodles, Pesto Whole Grain Pasta, and Tamarind-Honey Chicken.
Deal: Get up to $110 off across your first 5 boxes! Use this link to get the deal.
---
Image from: CookUnity
CookUnity brings chef-crafted meals straight to your door! It's a meal subscription that ships every week, and you can customize your box according to your preferences. Look forward to new meal offerings weekly, all of which are made by skilled chefs! They have meat and chicken dishes, as well as seafood and vegetable meals for the health-conscious ones. Another thing to love about this meal delivery service is that they use eco-friendly packaging! Heating instructions and nutrition information are also provided per meal.
There is a wide variety of recipes offered, including global cuisines, seasonal meals, local specialties, and healthy dishes. Expect delicious recipes like Beef Suya with Turmeric Rice, Vegan Thai Green Curry Tofu, Filipino Chicken Tocino Bowl, Keto Chicken Carnitas Bowl, and Grilled Mahi Mahi with Escabeche Sauce.
Deal: Get 30% off your first order! Use coupon code GET40OFF.
---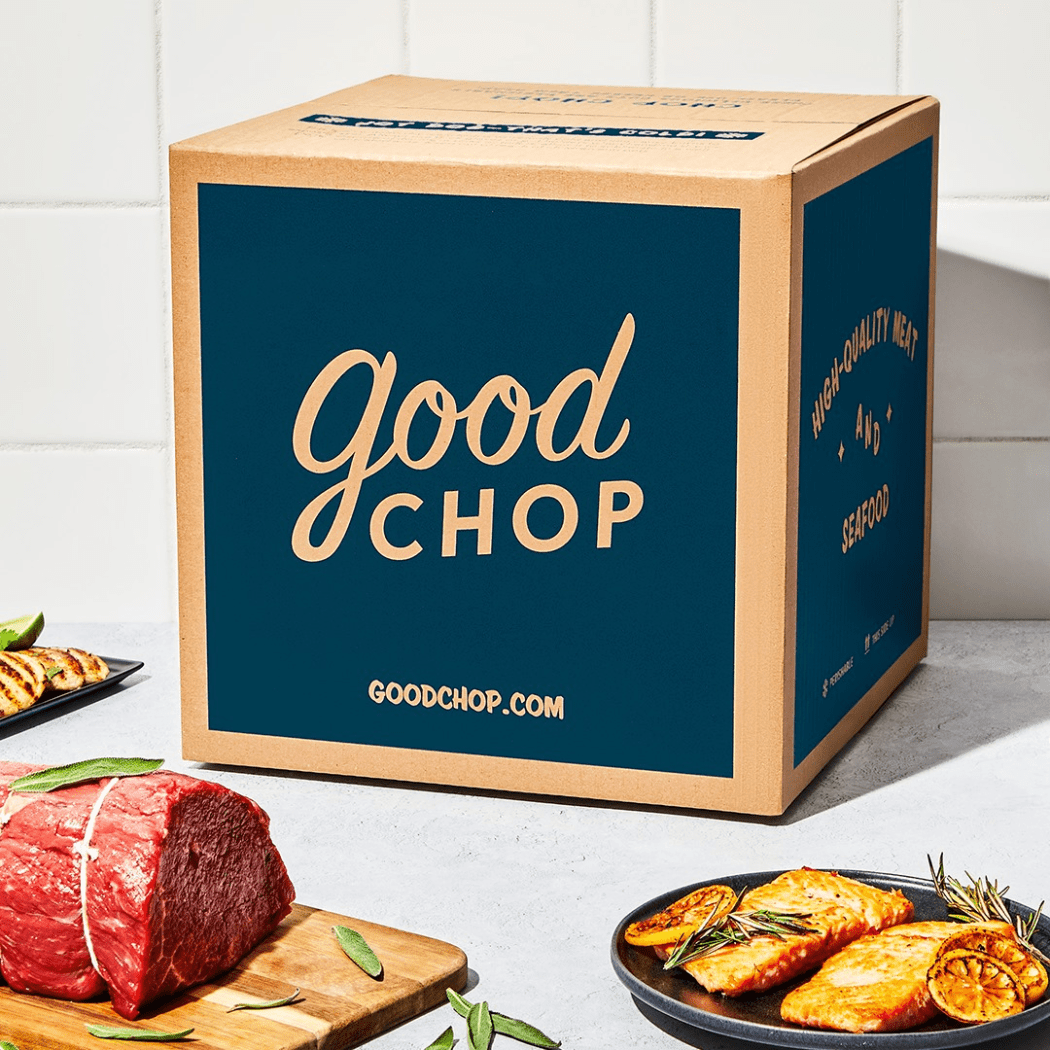 Image from: Good Chop
With Good Chop, you're in full control of your meat and seafood shipment! This flexible subscription allows subscribers to choose from over 40 different cuts to include in their box, including beef, pork, chicken, and seafood, to help you easily create a meal at home. Choose from two box sizes — Medium Box (select up to 6 items from the menu) or Large Box (select up to 12 items from the menu) — and receive high-quality all-American meat and seafood to cook and serve on the table. No additives, no hormones, no antibiotics, and zero coloring!
Everything is sourced responsibly from domestic farms and fisheries, vacuum-sealed to seal in flavor, and delivered conveniently to your door. You'll definitely enjoy cooking breakfast, lunch, and dinners with all these quality meat choices!
Deal: Get $100 off your first THREE boxes with a Medium or Large Box subscription plan - that's $50 off your first box, $30 off your second, and $20 off your third Use coupon code 3W-S6MVO and Use this link to subscribe.
---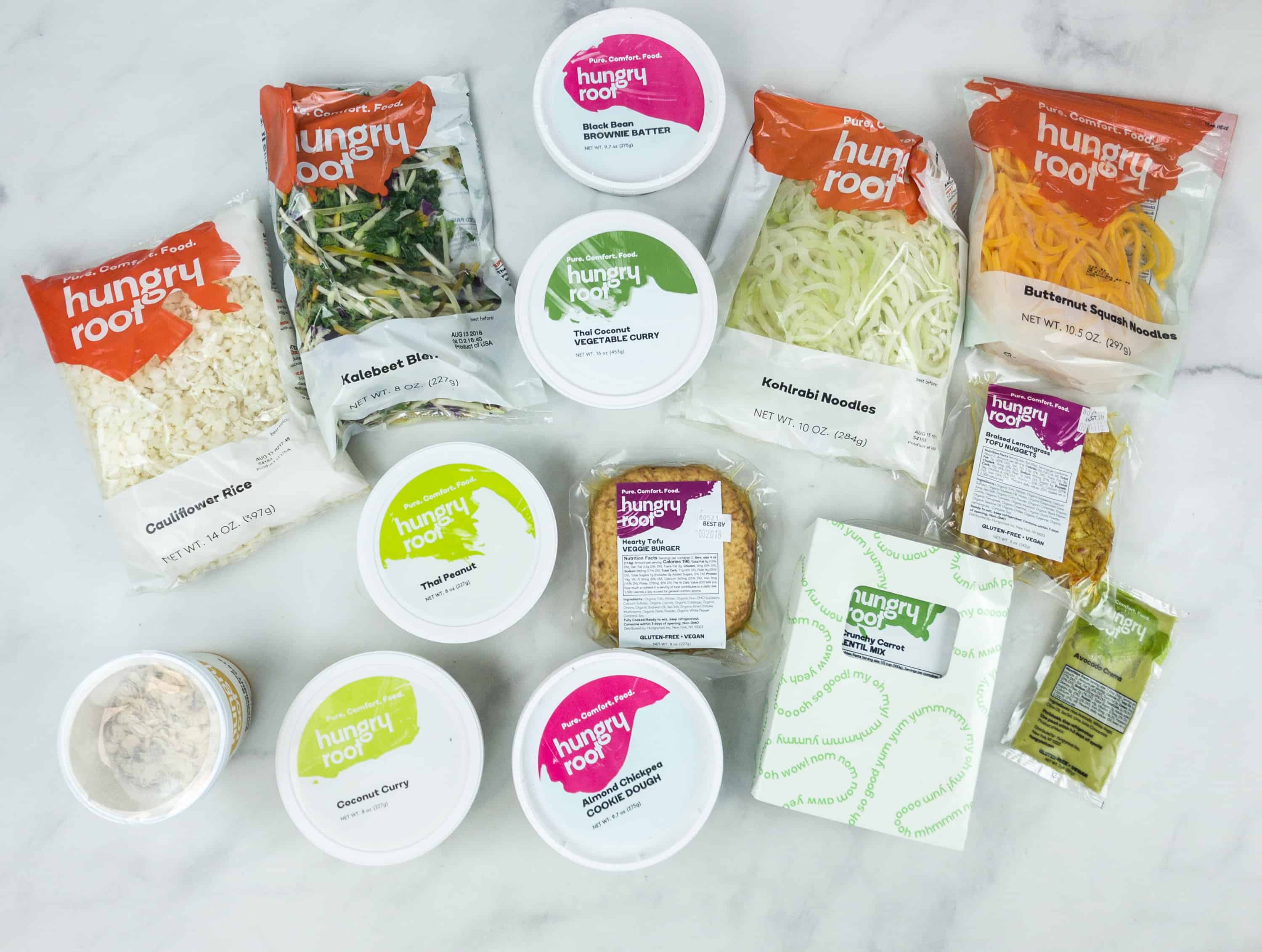 Image from: our review
Hungryroot is an online service that sends quick-and-easy healthy meals you can prepare in less than 20 minutes. The meals are great for people who are always on the go, don't have much time to cook, or don't want to stay longer in the kitchen. All of their meals are nutrient-dense and made from whole and trusted ingredients like fresh-cut produce, premium proteins, dairy & eggs, and more, despite preparing them in no time. There's a quiz with questions about your health goals, dietary preferences (omnivore, pescatarian, vegetarian, and vegan), food avoidances, the cuisines you like (Mediterranean, Italian, Mexican, Fusion, etc.), and more!
Just tell them how and what you eat, and they'll send groceries along with recipes so you can cook with such ease! There's a wide variety of chef-crafted meals to prepare, including Sesame Salmon Grain Bowl, Crunchy Thai Peanut Tofu Stir-Fry, Turkey Meatloaf & Sweet Potato, Seared Ribeye Steak + Baby Broccoli, and Beyond Cozy Polenta Bake.
Deal: Get 40% off on your first $99+ order + FREE Bonus Groceries FOR LIFE! Deal applies automatically, just visit and subscribe.
---
Image from: EveryPlate
EveryPlate is a flexible meal kit subscription service that delivers stuffing, classic, home-style recipes, and fresh ingredients at a budget-friendly price monthly. Just choose your preferences, so they'll know which recipes to recommend, although you'll still have access to all their recipes. There's Meat & Veggie, Veggie, Family Friendly, Quick & Easy, and Nutrish & Delish. You can also select the box size by customizing it to the number of people to cook for and the number of meals you want per week. It's so convenient and affordable that you'll have your home-cooked meal — ready in just 30 minutes.
Choose which recipes make your mouth water from their flexible menu that changes every week. You can try recipes like Sweet Umami Beef Bowls, Dijon Butter Steak, Honey Sriracha Fried Chicken, Cheesy Beef Patty Melts, and Cheese-tastic Southwestern Hash.
Deal: Try Everyplate at $1.49/meal on your first box + get 20% off next 2 boxes! Use this link to get the deal.
---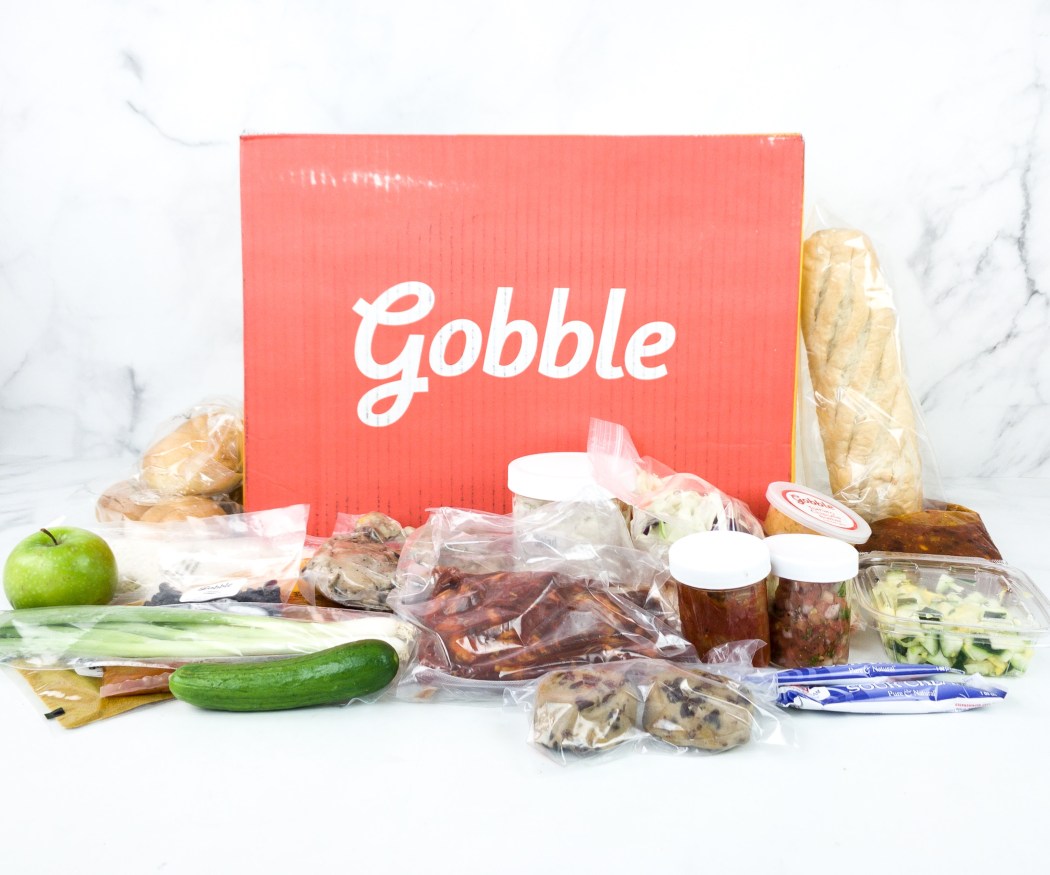 Image from: our review
Since Gobble is focused on simple and easy recipes, it's a perfect starting point for any cooking beginner! They do all the prep work – peeling, chopping, and marinating, so you only need to grab the ingredients from the box and cook a delicious dinner in a snap. You can personalize your plan and choose from Classic Dinner, Lean & Clean Dinner, or Vegetarian Dinner. Then, set up the number of servings (Dinner For 2 or Dinner For 4) and the delivery date. You also have the option to add on meals and get as many as you want. Every meal also comes with a simple 3-step recipe card, as well as pre-prepped items that speed up the whole cooking process!
There's a diverse menu with meat, fish, and vegetarian dishes, designed to be table-ready in just 15 minutes, like Chili Colorado Sopes with Braised Beef & Cabbage Slaw, Butter Chicken with Basmati Rice & Naan Bread, Braised Osso Buco with Creamy Polenta & Italian Salsa Verde, Braised Osso Buco with Creamy Polenta & Italian Salsa Verde, and Miso Glazed Salmon with Soba Noodles & Snow Peas.
Deal: Get 50% off your first box - that's 6 meals for $36! Use this link to get the deal.
---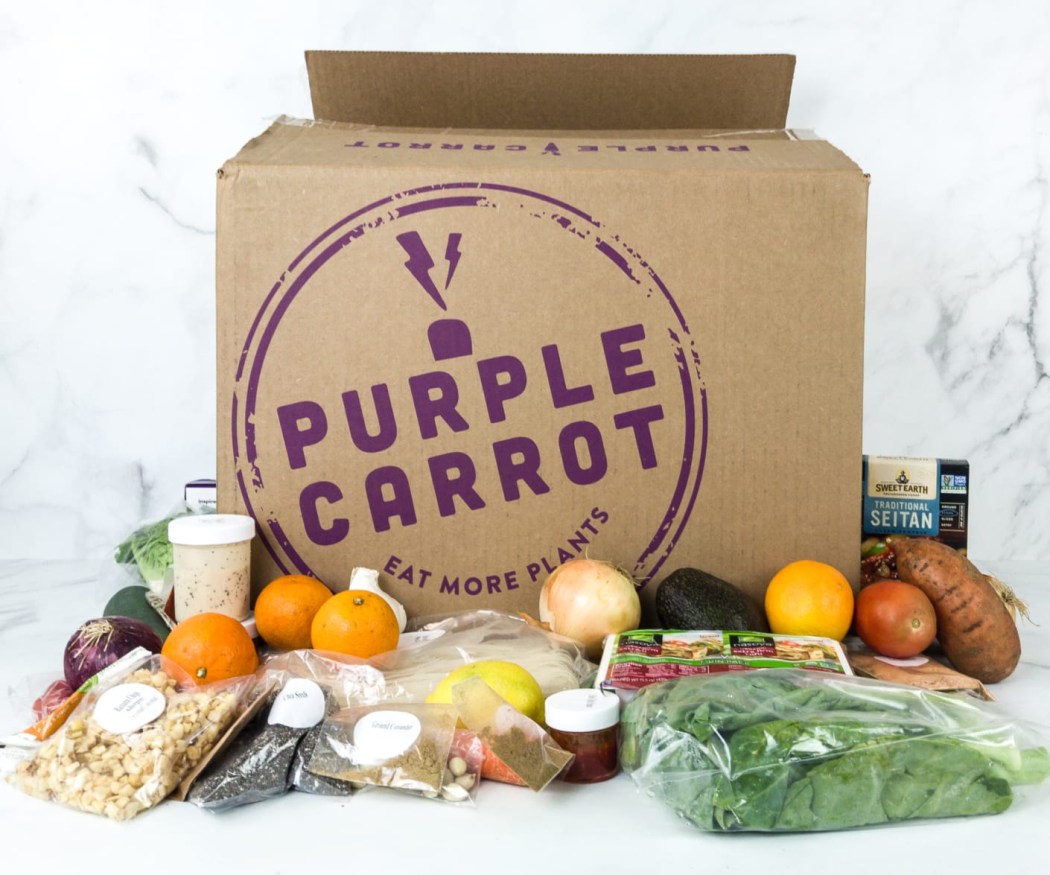 Image from: our review
Designed for the health-conscious, The Purple Carrot delivers plant-based recipes with pre-measured ingredients directly to your doorstep. It's ideal for anyone looking to improve their diet by lowering their cholesterol intake, eliminating animal fats, or boosting vegetable consumption. Each box comes with complete ingredients (except seasonings and oil), already perfectly portioned for you to cut down prep time! Tell them how much food you need on a typical week, and they'll set everything up for you.
Creamy Tahini Noodles, Rosemary Fried Cauliflower, Palestinian Spiced Pepper, Coconut Ginger Congee, and Tofu Marsala are just some of the delicious recipes they offer. You can also add plant-based grocery items to your box if you want! No time to cook? They also have Prepared Meals that you can dig into in less than 5 minutes.
Deal: Save $100 on your first FOUR boxes! Use coupon code BACKTOBUSY23.
---
Image from: our review
Martha & Marley Spoon features 100+ chef-crafted recipes each week, including recurring customer favorites, vegetarian meals, low-carb dishes, and family-friendly recipes. Each shipment includes quality pre-measured ingredients and Martha's favorite spice blends that make every recipe unique, delivered straight to your home in an insulated box to keep your produce fresh and refrigerated items chilled while in transit. The best thing about it is it only lists six precise steps with photos, so you can easily whip chef-worthy meals in a breeze!
Ingredients are already sorted by recipe, so you can just grab and cook. Some of the top-rated dishes include Sirloin Steak au Poivre, Lemony Cajun Tilapia, Five Spice-Glazed Barramundi, Brazilian Tomato-Coconut Shrimp Stew, and Honey-Mustard Pork Tenderloin.
Deal: Get up to $260 on your first EIGHT boxes- that's 51% off + FREE Shipping your first box! Deal applies automatically, just visit and subscribe. The remaining voucher value applies to future orders!
---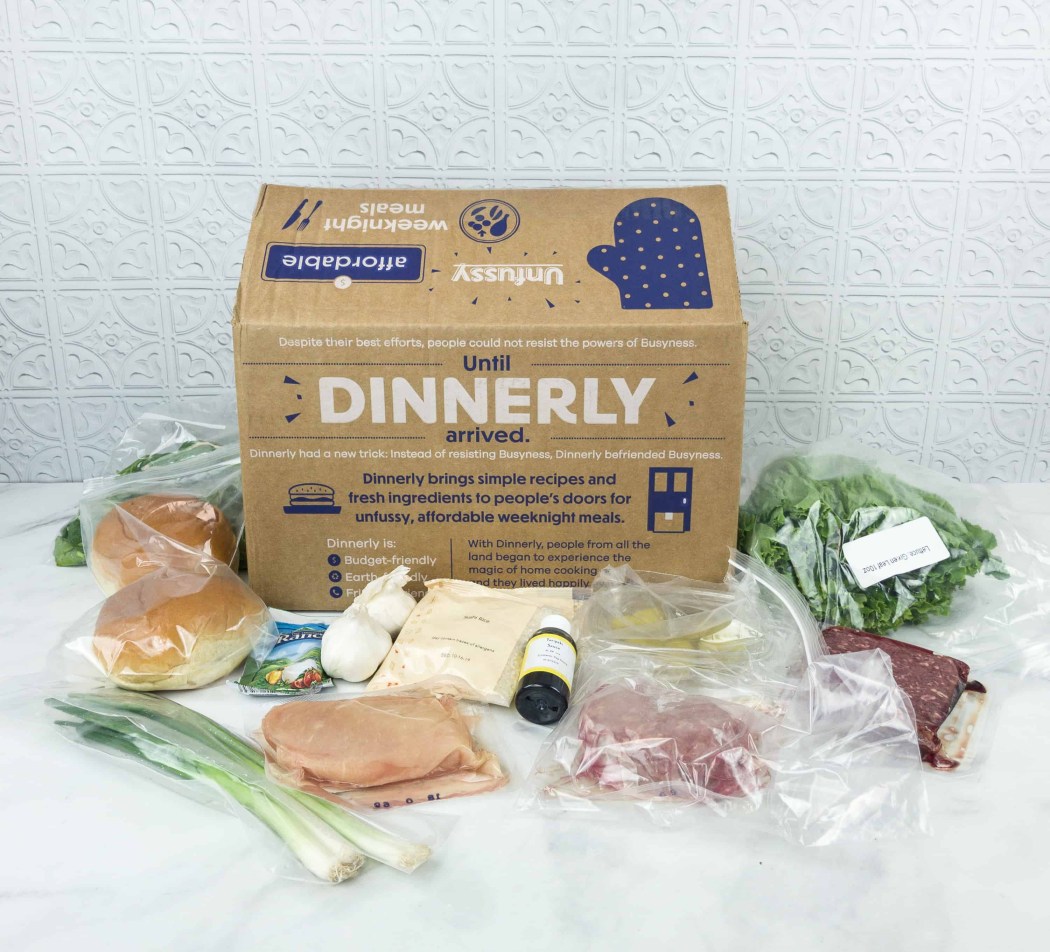 Image from: our review
Value-wise, Dinnerly made their meal kits affordable compared to rival kits. They use digital recipe cards instead of printed ones that can easily be misplaced or damaged, avoiding additional costs on the box. You can also avoid the hassle and confusion as most of their recipes require fewer ingredients. It even allows subscribers to pick the delivery day and their preferred recipes or skip any week and change the number of portions they'd like to receive. It's the helping hand you need in cooking, minus the fuss and heavy price tag!
You can choose from 100+ recipes each week with family-friendly, vegetarian, vegan, fast, healthy, and reduced-carb options. Enjoy recipes like Smoky Pan-Roasted Steak, Spinach & Cheddar Skillet Rice, Ginger Pork Shogayaki, Ginger Pork Soup & Rice Noodles, and Garlic-Soy Pork Noodles.
Deal: Get up to $170 off your first 6 meal orders – that's 54% off your first box and more! Use coupon code ADEFAULT170O.
---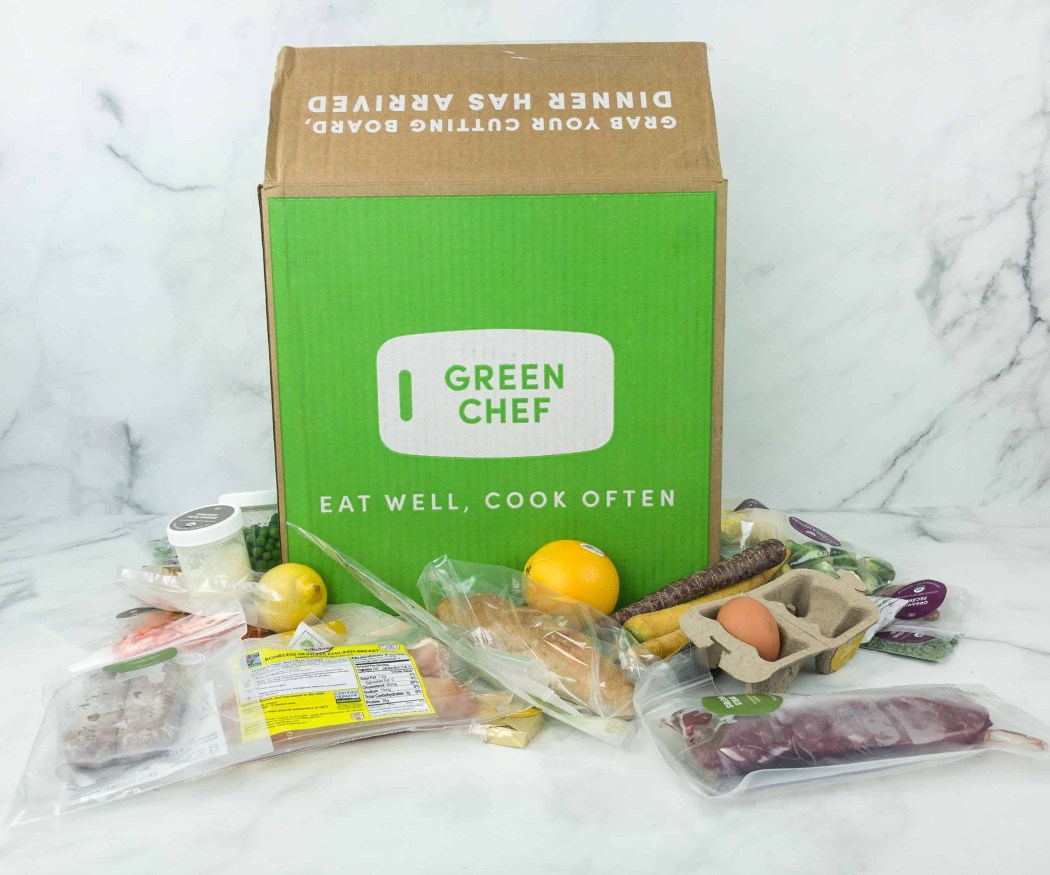 Image from: our review
Green Chef makes sure you get your healthy dinner fix in just 20-30 minutes. They offer keto, vegetarian, Mediterranean, fast & fit, vegan, gluten-free, and protein-packed meal options for those with strict dietary preferences. Each box comes with premium pre-measured ingredients and a step-by-step recipe with photos that made them more convenient and easier to follow. The ingredients are fresh and sustainably sourced, and they're even color-coded for easy sorting! Everything is prepped so you can save time cooking and serve warm, mouth-watering meals in no time. All that's left to do is to enjoy restaurant-worthy meals alone or share them with someone!
With a weekly rotating menu, you can mix and match any and indulge in chef-curated meals like Spicy Southwest Turkey Soup, Pork Chops with Tzatziki, Chicken with Creamy Bacon Sauce, Cheesy Italian Meatloaves, and Peruvian-Spiced Barramundi.
Deal: Save $35 on your first box, $20 on your second and third, and $15 on your fourth – that's $100 savings! Deal applies automatically, just visit and subscribe.
---
Image from: our review
Splendid Spoon is a scrumptious meal subscription that delivers ready-made dishes, smoothies, soup and grain bowls, noodles, and even wellness shots straight to your door. Everything they offer is plant-based, and the meals arrive either frozen, semi-frozen, or chilled in insulated, recyclable packaging. Boxes are also customizable, as subscribers can exclude ingredients and flavors they don't want to receive. Choose a plan from Breakfast + Lunch + Dinner, Breakfast + Lunch, Lunch, and Breakfast to kick-start healthy habits and ditch all the bad stuff!
Crafted by chefs and dietitians, you can enjoy a veggie-forward diet with recipes like Roasted Cauliflower & Falafel Dish, Creamy Korma Dish, Roasted Tomato Risotto Dish, Dan Dan Noodles, and Channa Potato Stew Soup.
Deal: Get $120 off on your first 4 boxes! Use this link to get the deal. First 4 boxes must be ordered within 120 days from the shipping date
---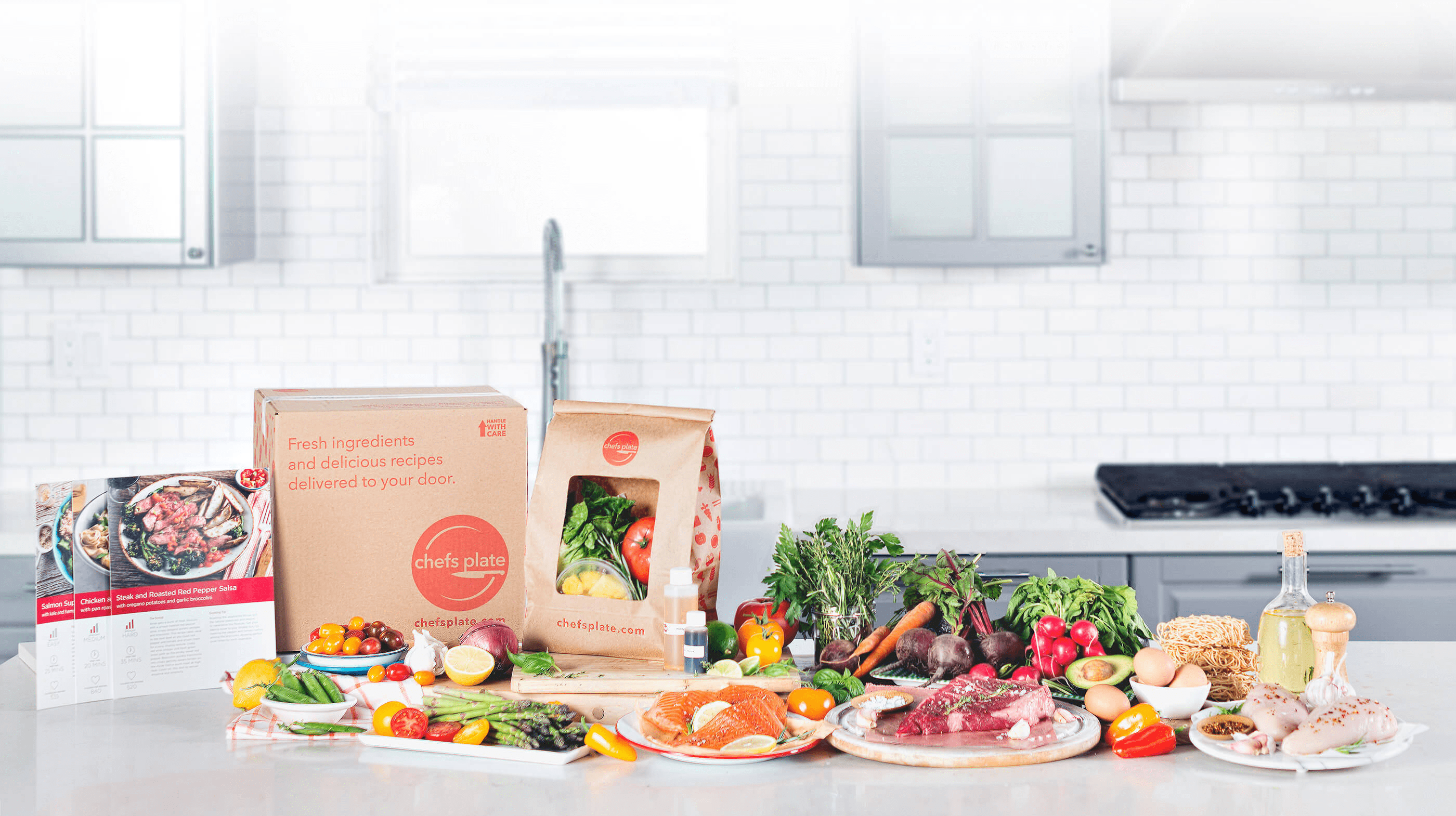 Image from: Chef's Plate
Chef's Plate is a Canadian meal kit subscription that delivers only farm-fresh ingredients, which supports local businesses in the process. They also promise that the meat products they send are only from animals raised without probiotics or hormones. Subscribers can look forward to specialty seasonal ingredients and internationally-inspired recipes every week. Their meal plan options include Meat & Vegetables, Vegetarian, and Family Friendly. Aside from meals being healthy and delicious, everything is portion controlled.
Their expert culinary team creates and develops menus to offer delicious dishes like Creamy Beef Penne, Sticky Hoisin Pork Tacos, Fresh Mozzarella Pasta, Mushroom Ricotta Flatbreads, and Chimichurri Nourish Bowls.
Deal: Get $66 off your first THREE Chefs Plate boxes - that's 67% off the first box + 22% off the next 2 boxes! Use coupon code CHEFP299.
---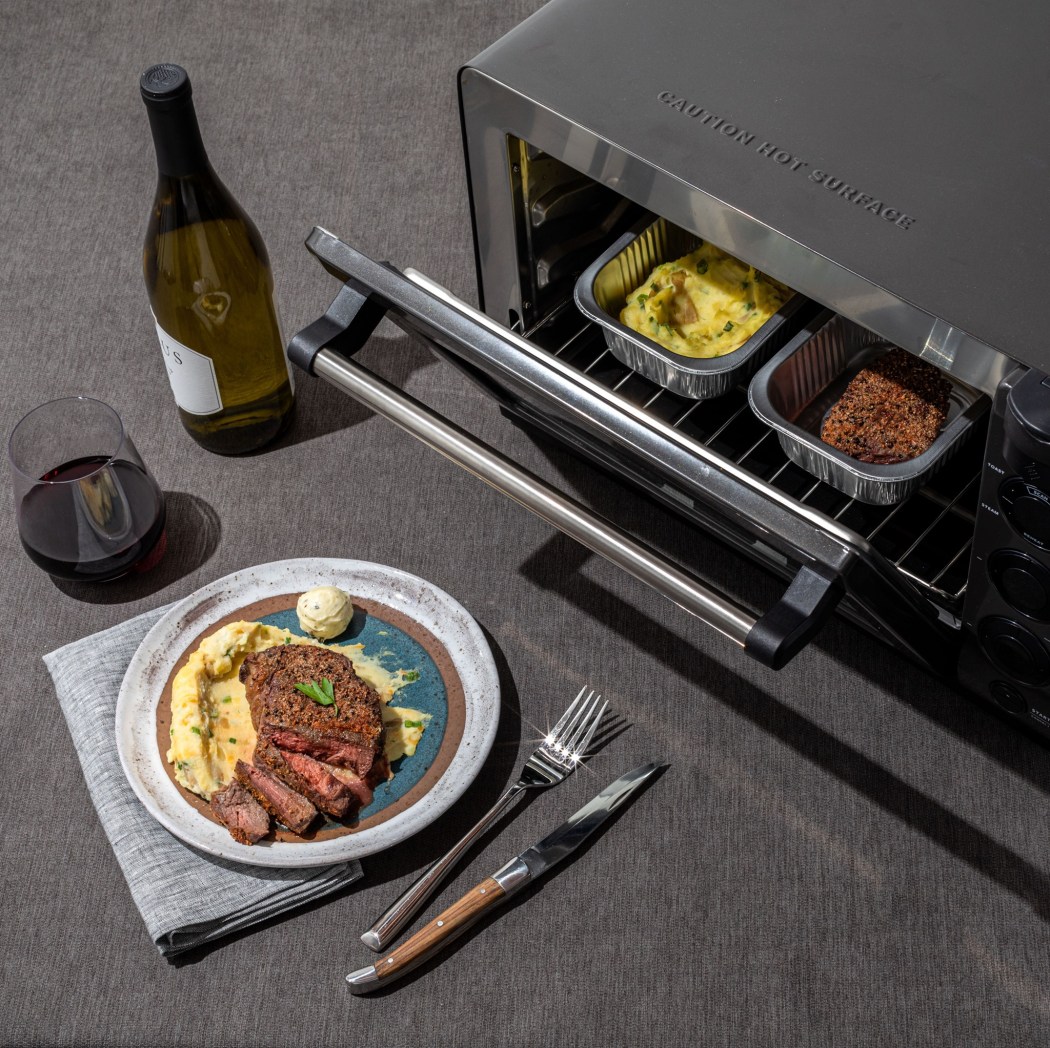 Image from: Tovala
With Tovala, you can enjoy fresh-cooked meals anytime you want! They reinvent home cooking to provide you with mouth-watering meals while saving you time and effort. Choose your meals from a new menu each week crafted by professional chefs, and they'll deliver fresh, raw, real, carefully sourced ingredients directly to your door. No shopping, no chopping, no cooking, let the oven do all the work for you! All you have to do is sit back, relax, and eat well without much work.

Taste Tovala's most popular meals, like Four Cheese Frittata, Maple Bourbon BBQ Meatballs, Garlic Pepper Chicken Breast, Everything Bagel Spiced Salmon, and Chicken Florentine Casserole! For guilt-free meals and diet-specific recipes, check out their Calorie Smart, Carb Conscious, Gluten-Free, and Vegetarian options.
Deal: Get your Tovala Smart Oven for just $99 when you order 6 weeks of meals over 6 months! Deal applies automatically, just visit and subscribe.
---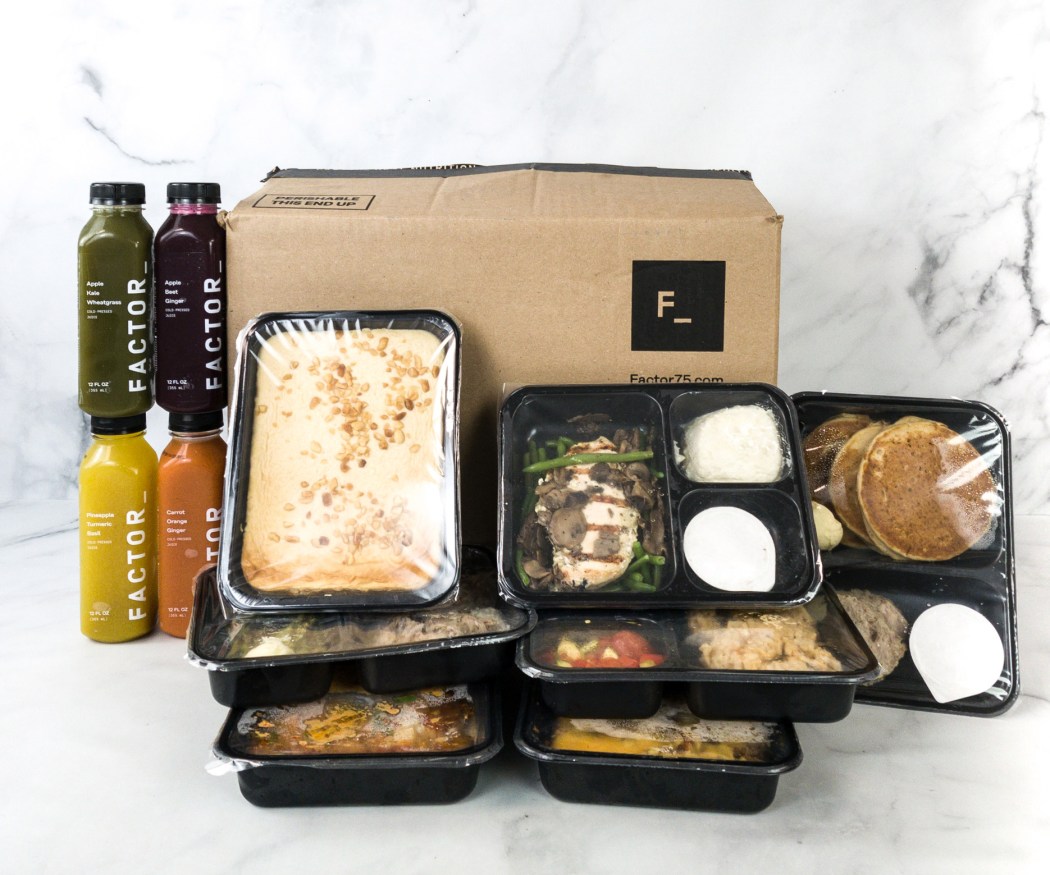 Image from: our review
Factor_ is a meal subscription that delivers healthy, expertly-developed meals straight to your doorstep. Subscribers have the option to order as many as 18 meals per week or as few as 6. Each box includes well-prepared meals made from carefully sourced ingredients that contain no hormones, antibiotics, GMOs, or additives. Every meal also goes through their in-house dietitian, making sure that you'll only get the best and most nutritious meals ever!
You can choose meals from Chef's Choice, Keto, Calorie Smart, Vegan & Veggie, and Protein Plus options. Factor_ offers healthy and delicious meals such as Steak with Roasted Sweet Potatoes, Mustard Salmon, Carnitas Style Pork, Grilled Pesto Chicken, and Peanut Buddha Bowl!
Deal: Get up to $276 off your first FIVE weeks – that's 60% off your first box, and 20% off each on your second to fifth boxes! Use coupon code FACTOR276. Valid for new subscribers only.
---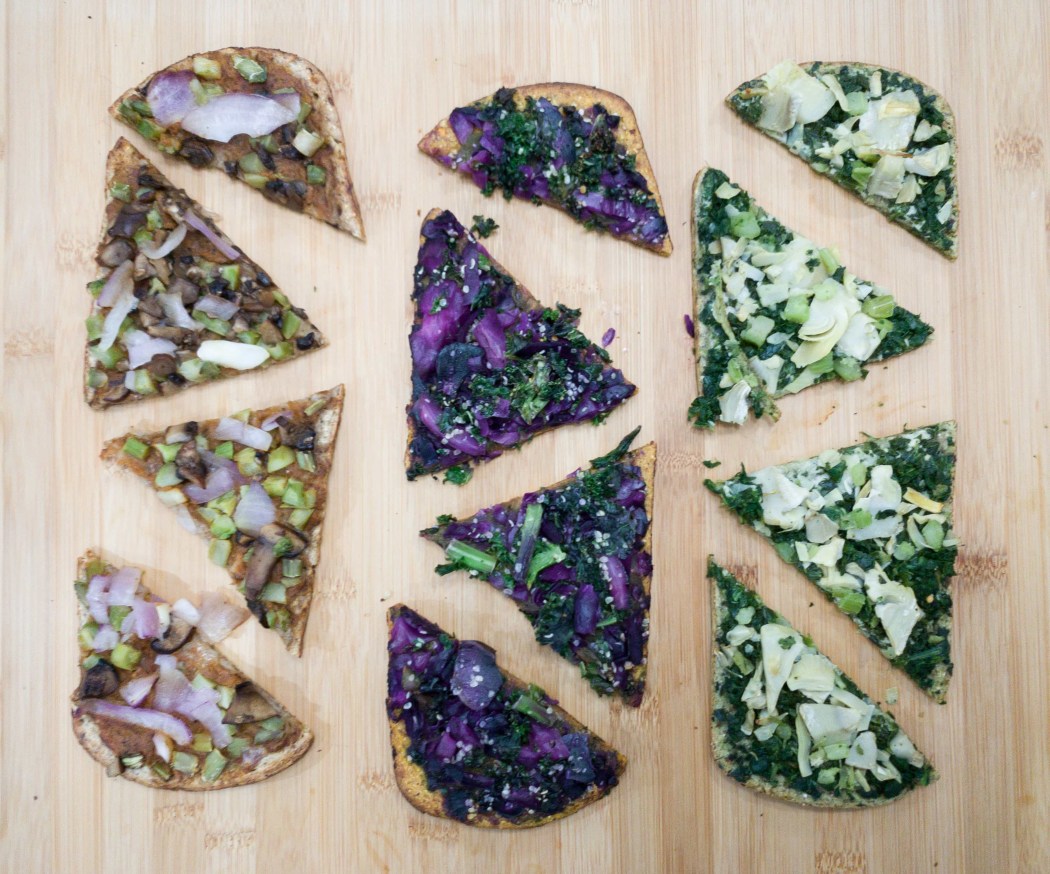 Image from: our review
Daily Harvest uses fruits and vegetables to make its food offerings, which include smoothies, harvest bowls, harvest bakes, flatbreads, soups, forager bowls, scoops, bites, lattes, and mylk, providing an easy way to add superfoods to your diet and meet your needs! Subscribers can choose how many recipes they want to receive every week — a small box with 9 items, a medium box with 14 items, and a large box with 24 items. You have total control over what to include in it, or auto-fill your box with best sellers instead!
Some of Daily Harvest's best-sellers are Strawberry + Peach Smoothie, Acai + Cherry Smoothie, Sweet Potato + Wild Rice Hash Harvest Bowl, Broccoli + Cheeze Harvest Bowl, and Artichoke + Spinach Flatbread. Although they don't have diet-specific meal plans, all of Daily Harvest's offerings are plant-based and vegan.
Deal: Get $30 off on your first 9-item order; $40 off on your first 14-item order; and $65 off on your first 24-item order! Use coupon code HELLOSUB and Use this link to subscribe.
---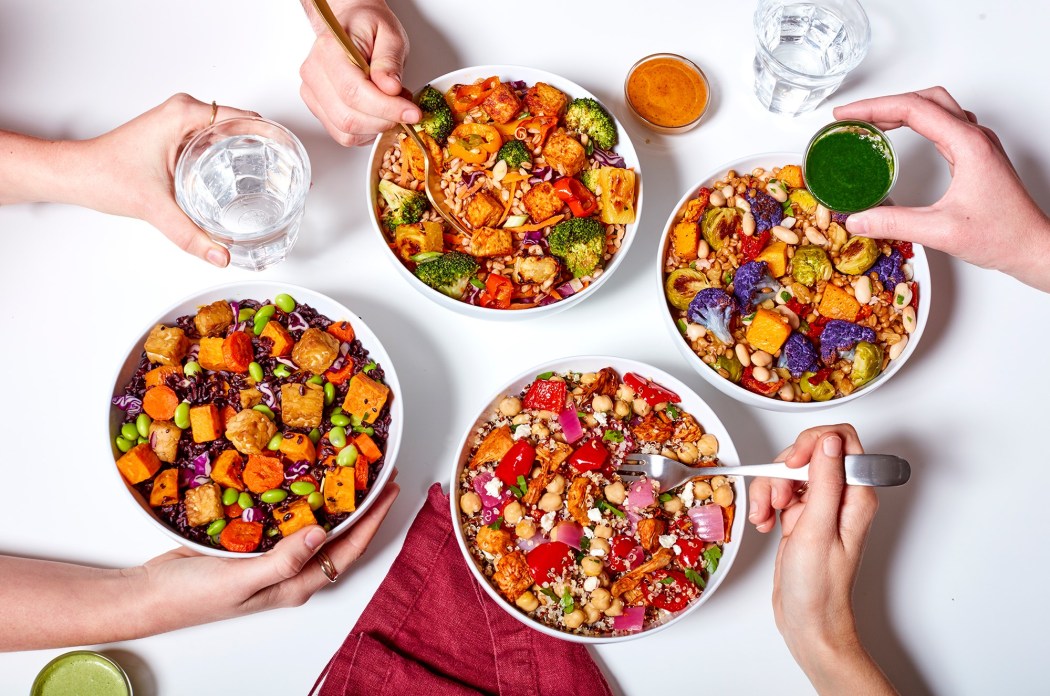 Image from: Mosaic Foods
Open the box, heat, and eat! Mosaic Foods is a fantastic meal subscription that delivers ready-to-eat meals straight to your doorstep. Each box contains a variety of delicious plant-based dishes packed with natural, clean ingredients, roasted, sautéed, and seasoned in a real kitchen. Receive 6, 12, or 18 items per box, depending on your chosen plan. All you need to do is heat them in the microwave, and they'll be ready in five minutes or less. A good deed follows as per every box sold, they rescue and distribute 2 pounds of nutritious foods to those in need.
Some of Mosaic Foods' healthy meal offerings are Peanut Tofu Bowl, Butternut Squash & Sage Pasta, Veggie Pot Pie, Curried Lentil Soup, and Cranberry Cinnamon Oats. This meal subscription's focus is on plant-based and vegan meals.
---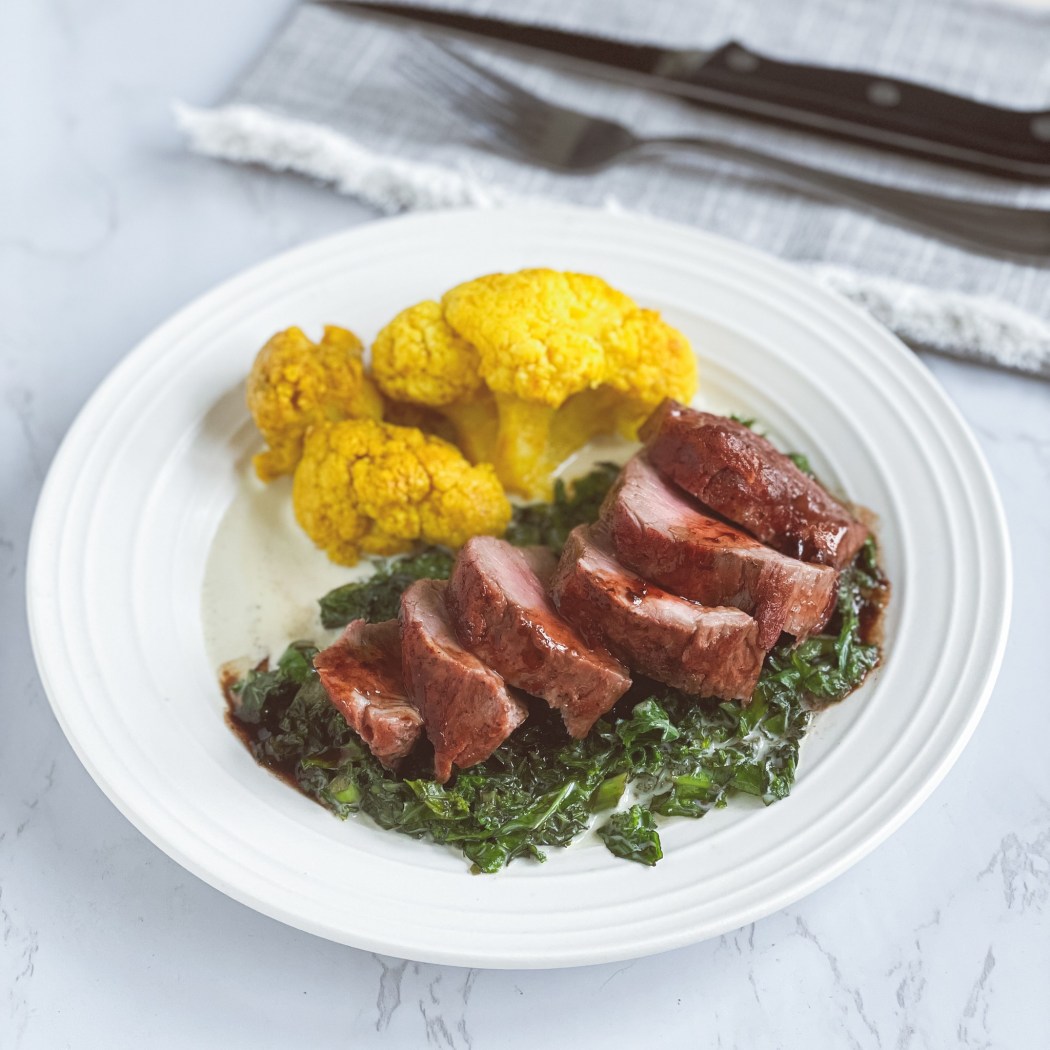 Image from: Freshology
Freshology takes the hassle out of healthy eating with its five mouthwatering menus. Whether you're looking for balanced meals, diabetic-friendly food, keto options, Mediterranean dishes, or vegetarian entrees, Freshology has got you covered with nutritious and delicious options that can be customized to your liking. With fully-cooked meals delivered straight to your door, you'll have more time to relax and enjoy life. Choose between a 5-day or 7-day meal plan, and pick individual meals easily with their menu management tool!
Some standout menu choices include BBQ Chicken and Jambalaya with Shrimp and Chicken for dinner, Veggie Burrito and Beef Casserole for lunch, and Savory Morning Muffin and Waffles with Blueberry Cream Cheese for breakfast.
Deal: Get 60% off your first week! Deal applies automatically, just visit and subscribe.
---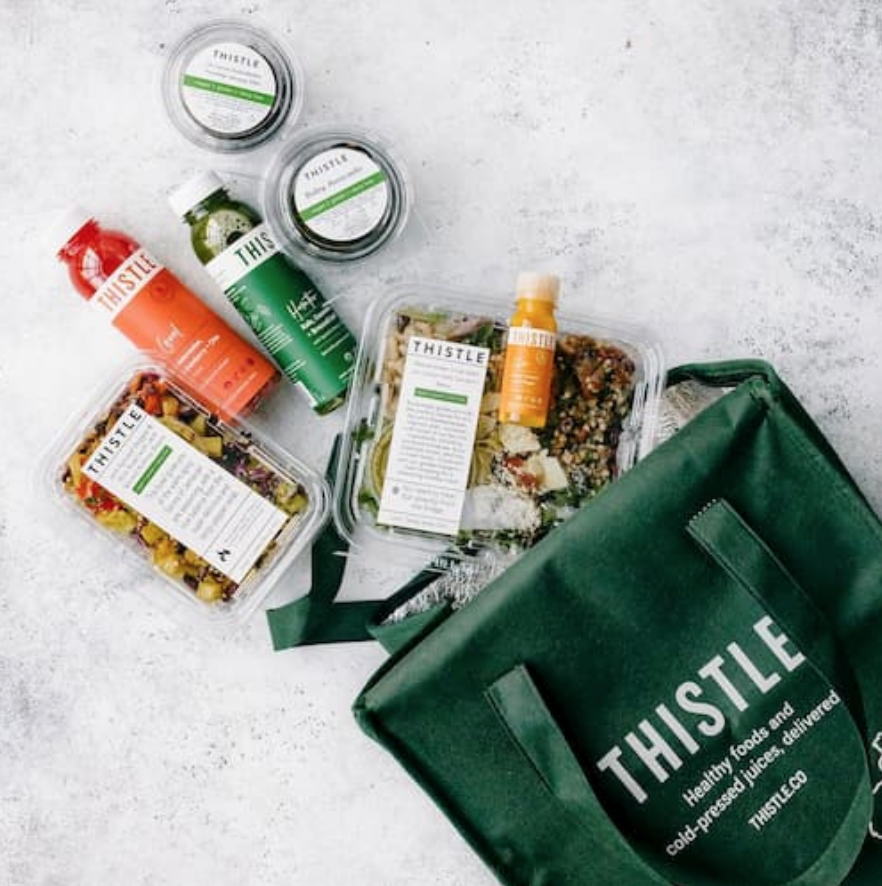 Image from: THISTLE
Thistle brings the joy of delicious, pre-made meals right to your doorstep. With a weekly menu that is always exciting and ever-changing, you can look forward to exploring a variety of mouthwatering options for breakfast, lunch, and dinner. What makes Thistle even more special is that you have the power to personalize your subscription by selecting your preferred protein. Whether you're on the East Coast or the West Coast, Thistle has got you covered with a menu that caters to your location, bringing the best local flavors right to your table. And let's not forget the delightful extras! Indulge in an assortment of tempting snacks, sides, and juices to complement your main meals. Thistle is here to make your life easier, tastier, and more satisfying than ever before.
---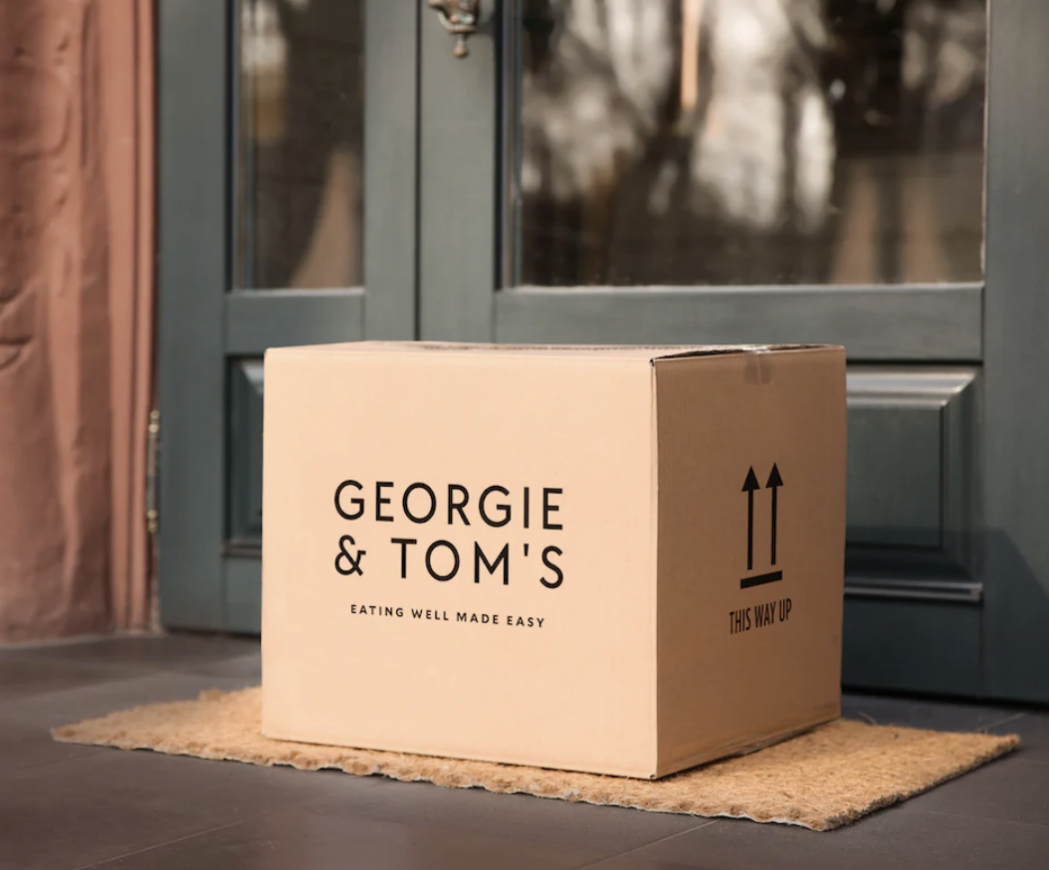 Image from: Georgie & Tom's
Georgie & Tom's is a subscription service that offers fully prepped, hand-crafted meals designed for two people. Their extensive menu boasts over 70 delicious options, all made with fresh and healthy ingredients. No matter your calorie goals, you'll find meals that fit your needs. With Georgie & Tom's, you have the flexibility to choose between five, four, three, or two meals each week. The best part is that there's no need to worry about ingredient shopping, chopping, or mixing. These meals come fully prepped, so all you have to do is heat them up and enjoy! The menu offers a delightful variety of proteins, including beef, pork, chicken, lamb, turkey, and shrimp.
---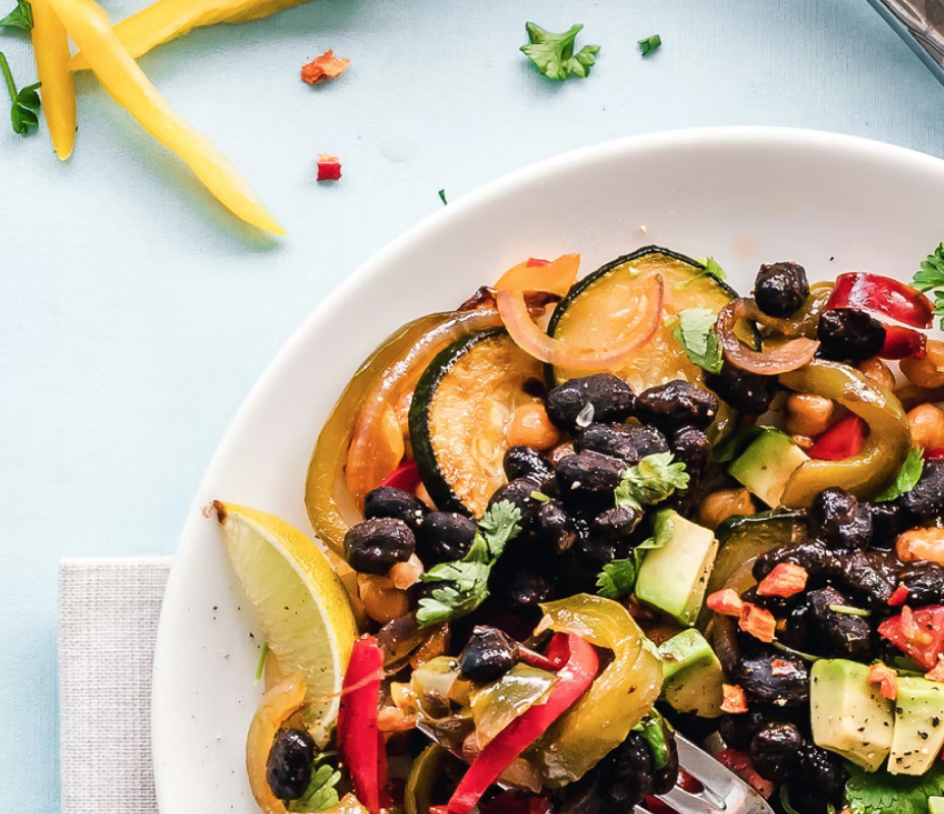 Image from: EatClean
EatClean is a healthy meal delivery service offering a delectable selection of over 500 mouthwatering meals to cater to your taste buds and wellness goals. With options ranging from traditional to paleo, keto, and plant-based meals, you'll never be short of delicious choices. Prepared with care by expert chefs, each dish reflects a perfect blend of flavors and nutrients. Whether you're aiming for a lifestyle change or simply seeking convenience, EatClean's customized meal plans allow you to receive 4 to 12 flavorful meals per week, ensuring you stay on track while savoring every bite.
---
Image from: The Cumin Club
The Cumin Club brings the vibrant flavors of India right to your kitchen. They offer 5-minute meal kits that are perfect for busy individuals. These kits are focused on vegetarian options, ensuring a healthy choice. The best part is that all their ingredients are natural and free from preservatives. They add an authentic touch to their kits by including spices from specific regions like Delhi, Mumbai, Kolkata, and Chennai, bringing out unique and delicious flavors. Each kit is designed for one person, making it easy to cook the right portion. With a menu boasting over 30 dishes, you'll have a wide variety of delectable choices to explore.
---
And that's our list of the Best Meal Kit Delivery Subscriptions for 2023!
Discover more exciting subscriptions when you check out our list of all the best subscription boxes!