Taking care of ourselves and boosting our confidence are important, and a beauty routine is a wonderful way to achieve both. Whether indulging in a face mask or trying out a bold new lip color, exploring different beauty products can be a fun and empowering experience. If you need a little help with your beauty rituals, beauty subscription boxes make a great starting point. They send a carefully curated selection of top-quality makeup and skincare must-haves on a schedule, helping you find the perfect products for your beauty goals.
Show More (21 items)
From skincare staples like serums, moisturizers, and masks, to makeup must-haves like lipsticks, eyeshadows, and mascaras, these boxes are a treasure trove of beauty goodies. No more waiting in line at busy retail stores or scouring the internet for elusive products – the boxes arrive right at our doorstep, ready to be unboxed and enjoyed. With beauty subscription boxes, every delivery feels like a special occasion, with new favorites to try and even old favorites to enjoy.
We've combed through the vast array of options to bring you the best beauty subscription boxes for every budget and preference, from sustainable and eco-friendly choices to indulgent luxury treats. Whether you're a seasoned beauty enthusiast or a curious newbie, we're here to guide you toward the perfect subscription box for your unique beauty journey!
The Best Beauty Subscription Boxes You'll Fall In Love With!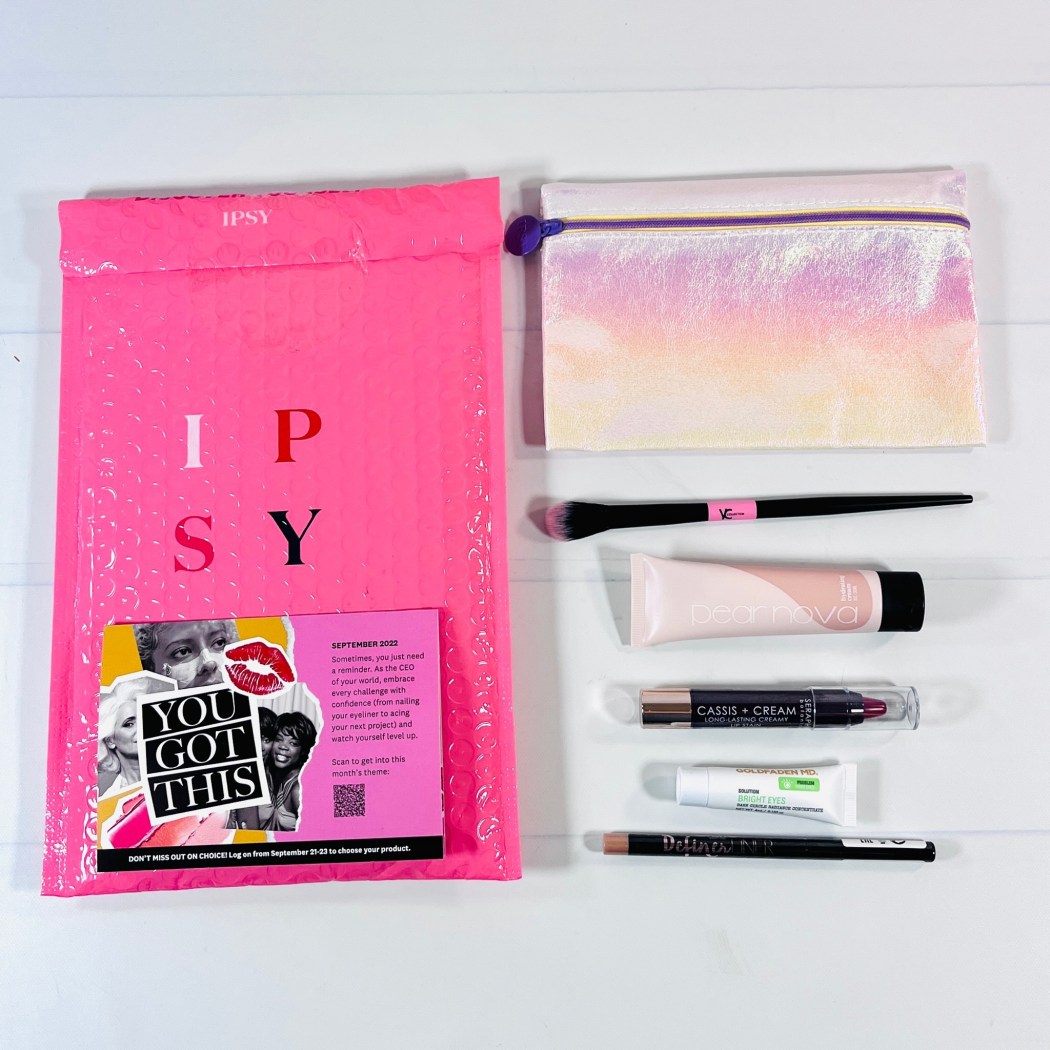 Image from: our review
Ipsy Glam Bag brings a nice mix of makeup, beauty, skincare, and hair care items every month, all packed in a themed collectible bag! It's a popular beauty subscription for the budget-conscious, and also a great way to discover new favorites from up-and-coming brands. Enjoy 5 deluxe-sized beauty products you can easily incorporate into your routine – one of these will be your own pick, and another one will be chosen by an expert as a Power Pick from a popular brand!
Customization: They take note of your unique features and personal preferences through a beauty quiz upon sign-up, and they also use your monthly product reviews to improve their offerings each month. You can also choose one product out of five to include in your bag, making it more personalized for you!
Deal: Get FREE month of Refreshments when you subscribe to any Ipsy subscription – that's up to $15 value!  Deal applies automatically, just visit and subscribe. FYI, Refreshments is an add-on subscription to your Ipsy membership. Must cancel after trial if you don't want to be charged.
---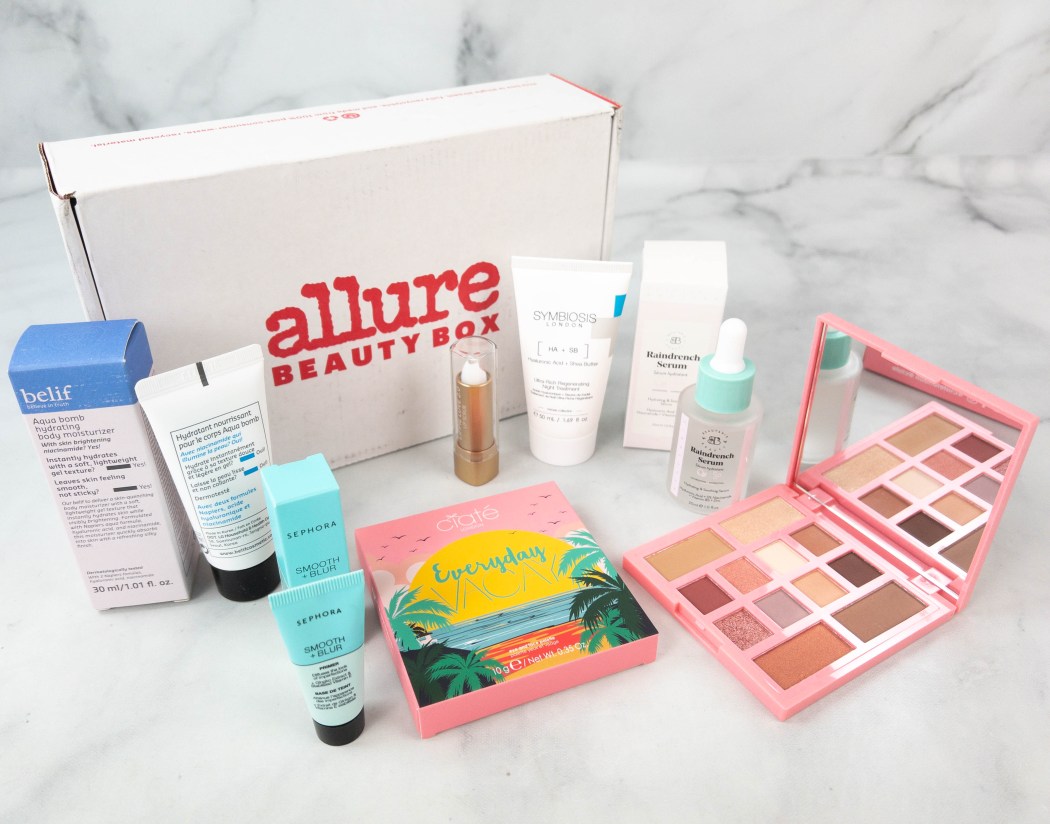 Image from: our review
Allure Beauty Box treats beauty junkies with expert-approved and tested beauty products! Featuring both luxury and indie brands, you get the best of both worlds while enjoying at least $100 worth of editor-curated beauty essentials every month. Each box includes 6 or more products (with at least 3 that are full-sized!), plus a mini-magazine that contains tips, product reviews, and exclusive offers. To keep things extra exciting, new members will receive a mystery gift that will ship separately from the regular box!
Customization: Allure Beauty Box cannot be customized. However, all products are carefully curated by their team of editors. They thoughtfully handpicked each product that goes in your box, so you have nothing to worry about!
Deal: Get a FREE new member bonus item with your first box! Deal applies automatically, just visit and subscribe.
---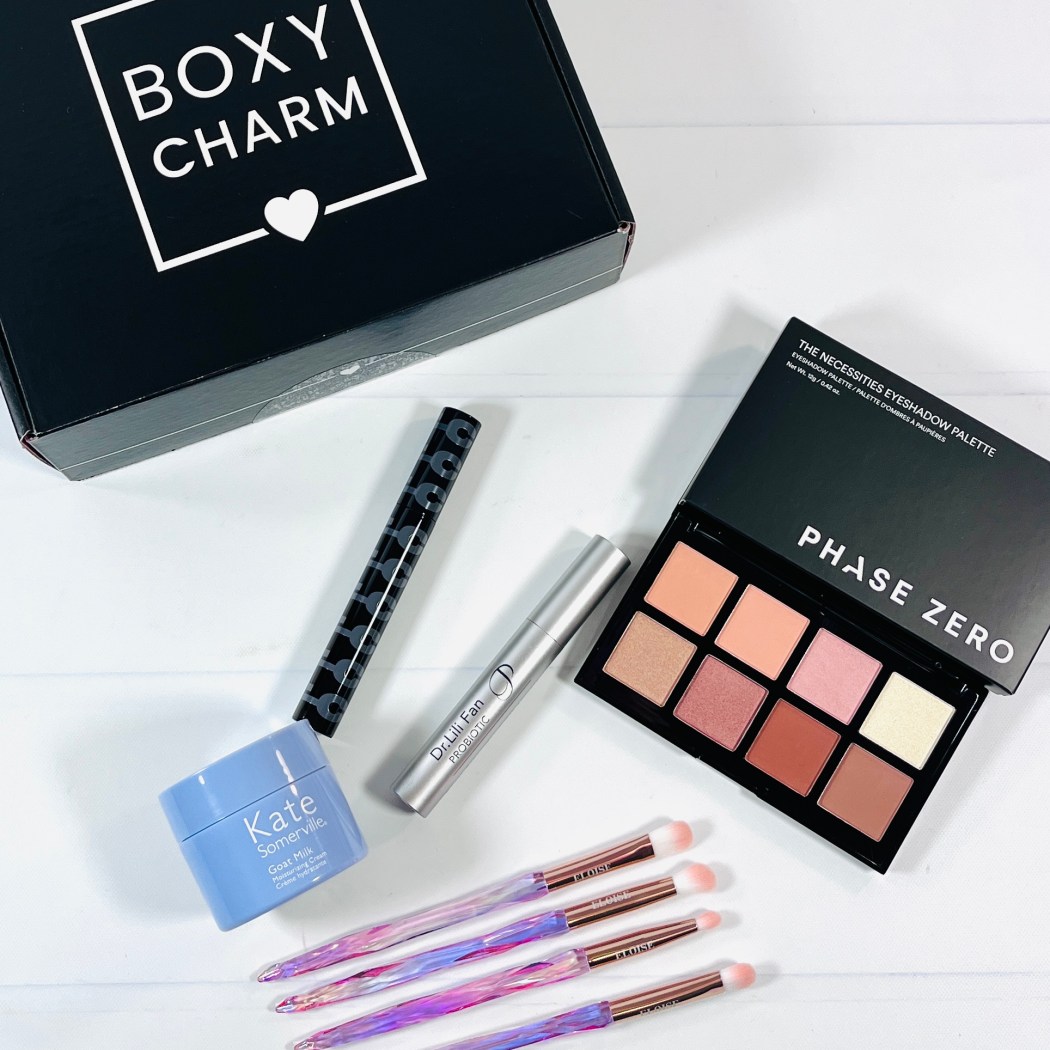 Image from: our review
BOXYCHARM by Ipsy replenishes your beauty stash every month with the latest beauty trends! Each box will include 5 full-sized beauty products from well-known, popular, chic, and new brands each month. You have the freedom to choose 3 products to be included in your box, while the rest will be Power Picks or high-value products from popular brands chosen by experts. This beauty box often includes full-size palettes and makeup tools so you can create various looks to your heart's content. Aside from makeup and cosmetics, they also include nail care, skincare, haircare, fragrance, and more!
Customization: Enjoy personalized shipments based on your Beauty Profile, and have the freedom to pick three products to include in your box every month! Providing monthly product reviews also helps them understand your preferences better – the more feedback you give, the more personalized your monthly stash will be.
Deal: Get FREE month of Refreshments when you subscribe – that's up to $15 value!  Deal applies automatically, just visit and subscribe. FYI, Refreshments is an add-on subscription to your Ipsy membership. Must cancel after trial if you don't want to be charged.
---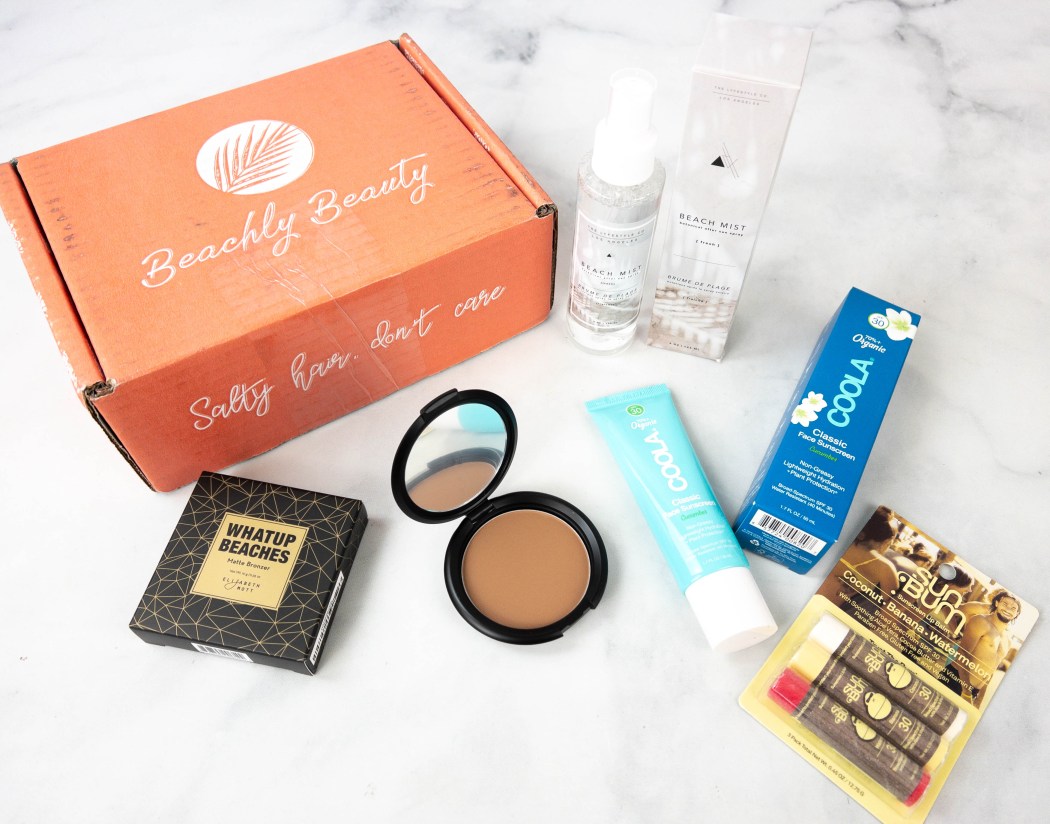 Image from: our review
Beachly Beauty Box gives beach lovers a dose of beach-inspired beauty items every season! They make sure that everything is clean and cruelty-free so you can incorporate the products to your routine without worries. There will be 4 to 6 items in each box, with a promised total retail value of $100. Pampering yourself with these beauty must-haves for beach lovers is a great way to put yourself in a beach mood even when your next beach vacation is still far away!
Customization: Beachly doesn't have customization options for their quarterly beauty boxes. However, you can expect a great variety of beach-inspired items in every box, like lip balms, fragrances, cleansers, moisturizers, nail polish, hair masks, and beauty products with SPF.
Deal: Get 50% off your first month! Use coupon code HELLO50.
---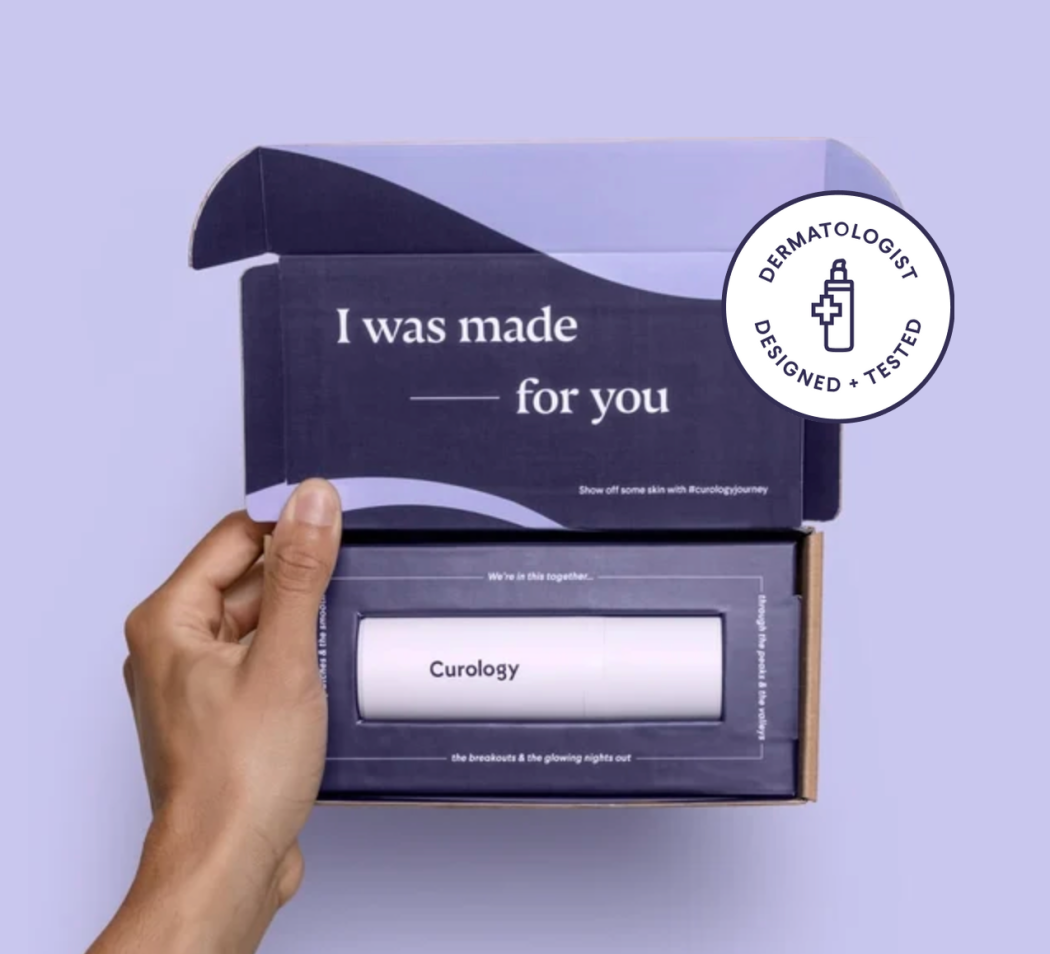 Image from: Curology
Dealing with skin woes is Curology's expertise! This subscription offers prescription skincare formulas to address your specific skin concerns, like acne, fine lines, and wrinkles – allowing you to take care of your skin better compared to one-size-fits-all drugstore brands. Aside from personalized formulas, Curology also offers Routine Essentials, such as a cleanser and moisturizer duo, emergency spot patch, sunscreen, acne body wash, micellar makeup remover, and lip balm. With their vegan and cruelty-free skincare products delivered to your door on a regular schedule, you can stop worrying and focus more on keeping your skin healthy!
Customization: They'll match you with a licensed dermatologist, who'll assess your skin type, profile, medical history, and selfie based on your answers on the skincare quiz. Then, they'll custom-create a skincare routine uniquely for you!
Deal: Get 30 days FREE trial! Deal applies automatically, just visit and subscribe. Just pay $4.95 shipping!
---
Image from: our review
Beauty Heroes helps bring out the best in you by putting the highlight on natural beauty. The subscription focuses on luxurious, healthy beauty brands, making it an ideal subscription for the most discerning beauty junkies. They work with different brands that share the same goal of providing the best in natural beauty, like Zoe Organics, Henne Organics, Cleo + Coco, and more. Each box contains one full-size hero product and a 'sidekick' (can be trial or full-sized), plus a booklet loaded with vital information about the featured brand. As a member, you'll get to save 15% every day in the beauty store, insider exclusives, and early access to new product launches.
Customization: Although this beauty subscription doesn't offer customization options, you can still feed your skin with beauty products that are not just good for you but the planet too!
Deal: Get 10% off your first Beauty Heroes subscription of any length! Use coupon code HELLOBH10. Valid for new subscribers only.
---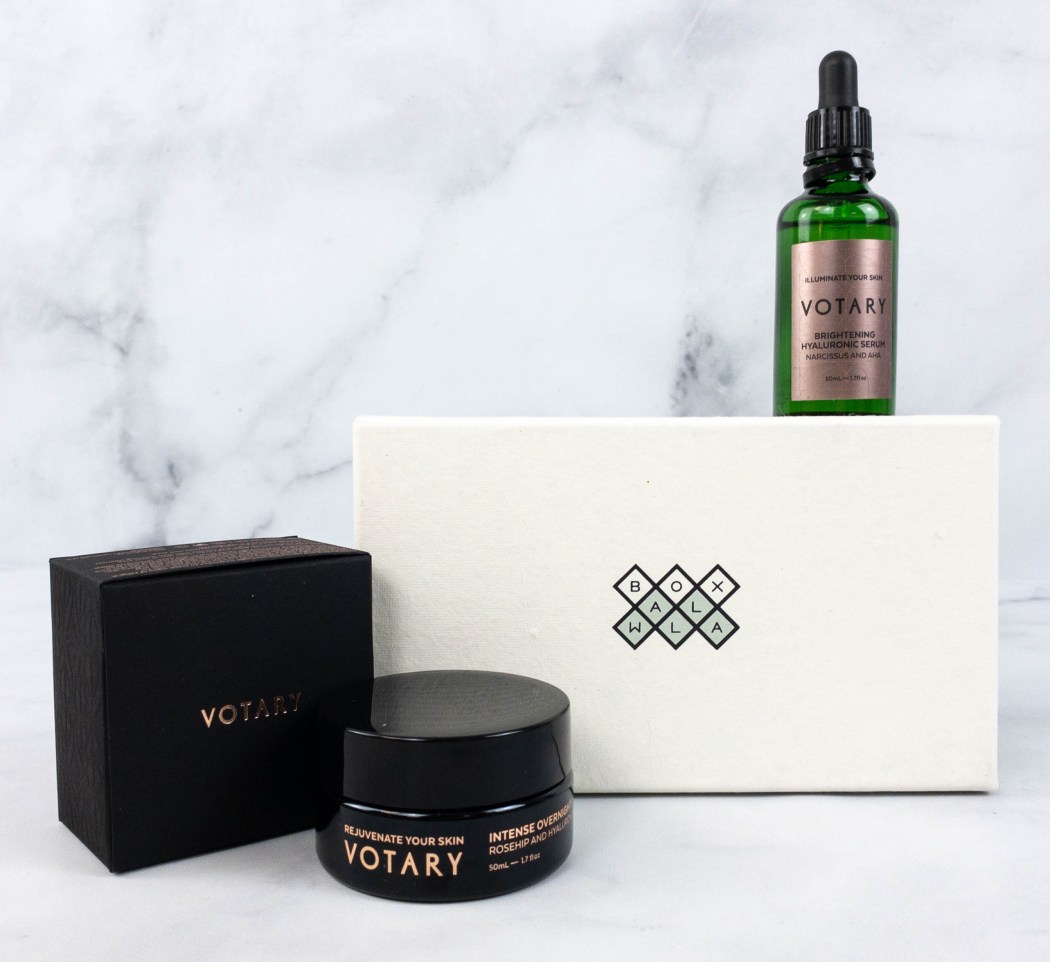 Image from: our review
Boxwalla Beauty proves that green beauty can be luxurious, and makes sure you can use them to build a skincare routine that meets your unique skin needs! Shipping every two months, this beauty box puts the spotlight on innovative plant-based products made by artisans from the USA and all over the world. Each box's contents are meant to complement each other, and all of them are full-sized! From cleansers to toners, mists, serums, and more, ingredient-conscious beauty enthusiasts will receive nutrient-rich beauty products that actually work.
Customization: Boxwalla Beauty doesn't have customization options in their beauty boxes, but all products harness the potency of plant-based ingredients.
---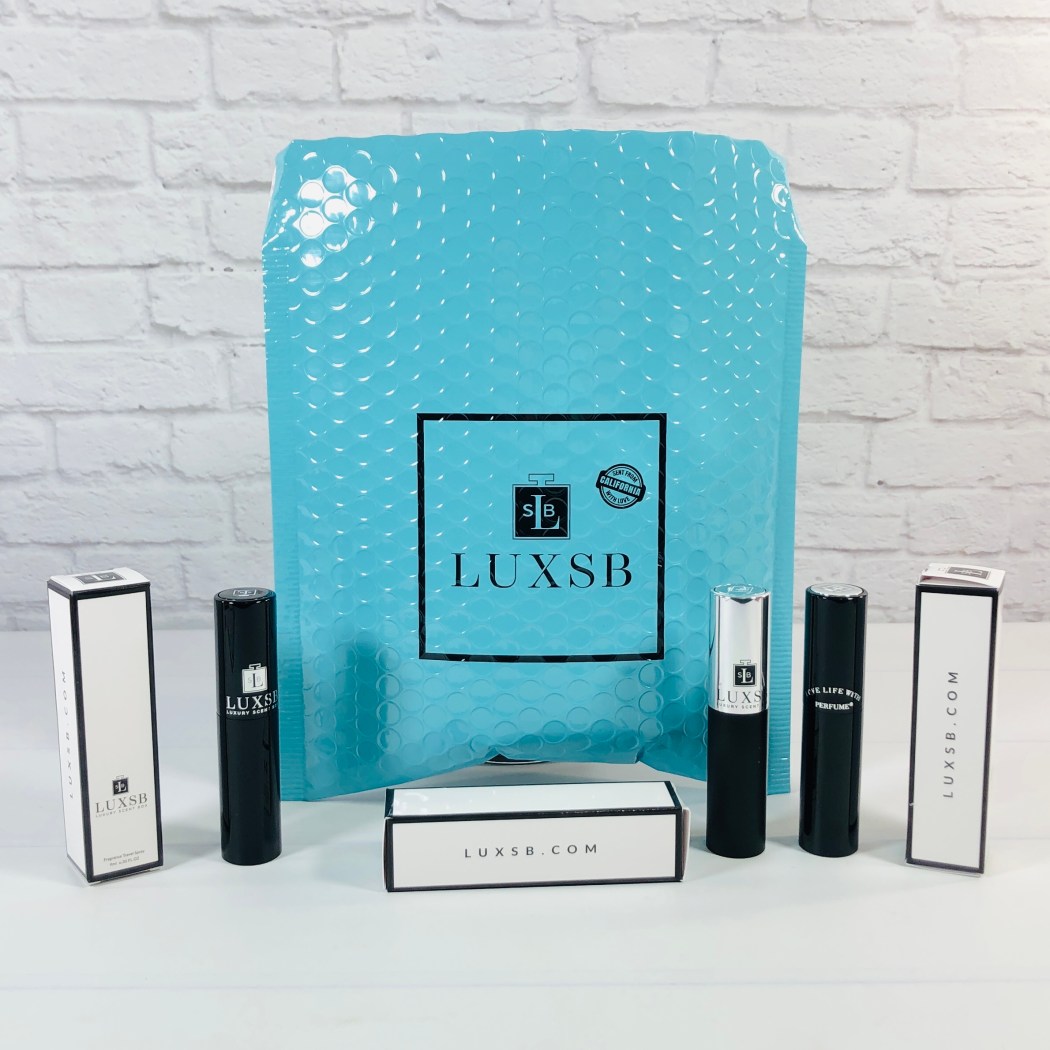 Image from: our review
Finding the perfect scent doesn't have to be a complicated process! All you need is LUXSB – Luxury Scent Box, a monthly subscription service that offers a wide selection of authentic perfumes and cologne. You can either take a brief survey to find scents that match your preferences or simply choose any fragrance from their list. Then, sit back and relax as you wait for your scent package to arrive at your door! Subscribers receive a 9ml perfume vial with approximately 150 sprays every month, as well as a LUXSB protective case for the glass vial on their first box and a new case quarterly.
Customization: Simply take the Fragrance Quiz to receive personalized fragrance recommendations. Although it's not required, it's suggested to help you find the perfect scent!
Deal: Get 35% off your first month! Use coupon code LUXSB35 .
---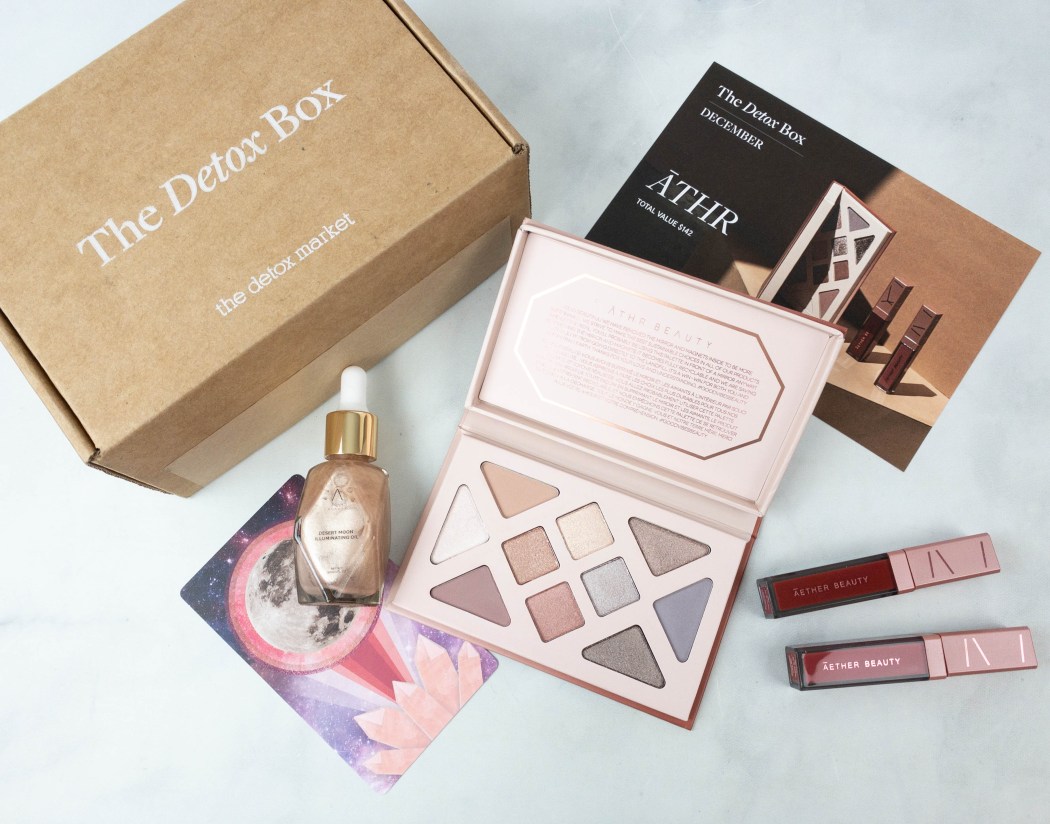 Image from: our review
Guided by strict ingredient standards, The Detox Box introduces the best and most effective green beauty brands every month. Especially if you have sensitive skin, this beauty subscription will end your search for skin-friendly beauty products to add to your daily routine. They only work with brands that use pure ingredients and cruelty-free formulas, so you can feel safe and confident with your choice! Moreover, they provide all the information you need about the month's featured brand, along with expert tips. Each box includes tried-and-true favorites and game-changing discoveries and has a promised value of at least $90.
Customization: The Detox Box has no customization option, just like other elite skincare subscription boxes. Although they're fully in charge of what goes in your box, you can be sure the products are effective and safe to use for your skin.
---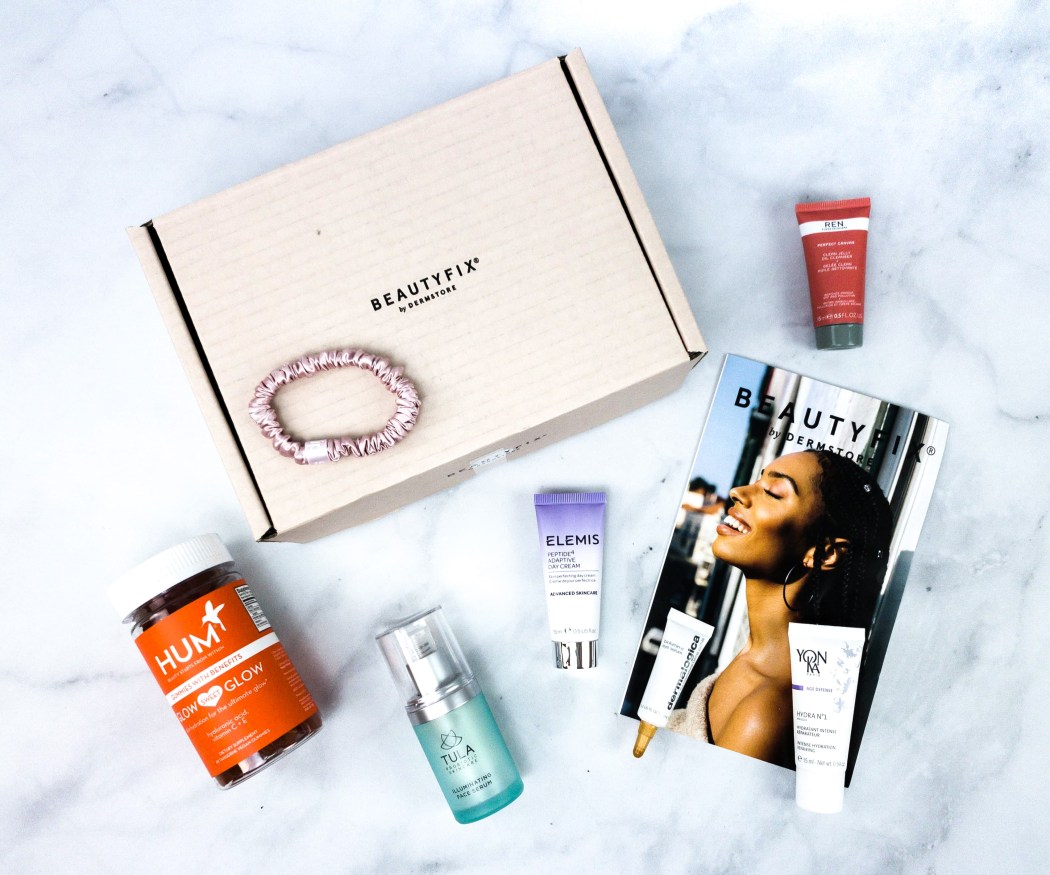 Image from: our review
BeautyFIX focuses on products for healthier skin and hair! It's a monthly beauty subscription from Dermstore, a leading beauty retailer founded by a board-certified dermatologist. You can start exploring high-end skincare brands with this subscription box while getting good value for your money because each box has a promised value of over $100. Their beauty picks usually include top-quality skincare to improve your complexion and hair care products that help you say goodbye to bad hair days. Some boxes even include professional makeup that doesn't damage the skin. All of these are handpicked by beauty experts and delivered right to your doorstep!
Customization: For this beauty box, everything in your box will be kept as a surprise or you can check out the spoilers each month to have a good grasp of what comes in each box. There aren't any customizations, so you can not choose what type of products to include in your box. Every package they send out to subscribers is curated by their team of experts.
---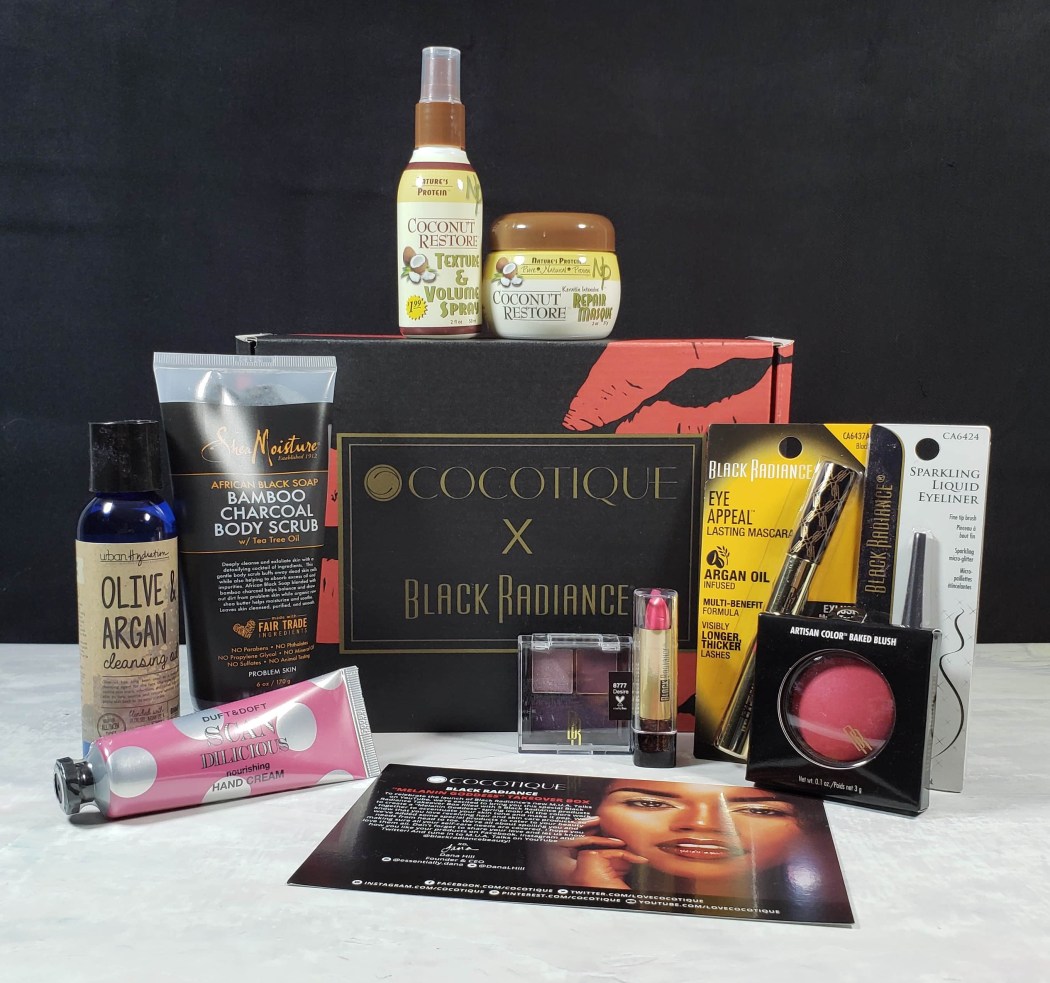 Image from: our review
Curated specifically for women of color, COCOTIQUE sends a unique assortment of beauty, wellness, self-care, and lifestyle products every month. The goal of this subscription is to remind you of the importance of self-care and also to encourage you to love yourself more by embracing your uniqueness. Each box contains a mix of 5 to 8 expertly curated products in full-size and deluxe travel sizes from established and well-known brands to emerging and indie ones. With this beauty subscription, you'll easily find the best beauty products that are worthy of adding to a woman of color's beauty arsenal!
Customization: The box cannot be customized based on each subscriber's needs, but each product is expertly curated to fit the needs of women of color.
Deal: Get 10% off your entire subscription. Use coupon code BOX10.
---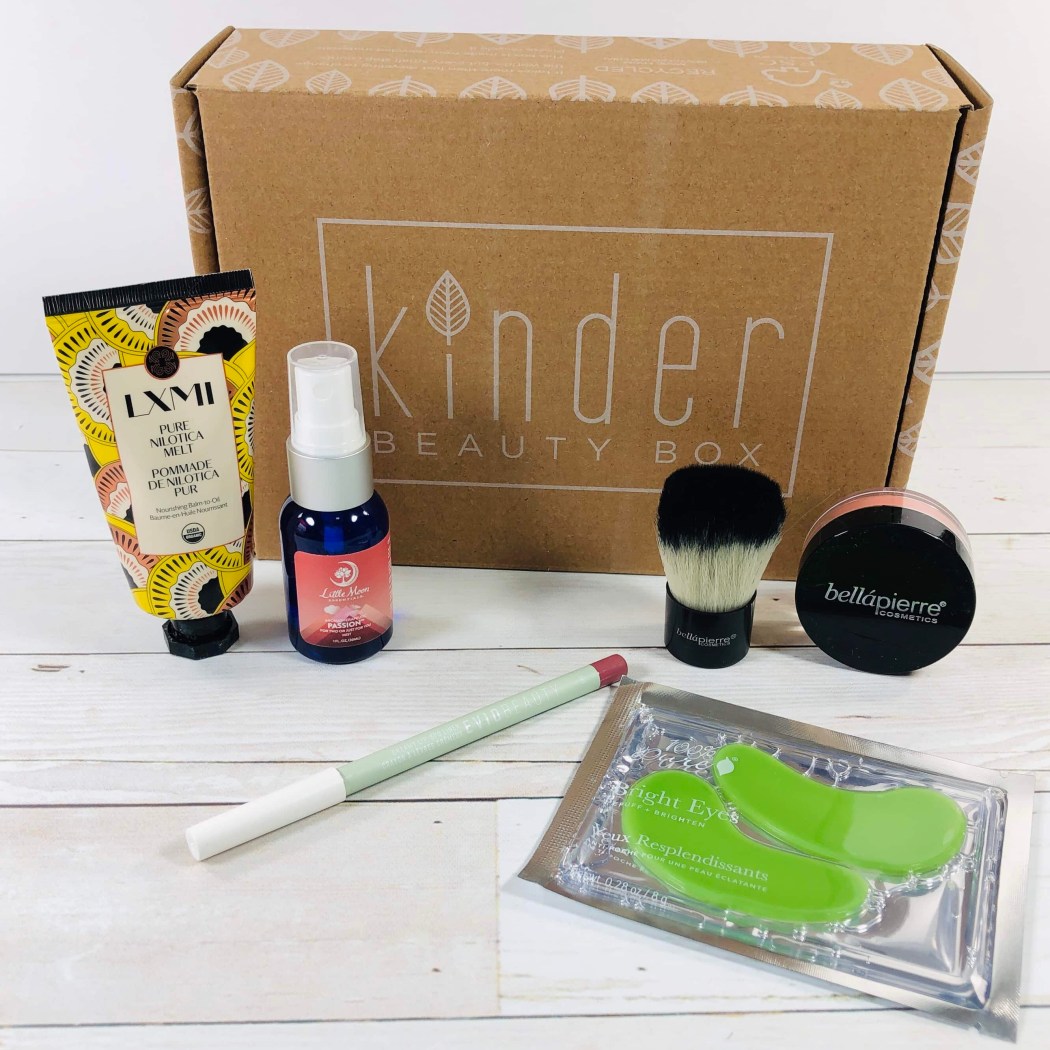 Image from: our review
Kinder Beauty Box is your destination when it comes to clean beauty products. This subscription focuses on giving vegan products that care not just for your skin but also the environment. Get up to $165 worth of cruelty-free products ranging from skincare, makeup, haircare, and accessories, including 2 full-sized products to make sure you have enough for the whole month from brands like INIKA Organics, 100% Pure, Franklin & Whitman, Andalou Naturals, and more! As a subscriber, you'll get access to exclusive special collections, limited edition offers, and flash sales! There's really kindness in every pack because they donate a portion of all sales to animal rights and environmental causes.
Customization: This clean beauty box doesn't offer customization options and sends out two monthly variations. They handpick each item that goes in your box, so you can be sure that all products they send out are cruelty-free and vegan – good for you and the environment too!
Deal: Get $5 off your first box! Use coupon code HELLO5.
---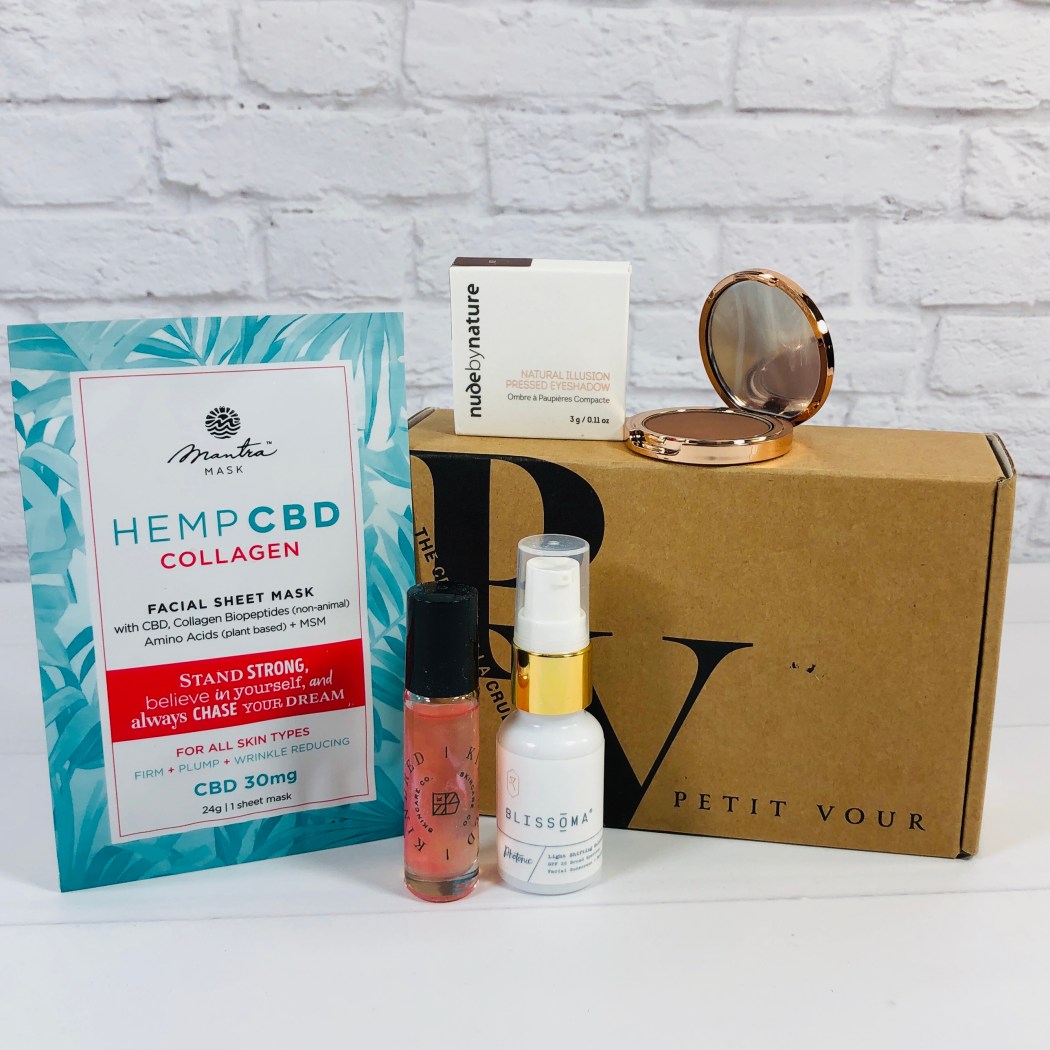 Image from: our review
Say goodbye to toxic stuff because Petit Vour only sends vegan and cruelty-free beauty and grooming samples! Also, they have around 30 ingredients that they pledge NOT to put in their boxes. What makes this subscription worthy of a try is that the inclusions are usually hard to find in regular beauty stores. Each box contains 4-5 items to sample, mostly deluxe sample-sized but with the occasional full-sized item. You can also earn points by reviewing the products you received. These will then be credited to your account and can be used in the Petit Vour shop.
Customization: Petit Vour sends out a couple of different variations each month, and they don't offer customizations in their boxes. A beauty profile is what you need to create upon sign up, so it'll be easier for them to choose what products to include in your box.
Deals:
Get a $70 full-size bonus item with your first box! Use coupon code LOVEANIMALS .
Get 25% off your first box! Use coupon code HS25.
---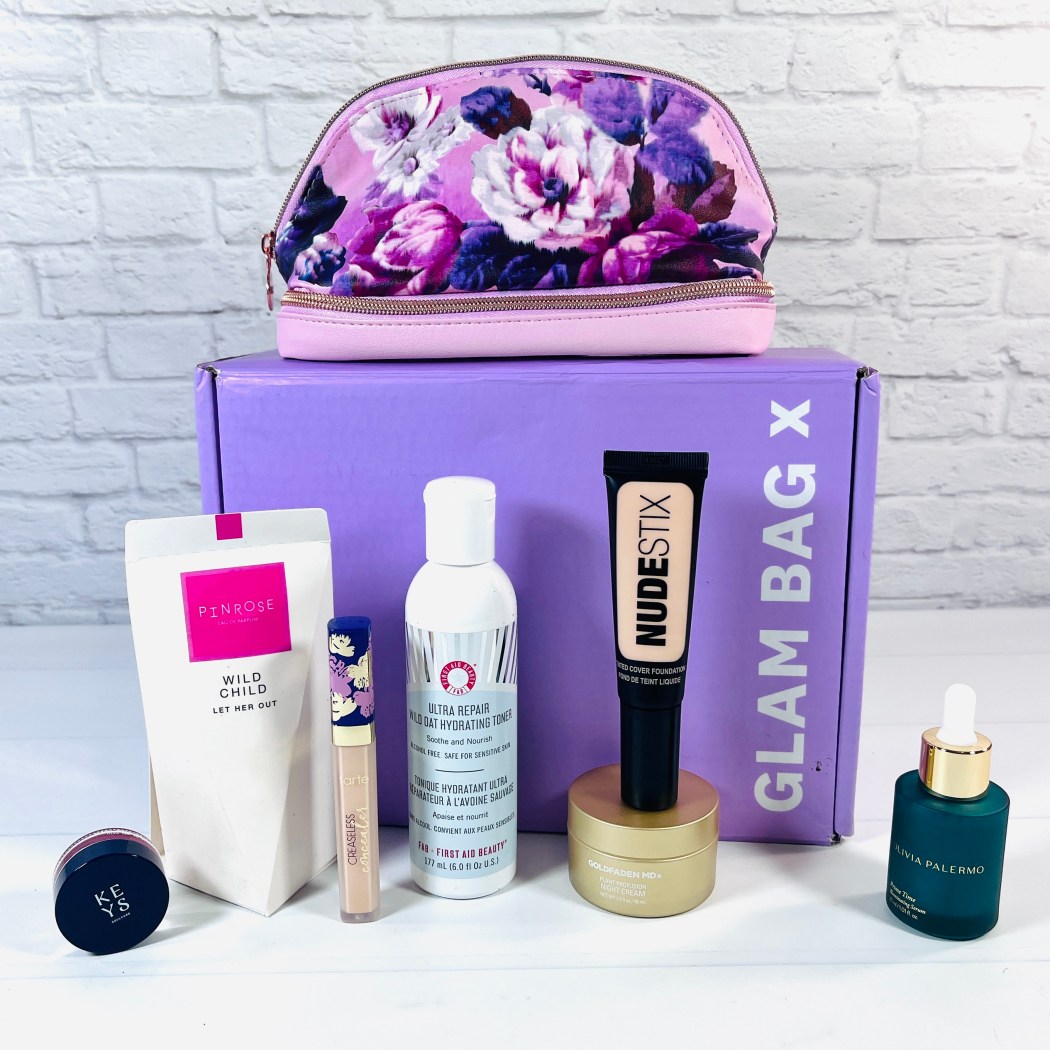 Image from: our review
Icon Box is a membership that packs extra glam and luxurious items into each box and is specially curated by beauty's biggest celebs! Available for Glam Bag and BoxyCharm members, this replaces your usual beauty bag every four months (February, May, August, and November). Experts will hand-select 5 products for you (which they refer to as Power Picks!), and you have the power to choose the remaining three for yourself. That's a total of 8 full-size products from the most-coveted brands, giving you great value for your money!
---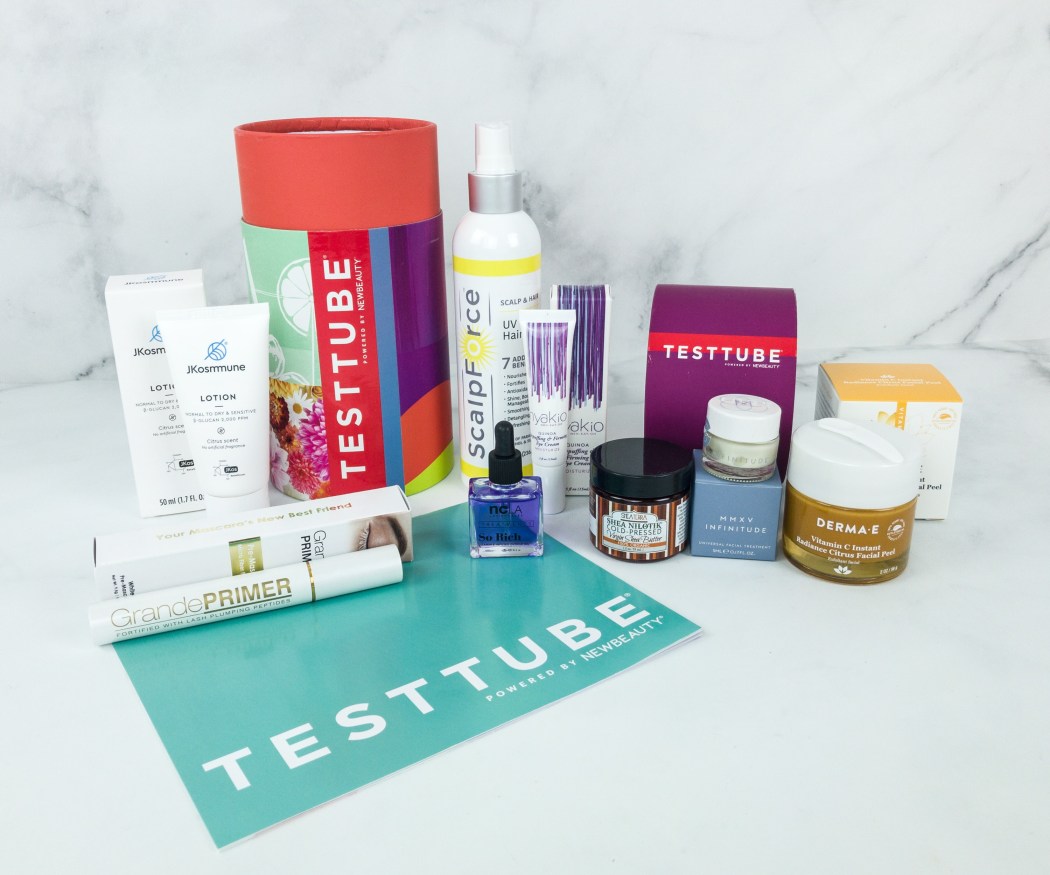 Image from: our review
Six times a year, New Beauty TestTube subscribers receive a "TestTube" filled with deluxe and full-size beauty products valued at over $180. Items are a mix of top brands and newly discovered brands with a stamp of approval from editors! Each box contains 8 or more beauty luxury samples, along with a NewBeauty Magazine. This subscription trends towards more mature women who are concerned about aging skin and hair, whether that's the mid-20s or 60s and beyond!
Customization: Like many subscription boxes, this luxury sampling box also does not offer customization options. All products come with a stamp of approval from the editors of New Beauty.
---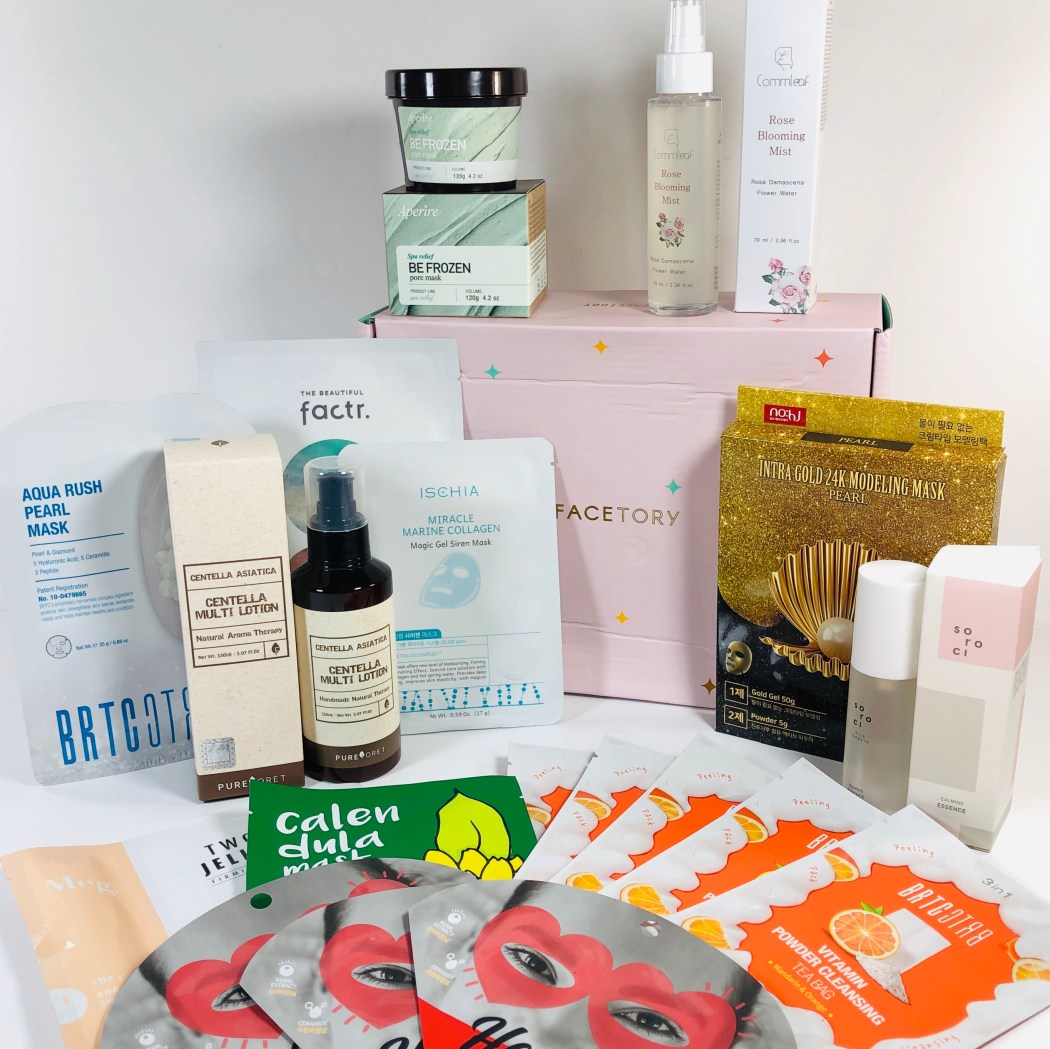 Image from: our review
Achieve your skin goals with FaceTory Lux Plus, a quarterly subscription that curates sheet masks and skincare essentials formulated in South Korea. Korean beauty products are a big hit because they focus on keeping the skin moisturized and soft, helping you bring out your natural glow. If you're a fan of K-Beauty, you don't have to travel all the way to the other side of the world because this subscription will bring Korean beauty essentials right to your door. Each quarterly box will include 4 full-size skincare products and 7 high-quality, non-irritating sheet masks!
Customization: Unfortunately, you cannot customize the box contents. Each product is tested by their skincare experts.
Deal: Get 4 free masks with your Lux Plus Subscription! Use coupon code LUXPLUS4.
---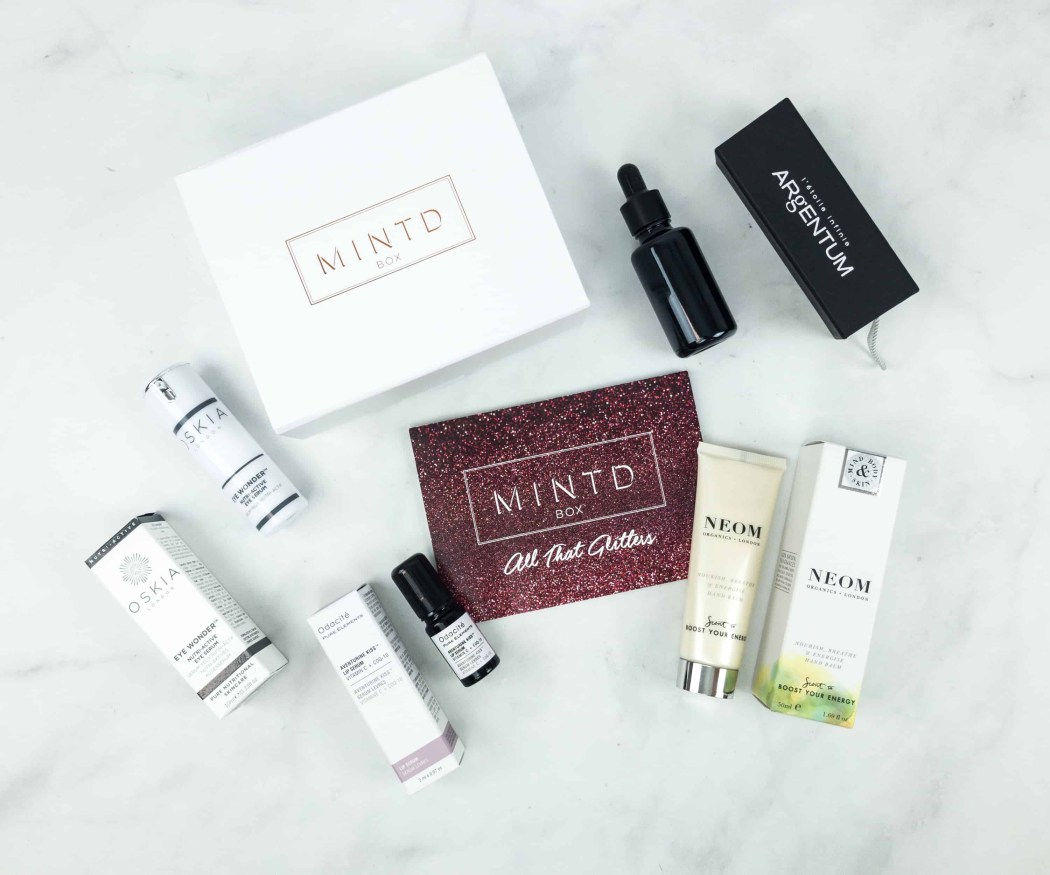 Image from: our review
When it comes to the best and most innovative beauty products, MINTD Box is the answer to all your needs. They aim to inspire and encourage women from all walks of life to reveal their inner beauty. Each box is exclusive and contains 4-5 full and deluxe-sized items. It's usually themed, which of course, keeps things exciting every month, but what's really impressive is that they curate it in tune with global trends. They work with respected brands to ensure you receive only the best quality of beauty items for your arsenal! Past boxes have included items from Sunday Riley, Oskia London, Farmacy, and Omorovicza.
Customization: This conscious beauty box does not offer customizations. But they do ask subscribers to fill out a beauty profile, including skin tones and concerns, for them to handpick the best luxury products that are tailored to your beauty needs and lifestyle.
---
Image from: ScentBird
With ScentBird, you can explore designer fragrances, popular beauty products, and skincare essentials to help you feel more confident about yourself! For the scents, they allow you to try perfume or cologne samples so you can decide if you like them before committing to the full-sized bottles. When you subscribe, you will receive a 30-day supply of their favorite fragrance, decanted into a handly glass vial and a sleek, protective case on every first order. Of course, you can also add full-size makeup and skincare products to your queue! You can alternate it with your scent choice, so you can upgrade your beauty routine while making sure you smell your best too!
Customization: Subscribers have control of what they receive in every shipment! Whether you'd like to receive a new scent, skincare, or beauty product, simply add any of the items from their collection to your queue in order of how you want to receive them. For people who can't decide, you can also leave your queue empty to receive the Fragrance of the Month.
Deal: Get 50% off your first month! Deal applies automatically, just visit and subscribe.
---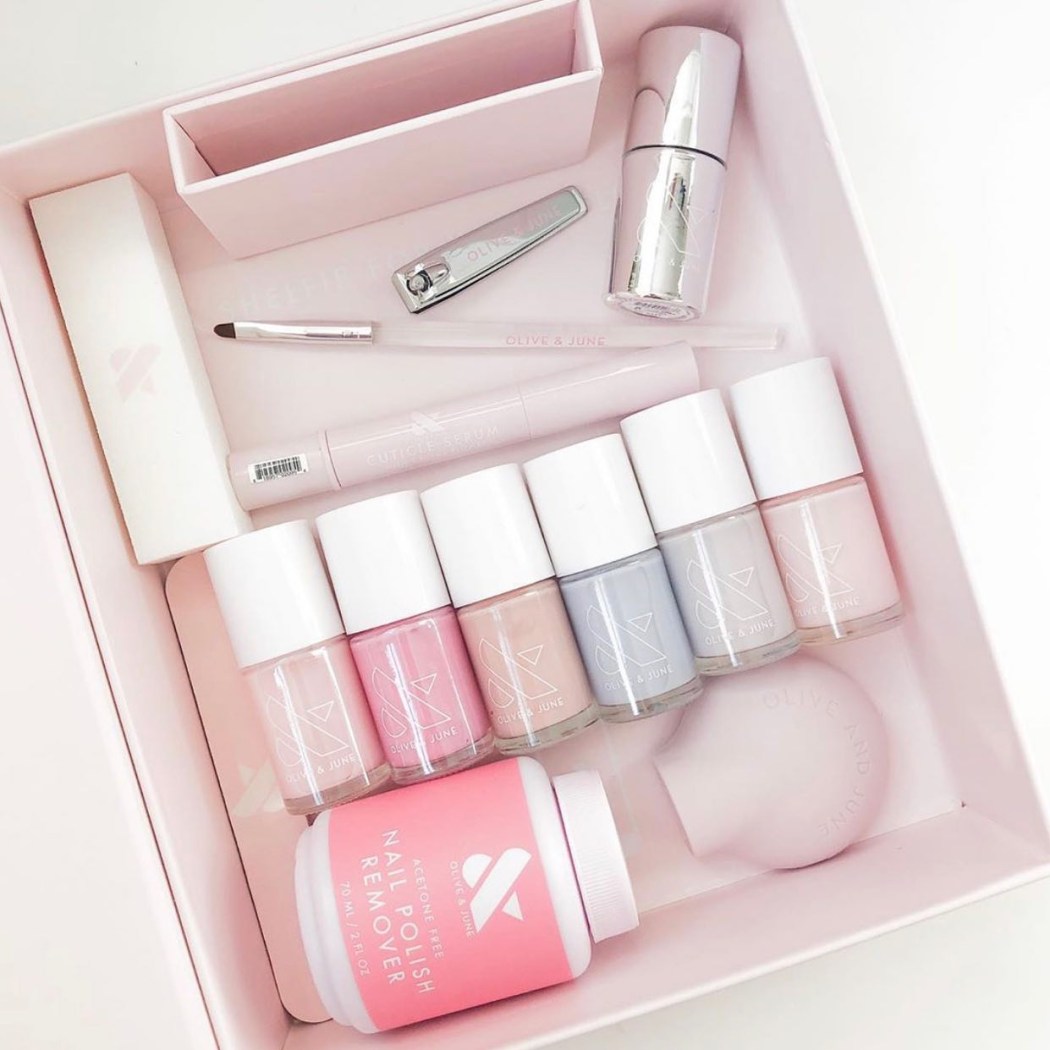 Image from: Olive & June
Expressing yourself and your personal style through your nails is made easy by Olive & June! They send everything you need to recreate salon-perfect nails, whether you like classy, edgy, colorful, or unique nail looks. Shop The Mani System, The Pedi System, or The Complete System and get cruelty-free, long-lasting polishes and all the tools to care for your dream nails. When you join the club, you'll get free shipping on every order, 10% off everything, and members-only surprises. It's the perfect way to get a manicure and pedicure even without stepping out! Tip: Apply super glossy top coat every 2-3 days for a long-lasting mani!
Customization: You'll be able to choose nail polish colors from Olive & June! This is a great opportunity to get colors that you don't already have or pick what you actually need for a certain occasion.
Deal: Get 10% off your first order! Use coupon code WELCOME10.
---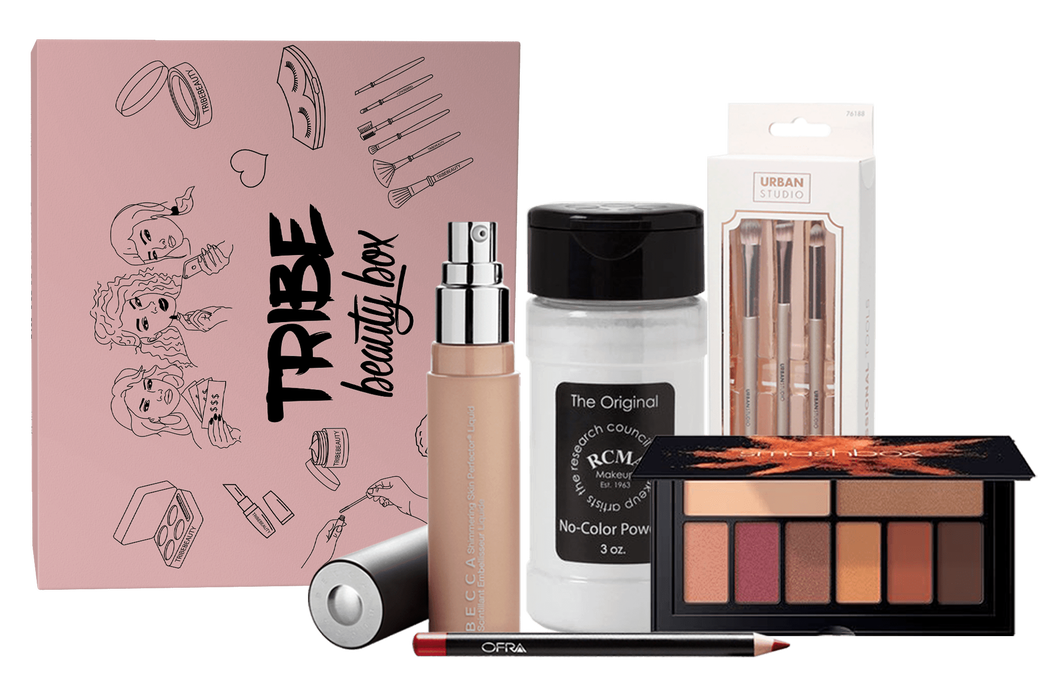 Image from: Tribe Beauty Box
Tribe Beauty Box introduces beauty-savvy individuals to the best of indie beauty! Shipping bi-monthly, this subscription sends a balanced mix of at least 5 full-sized products with a total retail value of over $120. The focus is on indie and female-owned makeup brands, so you can discover the next big thing in beauty without spending too much!
Customization: Tribe Beauty Box lets you choose your first box! For the recurring boxes, they don't currently offer box customization. However, if you're looking to discover makeup beyond what's popular in the mainstream, they have it all for you. Expect to receive bold palettes, amazing lipstick shades, as well as other unique makeup products to treat yourself with!
Deal: Get 10% off your first box! Use coupon code HELLO.
---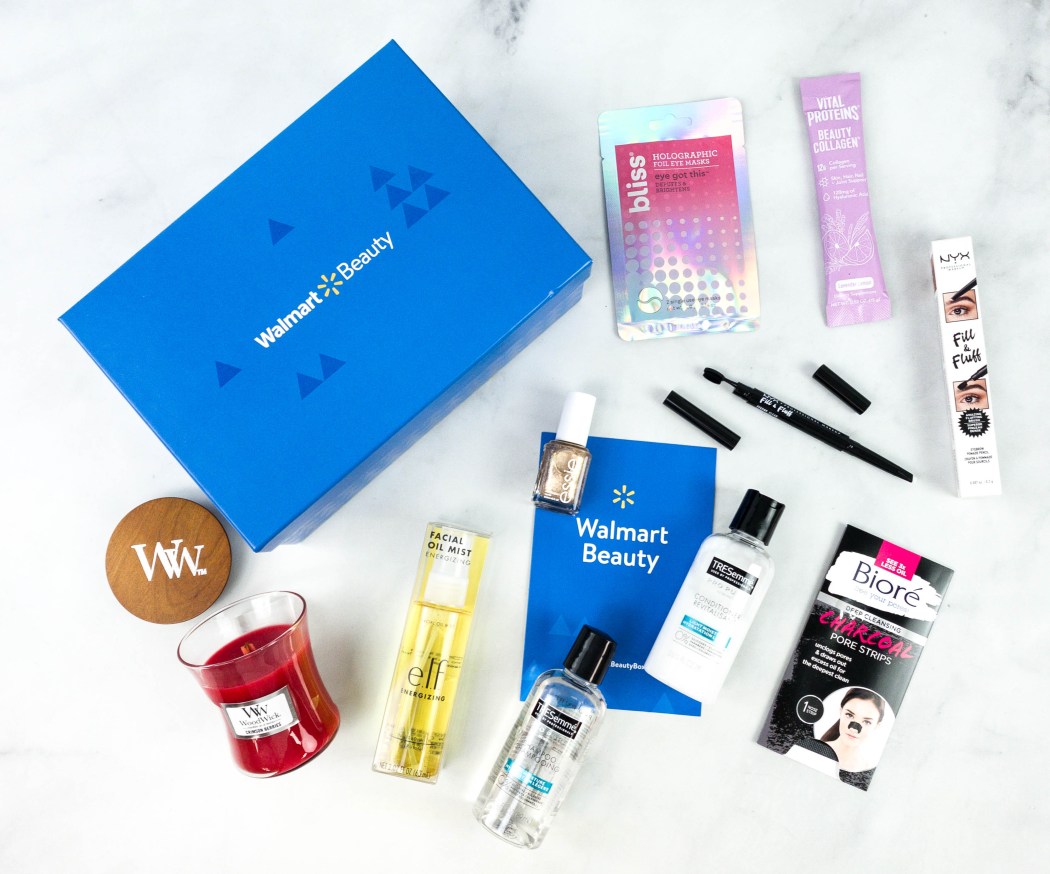 Image from: our review
Walmart Beauty Box teams up with trusted brands for a seasonal curation of beauty samples and other amazing goodies! Shipping quarterly, they offer nothing but the most useful products for your beauty needs to help you stay fresh and glowing all through the season. You'll enjoy trying out hand-selected essentials, and if you need a little help, they even provide tips on how to use the products!
Customization: There are currently no customization options for Walmart Beauty Boxes, but their hand-picked beauty samples are the perfect way to try new products before you buy them in full size at Walmart!
---
Image from: eSalon Custom Hair Color
eSalon Custom Hair Color makes it possible to achieve salon-quality hair color without having to book a salon appointment! For easy hair coloring at home, simply sign-up by creating a profile with your hair history, hair color goal, and current look so a hair care expert can analyze them. Then, they will craft the product to match your hair type, then ship it right to you! You will receive complete, personalized instructions for easier application, along with everything you need to color at home. The bottles will be labeled with your name, plus you'll have access to a personal licensed colorist in case you have questions!
Customization: To help you achieve the perfect hair color, your subscription will be customized based on your personal profile with the help of an expert. You can also choose between Permanent, Ammonia-free Permanent, and Demi-Permanent hair color.
Deal: Get your first box of color for just $15 instead of $24! Deal applies automatically, just visit and subscribe.
---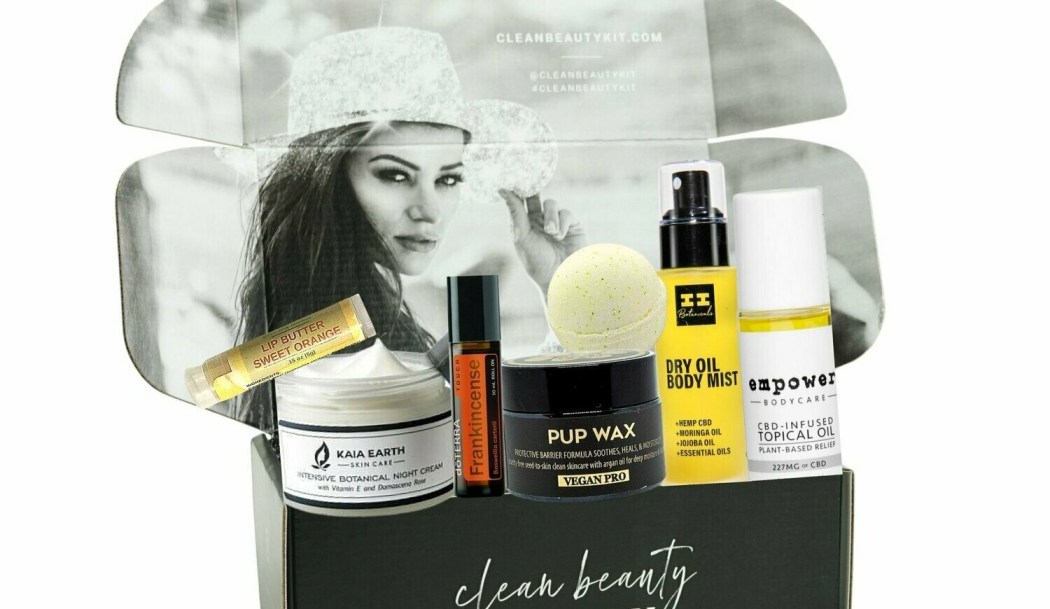 Image from: Clean Beauty Kit
Enjoy clean and sustainable beauty with wellness and lifestyle products with Clean Beauty Kit. Delivered right to your mailbox, the kits are always filled with woman-owned beauty, self-care, and lifestyle brands approved by a professional makeup artist. You'll find a themed collection of full-size and deluxe products in each box, so you can pamper yourself all you want and feel like a true queen! You can also get Clean Beauty Kit Mini, which includes 4-5 full-sized products and is valued at more than double the price you're paying for.
Customization: You'll be able to design your own Clean Beauty Kit based on your skin type, hair texture, or eye color. They also give you the freedom to pick the product types you want to receive in your box, including skincare, makeup, hair care, body care, nail care, teen, ingestible CBD, CBD skincare, bath, sexual wellness, deodorant, retinol, sunscreen, self tanner, sleep, PMS, clean fragrance, candles/incense, and more!
---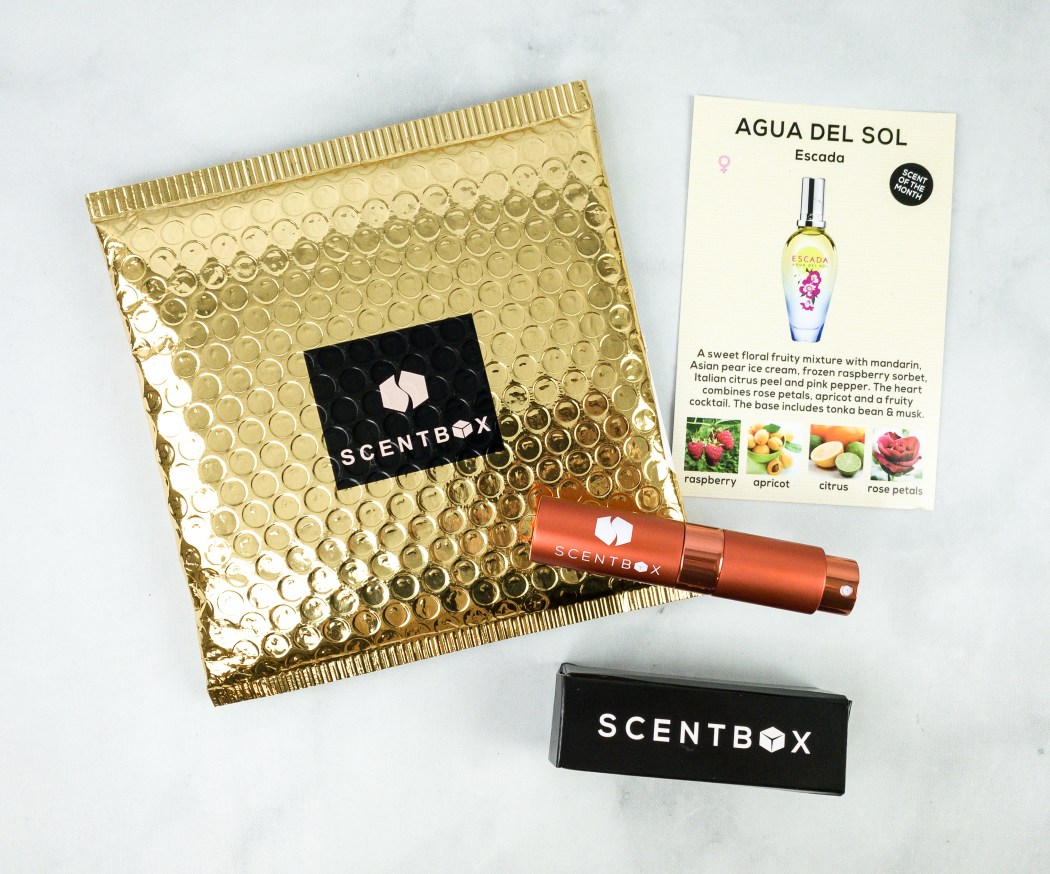 Image from: our review
Scent Box indulges scent lovers with a monthly supply of travel-sized fragrances! Whether you're new to scents or you're trying to expand your collection, this scent subscription provides a fun way to enjoy new fragrances. Their handy atomizer is an affordable elegance that you can carry around wherever you go. Each 8ml refillable travel spray contains a 100% authentic designer fragrance that'll last for a whole month. It's a great subscription to rely on for trying a variety of scents before committing to a full-sized bottle. They currently offer two kinds of subscriptions: Standard and Premium.
Customization: You can fill up your queue or be surprised by the scent of the month, the choice is always yours!
Deal: Save 50% on your first box! Use coupon code SCENT50.
---
Image from: our review
Macy's Beauty Box keeps things fun for devoted beauty fans by sending deluxe beauty samples and a bonus item every month! They feature some of the most-loved beauty brands in their boxes, making it easy for you to discover products worthy of adding to your vanity. If you also regularly buy other stuff from Macy's, you're in for a treat because they include an exclusive $5 beauty coupon in the box, which can be used on your next $20+ beauty purchase online and in-store!
Customization: The beauty box comes as a monthly surprise. You'll never know what's inside the package until you unbox and empty it. If you're curious to know what comes inside monthly boxes, you can check out our full spoilers every month. Members will receive the same items each month, but sometimes with a variation or two. All samples are in line with the month's theme and are chosen by their beauty experts.
---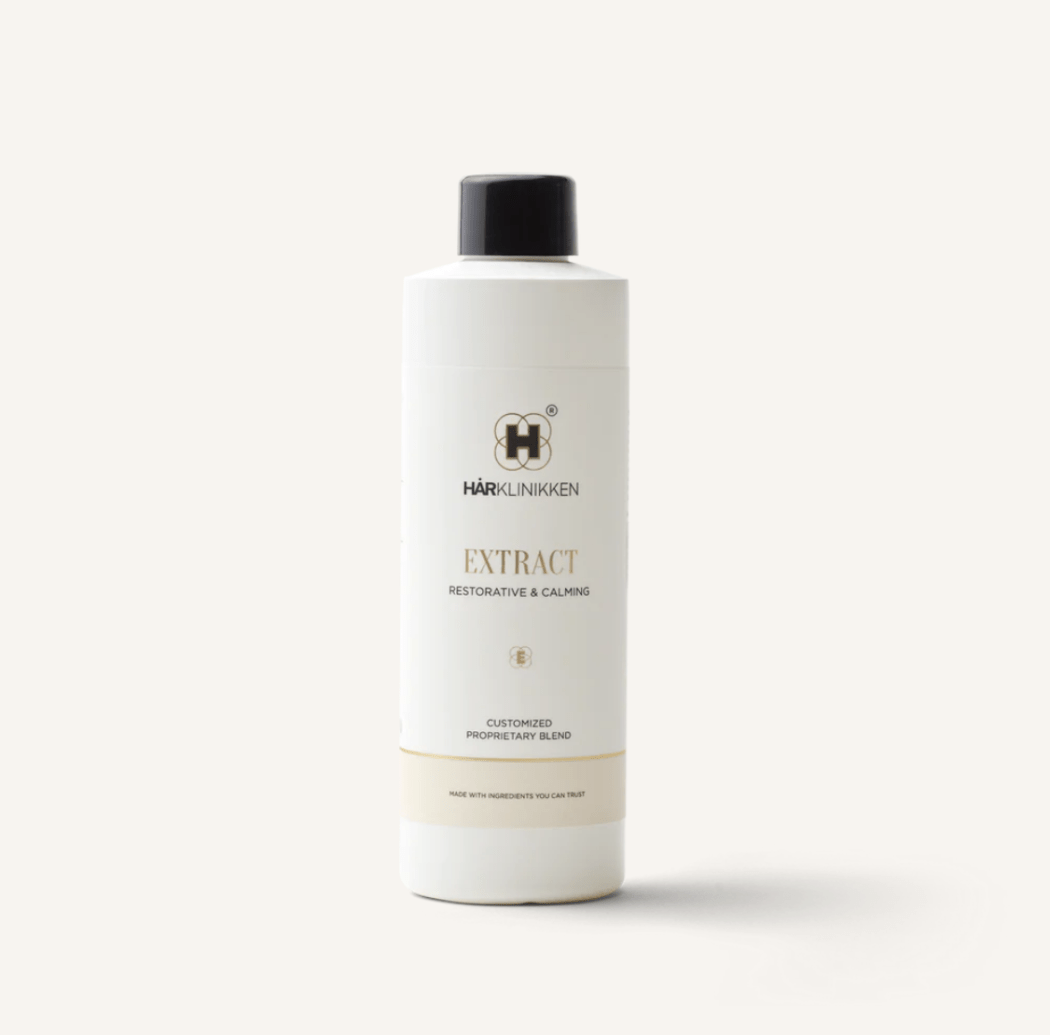 Image from: Harklinikken
Harklinikken is a hair care brand renowned for its commitment to natural ingredients and personalized solutions. Harnessing the power of botanical extracts, vitamins, and minerals, their customized treatment regimens are tailored to restore hair's health from root to tip. To begin the journey to luscious locks, individuals can take their convenient online hair assessment, which paves the way for unlimited personal consultations. Offering unparalleled flexibility, customers can effortlessly adjust their delivery frequency and have the freedom to pause or cancel their subscription at any time. With Harklinikken's unwavering dedication to holistic hair care, achieving and maintaining vibrant, resilient tresses has never been easier.
---
Image from: KND by Kinder Beauty
KND by Kinder Beauty is a thoughtfully curated lifestyle box designed to elevate your self-care rituals and transform your daily routines. This subscription box features a collection of premium vegan, cruelty-free, and clean products, valued at over $200, awaiting you every month. Unlike traditional beauty-focused boxes, KND takes a holistic approach, catering to those seeking a broader spectrum of self-care essentials. Embrace the perfect blend of beauty, wellness, and conscious living as you immerse yourself in the treasures that KND has to offer. Elevate your lifestyle and indulge in the goodness of high-quality products that empower you to look and feel your best, both inside and out.
---
And that's our list of the best beauty subscription boxes for 2023!
Want more subscriptions? Browse through our list of the best subscription boxes for 2023!