The concept of beauty subscription boxes is not new. They've been around for years, catering to every woman's beauty needs and making the best introductions to beauty products and brands. There are so many beauty subscription boxes to choose from, ranging from budget-friendly to luxurious ones. With all these choices, you're sure to find one that you'll be excited to unbox each month!
Beauty subscription boxes offer a stepping stone for reaching your ultimate beauty goals. Some subscriptions send beauty items based on your beauty profile, while others let you choose which products to include in each box. But most subscriptions want to keep everything as a surprise (don't want a surprise – check out our beauty subscription box spoilers).
Beauty subscription boxes are a great help in providing your monthly dose of beauty finds. You may even discover new products you haven't tried before and want to test. So, fill your vanity table with different skin-friendly brands you adore!
Whatever your preferences are, you can indulge in everything's beauty and feel more attractive and confident than ever! Stay on the radar and track down all the best beauty items. From makeup palettes, skincare, haircare, and nail care to everything in between, here are the best beauty subscription boxes every beauty-obsessed person or beauty junkie should check out!
The Best Beauty Subscription Boxes You'll Fall In Love With!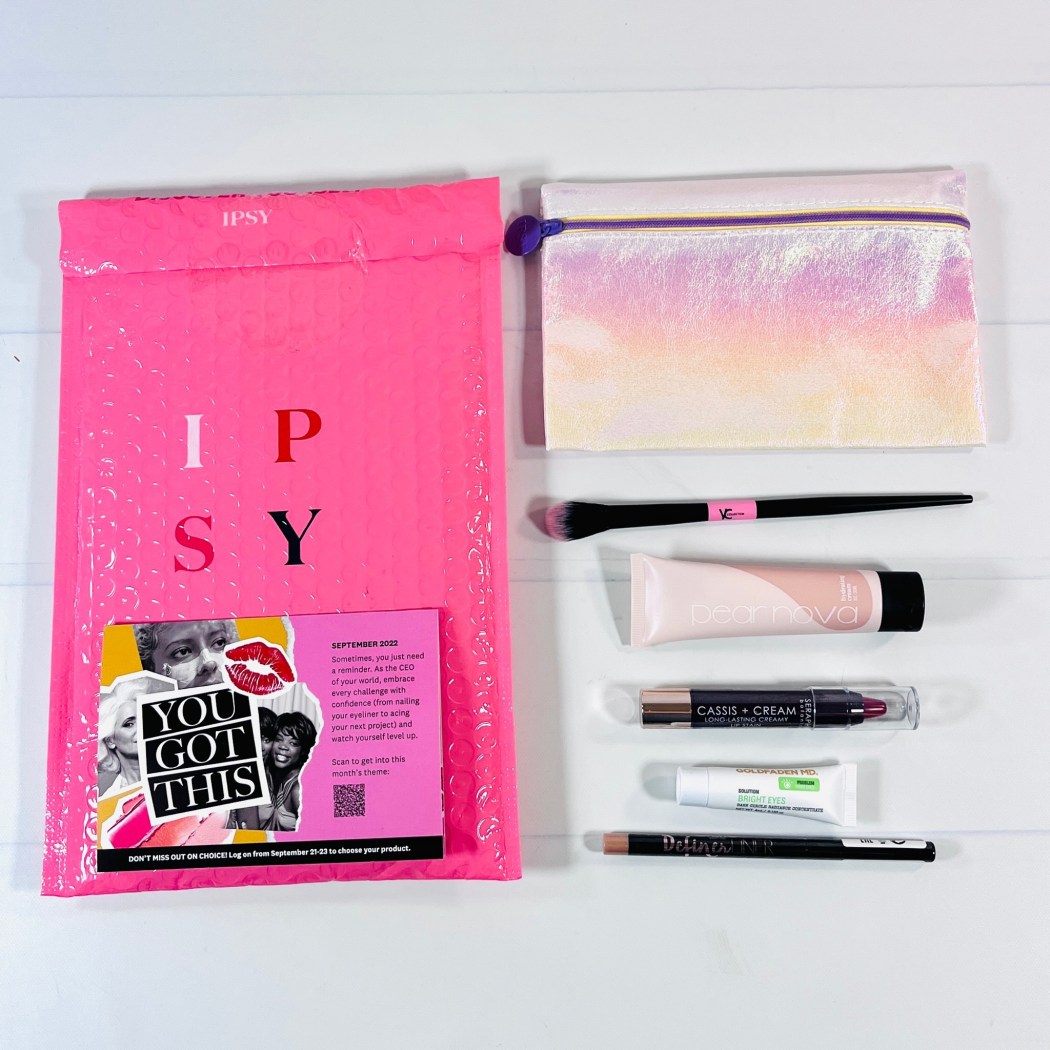 Image from: our review
What You Get: A nice mix of makeup, beauty, skincare, and hair care items, all packed in a cute collectible bag! Ipsy is a popular beauty subscription that makes a great way of discovering up-and-coming brands, as well as getting exclusive goodies and brand collaborations. Receive 5 personalized and deluxe-sized beauty products, along with a chic beauty bag that fits them all. Some of the brands included in past packages are Tarte, Ciate London, Juice Beauty, EyeKo, Steve Laurant, and It Cosmetics. And if you're looking for a bigger beauty box, they also offer a Glam Bag Plus for $25 a month or an upgrade to Glam Bag X for $55 per shipment.
Customization: They take note of your unique features and personal preferences through a beauty quiz upon sign up, helping them improve their offerings each month. You can also choose one product out of five to include in your bag, making it more personalized for you!
Price: Get makeup, beauty, skincare, haircare items, and a cute bag for $13 a month! Or more items on Glam Bag Plus (for $25 a month) and Glam Bag X (for $50 per shipment.)
---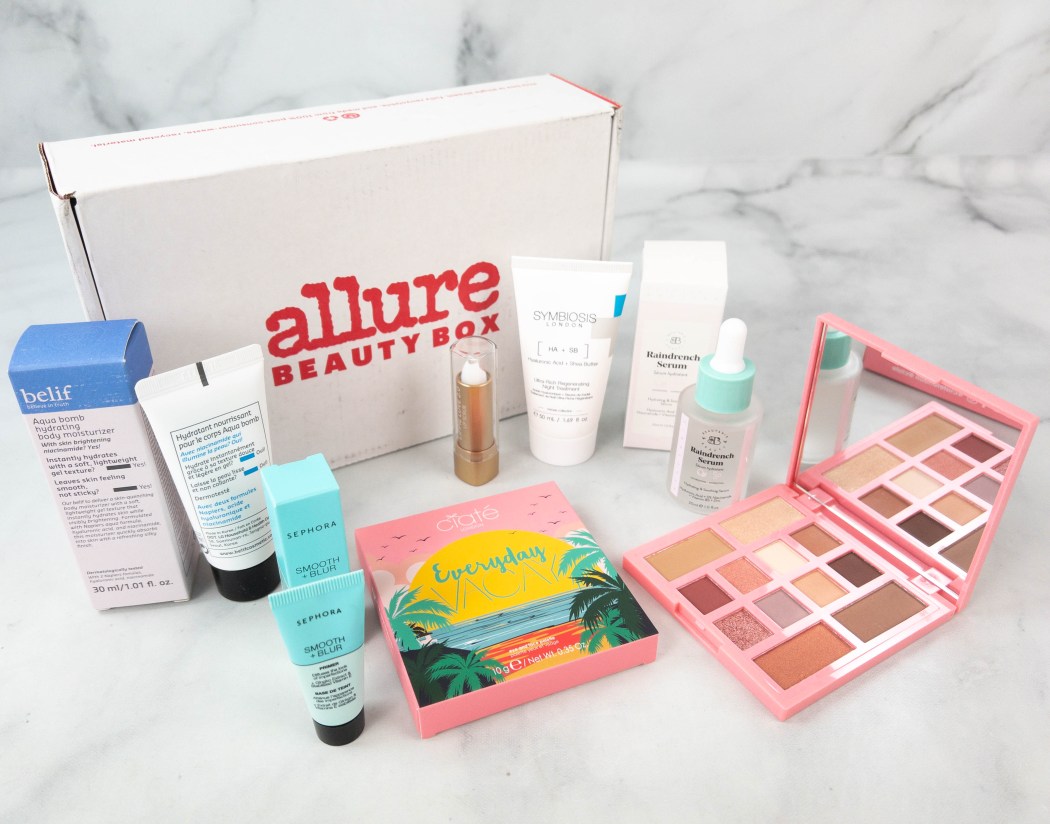 Image from: our review
What You Get: Allure Beauty Box treats every beauty junkie out there with expert-approved and tested beauty products from both luxury and indie brands with at least $100 in value every month. Each box includes 6 or more products with at least 3 that are full-sized. Sometimes, they also include a bonus product or two from a mass brand as a gift! It also comes with a mini-magazine that contains tips and product reviews. And to keep things even more exciting, new members receive a mystery gift that will ship separately from the regular box.
Customization: Allure Beauty Box cannot be customized. However, all products are carefully curated by their team of editors. They thoughtfully handpicked each product that goes in your box, so you have nothing to worry about!
Price: The subscription is $23 a month. Sign up for a year-long subscription, pay for 11 boxes, and get 1 box for free!
Deal: Get a FREE new member bonus item with your first box! Deal applies automatically, just visit and subscribe.
---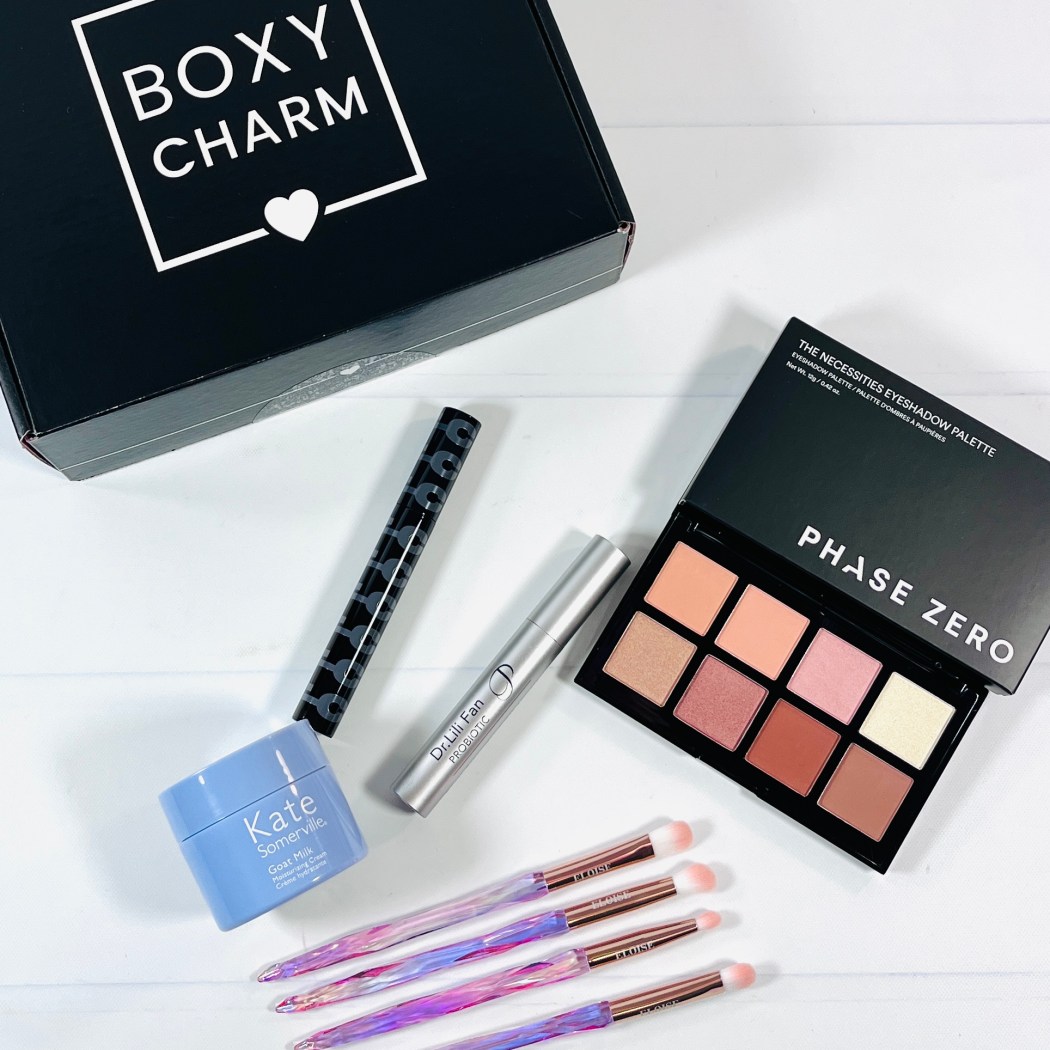 Image from: our review
What You Get: Discovering the best beauty items is made more fun and easy by BOXYCHARM! Subscribers receive 4 to 5 full-sized beauty products from well-known, popular, chic, and up-and-coming brands each month. Items are selected based on current and emerging trends and often include full-size palettes and makeup tools, like high-quality brushes and magnetic pan holders. Aside from makeup and cosmetics, they also include nail care, skincare, haircare, fragrance, and more. It's always a great variety of high-end products from the best beauty brands without paying the full price!
Customization: Subscribers can choose one product to include in their box as long as they remain an active charmer. This also helps them know what kind of products you like most, so they can further customize your future boxes. There is also a complexion quiz, where they'll learn about your skin tones to best match you with shades that'll work for you.
Price: Purchase this box for $25 a month with discounts if you prepay for longer terms.
Deal: Get a FREE Gift with Boxycharm - enter code on site! Deal applies automatically, just visit and subscribe.
---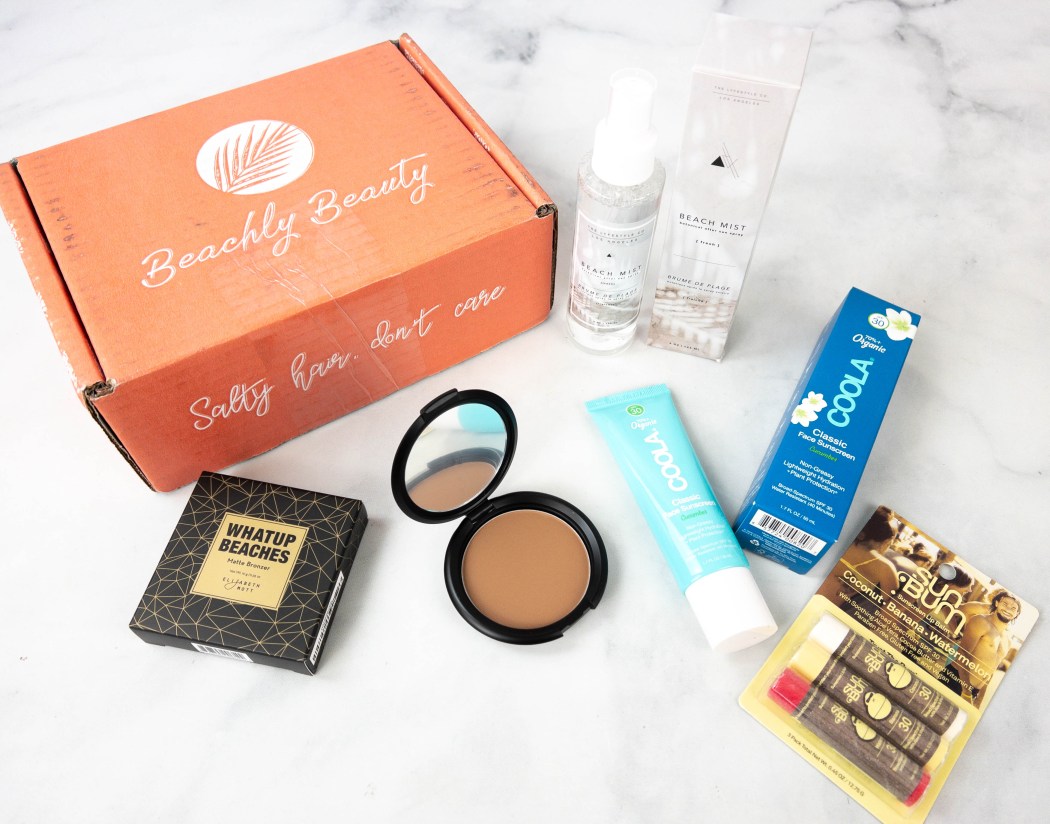 Image from: our review
What You Get: Beachly Beauty Box gives beach lovers a dose of beach-inspired beauty items every season, and they make sure that everything is clean and cruelty-free so you can incorporate the products to your routine without worries. There will be 4 to 6 items in each box, with a promised total retail value of $100. Pampering yourself with these beauty must-haves for beach lovers is a great way to put yourself in a beach mood even when your next beach vacation is still far away!
Customization: Beachly doesn't have customization options for their quarterly beauty boxes. However, you can expect a great variety of beach-inspired items in every box, like lip balms, fragrances, cleansers, moisturizers, nail polish, hair masks, and beauty products with SPF.
Price: Each seasonal box is $29 per box. Shipping for the first box is free, and $2.99 for the succeeding boxes.
Deal: Get 50% off your first month! Use coupon code HELLO50.
---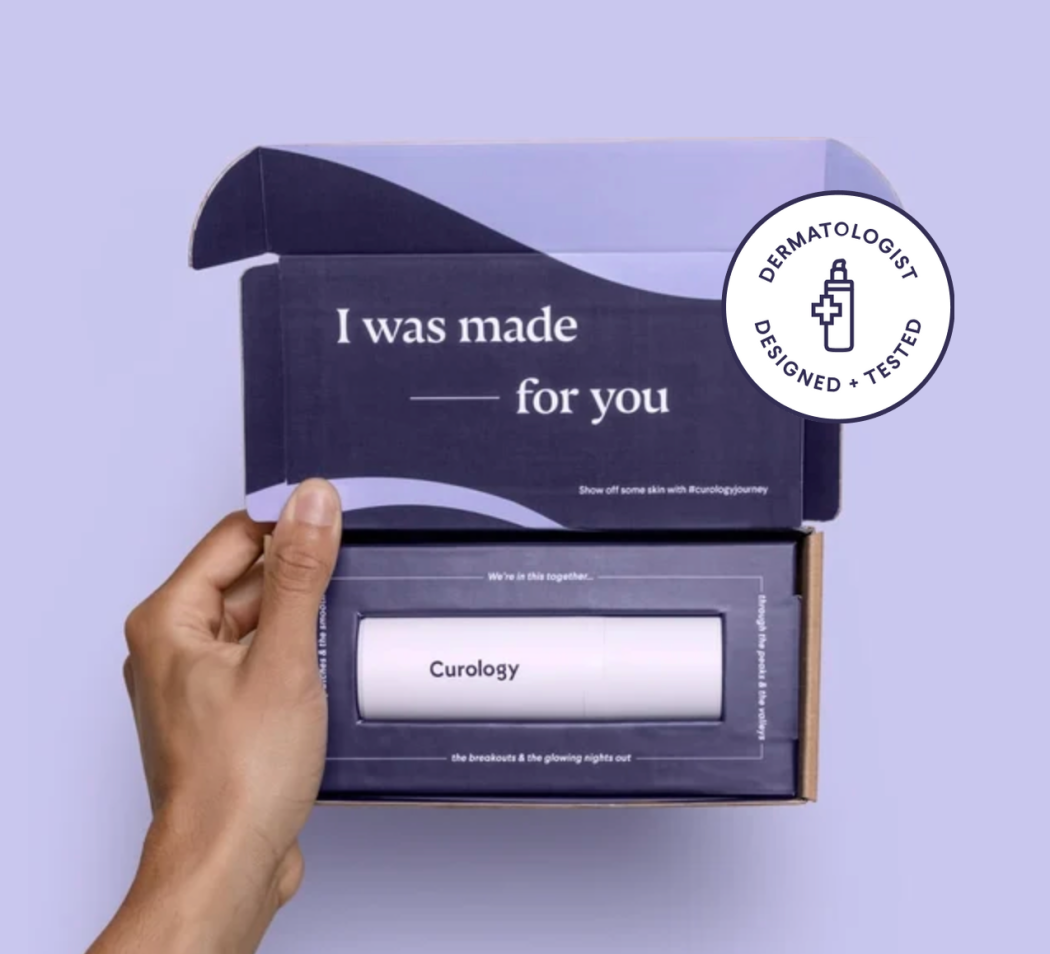 Image from: Curology
What You Get: Dealing with skin woes is Curology's expertise! This subscription offers prescription skincare formulas to help you fight acne, fine lines, wrinkles, and more. Aside from personalized formulas, Curology also offers Routine Essentials, such as cleanser & moisturizer duo, emergency spot patch, sunscreen, acne body wash, micellar makeup remover, and lip balm that you can easily incorporate into your daily beauty ritual!
Customization: They'll partner you with a licensed dermatologist, who'll assess your skin type, profile, medical history, and selfie based on your answers on the skincare quiz. Then, they'll custom-create a skincare routine uniquely for you!
Price: The subscription costs $39.90 per box.
---
Image from: our review
What You Get: Beauty Heroes helps bring out the best in you by putting the highlight on natural beauty. The subscription focuses on luxurious, healthy beauty brands, making it an ideal subscription even for discerning beauty junkies. They work with different brands like Zoe Organics, Henne Organics, Cleo + Coco, and more, sharing the same goal and provide members healthy beauty. Each box contains one full-size hero product and a 'sidekick' (can be trial or full-sized). It also includes a booklet loaded with vital information about the featured brand! As a member, you'll get to save 15% every day in the beauty store, insider exclusives, and early access to new product launches.
Customization: Although this beauty subscription doesn't offer customization options, you can still feed your skin with beauty products that are not just good for you but the planet too!
Price: The box ships every month for $58.95, or less with a 3 month, 6 month or annual subscription!
Deal: Get 10% off your first Beauty Heroes subscription of any length! Use coupon code HELLOBH10. Valid for new subscribers only.
---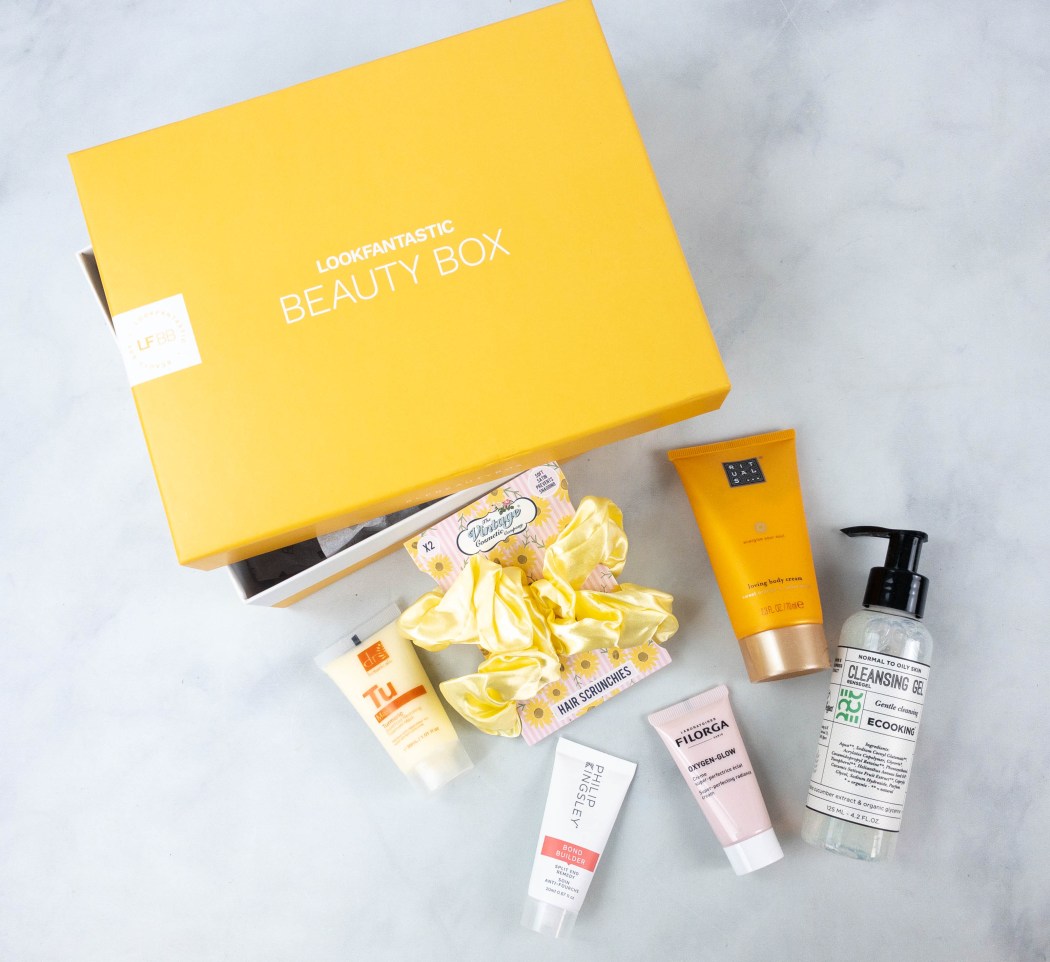 Image from: our review
What You Get: If you're looking for something to cater to all your beauty needs, Look Fantastic Beauty Box is the subscription to go! It is a UK subscription box that sends 6+ hand-picked beauty products, including haircare, skincare, makeup, and beauty tools. From Eve Lom to Korres, Philip Kingsley to Molton Brown, this subscription is an introduction not only to leading beauty brands but to new and promising talent too. You can get this box for even less on an annual subscription or still pay monthly, which is an amazing deal considering the high-end goodies!
Customization: Unfortunately, they don't offer personalization/customization options. Each box you'll receive comes with products that are carefully chosen by the company's beauty experts from top brands, as well as up-and-coming brands.
Price: The beauty box is priced at $19.00 per month. FYI – you can sign up for an annual subscription to drop the price but your payments will be taken out monthly!
---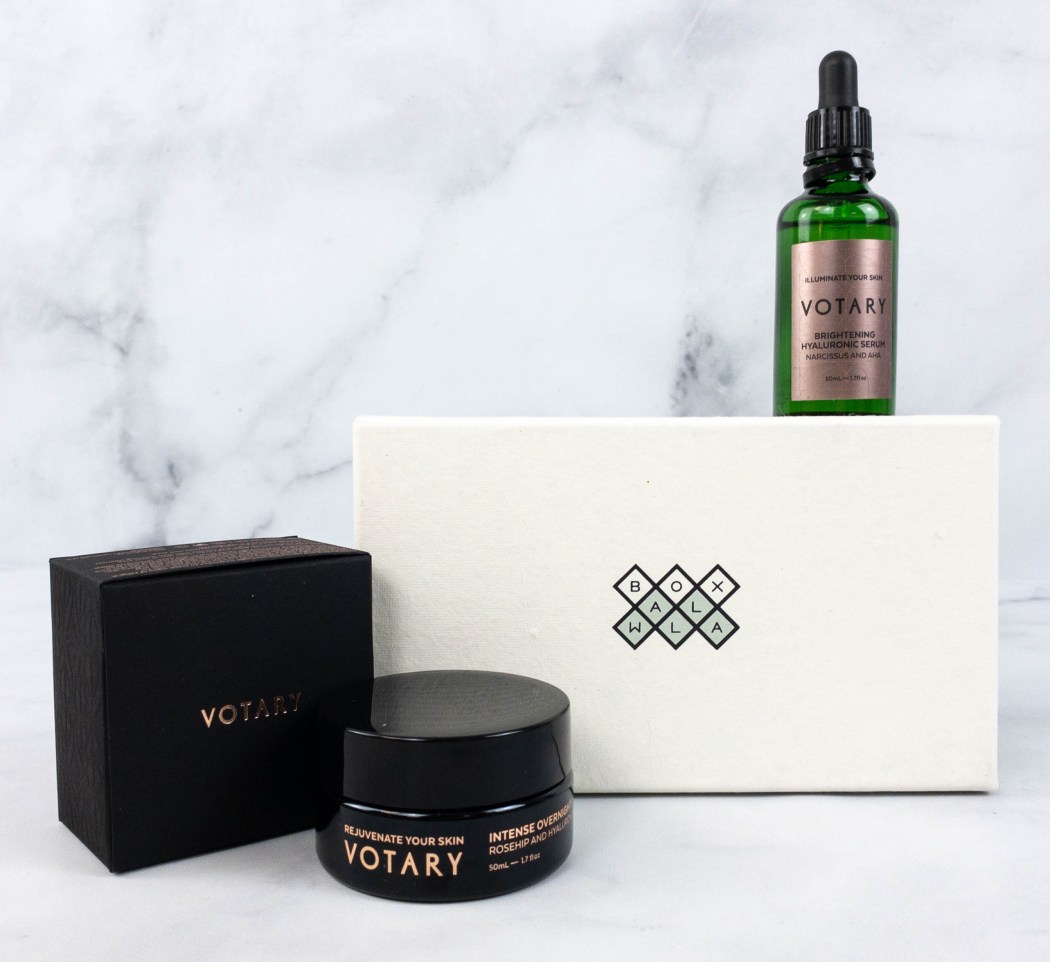 Image from: our review
What You Get: Boxwalla Beauty takes pride in delivering luxurious green beauty products to its subscribers every 2 months. Products are carefully crafted by artisans from all over the U.S.A., using ingredients that are always cruelty-free. Every woman can upgrade their beauty regimen with nutrient-rich, ingredient-conscious, and full-sized beauty products from this subscription, packaged in a splendidly gift-able box! This beauty box finds unique, top-quality luxury green beauty and delivers fantastic value and products that really work – no questions asked!
Customization: Boxwalla Beauty doesn't have customization options in their beauty boxes, but all products harness the potency of plant-based ingredients.
Price: A box costs $49.95 every other month with free shipping to the US ($11.95 shipping to Canada, $18.95 International.)
---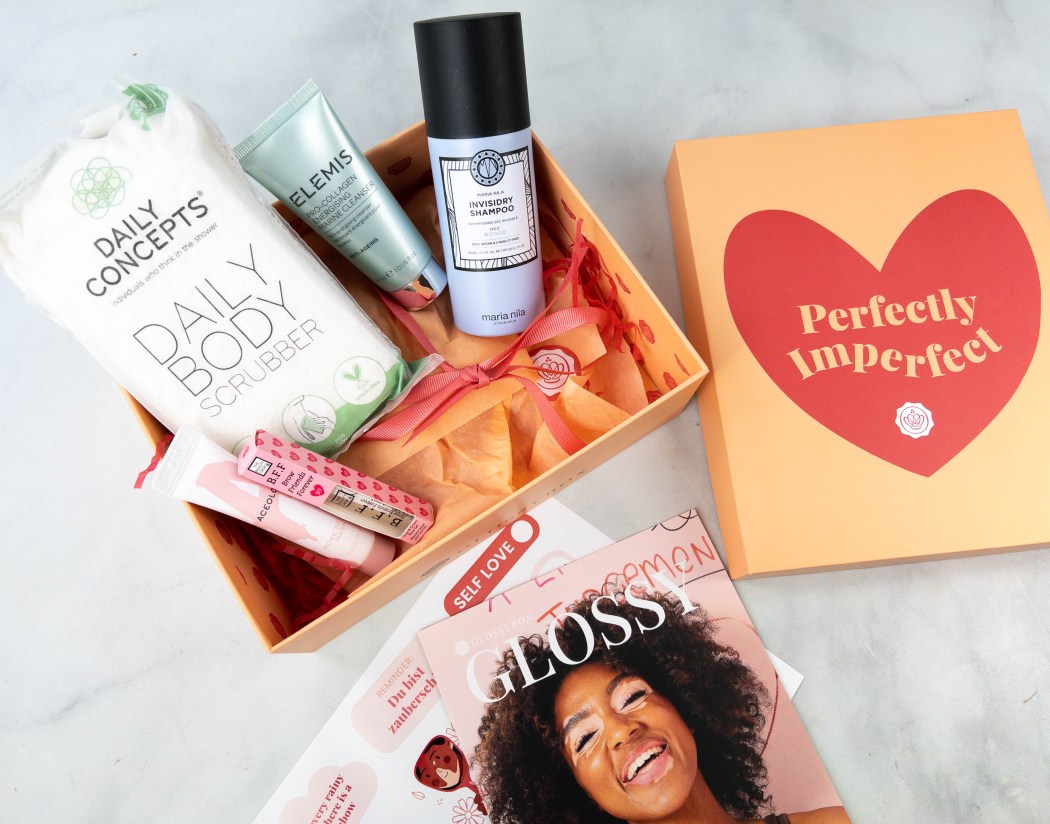 Image from: our review
What You Get: Imagine getting all the best luxury samples from top beauty brands! GLOSSYBOX even packs those beauty samples in a gorgeous box with a different theme every month, making things more exciting for every woman. Each box is curated by GLOSSYBOX's in-house beauty experts and contains at least 5 samples, including makeup, skincare, and hair care! Packed with so much value for only $21, this subscription is a great choice for anyone looking into trying luxury beauty brands without breaking the bank.
Customization: The GLOSSYBOX is not specifically curated to one's taste and preferences. However, the beauty products you'll receive are chosen by their in-house beauty experts, so you can still be sure they're great to use!
Price: Subscriptions start at $21 per month, with savings for longer plans.
Deals: See our latest coupons for GLOSSYBOX.
---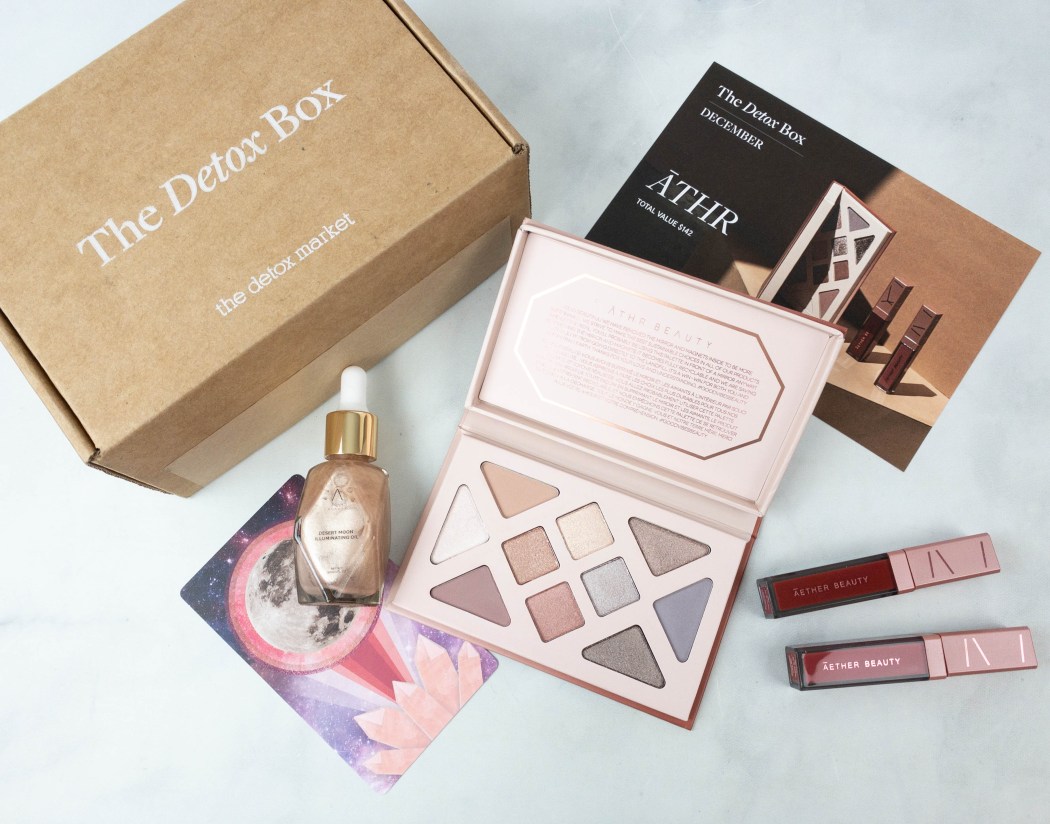 Image from: our review
What You Get: Guided by strict ingredient standards, The Detox Box introduces the best and most effective green beauty brands every month. They make us understand the importance of switching to healthier beauty products, and they even provide us all the information we need about the month's featured brand, plus expert tips! Each box includes tried-and-true favorites and game-changing discoveries and has a promised value of at least $90. So if you want to switch to clean and green beauty or even when you only want to spice things up with your current green beauty routine, this subscription won't disappoint!
Customization: The Detox Box has no customization option, just like other elite skincare subscription boxes. Although they're fully in charge of what goes in your box, you can be sure the products are effective and safe to use for your skin.
Price: This box costs $79.99 CAD ($58.95 USD) per box or less on a 3 month or 6 month subscription.
---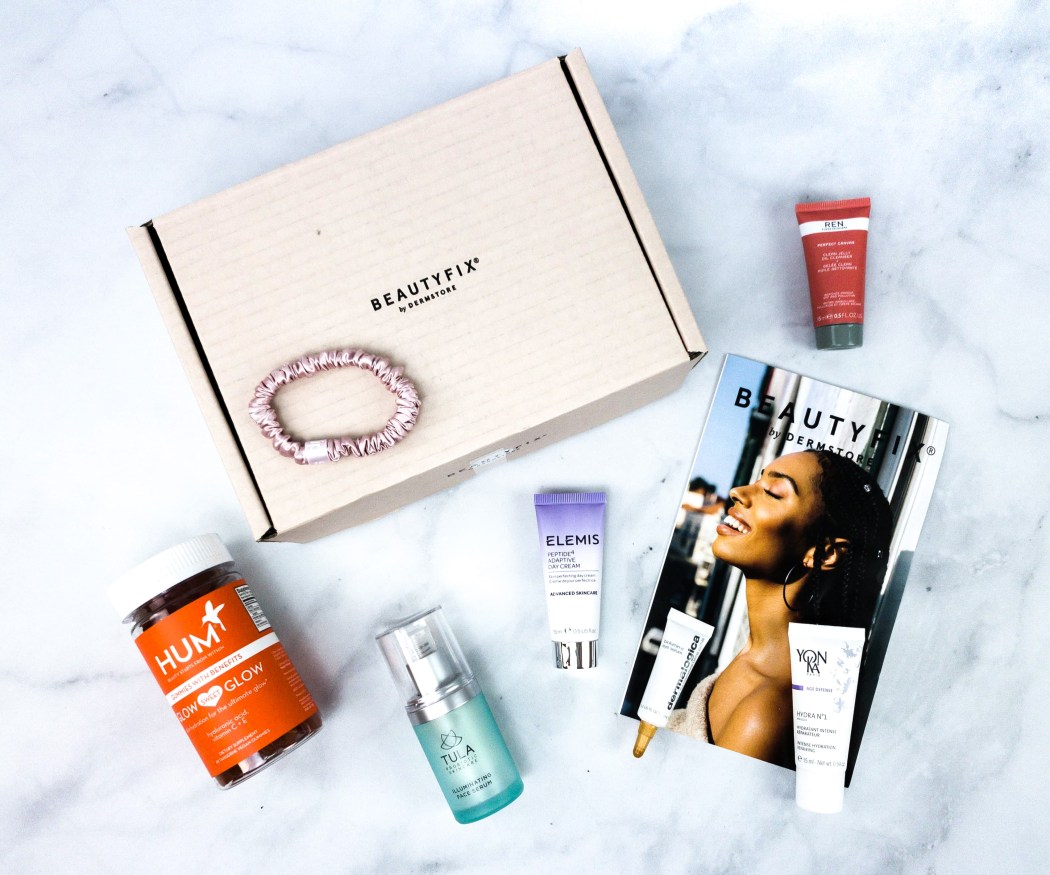 Image from: our review
What You Get: BeautyFIX is a monthly subscription that focuses on products for healthier skin and hair. Each monthly box features over $100 worth of beauty products. Items usually include professional makeup, skincare, and hair care products that are handpicked by beauty experts and delivered right to your doorstep.
Customization: For this beauty box, everything in your box will be kept as a surprise or you can check out the spoilers each month to have a good grasp of what comes in each box. There aren't any customizations, so you can not choose what type of products to include in your box. Every package they send out to subscribers is curated by their team of experts.
Price: Get this subscription for $24.95 each month and receive 6+ products with a promised retail value of $100.
---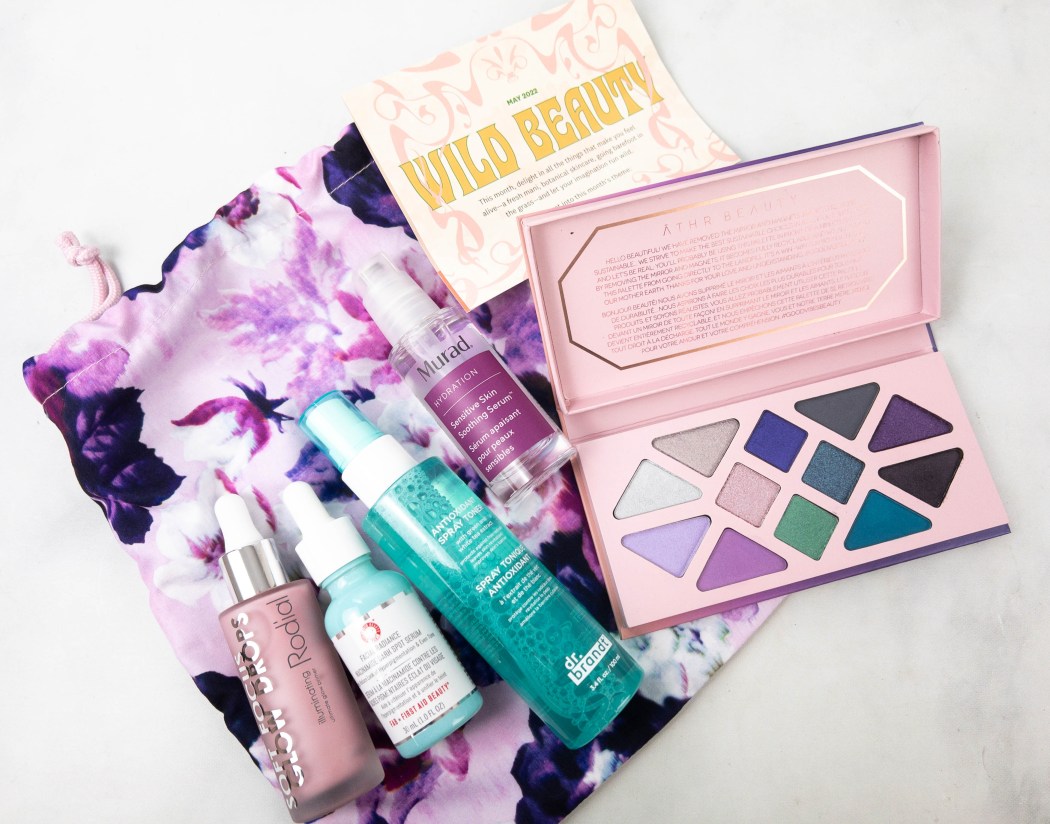 Image from: our review
What You Get: Ipsy Glambag Plus has got us covered with everyday makeup, skincare, and hair care essentials every month! It is your much-needed upgrade to your usual glam bag experience, and it includes 5 full-size products from brands you love, where you can choose 3 to include in your kit, plus a cute collectible drawstring bag where you can fit them all. What makes it worthy is that it has a promised retail value of $120, and products will always be full-sized. Some of the brands included in past boxes are Tarte, NYX, OFRA, Estee Lauder, and Lancome.
Customization: The Ipsy Glambag Plus has ultra personalization features that allow members to choose 3 products they want from a curated assortment. Ipsy then chooses the final two beauty items just for you based on your quiz and monthly item reviews, so you can fill up your bag with products that are tailored to your preferences.
Price: For $28 a month, get a 5 full-size products plus a deluxe makeup bag with every shipment!
---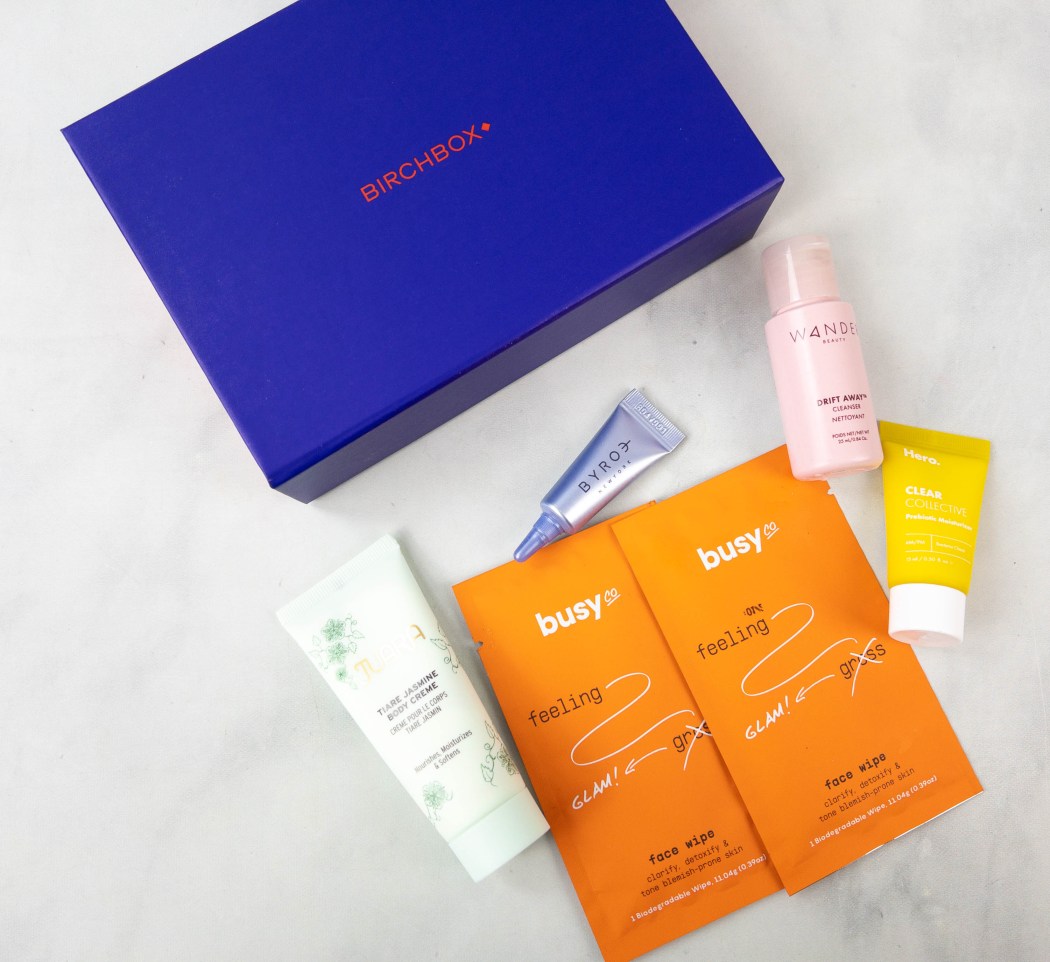 Image from: our review
What You Get: Birchbox keeps on sweeping us off our feet every month with its selection of 5 samples and deluxe size makeup, skincare, and hair care products (with an occasional full-size item!). Boxes are customized to your beauty profile, so you're more likely to receive something that you can actually use and add to your beauty routine!
Customization: The beauty samples you'll get are based on your beauty profile. They also have other box customization options, including the Sample Choice – where they let you choose one product to include in your box, and Curated Boxes – where all products are chosen by their curation team. Your purchase history and product reviews will help them better understand what's to your liking.
Price: Each monthly box is $15, with minimal savings for a 12-month plan.
Deals:
---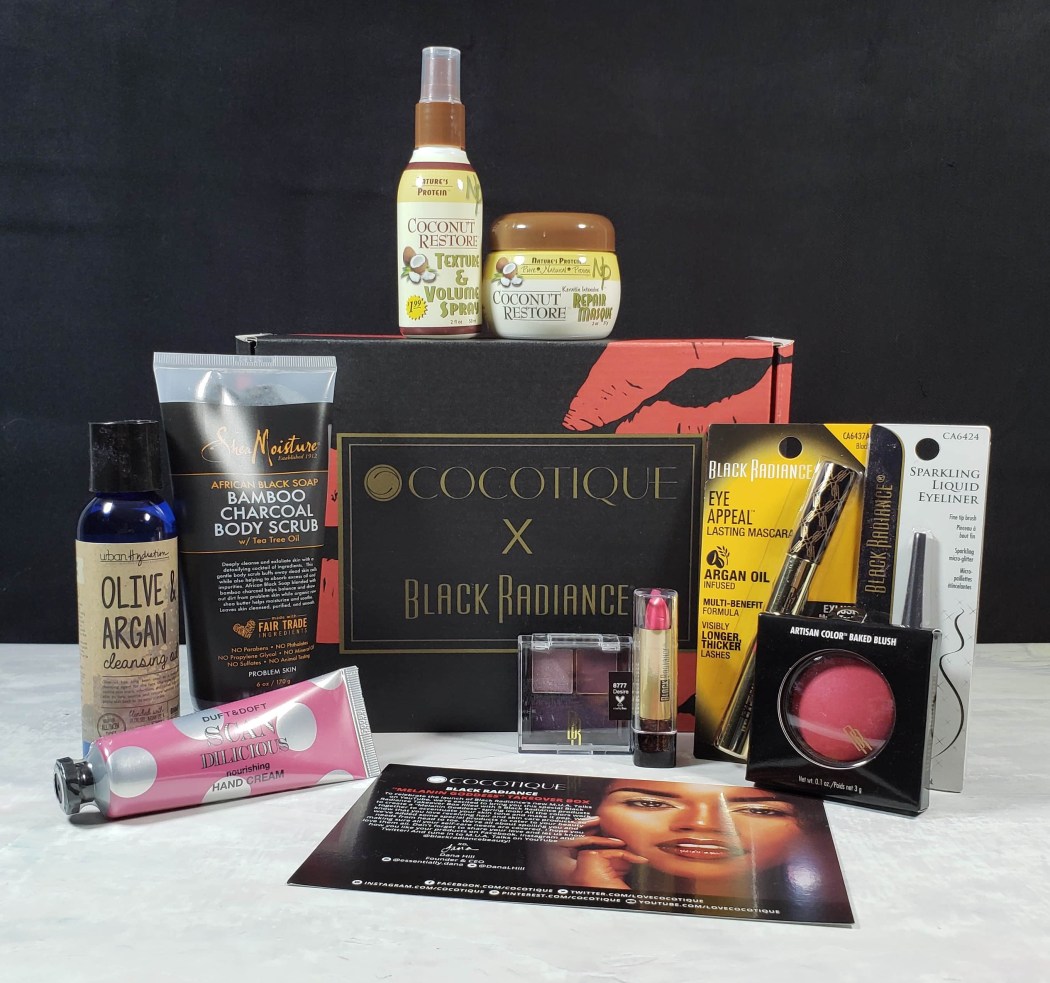 Image from: our review
What You Get: COCOTIQUE is a deluxe subscription box filled with beauty, wellness, self-care, and lifestyle products that are curated specifically for women of color. The goal of this subscription is to remind everyone of the importance of self-care and to love themselves more, and to embrace their uniqueness. Each box contains a mix of  5-8 expertly curated products in full-size and deluxe travel sizes, delivered each month at your door. Items may include skincare, haircare, makeup, fragrances, wellness, and lifestyle from established and well-known brands to emerging and indie ones! Discover your ultimate beauty arsenal with every box you'll receive from this subscription.
Customization: The box cannot be customized based on each subscriber's needs, but each product is expertly curated to fit the needs of women of color.
Price: Shipped for $30.99 per month, or less for longer subscription plans.
Deal: Get 10% off your entire subscription. Use coupon code BOX10.
---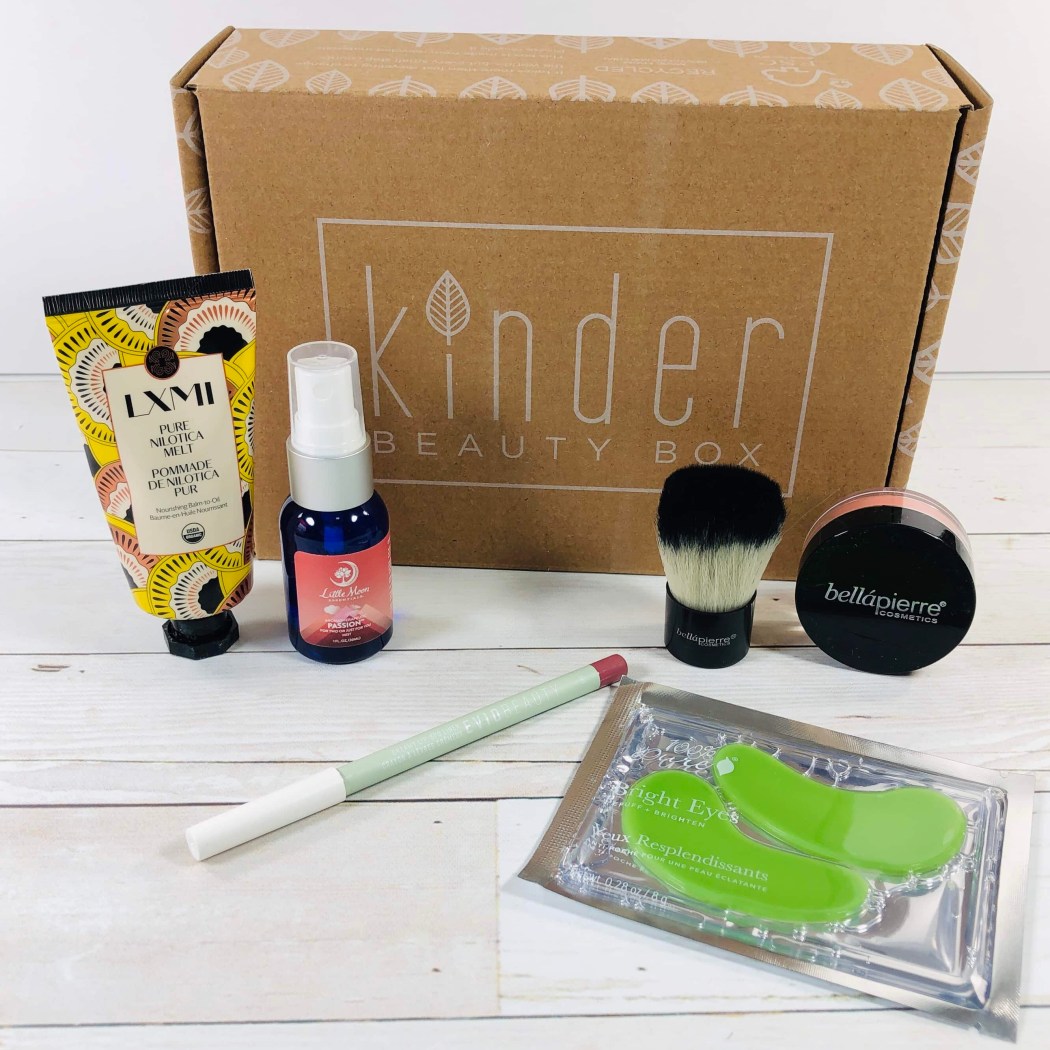 Image from: our review
What You Get: Kinder Beauty Box is your destination when it comes to clean beauty products. This subscription focuses on giving vegan products that care not just for your skin but also the environment. Get up to $165 worth of cruelty-free products ranging from skincare, makeup, haircare, and accessories, including 2 full-sized products to make sure you have enough for the whole month from brands like INIKA Organics, 100% Pure, Franklin & Whitman, Andalou Naturals, and more! As a subscriber, you'll get access to exclusive special collections, limited edition offers, and flash sales! There's really kindness in every pack because they donate a portion of all sales to animal rights and environmental causes.
Customization: This clean beauty box doesn't offer customization options and sends out two monthly variations. They handpick each item that goes in your box, so you can be sure that all products they send out are cruelty-free and vegan – good for you and the environment too!
Price: The subscription starts at $26 a month. Choose between 3 months and 6 months pre-pay to save more!
Deal: Get $5 off your first box! Use coupon code HELLO5.
---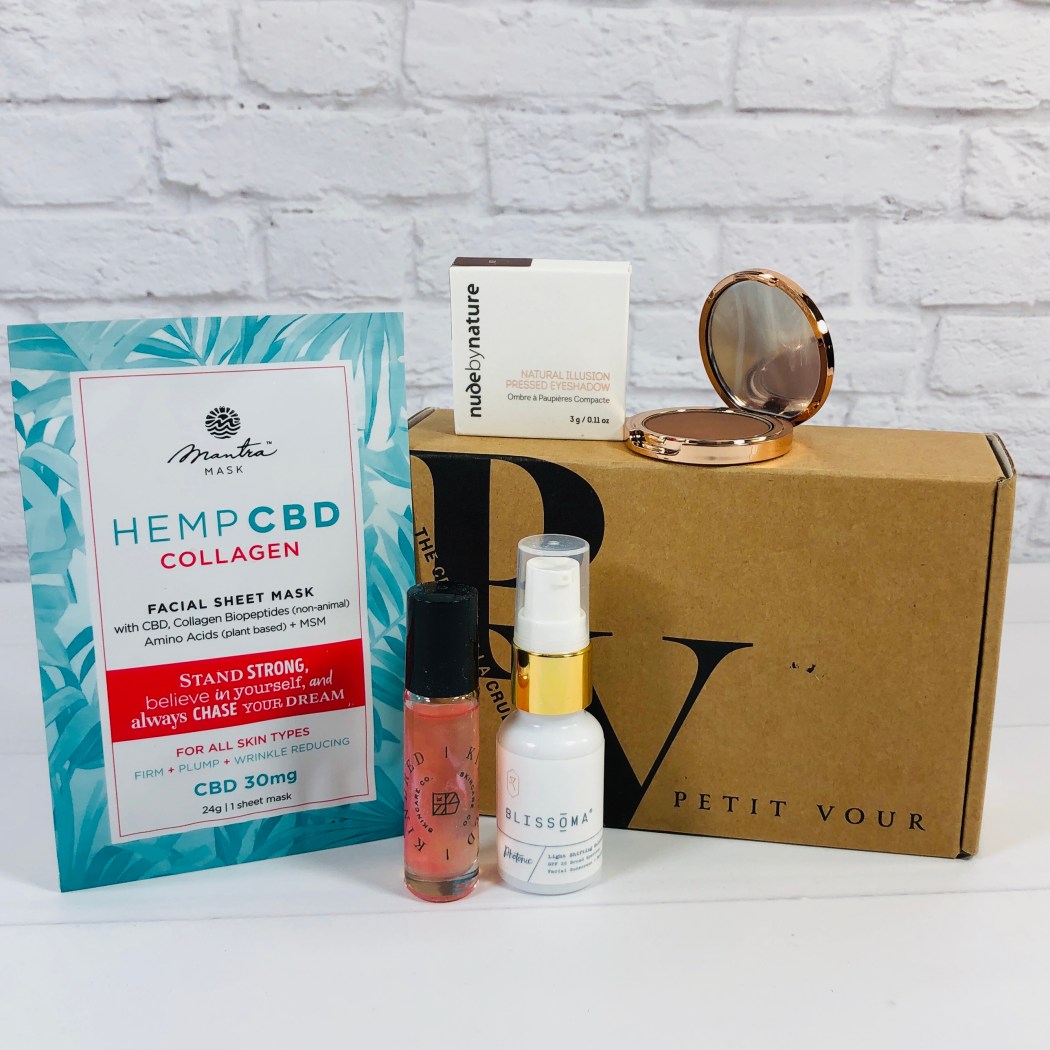 Image from: our review
What You Get: Say goodbye to toxic stuff because Petit Vour only sends vegan and cruelty-free beauty and grooming samples! Also, they have around 30 ingredients that they pledge NOT to put in their boxes. What makes this subscription even more worthy of a try is that the inclusions are usually hard to find in regular beauty stores. Each box contains 4-5 items to sample, mostly deluxe sample-sized but with the occasional full-sized item. You can also earn points by reviewing the products you received. These will then be credited to your account and can be used in the Petit Vour shop.
Customization: Petit Vour sends out a couple of different variations each month, and they don't offer customizations in their boxes. A beauty profile is what you need to create upon sign up, so it'll be easier for them to choose what products to include in your box.
Price: Petit Vour has two subscription options: the Beauty Box is $18 a month and the Plus Beauty Box is $25 a month. Each box will have a value of $50+ ($100+ for the Plus)
Deals:
---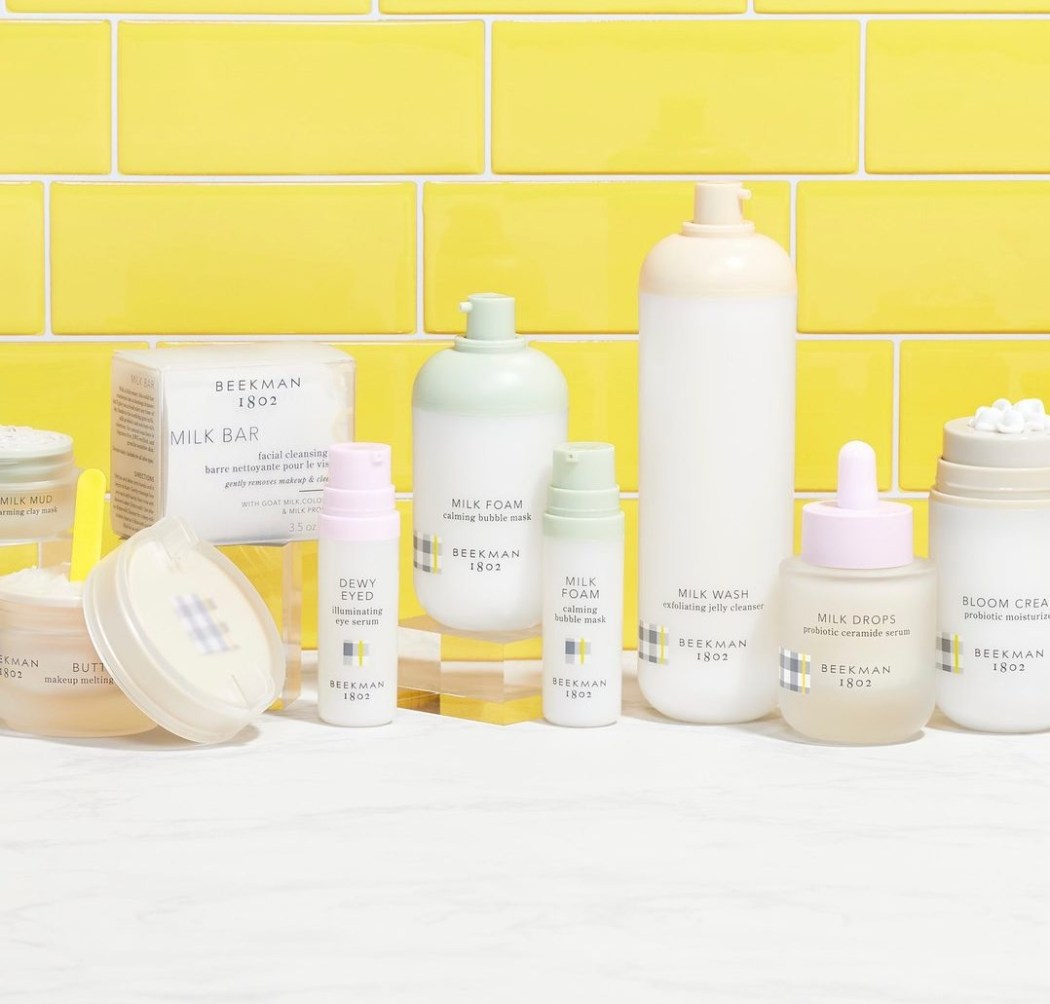 Image from: Beekman 1802 Beauty Box
What You Get: For the best beauty products you need to add to your beauty regimen, there's Beekman 1802 Beauty Box to give you goat milk goodness. This subscription offers the kindest collection and best deals on Beekman 1802 products every 3 months. Shipped quarterly, you'll receive an assortment of new products to try and old favorites to love more, valued at least $150, sourced from local artisans!
Customization: Guaranteed to have over $150 in value, each box is kept as a surprise. There are no customization/personalization options, making it a little exciting to open one up!
Price: The beauty box costs $65 per quarter.
---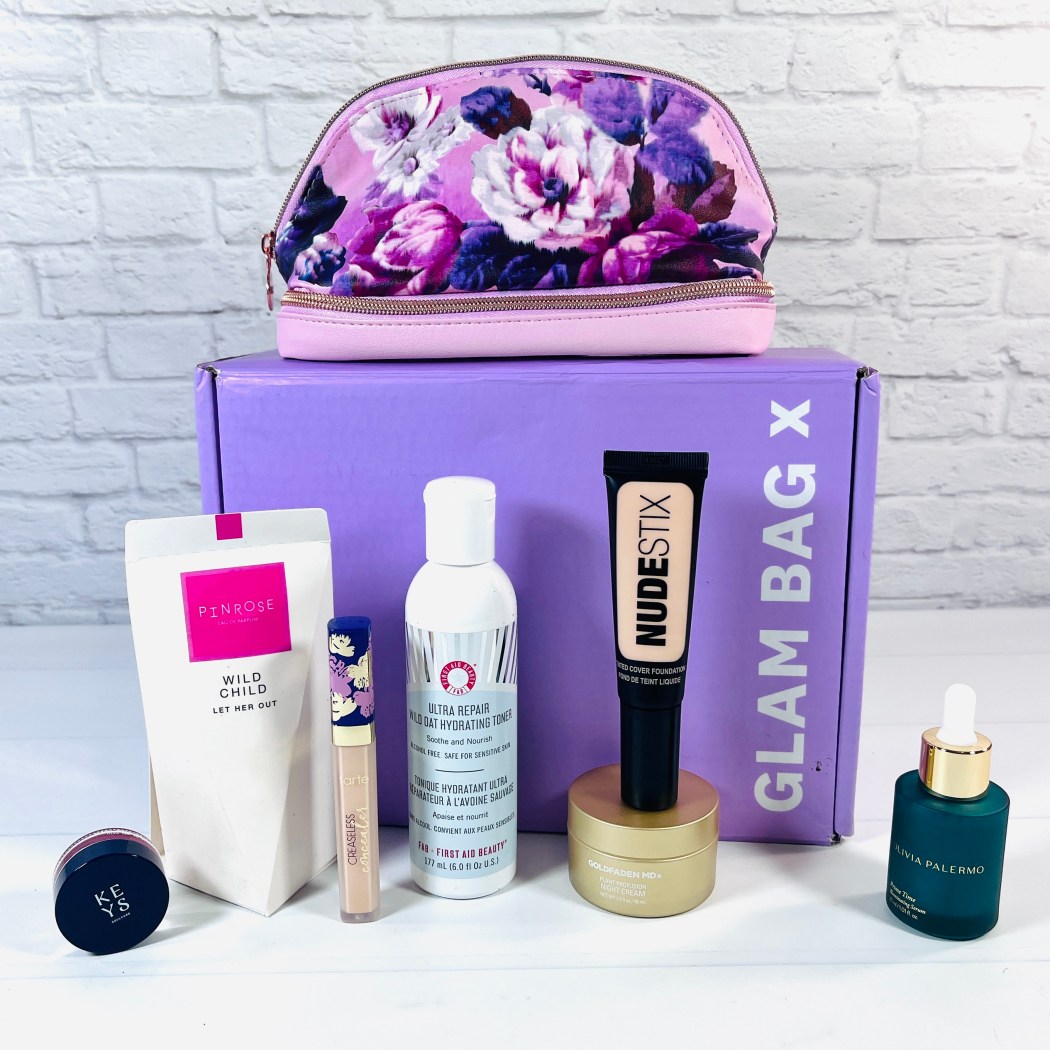 Image from: our review
What You Get: If you want an upgrade to your beauty regimen, Ipsy Glambag X is one great option! It's a limited edition, quarterly upgrade to your Ipsy membership – Glam Bag or Glam Bag Plus, that speaks extra glam and luxury as each box is specially curated by beauty's biggest celebs! Replace your usual beauty bag each month with something more and receive 7-8 full-size products from the most-coveted brands. A featured curator of the month will hand-select 4-5 products for you, and you have the power to choose the remaining three for yourself! It's like a full VIP pass on your fave brands, on-trend & hottest launches, and must-try beauty products!
Customization: Ipsy Glambag X also has an ultra personalization option (just like other Ipsy plans), where you have the power to choose 3 full-sized beauty products to include in your beauty bag from a personalized assortment that's curated based on your beauty profile. The rest are curated picks from the season's guest celeb curator in combination with IpsyMatch!
Price: Glam Bag X is available as a quarterly upgrade for Glam Bag and Glam Bag Plus members for $55 per quarter (including the cost of the bag it replaces – an up-charge of $30 for Glam Bag Plus and $43 for Glam Bag).
---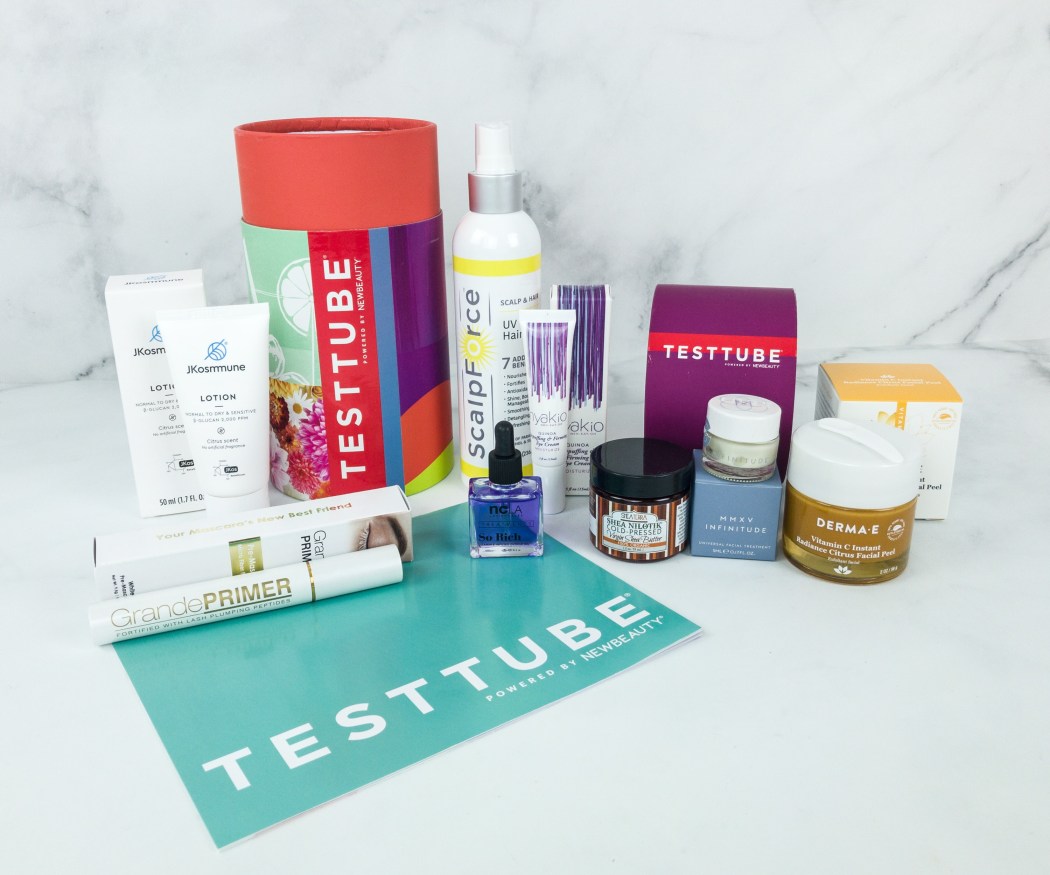 Image from: our review
What You Get: Six times a year, New Beauty TestTube subscribers receive a "TestTube" filled with deluxe and full-size beauty products valued at over $180. Items are a mix of top brands and newly discovered brands with a stamp of approval from editors! Each box contains 8 or more beauty luxury samples, along with a NewBeauty Magazine. This subscription trends towards more mature women who are concerned about aging skin and hair, whether that's the mid-20s or 60s and beyond!
Customization: Like many subscription boxes, this luxury sampling box also does not offer customization options. All products come with a stamp of approval from the editors of New Beauty.
Price: Get it for $59 per quarter, plus $8.95 Shipping to the U.S.
---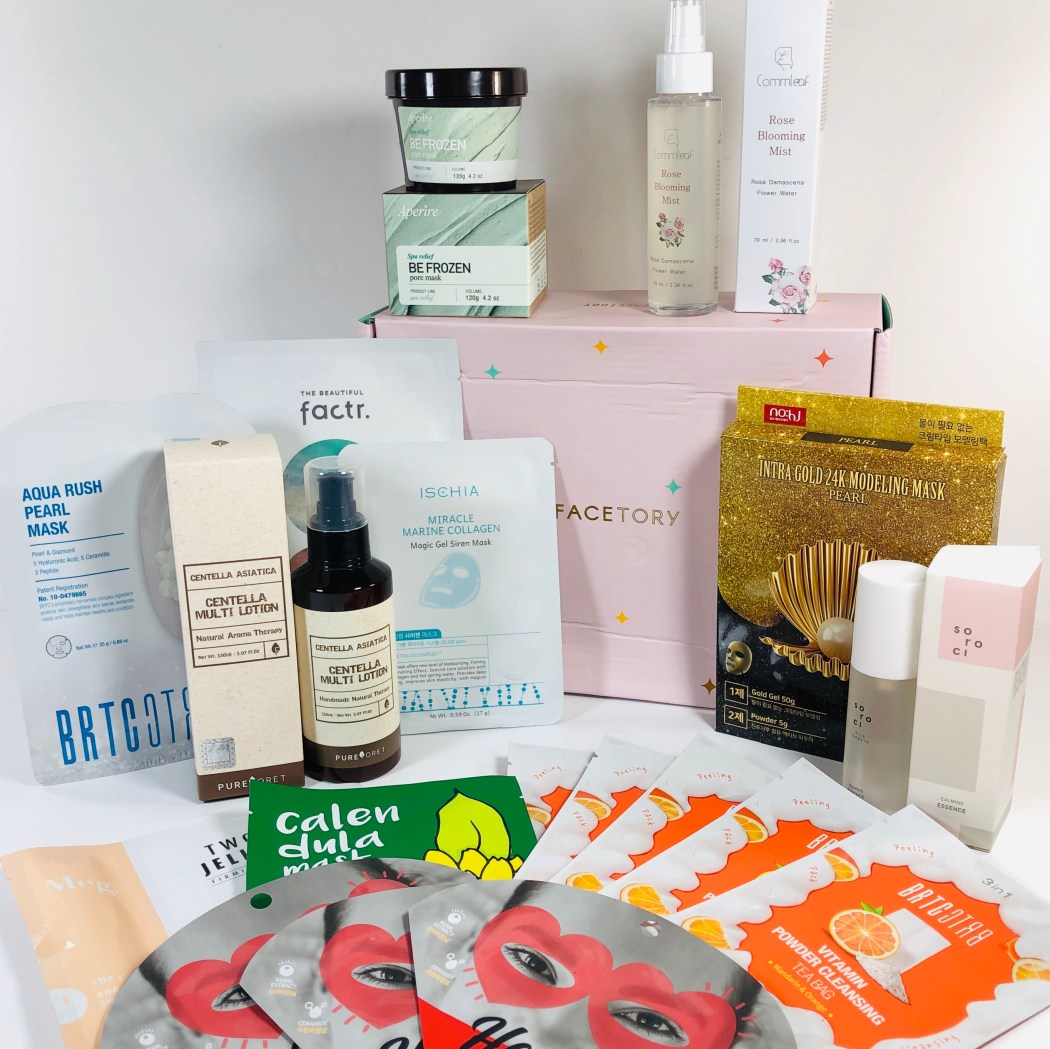 Image from: our review
What You Get: You can achieve your skin goals by giving what your skin needs the most. With FaceTory Lux Plus, you've got nothing to worry about! They create products that are approachable, functional, and most of all, affordable. Every season, they curate boxes filled with beauty essentials to keep your skin moisturized, soft, and glowing all year long. It includes 5-6 skincare products like beauty oils, foam cleansers, exfoliators, toners, mists, and more. And that doesn't stop there! There are also 5-6 sheet masks included in each box delivered at the convenience of your home. Subscribe and get amazing rewards and exclusive promotions, plus the bonus love your skin deserves.
Customization: Unfortunately, you cannot customize the box contents. Each product is tested by their skincare experts.
Price: Lux Plus Subscription (5-6 Skincare Products + 5-6 sheet masks) is $49.95, or  Prepay for 4 seasons ($179.82) and receive one Lux PLUS every season (every three months).
Deal: Get 4 free masks with your Lux Plus Subscription! Use coupon code LUXPLUS4.
---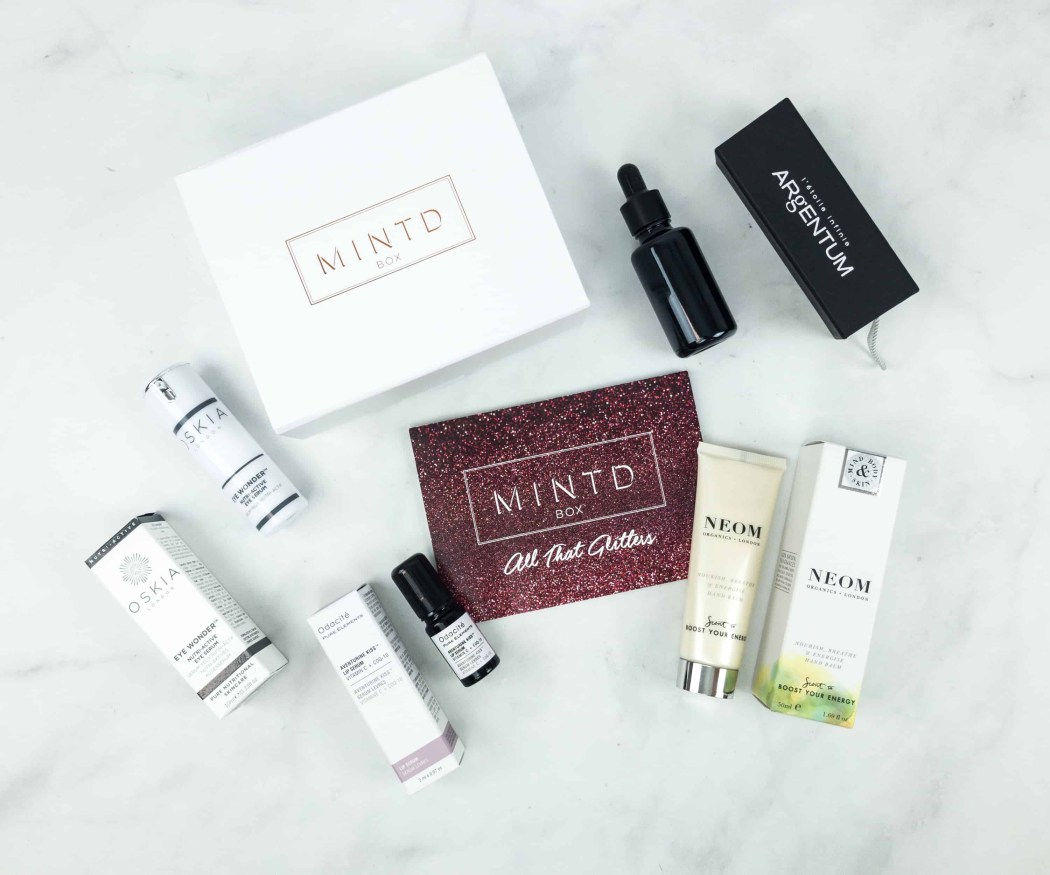 Image from: our review
What You Get: When it comes to the best and most innovative beauty products, MINTD Box is the answer to all your needs. They aim to inspire and encourage women from all walks of life to reveal their inner beauty. Each box is exclusive and contains 4-5 full and deluxe-sized items. It's usually themed, which of course, keeps things exciting every month, but what's really impressive is that they curate it in tune with global trends. They work with respected brands to ensure you receive only the best quality of beauty items for your arsenal! Past boxes have included items from Sunday Riley, Oskia London, Farmacy, and Omorovicza.
Customization: This conscious beauty box does not offer customizations. But they do ask subscribers to fill out a beauty profile, including skin tones and concerns, for them to handpick the best luxury products that are tailored to your beauty needs and lifestyle.
Price: Receive 4-5 full and deluxe-sized beauty products when you purchase this box for $95 (£70) each month or every other month.
---
Image from: our review
What You Get: Macy's Beauty Box continues blowing us away every month with 5 deluxe beauty samples, a bonus item, and a cute and chic collectible cosmetics bag! They feature some of the most-loved beauty brands in their boxes, including Yves Saint Laurent, Clinique, and Origins. If you also regularly buy other stuff from Macy's, you're in for a treat because they include an exclusive $5 beauty coupon in the box, which can be used on your next $20+ beauty purchase online and in-store.
Customization: The beauty box comes as a monthly surprise. You'll never know what's inside the package until you unbox and empty it. If you're curious to know what comes inside monthly boxes, you can check out our full spoilers every month. Members will receive the same items each month, but sometimes with a variation or two. All samples are in line with the month's theme and are chosen by their beauty experts.
Price: Five deluxe beauty samples, one bonus item, and a collectible cosmetics bag delivered to your door for $15 per month.
---
And that's our list of the best beauty subscription boxes this 2023! Which of these do you want to try?
Want more? Browse through our list of the best subscription boxes for 2023!
Say Hello to More Subscriptions for Beauty and Glam!