With two resident tea fanatics, we couldn't share this box with just one of our reviewers! Both Deb & Valerie wrote this review – Deb is more of a David's newbie, and Valerie is a decade+ fanatic!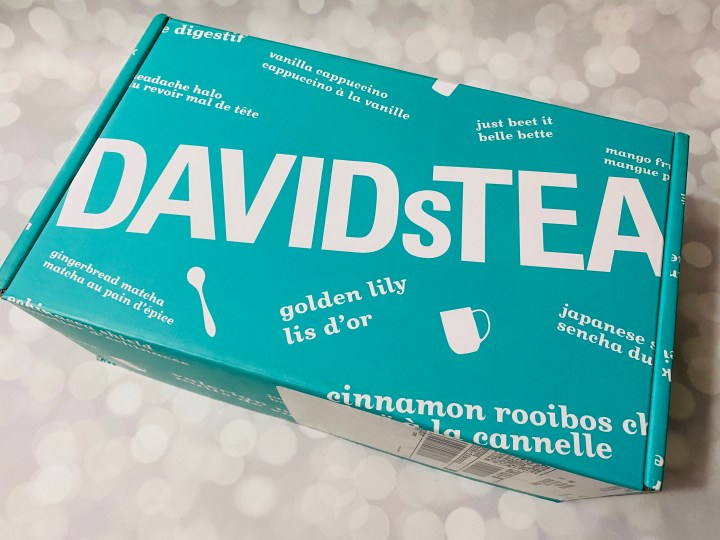 DAVIDsTEA Tea Tasting Club is a brand new tea subscription from a Canadian brand known for their blends and shops. Sign up and receive 4 seasonal boxes per year delivered right to your mailbox. This subscription is $140 for the entire year and will have a value of around $220, plus shipping is free.
Valerie: David's Tea is one of Canada's most well-known tea houses, with a huge catalog of every kind of tea. From black tea, to mate, to traditional matcha, I have been a loyal customer for over a decade and a half. Their teas are sourced from all over the world and many are given a unique twist or taste. My cupboards at home are full of their colourful tins, steepers, and their beautiful mugs! So when I read they were doing a quarterly subscription, I knew this was the perfect tea subscription for me. The box is $35 CAD quarterly, and this is their very first box!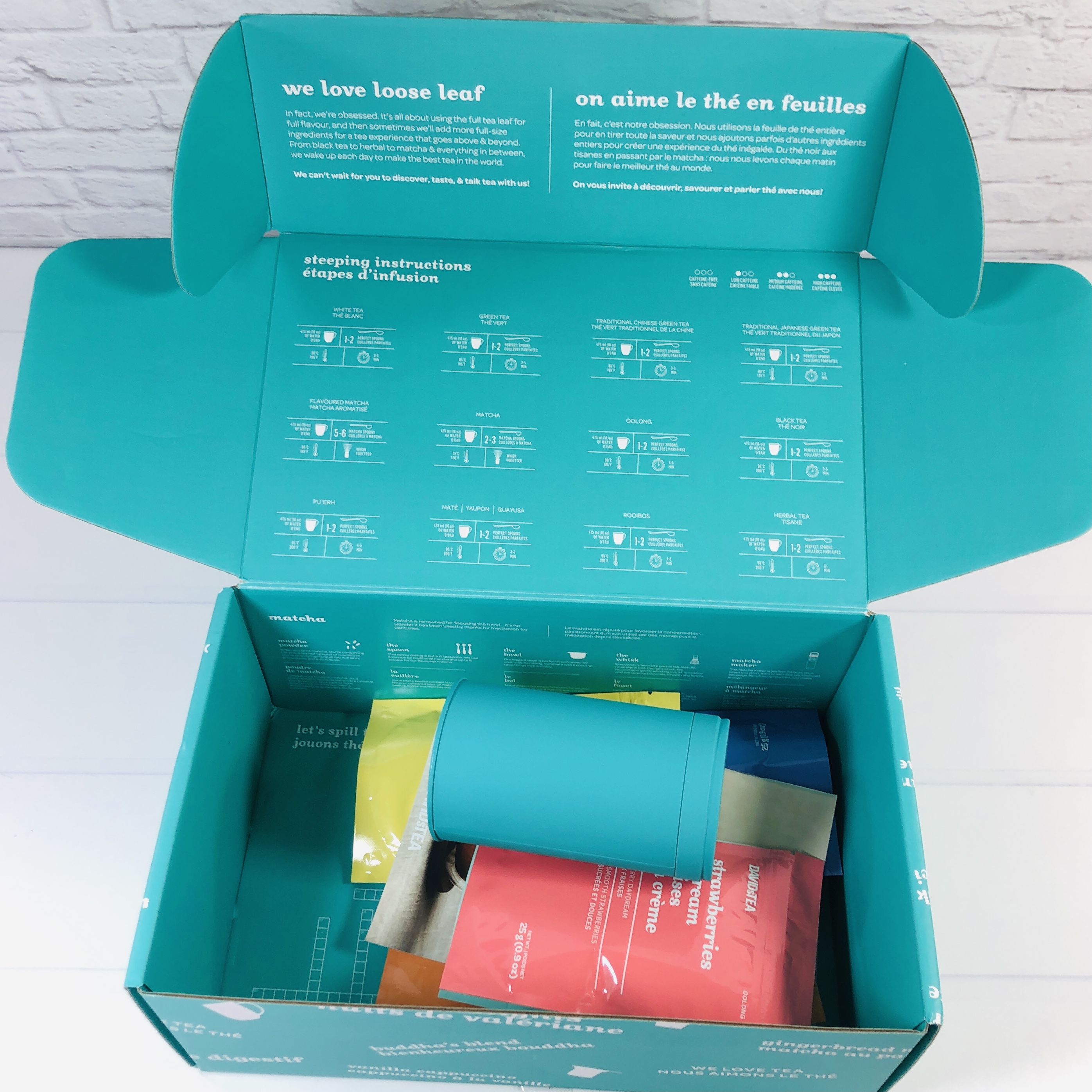 Valerie: The box is the traditional David's Tea teal, and inside are colourful packets of tea and one of their signature tins!
Debbie: The items were simply placed in the box, no special fanfare or extraneous wrapping.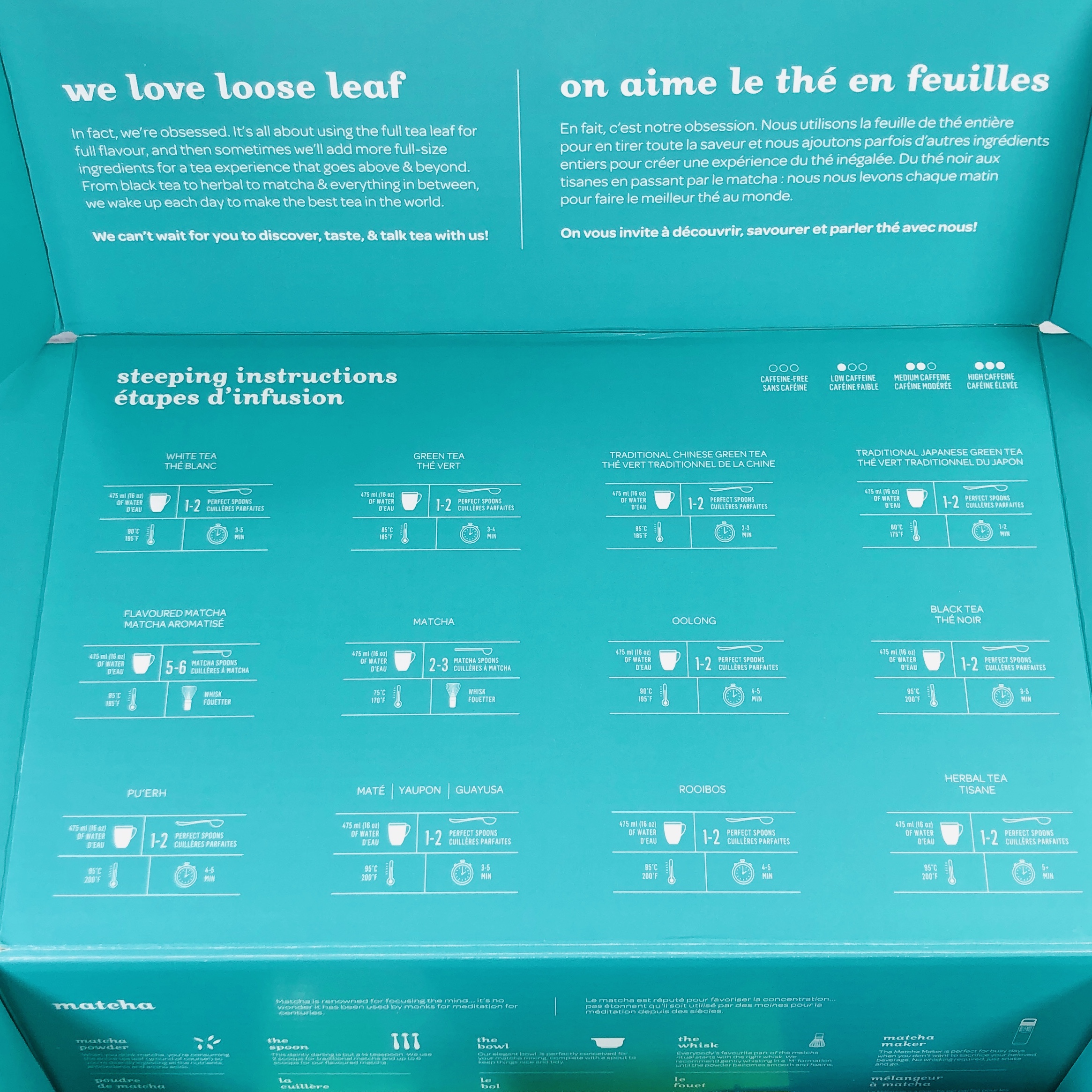 Debbie: The box itself had all kinds of notes on steeping on the inside, even a crossword puzzle was printed inside the bottom of the box!
Valerie: The interior of the box includes a guide to steeping for all of their tea types, including ideal temperature and steeping time.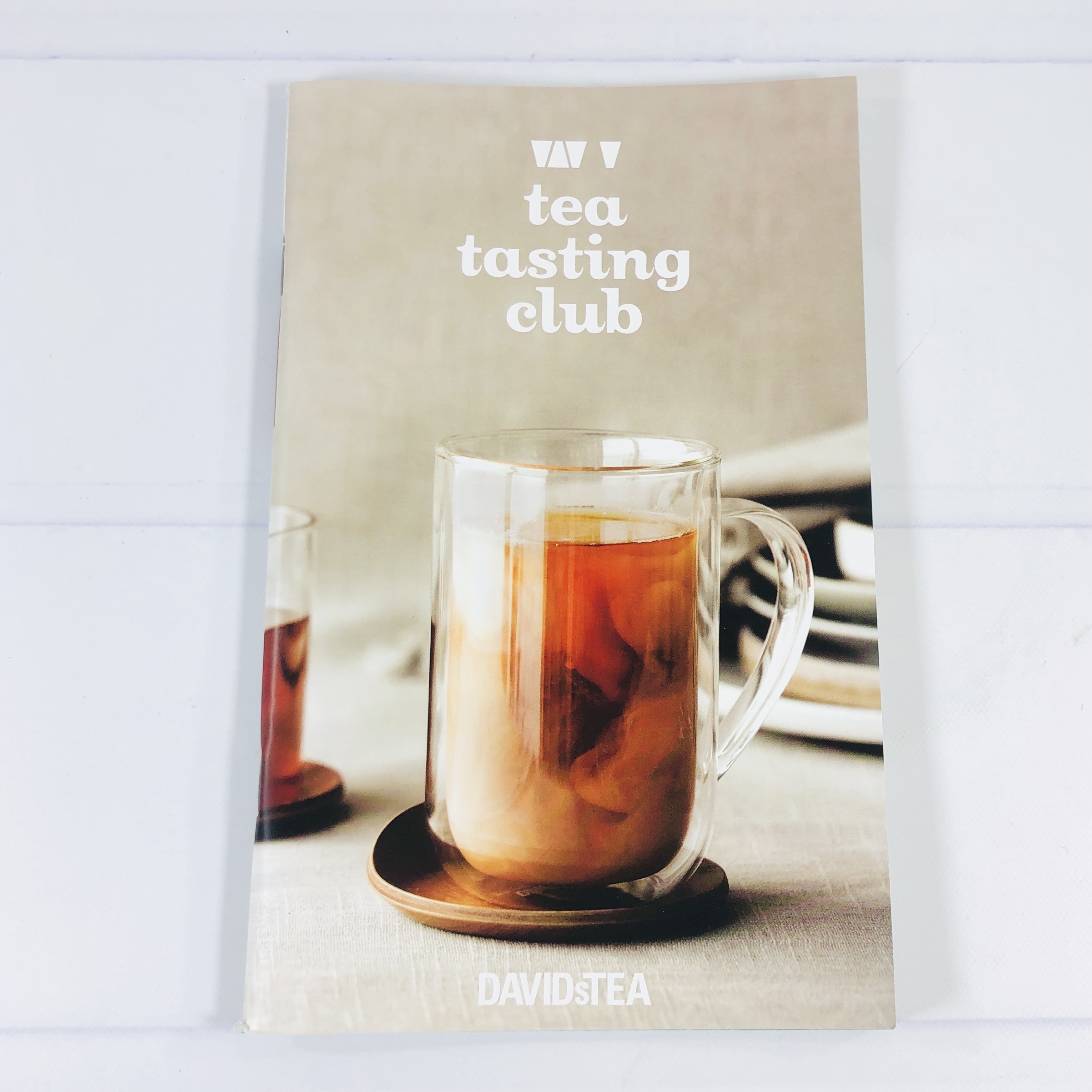 There was a super informative booklet inside.
Valerie: The magazine included is a beautifully glossy, properly bound booklet — one side is English and the other is French.
Debbie: DAVIDsTEA is from Canada so you will find everything in French too. The booklet can be flipped around for those who prefer that language. My daughter took two years of French in school and she really enjoyed trying to translate for me one evening.
Debbie: This is the very first box from DAVIDsTEA. The booklet had 28 pages so we're going to be here for a while.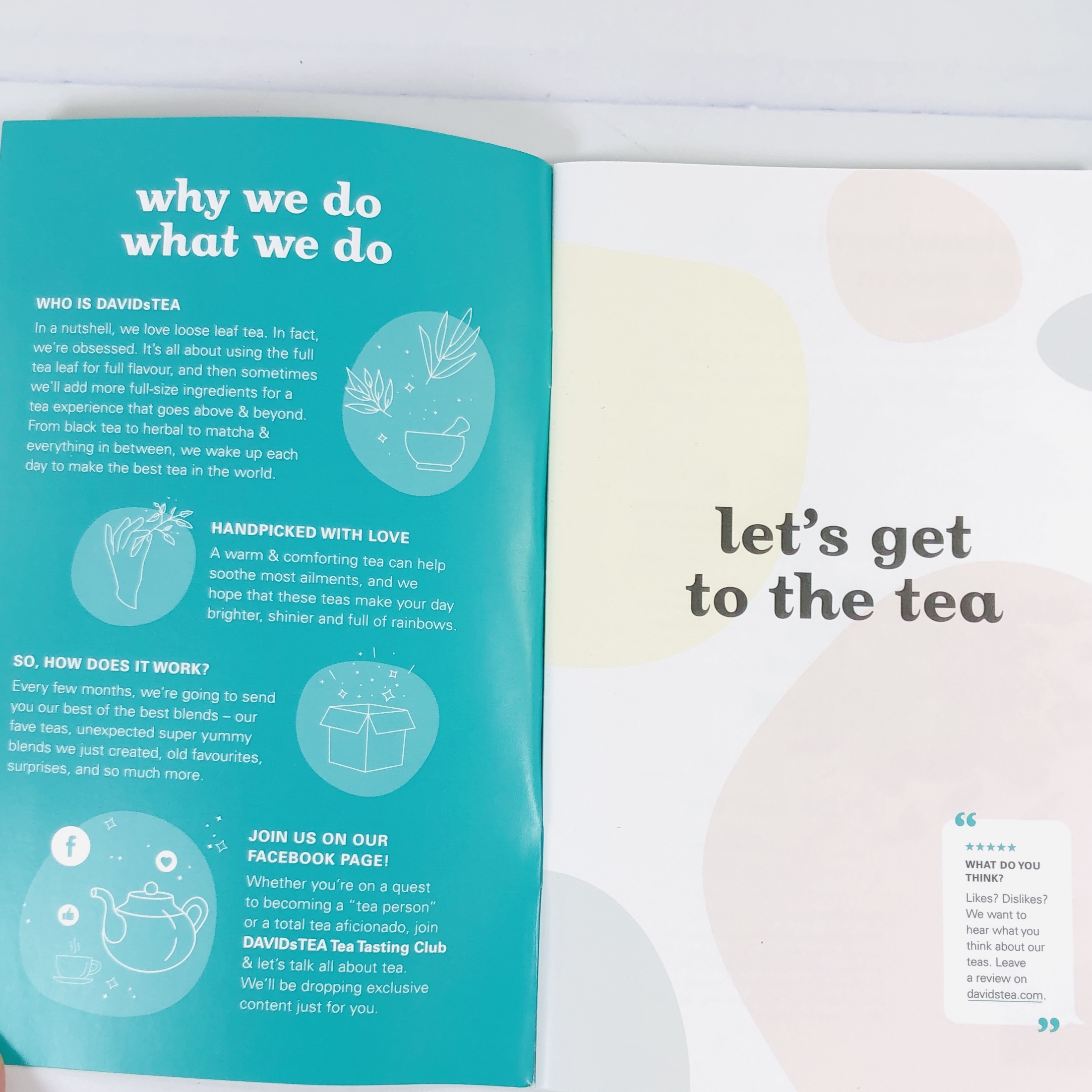 Valerie: The amount of detail and information packed into this booklet is exactly what I'd expect from DT!
Debbie: I have only tried one tea from this brand in the past but really enjoyed it. I look forward to getting to know them better!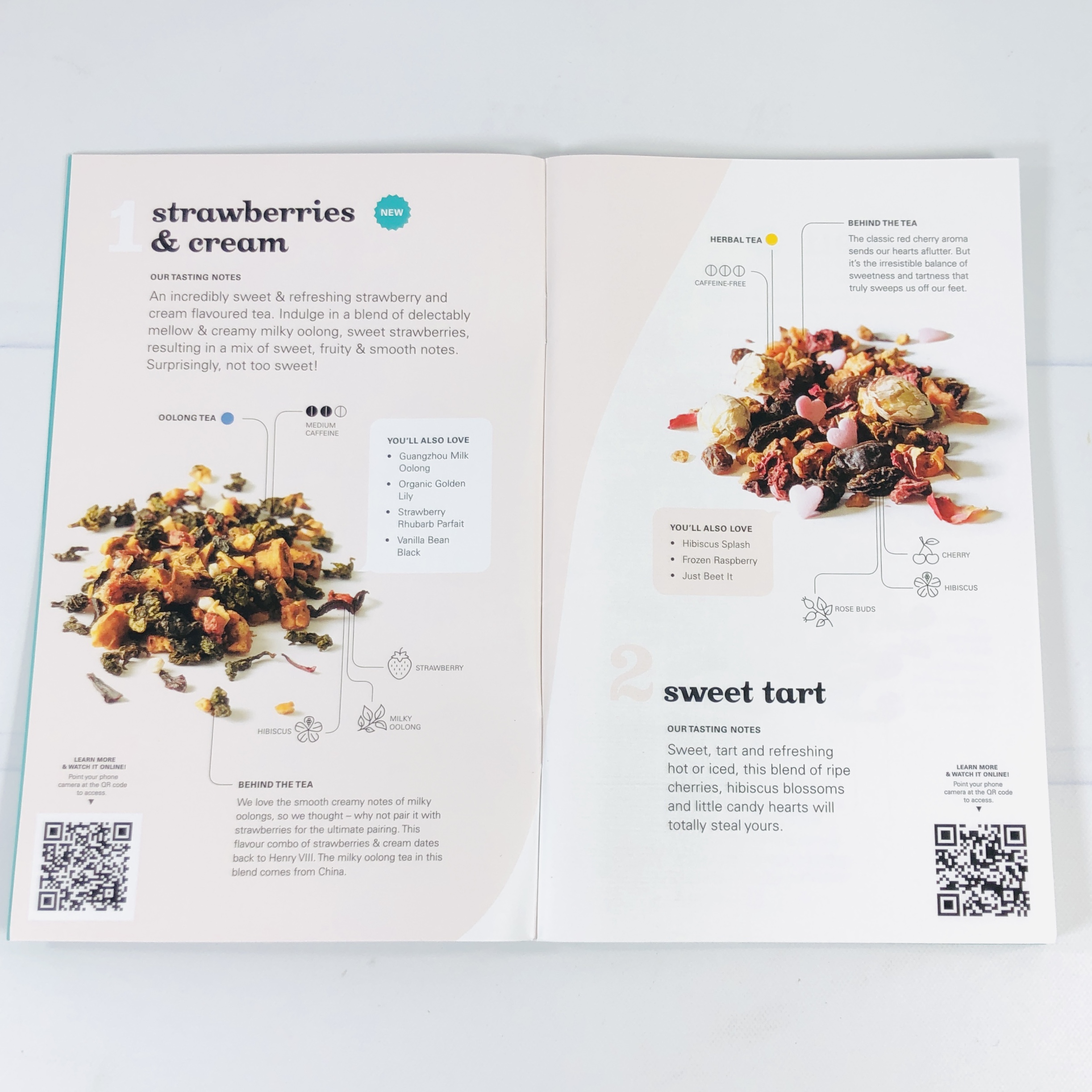 Valerie: Each tea gets a full write up including ingredients, details, and my favourite feature which gives suggestions for other DT teas to try if you like it. There's also a QR code which links to a video of some of the R&D team chatting about the teas and why they chose them.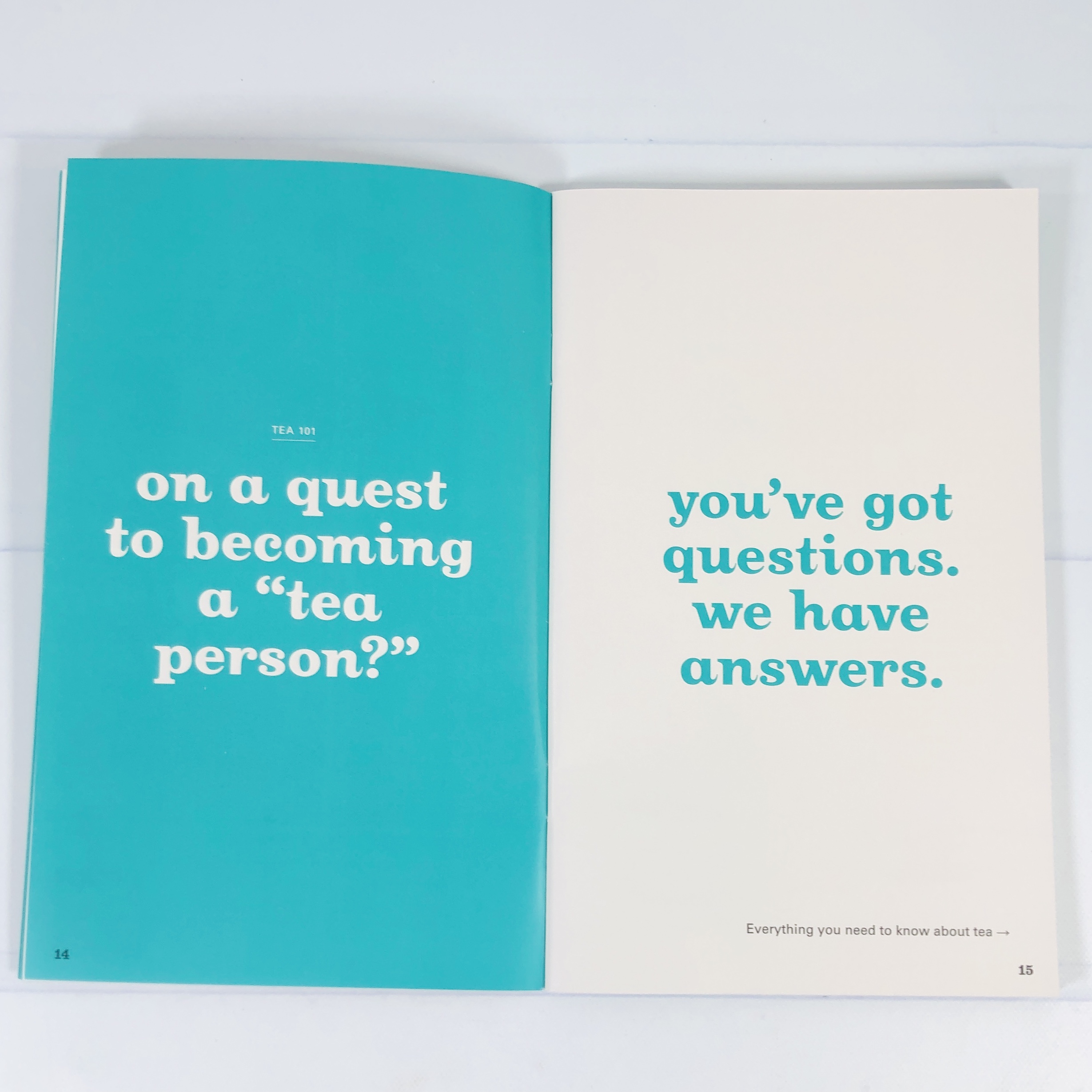 The next section is Tea 101.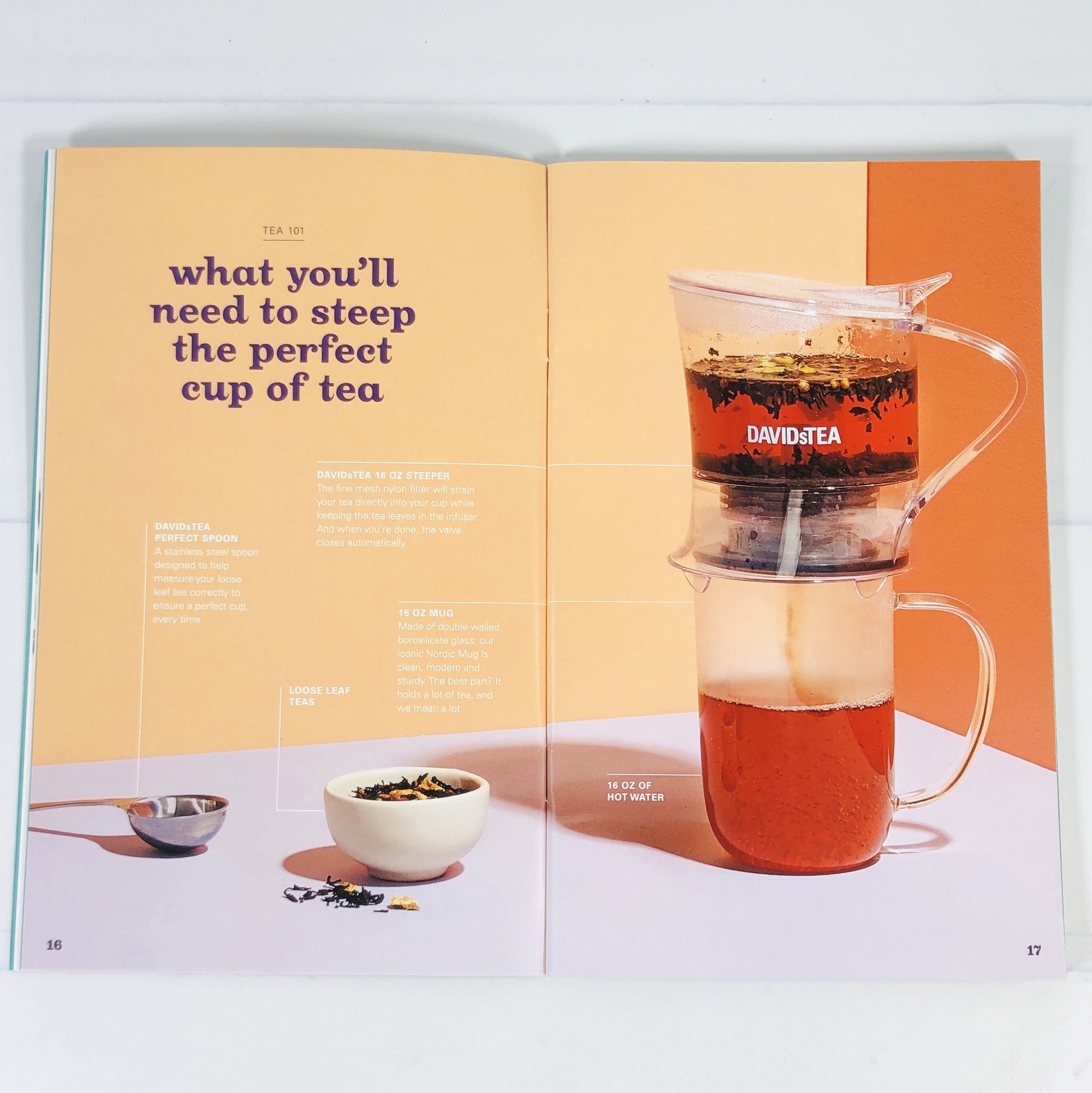 Debbie: This is a subscription of loose leaf tea, so you will need something such as a tea ball, infuser, or tea bags to make your drink. This spread describes a tea making system and I have one very similar and use it all the time. I think that this would have been a good inclusion for the very first box, especially if they are aiming this box at loose leaf tea newbies.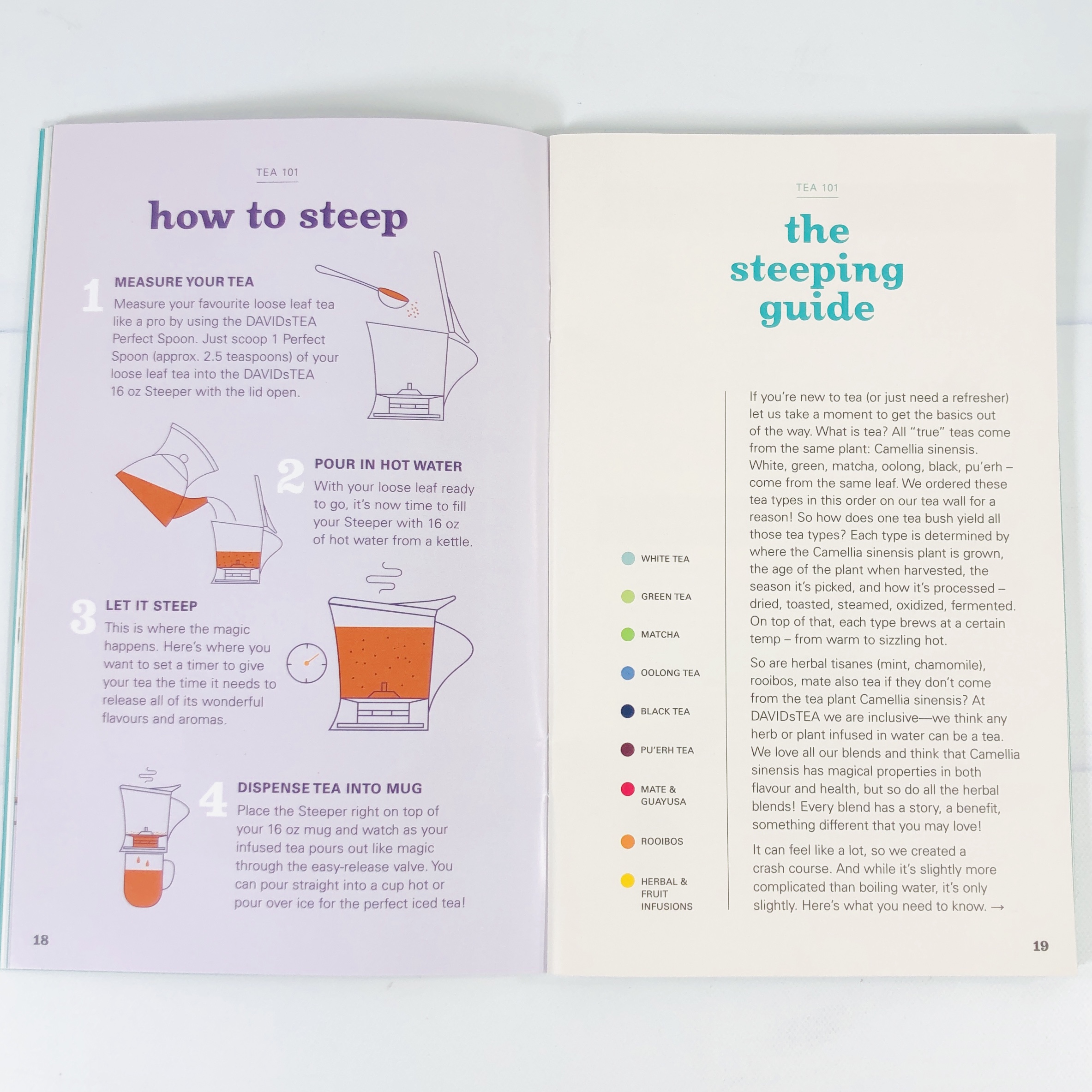 Debbie: Here we learn how to steep tea. They mention using a Perfect Spoon, which holds 2.5 teaspoons of tea. I use a similar spoon that holds 1.5 teaspoons but then I only make my tea 8 ounces at a time. The opposite page defined tea.
Valerie: Instructions for how to brew your perfect cup of tea is included as well. The instructions make use of the DT automatic steeper, but I prefer to use one of their plain metal steepers (I have four of them!) because they're easier to empty and clean.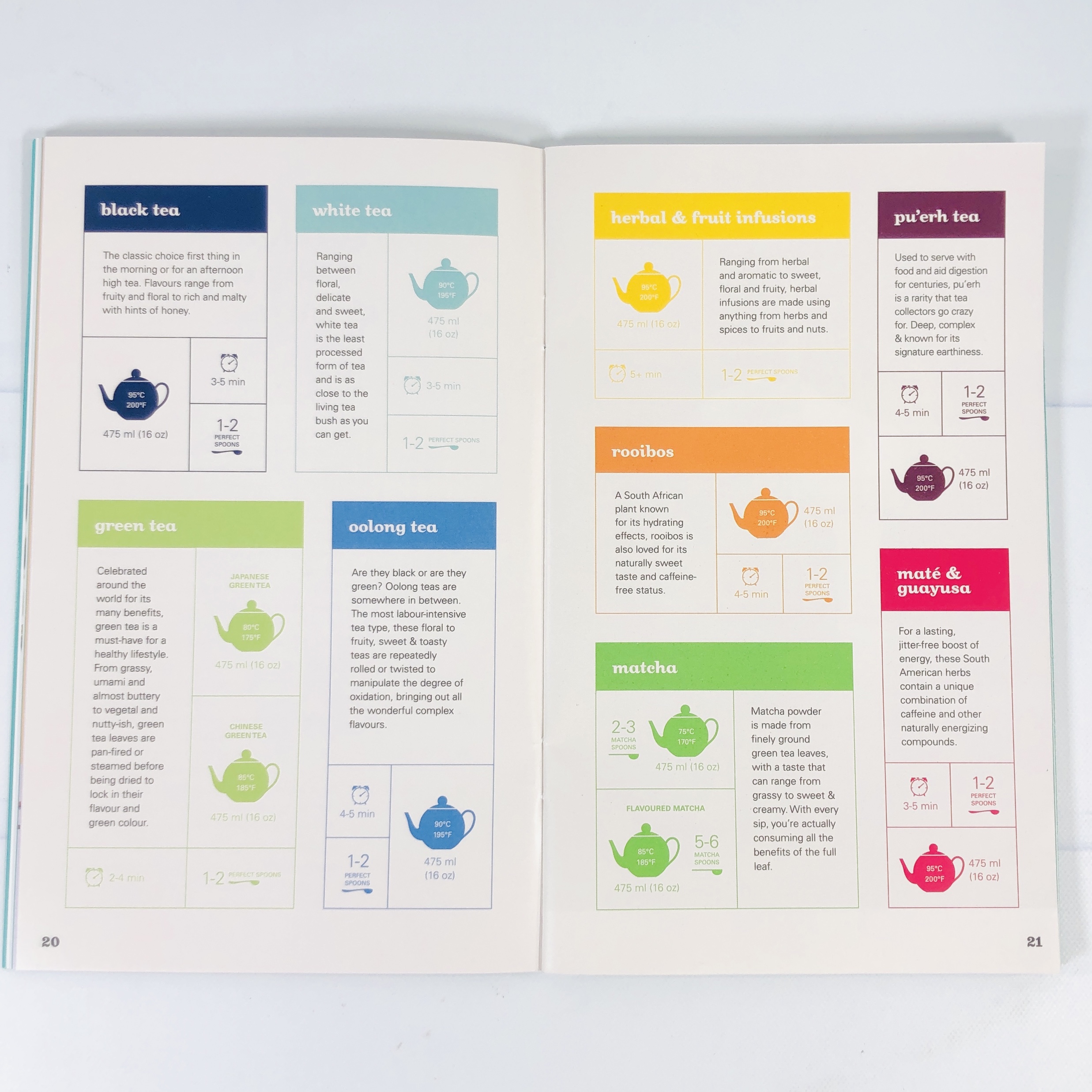 Debbie: This spread tells us how to steep each type of tea, the water temperature to use, time to steep, and a brief definition were shown.
Valeie: Similar to the diagram under the box lid is another guide to temps and times for the teas.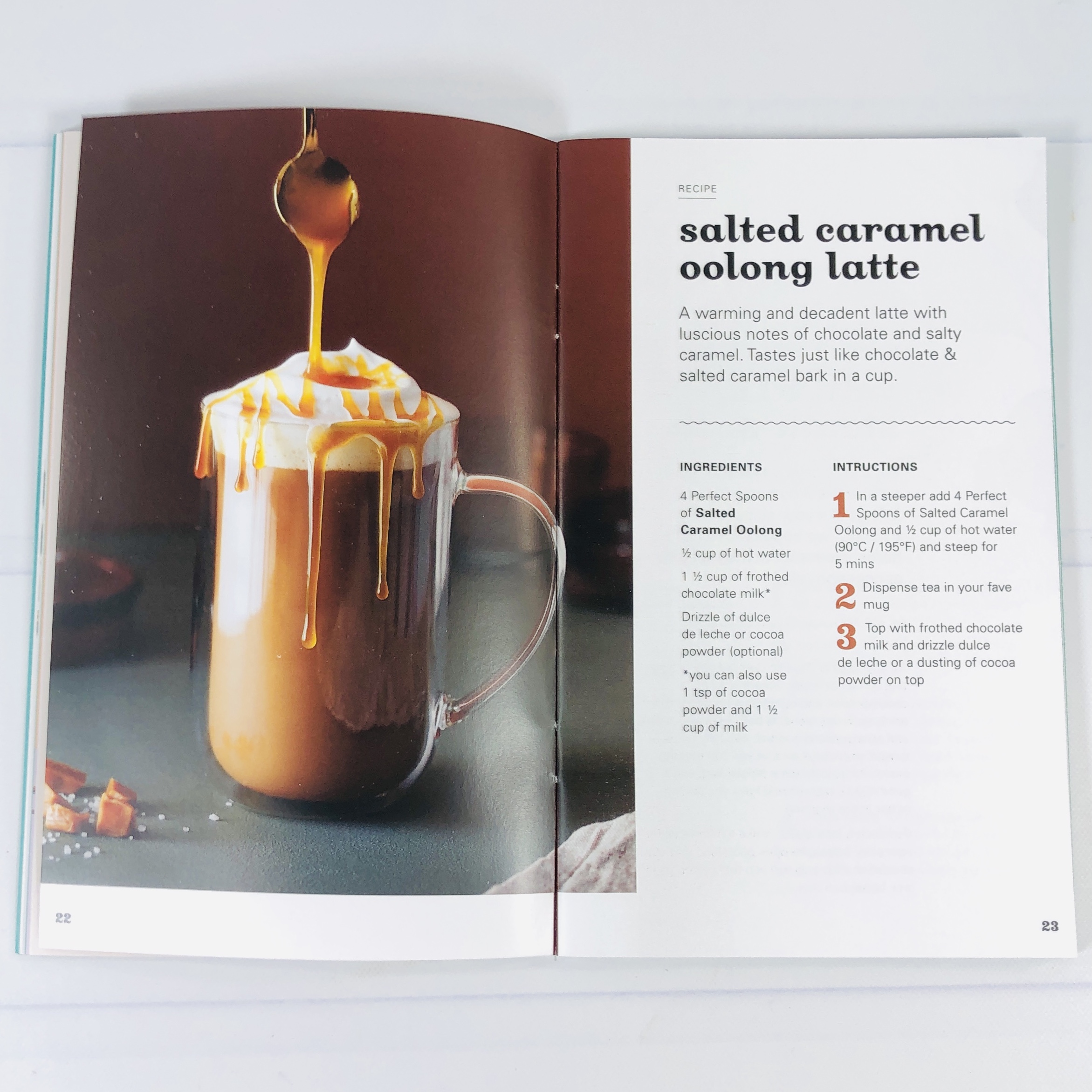 Valerie: The booklet concludes with some creative recipes — a salted caramel tea latte as well as this facial steam using the Cold 911 blend!
Here is an alternative use for one of the teas: it can be used as a facial steam!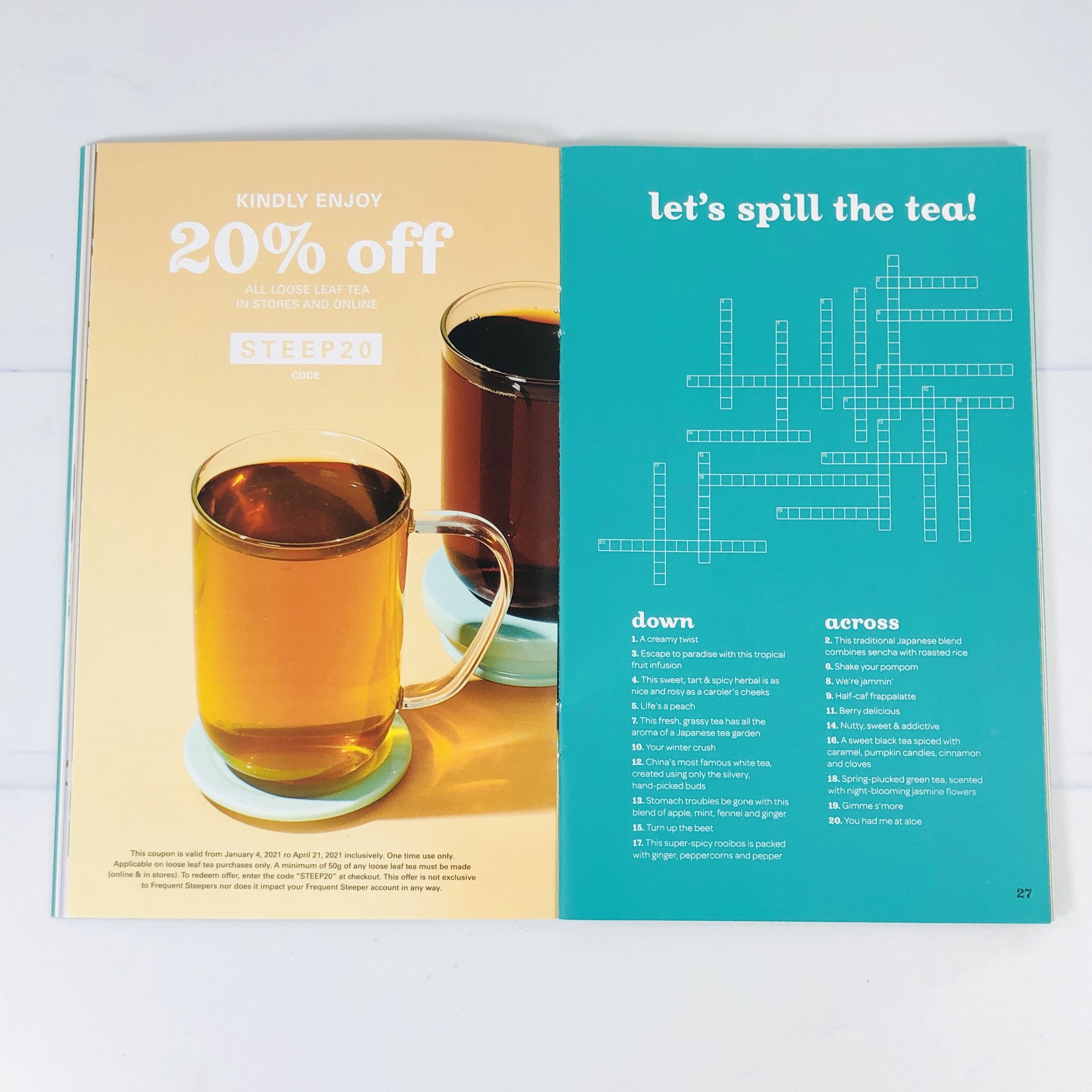 Here is an online shop discount code and a tea crossword puzzle.
Finally we have the puzzle answers. Flip the book for the French version.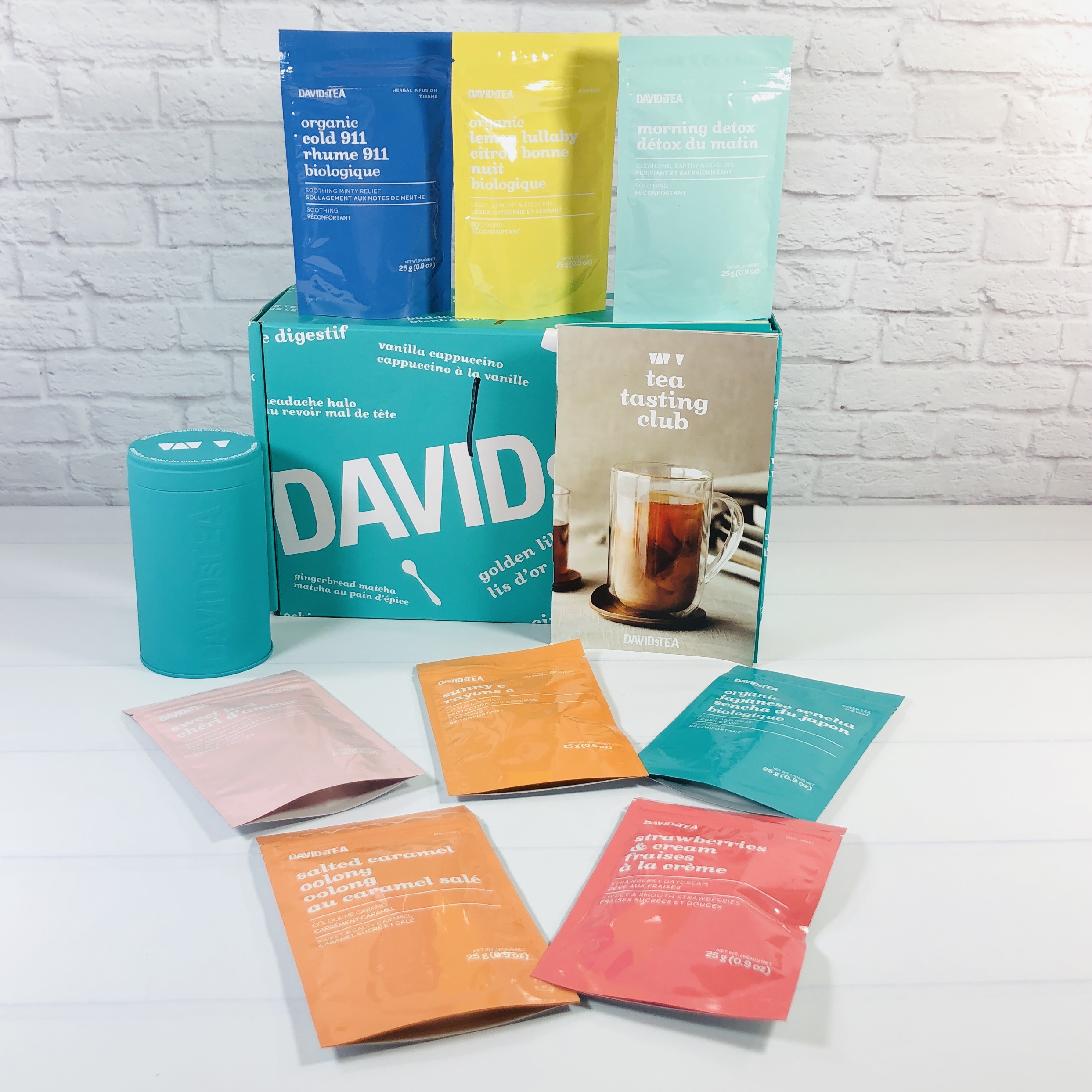 Everything in my box!
DAVIDsTEA Tea Club Exclusive Tin (Similar items are $3)
Valerie: David's Tea is known for their adorable stackable tins in a plethora of designs, colours, and styles. The tins were originally just silver, but then they expanded to colours for each kind of tea (for example, navy blue for black, orange for rooibos, etc). Each tin holds around 100g of tea, and often DT will run a promotion where you get a free tin if you buy that much tea online or in store. Additionally, you can take your empty tin into the store to get a discount on your next refill! With most DT stores closing due to COVID19, I lost my local DT store and I do miss that discount!
Debbie: I love the bright aqua shade of this tea tin! Similar items on the website shows that the tin will hold about 4 ounces of dry tea.
Debbie: I'm an official tea tasting club member, the tin tells me this! The outside has a matte powder coating, like it is covered in chalkboard paint!
Valerie: The lid confirms I am an official member of the tea tasting club! The slight lip on the lid means you can stack another on top easily — another upgrade from the original designs.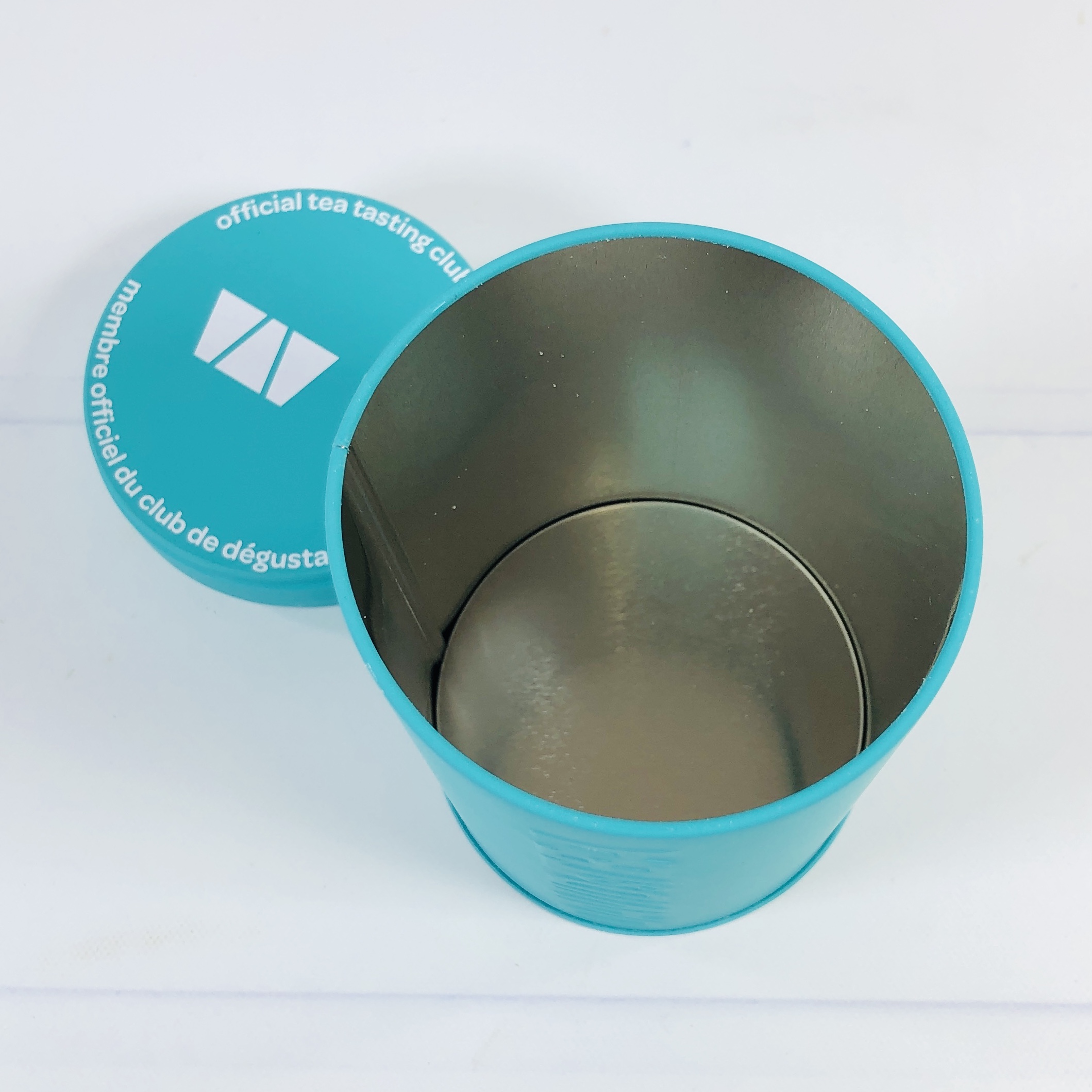 Debbie: I believe this is stainless steel since a magnet was able to stick to the side.
Onto the teas!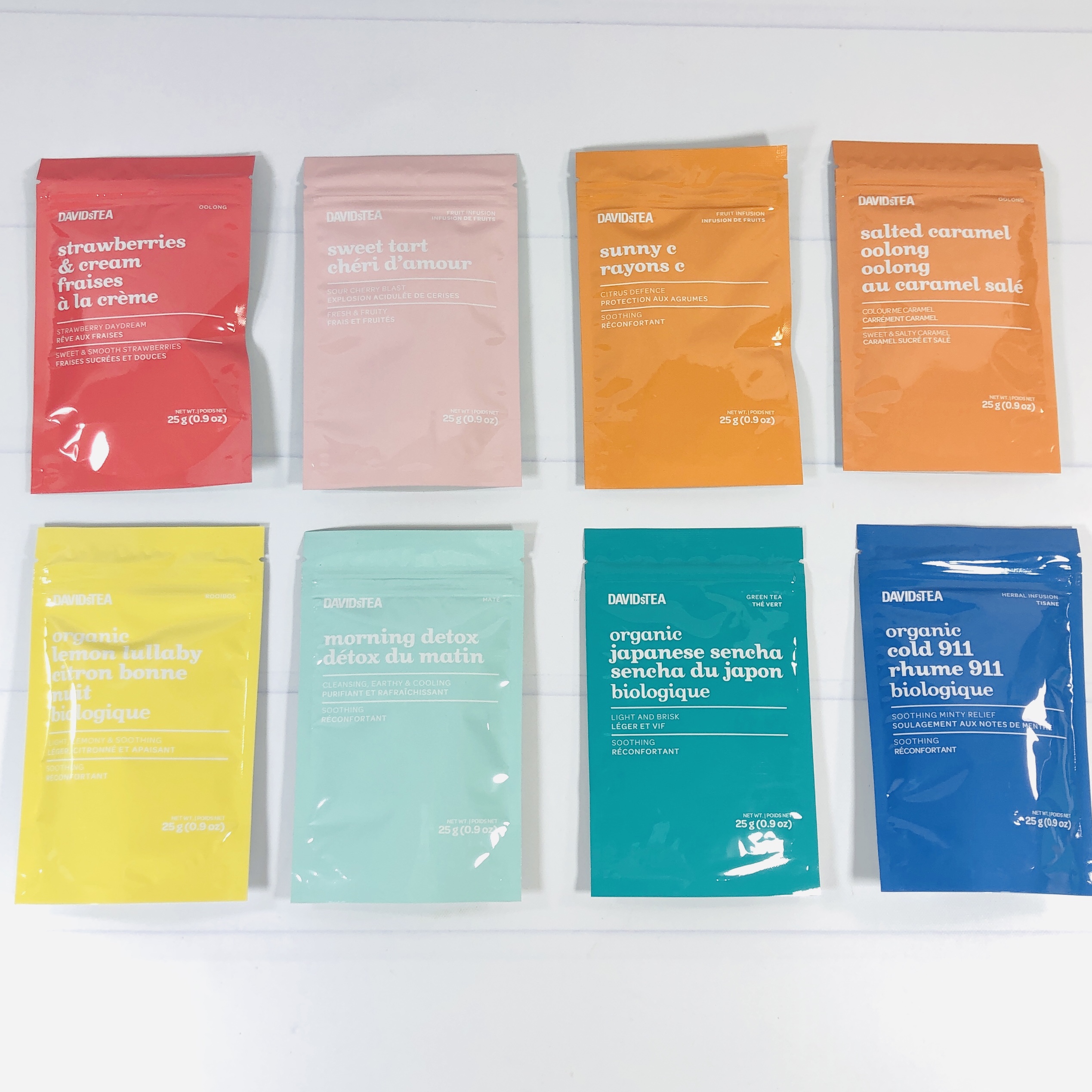 Steep the rainbow! The Spring 2021 box included eight teas!
Strawberries & Cream (Oolong)
Salted Caramel Oolong (Oolong)
Sunny C (Herbal Infusion)
Organic Lemon Lullaby (Rooibos)
Organic Japanese Sencha (Green)
Morning Detox (Mate)
Organic Cold 911 (Herbal Infusion)
Sweet Tart (Herbal Infusion, Limited Edition)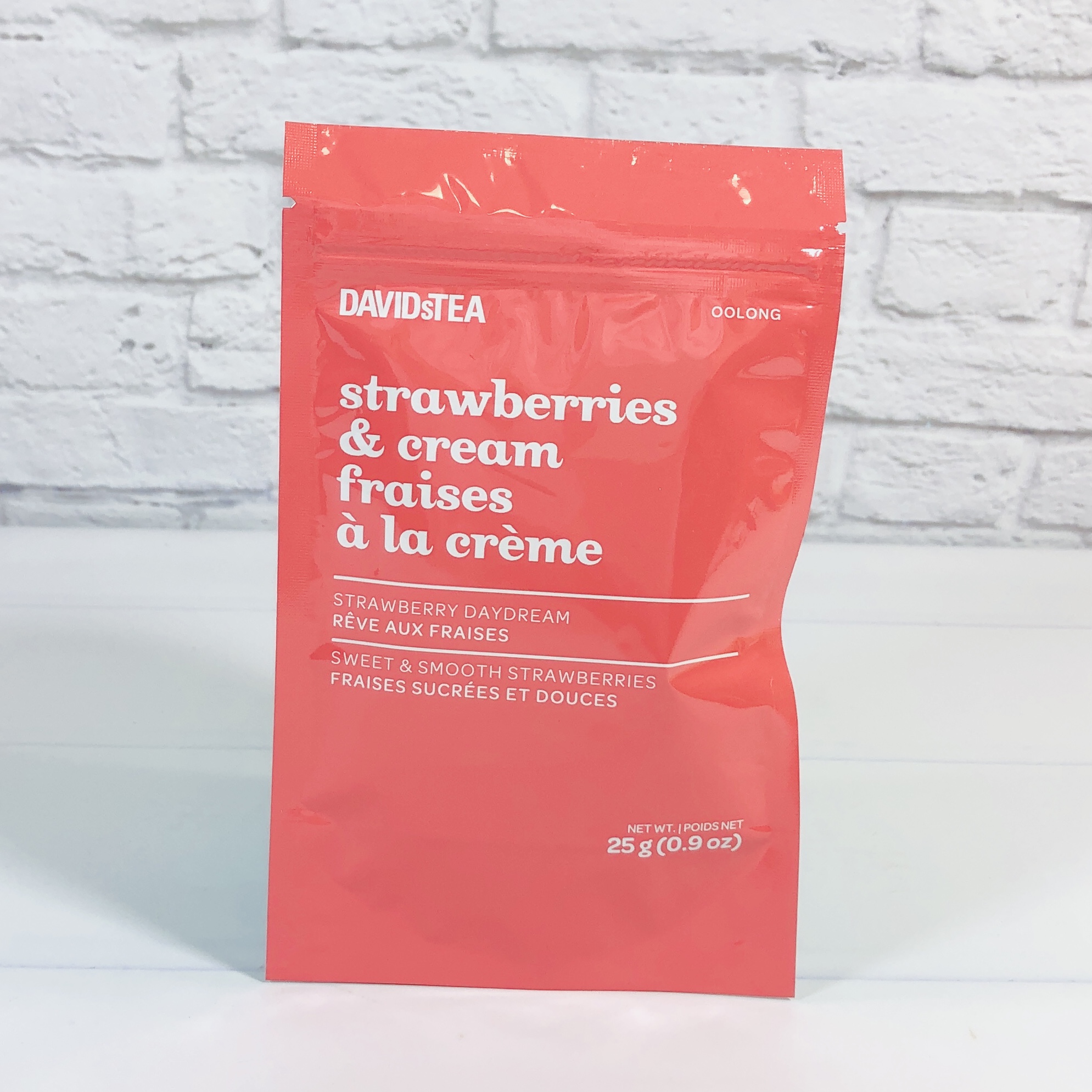 Strawberries & Cream Oolong Tea ($4.94)
Debbie: I love berry flavored teas and since this blend is inspired by strawberries and cream I thought that sounded absolutely delightful. The base is oolong tea, which falls in the middle of the tea spectrum between black tea and green. It also has natural flavoring and hibiscus. I was worried when I saw stevia, we don't get along very well.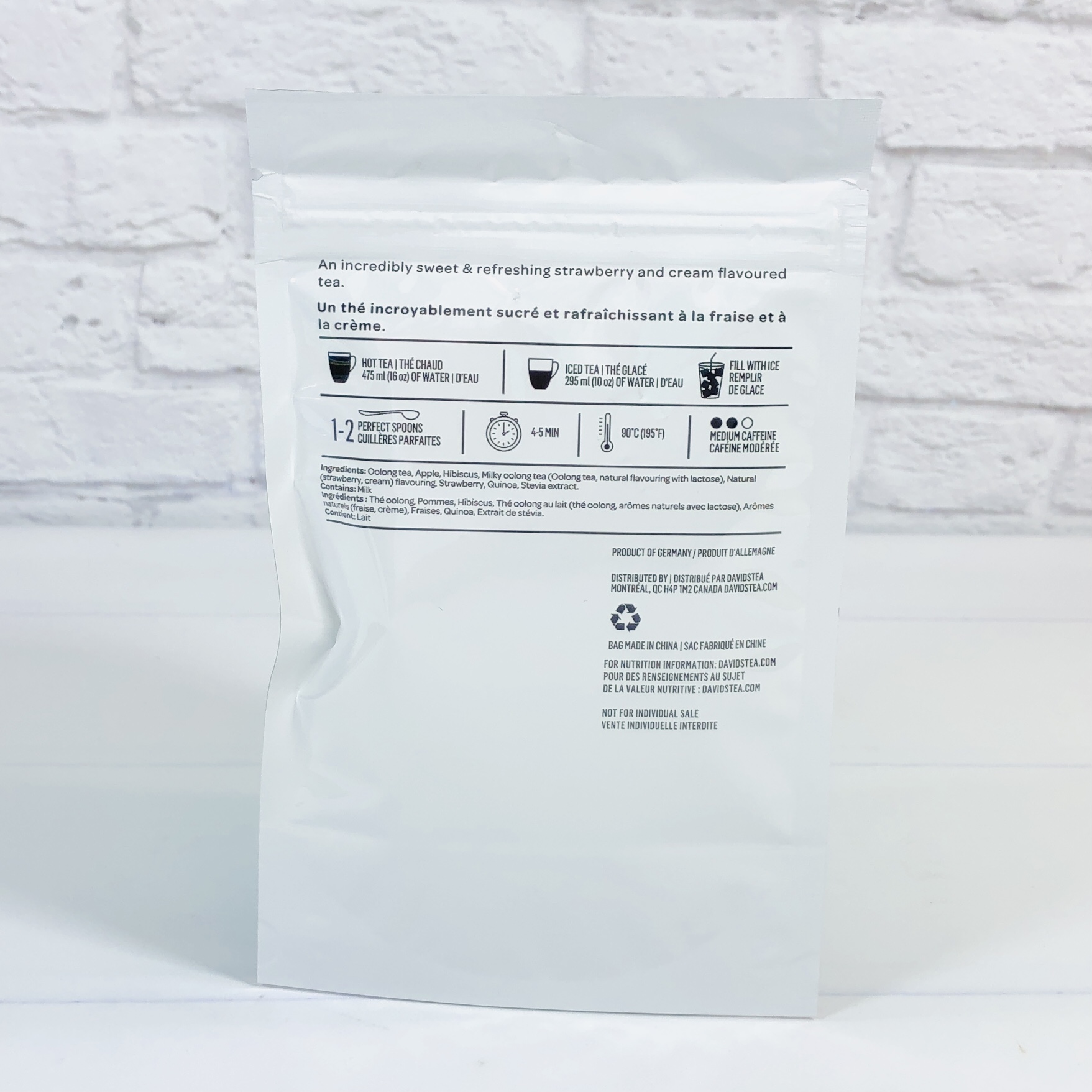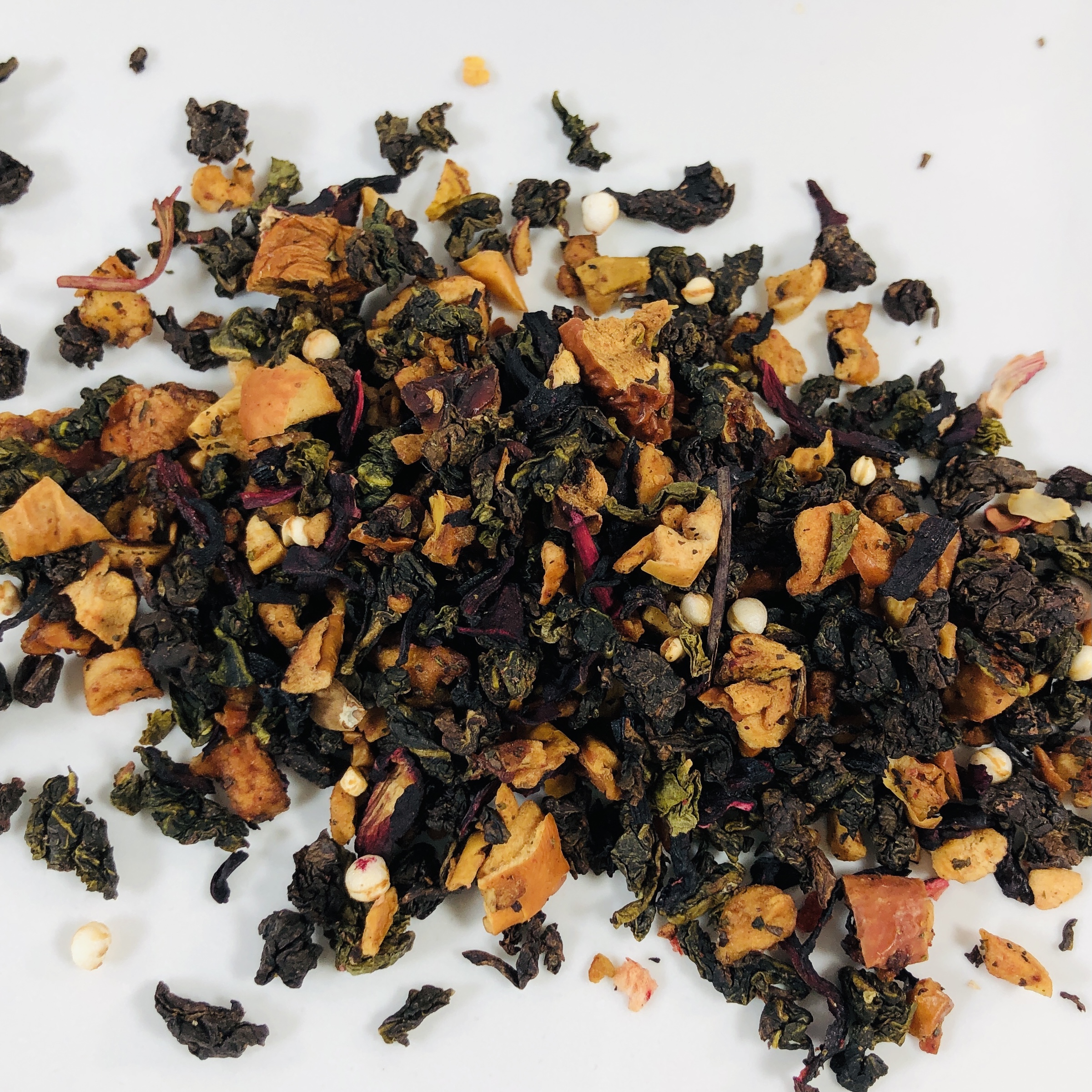 Debbie: The tea steeped into a pretty pink shade and had the aroma of strawberry candy. Hibiscus and stevia are usually ingredients I don't care for, since hibiscus tends to be super sour on my tongue while stevia leaves a bitter aftertaste. I didn't encounter any bitterness whatsoever and the hibiscus left the drink a bit tart but not over the top sour. I added a spoonful of sugar and really enjoyed the tea. It would be just as delicious iced. I didn't really think it was creamy at all but also didn't feel the need to add milk and besides I would be worried that the hibiscus might curdle the milk.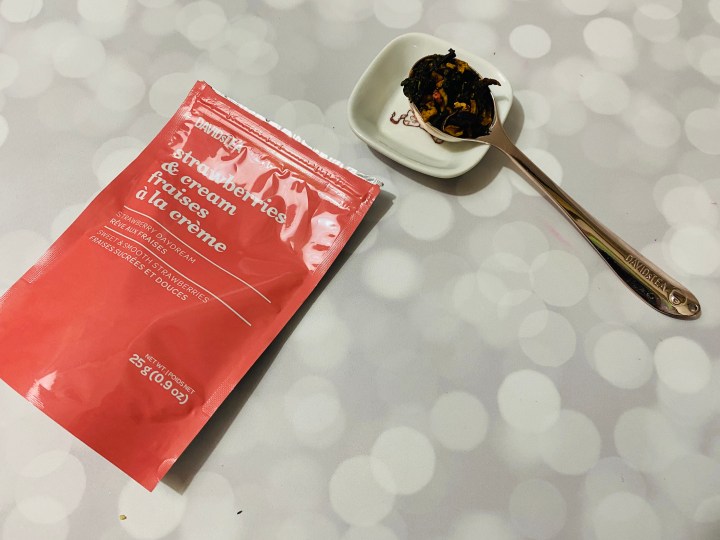 Valerie: Oolongs are creamy like black teas, but have less caffeine. I really like a fruit oolong because they're very smooth, and this strawberry powered blend really works well! The secret is that in addition to straight oolong leaves, there is also a milky oolong tea to give it that creamy finish. This one is also recommended hot or iced, and even a splash of milk can help boost that creamy flavour.
Sweet Tart Herbal Tea ($4.49)
Debbie: This box is meant for the first quarter of 2021 so it was cool to see a tea that would be perfect for Valentine's Day. Apple pieces, hibiscus, cherry flavoring, and sugar hearts are some of the ingredients.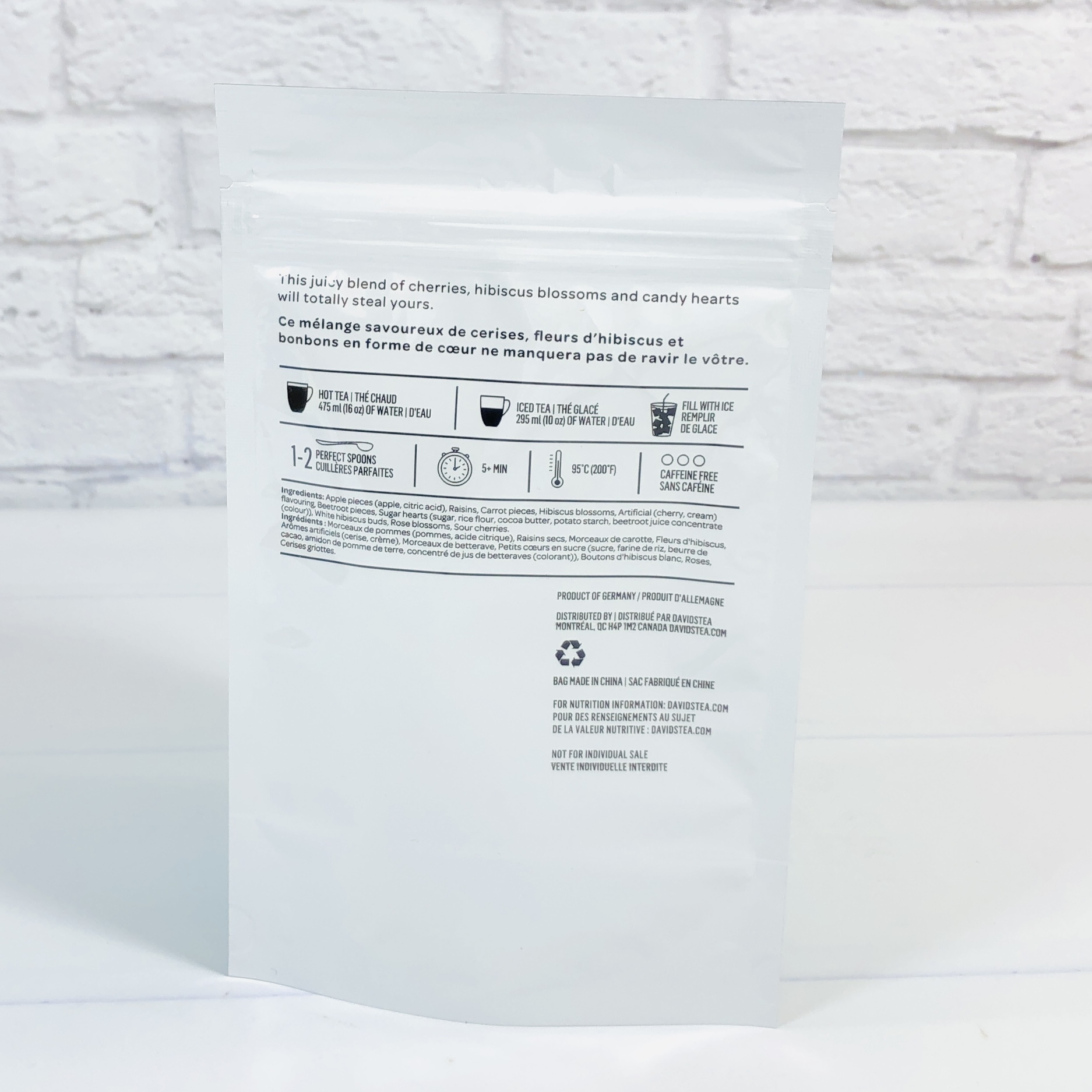 It is important to know that some tea flavors come from natural and/or artificial ingredients. While bergamot, mint, and jasmine may be strong enough to flavor a tea naturally, some of the more fruity or nutty teas have to have a boost from flavorings. It would be hard to provide caramel, strawberry, or watermelon flavor from natural sources.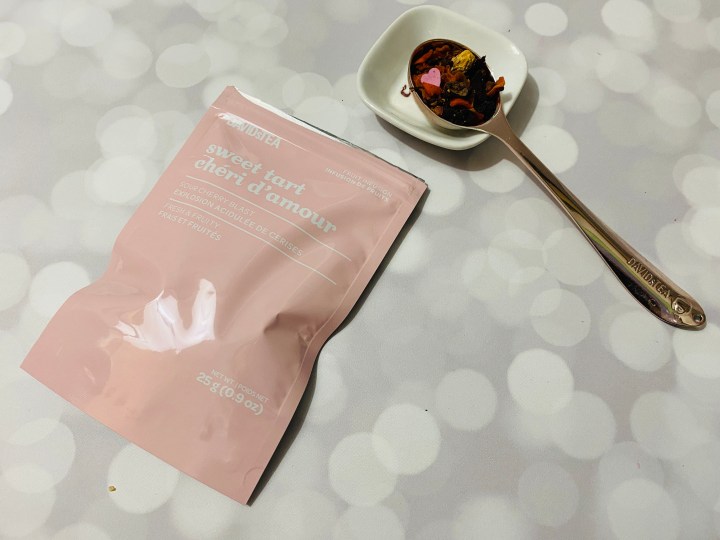 Valerie: A limited edition tea I was SO excited to see them rerelease! It's one of their most popular flavours and it reminds me of the candy. The base is cherries but there's also some apple, beetroot, and hibiscus. The best part has to be the candy heart pieces! This tea is a popular Valentines day release so I'm super happy they brought it back again! This is another herbal infusion, so there's no caffeine and you can enjoy it hot or iced.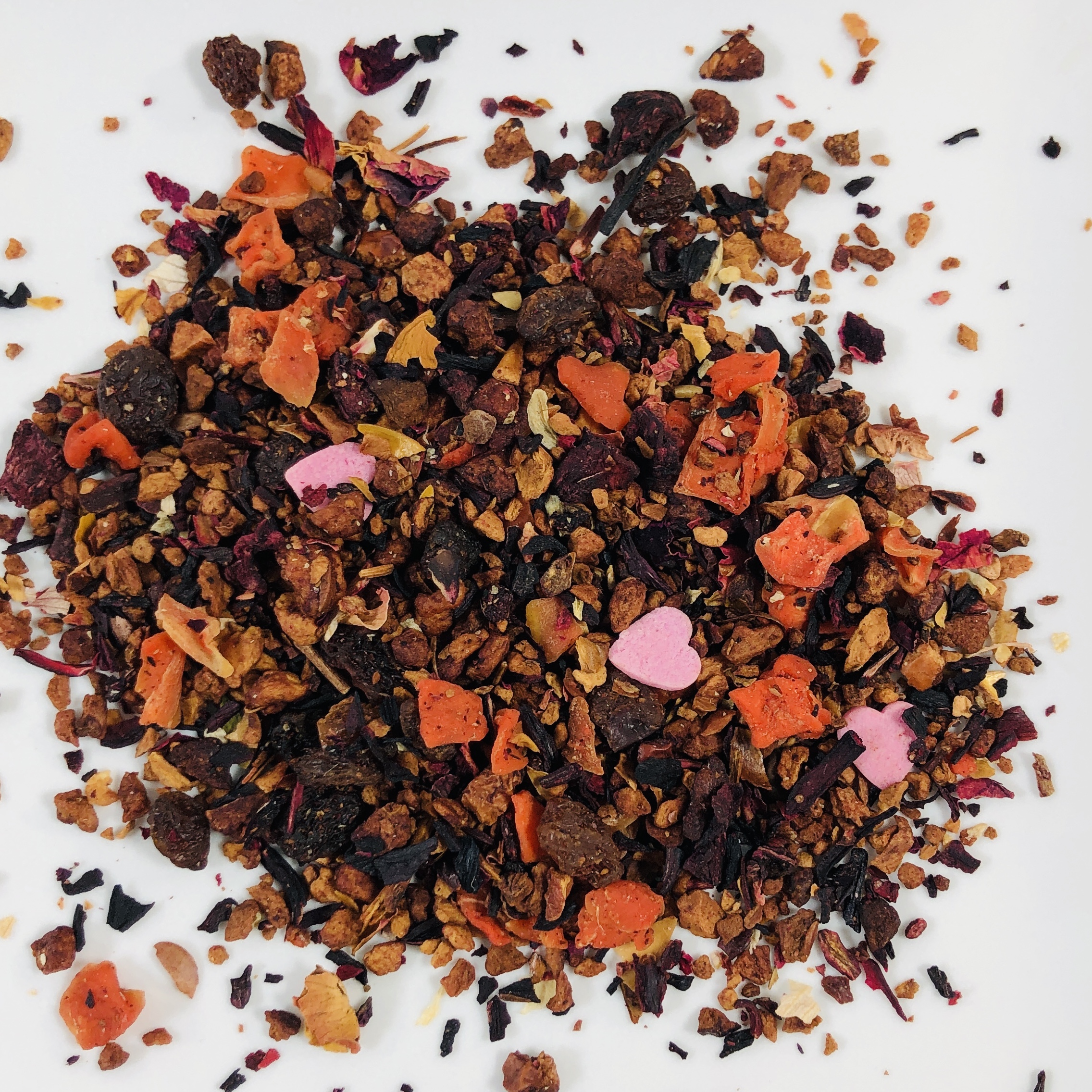 Debbie: This tea steeped up mostly tart, but then hibiscus tends to make a lot of teas taste like cranberry juice to me. I added lots of sugar but I wasn't really a fan of this particular flavor, the cherry flavor was too strong for my tastes. I think this would be better iced, because it was like drinking hot fruit punch and I think I would have enjoyed it better cold.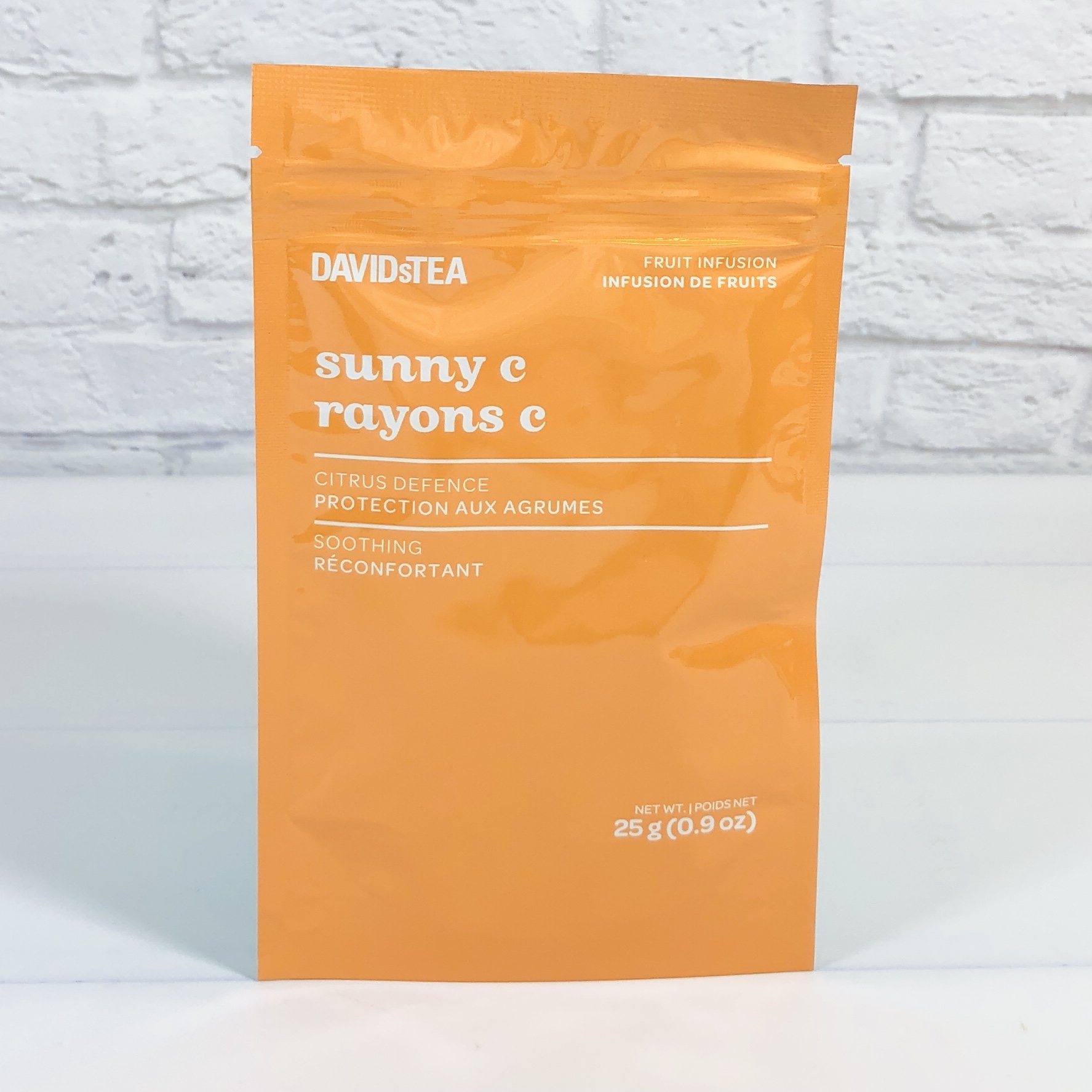 Sunny C Herbal Tea ($4.49)
Debbie: Fruit teas are lovely, they aren't too heavy and are usually fruity, just as the name suggests. This one has carrots, orange pieces, candied pineapple, apple, and hibiscus.
Valerie: Herbal infusions contain no caffeine whatsoever, because they don't actually have tea leaves in them. They are a mixture of fruit, herbs, nuts, flavour oils, and other ingredients. Sunny C is a deliciously citrus blend that also contains apple, candied pineapple, lemon peel, and carrot! You can see the big chunks of dried fruit in the mix. I use a David's Tea perfect spoon (this one is rose gold!) and steep in boiling water for a few minutes. I find the ingredients quickly rehydrate to release all of that flavour, but honestly this tea smells SO GOOD right out of the bag. I've been enjoying this hot as an alternative to sugary orange juice, but this would be fantastic iced as well!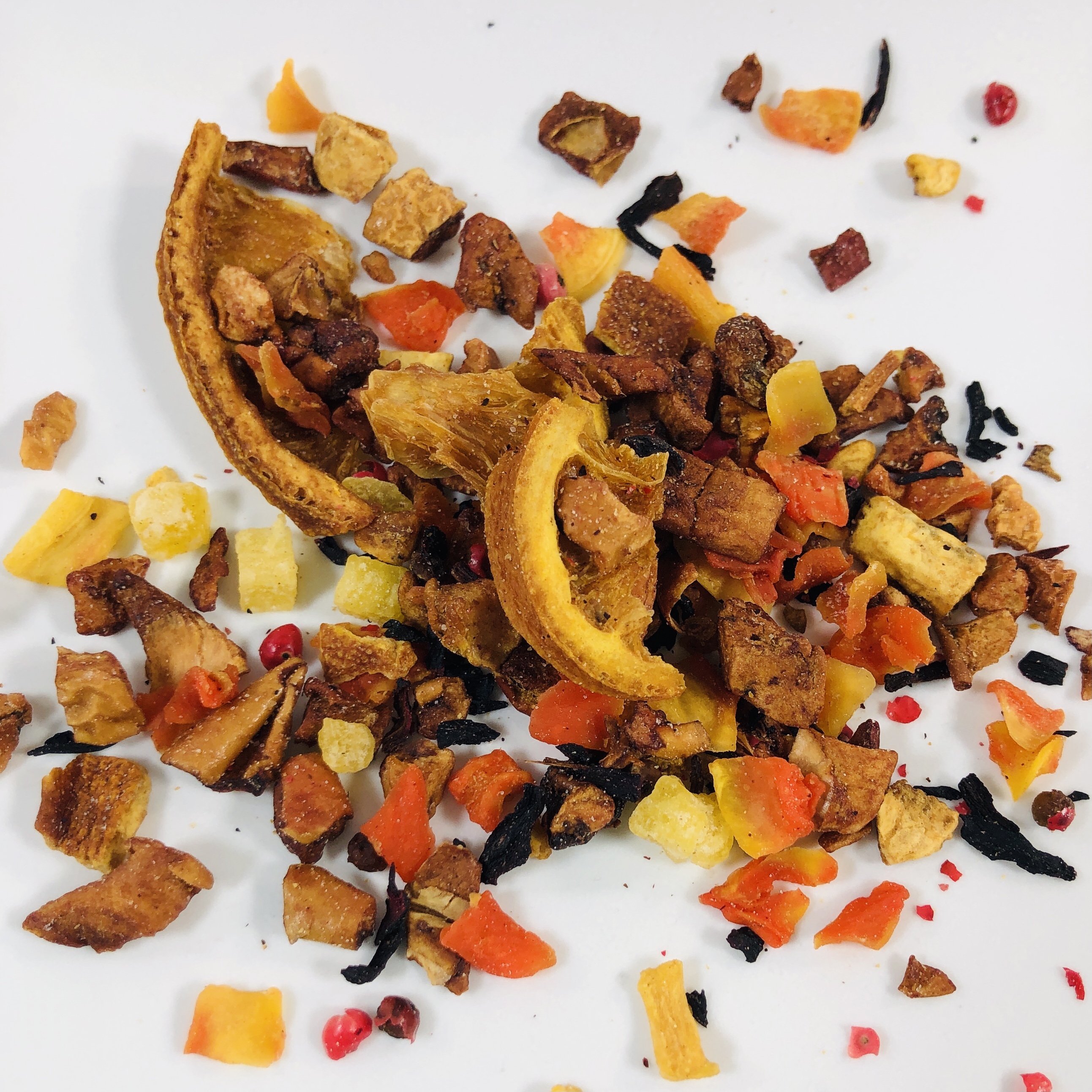 Debbie: This was a super tasty cup of tea! Imagine a warm citrus drink, like heated Tang maybe. It was quite tangy actually and would be good with honey, especially when you have a sore throat.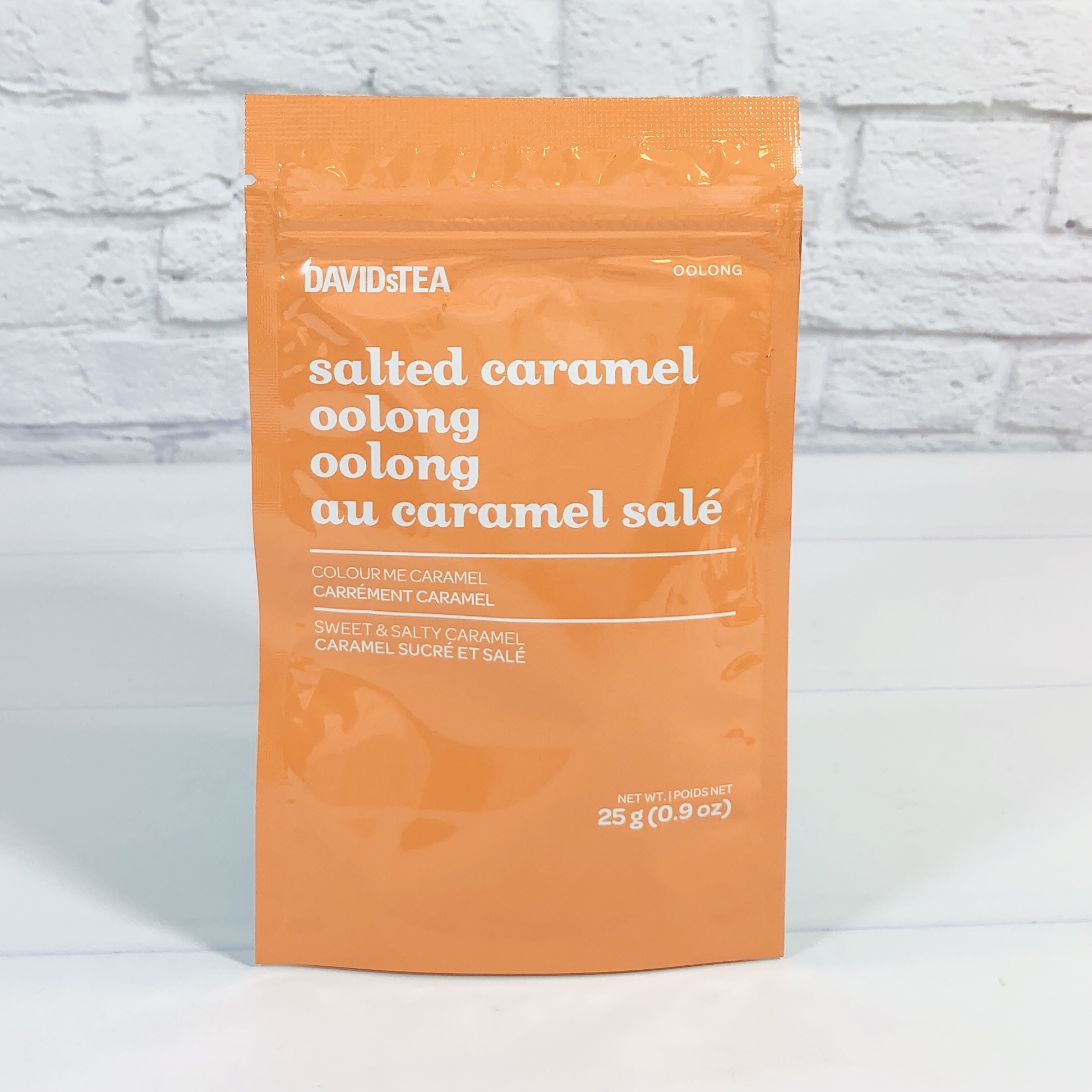 Salted Caramel Oolong Tea ($4.94) sounds like the drink I get at my local coffee house once a year.
The base is oolong tea, which has a toasted note that makes it a good stand in for coffee.
I didn't detect any bitterness from the tea and of course the flavor was pretty similar to that coffee drink. Don't be surprised if it doesn't look like you are putting enough tea in your holder. The oolong leaves will unfurl while steeping and there will be tons of it in your steeper.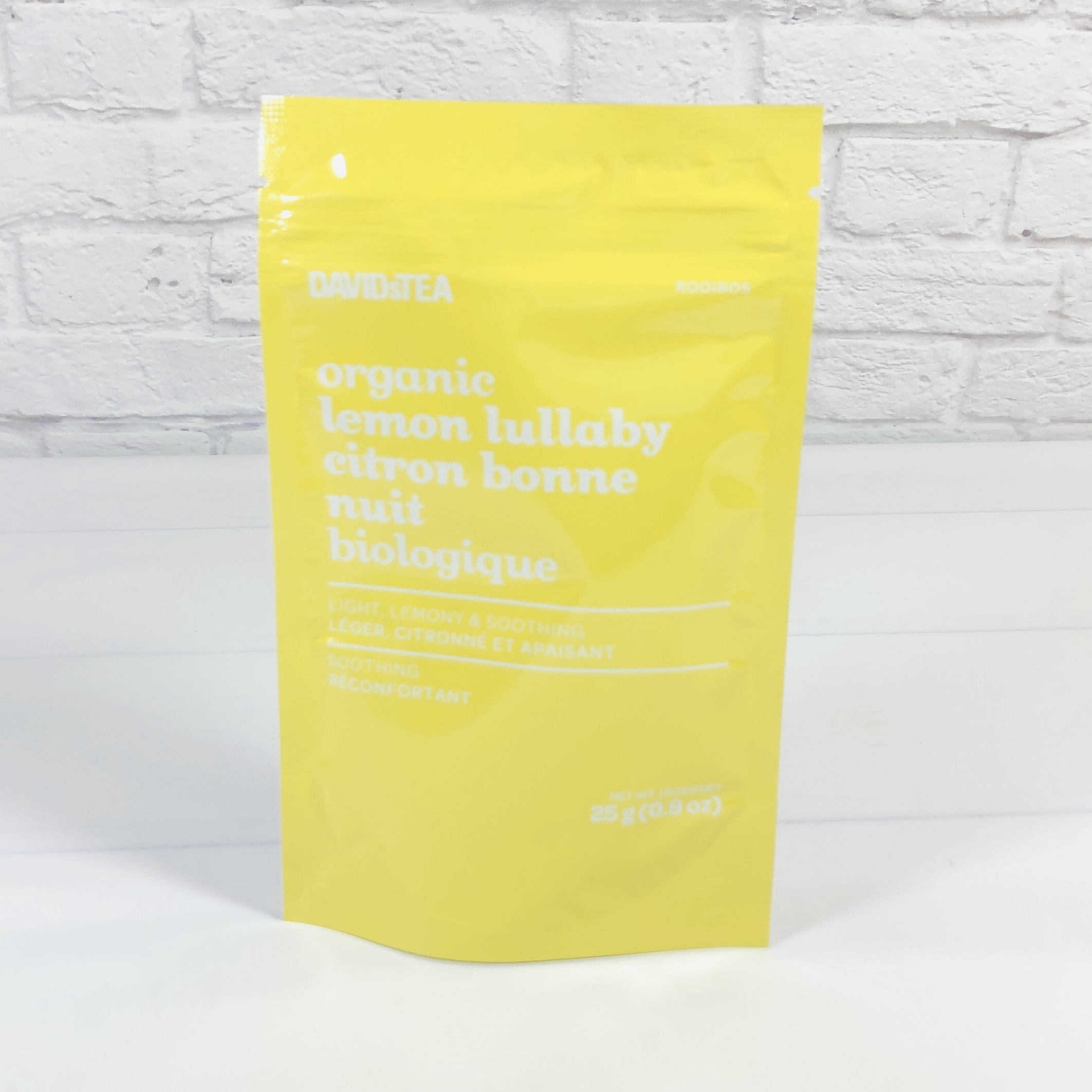 Organic Lemon Lullaby Rooibos Tea ($4.94)
Debbie: I enjoy sipping caffeine-free herbal teas in the evening and this one is supposed to provide a relaxing effect.
Rooibos forms the base and there is vervain and valerian root. Valerian is an herbal sleep inducer and I didn't know it before but supposedly vervain has a similar effect. The other ingredients include lemon peel, lemongrass, apple, and licorice.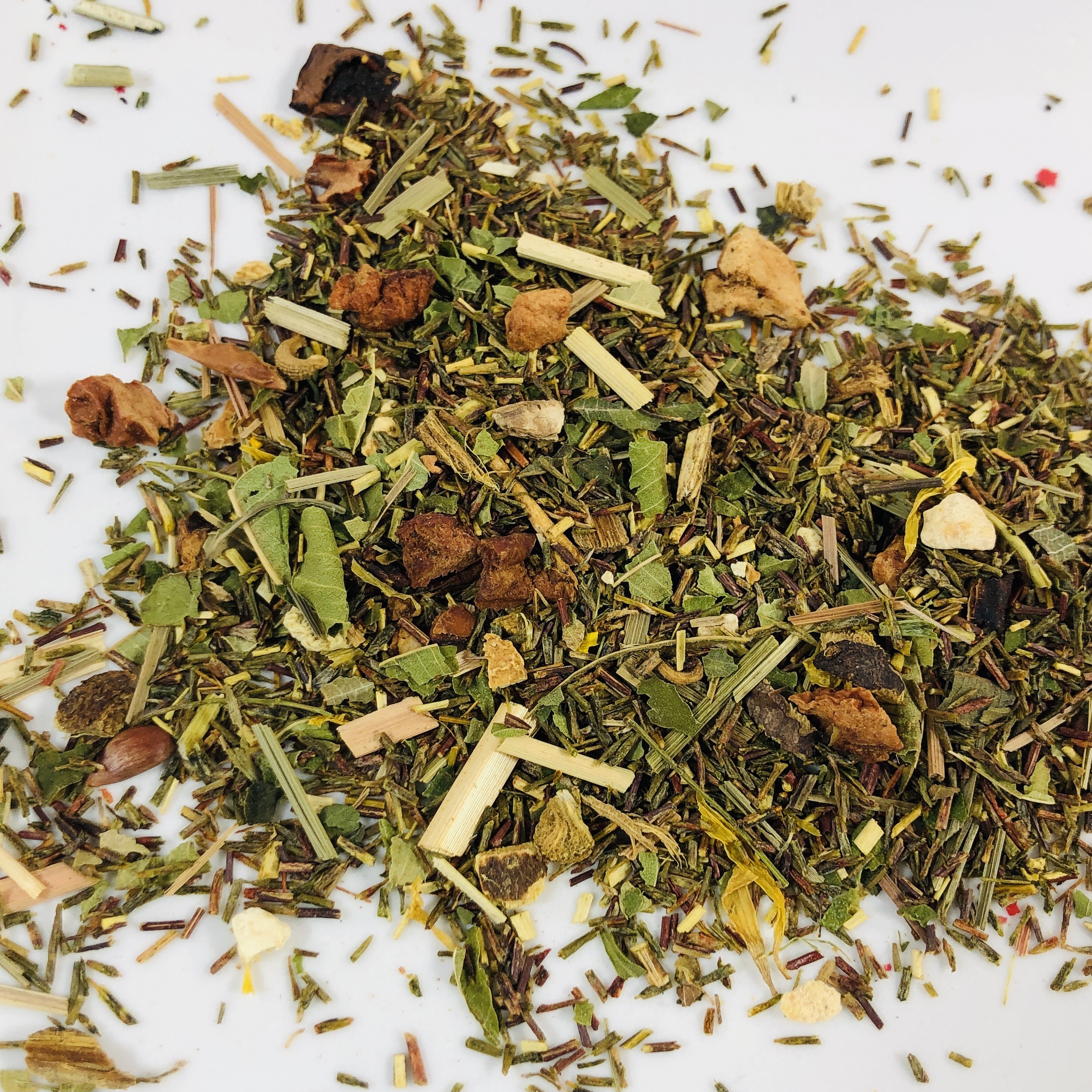 Debbie:  I thought this had a lovely lemon flavor and was happy to find it wasn't bitter. I rarely drink teas without sugar but there was no need to add it to this drink.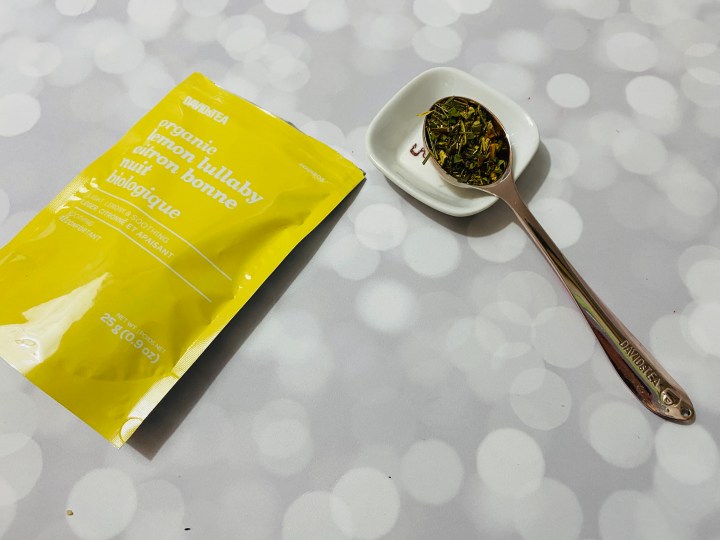 Valerie: One of my favourite bedtime rituals is a hot cup of tea, usually something herbal. (My fave DT bedtime tea is Valerian Nights!) This is a rooibos tea, so there's no caffeine but you can add a splash of milk and honey without compromising the tea. It is a lemon base but has valerian, an herb that can induce sleep, as well as lemongrass and licorice. I'm interested to try this one as I don't usually enjoy licorice, but my first sniff from the bag just smelled like a soft herbal lemon with a touch of sweetness. We'll see if this one sends me off to sleep as easily as my current favourite!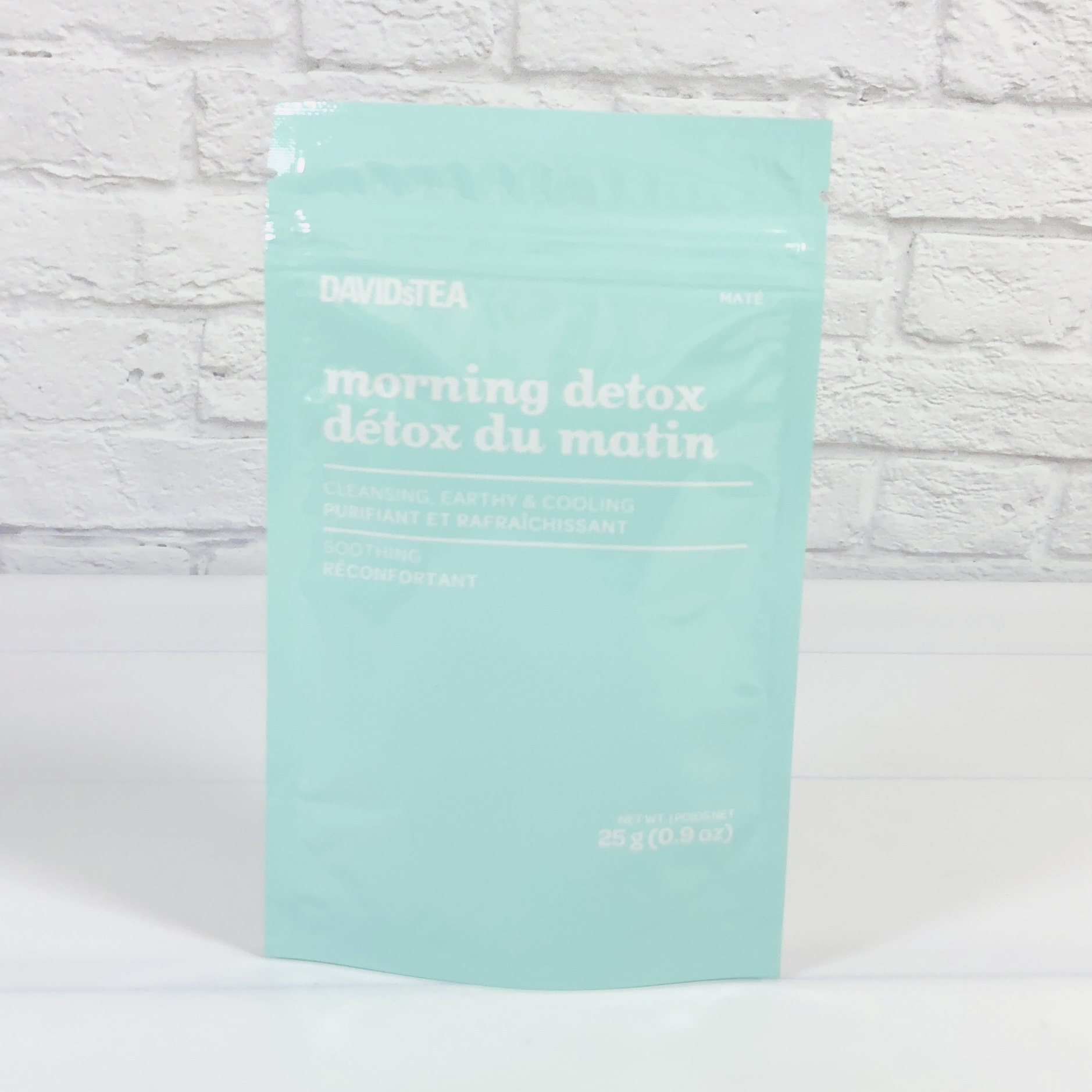 Morning Detox Tea
Debbie: Every time I see the word "detox" on a product I make a sad face. I believe (and of course there's also science) that the body takes care of those processes on their own but for some reason it's still a big marketing term in teas and in skincare.
Green tea, turmeric, lemongrass, moringa, and apple cider vinegar are supposed to provide "metabolism-boosting" powers to inject some oomph into your morning.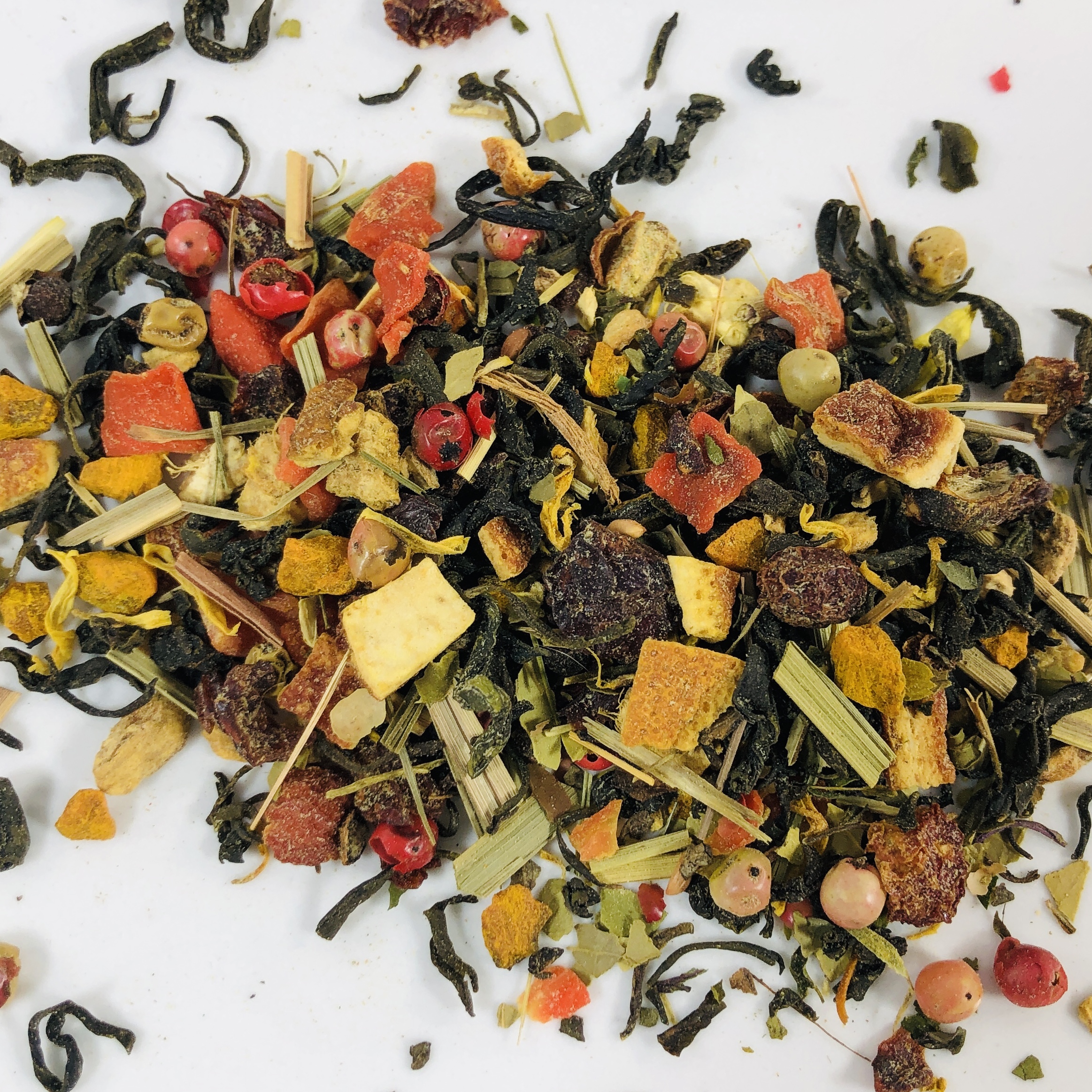 All I know is that despite the name, this turned out to be one of the best teas, ever! I loved the lemon mint flavor, the green tea wasn't strong, and it was refreshing as well as comforting.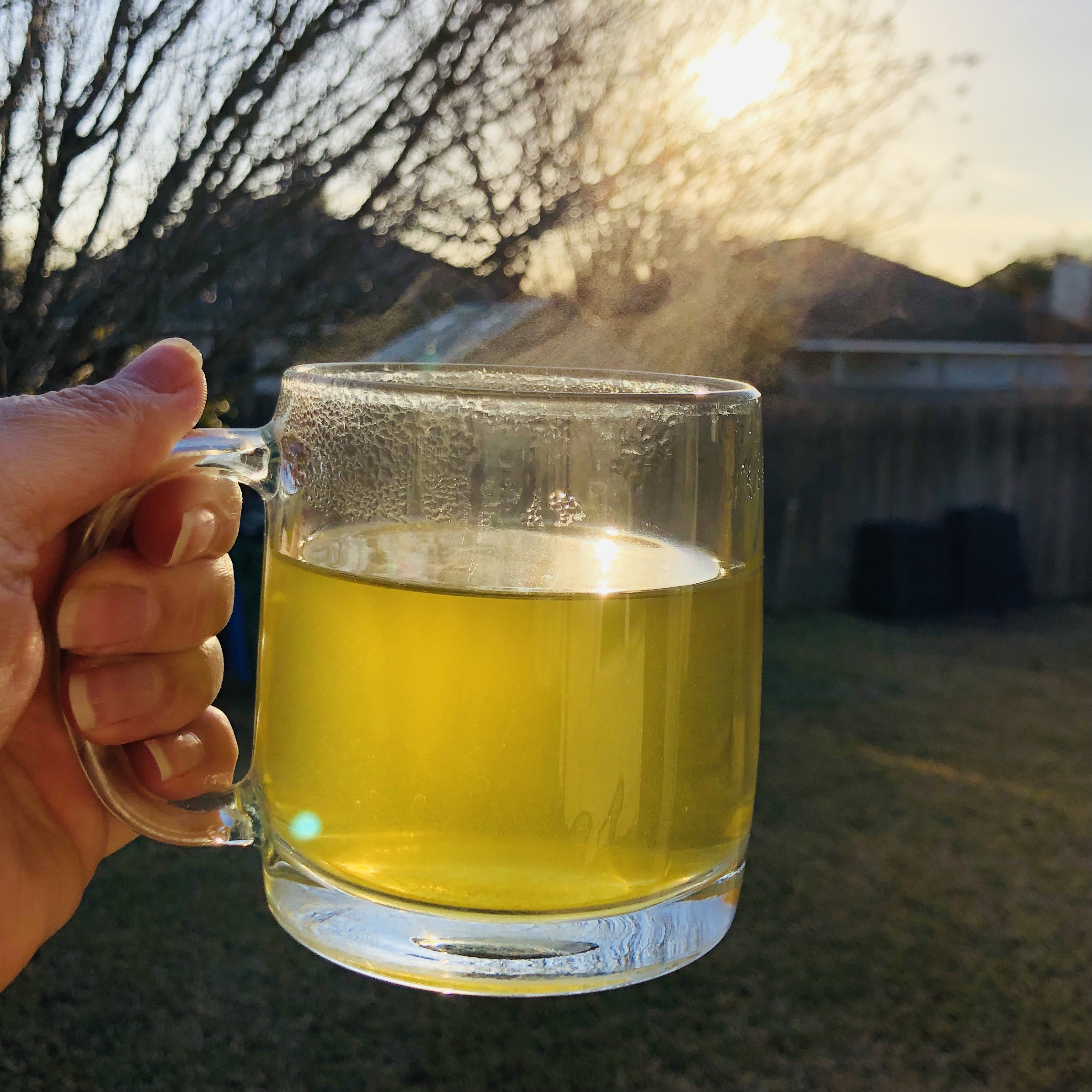 Morning Detox was a great way to start the day, and of course would taste great in the afternoon as well. I just think it could benefit from a name change.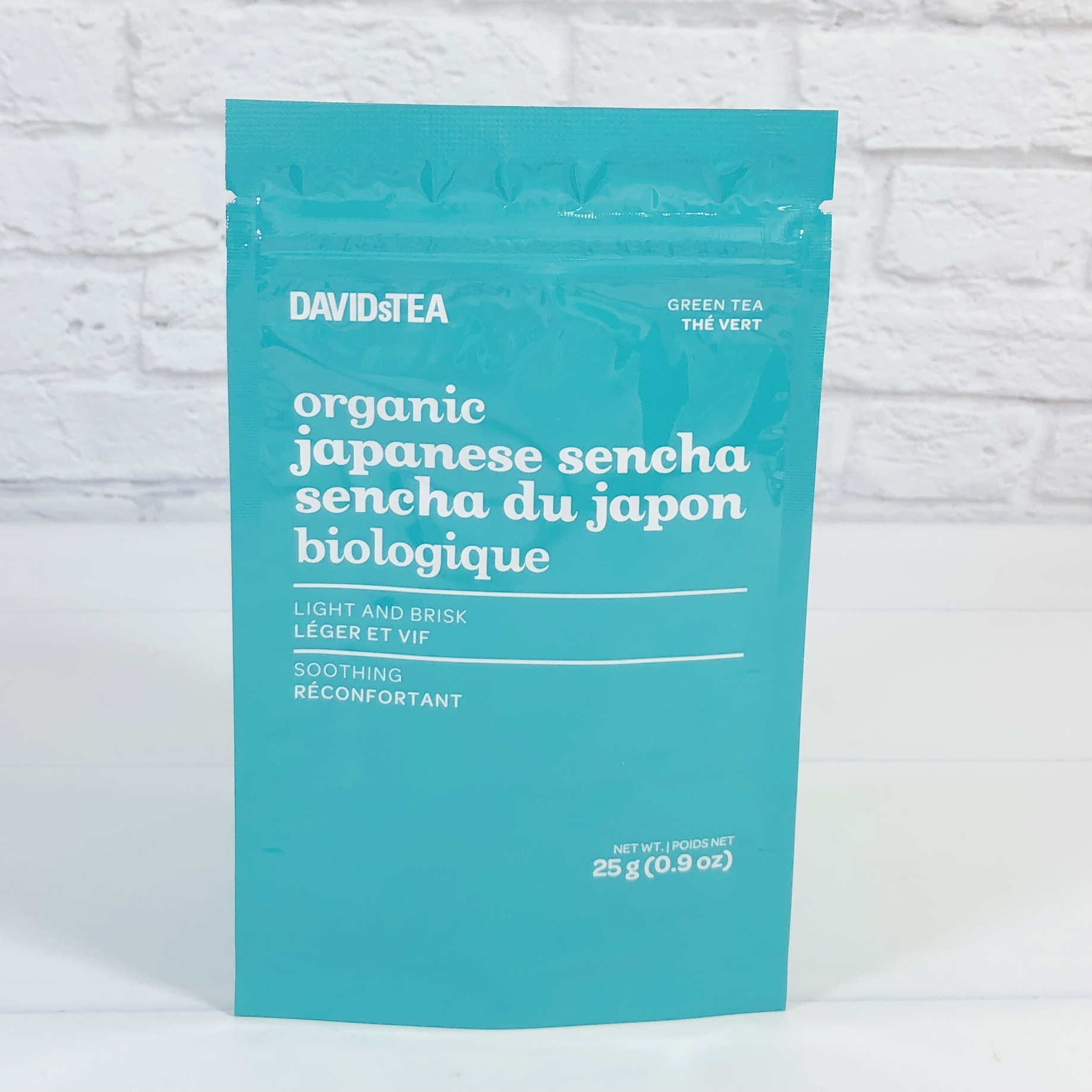 Organic Japanese Sencha Green Tea ($4.94) Sencha is the most popular tea in Japan and is a classic green tea with strong flavors that may remind one of grass, seaweed, or spinach.
Sencha is steamed or pan roasted and can have a hint of nuttiness to it. It is best to keep the water under the boil and to steep for only a minute or two, any longer or hotter and it might turn bitter.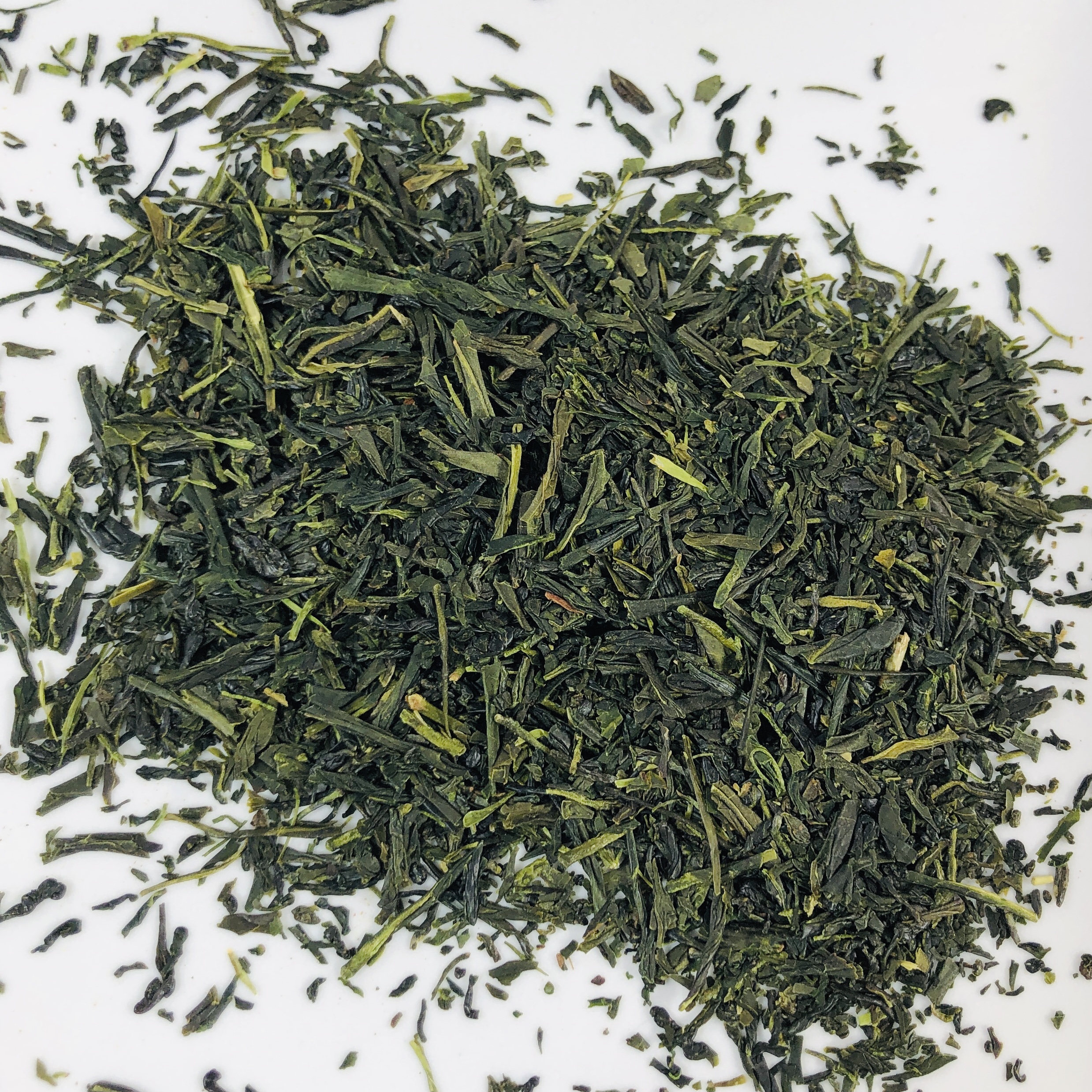 I have tried several different senchas and for me they mostly taste of spinach. This was lighter in flavor than some I have tried and was quite enjoyable. The color was pale green in my cup and I appreciated the aroma once steeped. It was perfect on my palate and in my nose.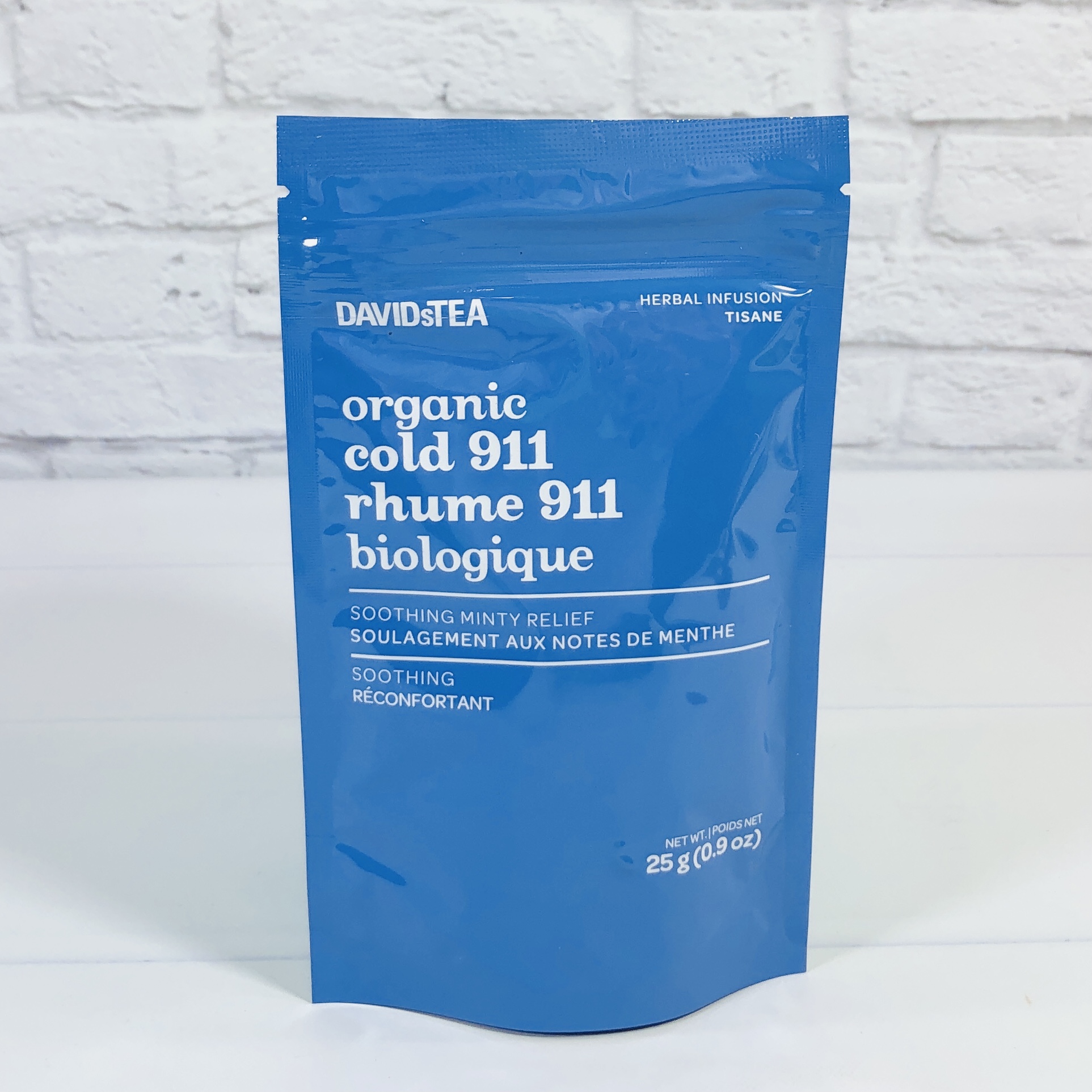 Organic Cold 911 Herbal Tea ($4.94) I thought this cold soothing tea sounded so cool, and it works well for those of us suffering from seasonal allergies.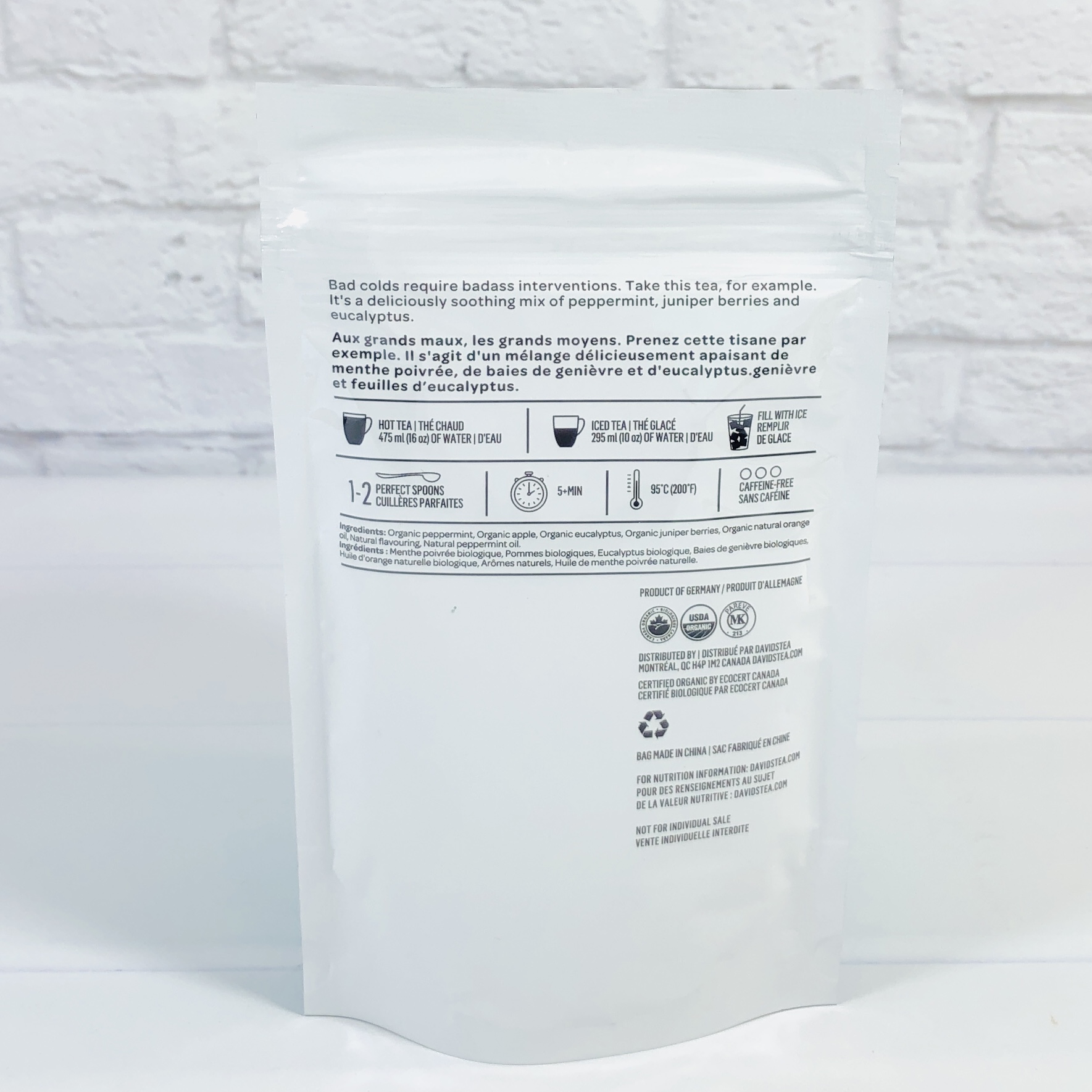 It's caffeine-free and has stuff like eucalyptus and peppermint for opening up those sinuses and providing soothing relief, like Vaporub for your insides.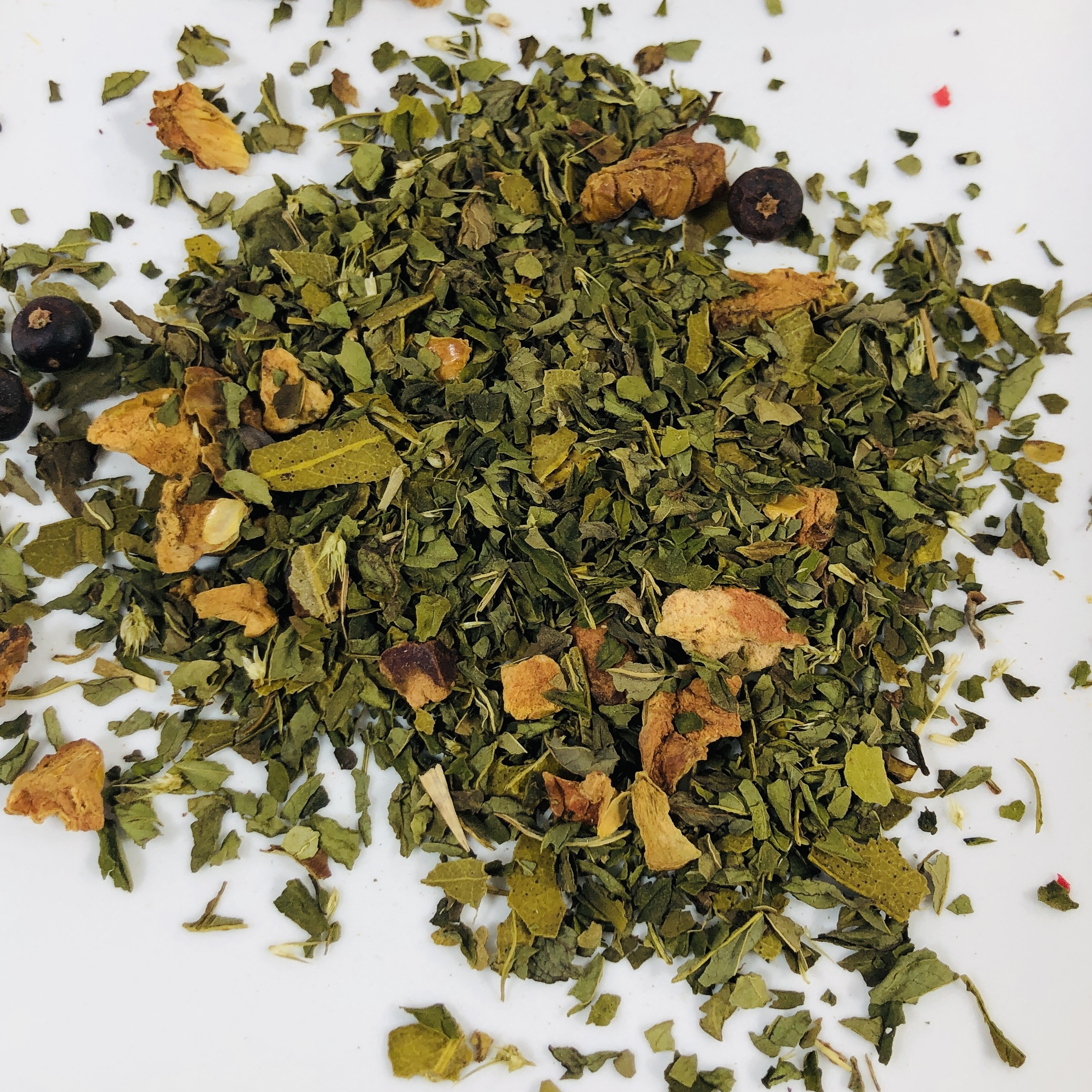 The scent as you open the bag is a little medicinal but once it's steeped it's mainly a peppermint tea and I love peppermint tea. I enjoyed the flavor and added a bit of sugar so it was like drinking a Starlight mint.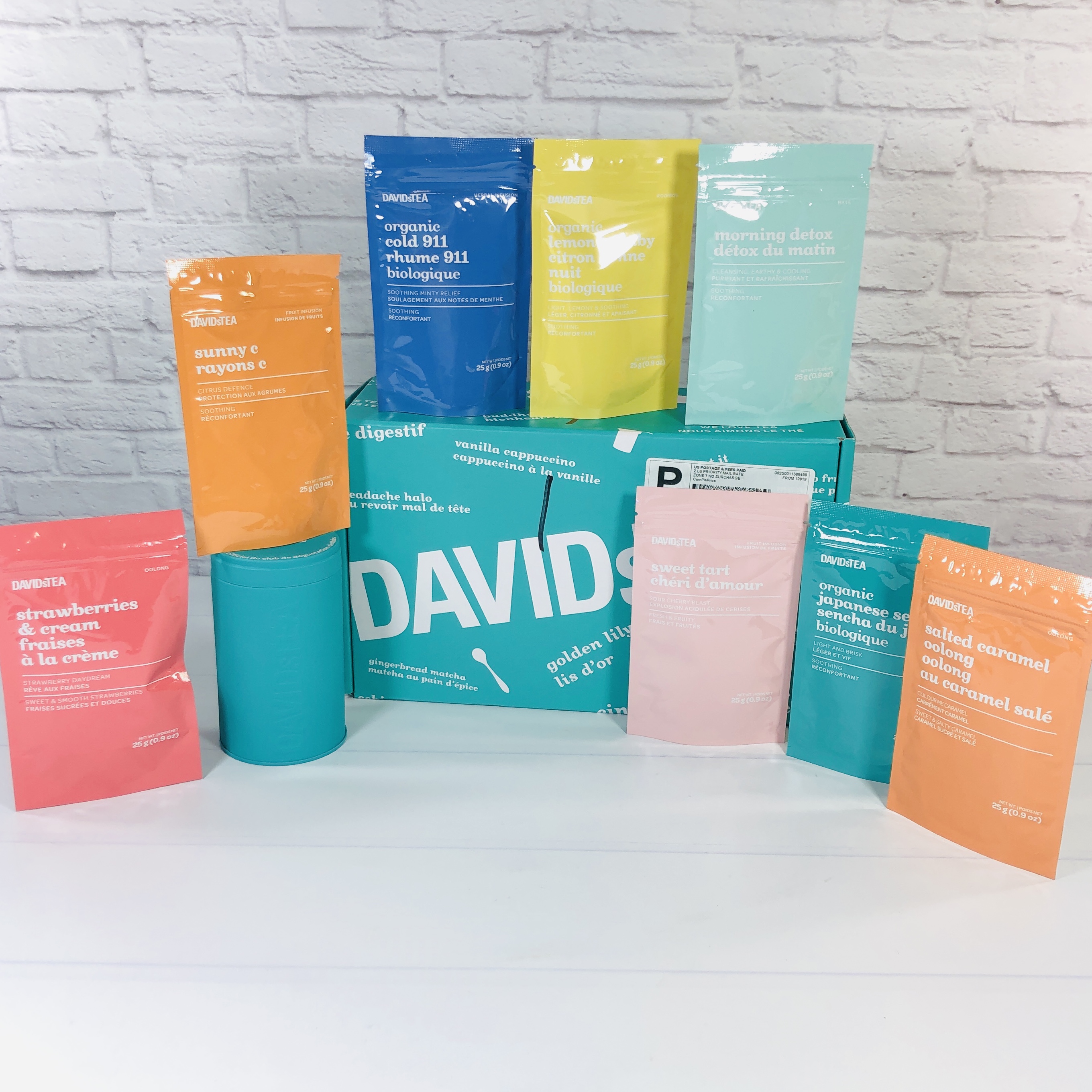 Debbie: I had so much fun discovering these new-to-me teas from DAVIDsTEAS, which also happens to be a new brand for me. I tried 8 different teas that are also different from my everyday teas. I was disappointed to not see a black tea but then again, it was fun to move out of my comfort zone and I ended up liking almost all of them immensely. The flavors were fun, exciting, and just plain good. All but one were available in the online shop. I have joined the online Facebook tea group and have enjoyed being a part of that community. The box will ship every three months and I am already looking forward to the next one to see how this subscription evolves.
Valerie: I knew from the beginning that this box would blow me away, and I was right. I was happy to see some old favourites, some new faces, and the special tea tin was a great touch! It would be awesome if we got a special addon like the tin each quarter, for example a special perfect teaspoon or a metal steeper, something to add to my tea tasting swag collection. This box sent me eight kinds of tea with enough in each bag for around 8-10 cups, which is a really great size! Everything from the packaging to the magazine to the box itself is stylish, simple, and lets the teas shine for how great they are. I would highly recommend this box to anyone who enjoys tea, and if you ever get the chance to visit a DT store make sure you do — it's like a colourful Disneyland for tea.
What do you think of David's Tea Tasting Club?
Visit David's Tea Tasting Club to subscribe or find out more!