Subscription boxes are not limited to just grown-ups. Kids will no longer peek into their parents' subscription boxes and "borrow" goodies they like as there are subscriptions that cater specifically to their varying interests, wants, and needs too! These subscriptions offer an awesome selection of products that will definitely leave smiles on their faces.
Kids love racing to the mailbox to see what's in store for them. These subscription boxes for kids are not just all about toys but learning as well! Some subscriptions provide educational resources like books, while others contain fun and engaging activities kids can spend free time on. There are also subscriptions for their fashion needs, yummy treats for their craving taste buds, and everything in between!
There's a special surprise waiting for kids in the mail. Let them experience the joy of unboxing by giving them subscription boxes they can be happy about! To help you find kid-friendly subscriptions you can give your young ones, we've listed some of the best kids subscription boxes this 2022.
The Best Subscription Boxes That Will Put A Smile On Kids Faces!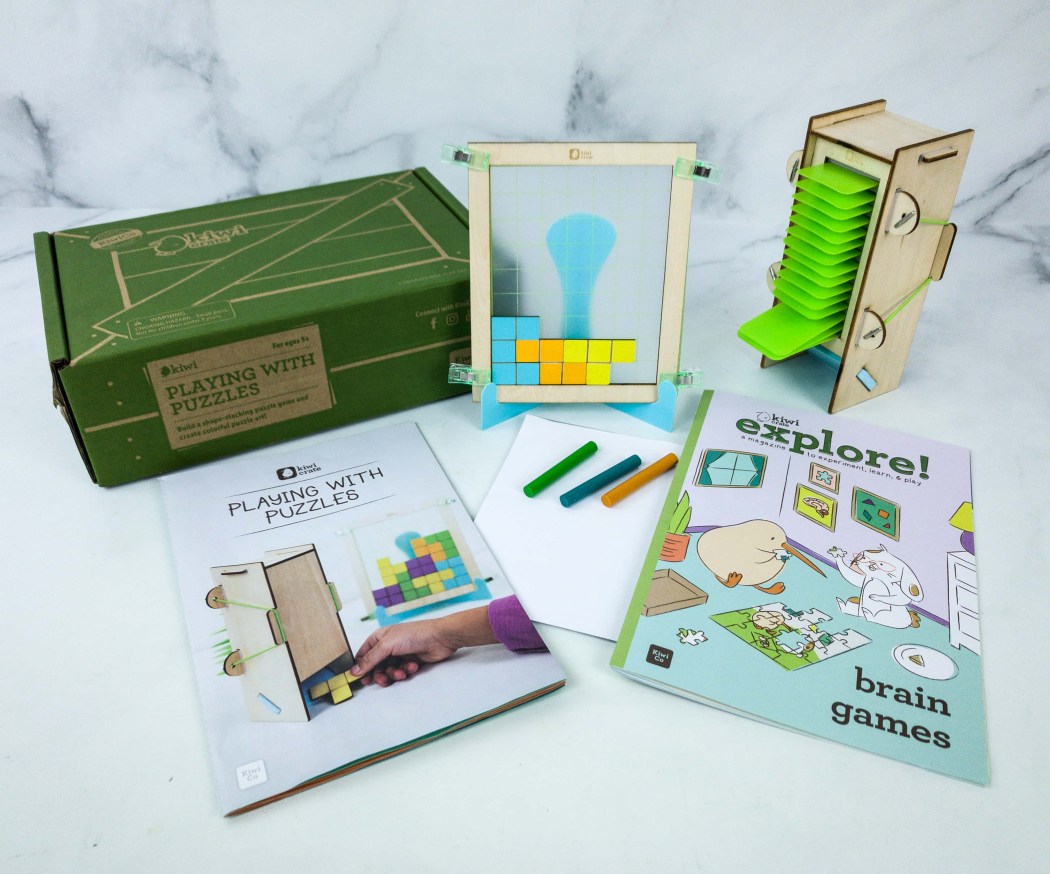 Image from: our review
What You Get: Kiwi Crate by KiwiCo is a kids craft and activity subscription box that delivers arts, science, and engineering projects straight to your front door. It comes with a complete set of materials to finish a project and detailed, easy-to-follow instructions. Sometimes, the projects require parental assistance, making it a great box for a parent-kid bonding activity! Aside from all necessary supplies for the featured activities, each crate also includes an issue of explore! magazine containing comics, experiments, and games! Projects are always age-appropriate, and finished projects are ideal as toys or as playtime props. Kiwi Crate is under KiwiCo Family, and they have more subscriptions for kids like Tinker Crate, Doodle Crate, and Koala Crate.
Check out Kiwi Crate Reviews to know more.
Price: Each box costs $23.95 a month.
Deal: Save 30% on your first month! Use this link to get the deal.
---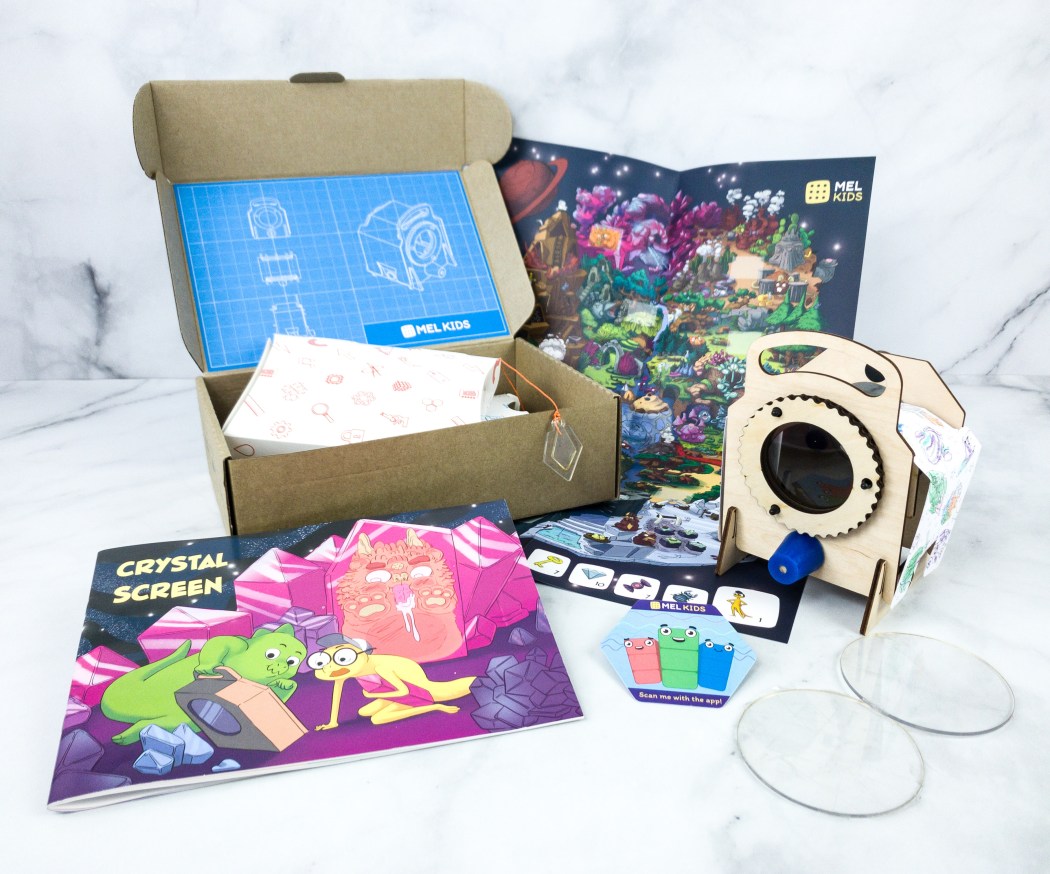 Image from: our review
What You Get: Kids can be the scientist they want to be with MEL Science Kids. They'll receive two or three science experiments each month, making science an interesting topic for them to learn. They deliver boxes containing hands-on STEM projects to help expand your child's horizons. This subscription aims to captivate the interest of children by demonstrating real science in its beauty and depth. Need not worry because the experiments are designed for home use and are completely safe. Each kit includes all the necessary components and instructions to complete a project. It also comes with educational comics and a unique piece of a story that kids can collect. Subscribers are also encouraged to download their own AR app, which can accompany kids in learning the magic of science! MEL Science Kids is just one of the subscriptions from MEL Science – there's also MEL Chemistry, MEL Physics, MEL Med, MEL Professions, and more!
Read MEL Science Kids Reviews to know more about this box!
Price: Each monthly box is $34.90.
Deal: Get 25% off your first month! Use coupon code HELLO25.
---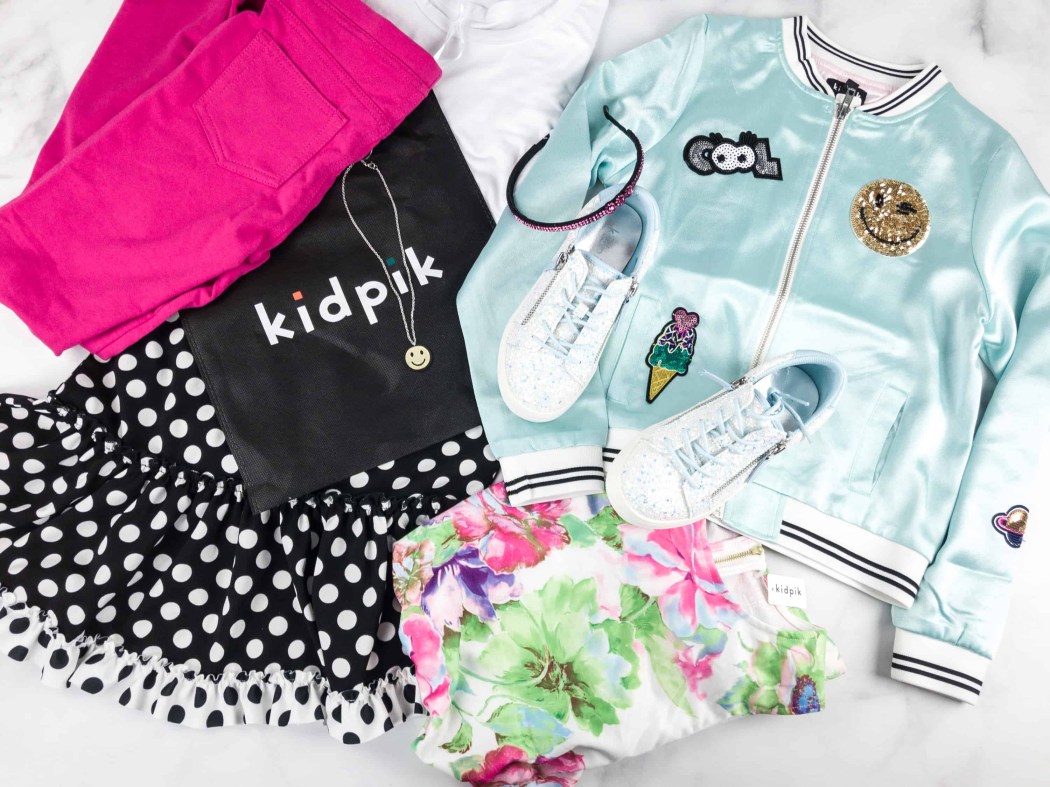 Image from: our review
What You Get: Kidpik is a styling subscription box for girls and boys with sizes 2T-16. It offers no subscription, styling, or even shipping fees but still sends an amazing variety of great quality clothing personalized to a kid's style preferences. Each box includes 7 pieces of clothing, shoes, and accessories kids can try at home, curated by a stylist based on a fun and interactive style quiz. No strings attached! Only pay for what they love and return what they don't within 7 days. Or keep all the items in the box and get a 30% discount!
Visit Kidpik Reviews for more details.
Price: There's a $20 styling fee and the entire box is on average $85. Each item will cost $12.50 if you decide to keep everything.
Deal: Save 50% on your first box when you keep it all! Use coupon code BEWELL50. Plus, FREE Shipping!
---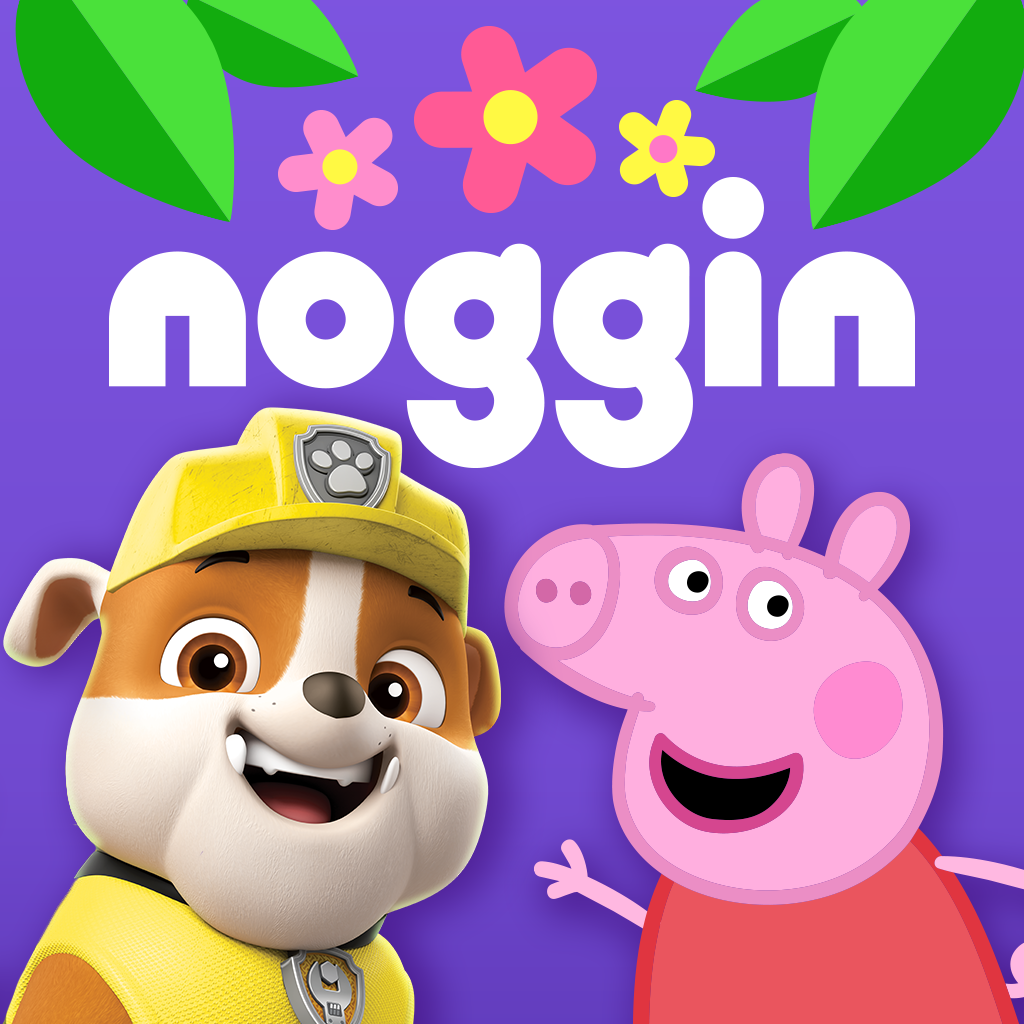 Image from: Noggin
What You Get: Early learning comes easy through Noggin! This fun subscription combines education and entertainment in one place. Designed by curriculum specialists with preschoolers in mind, it gives access to age-appropriate content, including educational games, eBooks, activities, and exclusive shorts! Children ages 2+ can go on a fun learning adventure, exploring math, science, literacy, music, and more! They can even create their own avatar to make the experience more exciting. Plus, it's totally ad-free! Kids can watch full episodes of preschool favorites like Paw Patrol and Peppa Pig uninterrupted.
Price: The subscription costs $7.99 a month!
Deals:
---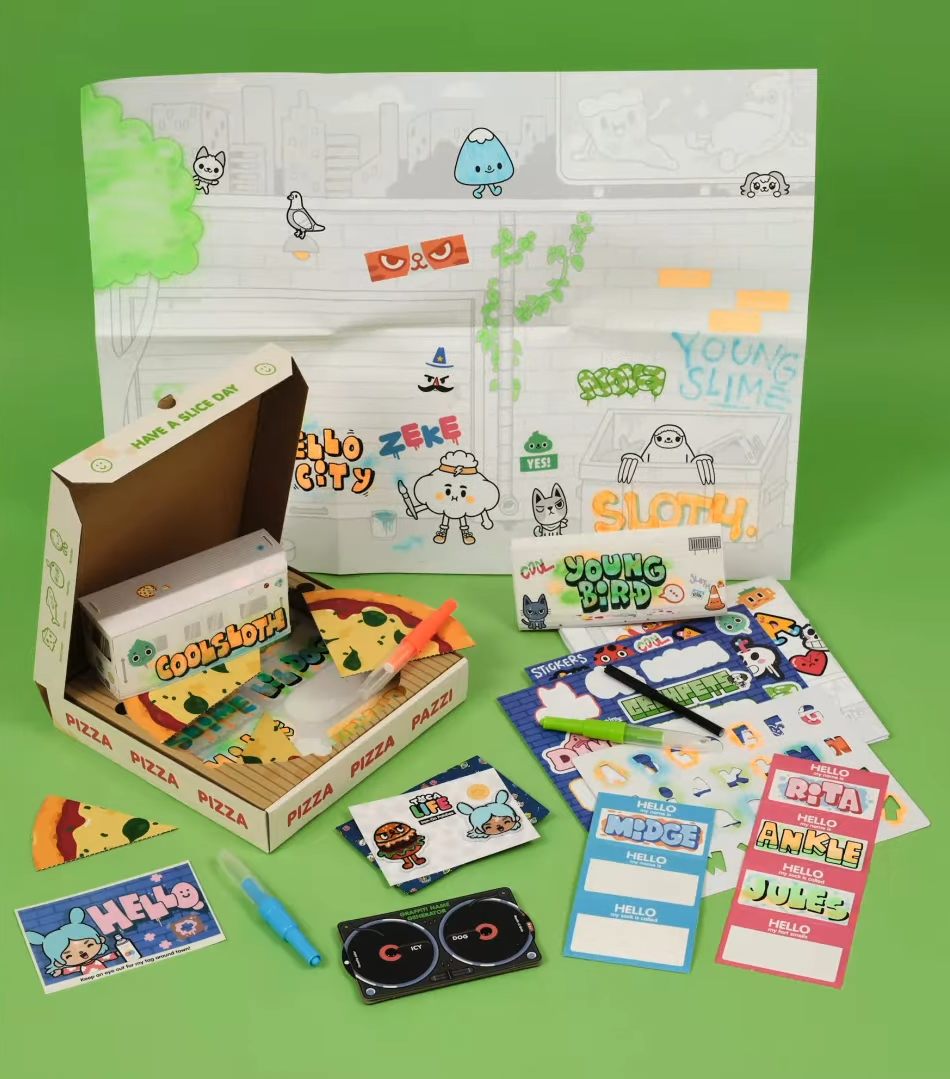 Image from: Toca Life Box
What You Get: Toca Life Box is for fun-loving kids. Young peeps can now have fun indoors with this monthly subscription. It captures the power of play by delivering a box filled to the brim with activities, games, and rare items to spark kids' imagination and catch kids' attention. Themes also vary each month, so kids can have something to look forward to. What's even cooler is that the box is also part of the fun. Kids can create and build their own world of endless enjoyment. No boundaries, just hours of pure fun, independent and imaginative play!
Price: Subscription costs $19 per month and drops to $15 per month when you prepay for a year!
Deal: Get 10% off your first box or entire Annual Plan! Use coupon code TLBAFFILIATE10.
---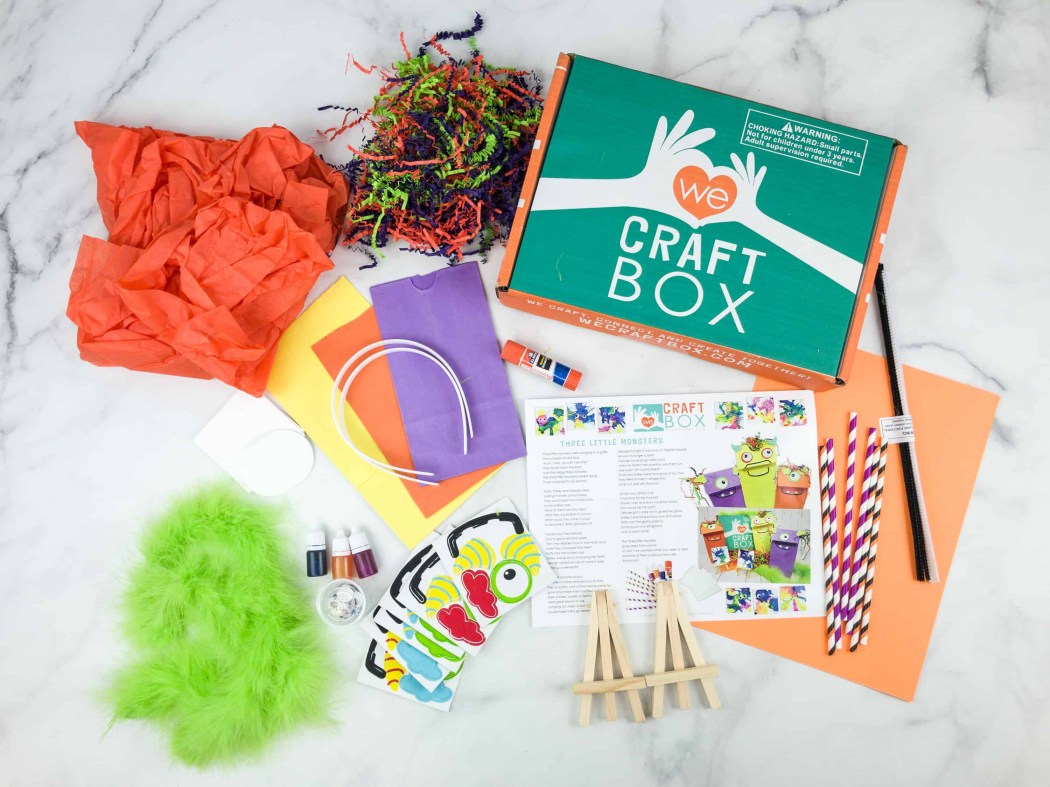 Image from: our review
What You Get: Parents can bond and create fun quality time with kids through We Craft Box. Each box of this cool craft sub for kids comes with a themed story to inspire the kids, and crafts with multiple blanks, so that even parents and siblings can join the fun. All materials are included in the box (except for scissors) with easy-to-follow photo instructions. It is a good choice if you want to practice your kids' creativity and problem-solving skills. Some of the past boxes have featured themes such as dragons, robots, llamas, camping, and more! Have fun creating magical parent-kid moments with this subscription in the comfort of your homes.
Visit We Craft Box Reviews to find out more.
Price: Box cost starts at $29.99 per month and includes free shipping or less with longer plans
Deal: Get $5 off on your first box! Use coupon code HELLO5.
---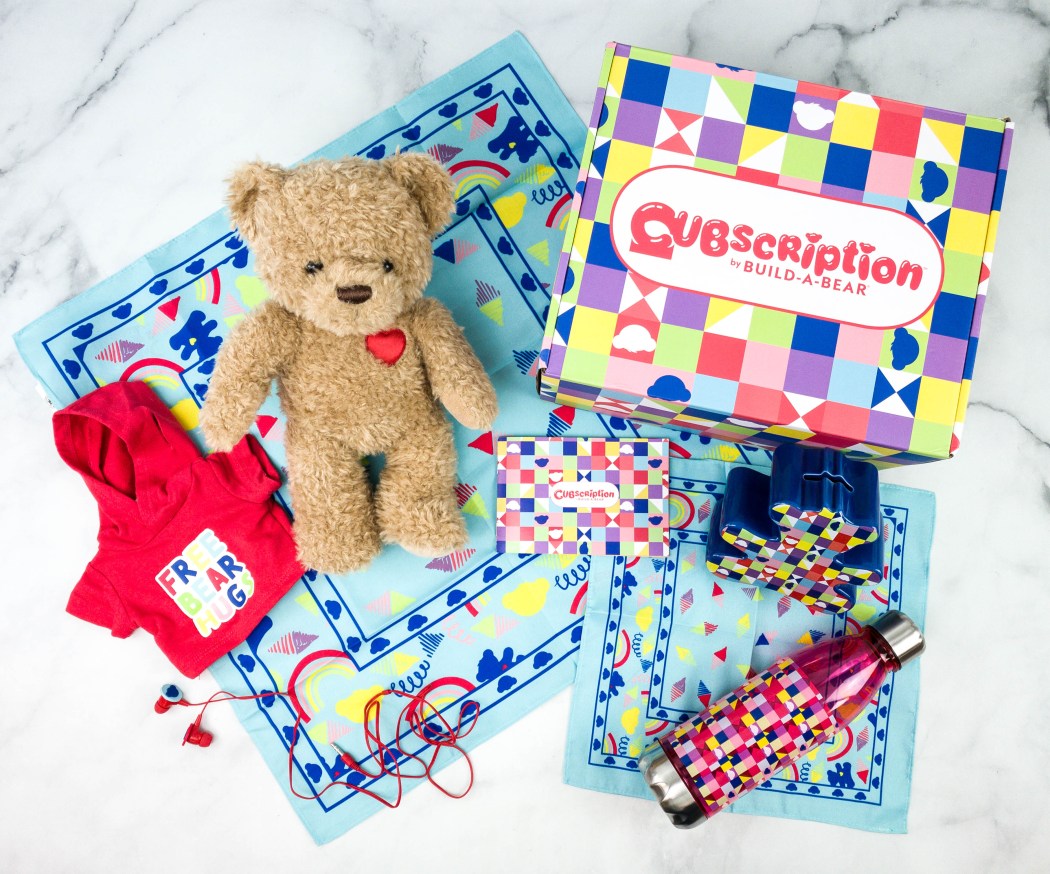 Image from: our review
What You Get: For kids who love stuffed animals, there is Cubscription Box by Build-A-Bear! It's a gender-neutral subscription that delivers a new furry friend for your kid every season. Each themed box comes with 6 to 8 custom-made, exclusive Build-A-Bear items that you can't get in stores or anywhere else! It includes a 12-inch stuffed animal that your kid can dress up, matching apparel and accessories for them both, and more fun extras like tumblers, towels, stickers, and posters. Also, contents vary from season to season, making every package special and fun!
Find out more by visiting Cubscription Box by Build-A-Bear Reviews.
Price: You can get the box for $29.99 per quarter, plus shipping and handling fee.
---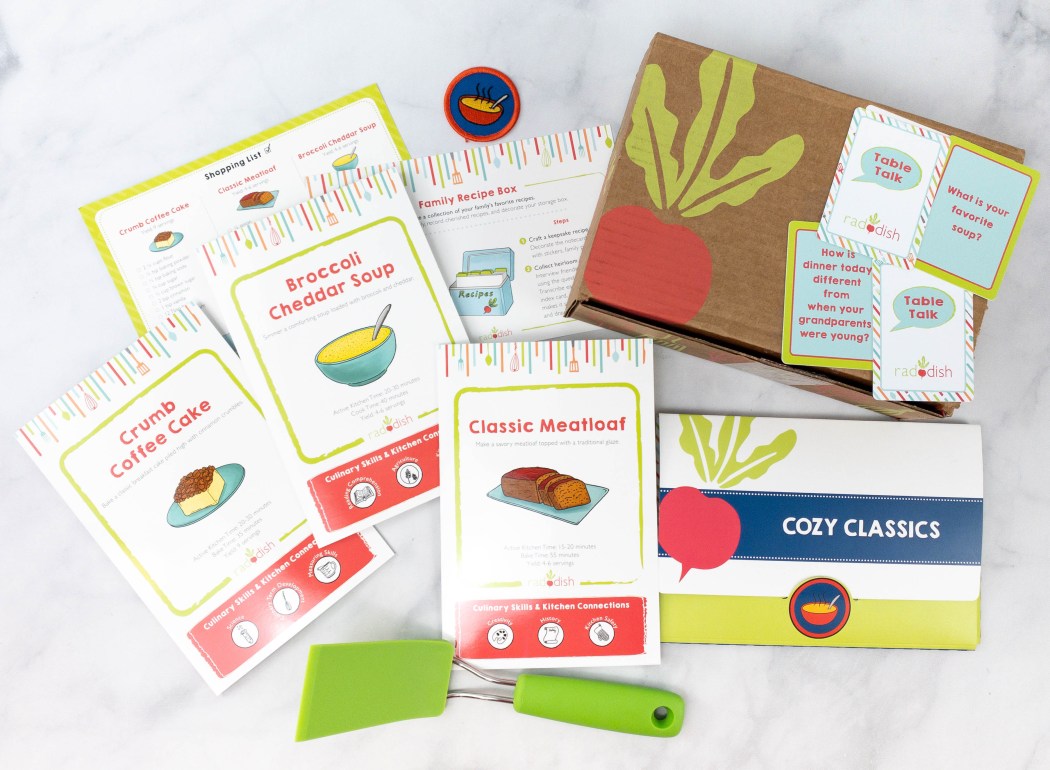 Image from: our review
What You Get: Raddish Kids is a cooking club designed for kids 4-14 and up, aiming to nurture kids' confidence in the kitchen and beyond. Each kit has a theme that falls into one of four categories – Seasonal Spotlights, Global Cuisine, Creative Cookery, and Holiday Celebrations. These monthly kits include 3 illustrated recipe guides, 3 skill cards, a quality & kid-friendly kitchen tool, table talk cards, a complete grocery list, a collectible apron patch, and a creative kitchen project! There's also bonus digital stuff on their website called the Bonus Bites, where you can access a bonus recipe, a Spotify playlist, dietary modifications for the month's recipe, and even download a homeschool lesson plan. Plus, you'll never have the same kit twice – definitely, no repeats!
See what recipes were already featured on Raddish Kids Reviews.
Price: They offer a monthly membership for $24/month, a 6-month membership for an upfront payment of $132 ($22/month), and a 12-month membership for an upfront payment of $240 ($20/month). Receive a free apron in your box when you subscribe to 6 and 12-month memberships,
Deals:
---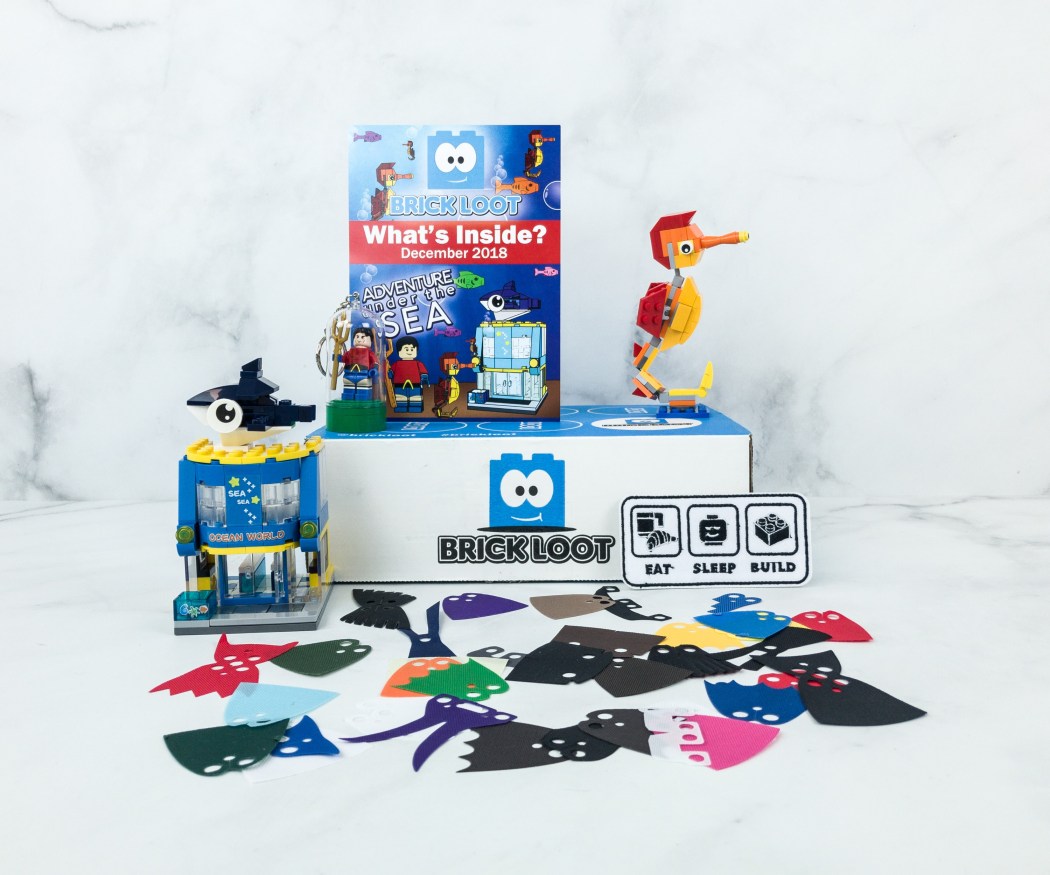 Image from: our review
What You Get: Kids can take their time into building bricks they can play with and display! Brick Loot is a subscription box that caters to all LEGO fanatics. It offers LEGO-compatible items and brick-related products that kids can put together to create wholesome figures and mini buildings inspired by popular franchises! Each box contains 4-8 unique and never-before-seen items, handpicked by brick specialists and LEGO loving team. You'll also receive brick loots exclusive like Minifigures and custom LEGO kits. With this box, you can get your hands on the newest brick items before they hit the market!
Read Brick Loot Reviews to know more about this subscription.
Price: Boxes start at $27 per month.
Deal: Get 15% off on your subscription! Use coupon code Hello15.
---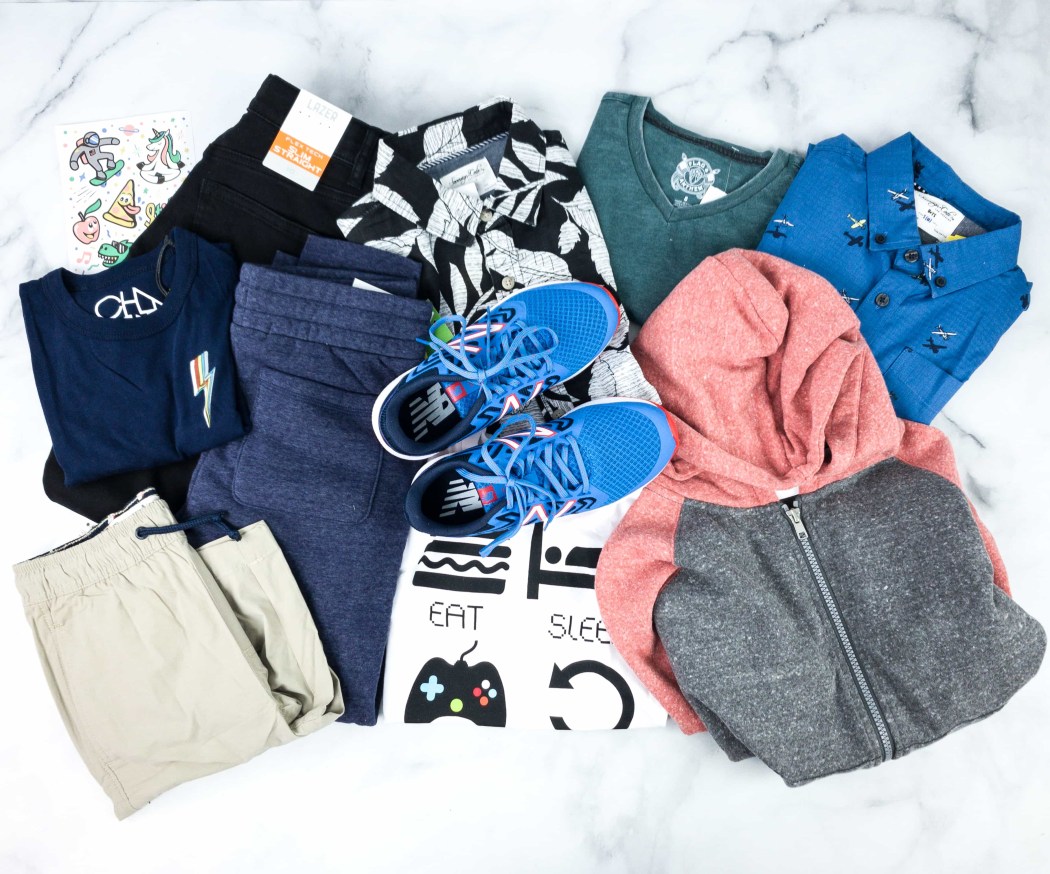 Image from: our review
What You Get: Stitch Fix Kids takes out the hassle from shopping for kids' clothes by sending stylist chosen pieces straight to your door. Catering to sizes 2T to 14, each box contains 8 to 12 items with retail prices ranging from $10 to $35. Subscribers will be asked to share some styling preferences so that the items included will be curated accordingly. Even kids know what they want to wear, so Stitch fix lets them try styles in the comfort of their homes before buying them. Keep what your kids love and return what they don't. If you keep all the items in your box, you will get 25% off the price! Get the best fitting pieces from their exclusive labels and favorite brands such as Adidas, Toms, New balance, and more.
Read Stitch Fix Kids Reviews and see past box contents.
Price: Styling fee is $20 for each box.
---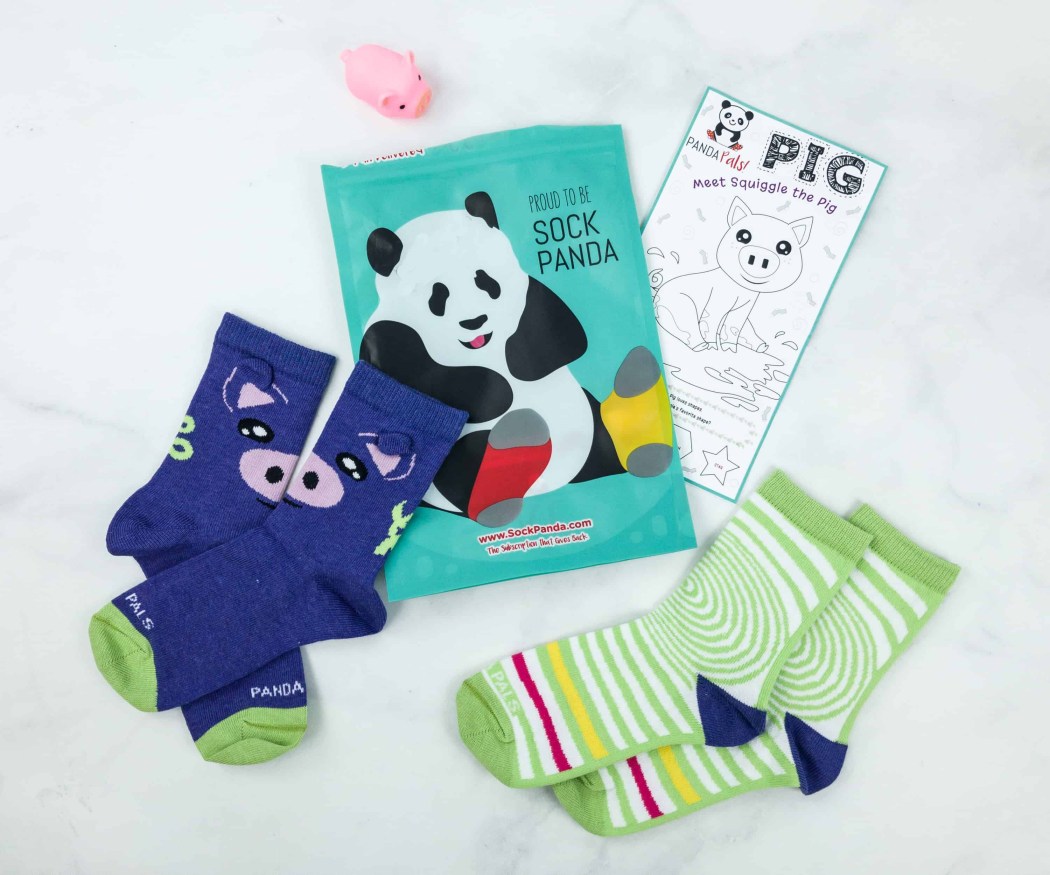 Image from: our review
What You Get: Panda Pals does not just send fun and colorful socks, but they also encourage play and learning by including bonus items like stickers and learning pages in every package! The items come in a pouch instead of a box, and it contains two pairs of cute socks (centered around a theme) kids will be delighted to wear, fun facts, activities, and fun extras. Past themes include Robots, Honeybee, Giraffe, Rainforest, and more! The subscription also gives back to the community by donating socks to those in need with every purchase made.
Check out Panda Pals Reviews for more details.
Price: Subscriptions start at $15 per month.
Deal: Save 10% off a new subscription! Use coupon code PANDA10.
---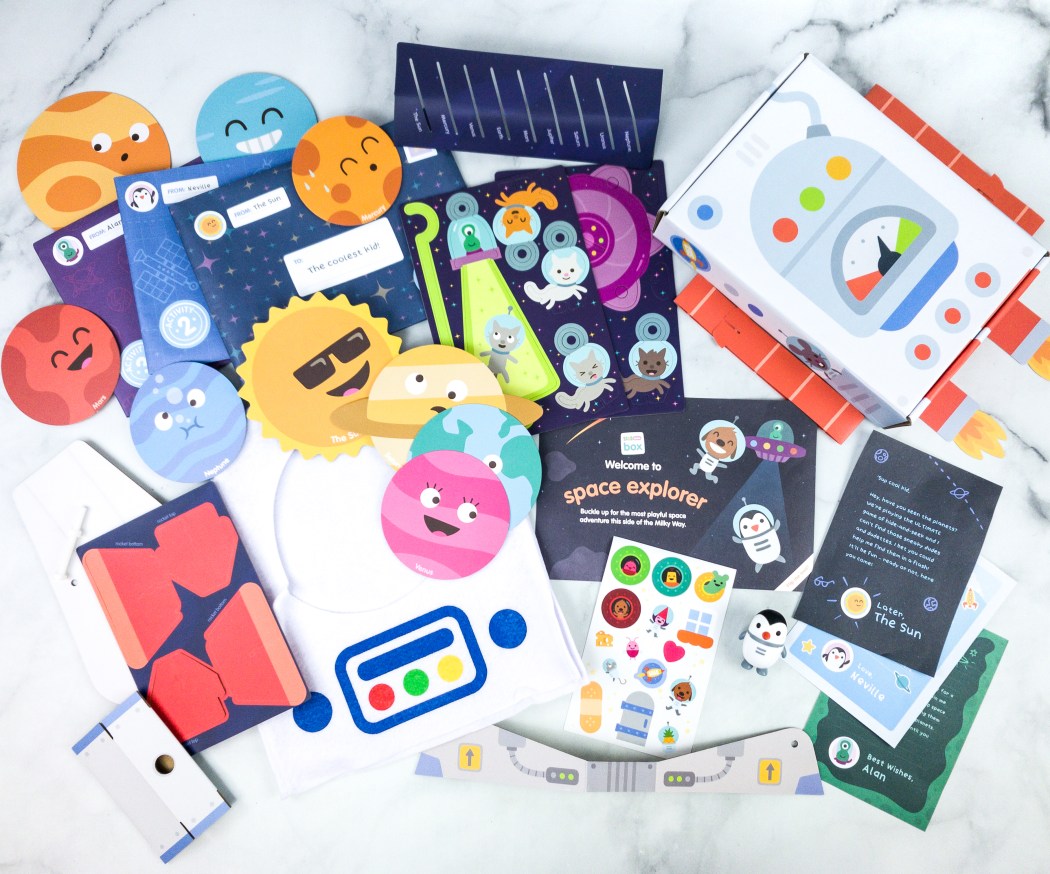 Image from: our review
What You Get: Sago Mini Box is a subscription box that's filled with lots of fun and hands-on activities for kids! This will let your kids enjoy while nurturing their creativity and learning more things around them. Give them toys that will allow their imagination to take them into places. Each box revolves around a fun theme empowering young minds, and it includes a Sago Mini collectible figurine, a set of kid-friendly activities, and a shipping box that transforms! This box is perfect for kids ages 3-5. Not only do kids learn, but it's also an excellent way for parents to bond with their kids.
Visit Sago Mini Box Reviews to see past box contents.
Price: The box costs $19 plus shipping, Or save up to $48 when you subscribe annually.
Deal: Get your first box for $10! Use coupon code SMBOX10.
---
Image from: our review
What You Get: For young kids aged 5-9, Sensory TheraPLAY Box delivers sensory toys curated by a pediatric occupational therapist. This monthly subscription aims to help every child with autism, those with sensory processing disorders, and those who suffer from ADHD, anxiety, and behavioral issues. Engage your child in a fun playtime to help them develop sensory-motor skills, stimulate senses, and manage anxiety. Each box contains 5-6 high-quality developmental items like textured tactile toys, unique stress balls, light-up toys, and more! It also comes with a description card listing the common therapeutic uses of each toy.
Learn more by checking out Sensory TheraPLAY Box Reviews.
Price: Each box costs $40.95 per month or less on prepaid plans.
Deal: Get 10% off your first box! Use coupon code WELCOME.
---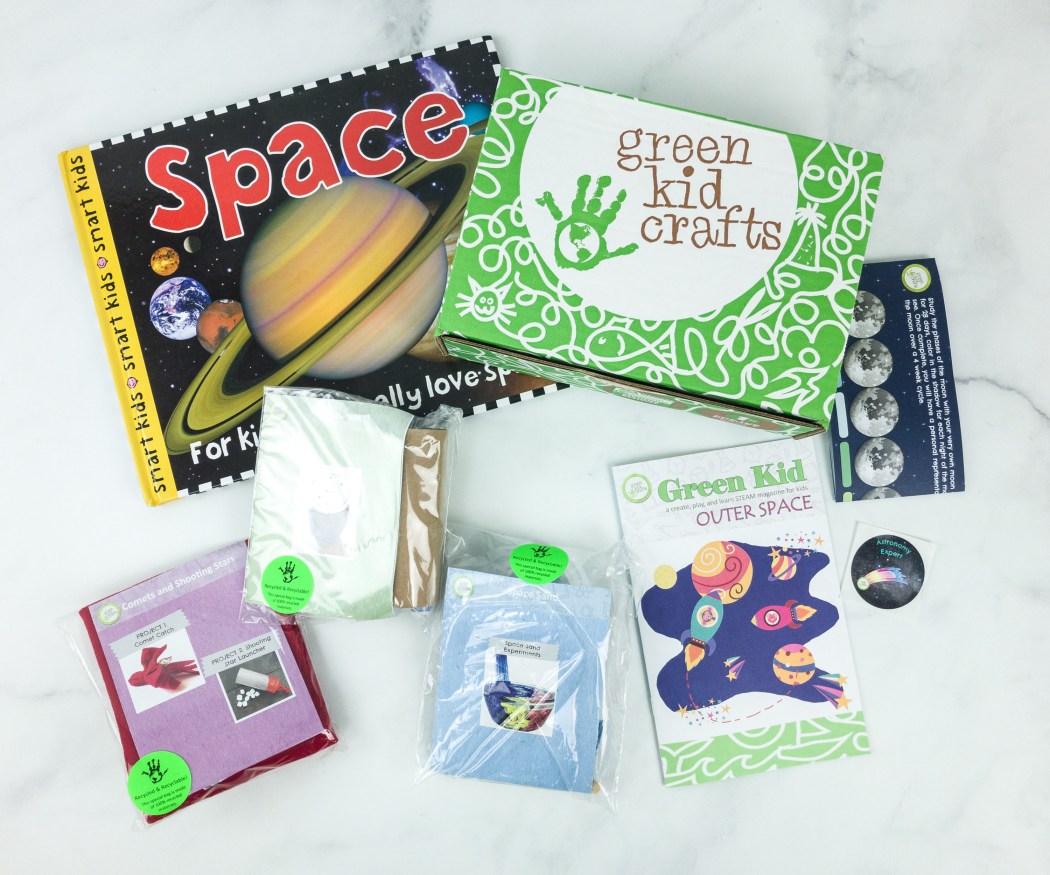 Image from: our review
What You Get: Green Kid Crafts is a subscription prioritizing educational fun and the environment simultaneously. It offers hands-on explorations in science, math, technology, engineering, and art that are intended to challenge children from 2-10+ years of age in one sustainably focused themed box! Each green box is packed with up to 6 unique and engaging STEAM activities, plus a 12-page STEAM activity magazine and achievement badges designed to foster a child's creativity while helping to raise the nation's next generation of creative leaders! Junior Boxes are perfect for kids ages 2-4; Discovery Boxes are sent to kids 5-10+. They also always keep up with their mission by using green & eco-friendly material in every package. What's even great is they plant a tree for every online order made.
Learn more when you visit Green Kid Crafts Reviews.
Price: Junior Discovery Box and Discovery Box Subscription starts at $24.95 per month. While Sibling Box Subscription starts at $44.95.
Deal: Save 50% on your first box! Use coupon code HELLOSUB50.
---
Image from: our review
What You Get: Empowering and inspirational, that's what Girls Can! Crate is all about. It introduces girls to a fearless female role model and encourages them to be future world changers. They celebrate women each month by featuring different heroines while promoting that girls can do whatever they set their minds to. Choose from The Original Box or Mini-Mailer, which is the smaller version of the regular. Each box includes a story and activity book telling a heroine's story, hands-on STEM & art activities, a collectible button, monthly tips and strategies for parents raising fearless girls, and more. And if there's more than 1 kid in your home, the Crate for Multiple Children includes everything for them to share!
Learn more by visiting Girls Can! Crate Reviews.
Price: Crates for a single child start at $32.95 while crates for multiple children start at $41.95 with up to $60 savings for longer plans!
Deal: Get 15% off your first crate in any subscription. Use coupon code HELLO15.
---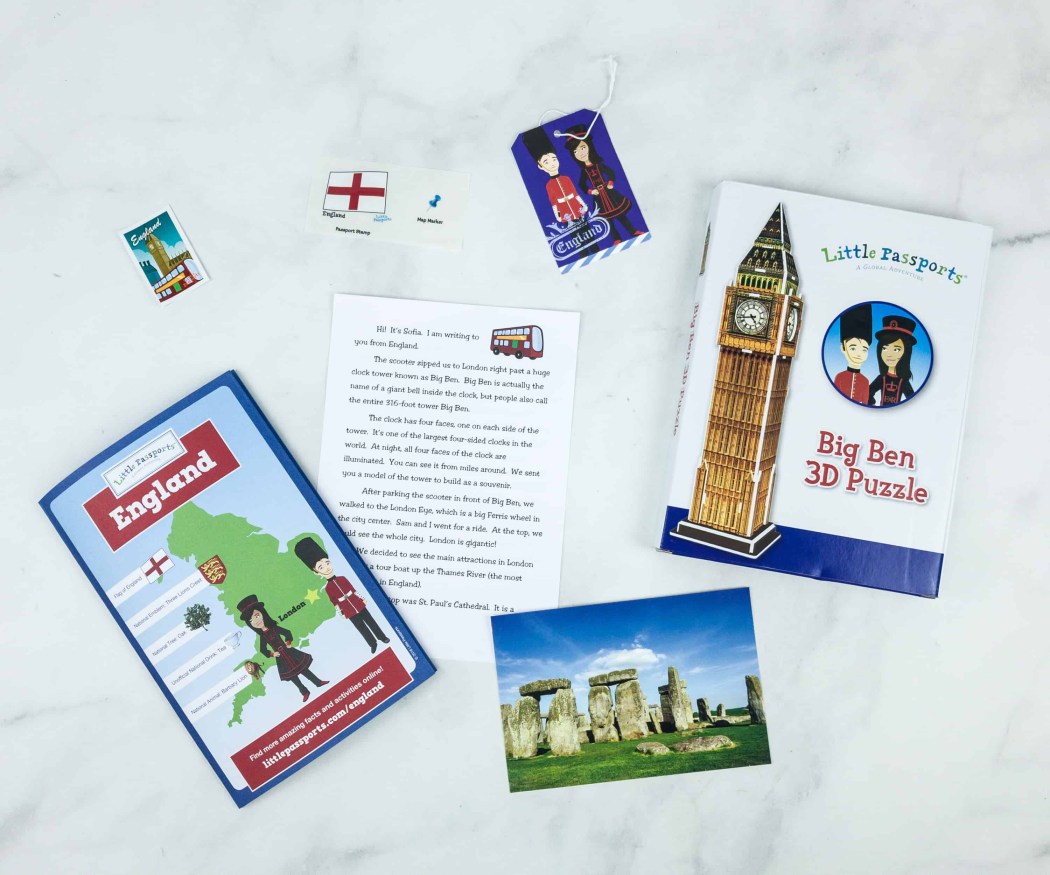 Image from: our review
What You Get: Learning about different countries through fun activities is what Little Passports World Edition is all about. This box is designed for 6-10 years old kids who want to explore the world, one country at a time! They will learn about the geography and culture of the world as the box delivers fun activities, kids' very own passport, a wall-sized world map, and more fun items that the kids can also play with, all contained in a signature blue suitcase. Kids can also get access to country-themed online content for additional knowledge. Through this subscription from the Little Passports Family, you can quench your child's thirst for learning about different cultures. Other Little Passports subscriptions to try are Animals Wild, Early Explorers, USA Edition, Science Junior, and Science Expeditions.
Head on to Little Passports World Edition Reviews to see past box contents.
Price: The box costs $18.95 per month.
---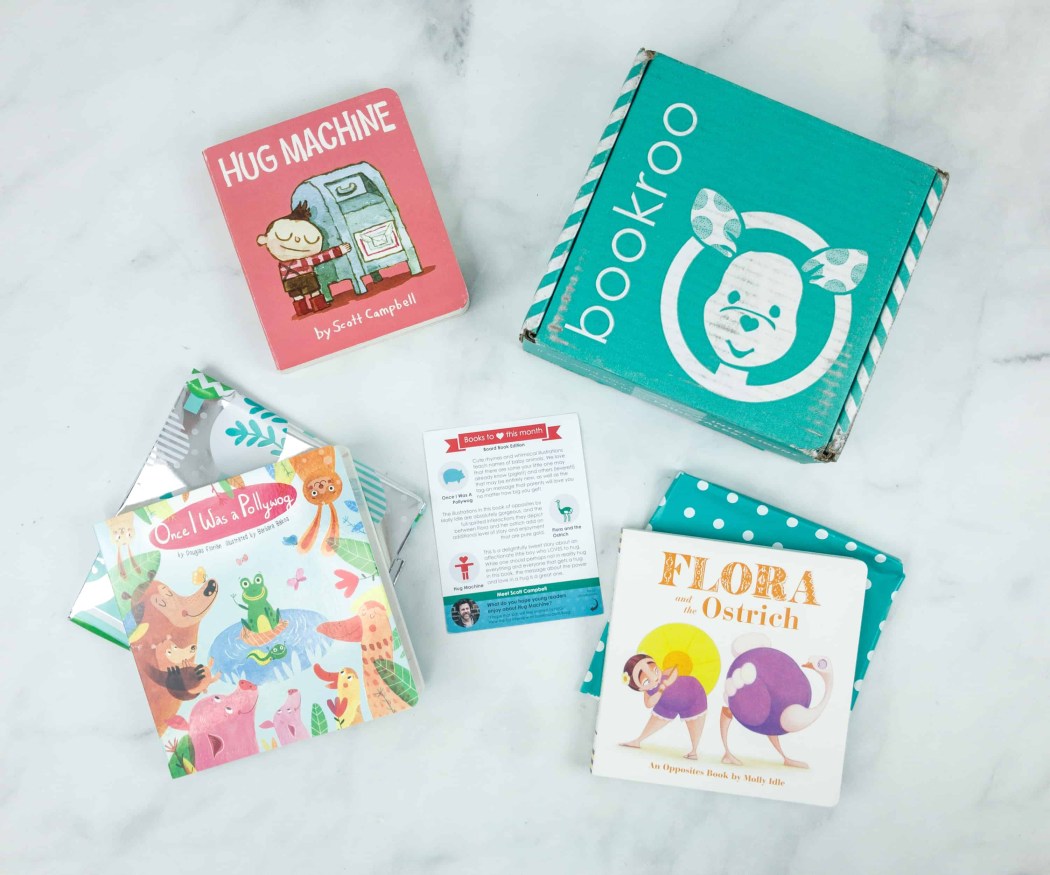 Image from: our review
What You Get: Bookroo helps you nurture your kid's love for reading at a young age by sending quality books straight to your doorstep. Encourage them to spend more time reading books that are appropriate for their age: Board Book Club (ages 0-3), Picture Book Club (ages 3-6), Junior Chapter Book Club (ages 7-10), and Middle Grade Chapter Book Club (ages 9-12). Building a home library filled with an amazing selection of books has been made easy as they offer good reads that are up to 50% less than retail price. They've explored every place and every corner and spent lots of time in online research to give every parent and kid the best read-aloud titles. Along with the books is an insert highlighting the book and exclusive details.
Browse Bookroo Reviews for more information.
Price: Monthly boxes start at $19.95 per month.
Deal: Get 15% off on any subscription! Use coupon code HELLOBOOKROO. Gift Subscription not included. Cannot be combined with any other offers.
---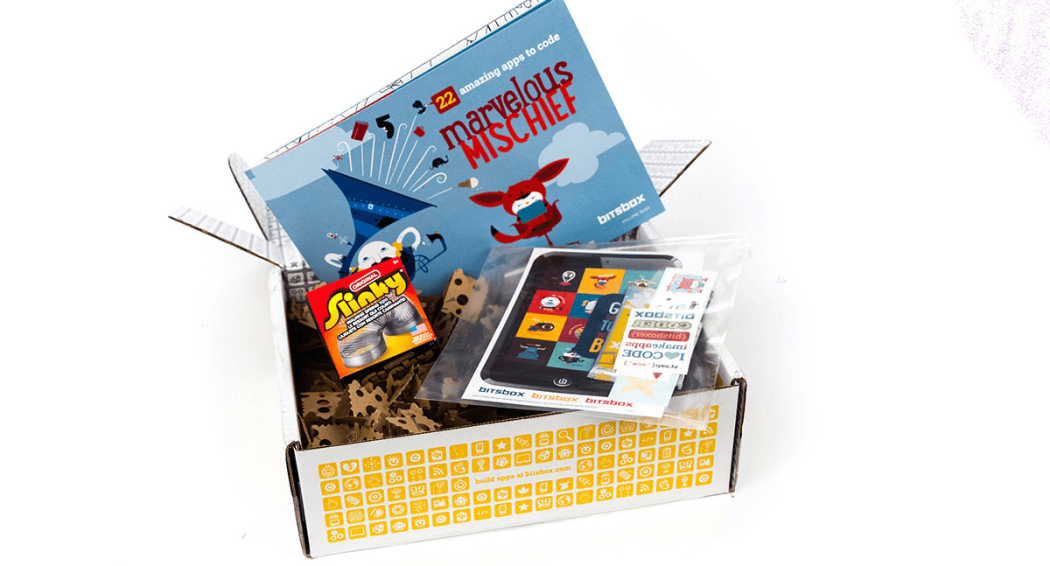 Image from: Bitsbox
What You Get: Bitsbox is what every techy kid needs! Feed their minds with a crazy and fun activity that will keep them busy for hours. This subscription introduces the art of coding to kids ages 6-12 years old. Kids will learn how to code their own apps, and these would work on any mobile device. Each box presents new concepts every month along with some fun goodies. Subscribers can choose between a monthly digital subscription or an entire physical subscription – Basic Bitsbox or Deluxe Bitsbox. If you opt for a physical box, it will include an entire activity book, app trading cards, repositionable stickers, temporary tattoos, mystery toys, and of course, the teachings for the kids to learn how to code.
Read Bitsbox Reviews to know more about how this subscription works.
Price: Boxes start at $29.95 per month.
Deals:
---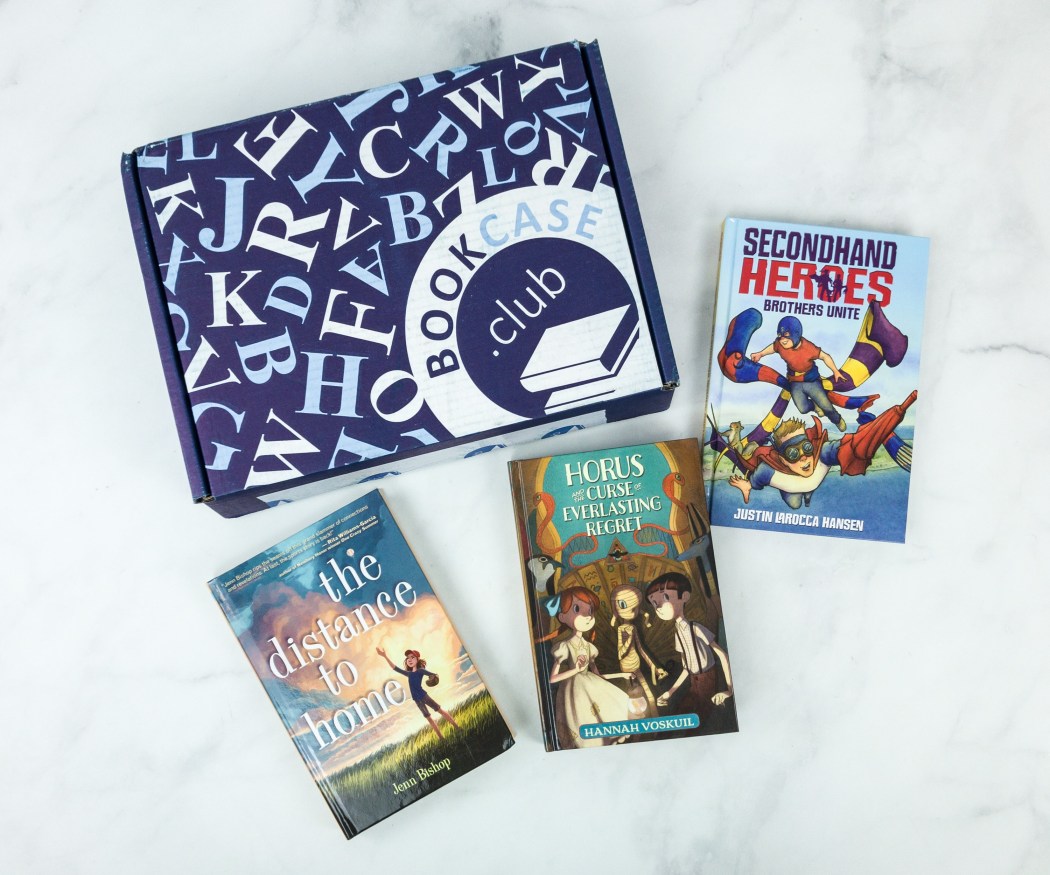 Image from: our review
What You Get: It's a book subscription for children of all ages, so no matter how old your kids are, there's a book for them from this box! Each month, Kids BookCase Club sends out handpicked books that the kids, and even the adults, will love. You can customize the subscription depending on your kid's gender and age range too. Available categories are newborn to 2 years old, 2 to 4 years old, 5 to 6 years old, 7 to 8 years old, and pre-teen. Receive three picture or activity books that are chosen to ignite kids' imagination and inspire creativity.
See the Kids BookCase Club Reviews for more information.
Price: The monthly subscription costs $12.99, Bi-Monthly – $14.99, 3 Months – $36, 6 Months – $66 and 1 Year – $120 plus $5 per month.
Deals:
---
Image from: our review
What You Get: For kids who love reading, OwlCrate Jr. is the way to go! This subscription caters to young readers, specifically kids ages 8-12 years. It contains a middle-grade book with an exclusive letter and signed bookplate from the author, plus fun and gender-neutral bookish items designed to enhance the kids' reading experience! All items are wrapped in a magical themed package that kids will be excited to unbox! Past themes include Winged Beasts, Home Sweet Home, Epic Quests, Magic in Bloom, and more.
See more on OwlCrate Jr. Reviews.
Price: The box costs $27.99 per month.
Deal: Save 15% off your first subscription! Use coupon code HELLO15.
---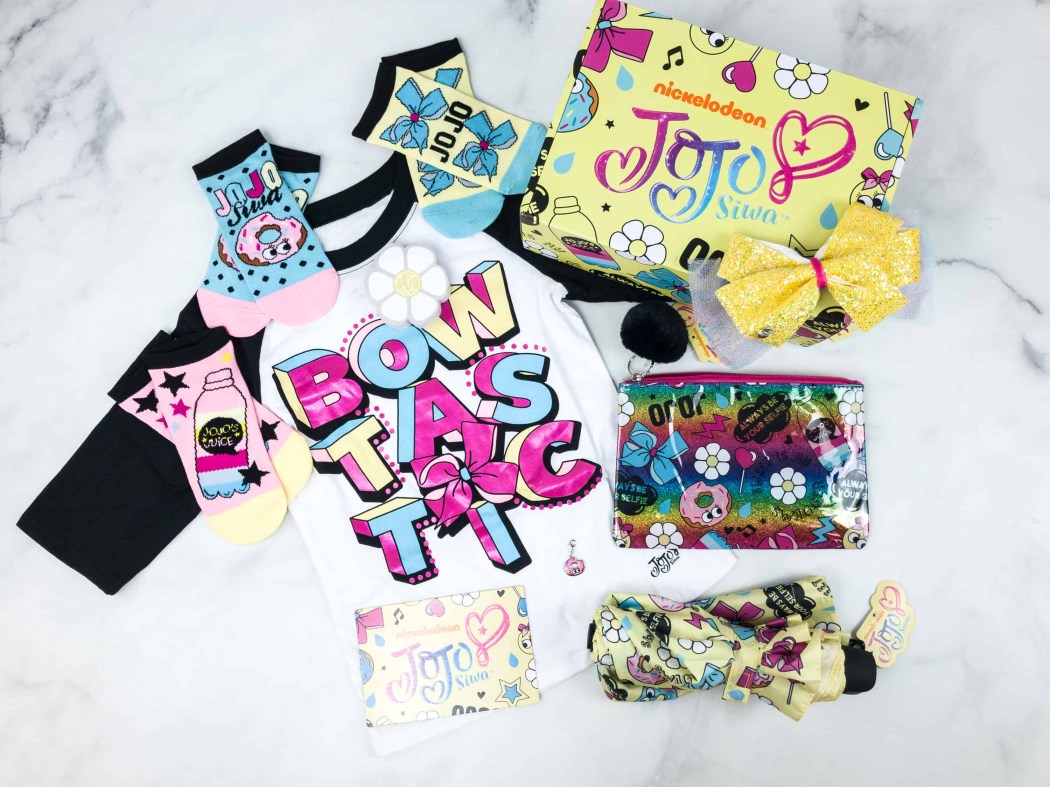 Image from: our review
What You Get: For kids who fangirl with Jojo Siwa – a dancer, singer, actress, and YouTube personality, The JoJo Box is a fun quarterly surprise! With a promised value of over $60, each box contains 100% exclusive trendy and stylish apparel, accessories, and more that'll surely cater to Siwanators of all ages! Some of the past boxes have included Jojo Siwa figures, bracelet charms, pouches, and even wearables.
Look into The JoJo Box Reviews for more information about this box.
Price: The box costs $30 per quarter.
---
And that's everything in our list of the best subscription boxes for kids! Which are you going to try?
If you can't get enough, check out our list of the best subscription boxes for 2022!
Say Hello to More Subscriptions for Kids!