The gift-giving season is just around the corner! This season is another yet good time to spoil and reward not only yourself but your furry buddy as well. Friends and family who adores dogs so much are no exception in this festive moment too! Subscription box gifts for dog lovers make the perfect surprise for any pet lover. Every box is chock-full of dog treats and toys, as well as fun goodies for the deserving pet parent, all of which are dog-themed!
And if you're still looking for delicious treats, new toys, and grooming items to reward your dog and more surprise items for yourself or for the dog momma or poppa you know of, then our list of the best subscription box gifts for dog lovers will guide you! There's no need to rush – everything will be delivered straight to your chosen recipients' door. Stay pawsitive and watch as your pet give it two paws up!
The Best Subscription Box Gifts For The Caring Dog Pawrent!
---
Image from: our review
For: Every affectionate pet we have at home!
Why We Love It: A fully customized box just for your fur best friend? That's possible with BoxDog! This monthly subscription lets you choose 4 items, including treats, toys, clothing, and even skincare. Need not worry because these treats are 100% handmade from the safest ingredients that your pet can't resist munching on! The GIANT Quarterly Box is also an option if you have a tough chewer at home. Want to see boxes for previous months? Check out BoxDog Reviews.
Gift It: Send a BoxDog gift box here.
Price: Monthly BoxDog costs $45, while Quarterly BoxDog costs $50.
Deal: Get a FREE BoxDog box with purchase of any prepaid plan! Use coupon code FREEBOX.
---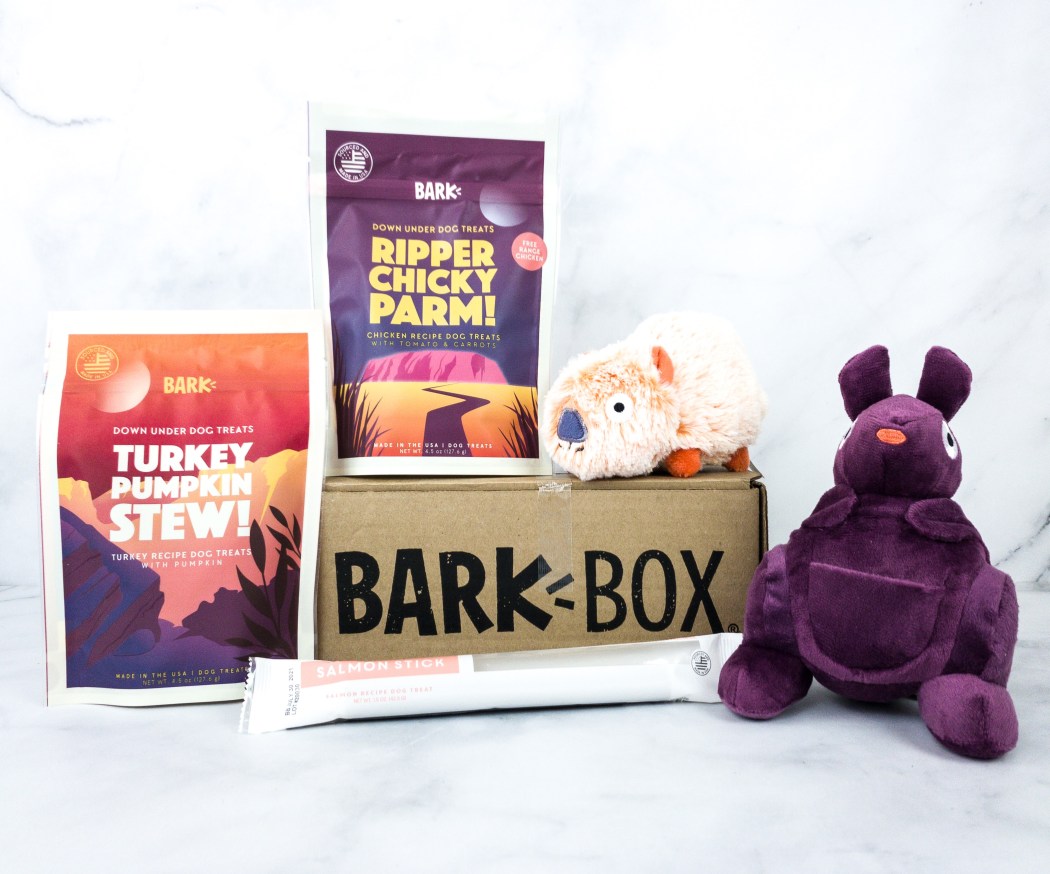 Image from: our review
For: Those loyal fur buddy!
Why We Love It: Caring for those cute furballs requires a careful selection of proper toys and treats that'll work well for their size. Barkbox makes caring for your pooch more pleasurable and exciting than it's already is! Each box comes with a thoughtful selection of 2 proper and innovative toys, 2 bags of all-natural and tasty treats, and a chew, all customized to suit your dog's size and distinct personality. It also comes with a cute theme that you, as an owner, will also love! Past fun themes include Lick or Treat, Podium Pups, Dogsgiving, Dinner Dates, and more. Look at some of the boxes they've previously sent on Barkbox Reviews.
Gift It: Send a BarkBox as a gift!
Price: The monthly plan costs $35, and there are discounts if you subscribe to a longer plan.
Deals:
---
Image from: our review
For: The active dog who's always craving good food!
Why We Love It: Nutritious food choices for dogs made more accessible by The Farmer's Dog. The dog food they send is human-grade, freshly made, and guided by science, all made with your dog's well-being in mind. These meal plans are vet-developed, delivered perfectly in time, so you'll never run out of fresh food to serve your pet! Meals are pre-made and pre-portioned to their calorie needs and contain just the right balance of vitamins and nutrients, so all you have to do is open and serve. Peek at how these foods bring joy to pets by checking out The Farmer's Dog Review.
Gift It: Send The Farmer's Dog box as a gift!
Price: The plan starts costs $17.82 per week. Full-meal pricing will depend on your dog's needs such as age, weight, activity, and more.
Deal: Get 50% off your first purchase! Deal applies automatically, just visit and subscribe.
---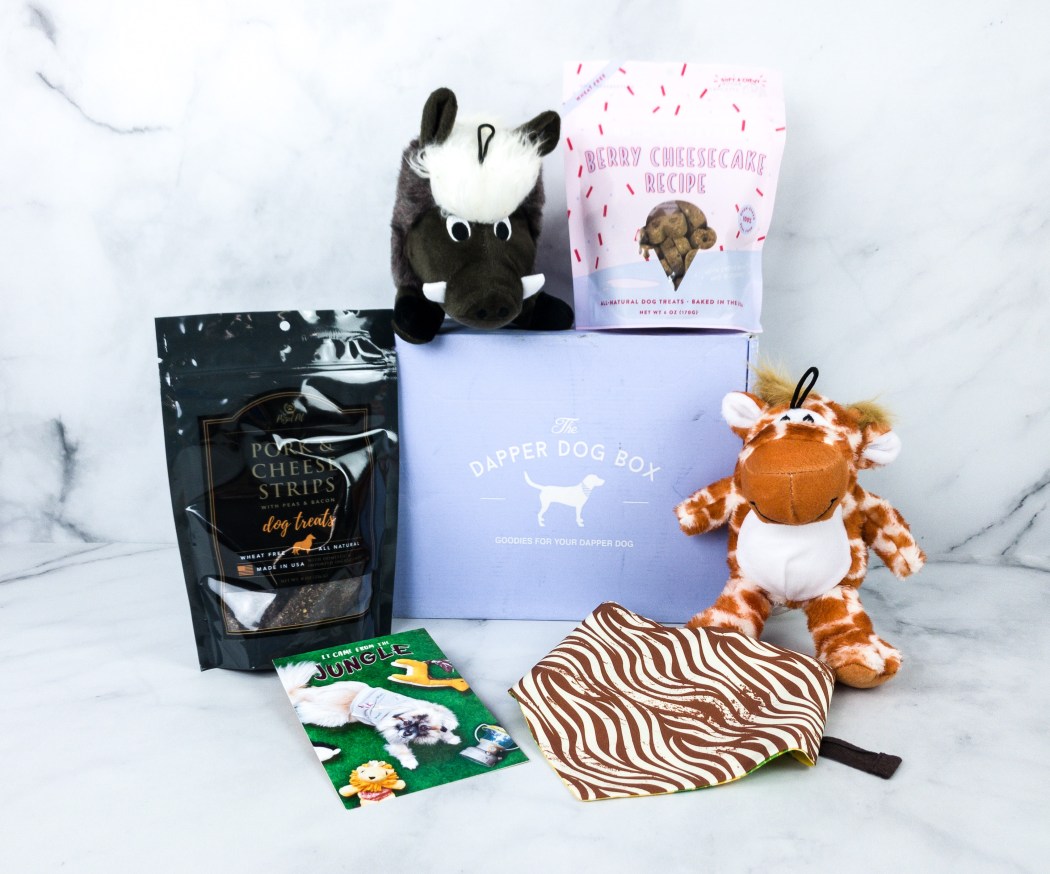 Image from: our review
For: The gentle fur babies!
Why We Love It: The Dapper Dog Box makes your dog dapper by sending organic and natural-made products every month. This subscription conducts a short personalized survey so they can send you and your best fur friend the right products depending on their gender and size, and they even consider your dog's allergies if there are any. Monthly boxes contain 5 full-size items like treats and toys, plus a bandana that will surely make your dog happy, curated around fun themes like Coachella, Happy Howlidays, Southern Charm, and more! Look at how these products work by visiting The Dapper Dog Box Reviews.
Gift It: Send a gift using The Dapper Dog Box gifting page.
Price: The monthly subscription costs $36. Prepay longer plans and save 5%.
Deals:
---
Image from: our review
For: Lovable tandem of dog and dog parent!
Why We Love It: Willie & Roo wants all the best for your furry little friend, and that's why they customize boxes based on your pooch's size, wants, and needs. Each month, your dog will receive a personalized box with a selection of health supplements, healthy treats, and fun toys or chews tailored to your pet's wellness profile. Choose from three box size options available: Small (up to 30 lbs), Medium (between 31-75 lbs), and Large (over 75 lbs). It also includes personalized pet pages with information on every item, special offers, and a surprise gift for you, the proud pet pawrent! Check and learn from previous boxes on Willie & Roo Reviews.
Gift It: Send Willie & Roo as a gift here.
Price: Choose boxes based on your pet's size from three different subscriptions: Small, Medium, and Large Box starts at $34 per month.
Deal: Get 20% off your first 6 months on any dog or cat subscription! Use coupon code HELLOSUB20.
---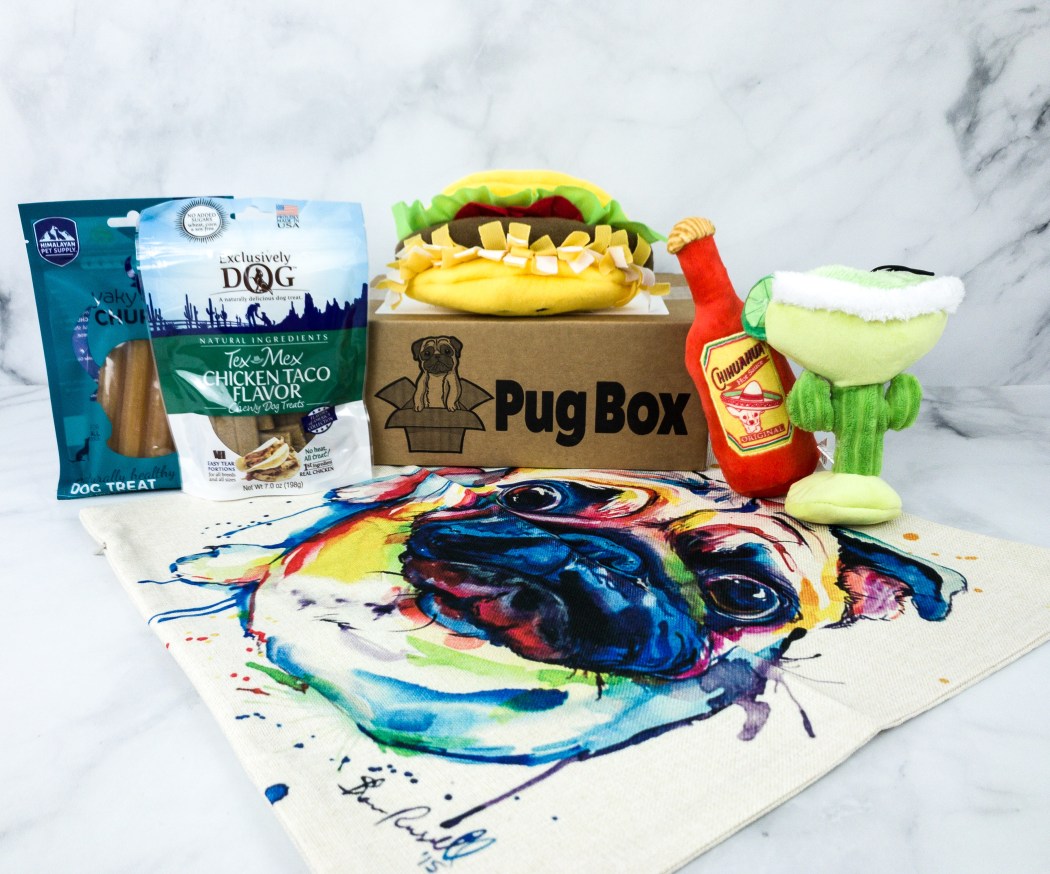 Image from: our review
For: The most clever pugs!
Why We Love It: Pug Box offers items not just for pets but also for the obsessed pet owners. This monthly subscription is designed specifically for clever pugs with surprise items for the deserving pug pawrent. Enjoy 4-7 items in each box – depending on the plan you've chosen, delivered every month to your door. The Pug Box comes with 4-6 items, while the Premium Pug Box has 5-7 items. All you have to do is create a pug profile, and they'll deliver items to match your adorable pug. Receive delicious & healthy treats along with some fun toys for your pet, and there are also cool items for you like notebooks, postcards, and more – all pug-themed! The Pug Box Reviews lets you see items they've previously sent us, so come check it out!
Gift It: Send a gift using the Pug Box gifting page.
Price: The regular Pug Box is priced at $29 a month and contains 4-6 items, while the Premium Pug Box is $38 a month and contains 5-7 items.
Deal: Get $5 off on your first box! Use coupon code HELLO5.
---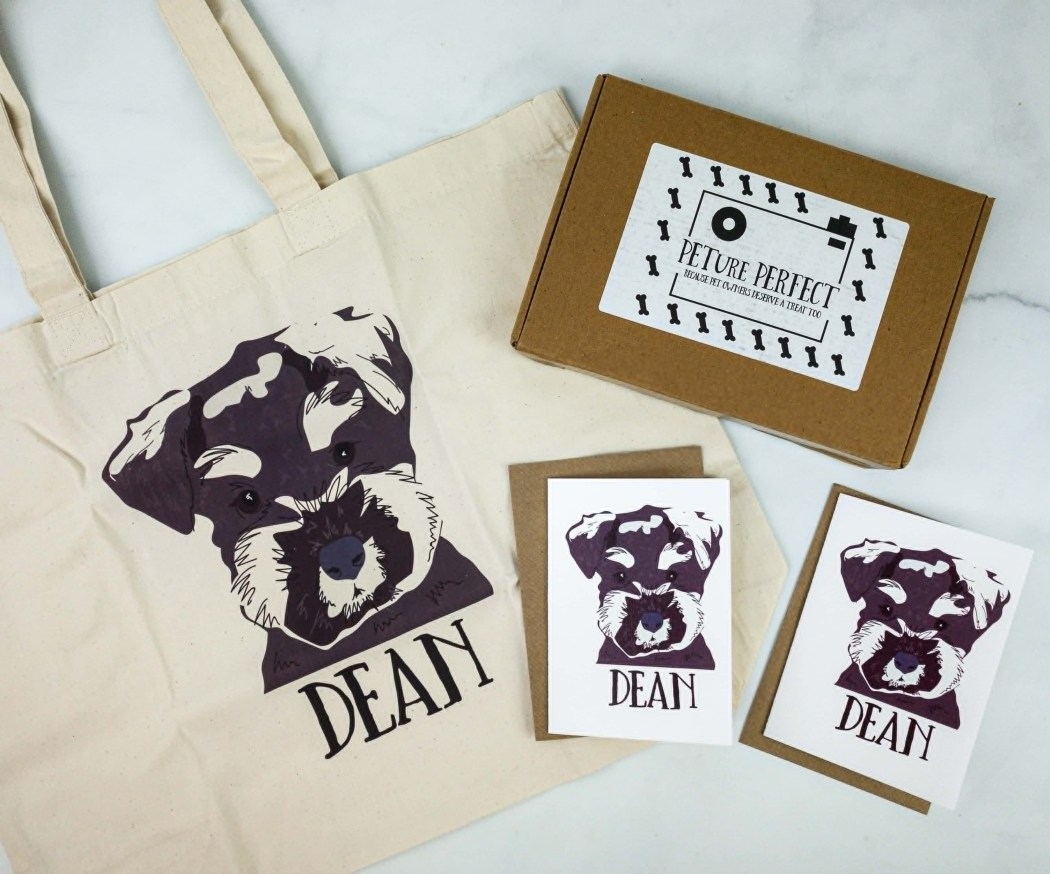 Image from: our review
For: Dog parents who are always obsessed with their pets!
Why We Love It: Who wouldn't love a box of goodies personalized with your pet's photo? If you can't get enough of your fur baby, then PETure Perfect is the best option for you! Each box comes with wonderful goodies like mugs, notebooks, coasters, tote bags, pet treats recipes, and more. Use your own pet photos with Photo Club or receive items with hand-drawn illustrations of your beloved pet when you subscribe to Pawtrait Club. FYI, all illustrations are personally created by experienced artists! See how cute and lovable these goodies are when you visit PETure Perfect Reviews.
Gift It: Here's PETure Perfect gifting page.
Price: The Photo Club costs $13.99/month and the Pawtrait Club costs $28.99/month.
Deal: Get $20 off any PETure Perfect box! Use coupon code HELLO20.
---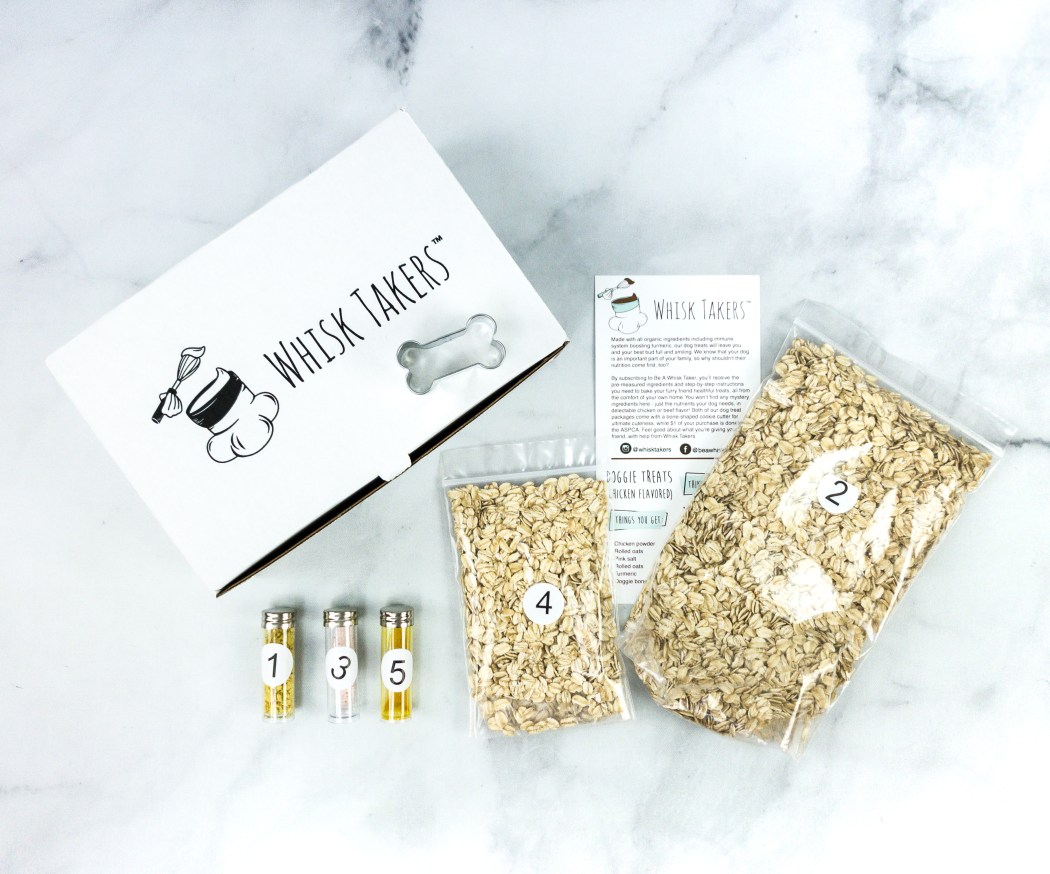 Image from: our review
For: Pet parents who want to home bake treats for their dog!
Why We Love It: Barkery by WhiskTakers is a monthly subscription offering a DIY dog treat kit, allowing you to create a tasty and homemade treat for your loyal fur buddy! Every month, they'll send you a box with everything you need to mix and bake the perfect treat your dog will surely gush over with! Each box includes pre-measured ingredients like chicken or beef powder, rolled oats, pink salt, and turmeric, and step-by-step instructions to make sure you're doing it right. FYI, all ingredients are 100% gluten-free and organic. All you need is 1 egg and water. Follow the recipe and let your pet enjoy the treat you made for him! Go through Barkery by WhiskTakers Reviews for more information about the subscription.
Gift It: Send a Barkery by WhiskTakers as a gift here.
Price: Make homemade treats for your dogs every month for $15.99 a month.
Deal: Get 10% off your first purchase! Use coupon code hello10.
---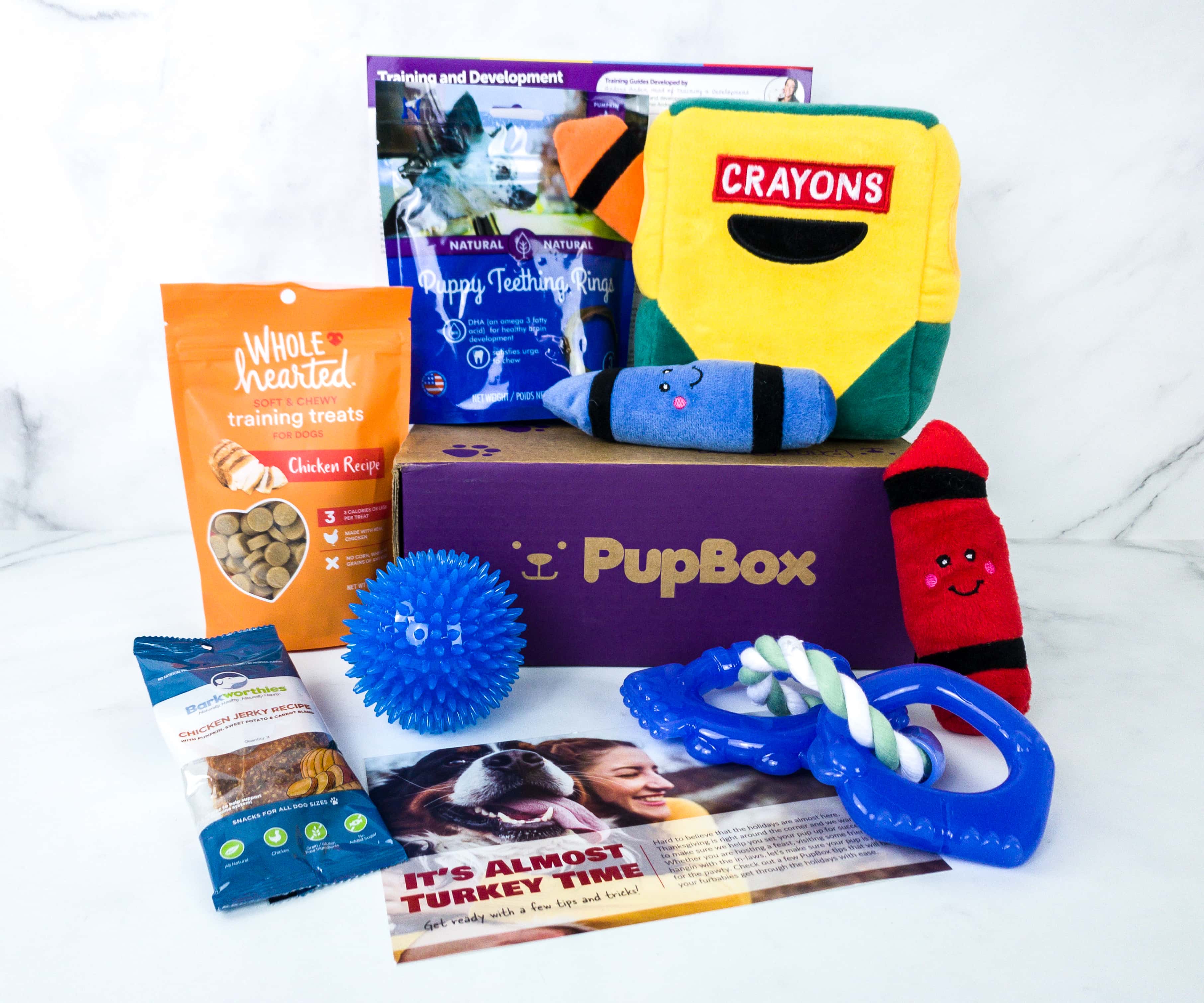 Image from: our review
For: People who are raising a happy puppy!
Why We Love It: PupBox sends items tailored to – you guessed it – puppies! This subscription is an excellent choice for new pet parents because it includes an assortment of useful treats, toys, bones, and accessories for little dogs. All items are puppy-tested and puppy-approved, and they even provide useful training info! Each box includes 1 bag of training treats and 4-6 additional products based on your puppy's age and physical characteristics. And if you have an adult dog, you can avail of a non-age-specific box that comes with an advanced trick every month! Visit PupBox Reviews to see previous boxes.
Gift It: Send this box as a gift!
Price: A monthly subscription costs $39, save more for longer subscriptions!
Deal: Get 50% off your first box with 3+ month plans! Use coupon code HELLOSUB50.
---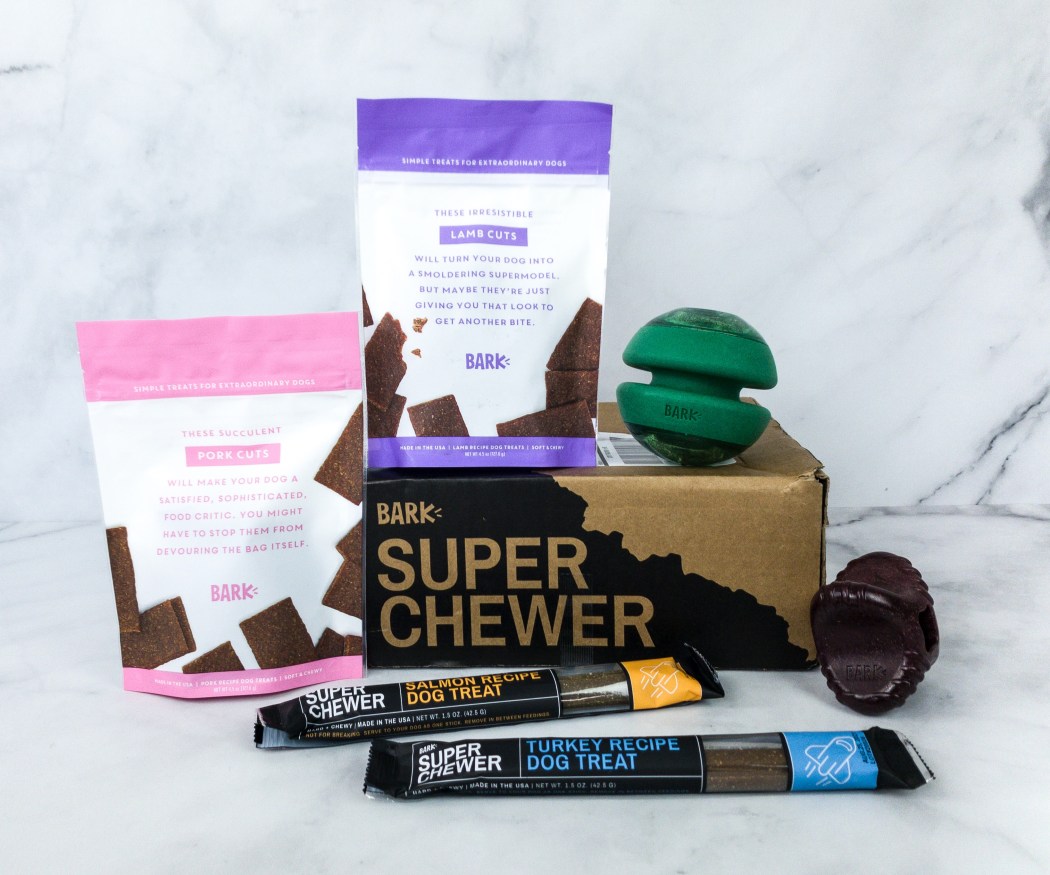 Image from: our review
For: Pets that are strong and full of energy!
Why We Love It: If your dog is a heavy chewer, Barkbox Super Chewer is the perfect subscription choice. Every month, they'll send 4-6 items customized to satisfy the needs of tough-chewing dogs, and they come up with the cutest themes Fall Hike, Ski Lodge, Deep Space, and more. The treats are all-natural, and toys are made with durable material to make sure they'll last. They even promise to replace a toy for free if your dog defeats it! Wondering what types of items they've sent out? Check them out on Barkbox Super Chewer Reviews.
Gift It: Give this Barkbox Super Chewer as a gift!
Price: A month-to-month plan costs $45. It goes down to $35 per month for a 6-month plan and $30 per month if you subscribe to a 12-month plan.
Deals:
---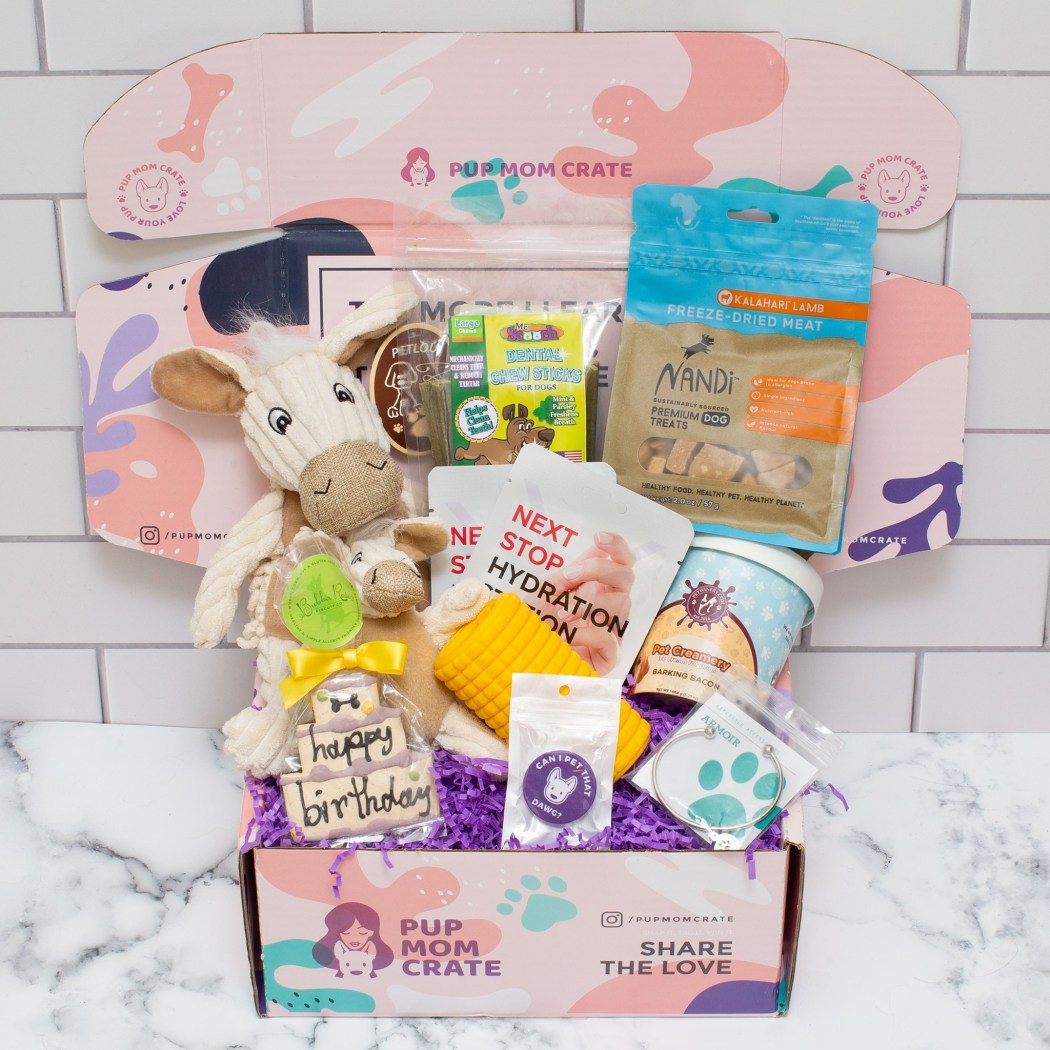 Image from: Pup Mom Crate
For: Dog mom and cuddly fur baby!
Why We Love It: A subscription box for you and your pet? All things possible with Pup Mom Crate! This monthly subscription allows any pet parent to spoil their pets while spoiling themselves too! You can start by choosing from 3 crates: Small Pupper (0-24 lbs), Medium Pupper (25-55 lbs), or Large Pupper (56+ lbs). Receive an assortment of 5-8 items, including treats and toys for your pooch (chosen based on size) + lifestyle and beauty items to pamper yourself like tumblers, mugs, socks, face masks, moisturizers, and much more!
Gift It: Send Pup Mom Crate as a gift here!
Price: Subscribe and receive 5-8 dog mom goodies for $40 a month!
Deal: Get 20% off your first box! Use coupon code HELLOSUBSCRIPTION.
---
Image from: our review
For: The hyper and playful companion dog!
What We Love It: Pet Treater Dog Pack sure knows how to treat your dogs right because they only provide treats made in the USA and Canada, plus top-quality grooming supplies and toys at the best prices! The boxes are available depending on your dog size: small, medium, or large. Each pack comes with 3-4 items, delivered straight to your door every month. Also, you get the best of both worlds, as the items they send are a balance of fun and practical, hand selected for your dog's enjoyment! Deluxe Dog pack is also available with 5-8 quality items. Learn more about how the subscription works by navigating through Pet Treater Dog Pack Reviews.
Gift It: Send a box as a gift here.
Price: Receive a toy and bag of treats each month for $15, Shipping is free!
Deal: Get 10% off your first month! Use coupon code DOGPACK10.
---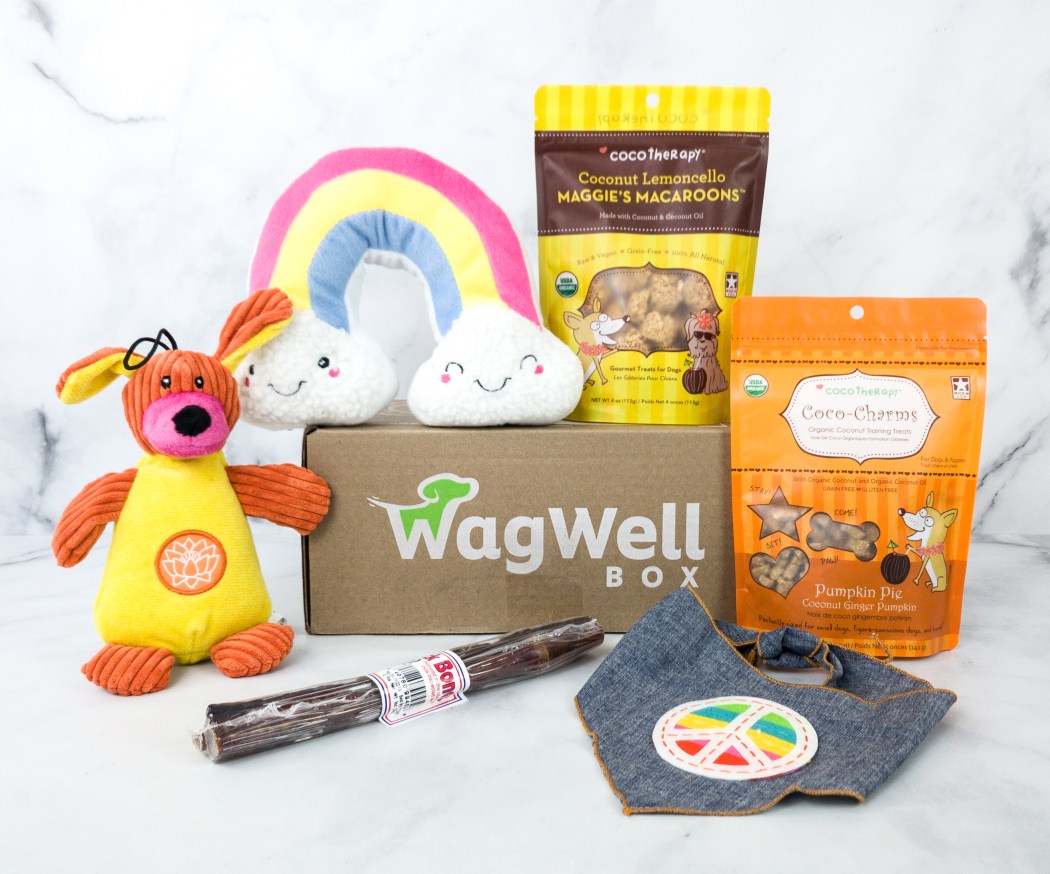 Image from: our review
For: The health-conscious pet pawrent!
Why We Love It: Wagwell Box is the subscription any dog owner needs to give their pet the gift of wellness. Packed with items that are good and safe for your pet's health and happiness, each box contains 2 bags of organic treats, 2 all-natural bully sticks – no chemicals added – safe for your pups dental, 1 or 2 well-made and durable toys, and a fashionable bandanna that best fits your dog's size. It's the healthy way you're looking to spoil your dog – no worries, just products you can feel good about! Check out Wagwell Box Review to know more.
Gift It: Send Wagwell Box as a gift.
Price: A box costs $34 per month.
---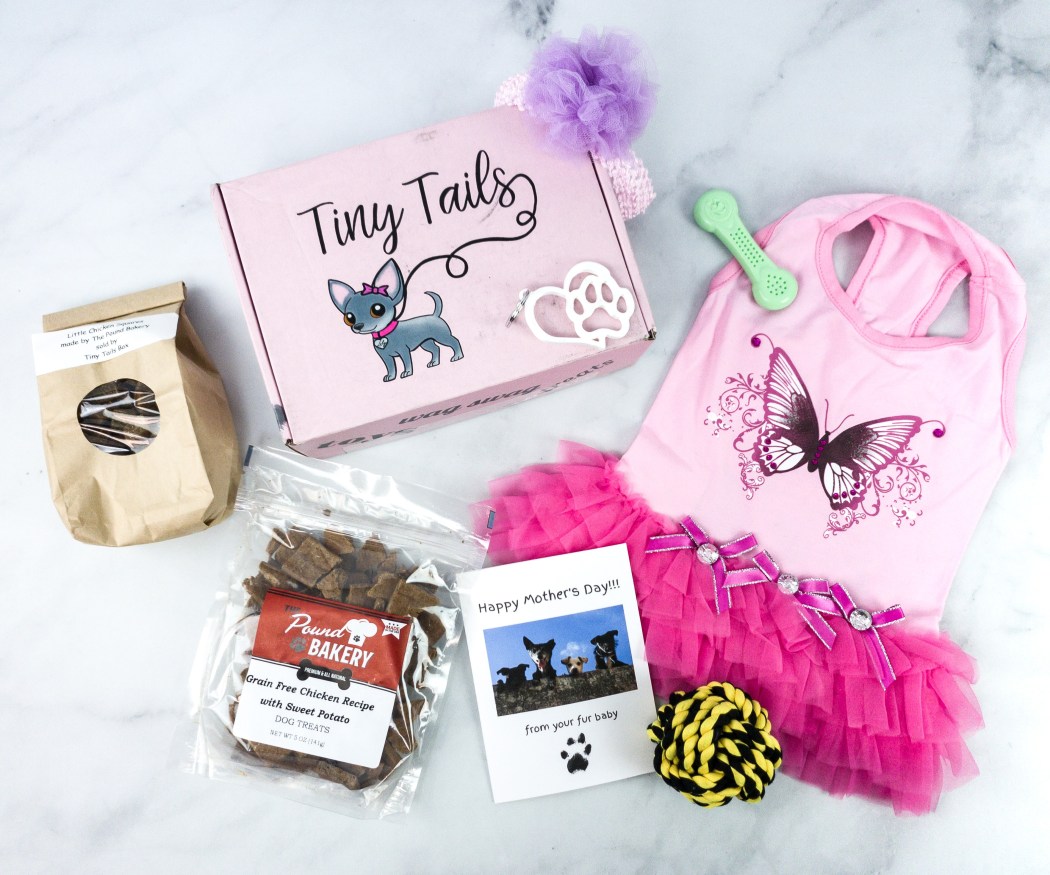 Image from: our reviews
For: That little squishy pet!
Why We Love It: Tiny Tails Box is a subscription perfectly curated for small dogs. It contains 2 healthy treats, 2 toys that are just the right size, and 1 surprise item that's perfect for that tiny pet of yours! Each box is filled with high-quality and unique items, chosen with tiny furballs in mind, sourced from the US or small-batch farms. The Deluxe Wag Swag Box is also an option – it comes with at least one fashion item each month. This makes the perfect gift for friends with small dogs as well! If you want to know more, check out Tiny Tails Box Reviews.
Gift It: Send a Tiny Tails Box here!
Price: Receive 2 treats + 2 toys + 1 surprise item in every box for $35 every month, or choose the Deluxe Box to get a fashionable item for $55 a month.
Deal: Get 50% off your first box! Use coupon code FIFTYOFF.
---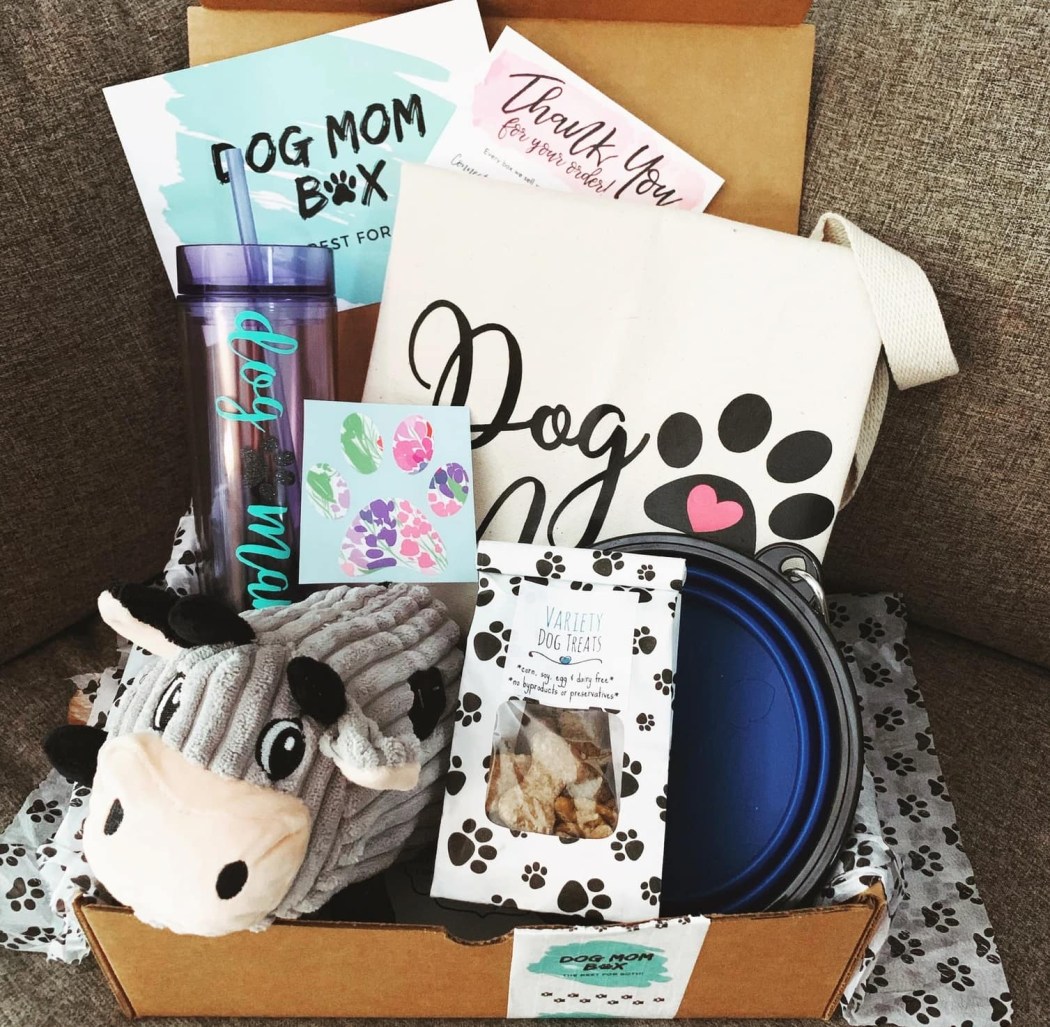 Image from: Dog Mom Box
For: Gorgeous pet owners and hyper pooch!
Why We Love It: Dog Mom Box is the perfect subscription for pet parents who gets obsessed with every little thing that's a woofy goody! Each month, they'll send a box containing 2-4 goodies for you and 2-4 items for your pup. Tell them a little information about you and your dog, including allergies, so they can pick out the right items you both can enjoy! You also have the option to choose a larger box to match your large dog family. What's good is they donate a portion of the profits to help dog parents with emergency vet care at a vet clinic local to them.
Gift It: Send a Dog Mom Box as a gift!
Price: Get 5-8 items every month for $39.99 a month!
---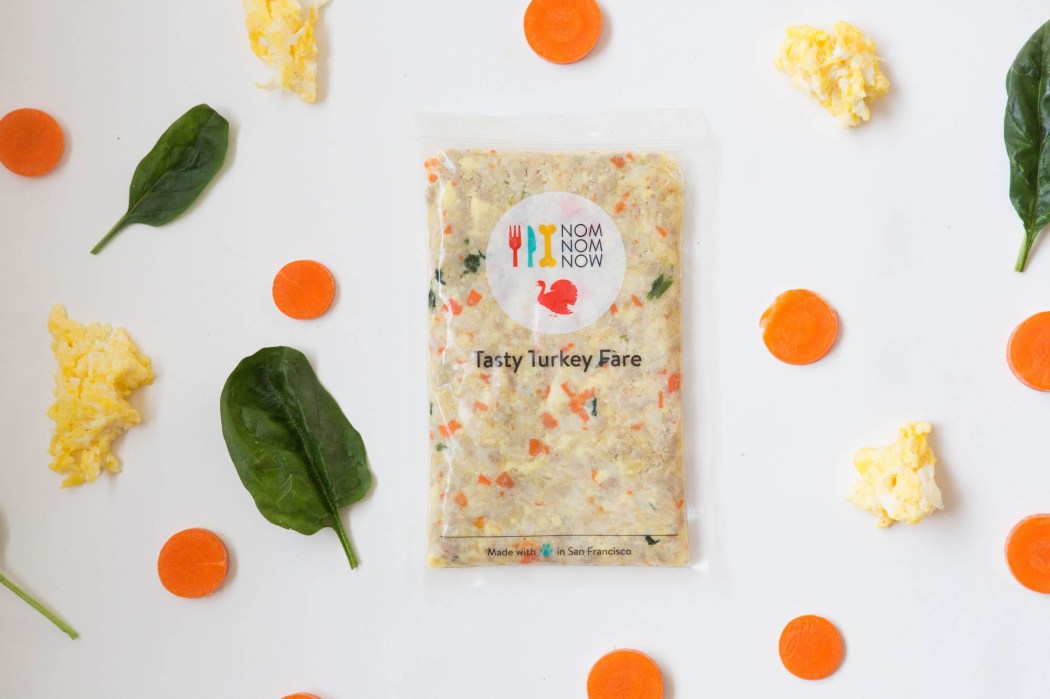 Image from: Nom Nom
For: Every well-bred doggie who needs good food!
Why We Love It: Fresh and healthy dog food, delivered right to your door each week, that's what Nom Nom is! Made with love in San Francisco, they offer nutritionally balanced pet food, formulated by a leader in veterinary nutrition and even cooked by a professional chef using restaurant-quality ingredients. Choose Chicken Cuisine, Pork Potluck, Beef Mash, Turkey Fare, or the Variety Pack, where you can try all four recipes. All you have to do is provide them with information like weight, age, lifestyle, and body condition so they can create the perfect meal for your pup! Learn what these dog foods are made of when you visit NomNom Reviews.
Gift It: Send a NomNomNow gift here.
Price: The box costs $33 a week. Price varies depending on factors such as pet's age, weight, and activity level. Receive a discount for multi-pet families!
Deal: Get 50% off your first order! Use coupon code 50off.
---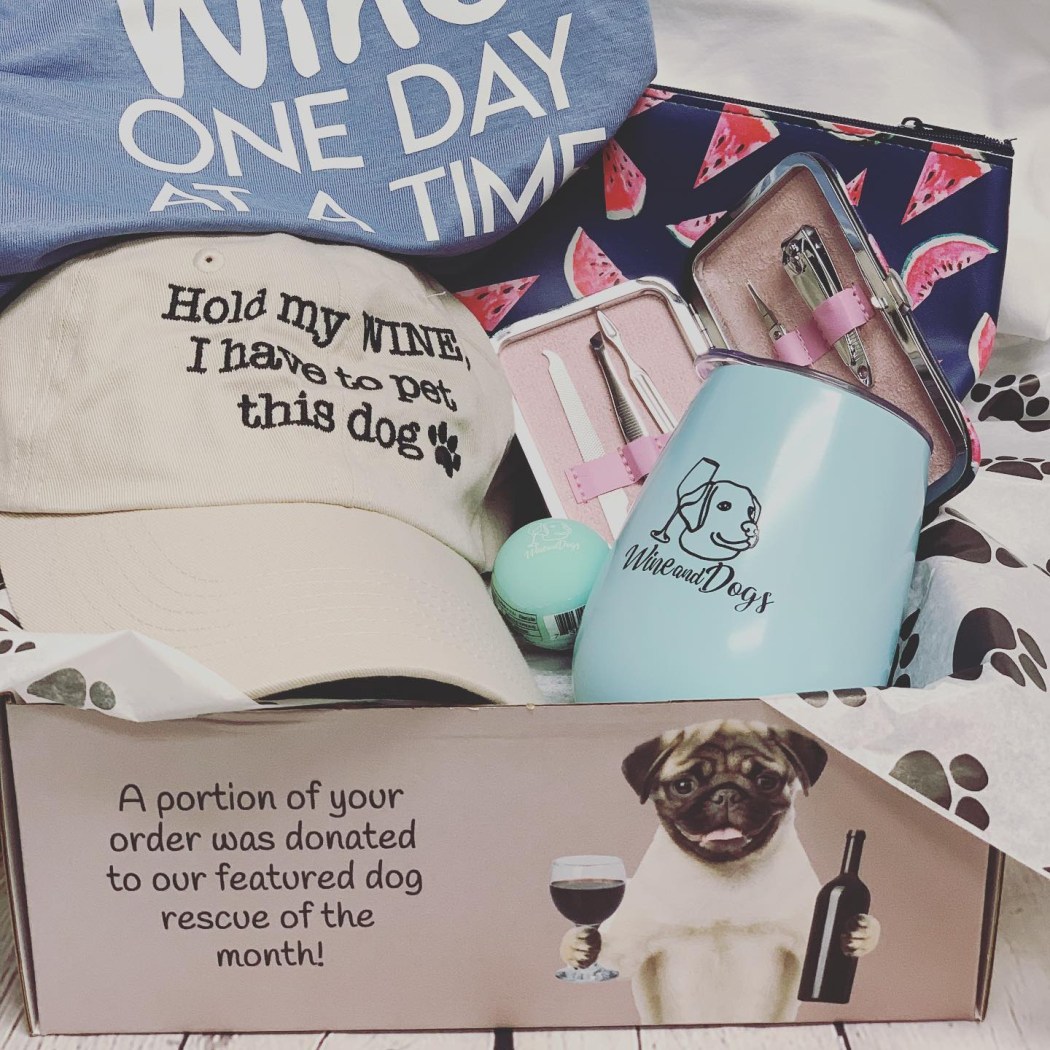 Image from: Wine and Dogs
For: All the deserving pet parents who need little rewards too!
Why We Love It: If you're a big fan of Wine and Dogs in particular, then this subscription box is for you! Every 3 months, you'll receive a box full of goodies that'll surely warm your heart. Such items include a tank top and a t-shirt, lip balm, a hat, a manicure set, and a tumbler. It's a fun box for dog lovers that gives back to rescues!
Gift It: Send a Wine and Dogs Box as a gift!
Price: Receive apparel and gifts for the wine & dog lover every season for $49.99!
---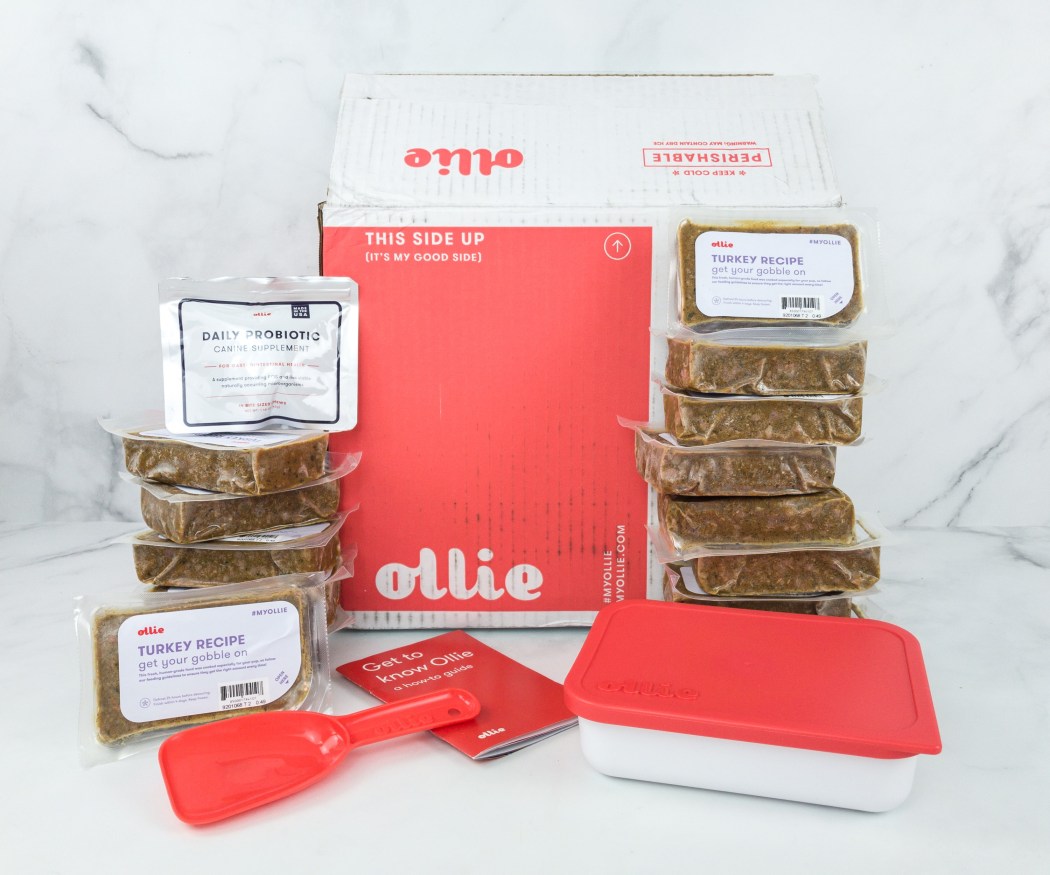 Image from: our review
For: Strong and energetic fur best friend who craves pet food filled with nutrition!
Why We Love It: Ollie sends freshly cooked dog food straight to your door, customized with your dog's health in mind, available in four different flavors – Beef, Chicken, Turkey, and Lamb. To ensure that your dog stays healthy and strong, their meal plans are based on the dog's age, breed, activity level, allergies, and ideal weight. These meals are gently cooked in small batches, giving you one less thing to worry about! This practice also helps them determine the right portion of food to send your dog, so you don't have to worry about your dog over or under-eating! Know why dog owners love this subscription box on Ollie Reviews.
Gift It: Send Ollie as a gift.
Price: Fill out your dog's info and Ollie will tailor your dog's unique recipe starting at $50 every 2 weeks.
Deal: Get 50% off your first box! Use this link to get the deal.
---
Image from: Mystic Pup
For: Lovable pair – owners and pets – who's in for some magical surprise!
Why We Love It: Who wouldn't love a mystical box? Mystic Pup provides a unique experience you can share with your hyper pooch every other month by sending unique gifts for you and your pet! Each box contains 1 natural dog treat, 2-3 dog toys, and 2-3 spiritual items for you like aromatherapy oils and sprays, tea, jewelry, books, handcrafted candles, home décor, healthy snacks, natural bath & beauty supplies, crystals, and other magical items! Grab one and experience the mystical vibe you and your pet have never felt before! What's even great is that a percentage of each box sold is donated to therapy and guide dog associations.
Gift It: Send a Mystic Pup gift using their gifting page.
Price: Get the box for $45.75 every other month.
---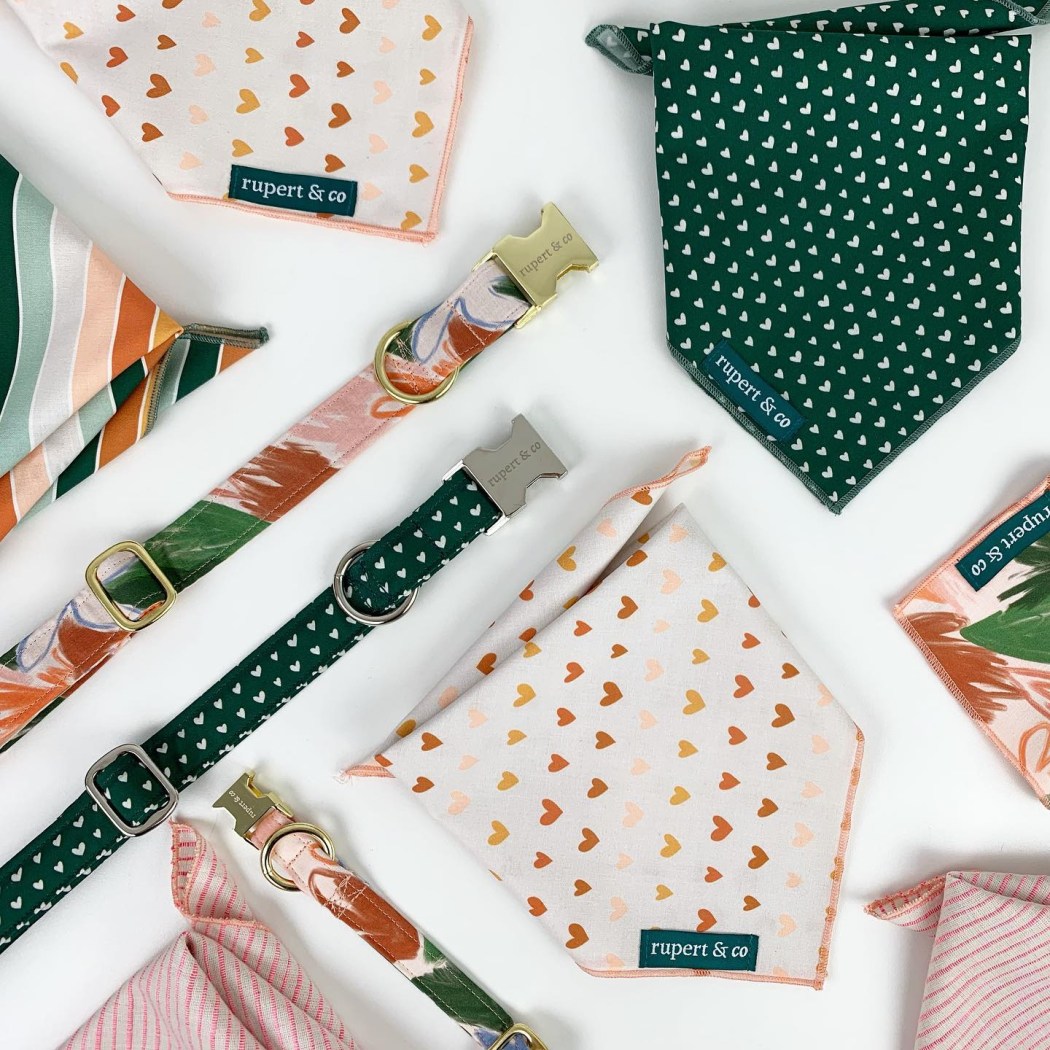 Image from: rupert & co
For: Fashionista pair – Dog and Mom!
Why We Love It: Ever want a fashionable gift for your pet? Rupert & co offers stylish bandanas for your fur friend, handcrafted in Saint Louie, MO using unique fabrics with prints and patterns that catch the eye! Each month, they'll also send some surprise gifts that coordinate with the new bandana you've received. Past themes include National Pizza Day, Bad to the Bone, Farmer's Market, and more. Also, if you purchase any item on their website marked with the "Give Back" heart, a portion of your purchase will be donated to the designated charity. What a good deed!
Gift It: Send Rupert & co as a gift.
Price: Receive a themed bandana every month for $22.
---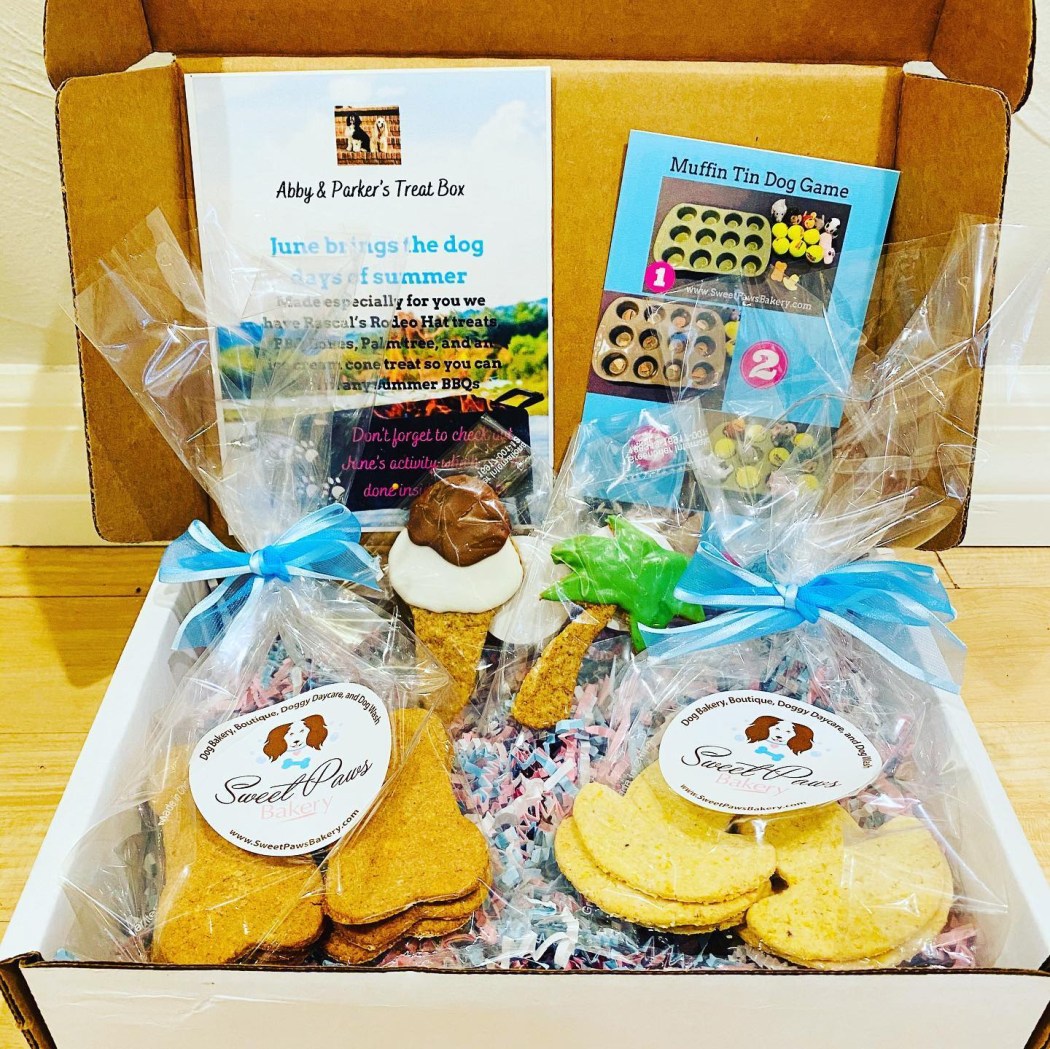 Image from: Sweet Paws Bakery
For: Dog parent who wants to feed the always hungry little pets with tasty treats!
Why We Love It: Sweet Paws Bakery is not your ordinary bread shop. It is specifically designed for your pet that delivers nothing but the best small-batch treats for those hyper pooches. These are made with human-grade ingredients, hand-cut, baked and packaged to ensure quality. Each month, your dog will receive 2 packages of different flavors, which consist of half a dozen high-quality treats along with 2 decorated cookies that go along with the theme of the month. Monthly boxes also include a canine enrichment activity card, which shows how to use each treat to help you strengthen the bond with your dog. It's a nice reward box for your pet!
Gift It: Send Sweet Paws Bakery as a gift here.
Price: For $29.99 a month you will get 2 pack half a dozen treats, 2 decorated theme cookies, and activity cards!
---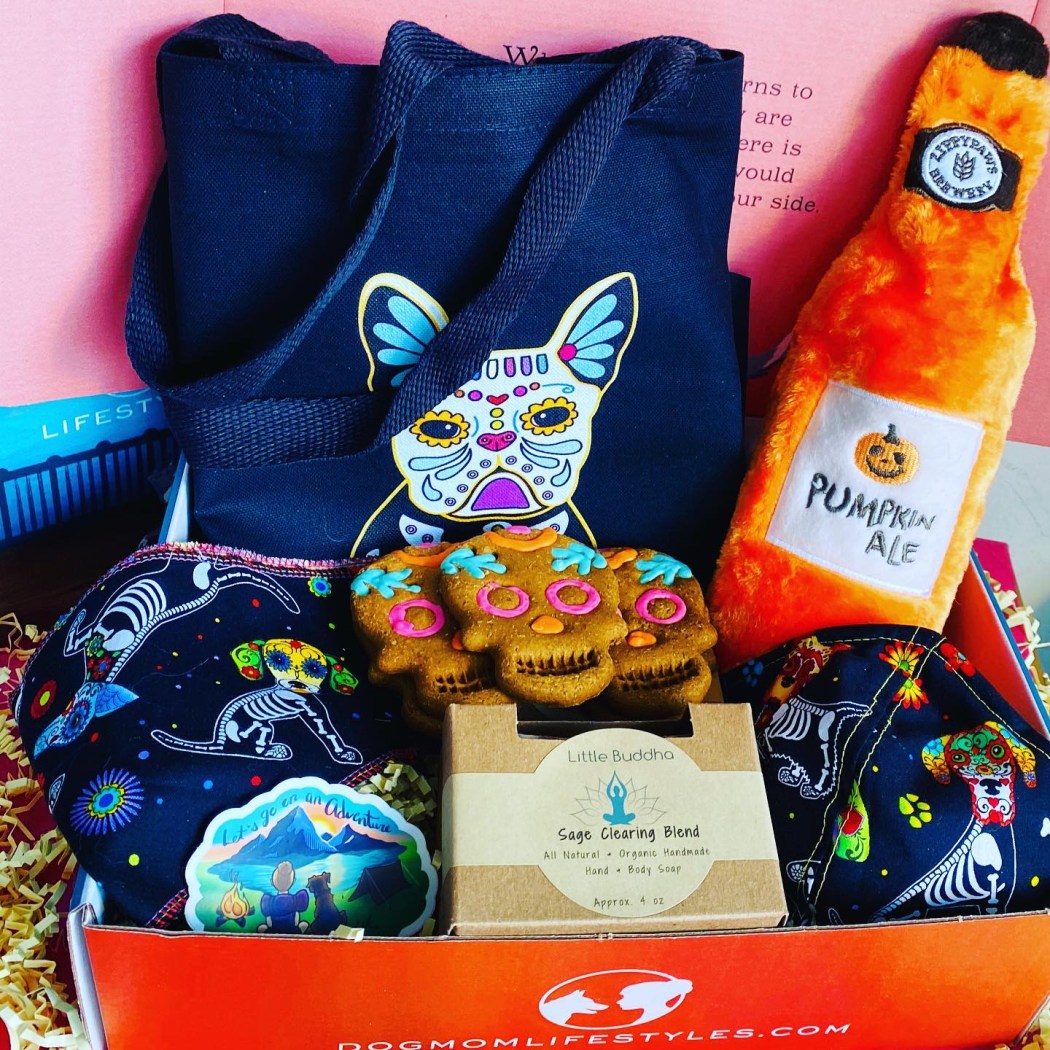 Image from: Dog Mom Lifestyles
FOR: Lovely pet owner and cute little pup!
Why We Love It: With Dog-Mom-Lifestyles, you'll have one fun bonding moment with your doggo! There are two subscription options to choose from: Ultimate Dog Mom and Quarterly VIP Ultimate Dog Mom. They'll send a box with 5-7 items, including doggie toys, treats & surprises, self-care products the dog mom can add into their everyday ritual, and more. What makes it exciting is that every month is themed differently! There's an item for you and there's an item for your fur buddy too. It may even include matching dog mom and pup apparel or accessories. They also donate $1 per box sold to help save dog lives.
Gift It: Send a Dog-Moms-Lifestyle as a gift here.
Price: Subscriptions start at $44.99 a month.
---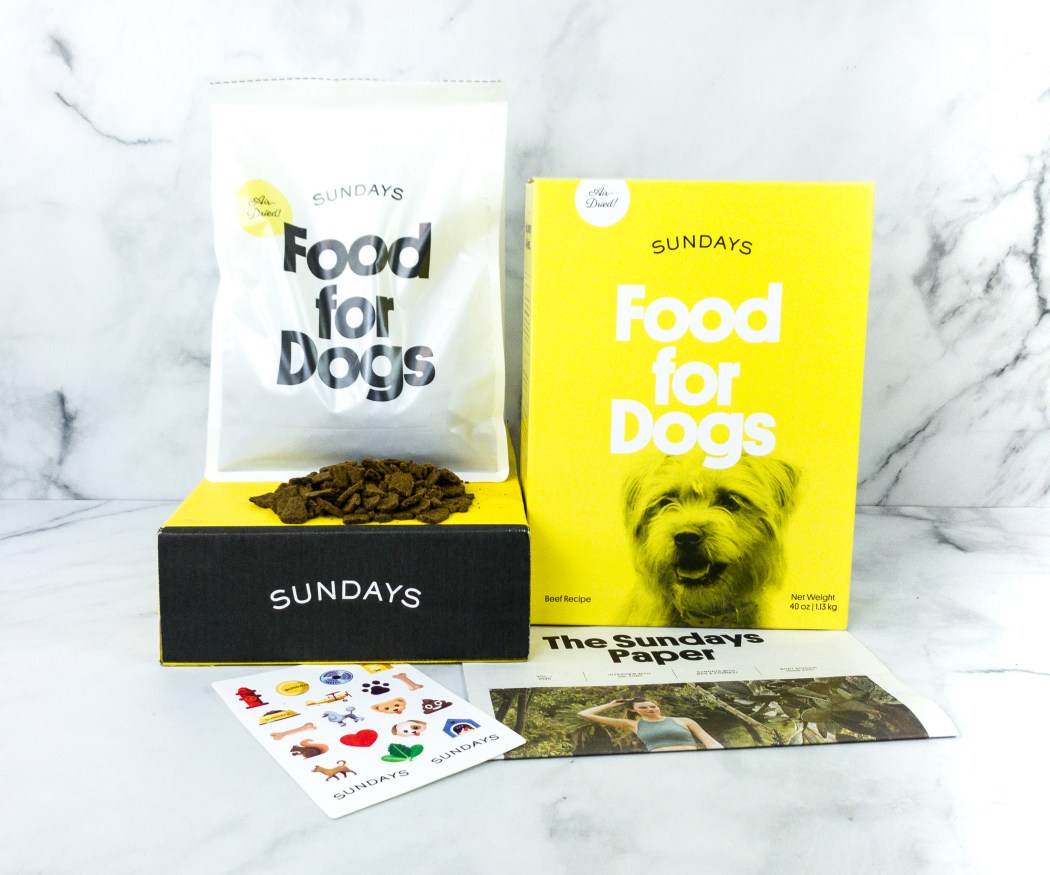 Image from: our review
For: Every dog owner who doesn't have much time to prepare healthy and good dog food!
Why We Love It: As dog parents, we want nothing but the best for our pets. Sundays created something good for every pet parent out there looking for ways to revolutionize pup health. By offering dog food that's much healthier than kibble and easier than home-cooked foods, your pet can have a nutritious meal in no time! Created by a vet, this dog food is human grade, air-dried, all-natural, a great alternative to kibble, and has a treat-like taste that your dog can truly enjoy. All you have to do is tell them about your dog so they can customize a plan. Learn what makes it the best kibble alternative on Sundays Reviews.
Gift It: Give Sundays as a gift here.
Price: The price will depend on the size and number of boxes you want every shipment and it starts at $59 per month for 1 Regular box.
Deal: Get 20% off your first box! Use coupon code 20OFF.
---
See more fabulous subscription box gift ideas in our Holiday Subscription Box Gift Guide!
Say Hello to More Subscriptions for Dogs And Dog Lovers!