Pets need vitamins and supplements too! As pet parents, we want them to be healthy and live the best life they deserve in every way possible. And because we care for our dog's health, we do everything to feed them nutritious diets. While we're in the process of giving them dog food, we may not know what they exactly need unless we visit the vet. We are talking about muscle and joint support, skin and coat support, digestive support, and more. Dogs have dietary and nutritional requirements that must be met, just like us humans.
Gladly, there were dog supplement subscriptions around to aid us while caring for our fur babies. These dog supplement subscriptions really come in handy – they provide what our dogs need without compromise! Dogs actually need to supplement their diets with vitamins and other nutrients, and supplying our furry buddies with the appropriate level for their current stage comes easily possible with these subscriptions. These are formulated with dog-friendly vitamins and minerals, ensuring we can support their health and normal growth.
There are many dog supplement subscriptions around, so it's essential to know the best ones that can fill our pet's nutrient gaps. This list features certified board veterinarians' recommendations, including multivitamins, fish oil, and even CBD, all of which are good for dogs! Leave the worrying behind because we'll give you a list of the best dog supplement subscriptions that can definitely help maintain your pet's health and wellness!
The Best Vitamin Supplement Subscriptions For Dogs!
Image from: our review
What You Get: Pets need dental care too! With Bark Bright, you can maintain your dog's oral health. This monthly subscription offers a dental kit with the right products to use for keeping your pet's teeth, gums, and overall dental health under control. They are committed to creating the world's best products that eliminate the hassle of brushing your dog's teeth! Each kit includes a month's supply of tasty chicken dental sticks to remove plaque buildup, a month's supply of triple-enzymatic toothpaste to reduce funky breath, and compliments from your vet. You'll never have to deal with your pup's bad breath again!
Price: Dental kit for healthy teeth and gums for $35 per month + shipping.
Deals:
Get a FREE extra month when you sign up for a 6 or 12 month subscription! Use this link to get the deal.
Check for the latest special offer for Bark Bright! Deal applies automatically, just visit and subscribe.
---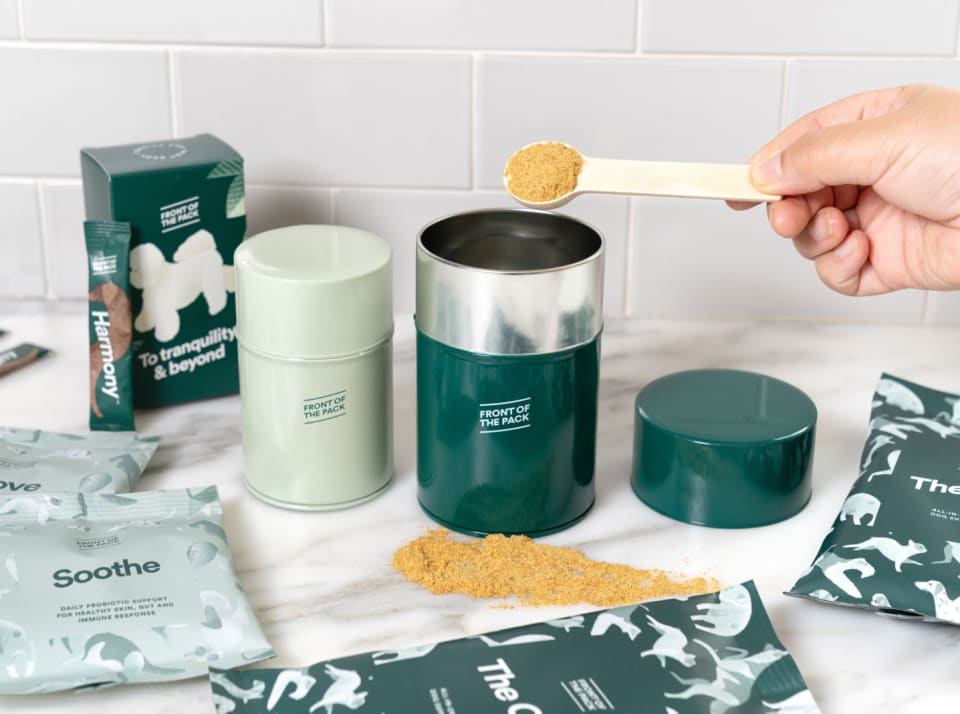 Image from: Front of The Pack
What You Get: Front of The Pack reinvented dog supplements to help your dog be in its tip-top shape. Every supplement they send out is as good as what's inside it – made only with clinically proven extracts blended with broth-like flavor with no fillers, led by science! Choose which of four supplements your dog needs – The One (eight essential benefits in one), Harmony (targeted calming and anxiety support), Soothe (targeted itch and gut support), and Move (targeted joint and mobility support), and receive a tub in your chosen delivery frequency. It works as easy as "scoop and serve", and see real results within 4-6 weeks! What's even better is that for every order you place, it allows them to generate money for local no-kill shelters, saving more dogs and cats in the process.
Price: Dog supplement subscription starts at $35.99 a month.
---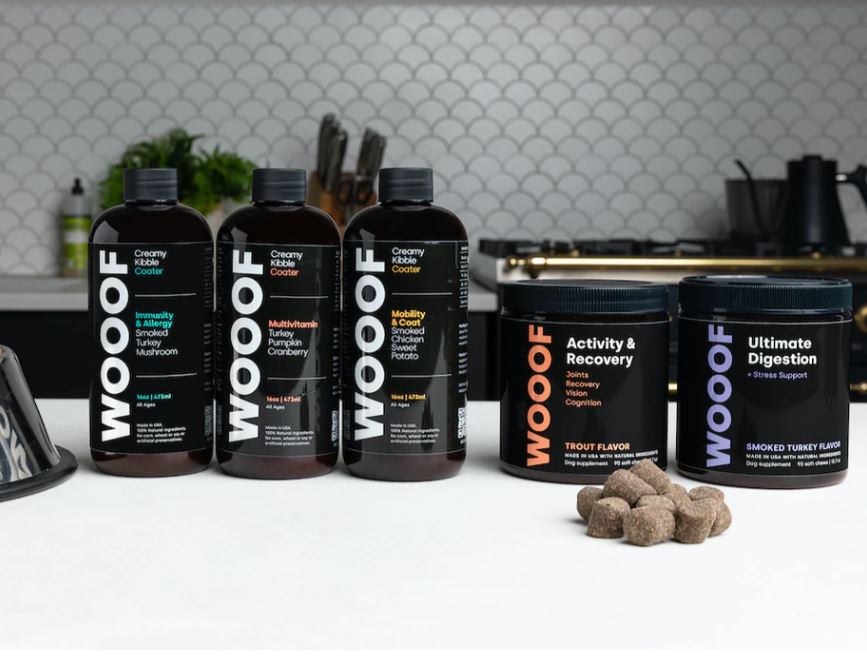 Image from: WOOOF
What You Get: WOOOF helps fill the nutrition gaps that dog food and vet visits might miss! Their supplement offerings include Creamy Coasters, which are liquid multivitamins intended to be added to your pup's daily meals, and Functional Chews, which can be served like regular dog chews. These health supplements for dogs come in different flavors & variants, depending on your pup's specific health concerns. For instance, they have supplements that support digestive health, relieve stress and anxiety, and boost energy. Each is formulated without any nasty artificial fillers or synthetic ingredients and loaded with natural vitamins and minerals, such as Vitamin C, Biotin, Postbiotics, and more!
Price: Subscriptions start at $30.60. Shipping is free on all orders over $50.
---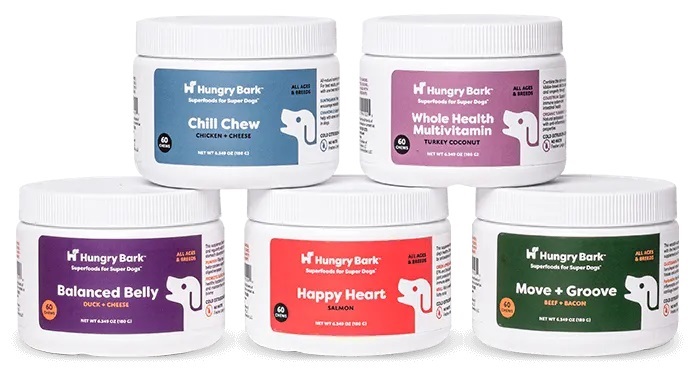 Image from: Hungry Bark
What You Get: Hungry Bark offer supplement chews to keep your pups happy and healthy all through their lives, in addition to healthy, customized meal plans. You can choose from six different chews they offer: Itch + Allergy, Whole Health, Balanced Belly, Move + Groove, Happy Heart, and Chill Chew. These supplements are made with 100% natural ingredients like fish oil for heart health, licorice root for anti-inflammatory, and more! Each jar contains 60 chews, and the recommended daily serving is determined by your dog's current weight. Also, they donate to shelters and rescue organizations across the entire country to provide support for dogs.
Price: Supplement chews cost $29.69 per jar.
---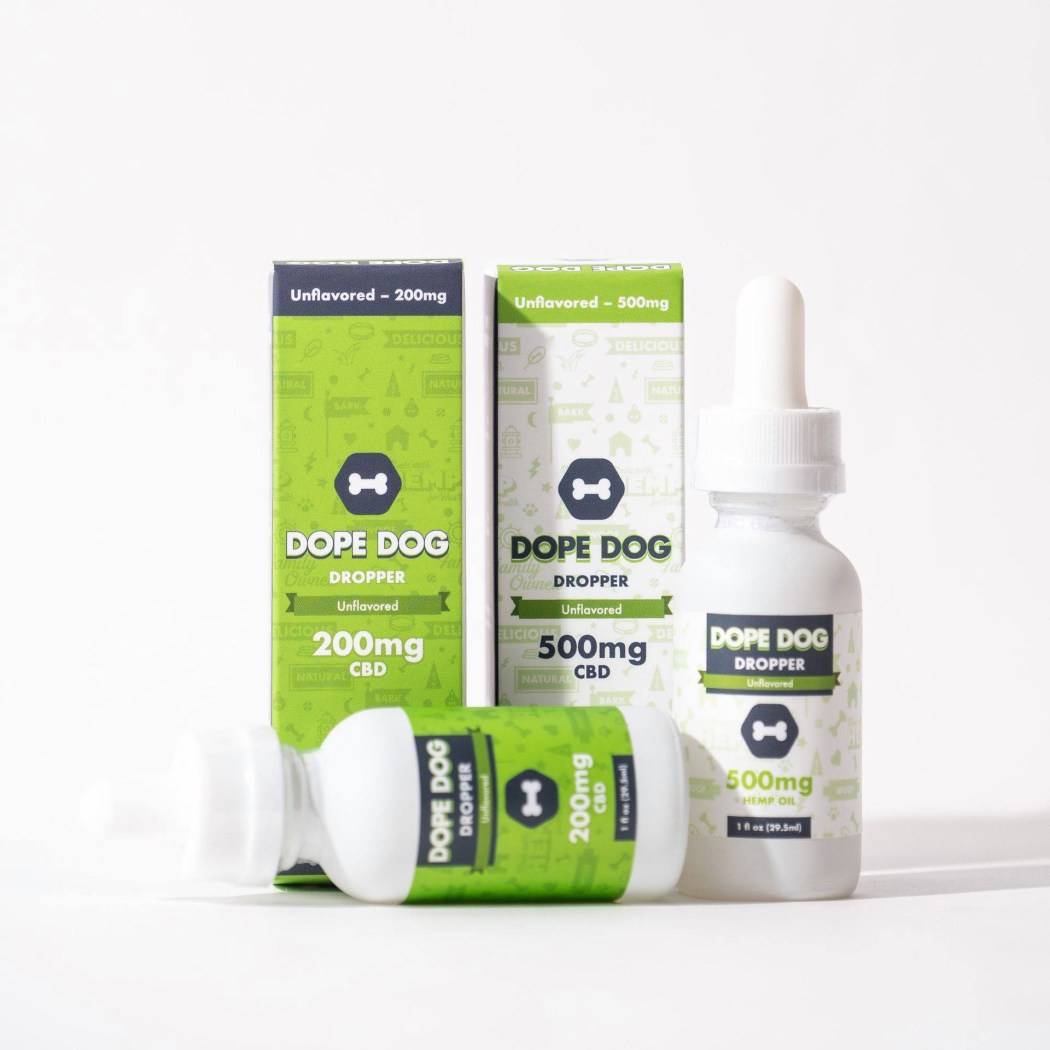 Image from: Dope Dog
What You Get: In Dope Dog, CBD is their primary and active ingredient in every product they create. They use 100% pure CBD isolates sourced from organic hemp grown in the US because they want to improve every dog's quality of life. Their product offerings include CBD dog treats, CBD oil, and CBD Shampoo. They also ensure that every dog treat is baked fresh and has the perfect crunch so your pet can start gobbling it up deliciously! Everything is 100% THC-free and safe for pets! Also, each year, they collaborate with local animal welfare organizations to help support rescue dogs in need.
Price: Subscription starts at $24 a month.
---

Image from: Reggie
What You Get: Reggie sends supplements that can fill your dog's everyday wellness regimen. These yummy soft chews are made locally using scientifically studied ingredients like Vitamin C, iron, L-theanine, and Vitamin E. They have four supplements to offer: Morning Multivitamin, which is for enhanced health, vitality, and daily performance; Morning Hip + Joint Care, which is designed to increase mobility, function, and flexibility; Evening Skin + Coat, which is for itch relief, shiny skin and coat, heart and joint health; and Anytime Calming + Anxiety, which combats stress and anxiety. Plus, one cool thing about these supplements? Every container is color-coded for a convenient reminder!
Price: Supplements start at $31 a month.
Deal: Get 20% off your first order, including subscriptions! Use coupon code TRYREGGIE.
---
Image from: Native Pet
What You Get: Native Pet's mission is to improve your pet's overall wellness with only 3 things to focus on: taste, nutrition, and limited ingredients! They use fewer ingredients in each formula to keep it clean and simple, which means no long list of artificial flavorings and preservatives. Whether you're looking for skin & coat supplement, belly & bladder support, or hip & joint aid, they have it! Each supplement is developed by nutritionists using responsibly sourced, organic, and all-natural ingredients (like spirulina, probiotics, cranberry extract, collagen & more!), so you can be sure that what you're giving your pooch is highly effective. It's the kind of supplement you can feel good about!
Price: Individual product prices start at $11.99. You can also build your own bundle to save more!
Deal: Get 15% off your first order! Use coupon code HELLO15.
---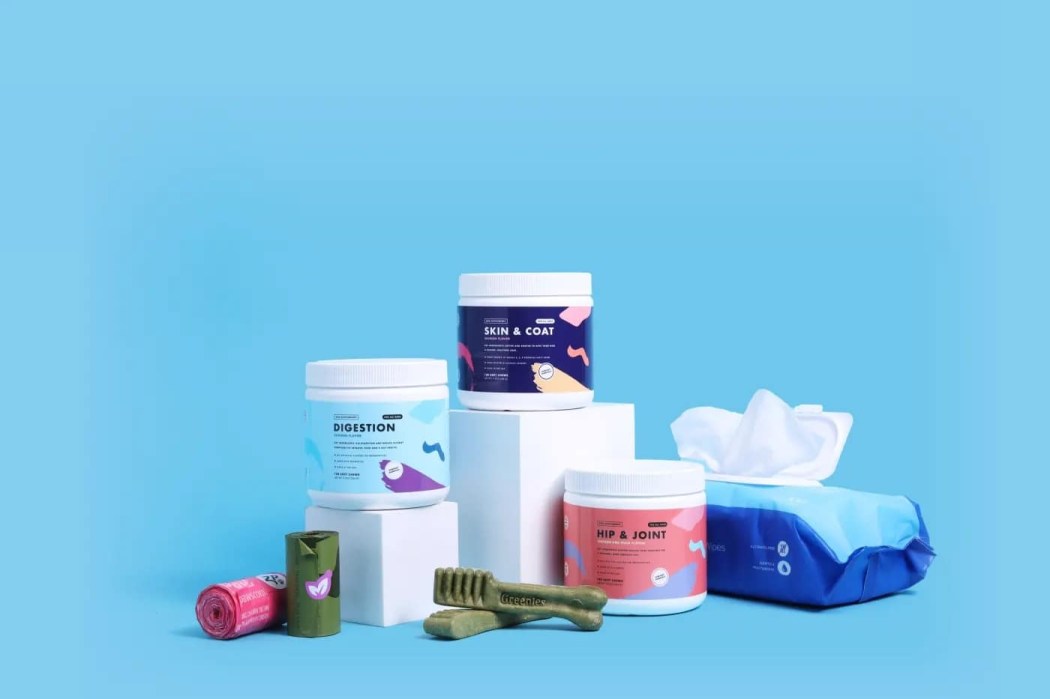 Image from: PAWP Pet Health Box
What You Get: PAWP helps you replace unnecessary vet visits and costs! It's a digital clinic for pets that's available 24/7. They provide care for injuries & accidents, behavior issues, stomach problems, and more! Subscribers gain unlimited access to licensed vets, as well as vet-formulated, personalized health recommendations for supplements, dental health, and hygiene supplies based on your pet's profile. It will also include a $3,000 emergency fund to cover vet bills. It is an alternative to pet insurance without the high costs. With this subscription, you'll have one less thing to worry about!
Price: Quality pet care for $24 a month.
Deal: Get 7 Days FREE Trial! Deal applies automatically, just visit and subscribe.
---
Image from: Bixbi Pet
What You Get: With BIXBI Pet, your dog will be sure to have one good day without worries! They offer supplements made in the USA using thoughtfully sourced, organic ingredients like mushrooms. There are four kinds of supplements to choose from – Digestive, Immune, Joint Support, and Skin & Coat. These mushroom supplements are designed to improve your dog's health by utilizing the natural therapeutic powers of mushrooms. It is a subscription to trust for keeping your dog in its best shape every day!
Price: Supplements start at $19.99 every month. Subscribe and save 10% with every purchase!
---
Image from: Nom Nom
What You Get: NomNom offers nutritionally balanced supplements that every pet parent could feel good about, in addition to their line of healthy pet food! They partnered with one of the leading board-certified veterinary nutritionists in the country to give what exactly each pet needs. Select Probiotic Support Full Spectrum For Dogs to help maintain normal digestive and immune functions or Probiotic Support GI Targeted For Dogs to help rebalance and improve stool quality and overall digestive health. These products are made using the highest quality ingredients, like a probiotic blend and prebiotic to enhance your dog's digestive system! You only need to mix one scoop into food once daily.
Price: Probiotics for healthier gut for $40 monthly.
Deal: Get 50% off your first order! Use coupon code 50off.
---
And there you have it, our list of the best dog supplement subscriptions! Have you chosen what you want to get for your fur baby?
If you want to see more, check out our list of all the best subscription boxes in every category!
Say Hello to More Subscriptions for Dogs and Paw-parents!