Our furry friends bring so much joy into our lives, and as loving pet owners, we want to provide them with the very best. When it comes to pampering your dogs, nothing beats the convenience and variety of a dog subscription box. Packed with tasty treats, fun toys, and healthy food options, these boxes offer an excellent way to spoil your furry friend.
But it's not just about the treats and toys – these subscription boxes also offer a range of helpful products to make caring for your dog even easier. From grooming supplies to accessories, you'll find everything you need to keep your pup looking and feeling its best. Many subscription box services allow you to customize your box based on your dog's unique needs. By creating a profile for your furry friend, you can ensure that they receive products tailored to their size, age, breed, and more.
Show More (7 items)
We've done the research so you don't have to – our carefully curated list features only the very best dog subscription boxes today. These subscription boxes are designed with your dog in mind, offering a wide range of products tailored to their unique needs. From premium-quality food to grooming supplies and more, each subscription box on our list offers a unique selection of goodies that your loyal companion is sure to love.
The Best Dog Subscriptions For Our Adorable Fur Babies!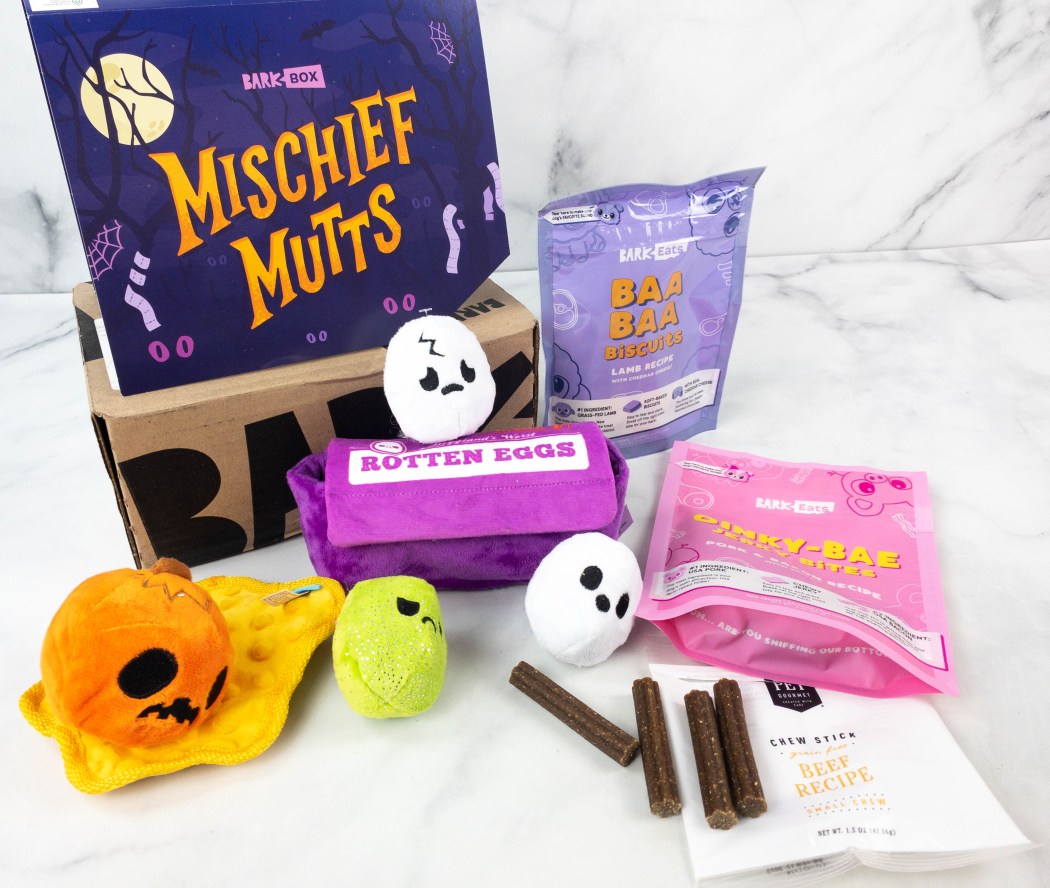 Image from: our review
Proper care for dogs requires a careful selection of goodies and essentials, and BarkBox is here to provide all that! This monthly subscription sends a thoughtful selection of two proper and innovative toys, two bags of all-natural and tasty treats, and a chew customized to your dog's size and distinct personality. Each month comes with a fun and cute theme that will appeal to your beloved dog and also you, the pet parent! Past themes include Mischief Mutts, Peace & Fluff, Space Jam, Galapagos, and more!
Deals:
Check for the latest special offer for Barkbox! Use this link to get the deal.
Get a FREE extra month with 6 or 12 month subscription! Use this link to get the deal.
---
Image from: our review
The Farmer's Dog gives fur parents access to nutritious food choices for their adorable dogs! They send out human-grade dog recipes that are pre-made and pre-portioned, so all you have to do is open and serve. The meal plans are customized for your pup's individual needs, so they get the nutrition they exactly need. Plans are guided by science and made with your dog's well-being in mind, delivered perfectly in time, so you'll never run out of fresh food to serve your fur baby!
Deal: Get 50% off your first purchase! Deal applies automatically, just visit and subscribe.
---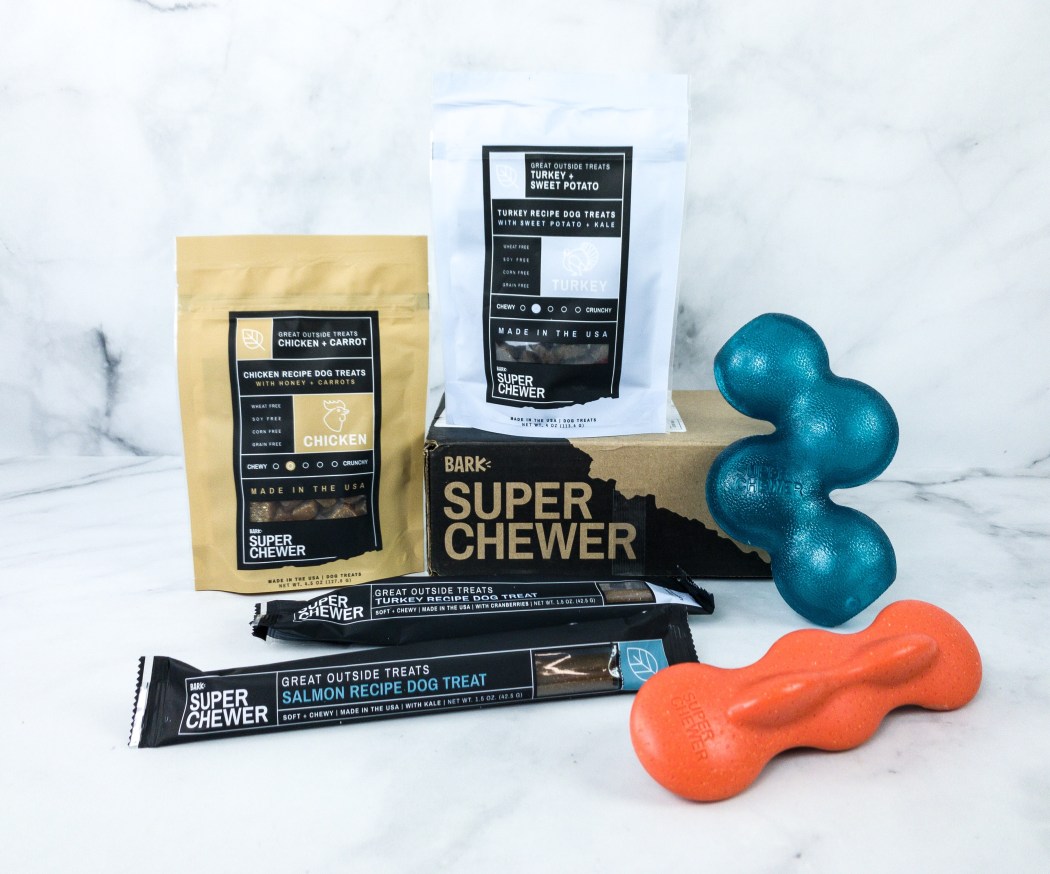 Image from: our review
Super Chewer is the perfect subscription for heavy chewer dogs! Each month, they will send 4 to 6 items customized to satisfy the needs of tough-chewing dogs, including durable toys and all-natural treats. They even come up with the cutest themes like Fall Hike, Ski Lodge, Deep Space, and more for added excitement! They also promise to replace a toy for free if your dog defeats it!
Deal: Check for the latest special offer for Super Chewer Box! Use this link to get the deal.
---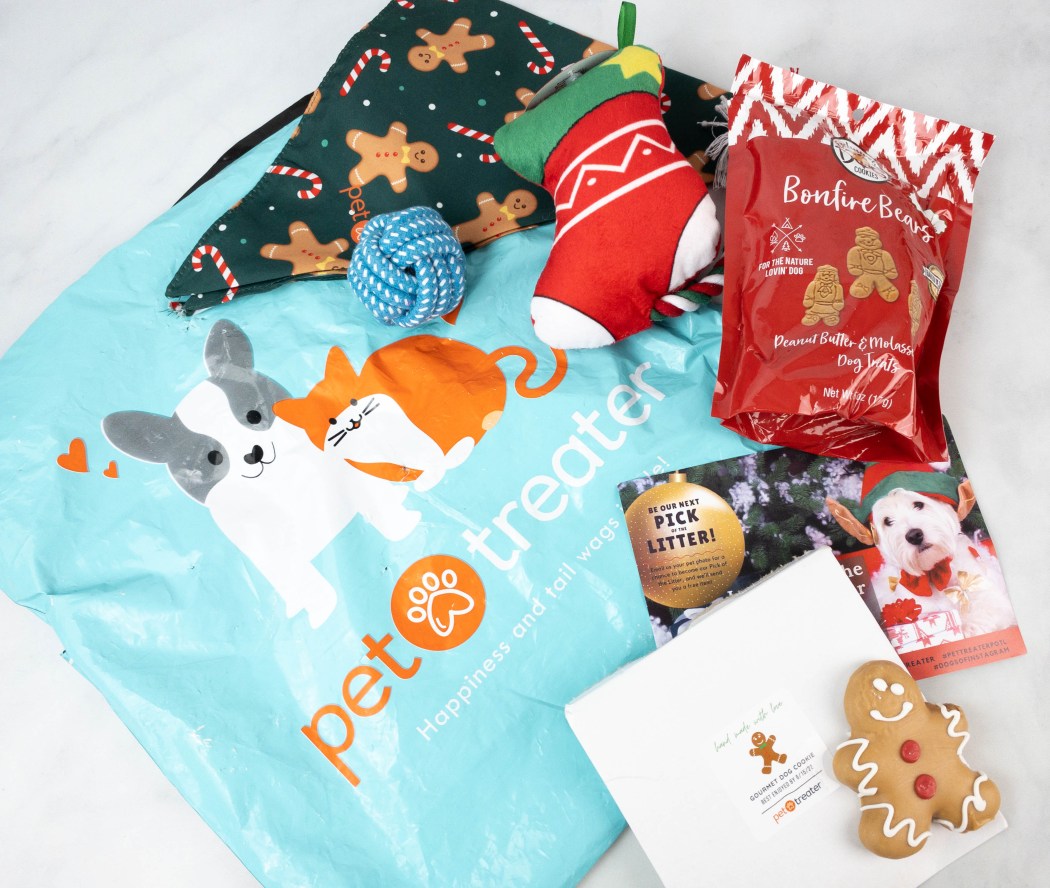 Image from: our review
Pet Treater Dog Pack is the box you need to surprise your dog and see more tails wagging! Each box comes with at least 3-4 items tailored to your dog's size. The treats included are made either in the USA or Canada, so you can expect to be getting only the best! Aside from treats for dogs, the box also contains top-quality grooming supplies and fun toys at the best prices. You also get the best of both worlds, as the items they send are a balance of fun and practical, hand selected for your dog's enjoyment!
Deal: Get 10% off your first month! Use coupon code DOGPACK10.
---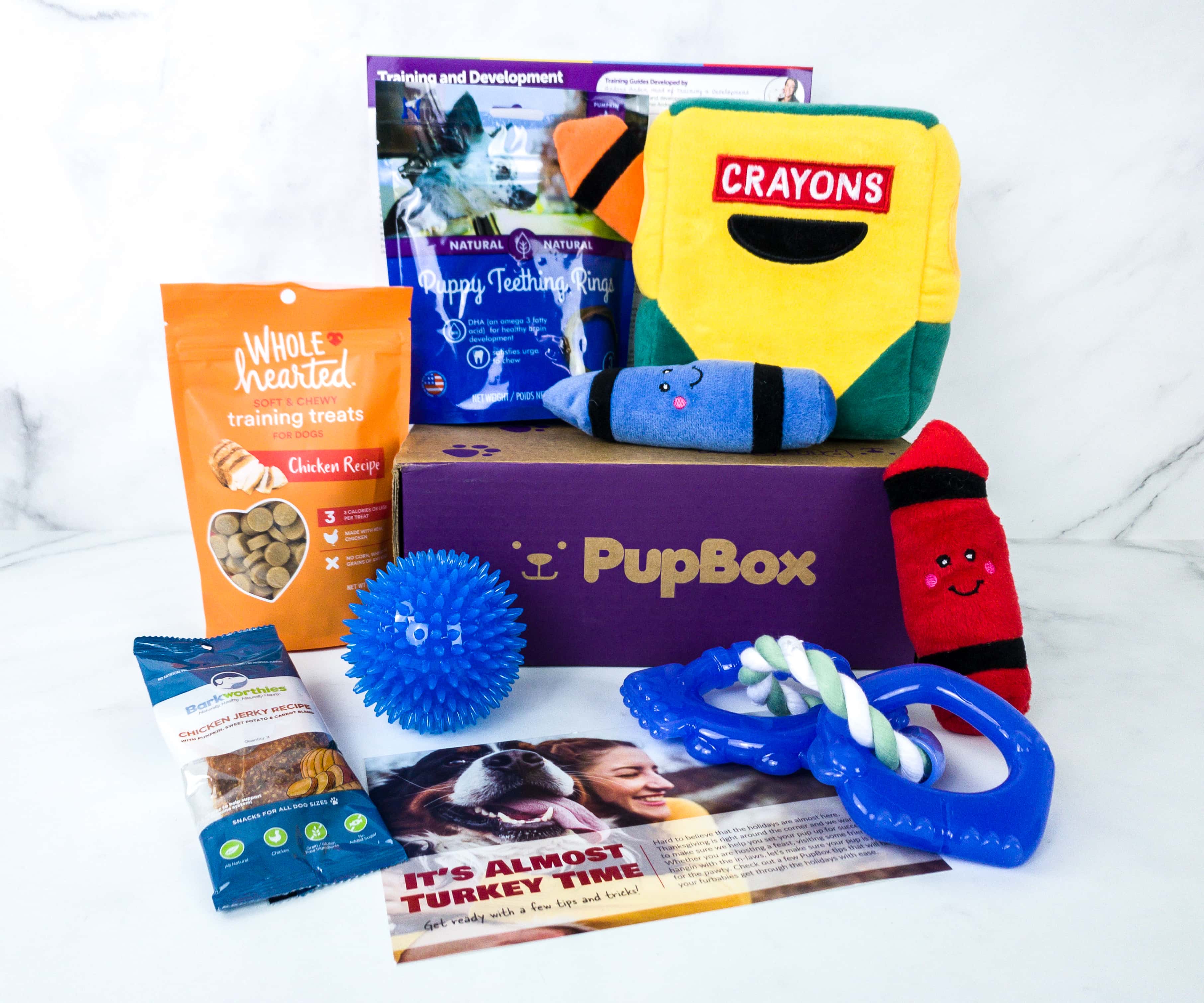 Image from: our review
PupBox sends the best treats, toys, and accessories for puppies, along with useful training information for fur parents! Each box has 1 bag of training treats and 4 – 6 additional products selected based on the age and physical characteristics of the pup. This subscription box makes the best choice for new fur parents with all these amazing products and extras – all puppy tested and approved! And if you have an adult dog, you can avail of a non-age-specific box that comes with an advanced trick every month.
Deal: Get 50% off your first box with 3+ month plans! Use coupon code HELLOSUB50.
---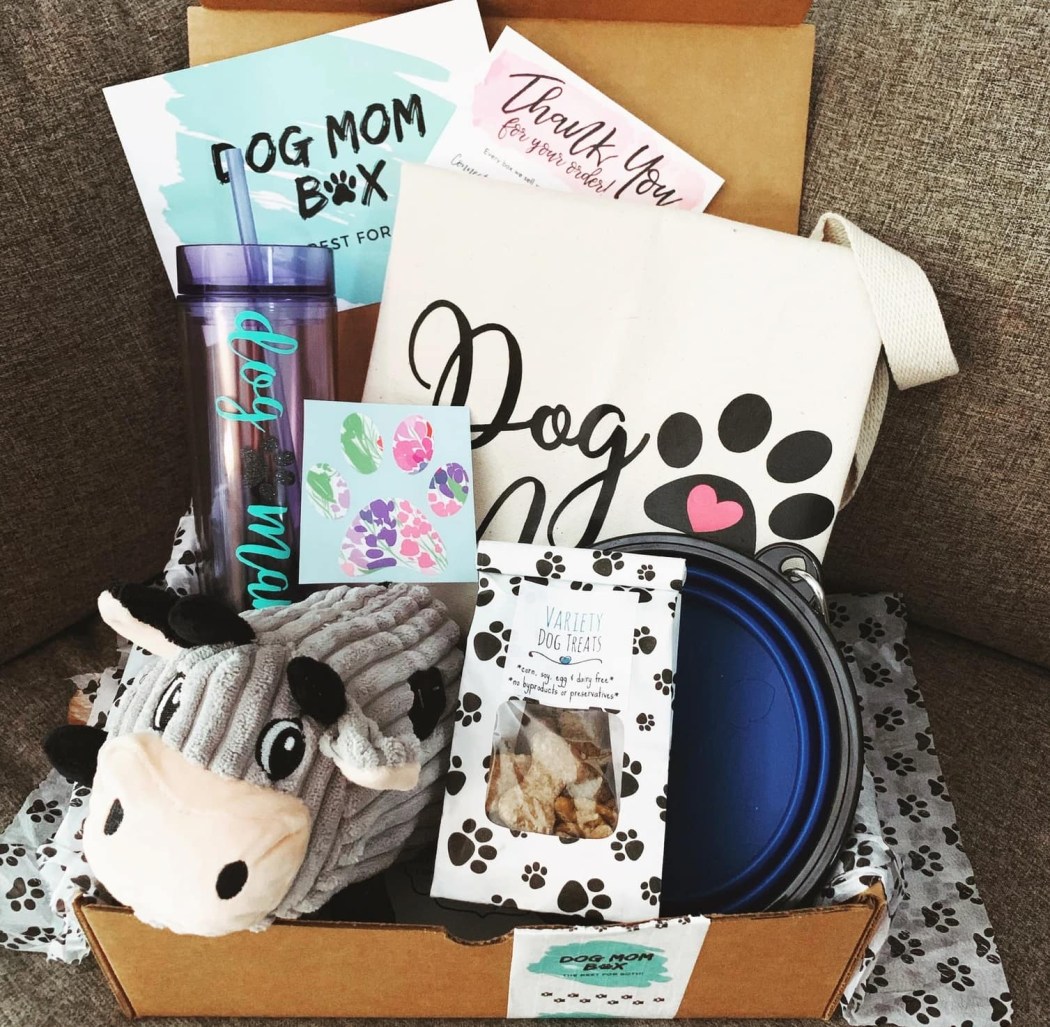 Image from: Dog Mom Box
Dog Mom Box is the perfect subscription box to make not just dog moms happy but their precious pups too! Each box comes with at least 5-7 items, which may include dog mom swag like shirts and mugs, yummy dog treats, and exciting toys. You can even customize the box based on your dog's gender and size, allowing them to curate everything accordingly. They support small businesses, so expect a lot of unique and awesome stuff you'll definitely love!
---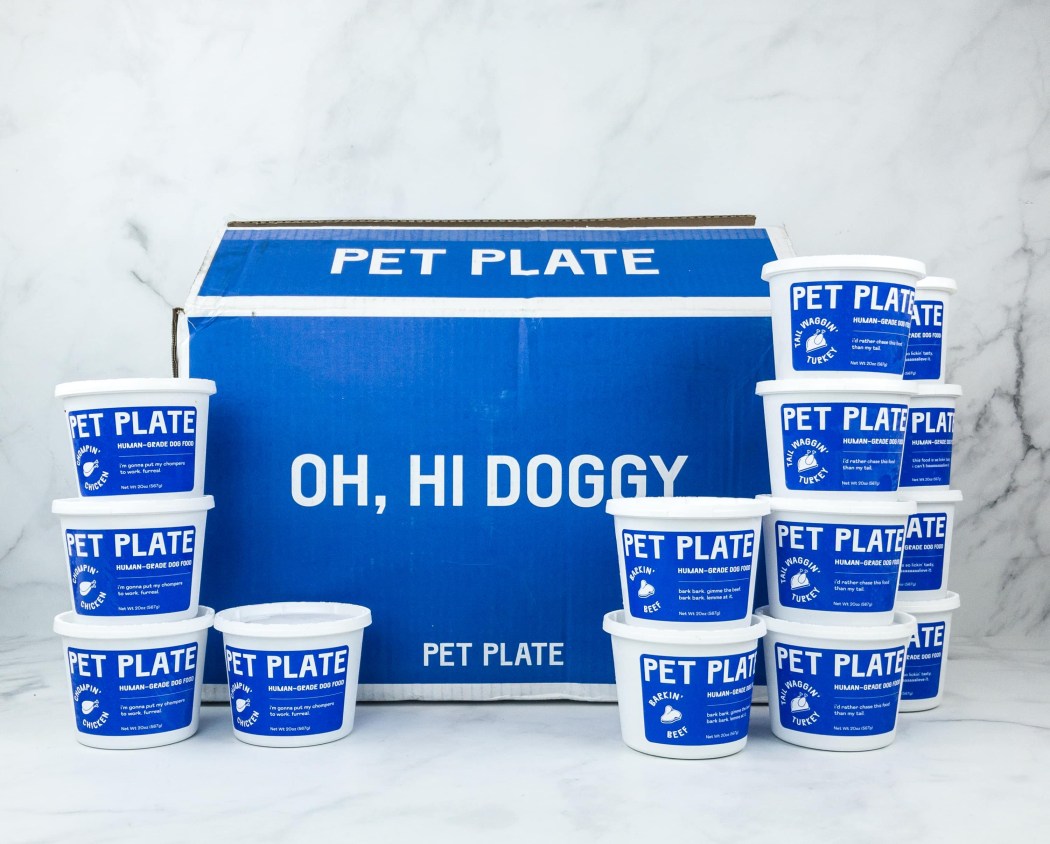 Image from: our review
PetPlate sends ready-to-eat meals for dogs made from USDA meat, fresh fruits, and veggies. Plus, every meal contains the vitamins and minerals your dog needs to have a complete and balanced diet. You just need to provide details about your dog, so they can customize the plan and send what's best for your pooch! Choose from six recipes available and have your pup indulge in real food – Beef, Turkey, Chicken, Lamb, Pork, and Venison. Everything is ready to serve, giving dog parents one less thing to do!
Deal: Get 61% off your first box! Deal applies automatically, just visit and subscribe.
---
Image from: our review
Ollie ensures that your dog is strong and healthy by sending fresh or baked meals straight to your door! Every recipe is made based on the dog's age, breed, activity level, allergies, and ideal weight using 100% real, wholesome, human-grade ingredients without by-products, artificial flavors, and fillers, customized with your overall dog's health in mind, making sure your dogs get the exact nutrients they need at every stage of their life. You can choose from fresh or baked in Beef, Chicken, Turkey, and Lamb flavors. These meals are gently cooked in small batches, ready to serve or store!
Deal: Get 50% off your first box! Use this link to get the deal.
---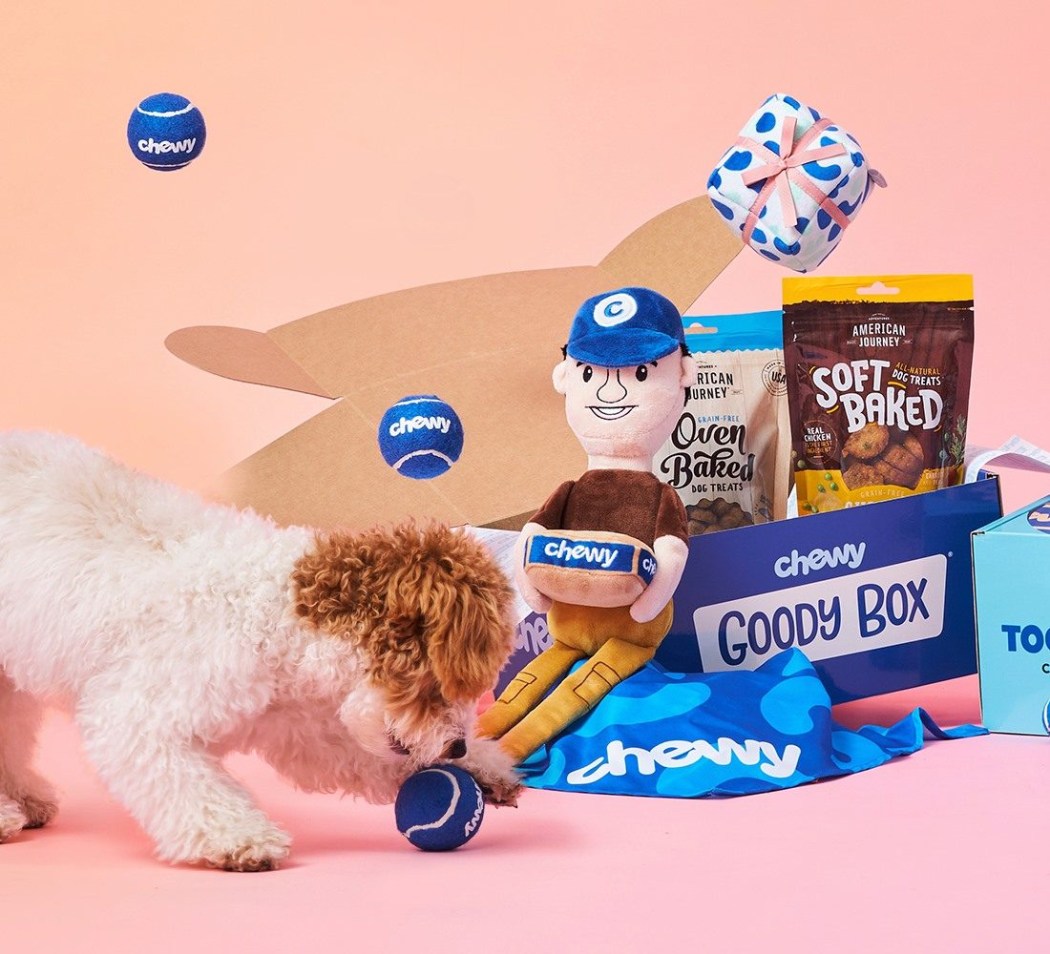 Image from: Chewy Goody Box
Chewy Goody Box offers premium pet products that will make your dog's day! Getting delicious treats, fun toys, and useful accessories for your dog is now hassle-free with their auto-ship option, which lets you schedule regular deliveries of your pet supplies, so you never run out ever again. There are varieties to choose from, plus you can customize the items depending on your dog's size and age. They have options for puppies, adolescents, and adult dogs!
---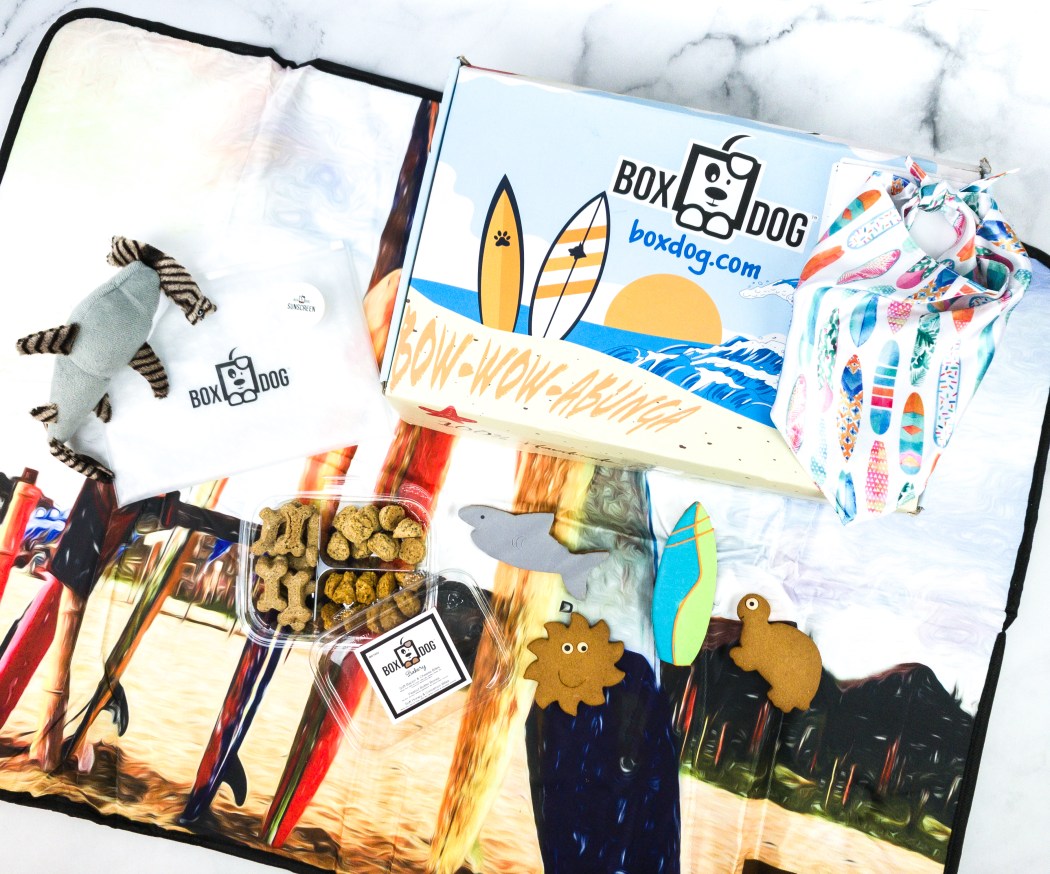 Image from: our review
BoxDog sends a dog box every month filled with a wide assortment of tasty treats, chews, and baked items from their chefs. You can customize the box by choosing two items to go in it, including options for vegan skincare, dog gear, and dog toys. No need to worry because the treats are 100% handmade using the safest ingredients that your pet can't resist munching on! And if you have a tough chewer at home, you can opt for the GIANT Quarterly Box for more surprises.
Deals:
Get a FREE Dog Saddle Bag with your first box on any multi-month plan! Use coupon code BAG.
Get 10% off on your first month when you sign up for a 6 month prepaid plan! Use coupon code 10OFF.
---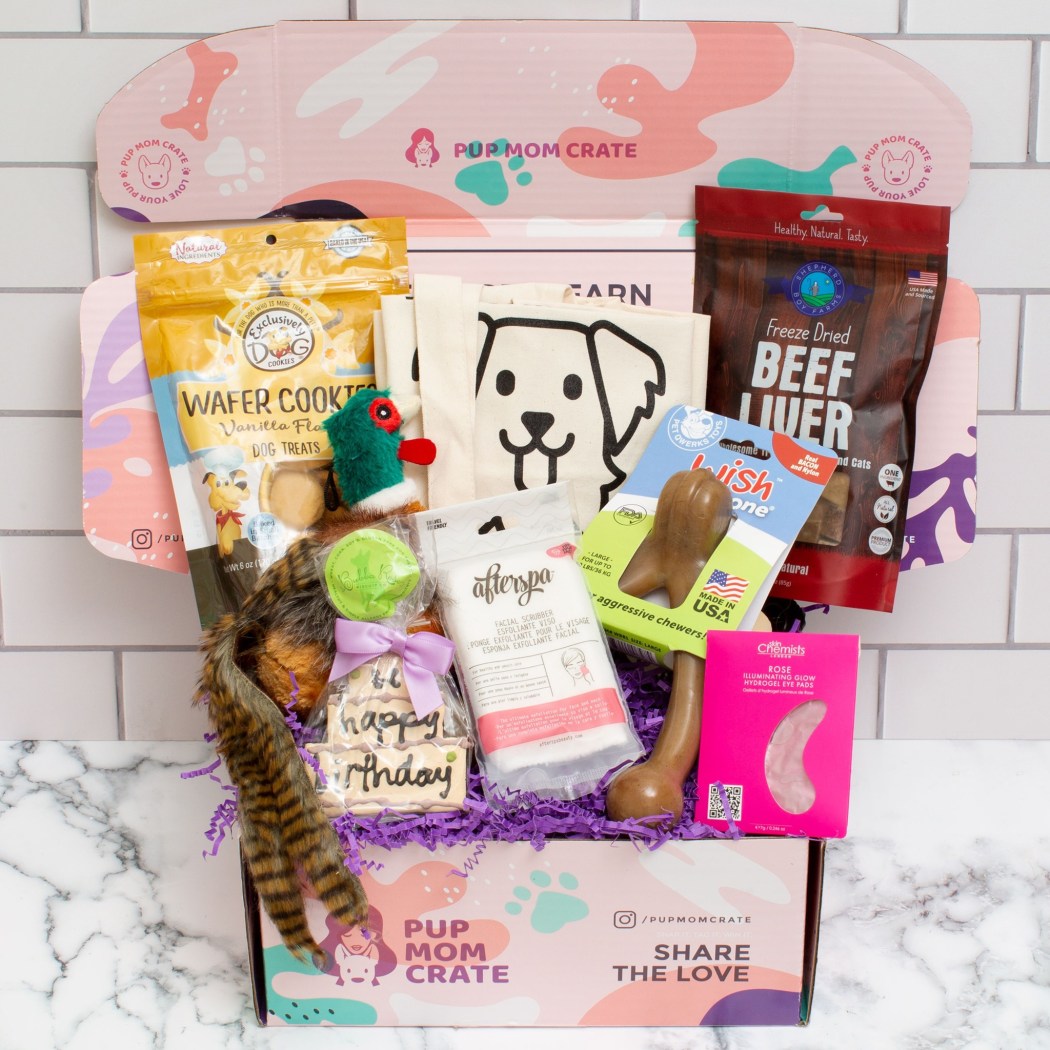 Image from: Pup Mom Crate
With Pup Mom Crate, you can spoil your fur baby and yourself! It is a monthly subscription that sends an assortment of 5-8 goodies that both the dog mom and pet can enjoy together. It includes treats and toys for your pooch + lifestyle and beauty items to pamper yourself, like tumblers, mugs, socks, face masks, moisturizers, and much more! And yes, everything in your box is full-sized and curated based on a cute theme! You can start by choosing from 3 crates: Small Dog Crate (0-24 lbs), Medium Dog Crate (25-55 lbs), and Large Dog Crate (56+ lbs) to help them curate the perfect box based on your dog's size. 

Deal: Get 20% off your first box! Use coupon code HELLOSUBSCRIPTION.
---
Image from: Spot & Tango
What You Get: Give your pet the kind of food you can feel good about! Spot & Tango delivers pet meals that are made from real ingredients, complete & balanced, and are developed by a leading team of veterinarians and animal nutritionists. These dog foods are cooked fresh and in small batches, portioned perfectly for your dog! Also, all recipes exclude artificial ingredients and wheat, soy, gluten typically found in commercial kibble. No additives, just pure healthy and hearty meal for your pup!
Deal: Get 50% off your first order! Use coupon code HELLO50.
---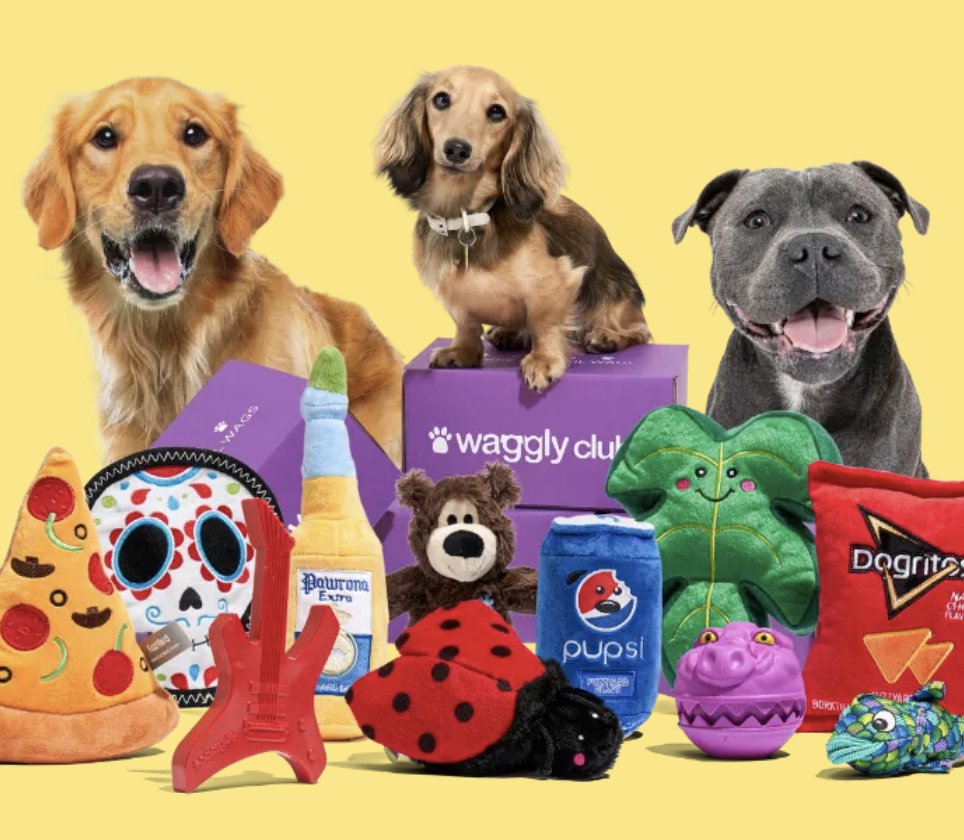 Image from: Waggly Club
Waggly Club, a delightful Australian brand, brings tail-wagging joy to your furry friend's life through their monthly subscription box. Packed with a paw-some assortment of toys and treats, each themed box is thoughtfully customized to cater to your dog's individual preferences and dietary requirements. They offer a range of options like the Puppy Box for the young ones, the Active Box for the energetic pals, the Power Chewer Box for the more determined chewers, and the Treat Only Box for those who simply adore treats. It's a wag-tastic experience that keeps tails wagging and pups hopping with joy!
---
And that's all the best subscription boxes for dogs!
More try-worthy subscriptions await! Here are all the best subscription boxes in every category!