Our furry friends are more than just pets; they're family. And just like our human family members, we want to make sure they're happy and healthy. So, why not treat them to the healthiest and tastiest meals possible? Introducing dog food subscription services – the perfect way to ensure your pup always has access to quality food without any hassle. With a variety of options to choose from, including traditional kibble and canned food, freshly cooked meals, and even raw food, your furry friend will never have a dull meal again.
Show More (14 items)
The convenience of having your dog's food delivered directly to your door on a regular schedule cannot be overstated. You no longer have to worry about running out of food or making last-minute trips to the store. With the right subscription, your dog will have access to healthy and nutritious food options that are tailored to their specific dietary needs.
One of the main benefits of dog food subscriptions is that they offer high-quality, premium dog food options that may not be available at your local pet store. These options can be particularly beneficial for dogs with specific dietary needs or health conditions. Many subscription services also provide detailed nutritional information, so you can be sure that your dog is getting the right balance of nutrients and vitamins to keep them healthy and happy.
Your dog deserves the best nutrition possible, and dog food subscription services make it easy to ensure they get it. To help you find the perfect subscription service for your furry friend, we've compiled a list of the best dog food subscriptions around!
The Best Food Subscription Boxes For Your Dogs!
Image from: our review
The Farmer's Dog makes sure you're not the only one eating healthy, but your dogs are too! They offer freshly made human-quality meal plans that are personalized to your hyper pooch's individual needs. These meal plans are vet-developed, delivered perfectly in time, so you'll never run out of fresh food to serve your pet! Meals are pre-made and pre-portioned to their calorie needs and contain just the right balance of vitamins and nutrients. No need for middlemen or retail markups – they'll deliver the healthiest, balanced, and freshest pet food, all at a reasonable price!
Deal: Get 50% off your first purchase! Deal applies automatically, just visit and subscribe.
---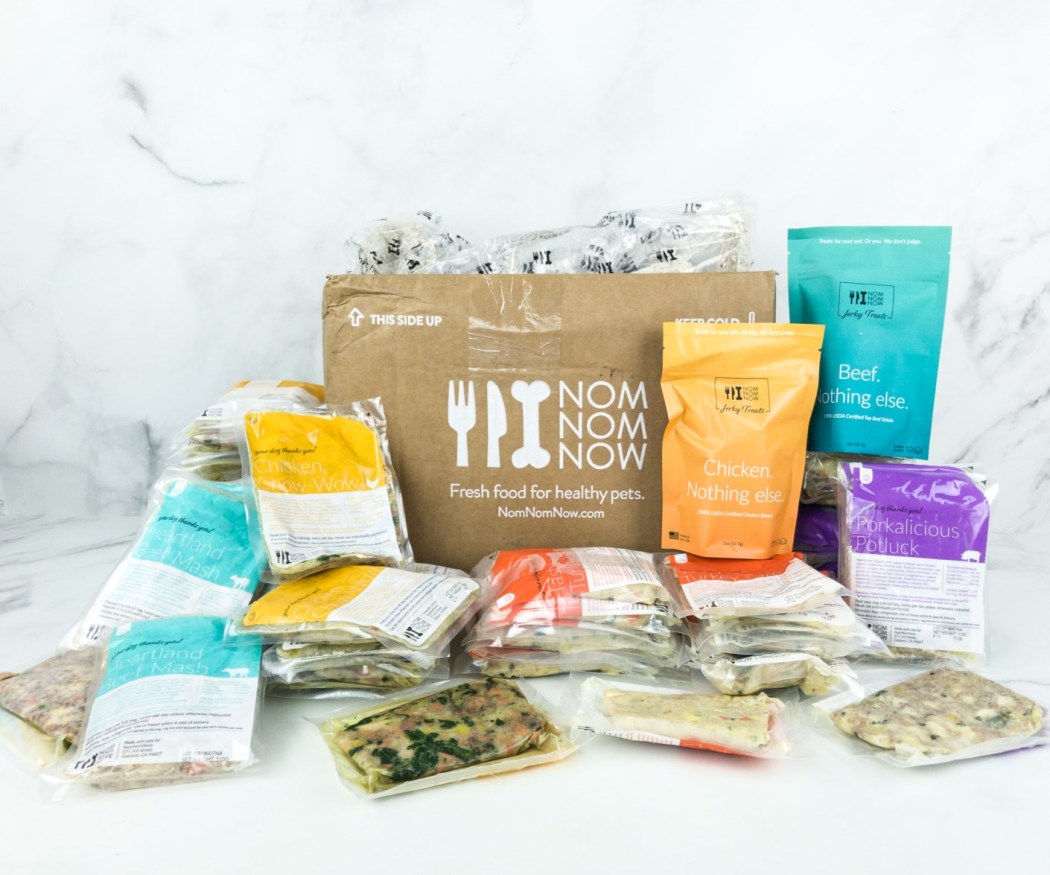 Image from: our review
Fresh and healthy dog food, delivered right to your door each week, that's what Nom Nom is! Made with love in San Francisco, they offer nutritionally balanced pet food that every dog parent could feel good about. Everything is made fresh (never frozen!) from whole food, restaurant-quality ingredients, processed in the US, and fit for human consumption. Choose Chicken Cuisine, Pork Potluck, Beef Mash, Turkey Fare, or the variety pack, where you can try all four recipes. For them to create the perfect meal for your pup, provide them with information like weight, age, lifestyle, and body condition. Every ingredient is inspected, and if it doesn't meet the standards, it doesn't make it into your dog's bowl.
Deal: Get 50% off your first order! Use coupon code 50off.
---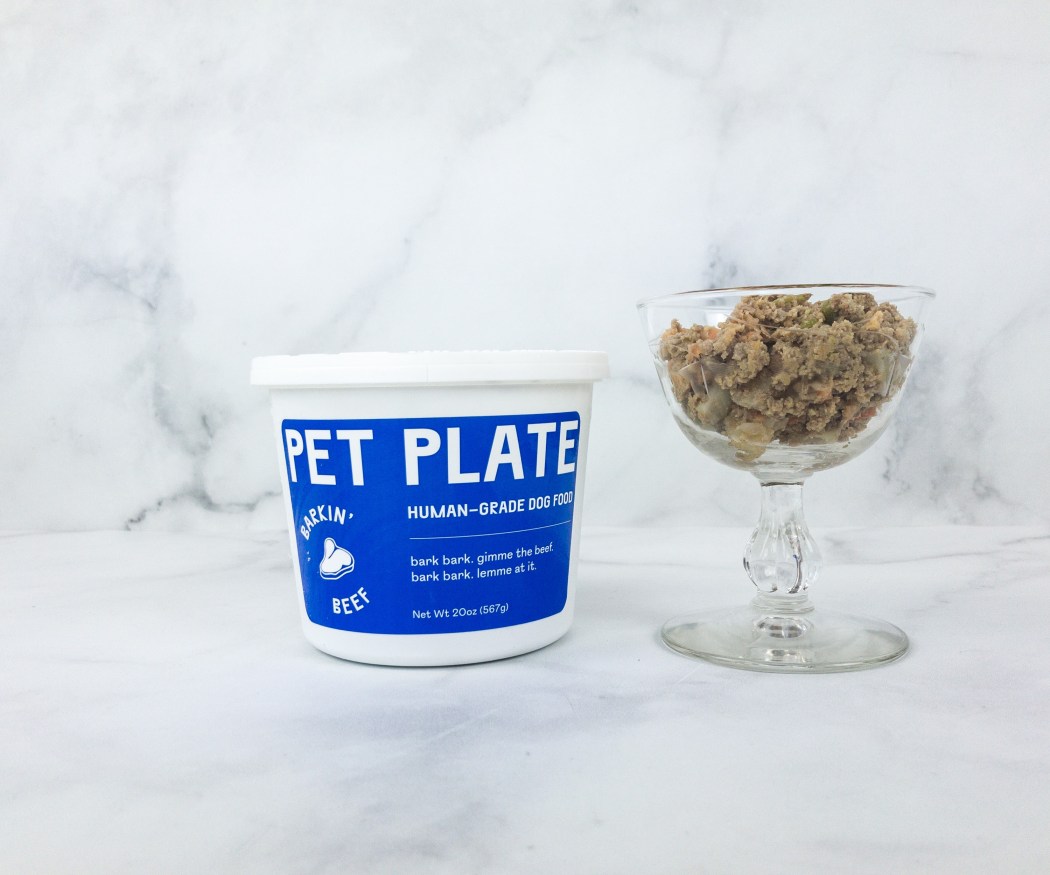 Image from: our review
PetPlate is easy, convenient, and fun! This subscription helps keep your beloved dogs in their best condition by sending them real food made with meat, fresh fruits, and vegetables. All the dog meals they send are ready-to-eat, giving pet owners one less work to do! There are 4 recipes available to choose from: Beef, Turkey, Chicken, and Lamb. Also, every meal contains vitamins and minerals your loyal companion needs to have a complete and healthy balanced diet. All you need to do is provide details about your dog so they can customize the plan and send what's best for your hyper doggy!
Deal: Ge 61% off your first box! Deal applies automatically, just visit and subscribe.
---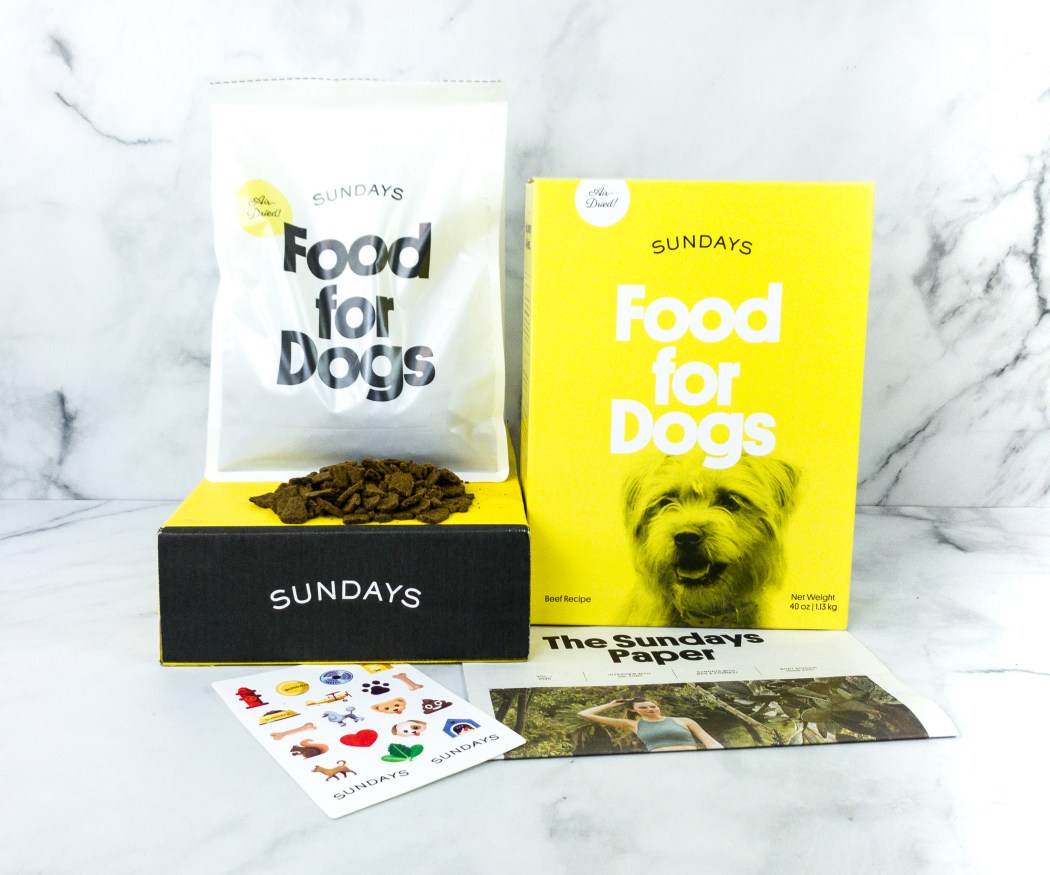 Image from: our review
As dog parents, we want nothing but the best for our pets. Sundays created something good for every parent out there looking for ways to revolutionize pup health. They offer dog food that's much healthier than kibble and easier than home-cooked foods. Created by a vet, this dog food is human-grade, air-dried, all-natural, and can be a great alternative to kibble. Tell them about your dog, and they would customize a plan that's fitted to your doggo's profile, available in three box sizes: Regular (40 oz), Medium (72 oz), and Large (144 oz). It has a treat-like taste and a fresh flavor that your dog can enjoy!
Deal: Get 20% off your first box! Use coupon code 20OFF.
---
Image from: our review
For dog parents who want nothing but the best for their pets, Spot & Tango is one subscription to trust. They make it easy for pet owners to keep their dog's life happy and healthy. Find your dog's perfect food plan by taking a short quiz designed to match your dog's current health with the fresh meals to feed them. These human-grade dog food are developed by a leading team of veterinarians and animal nutritionists and may help with losing weight, improving digestion, reducing allergies, and improving skin & coat, among a number of other health benefits. All recipes are gently cooked in small batches and exclude artificial ingredients, so it's something you can feel good about!
Deal: Get 50% off your first order! Use coupon code HELLO50.
---
Image from: our review
Ollie is a subscription that customizes meal plans with your dog's health in mind. They target to give your doggo the exact nutrient they need at every stage of their life. Every recipe is made with 100% real, wholesome, human-grade ingredients without by-products, artificial flavors, and fillers! It works simply by telling them about your dog, including age, weight, breed, and even allergies. Based on the profile you've created, they'll customize your dog's plan. There are 4 recipes for you to choose from – Beef, Chicken, Turkey, and Lamb. These meals are gently cooked in small batches, giving you one less thing to worry about!
Deal: Get 50% off your first box! Use this link to get the deal.
---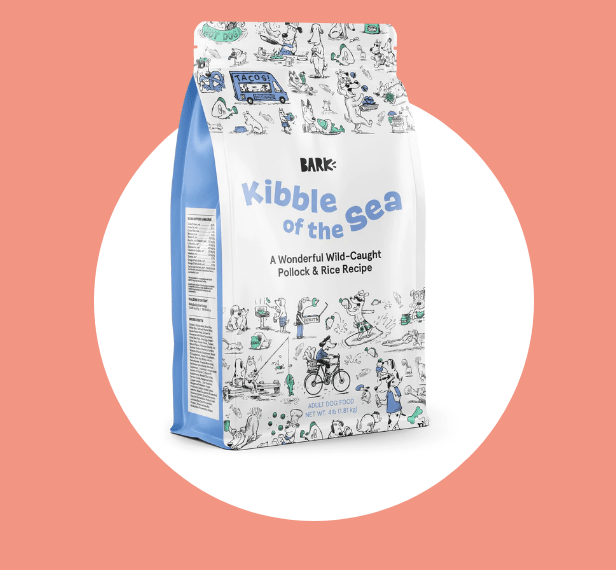 Image from: BARK Food
BARK Food offers the highest quality dog food you could ever imagine for the best value! They work with animal nutritionists to serve your pet the best meal, tailored to its unique health needs. Just let them know what your dog is like, including health issues, and they'll build a meal plan with personalized blends of perfectly portioned daily meals to make your pooch happy and healthy in its life. Every month, you'll receive 28 daily pouches containing your dog's custom blend, taking one less trip and scoop out of your way!
Deal: Get 30% off your first order + FREE Shipping! Use coupon code 30HELLO.
---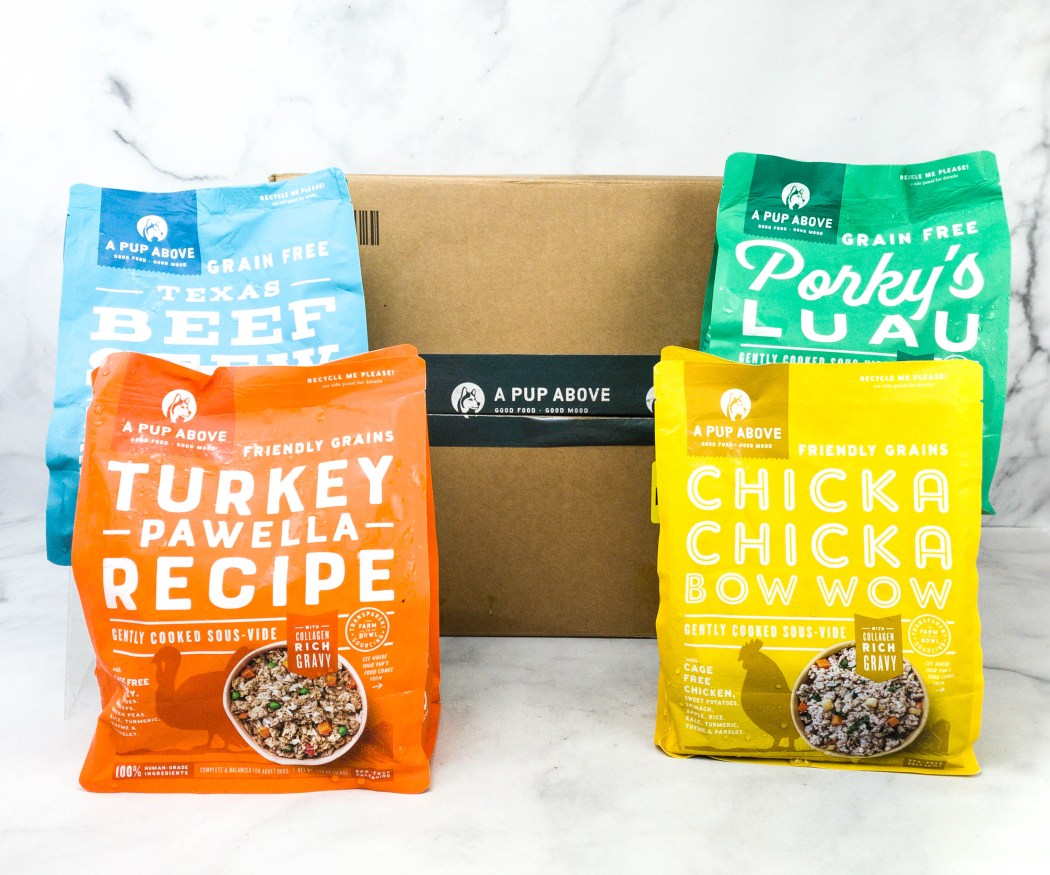 Image from: our review
A Pup Above believes that ensuring your dog's nutrition doesn't mean you have to compromise the food's taste! This subscription is made by dog parents for fellow dog parents, providing solutions for owners who want only the best for their dogs. These are cooked sous-vide to make sure that the nutrients and flavors are retained even after the cooking, creating a next-level taste that the dogs will really enjoy! You can choose from 4 available variants they offer: Texas Beef Stew, Turkey Pawella Recipe, Porky's Luau, and Chicka Chicka Bow Wow. You can also try them all when you opt for the sampler pack. Made from human-grade ingredients, you're sure to give what those puppy eyes want – fresh, delicious food!
Deal: Get $50 off on your first order over $100! Use coupon code TRYNOW.
---
Image from: Front Of The Pack
Front Of The Pack now offers dog food and not just supplements! They're on the mission to feed your fur baby, never processed whole food. You can even customize the plan by taking a short quiz. It asks about your dog's age, breed, weight, activity level, and more, which will be the basis for recommending the best meal plan (full meal or topper) for your pooch! They use natural ingredients like sustainable meat, organic fruits & veggies, gluten-free grains, and non-GMO oils, then gently air-dried it to preserve nutrients without compromising flavor. It's a healthier choice than kibble but much more friendly on the budget. Dogs will surely gobble it all down!
Deals:
Get 20% off your first order of Air-Dried Dog Food! Use coupon code TRIAL.
Get your first month FREE when you sign up for The One daily dog supplement subscription! Deal applies automatically, just visit and subscribe.
---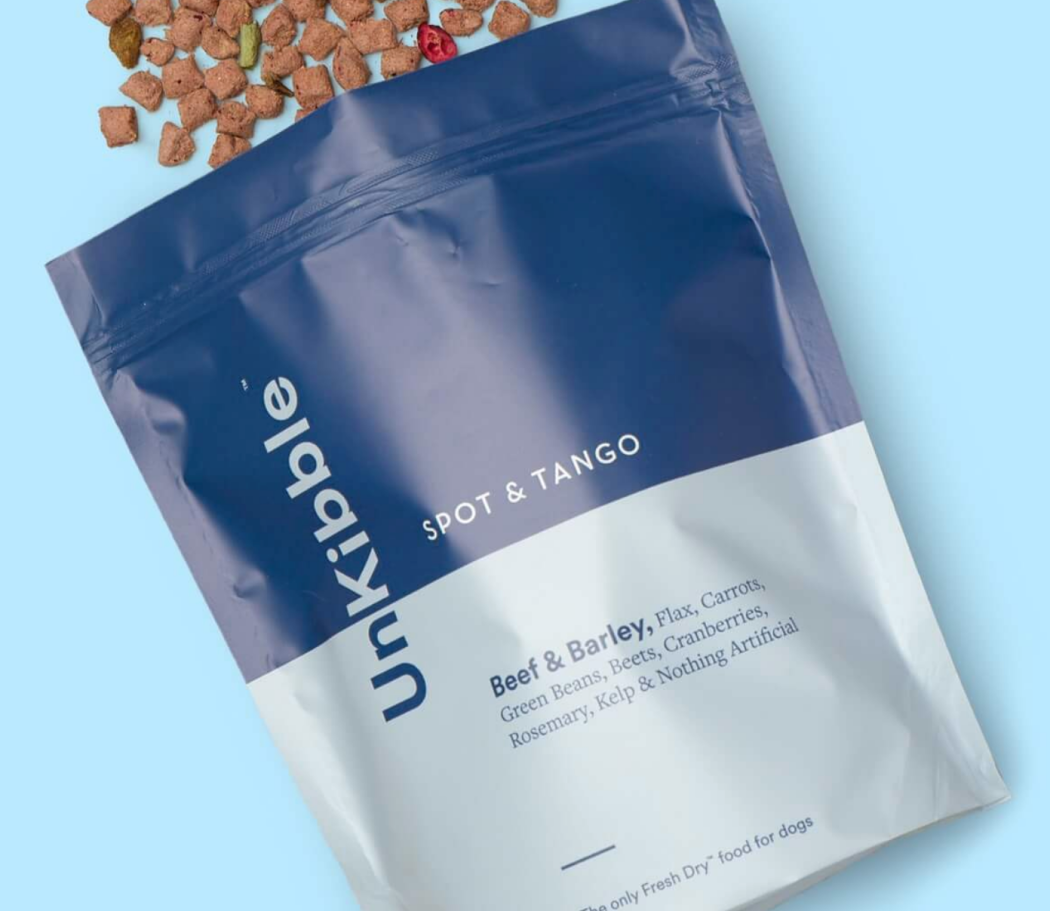 Image from: Spot & Tango Unkibble
Spot & Tango Unkibble serves every dog exactly the right nutrition they need every day. These kibbles are made from human-grade ingredients and real meats only with no artificial additives, colors, or flavors, giving your four-legged companion the best-tasting kibble ever. These are gently dried at low temperature, turning them into crunchy pieces that can make your dog tails wags! Take the quiz, and they'll take care of everything for you – no hassle, no guesswork! Choose from 3 simple recipes (Chicken & Brown Rice, Beef Barley, and Duck & Salmon), developed by a team of vets to give your dogs tasty kibbles, but better!
---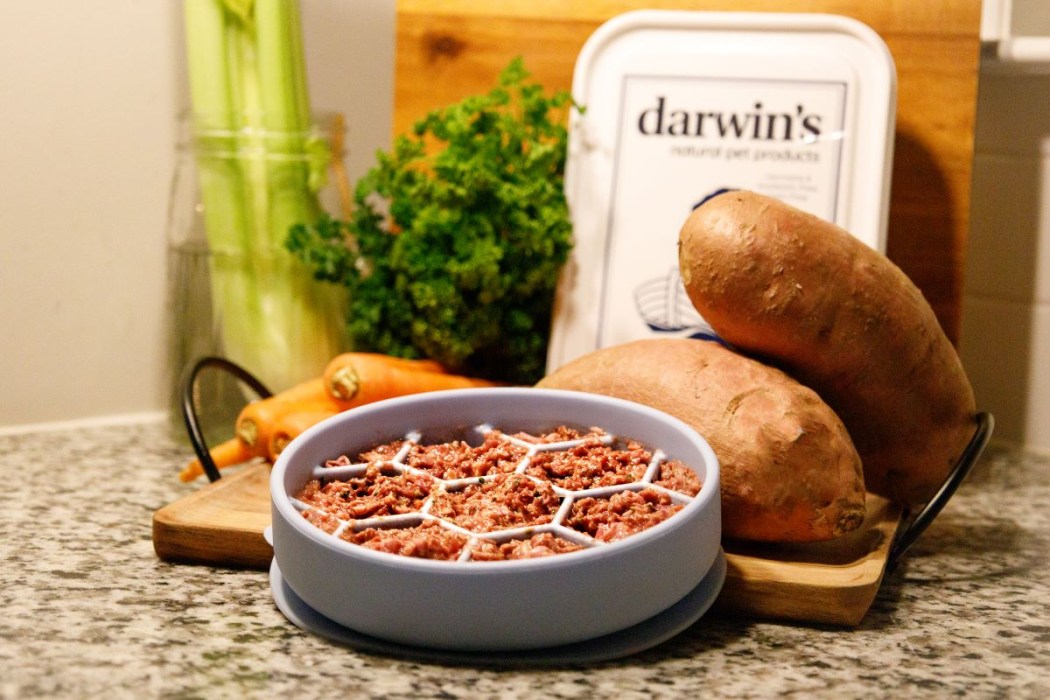 Image from: Darwin's
Darwin's mission is to help pets and their owners to enjoy more years of healthy companionship together, which is why they developed a revolutionary method for feeding pets the right nutrition they need. By offering fresh, raw pet food that's inspired by nature and informed by science, you'll definitely make your pet happy and healthy. These minimally processed, raw food are made from fresh ingredients that your doggo instinctively craves – the highest quality free-range meats and organic veggies. Take a short quiz and leave everything up to them. What's left for you to do is wait for the package to arrive and see that tail wags out of excitement!
Deal: Get 10 lbs. Premium Raw Food for just $14.95 + FREE Shipping! Deal applies automatically, just visit and subscribe.
---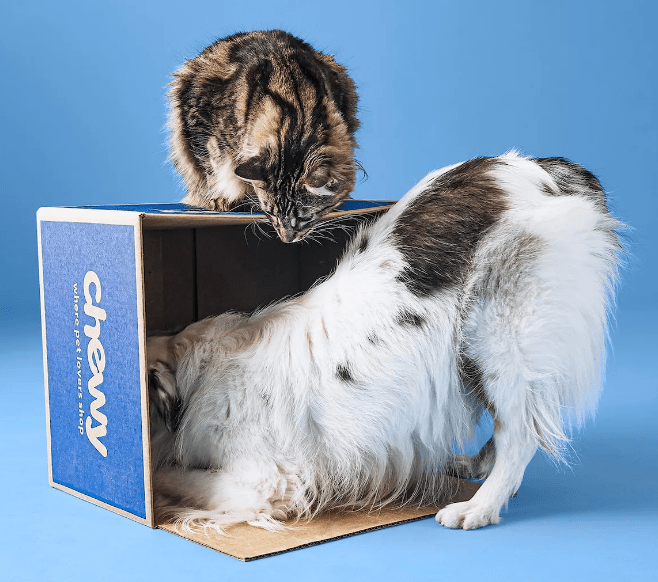 Image from: Chewy Pet Food Auto-Ship
For pet food choices, there is Chewy Pet Food Auto-Ship that'll send your preferred dog food directly to your door. This online marketplace carries a wide variety of dog food, ranging from dry, wet, premium, raw, freeze-dried, human-grade, frozen, to even vet diets and toppings! You can choose exactly which brands you trust and save more bucks with every shipment. It auto ships in your desired delivery frequency, and you'll even get free access to real-time advice from licensed vets! Aside from pet food, they also carry treats, toys, healthcare, and more.
---
Image from: RAW WILD Raw Dog Food
RAW WILD Raw Dog Food is the most extraordinary dog food on earth as it is made from 100% wild elk and deer meat raised wild in the rocky mountains. Each month, they'll deliver the best pet food for those who seek a healthier path for their pets – a complete & balanced diet directly to your doorstep. They keep things natural and add zero hormones, zero antibiotics, zero grain or gluten, zero preservatives, and zero GMOs, but filled with lots of vitamins and minerals. It's dog food that is guaranteed to make you and your loyal pet feel great!
Deal: Get 25% OFF your first order (12lb Trial only). Use coupon code TRIAL25.
---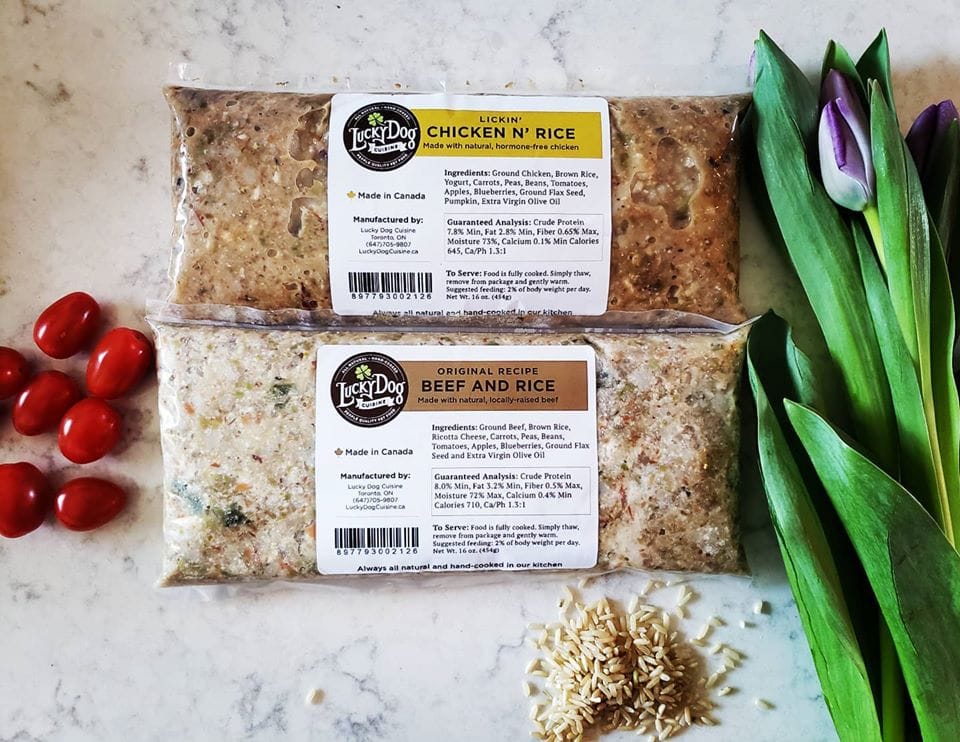 Image from: Lucky Dog Cuisine
Lucky Dog Cuisine offers cooked, all-natural fresh food your dog can enjoy. These are whole food cooked by hand using healthy ingredients that humans could eat too! Such ingredients include humanely raised grass-fed beef and pork, hormone-free turkey and chemical-free fish, GMO-free fruits and veggies cooked using extra olive virgin oil, and even filtered water. You can choose from the 7 amazing recipes they offer, so you can feed your dog tasty recipes that can optimize their immune system. It's a complete meal for your loyal fur buddy, shipped directly to you from their kitchen!
---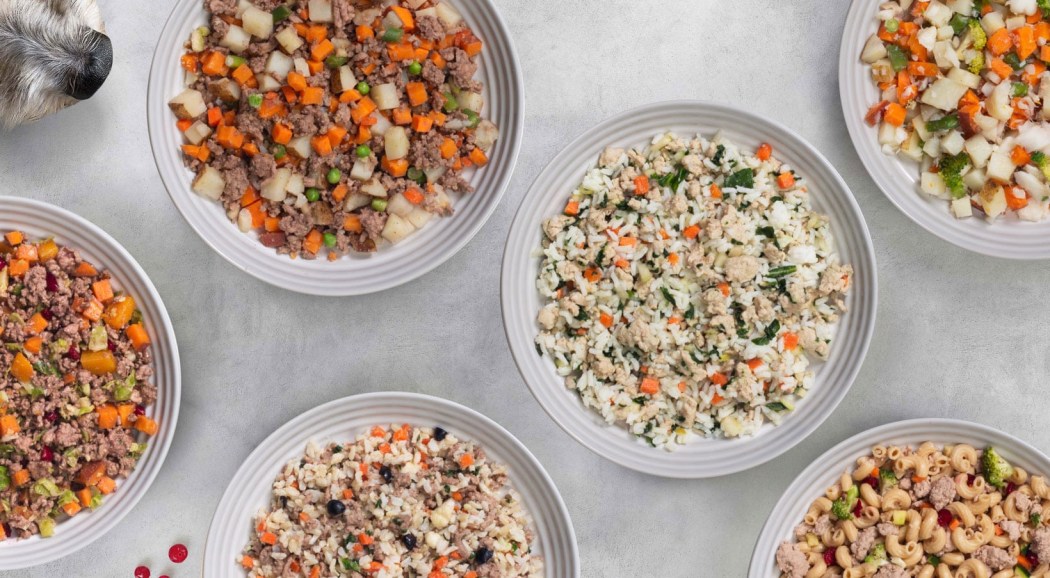 Image from: Just Food For Dogs
Just Food For Dog's mission is to improve the length and quality of life for as many pets as possible. That's why they came up with dog food that is filled only with the right nutrition needed in your pet's life. Tell them a little something about your pet, and they'll recommend the best options for your doggo. There are different box sizes to choose from: Small (7 x 18oz packages), Medium (21 x 18oz packages), and Large (7 x 72oz packages). All the food they offer is made from real, unprocessed, nutrient-rich ingredients approved by the USDA. Feed them this vet-approved dog food and see your pet's life improve!
---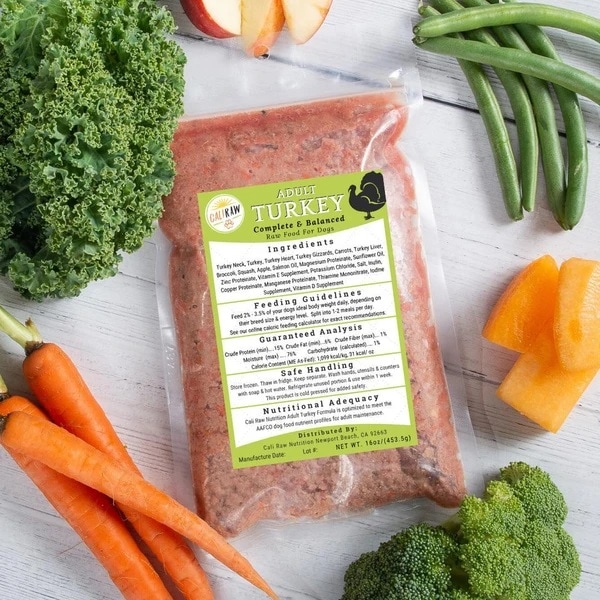 Image from: Cali Raw
With Cali Raw, you can feed your loyal fur buddy complete & balanced, human-grade meals. Improve your dog's health in just 30 days with natural, high-quality, high-protein fresh meals. These are formulated by an animal nutritionist using high-quality ingredients, including raw meat, bone, organs, vegetables, salmon oil, and vitamins & mineral with the exception of fillers, preservatives, and by-products! Build your box with the formulas you want to feed your dog and start your journey for improving your pet's health because fresh is best!
---
Image from: I and Love and You
Just from the name of the subscription, you know you'll only get the best food for your dog. I and Love and You is a dog food subscription service by pet parents for pet parents, delivering complete, whole-food nutrition in every pack. They offer a wide range of dry, wet, and raw meals, among others that are all made from natural ingredients with added prebiotics and probiotics for healthy discharge of waste. All you need to do is take a quiz to find the perfect food for your furry friend. These don't contain fillers of any kind, just pure real ingredients loved by doggos!
---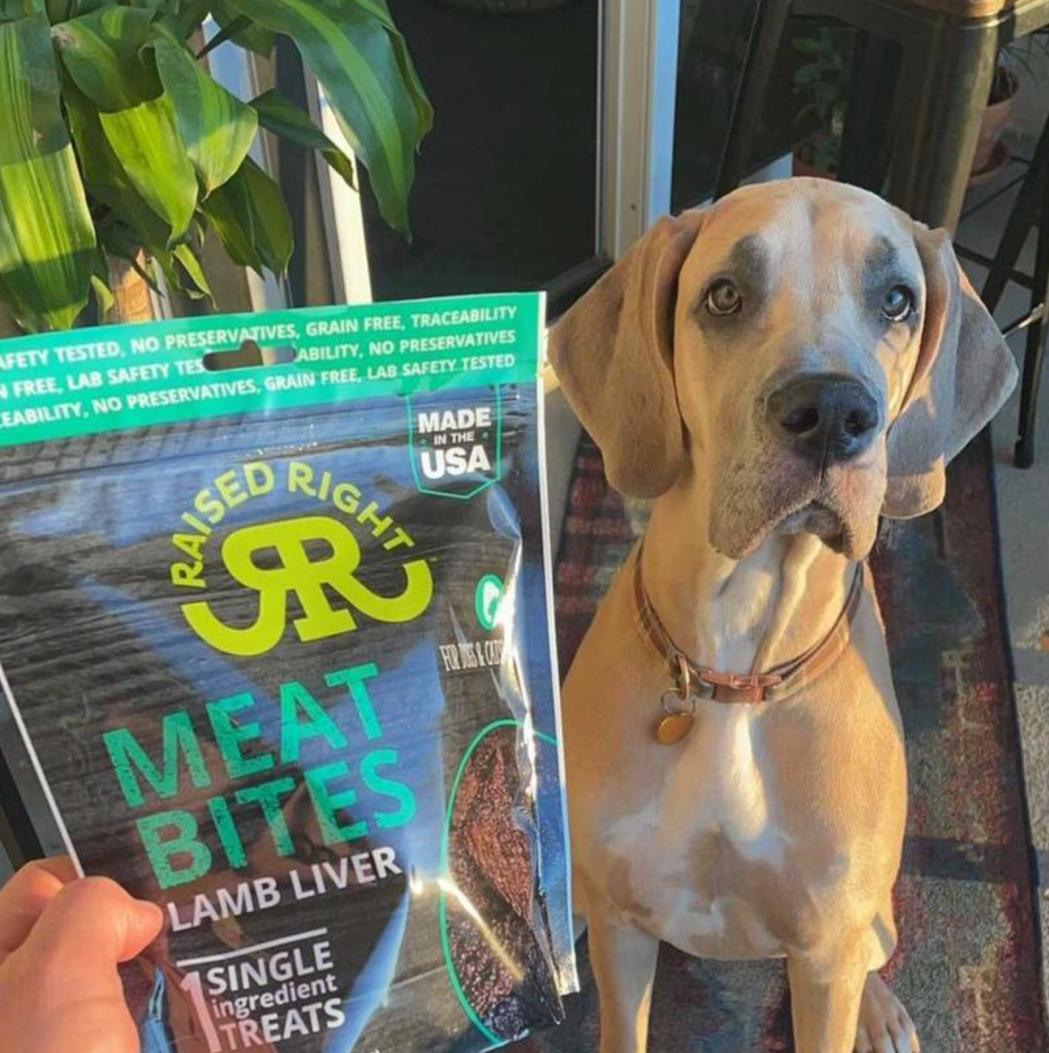 Image from: Raised Right Pets
With Raised Right Pets, you can raise your dog really right with their human-grade pet food. They offer a whole food diet that's been lightly cooked and frozen to seal in freshness so you can serve one tasty meal to your beloved pet. All recipes are complete and balanced using a single source of animal protein without any preservatives and fillers. You can choose between original recipes or paté recipes and get a full box (16 bags) or a sample box (4 bags). It's a home-cooked style for the home buddy you love most!
Deal: Get 20% off your first full box (16 bags) of human-grade pet food! Use coupon code PETS20.
---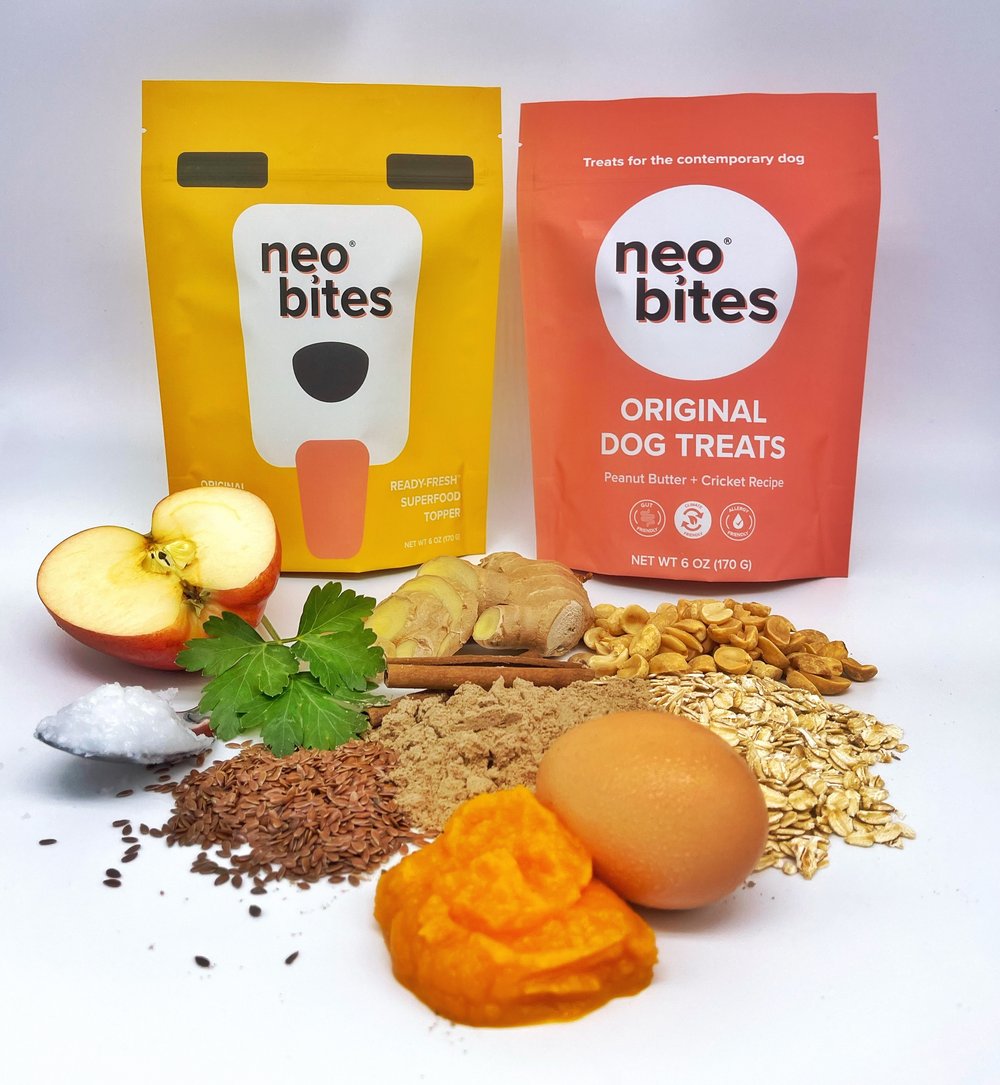 Image from: Neo Bites
For giving your four-legged companion the best tasting food they'll love, there is Neo Bites for that! This subscription offers ready-fresh superfood toppers and treats that are full of only the good stuff. Cricket is a superfood, and it's the main ingredient of Neo Bites dog food as it's one of the most efficient sources of animal protein. These are gently cooked and dried at a low temperature, which results in high-quality, ready-to-eat unprocessed food with a treat-like taste dogs love! You can choose to receive 1, 2, 3, or 4 bags of superfood topper or dog treats every month, or pick the Treat & Topper Bundle to get them both!
Deal: Get 10% off on all orders! Use coupon code WOOFWOOF.
---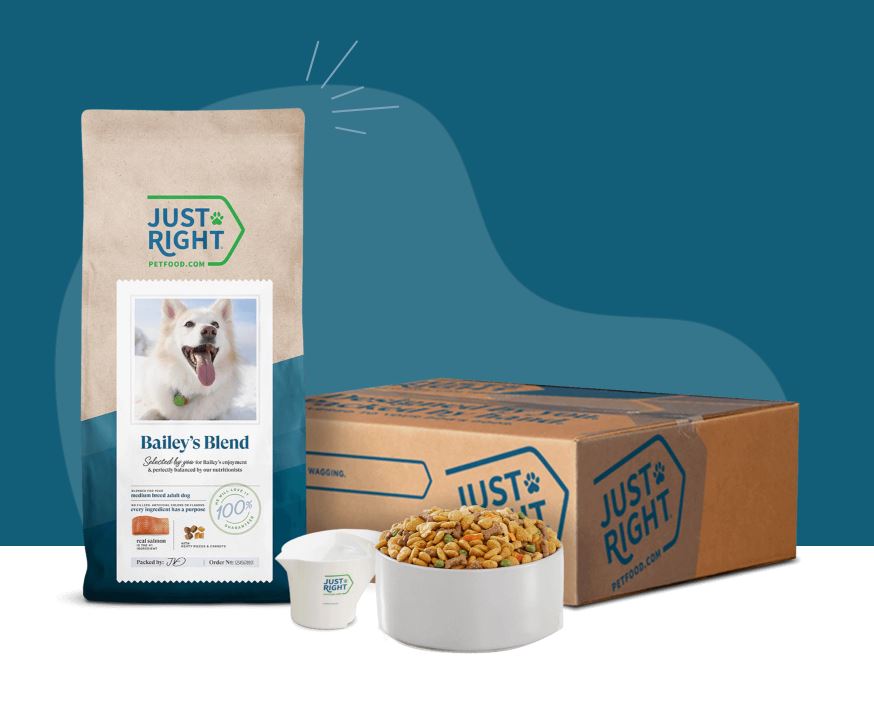 Image from: Just Right Pet Food
Addressing our pets' unique needs, Just Right Pet Food offers customized meals for dogs with a balanced blend of meat and plant protein – like lamb, chicken, salmon, beef, pea protein, potato protein, and soybean flour. These healthy meals are crafted in the USA with the help of a nutritionist to make sure that dogs receive balanced nutrition, keeping them happy and healthy.
This dog food subscription is delivered monthly, and it's also flexible because you can adjust your dog's custom blend in case their needs or tastes change. Pet parents even get lifelong support, or access to specialists in case you have questions!
Deal: Get 50% off your first box + FREE Shipping! Deal applies automatically, just visit and subscribe.
---
That's all for the best dog food subscription boxes! Have you decided on which ones to try?
Head on over to our list of all the best subscription boxes to find more subscriptions!