Just like people, dogs also love treats. As pet parents, we want all the best for our dog. Giving dog treats is an expression of our love for them. Reward them with treats that we can feel good about feeding them. The ideal way to stack up and never run out of snacks to give them is through dog treats subscription boxes.
Dog treats should also be nutritious. We don't want to risk our four-legged companions' health by not giving them nutritious ones. On this list, we've gathered the best and tasty treats, from bully sticks to jerky, that your pooches can enjoy!
Give them delectable treats with the best dog treats subscription boxes they can't resist!
The Best Dog Treats Subscription Boxes!
Image from: our review
What you get: If dogs can comment on the food they're eating, they will definitely give this box two paws-up! Ziva's Surprise Pack delivers quality human-grade non-GMO treats for deserving dogs that are crafted by their sister company, Scout & Zoe's. You'll never know what's inside every pack until you receive it! Rest assured, all treats are tasty and your dog will truly enjoy nibbling on them! If you have more than one dog at home, you can choose Ziva's Surprise Pack For Multiple Dog Homes.
Navigate through our Ziva's Surprise Pack reviews to see what they've previously sent us.
Price: The box costs $16.95 per month.
---
Image from: our review
What you get: BoxDog is a monthly subscription that sends handmade treats for your fur baby! You have the option to choose 4 items that you like to include in your box including treats, toys, clothing, or skincare each month. These treats are 100% handmade and your pet can't resist munching on them! There are new items each month to choose from, so you'll never get bored! If you have a tough chewer at home, you can choose and customize the GIANT Quarterly Box.
Visit our BoxDog reviews to learn more about this subscription.
Price: The box costs $39.99 quarterly and $159.96 for an annual plan. They also have a monthly box for $35.99.
Deal: Get $10 off your first box! Use coupon code 10HELLO.
---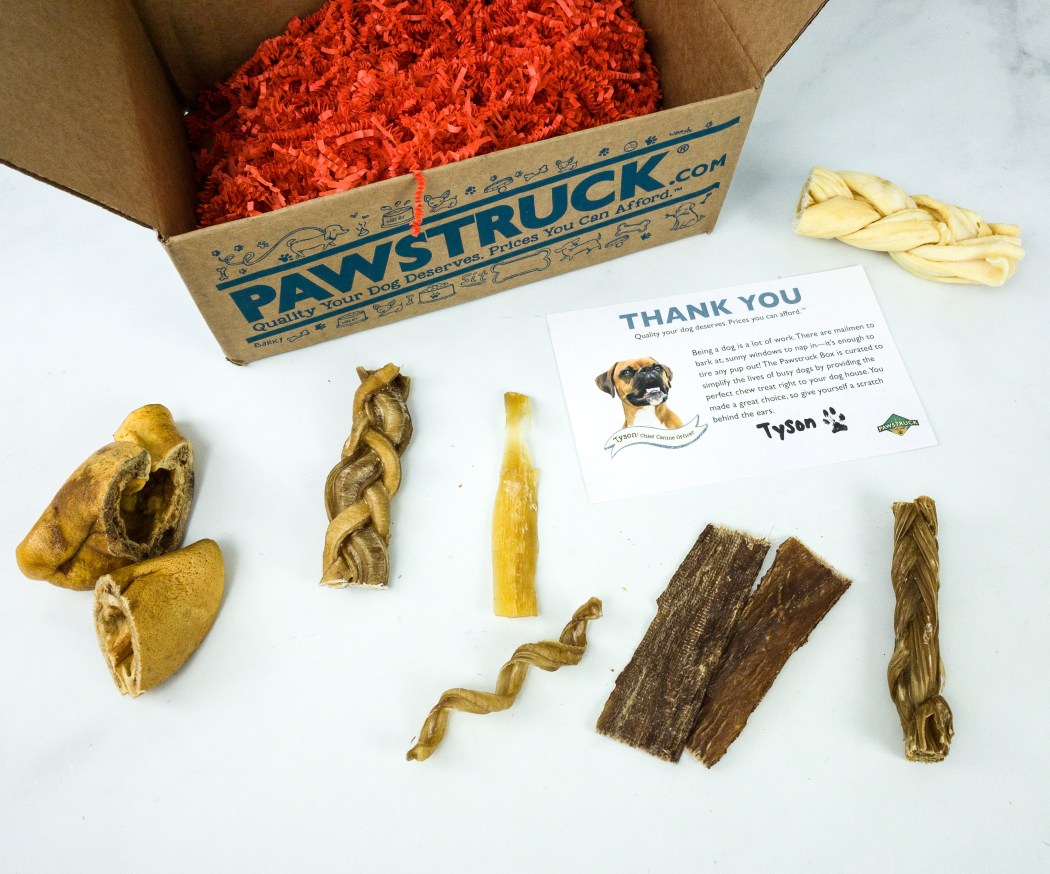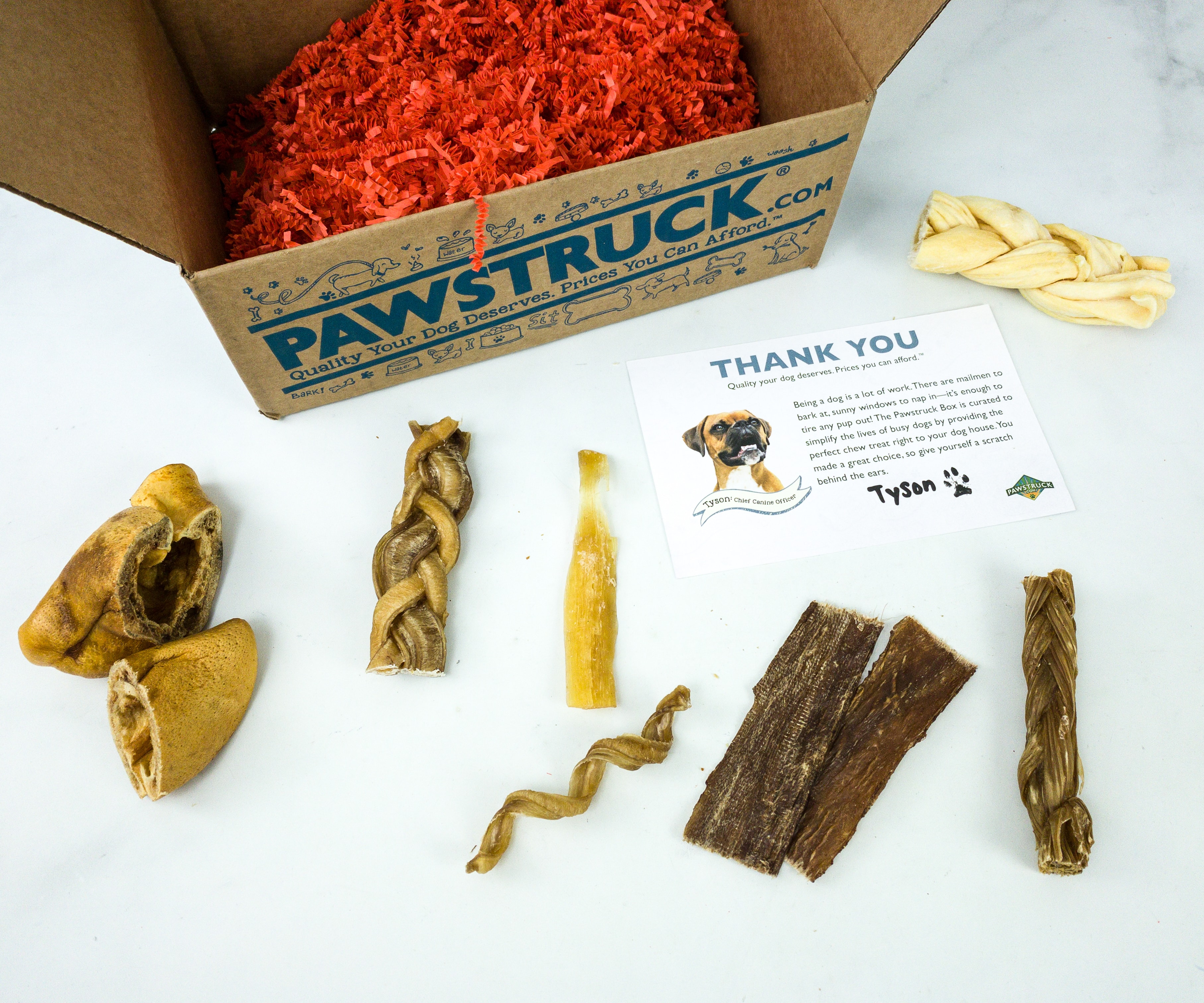 Image from: our review
What you get: Give your pets the kind of treats they deserve! Pawstruck delivers tasty, natural chews that can satisfy your pet's appetite directly to your door each month. Each box is hand-packed with 4 types of meaty treats and chews that are curated based on your dog's size. Your dog will surely enjoy gnawing on treats like bully sticks, cow ears, beef jerky, pigskin treats, and more! Each dog treat is packed individually to seal in freshness and to make sure they'll arrive in good condition.
See past box contents when you visit our Pawstruck review page.
Price: Subscribe and save $12.60 on your first box and then renews at $36.00 per box every month.
---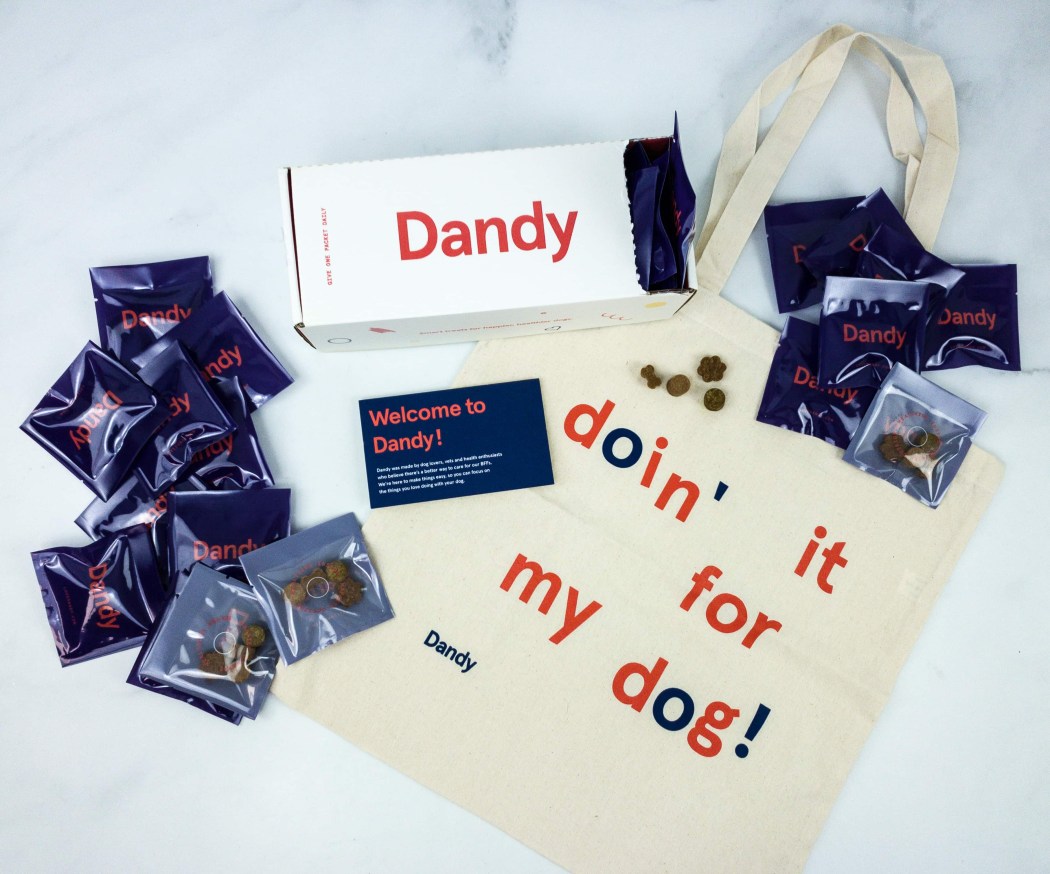 Image from: our review
What you get: Dandy is a monthly subscription that delivers all-natural, non-GMO, plant-based vitamin treats for your pet to your door. These vitamin treats are formulated by certified veterinarians to keep dogs healthier and happier in their lives! They have 4 packs available: Allergy Pack, Anxiety Pack, Senior Pack, and Wellness Pack. Each pack has 4 vet-approved supplement treats in peanut butter flavor! You'll receive 30 packs with every shipment.
Read our past Dandy reviews to find out more details.
Price: Customized vitamin treat pack for dogs starting at $40 per month.
Deal: Get $5 off on your first box! Use coupon code DANDY5.
---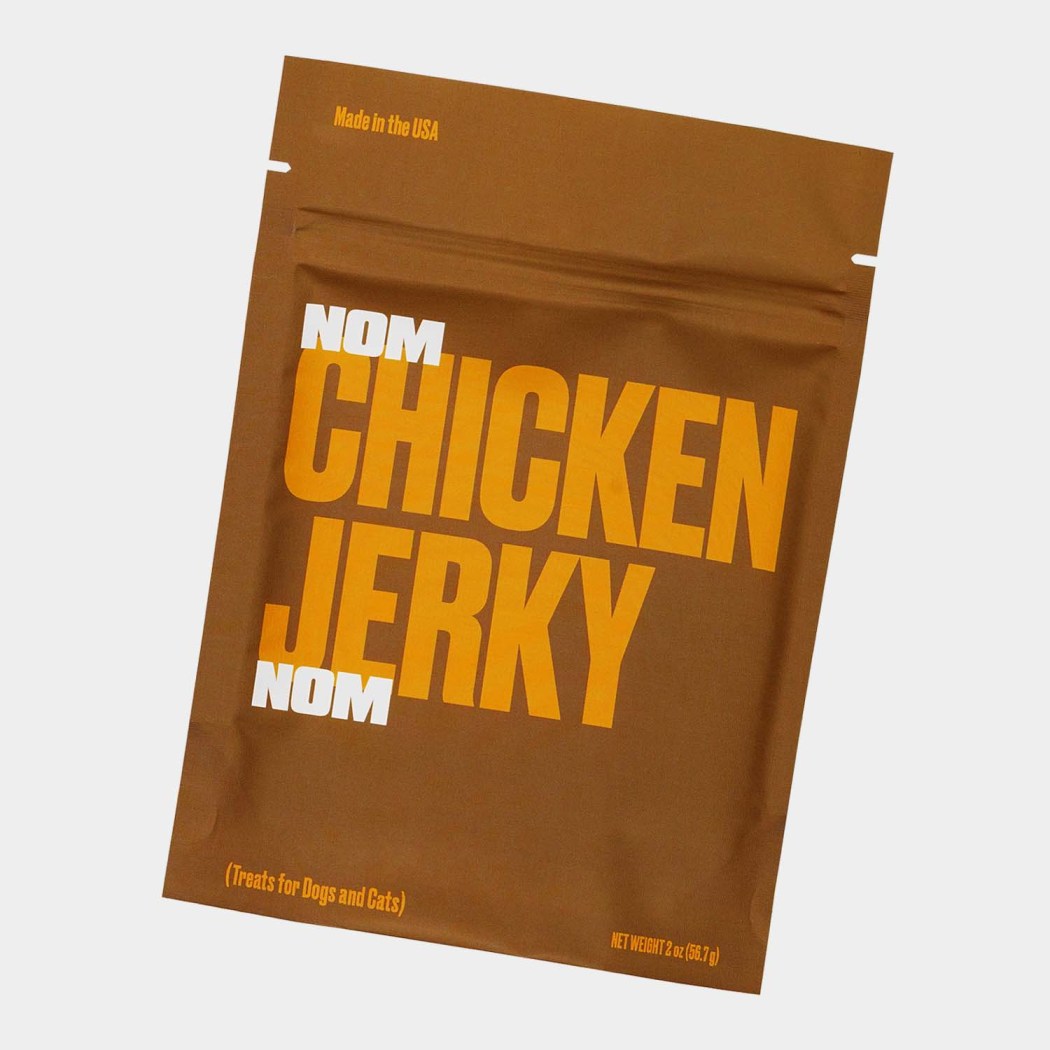 Image from: Nom Nom
What you get: NomNom offers nutritionally-balanced treats that every pet parent could feel good about giving their fur babies. They partnered with one of the leading board-certified veterinary nutritionists in the country to give what exactly each pet needs. Give them Beef Jerky that's made with just one ingredient, which is 100% USDA-certified top sirloin beef, or Chicken Jerky that's made with high-protein, restaurant-grade 100% USDA-certified chicken breast. These treats will have your pet's tail wag out of excitement!
Check out our NomNom reviews to learn more.
Price: Ships every week starting at $33 every week.
Deal: Get 50% off your first order! Deal applies automatically, just visit and subscribe.
---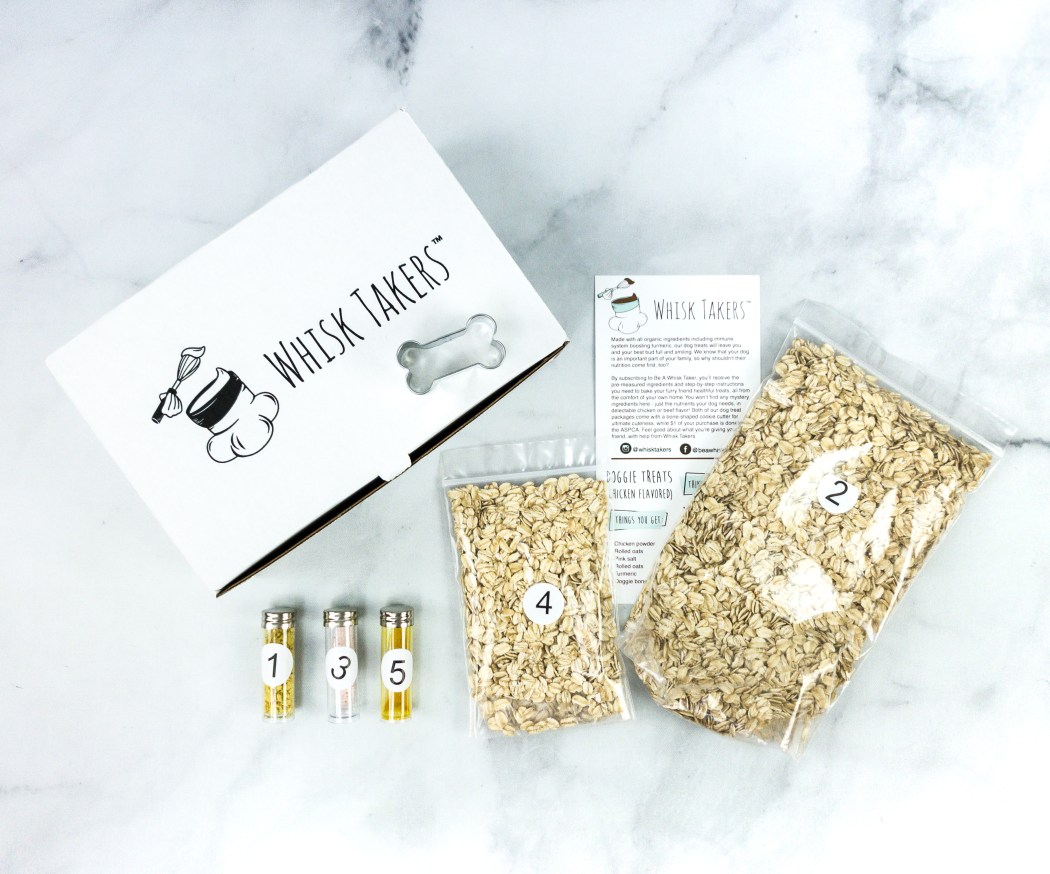 Image from: our review
What you get: The Barkery by WhiskTakers is a monthly subscription offering a DIY dog treat kit. Each box includes pre-measured ingredients like chicken or beef powder, rolled oats, pink salt, and turmeric which has anti-inflammatory properties and a step by step instruction. FYI, all ingredients are 100% gluten-free and organic.  All you need is 1 egg and water. Follow the recipe and let your pet enjoy the treat you made for him!
Go through The Barkery by Whisktakers review page to see treats you can make for your pet!
Price: Monthly dog baking treat for $15.99 a month.
Deal: Get 10% off your first purchase! Use coupon code hello10.
---
Image from: Amazing Clubs Dog Treat of the Month Club
What you get: Amazing Clubs Dog Treat of the Month Club offers a wide range of tasty and delicious treats that your pets can digest without worries. Each month, you'll receive two new and delicious varieties of all-natural, fresh-baked gourmet dog treats from specialty producers nationwide. These treats are molded into different shapes to give joy not only to fur babies but also to pet owners! Why have one, when you can have two? Previous selections include Turkey Puzzle Pieces and banana ice cream cones, Chicken spades and honey spiced pumpkin crowns, and more!
Price: New and delicious varieties of fresh-baked, gourmet dog treats delivered every month for $19.95, or less with longer plans.
---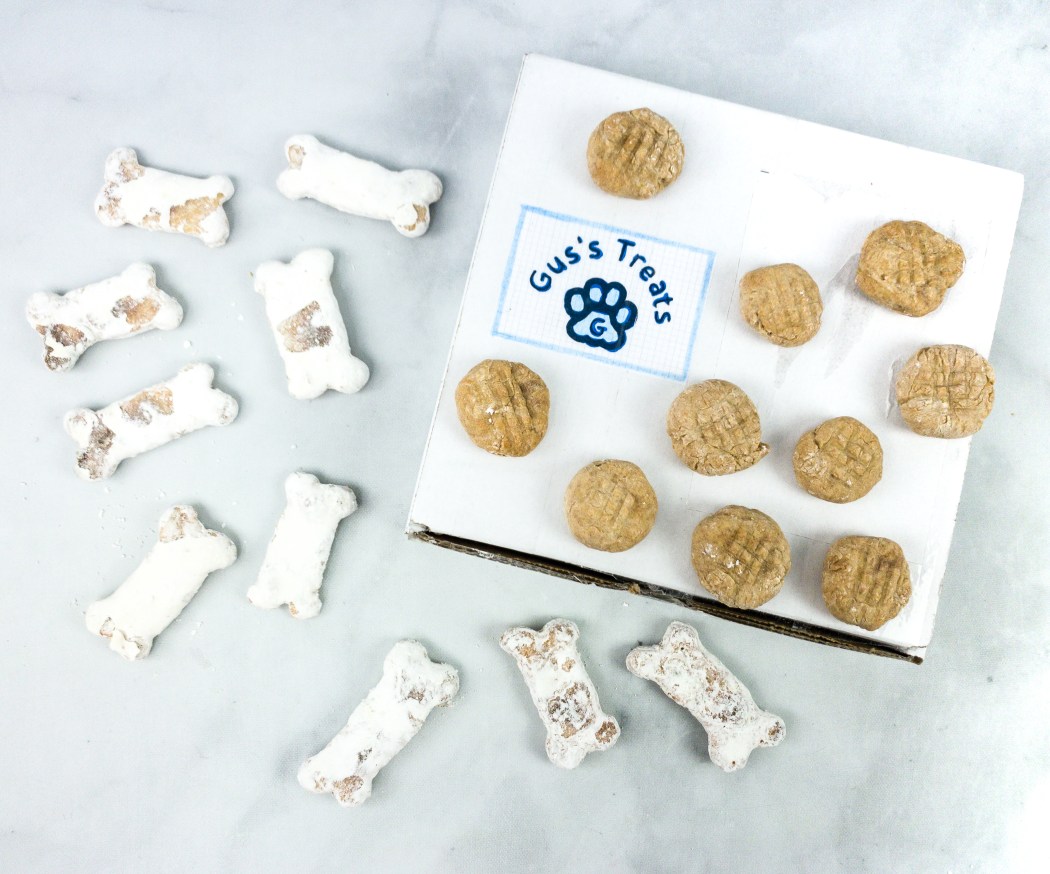 Image from: our review
What you get: Give your pet treats they can't stop eating about! Gus's Treats sends an all-natural, no preservative dog treat box every month. These are made in small batches using only the freshest and wholesome ingredients available. Each box will give you 15-3o handmade treats with different flavors and fun shapes that your pooches will surely love! They believe that making dogs happy with treats and helping animal rescue organizations is a perfect recipe that's why they donate 10% of their proceeds to various animal rescue organizations.
If you want to know more about this subscription, visit our Gus's Treats reviews on this page.
Price: All natural tasty dog treats for $19 per month.
---
Image from: Big Lu Barkin' Club
What you get: Big Lu Barkin' Club is a monthly subscription that delivers 100% natural treats for your doggo each month. They provide only premium quality goodies that are tailored based on your pet's size. The treats they send contain no hormones, no antibiotics, no preservatives, and no harmful additives, purely 100% natural! If you want your pooch to munch ear treats, pick the Ear Lovers Box. If you want to surprise them with new treats each month, select Surprise Me Hooman Box but if you have a big chewer in your home, give them large treats with Feed The Beast Box. You can also give them all kinds of bully sticks with Nothing But Bully Box. Sit back, relax, and wait for that box to come knocking at your door.
---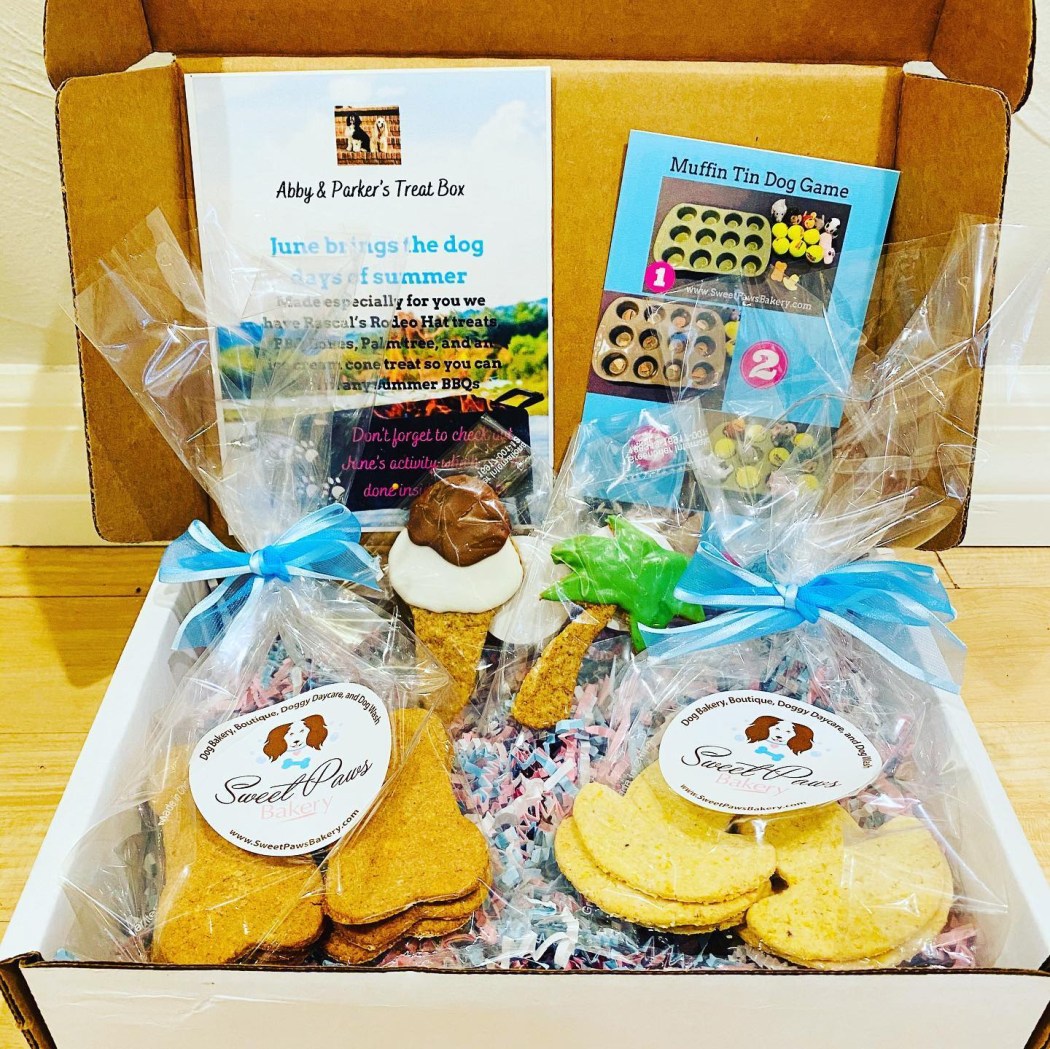 Image from: Sweet Paws Bakery
What you get: Sweet Paws Bakery delivers nothing but the best small-batch treats for your pet. These are made with human-grade ingredients, hand-cut, baked, and packaged to ensure quality. Each month, your dog will receive 2 packages of different flavors which consist of half a dozen high-quality treats along with 2 decorated theme cookies. It also includes a canine enrichment activity. You'll also receive a coupon for their most popular products!
---
Image from: Pet Thrive Box
What you get: Treat your pets to a one-of-a-kind monthly assortment of all things good and delicious. Pet Thrive Box focuses on pet health and well-being. Each box is curated by a certified clinical pet nutritionist, so you're sure they're full of nutrients. Every product that goes inside the box is chosen based on the ingredients that can balance out nutrients and deter allergies. You'll receive a package of dog food, 2-3 bags of treats or chews, an edible dental chew or natural dog chew, and occasionally, nourishing and therapeutic supplements.
---
Image from: Chippin
What you get: Gift your pets with things that they love. Chippin offers all-natural, sustainable dog snacks every month. These treats are developed by veterinarians and animal nutritionists to address pets' specific needs. Every recipe features human-grade sustainable proteins that are hypoallergenic, omega-3 rich, and easier to digest. You can choose from:
Superfood – peanut butter, cricket, and pumpkin dog treats with digestive support
Antioxidant – banana, cricket, and blueberry dog treats with immune system support and anti-inflammatory properties
Spirulina Dailies – kale, flaxseed, and carrot dog treats with bone and joint support and anti-inflammatory properties
Smokehouse BBQ – sweet potato and cricket dog treats with vision support
You can also try the variety pack and get 4 bags of their best selling snacks (2 superfoods and 2 antioxidant). Subscribe and save 15%!
---
And that's our list of the best dog treats subscription boxes! Which of these will you buy for your pet?
Go through our complete list of all the best subscription boxes in every category to find out more must-try subscriptions!
Say Hello to More Subscriptions for Dogs!