Taking care of horses requires special tools suited for them and a subscription box is a great way to have these regularly. Whether you have horses to take care of or you just love horses in general, these horse-related subscription boxes are a great way to get your hands on old favorites or new product discoveries! Celebrate your love for horses with a box filled with equestrian goodies!
Waste no time searching stores for horse-themed items for yourself or finding products best suited for your mare, instead spend more time tending your horses' stable and their needs, as well as your obsession with anything horsey. Giddy up as we bring you a list of the best horse-themed, horse-specific subscription boxes! Check them out below!
The 12 Best Subscription Boxes for Horse Enthusiasts, Owners, and Riders!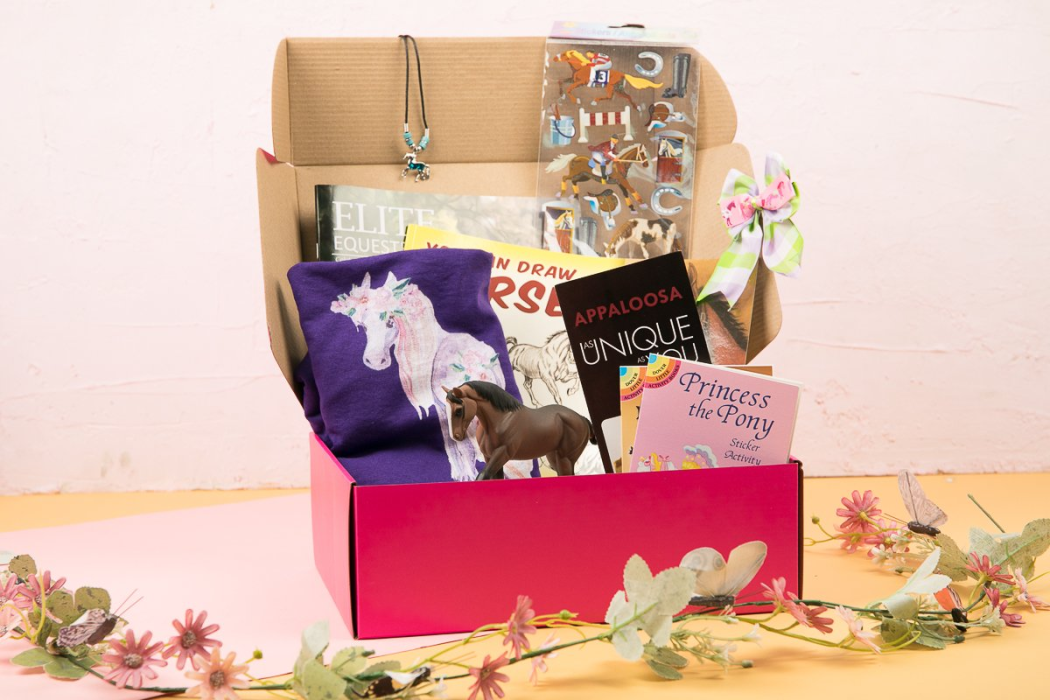 Image from: Lala Horse
What You Get: For young equestrians, there is LaLa Horse. It is a monthly subscription box that's filled with all things horsey curated by real horse owners! Girls ages 6-18+ will get head over heels with this adorable gracious creature as they unbox one. Not only do items in the box are fun and lovely but also educational and practical. Such items include toys, jewelry, book, accessories, decor items, stationery, and more (all-horse themed)! There are three boxes to choose from – Young Equestrians Box where you can spot items for yourself and several more for your horse; Horse Lovers Mystery Box, which is a monthly surprise of horse-themed items just for you; and Equine Fashionista Surprise if you're all about jewelry and accessories. All boxes are curated based on your girls' age and preferences.
Men should not fret as they also offer The Horsemanship Box, which caters to boys and men who love horses too!
Price: Subscription costs $39.95 per month, with savings when you prepay for more months!
---
Image from: Cavali Club
What You Get: Cavali Club is a go-to subscription if you want to score high-quality products for both horses and riders. Their mission is to introduce horse lovers to new and fun products while supporting equestrian entrepreneurs in the process. The box ships quarterly and has a value of over $200! It contains a thoughtful selection of 5-7 items like clothing, treats, wellness, home décor, and more that are all centered around the equestrian lifestyle!
Price: Membership costs $59 per quarter.
---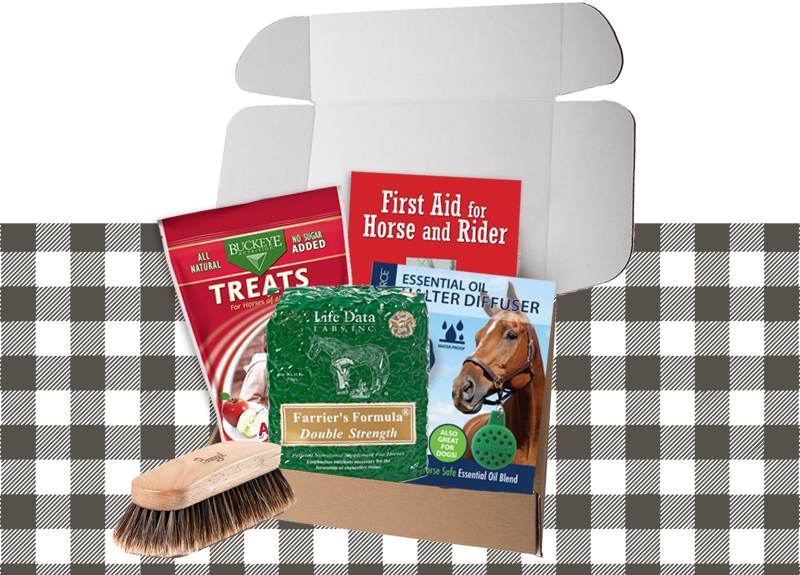 Image from: The Feisty Filly
What You Get: Hold your horses! The Feisty Filly is a subscription box specifically tailored for horses and their owner. They will send you name-brand, recent niche, and homemade items like gourmet treats, grooming products, tack, supplements, accessories, items for the riders, and much more! There are 4 different discipline areas to choose from: Trail Rider, Miniature Horse, English, or Western. Each box has 5-7 full-sized equestrian items geared to the discipline of your choice. Open one up and find happiness inside every box!
Price: A box costs $45 per month.
---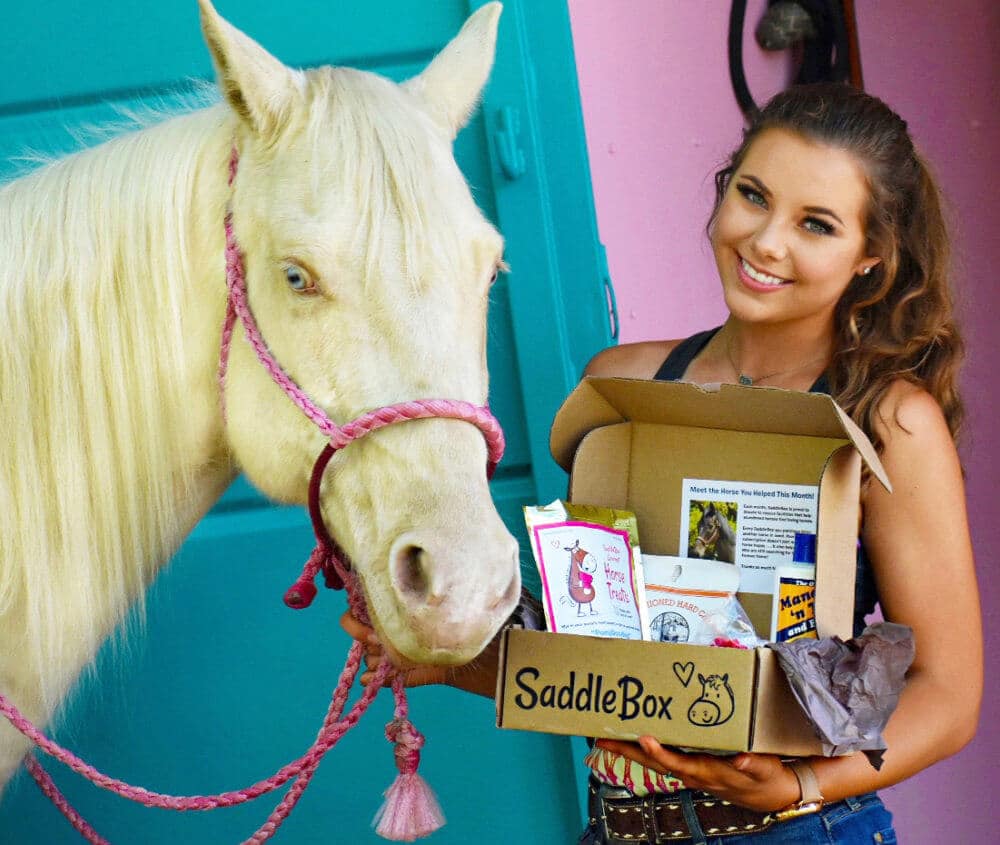 Image from: SaddleBox
What You Get: SaddleBox spoils not only your horse but also you, the owner! This monthly subscription box contains products that are checked and tested by experts to make sure there's no horsing around! Each box is full of surprises that both you and your horse will love. They send out products that range from horse treats, grooming tools, tack to surprise gifts for the deserving owner like books, equipment, gear, and accessories with free shipping – yes! What's also great about this box is that for every purchase, they support horse rescue shelters and increase the number of successful horse adoptions.
Price: Shipped monthly for $36.95.
---
Image from: Pony Xpress Club
What You Get: Little kids fancy pony. They love almost everything about it, and Pony Xpress Club is just the perfect gift for horse-loving kids ages 8-12. Each box is a good mix of fun, full-sized items kids will surely delight themselves in like books, crafts, toys, games, snacks, wearables, and more surprises that are all horse-themed! Get Horse Size Subscription Box if you want 5-8 items or Pony Size Subscription Box for 3-5 items. For those who love to read everything about horses, there's the Saddle Bag Book Club with occasional extras! So giddyup and have fun unboxing!
Price: Choose from the 3 subscription options: Saddle Bag book Club – $19.95 per month, Pony Size – $37.50 per month & Horse Size – $57.50 per month.
---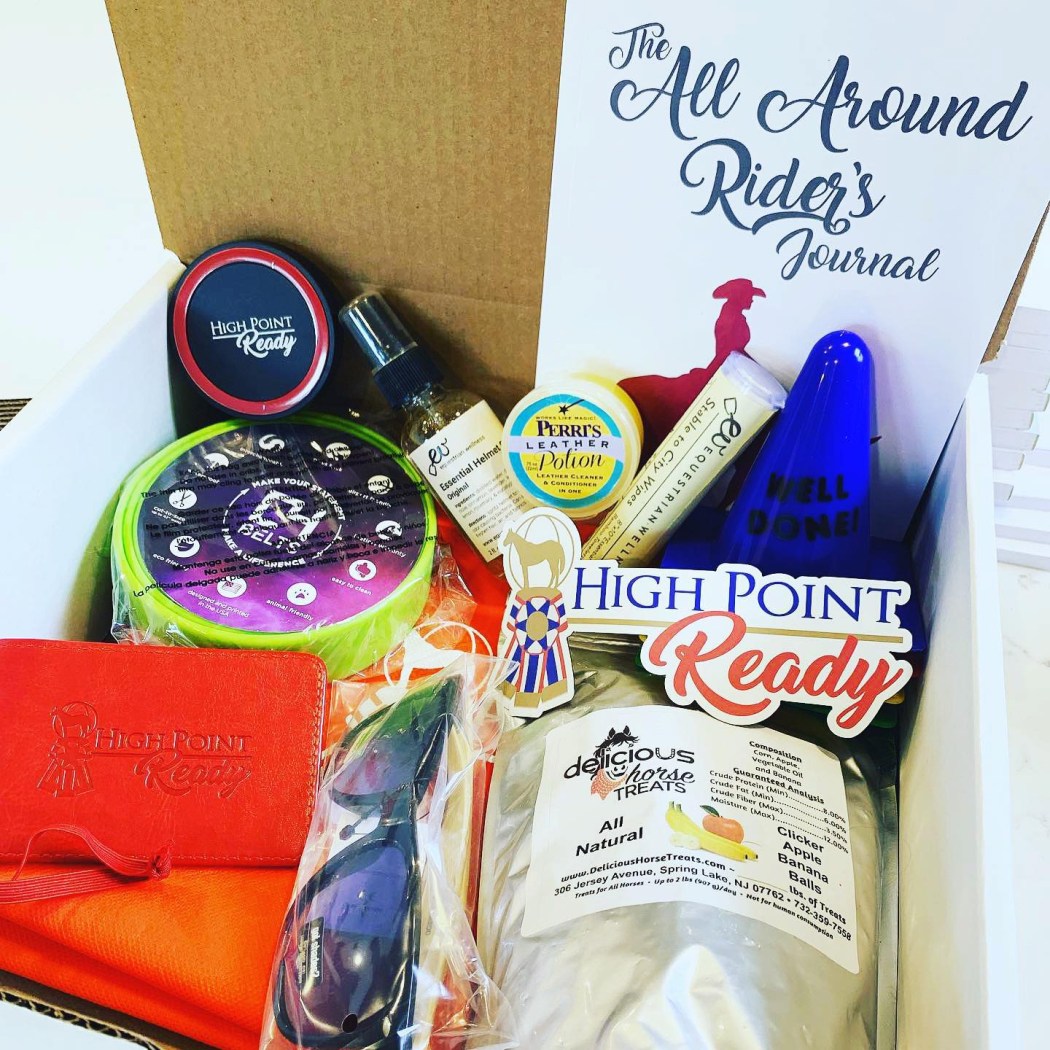 Image from: High Point Ready
What You Get: High Point Ready is a monthly subscription box designed by an equestrian for the equestrian. Show off your riding skills and be high point ready anytime with high-quality products from this subscription. You can choose from two box sizes: the High Point Ready Box and the Novice Box (smaller version). Each box contains tried and tested items directed towards not only the rider but also the horses. Such products include leg protection, recovery products, quality leather tack, wellness products, and more!
Price: A box costs $54 per month with saving on longer plan terms.
Deal: Get 10% off! Use coupon code HPR10HS.
---
Image from: Heart to Horse
What You Get: Heart to Horse delivers a monthly surprise in the form of a subscription box that will delight you and your horse! Equine experts specially curate boxes to give aspiring and professional equestrian high-quality products to use. Each box is filled with supplies, apparel, tack, treats, and more for every riding discipline from top brands like Mountain Horse, SSG Gloves, and Absorbine. You can discover new products to try or get old favorites at a great price! Also, 25% of all the proceeds go to a horse rescue in need. Truly a heart-to-horse subscription!
Price: The box costs $34.99 per month plus free shipping!
---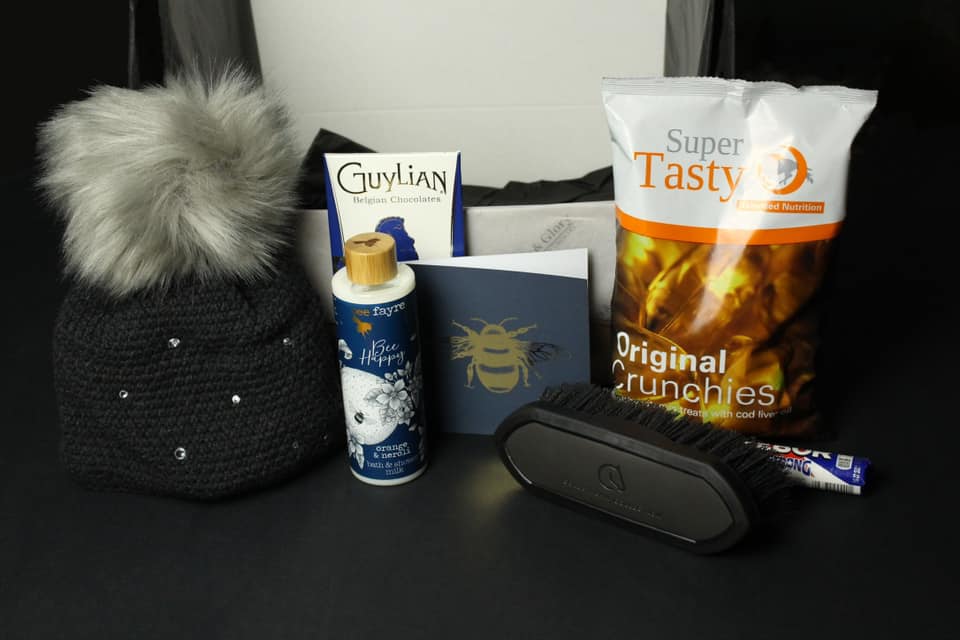 Image from: Gallop & Glory
What You Get: Gallop and Glory is one luxurious equestrian subscription box. They always send a great assortment of products for you and your horse to enjoy – no two products are the same, ever! Receive a monthly box filled to the brim with useful goodies such as grooming items, treats, health care, and much more. You'll surely get more than the value of what you've paid for.
Price: Delivered every month for £45.00 (about $63 USD)
---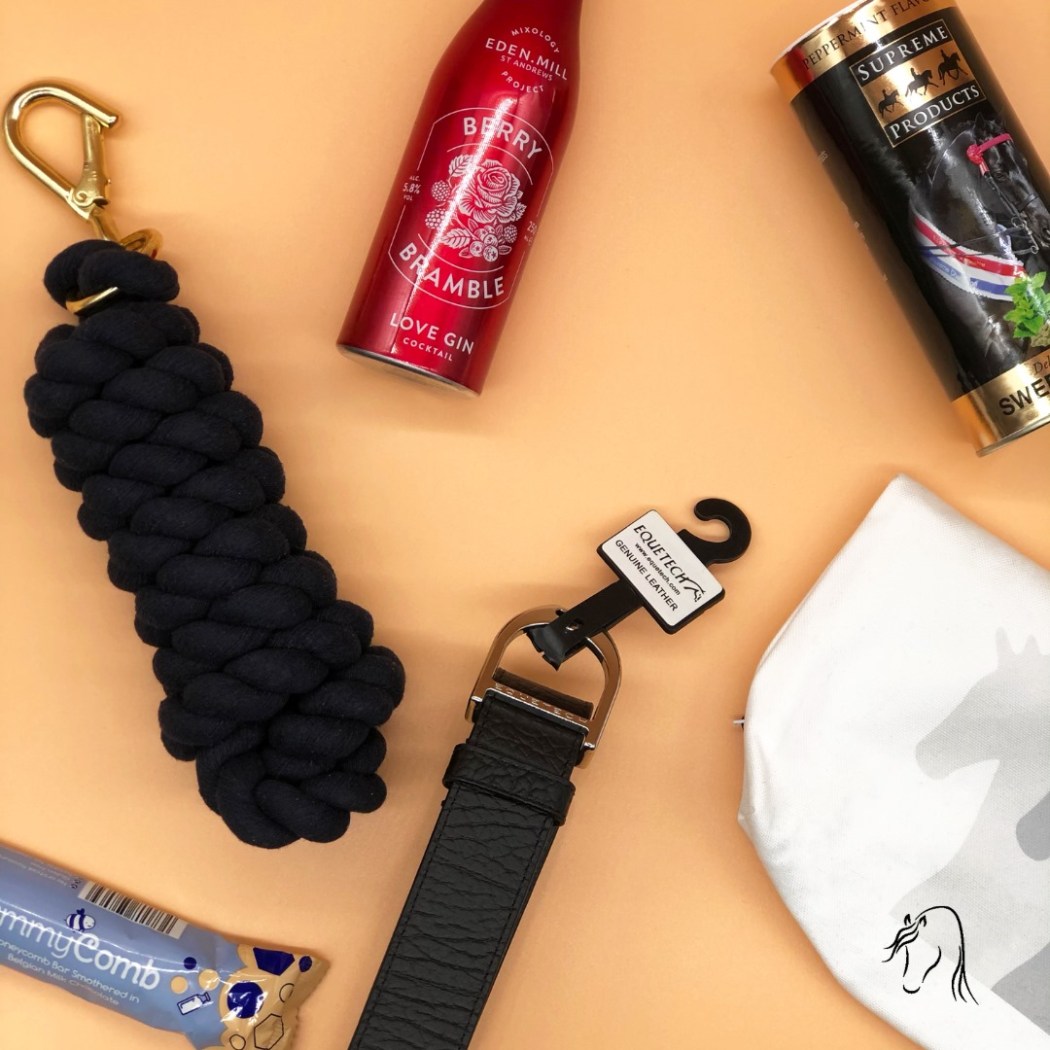 Image from: Forelock and Fringe
What You Get: With Forelock and Fringe, you're in for some luxurious treat! It is an equestrian and lifestyle box combining fun items for your horse and exciting products for you. Each box contains 4-9 items that are worth over the price you've paid for! All products are sourced from well-known brands and smaller/indie businesses you probably never heard of. It includes horse care products, treats, and horse wear, as well as lifestyle products to pamper and reward yourself. It also comes with a sweet treat and a drink for a perfect relaxing night!
Price: The monthly plan costs £45.00 per month ( about $63 USD)
---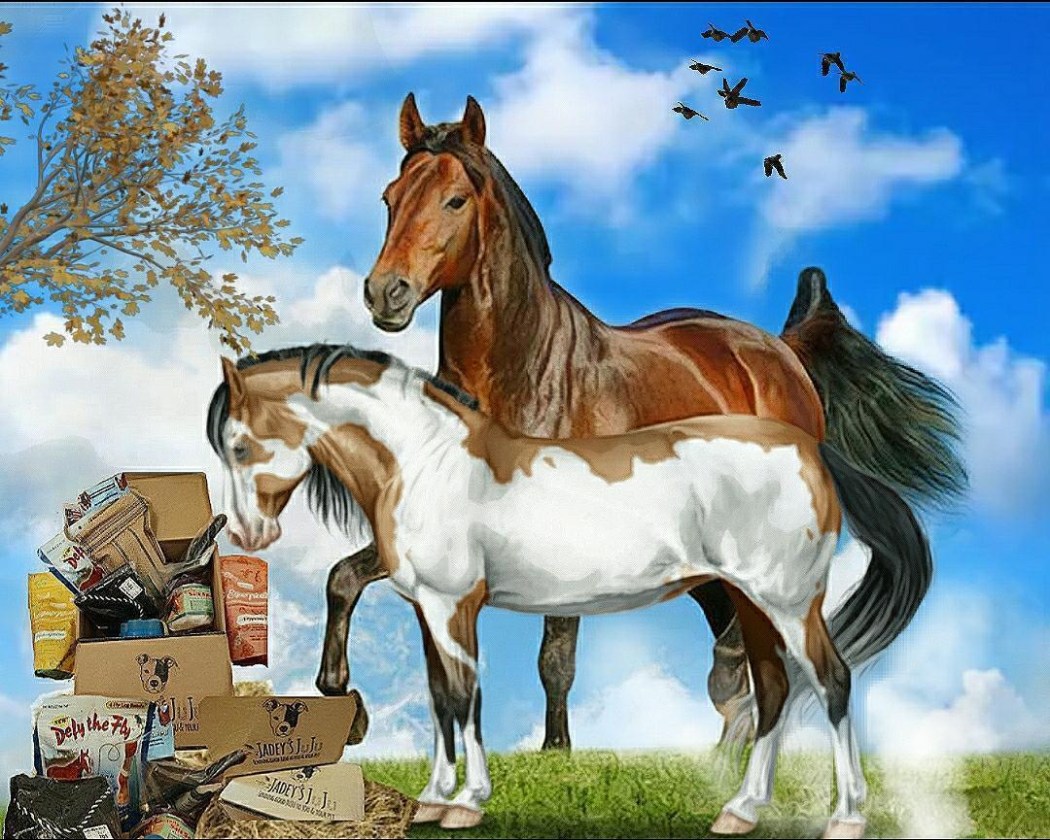 Image from: Jadey's JUJU NEIGGH Horse Box
What You Get: Jadey's JUJU NEIGGH Horse Box ships quarterly with goodies for both the horse and their amazing human. They're focused on giving pet lovers the best products to become an absolute great owner and partner only with eco-minded, ethical companies. Each box contains an assortment of 7-10 handpicked and ethically sourced goodies for your horse like saddle soap, grooming products, treats, bug repellants, and 1 horse-themed surprise for you! It also gives you an automatic entry in the bucket for an extra special gift that rolls bi-annually! FYI, they also extend their good deeds by supporting pet rescue organizations.
Price: Subscribe every quarter for $59.99.
---
Image from: My Horse Box
What You Get: Getting all things horsey is easy through My Horse Box. This UK monthly subscription sends premium equestrian products straight to your door each month. Choose from different subscription plans they offer – My Horse Box (4-5 items) or My Horse Box Mini Box (2 products), and get full-sized products that are worth more than the price of your subscription, making it a good pennyworth! Each monthly box has different themes to add more flair and excitement!
You may also opt for the My Horse Sox Subscription if you want a new pair of funky riding socks delivered fresh monthly.
Price: Choose from the 3 monthly plans: My Horse Box Subscription costs £35.00 ($49 USD), Mini Box costs £22 ($31 USD) and the Sox Subscription costs £9.00 ($13 USD)
---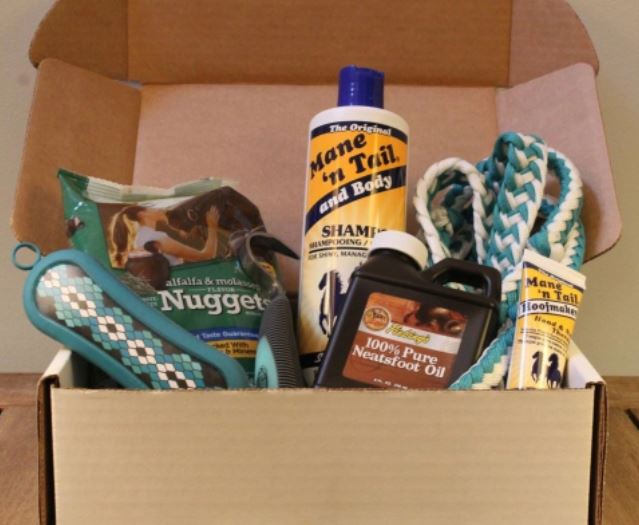 Image from: The Elite Equestrian
What You Get: The Elite Equestrian brings fun and exciting items for you and your pony! They curate grooming tools, tack items, and treats for ponies, as well as horse-themed gifts for humans, in a bi-monthly box.  This is also your chance to discover different equestrian brands. Boxes can be customized to your preferences so you only receive what you will actually use and enjoy!
Price: Subscriptions start at $45 per box.
---
And that is all for our list of the best equestrian subscription boxes! Which appeals to you the most?
Look into more amazing subscriptions on our list of all the best subscription boxes in every category!
Say Hello to More Subscription for Pets and Pet Lovers!