Meal kits are the most convenient way to serve food if you find it hard to clear a busy schedule to go grocery shopping for yourself or the family. They provide you with hassle-free, mouth-watering dishes packed with all the good things, and if you think it comes at a price, that's where you're wrong.
There are meal kit delivery services that offer all the benefits without the premium price tag! They'll send you everything you need, from fresh ingredients to easy-to-follow recipes. They sometimes throw in extras, too! Imagine getting all that without breaking the bank. No matter your budget, taste, or dietary lifestyle, there's always one that fits the mold!
Here we'll show you the cheapest meal kit delivery subscriptions, and in case you're looking for more, you can check out our complete list of all the meal kit subscriptions. Don't forget to hit the heart button at the top of this post to save it for later so you can try more boxes on the list!
The Most Affordable Meal Kit Delivery Subscriptions!

Image from: EveryPlate
Why We Love It: You can cook delicious meals without spending much! EveryPlate is a flexible meal kit subscription that sends affordable filling, classic, home-style recipes, and fresh & high-quality ingredients every week. You can select your box size by choosing the number of people and the number of meals per week. Each meal is paired with easy-to-follow recipes so you can cook mouth-watering meals and serve delicious dishes like a chef in just 30 minutes! With six simple steps, you can save time and energy while saving money on hearty dinners for less than $5!
EveryPlate's menu changes weekly, and here are some of the recipes offered: Crispy Ranch Buffalo Chicken, Sweet Chili Pork Tacos, Roasted Garlic Dijon Butter Steak, Hoisin Sriracha Chicken, and Cheesy Stuffed Poblanos. They have options for ClassicPlate (a full array of mouthwatering meat, seafood, and veggie options), VeggiePlate (a variety of veg-forward meals for everyone), FamilyPlate (family-friendly, kid-approved dinners), and EasyPlate (no-fuss meals; ready in 30 minutes or less).
Price: Weekly boxes start at $29.94.
Deal: Try Everyplate at $1.79/meal + get 20% off next 2 boxes - that's up to $62 off! Use coupon code WST179 and Use this link to subscribe.
---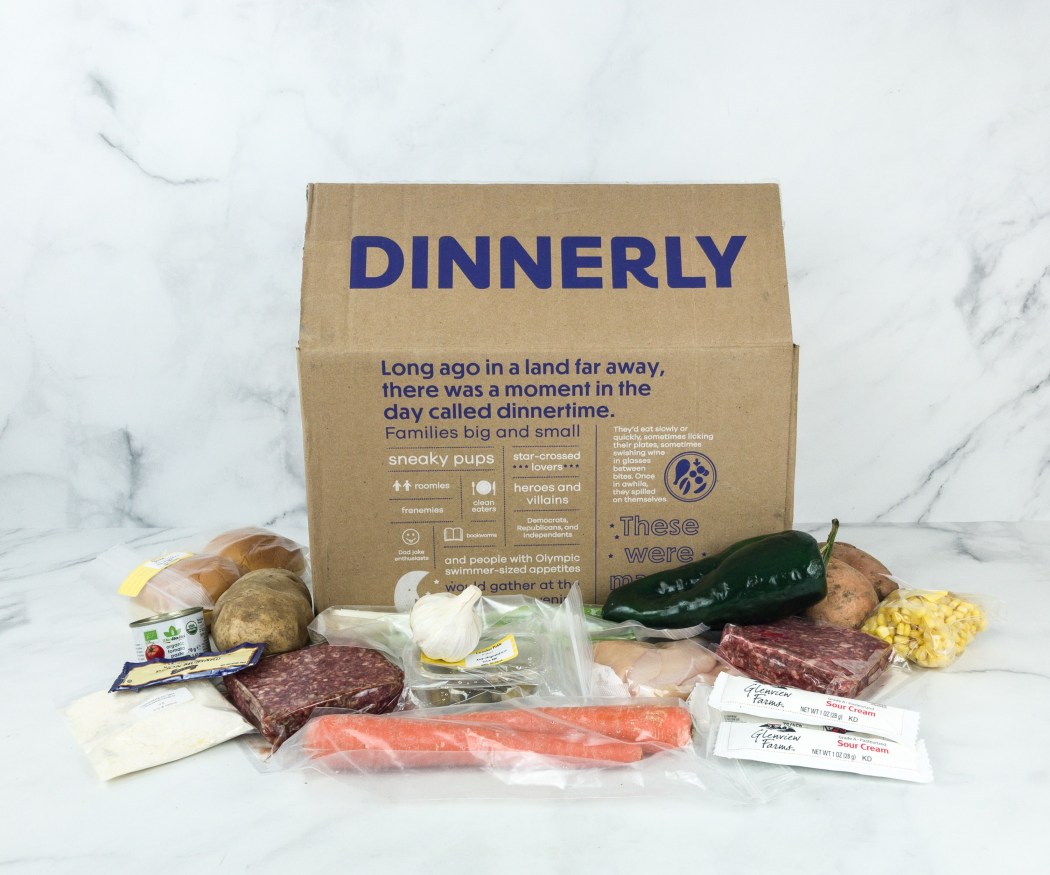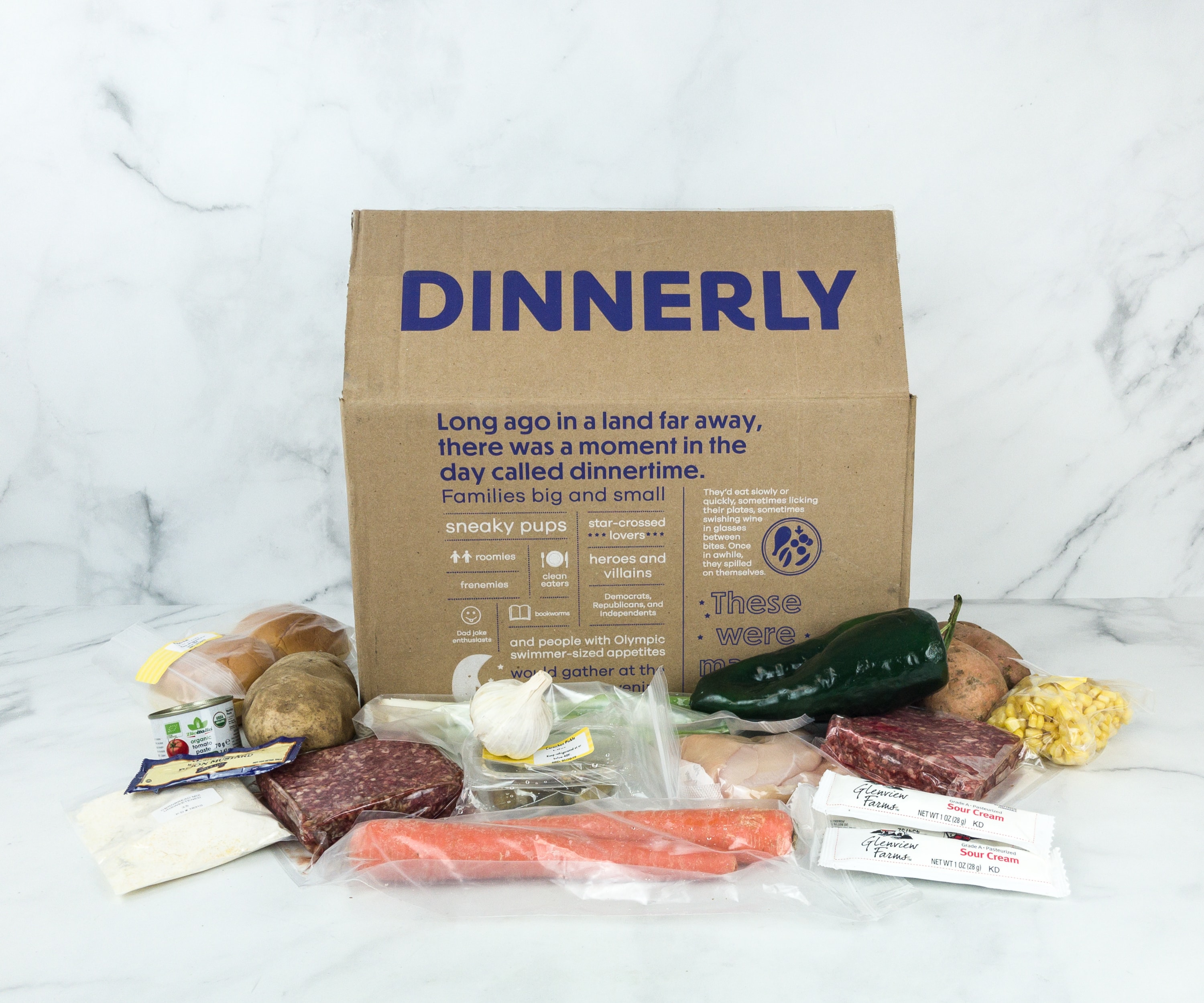 Image from: our review
Why We Love It: Dinnerly is for the home chef who wants to have seriously-good meals without overspending! There are two boxes to choose from: the Two-Person Box and the Family Box. Every week, you'll receive a package on your preferred day and time containing the ingredients you need to cook a tasty meal for a perfect dinner at home. The recipes are in digital form (available on their website) instead of printed ones to avoid additional costs on the box. With this meal kit subscription, you'll get a hand in cooking without the fuss and the heavy price tag!
Enjoy delicious recipes like Low-Carb Seared Steak & Spinach Salad, Low-Cal Chicken Hummus Bowl, Cheesy Garlic Knot Ravioli with Marinara, Steak & Udon Noodle Stir-Fry, and Garlic & Herb Pan-Roasted Chicken. They also have low-calorie, low-carb, keto-friendly, kid-friendly, vegetarian, vegan, gluten-free, and dairy-free options.
See more on Dinnerly Reviews.
Price: The meal plan costs $30 every week + $8.99 shipping, with family plans starting at $60.
Deal: Get up to 57.5% off your meal orders - that's 57.5% off your first box, and 20% off your second and third boxes! Use coupon code A57SUBX20W.
---
Image from: Home Chef
Why We Love It: Home Chef lets you take a break from grocery shopping by supplying fresh and easy recipes with pre-portioned and ready-to-cook ingredients. Every week, you get to choose from a variety of recipes and have all the ingredients and preparation instructions delivered to your door at reasonable prices! You can customize your box to fit your needs, including the number of servings per meal and meals per week. They also have five different meal categories to choose from: Meal kits (ready in about 30 minutes), 15 Minute Meal Kit, Oven-Ready, Grill-ready, Culinary Collection (premium meals for special occasions), and Entrée Salad. It's an ideal choice for anyone who finds delight in trying new and unique flavors from around the world without spending much!
Sample recipes include Chicken Cordon Bleu and Chive Crema, Garlic Sesame Steak Rice Bowl, Souvlaki Greek-Style Chicken, Maui-Style Pork Tostadas, and Crispy Noodle Crusted Teriyaki Chicken. You can also filter the menu each week by choosing calorie-conscious, <30 min, carb-conscious, vegetarian, pescatarian, nut-free, soy-free, wheat-free, and milk-free options.
Check out Home Chef Reviews and see tasty dishes we've previously cooked.
Price: Boxes start at $60 per week. Delivery costs $13.99 for orders under $49.99 and $7.99 for orders over $49.99.
Deal: Get $90 off your first THREE boxes! Deal applies automatically, just visit and subscribe.
---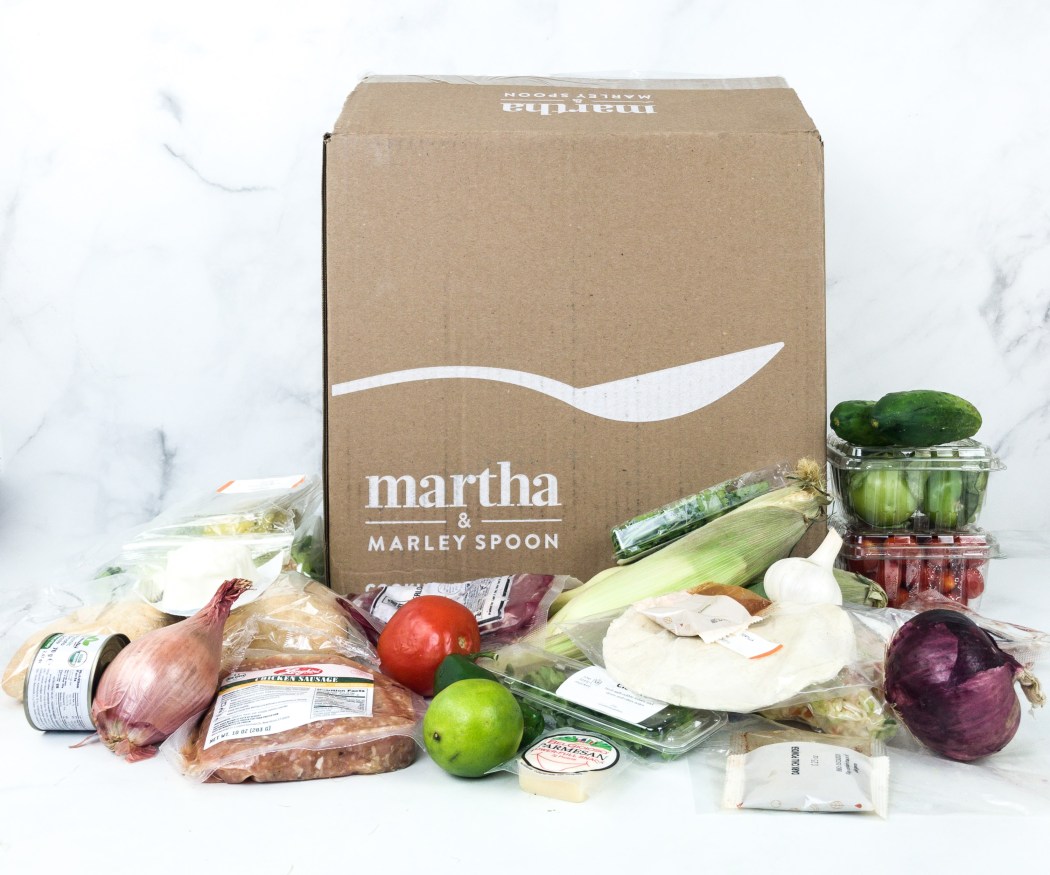 Image from: our review
Why We Love It: You never have to worry about having healthy and clean ingredients for every meal you prepare because Martha & Marley Spoon sends pre-portioned ingredients directly to your door. This dinner meal kit subscription service comes with two options: 2-Person Box and 4-Person Box. You can choose how many recipes you'd like to receive weekly from more than 29 recipes. Expect recipes that include seasonal fruits and vegetables, plus high-quality fish, poultry, and meat in each box at a great price! They also include easy-to-follow recipe cards, featuring only 6-steps, precise instructions, and helpful photos. Boxes are chilled, and ingredients are already sorted by recipe, so you can just grab and cook.
Try recipes like Grilled Lemon-Garlic Sirloin Steak, Salmon Niçoise, Grilled Pesto Chicken, Grass-Fed Burger, and Broiled Harissa-Rubbed Chicken Thighs. And if you follow a diet, they also have options for dairy-free, low-carb, no added gluten, kid-friendly, low calorie, vegetarian, and vegan.
Visit Martha & Marley Spoon Reviews for more details.
Price: Boxes start at $56.95 weekly for the 2-person box and $80.91 for the 4-person box.
Deal: USA: Save up to $120 off on your first FIVE boxes! Deal applies automatically, just visit and subscribe.
---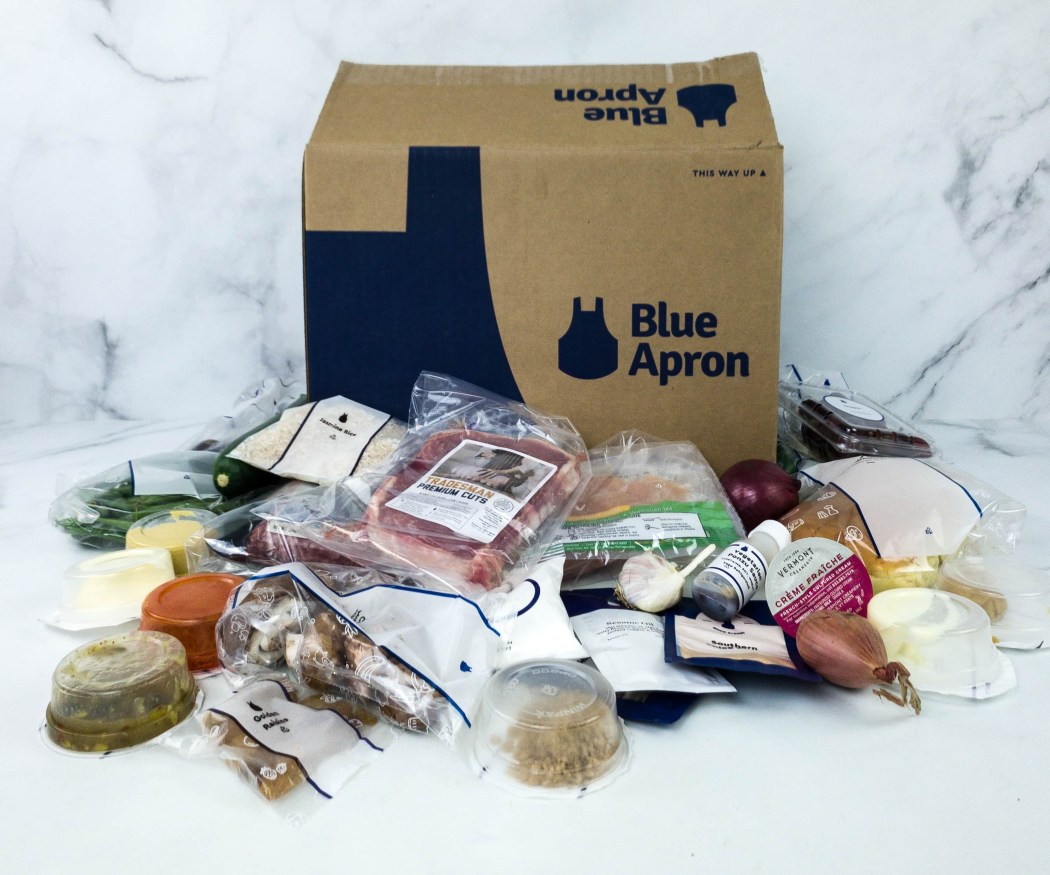 Image from: our review
Why We Love It: Cooking meals at home is easier with Blue Apron! This meal kit subscription delivers healthy recipes straight to your doorstep weekly. Subscribers can get their hands on chef-designed recipes that may include meals inspired by international cuisine, one-pan dishes, and classics without spending big bucks! Every box comes with detailed step-by-step instructions and responsibly-sourced ingredients, packed with recyclable ice packs and eco-friendly packaging that keeps your food in its best condition while in transit. 2-Person recipes and 4-Person recipes are available, as well as options for those who have dietary preferences. With this subscription, you can fill your tummy without emptying your wallet!
Please your tastebuds with meals such as Romesco Chicken Bowl, Spiced Tilapia & Tahini Sauce, Seared Scallop & Pancetta Fettucine, Paneer & Veggie Tacos, and One-Pot Tomato & Parmesan Risotto. They also cater to vegetarians!
Visit Blue Apron Reviews to see featured recipes in past boxes.
Price: Plans start at $47.95 per week.
Deal: Save $60 on your first THREE boxes - that's $20 off each box! Use this link to get the deal.
---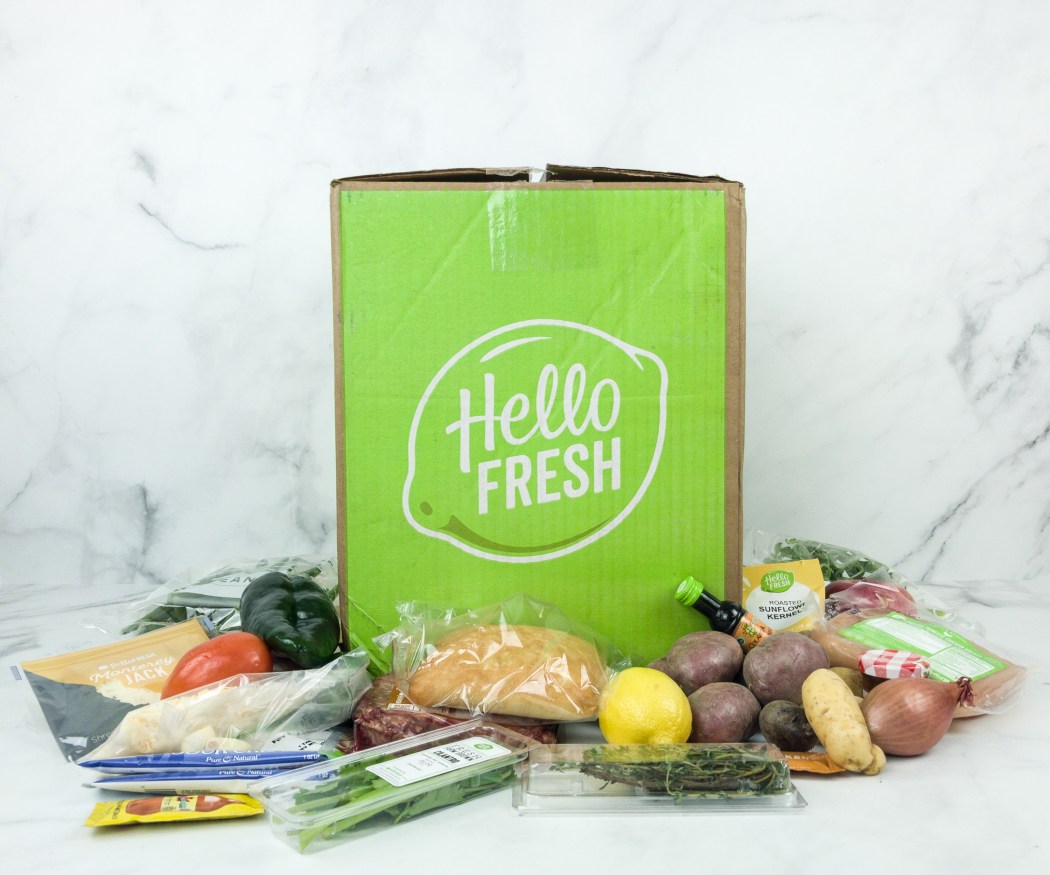 Image from: our review
Why We Love It: Hello Fresh makes meal preparation easy as pie! This meal kit subscription sends weekly and includes step-by-step recipes with photos, plus high-quality, naturally produced veggies and other fresh ingredients to make your own healthy and delicious meals in the comfort of your own home. You can customize your box depending on how many people you need to cook for and how many recipes per week you like to include in your kit. You can now enjoy eating fresh, chef-created, delicious meals without breaking the bank!
Some of their meals include Roasted veggie kale Salad, One-Pan Cheesy Black Bean Tacos, Sheet Pan Dijon Onion Crunch Chicken, and Moo Shu Pork Bowls. You can choose meals depending on your dietary preferences – Meat & Veggies, Veggie, Family-Friendly, Fit & Wholesome, Quick and Easy, and Pescatarian.
Read past Hello Fresh Reviews to know more.
Price: Meals start at $47.96 per week.
Deal: Get up to 16 FREE Meals across 6 boxes + FREE Shipping on your first box + 3 surprise gifts! Deal applies automatically, just visit and subscribe.
---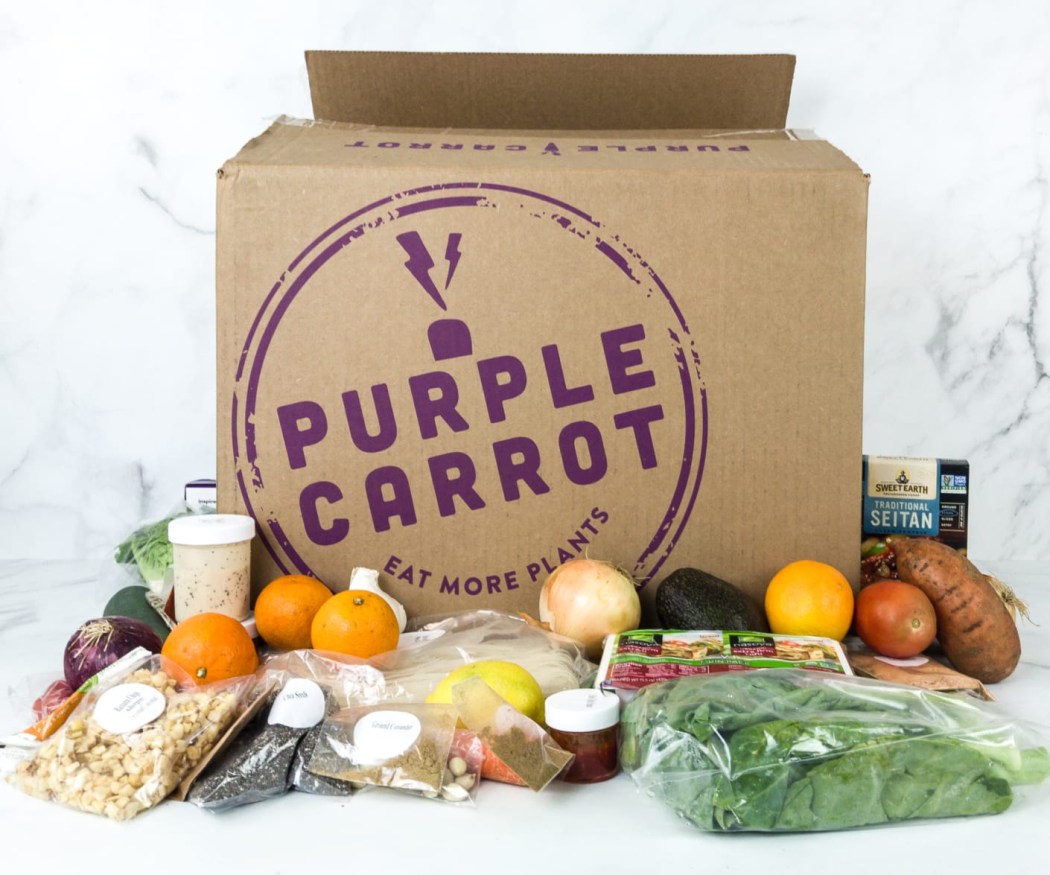 Image from: our review
Why We Love It: The Purple Carrot is your way to eat delicious vegan recipes without shelling out big bucks. This meal kit subscription provides easy to prepare, healthy, and seriously delicious, easy-to-follow, seasonally focused recipes complete with raw, pre-measured ingredients every week! You only need to pick your favorite 3-6 dinner meals from their 2-serving plan or 6-serving plan, get your box, and start cooking. You can also add extras for breakfast, lunch, and even snacks by checking out their menus with plant-based ingredients. They now offer prepared meals too!
Explore The Purple Carrot's menu and enjoy meal kit dinners like Parmesan Gnocchi, Okonomiyaki, and Seitan Asada Tacos or prepared meals like Indian Butter Tofu and Elote-Style Corn. You can also filter their menu by choosing your diet preferences – high-protein, gluten-free, low-carb, nut-free, and soy-free.
See The Purple Carrot Reviews for more subscription details.
Price: Boxes start at $71.94 per week.
Deal: Get $30 off your first order! Use coupon code carrot30.
---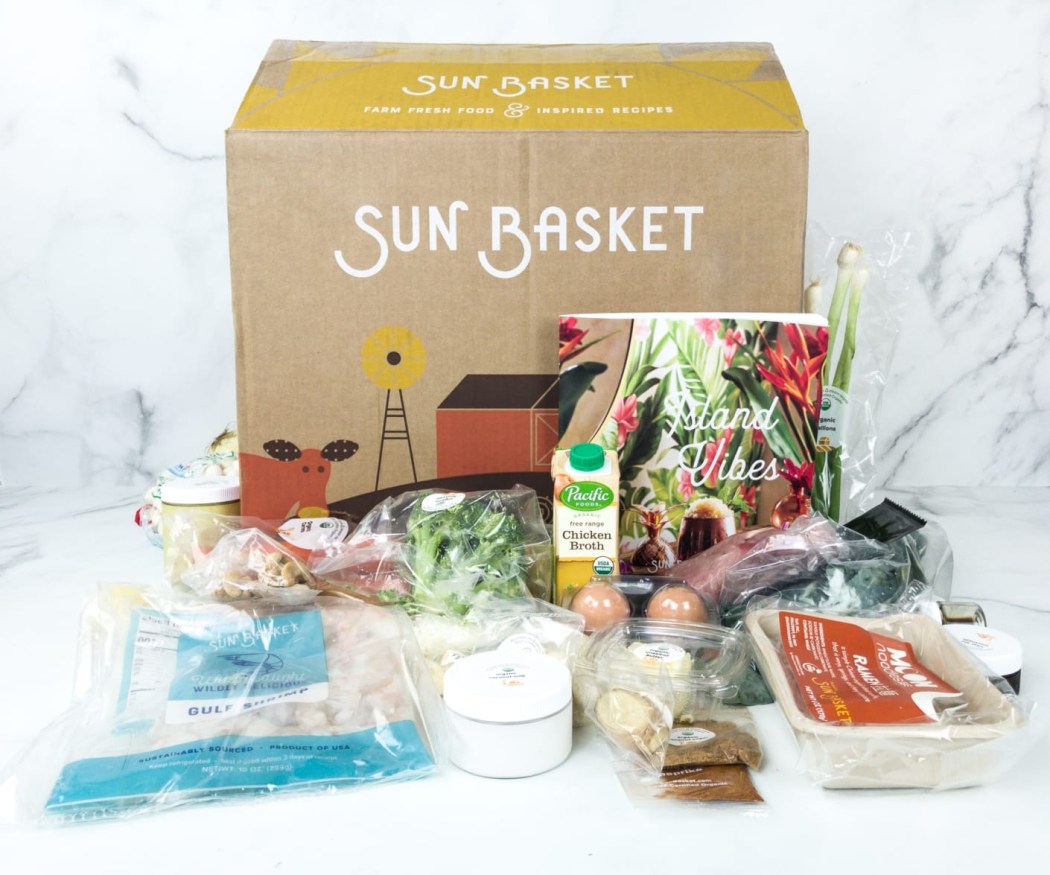 Image from: our review
Why We Love It: With Sunbasket, you can prepare nutritious and filling meals in no time! This meal subscription service strives to deliver organic produce and clean ingredients 100% of the time. Select two or more dinners from their weekly meal plan menu and get meal kits with pre-measured ingredients. They also got tons of add-on options: breakfast, lunch, and snacks, including juice shots, grab-n-go bars, smoothies, ready-to-eat proteins, noodle bowls, nuts, crackers, and more healthy goodies. They send the freshest and the best food quality in every shipment. You can also take the night off with Fresh and Ready Meals that can be served in as little as 6 mins. All recipes and ready kits are chef-crafted and dietitian-approved, so you're sure you'll be taking in all the good. With this subscription, you can eat tasty dinners and feel great as it's really affordable!
The Meal Kits menu includes Rhode Island Johnnycakes, Korean Open-Face Wagyu Sliders, and Blueberry-Apricot Pork Chops. Fresh and Ready Meals include Turkey Bolognese Over Spaghetti and Crustless Chicken Pot Pie. They also offer menus for different dietary preferences, including carb-conscious, paleo, vegetarian, lean & clean, gluten-free, Mediterranean, vegan, quick & easy, pescatarian, and diabetes-friendly.
Want to know more? Visit Sunbasket Reviews.
Price: Fresh & Ready starts at $47.96 per week for 4 servings and the Meal Kits starts at $51.96 per week for 4 servings.
Deal: Get up to $90 off on your first FOUR orders + FREE Food Gift! Deal applies automatically, just visit and subscribe. Must meet $65 minimum order per box.
---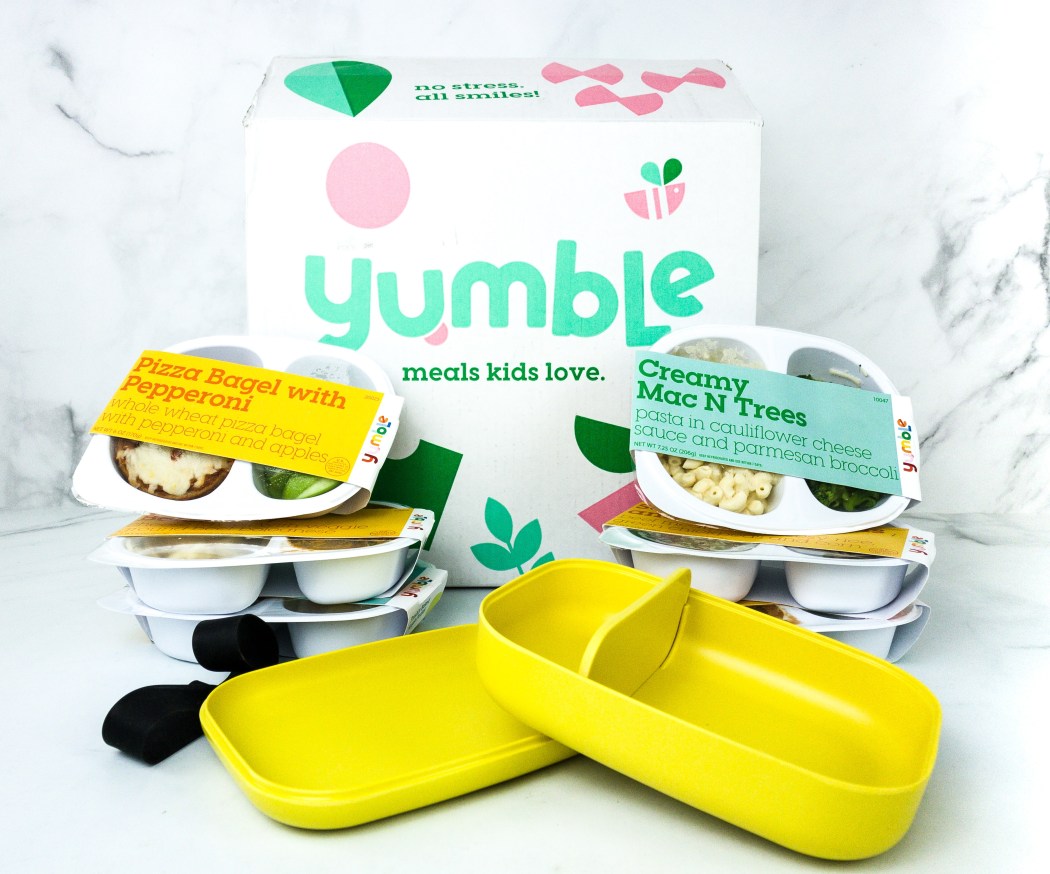 Image from: our review
Why We Love It: For busy parents, there is a helping hand to get their kids to eat healthy without the pricey tag. Yumble Kids is a weekly meal subscription service that delivers pre-cooked meals tailored for kids. Each box contains pre-prepared meals suitable to kids' preferred tastes and nutritional needs. Pick a plan, customize what meals you want to receive, or have them automatically send meals for you. To make things more enjoyable, there are some fun and exciting activities for kids to work on! The meals are great for school lunches and even an easy weeknight dinner or snack time. It will take the stress away for parents and make mealtime fun for kids!
Yumble Kids has a menu that changes weekly. Past meal selections include Creamy Mac N Trees, Pizza Bagel with Pepperoni, Daisys Bolognesy, Freshly Baked Apple Pocket, and Chick N Casserole. And yes, they do cater to allergies! They tag meals on the menu that do not contain gluten, eggs, dairy, soy or are vegetarian to make weekly meal selection easier for you.
See Yumble Kids Review for more details about this subscription.
Price: Weekly boxes start at $43.96.
Deal: Get free shipping on every delivery + save up to 25% on meals! Deal applies automatically, just visit and subscribe.
---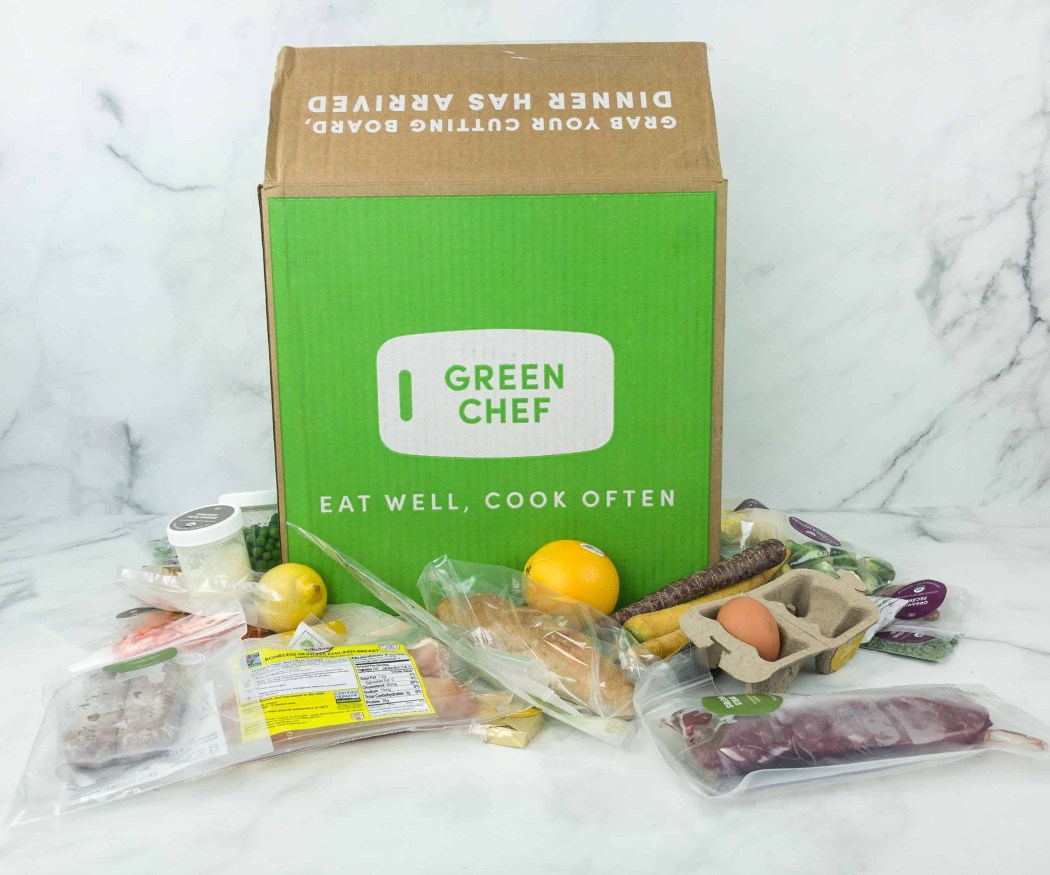 Image from: our review
Why We Love It: Green Chef makes sure you get your healthy dinner fix in just 20-30 minutes. They have a wide variety of clean meal plans at manageable prices. Each box comes with premium pre-measured ingredients and a step-by-step recipe with photos for more convenient cooking. The ingredients are fresh and sustainably sourced, and they're even color-coded for easy sorting. Everything is prepped, so you can save time cooking and serving them in no time! All that's left to do is enjoy restaurant-worthy meals alone or share them with someone!
Their menu offerings include Chicken & Bell Pepper Quesadilla, Black Bean & Corn Burrito Bowls, Chicken with Garlic Chard Rice, Hoisin Pork Chops, and Mushroom & Swiss Burgers. Select a meal type that's a fit for your lifestyle. You can choose from Keto+Paleo, Vegetarian, Mediterranean, Fast & Fit, and Gluten-Free!
Make sure to check out Green Chef Reviews for more details.
Price: Meal kits start at $77.94.
Deal: Save $35 on your first box, $20 on your second and third, and $15 on your fourth – that's $100 savings! Deal applies automatically, just visit and subscribe.
---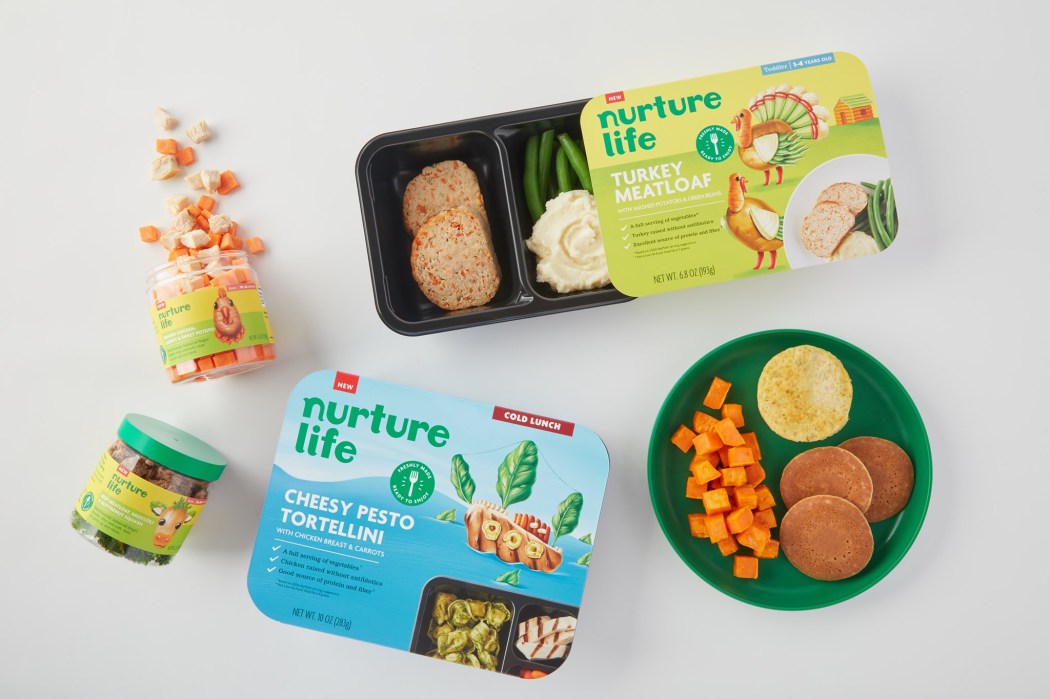 Image from: Nurture Life
Why We Love It: Eating healthy doesn't require expensive ingredients. Nurture Life is a special meal delivery service designed to deliver healthy and delicious meals for babies and toddlers. They've designed menus to fit kids' little tummies and ensure they are eating the right balanced food. Each box contains carefully pre-prepared meals made by chefs and dietitians to meet everyone's nutritional needs. You have the option to build your own box or let them build a box for you. It's getting the best foods but for less!
Check out their Beef Pita Wrap, Chicken Katsu Bites, Alfredo Bow Ties, Homestyle Pot Roast, and more! They also offer finger foods, smoothies, and snacks. Parents can filter the menu based on dietary needs: vegetarian, picky eater fav, gluten-free, egg-free, fish-free, soy-free, pork-free, milk-free, coconut-free, and sesame-free.
Learn more by checking out the Nurture Life Reviews.
Price: Weekly boxes start at $47.94.
Deal: Get 50% off your first week! Deal applies automatically, just visit and subscribe.
---
And that's our rundown of the cheapest meal kit delivery subscriptions! Did you find what you wanted to try?
Dig deeper into our list of all the best subscription boxes in every category to see more must-try subscriptions!
Say Hello To More Meal Kit Subscriptions!