There's no denying that Canada, the land of the maple, is such a beautiful country! While there are many wonderful things in there, including beauty products, there are times where Canadians admire top beauty brands made in the US. Subscription boxes are a thing for Canadians as well, as they blew up and escalated quickly into the Canadian scene. It's a great way of discovering new products in the market and knowing different brands as well!
If you're Canadian and trying to look for the best beauty boxes that ship where you live, subscription boxes are a great option! These beauty subscription boxes bring the best when it comes to beauty for those who live in Canada, ranging from makeup, skincare, haircare, and even nail care, some of which are full-sized and deluxe sample sizes.
Most of these subscriptions ship to Canada, but some also ship from Canada. So fasten your seatbelt and ride along with us! We've gathered the best Canadian beauty subscription boxes for beauty junkies that are really worth the try!
The Best Beauty Subscription Boxes for Canadians!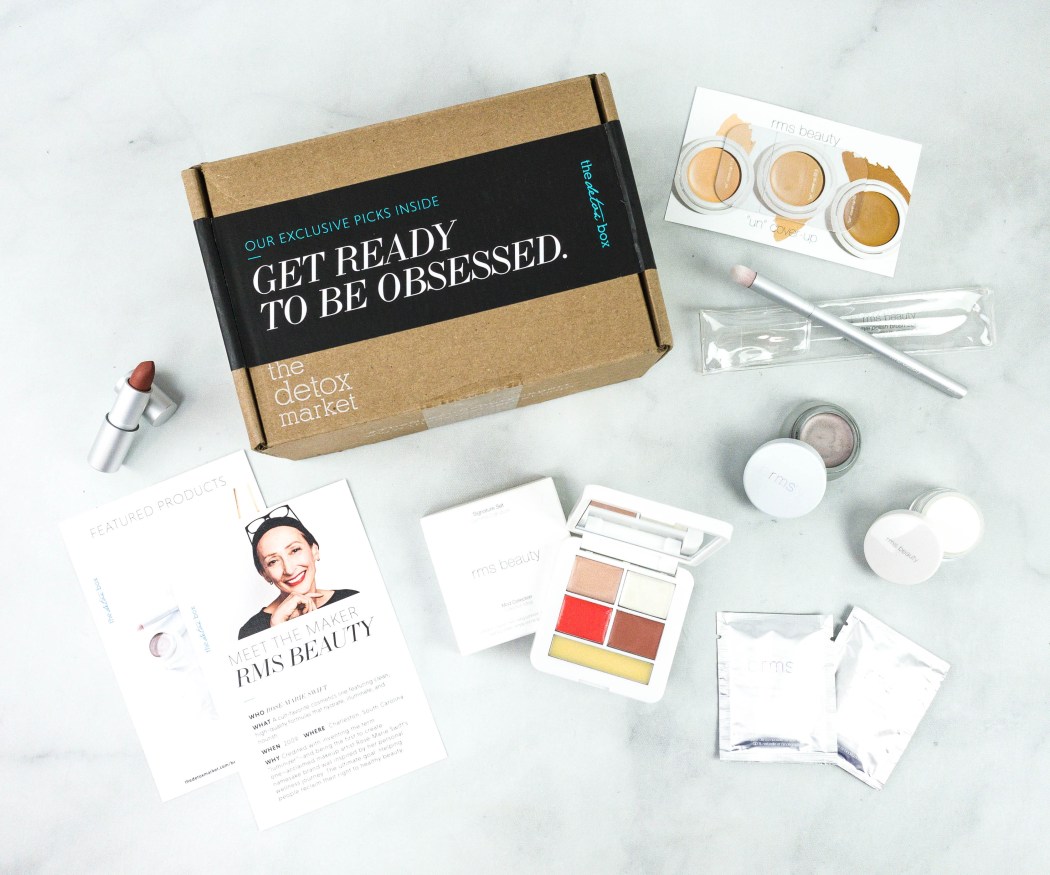 Image from: our review
What You Get: Switching your usual beauty regimen to another level has been made easy. Guided by strict standards, The Detox Box Canada introduces the best and most effective natural, green beauty brands from the land of the maple, Canada! They make you understand the importance of switching to healthier beauty products, and they even provide all the information you need about the month's featured brand, plus expert tips. Each box includes tried-and-true favorites and game-changing discoveries you can feel good about. So if you want to switch to clean and green beauty or even when you want to spice things up with your current green beauty routine, this subscription won't let you down!
See more at The Detox Box Reviews.
Price: The Detox box is $79.99 CAD/mo, and less when you prepay for longer subscription plans. Shipping is free!
---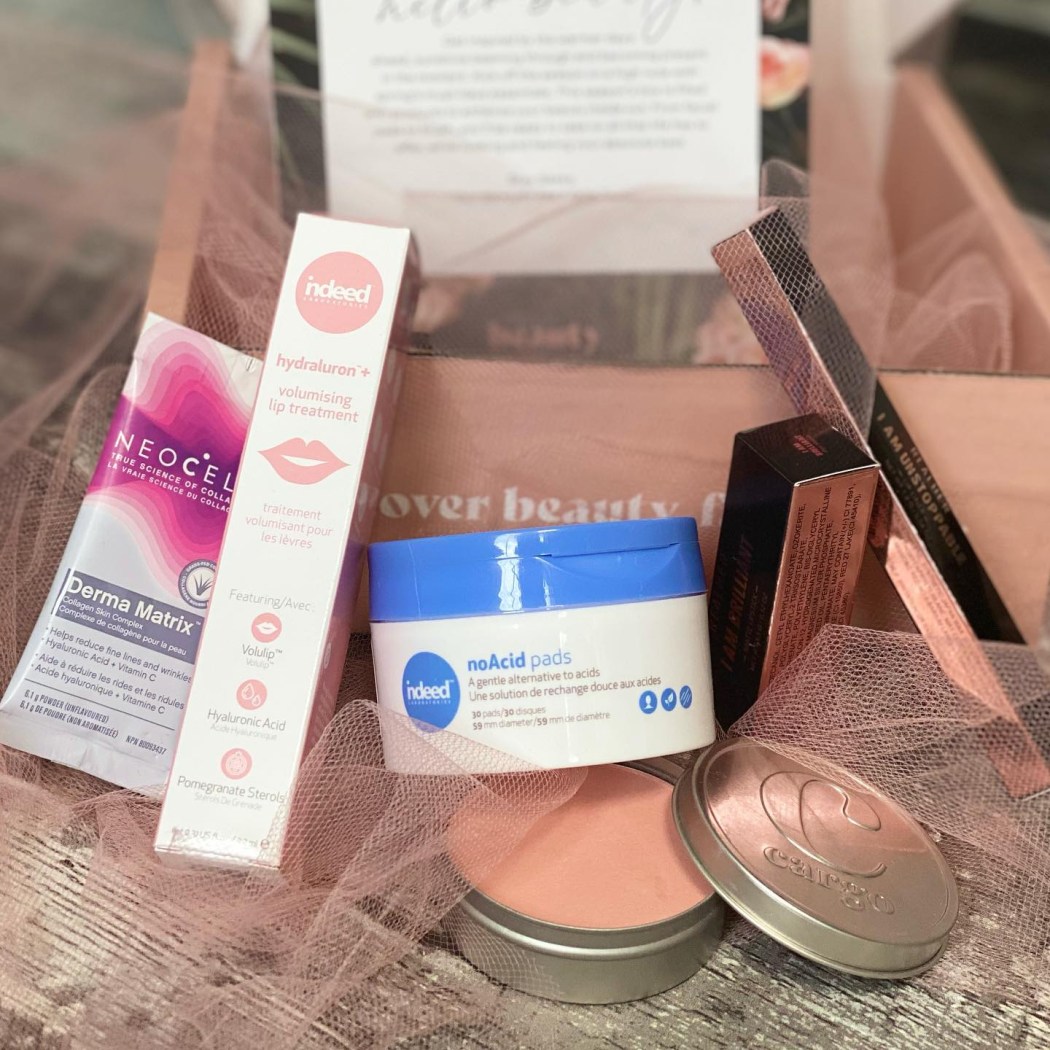 Image from: The Beauty Edit Box
What You Get: The Beauty Edit Box is a Canadian subscription offering the best of beauty to all beauty-obsessed women. Each box comes with the greatest beauty finds from both Canadian and global beauty brands, for a fraction of the subscription cost! There are two box sizes available for you to choose from: The Mini Beauty Edit Box, which includes 4-5 full-sized best-selling makeup & skincare products, and The Beauty Edit Box (Luxe Box), which contains 8-9 full-sized & deluxe samples with a mix of skincare essentials and makeup. Pamper yourself every season coz' self-care is necessary! Easily discover new products you'll love for months or years at your convenience, all in the comfort of your home.
Price: The mini beauty box costs $39.95 CAD/quarter, and the luxe box is $74.95 CAD/quarter.
Deal: Get 20% off on your first box! Use coupon code SAVE20.
---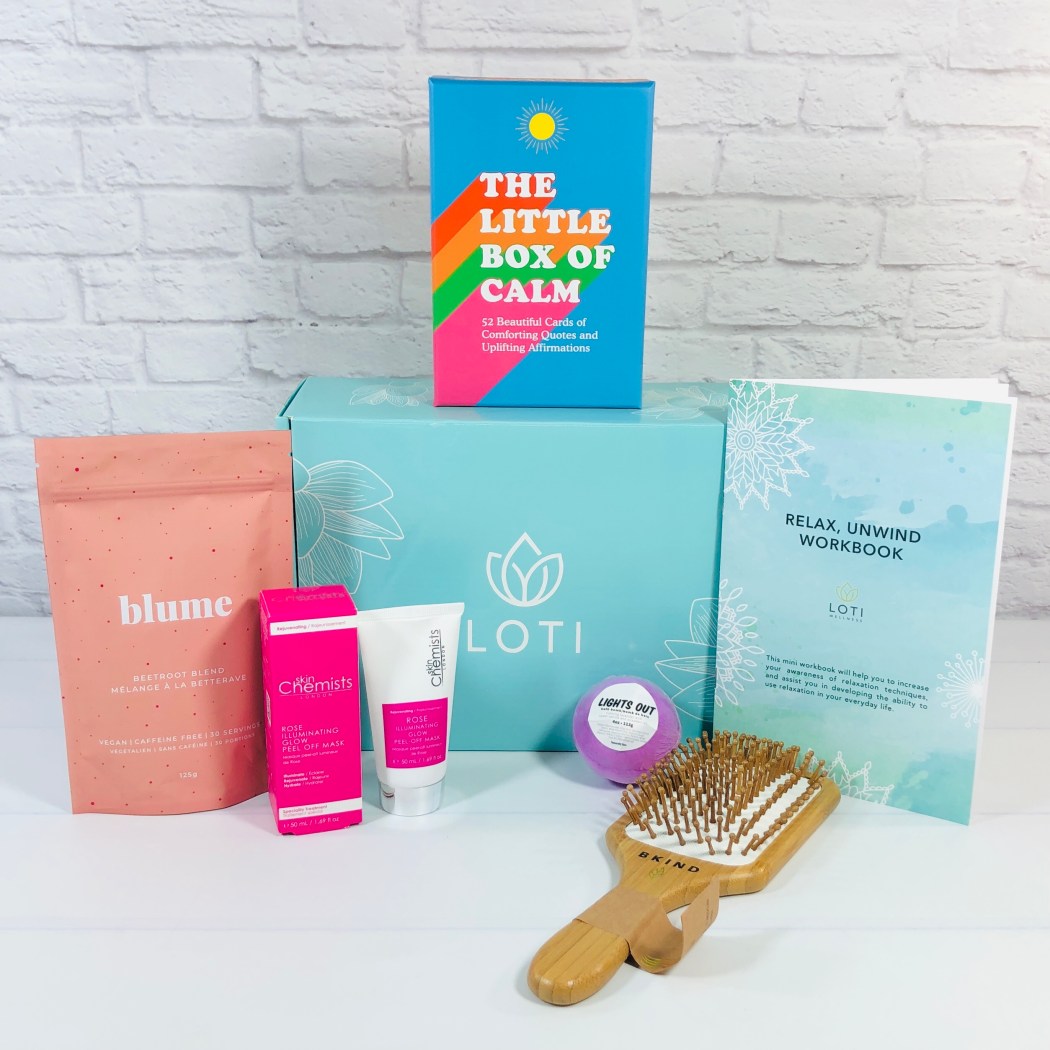 Image from: our review
What You Get: Nurturing wellness, that's what Loti Wellness's mission is. They are all about giving self-care through the monthly curation of boxes packed with wellness products that ship straight from Canada to your door! Using research-based psychology and psychotherapy, this wellness box helps you improve your overall wellbeing and relieves stress and anxiety. Each month, you'll receive a therapeutic-themed box featuring 5-8 quality wellness and lifestyle products that will help you build more self-confidence and boost self-esteem. Items include 100% natural, cruelty-free and sustainable products like bath and body products, candles, skincare, aromatherapy, and more! Through this box, you can create your own well-deserved "me-time"!
Learn more about the subscription when you visit Loti Wellness Reviews.
Price: Subscription costs $49.95 CAD monthly. Shipping is $5.99 CAD to Canada and $7.99 CAD to the US.
Deal: Get 15% off your first monthly subscription! Use coupon code LOTUS15.
---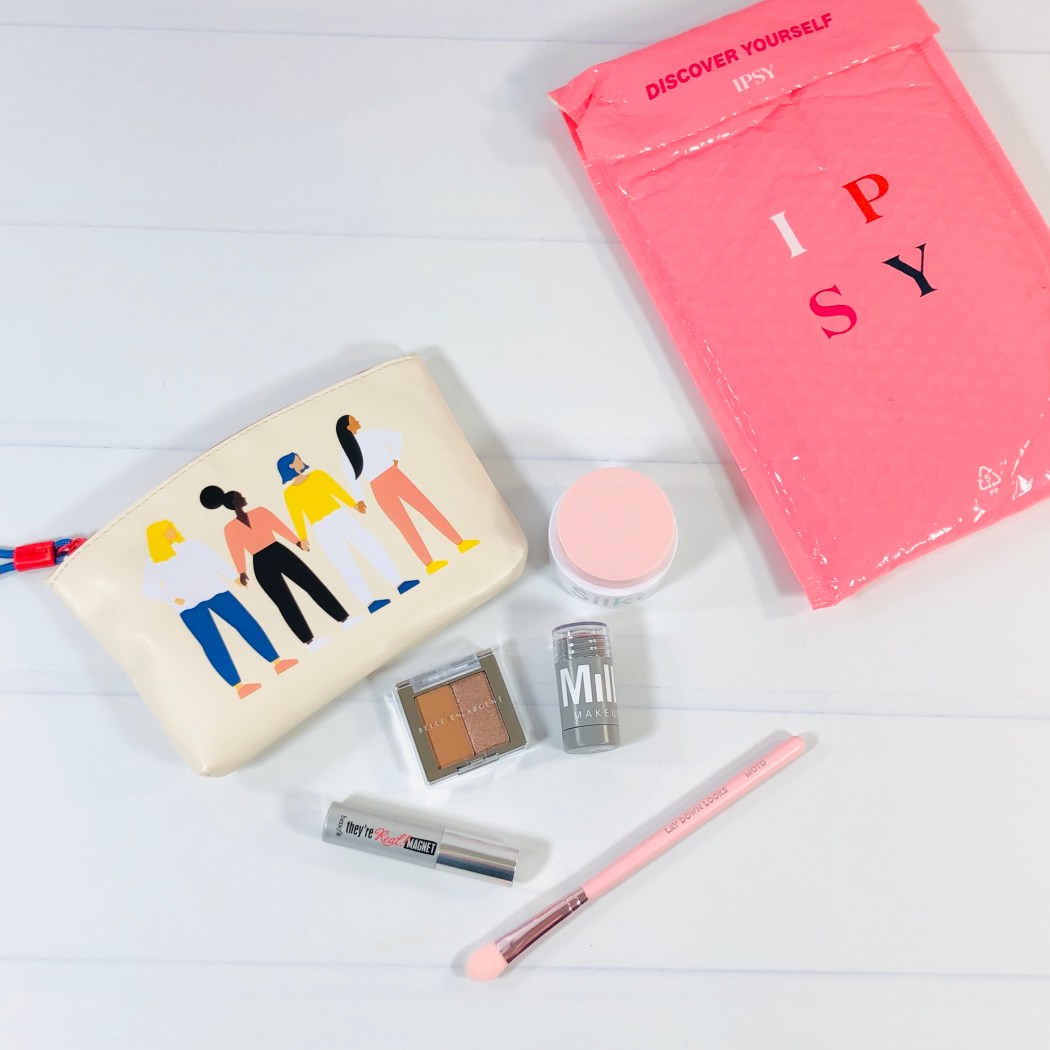 Image from: our review
What You Get: Even those beauty lovers who live in Canada can get a nice mix of makeup, beauty, skincare, and hair care items, all packed in a cute collectible bag! Ipsy is a popular beauty subscription that makes a great way of discovering well-known and up-and-coming brands. A beauty quiz takes note of your unique features and personal preferences, helping them improve their offerings each month. Every month, you'll receive 5 personalized, deluxe size beauty samples, with the option to choose one for yourself and the other 4 are Ipsy picks. Tarte, Ciate London, Juice Beauty, EyeKo, Steve Laurant, and It Cosmetics are just some of the brands included in past packages! And if you're looking for a bigger beauty box, they also offer a Glam Bag Plus for $25 a month or an upgrade to Glam Bag X for $55 per shipment.
Want to know more? Check out Ipsy Reviews.
Price: Get personalized beauty products for $13 monthly, plus shipping fees.
---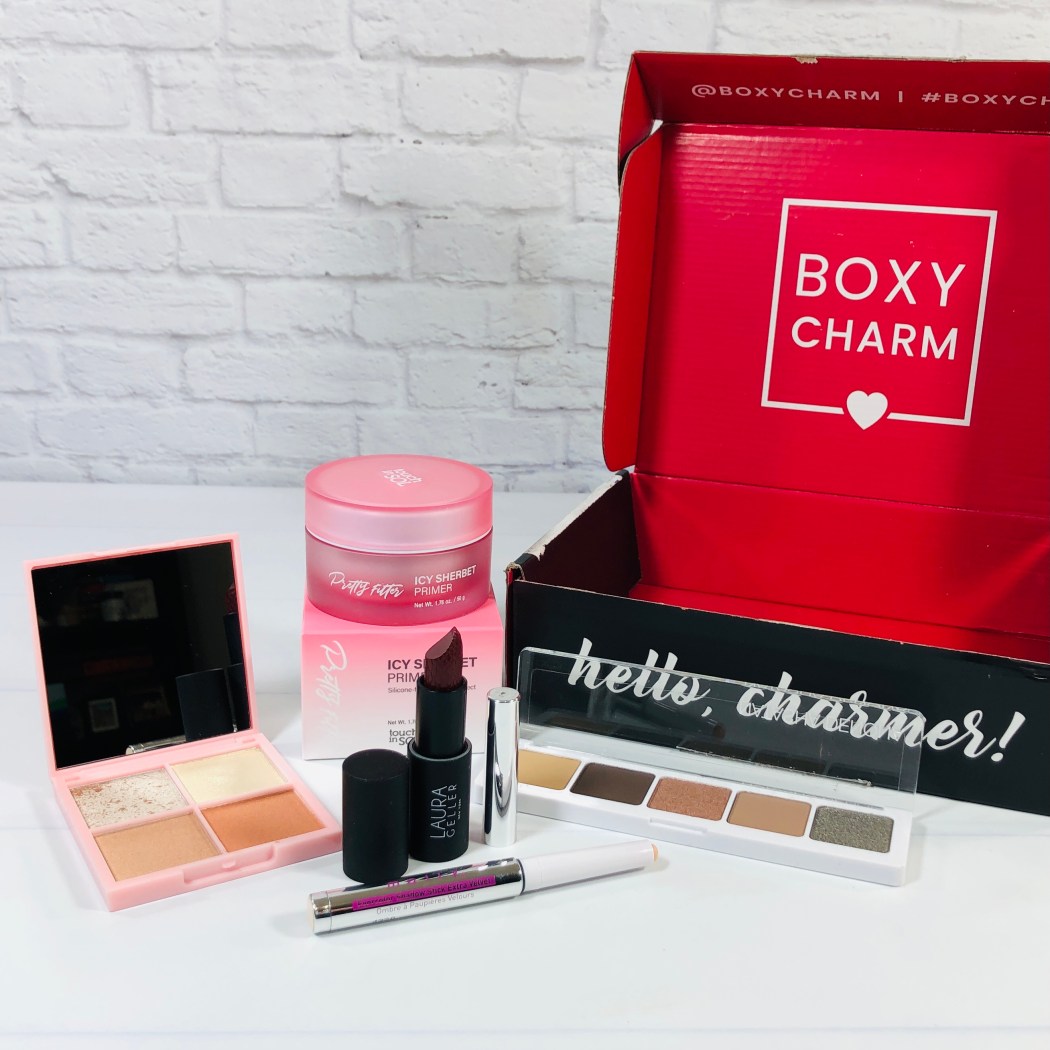 Image from: our review
What You Get: Discovering the best beauty items is made more fun and easy by BOXYCHARM. Subscribers who reside in the land of the maple can now receive 4 to 5 full-sized beauty products from well-known, popular, chic, and up-and-coming brands each month, as this subscription also ships to Canada! You can choose one item to include in your box, and the rest of the items are selected based on current and emerging trends. The box often includes full-size palettes and makeup tools such as high-quality brushes and magnetic pan holders. Aside from makeup and cosmetics, they also include nail care, skincare, haircare, fragrance, and more. The Premium and Luxe box is also an option if you want to upgrade your usual routine. Members from these tiers have the opportunity to choose not just one but two items they love to include in the box. It's always a good variety of high-end products from the best beauty brands without paying the full price!
Check out BOXYCHARM Reviews to know more.
Price: Monthly subscription is priced at $25 a month, plus $5 shipping.
Deal: Get a FREE Gift with Boxycharm - enter code on site! Deal applies automatically, just visit and subscribe.
---
Image from: our review
What You Get: Getting the best beauty brands your skin will love is easy with Topbox. This subscription from Canada ships only to Canada to serve beauty-obsessed Canadian women the best of beauty finds from prestige brands. Some of which are well known and established, while the others are newly launched and up-and-coming. Every month, you'll receive 4 hand-picked deluxe samples straight to your door, giving you a way to discover new products you'll sure to love. It may include makeup, skincare, hair, nail care. Some of the brands they featured include The POREfessional, VDL, Alo Fruits & Passion, Vichy, and Maskeraide.
Visit Topbox Reviews to know more about this subscription.
Price: A 1-month subscription costs $15/box, plus free shipping.
---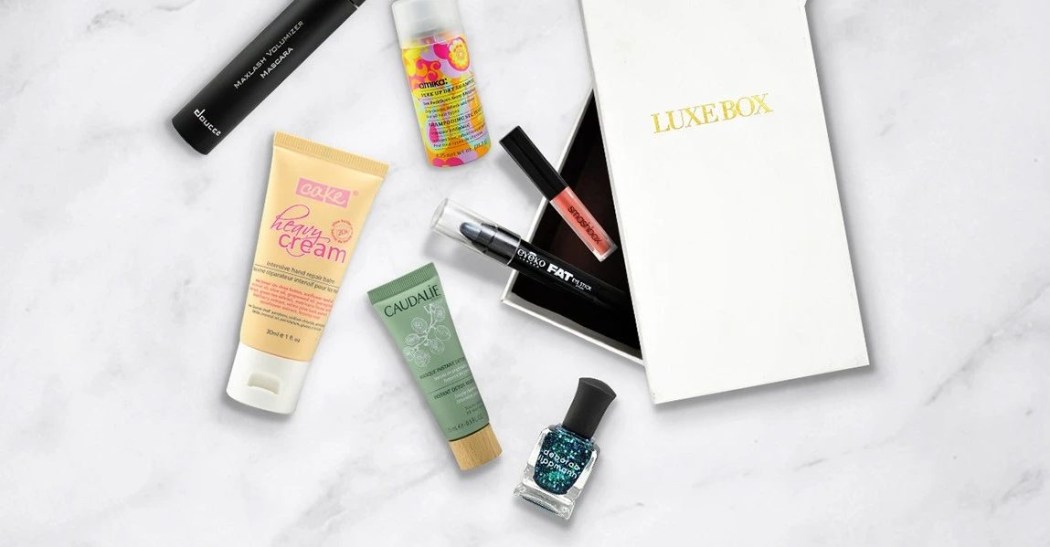 Image from: Luxe Box
What You Get: Luxe Box is another yet exciting subscription from the same team behind Topbox. It serves Candian women the best of the best beauty products they could trust. Their mission is to deliver quality beauty and lifestyle products to anyone who lives in Canada through a unique experience. Every quarter, a luxe box will knock at your door with 7-8 full-sized or deluxe samples of personalized beauty products just for you! The box contains an assortment of makeup, skincare, haircare, and nail care, specifically selected by their editors, with free shipping! As a member, you'll get exclusive access to private events, product launches, and beauty tips & tutorials to help you stay trendy whatever season it is!
See Luxe Box Reviews for more details.
Price: This Canadian subscription ships free every three months for $29.
---
Image from: our review
What You Get: Living in Canada and wants to try the clean beauty brands from the US? Fret not coz' Petit Vour ships to Canada as well! You can say goodbye to toxic stuff because they only send vegan and cruelty-free beauty and grooming samples. Also, they have around 30 ingredients that they pledge NOT to put in boxes. What makes this subscription even more worthy of a try is that the inclusions are usually hard to find in regular beauty stores, so it's really a great catch for Canadian women! Each box contains 4-5 items to sample, mostly deluxe sample-sized but with the occasional full-sized item. A beauty profile is what you need to create upon sign up, so it'll be easier for them to choose what products to include in your box.
Head on to Petit Vour Reviews for more information about this subscription.
Price: The box ships to Canada for $23 a month, plus a $6 shipping fee.
Deals:
---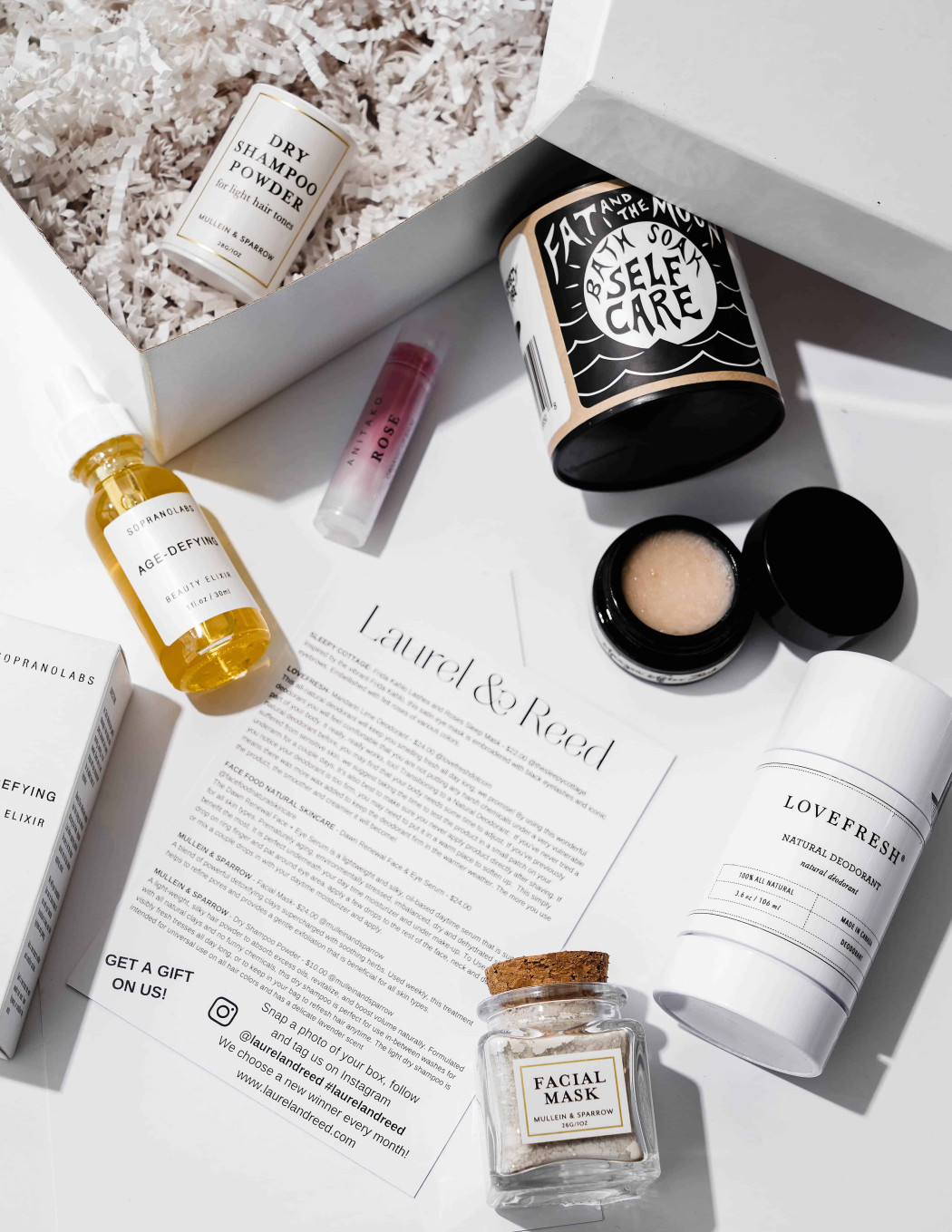 Image from: Laurel & Reed
What You Get: Being luxurious doesn't mean you leave the clean behind. Laurel & Reed work its way to introduce subscribers, whether in the US or Canada, to luxurious, clean, and green beauty products. They'll provide you the safest products to use, ranging from beauty to wellness to lifestyle. Receive an assortment of 3 or more full-sized products, valued at over $125 in beautifully wrapped boxes! Committed to inspiring women to live a healthy and clean life, they assure that every product is all-natural, non-toxic, and cruelty-free. Achieve gorgeous healthy skin with clean products that work wonders!
Price: Monthly plan costs $59.95 per month, plus an $18 shipping fee to Canada.
---
Image from: our review
What You Get: Imagine getting all the best luxury samples from top beauty brands! GLOSSYBOX even packs those beauty samples in a gorgeous box with a different theme every month, making things more exciting for subscribers, including those who live in the land of the maple, Canada! Each box is curated by their in-house beauty experts and contains at least 5 samples, including makeup, skincare, and hair care. Packed with so much value for only $21, this subscription is a great choice for anyone looking into trying luxury beauty brands without breaking the bank!
See more on GLOSSYBOX Reviews.
Price: Subscribe monthly for $21/box. Additional $5 for shipping to Canada.
Deal: See special savings on your subscription - just enter code on site! Deal applies automatically, just visit and subscribe.
---
Image from: our review
What You Get: If you're a Canadian woman who's looking for something to cater to all your beauty needs, Look Fantastic Beauty Box is the subscription to go! It is a UK subscription box that sends 6+ hand-picked beauty products, including haircare, skincare, makeup, and beauty tools, straight to your doorstep. Each box you'll receive comes with products that are carefully chosen by the company's beauty experts from top brands, as well as up-and-coming brands. From Eve Lom to Korres, Philip Kingsley to Molton Brown, this subscription is an introduction to leading beauty brands and new and promising talent too. You can get this box for even less on an annual subscription or still pay monthly, which is an amazing deal considering the high-end goodies!
See past box contents on Look Fantastic Beauty Box.
Price: Monthly subscription is priced at $25 CAD with free shipping.
Deal: Get your first box for $10 on a 3+ month subscription! Use coupon code TREATBB.
---
And that is our list of the best Canadian beauty subscription boxes you should try this 2022! Have you made up your mind yet on which subscription to choose?
If you want to see more subscriptions, check out our complete list of all the best subscription boxes in every category!
Say Hello To More Subscription for Beauty Fanatics!