Opting for a vegetarian diet can bring a host of health advantages, yet it can be demanding to find the motivation and spare time to prepare delectable and nourishing meals. Luckily, there's a solution! Vegetarian meal kit delivery services and snack subscriptions can revolutionize your culinary experience. With carefully measured ingredients and step-by-step recipes or delightful snacks delivered right to your door, these services provide a hassle-free and enjoyable way to maintain a well-rounded vegetarian diet.
Show More (13 items)
With these services, you'll receive all the essential components to craft delectable and nutritious vegetarian dishes without leaving your haven of a kitchen. From easy-to-follow recipes to ready-made meals, you'll have access to fresh produce and unique ingredients that will take your meals to extraordinary heights. And don't forget the snacks! Many vegetarian subscription services offer delectable snack options made with wholesome, natural ingredients that provide a satisfying energy boost between meals.
Are you ready to spice up your plant-based lifestyle? Delve into our list to discover the best vegetarian meal kit delivery services and snack subscriptions. Get ready to embark on a flavorful and nourishing gastronomic adventure without compromising your chosen lifestyle!
The Best Vegetarian Meal Kits & Snack Subscription Boxes!
Vegetarian Meal Kit Subscriptions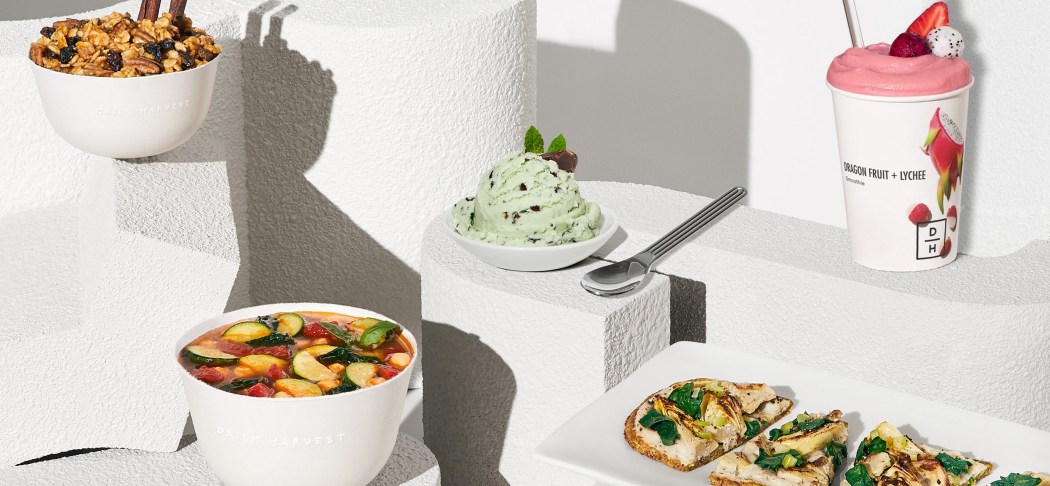 Image from: Daily Harvest
Why We Love It: Don't have time to prep your own meal? No problem! Daily Harvest will take care of your food so food can take care of you. It is one of the easiest ways to add superfoods to your diet. You only have to follow 3 simple steps to enjoy good, clean food that's built on fruits and vegetables. Customize your plan, unpack good food, and blend, heat, or prep! Each week or month, subscribers receive ready-to-blend, heat, or eat whole food and superfood plant-based meals. They currently offer smoothies, harvest bowls, flatbreads, soups, oat bowls, chia bowls, scoops, bites, and lattes.
Some of Daily Harvest's vegetarian offerings are Quinoa + Makrut Lime Harvest Bowl, Turmeric + Lemongrass Soup, Brussels Sprouts + Tahini Harvest Bowl, and Tomatillo + Pepper Flatbread. All food items are also ideal for those who are on a vegan and gluten-free diet.
Deal: Get $30 off on your first 9-item order; $40 off on your first 14-item order; and $65 off on your first 24-item order! Use coupon code HELLOSUB and Use this link to subscribe.
---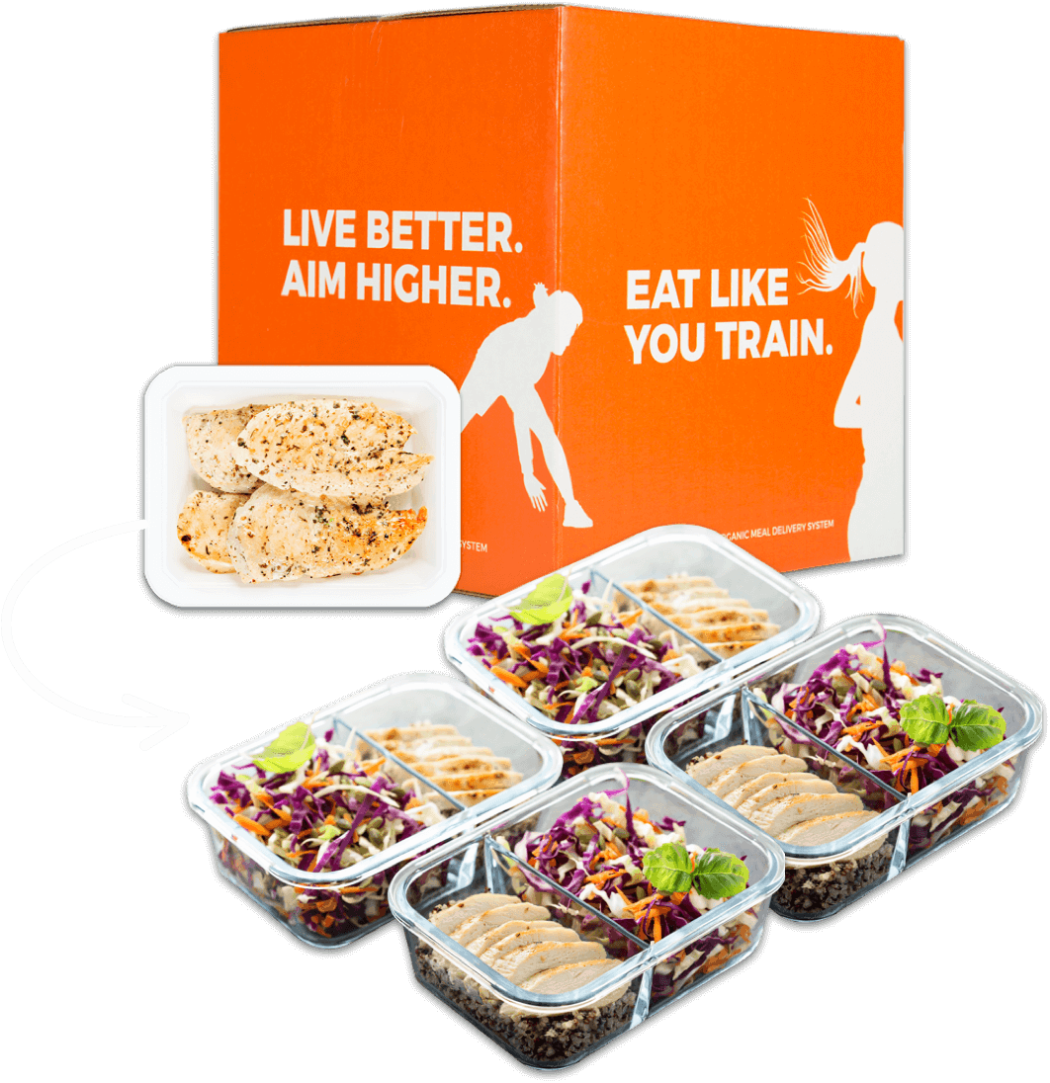 Image from: Trifecta
Why We Love It: Get well-cooked vegetarian meals delivered directly to your door! Trifecta is a unique meal subscription that sends out scrumptious ready-to-eat meals made using 100% USDA organic ingredients and are guaranteed to be gluten-free, dairy-free, soy-free, and non-GMO. These ready-made meal kits are prepared by their registered dietitian and professional chefs. Never frozen, vacuum-sealed, then delivered using fully insulated and refrigerated boxes. All there's left for you to do is heat and enjoy healthy, delicious meals!
Some of the ready to eat meals you can try from Trifecta are Portobella Mushroom Pasta, Pumpkin Almond Loaf, Quinoa And Roasted Cauliflower, Summersquash Quinoa & Cranberries, and Butternut Squash & Kale with Chickpeas. Aside from vegetarian, they also cater to vegan, organic paleo, and clean meals.
Deal: Get $120 off across your first 6 boxes! Use coupon code HS120.
---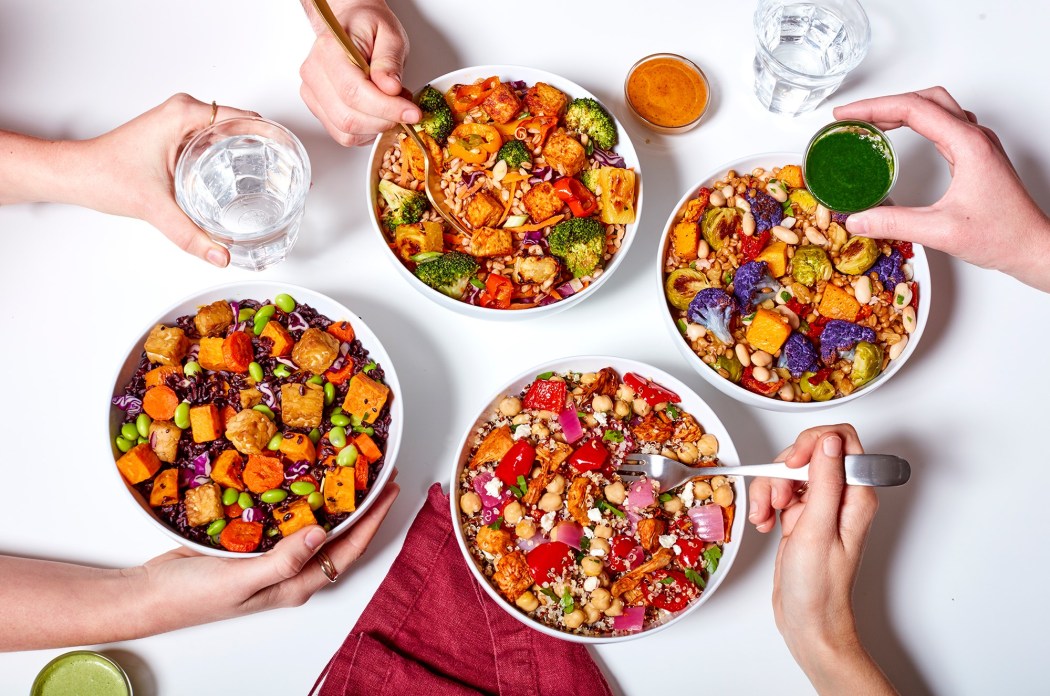 Image from: Mosaic Foods
Why We Love It: Open the box, heat, and eat! Mosaic Foods is a fantastic meal subscription that delivers ready-to-eat meals packed with plant-powered protein and fiber delivered straight to your doorstep. You can select from tons of chef-crafted, vegetarian meal options. They source the freshest veggies they can find and hand-cook them in their kitchen. Their food is made with only the freshest and cleanest veggies, leaving artificial ingredients, preservatives, and guilt behind! All you need to do is heat them in the microwave, and your meal is ready in five minutes or less. Good deed follows as per every box sold, they rescue and distribute 2 pounds of nutritious foods to those in need.
Enjoy Mosaic Foods' guilt-free meals like Coconut Chickpea Curry, Brussels & Squash Harvest Bowl, BBQ "Meatloaf" & Sweet Potato Mash, and Roasted Garlic Cauliflower Soup.
---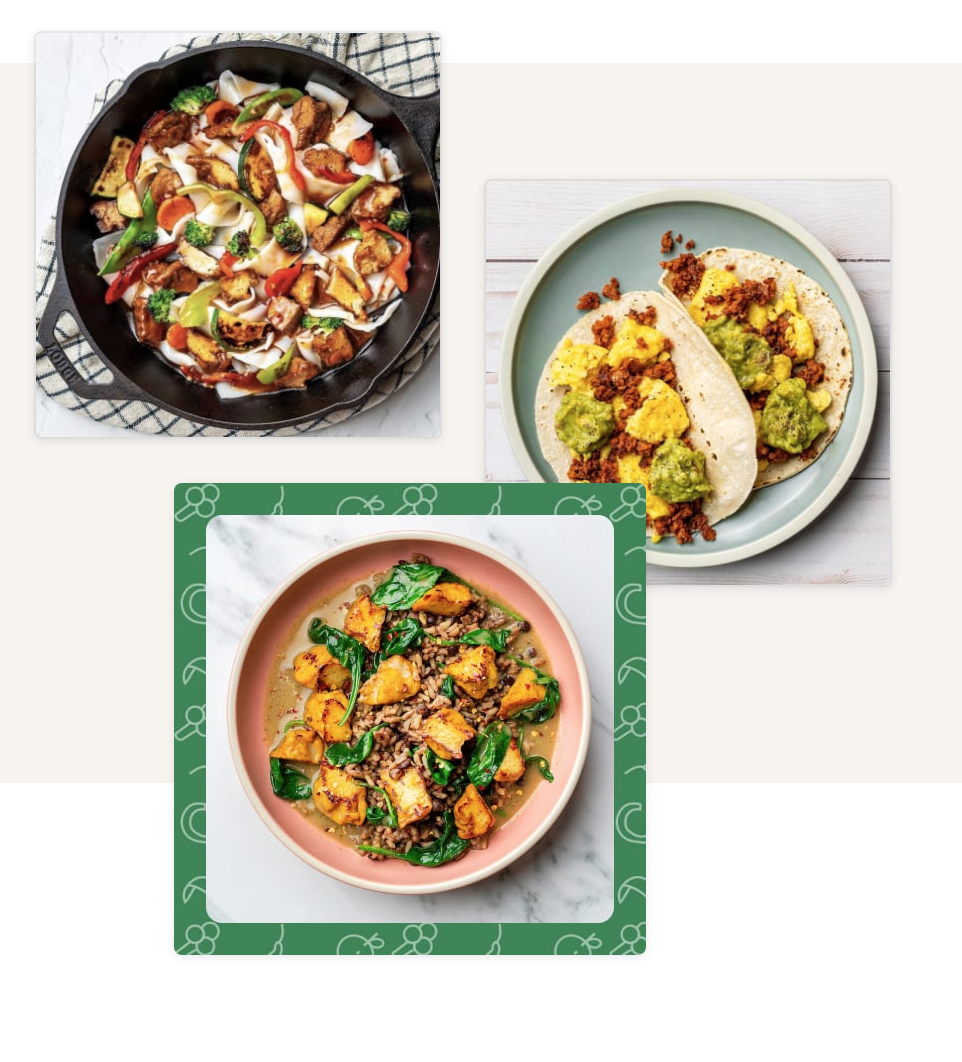 Image from: Hungryroot
Why We Love It: Hungryroot makes it possibly easy for people to eat healthily and feel great every day by delivering everything nutritious right to your door. They find the most nutritious options out there that are made with whole, trusted ingredients, ranging from stir-fried veggies and vegan pasta to grain bowls and salads. Tell them about your diet restrictions, and based on your preferences, they'll send groceries you love and even give you recipes so you can cook them with such ease! All the food they carry is free of artificial sweeteners, high-fructose corn syrup, artificial colors, and artificial preservatives.
Hungryroot's vegetarian meal offerings include Fiesta Cauliflower + Black Bean Bowl, Buffalo Cauliflower Everything Tostada, Vegan Chorizo Taco in a Bowl, and Coconut Curry Tofu Rice Bowl. They also cater to other diets such as vegan, pescatarian, dairy-free, gluten-free, soy-free, tree nut-free, peanut-free, egg-free, and shellfish-free.
Deal: Get 30% off on your first $99+ order + FREE Bonus Groceries FOR LIFE! Use coupon code HELLO30.
---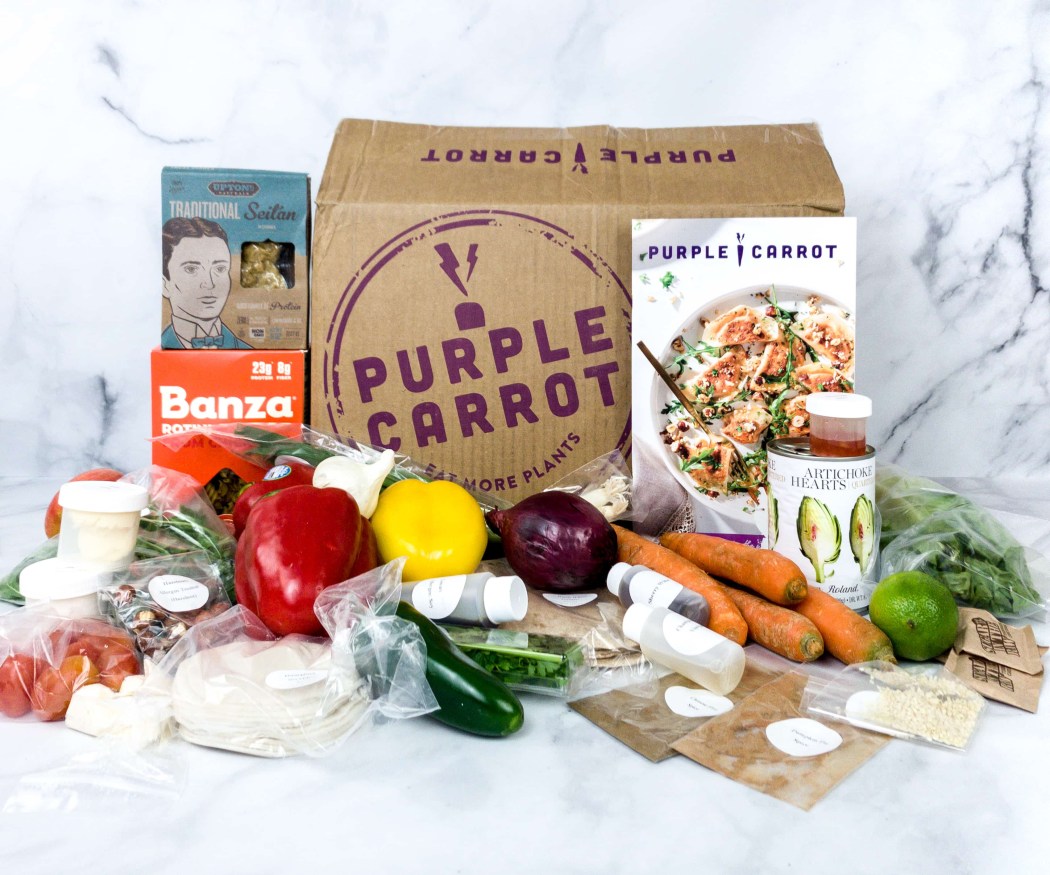 Image from: our review
Why We Love It: Designed for health-conscious individuals, The Purple Carrot provides easy to prepare, healthy, plant-based, and seriously delicious recipes complete with raw, pre-measured ingredients every week! It's ideal for anyone looking to improve their diet by lowering their cholesterol intake, eliminating animal fats, or boosting vegetable intake. You only have to pick your favorite 3-6 dinner meals from their 2-serving plan or 6-serving plan to get cooking. You can also add extras for breakfast and lunch by checking out their menus with plant-based ingredients! The ingredients are already perfectly portioned for you to cut down prep time, so there is no longer any excuse for you not to eat a healthy diet, even when you're busy.
Curious about The Purple Carrot's plant-based offerings? They have Pan-Seared Asparagus Salad, Buffalo Tempeh Quinoa Bowls, Waldorf Chickpea Salad, Autumn Crunch Salad, and more. They also have meals ideal for people who have gluten-free, high-protein, low carb, nut-free, and soy-free diets!
Deal: Save $100 on your first FOUR boxes! Use coupon code BACKTOBUSY23.
---
Image from: our review
Why We Love It: With Splendid Spoon, you can kickstart healthy habits and ditch the bad stuff! It is a scrumptious meal subscription plan that delivers vegan, gluten-free, GMO-free, ready-made smoothies, soup and grain bowls, noodles, and even wellness shots! Each week, they deliver plant-based and gluten-free meals to subscribers, and the orders can also be customized by excluding ingredients and flavors they don't want to receive. You can also choose a plan from breakfast, Lunch, Breakfast+Lunch, or Breakfast+Lunch+Reset. Their new plan includes dinner as well.
Try Splendid Spoon's popular smoothies like Coconut Lime Smoothie, Strawberry Chocolate, and Mango Guava. Must-try plant-based meals are Roasted Cauliflower Grain Bowl, Vegetable Bolognese Grain Bowl, Creamy Mushroom & Spinach Noodles, and Butternut Turmeric Soup. Another good news: Splendid Spoon's meals are dairy-free and gluten-free.
Deal: Get $120 off on your first 4 boxes! Use this link to get the deal. First 4 boxes must be ordered within 120 days from the shipping date
---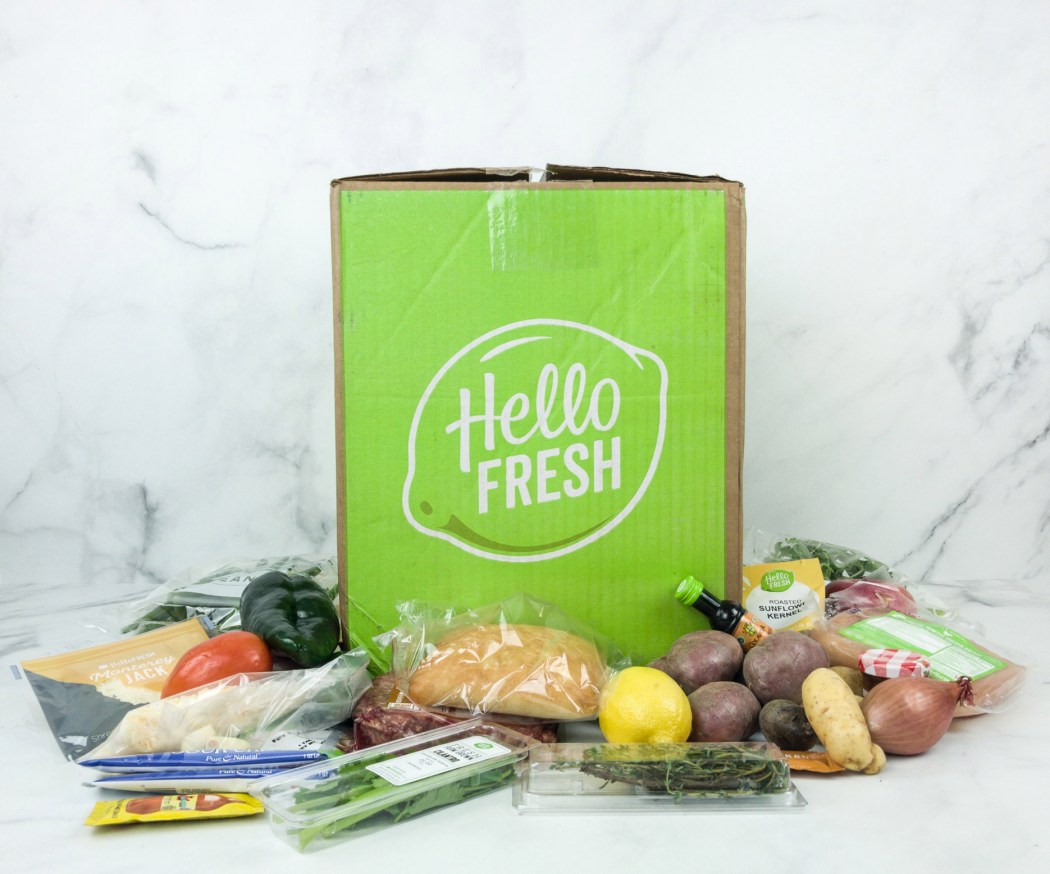 Image from: our review
Why We Love It: HelloFresh – Vegetarian Meal Selections make meal preparation easy as pie! Each week, you can curate your meat-free, personal menu and select from 27+ healthy and tasty menu recipes. Your Hello Fresh box contains ready-to-cook kits, including easy-to-follow recipes, plus high-quality, seasonal, and naturally produced veggies to make your own delicious plant-based meals in the comfort of your own home! You can also customize your box depending on how many people you need to cook for and the number of recipes you'd like to include in your box each week. Aside from the Veggie Plan, you can choose from other selections ranging from Meat & Veggies, Family-Friendly, Calorie-Smart, Quick and Easy, and Pescatarian.
Plant-based meal kits by HelloFresh include Sweet Potato & Black Bean Tacos, Heirloom Tomato Flatbreads, Sesame Peanut Noodles, Garden Quesadillas, and Chickpea Powered Couscous. They also have vegetarian meals that are low calorie and low carb.
Deal: Get up to 16 FREE Meals + FREE Shipping on your first box + 3 surprise gifts! Deal applies automatically, just visit and subscribe. Valid for new subscribers only.
---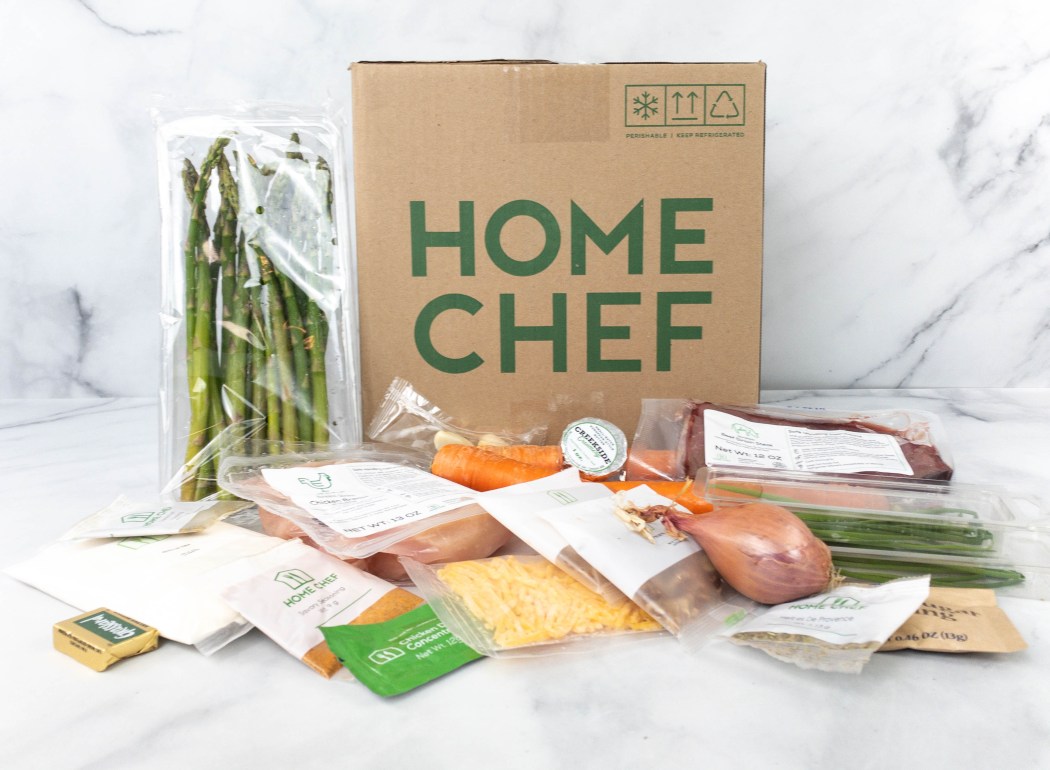 Image from: our review
Why We Love It: Home cooking made even easier! Home Chef offers a diverse selection of food that ranges from Asian, Indian, African, and South American-inspired dishes to classic American meals. It lets you take a break from grocery shopping by supplying fresh, easy, and vegetarian meal plans with pre-portioned and ready-to-cook ingredients. Every week, you have the option to choose from a variety of recipes and receive all the ingredients and visual step-by-step recipe cards directly to your door. They also offer 5 different meal categories to choose from: Meal kits (ready in about 30 minutes), 15 Minute Meal Kit, Oven-Ready, Grill-ready, Culinary Collections (premium meals for special occasions), and Entrée Salad. You can custom your box to fit your needs, including the number of servings per meal and the number of meals per week.
You can filter Home Chef's selection to see their vegetarian meal offerings, like Brussels & Brown Butter Risotto, Black Bean Enchiladas, Teriyaki Charred Broccoli & Shiitake Mushrooms, Fontina & Caramelized Onion Flatbread, and Avocado & Tofu Sushi Bowl.
Deal: Get 50% off your first FOUR boxes - that's up to 18 meals FREE! Deal applies automatically, just visit and subscribe.
---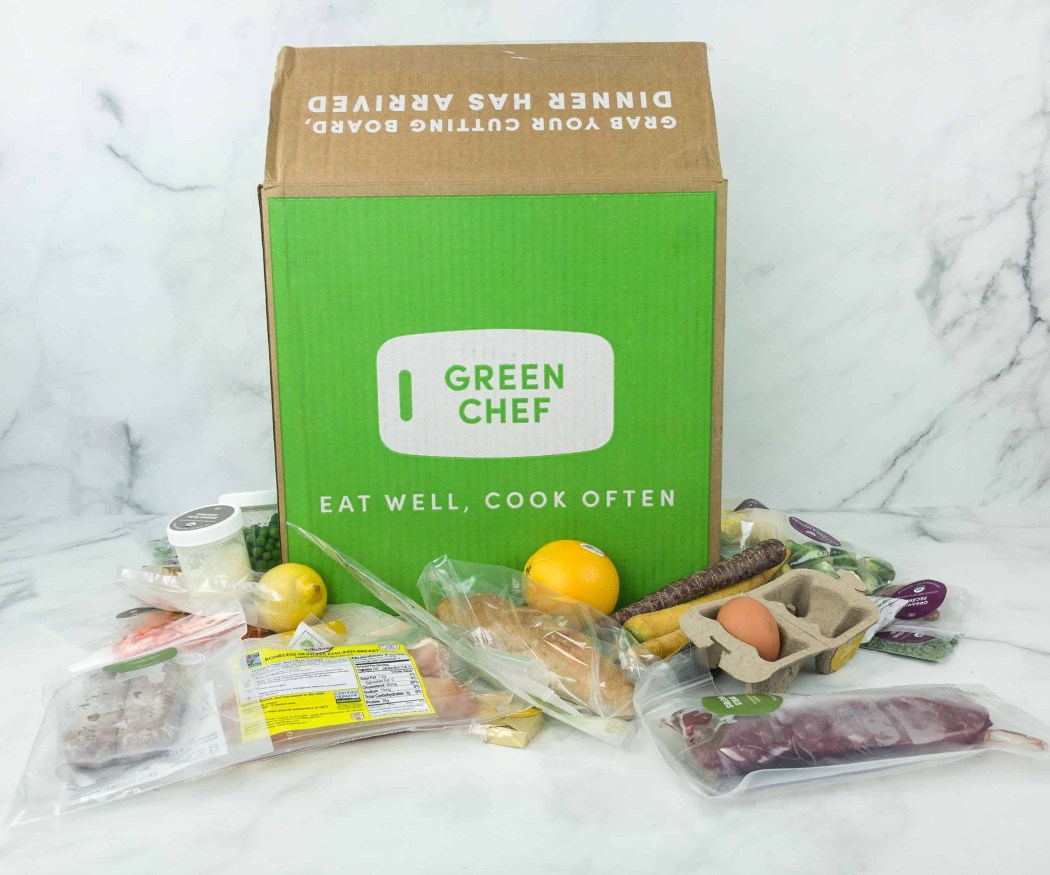 Image from: Green Chef
Why We Love It: Green Chef is one of the best meal kits for healthy eating, perfect for vegetarians. They have a wide variety of clean meal plans at manageable prices, made for every lifestyle, including Plant-Powered, Keto+Paleo, and Balanced Living. Their incredible meals are pre-measured and prepped so you can save time in cooking! Each box comes with photographed step-by-step instructions, which made them more convenient and easier to follow. It also includes pre-measured, sustainably sourced ingredients that are color-coded for easy sorting! All that's left to do is to enjoy tasty, restaurant-worthy meals alone or shared with someone.
Some of the tasty vegetarian meals from Green Chef are Harissa Roasted Cauliflower Bowls, Warm Pesto Caprese Sandwiches, Tuscan White Bean & Chard Soup, Ancho-Lime Sweet Potato Bowls, Roasted Garlic & Fennel Flatbreads. These are also perfect for vegan diets!
Deal: Save $35 on your first box, $20 on your second and third, and $15 on your fourth – that's $100 savings! Deal applies automatically, just visit and subscribe.
---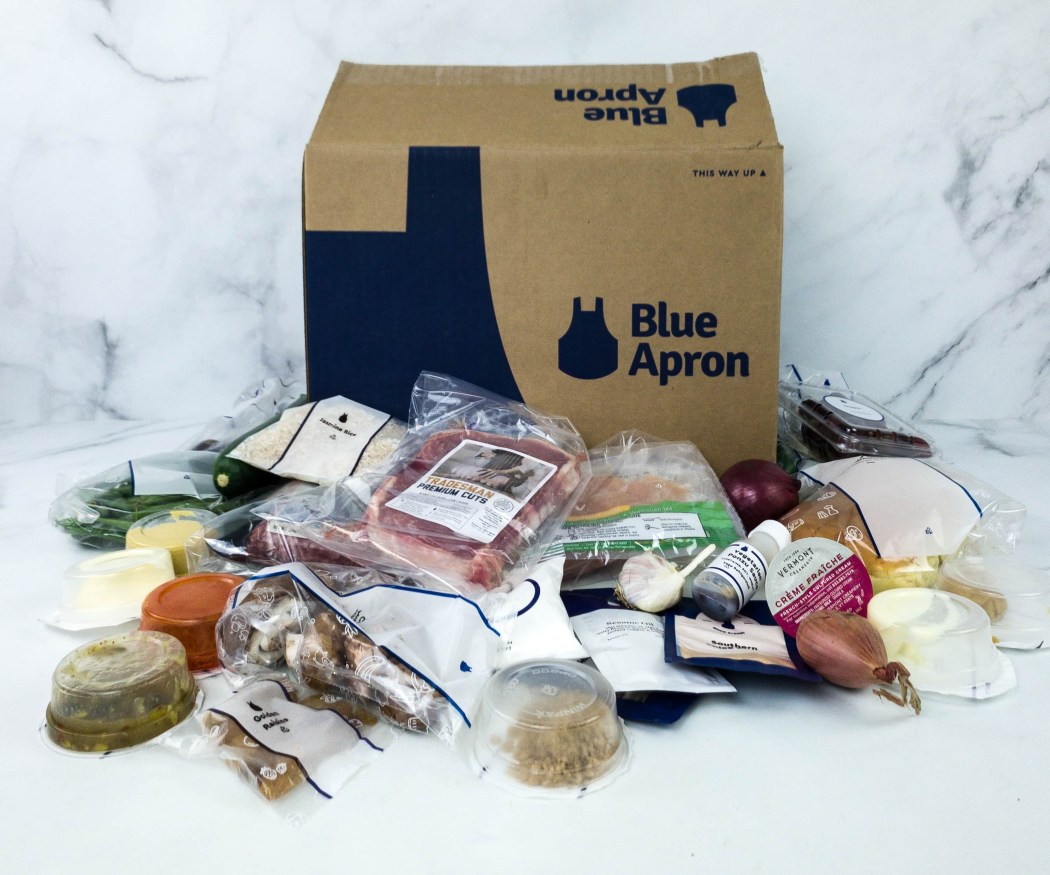 Image from: our review
Why We Love It: Blue Apron subscribers get their hands on chef-designed recipes that may include meals inspired by international cuisine, one-pan dishes, and classics! Their Vegetarian Plan offers great-tasting meat-free recipes that celebrate the best of seasonal produce. Step-by-step instructions and responsibly sourced ingredients in perfectly portioned amounts are packed in every box, along with recyclable ice packs and eco-friendly packaging that keep your food in its best condition. Other options include a 2-serving signature and 4-serving signature for 4, which comprises an ever-changing mix of meat, fish, Beyond Meat™, WW Approved, Diabetes-Friendly recipes, and health-conscious offerings.
Want to know more about Blue Apron vegetarian meals? They have Kabocha Squash Red Curry, Eggplant Lasagna, Udon Noodle Soup, Mushroom Stroganoff, and even Roasted Vegetable Kebabs – ideal whether for lunch or dinner.
Deal: Get up to $110 off across your first 5 boxes! Use this link to get the deal.
---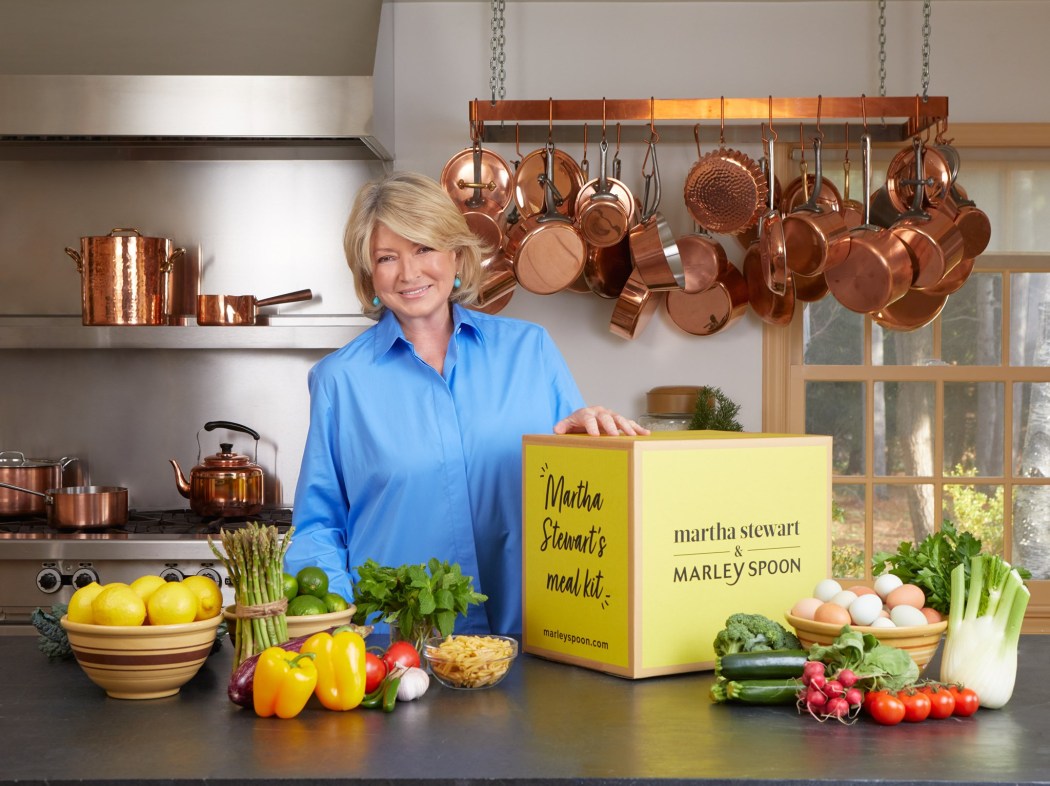 Image from: Martha & Marley Spoon
Why We Love It: You never have to worry about having healthy and clean ingredients for every meal you prepare because Martha & Marley Spoon sends pre-portioned ingredients directly to your door. This meal kit subscription service offering two meal options: a 2-person and a 4-person box. Choose from 29 recipes under 5 categories each week, including Vegetarian & Vegan, Health & Diet, Meat & Fish, Under 30 minutes, and Family-Friendly. They also include easy-to-follow recipe cards, featuring only 6-steps, precise instructions, and helpful photos so you can easily cook your meal. Boxes are chilled, and ingredients are already sorted by recipe. Just grab and cook!
Menu offerings to look forward to are Cheesy Spaghetti Squash Quesadillas, Lemon Risotto with Zucchini & Mint, Grilled Tofu Banh Mi, Roasted Carrot Snap Pea Salad, Sri Lankan Coconut Dal, and more! Some of Martha & Marley Spoon's vegetarian options are also gluten-free and low-calorie.
Deal: Get up to $260 on your first EIGHT boxes- that's 51% off + FREE Shipping your first box! Deal applies automatically, just visit and subscribe. The remaining voucher value applies to future orders!
---
Image from: our review
Why We Love It: Gobble offers dinner kits that can be made in 15 minutes or so! They do all the work – peeling and chopping, so you can just grab the ingredients from the box and cook! Personalize your plan by choosing which kind of dinners match your lifestyle – Classic, Lean & Clean (low-carb), and Vegetarian. With the vegetarian dinners, you'll receive flavorful, plant-based vegetarian kits directly to your door, freshly prepared! Each box contains gourmet, easy-to-follow recipes along with thoughtfully sourced and quality ingredients that you can feel good about. Already prepped to speed up the whole cooking process, so you can enjoy savoring your healthy dinner fix!
Vegetarian dishes by Gobble include Vegetable Samosas with Chutneys, Asian-Style Tofu Lettuce Cups with Jasmine Rice, Mediterranean Fattoush Salad with Green Harissa Dressing, and Mexican Spinach Salad with Avocado & Corn.
Deal: Get 50% off your first box - that's 6 meals for $36! Use this link to get the deal.
---
Image from: VegReady
Why We Love It: VegReady offers hassle-free and cooking-free service with their ready-made, plant-loaded meals, making healthier meal options accessible for everyone. There are 2 meal cases available to choose from: Amazonian Rainforest Meal Case and Coastal Verde Meal Case. Each case of meals they send out includes 24 dishes, which is equivalent to 8 complete meals. The foods are 100% plant-based with no nasty chemical preservatives, bearing everyone's health in mind, including animals and the planet too! No cooking is required. Just open and eat!
From Coastal Verde Meal Case, you can look forward to white quinoa and lentils, as well as sides and sauces like Spanish Ratatouille and Piquillo Pepper Hummus. As for the Amazonian Rainforest Meal Case, there's brown rice, quinoa, and lentils, as well as Artichoke Hummus and Green Asparagus & Ginger for the sides and sauces. All of their meals are also vegan.
---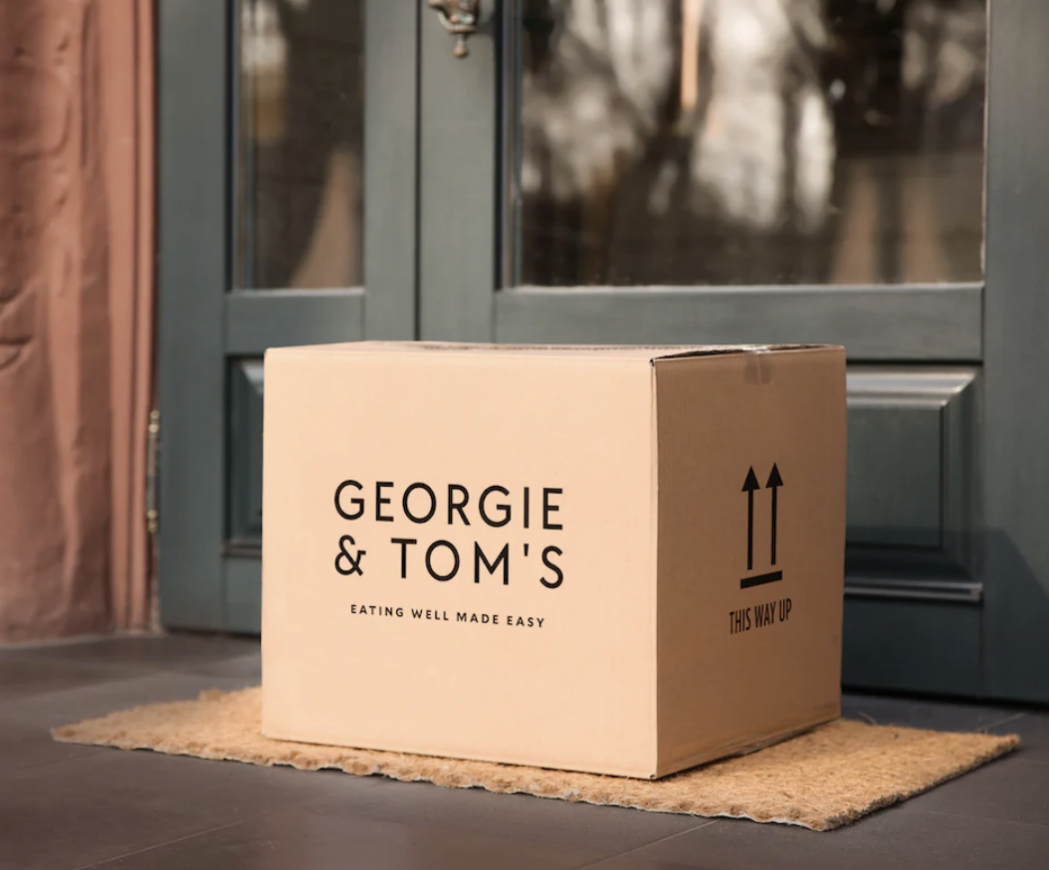 Image from: Georgie & Tom's
Designed for two people, Georgie & Tom's offers a variety of fully prepped, hand-crafted meals – including plant-based meal options. From savory to spicy, their fresh and healthy creations cater to a range of taste preferences while fitting different calorie goals. Whether you opt for five, four, three, or two meals each week, Georgie & Tom's has got you covered—no more ingredient shopping, chopping, or mixing needed. Just heat up these delectable vegetarian meals and indulge in a delightful feast. With an array of veggie delights, you won't miss out on any essential nutrients!
---
Vegetarian Snack Boxes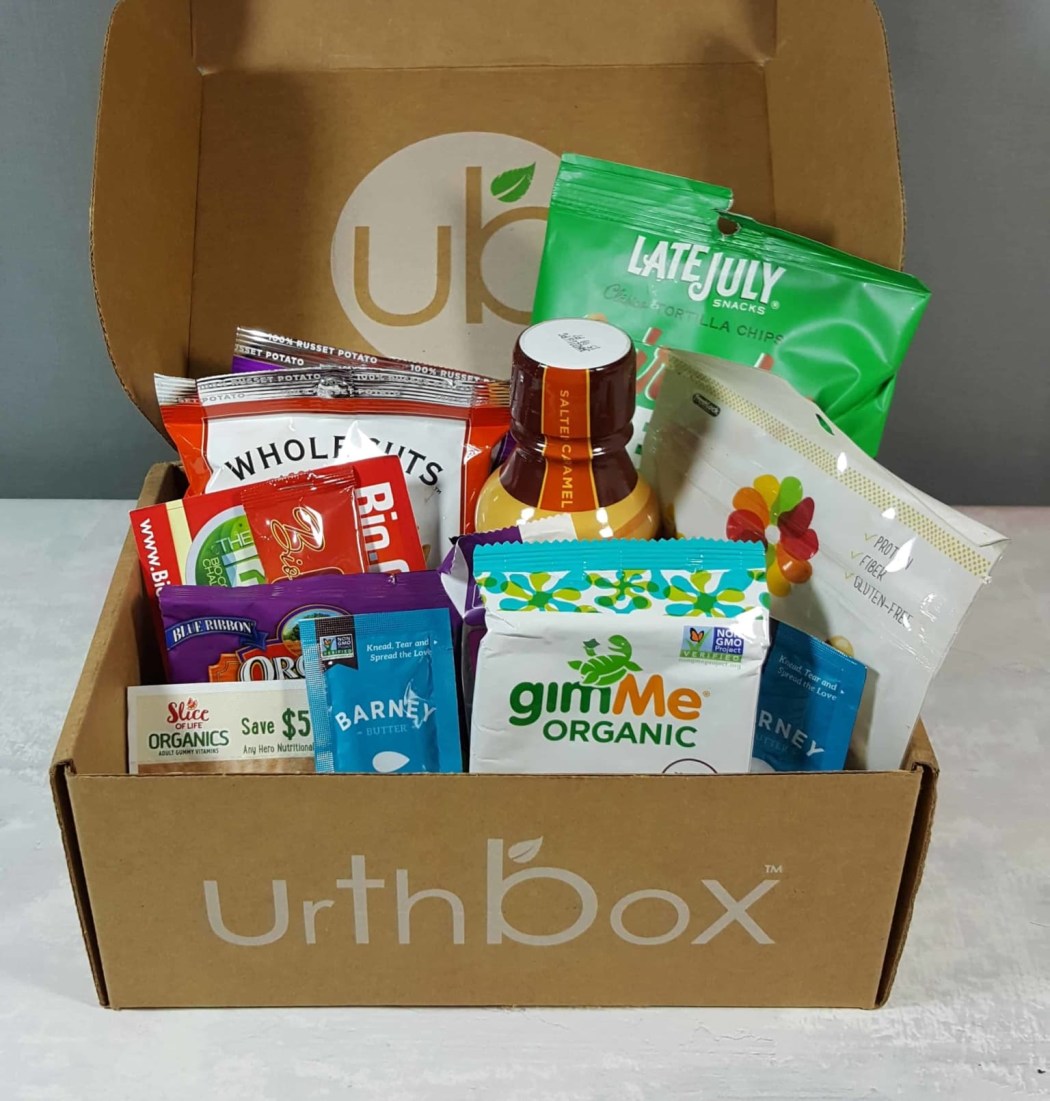 Image from: our review
Why We Love It: If you're crazy about healthy snacks and beverages, this subscription is definitely for you! Urthbox will surprise you with full-size, handpicked goodies that are made with organic, non-GMO, and all-natural ingredients. There are 4 subscription boxes available: the Personal Size box (7-8 snacks), Plus Size box (14-16 snacks), Family Size box (21-23 snacks), and the Team Size box (28-30 snacks). Choose the best box type that suits your dietary needs: Everything, Gluten-free, Vegan, or Keto. The smart snacks they deliver are surely a good way to keep your appetites fully satisfied without the guilty feeling!
Some of the snacks you might find in your box are nuts & seeds, dried fruits & vegetables, snack bars, trail mixes, granola, cookies, crisps, juices & cleanses, and more.
Deal: Get 30% off your first box! Use coupon code LOVE30.
---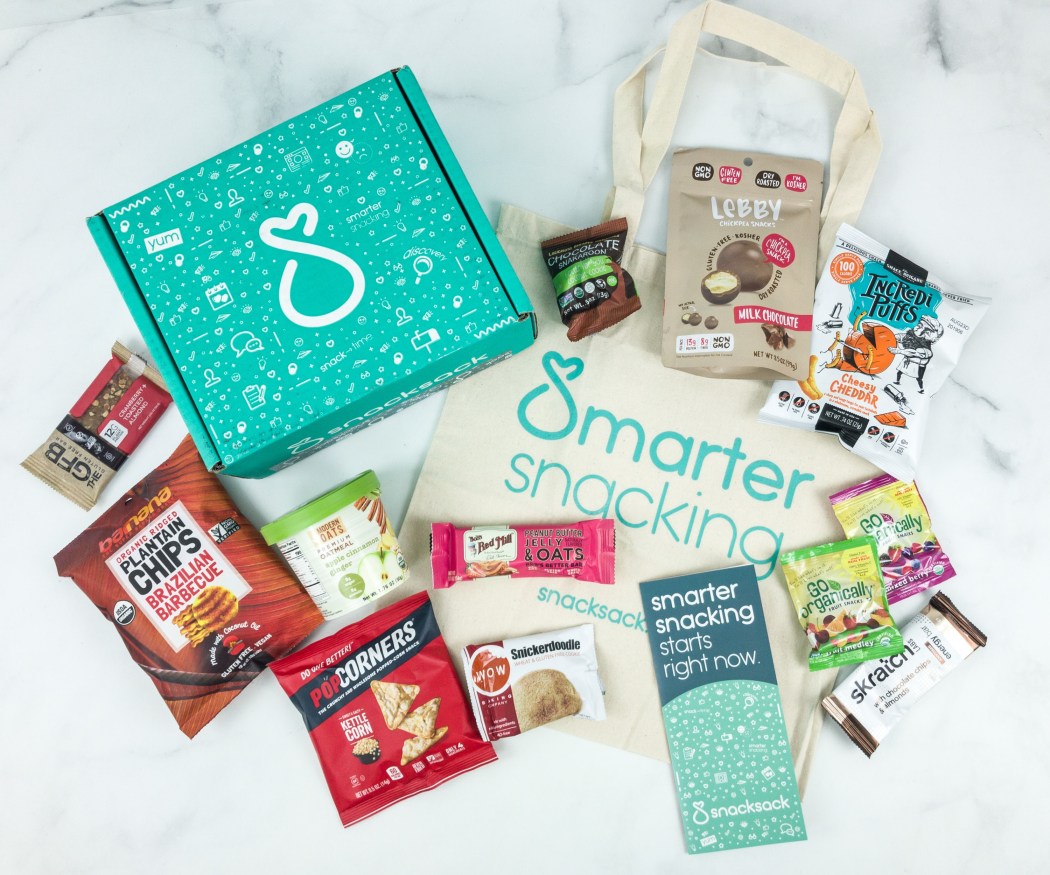 Image from: our review
Why We Love It: Healthy snacking has never been this good! SnackSack helps you dump unhealthy snacking on the side. This snack box curates a monthly collection of 11-15 unique, junk-free snacks seasoned with wonderful flavors. Boxes are centered around seasonal themes and flavors for your snacking delight! You can choose from the 4 unique snacking plans they offer: Classic, Vegan, Gluten-free, and Vegan + Gluten-free SnackSack. They make it so easy to discover the very best of healthy snacks from the finest, smarter snacking brands, all delivered directly to your door!
There will be an awesome variety of smart snacks in every shipment, which may include bars, cookies, puffs, chips, popcorn, nuts & seeds, sweets, pretzels, and other innovative snacking options.
Deal: Save 20% on any SnackSack! Use coupon code HELLO20.
---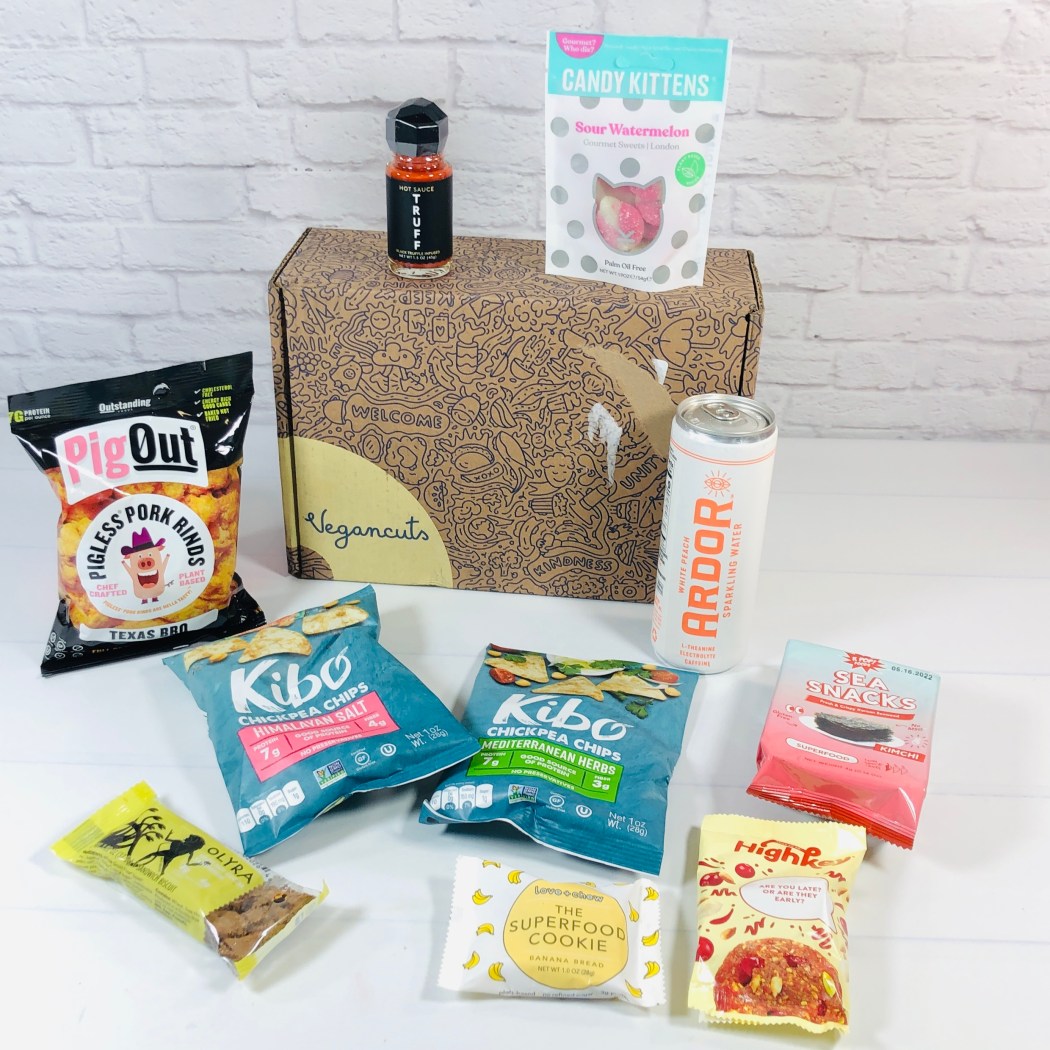 Image from: our review
Why We Love It: Vegancuts Snack Box is a great way to discover new vegan products that we can't come across in local stores or markets. Their promise is to include snacks that are 100% vegan and cruelty-free, ranging from chips and cookies to sodas and teas, made only from healthy ingredients, loved by your vegetarian diet! Grab a box and find at least 10 sweet and savory vegan treats each month for a guilt-free snacking. What's even cool about them is that a portion of sales goes directly to animal sanctuaries across the US. They also offer one-time purchase, affordable gift boxes for those who are looking for something nice to give their vegan friends and loved ones.
Deal: Get $5 off your first box on any Vegancuts subscription! Use coupon code hellosub. The coupon can only be used once per customer, but it can be used on multiple subscriptions at once so long as they are in the same transaction!
---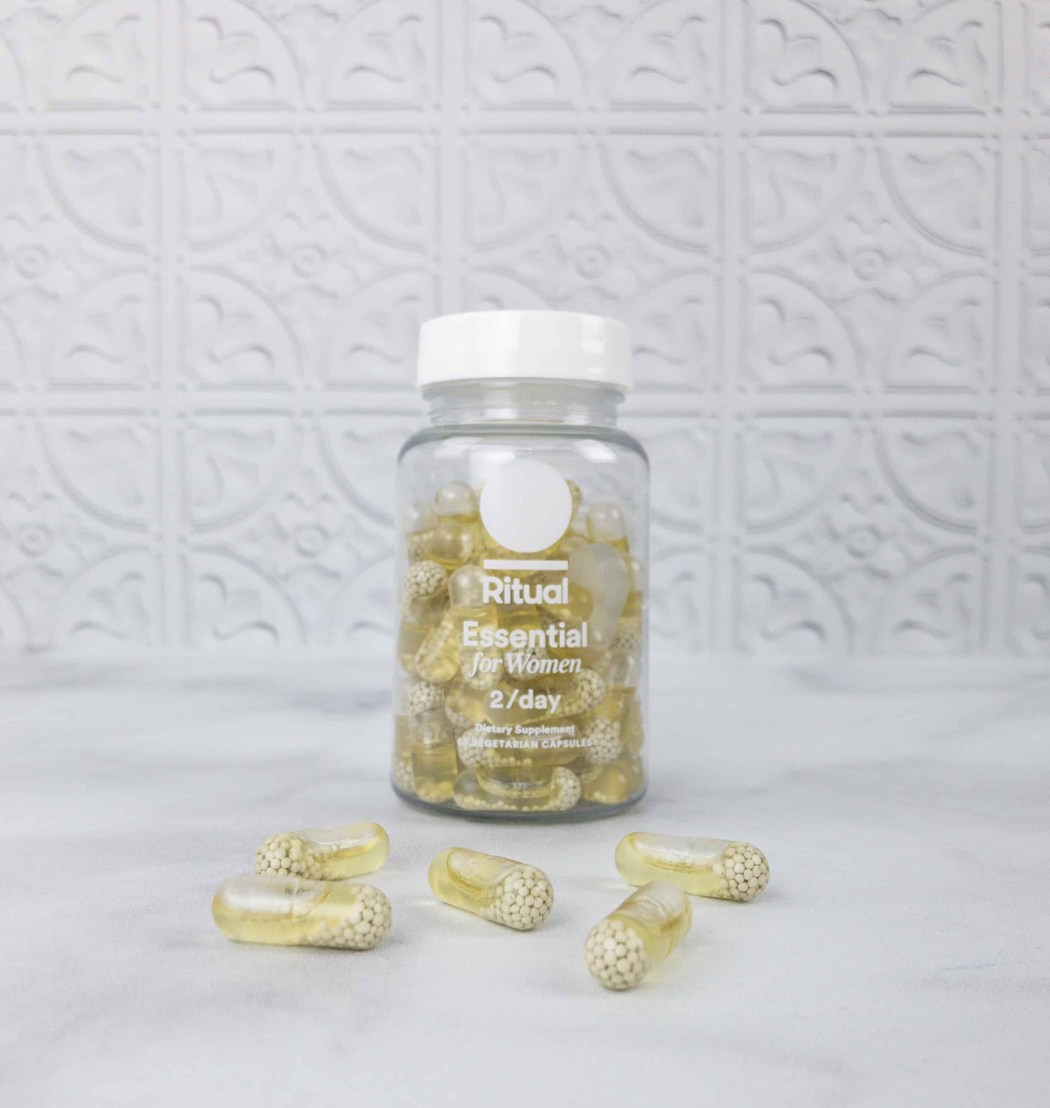 Why We Love It: Ritual's goal is to help everyone maintain a healthy lifestyle by accompanying balanced eating and exercise with premium vitamins such as Essential for Women, Men, Teens, and Kids. These vitamins are designed to fill the gaps in your diet and support your overall health, whether you're living your life or creating one. Each capsule is made with clean, obsessively researched ingredients that are good for you. They are vegan certified, gluten, and allergen-free too! Stay healthy, and be in your best shape with 60 capsules in each bottle that are good for 30 days. It's a multi-vitamin reinvented!
Deal: Save 5% on your first month when you bundle any 2+ Ritual products! Deal applies automatically, just visit and subscribe.
---
Image from: Freshology
Freshology offers a vegetarian menu filled with delicious, plant-based meals that are crafted by expert chefs using only the freshest ingredients. You can enjoy a variety of meals, from protein-rich salads to mouth-watering pasta dishes that will leave you feeling satisfied and nourished. No meal planning and cooking involved – their vegetarian meal delivery service is the ultimate solution for anyone looking to enjoy the benefits of a plant-based diet without sacrificing taste or convenience.
Deal: Get 60% off your first week! Deal applies automatically, just visit and subscribe.
---
And now you've seen our list of the best vegetarian meal kits and snack subscription boxes!
Discover more exciting subscriptions from our list of the Best Subscription Boxes for 2023.