Indulging in delectable, top-notch meat and seafood is a pleasure like no other. And what could be more convenient than having them delivered to your doorstep, without any need to visit a crowded butcher shop, fish market, or grocery store? Thanks to meat subscriptions and delivery clubs, you can now easily order high-quality proteins from the comfort of your own home. With just a few clicks, you can treat your taste buds to fresh, premium cuts that are sure to impress.
Show More (21 items)
These meat subscriptions and delivery clubs are a godsend for anyone who appreciates the mouth-watering taste and health benefits of premium-quality proteins. With a wide variety of meats to choose from, including succulent beef, juicy pork, tender chicken, and fresh seafood, you can take your meals to the next level and satisfy your cravings with ease. You'll find everything from crispy bacon and savory salami to juicy lobster tails and flaky halibut and cod. And if you're in the mood for something special, they even offer premium cuts of beef like mouthwatering ribeye, hearty flank, and melt-in-your-mouth brisket.
Explore our selection of the best meat and seafood subscriptions and start enjoying delicious, high-quality proteins in no time!
The Best Meat Subscription Boxes For All of Your Protein Needs!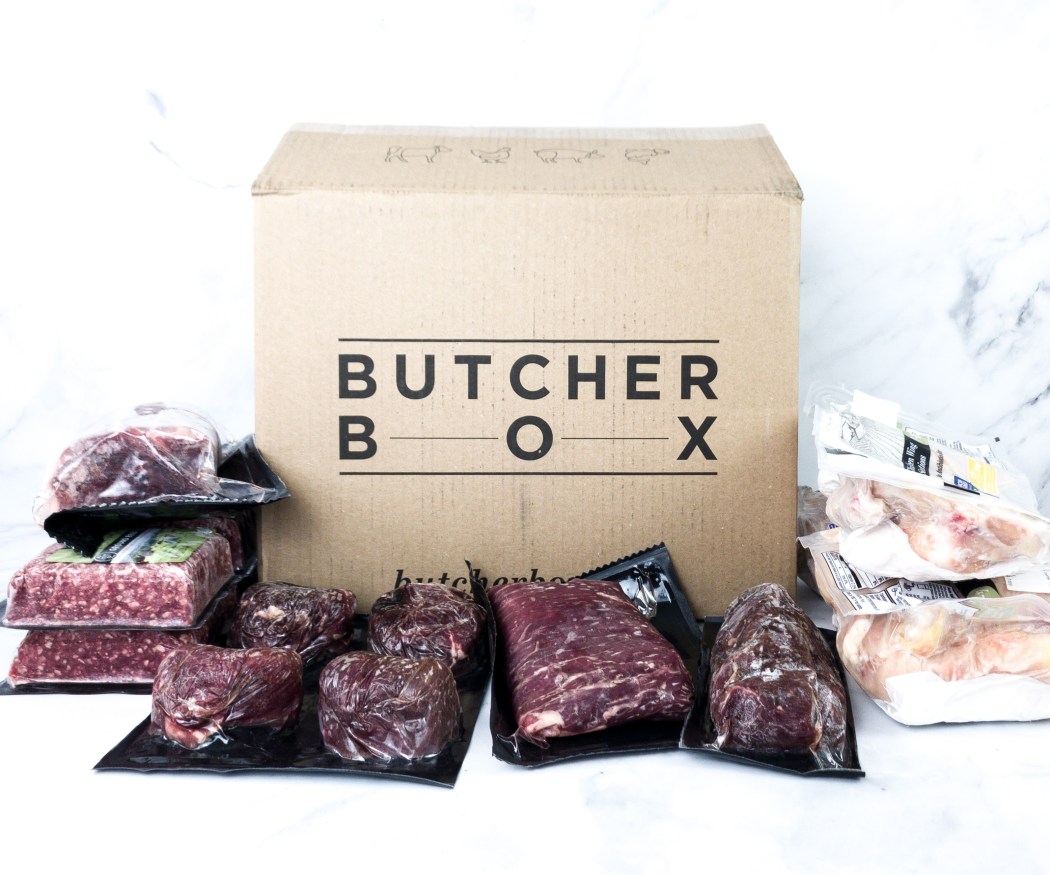 Image from: our review
Get ready to indulge in the ultimate meat experience with Butcher Box! Each box is packed with premium-quality meat that's carefully cut and prepared with the utmost precision. Sink your teeth into 100% grass-fed, grass-finished beef, humanely raised pork, free-range organic chicken, wild-caught seafood, and other high-quality meat products like turkey and bison. With the ability to customize your own box or choose from expertly curated options, the possibilities are endless! Each box contains enough meat to create approximately 15-20 meals, perfect for whipping up inspired and delicious meals any night of the week.
Deal: Check for the latest special offer for Butcher Box! Use this link to get the deal.
---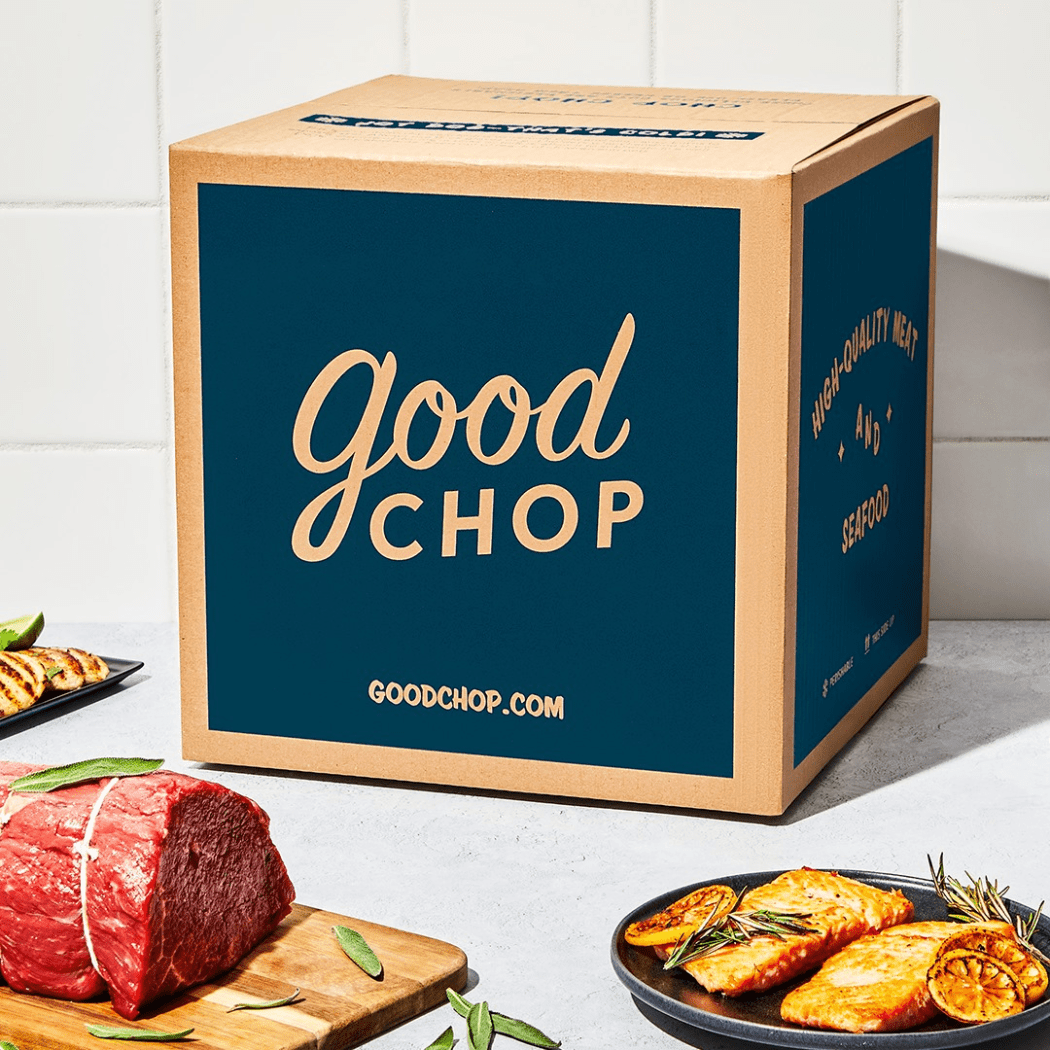 Image from: Good Chop
Getting quality all-American meat is easy with Good Chop! This subscription allows subscribers to build their own meat box and pick which exact cuts they prefer the most, minus the antibiotics, added hormones, additives, and coloring. There are two box sizes in which meat lovers can indulge themselves – Medium Box (select up to 6 cuts from the menu) or Large Box (select up to 12 cuts from the menu). From boneless ribeye steaks to 100% grass-fed filet mignon, there are 48 different cuts to mix and match in your box, all sustainably sourced from domestic family farms and fisheries!
---
Image from: Sizzlefish
Expect pure natural fish knocking at your door each month with Sizzlefish. This subscription wants you to eat well and live better, as well as enjoy the heart-health benefits of fish in the most delicious form by giving you access to the highest quality, finest selection of natural and wild-caught fish and shellfish available. Pick and choose what kind of fish you'd like to receive from their box subscription options: Sizzlefish Wild Fish Favorites, Sizzlefish Prime, and Sizzlefish Prime Plus. With every box, you'll receive 14 perfectly sized cuts of fish that are vacuum-sealed per piece. Seafood choices include Sockeye Salmon, Coho Salmon, Red Bass, Halibut, Rainbow Trout, Atlantic Cod, and more!
Deal: Get 10% off your first order! Use coupon code WELCOME10.
---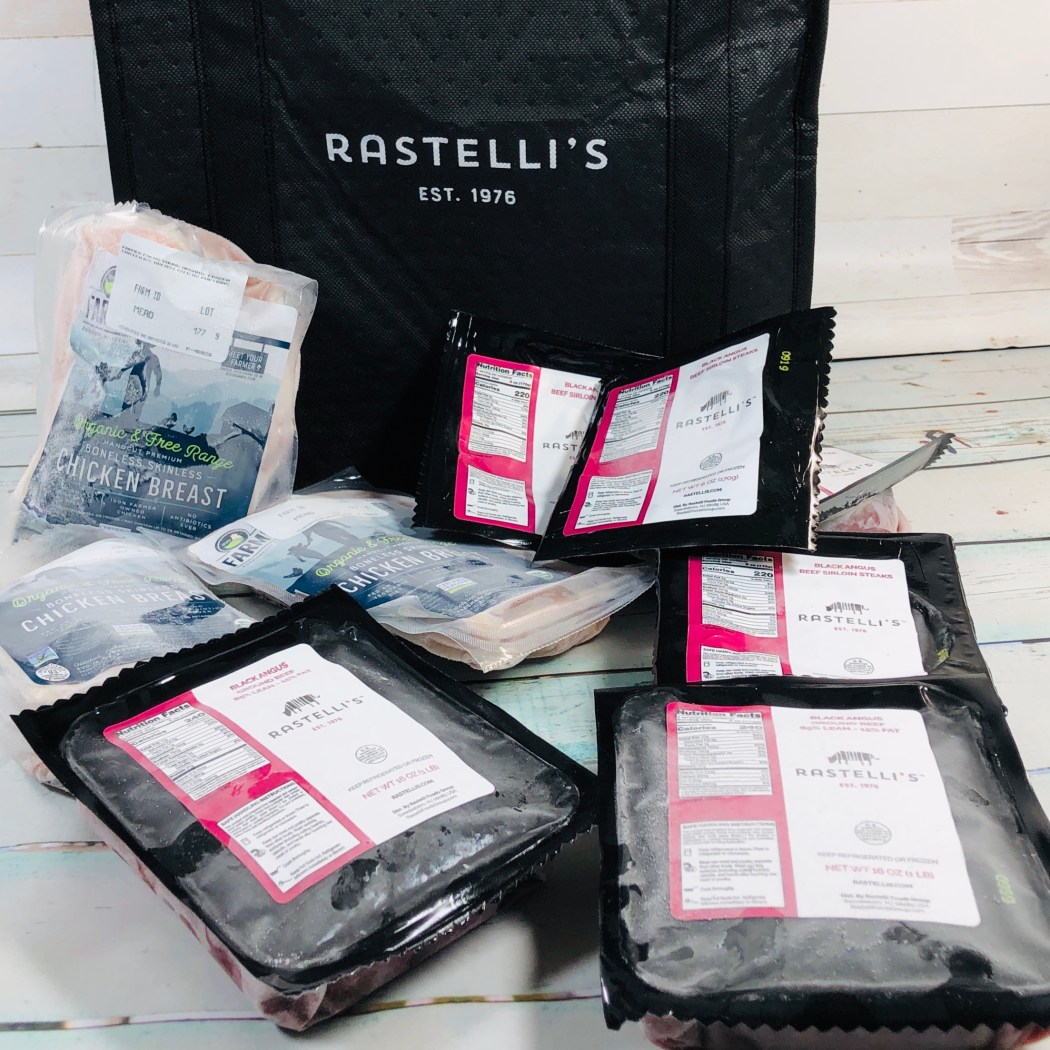 Image from: our review
Rastelli's is a delivery service that sends responsibly raised, expertly cut meats right to your door. You can choose from several protein options or collections, go with a one-time order, or subscribe to save more! Build your own box and get menu staples like ground beef, sirloin steaks, and chicken breasts, among any other fantastic meat choices. You can even set the delivery frequency to fit your protein needs – every 1, 2, 3, 4, or 6 weeks!
Deal: Take $15 off your first purchase at Rastellis.com. Use coupon code RASTELLIS15.
---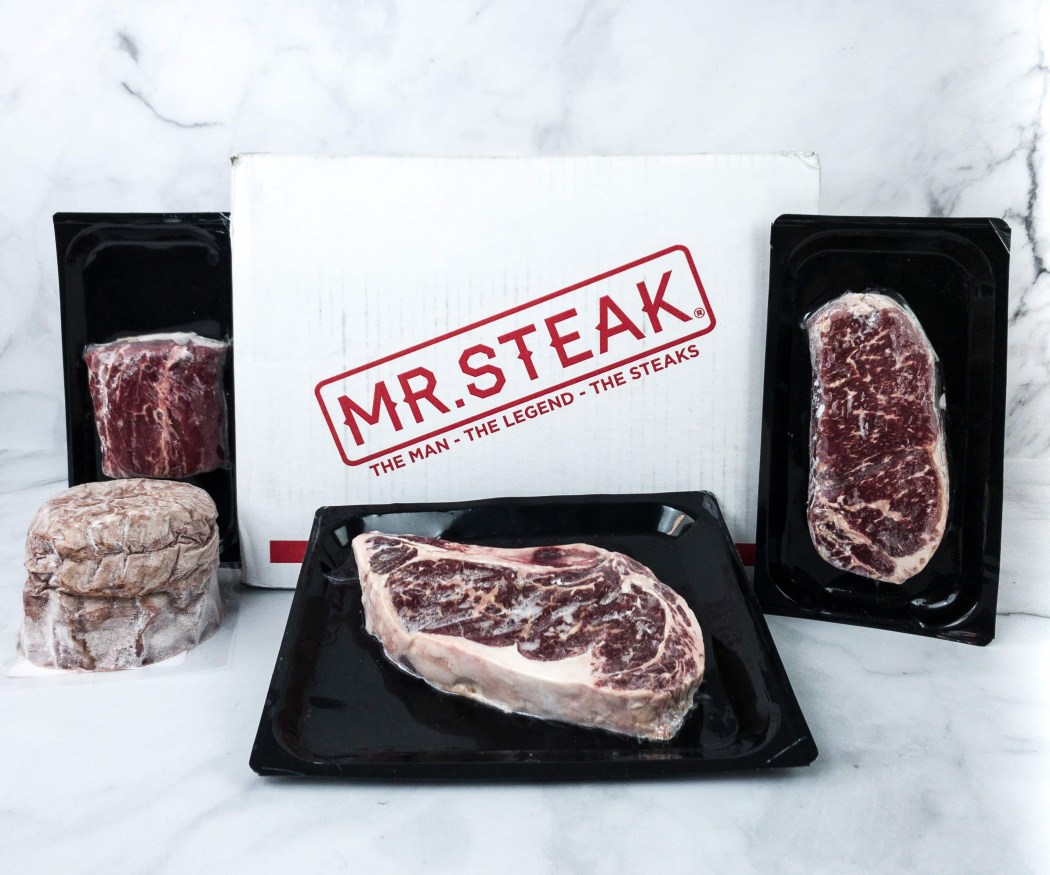 Image from: our review
Mr. Steak is a delivery service offering high-quality, well-portioned meats directly to your doorstep. It gives you total control over which cuts you want to include in your box. Choose from their shop and mix and match any according to your preferences. Expect USDA Prime steaks from the Midwestern ranches that also supply to some of the best steakhouses in America. All the meats they provide are locally sourced, pasture-raised, and ethically produced. You can also subscribe to curated boxes to save more!
---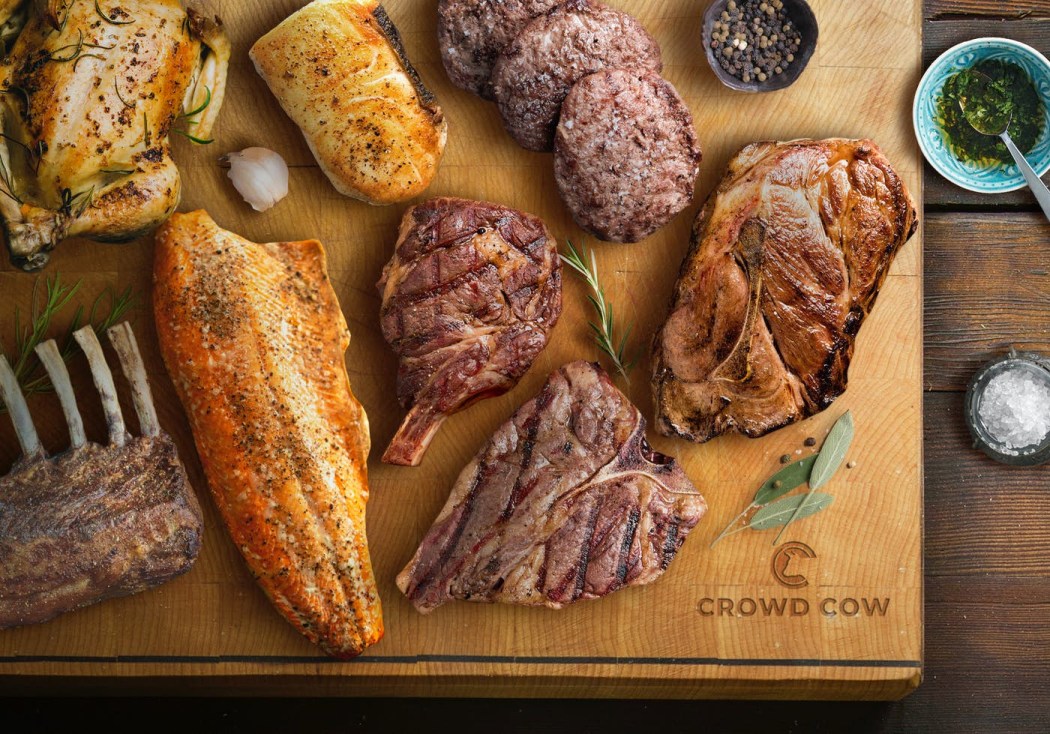 Image from: Crowd Cow
For premium quality meat and seafood, Crowd Cow is the subscription service to go for! Pick any of the plans they offer to enjoy sustainably sourced food whenever you want — Best of Crowd Cow comes with a mix of top-selling products; Best of Beef includes an assortment of premium beef products; Best of Japanese Wagyu contains a duo of A5 Japanese Wagyu steak; and Custom Box to fill with all you fave beef, pork, chicken, and seafood products. Meats are vacuum-sealed and packed in eco-friendly, biodegradable, recyclable containers to ensure they arrive at your doorstep in their freshest, best possible condition. Every product contains no unnecessary antibiotics or added hormones and is taste-tested by experts.
Deal: Get FREE Protein of your choice with EVERY box for every subscription order over $149! Deal applies automatically, just visit and subscribe.
---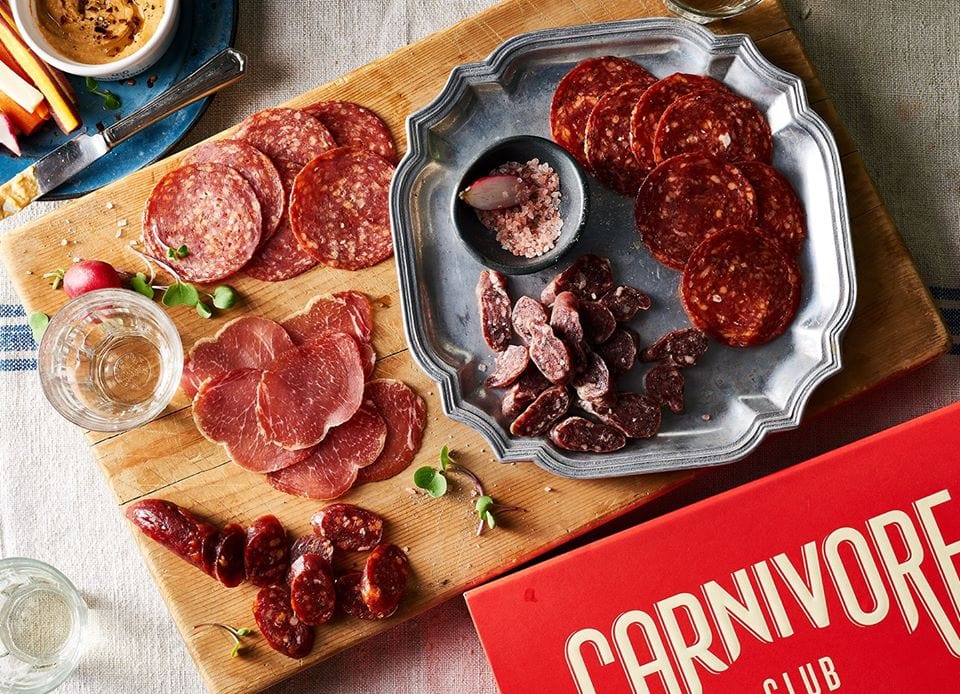 Image from: Carnivore Club
Meat lovers will definitely go for the Carnivore Club as they deliver high-quality meat selections right to your door. Grab the Classic Box and receive 4 to 6 premium cured meats from award-winning artisans each month, including prosciuttos, salamis, bacon, and more that you can't purchase in your local grocery stores! Along with it comes a meat-eaters handbook with details about the products and the artisan, as well as easy recipes and pairings so you can have a great-tasting meal in no time. You can also get handcrafted cured meat for snacking on the go with Snack Box, jerky snacks with Jerky Club, or charcuterie meats and pairings with Complete Box. You can absolutely satisfy your inner carnivore with premium meats from this subscription!
---
Image from: Stock Yards Club
With Stock Yards Club on the side, you can get a year-round delivery of steaks, chops, ribs, or other premium selections, including USDA Prime and USDA choice cuts. The meats are perfect for special occasions, outdoor grilling on campings, any night-of-the-week dinners, or when you just want to impress everyone with delicious meats! Each month will be different, giving you and your taste buds a variety of quality meats to savor.
Deal: Get 15% off Your Order of $99+ Use coupon code IR15 and Use this link to subscribe.
---
Image from: Omaha Steak Box Plans
Omaha Steaks is a fifth-generation family-owned company dedicated to bringing the absolute best when it comes to premium steaks and gourmet food. Omaha Steaks Box Plans are easy and affordable, and you can stock up on the best, most tender steaks, effortless meals, extra juicy grilling meats, and more! You can get the boxes monthly, bi-monthly, or quarterly over the course of a year. With this meat delivery service, you'll always have Omaha Steak available on hand!
---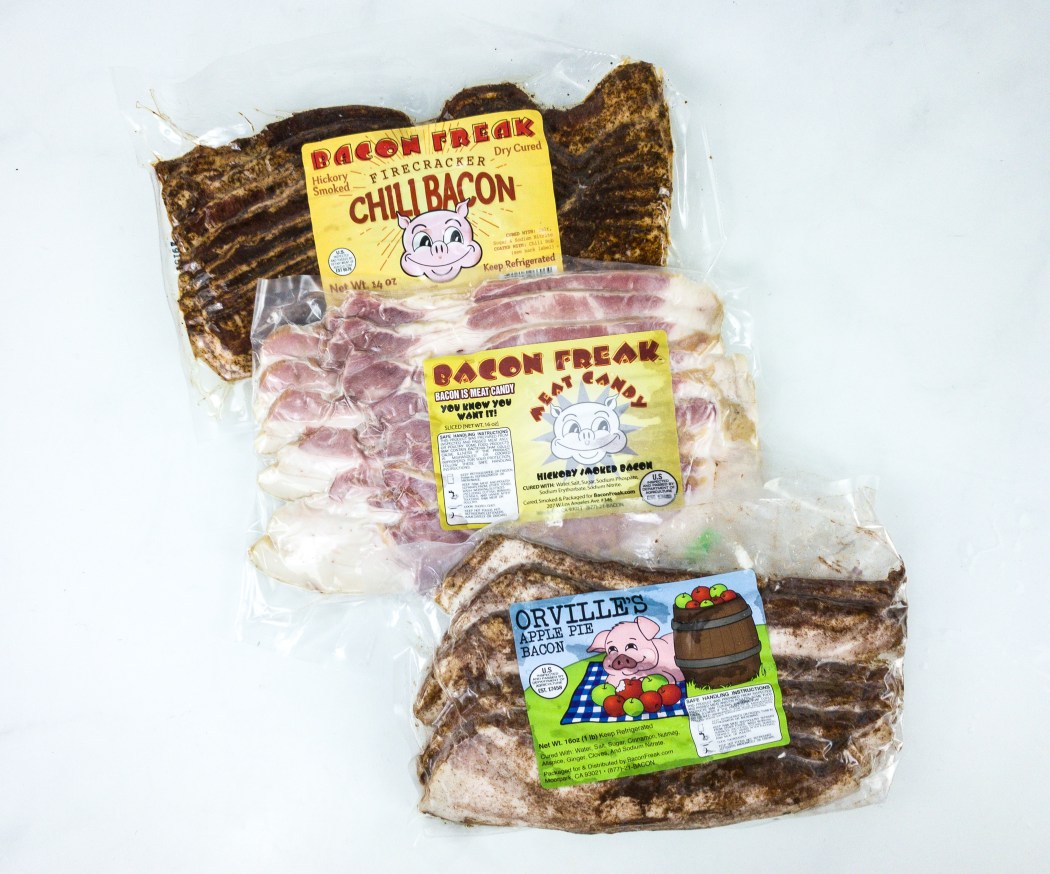 Image from: our review
Bacon Freak offers a variety of gourmet artisan bacon and delivers them straight to your door monthly! Bacon of the Month Club is for the ultimate bacon lover as it sends two packs of bacon, each with different flavors every time. The bacon choices come with top-notch quality and taste, produced in small batches by artisans. You can also opt for uncured bacon, no-pepper bacon, and gluten-free bacon if that's what you like. Want more? King Size Bacon of the Month Club includes an additional pack of bacon each month. You can also check out Bacon plus Bonus of the Month Club if you want a bonus pack of delicious pork products on top of your bacon! There's more to love with this meat service!
---
Image from: Jerky Snob
For your jerky obsessions, Jerky Snob is the way to go! This subscription sends 2, 4, or 8 bags of the most delicious jerky every month, all free of MSG, nitrates, nitrites, or high fructose corn syrup. Each box features different artisan jerky makers, allowing you to discover and taste new flavors, textures, meats, and unique spices. Everything is guaranteed to be of premium quality and absolutely delicious to satisfy your monthly jerky cravings!
Deal: Save 10% off all of our subscriptions and everything in our shop. Use coupon code HELLO.
---
Image from: Vital Box by VitalChoice
Vital Box by VitalChoice is one great seafood subscription in the market today! It delivers the world's finest wild seafood and organic fare, all harvested from healthy and well-managed wild fisheries and farms. Choose from three available boxes and enjoy a seafood feast at home — Wild Salmon Box, Wild Fish Box, and Wild Seafood Box. Everything is recipe-ready portioned, and you can always expect a delicious curation of premium, sustainable salmon, white fish, tuna, and shellfish!
---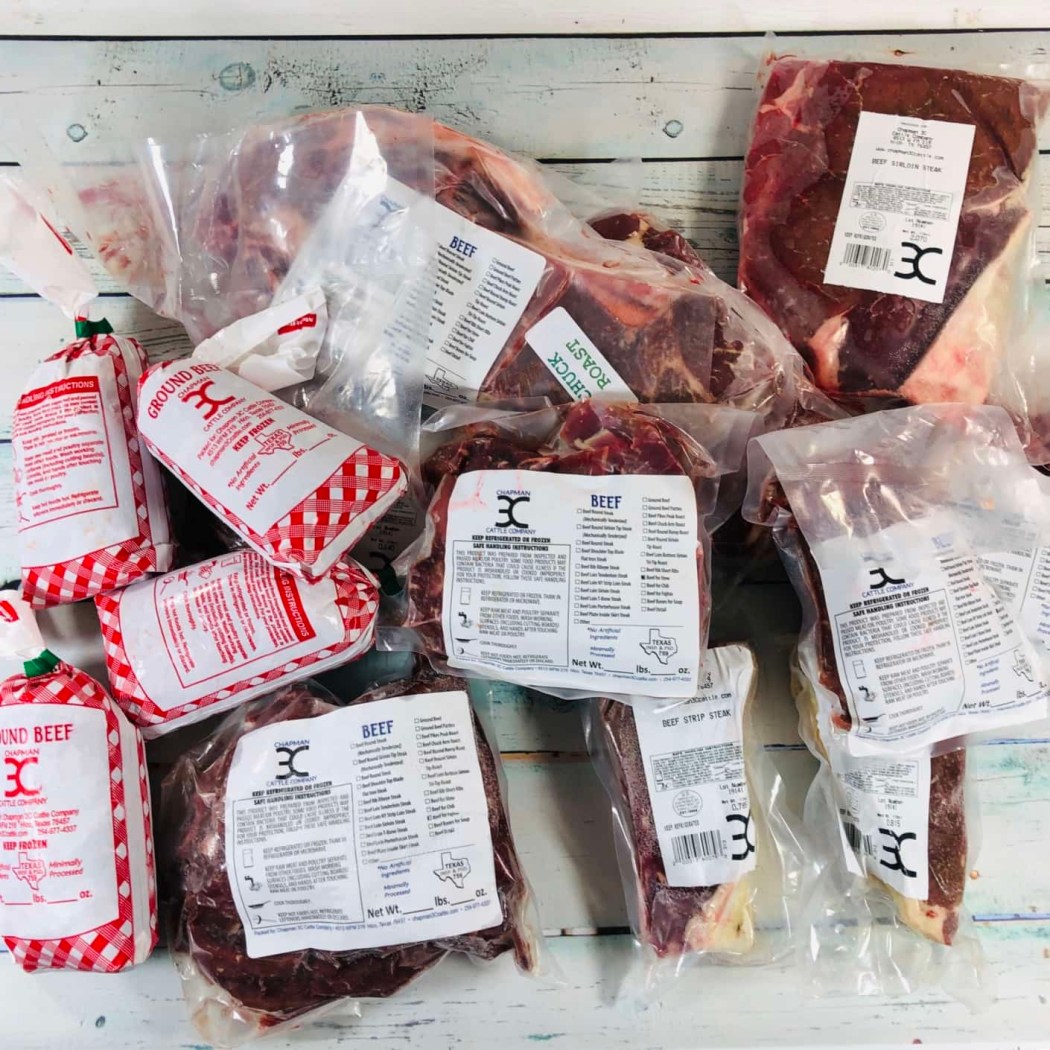 Image from: our review
3C Beef Box Subscription provides a convenient way to shop for premium beef without leaving the comforts of your home! Each box sent to your door will include a variety of artisan beef cuts with no additives, preservatives, added hormones, or antibiotics. From premium steaks to ground beef, all meat products are USDA inspected and guaranteed all-natural pasture-raised. Expect cuts like ribeye, t-bone, roast, flat iron, flank steak, and more!
Deal: Subscribe and save 3% ($184.30) on all remaining orders after the first 2 orders! Deal applies automatically, just visit and subscribe.
---
Image from: Amazing Clubs Lobster of the Month Club
Amazing Clubs Lobster of the Month Club is a premium lobster subscription that sends a mouth-watering selection of delicious Maine lobster tails each month, fresh from the cold and clean waters of the North Atlantic Ocean! You will get four large tails of premium Maine lobsters weighing 7-8 ounces each, paired with an informative newsletter with details about the monthly selections, fun facts, and serving suggestions. They're guaranteed fresh, nothing like the ones you can buy at your local stores!
---
Image from: Tender Belly's Bacon of the Month Club
Getting the world's best bacon delivered right in front of your doorstep comes a breeze with Tender Belly's Bacon of the Month Club. Receive crazy tasty uncured bacon to serve on the breakfast table or any time you crave! With options for a signature dry rub, no-sugar signature dry rub, and habanero dry rub, you'll reward your taste buds with unmatched slow-smoked taste. No antibiotics, no nitrates, no nitrites, just delicious bacon crafted to perfection!
---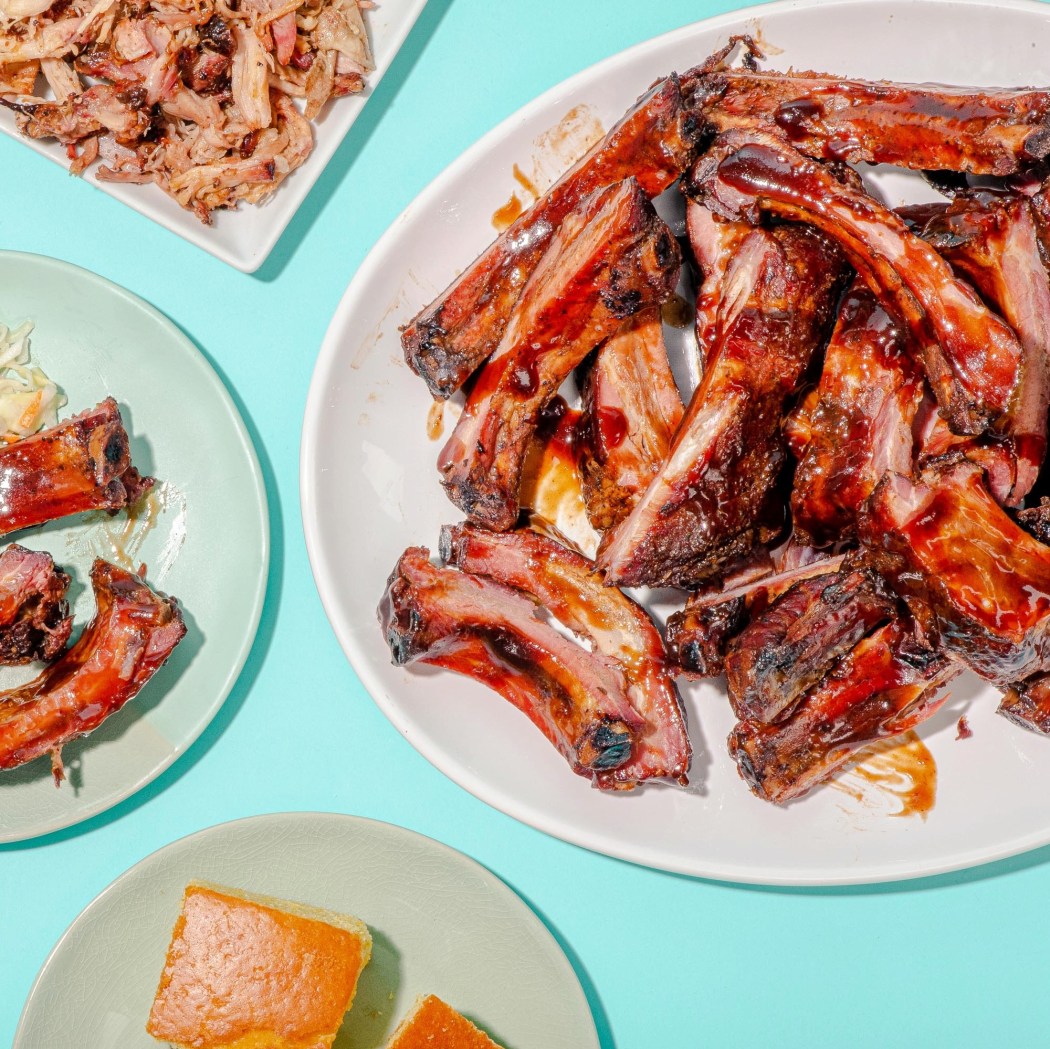 Image from: Goldbelly BBQ Subscription
Goldbelly BBQ Subscription is one of many delectable subscriptions that Goldbelly offers. It is a monthly subscription that delivers the tastiest and juiciest barbecue that the whole family or absolute foodies will love! Every month, they'll send a box of only gourmet barbecue that can serve up to 4+ people from the most beloved smokehouses all over the US. With styles and flavors like Memphis, Tuscaloosa, and Texas, it's one BBQ bet that your taste buds will appreciate deeply!
---
Image from: LOLJerky
LOLJerky is a jerky of the month club that sends minimally processed, minimally preserved beef jerky, and they're carefully selected from all-natural grass-fed cattle from the best local farmers and ranchers in the USA. You can choose the number of bags you want to receive each month (1, 2, 3, or 6) with less than 5g of sugar per serving — ideal for paleo, CrossFit, keto, and low-carb dieters. It's the perfect way to snack and enjoy premium jerky taste and flavor without searching far!
Deal: Get 10% off your first purchase! Use coupon code HELLO.
---
Image from: truLOCAL
truLOCAL is a Canadian meat subscription that lets you customize or fill your box with their local cuts of meat, fish, and seafood! Boxes available are Chicken & Beef, Surf & Turf, Favorite Cuts, or Build Yourself Custom Box, in sizes Starter, Family, and Mega. The unique thing about this subscription is you can order using their point system — for example, a pound tub of BC prawns is 4 points, while a pack of lean ground beef is 1 point. The starter box has a limit of 9 points, the family box has a limit of 20, and the mega box has a limit of 26. You can also change delivery frequency to fit your meat needs.
---
Image from: our review
With Porter Road, you'll receive high-quality, well-portioned, pasture-raised meats sourced from animals nurtured in a stress-free environment! These meats are simply more flavorful, satisfying, and far more tender than the meats you'll find in grocery stores because meats that are raised better taste better! Choose your box from five options: Butcher's Choice Box, Weeknight Heroes, Best of Porter Road Box, Beef Box, or Beef and Pork Basics. You can even decide how often would you like it delivered — every 2, 4, or 8 weeks. Once you taste the difference, you'll definitely never go back!
---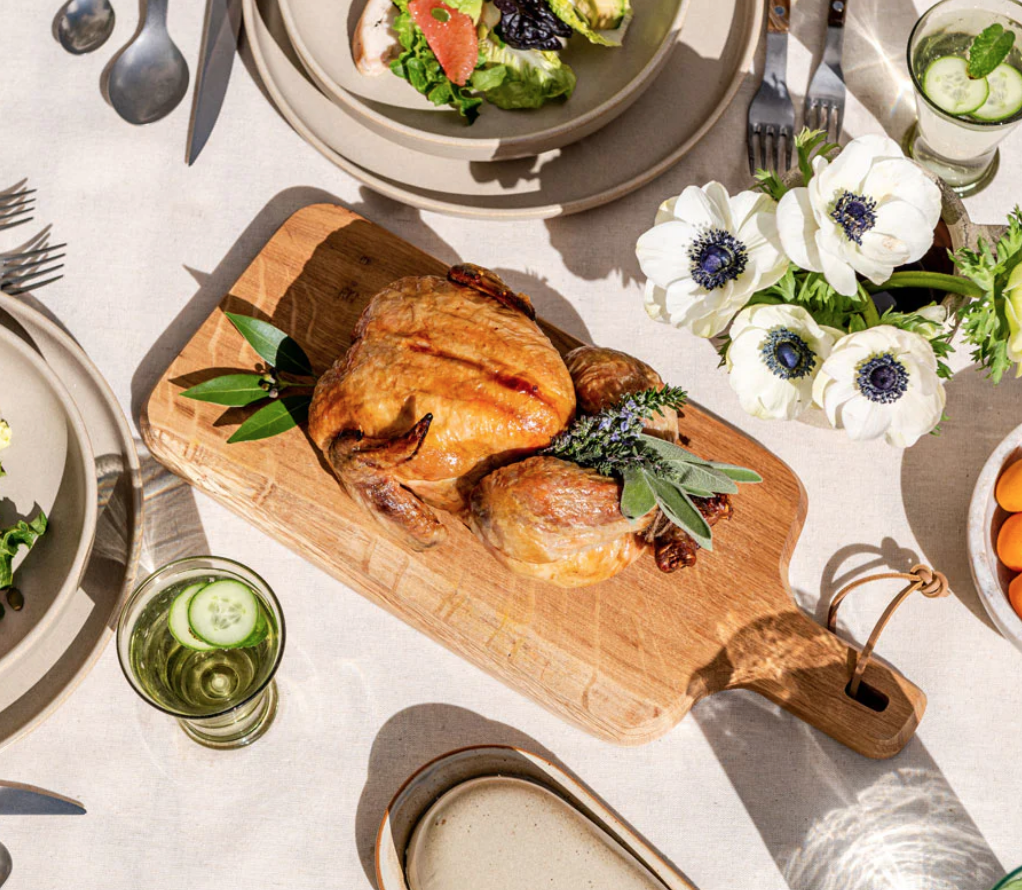 Image from: Pasturebird
Pasturebird sends healthier birds for your meal! No confusing labels and claims because all their chickens are raised on pasture without a single antibiotic. They offer different cuts, ranging from whole to half, drumsticks to thighs, breasts, and more! Subscribers can build their boxes and opt for regular shipments to save 10%. They can add as many cuts as they want and expect delivery every 15, 30, 60, or 90 days. It's the easiest and most convenient way to eat high-quality, rich-flavored, and nutrient-dense chicken!
Deal: Get 10% off your first order! Use coupon code FIRST10 .
---
Image from: FarmFoods
If you are looking for the freshest, high-grade meat service subscription, FarmFoods is definitely the perfect choice! They now offer box plans in sizes regular and large, allowing your taste buds to indulge in responsibly raised meats, which include grass-fed beef, pasture-heritage pork, pasture-raised chicken, and wild-caught seafood like pacific cod, salmon, and halibut. All the shipping is done with UPS, and the meats are kept frozen using dry ice, making sure that they arrived in perfect condition!
---
Image from: Piedmontese
To serve your family or friends with premium and healthier beef options, Piedmontese is the way to go! Simply choose your level (The Gourmet Butcher or The Fancy Rancher), and their experienced team will handcraft your box every month or every quarter to give you a premium meat experience. Join the club and get the best beef on the market at a discounted rate. These beef products are lean & healthy, humanely raised, all-natural, and definitely, tender and delicious. Surely, you'll ask for more!
---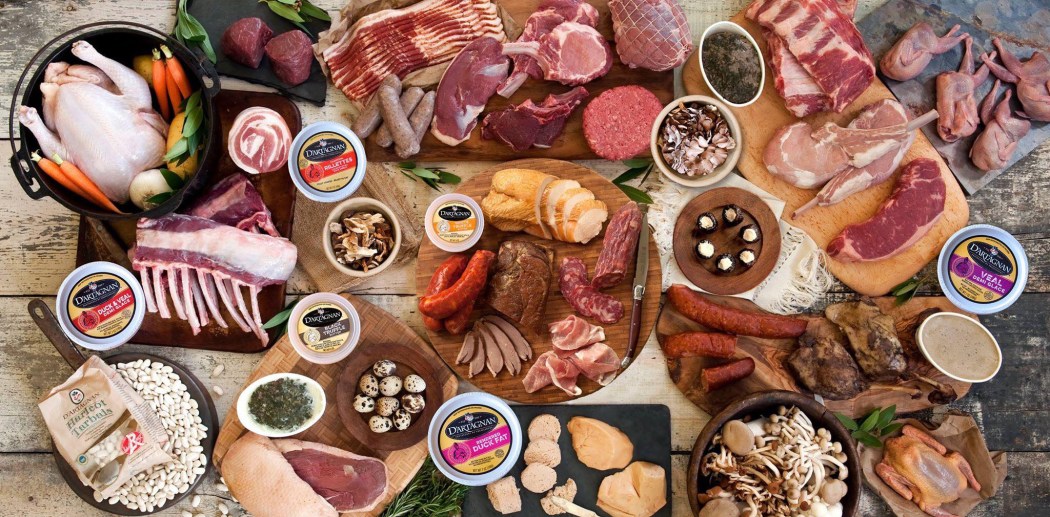 Image from: D'Artagnan
D'Artagnan believes that food raised right tastes better, and so do we! This meat delivery service partners with small farms and ranches that have the strictest standards – no antibiotics, no hormones. In that way, you'll be sure to get humanely raised and quality meats to serve on the table. Simply explore their collections, which are organized for convenience, and shop by cooking method and type of cut. They are consistent in terms of quality and commitment, the reason why they are trusted by the best American restaurants and kitchens for more than 35 years!
---
Image from: our review
Moink sends grass-fed and finished beef & lamb, pastured pork & chicken, and wild-caught seafood for your daily protein needs, ethically sourced from family farms. Simply choose which curated box you want to be delivered — Standard, which includes a selection of meat and seafood, or Standard No Pork. What's even amazing is that you can customize it and swap several items, allowing you to get more of what you like!
Deal: Get $20 off your first box! Deal applies automatically, just visit and subscribe.
---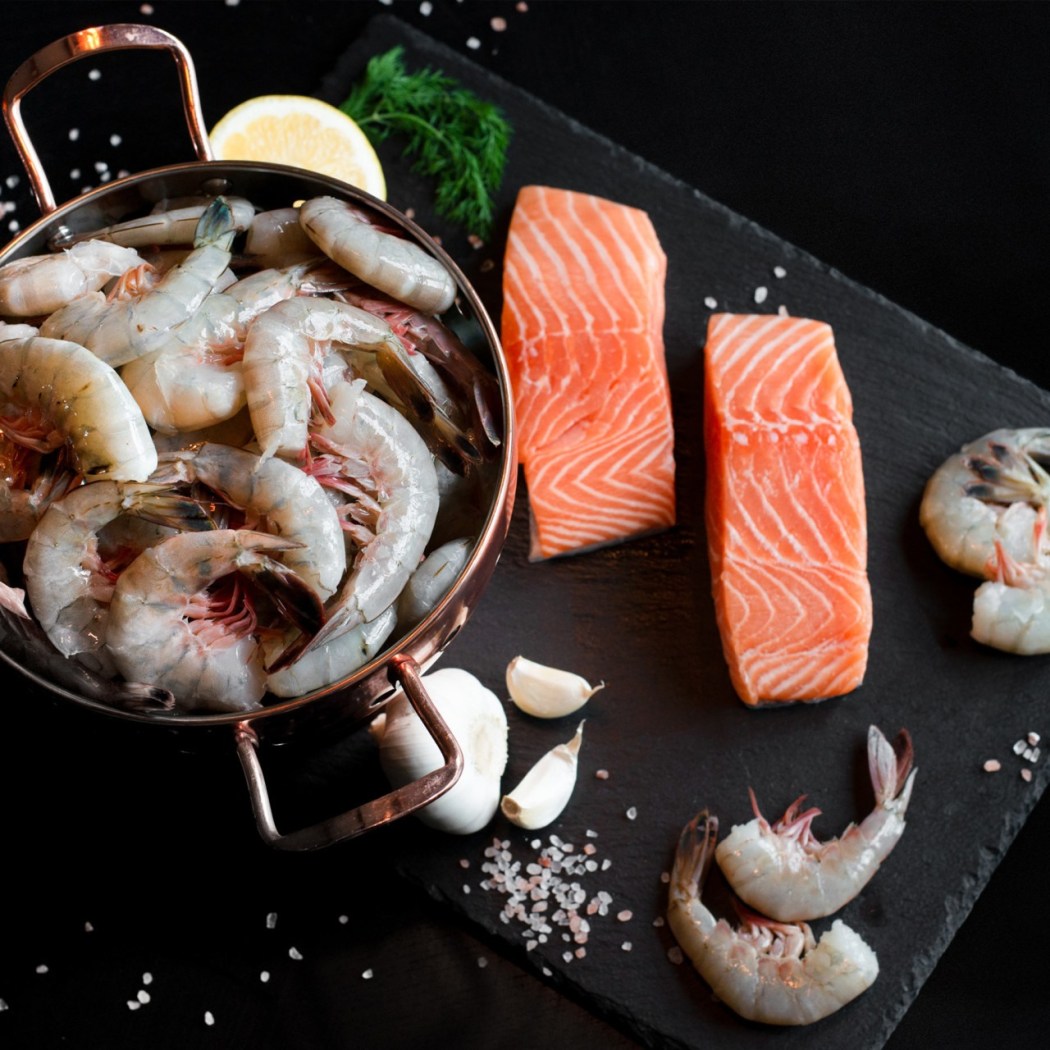 Image from: Fulton Fish Market
Discover plenty of fish in the sea with the help of Fulton Fish Market. You'll receive super fresh, sustainably sourced seafood from Fulton fish market, the largest and most diverse seafood market in the US. They purchase the freshest seafood available and pack it in biodegradable and recyclable packaging with food-safe gel packs to keep them cold instead of freezing. Choose from any curated boxes that fit your lifestyle and set your delivery schedule! And if you want something more specific, you can ask them to build a custom box just for you. Alongside your seafood box, they'll also send digital recipes to help you cook in a snap.
Deals:
Get 15% off your first box + FREE Shipping! Use coupon code FULTONFAN.
Save 15% on your first $150+ delivery from Fulton Fish Market! Use coupon code STOCKUP.
---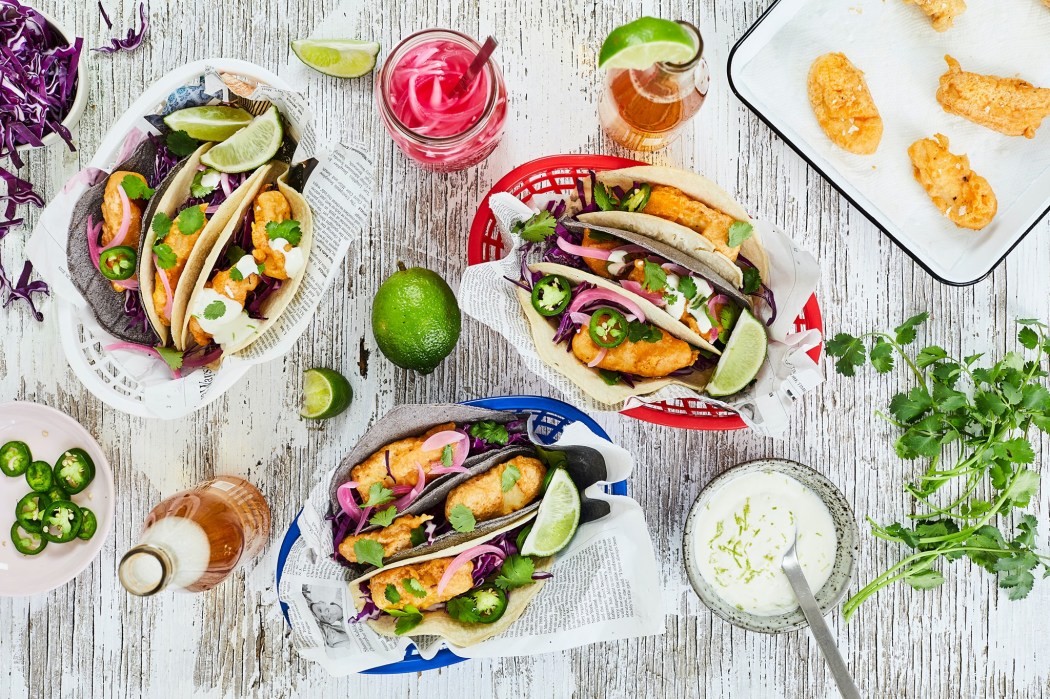 Image from: Sea to Table
Sea to Table provides a way so you can eat better fish more often! There's a wide variety of seafood to choose from, including salmon, scallops, shrimp, lobster tail, halibut, and more. All products are wild-caught (never farmed) and processed in the US. You can choose from pre-curated boxes or build your own box with your favorite seafood and subscribe to save more! You can opt for a seafood delivery every 4, 6, or 8 weeks. It's literally sea-to-table goodness courtesy of this delivery service.
Deal: Get $20 off your first order! Use coupon code FIRSTORDER20. Plus, FREE Shipping!
---
Image from: Campo Box by Carne Collective
With Campo Box by Carne Collective, there's nothing more we can wish for, as it sends only premium and certified Angus beef. The cattle are pasture-raised, grass-fed, and all-natural — no antibiotics used, and they're hormone-free too! Every beef product is directly sourced from their farms, cut to order, and shipped frozen at the peak of freshness. Simply pick which box you like: Campo Box, Asado Box, and Gaucho Box. You can also choose the frequency of delivery and even add any products to be included in your shipment. You can save up to 10% with every add-on!
---
And that's our list of the best meat subscription boxes! Whether you want to cook meat for a special event or just want to have jerky for a snack, there are more meat subscriptions you can try! Did you find your perfect match?
You can also visit our list of the best subscription boxes for 2023!