Becoming environmentally conscious and thinking about sustainability is at the top of our list these days! With these green and eco-friendly subscription boxes, we can consider our planet when using everyday products and essentials. Taking care of ourselves and our family includes our surroundings, and that's a whole lot easier with eco-friendly and sustainable subscriptions. A healthy planet means healthy us too! These subscriptions focus on becoming better stewards for the planet with green environmentally-conscious options that help cut down carbon footprints, reduce toxic chemicals, and minimize waste.
Here are our readers' choices as the Best Green and Eco-Friendly Subscriptions for the year!
The Top 16 Best Green and Eco-Friendly Subscriptions For 2022!
Readers picked these subscriptions as the best eco-friendliest boxes!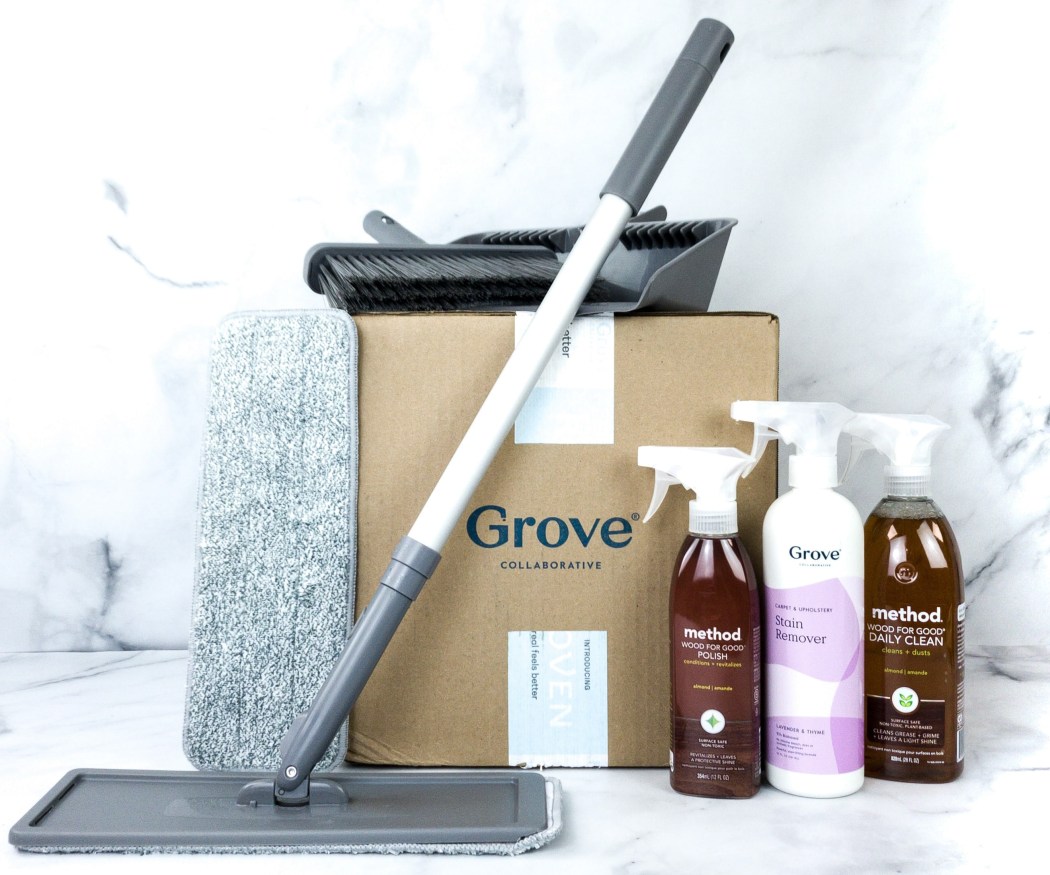 Image from: our review
The best green, sustainable boxes, including packaging! – Statue86

Though not a traditional subscription box, I like that I'm able to choose what products I need each month. They also actively look for ways to be more eco-conscious. – Lori

I love the attention to eco-awareness and prompt customer care, whenever I have a question.  -Sharon

The selection on the Grove website is fantastic. I can find everything I need for cleaning and live more sustainably with Grove. -Kara
What You Get: Grove Collaborative allows you to pick your favorite high-quality cleaning and household supplies. This eco-friendly subscription carries a variety of brands that share the same mission and also crafts their own products using plants and natural fragrances to ensure health not just for your home but also for the environment. They're also a certified B Corp, which means that they meet certified standards for prioritizing social, environmental, and community well-being!
See more about this amazing subscription on Grove Collaborative Reviews.
Price: Get early access to new products, and exclusive sales when you join the VIP membership for $19.99 a year.
Deal: Get FREE Bundle when you subscribe! Use this link to get the deal. Valid to new subscribers only.
---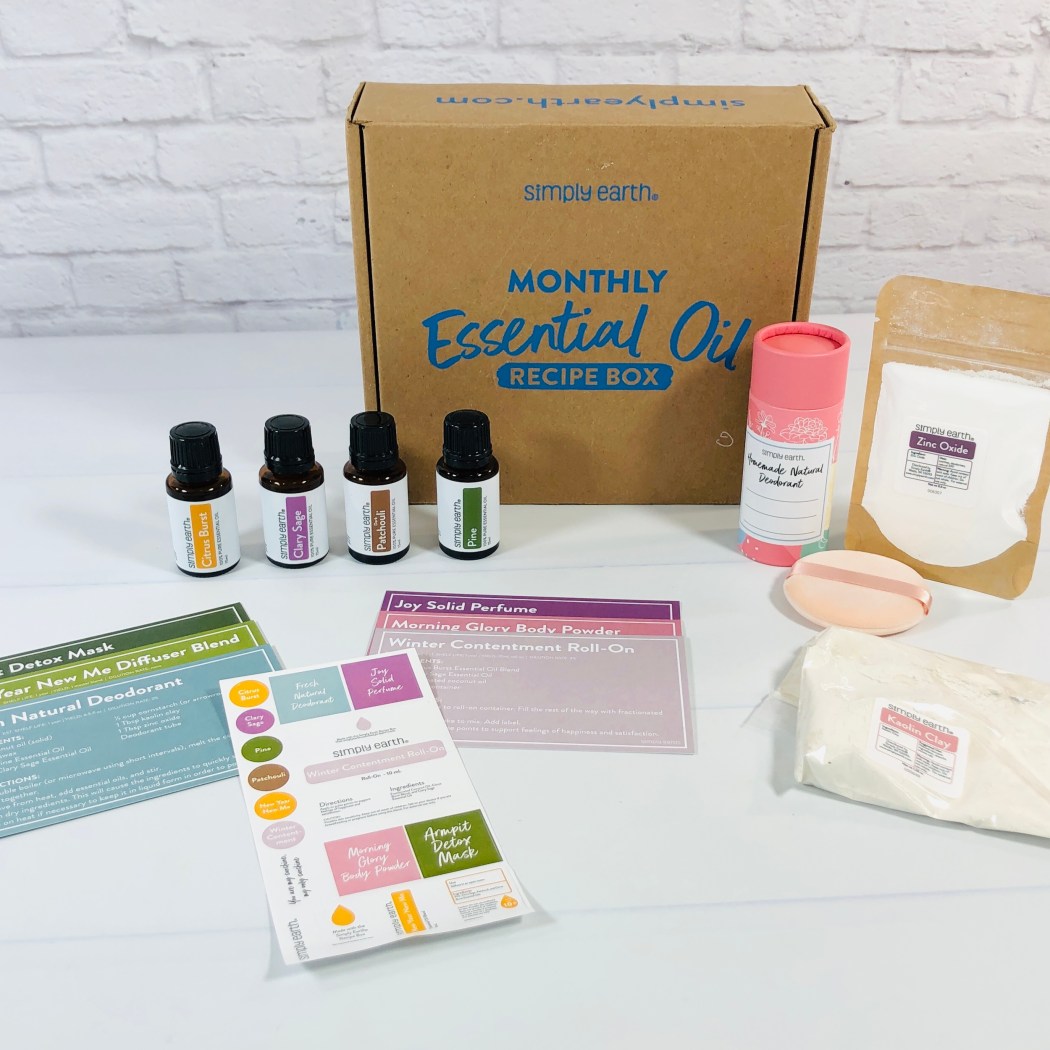 Image from: our review
Best subscription box ever! I been with them for 6 months and I love them !!! Affordable, good cause, never had any issues. Trusted essential oil quality. Videos, training on essential oils and how to use ect I mean what more can people ask for !!!! Sweet owners ! -Geysha

Excellent women owned essential oil company.  NOT an MLM! -mel

I love this box and look forward to it every month!! Not only is it beneficial, but also fun crafting and can make gifts and such from it. This box gives great recipes to make your own things without toxins. -Mendi G

This subscription box provides you with everything you need to start making you own safe & natural products. It lets you dip your toe in with different recipes so you can learn ways to use essential oils in WAY more ways than you thought. They are easy & straightforward so you create with confidence. I've learned so much that this year my husband teamed up with me & we made every single Christmas gift for our families & friends this year. Personal care items for both men & women, all natural housekeeping items, & aromatherapy products. Everyone LOVED their clean, nontoxic, beautiful, & amazing gifts! -Erin
What You Get: If you are a fan of essential oils and their benefits, Simply Earth is a must-try! Essential oils have many uses and most are beneficial for us. They can be used as beautyor cleaning products! Each month, expect 4 full-sized 100% pure essential oils, plus 1 to 2 extra, and bottles where you can make 5 to 6 recipes. Each month has a theme as well. This subscription supports the stoppage of human trafficking by donating 13% of all their profits!
Check out Simply Earth Reviews to see more.
Price: The subscription costs $39 every month.
Deal: Receive a FREE Big Bonus Box with your first box. Deal applies automatically, just visit and subscribe. Plus, get a $40 gift card you can use for your next box or future purchases!
---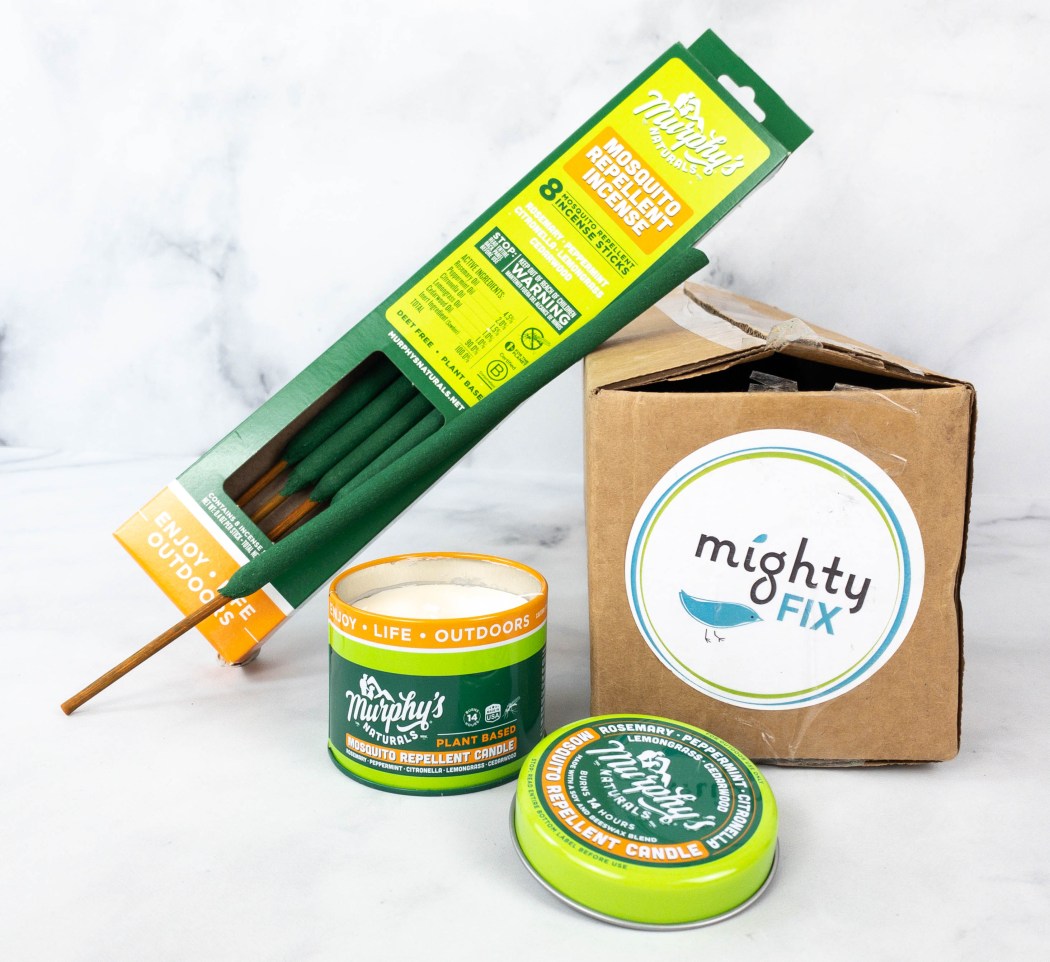 Image from: Mighty Fix
Love that they help me to be more eco friendly and it is always something I had not thought about. – Cooljule

MightyFix is amazing and extremely affordable! -Stachia
What You Get: Mighty Nest came up with an eco-friendly subscription, which is Mighty Fix. This subscription sends one item each month to help you and your family lead a green and healthy lifestyle. Aside from being environmentally-conscious, this subscription also supports other causes like donating 15% of the cost of the subscription to the school of your choice.
Check out the Mighty Fix Reviews, and learn more about the subscription.
Price: The box costs $15 per month, but there's a discount if you'll opt for an annual plan. Shipping is free and add-on items ship free, too.
Deals:
---
Image from: our review
This is the best subscription box!  Always fun and interesting finds, that are good for the environment. -Trish

I love that you can select a book in each box!  -Lindsay
What You Get: You get 6 to 8 eco-conscious goods that celebrate the planet we live on with Earthlove! This seasonal wellness subscription box helps us to get closer to nature and cultivate a more earth-centered life. The box also includes eco-challenges, and all products are 100% zero-waste, organic, non-GMO, all-natural, vegan/bee-gan, gluten-free, and fair-trade. The box also supports different environmental charities every season that help conserve and restore our ecosystem.
Check out the Earthlove Reviews and see more.
Price: The subscription costs $69.95 per quarter. Shipping is free within the US, $20 for Canada, and $35 worldwide.
Deal: Get a FREE Mystery Starter Bundle with your first box! Use coupon code HELLOSUB.
---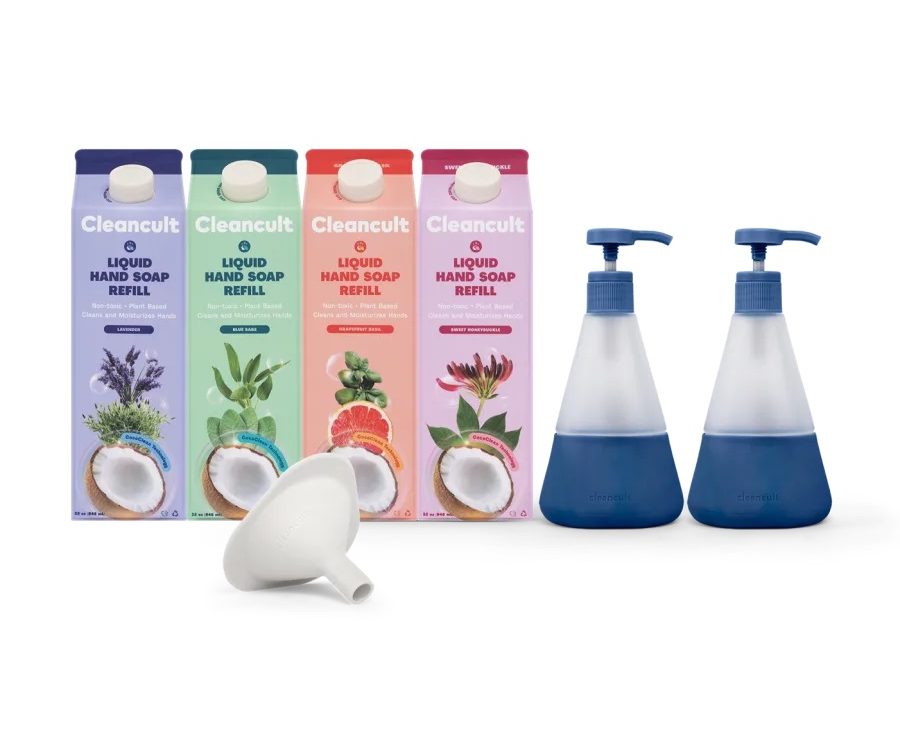 Image from: Cleancult
no dyes or fragrances.  This is a win-win box. Good for the environment and it gets the job done. -vodakira
What You Get: Minimize or completely eliminate the use of plastic and reduce plastic waste with the use of products from Cleancult. They provide stylish and shatter-resistant glass bottles that have an easy refill system so you can use your hand soaps, laundry soap, hand sanitizer, and soap tablets with ease! Also, the products are made from real and non-toxic ingredients that actually work!
See more on our Cleancult Reviews.
Price: The complete home bundle is $89.99, and the home refill bundle is $49.99. Vessels can be ordered separately for $14.99 each. Refills range from $9.99 – $14.99.
Deal: Save 20% your first bundle! Deal applies automatically, just visit and subscribe.
---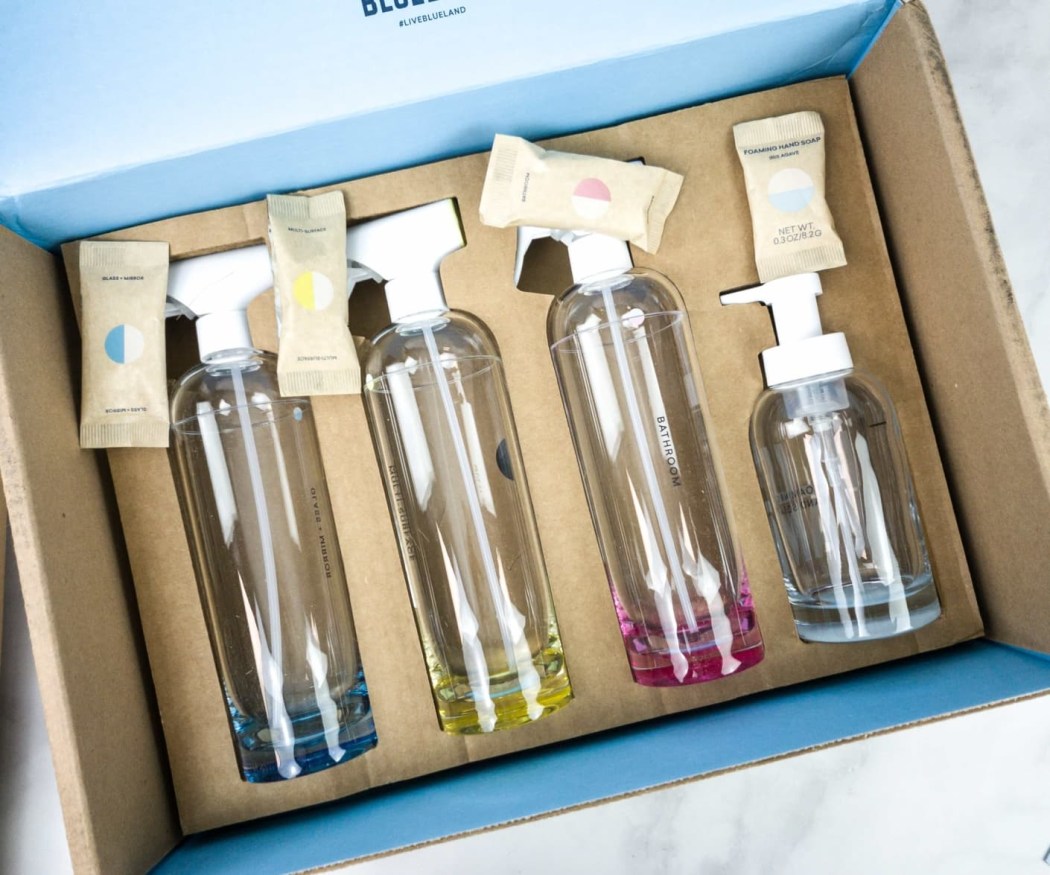 Image from: our review
Blueland products are the BEST. The company prioritizes environmentally friendly products, so I feel good about my choices every time I wash my hands or run my washing machine. They keep expanding to include more products, and each one is better than the last.
What You Get: Blueland offers everyday products that do not use single-use plastic packaging. The products are also effective, non-toxic, and are formulated without water to minimize their carbon footprint. All of their products are stored in reusable bottles, so you don't have to throw them away!
Check out our Blueland Reviews to know more.
Price: Starter sets range from $16 to $83. Refills range from $6 – $32, depending on quantity.
---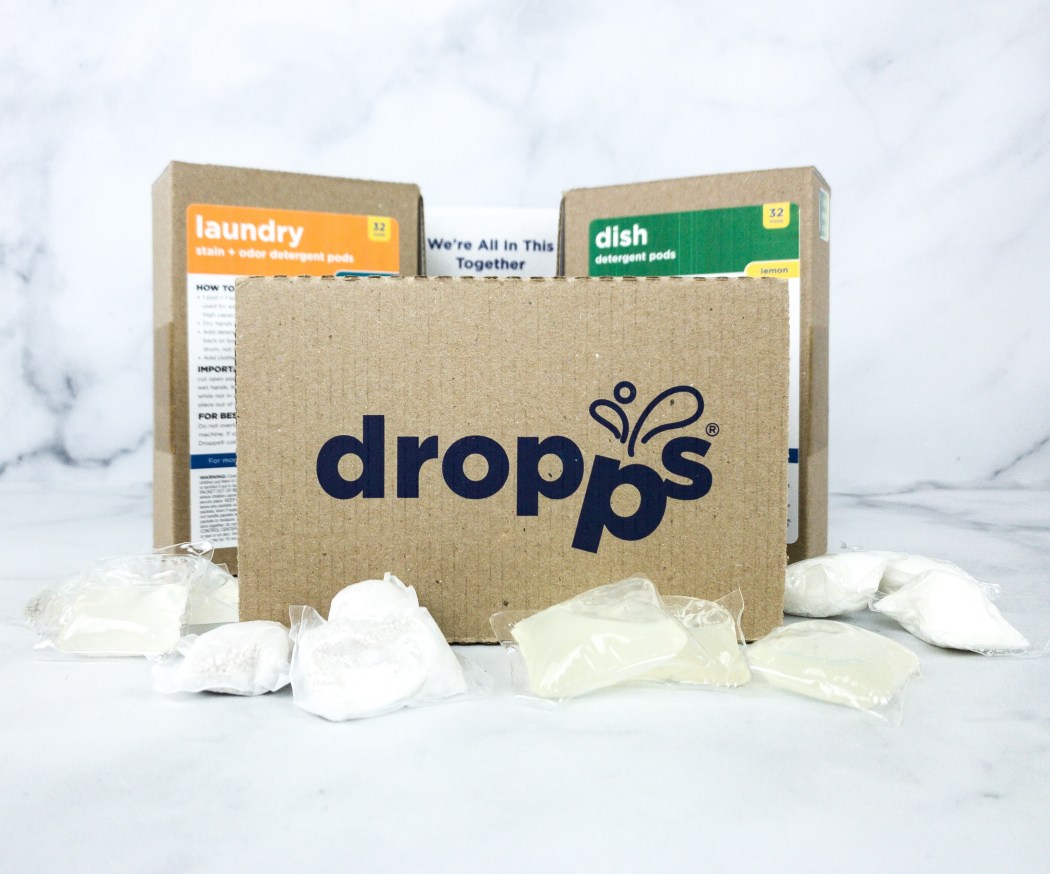 Image from: Dropps
I haven't had to think about dishwasher detergent for over a year now. The packaging is minimal and the product works great. Very happy with the service.
What You Get: Dropps delivers eco-friendly cleaning products in the safest and most convenient way possible. The box contains detergents, additives, fabric softeners, and dishwashing pods that do not have a bad impact on the environment so you can clean with peace of mind and ease!
Learn more by visiting our Dropps Reviews.
Price: No membership fees. Only pay for the products you receive. Subscribe and save starting at $18 a month.
Deal: Get 15% off on all Dropps products! Use coupon code DROPPS15.
---
Image from: our review
What You Get: Vellabox is a monthly subscription that offers clean candles – no parabens, artificial dyes, or animal by-products! Their small-batch scented candles are made with 100 % natural soy wax from renewable resources and lead-free cotton braided wicks, making sure it's safe for you and the environment when they burn. The candles are scented with premium fragrance oils that give a long-lasting aroma. Choose from The Lucerna Box (one 4 oz candle), The Ignis Box (one 8oz candle), or The Vivere Box (one 8oz and one 4oz candle). You'll also get a surprise gift in each box! Strike a match and let the aroma linger in your home.
Learn more by checking out Vellabox Reviews.
Price: Choose from: The Lucerna Box ($10) which includes a 4 oz candle monthly, The Ignis Box ($20) with an 8 oz candle monthly, and The Vivere Box ($30) with an 8oz + a 4 oz candle monthly.
Deal: Get 50% off your first box! Use coupon code HELLOSUB50.
---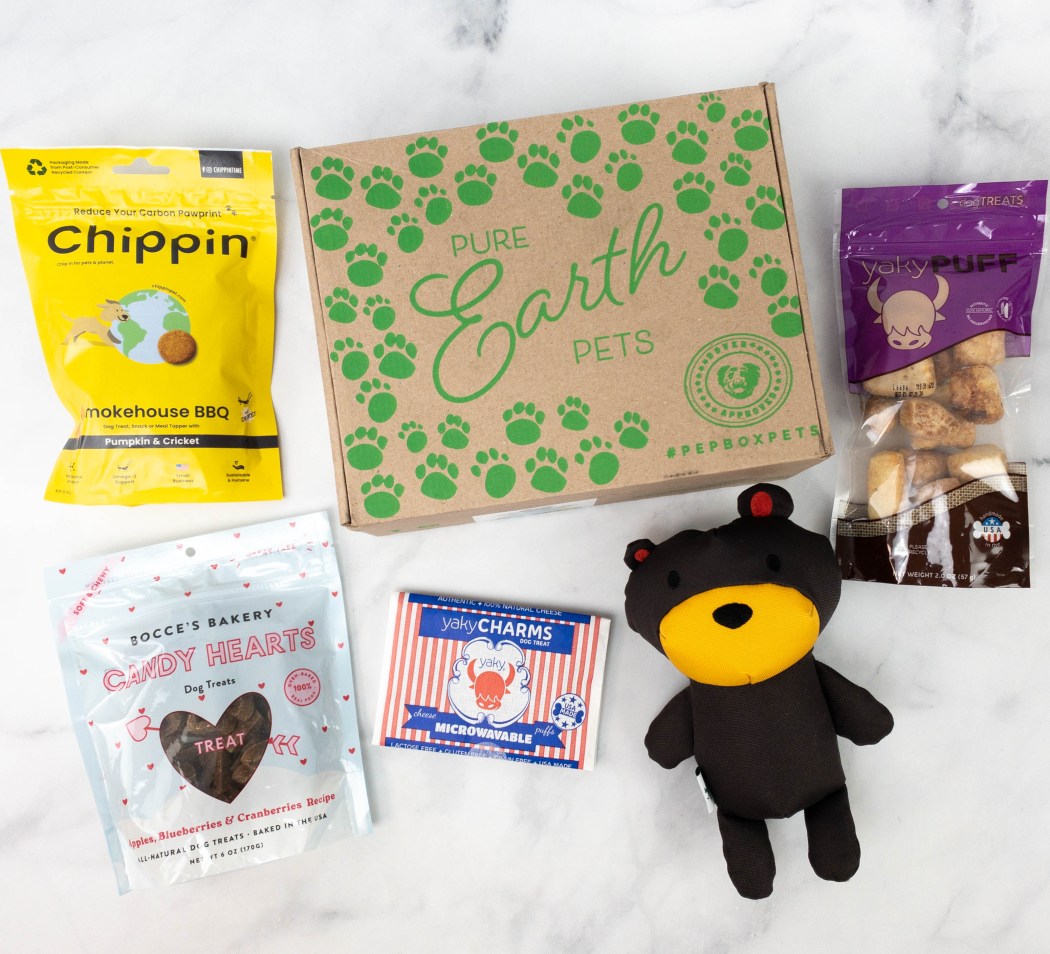 Image from: our review
This is the best box ever and it's Eco-friendly…why not help the earth as well!! Margaret
Their box is amazing! Soo many great products I can feel confident giving my dog! – Eve
We love these subscription boxes as they are unique and have great products inside each month. My dog and I both get so excited to open up the boxes each month! I love that everything is sustainable and eco-friendly. What is better than that! – KMP

We love this box! Not many know about it but SOO worth getting! We love this eco friendly focus and especially can feel good about giving these to my pets! – Eve
What You Get: Loving your pet and the planet is easy with Pure Earth Pets. Dedicated to helping the planet, they provide sustainable items for your pup. They always have you and your pet alongside the environment in mind, that's why they thoughtfully curated boxes that are fully biodegradable and printed with soy ink to help reduce waste. It contains 5-6 eco-friendly items, including durable recycled toys and all-natural treats your doggo can enjoy! They also donate a portion of profits to various organizations relating to the environment and animal rescues.
Visit our Pure Earth Pets Review to find out more!
Price: Monthly subscription costs $39, with savings for longer subscription plans.
Deal: Get 10% off your first order! Use coupon code WELCOME10 .
---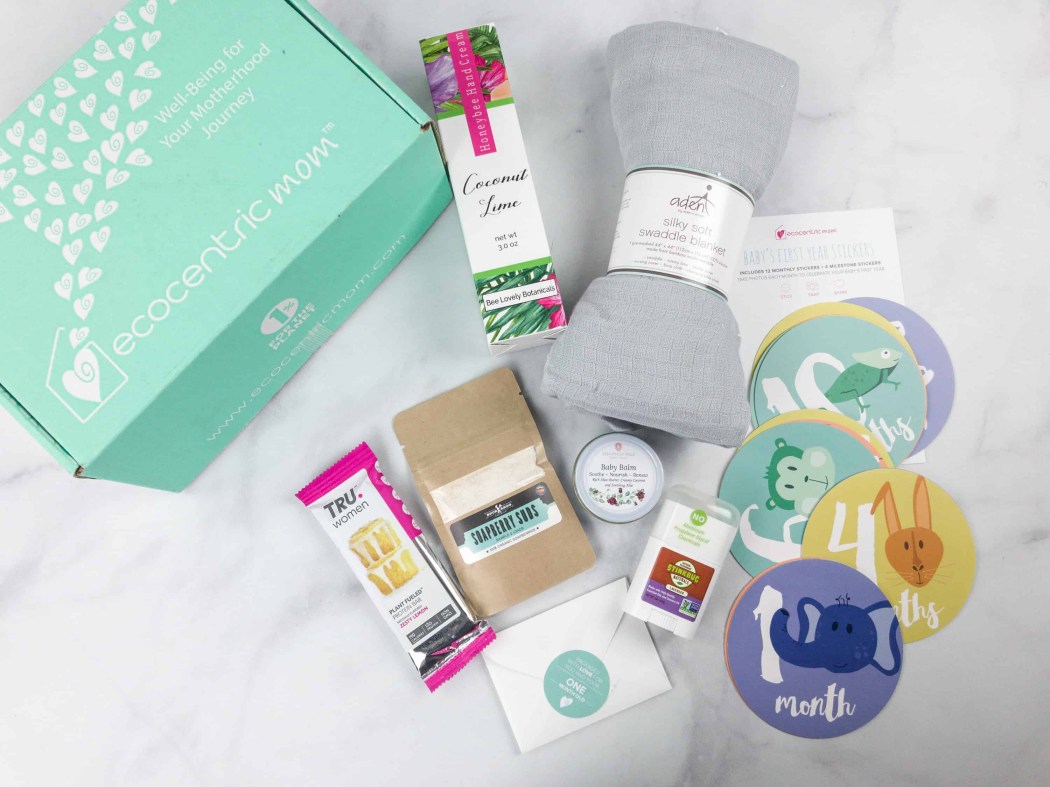 Image from: our review
What You Get: Mom and babies will definitely love this box, which will supply them with 5 full-size lifestyle products that are fit for a green and gorgeous lifestyle! Ecocentric Mom is a box containing a mix of practical and pampering items, which caters to moms, moms-to-be, and babies! Depending on your box type, your box will include beauty, bath, home, pregnancy/baby care, snack, wellness, and lifestyle accessories!
Check out Ecocentric Mom Reviews and find out more.
Price: The box costs $39.99 per month, or less when you prepay for more months!
Deal: Save $5 off your subscriptions, including gifts. Use coupon code 5HELLO.
---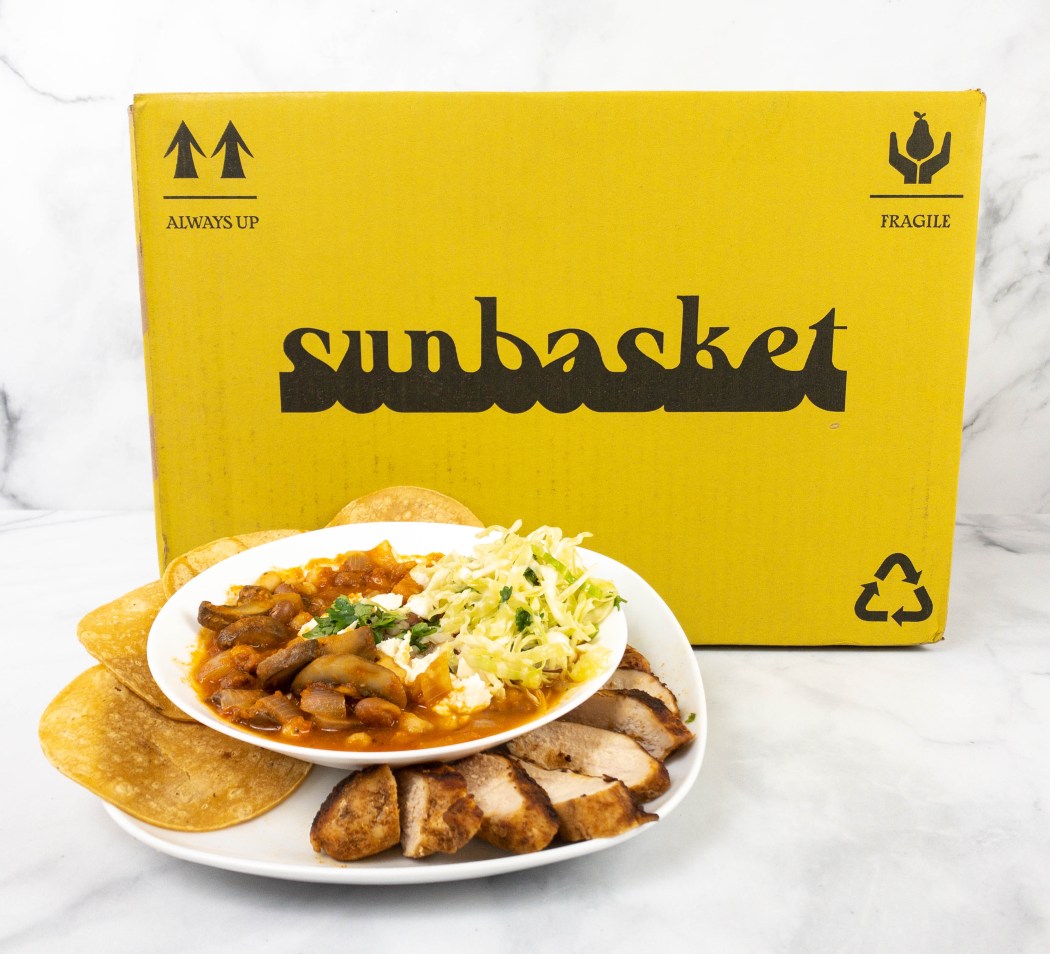 Image from: our review
What You Get: Sunbasket strives to deliver organic produce and clean ingredients 100% of the time. They make it easy for you to prepare and eat healthy dishes by sending mostly everything you need right to your door. You can also choose a dietitian-approved menu plan depending on your dietary restrictions like Paleo, Lean & Clean, Gluten-free, vegetarian, Mediterranean, carb-conscious, and more. They deliver these tasty meals using recyclable and compostable packaging to ensure it minimizes adverse environmental effects. With this subscription, you can eat tasty dinners and feel great about not harming the globe!
Check out Sunbasket Reviews to learn more.
Price: Fresh & Ready starts at $47.96 per week for 4 servings and the Meal Kits starts at $55.96 per week for 4 servings.
Deal: Get up to $90 off on your first FOUR orders + FREE Food Gift! Deal applies automatically, just visit and subscribe. Must meet $65 minimum order per box.
---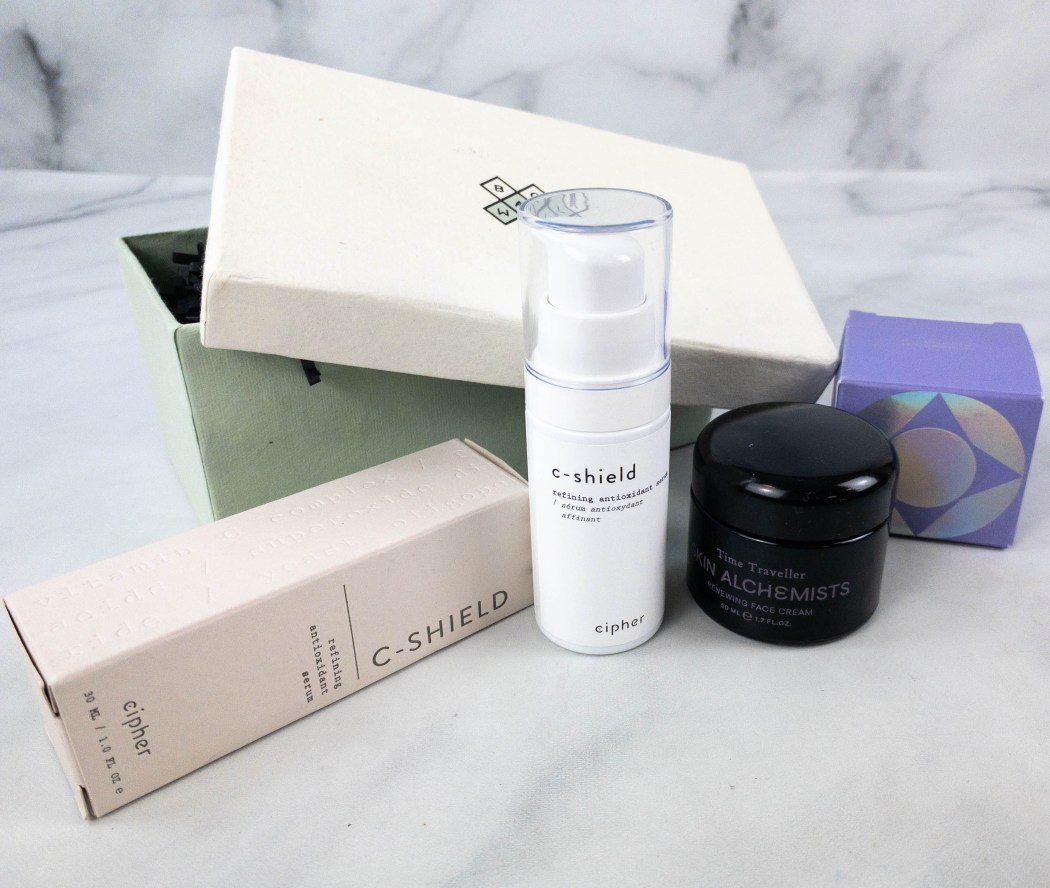 Image from: our review
What You Get: Boxwalla Beauty provides beauty products that contain non-toxic and cruelty-free products that are sourced from artisans in the US. Aside from a natural beauty box, you can also try their international film or books box!
See Boxwalla Beauty Reviews and find out more.
Price: Delivered every other month for $49.95
---
Image from: our review
What You Get: greenUP Box aims to help reduce the use of plastic one area at a time in your life. The first twelve months of the subscription are intentionally designed around twelve major areas in your life. You will receive 4 to 6 artfully crafted, eco-friendly, and reusable items that will empower and inspire you!
Check out our greenUP Box Reviews and learn more.
Price: The cost of the box is $54.95 every quarter.
Deal: Get 10% off your first box! Use coupon code HELLO10.
---
Image from: our review
What You Get: Small choices can make big impacts, and that's where Public Goods comes in. They will give you peace of mind by bringing healthy, sustainable everyday essentials that are good for people and the planet, straight to your doorstep. Their promise is to use sustainable materials, healthy ingredients, and beautiful designs – all at a fair price, that's why their products are bottled in eco-friendly materials as an alternative to single-use plastics. They use sugar cane bottles to tree-free paper for packaging and wholesome toxin-free ingredients for all products. On top of that, they plant a tree for every order.
See all the healthy products we've received in the past on Public Goods Reviews.
Price: For a $59 annual membership fee, you get access to an entire line of high-quality essentials at well below retail prices.
Deal: Get 25% off your first order! Use coupon code hellopga.
---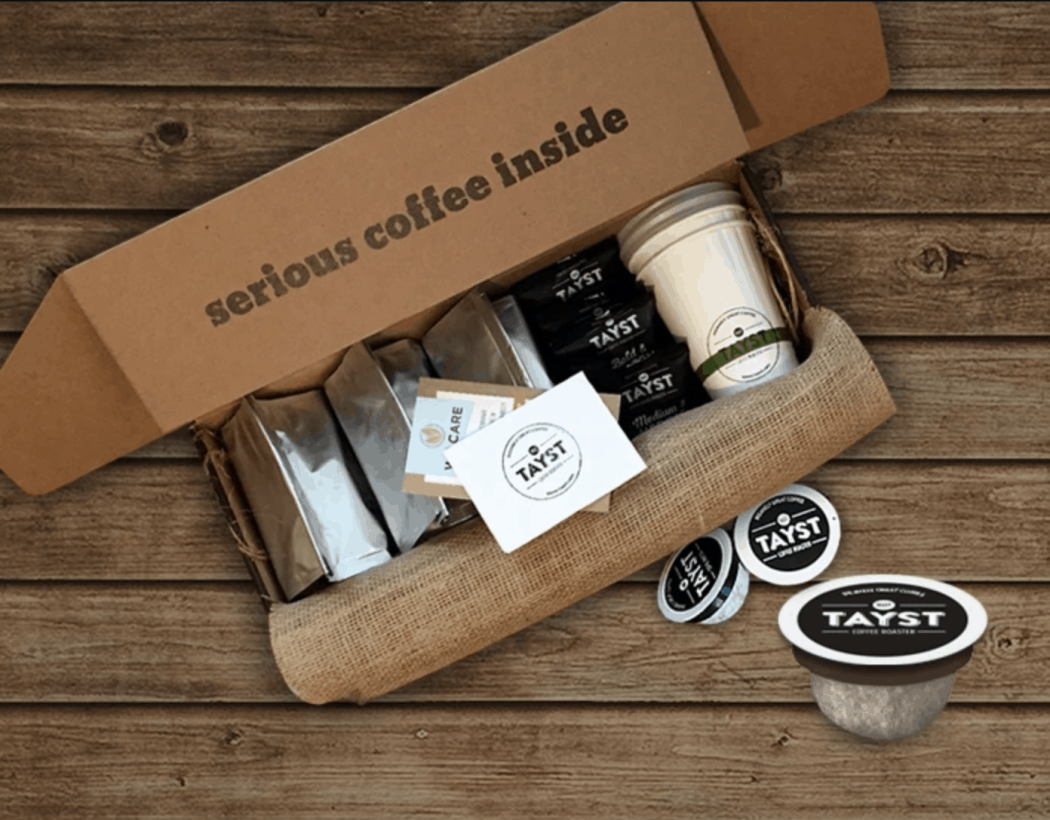 Image from: Tayst
What You Get: Coffee and environment lovers will definitely like this subscription as Tayst is an Earth-first coffee company that focuses on transitioning homes and offices from using plastic cups into 100% compostable pods for Keurig. Also, the coffees are sustainably-grown as part of the Rainforest Alliance. You'll love each cup as the beans are deep roasted, then slowly cooled and packed into Keurig compostable pods. With this subscription, not only do you help support the families and the communities where the coffee is grown, but you also help save the planet by reducing plastic waste!
Price: Get a sample box for just $8. The subscription starts at $22/month for 30 cups.
---
Image from: our review
What You Get: Say hello to a new way of cleaning. Force of Nature cleans strongly without the harsh chemicals. It offers a natural cleaner that works effectively and acts as a bleach. Just mix tap water, a capsule of salt, water, and vinegar, and you'll have a multi-purpose natural cleaner – no added fragrances, dyes, and preservatives. Not only do you leave your home clean and smelling fresh, but you also assure safety for your family. You will surely get your money's worth because this natural cleaner is truly effective!
See how this subscription works by visiting Force of Nature Reviews.
Price: The starter kit is priced at $56. Extra Value Bundle costs $76, Year of Capsules Bundle is $94, 3-pack travel-sized bottle is $8.99, Extra spray bottle costs $8.99, and Activator Capsules Subscription is $18.99 every two months.
Deal: Get 20% off on Starter Kits + FREE Shipping! Use coupon code HELLOSAVINGS.
---
That wraps up the list for the best green and eco-friendly subscription boxes for 2022! Has your favorite subscription made it to the list?
Want more? Make sure to check out all the readers' choices for the best subscription boxes in every category!
Say Hello to More Green & Eco-Friendly Subscriptions!
Find more Eco-Friendly options in these lists: