Caring for toddlers may require extra strength and energy. This is the time where they start walking and seeing everything that surrounds them. They're naturally curious, and keeping them entertained is quite challenging. But hey! Good news. Toddler subscription boxes are a thing! They'll help you find the best products for these curious little people without spending a ton of time, which means more time for play, bonding, and love.
Subscription boxes for toddlers send surprises that little people and their caregivers can get excited about! Some of these subscriptions come with kid-safe toys and fun activities for toddlers, where they can engage and immerse themselves for hours. They provide fun and creative play, and they also help to broaden their interests and skills as well. There are also subscription boxes offering clothes that are best tailored to their age and so much more!
Support their brain development and guide them every step of the way. Here are the best toddler subscription boxes, where parents can seek guidance and keep toddlers busy in a good way! Reading, arts and crafts, play, and everything that in between, these subscriptions are sure to give you and your toddler a great time.
The Best Subscription Boxes For Keeping Toddlers Happy And Positively Busy!
All the best for kids 1 to 3 years of age.
Image from: our review
What You Get: For the best play products, there is Lovevery. They offer play kits designed by child development experts to give a fun and safe playtime experience for toddlers! Toys are customized by stage to help develop every child's brain and thoughtfully crafted using sustainably forested wood, organic cotton, and baby-safe plastics. This subscription makes learning more fun for toddlers while guiding parents through a well-researched booklet!
See what fun toys they've sent us by checking out Lovevery Reviews.
Price: Lovevery play kits start at $80 every two months during the first year of baby's development. In the toddler and preschool years, kits switch to quarterly, starting at $120 per kit.
Deal: Save up to $48 when you pay upfront for longer length plans! Deal applies automatically, just visit and subscribe. Free shipping for orders $75 in the shop!
---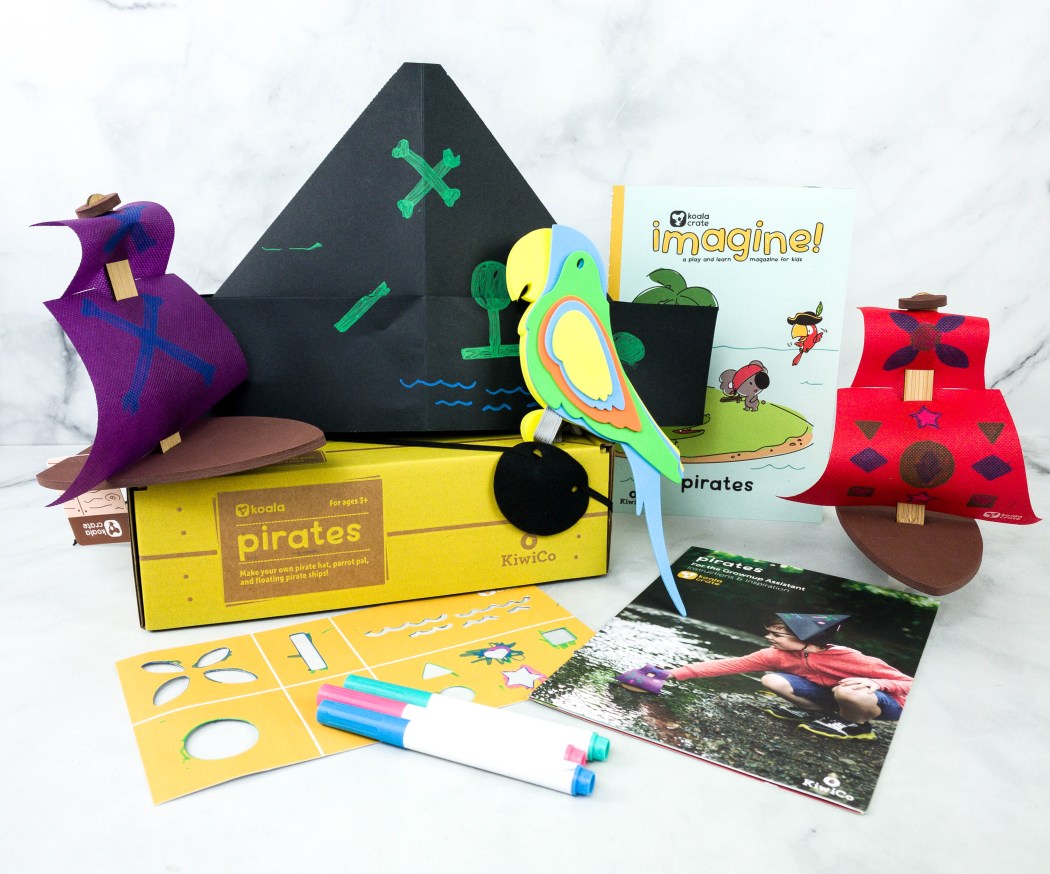 Image from: our review
What You Get: Educational and always hands-on, Koala Crate is a kid's craft and activity subscription box geared towards kids 3-5 years of age. Crates are designed to give toddlers exposure to new materials and new concepts that encourage hands-on learning and fun! Each box comes with everything you need to finish a project that you can use for playtime, as well as a magazine with extra games and activities. They make sure that the activities are developmentally appropriate and enriching for early learners while also keeping them engaging, fun, and universally appealing!
Check out Koala Crate Reviews for more information.
Price: Monthly subscription costs $23.95 or less when you prepay for more months!
Deal: Save 30% on your first month! Use this link to get the deal.
---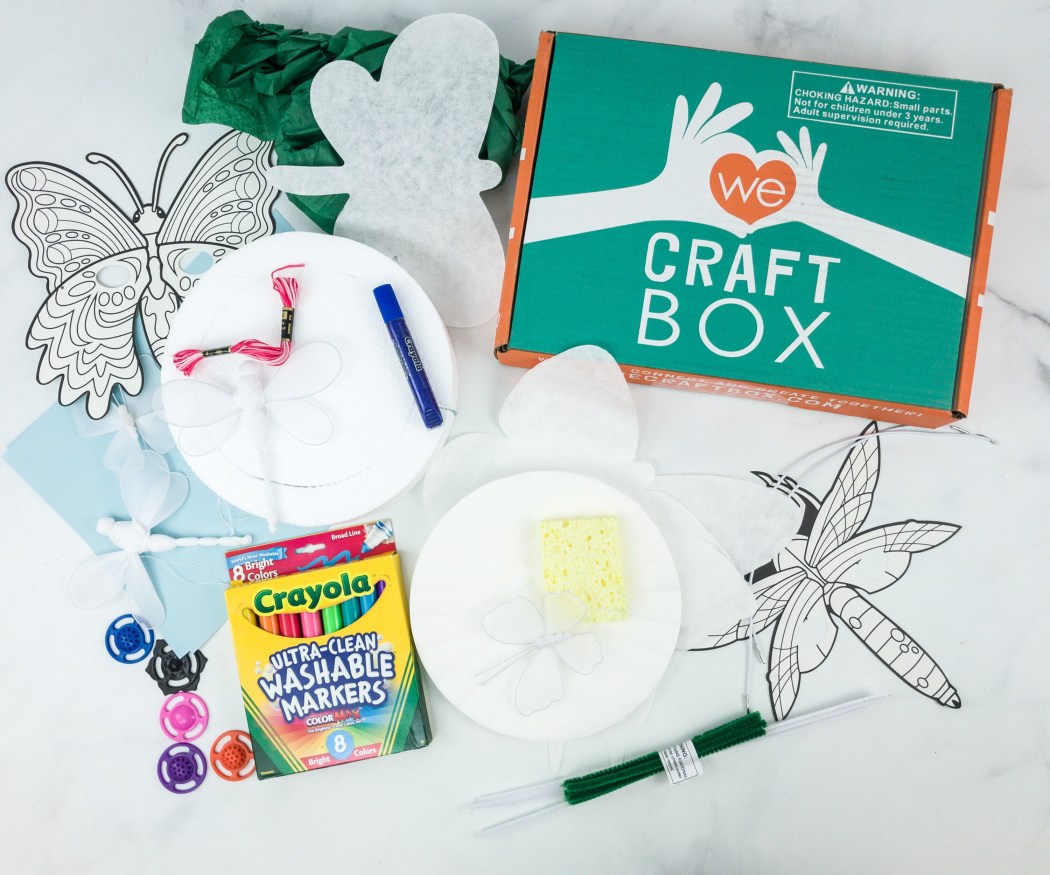 Image from: our review
What You Get: Parents can bond and create fun quality time with their toddlers through We Craft Box. Each box of this cool craft sub for kids comes with a themed story to inspire the kids, and crafts with multiple blanks, so that even parents and siblings can join the fun. All materials are included in the box (except for scissors) with easy-to-follow photo instructions. It is a good choice if you want to practice your kids' creativity and problem-solving skills. Some of the past boxes have featured themes such as dragons, robots, llamas, camping, and more! Have fun creating magical parent-kid moments with this subscription in the comfort of your homes.
See We Craft Box Reviews for more details.
Price: Boxes start at $19.95 per month, or less with longer plans.
Deal: Get $5 off on your first box! Use coupon code HELLO5.
---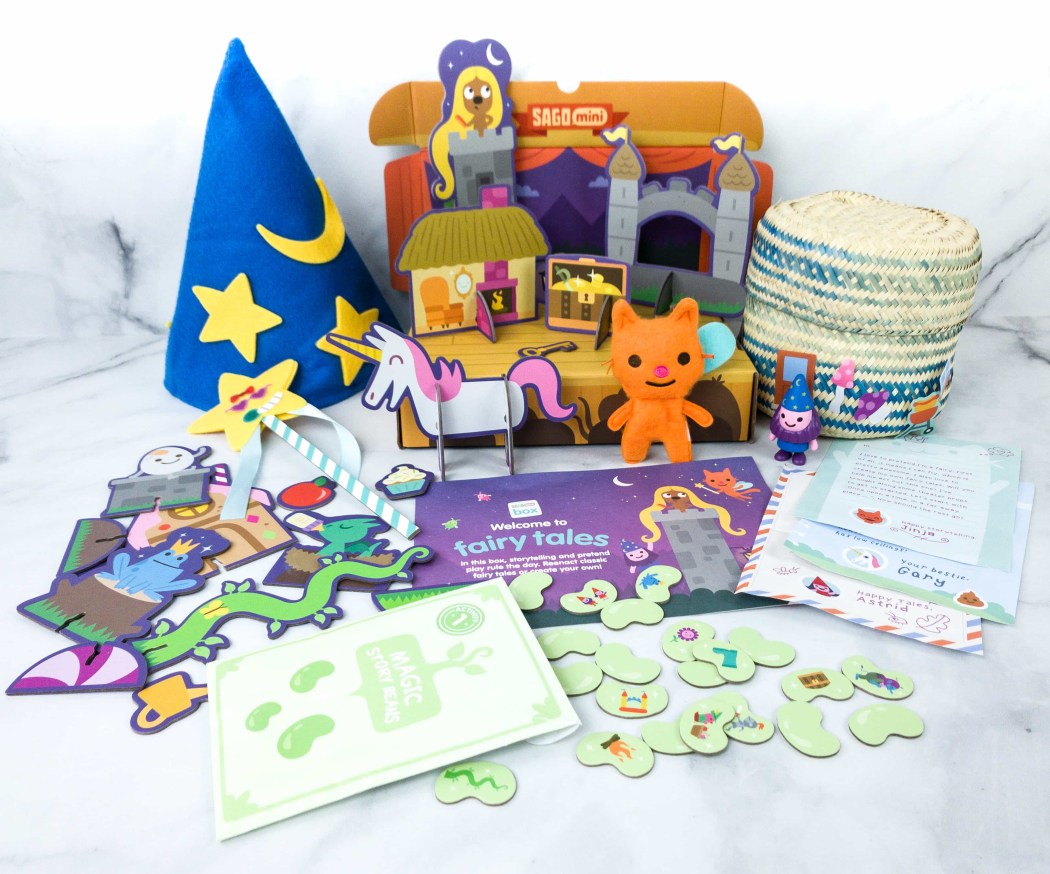 Image from: our review
What You Get: Sago Mini Box is a subscription box that's filled with lots of fun and hands-on activities for kids! This will let your kids enjoy while nurturing their creativity and learning more things around them. Give them toys that will allow their imagination to take them into places. Each box revolves around a fun theme empowering young minds, and it includes a Sago Mini collectible figurine, a set of kid-friendly activities, and a shipping box that transforms! This box is perfect for kids ages 3-5. Not only do kids learn, but it's also an excellent way for parents to bond with their kids.
See what fun activities they've sent us for the past months by visiting Sago Mini Box Reviews.
Price: The Monthly Plan is $19 and the Annual Plan is $180 (save $48).
Deal: Get your first box for $10! Use coupon code SMBOX10.
---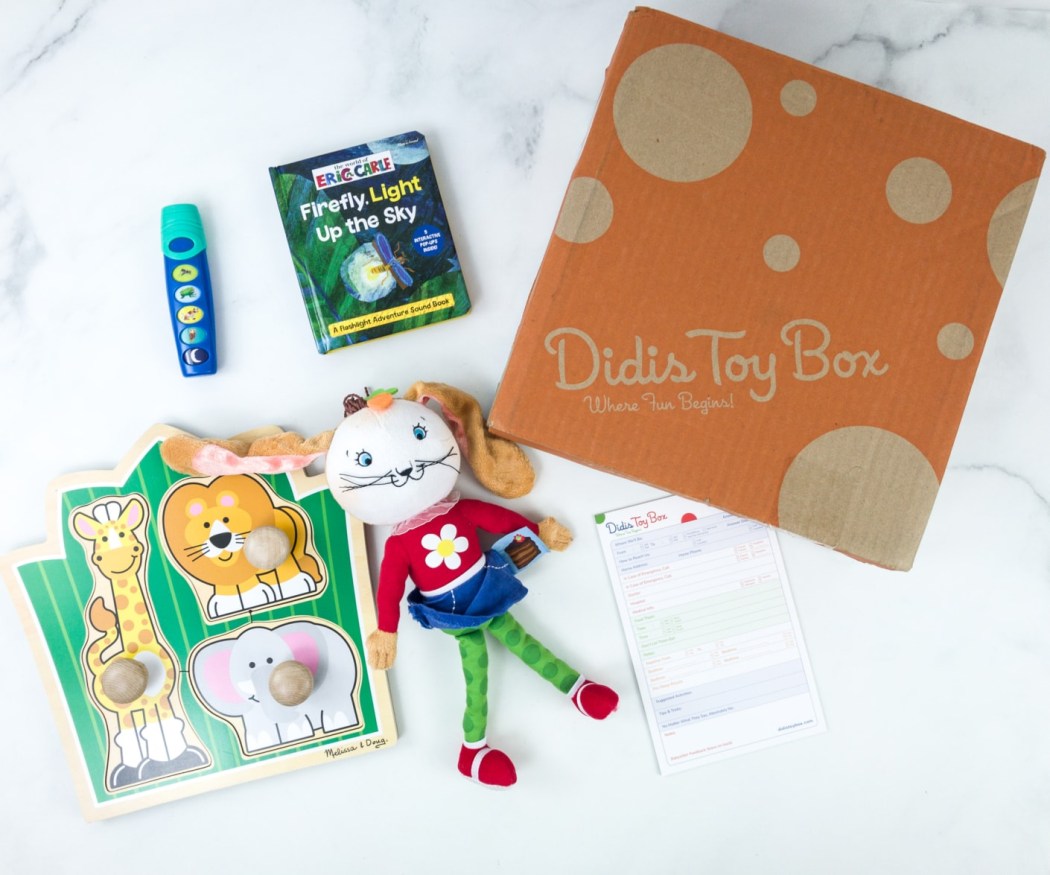 Image from: our review
What You Get: Designed to enhance the way your child plays, Didis Toy Box sends toys tailored to the child's age and developmental stage. There are 2-4 full-size toys in each box, all handpicked by experts to make sure that everything is engaging and educational. They also include a babysitter notepad, which serves as a guide for your kid's babysitter on their do's and don'ts and other necessary information about your child. They curate their boxes with the goal of making the world a little bit better each day and spreading the value of play by enriching your children and your lives together!
Visit Didis Toy Box Reviews to know more.
Price: Monthly subscriptions start at $49.95.
Deal: Get 10% off your first order! Use coupon code FIRSTORDER.
---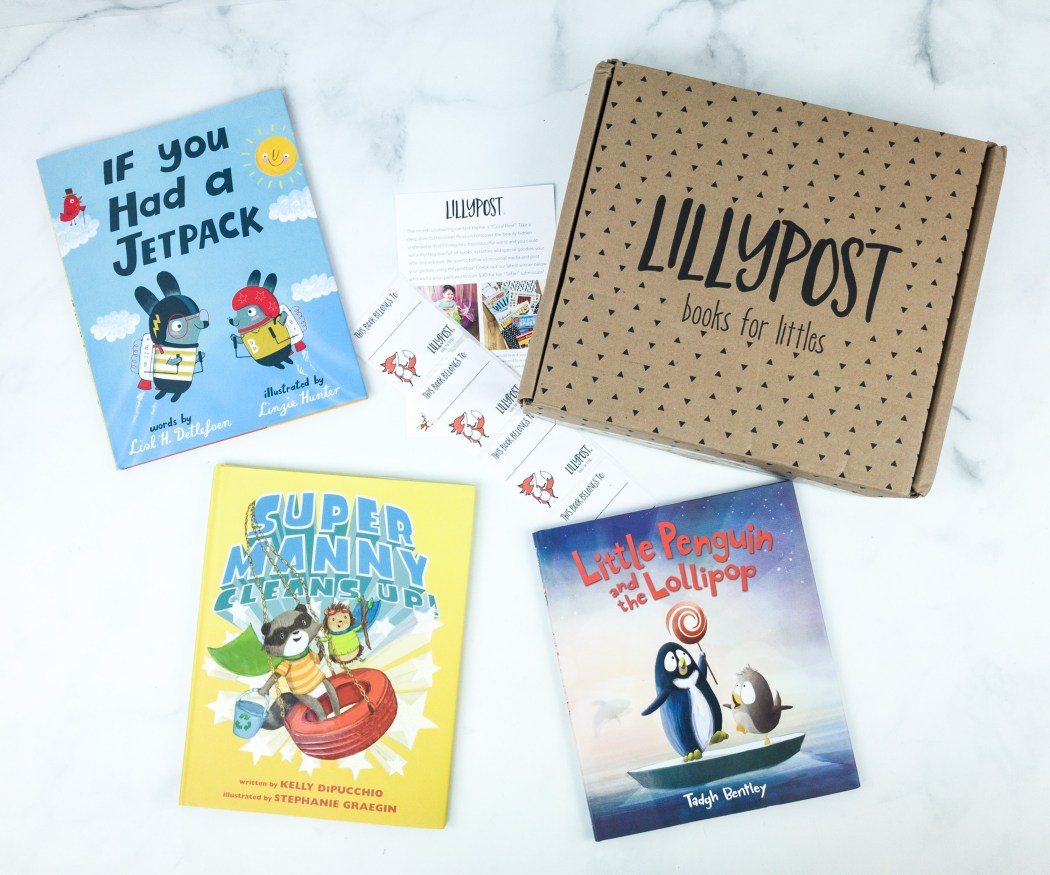 Image from: our review
What You Get: Nurturing young readers is more fun with Lillypost. They believe that reading changes lives, and so do we! This subscription sends kid-friendly books, including picture and board books, serving as a way to discover potential favorites. Parents can choose from three box options -Board Book Box for ages 0-3 (4board books), Picture Book Box for ages 4-7 (3 picture books), and Mixed Book Box for all ages (2 picture books + 1 board book). Aside from cool books, the box also includes some bonuses like fun stickers! Another notable thing about this subscription is that they donate one book to a child in need for every box purchased.
Find out more by visiting Lillypost Reviews.
Price: Monthly subscriptions start at $26, with discounts available for longer commitments.
Deal: Get 30% off your first box! Use coupon code READING30. Discount does not apply to shipping or gift wrap.
---
Image from: Little Passports
What You Get: Learning about a new world each month is what Little Passports Early Explorers Edition is all about. Toddlers can explore a different world like music, art, space, ocean, and dinosaurs with fun and educational themed boxes. Each monthly package comes with a wall-sized world map, a cool souvenir, an activity booklet, sticker sheets, and more, all contained in an orange suitcase! This subscription is designed for 3 to 5-year-old kids in which they will learn about the geography and culture of the world as the box delivers fun activities and items that kids can also play with.
Peek through Little Passports Early Explorers Edition Reviews for more details.
Price: Monthly subscriptions start at $14.95.
---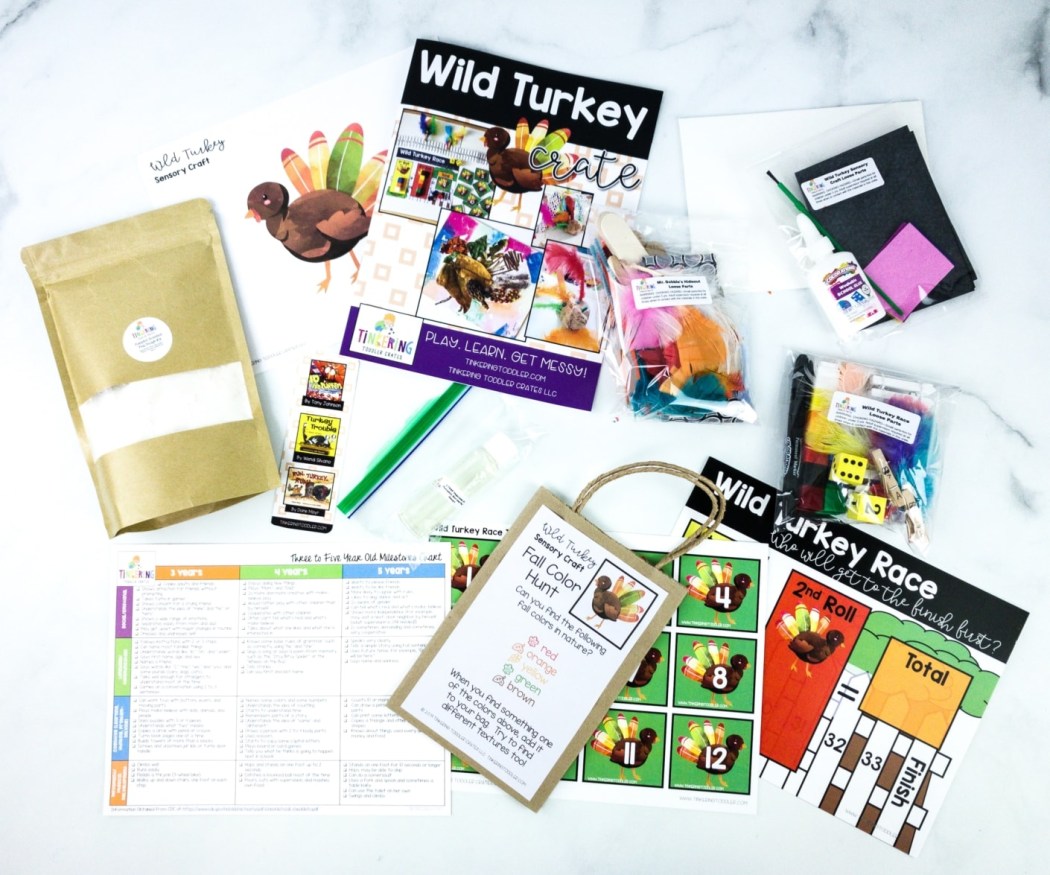 Image from: our review
What You Get: Designed by a credentialed teacher and a mother of a pre-schooler, Tinkering Toddler Crates is jam-packed with activities that will help develop the kids' creativity and skills. Each month, a new themed box is released containing developmentally appropriate activities, including STEM, arts, sensory, language, literacy, math, writing, and dramatic play. There are three fun and engaging activities in every box, complete with all the materials needed, so kids and their parents can have fun without worries! You can also share it with others or gift it to let kids play, learn and get messy in a good way!
Want to know more? Head on to Tinkering Toddler Crates Reviews.
Price: 1 month subscription is $35 per month, with savings for longer subscriptions.
Deal: Save $5 off all subscriptions for first order. Use coupon code HELLO5 .
---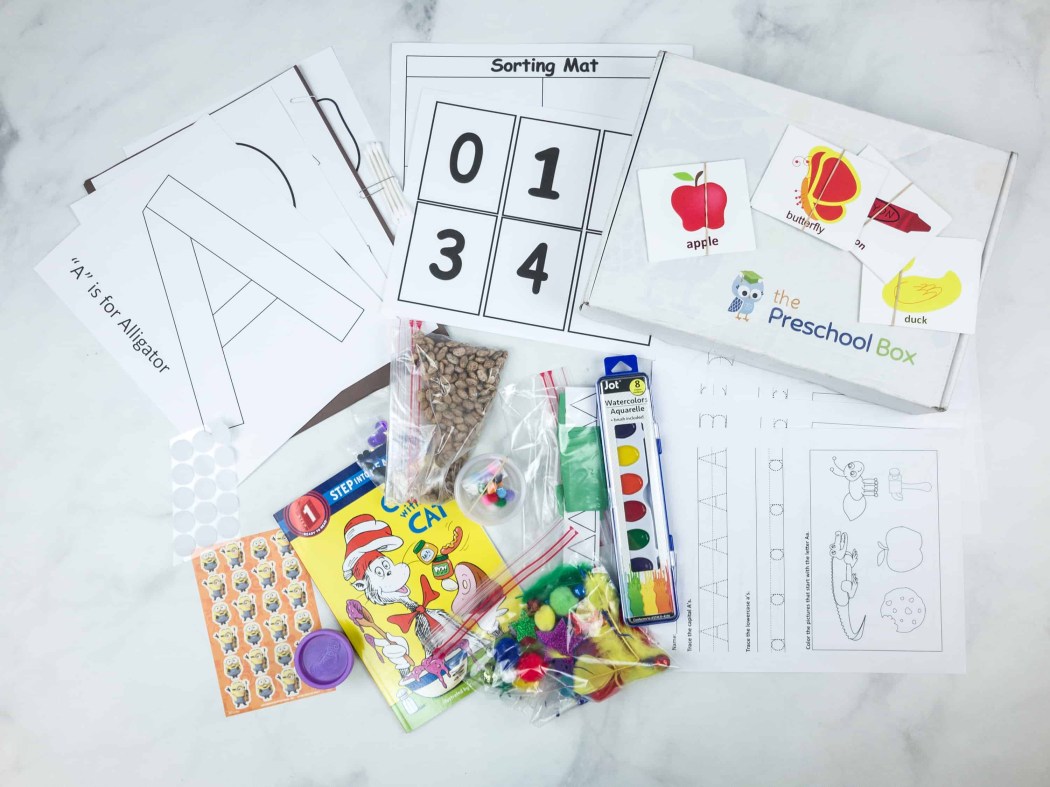 Image from: our review
What You Get: The Preschool Box is a monthly subscription curated for kids ages 3 to 4. They create a custom curriculum that usually includes basic math, phonics, and writing skills to prepare the kids for elementary school using fun arts and crafts. Choose a plan and receive 1, 2, or 3 boxes depending on how many kids you have at home. It contains learning activities, games, stickers, and a book, plus some bonus items that the kids will surely love! What's also great about this sub is that a part of the proceeds goes to their efforts of helping the Rafiki Orphanage in Uganda, Africa.
Check out The Preschool Box Reviews for more information.
Price: Boxes start at $42.95 per month.
---
Image from: our review
What You Get: Stitch Fix Kids takes out the hassle from shopping for kids' clothes by sending stylist chosen pieces straight to your door. Catering to sizes 2T to 14, each box contains 8 to 12 items with retail prices ranging from $10 to $35. Subscribers will be asked to share some styling preferences so that the items included will be curated accordingly. Even kids know what they want to wear, so Stitch fix lets them try styles in the comfort of their homes before buying them. Keep what your kids love and return what they don't. If you keep all the items in your box, you will get 25% off the price! Get the best fitting pieces from their exclusive labels and favorite brands such as Adidas, Toms, New balance, and more.
Read Stitch Fix Kids Reviews to know how this subscription works.
Price: Styling fee is $20 for each box.
---
Image from: Nurture Life
What You Get: Nurture Life is a special meal delivery service that is designed to deliver healthy and delicious meals for babies and toddlers. They've designed menus to ensure that little humans are eating the right balanced food. Each box contains carefully pre-prepared meals made by chefs and dietitians to meet kids' nutritional needs. You have the option to build your own box or let them build a box for you! It's like getting the best of best foods but for less!
Read Nurture Life Reviews to find out how this subscription works.
Price: The box costs $39 every week.
Deal: Get 50% off your first week! Deal applies automatically, just visit and subscribe.
---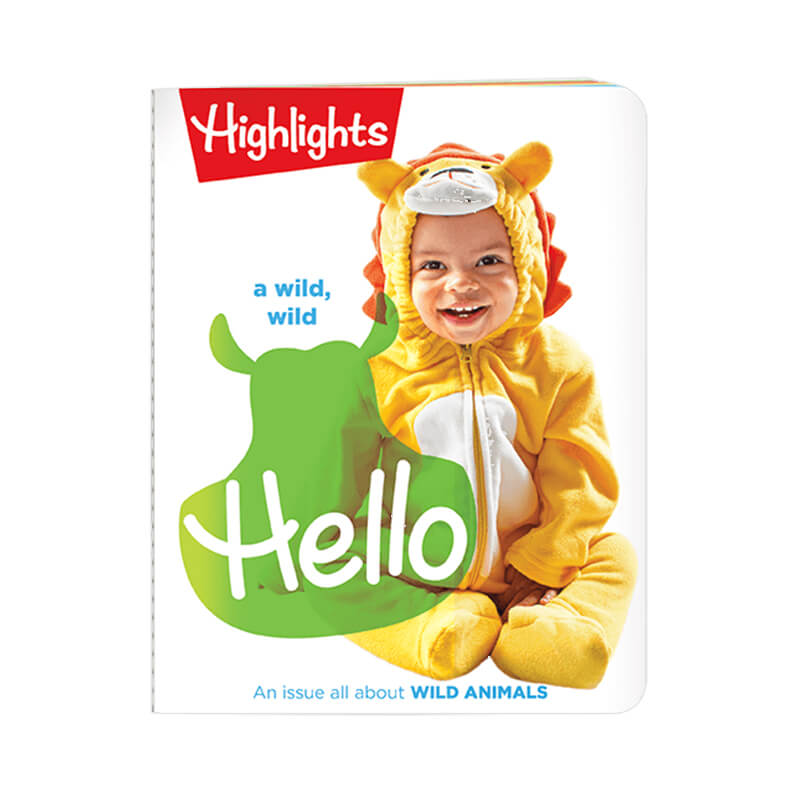 Image from: Highlights Hello Magazine
What You Get: Highlights Hello Magazine is created and developed with the help of childhood experts for babies and toddlers, as well as parents who want quality time with their little ones. This toddler magazine subscription aims to encourage, inspire and challenge kids to be their very best selves. Each thoughtfully designed issue is themed and filled with age-appropriate read-aloud stories, colorful images, and even activities you can work on. It doesn't just spark creative play but also promotes parent-child bonding alongside early language development! Past themes include Sounds, Food, Farm Animals, and more.
Visit the Highlights Hello Magazine Reviews for more details.
Price: A subscription is $39.96 per year.
Deal: Get $5 off! Use coupon code MYFIVE.
---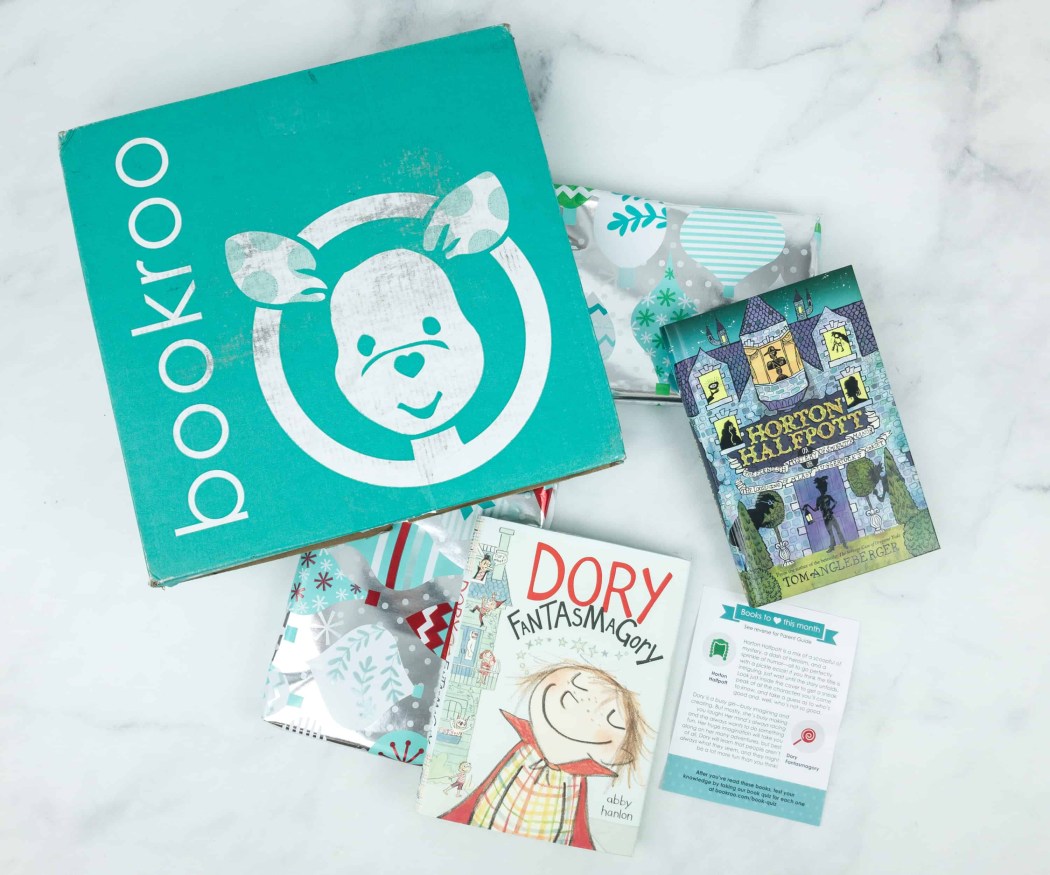 Image from: our review
What You Get: Bookroo helps you nurture your kid's love for reading at a young age by sending quality books straight to your doorstep. Encourage them to spend more time reading books that are appropriate for their age: Board Book Club (ages 0-3), Picture Book Club (ages 3-6), and Chapter Book Club (ages 7-10). Building a home library filled with an amazing selection of books has been made easy as they offer good reads that are up to 50% less than retail price. They've explored every place and every corner and spent lots of time in online researches to give every parent and kid the best read-aloud titles. Along with the books is an insert highlighting the book and exclusive details.
See Bookroo Reviews and discover past box contents.
Price: Subscriptions start at $19.95 each month. Save more if you choose their longer plans!
Deal: Get 15% off on any subscription! Use coupon code HELLOBOOKROO. Gift Subscription not included. Cannot be combined with any other offers.
---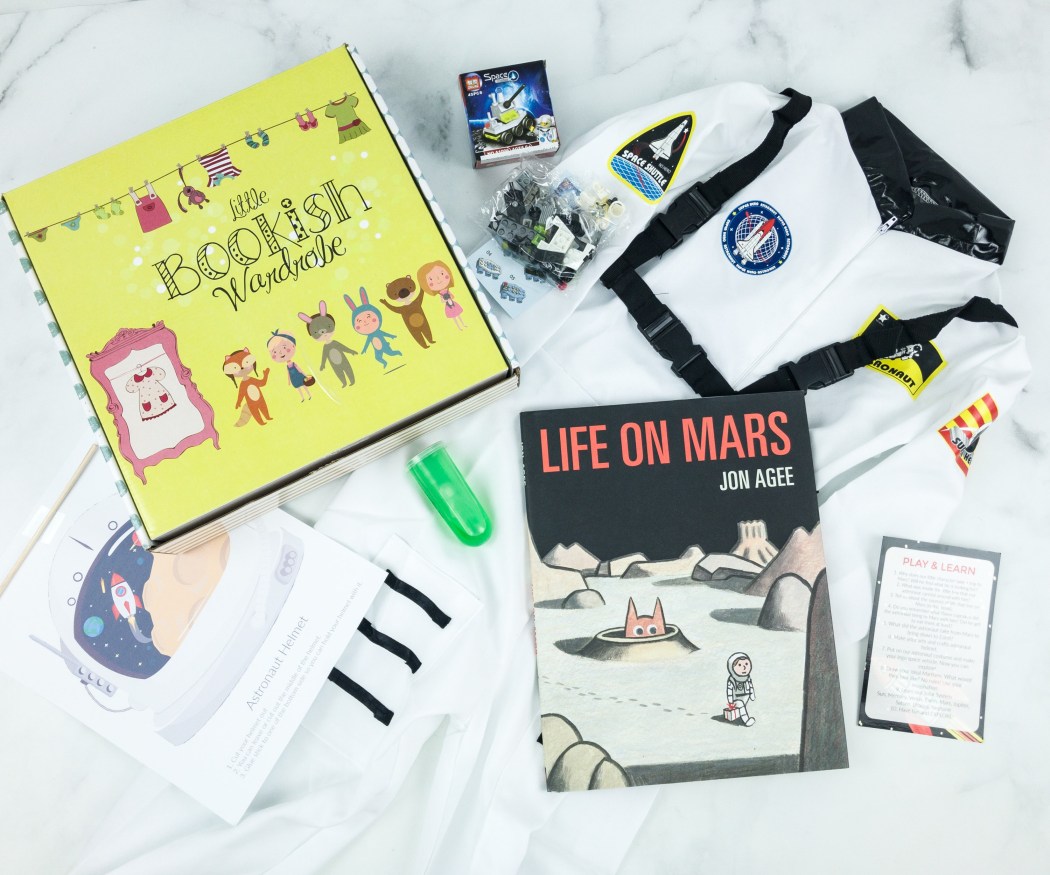 Image from: our review
What You Get: With Little Bookish Wardrobe, reading books and acting out the stories is more fun! This monthly kids subscription sends you a book to read, along with costume pieces that match the theme and characters in the book. Each box also includes an arts and crafts pack and a challenge for the month for a more interactive and engaging child's play! Kids can nurture their love for reading, and at the same time, make use of their imaginations to act out some particular scenes in the story, creating hours of pure fun!
Navigate through Little Bookish Wardrobe Reviews for more details.
Price: Subscriptions start at $34.99 monthly.
Deal: Get 10% off! Use coupon code HELLOBOOKISH10.
---
Image from: Hoppi Box
What You Get: Aimed to help your baby's early development, Hoppi Box offers custom boxes appropriate for their age. Each box includes 4-5 high-quality toys that inspire learning through play, with a focus on facilitating fine motor, cognitive, and social skill development in young learners. The toys are made from eco-friendly and sustainable materials, ensuring safety for your child. Featured brands include Hape, Moulin Roty, Tegu, EverEarth, and Plan Toys!
Find out more by visiting the Hoppi Box Reviews.
Price: The box costs $75 per quarter, or less for longer subscription plans.
---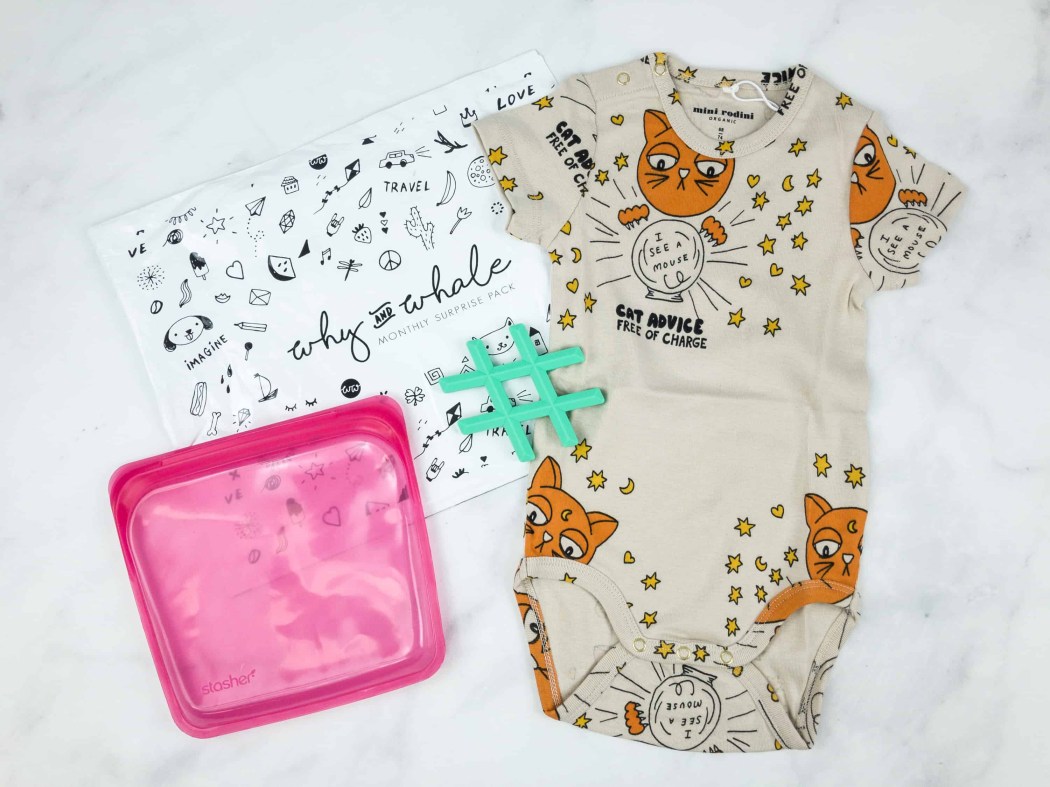 Image from: our review
What You Get: Kids deserve the best, and Why and Whale sends exactly that in every box! Each month, they'll send handpicked apparel, toys, and other trendy items for your child, and boxes can be modified for ages 6 months up to 6 years. The Classic Monthly Surprise Pack contains 3-6 items you can't easily find in stores valued at over $59, and these items are usually from popular brands run by moms and ethically made in the USA! Also, subscribers can get a 15% off in the shop.
Check out Why and Whale Reviews to know more.
Price: Each box costs $59 per month.
Deals:
---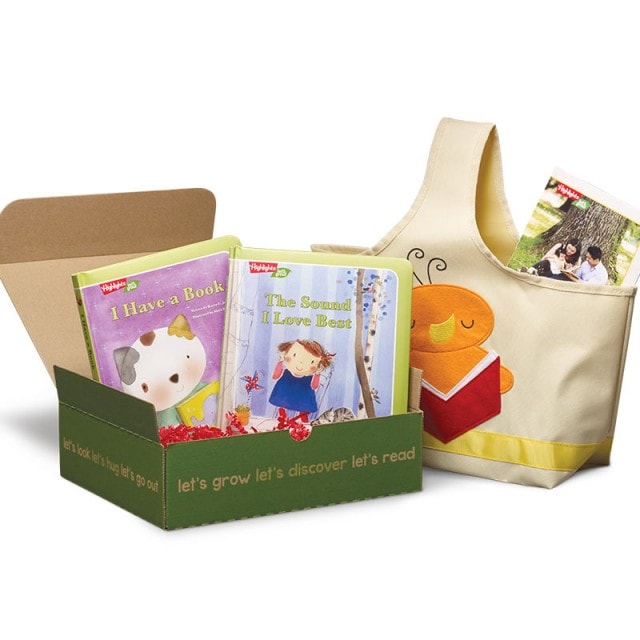 Image from: Highlights Let's Grow
What You Get: Read your toddler with beautiful stories coming from Highlights Let's Grow. It's a subscription that is filled with fun and learning delivered right at your door. You'll receive a themed box full of items that are curated with you and your little one in mind. Inside each box, you'll find two premium-quality, padded board books that you can read to your baby or toddler, a developmentally appropriate gift, and activity ideas from experts that you and your little pea can enjoy throughout the day! From lunchtime to bath time to naptime to story time, your toddler's day will be filled with happy moments.
Price: Ships monthly for $24.95.
Deal: Get 50% off your first month! Deal applies automatically, just visit and subscribe.
---
Image from: our review
What You Get: It's now easy to diversify your kid's bookshelf with books from the Little Feminist Book Club! This monthly book subscription promotes quality and empathy for everyone – genders, races, and families. They curate boxes based on age, and there are currently 3 subscriptions available: 0-3 years old, 3-7 years old, and 7-9 years old. Subscribers will get one to two hand-selected books that relate to the principle of feminism and equality. The box also comes with hands-on activities or DIY play ideas. They even incorporate discussion questions to understand the concepts further, as well as a parents' letter, which explains why they chose the book/s.
Check out Little Feminist Reviews to know more.
Price: The box costs $23.75 per month, $63.25 every 3 months, $124.50 every 6 months and $237 every 12 months.
Deal: Get 15% off on all new subscriptions! Use coupon code HELLOSUB.
---
Image from: our review
What You Get: Ecocentric Mom has everything for mom and baby – pregnant moms, mom with a toddler, or just moms. This subscription provides a great way to discover eco-conscious brands and products for home, health, beauty, and the kids. Each box contains five full-size/lifestyle products with a mix of practical and pampering or a mix of everything. They have several product categories like beauty, bath, home, pregnancy/baby care, wellness, snack, and lifestyle accessories. You can even customize the box depending on your due date or baby's birth date and gender! Every item is free of chemicals and toxins, making it the best choice for moms!
Visit the Ecocentric Mom Reviews for more information.
Price: The box costs $39.99 per month.
Deal: Save $5 off your subscriptions, including gifts. Use coupon code 5HELLO.
---
Image from: our review
What You Get: Sensory TheraPLAY Box delivers sensory toys curated by a pediatric occupational therapist. This monthly subscription aims to help every child with autism, those with sensory processing disorders, and those who suffer from ADHD, anxiety, and behavioral issues. Engage your child in a fun playtime to help them develop sensory-motor skills, stimulate senses, and manage anxiety. Each box contains 5-6 high-quality developmental items like textured tactile toys, unique stress balls, light-up toys, and more! It also comes with a description card listing the common therapeutic uses of each toy.
Read Sensory TheraPLAY Box Reviews to learn more.
Price: Each box costs $40.95 per month, $122.85 every 3 Months and $229.70 for 6 months (save $18)
Deal: Get 10% off your first box! Use coupon code WELCOME.
---
And these are the best subscriptions for toddlers if you're looking for educational or essential kids boxes! Have you found the best box for your kids?
Say Hello To More Subscription Boxes for Kids!