Kids are naturally curious. They are interested in almost everything they see. Working in the kitchen, they are delighted to see different ingredients being combined and mixed to create one delicious meal or snack. Teach your kids new skills and help build confidence, all while having fun in the kitchen and beyond! How does a cooking club at home sound? Kids' cooking subscription boxes are now a thing!
These subscription boxes let children develop culinary skills. Some of these kids' cooking subscriptions even include the complete ingredients, pre-measured and labeled for easy cooking. Others provide a grocery list to let little chefs familiarize themselves with the ingredients they'll use. There are also cooking subscription boxes that give free kid-friendly kitchen tools and other surprise goodies, making it one exciting activity for youngsters to delve their time into.
Take your kids to a different adventure where they can unleash their skills and create delectable meals or snacks with the best kids cooking subscription boxes listed below. Whether you're trying to enhance their love for cooking or just looking for creative ways on how kids should spend their time, cooking kits are an exciting way to make them busy and engaged in every process!
The Best Cooking Subscription Boxes for Kids To Try and Enjoy!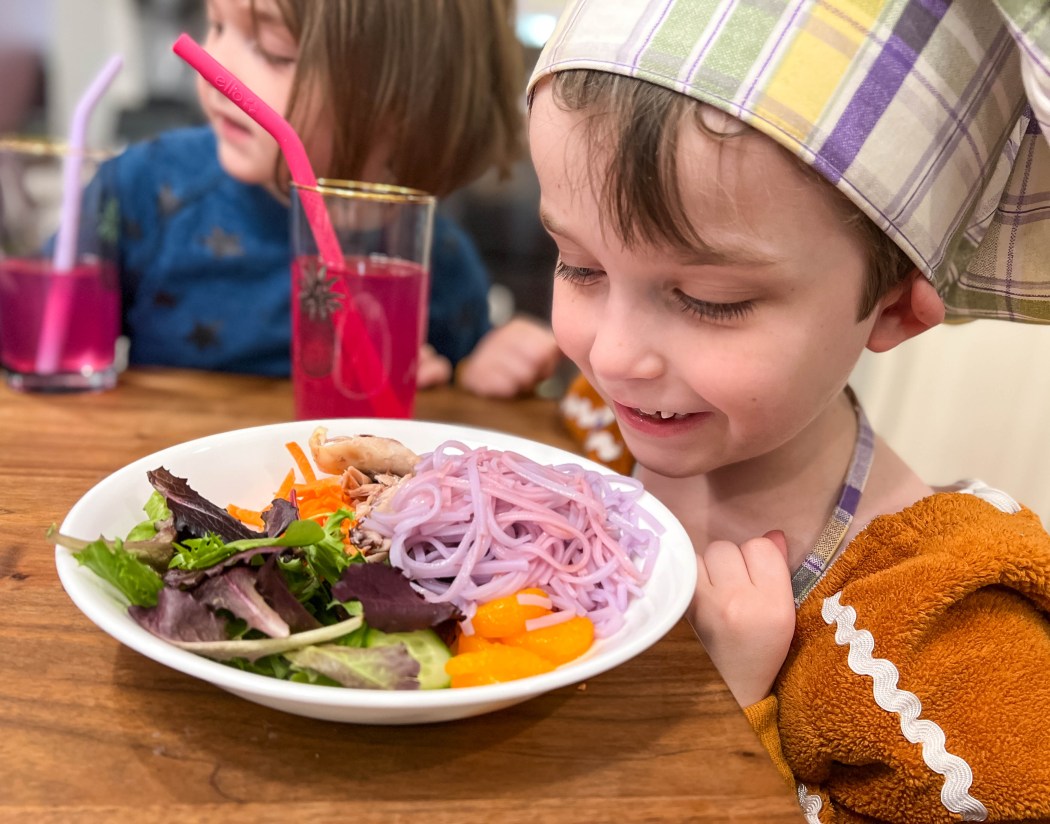 Image from: our review
Why We Love It: Yummy Crate by KiwiCo is a STEAM-based cooking subscription for kids! Each crate combines the joy of cooking with the science behind different cooking concepts. Ideal for children ages 6 to 14, it contains 3 delicious recipes, other hands-on STEAM activities, a copy of Yummy Zine with informative features, and a shopping list with an easy-to-use grownup guide. Some of the previous Yummy Crate themes are Tasty & Toasty (Maillard reaction), Rise & Shine (leaveners), and Bright & Delightful (phytonutrients)!
Visit Yummy Crate by KiwiCo Reviews to know more.
Price: Ships monthly for $23.95
Deal: Save 30% on your first month! Use this link to get the deal.
---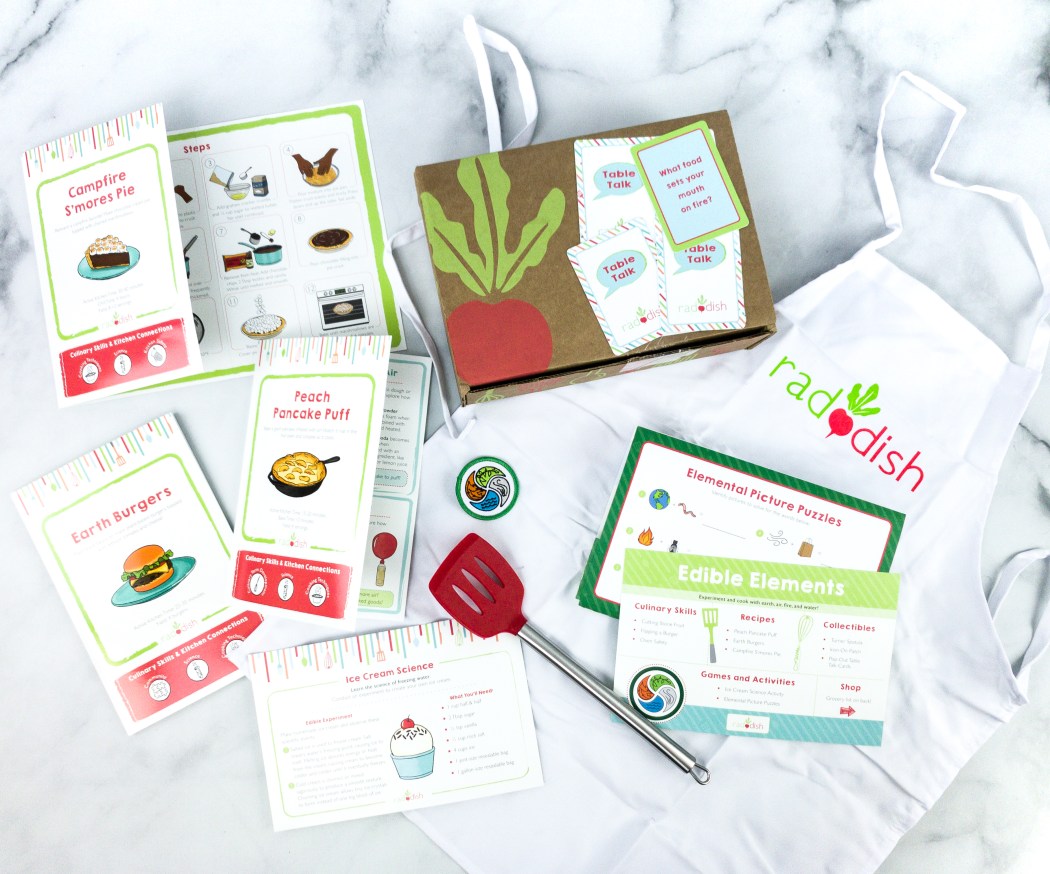 Image from: our review
Why We Love It: Raddish Kids is a cooking club designed for kids 4 to 14+. This subscription offers monthly cooking kits that nurture kids' confidence in the kitchen and beyond, making it fun and easy for them to learn! You'll get 3 illustrated recipe guides, 3 skill cards, a quality & kid-friendly kitchen tool, table talk cards, a complete grocery list, a collectible apron patch, and a creative kitchen project! They also provide bonus digital stuff on their website called the Bonus Bites, where you can access a bonus recipe, a Spotify playlist, dietary modifications for the month's recipe, and even download a homeschool lesson plan. Plus, no kits will be repeated! Also, every kit has a theme that falls in one of four categories: Seasonal Spotlights, Global Cuisine, Creative Cookery, and Holiday Celebrations.
See what delicious recipes they've previously sent us on our Raddish Kids Reviews.
Price: The Package costs $24 a month. Get discounts when you prepay 3, 6, or 12 months. (Receive a free apron on an Annual plan.)
Deals:
---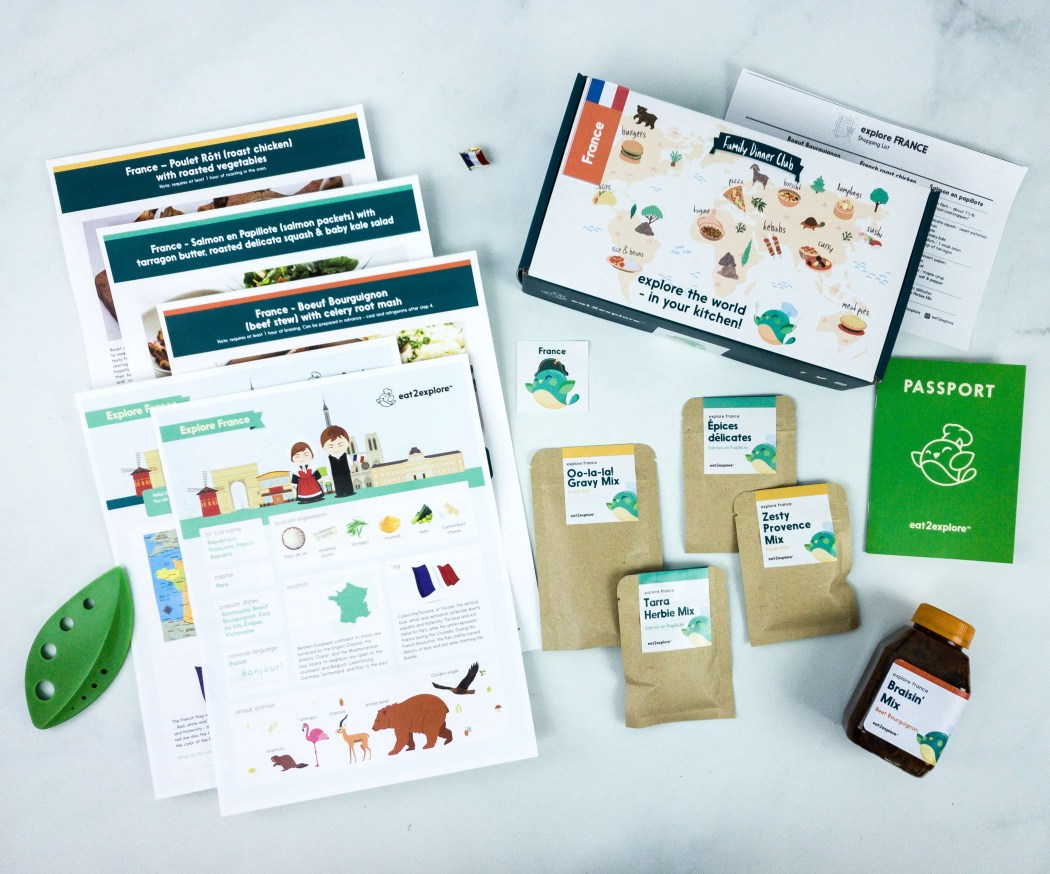 Image from: our review
Why We Love It: It's easy to explore a country, a continent, or the world with every package from eat2explore! Each box includes easy-to-follow recipes, pre-measured spice/sauce mixes for each recipe, a shopping list, a country brochure, an activity sheet, a country sticker, a flag pin, and a fun collectible. Even kids can join in on the fun because the recommended age for the box is 5 years old or older! Learn about cultures, spices, and history while snacking at the comfort of your home.
Peek at what countries they featured on eat2explore reviews.
Price: A monthly box costs $24.95, or less when you prepay 4 months- $89.84 ($22.46 per box. Save $9.96), and 12 months- $254.52 ($21.21 per box. Save $44.88)
---
Image from: Little Sous
Why We Love It: Create new memories for your kids when you share cooking time with them. Little Sous is a monthly themed box filled to the brim with delicious recipes and activities where children can engage themselves with. You'll receive step-by-step recipes, hands-on activity cards, kid-safe kitchen tools, creative projects, stickers, and more every month. Not only do kids learn the basics of cooking, but they'll also improve their STEAM skills. Just as they say, cooking makes star students!
Price: Get the box monthly for $24.99 or prepay 6 months for $134.94 ($22.49 per box),and 12 months for $239.88 ($19.99 per box).
Deal: Get a Bonus Opinel Le Petit Chef Set ($50 value) with 12 month subscription! Deal applies automatically, just visit and subscribe.
---
Image from: Bookakery Boxes
Why We Love It: Let your kids discover their love for reading and baking all in just one box of Bookakery Boxes. Every package will give them a beautiful picture book, kid-tested recipe, baking tools, and other goodies that revolves around a theme for the month. Themes are fun and will surely be loved by kids! You can also purchase add-ons (apron or binder) if you'd like. With this subscription, it's like you've hit two birds with one stone!
Price: The monthly plan is $29.95.
---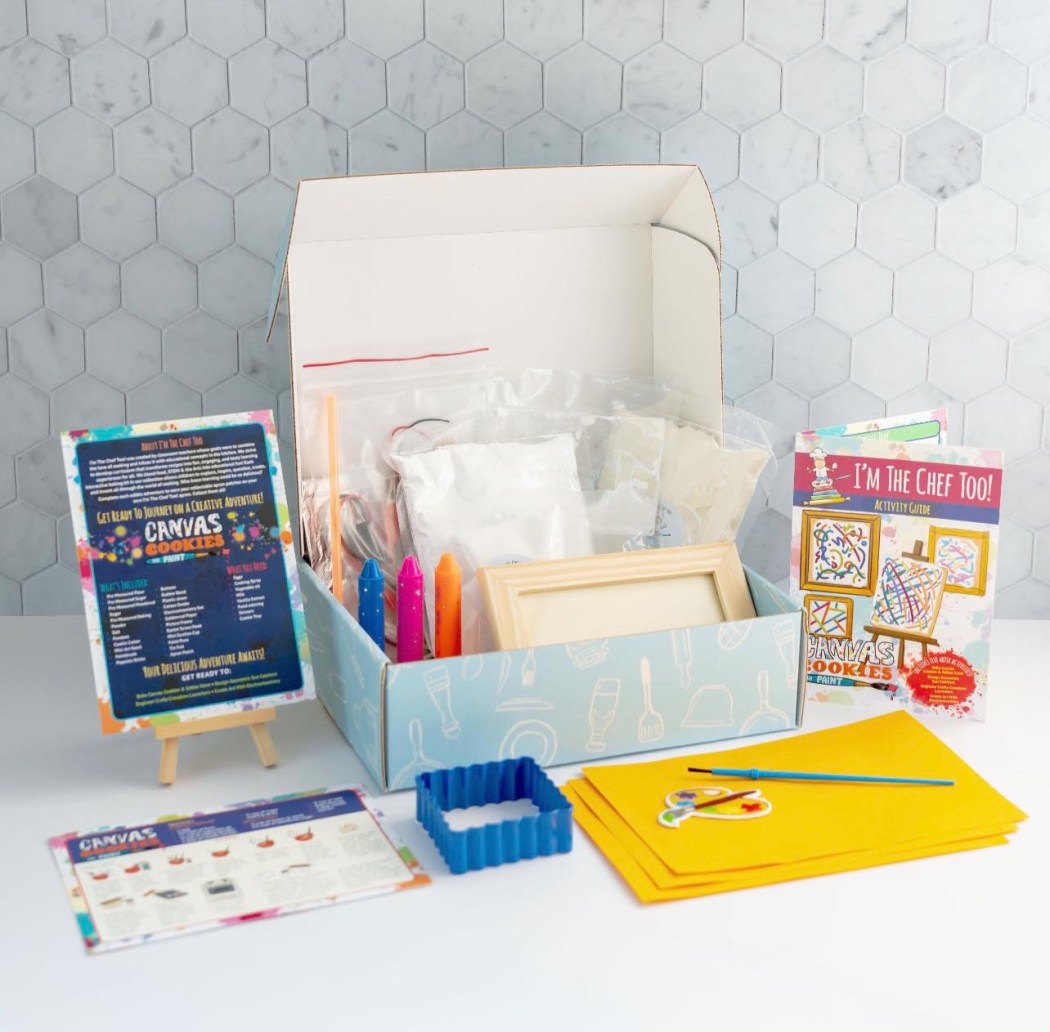 Image from: I'm The Chef Too!
Why We Love It: Kids can enjoy a new adventure in the form of cooking! I'm The Chef Too! will take little chefs on an edible and yummy exploration in the world of culinary, all in the comfort of their own homes. Each educational kit comes with 1 main recipe, pre-measured dry ingredients, specialty kit supplies, an activity guide card, recipe card, a short shopping list of items needed, and STEM-themed projects, all contained in a box that'll guide you on your delicious journey. Combining food, STEM, and arts, it's one of the best subscription choices you can give your children! Boxes are themed too, which adds more fun to the already exciting method of learning and cooking! Past featured themes include Cupcake Geodes, Beach Pops, and Galaxy Donuts.
Price: A monthly box costs $38.95
Deal: Get 10% off your first order! Use coupon code NEWCHEF10.
---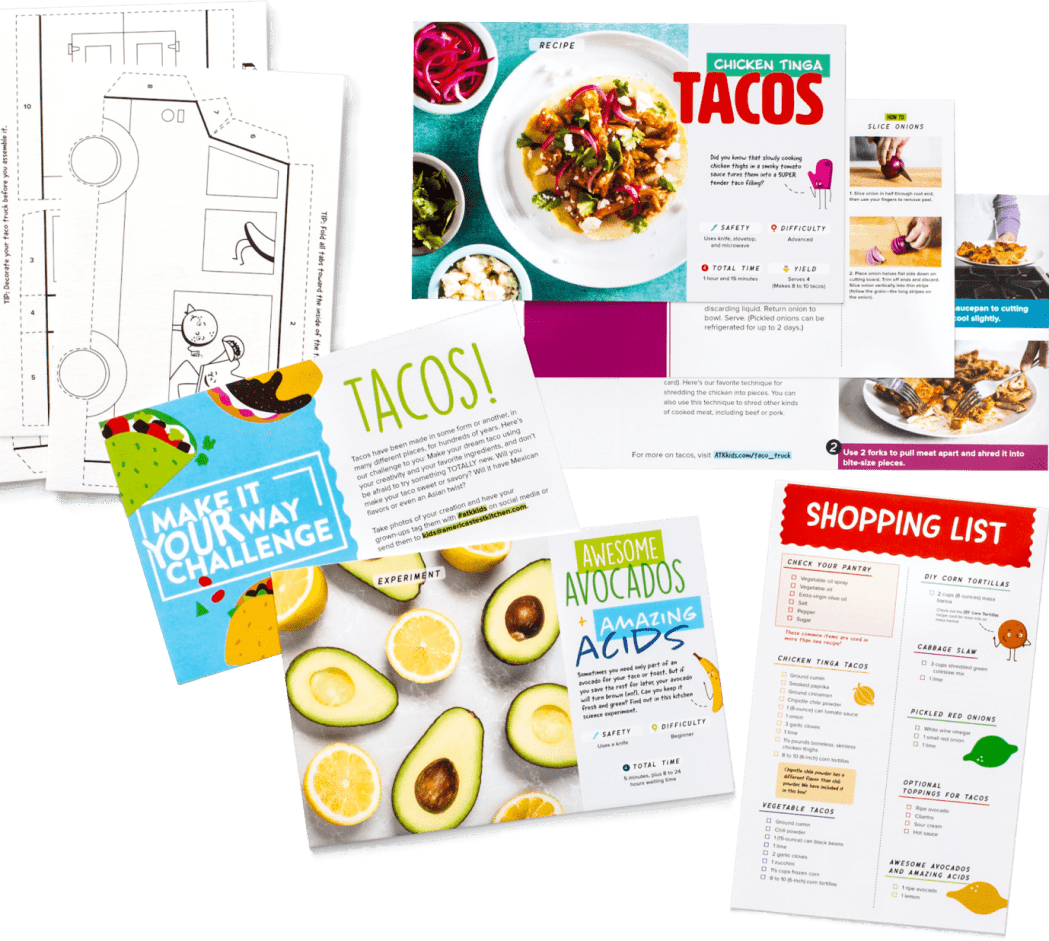 Image from: Young Chefs' Club
Why We Love It: Give your little culinary aspirant the kit they need to enhance their skills with the Young Chefs' Club. They aim to build a new generation of young & empowered cooks, engaged eaters, and curious experimenters. This kit encourages kids to take risks, embrace & learn from mistakes, and develop a healthy relationship with food. Box themes vary every month so kids can have fun learning, exploring specific ingredients, techniques, scientific subjects, and cuisine. Each box contains recipe cards, a shopping list, cooking tools, an achievement button, and a lot more!
Price: Select your program from: monthly $24.99, 6 months $131.94 (save $18), or 12 months $239.88 (save $60).
Deal: Get 10% off your first box! Use coupon code ATKKIDS10 .
---
Image from: our review
Why We Love It: Let your kids feel empowered in the kitchen with every box from Kids Baking Club. It's a subscription where they can nurture their love for baking. It includes 5 easy to follow kid-tested recipes with illustrated instructions, baking and decorating tools and supplies, shopping lists, and instant access to tutorial videos on decorating goodies from the kit. There are also new themes each month to look out for! You can also connect with other bakers on their members-only Facebook page.
Wondering what's inside every box? Check out Kids Baking Club Review.
Price: Fun-filled baking kits with different themes every other month for $29.95.
Deal: Get a FREE apron with your first box! Deal applies automatically, just visit and subscribe.
---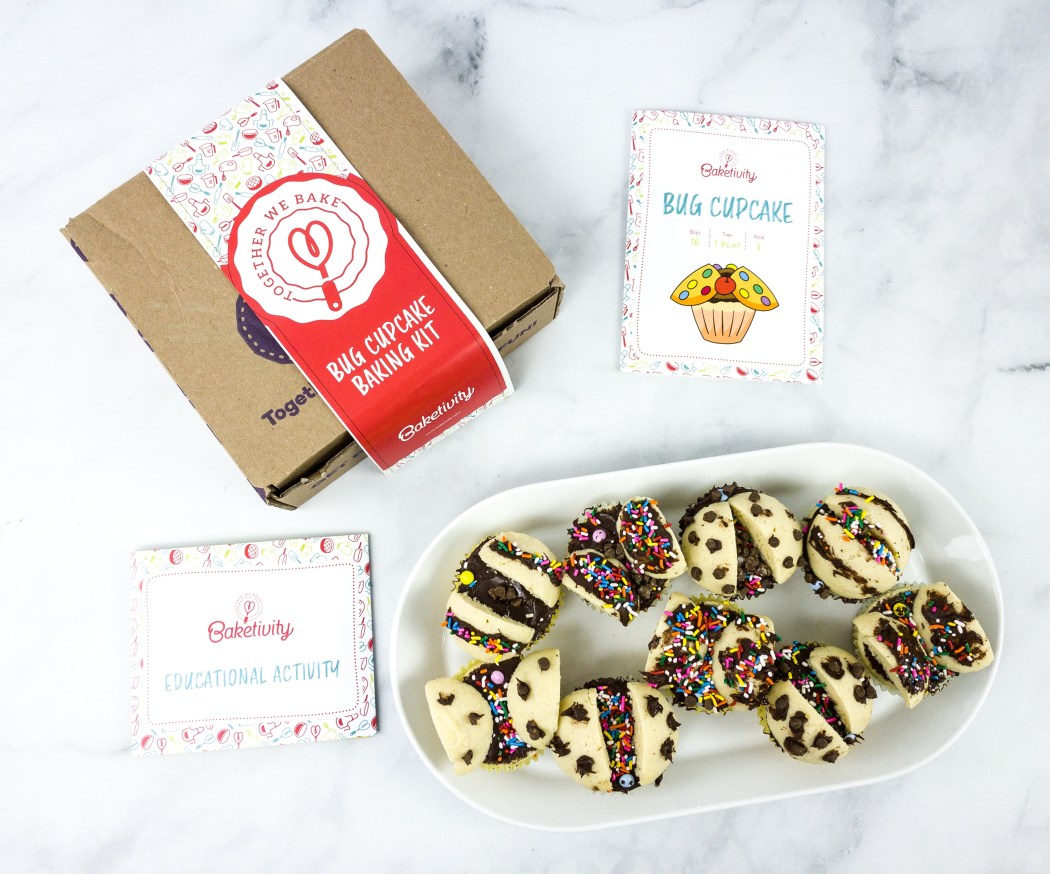 Image from: our review
Why We Love It: Create a fun bonding time with your kids when you give them Baketivity. It is a baking kit designed for children filled with activities and lessons for ages 3+. Baking is made easier as each kit includes pre-measured ingredients, a colorful kid-friendly illustrated recipe book, and educational activities to enjoy while waiting for your treat to be baked. They also have wheat-free and gluten-free options. Every kit will guarantee a fun baking experience for kids and kids alike.
Visit Baketivity Review to know more details about this subscription.
Price: Subscription costs $32.95 a month, or less for a longer plan!
Deal: Get 10% off your first box! Use coupon code hello10.
---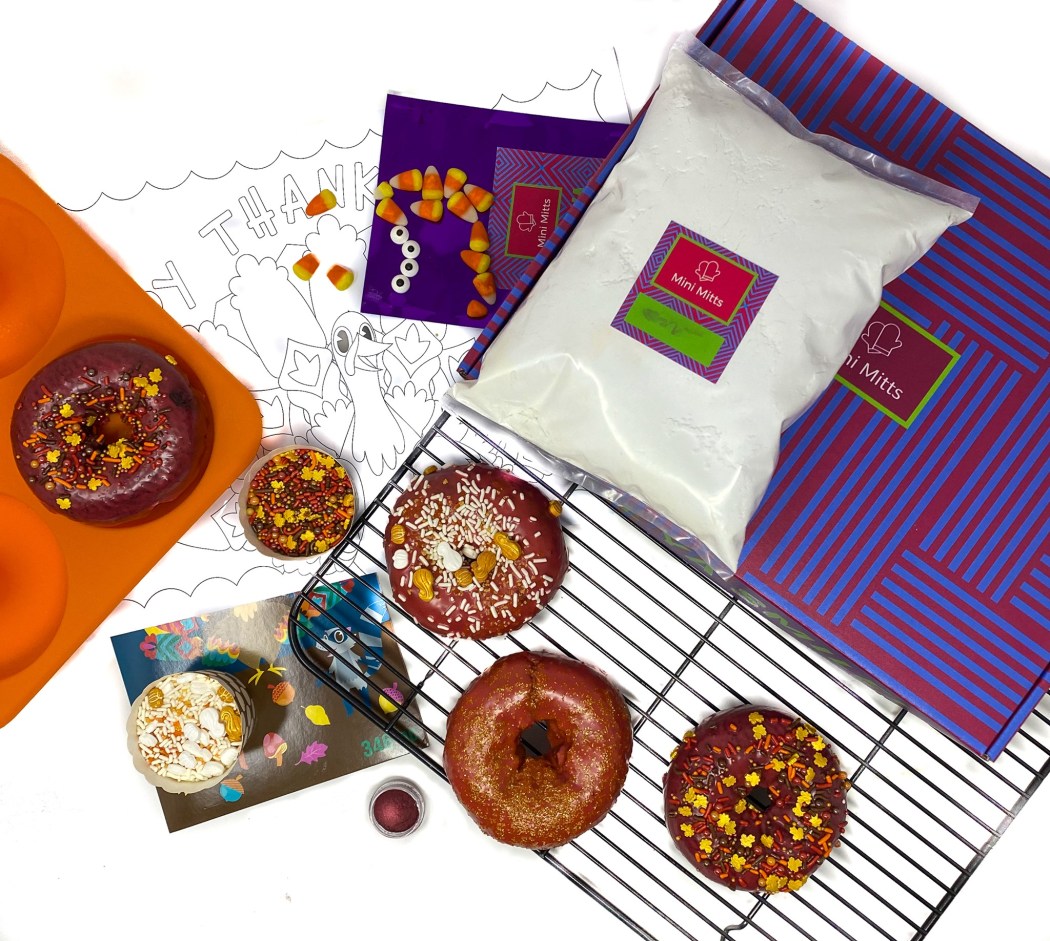 Image from: Mini Mitts Kids Baking Kits
Why We Love It: Mini Mitts Kids Baking Kits is passionate about giving joy through baking. They hope to bring those same good vibes to more kids in more kitchens and beyond by offering baking kits. Expect non-perishable, pre-measured, carefully packed ingredients, step-by-step instructions, and fun activities like games and puzzles in every box. Have fun while waiting for the oven to do their thing. Prepare yourselves to be surprised because there's something cool and new each month!
Price: The Kids Baking Kits costs $34.99 each month.
---
And that sums up our list of the best kids cooking subscription boxes! Which one is your favorite?
Find more must-try subscriptions on our list of all the best subscription boxes in every category!
Say Hello To More Subscriptions For Kids!