Reading is not only a fun pastime, but it's also crucial for children's cognitive and language development. Children's book subscription boxes come in handy if you want to introduce the little ones to new books and encourage them to read!
Book subscriptions for kids deliver a carefully curated selection of books straight to your doorstep, ensuring that your child always has fresh reading material that's age-appropriate and tailored to their interests and reading level. Whether your little one adores colorful board books, enjoys poring over picture books, loves rhyming tales, or is ready for chapter books, subscription boxes make it easy to find books that are up their alley.
Show More (8 items)
Many subscription boxes include fun activities and bookish surprises that complement the stories and make reading a more immersive experience for kids. For example, some boxes may include puzzles, games, or crafts that tie into the book's theme, encouraging children to engage with the story in a more hands-on way. Other boxes may include stickers, bookmarks, or other book-related items that kids can use to decorate their reading nooks or show off their love of books.
We've put together a list of the best children's book subscription boxes, each carefully curated to provide a fun and educational reading experience for your child. Give the gift of reading to your young bookworms today, and watch them thrive!
The Best Book Subscription Boxes For Kids!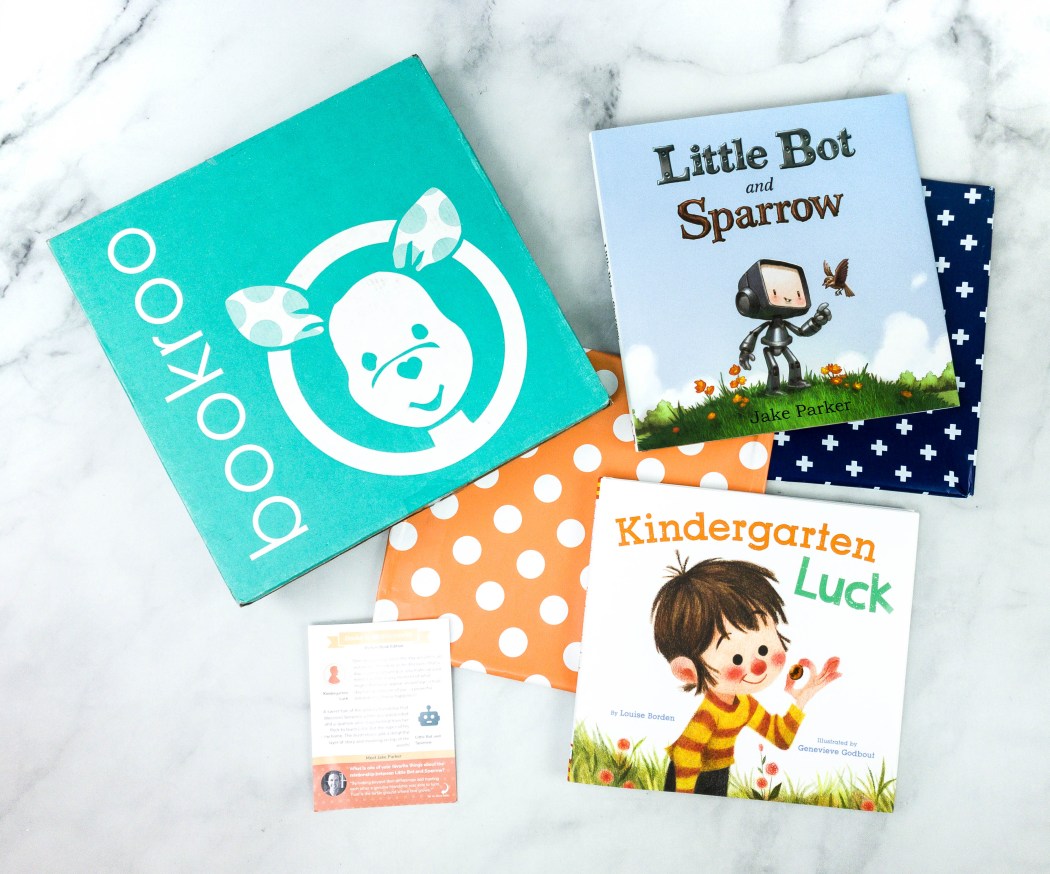 Image from: our review
Bookroo is one best book subscription boxes for kids, and we know why! Books are chosen by its in-house reading experts in collaboration with librarians, parents, and other kids to make sure everything they send to subscribers is precisely what young readers love. Expect a lot of hidden gems and build a home library of quality books! Currently, they offer a Board Book Subscription for ages 0-3, a Picture Book Subscription for ages 2-6, a Junior Chapter Book Subscription for ages 7-10, and a Middle Grade Chapter Book Subscription for ages 9-12. The books come gift-wrapped for an extra special surprise!
Deal: Get 15% off on any subscription! Use coupon code BOOKS2LOVE. Gift Subscription not included. Cannot be combined with any other offers.
---
Image from: our review
With Owl Post Books, young members of the book-loving community can get a fun and interactive monthly book club in a box. This subscription is designed to spark a love of reading by sending your kids three titles each month, and it comes with a fun theme too! Book boxes to choose from are Imagination Box and YA Fantasy Imagination Box, which also both come in mini sizes. The subscription plans are available for ages 0-3, 4-7, 8-10, Tween 11-13, and YA. Aside from age-appropriate books, they also include a unique-themed seasonal craft that kids can enjoyably create and play with!
---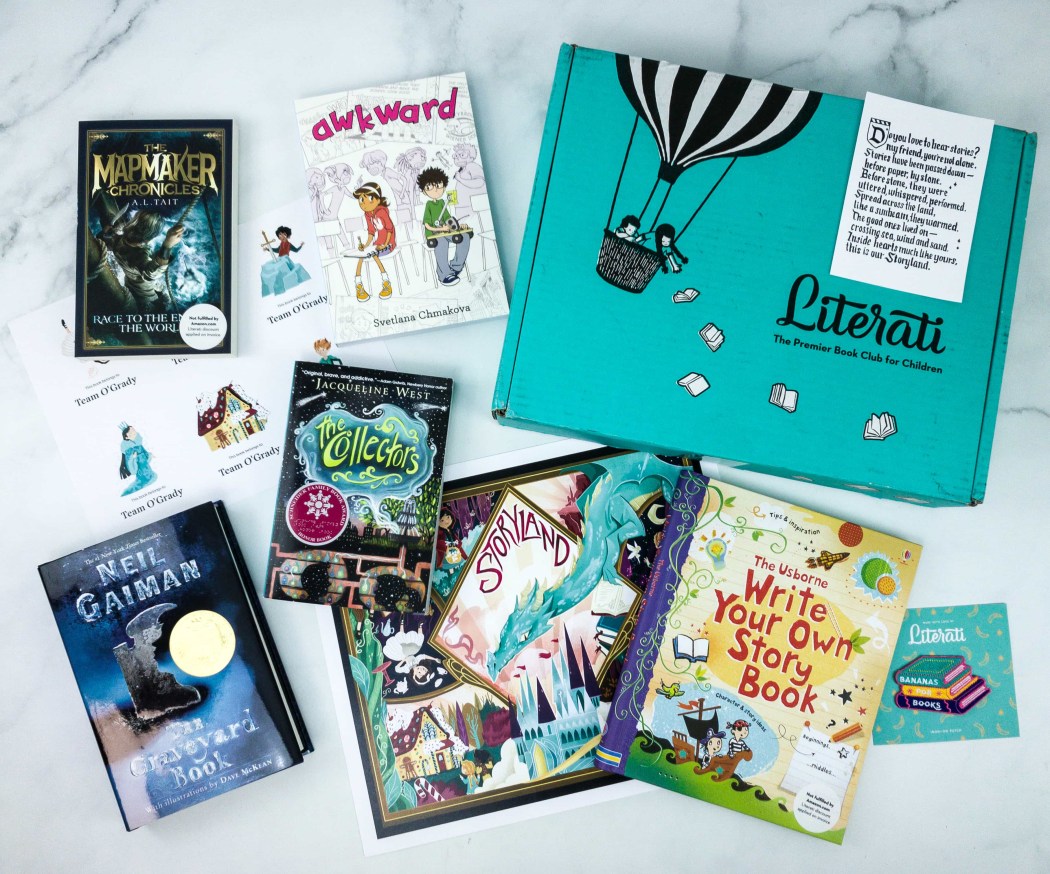 Image from: our review
Literati Kids is a unique monthly kids' book subscription that lets you try before you buy. They'll send five personalized book picks that you can try out for a week and decide later on which exactly to add to your home's library! Each box contains world-class stories that create conversations and sparks the imagination, plus bookish surprises. What's even amazing is they adapt to your reader's interest to curate boxes that you and your little human can truly appreciate! Purchase the ones your kids love and return the rest in an enclosed prepaid mailer (just make sure that they're in totally new condition). Shipping is free both ways too!
---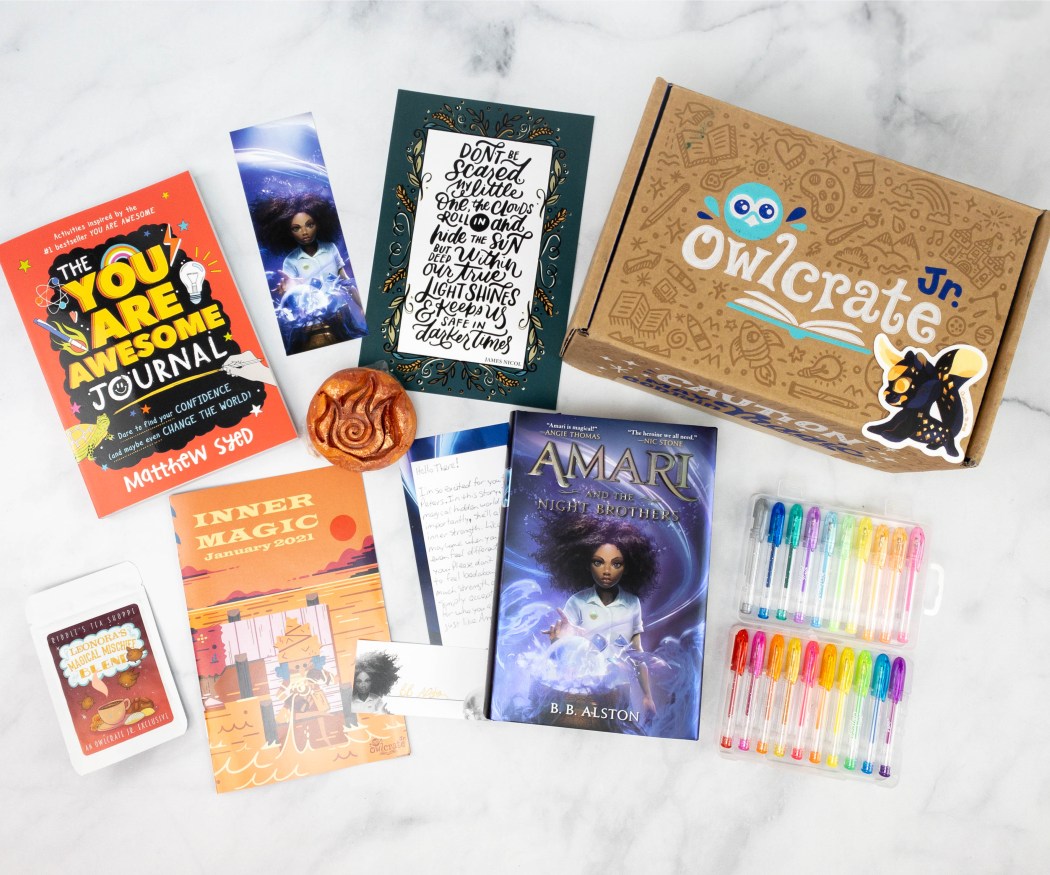 Image from: our review
For kids who fancy reading, OwlCrate Jr. is the way to go! This subscription offers screen-free time to young readers, specifically kids ages 8 to 12, by sending a middle-grade book with an exclusive letter and signed bookplate from the author. It also includes 4 – 6 fun and gender-neutral bookish items designed to enhance the kids' reading experience! Everything is wrapped in a magically themed package that kids will love to unbox! Past themes include Winged Beasts, Home Sweet Home, Epic Quests, Magic in Bloom, and more.
---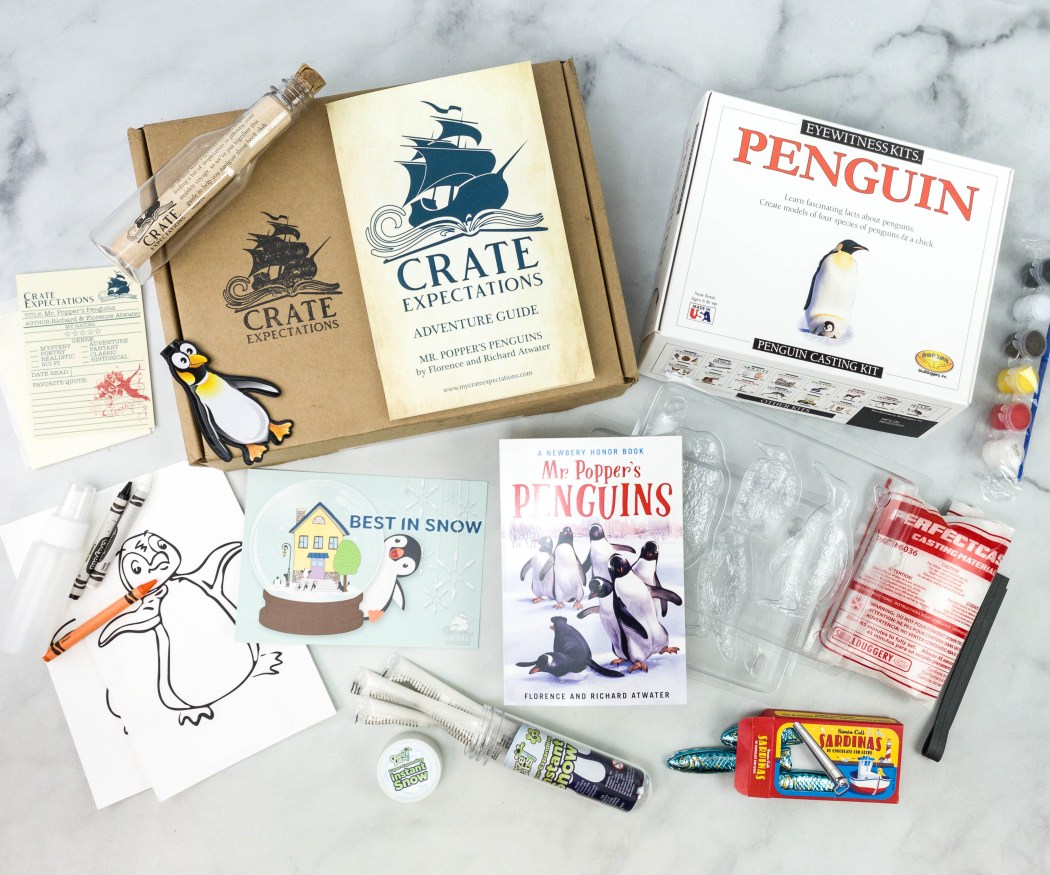 Image from: our review
With Crate Expectations, kids can unlock their imaginations and make fun memories by taking their love for reading to the next level! It is a monthly book club-in-a-box for kids ages 8-12, helping children build lasting relationships with books by sending them on a literary adventure. Each box includes a carefully selected book paired with educational toys or games, a bookish snack, STEM activities & supplies, a book-inspired recipe and menu ideas, and more, allowing them to explore and imagine, make memories, and share the adventure with others! On top of it, they donate to a charity focused on children's literacy for every box purchased.
---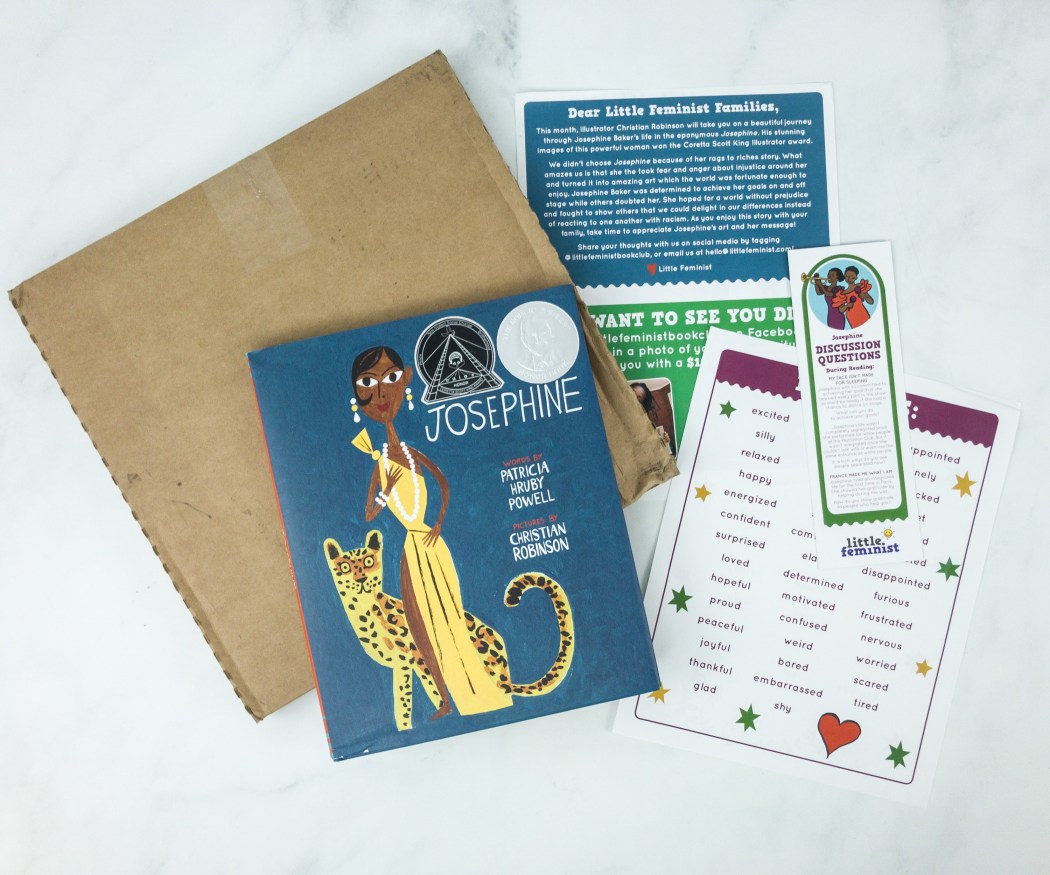 Image from: our review
Little Feminist Book Club is a monthly book subscription that promotes equality and empathy for everyone – genders, races, and families. They curate boxes based on age, and there are currently four subscriptions available: 0-2 years old, 2-4 years old, 4-7 years old, and 7-9 years old. Subscribers will receive 1 to 2 hand-picked books related to the principles of feminism and equality, along with hands-on activities or DIY play ideas that'll add up to the fun! They even incorporate discussion questions to understand the concepts further, as well as a parent's letter that explains why they chose the book(s).
Deal: Get 15% off on all new subscriptions! Use coupon code HELLOSUB.
---
Image from: Momo's Book Club
Momo's Book Club makes it easy for parents to build a diverse home library for budding readers. This subscription sends monthly book packages, providing parents and their kids the same language and context to learn and discuss different stories, topics, cultures, and themes, such as dealing with bullying or strong female characters. Each month, receive 1 to 3 carefully curated books (depending on your chosen plan) that you and your little one can enjoy reading aloud. The books they send are even colorfully wrapped for your young bookworm's enjoyment!
Deal: Get 20% off! Use coupon code HELLOMBC .
---
Image from: Book and Bear
Book and Bear is a fun bookish surprise for children! This subscription combines the fun of building a stuffed animal toy and reading in one box! Monthly packages are specially curated to delight children with fun and educational books, the pride of building their plush animal, and a little extra surprise gift or activity — all while creating memories. Choose if you want picture books for your little reader or 2 chapter books for a more advanced read. There is also the Baby Subscription box for ages birth to 3! It sure is a one-of-a-kind stuffed animal/reading adventure they'll treasure!
Deal: Get 20% off your first monthly box! Use coupon code HELLO20. Applies only to monthly plan, not multi-month commitment plans.
---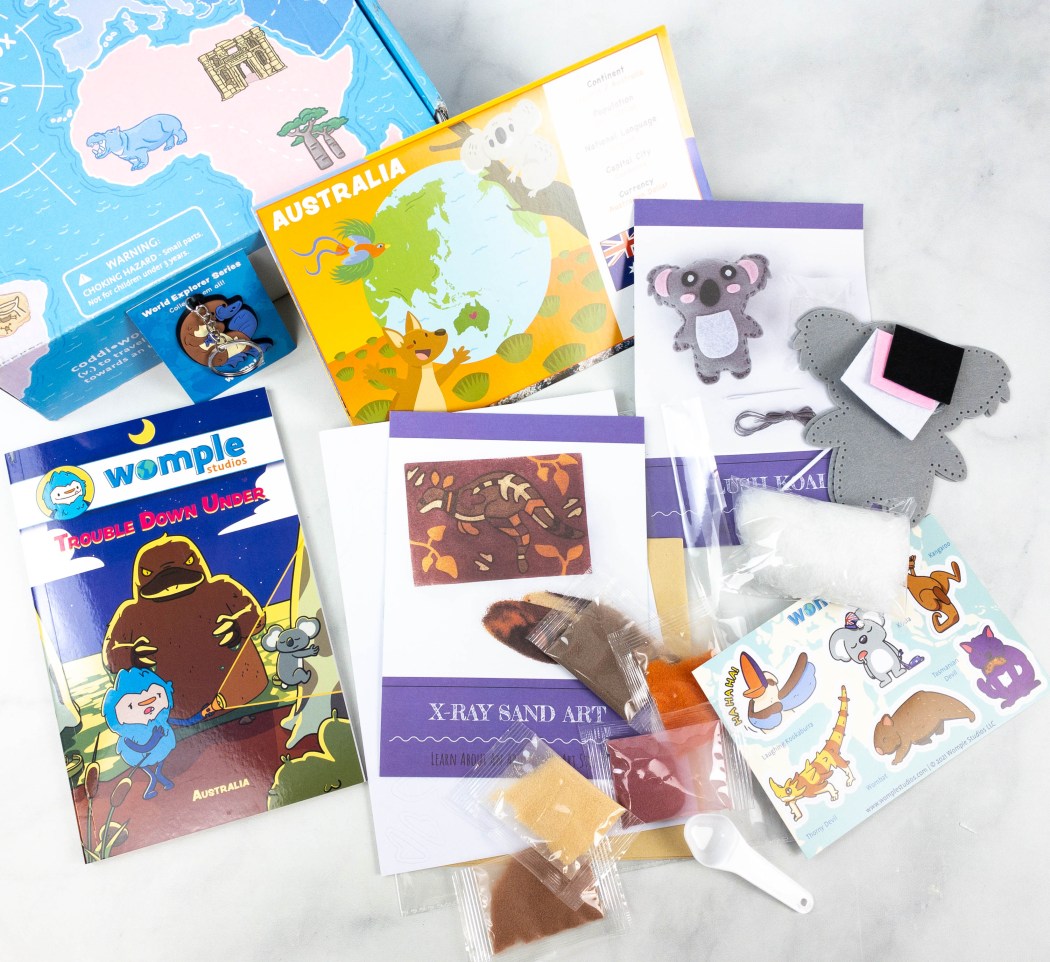 Image from: our review
With WompleBox, you and your kids can travel to different countries around the world from the comfort of your home. Created for kids who love adventures, each package will include fun letters and engaging activities about a new off-the-beaten-path place in the world. It contains an illustrated chapter book, two culturally significant STEAM projects, a map, and a country guide with fun facts, recipes, culture, history, art, and activities. There are also other goodies, such as a collectible keychain, stickers, and a lot more! The box encourages reading through storytelling, motivates one to explore more, and cultivates creativity, all at the same time.
Deal: Get $5 off any subscription Use coupon code HELLOWOMPLE.
---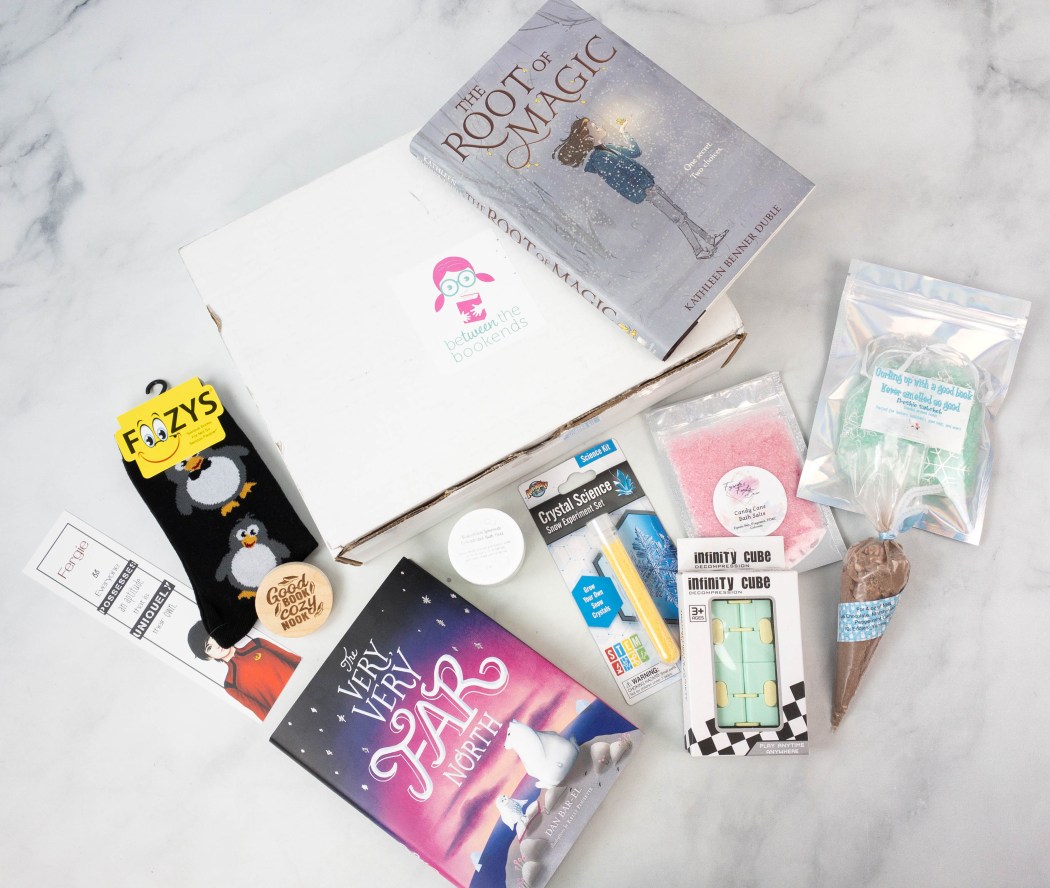 Image from: our review
beTWEEN the Bookends is a book-themed subscription for bookworms ages 9-13 (Tween), 6-8 (Early Reader), and 4+ (Read to Me). Although the box does center around books, you'll find fun goodies along with it too! There are four subscription boxes to choose from to encourage kids to read more. Choose the Full-Size Box and expect at least two books, a bookmark, and 6-8 age-appropriate beauty or lifestyle items. There is also the Mini Box, which contains half of the full-size box, and the Gender Neutral Box, which is generally the same as the full-size box but with items geared towards girls and boys. If you only want books to read, you may opt for the Just The Books Box. With all these good options, kids can curl up to good books and keep the joy of reading alive while having fun with other treats!
Deal: Get 15% off on your first month on any subscription plans! Use coupon code HELLO15.
---
Image from: our review
Bookroo Junior Chapter Book Club is one of four subscription clubs from Bookroo. It targets kids' love for books and reading while combining the excitement of opening a gift! It leads to the discovery of new and sure-fire favorites chosen by their in-house reading experts, with consultations from librarians, parents, and even kids. Each box includes two hardcover chapter books (one hidden gem and one admired favorite) every month with 120-280 pages in general for more advanced and long reads. This subscription is loved by most parents and readers, in addition to Bookroo taking the first spot!
Deal: Get 15% off on any subscription! Use coupon code BOOKS2LOVE. Gift Subscription not included. Cannot be combined with any other offers.
---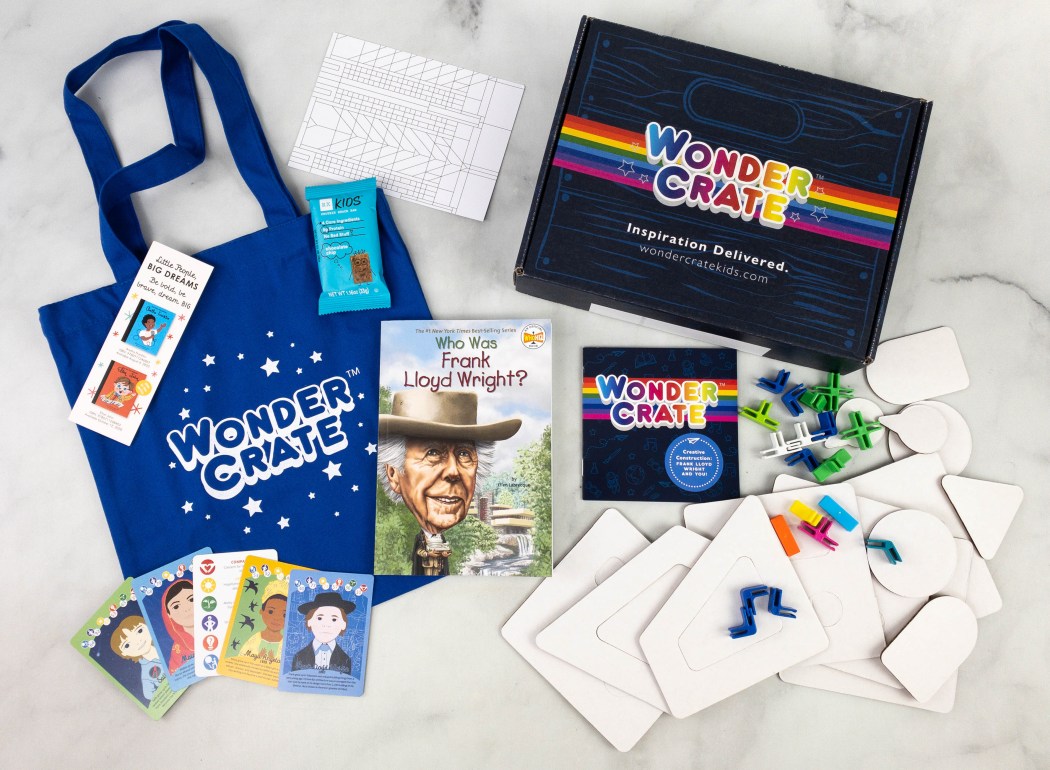 Image from: our review
Wonder Crate is an educational learning subscription box for kids aged 7-11. This subscription helps the younger generation to decide what they want to be when they grow up and inspire them to be good citizens of the world, be courageous, and to pursue their passion! Each box includes a biography from the 'Who Was' book series, hands-on activities, and a guide for parents. Past books have featured Bill Gates, Louis Braille, Steve Irwin, and Nikola Tesla. Everything in the box is meant to educate, motivate, and empower kids to discover and share their strengths with the rest of the world.
Deal: Get 10% off any subscription! Use coupon code WONDER10.
---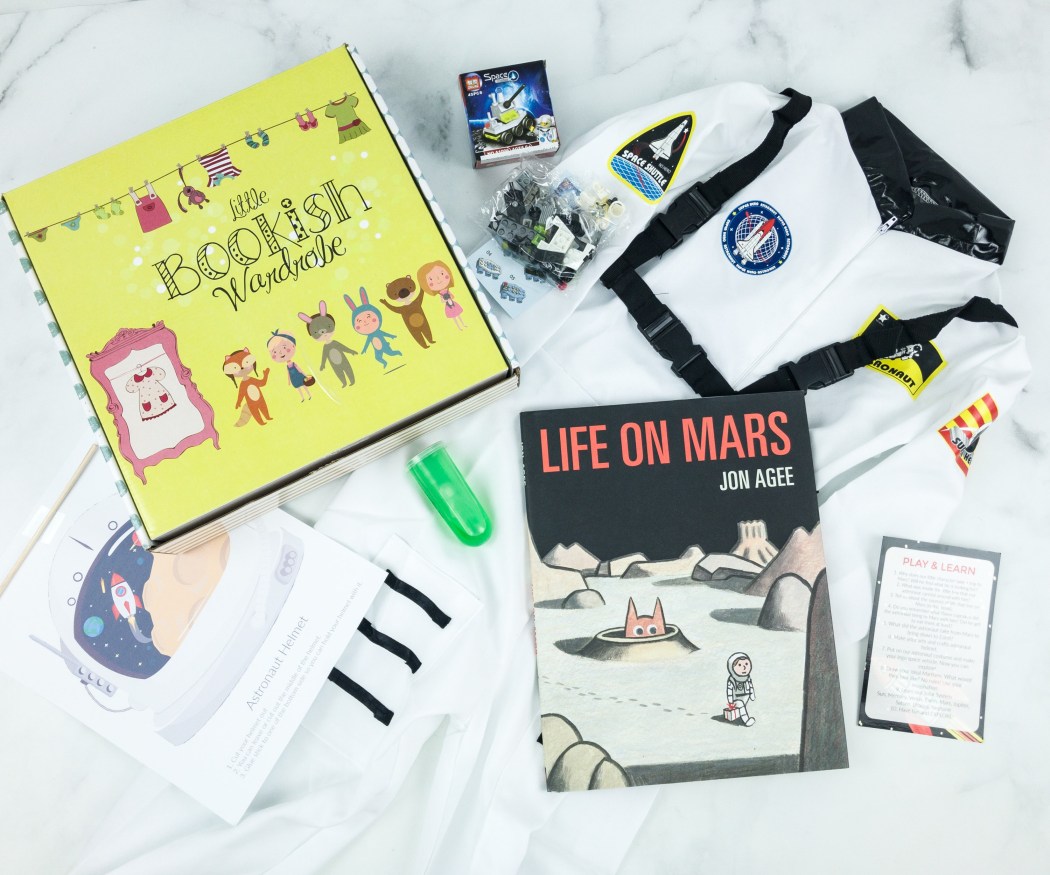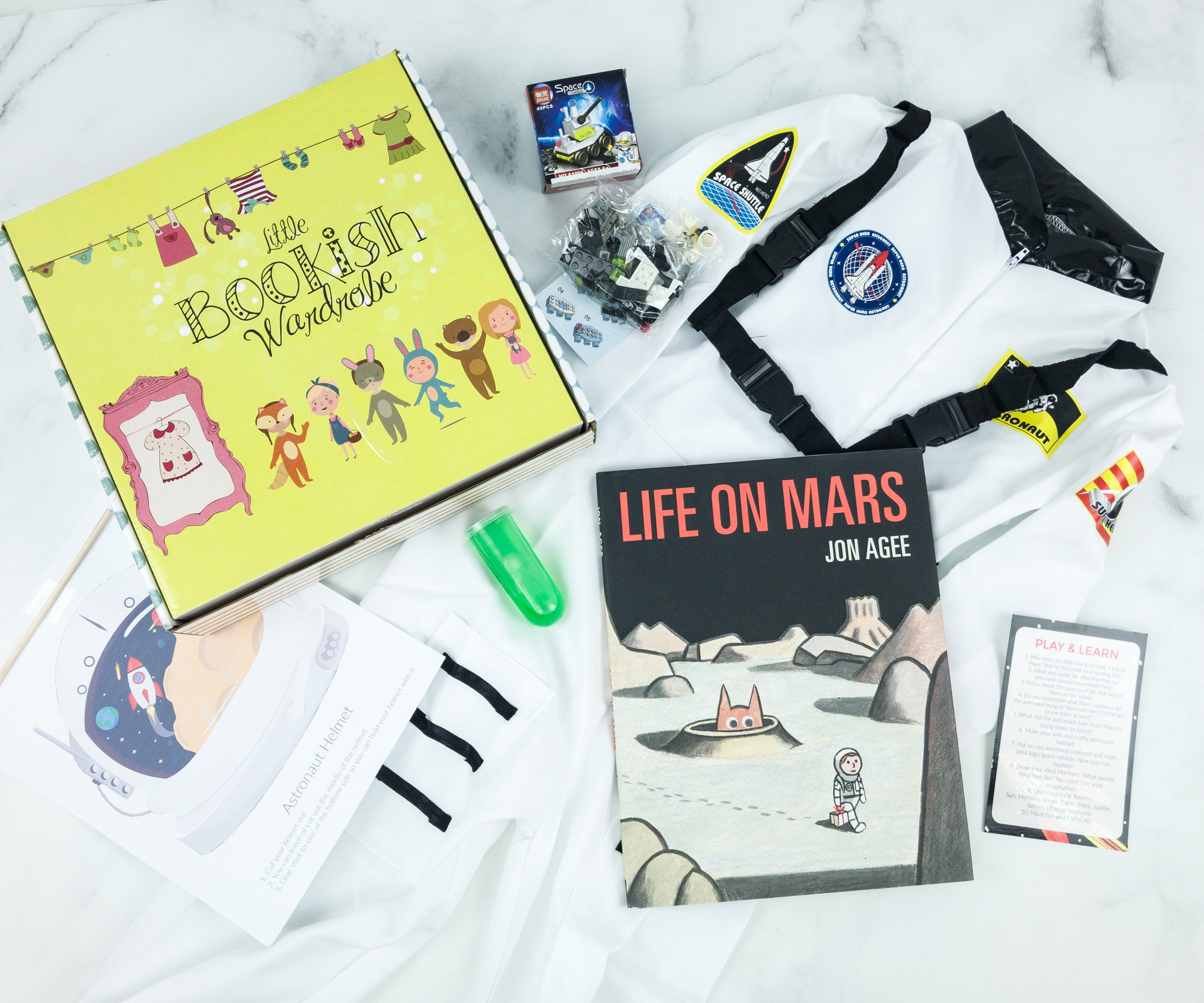 Image from: our review
With Little Bookish Wardrobe, reading books and acting out the stories is so much fun! This monthly kids' subscription sends an exciting book to read, along with unique costume pieces and accessories that match the theme and characters in the book. Each box also includes an arts and crafts pack and a challenge for the month for more interactive and engaging child's play! Kids can nurture their love for reading, and at the same time, make use of their imaginations to act out particular scenes in the story, creating hours of fun and a one-of-a-kind reading experience they'll never forget.
Deal: Get 10% off! Use coupon code HELLOBOOKISH10.
---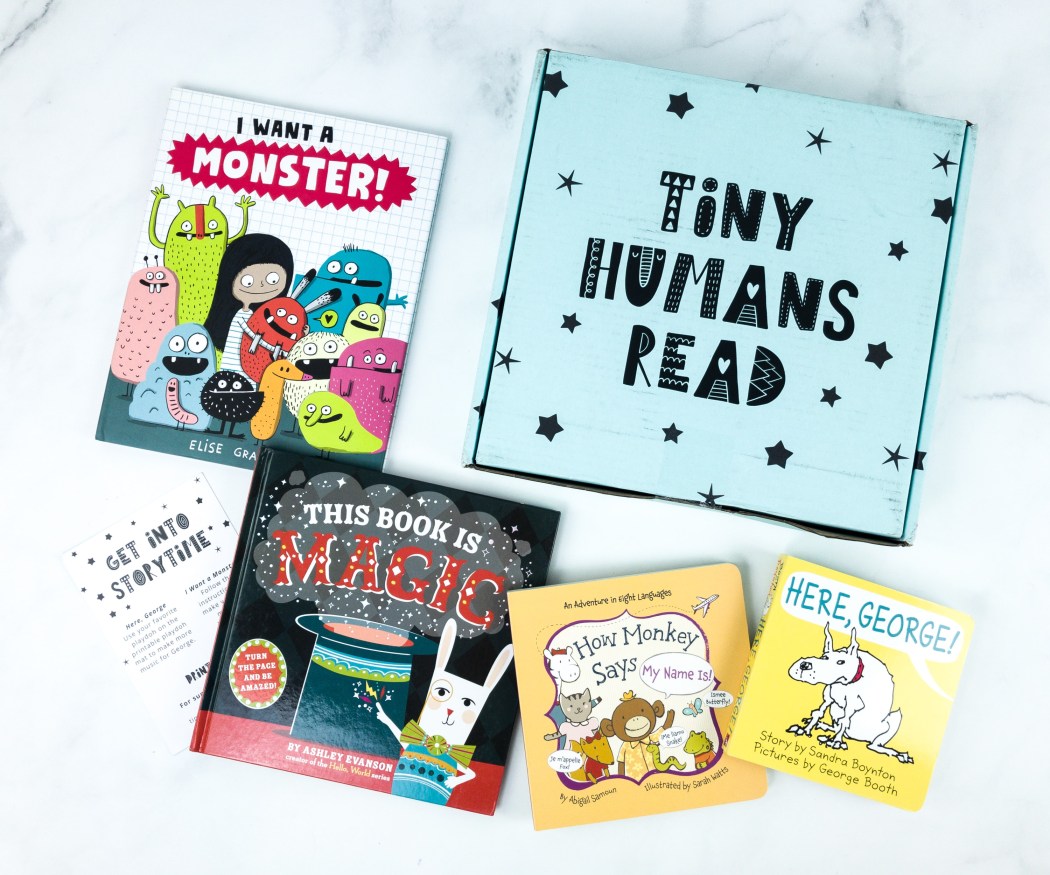 Image from: our review
Let your tiny human explore and find out about the joy of reading with Tiny Humans Read. Each month, your newborn or kids up to 8 years of age will get a collection of whimsical stories they will surely treasure! You can choose the book box that's perfect for your family: Board Book Box (newborn-3 years old), Picture Book Box (3-8 years old), or Sibling Box (mixed age books). Boxes also include bonus activities, allowing kids to get into the storyline! What's notable about this book subscription is they donate 1% of profits to 826LA, a non-profit providing early literacy programs and tutoring to children.
Deal: Get 10% off your first box! Use coupon code HELLO10.
---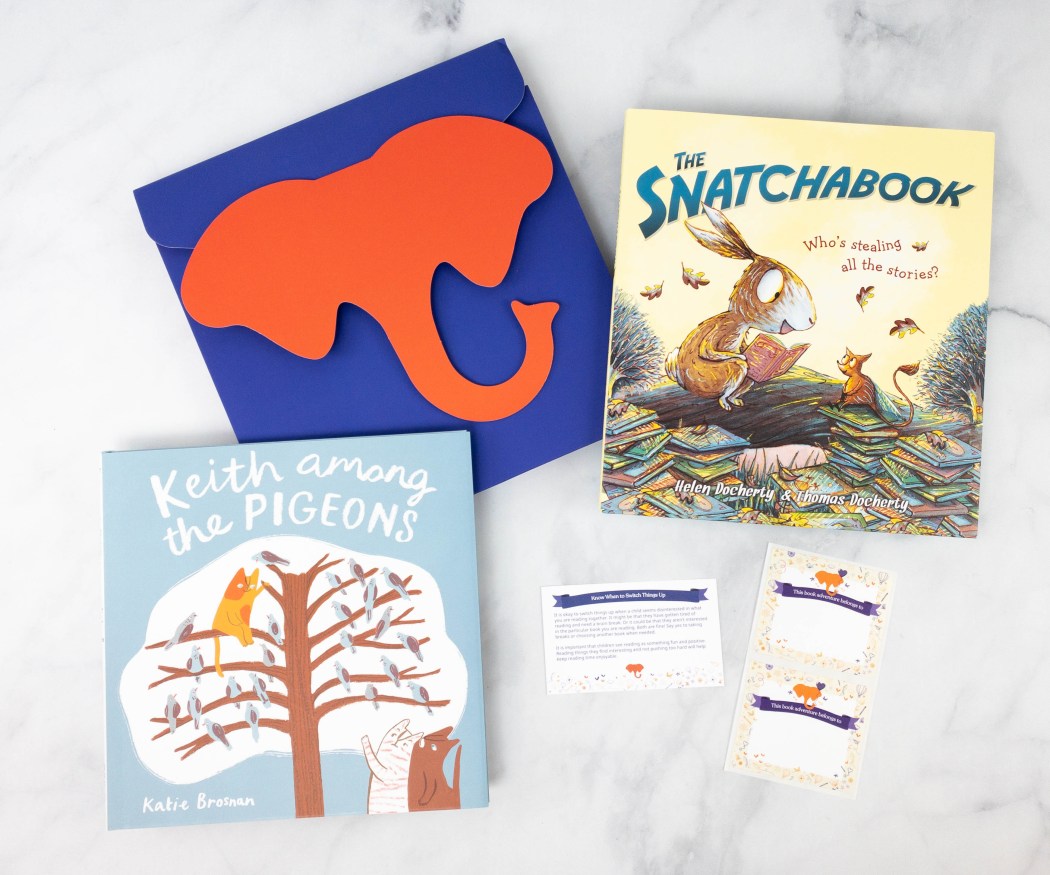 Image from: our review
Nurture your kids' love for reading with the help of Elephant Books. This monthly book subscription sends age-appropriate books straight to your doorstep. Receive 2-3 books depending on your chosen plan, along with some fun activities to make reading more fun and engaging for young readers! The Board Book Package is for 0-2 years old, and it includes three board books and bookplates, while the Picture Book Package is for 2-6 years old and has two picture books, library cards, and self-adhesive envelopes. Book selections are great for reading aloud to kids, making a fun bonding moment for the family!
Deal: Get 20% off your first box! Use coupon code HELLO.
---
There you have it, our best subscription boxes for kids' books!
If you want to try more awesome subscriptions, check out our list of all the best subscription boxes in every category!