Craft and DIY subscriptions are great for people of different ages and even walks of life! Most people can spend their time making their own crafts and projects, and use their spare time productively. The crafts can also spearhead future bigger projects like a business, or help kids develop their creative talents. From quilting to painting to paper crafting, these subscriptions send materials and instructions so all you have to do is get going!
Our readers have voted for the best ones, and here are the subscriptions they hailed as the best craft and DIY subscriptions for 2021! More subscriptions await you on our full list of craft and DIY boxes!
The Best Subscriptions Our Readers Recommend Most for Craft and DIYs!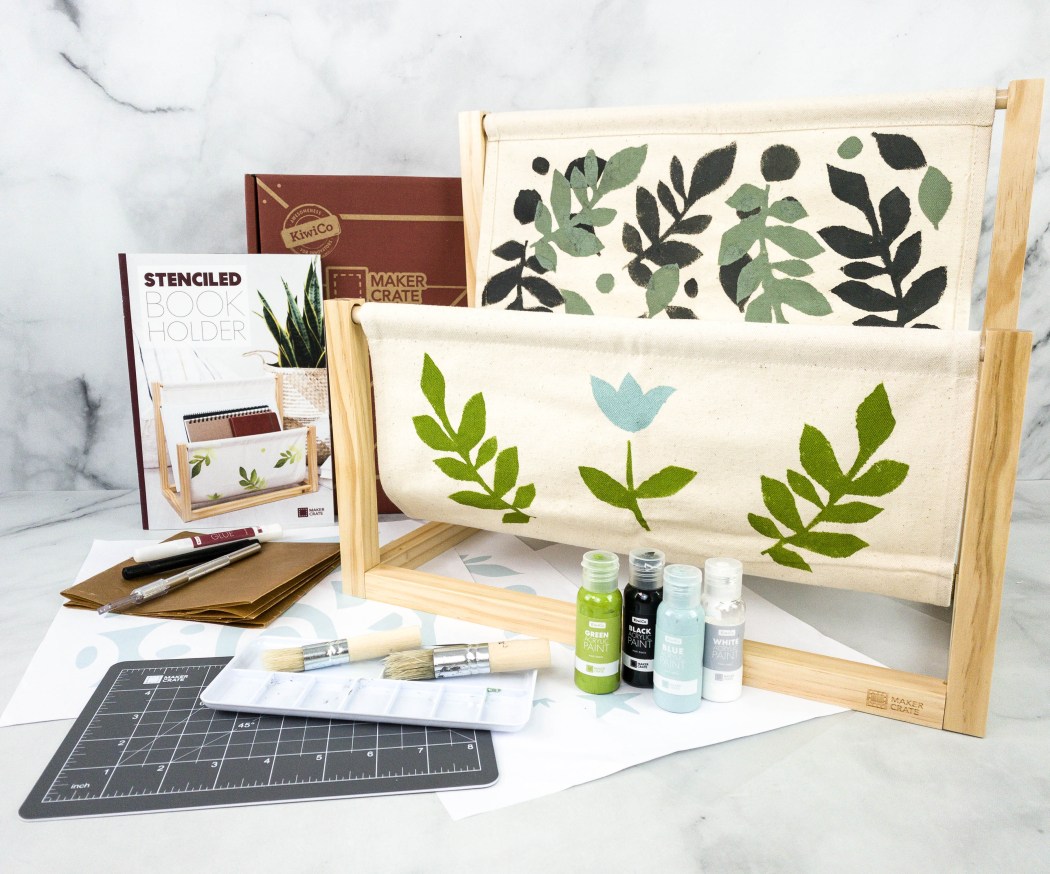 Image from: our review
What You Get: Maker Crate is great for engaging adults and teens in discovering new art and design tools! Each crate will include not just the materials and tools to help you create, but it also introduces you to new techniques, and have them take a look at world applications and history behind each art form.
More about this box at our Maker Crate by KiwiCo Reviews!
Price: You can get the box for $31.95 each month, with savings for longer plan options plus free shipping.
Deal: Save 50% on your first month! Use this link to get the deal.
---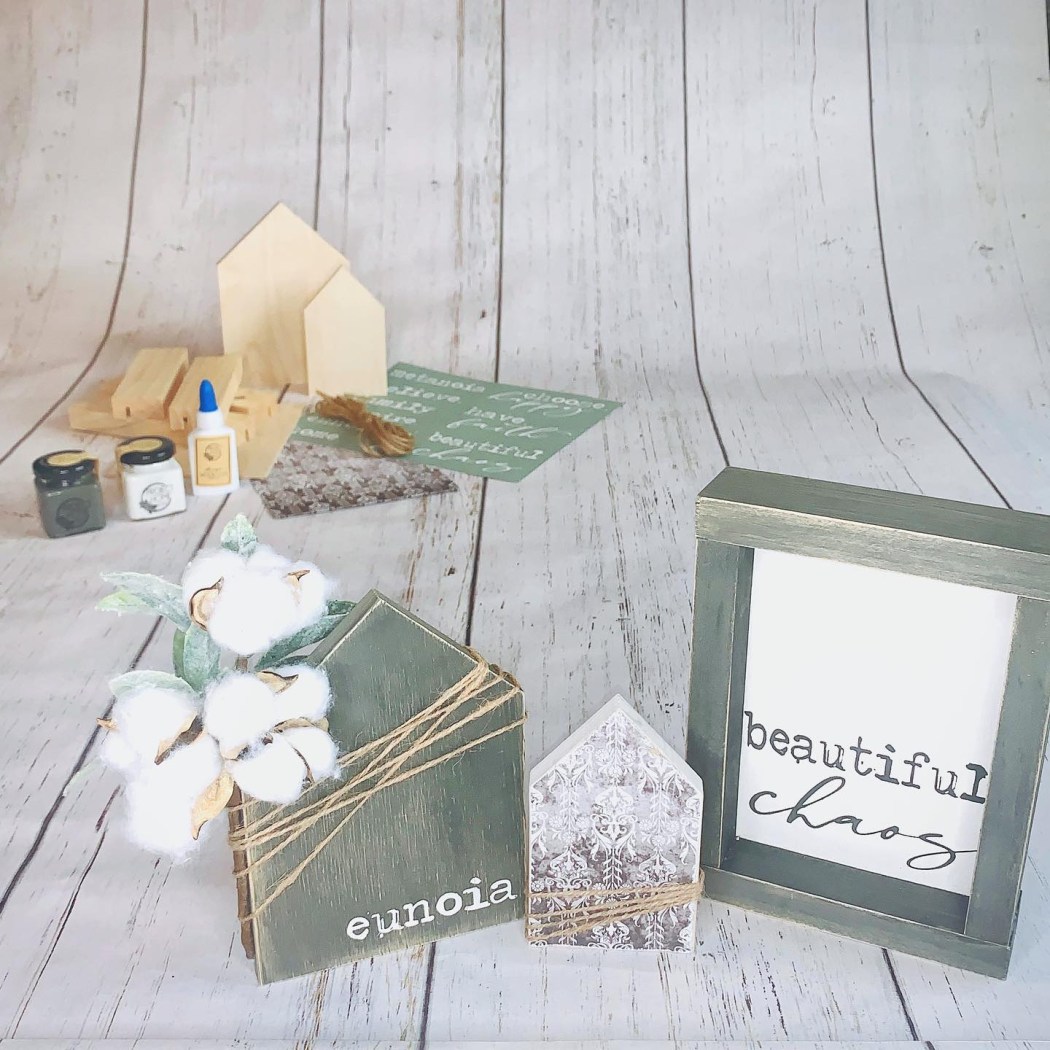 Image from: Project Home DIY
Fun, fashionable, and fairly priced! I get to learn new craft techniques, try projects that I may not have chosen on my own, and have some me-time while crating! – MamaMel

I absolutely love Project Home DIY! I started it to help teach me new crafts so I wasn't doing the same thing over and over. It has paid off! I love that you get instructions (if needed), all the supplies with extras and the Facebook group is wonderful! So many crafty people who may change the project which just gives me even more ideas! Project Home DIY has given me confidence to complete other projects I never would've imagined doing before. – Emily

I seriously am obsessed with this! I love to craft, but I lack the imagination to come up with ideas. So fun! I recommend to everyone! – Brenda H
What You Get: Give your home a fresh, new look by decorating it with DIY furnishing that has a personal touch. There's no need for you to rush to the store to buy home décor because Project Home DIY will send everything you need directly to your door each month. The box contains the supplies and the materials so you can create your very own DIY home décor that will accentuate your home! You'll also gain access to a video tutorial and written instructions, where you can learn techniques and tips to complete your DIY project. As a first time subscriber, you'll get a starter kit that includes a glue gun, glue sticks, paintbrush & sanding block.
Price: Ships every month for $49.99.
Deal: Get 15% off any new subscription! Use coupon code NEWVIP15.
---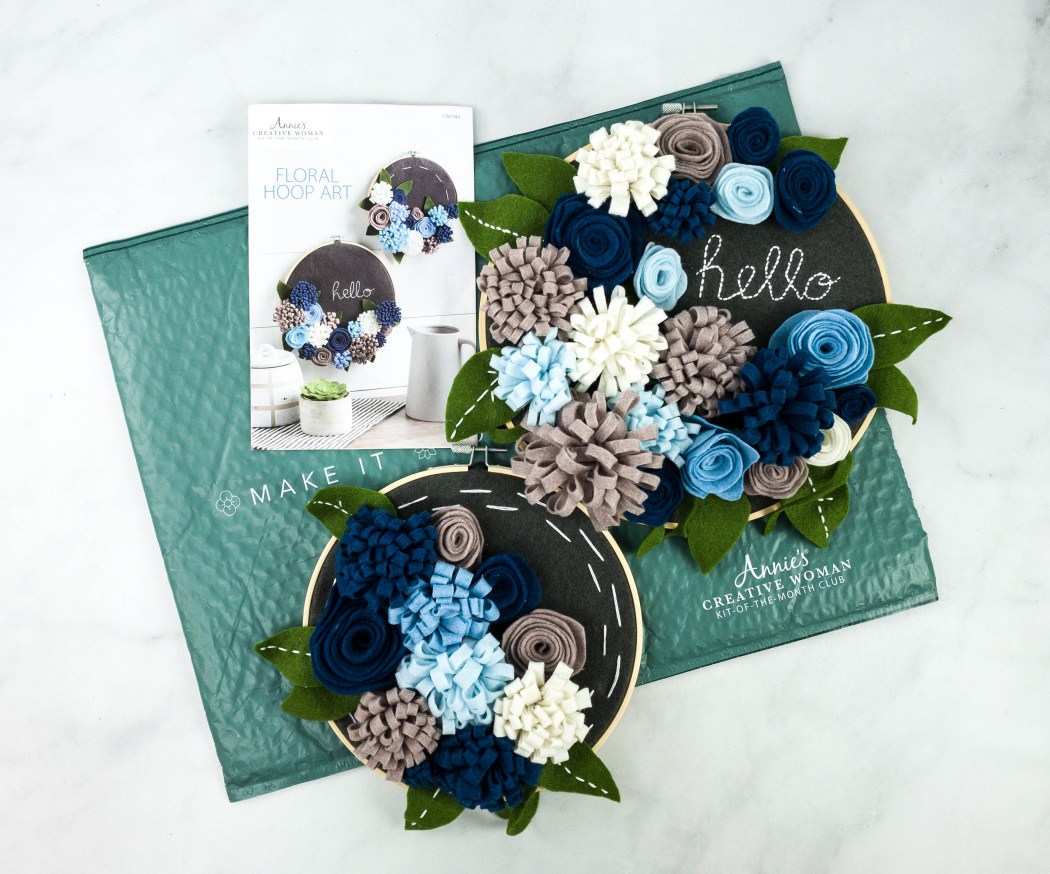 Image from: our review
What You Get: If you love gifting items with a personal touch, Annie's Creative Woman Kit-of-the-Month Club is just perfect for you! The kit gives you everything you need to start creating gorgeous, handmade, and special treasures that will surely capture the hearts of any recipient. It even comes with new techniques that can expand your skillset and creativity. Hone your skill in painting, needlecrafts, beading, candle making, soap making, and more with each monthly kit. Just make something beautiful to keep your heart full of inspiration and joy!
Check out the beautiful projects we've done on Annie's Creative Woman Kit-of-the-Month Club Reviews.
Price: It costs $19.99 a month, plus $5.95 postage and processing ($6.95 in Canada).
Deal: Get 50% off your first month's kit on any clubs! Use coupon code SHARE50.
---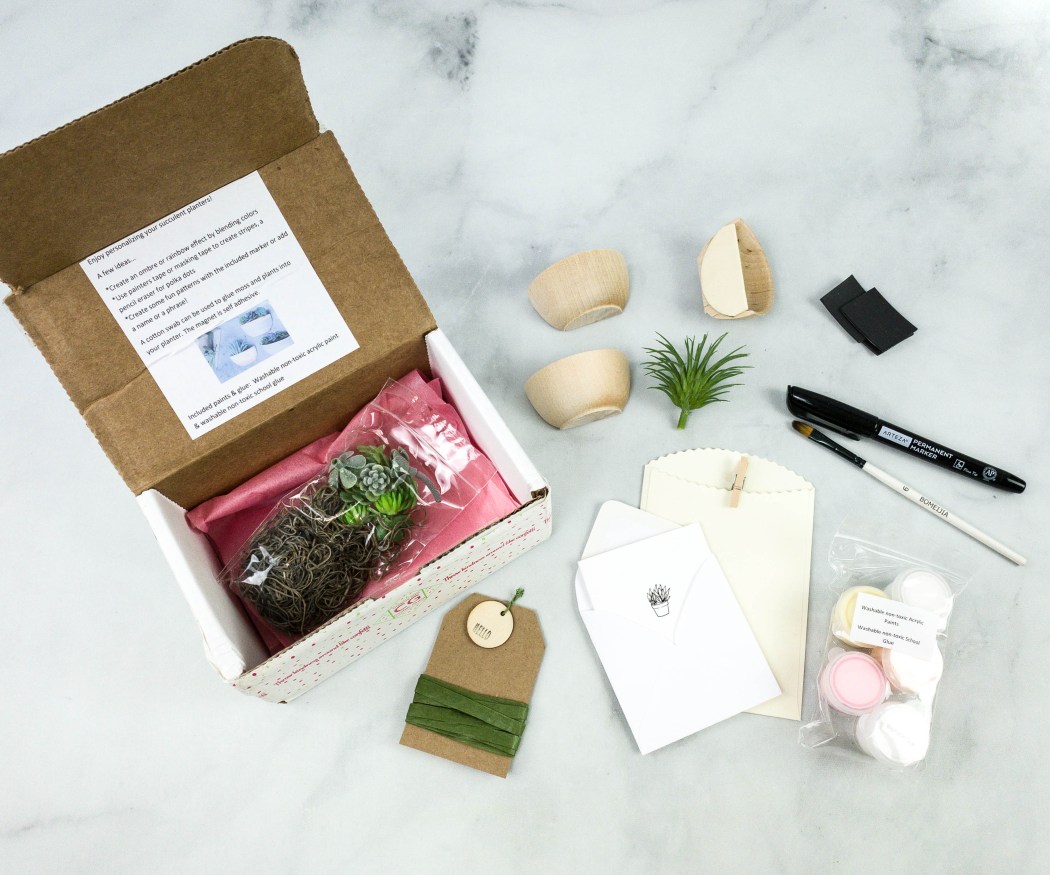 Image from: our review
What You Get: Confetti Grace sends two DIY projects that you can build with your child. It's good for kids 8 years and above, not just for adults. The idea behind having two finished products is to give one and keep one so you'll be able to spread some happiness and love around you because sharing is caring!
Here are some of our Confetti Grace Reviews for more info!
Price: You can get the box every other month for $28.95.
Deal: Get FREE Shipping on your first box! Use coupon code confetti5.
---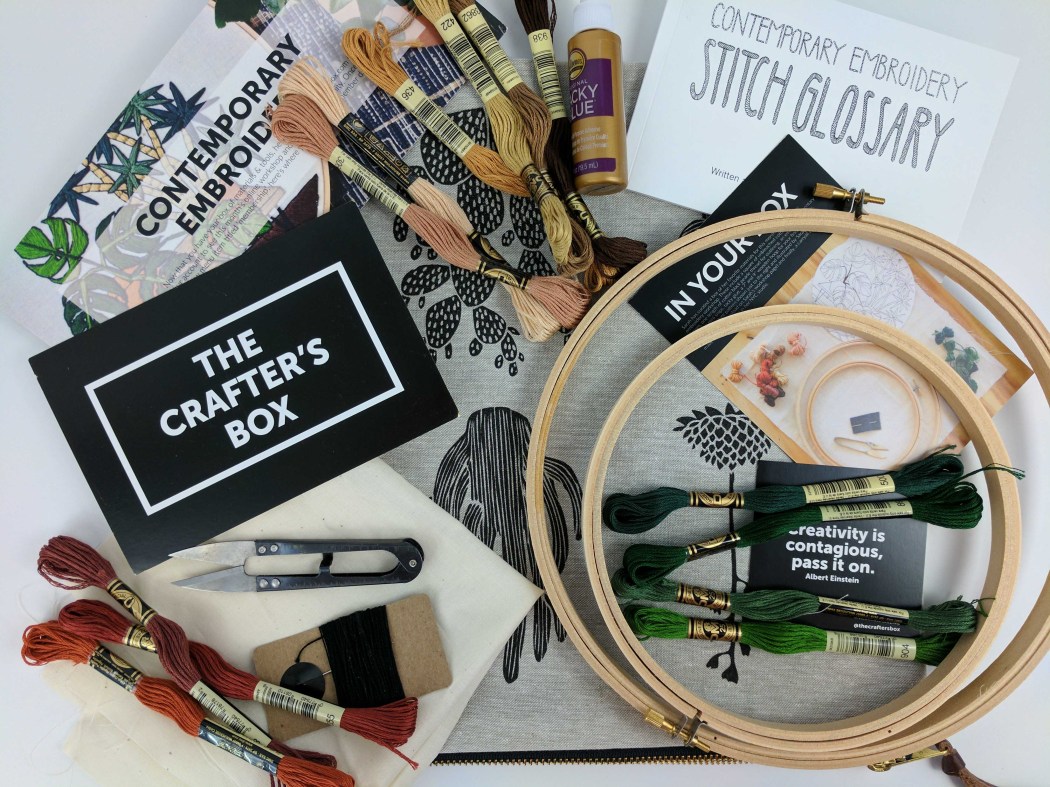 Image from: our review
What You Get: Unleash your inner creative persona and be the artisan you want to be through The Crafter's Box. A workshop in a box, that's what defines this subscription as it lets you learn different craft techniques. It also allows you to explore new mediums and methods and practice the art of making. Create projects like tote bags, baskets, pillowcases, and even soaps. Be a crafter, and receive a box filled with the artist's favorite tools and materials along with a video tutorial led by an expert maker. With different tools included in each box, you can build your own crafting toolbox!
See what projects we've created on The Crafter's Box Review.
Price: Subscription costs $65 per month, $180 for 3 months prepaid, and $350 for 6 months prepaid.
---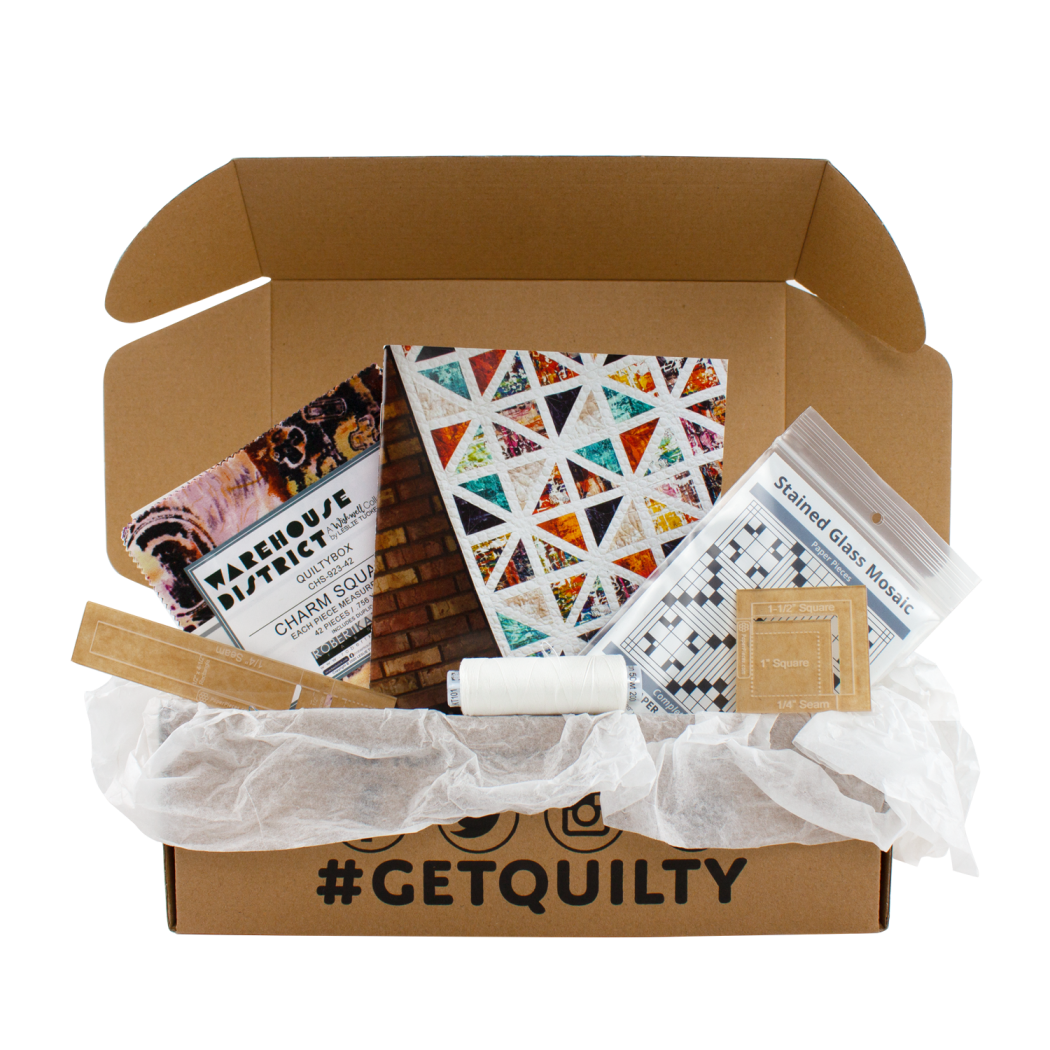 Image from: Quilty Box
What You Get: Quilting is definitely a fun hobby to do. It is a process of sewing two fabrics together to create a thick padded material that can be used as covers, blankets, or even clothing. Quilty Box offers you 2 yards of fabric, a small spool of thread, and one or two notions and tools each month. They will also send you a mini-magazine called Bundles of Inspiration that contains articles from their featured artist, tips, and patterns!
Check out our Quilty Box Review to learn more!
Price: Boxes start at $48 per month and less for a longer plan term.
---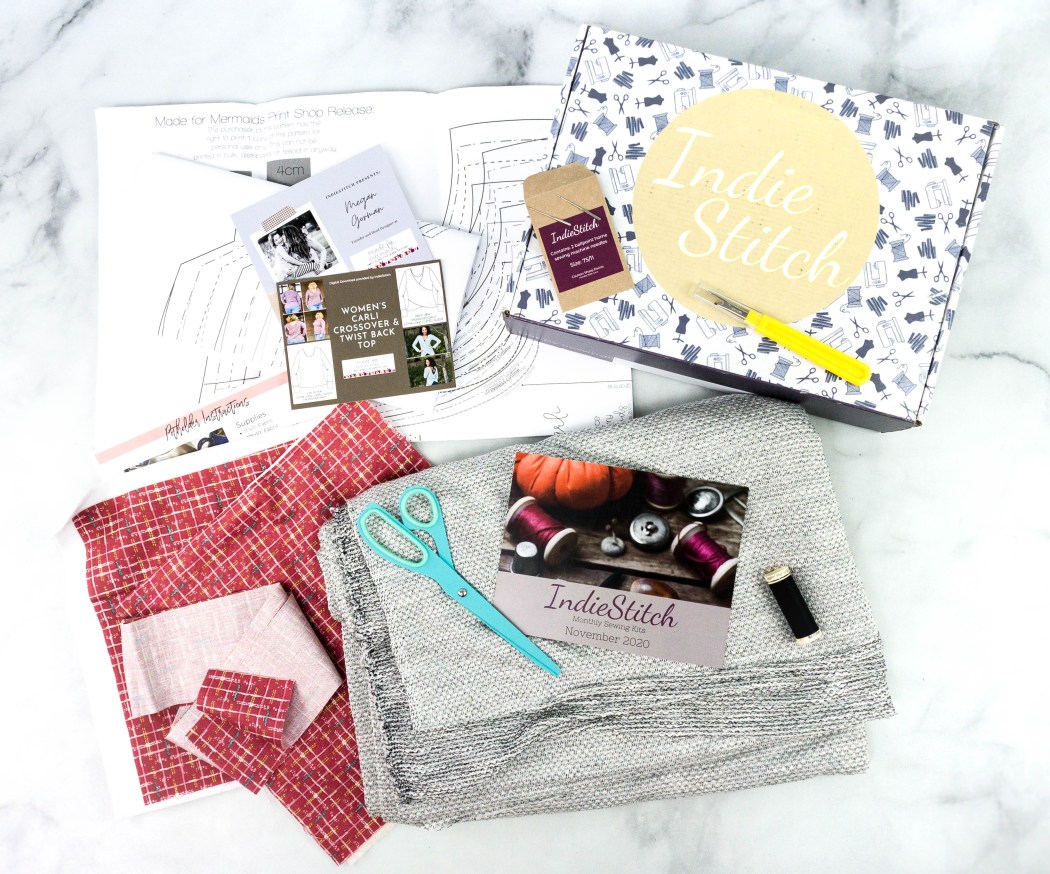 Image from: our review
What You Get: Whether you're using your hand or a sewing machine, IndieStitch will help you take your sewing skills to the next level. Each box comes with 2-3 yards of fabric, threads, all required notions, a downloadable pdf pattern from an independent sewing pattern designer, and a copy shop print of the featured pattern. It also includes fun bonus sewing tools and swag! You'll receive enough fabrics to sew any size from XXS-Plus 3X. They also give you the option to choose your own fabric. Choices include solid neutral, fun fabric, and patterned ones.
Check our IndieStitch Review to find out more!
Price: Subscription costs $69.95 each month. Get savings when you choose the longer plan options!
---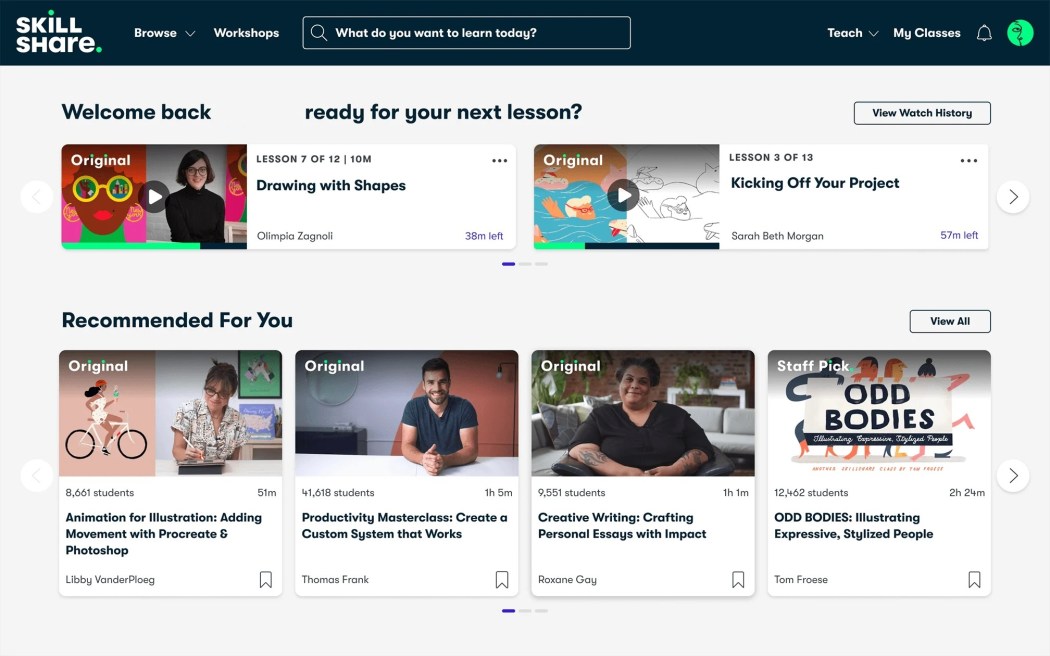 Image from: Skillshare
What You Get: If you want to learn something new or expand your knowledge relating to crafting, Skillshare is the help you've been looking for! They are an online learning community offering classes that will guide you throughout your journey of being an artist. Each class is taught by the worlds' best practitioners that will spark your creativity and improve your skills. Access thousands of high-quality videos with topics like design, photography, illustration, fine art, and more that you can watch at your own pace. Not only do you learn the basics, but they also let you know new techniques and strategies creators only know. With this subscription, you can unlock a passion you never knew you have!
Price: Subscribe monthly for $32 or Annually for $168 ($13.99 per month).
Deal: Get 14 days FREE trial to Skillshare Premium! Deal applies automatically, just visit and subscribe.
---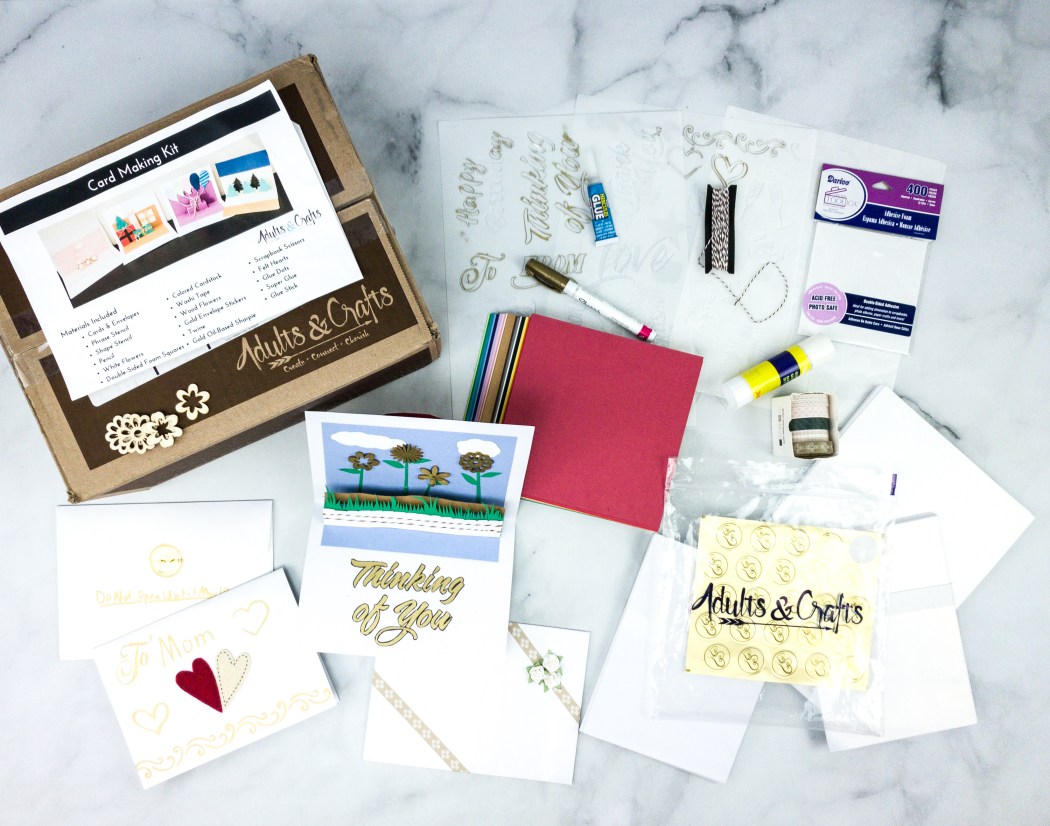 Image from: our review
I not only love to craft, but also love to try out new crafts, which can be tough if you have to go buy a large amount of everything at a craft store. This kit comes with everything you need for your project so you can make something great and not be wasteful at the craft store. – EricaM
What You Get: DIYs are a hit these days and we totally get why! They are so much fun to do and they allow you to be creative! Adults & Crafts lives up to that by sending a box full of materials, tools, and instructions, so you can make an awesome craft each month. It makes crafting so convenient, enjoyable, and fulfilling! Some of the skills you may learn from this subscription include clockmaking, embossing, and woodworking!
Visit the Adults & Crafts Reviews to see past projects!
Price: Box price starts $33 per month, and less for longer plans.
Deals:
---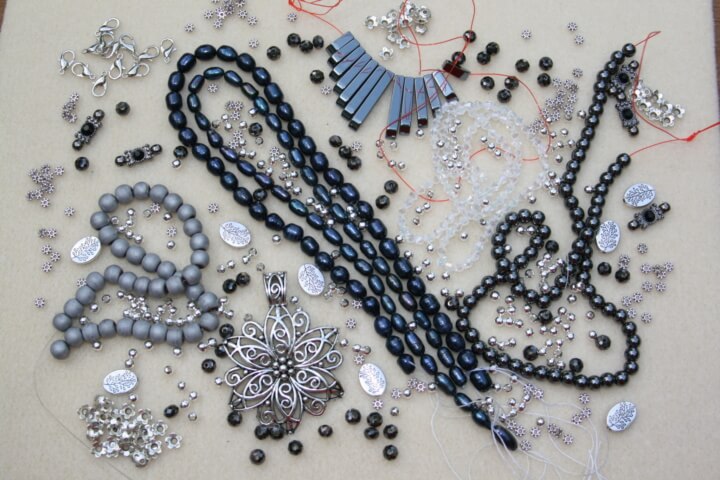 Image from: our review
What You Get: Bargain Bead Box sends high-quality beads directly to your door each month. They are focused on bringing the best deals on the best beads around for you. They carefully curate themes each month, so you can have the best beading experience. Inside each box, you'll find coordinated sets of beads, findings, clasps, and pendants totaling 12-16 items. Aside from the materials, you'll also receive a coupon to their sister store and a chance to win a $25 gift certificate. All this for an affordable price. If you love monthly surprises, this subscription doesn't disappoint!
See beautiful beads we've got on Bargain Bead Box Reviews.
Price: Subscription Costs $17.95 per month.
---
Image from: Maker Crate
Varied, great instructions, pack a lot in with little extras – Lucy H

I love learning new crafts each month! The box is fun and the instructions are clear, it's a great way to unwind and clear some head space. I love the surprise each month of not know what will be in the box. As well as teaching me new crafts each month, it helps me build up my craft tools so I can do future crafts on my own – Helen
What You Get: Each month, Makerly Crafts sends DIY kits that focus on fun contemporary ideas by certain artists and designers. The box contains everything that you'll need to do the craft, from patterns, tools, and instructions to complete the surprise craft for the month!
Price: The box costs £18 GBP (about $24.65 USD) with savings on 3 months 6 months and 12 months prepaid plan option.
---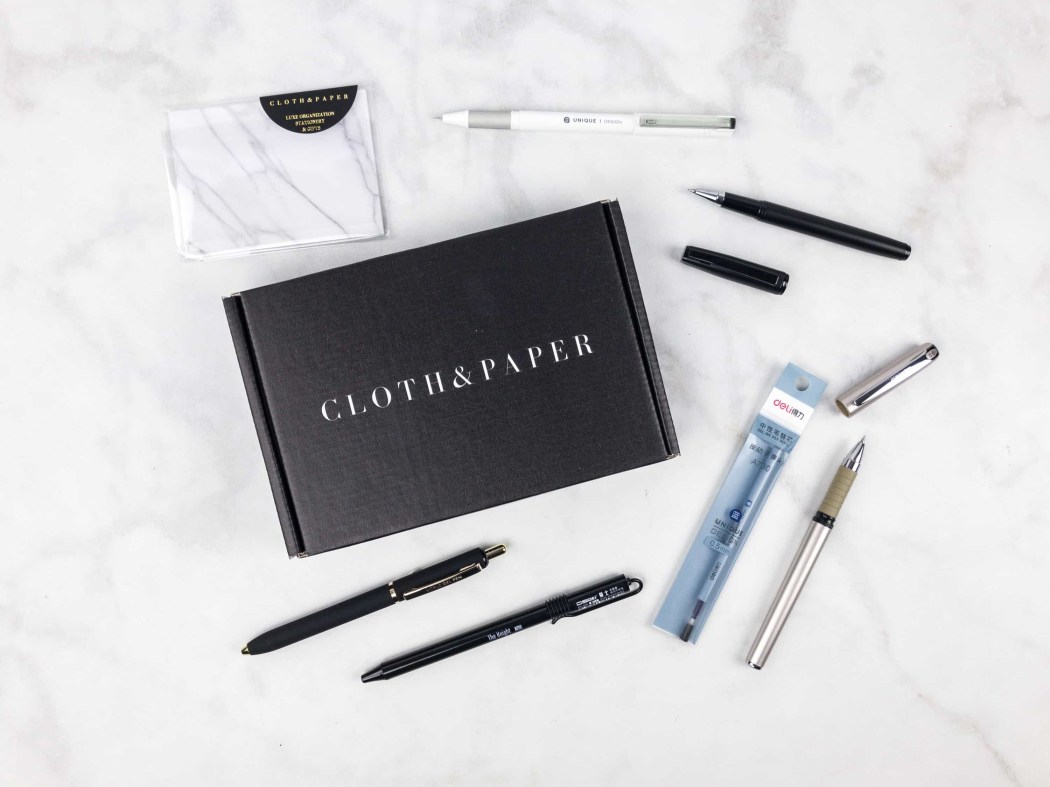 Image from: our review
What You Get: CLOTH & PAPER Penspiration Box offers a wide range of products for paper lovers and planner junkies! They are currently offering 2 boxes: Pen Box containing 5-7 stylish pens and other writing tools, and Planner Stationery Box that includes planner goodies and organizational supplies along with writing tools. Boxes are always wrapped and presented beautifully, making it a great gift!
Find out more by reading CLOTH & PAPER Penspiration Box Reviews!
Price: The box costs $11.99 per month.
Deal: Get 10% off your first box! Use coupon code HELLOSUB10.
---
Image from: Darn Good
What You Get: The monthly subscription delivers good yarn at your doorstep each month, which you can turn into amazing projects and crafts! They include types of yarns that invigorate the senses as well. Darn Good Yarn of the Month partners with artisans all over the world to make beautiful and unique yarns that you can use and can inspire you to do amazing yarn projects that come with an artful life.
Price: Billed every month for $20.
Deal: Get 50% off on annual subscription! Deal applies automatically, just visit and subscribe.
---
Image from: our review
What You Get: Paletteful Packs provides the best art materials each month! These are curated depending on a theme, to help you keep rolling and give you the inspiration to finish your art projects. The box may contain acrylic paints, graphite and charcoal, and more! The subscription is committed to giving you a full introduction to the media selection for each month, and there's even a video for the Premier Pack!
See the Paletteful Packs Reviews to find out more about this subscription!
Price: The original box cost starts at $35 per month, while there are petite packs that cost starts at $24 per month, and a Young Artist pack that starts at $30 per month. They also offer prepaid plan options with minimal savings.
Deal: Save 10% on your first box. Use coupon code 10HOORAY.
---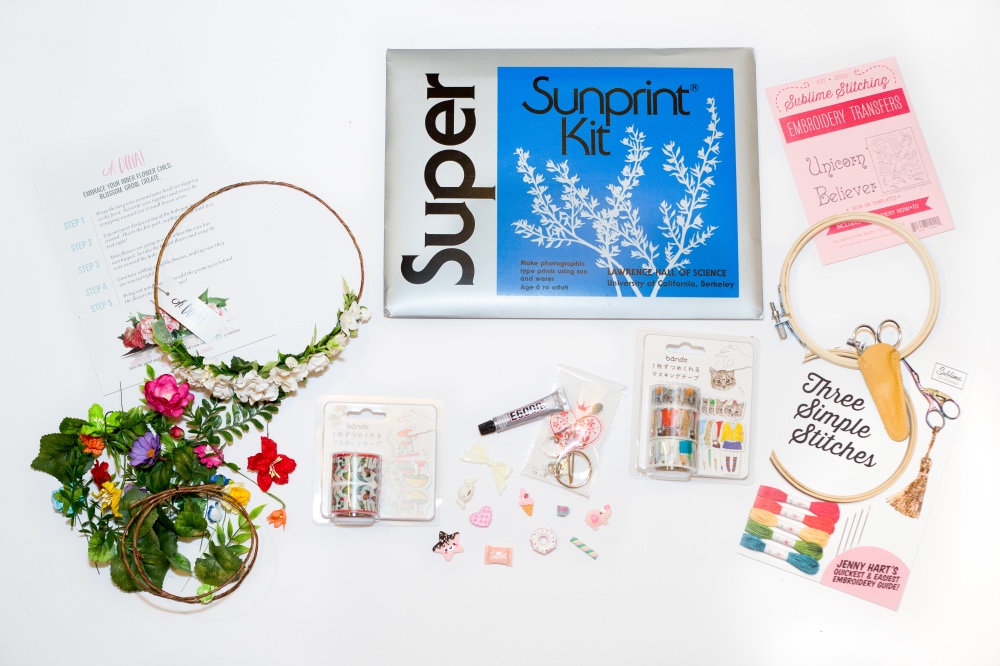 Image from: Pop Shop America Craft in Style Box
What You Get: With The Craft in Style Subscription Box, there are always new craft projects to get excited about, like acrylic paint pouring, watercolor, terrarium building, DIY planter boxes, calligraphy, soap making, and more! Each month's Pop Shop America Craft in Style Box  has multiple projects, curated together according to a theme. Aside from the materials, they also give you access to blog posts, videos, and Facebook Live Videos to help you explore the box!
Price: The subscription costs $41.97 per month. Save more on longer plan options!
Deal: Get 10% off anything! Use coupon code hellosubscription.
---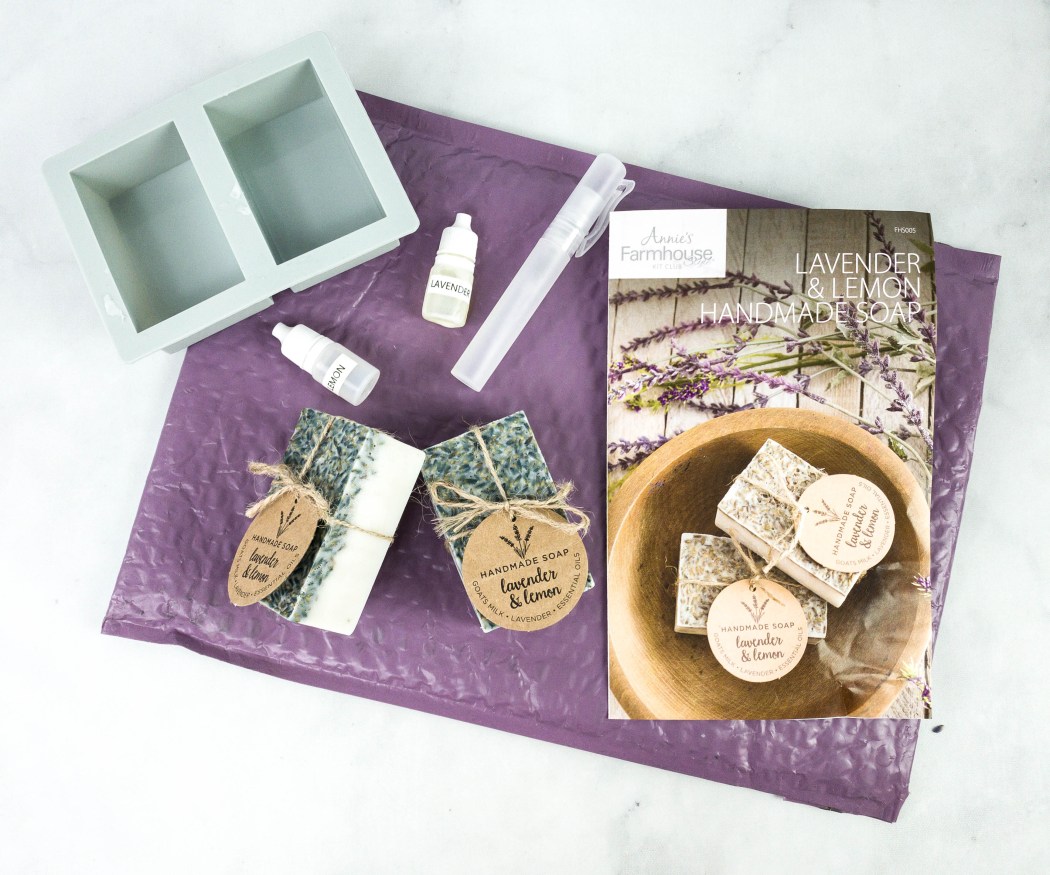 Image from: our review
What You Get: Annie's Farmhouse Style Kit-of-the-Month Club lets you craft a charming project each month infused with a mix of a traditional and modern concept. Proudly use or hang a finished project with your personal touch that can elevate any part of your home, from pillowcases to table centerpieces to garland to even soaps. You'll get a kit each month, including all the crafting materials needed to finish beautiful projects along with detailed, step by step instructions. All you need from home is scissors and a glue gun, so you can create amazing projects that give a casual and classic farmhouse vibe!
To know more about this subscription, visit Annie's Farmhouse Style Kit-of-the-Month Club Reviews.
Price: The subscription is $19.99 a month plus $5.95 shipping ($6.95 in Canada).
Deal: Get 50% off your first order! Use coupon code SHARE50 .
---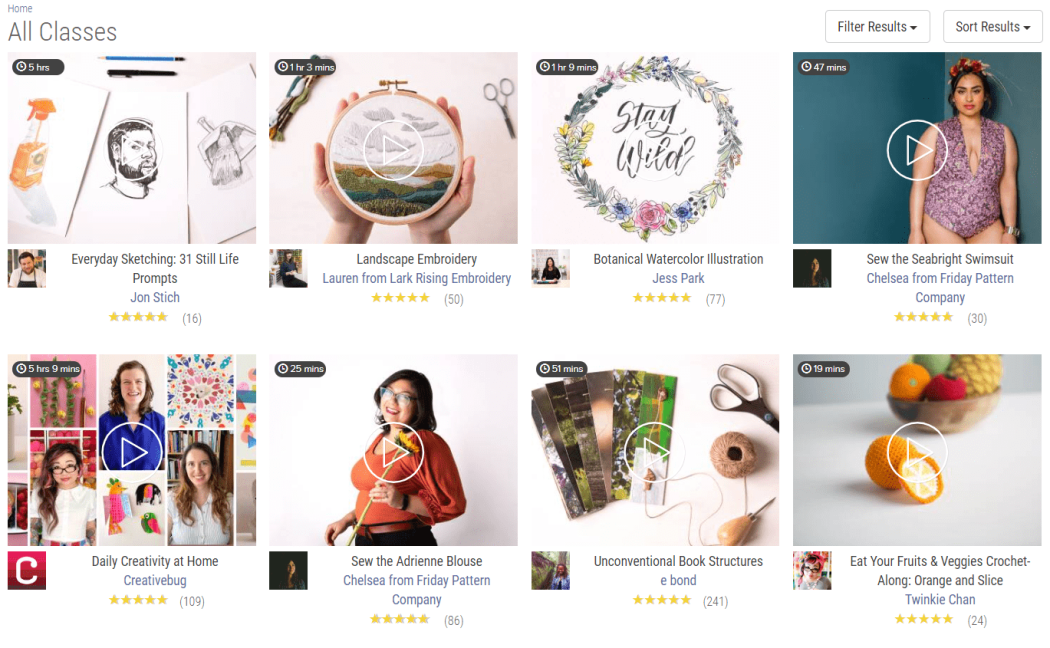 Image from: Creativebug
What You Get: If you are looking for ways to further sharpen or enhance your crafting skills, Creativebug is the right way to go! You'll have unlimited access to thousands of classes led by top designers and artists. From making accessories such as bracelets and necklaces to sewing dog coats and leggings to painting using acrylic and watercolor, you'll find them all here. With new classes added every day, there's so much more for you to learn. You can now easily create beautiful projects, even the ones with complicated patterns and instructions. With the help of this subscription, crafting will be easy as pie!
Price: Choose from: Unlimited subscription – $7.95 per month and Unlimited Plus $9.95 per month or prepay Unlimited Plus for a year for $71.40 – save 40%!
Deal: Get 7 Days FREE Trial! Use coupon code FREE7DAY and Use this link to subscribe.
---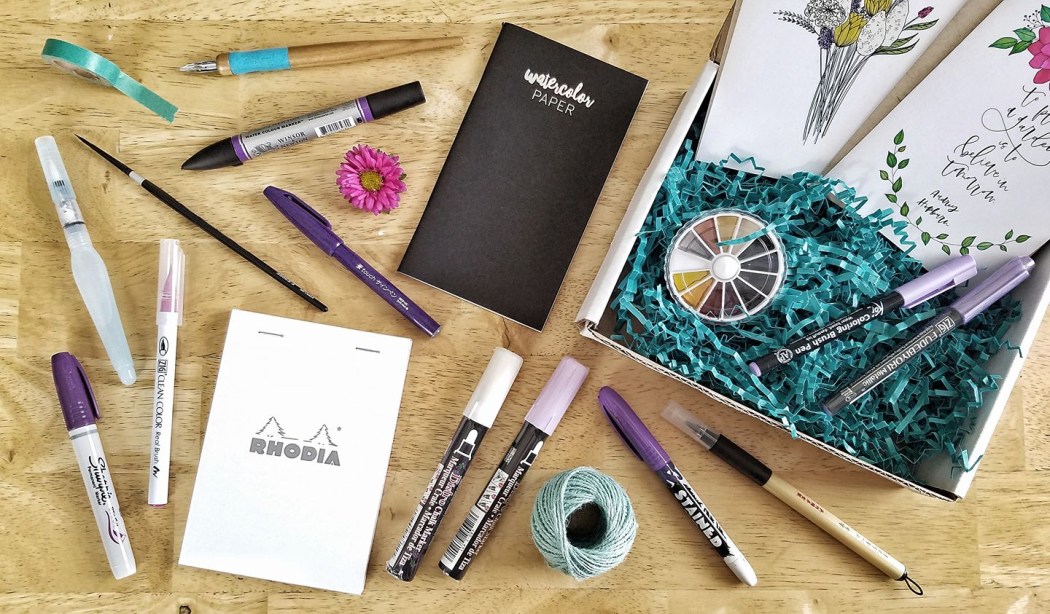 Image from: The Inky Box
What You Get: The Inky Box handpicks amazing tools and supplies for lettering and calligraphy enthusiasts, and sends them straight to your door so you can start as soon as you want with your creative projects! For beginners, the lettering and calligraphy practice sheets they send monthly are also really useful. Products may include brush pens, watercolors, paint pens, and more! They even include greeting cards designed by your favorite lettering artists for more inspiration!
Check out The Inky Box Reviews for more details.
Price: You can get the box for $39.95 each month or less on prepaid plan options. The Inky Box Mini is also available for $14.99 a month.
Deal: Get $5 off your first box when you choose the month to month plan. Use coupon code HELLOSUB.
---
That's your list of the best subscription boxes for craft and DIY! Which is your favorite?
Looking for more subscriptions to try? Here are all the readers' choices for the best subscription boxes in different categories!
Say Hello to More Crafting Subscription Boxes!