The country of Japan still has plenty to delight and amuse people from all over the world. With its rich culture and uniqueness, the land of the rising sun, Japan, is one incredible country to love. What's another fun way to discover Japan other than experiencing it first hand? Through Japanese snack subscription boxes, you'll not only get your hands on the best snacks Japan has to offer, but you also learn about the local traditions and recipes that are centuries alive now!
Irresistibly good and yummy, that's what these subscription boxes are all about! No more costly airfare to quickly and deliciously venture the land of the rising sun as these subscription boxes will bring the taste of Japan directly to your door. From savory snacks to sweet ones, these subscriptions will sure to fit your craving taste buds!
Grab one and unbox what Japan is proud to introduce to the world. Fall in love with the flavors of Japan without leaving your home with the best Japanese snacks subscription boxes compiled on this list. If these snack subscriptions won't make you crave and your mouth water, we don't know what else will!
The Best Japanese Snack Subscription Boxes That'll Make You Say "Oishii!"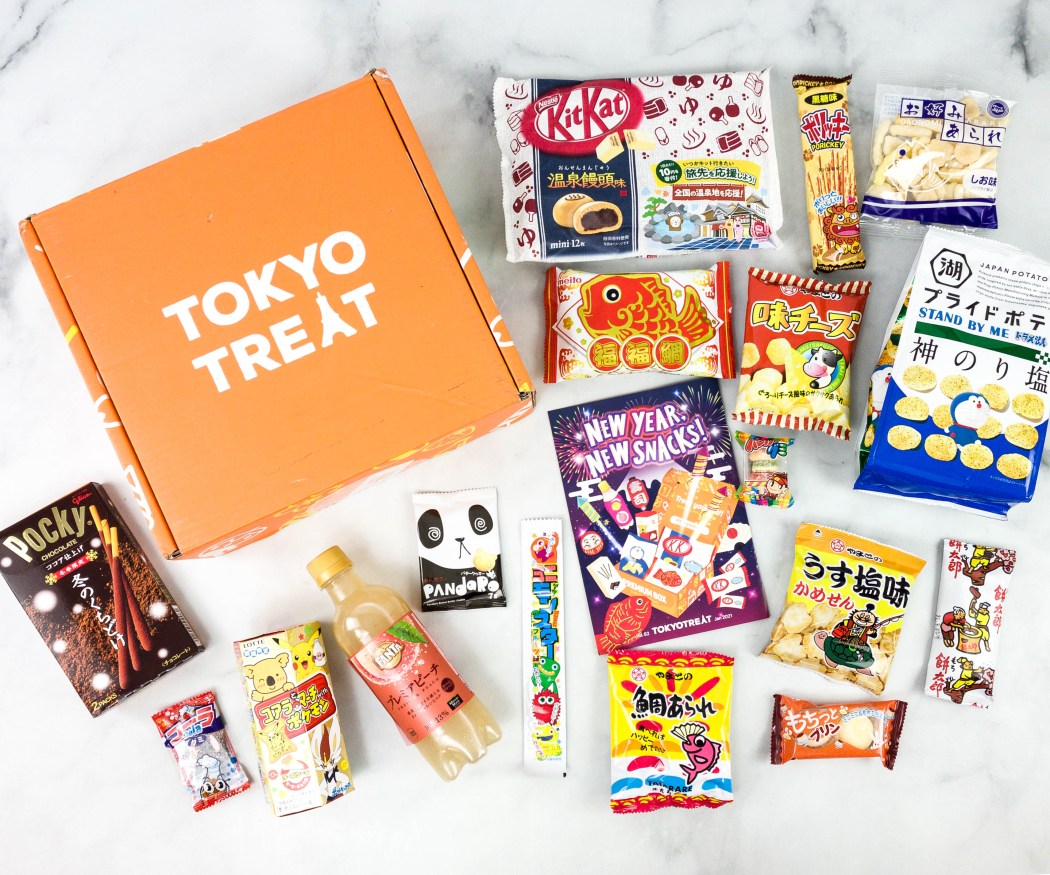 Image from: our review
Why We Love It: Tokyo Treat sends the best-tasting Japanese treats that you've been craving! They carefully curate each box to ensure that you only get the best snacks that will make you happy and ready to unbox. Every month, you'll receive a hand-picked collection of full-sized Japanese candies, DIY Kits, traditional Dagashi snacks, savory snacks, and drinks for you to indulge! The Classic Box comes with 12 items, while the Premium Box contains 17 items. Each box also includes a candy guidebook with a list of all the snacks in your box, as well as brief descriptions. With this box, you can delight yourself with Japanese flavors that are hard to find outside of Japan!
See Tokyo Treat Reviews for more information about this subscription.
Price: The classic box costs $25 per month and the premium box costs $35 per month. Get savings when you subscribe to longer plans!
Deal: Check the latest Tokyo Treat spoilers to get the latest code! Use this link to get the deal.
---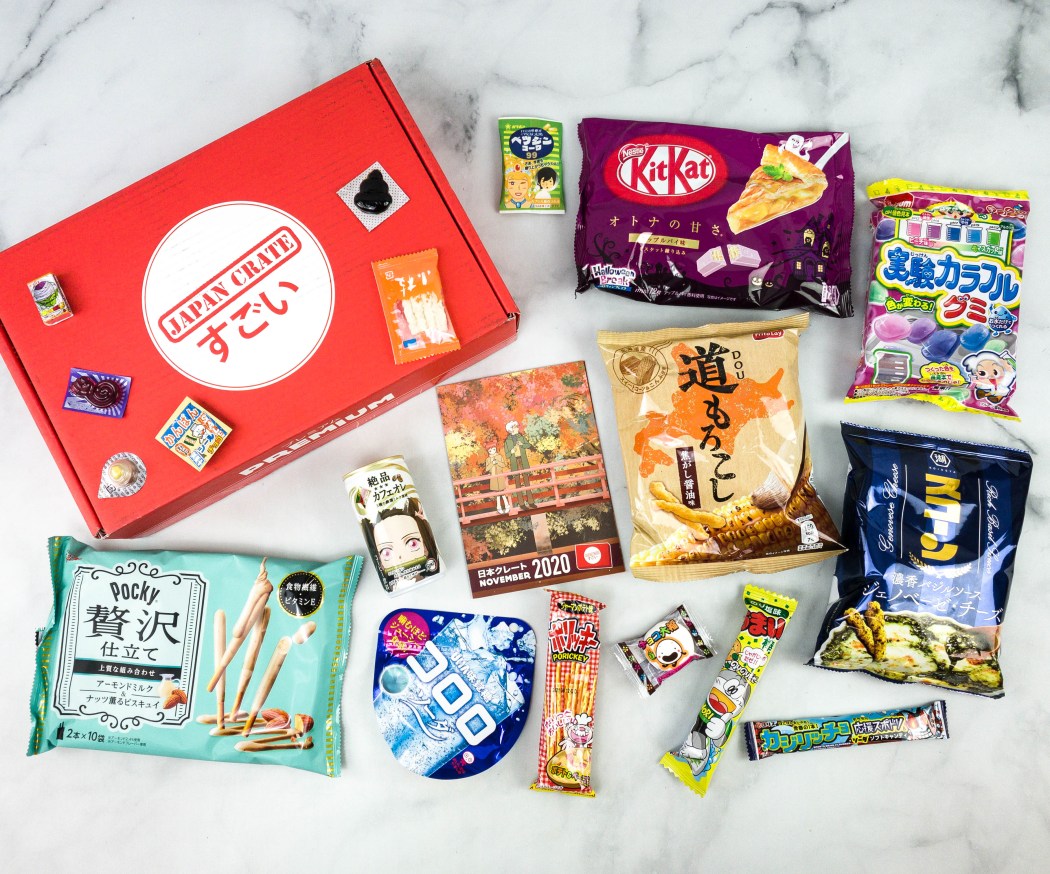 Image from: our review
Why We Love It: Japan Crate delivers all the best and latest trends in Japan directly to your door every month! With each candy crate, you can taste all the goody flavors Japan has to offer. Each box they send out is filled with an assortment of sweet and savory snacks. All you have to do is pick a box size: Mini (5 items), Original (10 items), or Premium (18-20 items + drink, DIY Kit & limited edition bonus item). They handpick every candy, snack, drink, DIY kit, and more that goes in your box, some of which may include traditional ones, so prepare your taste buds for a whole new tasting experience!
Head on to Japan Crate Reviews to learn more.
Price: A box costs $35.95 per month.
Deal: Save $3 on your first regular or premium crate! Use coupon code HELLO.
---
Image from: our review
Why We Love It: Sakuraco blossomed with fresh new tastes and flavors to delight you with every month. Indulge in authentic Japanese flavors you might have missed, as each box features a range of enjoyable and delectable 20 Japanese treats you're sure to enjoy. It includes Japanese Tea, Cakes, seasonal treats, home goods, Sakuraco exclusives, and traditional treats like Mochi, Manju, and Yokan. These products are sourced from local makers to ensure you get to experience the best of Japan – no passport needed, it's all in a box!
Check out Sakuraco Reviews to know more.
Price: Shipped monthly for $37.50 or less when you prepay for more months.
---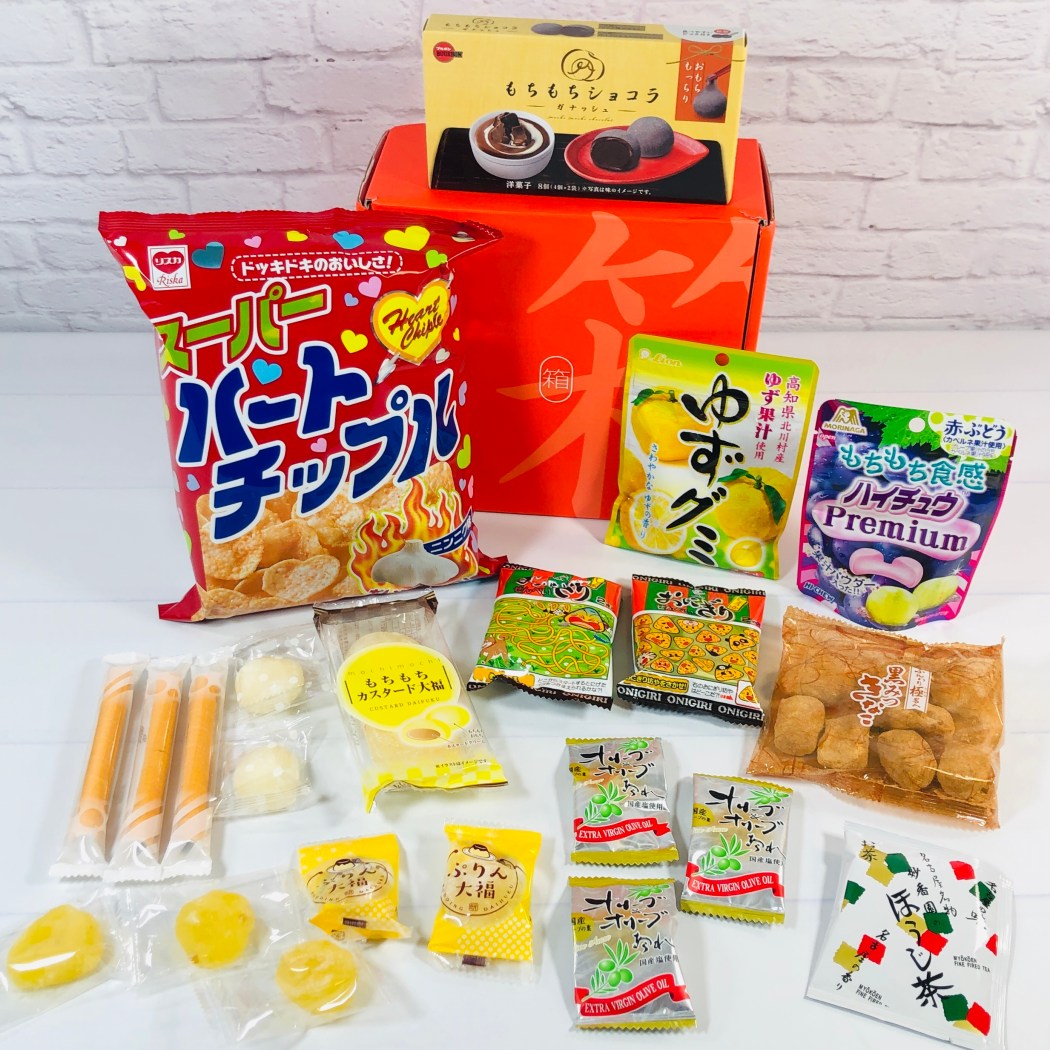 Image from: our review
Why We Love It: Experience authentic Japanese flavors as Bokksu tags you along on a gourmet journey to the land of the rising sun each month! This subscription sends you premium Japanese snacks and tea you can't find elsewhere as everything is sourced directly from local artisanal producers. Each themed box includes an array of 20-24 snacks and tea pairings, as well as a snack booklet that explains each product's origins and flavors. Past themes include Sweet Love, Sakura Spring, Mochi Madness, Tangy Citrus, and more. Not only do you have something to chew and drink on a calm afternoon, but you also support small family-run businesses in Japan and help keep their traditions alive.
Want to know more? Visit Bokksu Reviews.
Price: Subscription costs $49.95 per month or less on longer plan terms.
Deal: Save $5 on your first box! Use coupon code HELLO.
---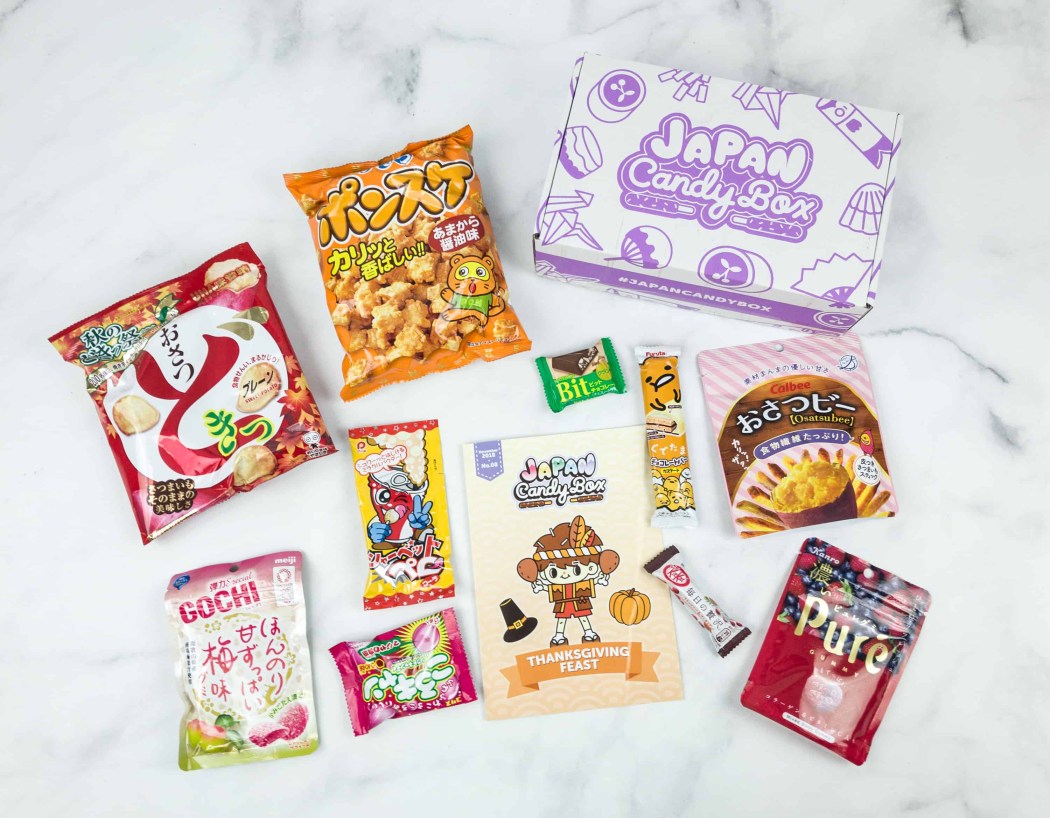 Image from: our review
Why We Love It: Japan Candy Box is not your ordinary candy routine! This monthly subscription provides subscribers with all things tasty brought by the land of the rising sun. Each thoughtfully curated box comes with 10 exclusive Japanese snacks to chew on and will certainly put a smile on your face. Such snacks may include traditional ones, popular snacks, dagashi, DIY candy kits, and Japanese exclusives from popular brands like Calbee, Pocky, Meiji, Milky, Hi-chew, and more. Reward your taste buds with fun and unique flavors that are not available elsewhere!
Make sure to check Japan Candy Box Reviews for more details.
Price: Delivered monthly for $24.90 or less on 6 months and 12 months plan.
---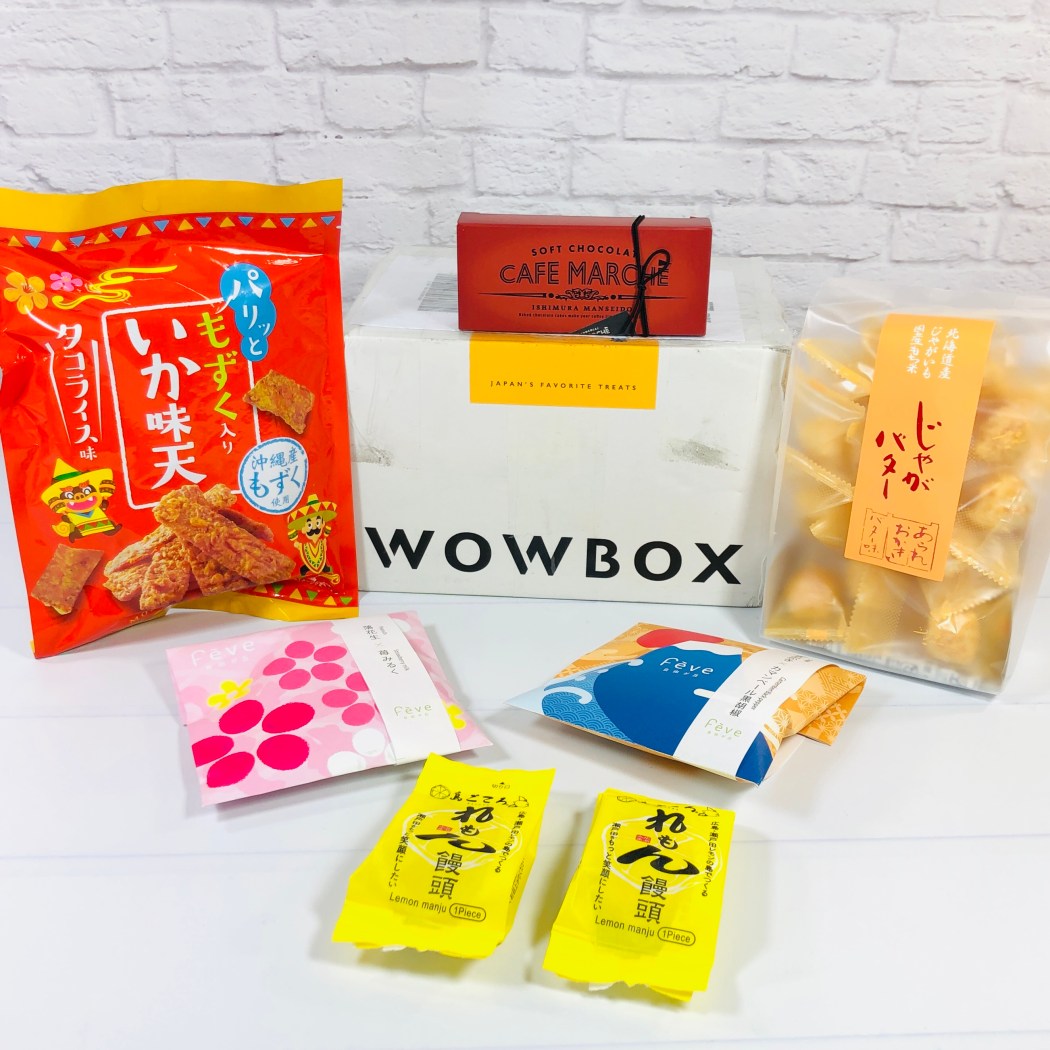 Image from: our review
Why We Love It: Drown yourself with tasty treats you'll definitely fall in love with! WOW Box delivers a full range of Japanese snacks straight to your door every month. They hunt down and carefully select what snacks go into your box from all over Japan, as well as other artisanal confectionery found only in specific regions. The Tabi Box contains 6 snacks to please your taste buds, while the Omiyage Box comes with 9-12 seasonal snacks and 1 bottled drink for you to delight with. All boxes also come with free express shipping, so you won't have to wait long to taste incredible flavors!
See past box contents on WOW Box Reviews.
Price: The Omiyage box costs $43 per month and the Tabi box costs $47.
Deal: Save 10% off upon checkout. Use coupon code S-Q7MQ12IE.
---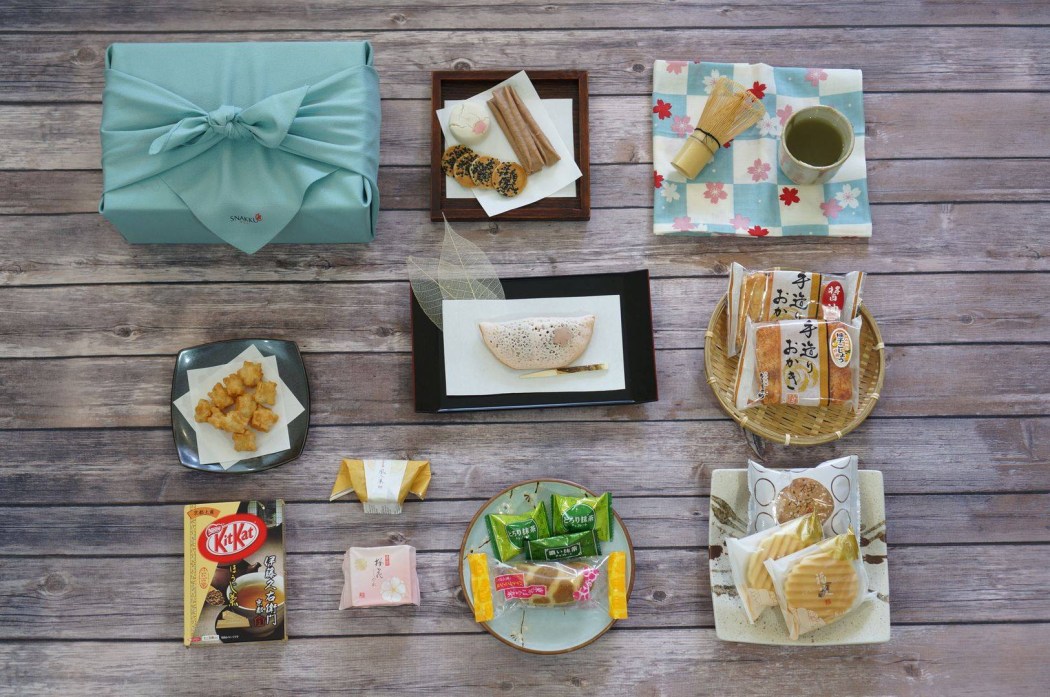 Image from: Snakku
Why We Love It: With Snakku, you'll be treated to a uniquely Japanese experience! This monthly subscription makes it easy for anyone to get a hold of authentic Japanese snacks that are only available to the land of the rising sun. The Signature Box comes with 10-15 different types of snacks with two of each type (which totals to 20-30 snacks in each box). It contains a mix of savory and sweet snacks that we know you can't resist, along with a high-quality postcard detailing the snacks and the local makers behind them. The box also includes an eye-catching traditional Japanese Furoshiki wrapping cloth you can use to wrap anything gorgeously! Not only do you support local stores and help keep their traditions alive, but you also have great-tasting snacks to munch on at any time of the day. With this subscription, you can discover the beautiful country of Japan through snacks!
Check out what we've previously received on Snakku Reviews.
Price: The Signature box costs $49.85 each month.
Deal: Save 5% on your subscription! Use coupon code HELLOSUB.
---
Image from: our review
Why We Love It: Japan is also known for its flavorful ramen, and Umai Crate lets you experience just that! This noodle subscription takes you to the world of ramen while you're in the comfort of your home. Every month, you'll receive a box with a variety of 8-10 Japan-exclusive noodles to bless your taste buds with wholesome and deep flavors, 1 culinary bonus item like noodle toppings or aromatic Japanese spices, an exclusive recipe card to level up your noodle, and a guide with instructions and translations so you can easily cook one! Noodles include Yakisoba, Udon, Soba, Somen, and more. Itadakimasu!
See the flavorful ramen packs they've sent us on Umai Crate Reviews.
Price: Each crate costs $49.95 each month
Deals:
---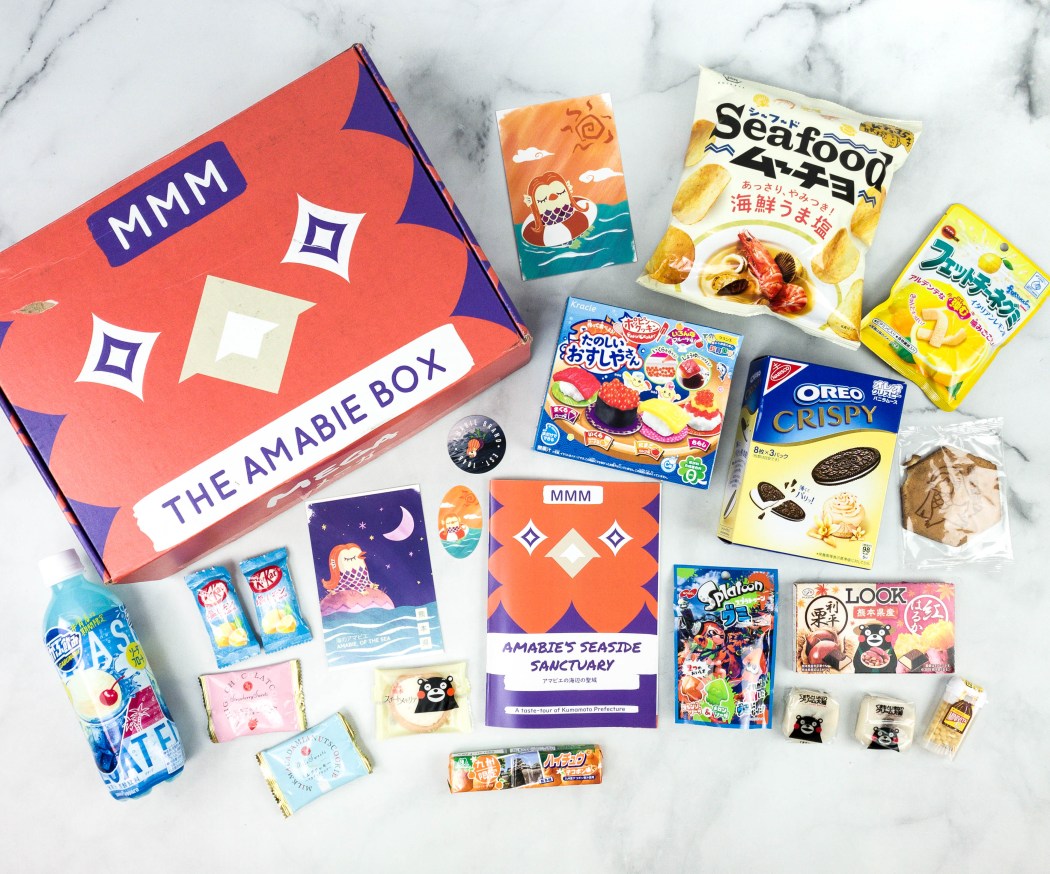 Image from: our review
Why We Love It: Fully immerse yourself in unboxing Mascot Monthly Mix. It is a monthly subscription that delivers a box of Japanese snacks straight from Japan to your home, dressed and curated by friendly mascot characters! They work with mascots (and their team) to put together a monthly mix to serve subscribers anywhere in the world. The Mini Mix is for those who want to sample Japanese snacks, while the Mega Mix is for those who want to dive deeper into the ultimate Japanese snacking experience. You will get snacks from local specialties all over Japan to actually experience the local flavors of the land of the rising sun and share a bite of some of the weird and wonderful snacks that they love. Each box also includes a themed guidebook describing the snacks inside, as well as allergy information.
Care to know more? Head on to Mascot Monthly Mix Reviews.
Price: The Mega Mix costs $38.50 per month and the Mini Mix costs $26 per month.
---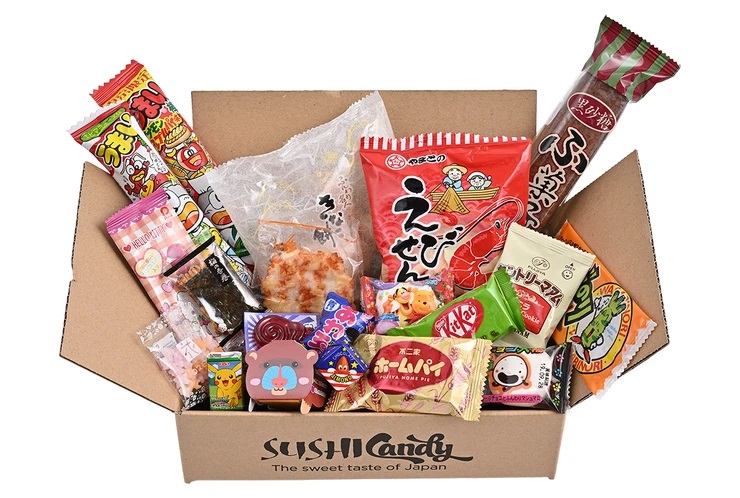 Image from: Sushi Candy
Why We Love It: To experience Japan's strange and funny yet yummy flavors, Sushi Candy is the one you can trust! It is a monthly subscription curated for snack lovers but with a delicious twist. Each box is filled to the brim with unique candies, chocolates, and ramen that you can savor. The candies and chocolates they put in boxes include flavors like matcha, wasabi, cheesecake, and more Japan-limited flavors that you'll be curious to try! There are 5 box sizes available – 20 items box, 30 items box, 40 items box, 30 items + 10mini KitKat, and 40 items + 10mini KitKat, with a mix of both sweet and savory snacks. You'll find popular sweets like Kit Kat, Pocky, Konpeito, and Ramune candy.
Price: The subscription plan starts at $11.99 a month.
---
And there you have it, our list of the best subscription boxes that'll serve you authentic Japanese snacks! Which of these boxes are you most excited to try?
Looking for more? Check out our list of all the best subscription boxes in every category!