Aside from steak, bacon is definitely one of the most loved meats across the country. It makes every meal better – and every month will be better with a delivery of gourmet bacon! Imagine waking up from the smell of bacon being fried in the kitchen every morning. The scent and flavor of thin, crispy, fatty, sweet, and salty bacon are the most delectable pictures you'll say thank you it existed! Satisfy your bacon cravings through a convenient way of subscribing to bacon subscription boxes.
This list features the best subscription boxes that offer the highest-quality premium bacon the country has to offer. Some deliver plain and classic ones, while others give you flavored or spicy ones to try! Most of these subscriptions also allow subscribers to choose the box size and even schedule the frequency of the delivery.
With bacon subscription boxes, you do not have to suppress your cravings! Get your monthly or daily dose of bacon goodness with the best bacon subscription boxes around. Delicious strips for your bacon lovin' self – check out this pigtastic list!
The Best Bacon Subscription Boxes!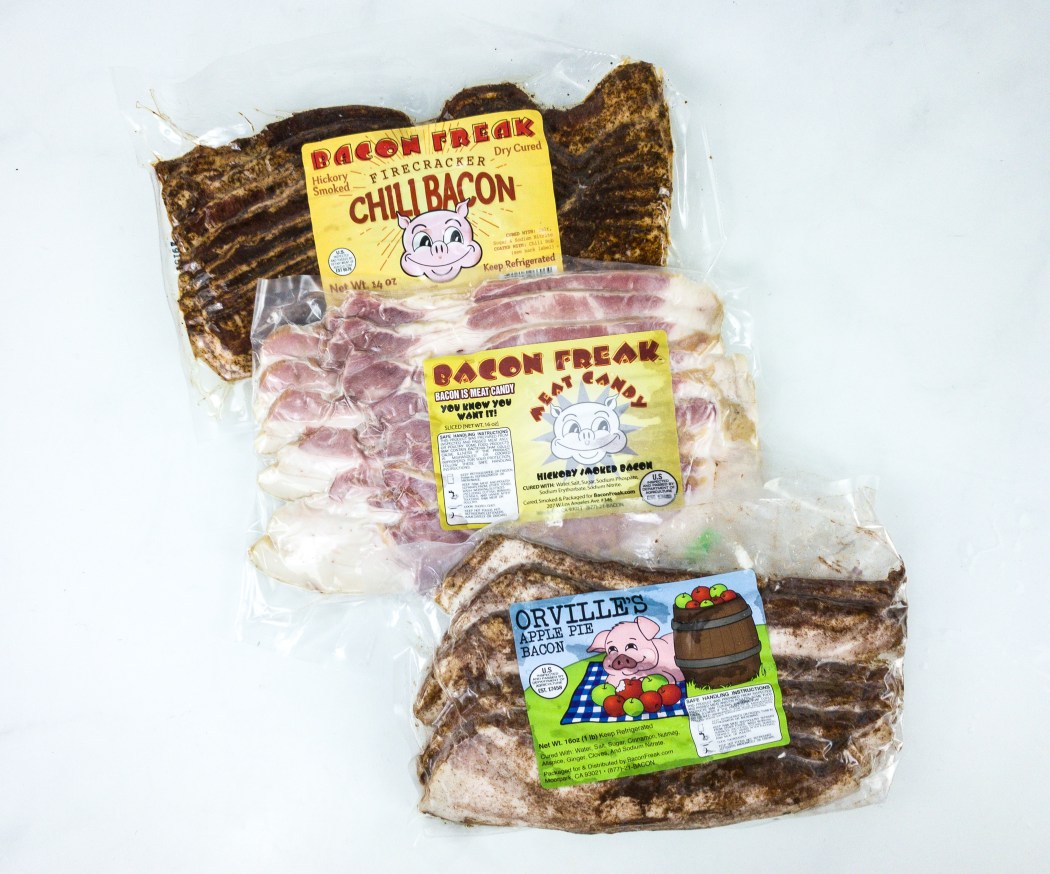 Image from: our review
What You Get: If you can't get enough of the crispy texture and sweet and salty taste of bacon, Bacon Freak has got something to offer. This subscription gives what bacon lovers want – a variety of flavored gourmet bacon monthly! Bacon of the Month Club sends packs of premium-quality, artisan, small production batch bacon – cured or uncured, flavored or not – sourced from well-known producers across the USA. There are three subscription plans to choose from: Bacon Is Meat Candy (2 packs of bacon), King Size Bacon Is Meat Candy (3 packs of bacon), and Bacon Plus Bonus (2 packs of bacon + 1 pack of sausage). Also available is the Gluten-Free option. Take your pick and indulge in some meaty goodness!
Price: Subscription costs starts at $149.75 for Bacon is Meat Candy, $179.95 for King Size Bacon and Bacon Plus Bonus.
---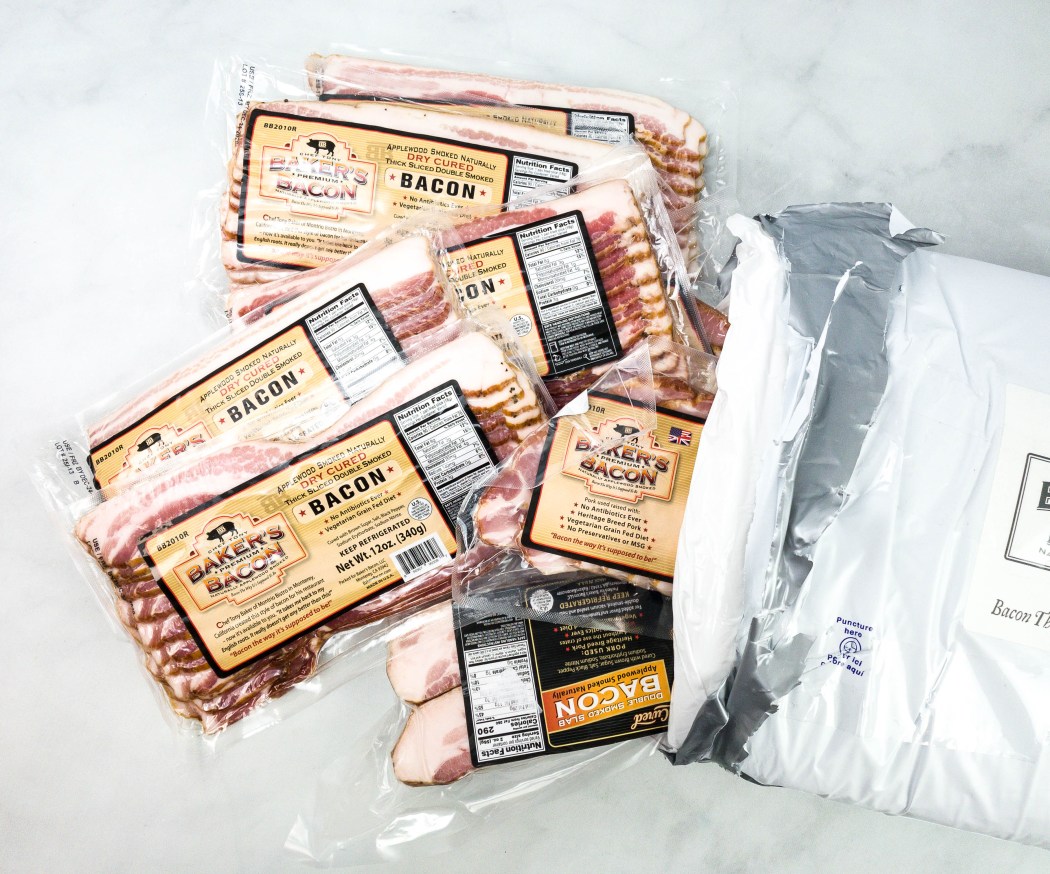 Image from: our review
What You Get: Craving for some bacon to power up your day? Baker's Bacon ships perfectly flavored artisan bacon straight to your door every month! These are made with vegetarian-fed, antibiotic-free heritage breed pork, cured in small batches, and have the ideal blend of smoke, sweetness, and salt. Each shipment contains five 12oz packages of thick-sliced double-smoked bacon, two 12oz package of thick sliced uncured back bacon, an additional surprise cut that changes every month, and a chef-curated seasonal recipe!
Price: The Bacon Club Box costs $95 a month.
---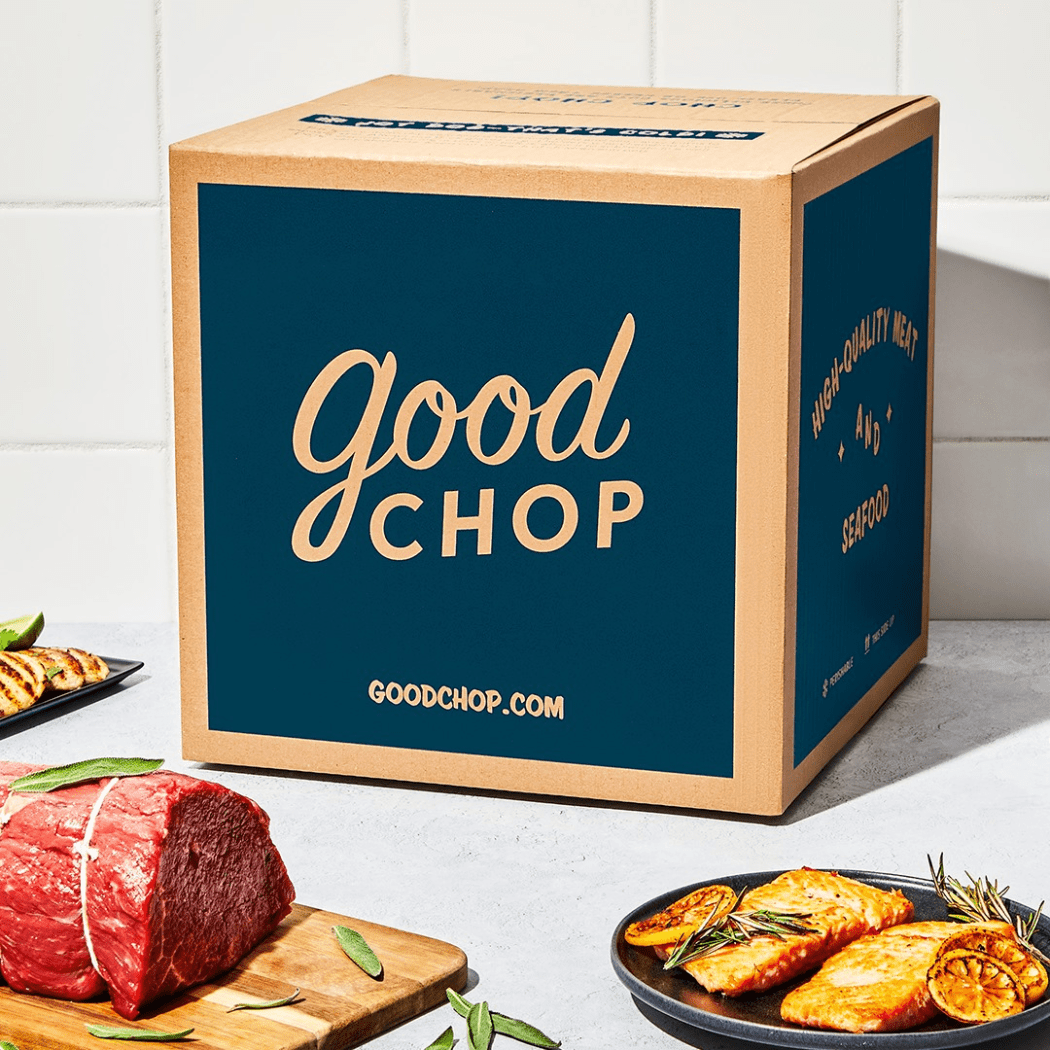 Image from: Good Chop
What You Get: Good Chop is a flexible subscription that offers 48 different cuts of meat and seafood, including your favorite bacon! They give you full control to pick out which cuts you want to include in your box. You can choose which box size to subscribe to – Medium Box (select up to 6 items from the menu) or Large Box (select up to 12 items from the menu). Select the appropriate box size for your needs, browse their extensive menu, and add your favorite breakfast protein to take your baconriffic mornings to the next level!
Price: Medium Box costs $149 a month, while Large Box costs $269 a month.
---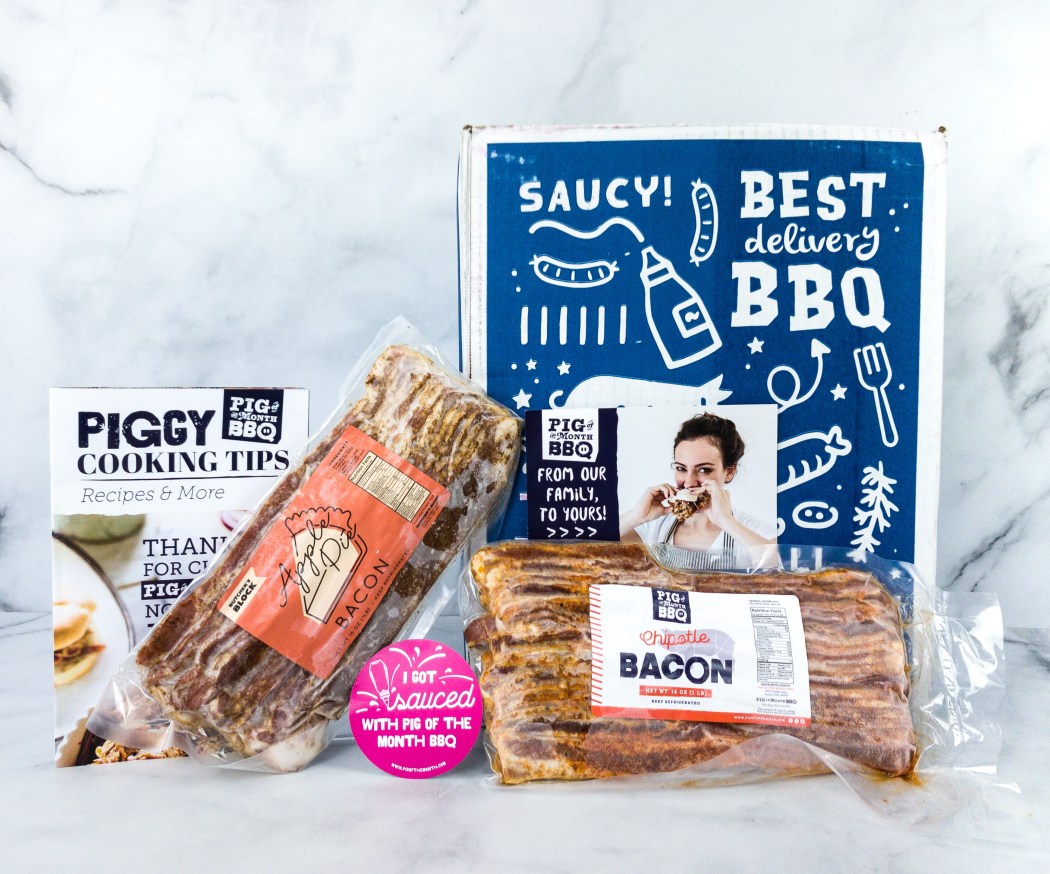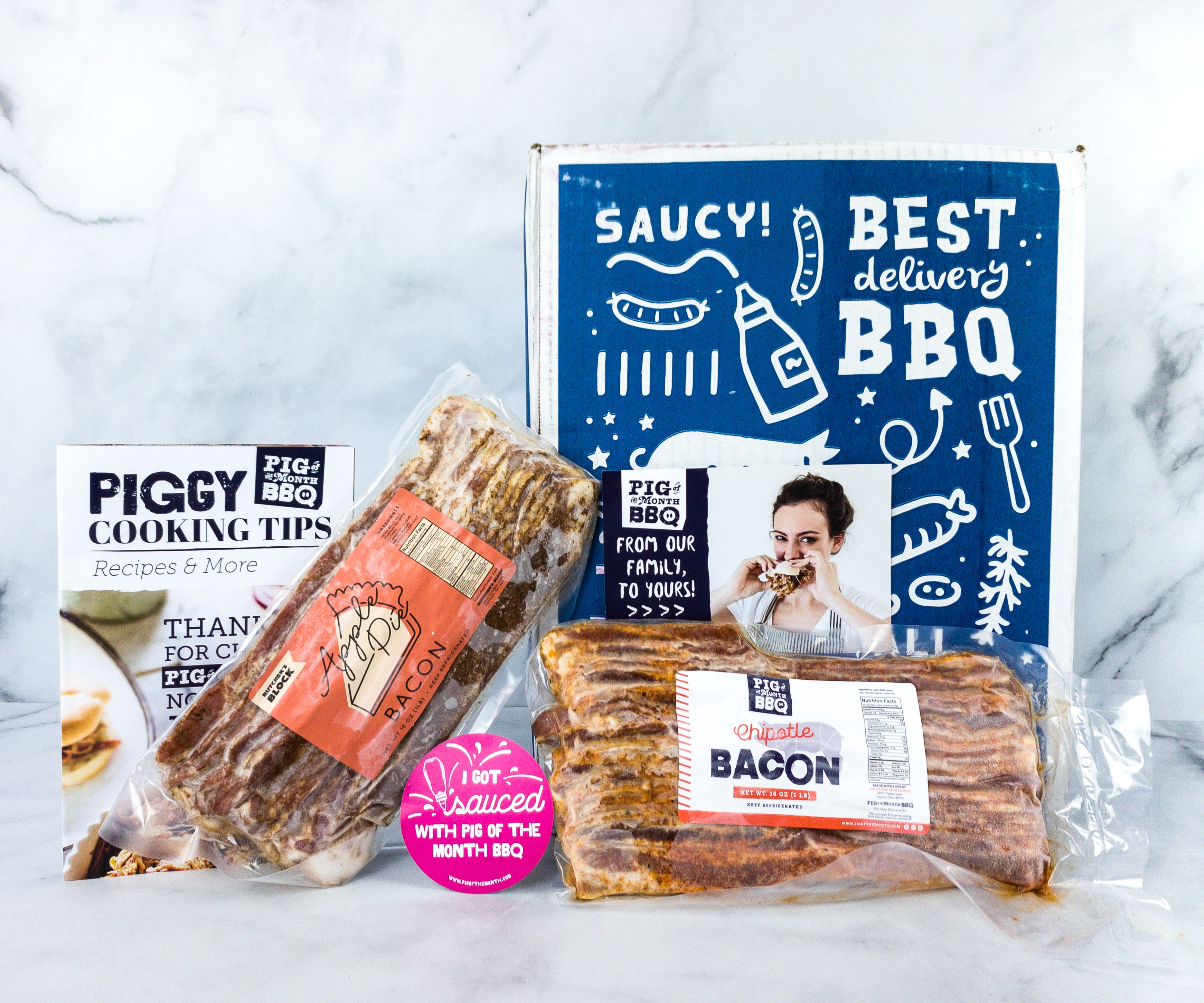 Image from: our review
What You Get: Pig of the Month Club Bacon of the Month Club delivers premium-quality, all-natural, and preservative-free meat treats. Bacon of the Month offers 2 pounds of bacon in every box, already pre-cooked! These meaty goodies arrive at your front door in coolers, topped with dry ice to make sure they reach your home in perfect condition. There is also a booklet included in each package with reheating and cooking ideas. It's so easy and quick to prepare! All you need to do is reheat and devour the bacon pieces.
Price: Month-to-Month Plan costs $45. Bacon of the Month is $129 for a 3-month plan, $249 for a 6-month plan, $349 for a 9-month plan, and $439 for a 12-month plan.
Deal: Get 15% off! Use coupon code hello15.
---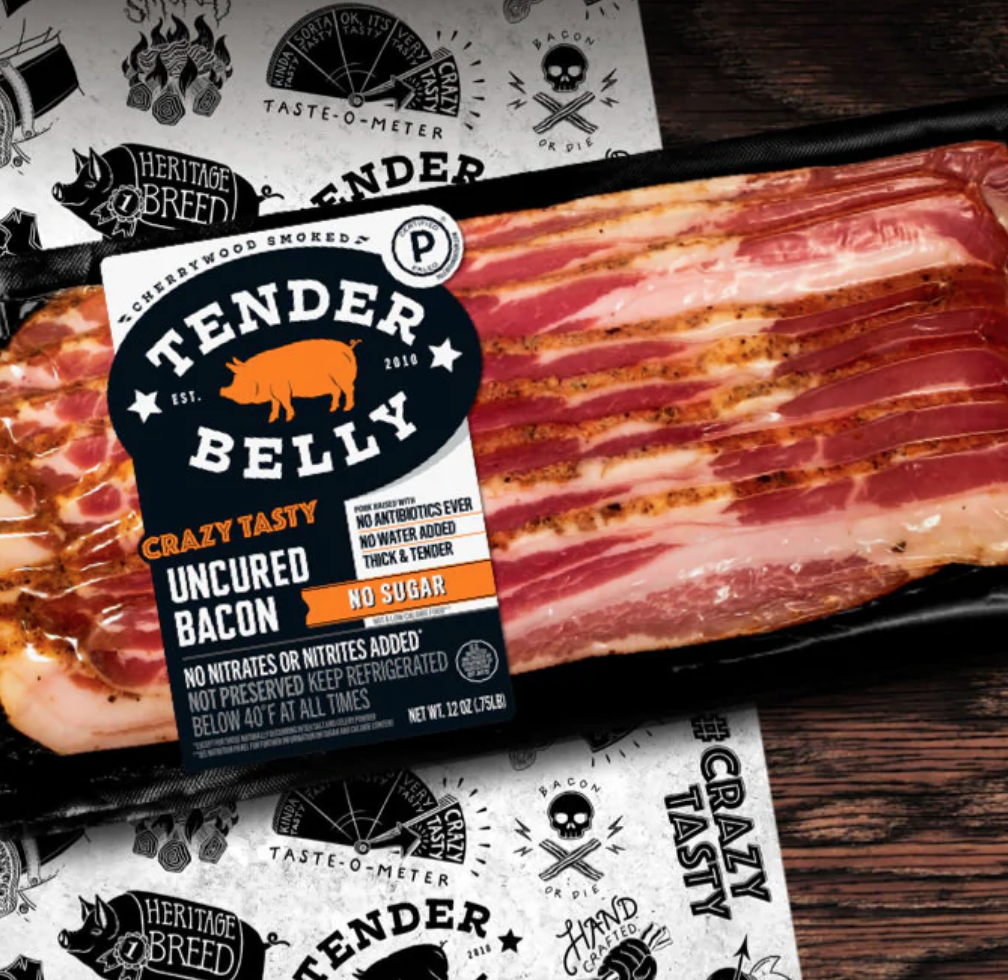 Image from: Tenderbelly
What You Get: Experience the world's best bacon delivered straight to your door monthly. Tender Belly's Bacon of the Month Club makes sure you have crazily tasty bacon to serve at the table whenever you feel like eating so. They use heritage-breed pigs raised in 100% vegetarian diets – no antibiotics ever! All you have to do is choose from their flavor combinations. Each box contains nine packs of uncured, cherry-smoked bacon that is nothing but mouth-watering. You can also try their no-sugar variety for a carb-free bacon munching experience!
Price: Get this subscription for $124/month.
---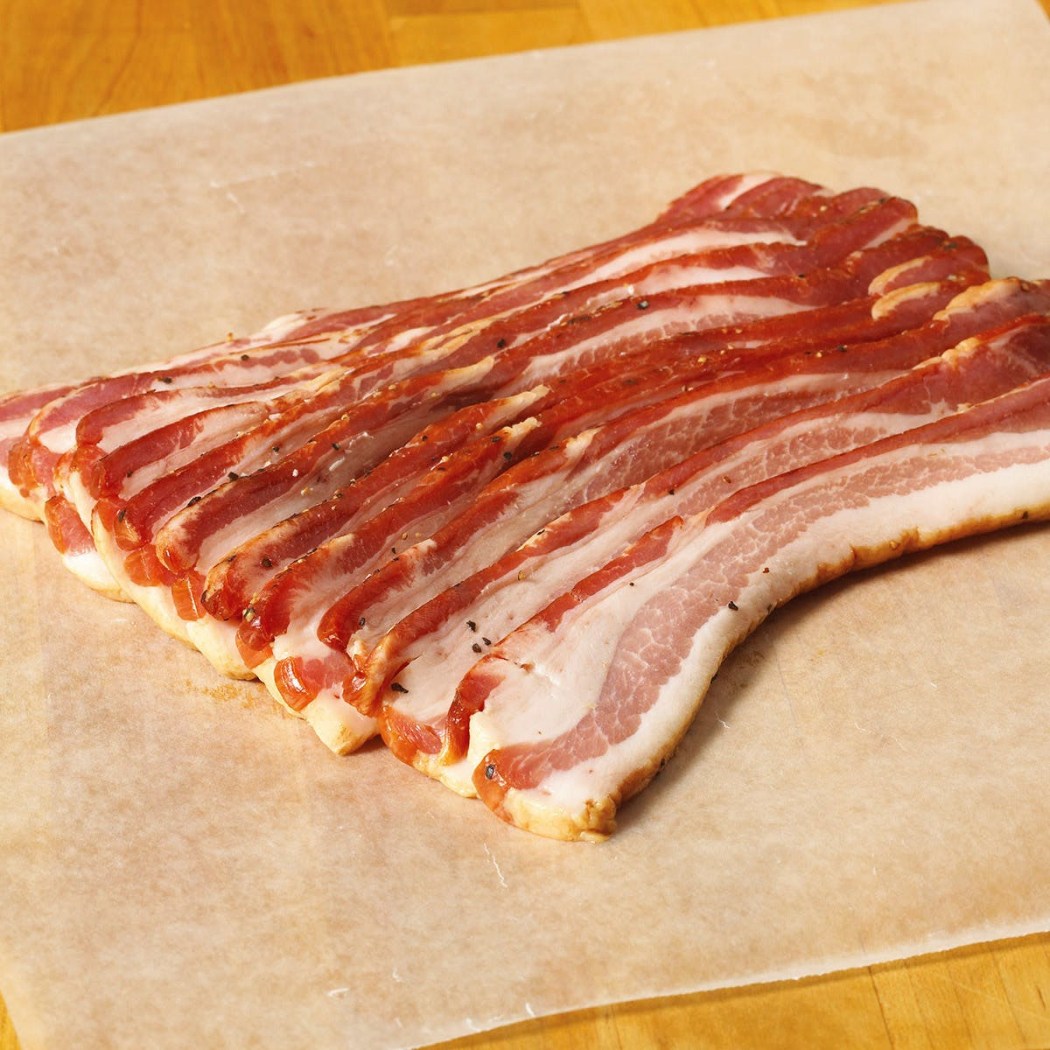 Image from: Goldbelly
What You Get: Looking for the perfect gift for yourself or foodie friends and loved ones? If so, you definitely must try Goldbelly Bacon Subscription. Every month, subscribers will receive 2-5 lbs. of delectable bacon, which may include peppered, spiced, sugar rubbed, double smoked, thick stripped bacon, or chocolate-dipped. Each variety they include in boxes has been hand-selected from America's best bacon makers to ensure you'll only receive the tastiest ones! It's the kind of gift your families and friends will surely never forget.
Price: Subscribe monthly for $69.
---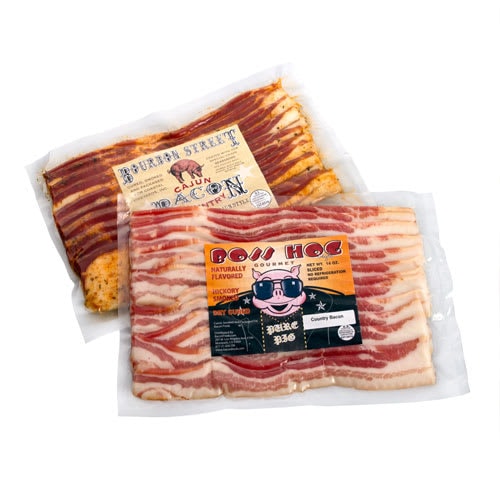 Image from: Amazing Clubs
What You Get: For recurring monthly deliveries of the most delectable bacon, there is Amazing Clubs Bacon of the Month Club for that! Every month, they'll send you two selections of thick-cut, artisan bacon (one pound each) from small independent producers across the country. These are crafted using only the finest, all-natural ingredients to shower your palate with pure meaty delight. Each shipment also includes a newsletter containing information about the monthly selection, fun facts, serving suggestions, and more.
Price: Subscription box starts at $55.95 per month
---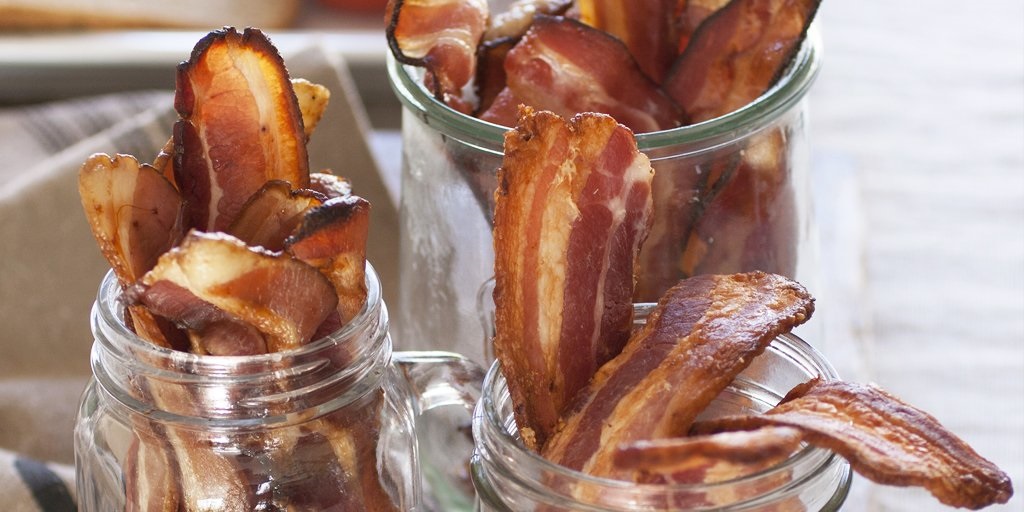 Image from: Igourmet
What You Get: You'll never go wrong with bacon, especially with Igourmet Bacon of the Month Club. Every box contains two (12-16 oz.) pouches of artisan-smoked, specialty-produced bacon each month, bringing you the most delectable bacon from a specific region or of a style. Together with it comes an information sheet about the bacon's background and flavor profile. It also includes optimal cooking instructions to ensure you make the most out of your bacon experience! It's one of the best bacon subscriptions you'll surely never want to miss!
Price: Choose your plan from: Monthly – $57, 3 Month Plan – $168 ($56/month), 6 Month Plan – $330($55/month), and 12 Month Plan – $648 ($54/month). Shipping included.
---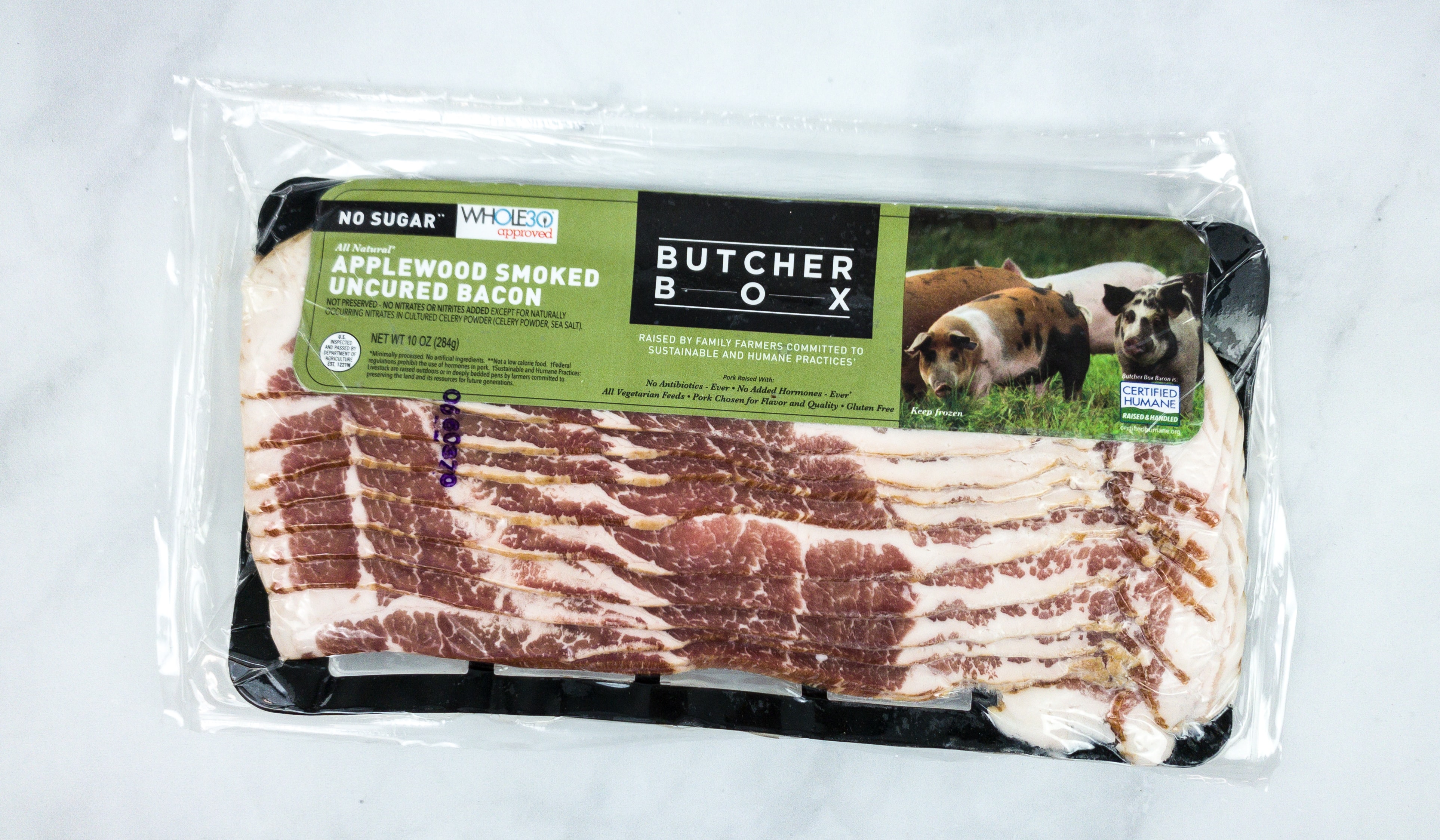 Image from: our review
What You Get: Butcher Box delivers a selection of premium quality meat for a yummy meal fix that's about 15-20 meals worth. Everything has been carefully cut and prepared, saving you a lot of time as compared to visiting a butcher shop. Their uncured smoked bacon is truly irresistible as they are certified to be free from gluten, added sugar & nitrates, non-GMO, and paleo-friendly too! They even provide tailored recipes to help home cooks discover and explore new cooking ideas.
Price: Curated Boxes start at $146 a month, while Custom Boxes start at $169 a month.
Deal: Check for the latest special offer for Butcher Box! Use this link to get the deal.
---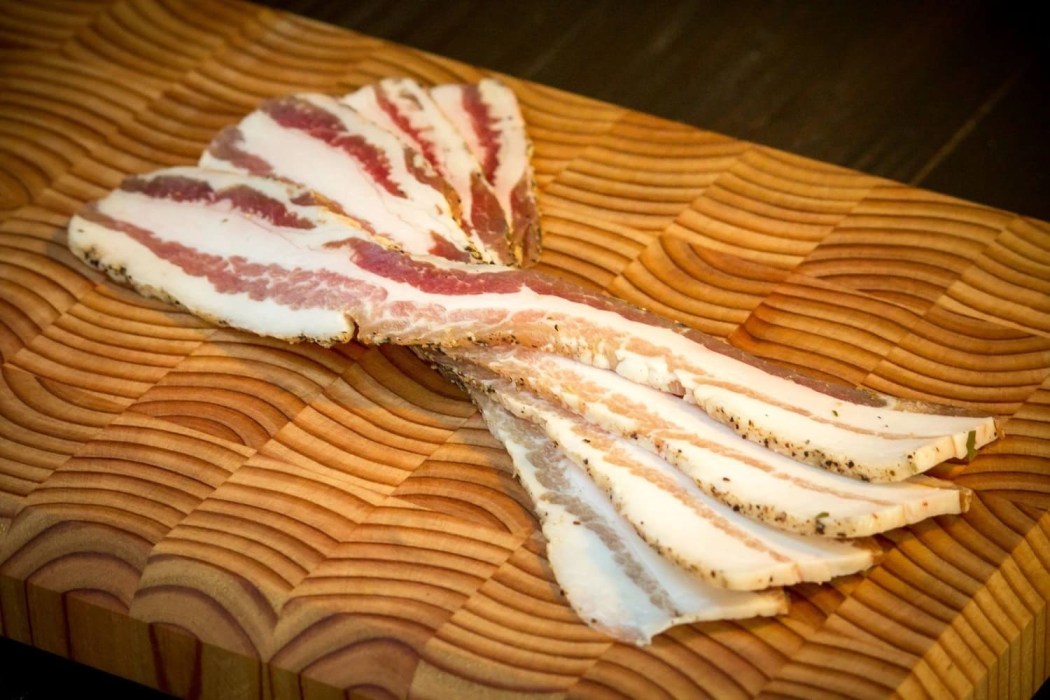 Image from: The Baconarium
What You Get: The Baconarium is all about the magic of bacon! High-quality, thick-cut premium gourmet bacon awaits you with every shipment. Bacon of the Month Club comes with the option for Pasture Raised Pork Bacon, Heritage Breed Pork Bacon, Wild Boar Bacon, Angus Beef Bacon, and Bison Bacon. Each box contains handcrafted delectable bacon smoked with the finest ingredients available. It's the ideal subscription to satisfy your bacon cravings!
Price: Box of the Month starts at $27.75 every two weeks.
---
And that's our list of the best bacon subscription boxes for 2023! Did you find the perfect subscription box for you?
Don't forget to check out our list of all the best subscription boxes in every category!
Say Hello to More Meaty Subscriptions!