Hearing the word grilling, you'll unconsciously think of the overall smoky goodness! Cooked at an open flame, it perfectly adds pleasantly charred flavor with a nice crust! (Or bring on the heat with one of those fancy flat top grills!) Grilling enthusiasts will surely take delight with subscription boxes for grilling because these will deliver products for that perfectly grilled meat you crave. No more trips downtown to buy every single thing you need for a fun grilling night; these subscription boxes provide an easy and convenient way to do so!
These grilling subscriptions give you whatever your grilling obsession desires, from premium cuts of the juiciest meats you want to serve for yourself, family or friends down to the perfect beverage that goes along with the smoky taste of barbecue, sauces & rubs to grilling items like gloves, charcoals, fire starters and more. You'll never run out of grilling products to use whenever your palate asks you to!
Be the grill master you want to be and fire up the grill. Feed your taste buds the taste it deserves with the best grilling subscription boxes that'll make grilling an easy and fun task to do!
All The Best Subscription Boxes For Grillers To Get Fired Up!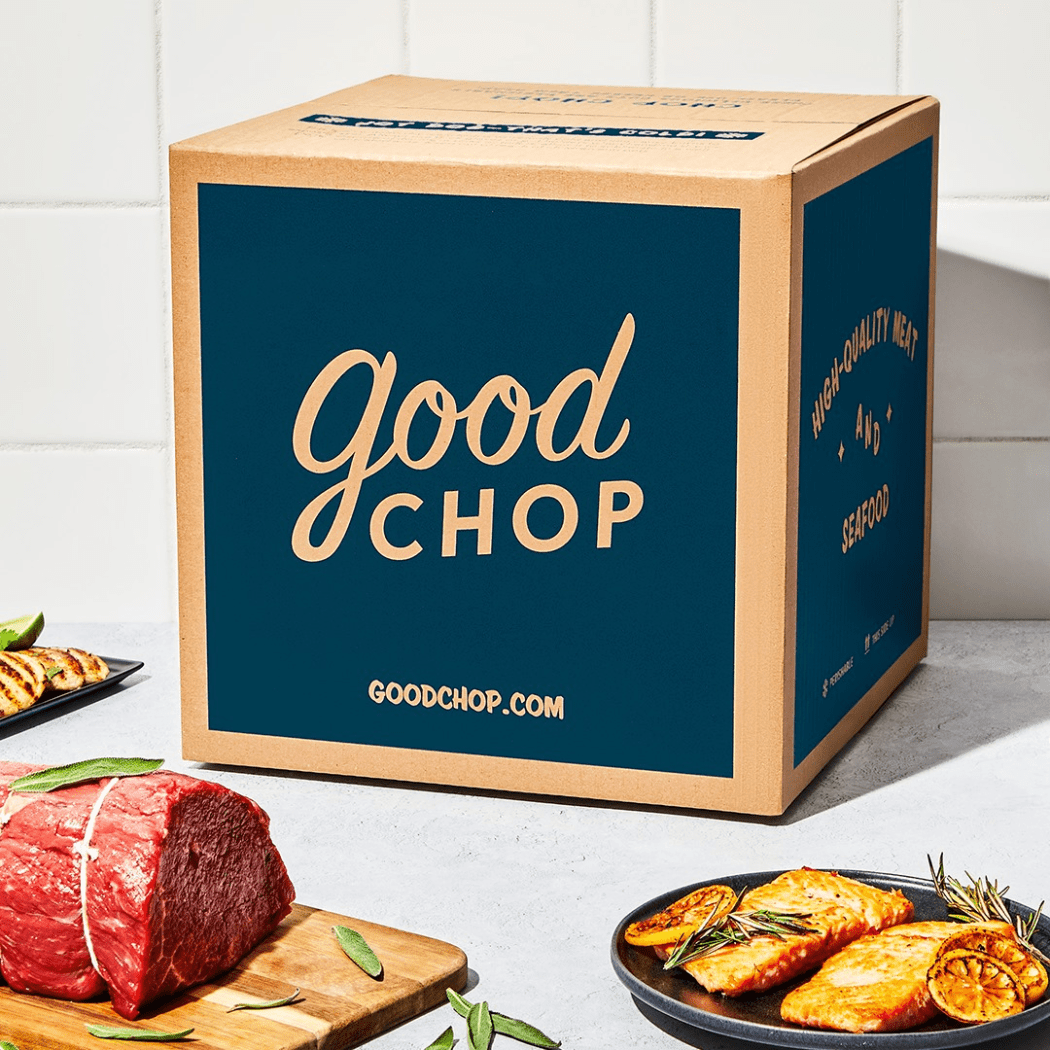 Image from: Good Chop
What You Get: Good Chop offers high-quality meat and seafood for your grilling pleasure! This flexible subscription gives you the chance to pick out the exact cuts you need for grilling, from beef to pork to chicken to seafood. There are 48 different cuts to mix and match, providing you with the best proteins! Subscribers can also build their own box – Medium Box (suggested for individuals or small families) or Large Box (recommended for big freezers and large families). Everything is sourced directly from American farms and fisheries that follow sustainable practices, and it's one more reason to love this subscription!
Price: Medium Box costs $149/mo, while Large Box costs $269/mo.
---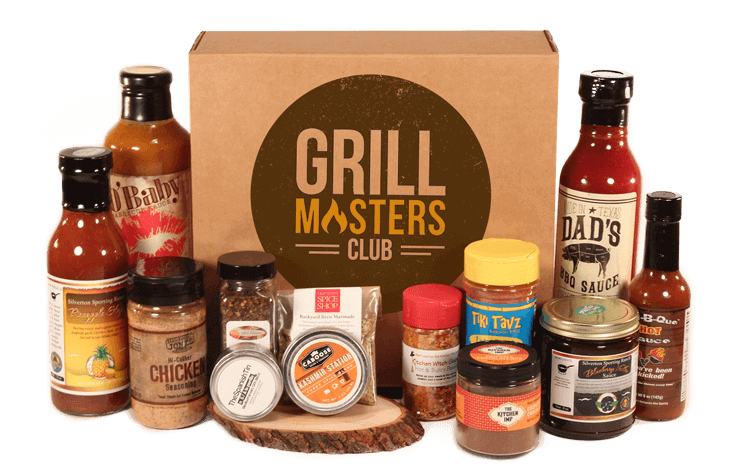 Image from: Grill Masters Club
What You Get: Prepare to fire up the grill because the Grill Masters Club will make your grilling experience a memorable one! It is a monthly subscription service that sends out a range of grilling items and recipes to its subscribers, making one's grilling experience more interesting and enjoyable! It includes rubs, seasonings, sauces, wood chips, and one surprise item chosen by a certified BBQ judge that would surely bring your barbecue dish to the next level. As a subscriber, you'll also gain access to a community where you can see new recipes, tips & tricks, discounts, and giveaways. Be a grill master in no time and serve friends and family with grilled flavor goodness they can savor!
Learn more when you visit Grill Masters Club Reviews.
Price: The monthly box costs $39.99 with discounts when you prepay for more months!
Deals:
---
Image from: our review
What You Get: The simplest way to get your meat delivered and be grilled-ready every time is through Porter Road. It is a monthly meat subscription that delivers high-quality, well-portioned, pasture-raised meats sourced from animals nurtured in a stress-free environment. Switch up your grilling game with 5 curated meat boxes available for you to choose from: Butcher's Choice Box (8-10 lbs), Stay at home Bundle (11 lbs), Best of Porter Road Box (8 lbs), Beef and Pork Basics (9 lbs), and Grill Master Box (6 lbs). These meats are more flavorful, satisfying, and far more tender than the meats you'll find in grocery stores. Once you taste the difference, you'll definitely never go back!
Look into quality meats they've sent us on Porter Road Reviews.
Price: Subscription starts at $70 per month.
---
Image from: Sauce Boss
What You Get: Grilling meats flavored with savory and yummy sauces is easy with Sauce Boss. This subscription delivers the best condiments you can use for grilling or dipping! Every quarter, you'll receive 1-3 gourmet handpicked sauces matching your flavor profile. There are two subscription plans to choose from: The Sauce Boss includes 1 in every box, while Condiment King contains 3 different bottles of condiments. It may include BBQ sauce, ketchup, mustard, mayo/aioli, hot sauces, and ranch dressing in all variations, plus all are full-sized! Shipping is also free within the US.
Price: The sauce boss box costs $17.99 per month.
---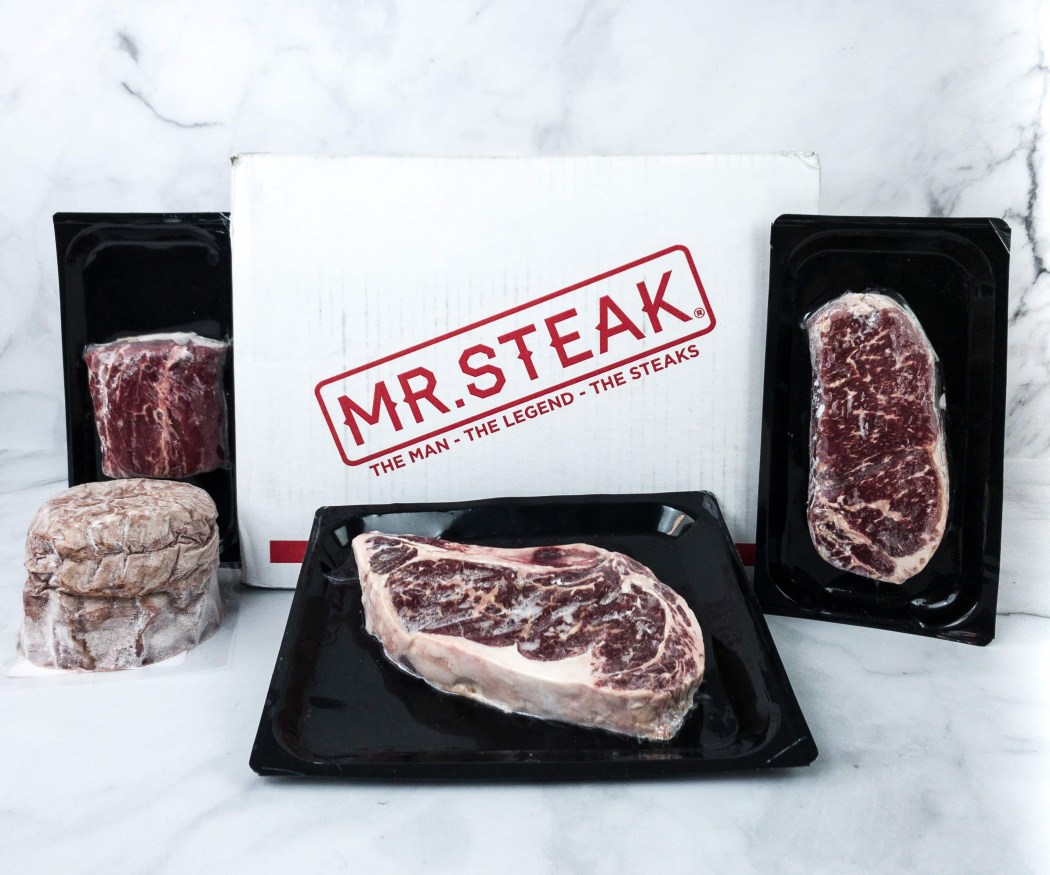 Image from: our review
What You Get: The best steak for a great grilling night comes with Mr. Steak. This meat subscription delivers high-quality, well-portioned meats directly to your doorstep. Each box consists of carefully hand-picked steaks from the Midwestern ranches that also supply steaks to some of the best steakhouses in America. All are locally sourced, pasture-raised, and ethically produced. Either you choose from their curated boxes or build your box – pick your choice & grill non-stop! And if you're not sure what meats to grab, you can take the quiz and be matched with steak that fits your story. Not only do they offer meats, but also grilling accessories and equipment as well that'll make it easy for you to have a fun grilling night with friends or family. On top of everything, they provide a meal to hungry individuals or families across the local Colorado community for every box purchased!
Head on to Mr. Steak Reviews to know more.
Price: Subscribe and save 10% starting at $125.99 each month.
---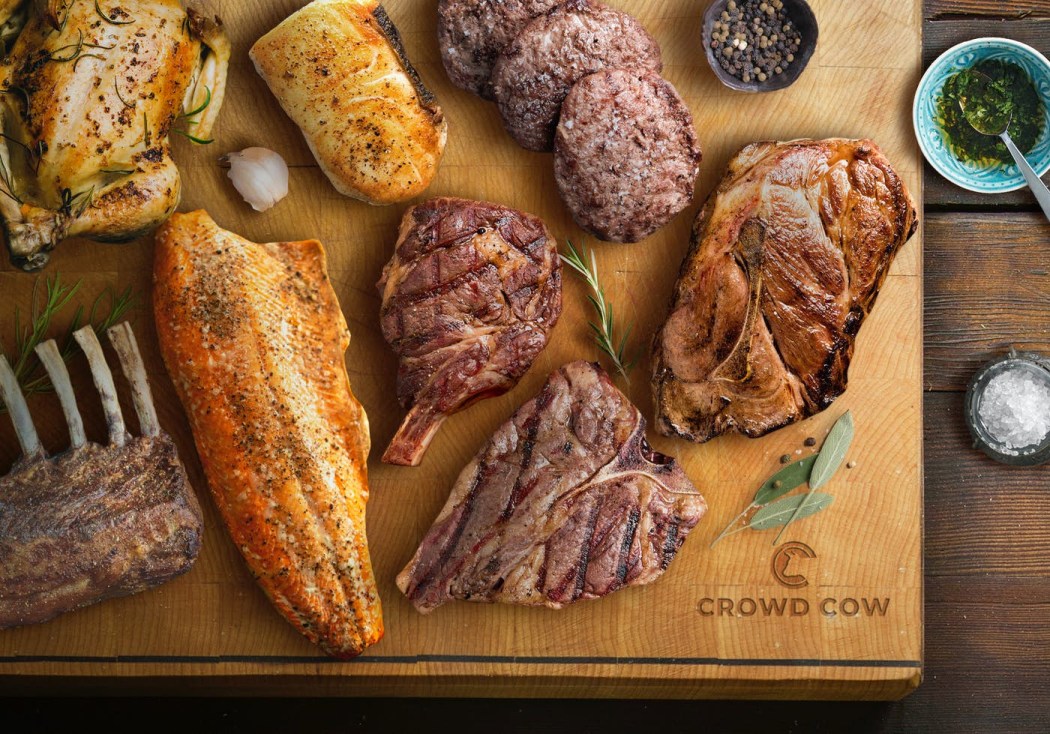 Image from: Crowd Cow
What You Get: Crowd Cow is one subscription to go to if you're looking for premium quality meats to grill. This craft meat and seafood subscription service deliver frozen goods directly to your doorstep, sourced with the highest regenerative and ethical standards in mind. To ensure that the meats arrive in the best possible condition, they are vacuum-sealed and packed in environmentally friendly, biodegradable, and recyclable packaging. Every product contains no unnecessary antibiotics or any added hormones and is taste-tested by experts. Choose which cuts you love or try new ones in your chosen delivery frequency! The box is fully customizable, and you have all the control. Through this subscription, you'll never run out of meat to grill!
Price: Members get 5% off every recurring single box plus free shipping for orders $99 above.
Deal: Get FREE Protein of your choice with EVERY box for every subscription order over $149! Deal applies automatically, just visit and subscribe.
---
Image from: Cooler Can Monthly
What You Get: The best beverage to pair with grilled meat is a chilling cold beer. The hot and smoky flavor with each bite plus the cold fizzy flavor you gulp brings another level of fun and deliciousness. With Cooler Can Monthly's koozies, your cold beer will never go warm! Each month, you'll get a limited edition koozie – a perfect drinking buddy, from places like the shadiest bars and quirky Mom and Pop shops. These koozies are made from high-quality neoprene, which is the same material used in wet suits, keeping your canned beer cold by up to 50%! What's even great is that you'll never receive the same design twice. Coz' when you receive the design for the month, it'll retire forever from the club!
See how it works when you visit Cooler Can Monthly Reviews.
Price: The plan costs $7 each month.
---
Image from: Beer Drop
What You Get: With Beer Drop's personal selection, you can experience beer like never before! They choose the best beers available from award-winning breweries to provide beer drinkers with access to exciting brews not available in their local markets. You can choose the style mixes your palate wants and get personalized recommendations based on your flavor choices. Choose from three different plans they have: Beer Drop, Beer Drop Plus, Beer Drop Ultimate, and receive 10 unique beers in a can, having 2 of each kind. All there's left for you to do is sit back, relax, and wait for your beer box to be delivered, so you can get on with a perfect grilling night alone or with the ones you love!
Price: Choose from three subscriptions: Beer Drop – $49.99 a month, Beer Drop Plus – $59.99 a month, and Beer Drop Ultimate – $74.99 a month.
---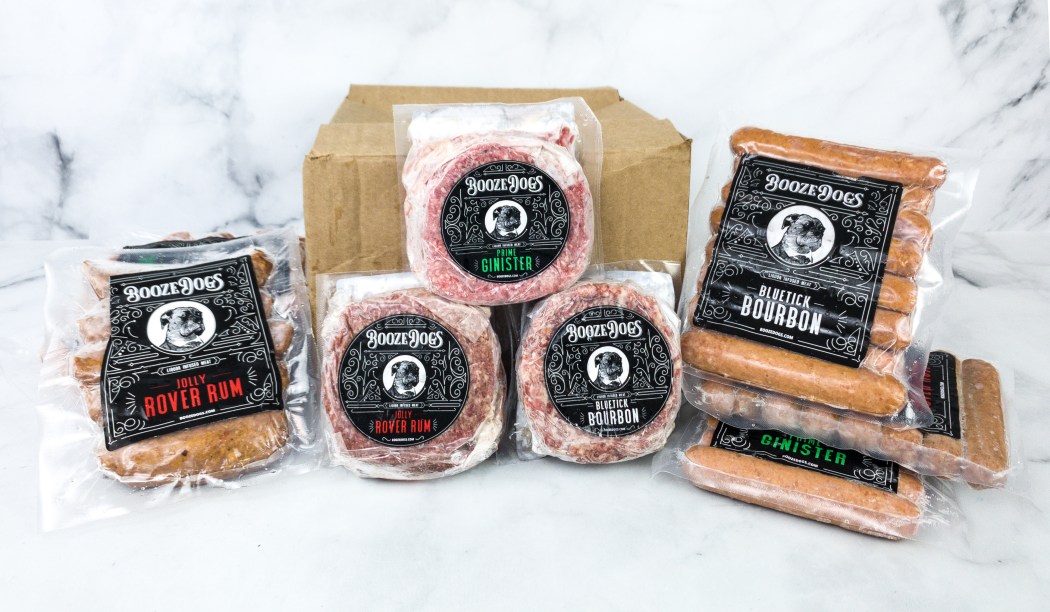 Image from: our review
What You Get: With Booze Dogs, you can have an unforgettable and fun time with friends and family while serving them smoky goodness, grilled meat with boosting flavor they'll never forget. This monthly subscription provides anyone with two things in one – booze and meat, the perfect pairing! Each box comes with a variety of meat, infused with liquor flavors like bourbon, gin, or rum, and mingled with the highest quality spices for a superior taste! Definitely, a subscription for food adventurers and grilling enthusiasts. These are made from clean ingredients that you can pronounce – no tricks and games! Also, when you shop with them, 3% of all proceeds go toward supporting Best Friends Animal Society.
See past box contents on Booze Dogs Reviews.
Price: The box starts at $59.99 per month.
Deals:
---
Image from: our review
What You Get: Craft Beer Club offers the finest craft beers that you can pair with the meat you grill. The beers are sourced from around the country and produced by small-production, independent brewers who use only traditional brewing ingredients with creative techniques and time-honored brewing methods. Each shipment includes twelve 12 oz world-class craft beers – 4 different craft styles with three 3 beers each style, along with a newsletter containing the story behind each one, the place where it originated, and serving suggestions. First-time subscribers will receive up to 3 free bonus gifts in their first shipment as a welcome gift. You can also choose to receive 24 bottles in one shipment if you wish!
Peek at what beers we've received in the past on Craft Beer Club Reviews.
Price: Receive 12 beers every month for $44.75.
---
Image from: our review
What You Get: With Butcher Box's premium quality, organic, heritage breed, and grass-fed meats, you'll have the yummiest barbecue to devour! Everything has been carefully and perfectly portioned and packed, saving you a lot of time compared to when purchasing from butcher shops, all at an amazing value! You have the option to choose what plan your heart desires. There is the Curated Box, which lets you try something new while enjoying tried and true favorites available in Classic Box Size (24 meals) and Big Box Size (48 meals); and the Custom Box, where you have the freedom to choose exactly what cuts you want in your box available in Classic Box Size (30 meals) and Big Box Size (60 meals). Whatever box you choose, you'll surely have fun grilling and savoring the best barbecue you could ever imagine!
Visit Butcher Box Reviews for more information.
Price: The box starts at $169 each month.
Deal: Check for the latest special offer for Butcher Box! Use this link to get the deal.
---
And that is all for the best grilling subscription boxes! Which of these subscriptions are you looking forward to for grilling?
Looking for more? Check out our list of all the best subscription boxes in every category!
Say Hello To More Subscription for Grilling Supply!