Start each day with a healthy boost! Even if you don't have much time to prepare a meal, these smoothie subscriptions offer great alternatives. They have the most delicious and convenient ways to supply what your body needs. You don't have to browse and scroll recipes on your device because these smoothie subscriptions are ready-to-blend. No more cutting fruits or veggies, and definitely, no measuring needed as everything is pre-portioned. All you have to do is empty a pack (in a blender or even in a shaker bottle), mix your fave liquid and see your superfood whirl and swirl!
Here are a few of our favorite Smoothie Subscriptions to get you up to speed on fulfilling your transition to a healthier you! From frozen smoothies to cold-pressed goodness, we found the best smoothie subscriptions, so you'll have no excuse not to achieve your health and wellness goals. Sip and get fit!
The Best Smoothie Subscription Boxes That We Love!
p.s. If you need a blender for all your smoothie making, we recommend the top end Vitamix, a Blendtec, or if you're just getting started, try a countertop Ninja!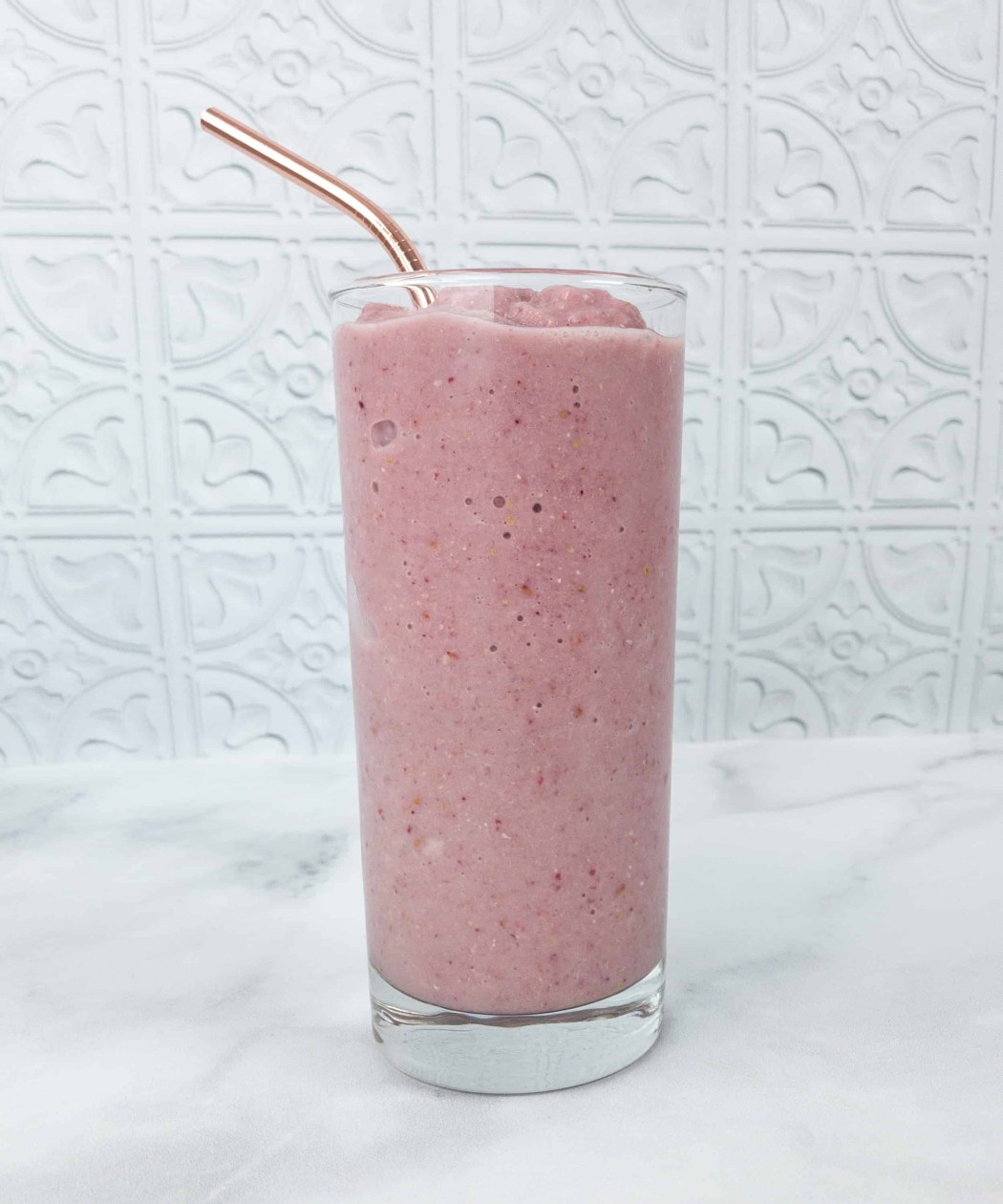 Image from: our review
Why We Love It: Daily Harvest provides healthy cups of superfood built on nothing but goodness – fruits and vegetables! These smoothies require no hectic preparation because they're ready-to-blend. Choose a plan that works best for you and have total control of what goes in each box. Fill it with your favorite blends and receive your healthy cups in no time! Mix it up with a liquid of your choice and let the blender do all the work for you. What's left to do is pour it back into your cup and sip!
You can also order nutritious harvest bakes and bowls, soups, lattes, overnight oats, flatbreads,  chia parfaits, soups, and more, along with your smoothie cups.
Price: You can choose a plan of 9-26 items and the pricing ranges between $6.79-9.79 per item.
Deal: Save $25 on your first box! Use coupon code HELLOSUB and Use this link to subscribe.
---
Image from: Blendtopia
Why We Love It: With Blendtopia, you can get your filling, clean and healthy smoothie with just a click away. Their mission is to provide anyone with high-quality, most-nutrient rich, ready-to-blend smoothies that are sure to work wonders for your body! They're organic and perfectly-portioned, so no more messy countertops trying to blend the exact amount. Choose the 7-day Cleanse Box and get 14 smoothie pouches (4 glow, 5 detox, 5 strength), or build your own box of 8, 12, 16, or 24 from 5 different smoothie blends – detox, energy, glow, immunity and strength and have it delivered in your preferred schedule, plus free shipping! Empty the pack in a blender and listen to the sound of it whirling with goodness!
Price: Get a box of 8 for $59.92 or $7.49 a smoothie.
Deal: Get $15 off on your subscription order! Use coupon code WELCOME15.
---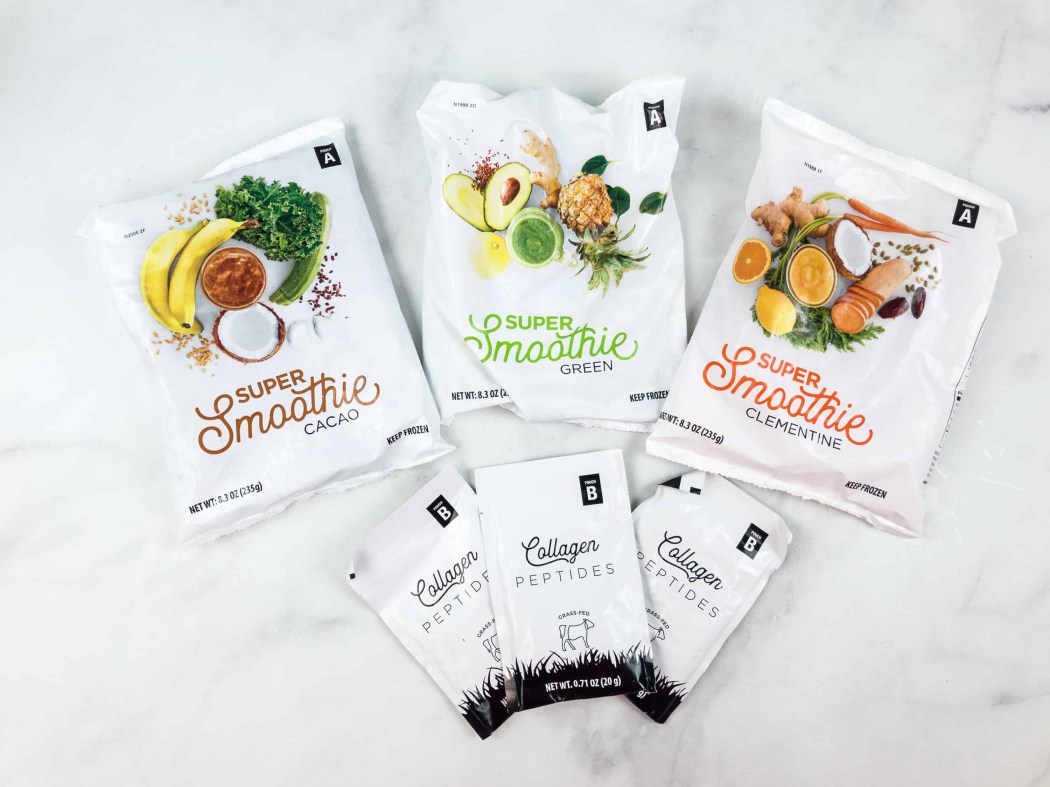 Image from: our review
Why We Love It: Feel refreshed drinking a smoothie that's bursting with flavor and overall goodness! SmoothieBox makes preparing for a delicious and filling smoothie easy as pie. It offers convenient yet perfectly portioned smoothie packs that you can blend in no time and go! You can choose to receive 20 or 25 smoothies per shipment (free shipping, yay!) and have the option to choose which flavors go in your box as well – Green, Cacao, Berry, or Clementine. It has a balance of complex carbohydrates from organic fruits and veggies, healthy fats from seeds, and clean protein from grass-fed collagen, without added sugars or fillers. You're sure that what you're taking is healthy, nutritious, and delicious!
Price: The box containing 20 smoothie pouches costs $129, plus free shipping.
Deal: Get $10 off your first box + FREE Shipping! Use coupon code SAS10 and Use this link to subscribe.
---
Image from: our review
Why We Love It: Revive Superfoods delivers smoothies that are pre-portioned, making it easy for you to prepare them – no chopping and measuring needed! The ingredients are premium and nutritious, as they are crafted and prepared by a team of nutritionists and food scientists, so you're sure that what you are taking is healthy, nutritious, and delicious! All you have to do is blend, serve, and sip.
Also available are pre-made oat bowls, ready-to-eat super meals, falafel pops, and soups.
Price: Select from their weekly plan which costs $6.75 per cup for 9, 12, or 24 cups, or a monthly plan for $6.49 per cup for either 12 or 24 cups.
Deal: Get 55% off your first box! Use coupon code RSFAWIN55.
---
Image from: Kencko
Why We Love It: Get all the vitamins and fiber your body needs with Kencko. This smoothie subscription will help you fulfill your daily requirement of fresh produce intake with their powder mixes contained in single-serve packets. You'll receive 20, 30, or 60 smoothies based on your chosen plan and have the option to choose what flavors you want to include in your box! Tear one packet, pour it in a shaker bottle, add liquid, then shake it vigorously so you can enjoy delicious, easy-to-whip-up smoothies! And if you don't know what flavors to try, you can take their quiz and answer a few questions regarding your health concerns and goals. Also, your first box will grant you a free shaker bottle you can use when preparing your smoothies.
Price: Receive 20 smoothie packs for $59.80 or $2.99 per smoothie. Save more when you opt for 30 or 60 packs.
Deals:
Save 10% on your first box of smoothies, gumdrops, and bowls! Use coupon code kenckopartner and Use this link to subscribe.
Get a FREE Bowl with your first box of 12 bowls order! Use coupon code FREEBOWL.
---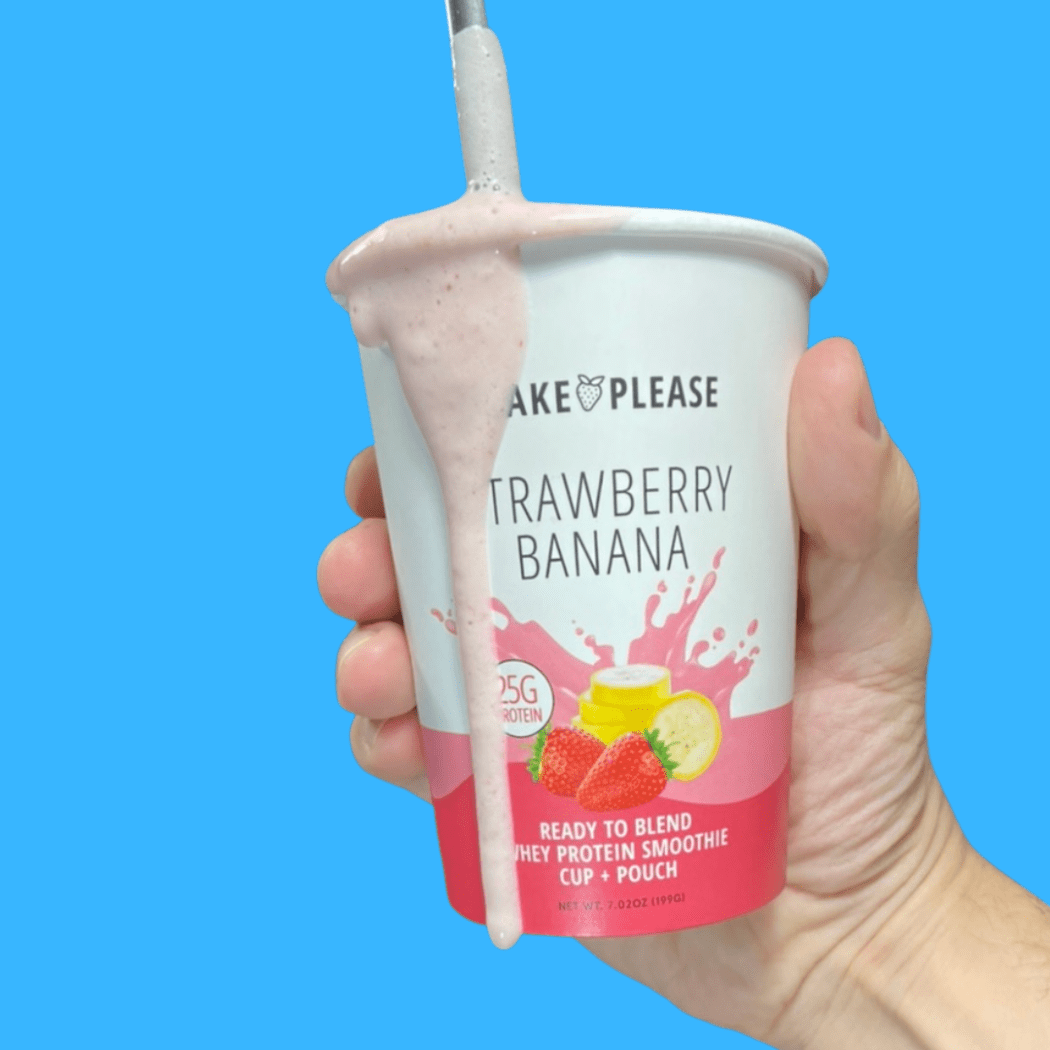 Image from: Shake Please
Why We Love It: A nutritional day booster is now in the form of ready-to-blend smoothies! Shake Please will make your day even better with a yummy and healthy meal replacement. Receive 8, 16, or 24 smoothie cups + pouch every week or every month with delicious dreamy, creamy, and health-giving flavors of your choice – Vanilla Berry, Chocolate Peanut Butter Banana, Strawberry Banana, and Pineapple Berry. Empty one in a blender, mix it with water or any of your favorite liquid, blend with the protein pack, pour it back into your cup, and you'll have a quick breakfast that you can take even on the go!
Price: Subscription starts at $79.92 each month.
Deals:
Get $20 off with a 24 Smoothies Box! Use coupon code 40please.
Get $5 off with an 8 Smoothies Box! Use coupon code 5please.
Get $10 off with a 16 Smoothies Box! Use coupon code 20please.
---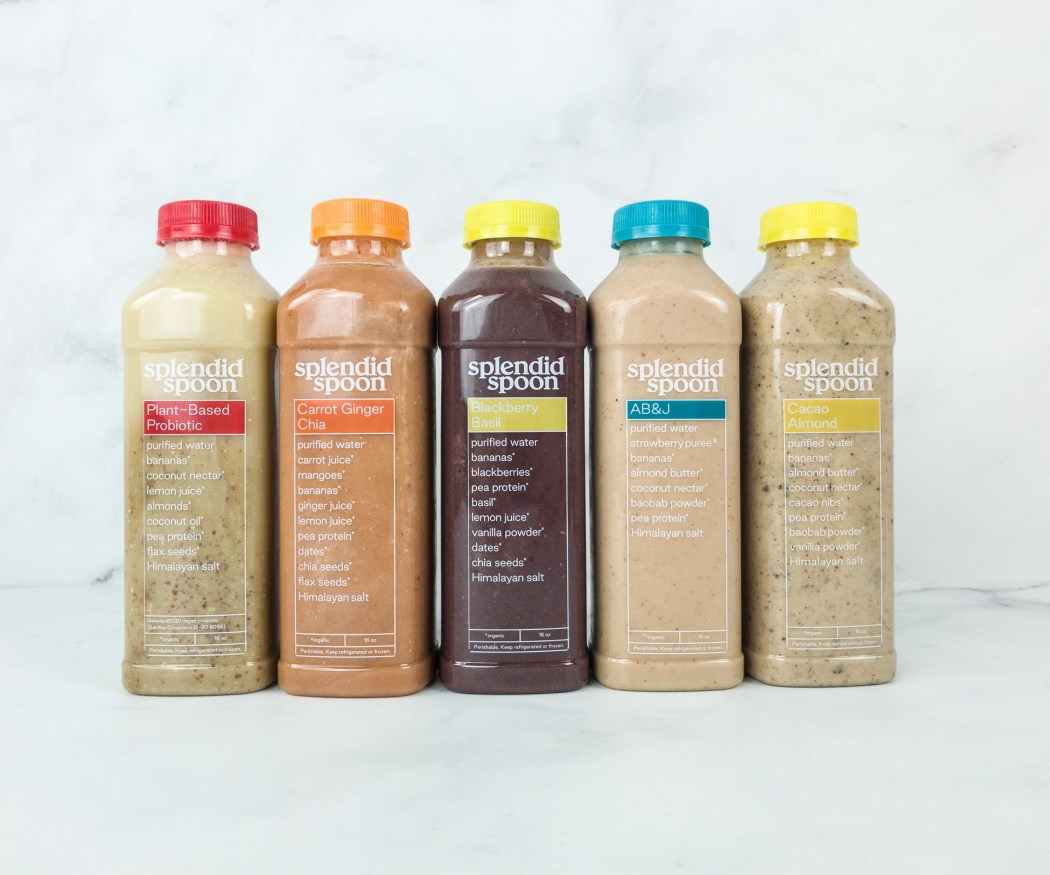 Image from: our review
Why We Love It: With Splendid Spoon, you can kickstart healthy habits and ditch the bad stuff! This scrumptious meal subscription plan delivers vegan, gluten-free, and GMO-free meals directly to your door. Grab their ready-made, low-sugar smoothies and feel energized wherever you may be – no preparation needed! Choose your plan, schedule the delivery, and enjoy the selection when they arrive at your door. Leave the box as it is or customize it box by avoiding flavors you don't want and adding what appeals to you most. Shake it up real good and enjoy!
They also offer soup and grain bowls, noodles, and even wellness shots!
Price: Subscription starts at $65 per week, and you can choose from their plans: Lunch, Breakfast+Lunch, or Breakfast+Lunch+Reset.
Deal: Get $100 off your first 4 boxes! Use this link to get the deal. First 4 boxes must be ordered within 90 days from the shipping date
---
Image from: Live Pure
Why We Love It: Fill your body and boost your energy! Live Pure offers superfood smoothies, reinvented in the form of cubes, delivered straight to your front door. Each nutrient-rich, flavor-boosting cube is non-GMO, gluten-free, and dairy-free. It's pre-made from USDA organic fruits, vegetables, superfoods, nut butter, and probiotics with zero added sugar. There are 9 yummy flavors to choose from, available in small and large bags. The small bag contains 20 cubes and can make two 13oz smoothies, while the large bag comes with 60 cubes and can make up to six 13oz smoothies. You can also get the Best Seller Box, which includes 7 flavors and 14 smoothies, and a Chocolate Chia Superfood Granola. These fresh frozen fruit smoothies require no complicated prep. Just drop, pour and mix, and you'll have a tasty smoothie to devour in no time!
Price: The small bag costs $11, while the large bag is $29.95. The Best Seller Box costs $79.
---
Image from: Frozen Garden
Why We Love It: For pure smoothie goodness without gimmicks, Frozen Garden is one to blend! They let you enjoy 100% whole fruits, vegetables, seeds, and spices in ready-to-blend smoothies with no added sugar or supplements, plus everything is sourced from local farmers. No measuring and cutting are needed – they are pre-made to save you more time! Each flavor is chef-inspired, designed to meet what you need for every day. You can choose exactly which flavors you like or try the Smoothie Variety Pack with 15 smoothies (1 of each flavor) or the Smoothie Stock Up Pack with 2 of each flavor. Everything is ready-made, so all you have to do is blend and enjoy a nutritious smoothie without the hassle.
Price: Each smoothie pack costs $6.99 and bundle packs cost $59.99 up to $194.99.
---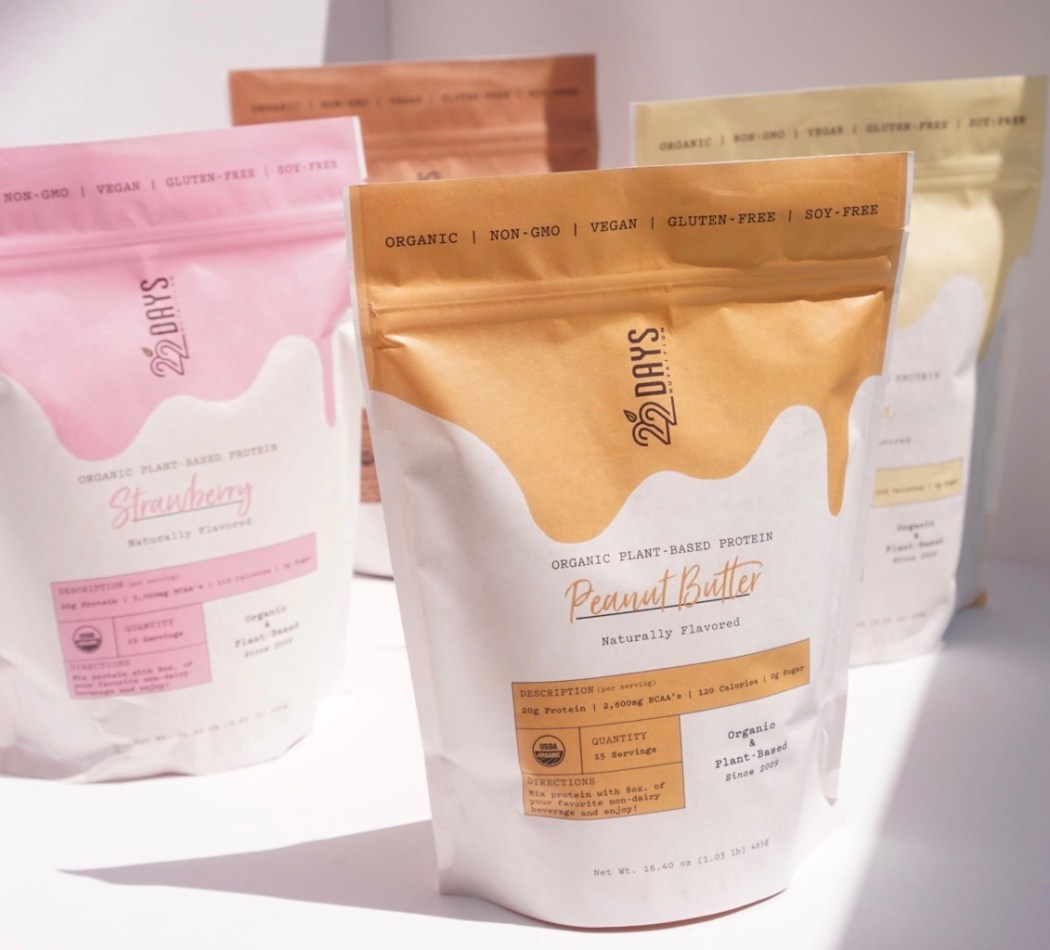 Image from: 22 Days Nutrition
Why We Love It: Drink an ultra, super goodie smoothie without the guilt! 22 Days Nutrition serves protein powders that are 100% plant-based & 100% USDA organic. These pouches of goodness are high in protein, low in carbs, and absolutely delicious (no bad stuff) to help you maintain, recover, and repair! Each pack contains 20g of plant-based protein and can make up to 15 servings. Flavors to choose from are Vanilla, Chocolate, Strawberry, and Peanut Butter. Or shop the Plant-Power Set and get 1 pouch of each flavor for a healthy yet yummy experience!
Price: A 15-serving protein powder pack costs $23.39. You also have the option to choose a delivery frequency – every 2, 4, 8, 12, or 24 weeks.
Deals:
Get $20 off on your annual meal plan subscription! Use coupon code 20OFFMEALPLAN.
Get 15% off your first vitamin or protein powder order! Use coupon code 22DAYS15OFF. Valid on one-time or subscription orders!
---
Image from: Realm
Why We Love It: Realm sends easy-to-prepare smoothies that are equivalent to a balanced meal! It's made from real fruits and veggies, nuts, and plant proteins, then freeze-dried and crushed into powder (no preservatives, no added sugars) for maximum health benefits. Receive 5, 10, or 20 packs a month, depending on how often you need a healthy meal. You can also choose which flavors go in your box – Beery Fresh, Tropical Greens, or Bold Cacao. Each pack is loaded with nutrients to help you stay fueled all day long. Mix it with water or milk, give it a good shake and enjoy even on the go! Also, a shaker bottle is included in your first box for free.
Price: You can get their 3-pack sample set for $15, and their 5-pack smoothies for $25.
---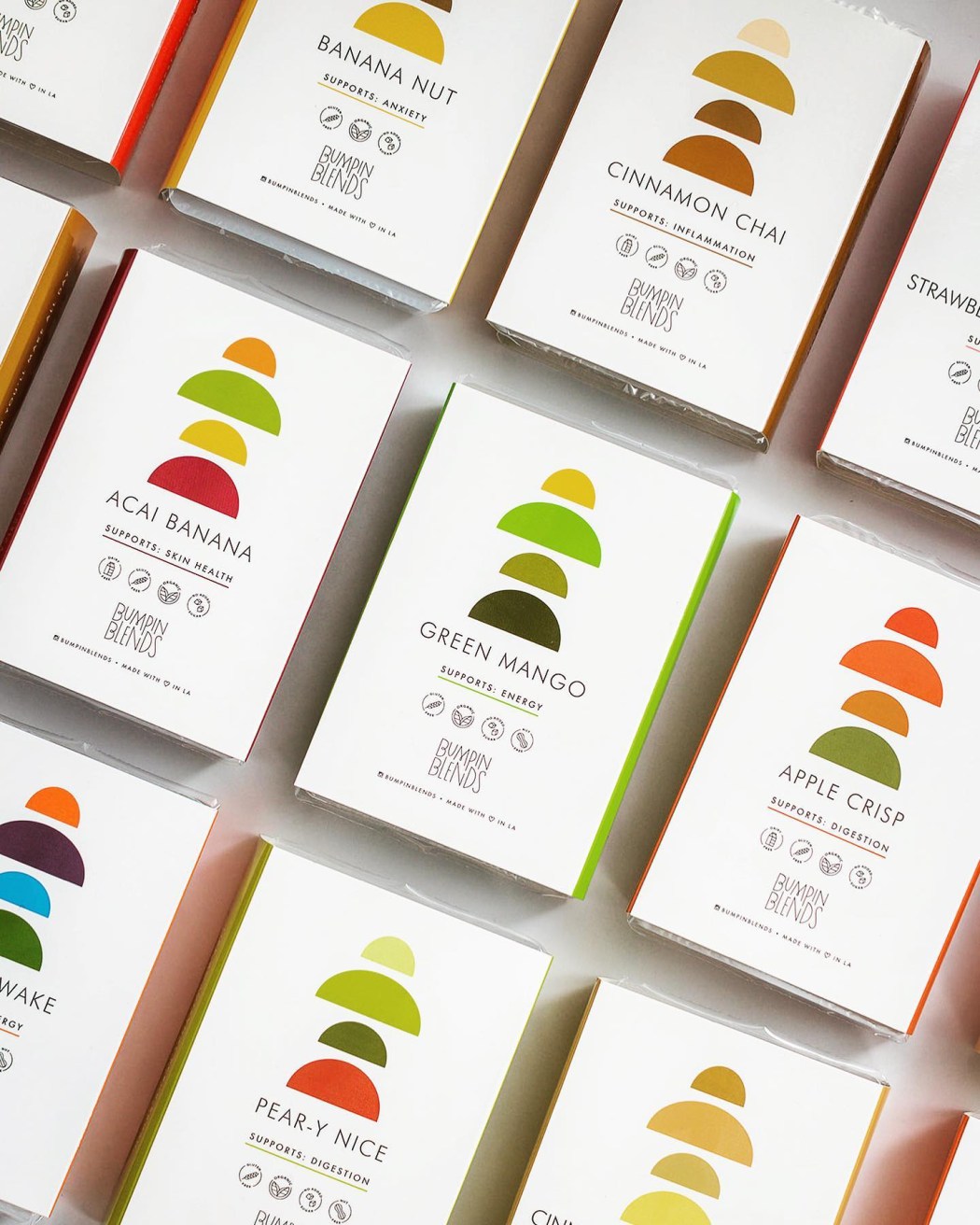 Image from: Bumpin Blends
Why We Love It: Bumpin Blends make it possible for you to get your daily nutritional intake in the form of smoothie cubes. This monthly subscription offers registered dietitians custom superfood smoothie cubes you can easily prepare, sip, and enjoy! All you have to do is take a quiz to find the perfect blends – personalized just for your needs – made from whole, real veggies & fruits, nuts & seeds, protein, and spices! Build your own box of 7, 14, 21, or 28 blends, and receive your fave flavors every 2 weeks or monthly. Toss 6 pre-blended cubes into a blender, add a cup of your most loved liquid, and watch your smoothie whirl and swirl!
Price: The subscription starts at $161 per month.
---
And that sums up our list of the best smoothies subscription! Did you find the perfect blend for you?
Make sure to check out our list of all the best subscription boxes in every category to find more!
Say Hello to More Subscriptions for a Healthy Lifestyle!