Living a healthy lifestyle doesn't have to be a hassle. In fact, it can be quite enjoyable with the right products and resources. Whether you're a vegan or simply looking to incorporate more plant-based options into your diet, these subscription boxes have got you covered. From delicious vegan snacks to eco-friendly personal care products, these boxes offer a convenient and affordable way to prioritize your health and wellness. Plus, by subscribing to these boxes, you'll not only be doing something great for your body but also for the environment and animal welfare.
Show More (14 items)
Discover a world of plant-based goodness with these amazing vegan subscription boxes! They have everything from healthy snacks to non-toxic beauty products made with simple, cruelty-free ingredients. Whether you're a long-time vegan or just starting your journey toward a healthier lifestyle, these subscriptions offer a convenient and exciting way to explore the world of veganism. Check out our list of the best vegan subscription boxes and start enjoying the benefits of a plant-based lifestyle today!
The Best Subscription Boxes for Vegans!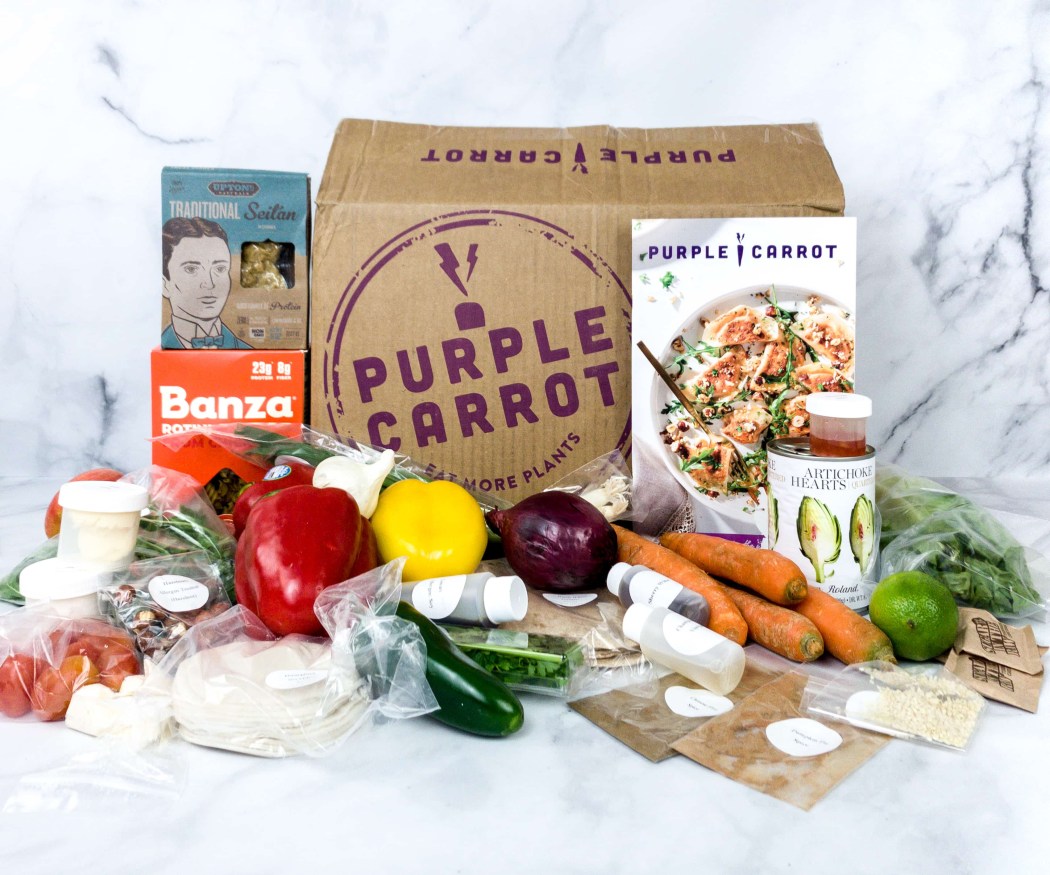 Image from: our review
Why We Love It: The Purple Carrot provides easy to prepare, healthy, and seriously delicious recipes complete with raw, pre-measured ingredients every week or prepared meals you can heat up in minutes! If you want to lower cholesterol intake, eliminate animal fats, and boost vegetable consumption, this subscription is a great deal!
All you need to do is customize your plan, including the number of servings and dinners per week. You can also add extras for breakfast and lunch by checking out their menus with plant-based ingredients. This subscription cuts down prep time, so there's no excuse for you not to eat a nutritious diet even if you're pressed for time!
Deal: Get $30 off your first order! Use coupon code carrot30.
---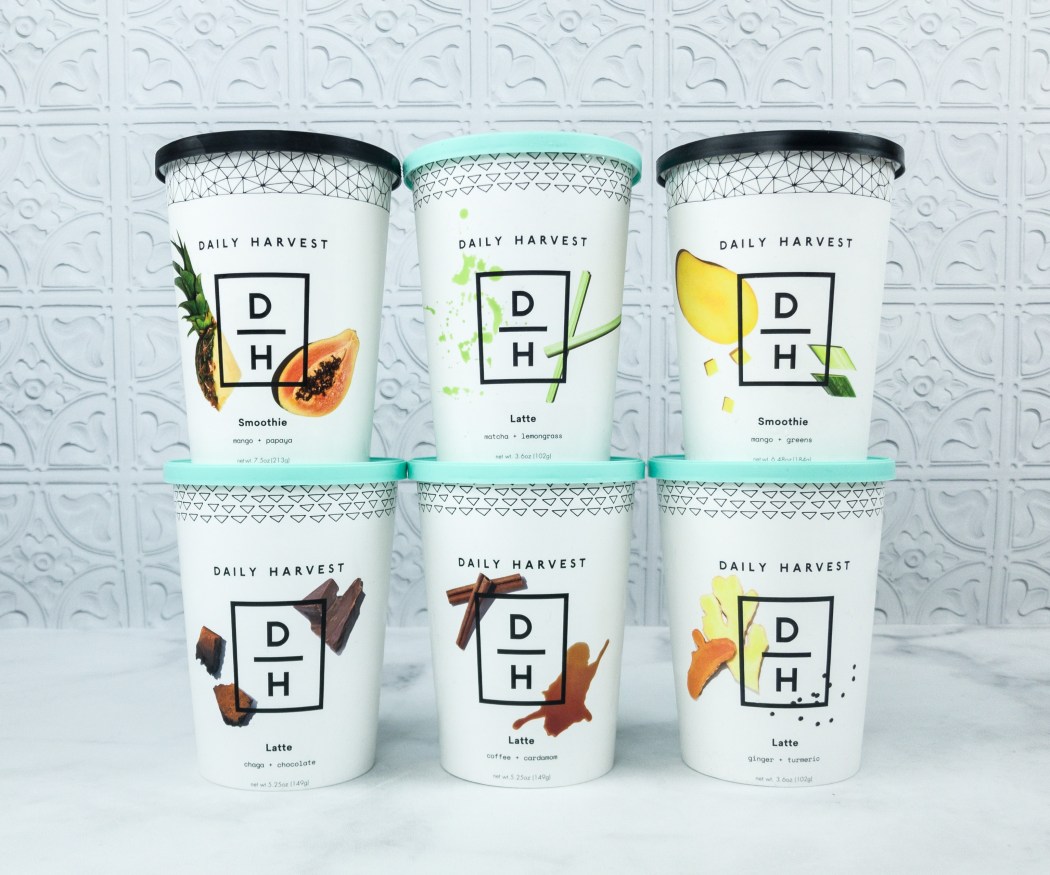 Image from: our review
Why We Love It: Don't have time to prep your own meal? No problem! Daily Harvest will take care of your food so food can take care of you! This subscription provides an easy way to add superfoods to your diet. You only have to follow three simple steps: customize the plan, unpack good food, and blend, heat, or prep!
Each week or month, subscribers receive ready-to-blend, heat, or eat whole food and superfood plant-based meals placed in big cups designed to meet their dietary needs. They currently offer healthy, undeniably delicious smoothies, harvest bowls, flatbreads, soups, oat bowls, chia bowls, scoops, bites, and lattes for you to indulge, guilt-free!
Deal: Get $30 off on your first 9-item order; $40 off on your first 14-item order; and $65 off on your first 24-item order! Use coupon code HELLOSUB and Use this link to subscribe.
---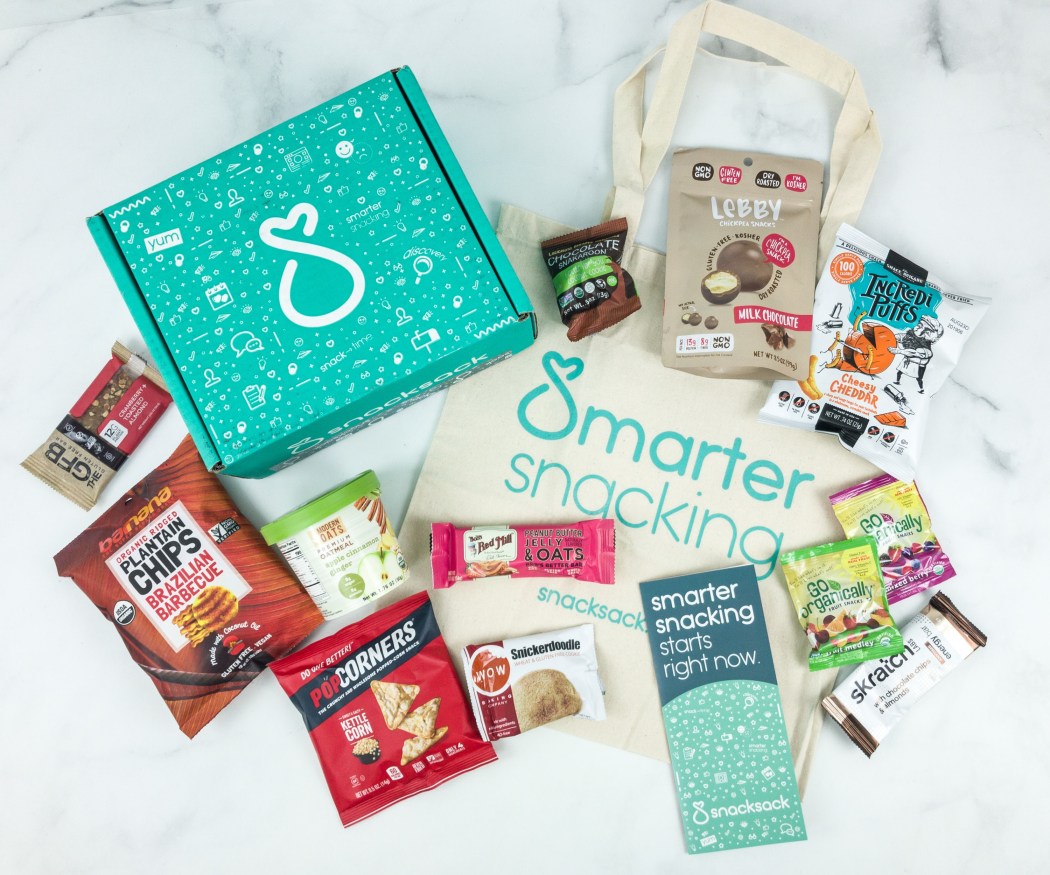 Image from: our review
Why We Love It: Healthy snacking has never been this good! SnackSack helps you discover healthy snacks and kick unhealthy snacking habits on the curb. The vegan plan curates a monthly themed collection of 11-15 unique and junk-free snacks seasoned with tasty flavors for your snacking delight!
Boxes are based on seasonal themes too. They make it so easy to ditch your unhealthy snacks and discover the very best of healthy snacks, and all are delivered directly to your door!
Deal: Save 20% on any SnackSack! Use coupon code HELLO20.
---
Image from: Hungryroot
Why We Love It: You have no reason not to eat fresh, high-quality foods since Hungryroot makes it easy by bringing everything healthy straight to your door. Their mission is to make it easier for people to eat healthily and feel great every day, and that's why they find the most nutritious options out there made with whole, trusted ingredients.
You can select dairy-free, vegan, pescatarian, gluten-free, and more. Based on your preferences, they'll send groceries you love and even give you recipes so you can cook them with such ease! All the food they carry is free of artificial sweeteners, high-fructose corn syrup, artificial colors, and artificial preservatives.
Deal: Get 40% off on your first $99+ order + FREE Bonus Groceries FOR LIFE! Deal applies automatically, just visit and subscribe.
---
Image from: UrthBox
Why We Love It: If you're crazy about healthy snacks and beverages, this subscription is definitely for you! UrthBox will surprise you with full-size, handpicked goodies made with organic, non-GMO, and all-natural ingredients. All you need to do is pick a box size with options for Everything, Vegan, Gluten-Free, and Keto boxes.
The Personal Size box contains 7-8 snacks, the Plus Size box has 14-16 snacks, the Family Size box includes 21-23 snacks, and the Team Size box, which consists of 28-30 snacks. Some of the vegan goodies they send include snack bars, granola, cookies, crisps, and trail mixes. Sometimes, they add a few extras like beverages and personal care products to fully satisfy your vegan lifestyle without the guilty feeling!
Deal: Get 30% off your first box! Use coupon code LOVE30.
---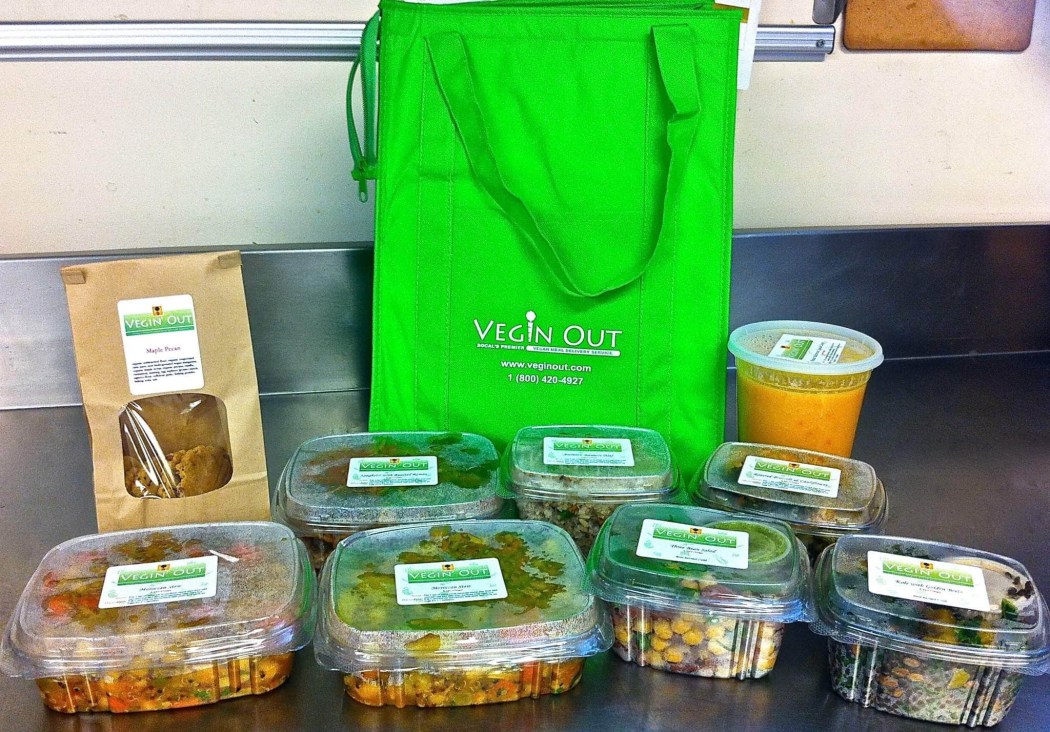 Image from: Vegin' Out
Why We Love It: Vegin' Out is a weekly vegan meal delivery service that offers delicious, nutritious, well-balanced, and organic vegan meals, all at an affordable price! Choose your meals from their vegan menu, and they will do all the shopping, chopping, and cooking. All you have to do is heat them up so you can fill your stomach with delicious vegan dishes.
Each item comes in a three-serving container, allowing you to mix and match the vegan entrees, vegan side dishes, and soup to suit your appetite. You can also talk to their vegan chefs and ask them for help regarding your preferred vegan meal plan!
---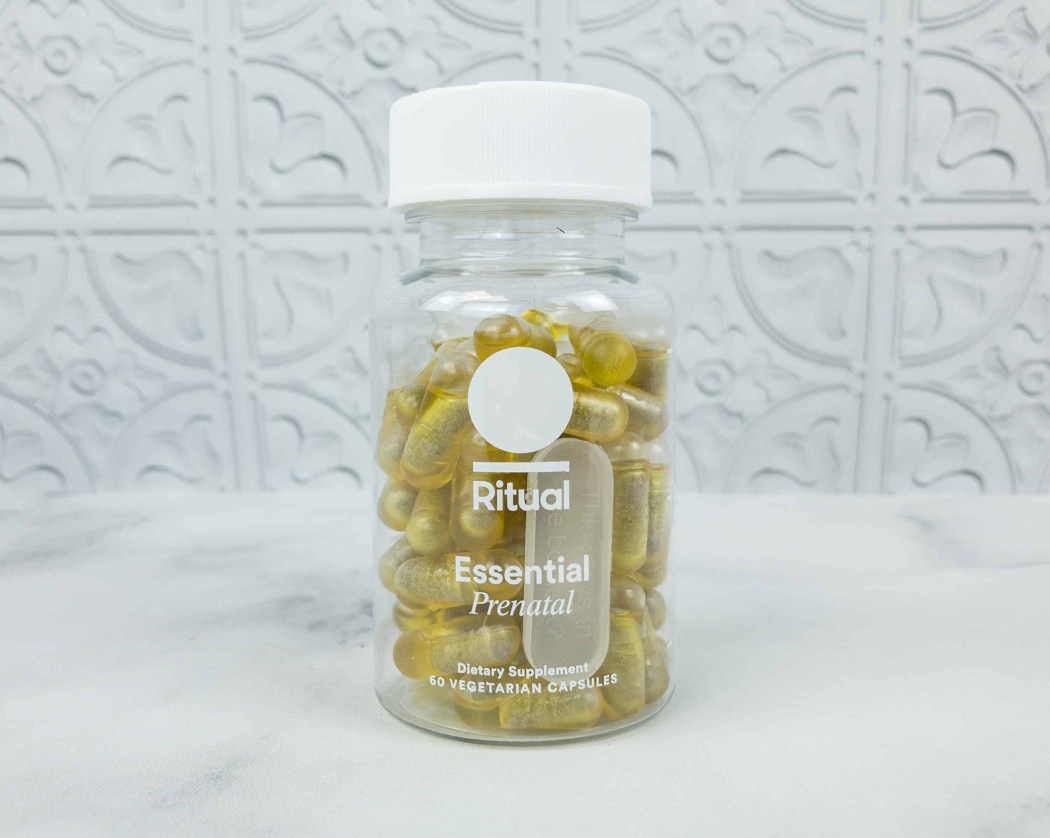 Image from: our review
Why We Love It: Ritual's goal is to help everyone maintain a healthy lifestyle by accompanying balanced eating and exercise with premium vitamins, such as Essential for Women, Men, Teens, and Kids. These vegan vitamins are designed to fill the gaps in your diet and support your blood and organ health, as well as keep your bones healthy and promote healthy aging, whether you're living your life or creating one.
Every ingredient has been meticulously researched by in-house experts, ensuring you'll only have the best vitamins to take every day. They are vegan-certified, gluten, and allergen-free too! It's multivitamin reinvented! Stay healthy, and be in your best shape with 60 capsules in each bottle that are good for 30 days.
Deal: Save $10 on your first month when you bundle any 2+ Ritual products! Deal applies automatically, just visit and subscribe.
---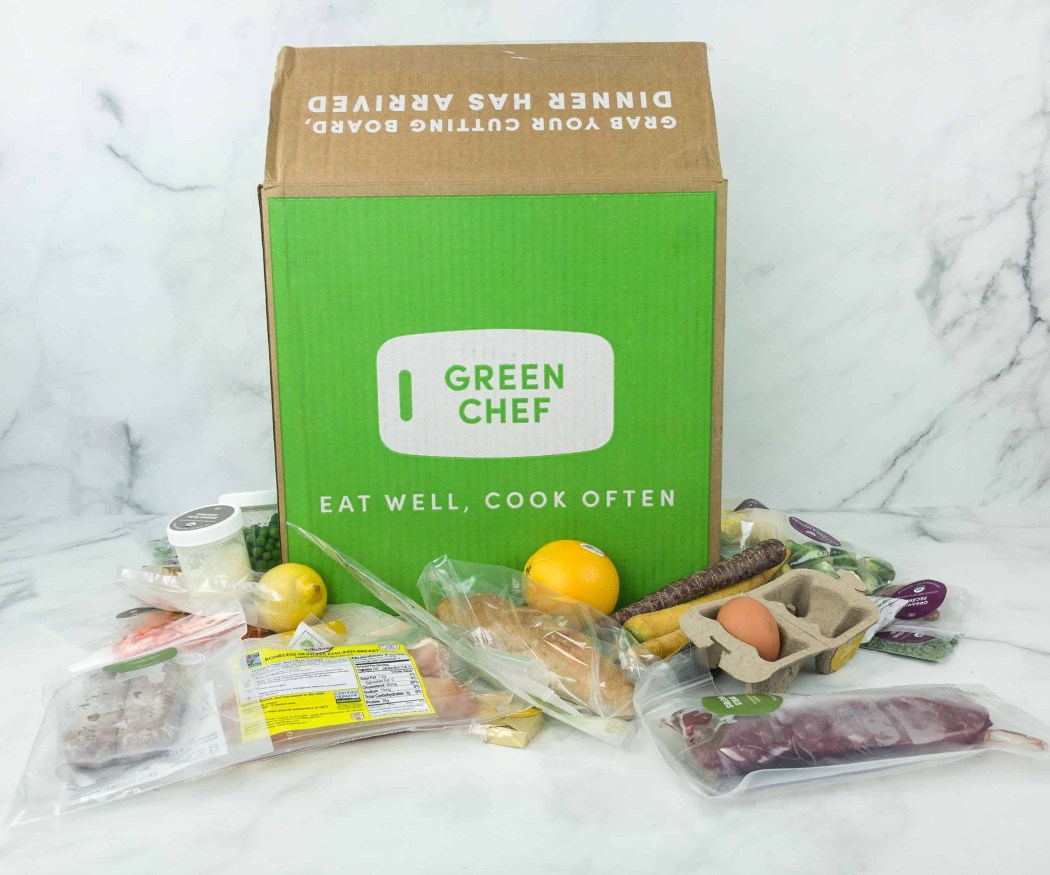 Image from: our review
Why We Love It: Green Chef is the number one meal kit for healthy eating, perfectly designed for vegans and vegetarians! They have a wide variety of clean meal plans at manageable prices, made for every lifestyle, including Plant-Powered, Keto+Paleo, and Balanced Living. Their incredible meals are pre-measured and prepped so you can save time cooking and serving them.
There's also a step-by-step instruction with photos that made them more convenient and easier to follow. All that's left to do is to enjoy tasty, restaurant-worthy meals alone or shared with someone!
Deal: Save $35 on your first box, $20 on your second and third, and $15 on your fourth – that's $100 savings! Deal applies automatically, just visit and subscribe.
---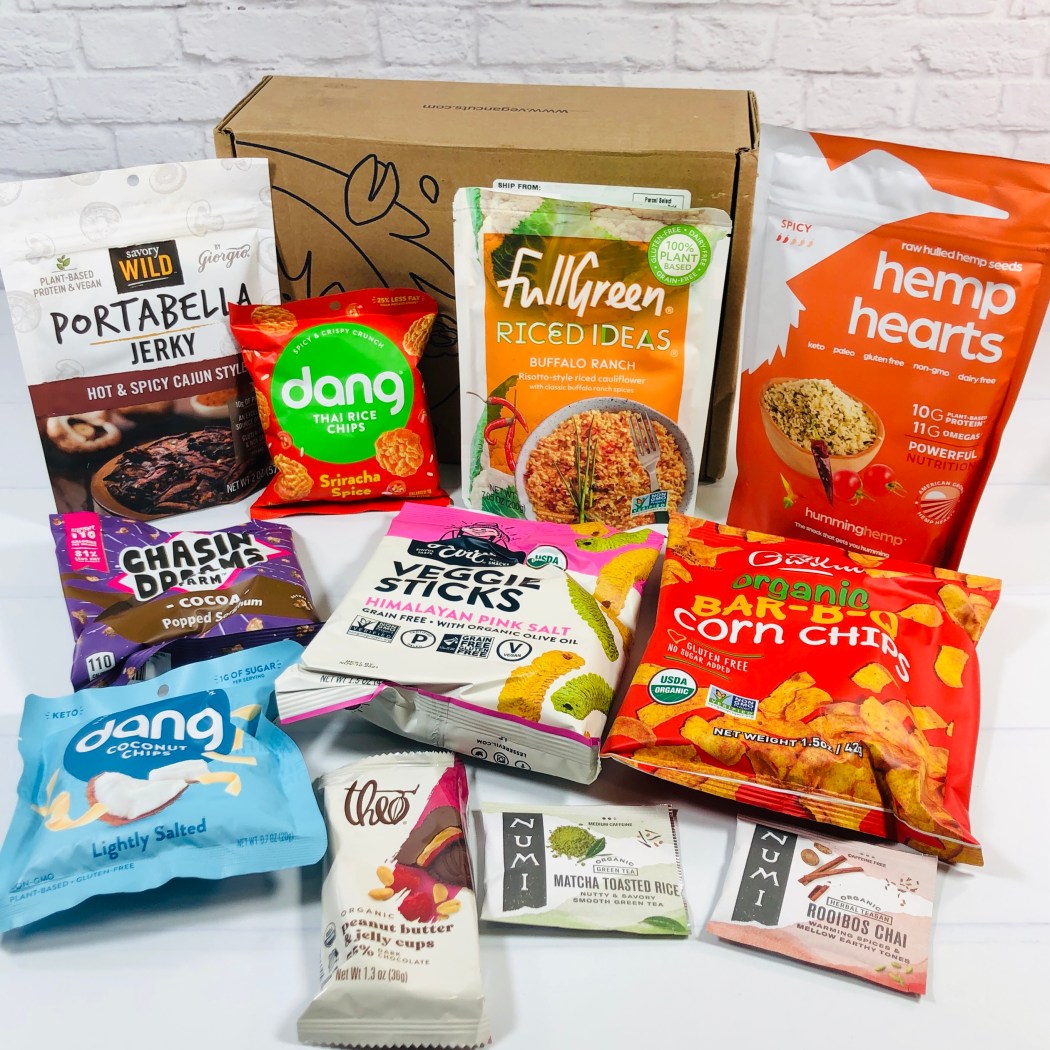 Image from: our review
Why We Love It: Vegancuts Snack Box is a great way to discover new vegan products that we can't come across in local stores or markets. They promise to offer 100% vegan and cruelty-free food items, ranging from chips and cookies to sodas and teas made from healthy ingredients. Each box contains 10 or more carefully-selected sweet and savory snacks for you to indulge!
They also offer one-time purchases and affordable gift boxes for those looking for something nice to give their vegan friends and loved ones. What's even cool about them is that a portion of sales goes directly to animal sanctuaries across the US.
Deal: Get $5 off your first box on any Vegancuts subscription! Use coupon code hellosub. The coupon can only be used once per customer, but it can be used on multiple subscriptions at once so long as they are in the same transaction!
---
Image from: VegReady
Why We Love It: VegReady offers hassle-free and cooking-free service with their ready-made, plant-loaded meals. They also give us the option to make a one-time purchase or subscribe for automatic monthly deliveries. There are 2 meal cases available to choose from: Amazonian Rainforest Meal Case and Coastal Verde Meal Case. Each contains 24 dishes, equivalent to 8 complete meals (1 main tray, 1 side, and 1 sauce).
Aside from being shelf-stable, the meals are all 100% plant-based with no nasty preservatives, bearing everyone's health in mind, including animals and the planet too! The foods arrive in custom-built and ultra-portable meal boxes for on-the-go, consume-anywhere healthy and enjoyable dishes.
---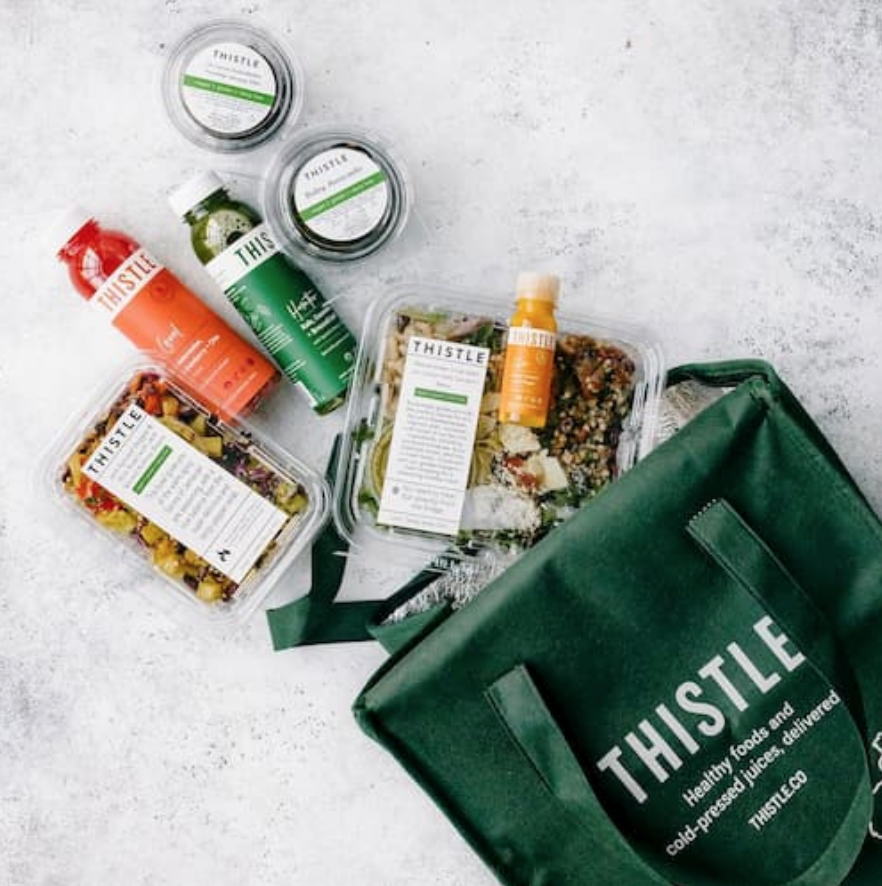 Image from: THISTLE
Get ready to experience vegan dining like never before with Thistle! Picture this: mouthwatering, ready-to-enjoy meals crafted with the freshest, seasonal ingredients that will make your senses dance with joy. From delightful breakfast options to satisfying lunches and dinners, Thistle's weekly menu is an ever-changing journey of discovery. But here's the best part: Thistle believes in giving you the power to tailor your vegan adventure. Personalize your subscription by selecting your preferred proteins and effortlessly swap, add, or remove meals to fit your cravings and preferences. And the excitement doesn't stop there! Thistle even offers an array of snacks, sides, and juices that elevate your dining experience to new heights.
---
Image from: Three Spirit
Three Spirit offers a line of functional spirits crafted with plants for a delightful and conscious drinking experience. You can conveniently explore their range of vegan blends, each designed to cater to different moods and moments. The Livener spirit invigorates with its energizing plant concoction, while the Nightcap spirit offers relaxation through carefully selected calming plants. For those seeking a non-alcoholic option, Three Spirit presents Blurred Vines, their collection of all-natural, low-sugar, and alcohol-free wines. Embracing sustainability and quality, Three Spirit uses ethically sourced, organic ingredients, ensuring a guilt-free indulgence with every sip. Purchase these captivating spirits conveniently online, as they are available in bundles rather than a subscription service.
---
Vegan Skincare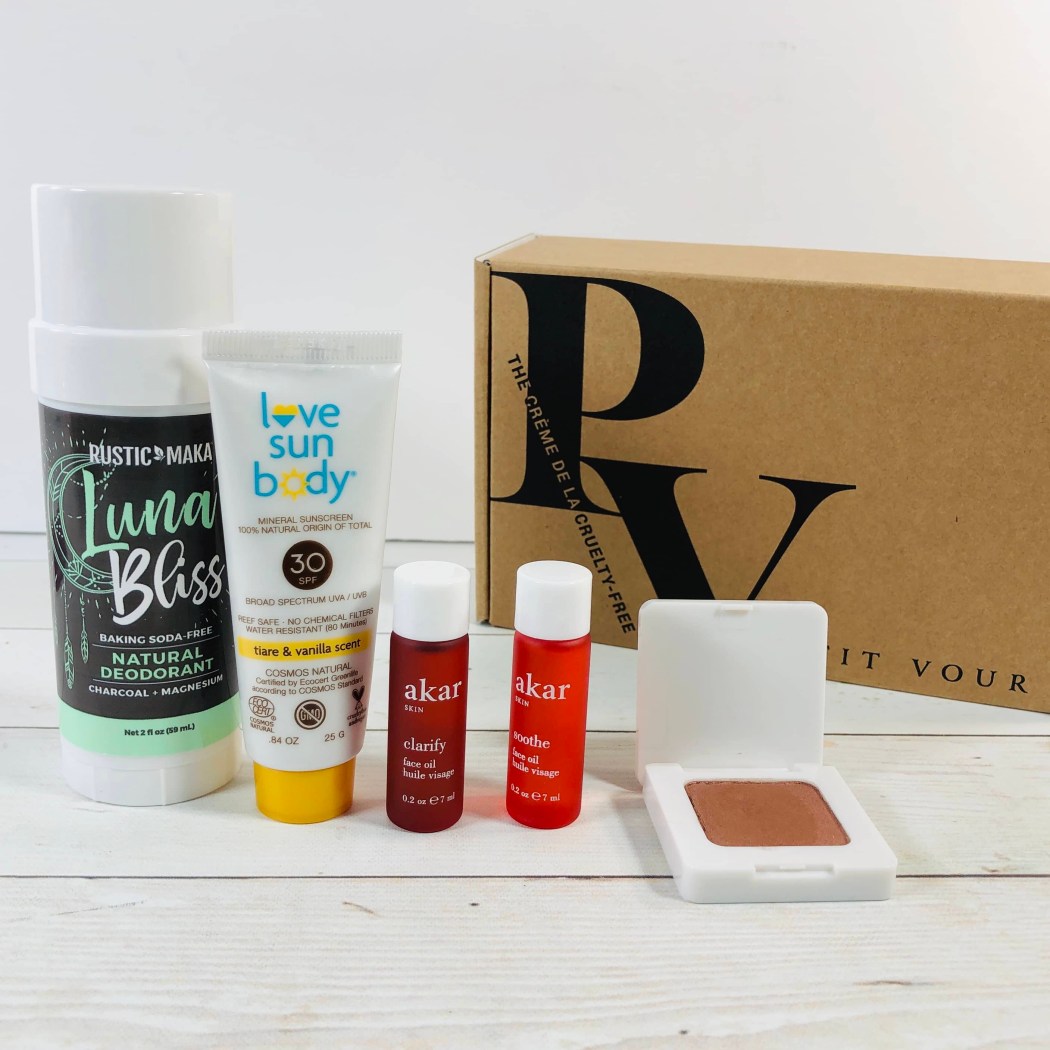 Image from: our review
Why We Love It: Petit Vour maximizes our beauty and skincare resources by sending 4 luxury-curated and cruelty-free items, picked according to your personally created beauty profile. The value of the items ranges from $40 to $60, which is totally a big win! What makes this subscription even more worthy of a try is that the inclusions are usually hard to find in regular beauty stores.
Each month, you'll get to enjoy a mix of makeup, hair care, body, and skincare products, all of which are vegan and cruelty-free. You can also earn up to 400 PV points (which are equivalent to $4 each month) just by leaving a review of your beauty box items!
Deals:
Get a $70 full-size bonus item with your first box! Use coupon code LOVEANIMALS .
Get 25% off your first box! Use coupon code HS25.
---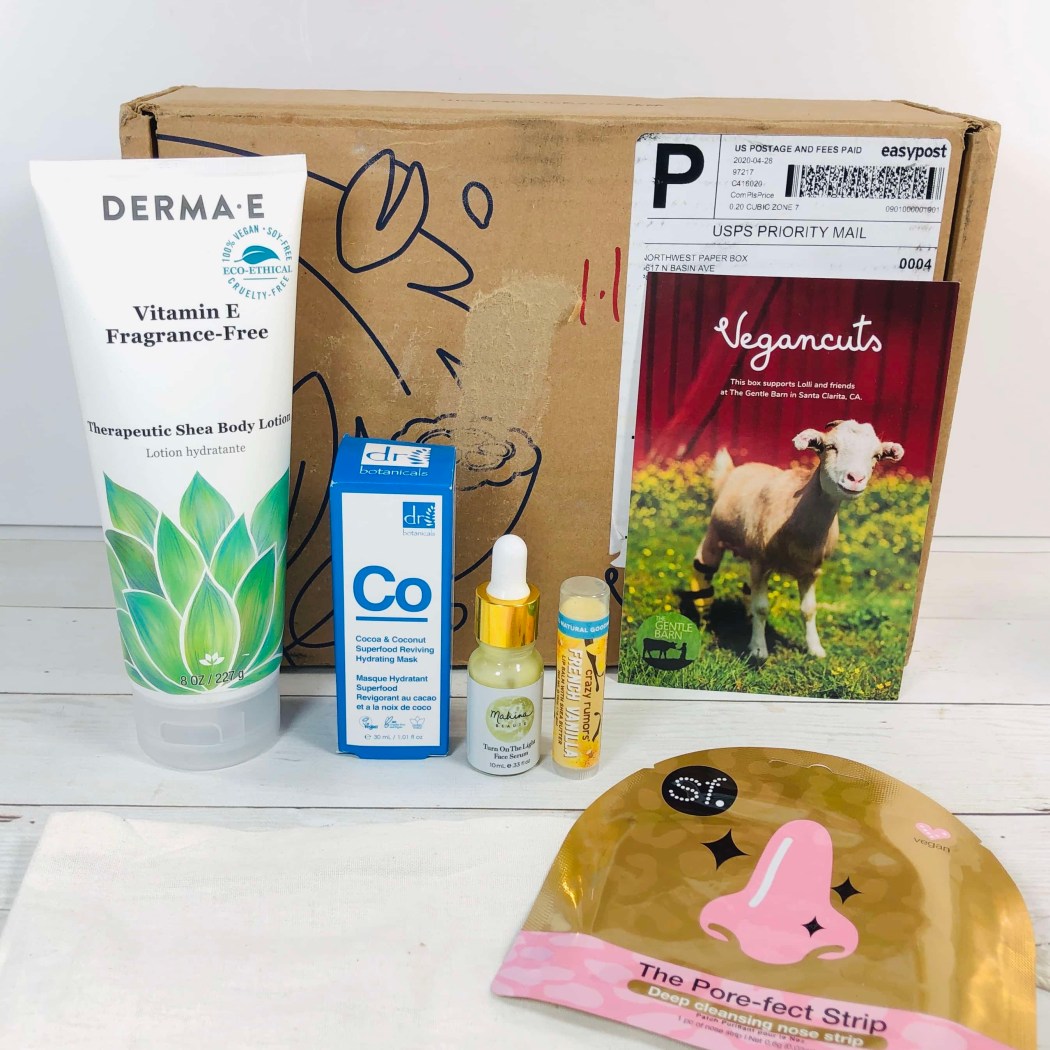 Image from: our review
Why We Love It: Vegancuts Beauty Box is your way to discovering the best in vegan beauty monthly, ranging from unique cosmetics to luxurious skincare. Every box they give out to subscribers is worth over $60 and contains 4+ deluxe and full-size items, such as exfoliating cleansers and nourishing hydrogels.
They ensure that the items they send are made with only the good stuff because they believe that we should treat our outside as good as we treat our insides. It's the kind of beauty box you need to start caring for yourself the healthy way!
Deal: Get $5 off your first box on any Vegancuts subscription! Use coupon code hellosub. The coupon can only be used once per customer, but it can be used on multiple subscriptions at once so long as they are in the same transaction!
---
Image from: Kinder Beauty Box
Why We Love It: Packed with all the goodness inside, Kinder Beauty Box is your destination when it comes to clean beauty products. This subscription focuses on giving solutions to skin woes using green products. You'll receive up to $165 worth of hand-picked vegan and cruelty-free products ranging from skincare, makeup, haircare, and accessories every month!
Each box includes at least two full-sized products to make sure you have enough for the whole month. Some of the brands they feature are Andalou Naturals, 100% Pure, INIKA Organics, Franklin & Whitman, and more. As a subscriber, you'll get access to exclusive special collections, limited edition offers, and flash sales!
Deal: Get $5 off your first box! Use coupon code HELLO5.
---
Image from: Bombay & Cedar
Why We Love It: Bombay & Cedar delivers aromatherapy, beauty, wellness, and lifestyle items in one box! You'll go gaga over the vegan and cruelty-free full-size and deluxe sample size products they include in every themed box. Monthly packages have a retail value of over $100, and it contains 5-6 self-care products alongside two essential oils and aromatherapy discovery, tips, and recipes.
Imagine receiving diffusers, skincare, books, and snacks every month. Sounds great, right? It's the ideal way to give yourself the gift of relaxation, healing, and cleansing!
Deals:
Get 15% off your first order! Use coupon code HEY15.
Get 10% off your first subscription order! Use coupon code HSLOVE10.
---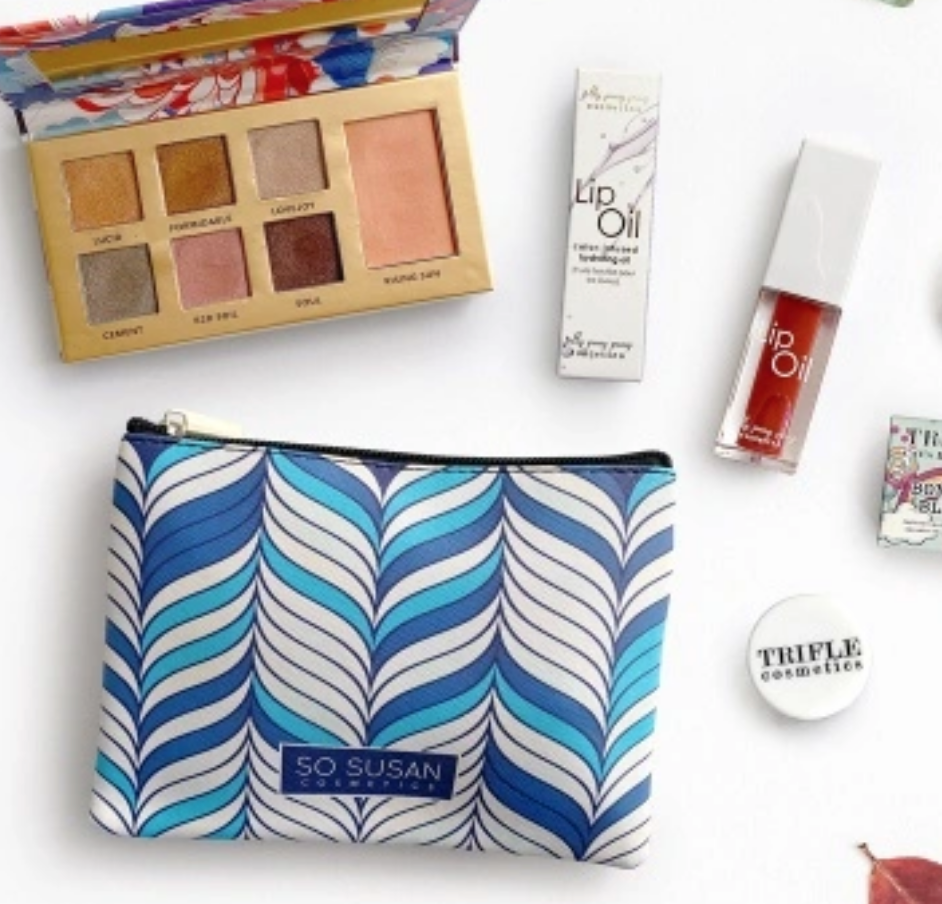 Image from: So Susan Color Curate
Why We Love It: So Susan Color Curate is a monthly beauty subscription that delivers four full-sized, highly-pigmented, innovative, color-intense, and 100% cruelty-free beauty products to your door every month. All of the beauty products they send out to subscribers are hand-packed in a limited-edition makeup bag with inspirational quotes.
Each product contains a combination of highly concentrated color pigments with healing plant extracts, bioferments, and natural botanical oils to keep skin looking healthier and smoother. Review your bags and earn points to redeem discounts on any full-priced purchases!
---
Image from: our review
Why We Love It: Love Goodly is an amazing bi-monthly subscription box with fun and unique vegan and eco-friendly items. Every box features four or more products focused on non-toxic beauty and skincare, as well as eco-style or home accessories, healthy snacks, and wellness with a value that's 2x the price of the subscription.
You can choose from 2 subscriptions they offer: Essential with 4-5 items, and VIP, which contains all the same items from the essential box, plus one more full-sized product. On top of that, you get to support a cause with every purchase you make! Some of the organizations they've supported include Farm Sanctuary, Cure Cervical Cancer, Beagle Freedom Project, and Paw Works.
Deal: Save 20% on your first subscription box - that's $6.99 off on Essential or $9.79 off on VIP! Use coupon code TRYLOVE.
---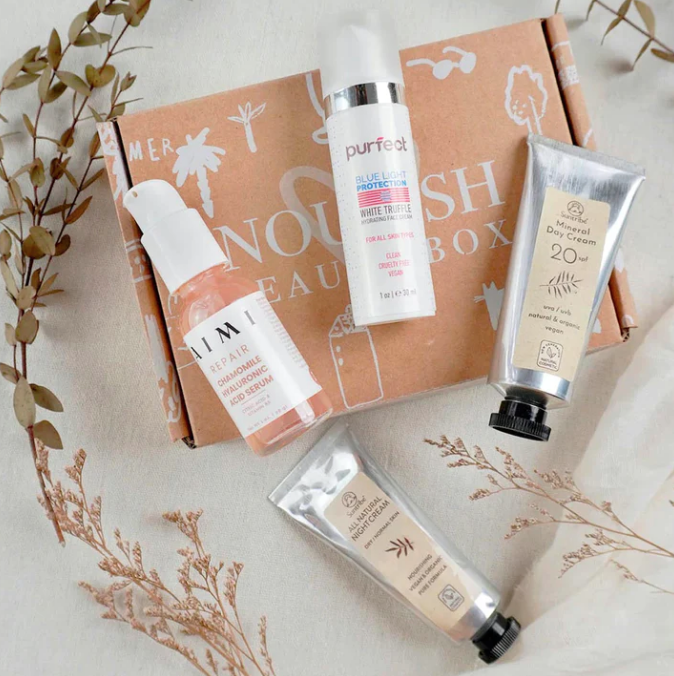 Image from: Nourish Beauty Box
Why We Love It: Keep your skin healthy and radiant with Nourish Beauty Box. It's a monthly subscription box perfectly designed for beauty enthusiasts. They believe that we should be mindful of what we put in and on our bodies, which is why they offer cruelty-free, ingredient-conscious, skin-loving, artisanal, and sustainable beauty products.
Each box includes four full-sized, earth-activated, bio-natural products, delivered straight to your doorstep every month. These products will most likely last you for a month or so because they don't cut back on their products to give you the ultimate satisfaction for your beauty rut!
Deal: Get 15% off your first box! Use coupon code HELLOBOXES15.
---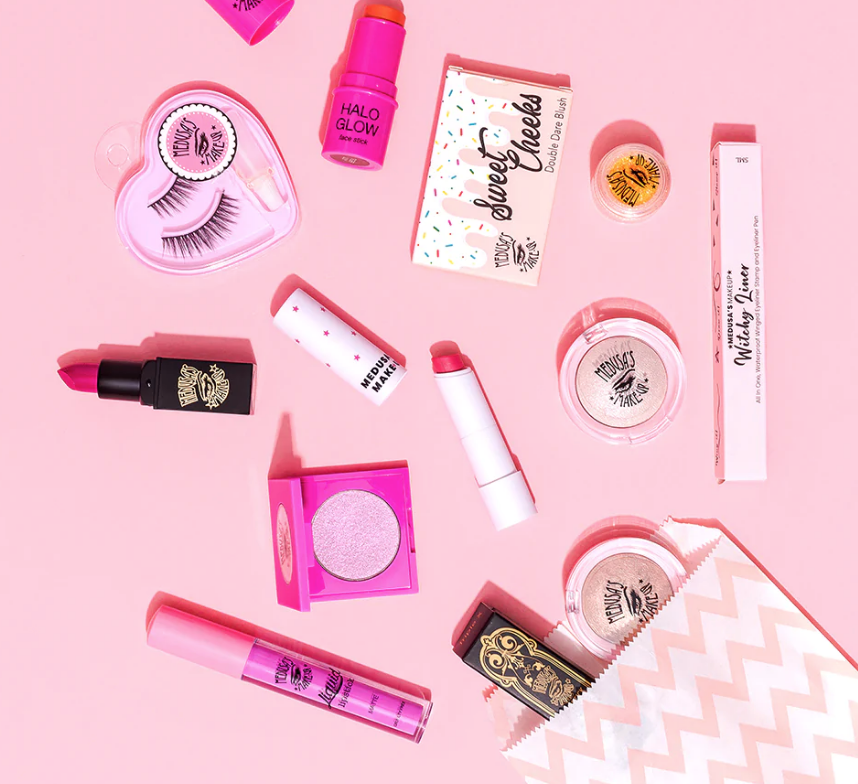 Image from: Medusa's Make-Up Beauty Box
Why We Love It: With Medusa's Make-Up Beauty Box, you can stay at the top of the line with high-quality, clean beauty products delivered to you each month. It is a makeup subscription box that offers only vegan and 100% cruelty-free beauty must-haves. You'll receive limited edition themed boxes throughout the year containing four full-size vegan beauty items, ranging from primer to glitter to occasional skincare items. You can always look forward to neutrals for everyday use and one fun pop of color that you can use whenever you want to be bold!
---
And there you have it, our list of the best vegan subscription boxes! Which one will you be trying?
Make sure to check out our complete list of all the best subscription boxes in every category!