Pregnancy is such an amazing stage in every woman's life, so what better way to celebrate it than by giving the expecting mom-to-be a treat? It's the least thing you can do to pamper yourself or any pregnant woman you know of while carrying and caring for a baby bump. And what better treat than a subscription box that's carefully curated with a pregnant woman in mind?
From maternity clothes and self-care products to snacks and even hobbies or crafts, you will surely find something to love and occupy your time while waiting for that bun in the oven! These pregnancy subscription boxes supply you with everything you need to help yourself feel comfortable at whatever stage you are in. Some of which can be customized on your due date and baby's gender!
Having a hard time choosing the right box for you or a friend? Don't worry because we got you! We've compiled a list of the best pregnancy subscription boxes to help you decide which one best suits your needs! Here are some of the best ones around! Be sure to check them all out and see the contents of past boxes!
The Best Pregnancy Subscription Boxes You Should Know About!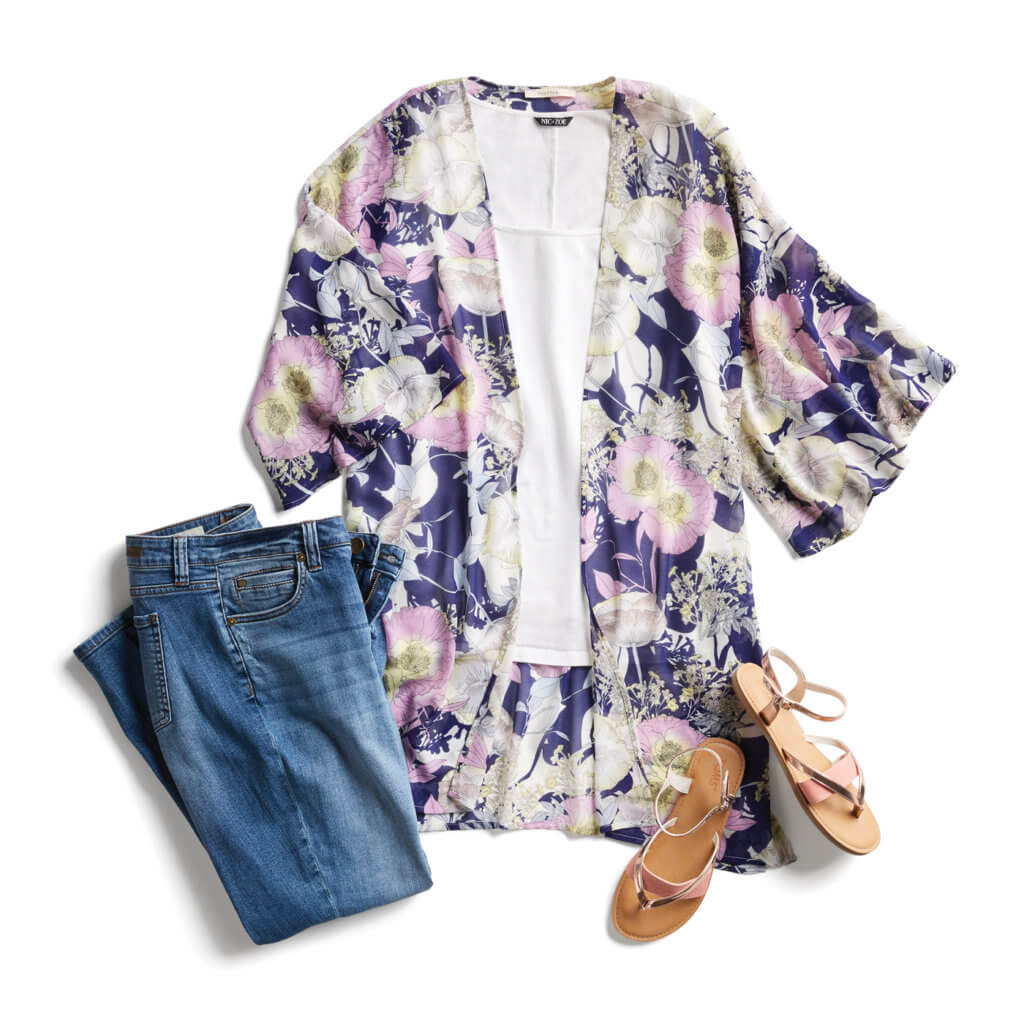 Image from: Stitch Fix Maternity
Why We Love It: With Stitch Fix Maternity, you can still dress the way you want at pregnancy! This clothing subscription offers personal styling for anyone, and that includes moms-to-be. They help you find your perfect fit with personalized pieces hand-selected for your individual style and unique size, even with that baby bump on. There's an easy style quiz you need to fill out upon sign-up, and it will serve as the guide of your personal stylist in curating your boxes. Once you receive the maternity clothing items, you can take three days to fit and decide what you'd like to keep and checkout online. The ones you won't pick will then be shipped back to them, free of charge!
See more at Stitch Fix Reviews.
Price: A styling fee of $20 is credited towards anything you choose to keep from your whole fix.
---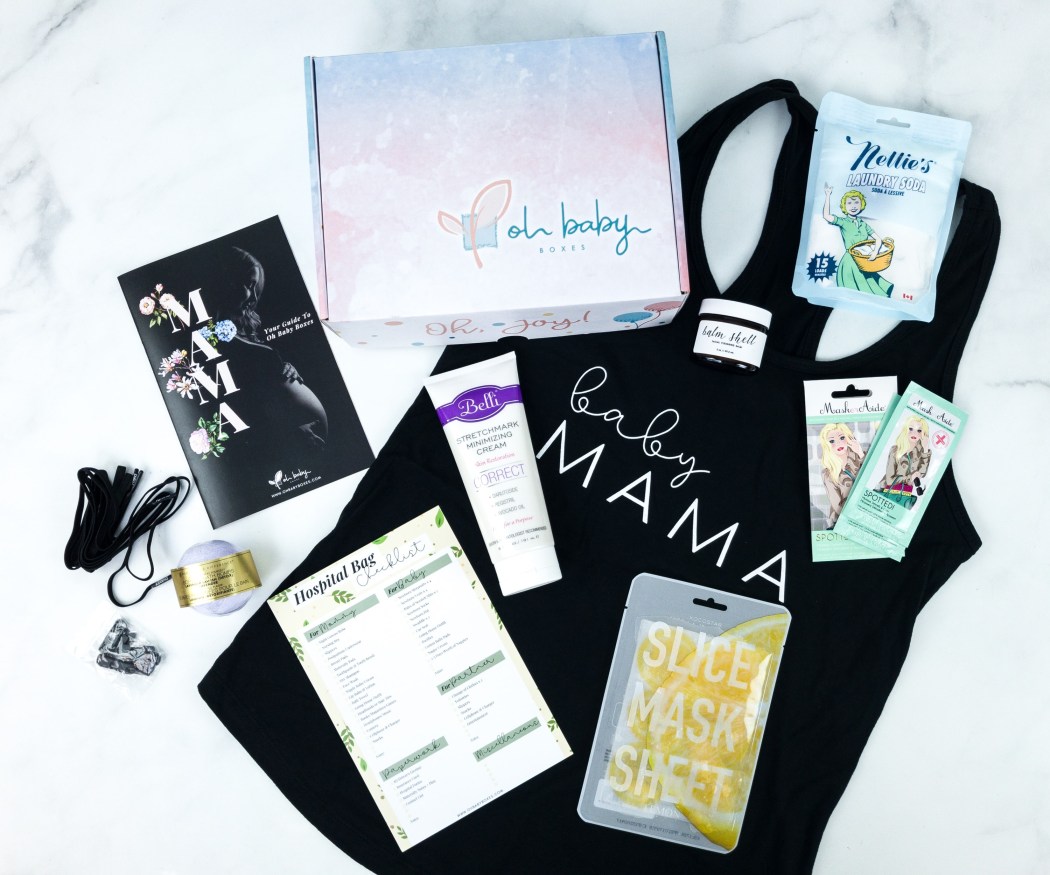 Image from: our review
Why We Love It: Pregnant women need more care and love, and this pregnancy lifestyle box gives them just that. Oh Baby Boxes is a subscription filled with healthy and fun products tailored to the mom's due date. Every month, the box arrives with over $100 in value, and it contains 6-8 full-size pregnancy-safe items to promote a healthy and relaxed pregnancy up to delivery, even until postpartum! Products may include wellness, skincare, maternity clothes, and more unique lifestyle goodies. Most items are organic, natural, artisan, and holistic, showering you with the pampering you deserve.
See Oh Baby Boxes Reviews for more information.
Price: Get the box for $39.99 a month.
---
Image from: our review
Why We Love It: There are available subscription boxes for every mom, and one of them is the Moms + Babes Box. It delivers a box filled to the brim with great items that both you and your kids can enjoy every season with a retail value of more than $150! Every box contains at least 10 full-size, gender-neutral, premium baby products for learning, playing, exploring, & growing, plus all the things mom needs to take care of herself like wellness, skincare & other beauty items. It's that subscription every mom needs to spoil not just themselves, but their "mini-me" as well without feeling guilty!
Check out Moms + Babes Box Reviews to know more.
Price: Spoil yourself and treat your babe every season for $59.
Deals:
---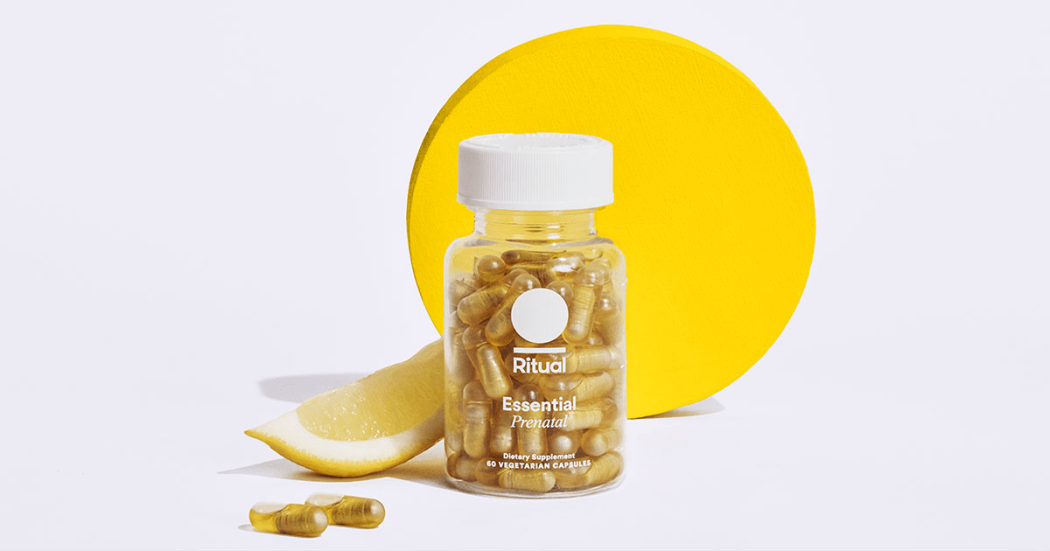 Image from: Ritual Essential Prenatal
Why We Love It: To provide your pregnant body with the right nutrients, there is Ritual Essential Prenatal for it! It is a monthly subscription that makes health care more accessible for all by sending supplements that contain essential vitamins for overall health. Moms can be in their best shape with prenatal multivitamins formulated to support the changing needs of soon-to-be moms. They use beadlet-in-oil encapsulation, which delivers nutrients better than regular capsules, designed to dissolve later in the less sensitive areas of the stomach so you can take them even without food! Plus, it is made with no additives or shady fillers – just clean ingredients! Each bottle contains 60 vegan capsules that are good for 30 days.
Check out Ritual Reviews for more information.
Price: Add multivitamins to your daily routine. Subscribe for $35 a month.
Deal: Save $10 on your first month when you bundle any 2+ Ritual products! Deal applies automatically, just visit and subscribe.
---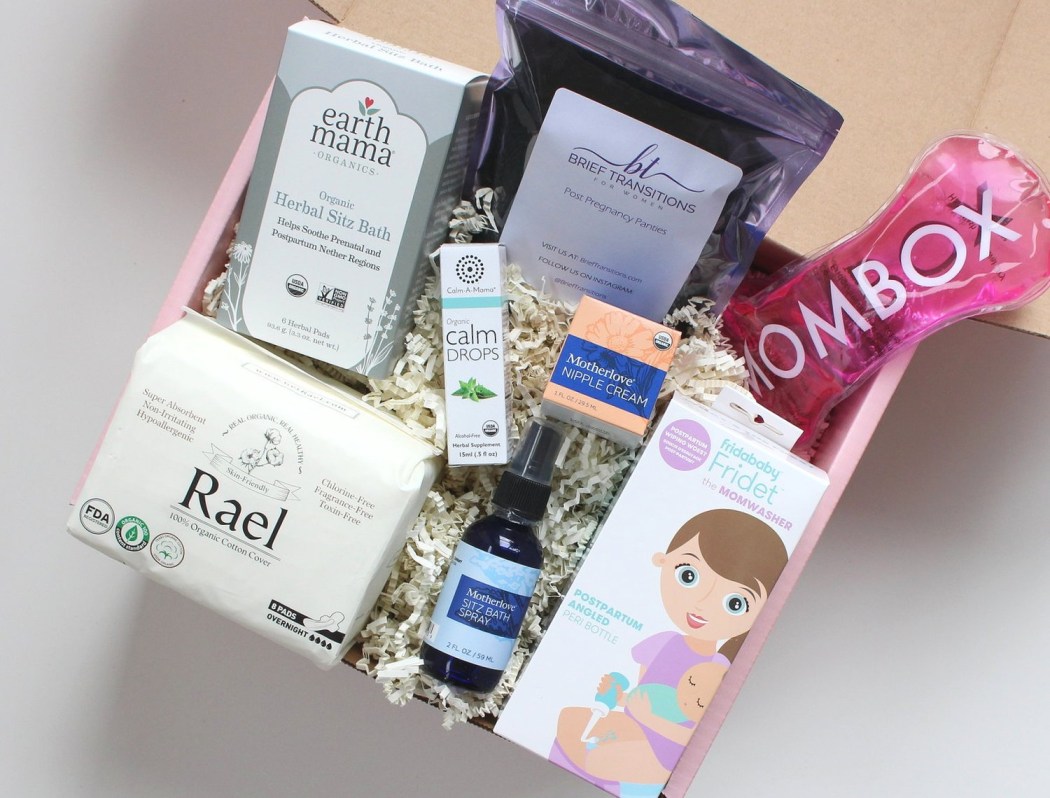 Image from: MomBox
Why We Love It: With MOMBOX, it's now easy for moms to recover and heal after childbirth! This subscription will deliver all the best things you need, so there's no reason to rush over to the store to get essentials after giving birth. There are three available boxes for you to choose from: MOMBOX, the standard box filled with an assortment of the highest quality postpartum recovery essentials; C-Section MOMBOX, curated specifically for moms who undergone Cesarean section; and Deluxe MOMBOX, which includes 12 full-sized and best-in-class postpartum recovery products. These boxes are all designed to aid in after birth recovery process. You'll take care of your baby, and MOMBOX will take care of you!
Price: Subscription costs $99 a month, or less for longer plans.
---
Image from: our review
Why We Love It: Just because you're pregnant doesn't mean you can't take care of yourself. Guided by strict ingredient standards, The Detox Box introduces the best, most effective, and safest green beauty brands to use every month. They want everyone, including moms and pregnant women, to understand the importance of switching to healthier beauty products, and they even provide all the information needed about the month's featured brand along with some expert tips. Each box includes tried-and-true favorites and game-changing discoveries with a promised value of at least $90. So sit still and let The Detox Box do its job. Even with that baby bump, this subscription won't disappoint!
Read The Detox Box Reviews to learn more.
Price: Month to month plan costs $58.95. Save more when you subscribe to longer plans.
---
Image from: Mother Snacker
Why We Love It: Mother Snacker gives you a little sweet pause from motherhood with sweet treats to munch and nibble! This subscription offers a box full of goodies from mom-owned, small businesses to reward you with all the hard work you've been through as a mom. Monthly boxes are themed differently to keep things more exciting and surprising! You can enjoy 5-7 products in every box, including artisan treats, unique everyday essentials, home décor, and more with a dash of inspiration and encouragement, all handpicked to make mom's life sweeter than ever. It's truly a deal for the hardworking and loving mommas!
Price: Monthly subscription is $64.
---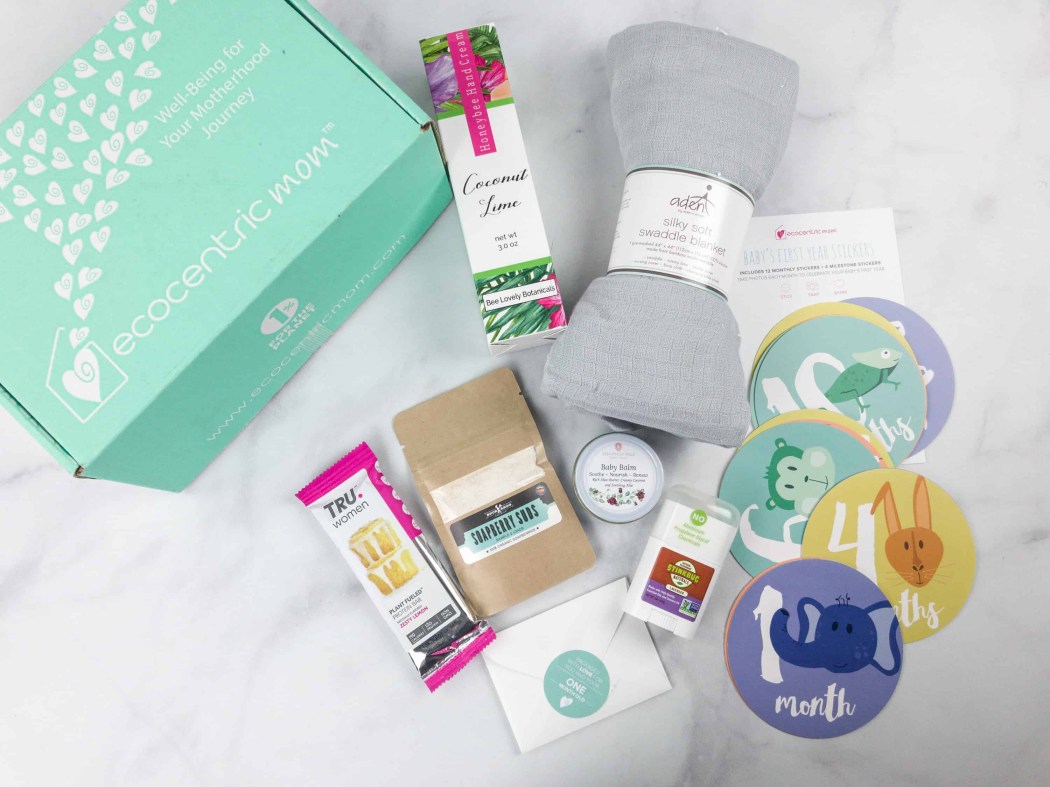 Image from: our review
Why We Love It: Ecocentric Mom is a monthly subscription that provides a great way to discover eco-conscious brands and products for home, health, beauty, and kids. They have everything for mom and baby – pregnant moms or mom with a toddler, or just moms. Each box contains a mix of 4-6 practical and soothing, organic, and eco-friendly products matched with the pregnancy stage you are in. They have several product categories like beauty, bath, home, pregnancy/baby care, wellness, snack, and lifestyle accessories. You can even customize the box depending on your due date or baby's birth date and gender. Every item is free of chemicals and toxins, making it the best choice for a pregnant woman like you!
See Ecocentric Mom Reviews for more information about this box.
Price: Subscribe for $42.99 a month. Price lowers when you opt for longer subscription plans.
Deal: Save $5 off your subscriptions, including gifts. Use coupon code 5HELLO.
---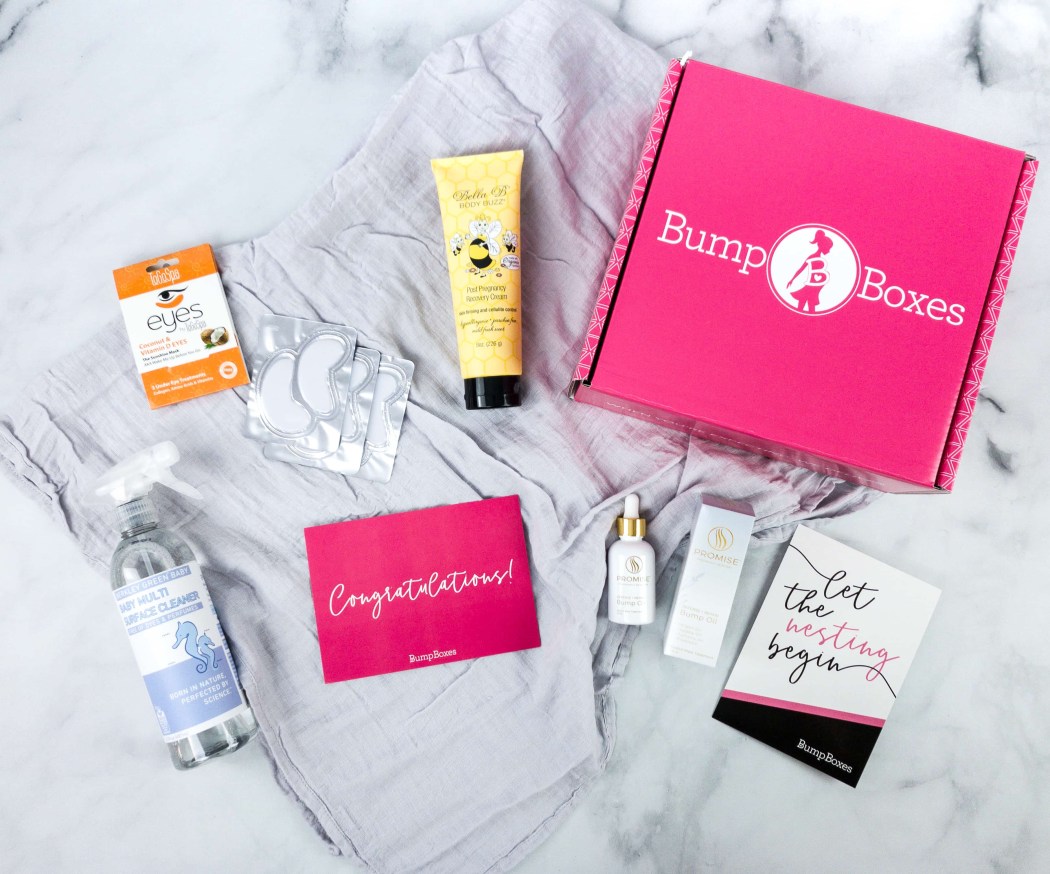 Image from: our review
Why We Love It: Being a mom is one of the most exciting phases for every woman, and Bump Boxes will help you feel relaxed and comfortable as you near your due date. Every month, they send out healthy products you can use throughout your pregnancy, handpicked by moms themselves like stretch mark & scar oil, soft swaddle blanket, massage roller, body lotion, and more. Each curated box has 5 items promoting healthy and fun pregnancy, valued at over $60! Every product they include is made with no harsh chemicals, keeping you and your baby safe.
Visit Bump Boxes Reviews to know more about this subscription.
Price: Receive 5 items tailored to your due date for $44.99 a month. Shipping is free!
Deals:
---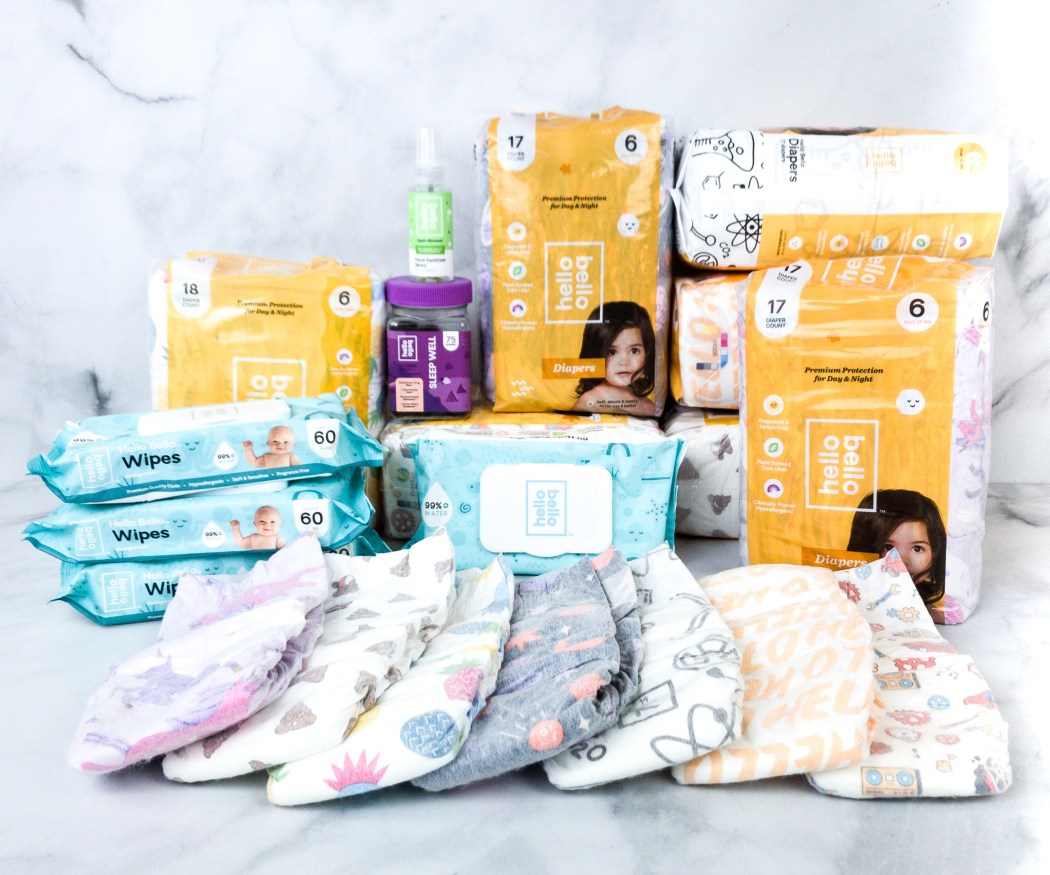 Image from: our review
Why We Love It: For the best products for your little one, Hello Bello is one of the best subscriptions around. No more rushing to the store to get all the baby essentials you need because they'll deliver them straight to your door. All products are cruelty-free and are made from plant-based ingredients and organic botanicals, making them a safe choice for your baby's needs. From their hypo-allergenic diapers that are always fresh with new styles and best fit your baby's booty to organic vitamins, everything fits right into your budget! Create your own bundle of diapers, training pants, vitamins, or fundamentals. You can also add extras in your bundle for 15% off, plus freebies included!
More about this box at Hello Bello Reviews.
Price: Create a diaper bundle for $65.99 per shipment.
Deal: Get 25% off your first Diapers and Wipes Bundle + FREE Shipping + FREE Bonus Item! Use coupon code BUNDLE25.
---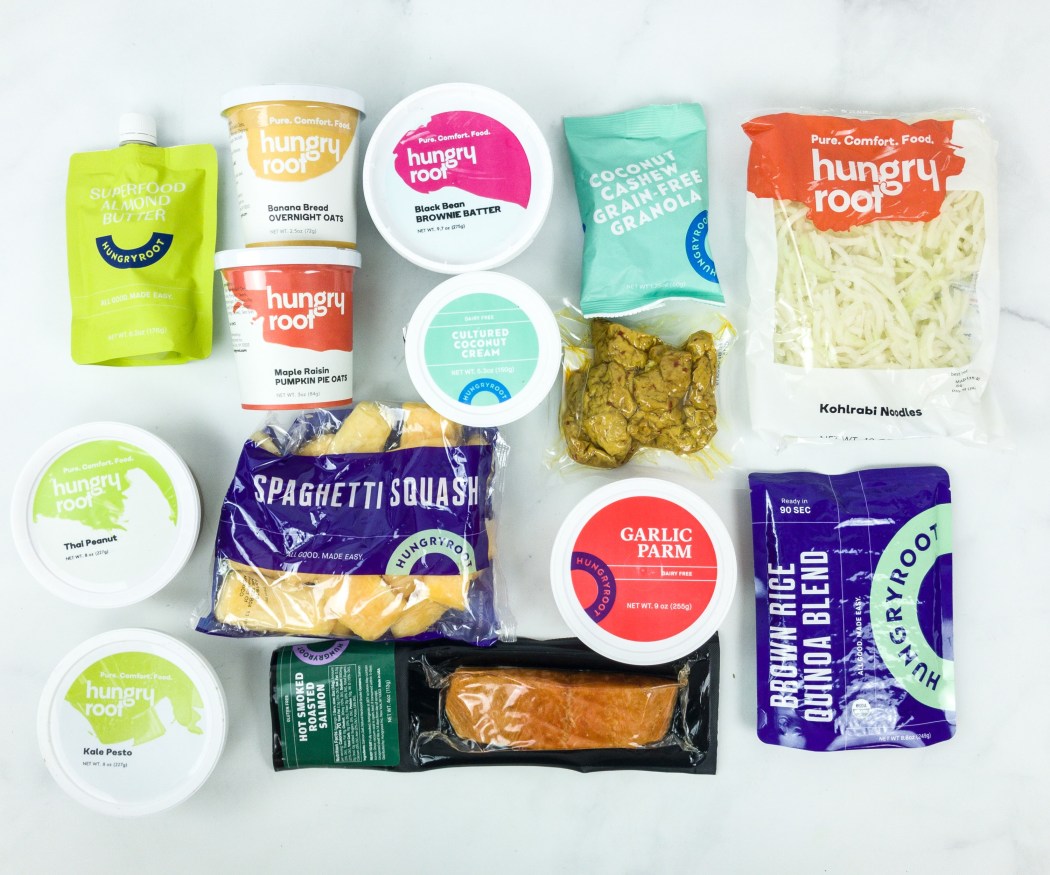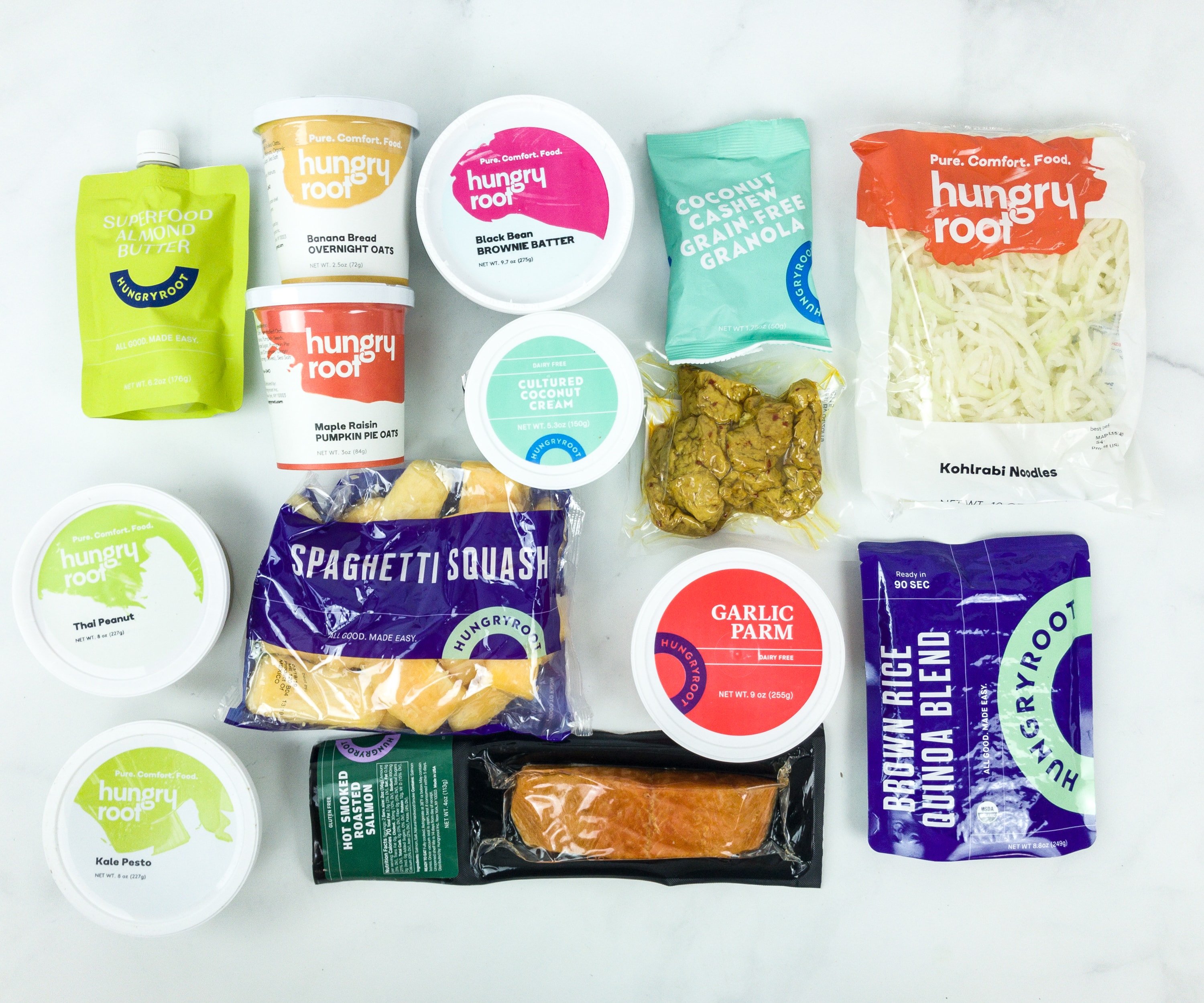 Image from: our review
Why We Love It: And for pregnant women who don't have the time to cook healthy foods, fret not, as Hungryroot will deliver quick and easy-to-prepare meals that soon-to-be moms can whip up in less than 10 minutes. Tell them about how and what you eat, and they'll send groceries with complete recipes for you to save prep time, so you can lay down and rest more! All recipes are plant-based, nutrient-dense, and made from whole, real, and trusted ingredients you can feel good about – free of artificial sweeteners, high-fructose corn syrup, artificial colors, and artificial preservatives.
Go to Hungryroot Reviews for more info.
Price: Receive healthy groceries starting at $59 per delivery.
Deals:
---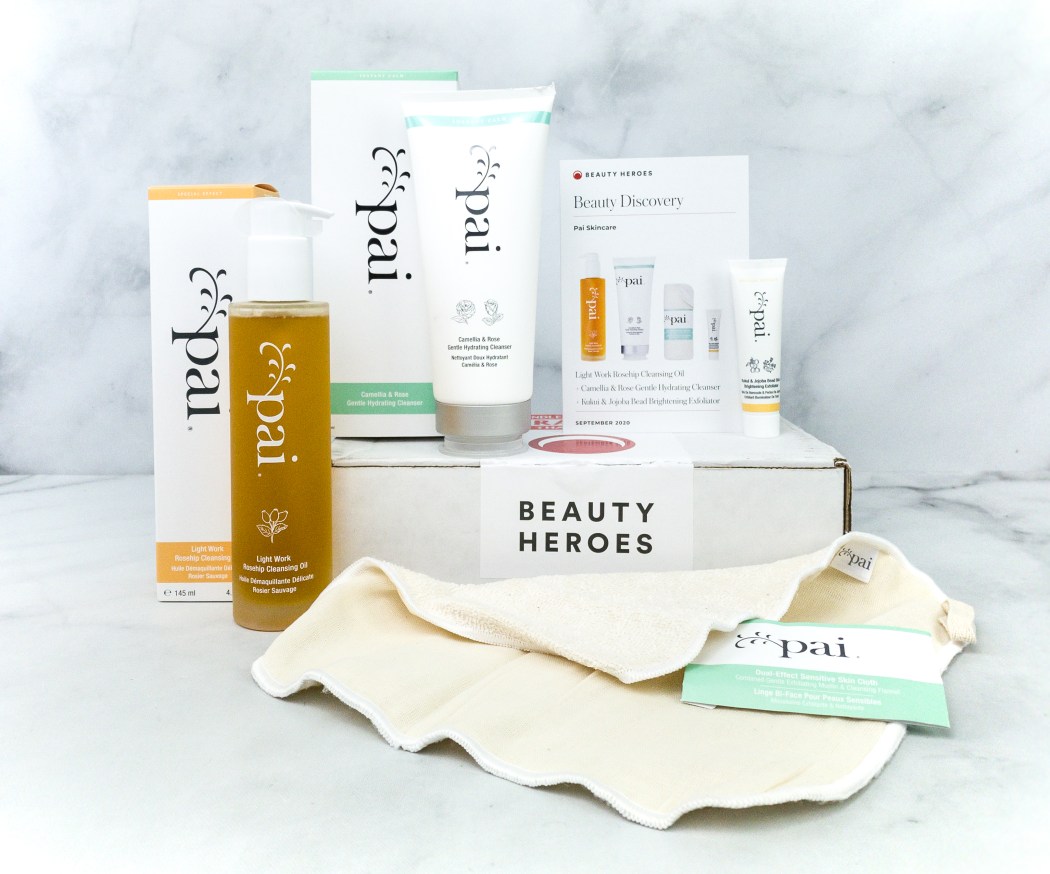 Image from: our review
Why We Love It: Beauty Heroes helps bring out the best in you by highlighting natural beauty. The subscription focuses on luxurious healthy beauty brands, making it an ideal subscription even for discerning beauty junkies, including pregnant women. They work with different brands like Zoe Organics, Henne Organics, Cleo + Coco, and more, which shares the same goal to provide members healthy beauty. Each box contains one full-size hero product and a 'sidekick' (can be trial or full-size too), soon-to-moms can use without worries – safe for the body and the environment too! Each package also includes a booklet loaded with vital information about the featured green beauty brand. As a member, you'll get to save 15% every day in the beauty store, insider exclusives, and early access to new product launches.
Check out Beauty Heroes Reviews for more information about this box.
Price: Subscription is $58.95 monthly.
---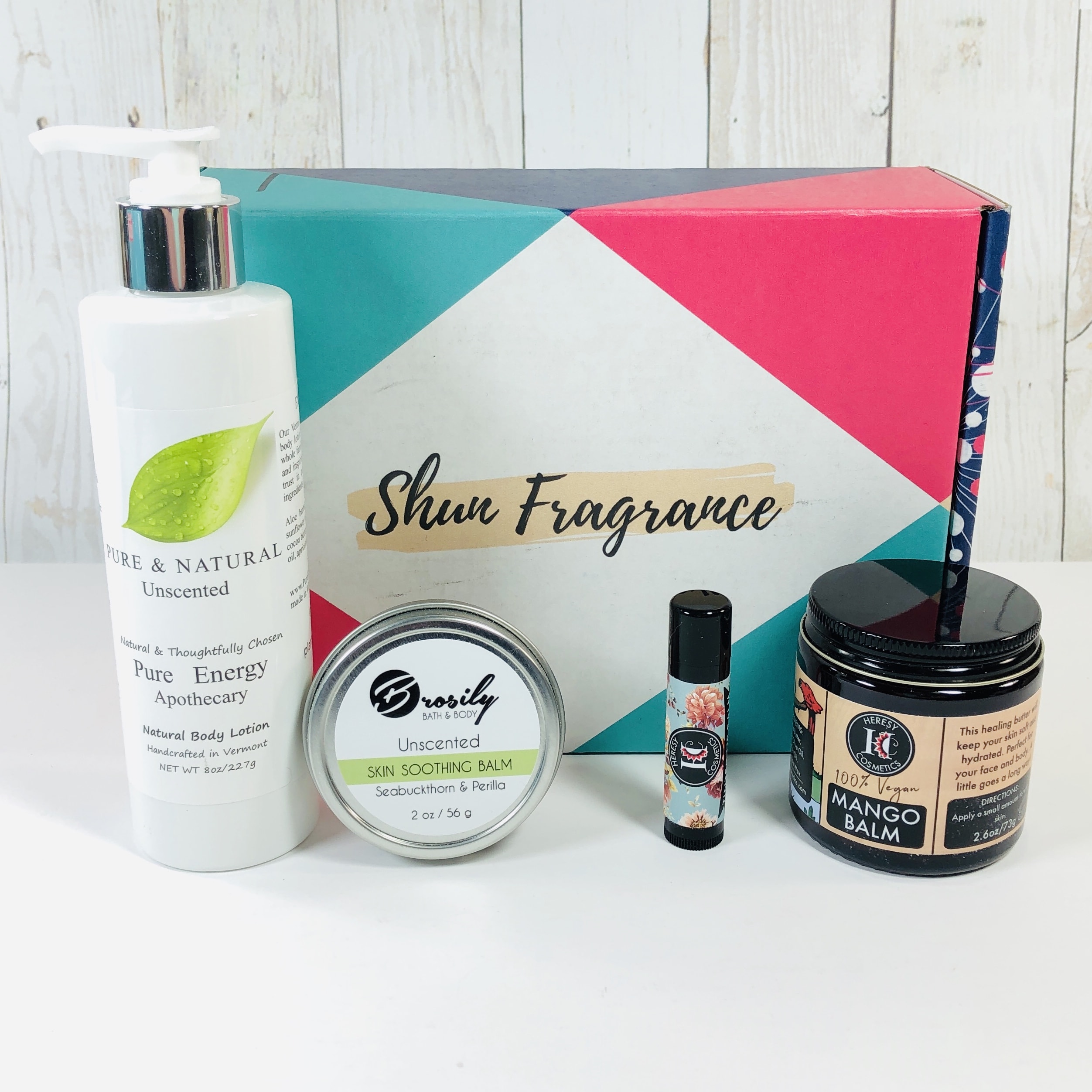 Image from: our review
Why We Love It: Shun Fragrance offers fragrance-free products for those who have sensitive skin and those who want to avoid fragrance. Each box contains 3-5 non-toxic, fragrance-free skincare and cleaning products. These products are made without harmful chemicals, essentials oils, and added fragrance, making sure it's safe for sensitive individuals, babies, kids, pets, and even pregnant women – mainly for the whole family! Each product is rated CLEAN, so there's one less thing to worry about! This subscription can also be a great gift for smell-sensitive loved ones.
Read Shun Fragrance Reviews to know more.
Price: Get the box for $45.95 a month. The 3-month plan is $43.95 per month, and a 6-month plan costs $41.95 a month.
Deal: Get 10% off your first box! Use coupon code WELCOME10.
---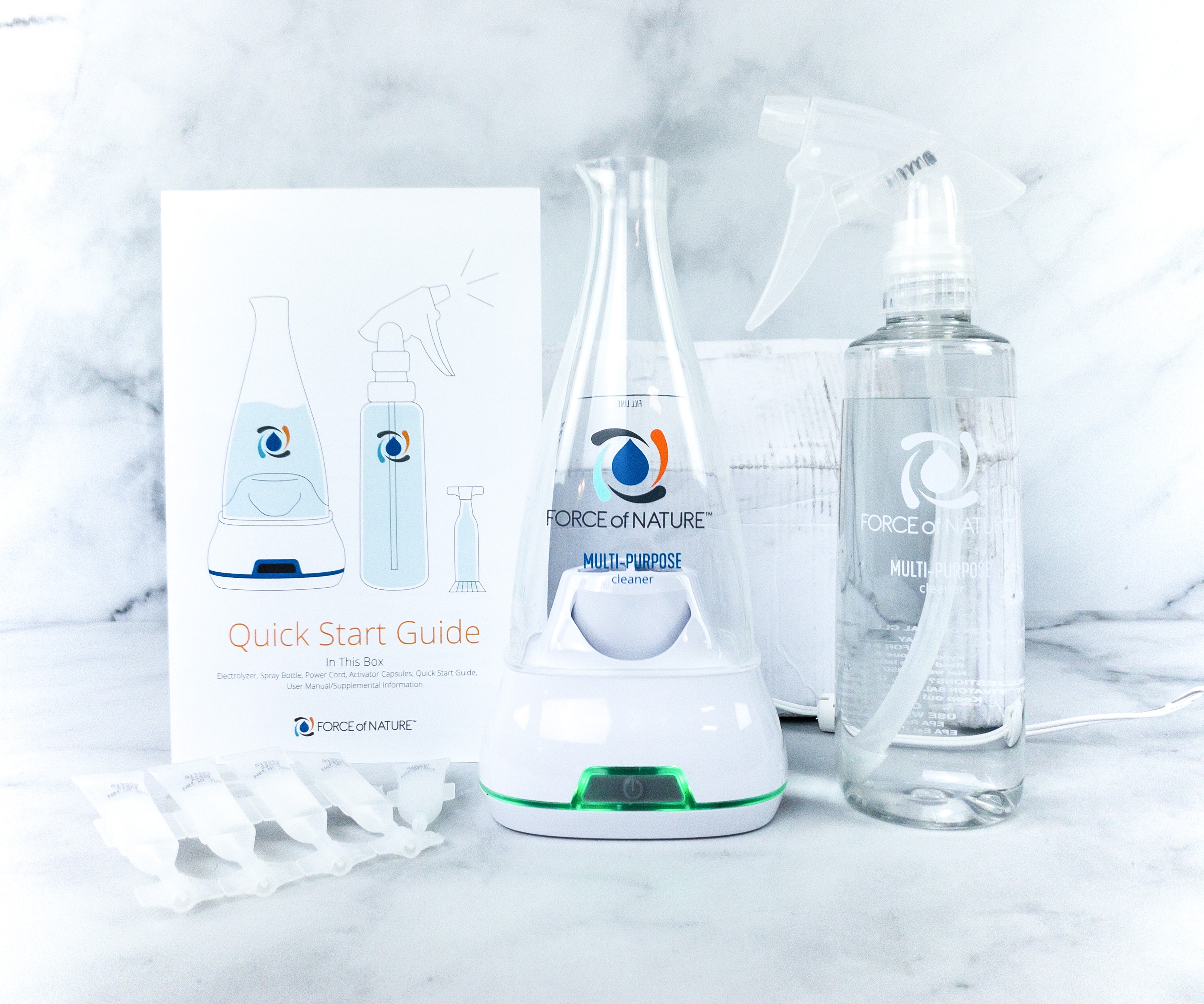 Image from: our review
Why We Love It: Say hello to the new way of cleaning without the bleach. Force of Nature delivers a new & simple yet effective method of cleaning directly to your door. Keeping those little hands away from every surface is quite a hard task to do, but this subscription is the solution. It offers a natural cleaner that cleans strongly and acts as bleach but without harsh chemicals. Just mix tap water, a capsule of salt, water, and vinegar, and you'll have a multi-purpose natural cleaner that will last you two weeks – no added fragrances, dyes, and preservatives. Not only do you leave your home freshly clean, but you also assure safety for the whole family. You will surely get your money's worth because this cruelty-free natural cleaner is truly effective!
Read Force of Nature Reviews to learn more.
Price: The starter kit is priced at $56. Extra Value Bundle costs $76, Year of Capsules Bundle is $94, 3-pack travel-sized bottle is $8.99, Extra spray bottle costs $8.99, and Activator Capsules Subscription is $18.99 every two months.
Deal: Get 20% off on Starter Kits + FREE Shipping! Use coupon code HELLOSAVINGS.
---
Why We Love It: Adjust healthily and more naturally to becoming a mom through the help of Nurtured 9. This brand is centered around the wonders of pregnancy, taking out the hard work for a mom like you by sending the essentials you need in whatever phase you are on. They have different signature bundles to offer for every phase of your pregnancy, gifting you with luxuries you can be happy about. These boxes include luxe self-care items and other clean maternity essentials that any mom would love. These are designed to support moms in their pregnancy journey and help them recover afterward. You also have the option to create your own box by placing 4 or more products in your cart. So grab a box and celebrate motherhood every single day with no worries!
Gift Box Subscriptions are available: Essentials, Luxe, and New Mom/Postpartum.
Price: Bundles are priced starting at $74. Or opt for gift box subscriptions: $79 every two months for Essentials, $127 every two months for Luxe, and $130 every month for New mom/postpartum.
---
And that is our list of the best pregnancy subscription boxes! Did you find the subscription that suits your needs?
Looking for more boxes? Don't forget to check out our list of all the best subscription boxes in every category!