Babies are the most delicate little rounds of joy! From the first cry to the soft chuckle that comes out of their tiny mouth, everything sounds like a melody into the parent's ears! Providing what they need and make their lives comfortable as they can get, that's what parents want for their babies. Parenting is fun, fulfilling, and all, but subscription boxes for babies make it a little easier!
These subscriptions allow you to explore various options for your little one without stepping foot outside. They provide solutions to many problems parents encounter, and that's exactly why baby subscription boxes are a hit! Offering products that are useful, practical, and age-appropriate, all for the delight and convenience of both parents and the kids.
Whether you're pressed for time to shop for your baby or just looking for real value for money, we've gathered some of the best baby subscription boxes on this list to help you! The list includes baby clothing subscriptions, diaper subscriptions, toy subscriptions, and more!
The Best Subscription Boxes For Babies!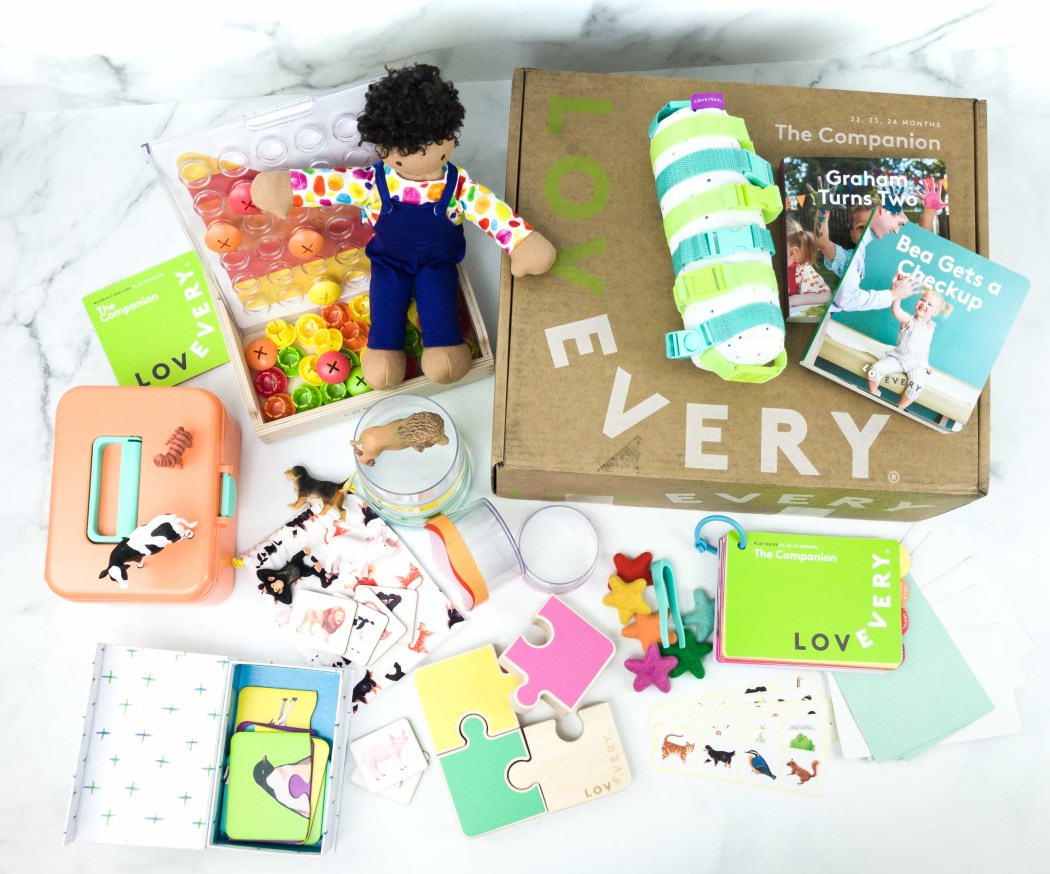 Image from: our review
What You Get: Lovevery creates a fun and safe playtime experience for babies developing brains and age. There are 6 available play kits for babies depending on their ages, ranging from months 0-12. These play kits are curated by child professionals to make sure everything in it is suited for the child's age. It includes developmental toys crafted using sustainably forested wood, organic cotton, and baby-safe plastics, plus a play guide with a rundown of the items in the box, details about each one, and more information that parents needed to know, so they can guide their children as they grow!
See more at Lovevery Reviews.
Price: Lovevery play kits start at $80 every two months during the first year of baby's development. In the toddler and preschool years, kits switch to quarterly, starting at $120 per kit.
Deal: Save up to $48 when you pay upfront for longer length plans! Deal applies automatically, just visit and subscribe. Free shipping for orders $75 in the shop!
---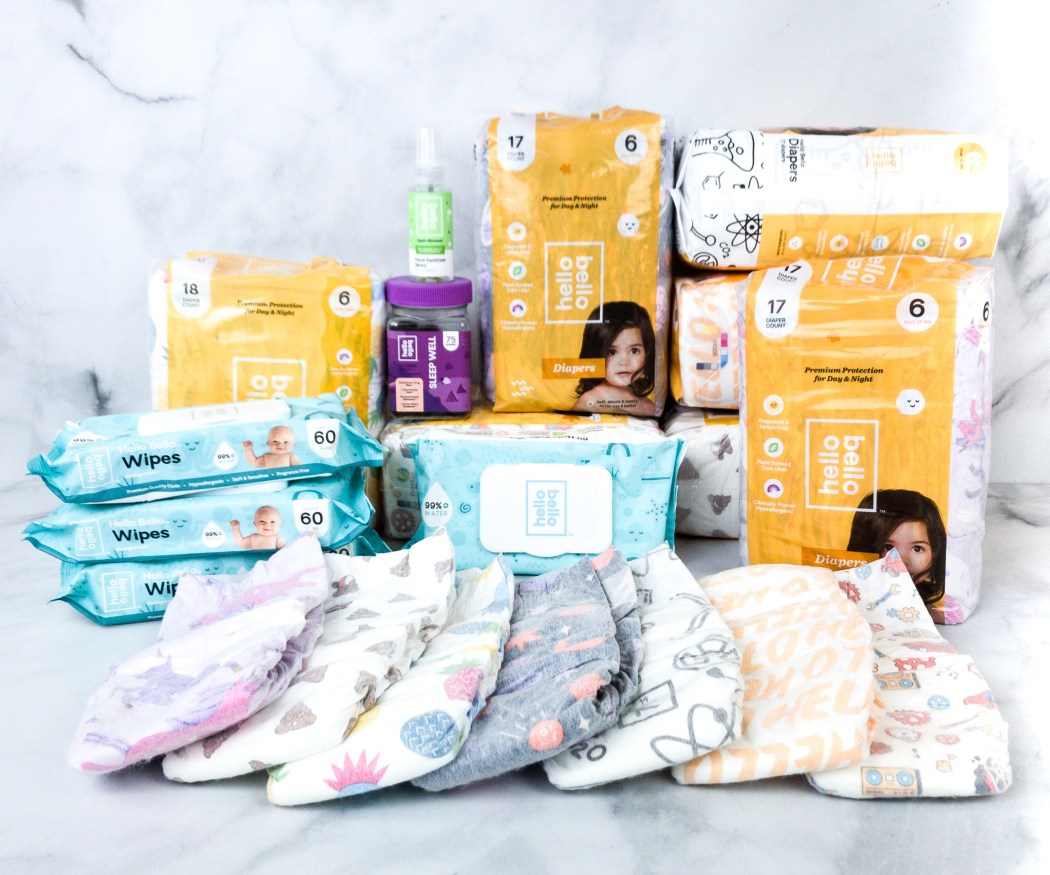 Image from: our review
What You Get: For the best products for your little one, Hello Bello is one of the best subscriptions around. No more rushing to the store to get all the baby essentials you need because they'll deliver them straight to your door. All products are cruelty-free and are made from plant-based ingredients and organic botanicals, making them a safe choice for your baby's needs. From their hypo-allergenic diapers that are always fresh with new styles and best fit your baby's booty to organic vitamins, everything fits right into your budget! Create your own bundle of diapers, training pants, vitamins, or fundamentals. You can also add extras in your bundle for 15% off, plus freebies included!
Read the Hello Bello Review for more info!
Price: Bundles cost $65/shipment.
Deal: Get 30% off your first Diapers and Wipes Bundle + FREE Shipping + FREE Bonus Item! Use coupon code DIAPERS.
---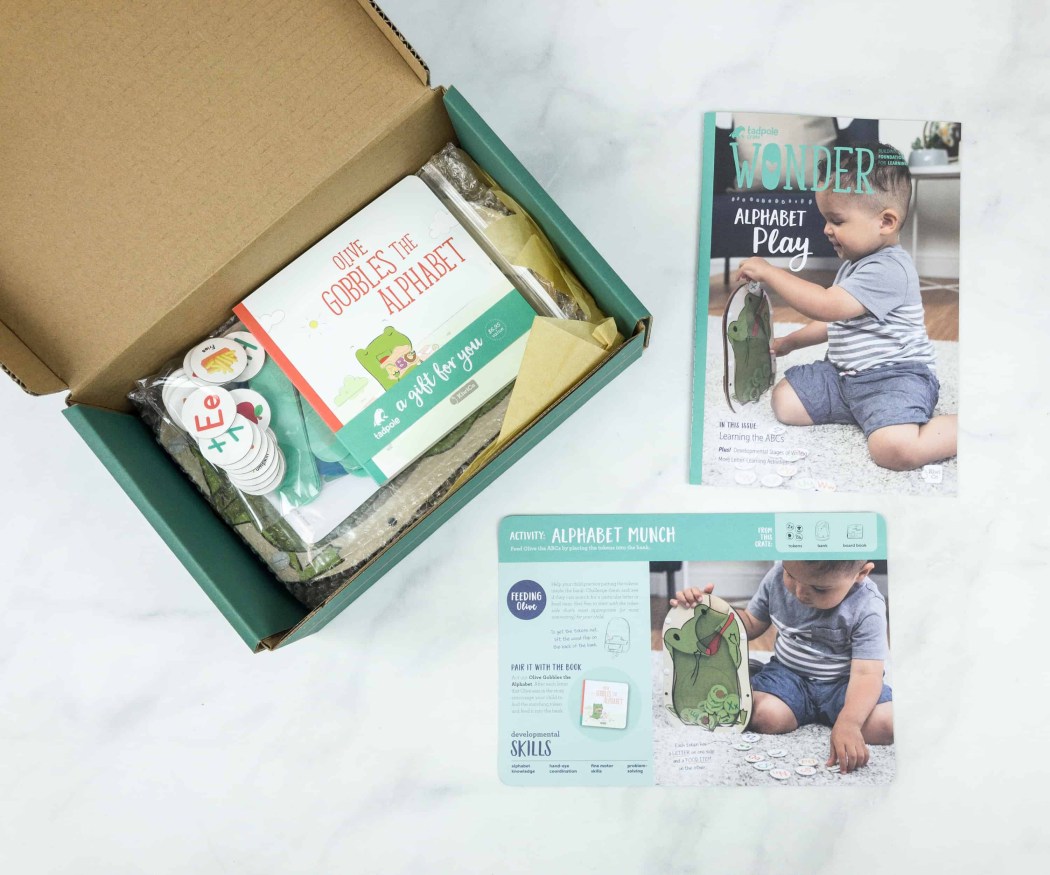 Image from: our review
What You Get: For babies 0 to 2 years of age, KiwiCo has the perfect crate for them, which is Panda Crate! This subscription provides developmentally appropriate toys for infants and toddlers to help in their early childhood development and to lay a foundation for lifelong learning. Each box contains learning toys and/or books ideal for a child's age and stage, some activity cards to promote learning and development, Beyond the Crate cards to help parents and kids bond and explore together, and a copy of Wonder Magazine with research-based advice for parents. Also, all products from this box are designed by experts and backed by researchers at Seattle Children's Hospital. They also donate a portion of every crate sold toward child development research.
Visit Panda Crate Reviews to know more about this subscription.
Price: Get 1 crate every two months for $43.90.
Deal: Save 30% on your first month! Use this link to get the deal.
---
Image from: our review
What You Get: Ecocentric Mom provides a great way to discover eco-conscious brands and products for home, health, beauty, and the kids. This subscription has everything for mom and baby – pregnant moms or mom with a toddler, or just moms. Each box contains 4-6 full-size/lifestyle organic and eco-friendly products with a mix of practical and pampering or a mix of everything. They have several product categories like beauty, bath, home, pregnancy/baby care, wellness, snack, and lifestyle accessories. You can even customize the box depending on your due date or baby's birth date and gender! Every item is free of chemicals and toxins, making it the best choice for a mom like you.
Check out the Ecocentric Mom Reviews for more information.
Price: $39.99 per month, with free US shipping.
Deal: Save $5 off your subscriptions, including gifts. Use coupon code 5HELLO.
---
Image from: our review
What You Get: AmazonBook Box Kids will send you children's books perfectly matched to your young reader's age. Every shipment includes stories that kids will love to read every time, handpicked by Amazon Book editors. Discover new releases, hidden gems, and classics any reader will enjoy. All you have to do is tell them your little reader's preferences, and they'll pick their favorites for you. You can tailor the books from their lists or just let them surprise you! Also, you can choose the frequency to receive your box every 1, 2, or 3 months. Each box will contain 2 hardcover children's books for ages 3 to 12, or 4 board books for kids 2 and younger. 
Learn more about the subscription by visiting the Amazon Book Box Kids Reviews.
Price: Boxes start at $19.99, with free US shipping.
---
Image from: our review
What You Get: Walmart Baby Box is a sample box with essentials for 3 different stages of your baby's life! Each box includes stage-relevant product samples of items sold at your local Walmart and Walmart.com. They make it convenient for a mom like you to sample different brands and products and find what works for you and your baby! There are 3 levels of the box: prenatal, newborn/infant, and toddler. All you have to do is create a baby registry and get a welcome box for free.
Peek at the samples from past boxes by visiting the Walmart Baby Box Reviews.
Price: Quarterly boxes are $5 each.
---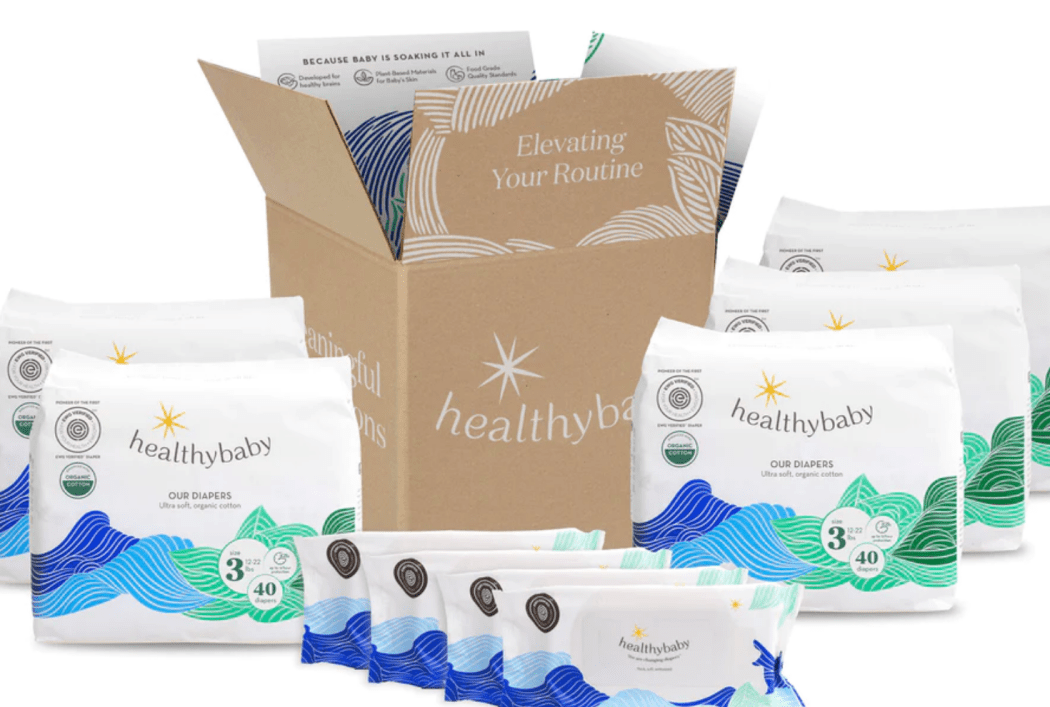 Image from: Healthybaby
What You Get: Healthybaby ensures that babies stay safe and healthy with their selection of clean baby products, including diapers, wipes, skin care, and non-toxic cleaning products. They've eliminated common chemicals that are harmful to babies, giving parents peace of mind as well. When you subscribe to a bundle, you will save 25% from the regular price and you will also get other member perks!
Price: Diaper bundles start at $95, while wet wipes start at $28.
---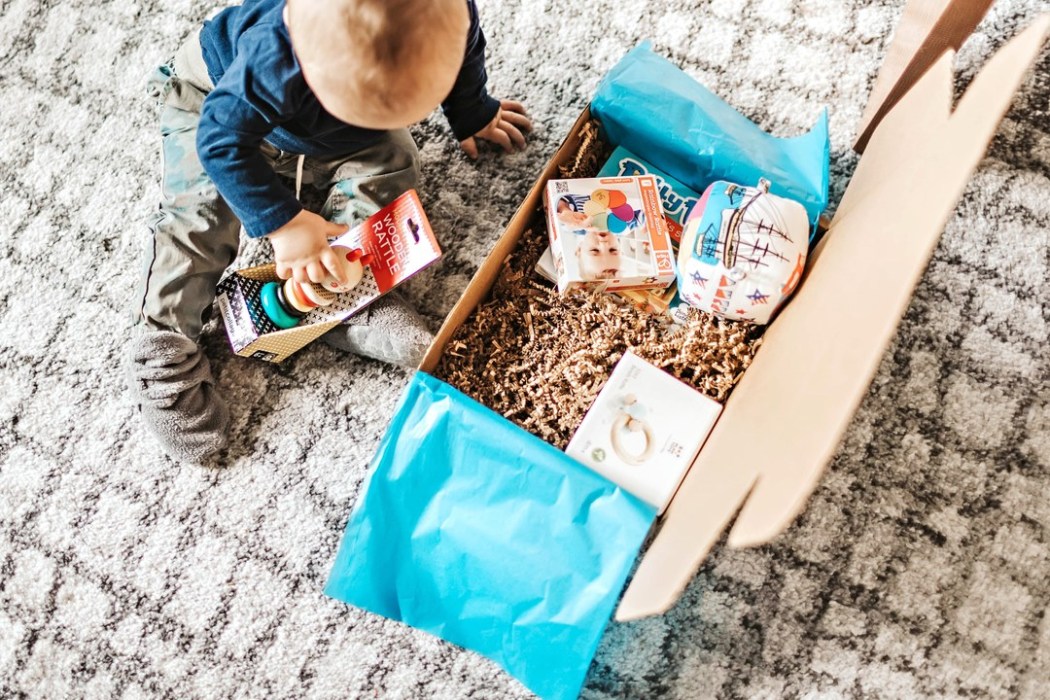 Image from: Hoppi Box
What You Get: Aimed to help your baby's early development, Hoppi Box offers custom boxes appropriate for their age. Each box includes 4-5 high-quality toys that inspire learning through play with a focus on facilitating fine motor, cognitive, and social skill development in young learners. The toys are made from eco-friendly and sustainable materials, ensuring safety for your child. Featured brands include Hape, Moulin Roty, Tegu, EverEarth, and Plan Toys!
Visit Hoppi Box Reviews to know more about this subscription.
Price: Boxes cost $75, shipped every quarter.
---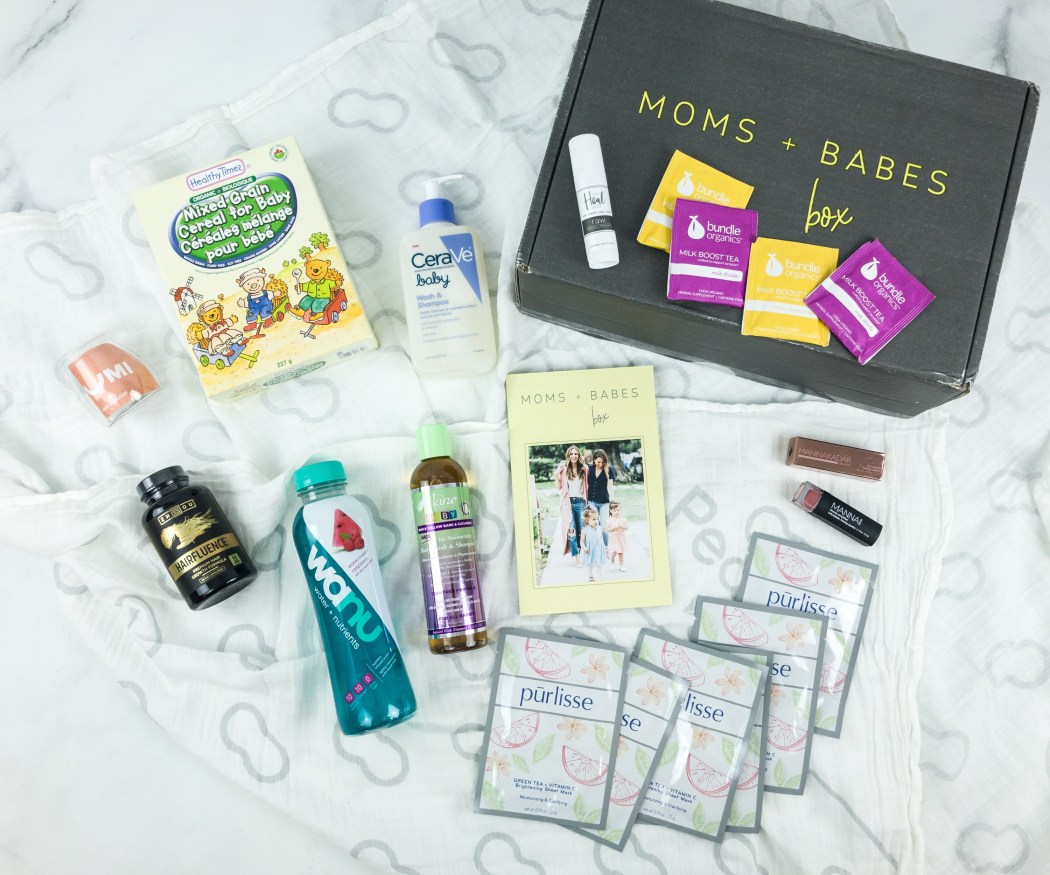 Image from: our review
What You Get: There are available subscription boxes for every mom out there, and one of them is Moms + Babes Box. It delivers a box filled to the brim with great items that both you and your kids can enjoy every season! Every box contains at least 10 full-size, premium products like baby items for learning, playing & growing, and wellness, skincare & other beauty items for moms. With this box, you'll get to spoil yourself and your kids and not feel guilty!
Head on to Moms + Babes Box Reviews to learn more about the subscription.
Price: Seasonal boxes cost $59 each, plus free shipping.
Deal: Get 15% off anything from the shop! Use coupon code HELLO15.
---
Image from: Surprisly
What You Get: Dress your baby the way they should be! Surprisly provides every mom with cute, high-quality, and boutique brand outfits that little munchkins will be comfortable to wear! They represent different brands from all over the world with the aim to provide just the right baby clothing at a price that works for a parent like you! Each box contains 3 hand-selected outfits for baby's day out, playtime, and snooze. The clothes are really comfy and beautifully constructed, as they are made exclusively from soft, natural, organic cotton fabrics, bringing comfort to whatever activity your baby does! On top of everything, they also donate clothing to children in need for every sale made.
Price: Subscriptions start at $69 per month, with savings for longer subscriptions.
---
Image from: our review
What You Get: Designed to enhance the way your child plays through exploration, imagination, and discovery, Didi's Toy Box sends toys tailored to the child's age and developmental stage. There are 2-4 full-size toys in each box, all handpicked by experts to make sure everything is engaging and educational. They also include a babysitter notepad, which serves as a guide for your kid's babysitter on their do's and don'ts and other necessary information about your child. They curate their boxes with the goal of making the world a little bit better each day and spreading the value of play by enriching you and your child's life together!
Check out the Didi's Toy Box Reviews for more details.
Price: Boxes start at $49.95, or less with longer plans.
Deal: Get 10% off your first order! Use coupon code FIRSTORDER.
---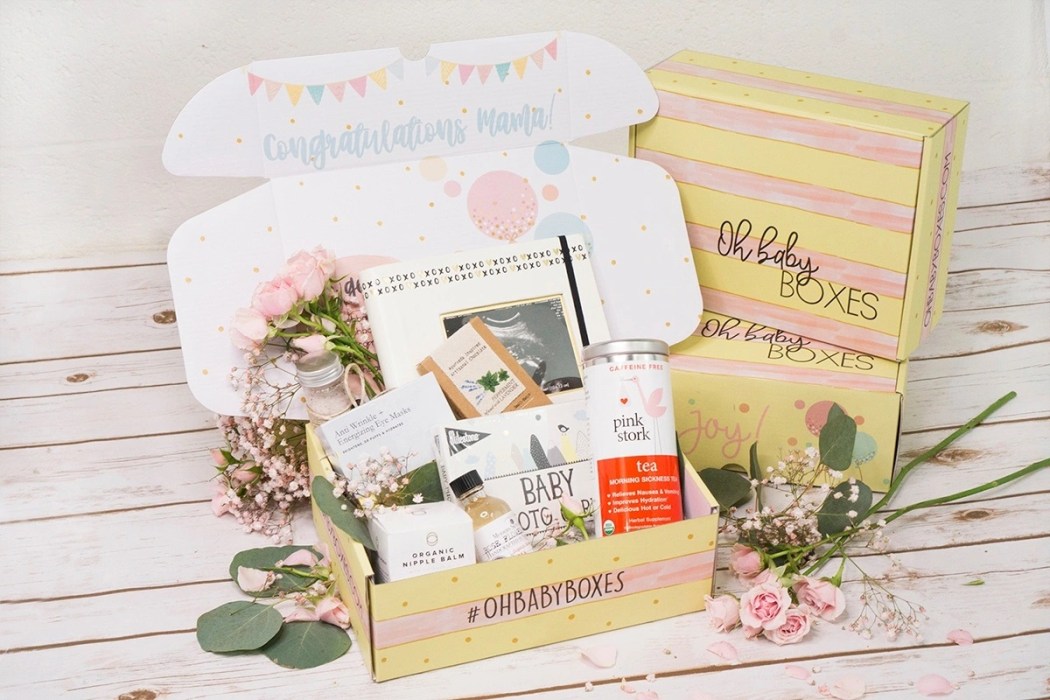 Image from: Oh Baby Boxes
What You Get: Pregnant mothers need more care and love, and this pregnancy lifestyle box gives them just that! Oh Baby Boxes is a subscription filled with healthy and fun products tailored to the mom's due date. Every month, the box arrives with over $100 in value, and it contains 6-8 full-size pregnancy-safe items to promote a healthy and relaxed pregnancy up to delivery, even until postpartum. Products may include wellness, skincare, maternity clothes, and more unique lifestyle goodies. Most items are organic, natural, artisan, and holistic, giving you the pampering you deserve!
Price: $39.99 per month, with savings for longer subscriptions.
---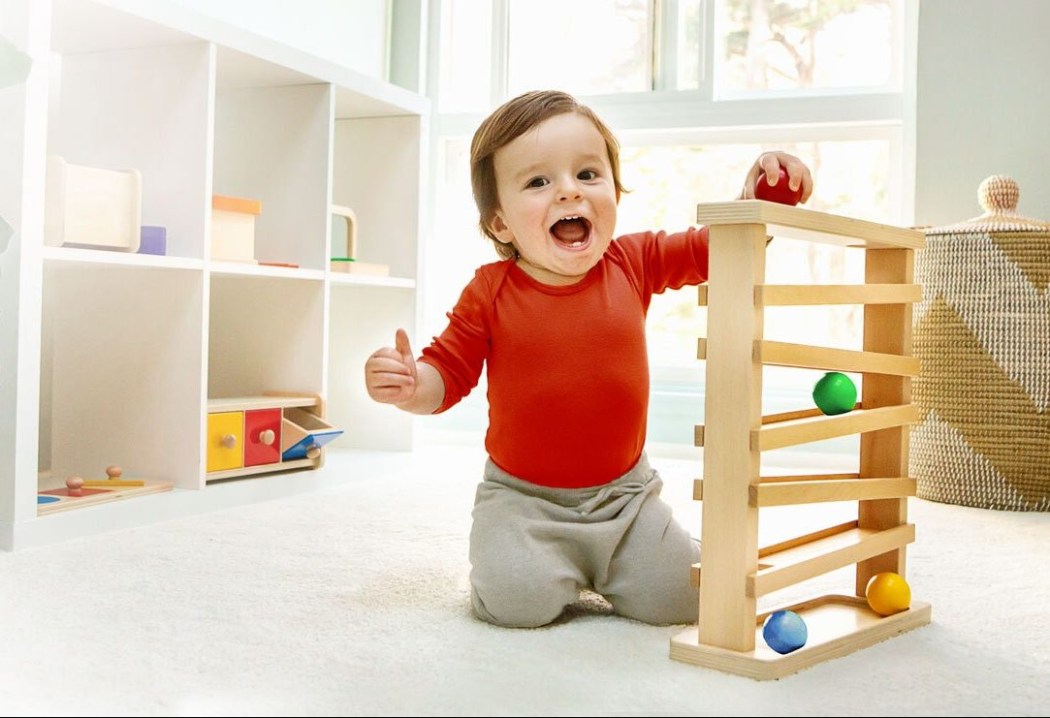 Image from: Monti Kids
What You Get: For your adorable little sweet pea, Monti Kids is an amazing subscription pick! Kids at early ages touch, play, and fiddle with things around them, and the best we can give them during these times are educational and developmental toys that will help unleash their lifelong potentials. Not only will they be able to play, but it will also help them develop their young minds. To ensure each child's safety, the toys are made from sustainably forested wood and non-toxic inks. With each box of high-quality toys, parents also get personal support from Montessori educators, along with video-based guides during the most important years of a child's brain development. Select your child's age, and they will send you toys based on their corresponding ages. It's like Montessori learning but at home!
Price: Billed every three months for $195.
---
Image from: our review
What You Get: Force of Nature delivers a new & simple yet effective method of cleaning directly to your door. Keeping those little hands away from every surface is quite a hard task to do, but this subscription is the solution. It offers a natural cleaner that cleans strongly and acts as bleach but without harsh chemicals. Just mix tap water, a capsule of salt, water, and vinegar, and you'll have a multi-purpose natural cleaner that will last you two weeks – no added fragrances, dyes, and preservatives. Not only do you leave your home freshly clean, but you also assure safety for your family. You will surely get your money's worth because this cruelty-free natural cleaner is truly effective!
Check out Force of Nature Reviews to learn more.
Price: Starter kit is priced at $56. Extra Value Bundle costs $76, Year of Capsules Bundle is $94, 3-pack travel-sized bottle is $8.99, Extra spray bottle costs $8.99, and Activator Capsules Subscription is $18.99 every two months.
Deal: Get 20% off on Starter Kits + FREE Shipping! Use coupon code HELLOSAVINGS.
---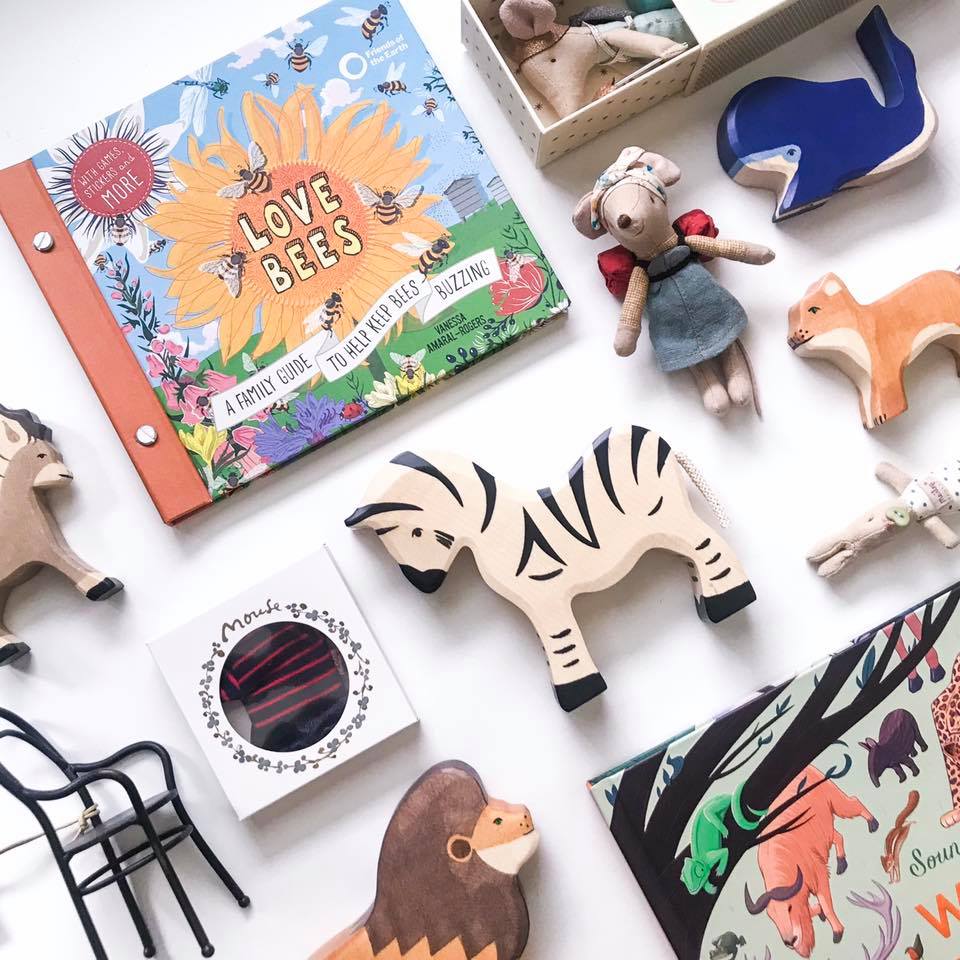 Image from: Why & Whale
What You Get: For the best baby toys, there is Why & Whale that sends exactly that in every box! They deliver not the regular trendy ones but heirloom toys that many have loved for years and can't easily be found in stores. There are 4 surprise packs available to choose from: Minikane Surprise, which sends 1-2 items that are a perfect fit for Gordi's dolls; Holztiger Surprise, which gives you 2 wooden animals; Maileg Surprise, which includes 1-2 Maileg pieces; and the Book of the Month Club, which comes with 1 new released book for kids ages 3-5. Subscribers can also get a 15% off in the shop!
See what was included in the past boxes by clicking on Why & Whale Reviews.
Price: $59 per month, plus shipping fee.
Deals:
---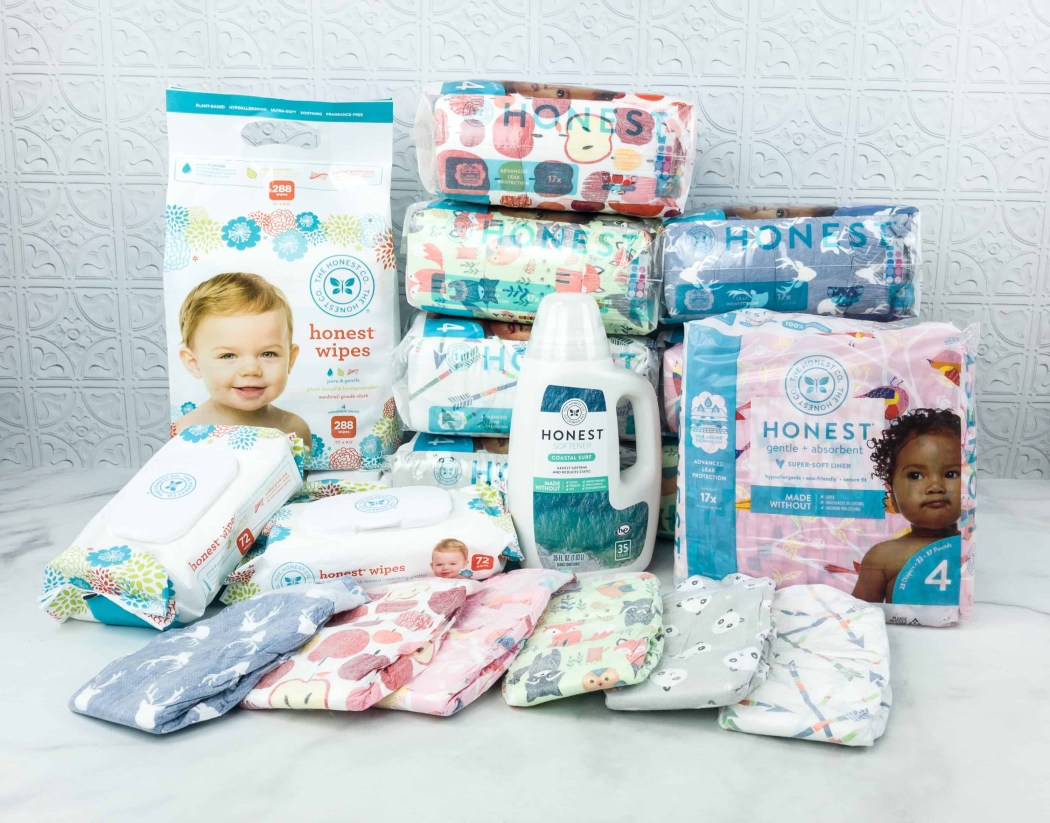 Image from: our review
What You Get: Honest Company Diapers Bundle lets your baby walk, crawl and play comfortably by providing safe diapers to use. Their clean-conscious diapers are made using 100% plant-based materials, which contain no added parabens, latex, or fragrances to ensure they're delicate and safe for your baby's skin and the environment too! Plus, super stretchy sides that can flex just fine whatever movement your baby does. Each bundle contains 7 packs of super-absorbent, hypo-allergenic, and eco-friendly diapers, along with 4 packs of baby wipes. They let you choose, mix and match cute designs as well. Get add-on items such as rash cream, bubble bath, or other products at 15% off! You can also decide when do you want them to arrive at your door.
Check out Honest Company Diapers Bundle Reviews to find out more.
Price: Subscriptions cost $79.95 a month.
Deal: Save $20 on your first diaper bundle! Use coupon code DIAPER20.
---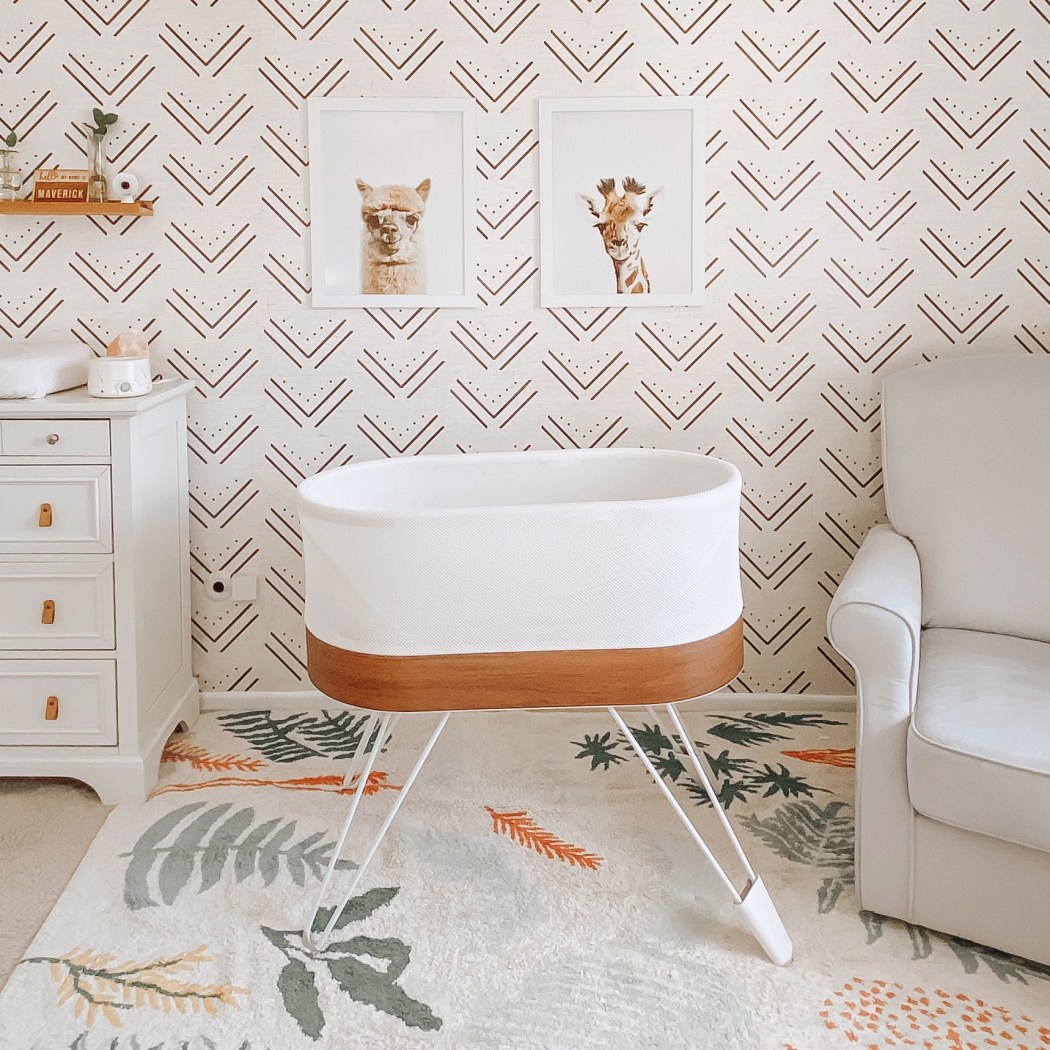 Image from: Snoo Smart Sleeper
What You Get: Snoo Smart Sleeper gives extra help to parents who want to calm their kids in times of crying and fussing. It allows you to rent a bassinet that adds 1-2 hours of sleep with gentle swing and soothing sounds. It automatically responds when it detects fussing, and you can even customize the setting (motion and sound level) through a mobile app. This smart sleeper is made with breathable mesh walls for healthy airflow, and every rental comes with a bonus mattress plus an organic cotton sheet and two organic Snoo sacks for you to keep! In case you want to buy instead of renting, you can do so! It's a peaceful night not just for your baby but also for everyone in the house.
Price: Basic rental costs $139/mo, shipped free.
---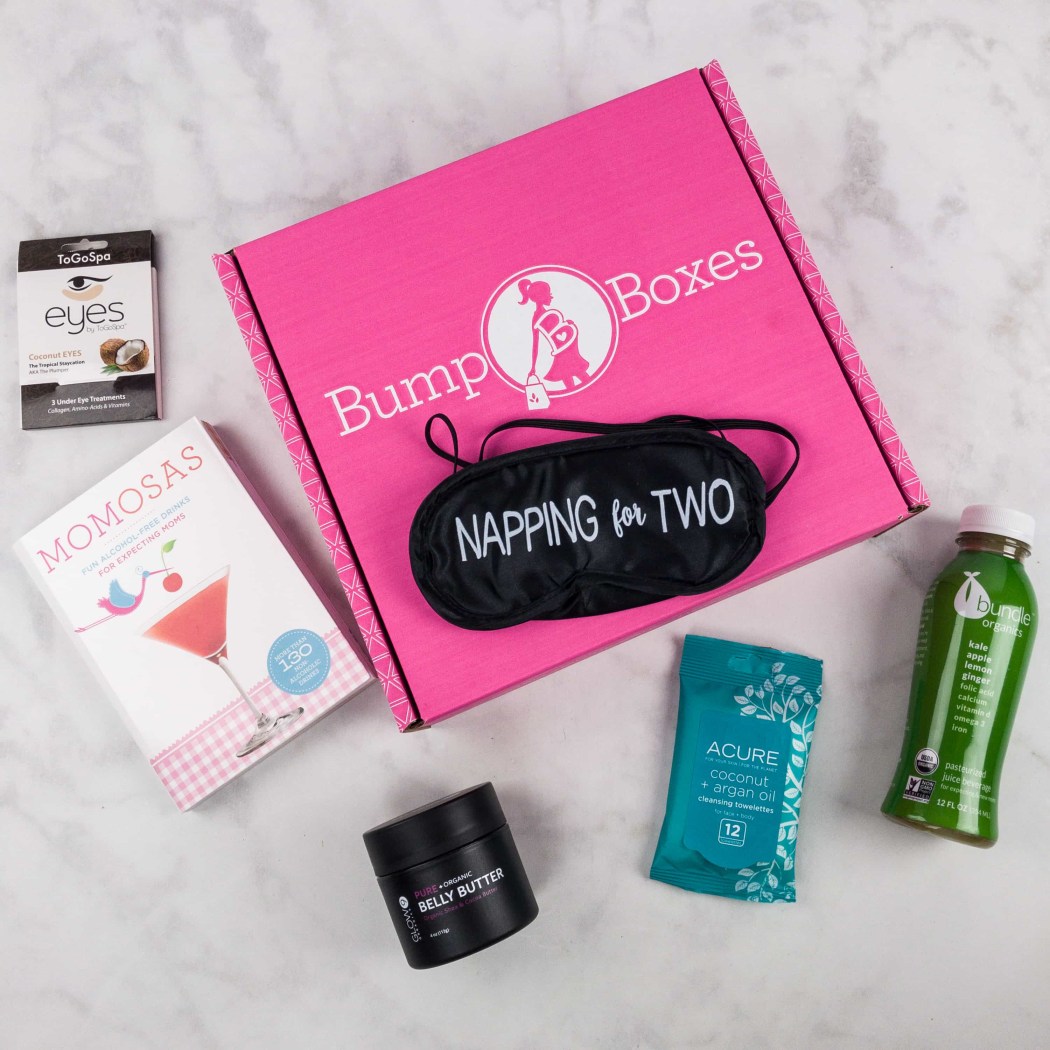 Image from: our review
What You Get: Being a mom is one of the most exciting feelings in the world, and Bump Boxes will help you feel relaxed and comfortable as you near your due date. Every month, they send out healthy products you can use throughout your pregnancy, handpicked by moms like stretch mark & scar oil, soft swaddle blanket, massage roller, body lotion, and more. Each curated box has 5 items promoting healthy and fun pregnancy, valued at over $60! Every product they include is made with no harsh chemicals, keeping you and your baby safe.
Check out Bump Boxes Reviews to know more about this subscription.
Price: Monthly subscription is $49.99. Price drops with longer subscriptions.
Deal: Get up to 50% off your first box, PLUS a FREE gift when you sign up for a six month or longer plan! Deal applies automatically, just visit and subscribe.
---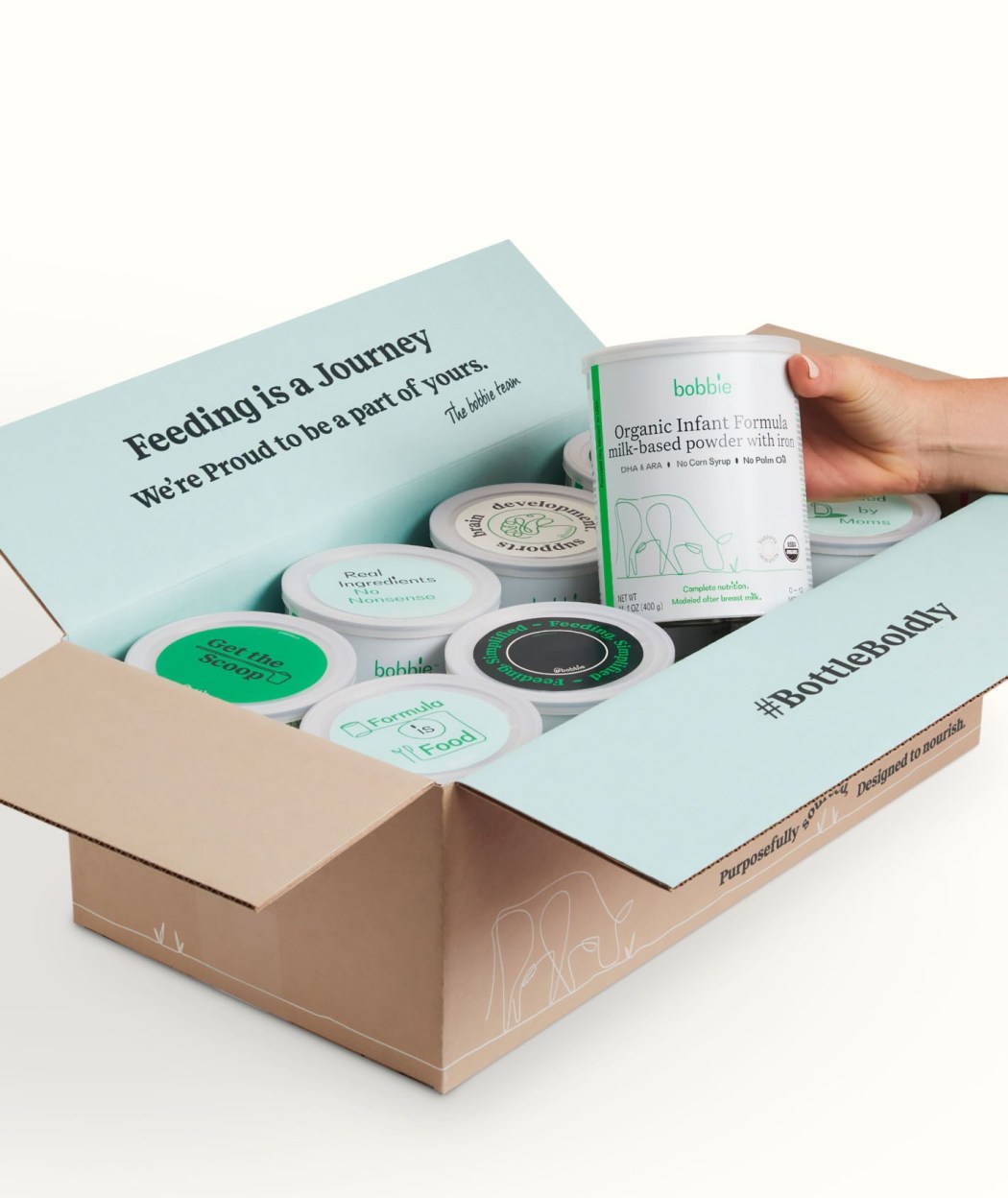 Image from: bobbie
What You Get: For babies' complete nutrition, there is bobbie for it! It is an infant formula powder made from organic and non-GMO ingredients. This organic formula is easy on tummies as it is modeled after breast milk, and it's backed by a medical affairs team, meeting all that is needed for healthy growth! Each ingredient that makes up this formula is thoughtfully sourced to nourish little ones and contains no synthetic pesticides or fertilizers, ever! You can choose to receive 2, 4, 8, or 10 cans a month and never have to worry about empty cans in the middle of the night!
Price: Get 2 cans of bobbie organic infant formula for $48 a month.
---
That's our list of the best baby subscription boxes that you can try this 2022! Which one suits you and your baby's needs?
Love subscriptions? We've got a complete list of the best subscription boxes in every category – check it out!
Say Hello To More Subscriptions For Your Baby!