New grooming products to try and all that good stuff? That's no problem with subscription boxes! A subscription service can keep you stocked on everyday essentials like shaving creams, razors, shampoos, and toothbrush heads or keeping you replenished with specific personal care like hair loss medication and skincare products. These subscription boxes keep a lid on your grooming routine from the head down to your toe. They take all the guesswork out of your way, providing you just the right grooming brands and products to love and use! Most of which curates boxes based on your personal profile.
Take a pick of any category—beard, shave, anti-aging, oral care, fragrance, or all-around grooming, there's always a subscription service for you! If you're in the market to put any of those needs on, we have listed a few that you should know about first and foremost. They make the perfect gift for yourself, for a well-groomed guy, or a soon-to-be well-groomed guy.
The Best Grooming And Shaving Subscription Boxes For Men!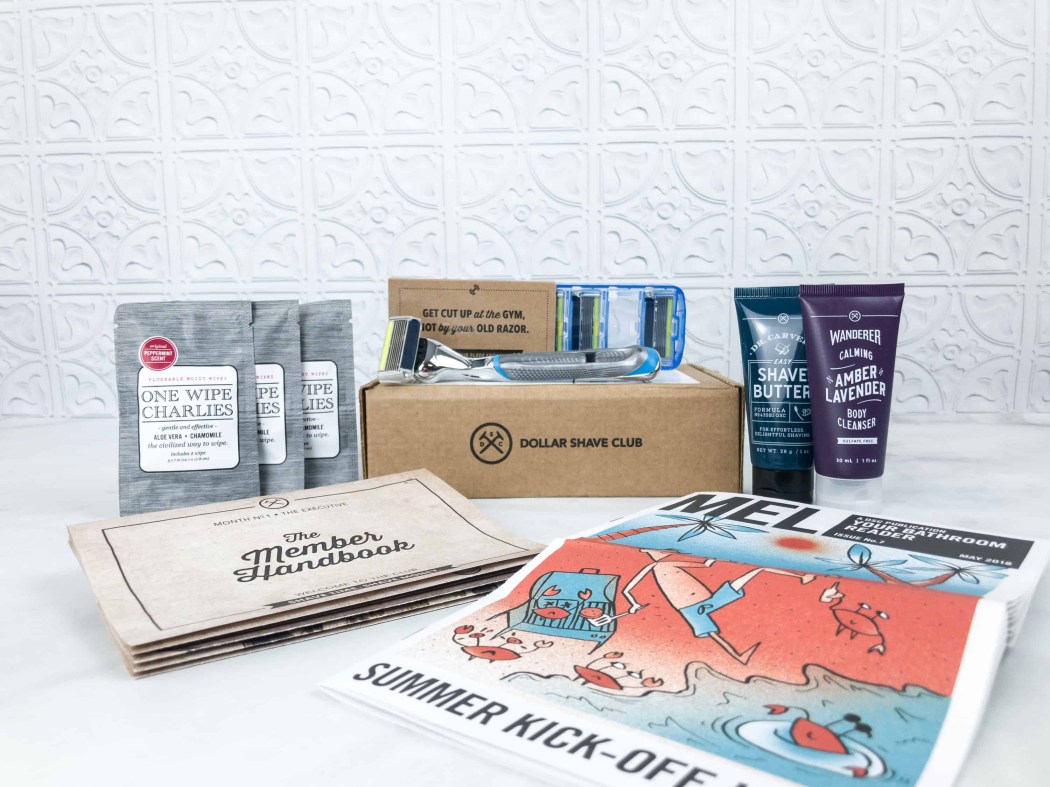 Image from: our review
What You Get: Razors are one of the men's most essential grooming needs, and of course, they'll only want the best ones. With Dollar Shave Club, no more hassle shaving beards. Tell them how you groom, and they'll recommend the best products for you to use. You can also get the starter set at a low price and receive razor blades, the handle, and a trial-sized version of shaving products. The succeeding box comes with razor refills, so every gentleman will never have to deal with dull blades. With this box, men can get that clean and refreshing look with every shave!
Read Dollar Shave Club Reviews to know more.
Price: Get the starter set for just $5. Refill subscriptions cost $20/every other month.
Deal: Get your first Starter Set for FREE! Deal applies automatically, just visit and subscribe. Just pay the shipping of $5.
---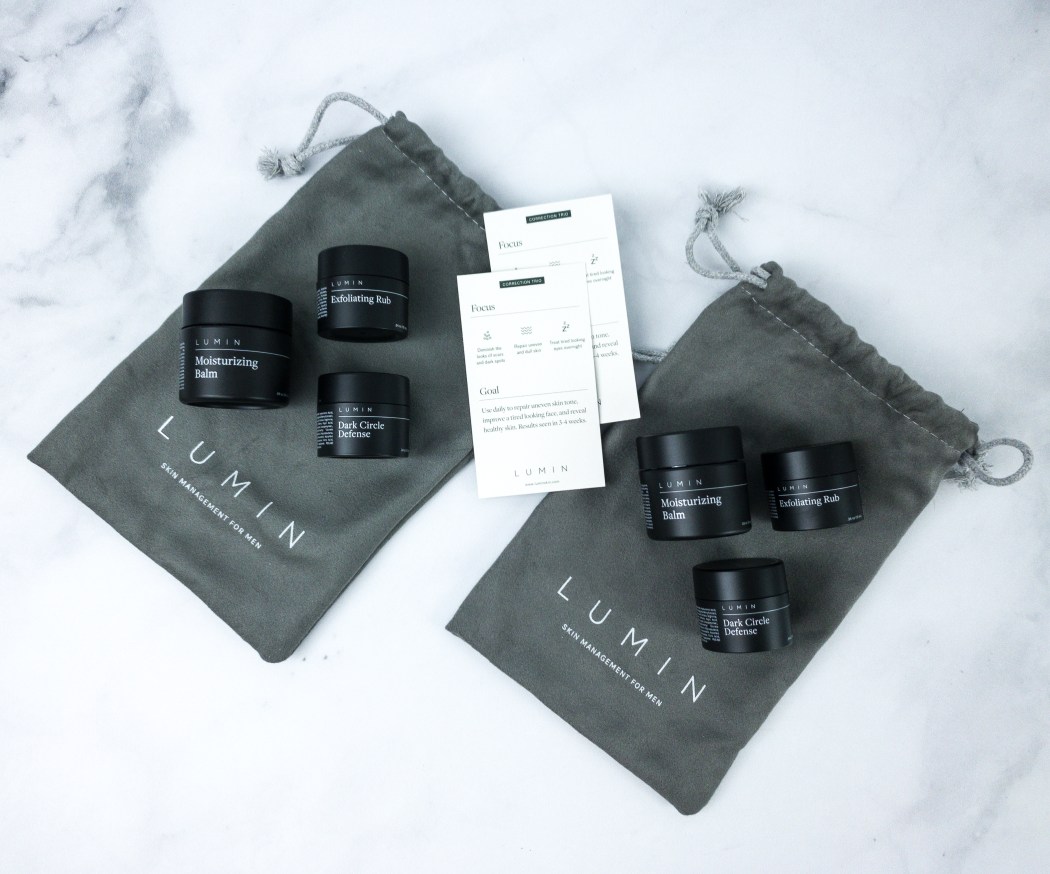 Image from: our review
What You Get: Men also experience skin problems, just like women do, and Lumin provides a solution to that woe! It is a brand of skincare designed for men, delivering luxury quality, easy-to-use products at affordable prices straight to your doorstep every other month. They offer a number of different sets containing premium skincare products that can cleanse, hydrate, and repair the skin. Each product is made from natural, better ingredients, matched with your skin type and age, that'll help better men's skin in a way that's so effective, leaving it looking at its finest state!
Find out how this subscription works on Lumin Review.
Price: Skincare sets start at $66 up to $148.
Deal: Get a FREE trial! Deal applies automatically, just visit and subscribe. Just pay the shipping!
---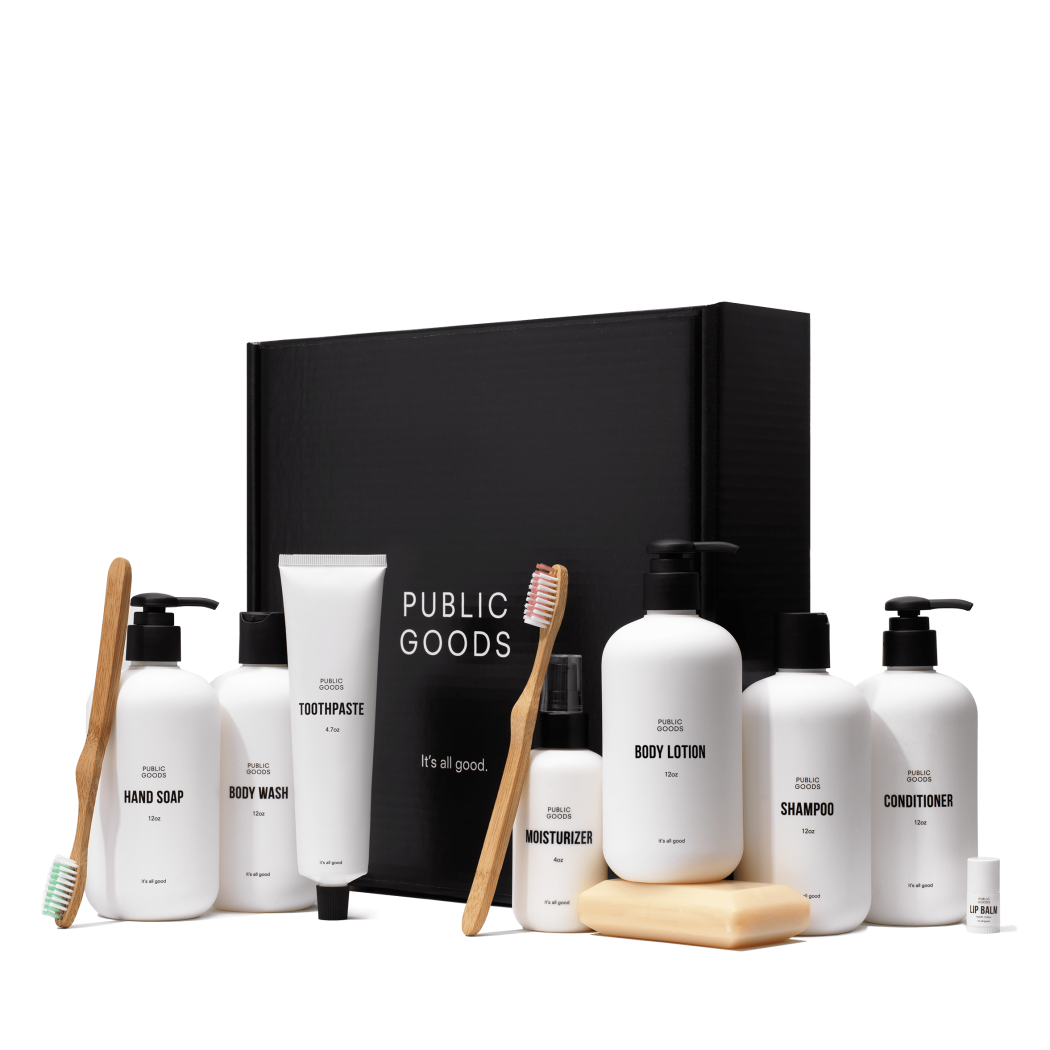 Image from: Public Goods
What You Get: Small choices can make big impacts, and that's where Public Goods is coming from. They will give you your peace of mind by bringing healthy, sustainable everyday essentials (good for the people and the planet) more accessible by delivering them straight to your doorstep. They provide you with everything you need starting from your head down to your toe (natural hair, body, shaving, and more grooming products) at rock bottom prices. They also offer a shaving set that includes a bamboo handle, the blades, and a moisturizing shaving cream. What's also great is they use sugar cane bottles to tree-free paper for packaging and wholesome toxin-free ingredient for all of their products. On top of it, they plant a tree for every order.
Public Goods also offer pet products, household and grocery essentials – See Public Goods Reviews for more details.
Price: For a $69 annual membership fee, you get access to an entire line of high-quality essentials at well below retail prices.
Deal: Get 25% off your first order! Use coupon code hellopga.
---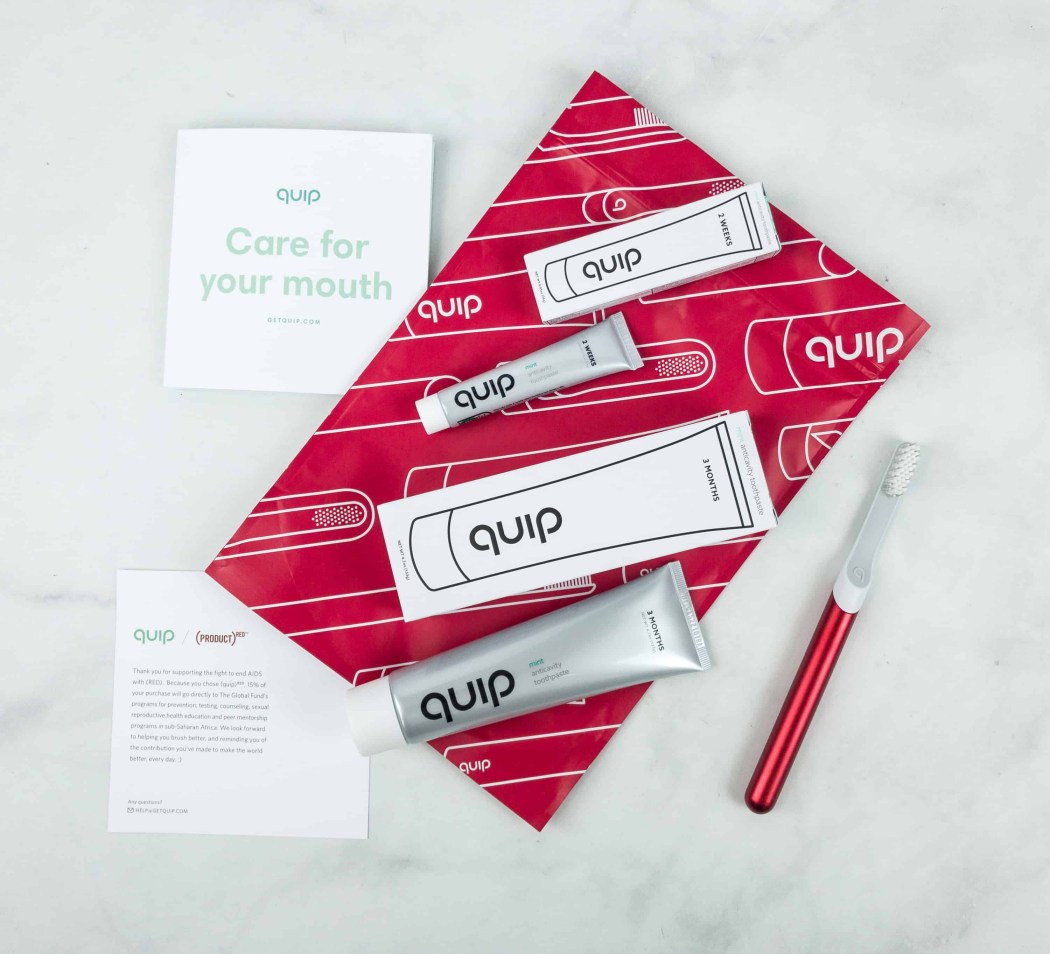 Image from: our review
What You Get: Keeping your mouth healthy is much easier with quip, as they made better oral care as simple as it can get! They offer quality oral care products such as electric brushes, refillable floss, gum, and more for the whole family. Their sleek toothbrushes are created by dentists and designers with guiding features that the teeth need to simplify healthy habits – based on dentist's advice, not selling more gimmicks, to keep you fresh and healthy for life! They have customizable bundles and starter kits to help you get a head start towards your journey to healthier teeth. You can get the starter set that includes a timed sonic vibrating electric toothbrush, a handy holder that can also stand, suctions that you can easily attach to the wall, and optional anti-cavity mint toothpaste. You can also get the refill plan that ships every quarter, keeping you loaded with toothbrush heads for a good brushing habit!
See Quip Reviews for more information.
Price: Starter Kits prices start at $30. Brush head refills with battery is $5 per quarter.
---
Image from: Dr. Squatch Hair Care Subscription
What You Get: With Dr. Squatch Hair Care Subscription, men should no longer settle for old, generic 2-in-1 shampoos and conditioners mixed with harsh chemicals. This subscription for men provides natural hair care products that can treat the scalp to a one-of-a-kind cleansing, grooming experience. Choose if you only want shampoo, conditioner, or both in your subscription with the manly scent of your choice – cypress coast, cool citrus, and fresh falls. It's the treatment your scalp needs for soothing and keeping your hair get back to its natural, healthy state!
Price: Shampoo subscription is $12/quarter, Conditioner subscription is $14/quarter, and Hair Care Subscription costs $24/quarter.
Deals:
---
Image from: Bevel
What You Get: Bevel is a subscription service for leading men to be their own kind of king. They provide a complete lineup of the best products for men's grooming, ranging from hair, beard/shave, skin to the body. They have 4 different bundles for you to choose from: Trimmer + T-Blade, Shave Starter Bundle with 6 tested, tried, and true shaving items, Daily Essentials Bundle with 11 full-sized favorites, and Skin Starter Bundle with 4 skincare products beloved by your skin. Every product they include and offer to subscribers provides the ultimate grooming routine, giving every man the reason to flex their skin that's fresh and clean all day long!
Price: Skin Starter Bundle costs $39.46, Daily Essentials Bundle for $96.95, Shave Starter Bundle is $76.46, and Trimmer + T-Blade cost $199.66. Individual products start at $9.45, delivered monthly.
---
Image from: Gillette Shave Club
What You Get: Gillette is a shaving brand loved by many for years. With adapting designs, grooming is better. Gillette Shave Club lets you quickly have shaving essentials, even when you're in the comfort of your own home. If you don't know exactly which products or styles are right for your grooming routine, you can answer a few questions, and their shave and style advisors will recommend products for you. You can also get the starter kit – ProGlide Shield for a close shave or SkinGuard for a sensitive shave – and receive two bestselling blades with the handle and a travel case. Soon after your starter kit arrives, you'll also receive your first box of refill blades with a full-size Pure Shave Cream. Subsequent shipments will arrive based on your chosen delivery frequency. It's that easy!
See more about this subscription on Gillette Shave Club Reviews.
Price: Starter kits cost $10. First-time subscribers get a free starter kit, pay only $4 for shipping. Refills cost $26/month.
Deal: Get $3 off your first order, plus every 4th order free! Use coupon code SHAVEOFF3.
---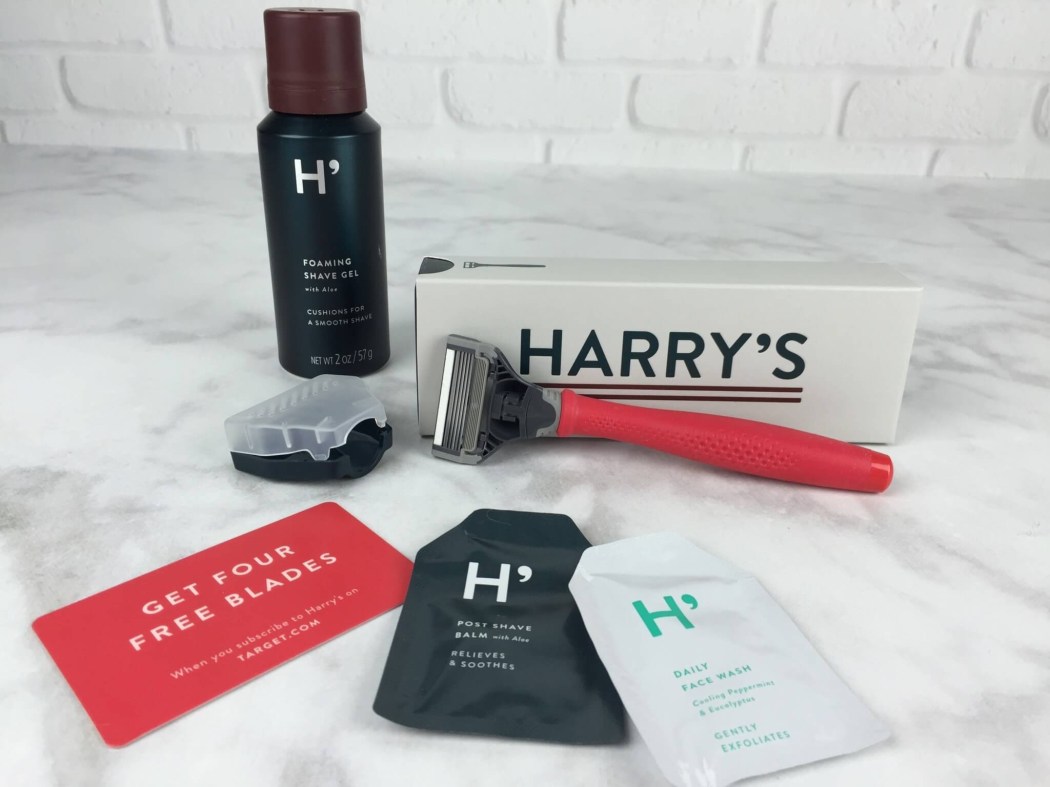 Image from: our review
What You Get: For men's grooming, there is Harry's! From head to toe, they have all kinds of products men can feel good about, all honestly priced! Get a starter kit and receive a weighted rubberized handle, five razor blade cartridges, foaming shave gel, and a travel blade cover. Refills follow after the starter kit with your choice of 8 Blades, 8 Blades & 1 Gel, or the Family Plan that includes 16 blades and 2x foaming shave gels. With Harry's, you can have everything you need for a nice, clean shave! They also donate 1% of sales to nonprofits to bring quality mental health care for men everywhere.
Visit Harry's Reviews to find out more.
Price: Starter Kit is $5. 8 Blades refill subscription costs $16 every two months, 8 Blades + 1 Gel is $21, and Family Plan is $35.
Deal: Get your first set FREE! Use this link to get the deal. Just pay $3 shipping!
---
Image from: our review
What You Get: Manscaped Player's Club was created specifically for a man's distinctive grooming needs. The Peak Hygiene Plan gives you the chance to pick any two base products you like, delivered every 3 months to your door, whether it's a fresh blade, a refill of your fave grooming products, or something new to try. Featuring American-made, specially formulated products to cleanse, moisturize, and deodorize, as well as tools engineered to give a man a close, refined appearance, Manscaped is equipped with the right products and tools for the job in a complete manscaping system that is easy, powerful, and satisfying.
Check out Manscaped Player's Club Reviews for more information.
Price: Peak Hygiene Plan is delivered every three months for just $14.99/shipment plus tax.
---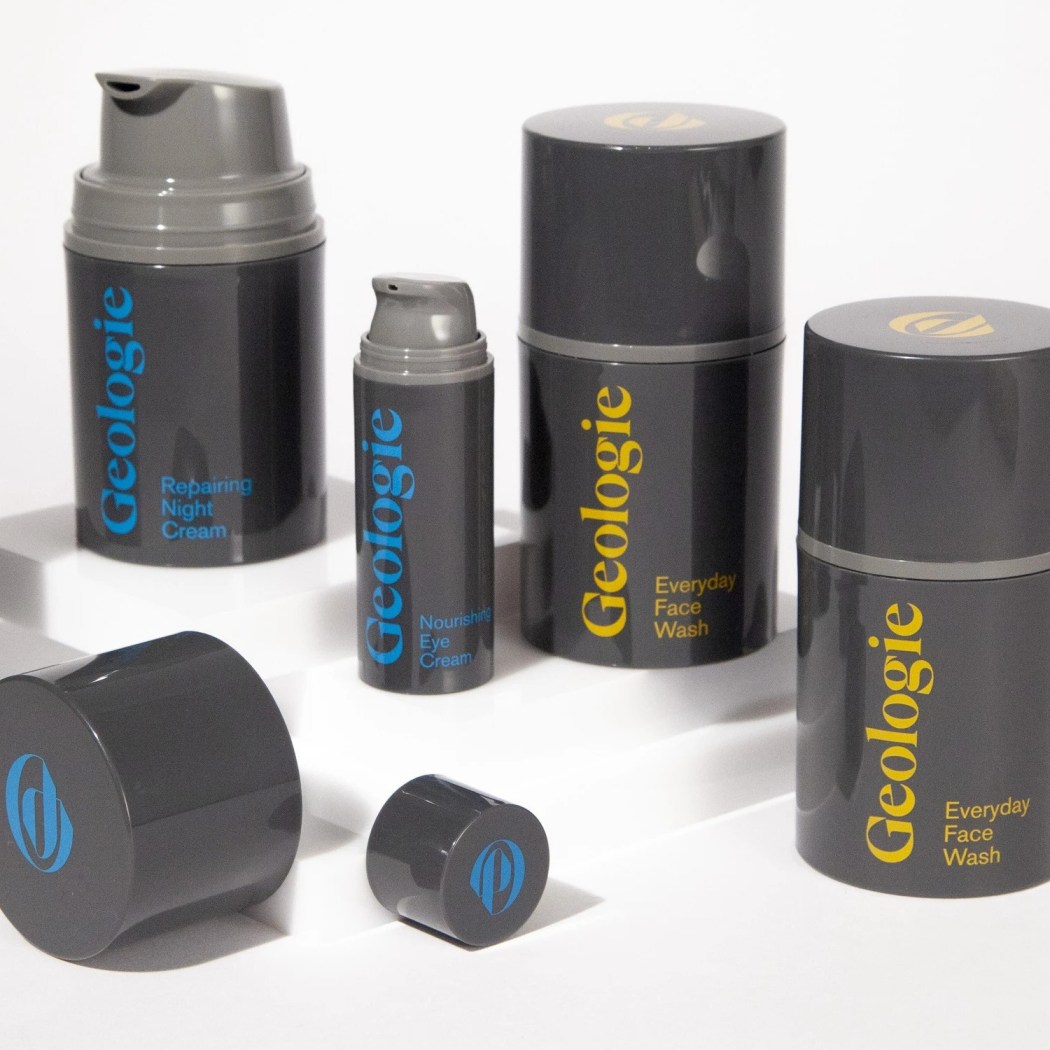 Image from: Geologie
What You Get: Geologie says no two men are the same, neither with skincare, and we also do believe that! This subscription offers personalized skincare products that are a perfect fit for your regimen. All you have to do is tell them about your skin and goals, and their dermatologists will curate the best regimen customized for you. Each set comes with 4 products that'll take just a little of your time to apply. The products you receive compliments each other as they are curated based on your answers to the diagnostics. No fads, no fillers, no compromises. Just real ingredients that work specifically for you!
Price: The full set's price starts at $25 up to $150 or less when you subscribe!
Deal: Get $30 off on your first order! Use coupon code HEALTHY30.
---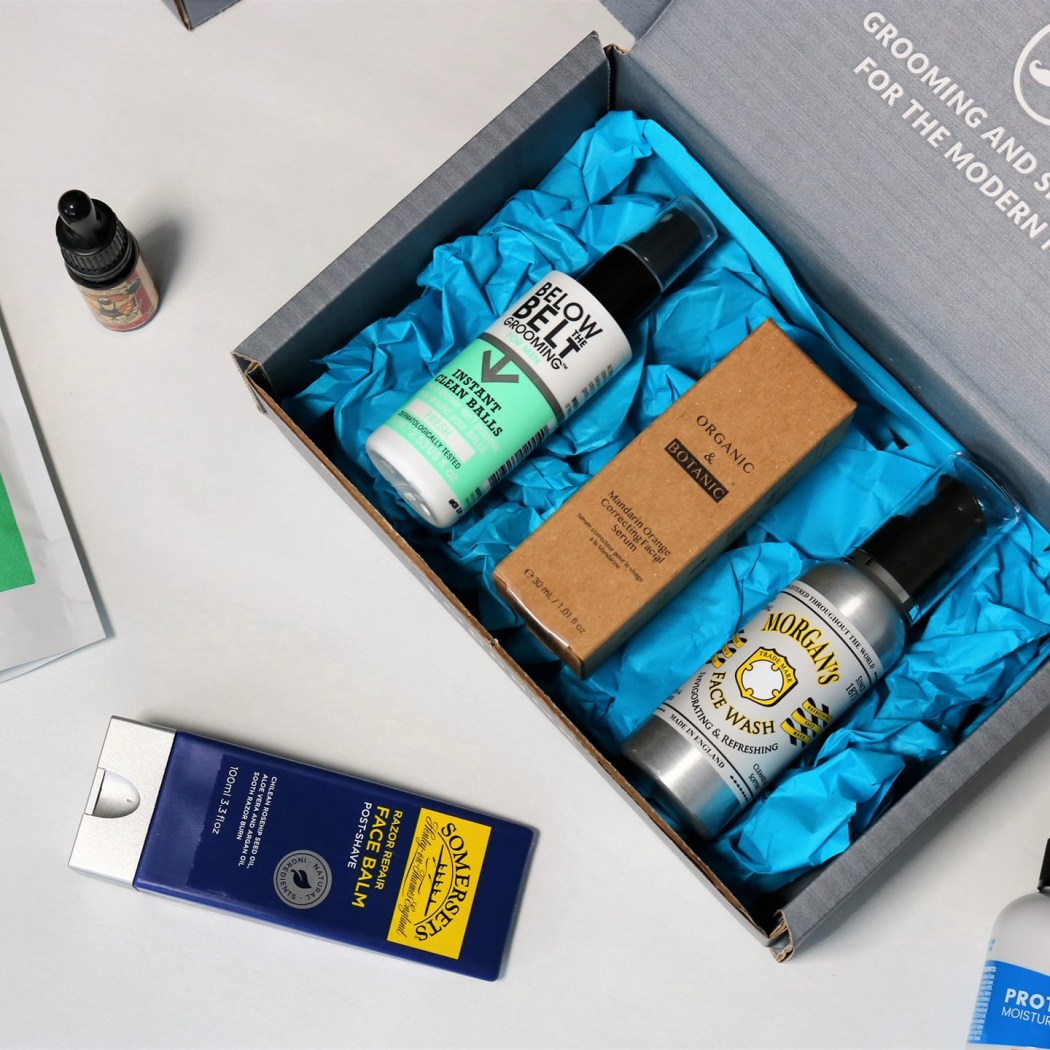 Image from: TOPPBOX
What You Get: A monthly grooming subscription sending personalized products, that's what TOPPBOX is. From hair care to skincare, you can discover products that you'll love for months or even years, giving every modern man one incredible grooming routine to experience! Just tell them a little about yourself – age, skin, face, hair, and they'll make sure to send the right products you need, directly to your door. Bi-monthly boxes include a personalized assortment of 5-7 premium grooming products from top brands that'll help you look and feel your best every day.
Price: Bi-monthly subscription costs £24.00 (est. $34 USD/box).
---
Image from: Bead Care CLub
What You Get: Men care for their beards, just like how women care for their precious hair. Beard Care Club makes it easily possible for every bearded man to keep their hairy faces clean and smelling fresh all day!  This veteran-owned subscription offers beard care products like oils, creams, balms, waxes, washes, conditioners, combs & brushes, pomade, and more. Join the Scent of the Month Club to let your beard stand out to others with new, unreleased scents to try each month. What's even great is you can customize your boxes with the products that you want to see inside! Past scents include Bay Rum, Yukon Pine, Campfire Cody, Pearwood, Pineberry, and more.
Price: Give your beard the care it needs starting at $7.50/month.
Deal: Get 20% off your first box. Use coupon code CRATEJOY.
---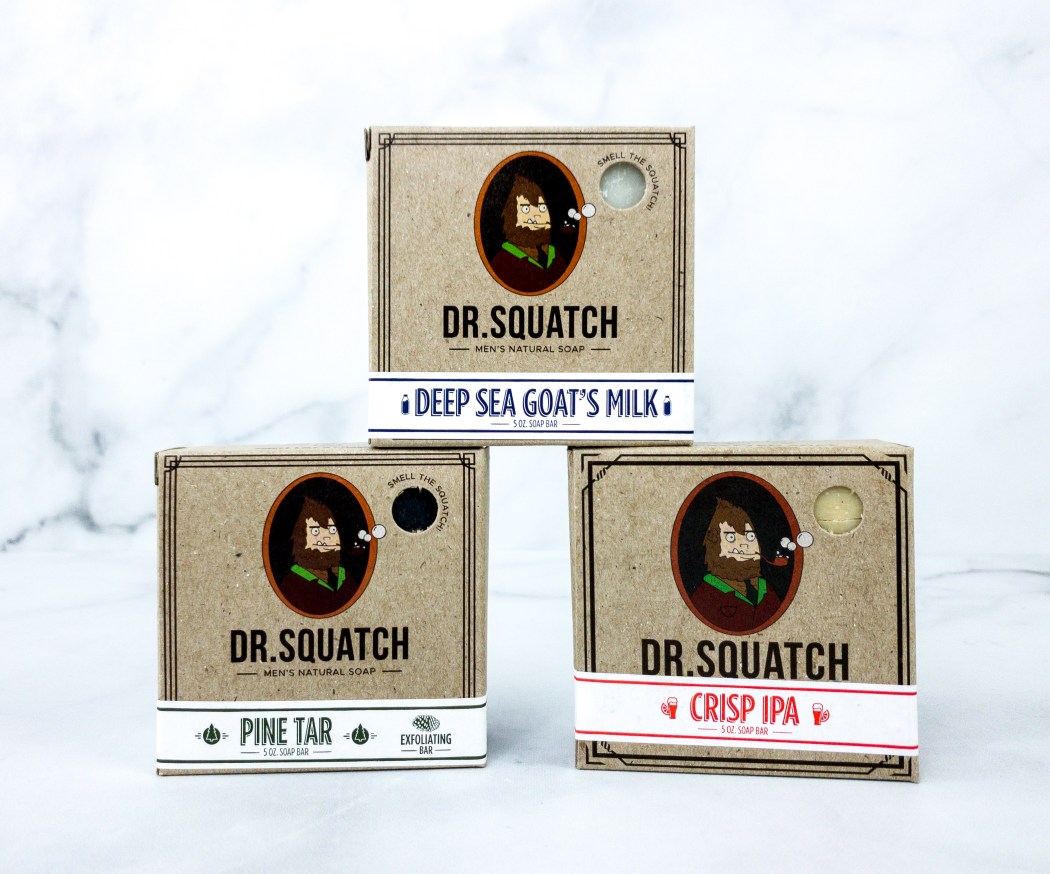 Image from: our review
What You Get: With Dr. Squatch Soapscription, you can enjoy a good fragrant bath! They offer handmade, cold-processed bar soaps for men made using the finest ingredients nature has to offer. These bar soaps are curated with no harsh chemicals and scented with masculine aromas (no girly stuff) to make you feel like a man and smell like a champion! You'll get 3, 6, or 9 bar soaps per month with your chosen scents. Add-ons are also available. But if you find it hard to pick what scents are best for you and your skin type, you can take the quiz to find the best soap that matches your lifestyle and scent preferences.
See more on Dr. Squatch Soapscription Reviews.
Price: Soapscription costs $6/bar, or $18 per month for 3 bars, $36 per month for 6 bars, and $54 per month for 9 bars.
Deals:
---
Image from: HOMMEFACE
What You Get: HOMMEFACE is here to help you upgrade your grooming routine! Their priority is to provide the best skincare experience any man can have with refreshing but not overwhelming products. They offer a simple and easy but safe, clean, and effective way for men to care for their skin, driven with real results. You can choose from at least 7 sets (duo or trio set) they currently offer. Each set contains natural, vegan, cruelty-free, and alcohol-free products without any harsh chemicals. They also don't skimp on subscribers as they include large bottle sizes, so you won't frequently replenish. Products are also numbered so men can easily identify which comes next after the other. It's really that simple!
Price: Skincare Sets are priced starting at $22.
---
Image from: Fresche Box
What You Get: Fresche Box helps you find the right grooming products that'll work for your skin. They send a box filled with 5 grooming samples/trial-sized products from trusted brands, shipped free directly to you! You can select one of 6 categories – shave, fragrance, hair, beard, face, or surprise me, for a guaranteed product in your box. There's a short survey upon sign up to help them customize the box better, so fill it out with your information and enjoy the products once it arrives!
Price: Month to month plan is $10/box.
Deal: Get 10% off your first box! Use coupon code HELLO10.
---
What You Get: One less harm to the planet, but still provides amazing products for grooming! Akamai Basics is a bi-monthly men's personal care subscription box that's better for you and the planet too. All the products they offer contain no toxic chemicals, fillers, and preservatives, only minimally processed, nutrient-dense, plant-based, organic, and cruelty-free ingredients. To get started, choose from 6 starter kits they have and get a box filled with oral, body, shave, and hair products, depending on what set you choose. Akamai also donates 1% of sales to support organizations like The Environmental Working Group.
Visit the Akamai Basics Reviews to discover more.
Price: Starter Sets start at $40.
Deals:
---
Image from: Beardsanity
What You Get: Beardsanity helps you stay sane with products that'll care for your beard as you wish! They take out the guesswork out of the equation, so you can grow your beard like you've always wanted to. Focused on offering the best beard products like oil, balm, butter, accessories and swag, you'll no longer scour the market to find the right ones to use – they'll provide everything for you and your beard. There are 4 beard care kit to choose from: The Gentleman, The Mountaineer, The Sophisticated, and Cannabliss that harnesses the benefits of CBD to grow beards. Whichever kit you choose, you'll surely grow your beards without the itch and irritation!
Price: A beard grooming kit costs $29.99 a month.
---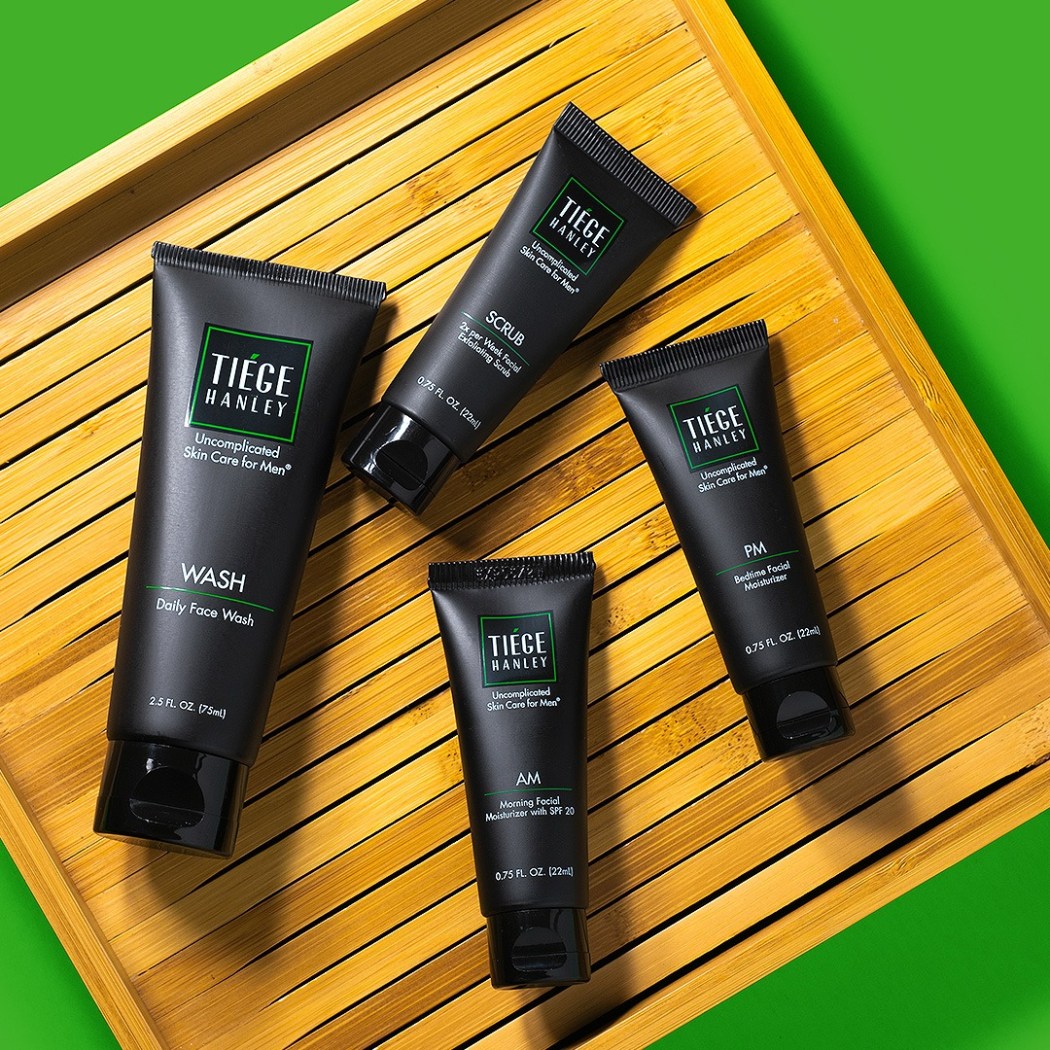 Image from: Tiege Hanley Skin Care System
What You Get: Tiege Hanley Skin Care System provides one easy grooming routine for men. This subscription sends skincare products that are affordable, easy-to-use, and smells just great, made from simple and natural ingredients. Available are 2 subscription tiers they offer – Level 1 with 4 of their core products (wash, scrub, morning facial moisturizer, and bedtime facial moisturizer) to smoothen, hydrate, and protect your skin, and Level 2, which includes those 4 products, plus an eye cream to battle dark circles and crow's feet. The combination of these products helps control oil and minimize wrinkles while moisturizing your skin. It also comes with a guide on how to use the products and in what order you would use them. No complicated skincare routine for men, just bringing the best in their skin!
Price: Level 1 skincare system is $35 a month, and Level 2 is $45 a month.
Deal: Get 20% off your first box. Use coupon code HELLO20.
---
Image from: Leaf
What You Get: For a smooth, exceptional shave, Leaf is one great assistant! These razors contain no plastic element, making them great not just for shaving but for the planet too. You can choose from three kits they have (The Leaf Kit, The Twig Kit, The Duo Kit [both razors]) to shave better and worry-free. The Leaf razor has a pivoting head with up to 3 single-edge blades, while the Twig razor has a fixed head with only one single-edge blade. All three include a stand, a 50-blade pack, and a blade recycling tin. Whichever you choose, you'll have the flawless finish you desire!
Price: The Twig Kit costs $85, The Leaf Kit is $113, and The Duo Kit costs $175. The 50-Blade pack is priced at $12/pack.
---
Image from: Madison Reed MR
What You Get: Madison Reed MR keeps men's hair and beard looking healthy and youthful with easy to use hair color. They effectively reduce the appearance of gray hair for a more natural look. You can choose your own color or find your own color match through a short quiz. It's a three-step professional hair and beard color for men that's free of ammonia, parabens & harsh chemicals and full of only the good stuff. The products are also numbered, so you won't get confused about what goes first. It's the solution men need to feel more like themselves!
Price: Remove gray hair with an easy coloring set priced at $20/month.
Deal: Get 10% off + FREE SHIPPING on your first order! Use coupon code affMR10.
---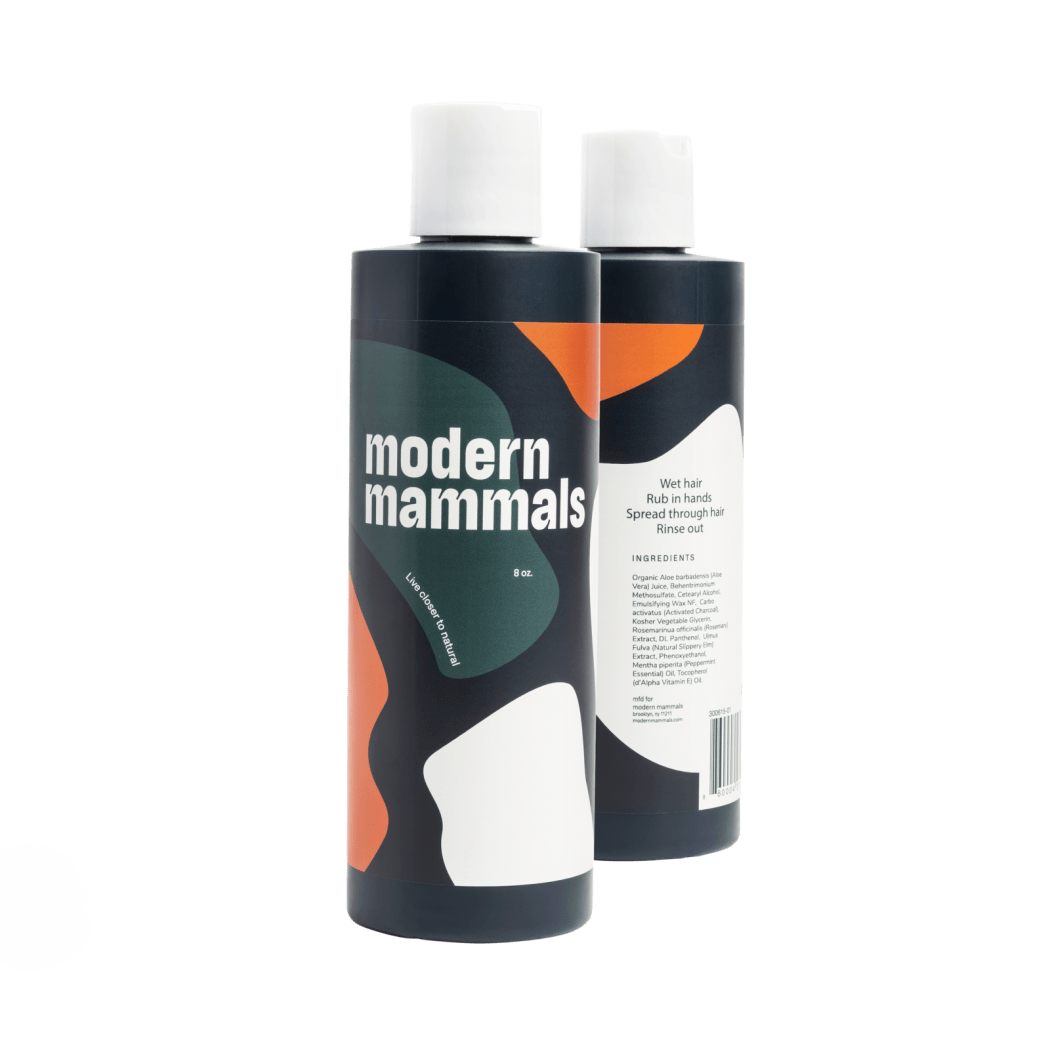 Image from: Modern Mammals
What You Get: Men can get that smooth and refreshingly cool feeling in the head with every use of Modern Mammals. They aim to introduce and bring much better hair care (not shampoo), leaving the hair in its natural state by soothing the scalp and the roots. Made with only the lightest and best performing plant-powered ingredients – no parabens and sulfates, you'll say goodbye to dandruff and itchy scalp. Every 60 or 90 days, you'll receive one effective bottle of everyday hair care for men to welcome a moisturized, healthy crown for a king like you!
Price: The box costs $22 per shipment, and you can choose whether you want to replenish every 2 or 3 months.
---
And there you have it, the list of the best grooming and shaving subscriptions for men! Which of these are you going to try?
Want to know what other subscription boxes we have? Check out our list of all the best subscription boxes!
Say Hello To More Subscriptions for Grooming Products!