Let's face it, cooking for yourself can be quite a challenge. From the endless shopping trips to the meticulous planning, prepping, chopping, cooking, and cleaning, it can sometimes feel overwhelming. Meal delivery services are a great help, offering ready-to-cook meals and alleviating your meal planning worries. But here's the catch: most of these meal kit subscriptions are designed for groups of 2-4 people. Not ideal if you're flying solo and don't need as much food. But fear not! We've got some exciting news for you. There are fantastic meal kit delivery services and subscriptions specifically tailored for singles, ensuring that even when it's just you at home, mealtimes remain an exciting and delicious affair.
Show More (2 items)
With subscription-based meal plans designed for solo dining, you can now indulge in delicious, hassle-free meals without worry. These culinary services specialize in providing individual-sized, heat-and-eat delights, perfectly portioned for one satisfying sitting. Each meal comes thoughtfully packaged, eliminating concerns about leftovers and ensuring a delightful dining experience with minimal waste. Enjoy the convenience of savoring a delectable dish, all on a single plate, with no leftover stress in sight.
Don't miss out on our handpicked selection of the best meal kit subscriptions and delivery services catering to solo diners! Whether you are a busy professional, a student, or simply someone who appreciates the convenience and customization of single-serving meals, our list is brimming with exceptional options that will satisfy your taste buds and simplify your meal preps.
Best Meal Kit Delivery Services And Subscriptions For Singles!
Image from: Factor_
What You Get: Factor_ is a meal subscription service that delivers nutritious, freshly prepared meals to your door. With the help of dietitians and experts, they prepare fresh (never frozen), healthy meals to make sure you get the proper amount of nutrients for your body. Subscribers can order as many as 18 meals per week or as few as four. Each box contains single-serving, well-prepared meals made with carefully sourced ingredients that are hormone-free, antibiotic-free, GMO-free, and additive-free. It combines nutrition science and culinary expertise to create delicious recipes that will provide your body and mind with the nutrients they need to perform at their best!
Some of the fan-favorite Factor_ meals are Cream Corned Chicken, Tostada Bake, Creamy Dijon Pork Tenderloin, Roasted Garlic Braised Beef, and Grilled Chicken a la Vodka. This subscription also offers meals for the popular diet plans including keto, paleo, low-calorie, plant-based, and dairy-free.
Deal: Get up to $276 off your first FIVE weeks – that's 60% off your first box, and 20% off each on your second to fifth boxes! Use coupon code FACTOR276. Valid for new subscribers only.
---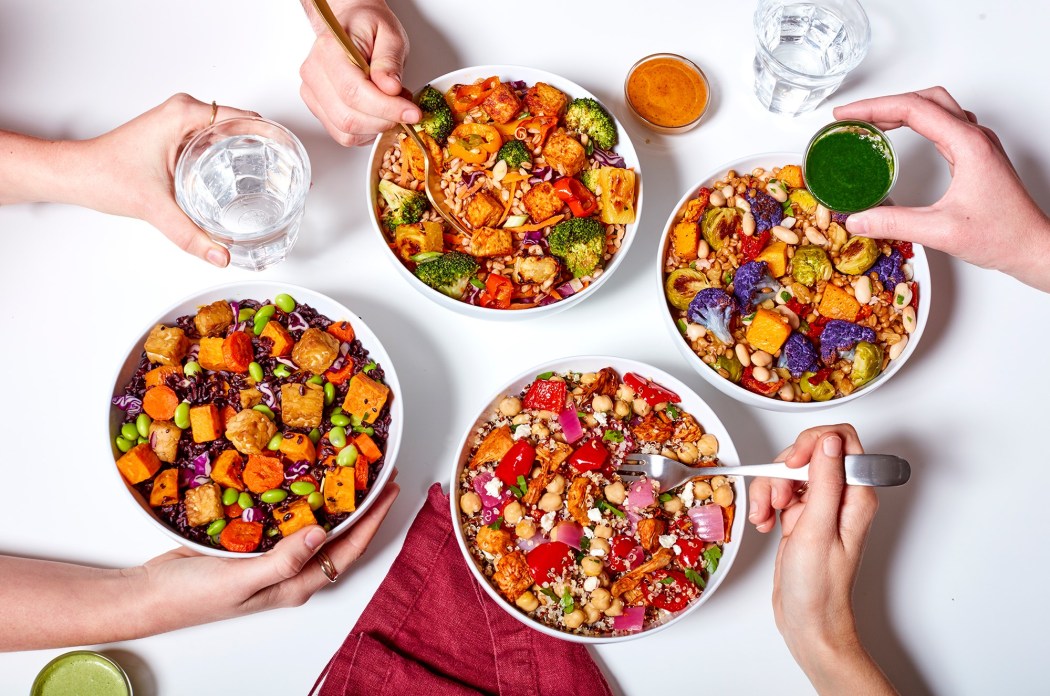 Image from: Mosaic Foods
What You Get: Mosaic Foods allows you to open the box, heat, and eat! This meal delivery service provides healthy, hearty single-serving portion, ready-to-eat meals made with plant-based ingredients to meet your body's nutritional needs. Each box contains a variety of scrumptious, chef-crafted dishes created with natural, clean ingredients that have been roasted, sautéed, and seasoned in a real kitchen. Plus, it's zero-prep! All you have to do is heat them in the microwave, and they'll be ready in five minutes or less. Every box sold results in a good act, as they rescue and give 2 pounds of nutritious food to those in need.
Focused on plant-based and vegan meals, some of Mosaic Foods' popular offerings are Yellow Dal Curry, Ginger Sesame Noodles, Coconut Chickpea Curry, Mac & Greens, and Veggie Pot Pie.
---
Image from: our review
What You Get: Sprinly is a no-contact, organic plant-based meal delivery service that sends nutritionist-approved, ready-to-eat meals to your door on a weekly basis. They make it easy for anyone to eat healthily by sending a box that contains fresh, never frozen, fully prepared, 100% vegan meals that are absolutely free from gluten or even refined sugar. Receive 6 meals per week, 12 meals per week, or 18 meals per week. Simply order your favorite foods from their rotating menu and wait for them to arrive. Each meal is single-serving and packed individually for easy grabbing. Plus, it's so convenient – heat it for 3 minutes or less and enjoy!
Healthy and delicious meal offerings by Sprinly include Pesto Pasta, Enchilada Casserole, Mushroom & Lentil Burger, Almond Ginger Quinoa Bowl, and Zucchini Noodle Pad Thai. Sprinly entrees are all vegan!
Deals:
Get $20 off over 3 weeks on a 6- meal plan! Use coupon code VIP.
Get $30 off over 3 weeks on a 12-meal plan or 18-meal plan! Use coupon code VIP.
---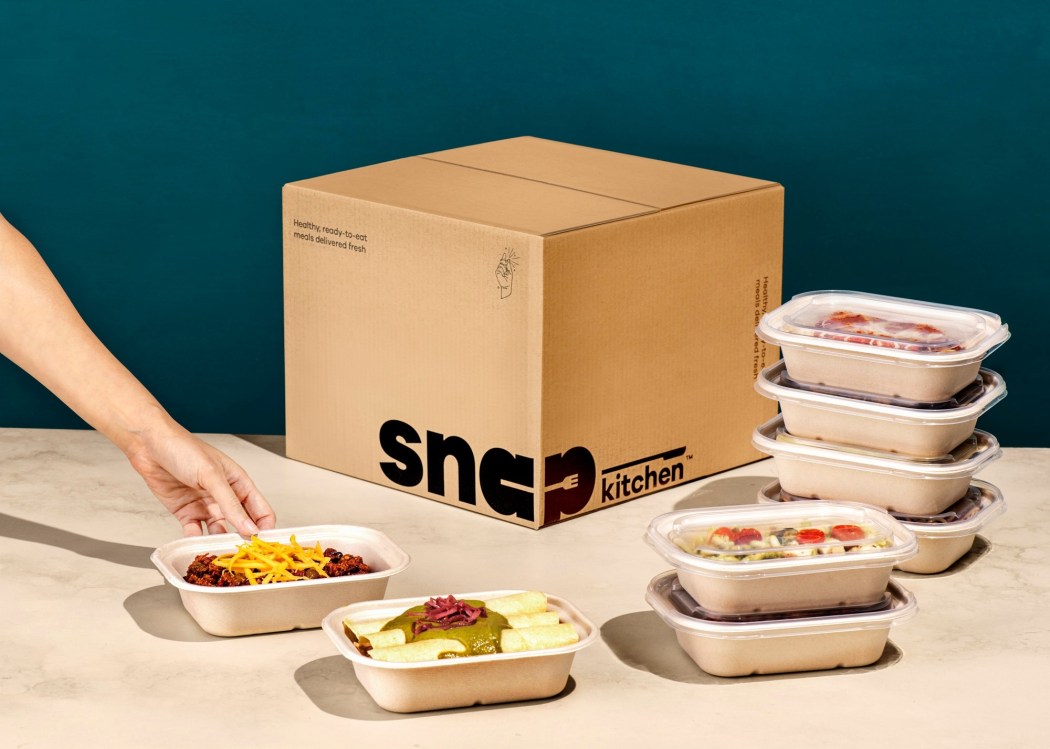 Image from: Snap Kitchen
What You Get: Snap Kitchen allows just anyone to get a delicious meal in a snap of a finger! It is a meal subscription prepared by an expert dietitian to help you attain a healthy and active body that will improve your quality of life. Every box contains highly nutritious and delicious meals made with high-quality ingredients free of antibiotics, GMOs, gluten, and hormones. Receive 6 or 12 single-serving meals per week from their rotating menu, available in low carb, vegetarian, balance, whole30, high protein, keto-friendly, paleo, and other options. When the meals arrive at your door, all you have to do is heat them and enjoy – no more chopping, prepping, or cooking required!
You can boost your daily meals with Snap Kitchen's Steak Street Tacos & Spanish Rice Pilaf, Stir-Fry Chicken and Broccoli, Chicken Piccata with Garlic Roasted Cauliflower, Herb Crusted Salmon with Roasted Broccoli & Feta, and more. Their meals also cater to different dietary needs, including low carb, vegetarian, balance, whole30, high protein, keto-friendly, and paleo.
Deal: Get up to $60 OFF your first 3 weeks of Snap Kitchen! Use coupon code GET60.
---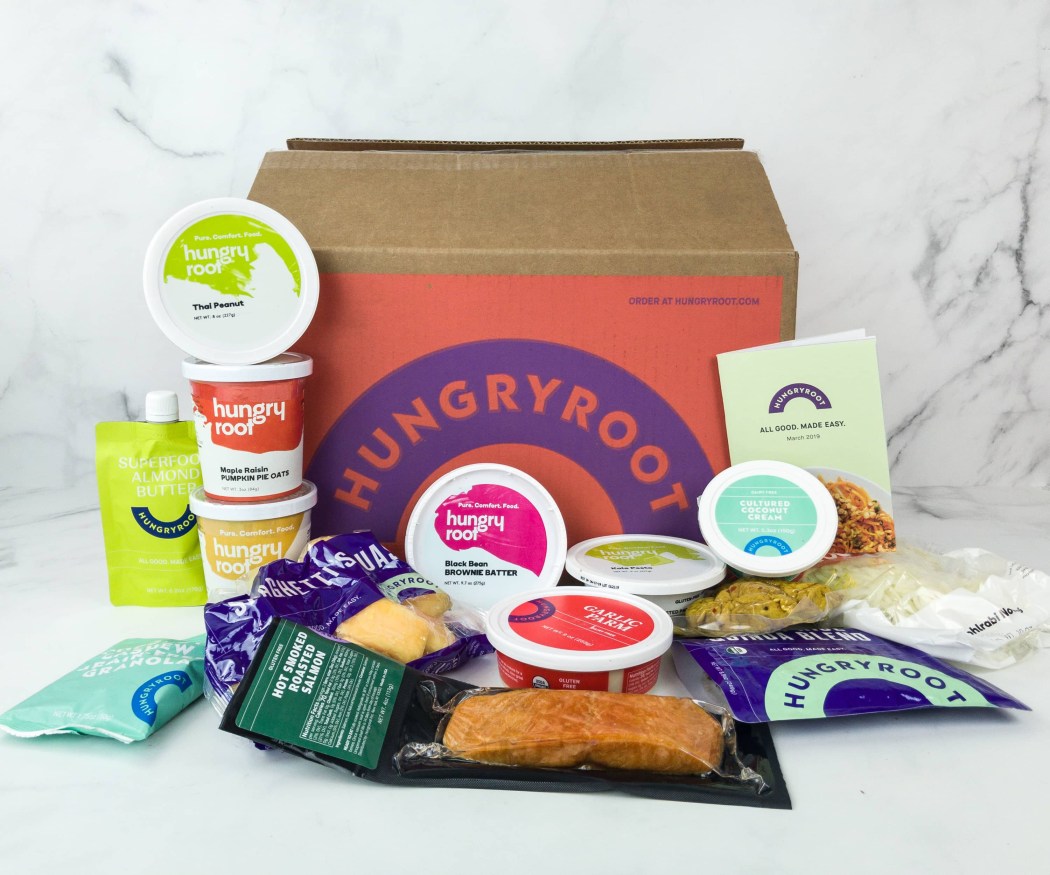 Image from: our review
What You Get: Hungryroot makes it possibly easy for people to eat healthily and feel great every day by delivering quick-and-easy healthy meals you can prepare in less than 10 minutes or ready-to-eat, grab-and-go, heat-and-eat items, suitable for one person. They find the most nutritious options out there made with whole, trusted ingredients for people who are always on the go, who don't have much time to cook, or don't want to stay longer in the kitchen. Just tell them about how and what you eat, and they'll send groceries along with recipes. You can now cook with such ease and enjoy your food in just one sitting!
Hungryroot popular dishes include Faster-than-Takeout Coconut Chicken Noodles, Veggie Antipasti Tortelloni Alfredo, Red-Sauce Chicken Sausage + Zucchini Rotini, and Creamy Shrimp + Asparagus Mushroom Risotto. They also have meals for specific dietary needs, including vegan, vegetarian, pescatarian, dairy-free, gluten-free, soy-free, tree nut-free, peanut-free, egg-free, and shellfish-free.
Deal: Get 30% off on your first $99+ order + FREE Bonus Groceries FOR LIFE! Use coupon code HELLO30.
---
Makes leftovers
Image from: our review
What You Get: Home Chef lets you take a break from doing grocery shopping by giving you fresh, pre-portioned, and ready-to-cook ingredients. Every week, you get to choose from a variety of recipes and have all the ingredients and preparation instructions delivered to you at reasonable prices! You can custom your box to fit your needs, including the number of servings per meal and the number of meals per week. The Fresh and Easy Plan is also available for quick hunger relief. They'll provide you with fresh, prepped, portioned, and ready-to-eat meals – less effort, less mess, and clean-up is a breeze too! It's an ideal choice for anyone who finds delight in trying new and unique flavors without the hefty guesswork.
Some of the best Home Chef meals you can try include Pork Shumai Meatballs, Coffee-Rubbed Steak, Coq au Vin with Bone-In Chicken, Pecan-Crusted Chicken, and Lemon Thyme Chicken Orzo. If you're on a special diet, they also offer vegetarian, pescatarian, nut-free, soy-free, wheat-free, milk-free, carb-conscious, and calorie-conscious recipes.
Deal: Get 50% off your first FOUR boxes - that's up to 18 meals FREE! Deal applies automatically, just visit and subscribe.
---
Image from: our review
What You Get: HelloFresh makes meal preparation as easy as pie! This meal kit subscription enables anyone to make fresh, healthy, and gourmet meals depending on their personal needs and preferences. It sends weekly and includes step-by-step recipes with photos, plus high-quality, naturally produced veggies and other fresh ingredients to make delicious meals in the comfort of your own home! You can also customize the box depending on your dietary preferences – Meat & Veggies, Family-Friendly, Calorie-Smart, Quick and Easy, and Pescatarian, how many people you need to cook for, and how many recipes per week would like to include in your kit. And it's so convenient! You can pause your deliveries whenever you feel like so.
Hello Fresh best recipes include When Steak Met Potatoes, Hearty Steak and Potatoes, Mozzarella-Crusted Chicken, Rapid Stir-Fried Beef, and Winner Winner Chicken Orzo Dinner. They also offer recipes for different dietary lifestyles, including low calorie, low carb, vegetarian, and pescatarian.
Deal: Get up to 16 FREE Meals + FREE Shipping on your first box + 3 surprise gifts! Deal applies automatically, just visit and subscribe. Valid for new subscribers only.
---
Image from: Tovala
What You Get: Tovala offers a meal delivery service featuring meals that cook themselves! With just under a minute of prep, you get delicious home-cooked food without breaking a sweat. Plus, each meal is portioned for exactly one person! Tovala meals are designed to be cooked using the Tovala WiFi-connected smart oven. This oven is available for one-time purchase before you start your meal subscription.
Popular Tovala meals include Everything Bagel-spiced Salmon, Southwest Chicken Breast, Maple Bourbon BBQ Meatballs, and Jamaican Jerk Turkey Chili.
Deal: Get your Tovala Smart Oven for just $99 when you order 6 weeks of meals over 6 months! Deal applies automatically, just visit and subscribe.
---
And there you have it, our list of the best single-serving meal kit delivery subscriptions!
For more interesting subscriptions, check out our complete list of all the best subscription boxes in every category!