A vegan diet is an all-natural diet that one can take for better health. This type of diet requires only plant-based ingredients, avoiding all foods of animal origin to keep your overall health at its peak. As adults, we sometimes don't have the time to grocery shop for ingredients we can use when cooking our vegan meals or buy healthy snacks to munch on in between meals. But now, with just a few clicks, we can!
Vegan meal delivery services provide subscribers with an opportunity to try fresh, pre-prepared, and healthy meals with basically a little effort. Likewise, vegan snack subscriptions provide you with endless options for healthy snacking and introduce you to new vegan snacks and brands that may be hard to find locally.
Being vegan is both a dietary and a lifestyle choice. So to help you out in finding the best food subscriptions for vegans, we've listed some of the vegan meal delivery services and snack subscription boxes you can indulge in!
The Best Subscription Boxes for Vegan Meal Delivery and Snacks!
Vegan Meal Kit Subscriptions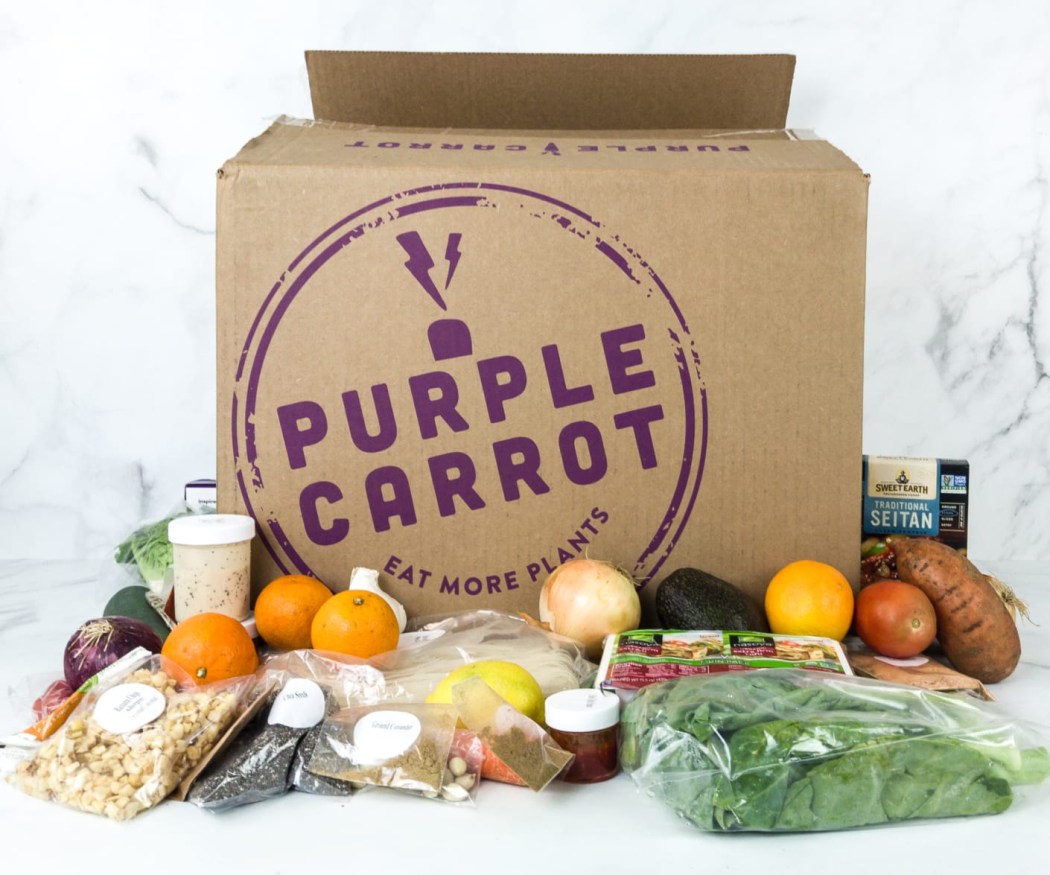 Image from: our review
Why We Love It: The Purple Carrot delivers raw, pre-portioned ingredients and recipes to cook healthy, delicious meals every week. It's an ideal subscription for lowering cholesterol intake and boosting vegetable intake. There are serving plans available for two people and four people, and boxes are customizable with an option to add extras like easy-to-prepare breakfasts, lunches, and snacks! The ingredients are already perfectly portioned to cut down prep time, so there is no longer any excuse for you not to eat a healthy plant-based diet, even when you're busy. They now offer prepared meals too!
The Purple Carrot offers plant-based recipes for meal kits like Tamarind Cauliflower, Roasted Red Pepper Shakshuka, and Sprouting Broccoli Salad. Prepared Meals include dishes like Roasted Vegetable Pilaf and Thai Noodles. And you can choose what you like based on your diet preferences – high-protein, gluten-free, low-carb, nut-free, and soy-free.
See The Purple Carrot Reviews for more details.
Price: Their 2-serving plan has 3 recipes per week that costs $11.99 per serving. Shipping is free. The 6-serving plan has 2 recipes per week that costs $7.99 per serving.
Deal: Get $30 off your first order! Use coupon code carrot30.
---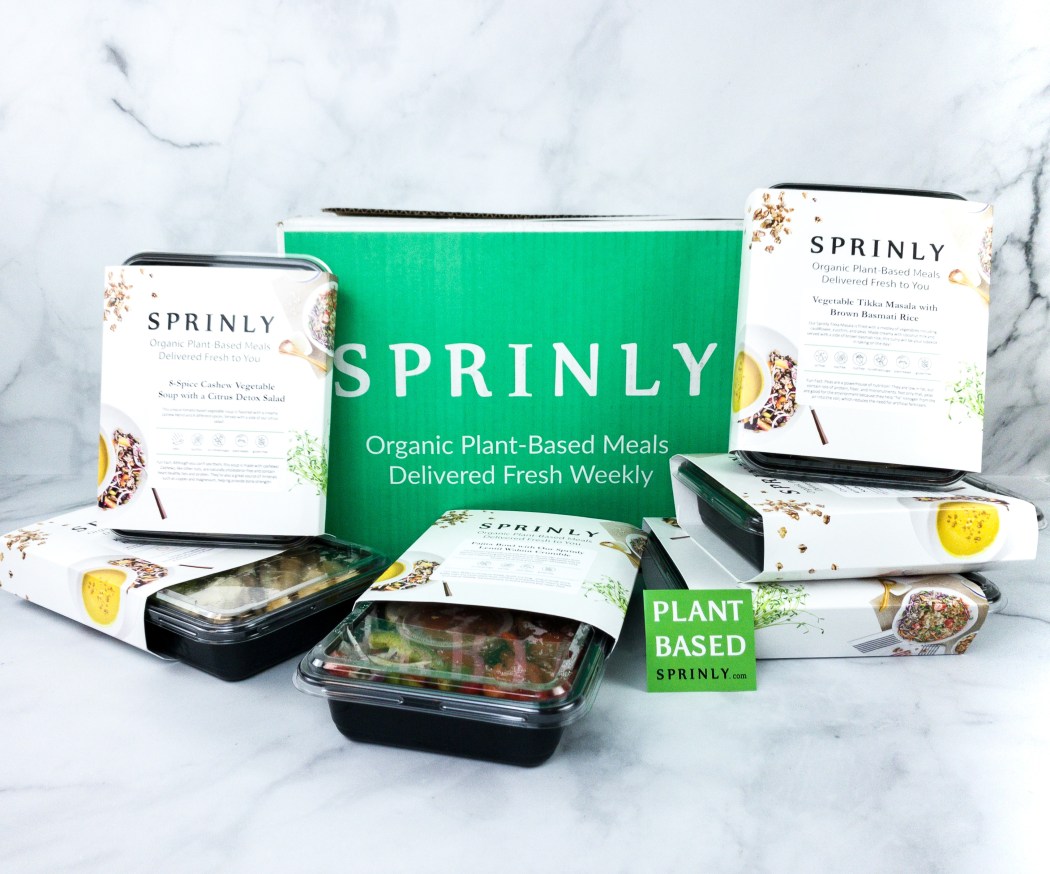 Image from: our review
Why We Love It: Sprinly's vegan meals are nutritionist-approved and made with simple and clean ingredients. They make it easy for anyone to eat healthily by providing plant-based meals delivered fresh weekly – never frozen, fully-prepared meals, free from refined sugar. Each meal is a single serving, so you can grab one and go! You can get six meals per week, 12 meals per week, or 18 meals per week. Choose the dishes you love from their rotating menu and wait for your meals to arrive. It's so convenient – heat it for 3 minutes or less and enjoy!
Past recipes include Indian Spiced Coconut Curry, Sweet Corn and Shiitake Penne Pasta, Mediterranean Veggie Kofta Crumble, and Enchilada Casserole. All meals are vegan, and they only use organic and gluten-free ingredients!
Go to Sprinly Reviews to find out more about this subscription.
Price: A 6 meals per week plan costs $109, 12 meals per week is $199, and 18 meals per week is $289.
Deals:
---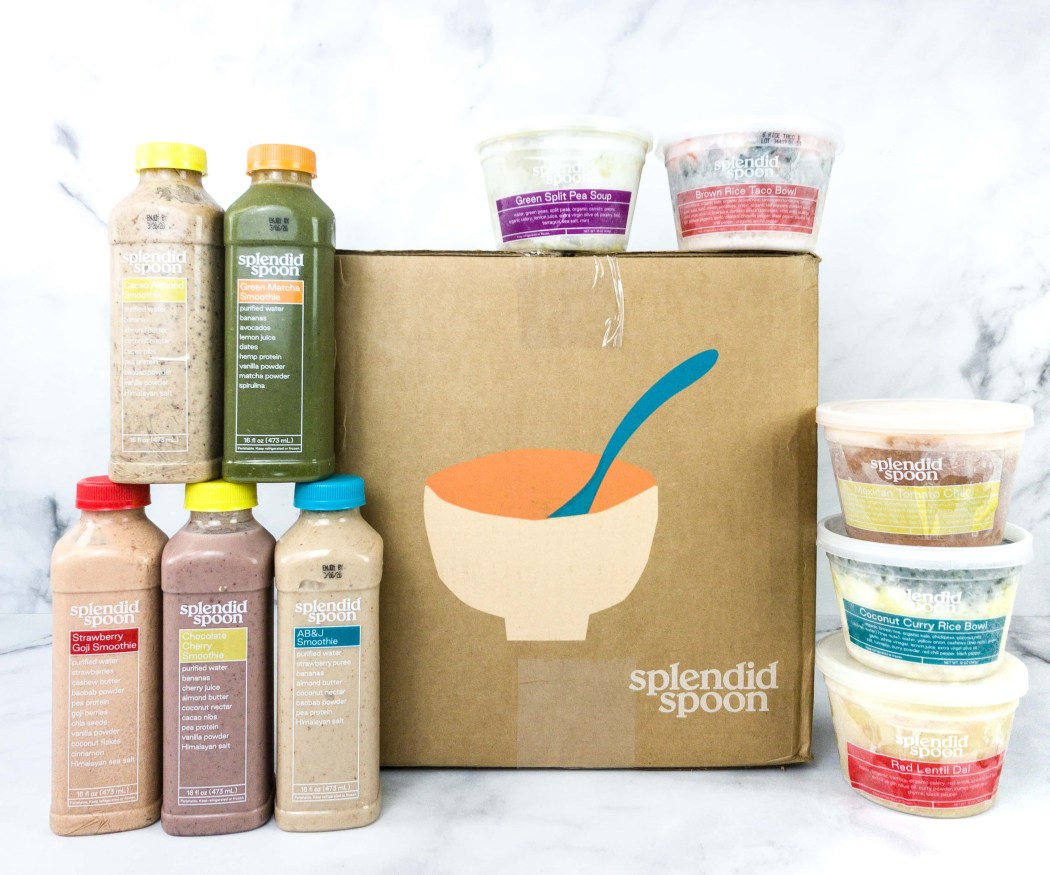 Image from: our review
Why We Love It: Splendid Spoon is a scrumptious meal subscription plan that delivers vegan, ready-made smoothies, soup and grain bowls, noodles, and even wellness shots! Everything they offer is plant-based, and the meals arrive either frozen, semi-frozen, or chilled in insulated, recyclable packaging. Boxes are also customizable, as subscribers can exclude ingredients and flavors they don't want to receive (sesame, soy, tree nuts, etc.). You can also choose a plan from breakfast, Lunch, Breakfast+Lunch, or Breakfast+Lunch+Reset. Their new plan also includes dinner, making it easy for you to kick start healthy habits and ditch all the bad stuff!
Their smoothies include Coconut Lime and Dragonfruit Berry, while meals include Creamy Mushroom and Spinach Noodles, Lentil and Kale Soup, and Tomato Quinoa Chili Soup. They also have extras like Super Greens Juice and Wellness Shots. All meals are vegan, plant-based, and non-GMO! Subscribers can filter the menu based on their dietary needs – lower sodium, blood-sugar friendly, lower carb, lower calorie, higher fiber, higher protein.
Check out the Splendid Spoon Reviews to know more.
Price: Choose from: Breakfast & Lunch Plan each costs $65/shipment, Breakfast+Lunch Plan – $95, Breakfast, Lunch+Reset Plan – $135, Breakfast, Lunch, Dinner+Reset Plan – $185.
Deal: Get $60 off your first 3 boxes! Deal applies automatically, just visit and subscribe. First 3 boxes must be ordered within 90 days from the shipping date
---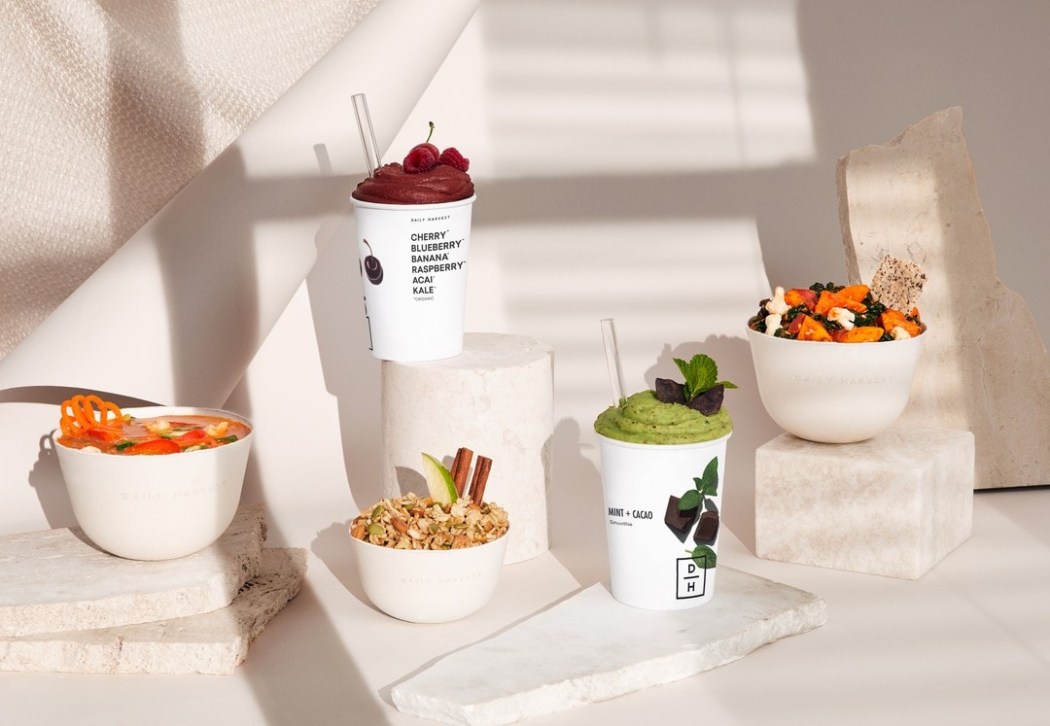 Image from: Daily Harvest
Why We Love It: Daily Harvest provides one of the easiest ways to add superfoods to your diet. They'll deliver good, clean food using only the freshest fruits and vegetables. Customize your plan, unpack good food, and enjoy vegan meals your diet will sure to love! Each week or month, subscribers receive ready-to-blend, heat, or eat whole food and superfood plant-based meals designed to meet their dietary needs. They currently offer healthy, undeniably delicious smoothies, harvest bowls, flatbreads, soups, oat bowls, chia bowls, scoops, bites, and lattes for you to indulge in, guilt-free!
Their offerings include Acai + Cherry smoothie, Roasted Eggplant + Red Pepper Caponata harvest bowl, Tomato + Cremini flatbread, and Sweet Potato + Miso soup. Everything on their menu is ideal for those on a plant-based, vegan, dairy-free, and gluten-free diet!
See Daily Harvest Reviews for more information.
Price: You can choose a plan of 9-26 items and the pricing ranges between $6.79-9.79 per item.
Deal: Save $25 on your first box! Use coupon code HELLOSUB and Use this link to subscribe.
---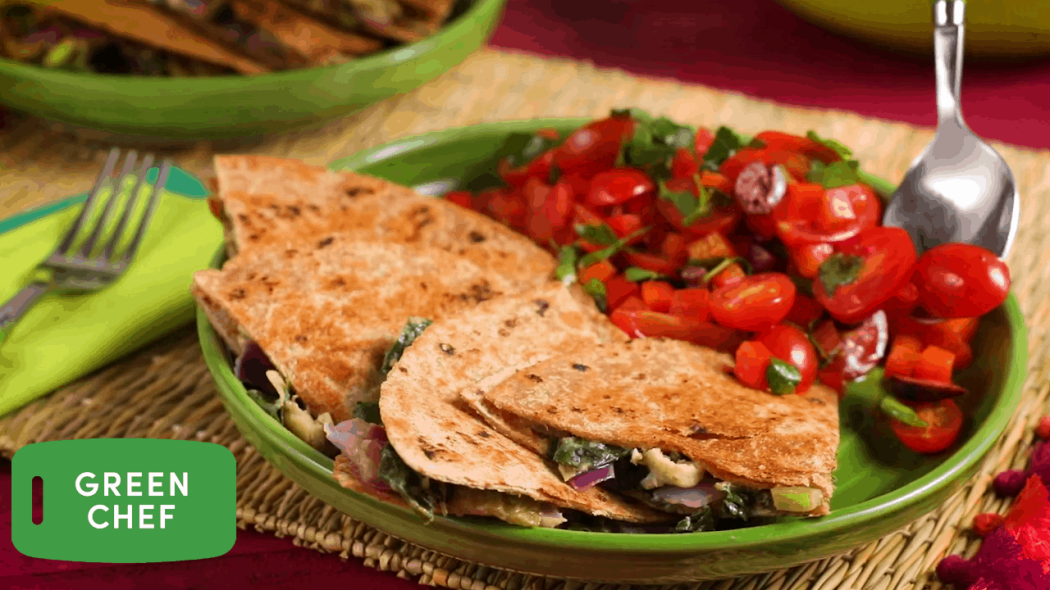 Image from: Green Chef
Why We Love It: Green Chef is one of the best meal kits for healthy eating, perfect for vegans! Each delivery comes with easy-to-follow recipes and pre-measured ingredients, allowing you to save time without sacrificing flavor. Everything in your box is also color-coded for easy sorting. So when you do feel like cooking vegan meals, you can easily do so! And then, all that's left to do is enjoy tasty, restaurant-worthy meals alone or shared with someone.
Here are some of Green Chef's vegan meal offerings: Cauliflower with Mango Salsa, Mushroom, Artichoke, & Pesto Flatbreads, Maple Roasted Rainbow Carrots, Farfalle Pasta Bowls with Pesto, and Refried Bean & Pepper Stuffed Tortillas. They have a wide variety of clean meal plans at manageable prices, made for every lifestyle, including Keto+Paleo, Vegetarian, Mediterranean, Fast & Fit, and Gluten-Free!
Learn more by checking out the Green Chef Reviews.
Price: Meals start at $11.99 per serving for two people (3 meals a week).
Deal: Save $35 on your first box, $20 on your second and third, and $15 on your fourth – that's $100 savings! Deal applies automatically, just visit and subscribe.
---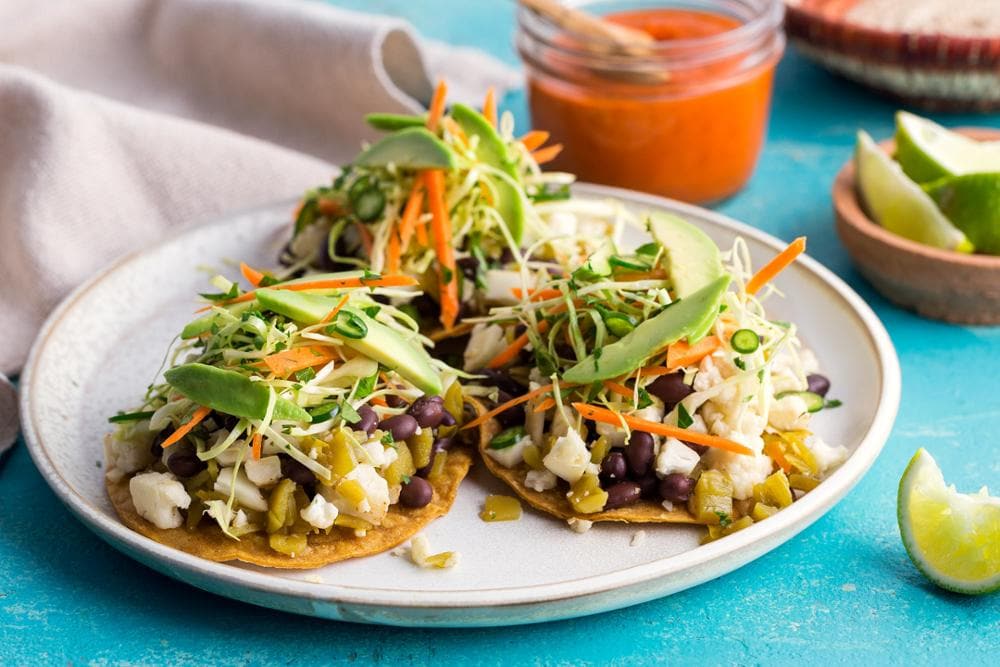 Image from: Sun Basket
Why We Love It: Sunbasket strives to deliver organic produce 100% of the time. All are perfectly portioned, high in protein, high in fiber, and rich in good fats sourced from olives, nuts, seeds, and avocados, giving you the freshest and best food quality in every shipment. You can cook when you want with Meal Kits or take the night off with Fresh and Ready Meals that can be served in as little as 6 mins. With this subscription, you can eat well and feel great with tasty dinners, all chef-crafted and dietitian-approved!
Try some of Sunbasket's Vegan Meal Kits or Fresh and Ready Meals, including General Tso's tofu, Walnut-mushroom flatbreads, Zucchini-chickpea köfte over mixed greens, and Lentil, mushroom, and apricot burgers. You can also personalize a menu by choosing what best suits your dietary needs – paleo, gluten-free, vegetarian, pescatarian, carb-conscious, Mediterranean, and diabetes-friendly.
See the Sunbasket Reviews for more details!
Price: Fresh & Ready starts at $47.96 per week for 4 servings, and the Meal Kits start at $55.96 per week for 4 servings.
Deal: Get up to $90 off on your first FOUR orders + FREE Food Gift! Deal applies automatically, just visit and subscribe. Must meet $65 minimum order per box.
---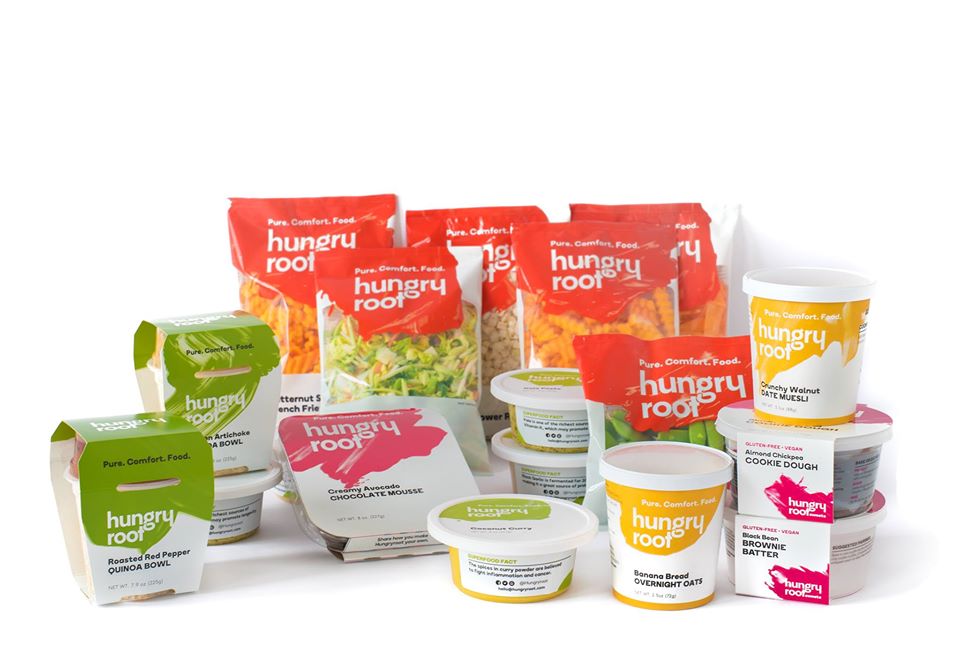 Image from: Hungryroot
Why We Love It: Hungryroot delivers quick and easy-to-prepare meals that you can whip up in less than 10 minutes. All meals are plant-based, nutrient-dense, and made from whole and trusted ingredients, ranging from stir-fried veggies and vegan pasta to grain bowls and salads. Tell them about how and what you eat, and they'll send groceries beloved your vegan diet, along with recipes so you can cook with such ease! All the food they carry is free of artificial sweeteners, high-fructose corn syrup, artificial colors, and artificial preservatives. One great thing is they also care for the environment by using only eco-friendly materials for packaging!
Their vegan meal offerings include recipes for Vegan Super Chorizo Tacos, Marinara Ricotta Ravioli with Baby Mushrooms, Coconut Curry Tofu Rice Bowl, Supergreens Pasta, and Plant-Based Chorizo + Potato Skillet. They also offer meals for vegetarian, pescatarian, dairy-free, gluten-free, soy-free, tree nut-free, peanut-free, egg-free, and shellfish-free diets.
Check out Hungryroot Reviews to learn more.
Price: Start your plan for $69 per week.
Deal: Get 40% off on your first $99+ order + FREE Bonus Groceries FOR LIFE! Deal applies automatically, just visit and subscribe.
---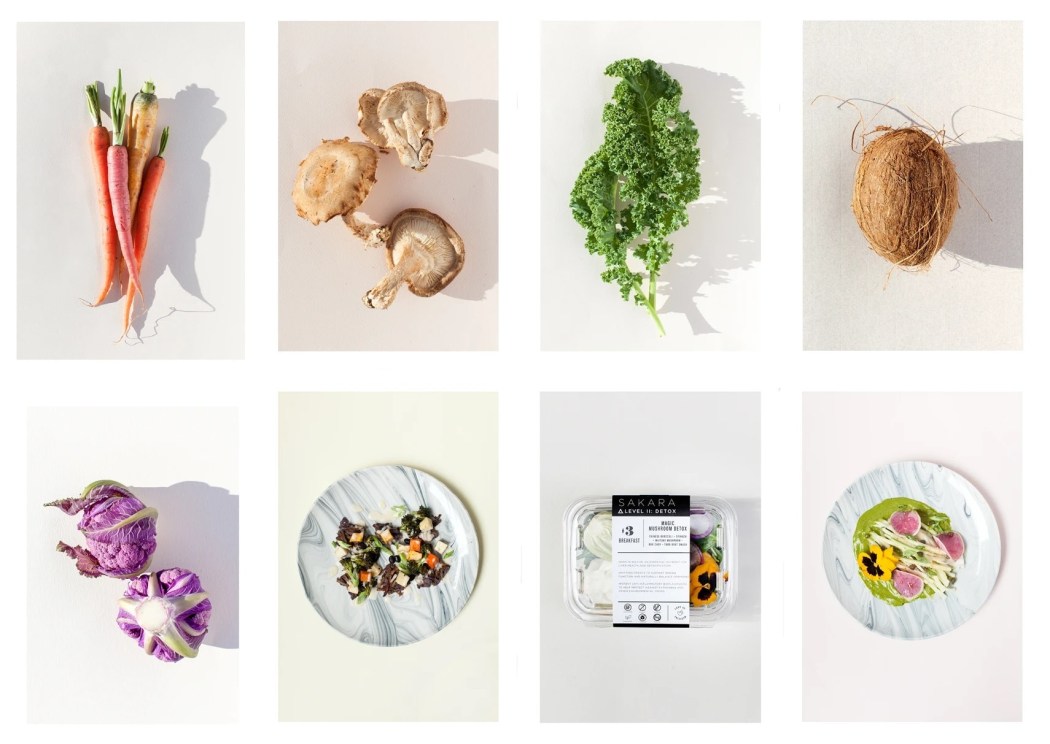 Image from: Sakara
Why We Love It: Sakara has clean and wholesome meals fit for your specific needs, plus detox tea and probiotics to help boost your health. Its mission is to nourish bodies by delivering organic, plant-rich meals directly to subscribers' doors. They have a Signature Organic Meal Delivery Plan, and subscribers can choose between a one-time trial program or a recurring weekly subscription program. Each delivery will include up to 3 meals a day – breakfast, lunch, and dinner, depending on your choices, and you can also choose the number of days you would like to have the meals (2, 3, or 5 days). It is that flexible!
Sample menus include Rose Petal Pancakes, Sunshine Curry Bowl, Daydreamer Soba Bowl, Pasta A La Vodka, and Seasonal Medley Quesadilla. All meals are plant-based and gluten-free – no dairy, no meat, and no seafood!
Price: The price depends on your customized weekly plan.
Deal: Get $25 off on all orders, including Signature Nutrition Program subscription! Use coupon code WELCOME25.
---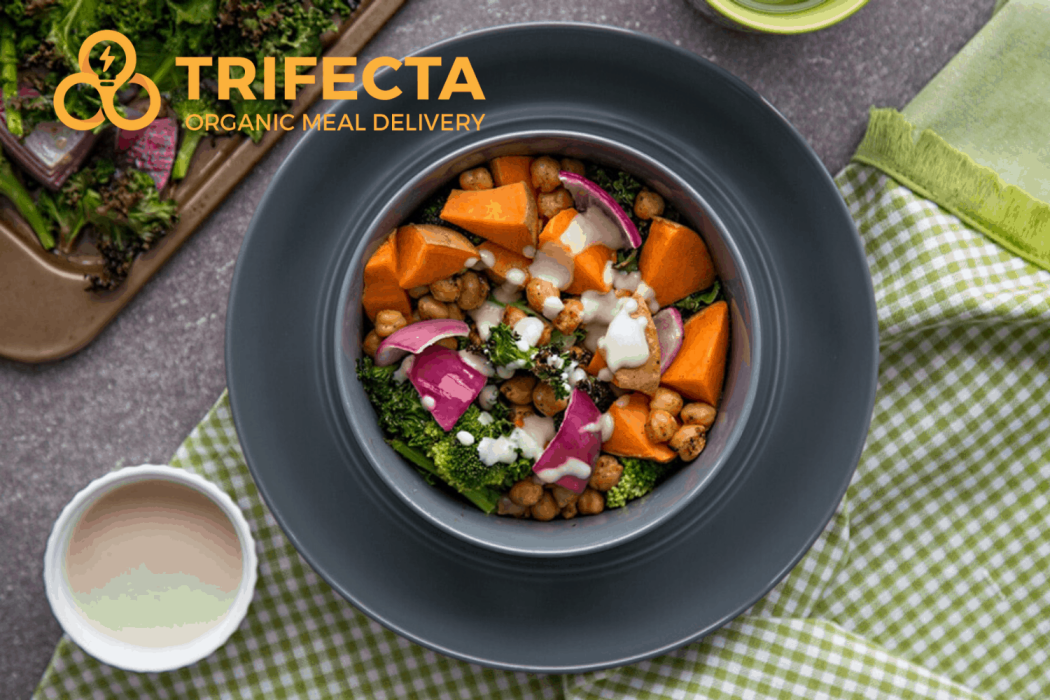 Image from: Trifecta
Why We Love It: Trifecta has a rotating weekly menu created by in-house professional chefs and registered dietitians, saving you from diet burnout! This unique meal subscription offers scrumptious ready-to-eat meals using 100% USDA organic ingredients. No cooking is required because the meals are already fully prepared, vacuum-sealed, then delivered straight to your door in fully insulated and refrigerated boxes. What's left to do is heat the food in the microwave, oven, or on the stove-top when you need them, and enjoy healthy, hearty meals!
Some vegan meals they offer include Garlic Pasta with Cherry Tomatoes, Roasted Brussels Sprouts with Quinoa, Oatmeal Walnut Bake, and Lentil Bean Burrito Bowl. All meals are guaranteed to be gluten-free, dairy-free, soy-free, and GMO-free. Meal plan offerings include Vegetarian, Paleo, Clean, and Keto.
Price: Keto, Paleo, and Clean plans start at $109 per week. Vegan and Vegetarian start at $114 per week. Classic and Ala Carte starts at $119 per week.
---
Image from: Epicured
Why We Love It: With Epicured, you can eat better, feel better, and live better! This meal delivery subscription is an ideal option for anyone strictly following a diet. Every meal is ready-to-eat, gluten-free, and even gut-friendly, made exclusively by Michelin-star chefs to help you feel your absolute best. You can choose exactly which A la Carte dishes to include in your box from their ever-changing menu or choose one from their curated meal bundles. All their meals are always prepared fresh with no cooking required!
Vegan dishes by Epicured include Vegan Chili, Spring Salad, Moroccan Tajine, Chickpea Curry, and Tacos Especiales. They also offer a menu for vegetarian, pescatarian, and GERD-friendly diets. You can also filter it out by ticking off ingredients you want to avoid – dairy, egg, fish, peanut, shellfish, soy, and tree nut.
Price: The price depends on what dishes you choose. The average dish price is about $15.
---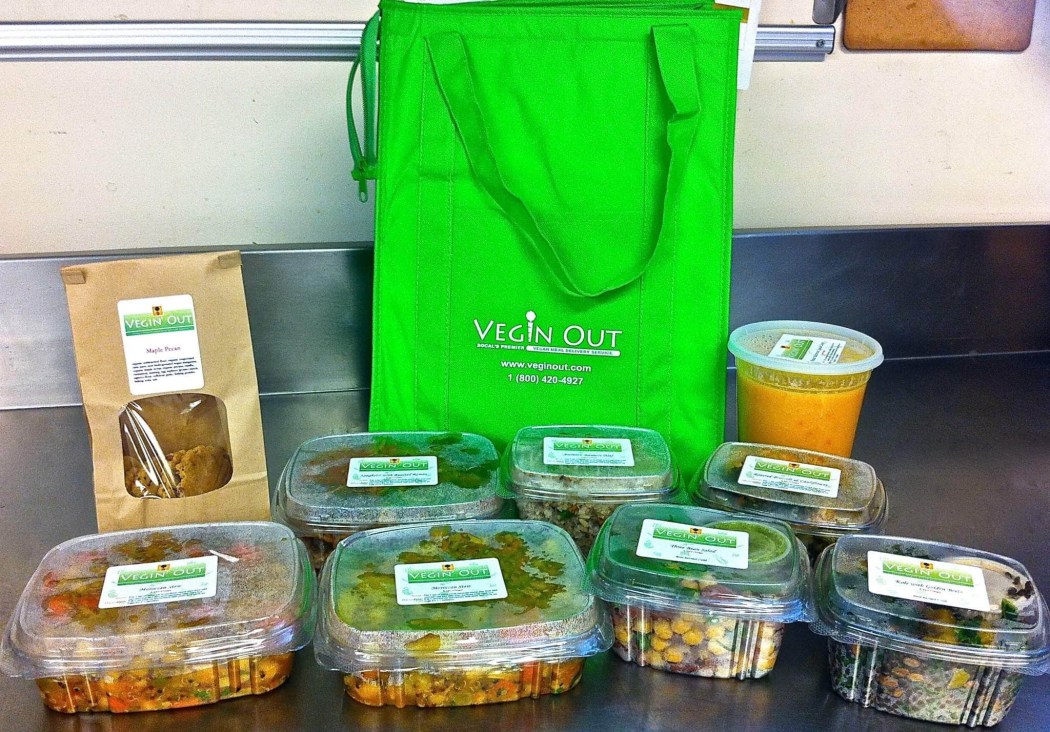 Image from: Vegin' Out
Why We Love It: Vegin' Out is a weekly vegan meal delivery service that offers delicious, nutritious, well-balanced, and organic vegan meals, all at an affordable price. Their menu consists of 3 vegan meal entrees, four vegan side dishes, one vegan soup, and a bag of vegan cookies, cooked and prepared using only the freshest ingredients. Each dish comes in a container with three compartments, which allow you to mix and match the vegan entrees, vegan side dishes, and soup according to your appetite. You can also talk to their vegan chefs and ask them for help regarding your preferred vegan meal plan!
Some delicious vegan meals are Tofu Cacciatore, Spring Alfredo, Harissa Root Veggies, Vegetable Chowder, Power Oats, and Ethiopian Lentil Stew. All meals are completely vegan – no egg, dairy, meat, honey, or calcium caseinate. Also, they have gluten-free options.
Price: Los Angeles Vegan Meal Delivery: Weekly Vegetarian/Vegan Meal (non-recurring) starts at $129.99. Outside LA (So Cal/Nor Cal & Arizona) Meal Delivery: Weekly Vegetarian/Vegan Meal (non-recurring) starts at $147.99. Nationwide Vegan Meal Shipping: Weekly Vegetarian/Vegan Meal (non-recurring) starts at $189.99.
---
Image from: VegReady
Why We Love It: VegReady offers hassle-free and cooking-free service with ready-made, plant-loaded meals, making healthier meal options accessible for everyone. There are two meal cases available: Amazonian Rainforest Meal Case and Coastal Verde Meal Case. Each case contains 24 dishes, equivalent to 8 complete meals (one main tray, one side, and one sauce). Aside from being shelf-stable, their meals are all 100% plant-based, vegan with no nasty preservatives, bearing everyone's health in mind, including animals and the planet! No cooking is required. Just open and eat!
You can expect Brown Rice & Quinoa, Shiitake Mushroom & Eggplant, and Artichoke Hummus for Amazonian Rainforest Collection. Or, White Quinoa & Lentils, Spanish Ratatouille, and Grilled Caponata & Lentils for Coastal Verde Collection. All meals are plant-based and vegan! They're also gluten-free.
Price: The monthly plan costs $60 + shipping and handling.
---
Vegan Snack Boxes
Image from: our review
Why We Love It: Vegancuts Snack Box offers unique vegan snacks that we don't usually see in local stores or markets. They promise to include only 100% vegan and cruelty-free snacks ranging from chips and cookies to sodas and teas made from healthy ingredients. Each box includes ten or more sweet and savory vegan snacks to indulge in! Aside from the healthy snacks, they also often include non-GMO and certified organic goodies. What's even cool about them is that a portion of sales goes directly to animal sanctuaries across the US.
There's a variety of snacks in each box, and some of them are heirloom popcorn, organic chickpea puffs, freeze-dried banana snack, chocolate tahini, breakfast biscuits, and more!
Learn more by visiting the Vegancuts Snack Box Reviews.
Price: Monthly subscription is $24.95 per box. Shipping is $6.95 for Canada, $14.95 per box for international shipping, and free shipping within the US.
Deal: Get $5 off your first box on any Vegancuts subscription! Use coupon code hellosub. The coupon can only be used once per customer, but it can be used on multiple subscriptions at once so long as they are in the same transaction!
---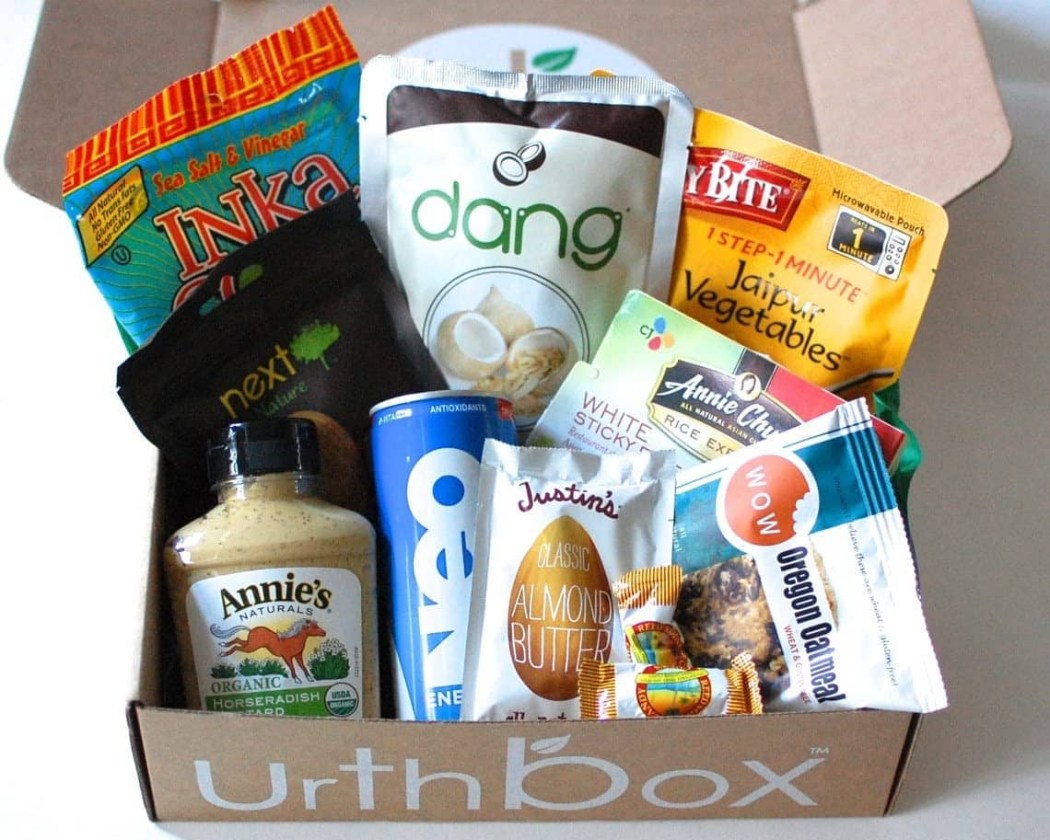 Image from: Urthbox
Why We Love It: If you're crazy about healthy snacks and beverages, Urthbox is definitely for you! Every package includes handpicked, full-sized snacks made with organic, non-GMO, and all-natural ingredients. Their snack boxes are available in four different sizes.  The Mini Box contains 7+ snacks, Small Box has 14+ snacks, Medium Box includes 20+ snacks, and the Large Box, which consists of 27+ snacks. Also, sometimes, they add a few extras like beverages and personal care products to fully satisfy your vegan lifestyle without the guilty feeling!
Some of the vegan goodies they send include snack bars, granola, cookies, crisps, and trail mixes. Also, they have Classic, Gluten-Free, and Diet box options aside from the Vegan box.
Visit the Urthbox Reviews to see past box contents.
Price: The Mini Box is $27.99 monthly, Small Box is $37.99 monthly, Medium Box is $47.99 monthly, and Large Box is $57.99 monthly. Shipping is free to the US, and $6.95/box shipping to Canada.
Deals:
---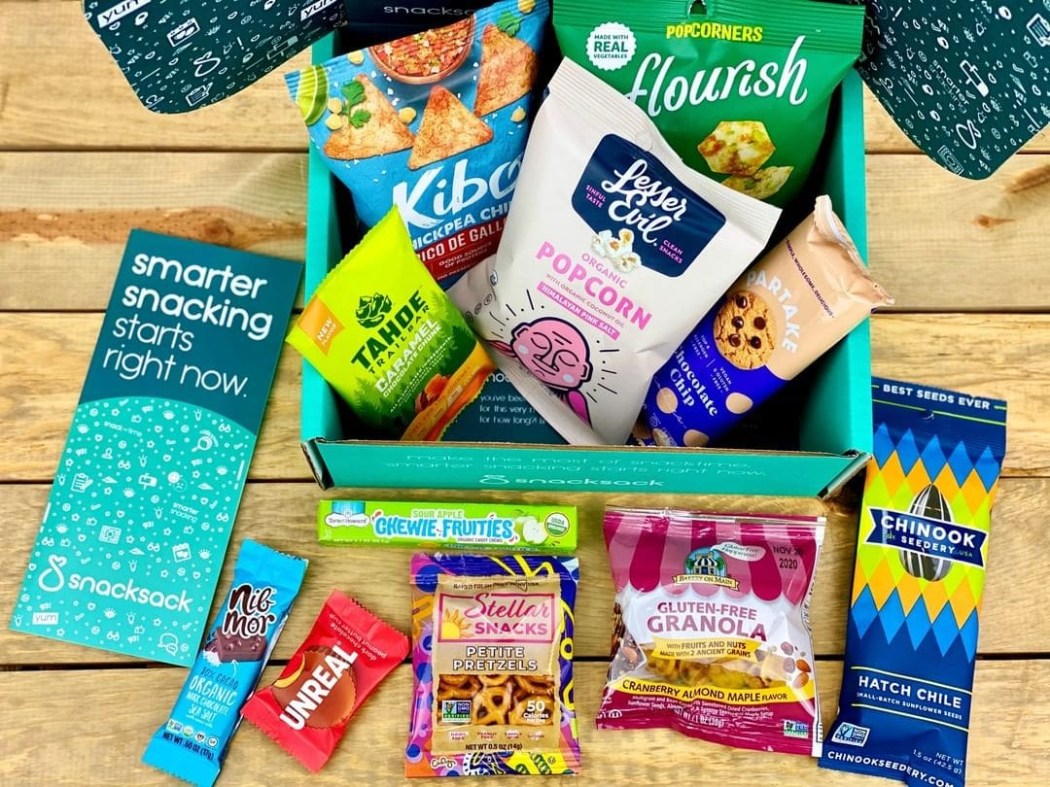 Image from: SnackSack
Why We Love It: SnackSack helps you discover healthy snacks and kick unhealthy snacking habits on the curb! Their vegan snack plan sends a monthly themed collection of 11-15 unique and junk-free snacks seasoned with tasty flavors for your snacking delight! They make it so easy to discover the very best of healthy snacks from the finest, smarter snacking brands, all delivered directly to your door!
Past snacks include potato chips, veggie sticks, grain-free tortilla chips, and mango ginger chews. Aside from Vegan, they also offer Classic, Gluten-Free, and Vegan + Gluten-free SnackSack.
Learn more by visiting the SnackSack Reviews.
Price: Subscription is $27.95 a month.
Deal: Save 20% on any SnackSack! Use coupon code HELLO20.
---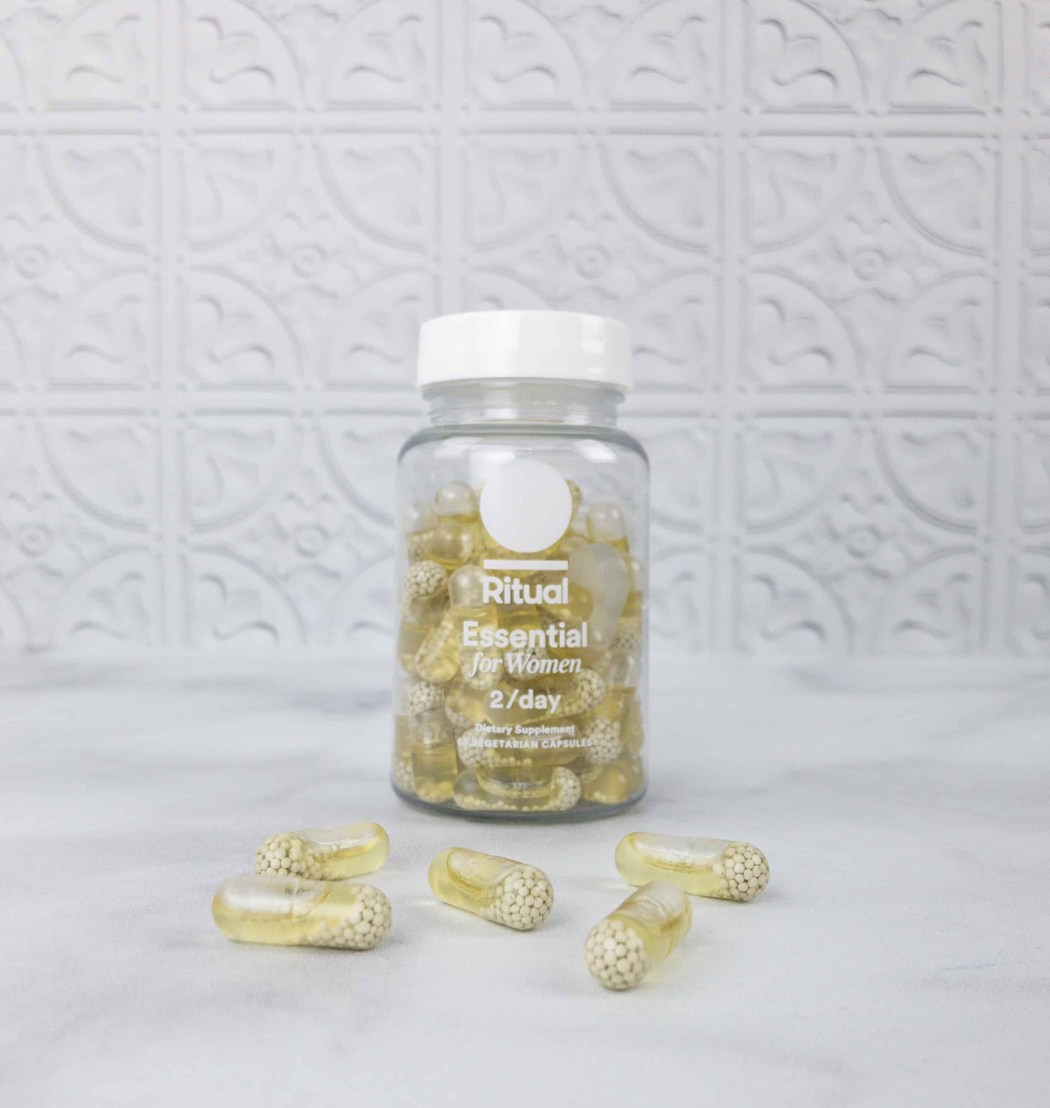 Image from: our review
Why We Love It: Ritual is all about vegan-certified vitamins! Their goal is to help everyone maintain a healthy lifestyle by accompanying balanced eating and exercise. Each capsule is made with clean, obsessively researched ingredients, ensuring you'll only have the best vitamins to take every day. These vegan vitamins fill the gaps in your diet and support your overall health, whether living your life or creating one. They use beadlet-in-oil encapsulation, which delivers nutrients better than regular capsules. Be in your best shape with 60 capsules in each bottle that are good for 30 days. It's a multi-vitamin reinvented!
Check out the Ritual Reviews to learn more.
Price: Monthly subscription starts at $30.
Deal: Save $15 on your first month when you bundle any 2+ Ritual products! Deal applies automatically, just visit and subscribe.
---
And there you have it, our list of the best vegan meal delivery services and snack subscription boxes! Whether you're looking for Vegan meals or snacks, this list will help you find the best Vegan Subscription Box that will fit your needs! Did you see any vegan subscriptions you like?
Don't forget to check out our list of all the best subscription boxes in every category!
Say Hello to More Subscription for Healthy Options!