Korean culture is gaining global recognition, captivating people with its vibrant festivals, catchy music, and popular idol groups like BTS and Blackpink. As curiosity about Korea's rich heritage grows, there's a delightful way to explore it through Korean subscription boxes. These boxes bring the best of the Land of the Morning Calm right to your doorstep, offering a glimpse into the wonders of Korean culture. From delicious snacks and beauty products to unique trinkets and surprises, these subscriptions are your ticket to discovering the treasures of Korea's beautiful nation and immersing yourself in its cultural delights.
These special subscription boxes are carefully put together to offer a one-of-a-kind experience for everyone. They bring the wonders of Korea right to your doorstep, allowing you to learn, taste, and connect with the country without leaving your home. No need to travel to the land of the morning calm to enjoy their delicious snacks, discover the latest beauty products, or find trendy fashion items. These subscription boxes have got you covered!
Immerse yourself in Korea with just one box! We have curated a list of the best Korean subscription boxes that will surely capture your heart. Explore the selection below, indulge in the delights they offer, and let yourself fall even more in love with Korea!
All The Best Subscription Boxes To Experience Everything Korea Has To Offer!
Image from: our review
Why We Love It: Daebak Box is a subscription that supplies the best Korean products each season. From beauty finds to fashion, Kpop items to cute stationery items, you'll find what your heart desires with every package you'll unbox. Take a quiz so they can curate the best box with the trendiest and most-loved K-swag, based on your preferences. Each box is an incredible surprise containing 8+ fun-filled full-sized Korean goodies that'll satisfy every inch of your Korean-obsessed personality, worth over $90! They also offer one-time boxes, including beauty, so feel free to choose what box is up to your liking. Also, as a member, you'll gain access to exclusive offers and giveaways!
---
Image from: BomiBox
Why We Love It: BomiBox is a go-to subscription for your Korean beauty needs. This ultimate Korean beauty box is filled to the brim with only the best beauty products you'll gladly feed your skin with! Each box is always valued at over $80, and it comes with full-sized and deluxe sample-sized 100% authentic Korean skincare and beauty products suitable for all skin types. What makes this subscription even awesome and great is they donate a portion of proceeds from each box to support advocacy on domestic violence and human trafficking.
Deal: Save $2 on your first Bomibox or Bomibag! Use coupon code HELLOBOMI.
---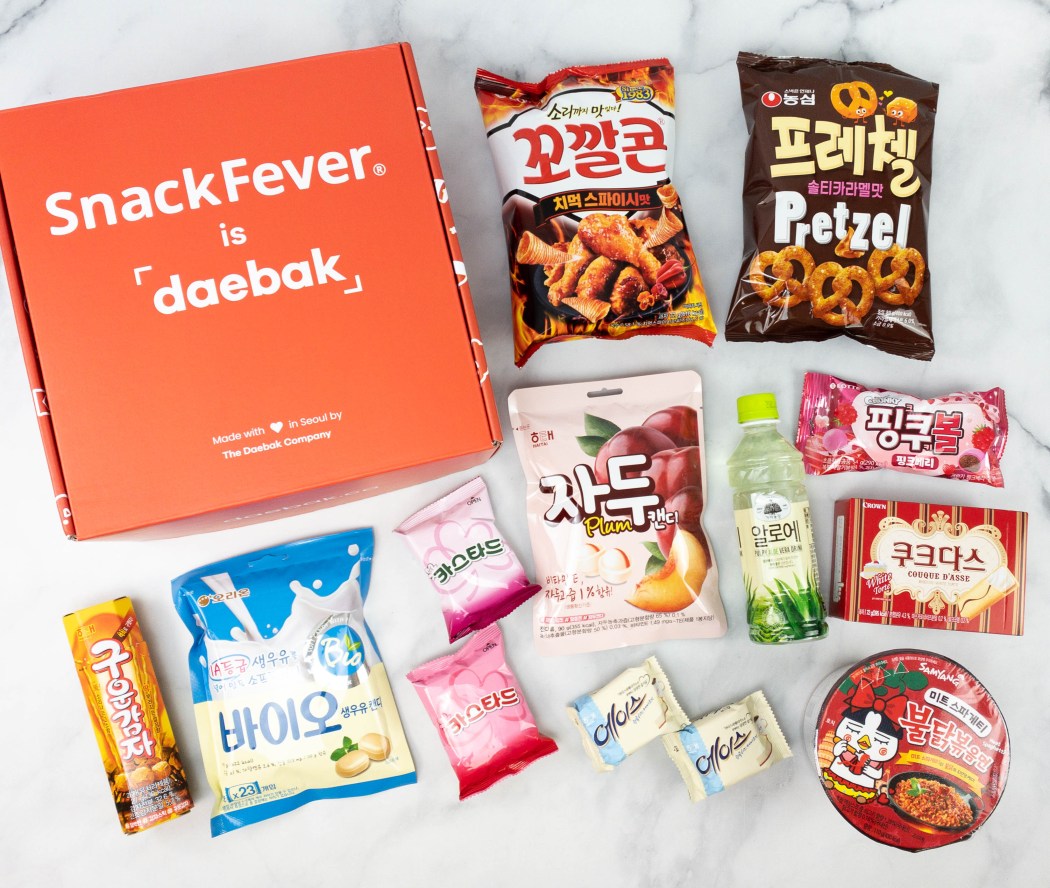 Image from: our review
Why We Love It: If you want to taste different Korean snacks you often watch on your fave K-drama, Snack Fever will make it easily possible for you. From the ever-famous Samyang ramyeon to kid's favorite jellies, you'll find them all in just a box! This monthly subscription will send everything your palate desires to satisfy your cravings. Each box has 10 or more of the trendiest, exclusive, and authentic Korean snacks that'll surely make you ask for more! It also includes one ramyeon cup/pack that you can cook with no hassle or 1 doshirak (easy prep, ready meals) like Tteokbokki or Bibimbap. Through this snack subscription, you can please your taste buds with flavors you shouldn't miss!
---
And that completes our list of the best Korean subscription boxes! Which of these boxes are you most excited to try?
There are more amazing subscriptions awaiting on our list of all the best subscription boxes in every category!