Japan is best known for its beautiful scenery, good food, nice people, and of course, ANIME! The popularity of this Japanese art form is growing, and it is not just for entertainment but a lifestyle too! Anime lovers need to have a piece of their favorite anime fandoms, and anime subscription boxes provide a great way to do so!
These subscription boxes allow fans to dive deep into the characters and their exciting and epic stories. Boxes are filled to the brim with anime-specific items that any Otaku will be sure to delight themselves with, including manga, apparel, figures, accessories, homewares, and more. Some even add in some snacks and drinks authentic from the Land of the Rising Sun!
Receive a curated collection of anime items with no effort to spare! This list will give you an idea of all the best anime subscription boxes to get your hands on. You can discover more of these subscriptions in our full list of anime subscription boxes!
The Best Subscription Boxes for Anime Fans!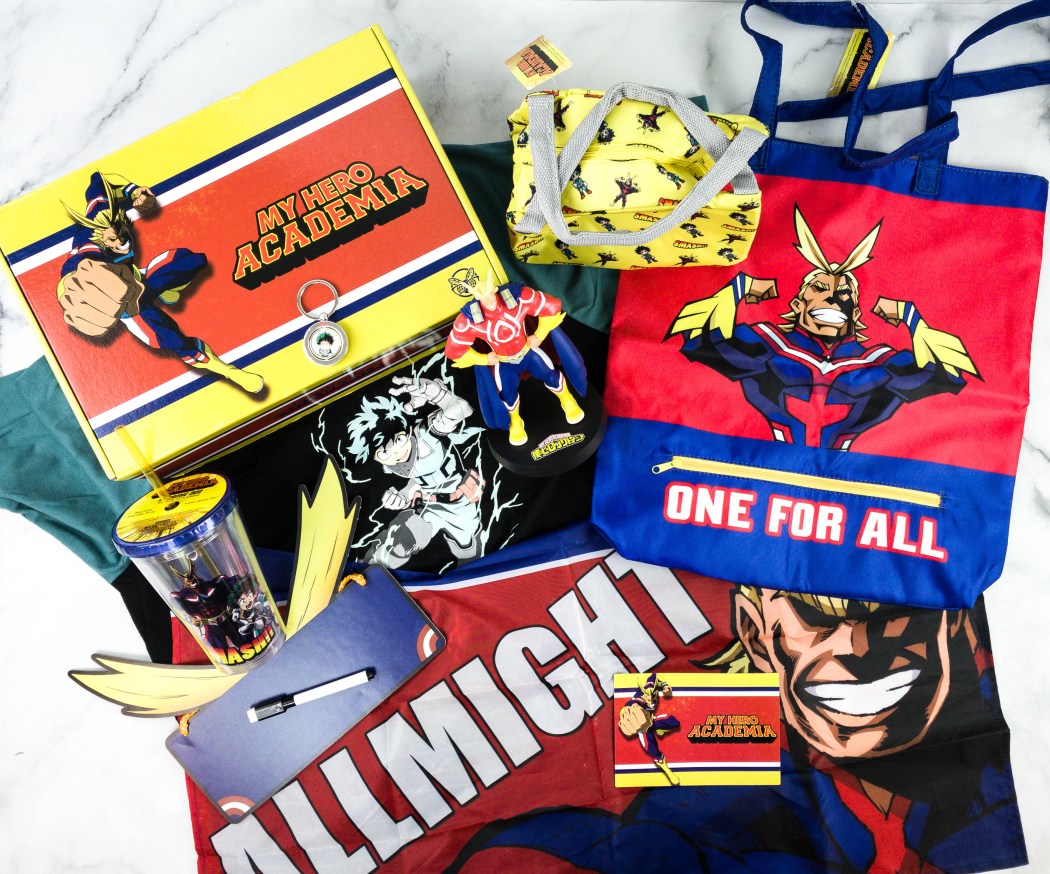 Image from: our review
Why We Love It: For My Hero Academia fans, here's the box that you will want to get your hands on! My Hero Academia Subscription Box is a quarterly subscription that delivers exclusive My Hero Academia merchandise that's plus ultra. Each box contains 7 to 10 limited edition products based on the characters and their iconic moments. Such items include apparel, accessories, collectibles, stationery, homeware, decors, and more that you can't find elsewhere. You don't have to use your quirk to have these amazing items that'll satisfy the fan in you – they will be sent right at your doorsteps!
Check out My Hero Academia Subscription Box Reviews to learn more.
Price: Each box costs $39.99 per quarter, or if you choose the annual subscription, you can get each box for $35.99.
---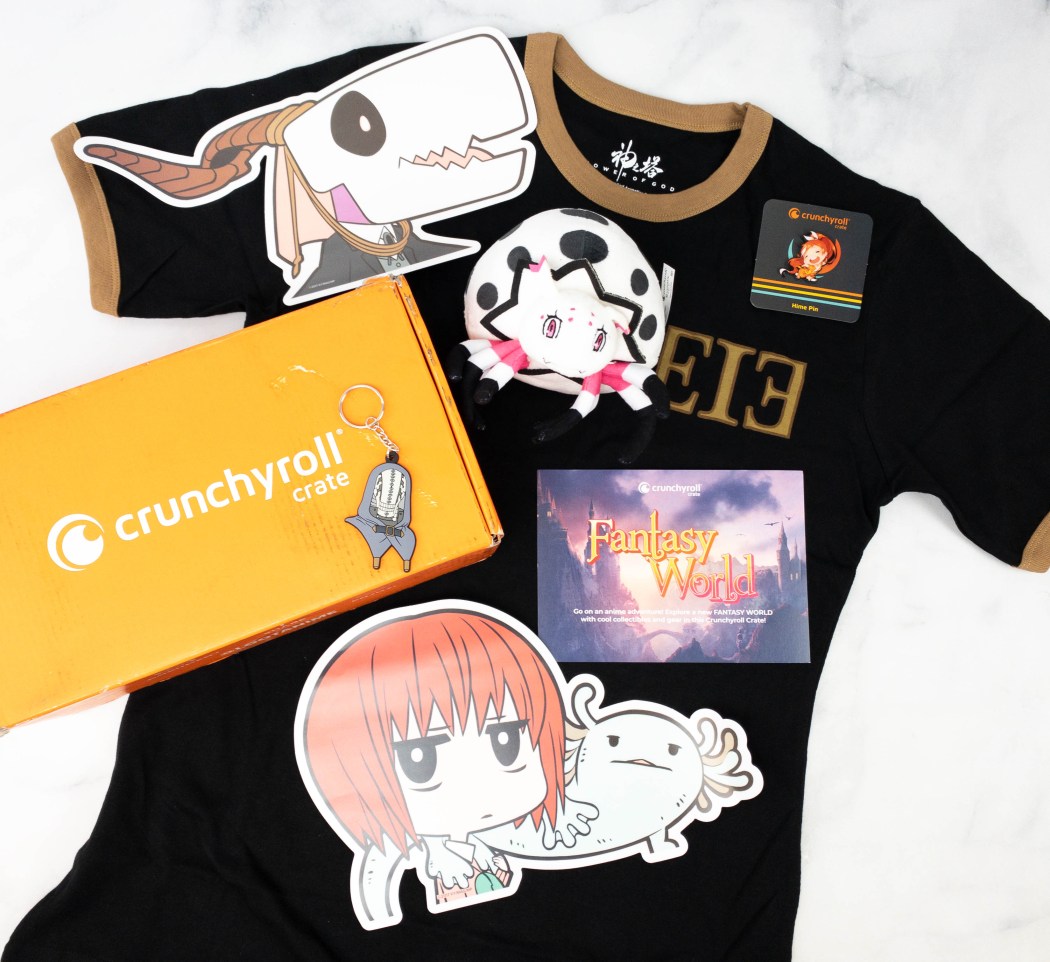 Image from: Crunchyroll Crate
Why We Love It: Excited to geek out to Crunchyroll's best titles, whether old or new? Well, you don't have to go to Japan to buy licensed and legit products because each box of Crunchyroll Crate offers 4-6 officially licensed items focused on the best anime franchises from their own catalog. Each monthly mystery crate is filled with cool collectibles like apparel, figures, home goods, and more! Past boxes include items from Tower of God, The Ancient Magus' Bride, Golden Kamuy, KonoSuba, and ReLife.
Learn more about this crate on Crunchyroll Crate Reviews.
Price: 1 crate costs $29.99 per month plus shipping, or less when you prepay for multiples crates!
---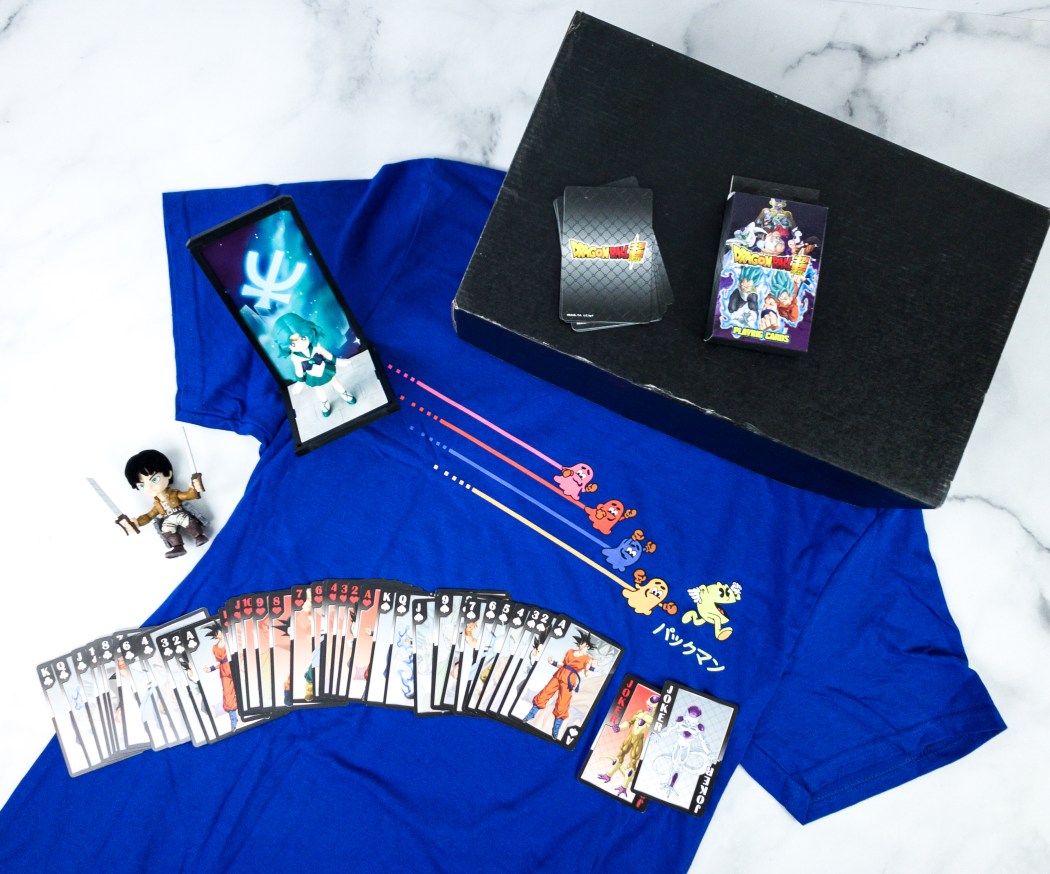 Image from: our review
Why We Love It: From the Loot Crate family, here's the ultimate anime subscription, Loot Anime! They want to give fans access to the best and licensed goods from their favorite anime and manga series, and that's why they send themed monthly crates with a promised value of over $60. Each month, you will receive excellent-quality anime items like figures, collectibles, apparel, accessories, and even interesting manga titles! It is the perfect treat you can give yourself or someone who loves anime as you do! Previous themes include All-Stars, Timeless, Toasty, and Eternal.
Peek at past boxes by visiting the Loot Anime Reviews.
Price: Each crate costs $29.99 each month, or less when you subscribe for more crates!
Deal: Save 15% on your first box! Use coupon code HELLOSUBSCRIPTION15.
---
Image from: Fangirl Monthly
Why We Love It: Fangirl Monthly is a monthly subscription where jewelry and accessories are taken to a whole new geeky level! Each month, receive 3-5 anime and manga-related accessories inspired by popular anime series, including titles derived from video games. You may receive bracelets, earrings, necklaces, rings, and other lifestyle items and trinkets. Each box is also themed, and they even include a collectible postcard and custom pouch where you can store your items, all valued at $40 and over!

Check out Fangirl Monthly Reviews to see what we got in the past.
Price: Box costs $18 per month, with savings for a longer subscription.
---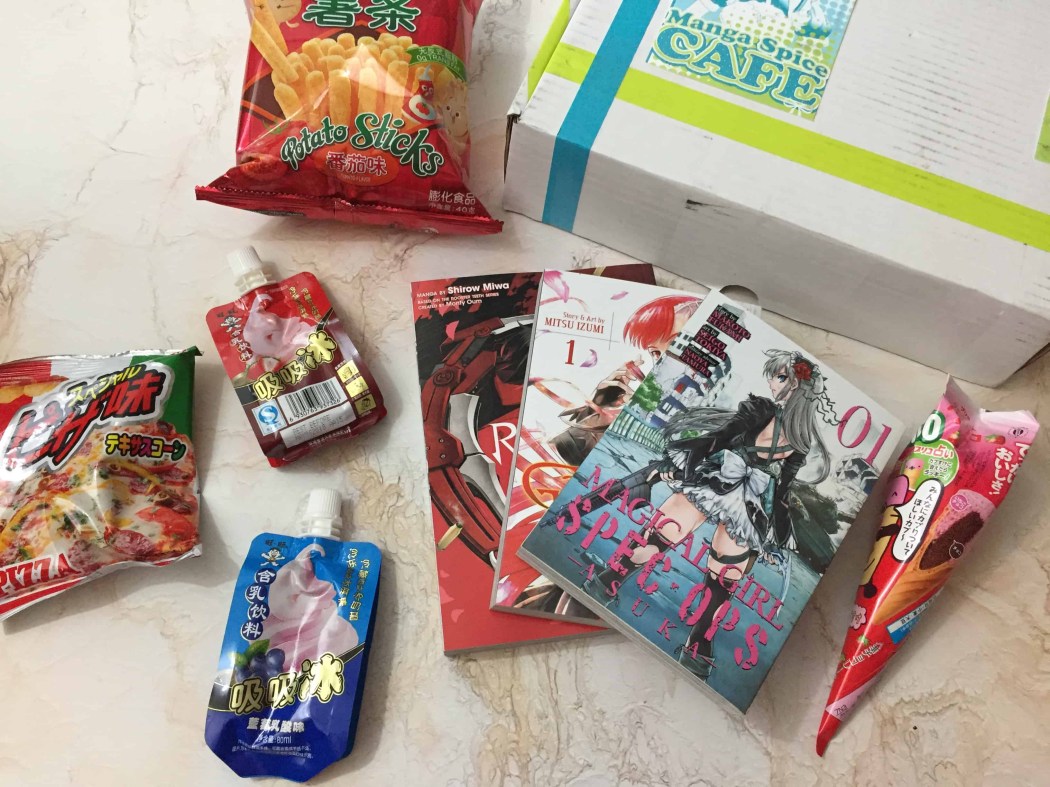 Image from: our review
Why We Love It: Satisfy your love for manga and amazing snacks with Manga Spice Café. It is a monthly subscription inspired by maid cafés in Japan that provides a fun way to fill your shelves with new reads while munching on tasty treats! Each box contains 3 brand new manga, 3-5 sweet and savory snacks from Asia that you can enjoy snacking as you read, and a special café drink. What they'll send you is current and first-issue manga, so if ever you get hooked, you can easily pick up the next volume. It also includes an info sheet describing the manga, artists, and café items in your box. It's a maid café experience delivered to your home!
See Manga Spice Cafe Reviews for more details.
Price: The subscription costs $45.95 per month.
---
Image from: our review
Why We Love It: You can get anime DVDs according to your preference and binge-watch them with the help of Boxuchan! Each box contains at least one whole anime series or a full season on DVD or Blu-ray. They even include bonus surprises, plus reviews for all the items and inclusions, so you are sure of what you're getting and no need to ask yourself, "why?". Boxuchan Lite is also an option with at least one volume, movie, or series based on your preferences and one extra anime-related product. It's one easy way to build your anime DVD collection!
Visit Boxuchan Reviews to find out about past box contents.
Price: Each box costs $34.99.
---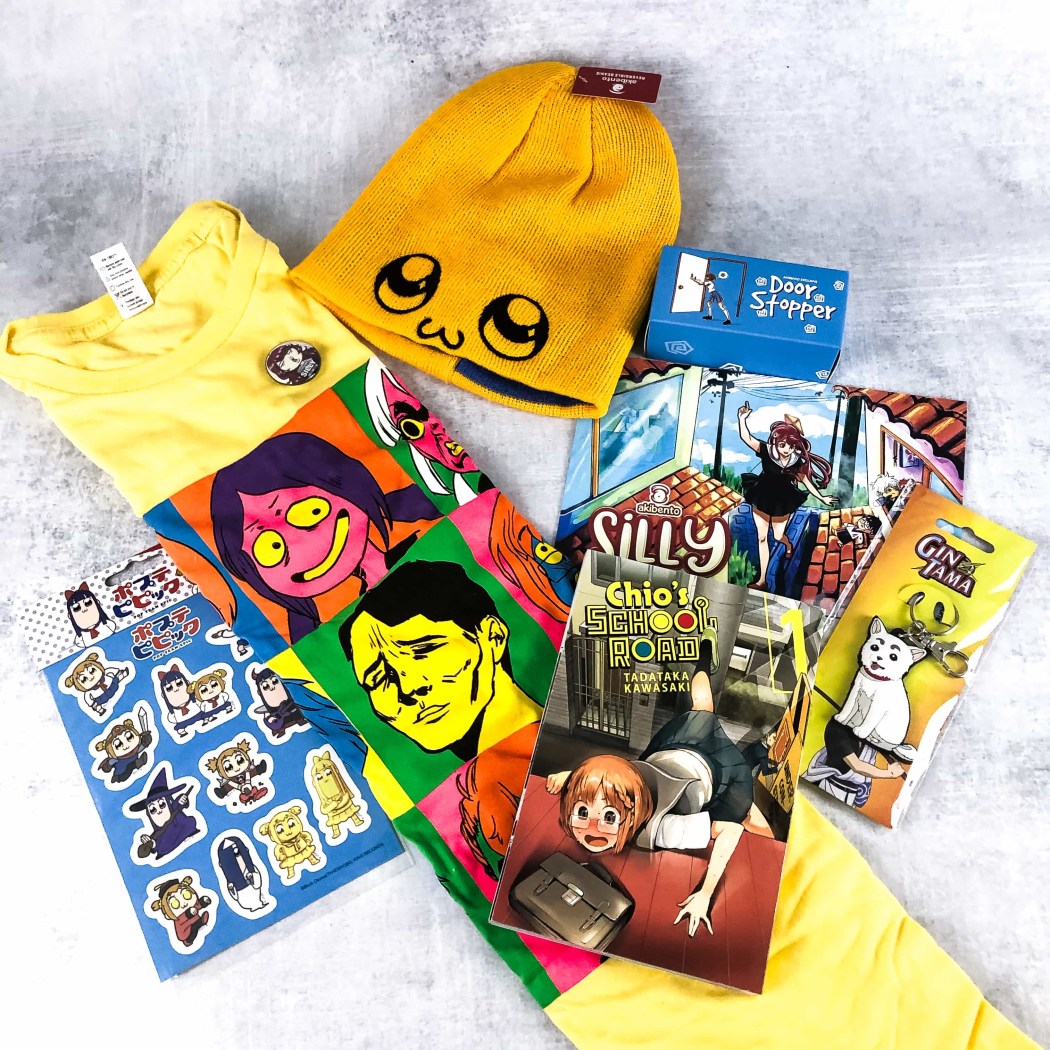 Image from: our review
Why We Love It: For epic anime gear to gush over with, there is Akibento. This monthly subscription allows you to get anime collectibles with every shipment. There's a promised $60 value in each themed box, making you feel like a true winner! You will get 6-8 anime items for your collection, which may include figures, collectibles, or anime memorabilia that's hard to find anywhere else! There's also a guaranteed exclusive epic t-shirt so you can wear your fandom up your sleeves. Past themes include Passion, Festive, Silly, Identity, Chill, and more.
Visit Akibento Reviews to see past box contents.
Price: The box costs $26.95 each month plus $6 shipping.
Deal: Save $3 on your first month! Use coupon code ANIME.
---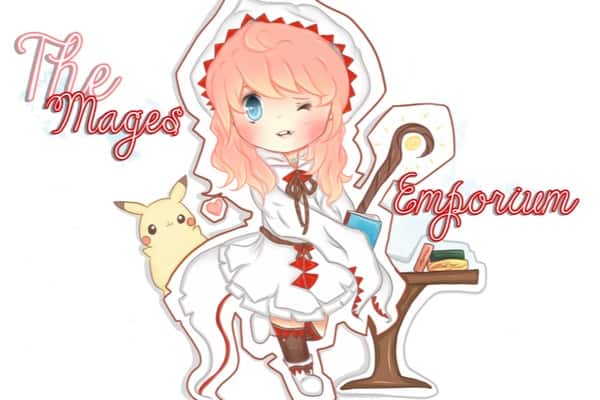 Image from: our review
Why We Love It: The Mage's Emporium is a monthly subscription for the geek in you! They allow manga lovers to have a copy of their fave manga, minus the heavy price tag. Each month, you'll receive a variety of 5 used English language manga from different genres in good quality to nearly new condition. All manga are safe for audiences over the age of 16. Choose from their boxes: Manga Box, which may contain 5 or 10 books; Shonen Manga Box, which has 5 books that target young female audiences; or Shojo Manga Box, which includes 5 books that cater to teenage boys. There's also the Mature Box, which is for 18+ audiences, and the Japanese Language Box, which is for manga published in Japanese.
Price: Subscription starts at $30 each month. Get savings when you prepay for more months.
---
Image from: Avatar the Last Airbender T-Shirt Club
Why We Love It: Avatar the Last Airbender T-Shirt Club has got your back in the most literal way by sending you a quality, exclusive designed shirt each month. Tees are available in men, women, and kid's sizes, so people of all ages who love Avatar can comfortably fit in. Designs feature Aang the Airbender, Katara the waterbender, Zuko the firebendder, Toph the earthbender, and some of the iconic moments from the show. Shirt color and design vary each month to give you something to look forward to, whatever your nation is!
Price: Ships Monthly for $17.99.
---
Image from: Anitaku
Why We Love It: There's nothing better when you satisfy the otaku in you, and Anitaku supports you in being one! Every month, they deliver high-quality goods, allowing you to get your anime merch fix without having to wait as long. The box comes with 4-10 random anime products like manga, figures, plushies, accessories, apparel, and more – depending on your chosen plan. The Basic Edition contains 4-6 items, the Standard Edition has 6-8 products, and the Premium Edition consists of 8-10 items. Also, there's Anitaku Anime Themed Subscription Box, where you'll get 8-10 items inside each box that revolves around an anime that changes every month. Take your pick, grab the box, and see magic happens!
Price: Ships every month for $55 plus shipping.
---
Image from: Loot Anime Fury
Why We Love It: Loot Anime Fury makes sure you have cool collectibles to support your anime obsession. This quarterly subscription lets you experience the most action-packed anime franchises with just a box. Take your power to the next level and receive officially licensed premium products from the best action-themed anime series, including accessories, apparel, home goods, pins, collectibles, and more. So if you're looking for some adrenaline to add to your life, this subscription makes the cut!
Price: Ships quarterly for $49.99.
---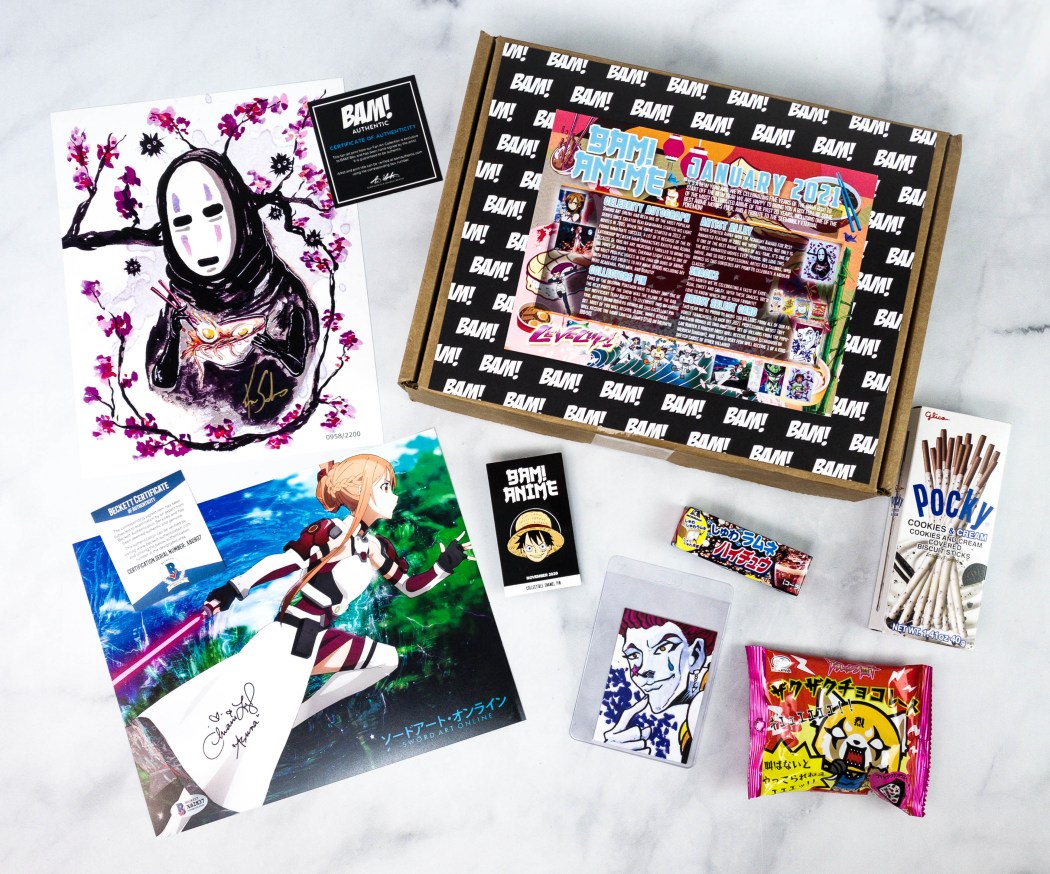 Image from: our review
Why We Love It: The BAM! Anime Box lets you in an ultimate collector's experience! Curated by fans for fans, you'll receive an authentic hand sign celebrity autograph along with a box full of goodies inspired by your favorite anime franchises each month. It contains 5-6 items, including fan-arts, comics, movie props, collectibles, enamel pins, snacks, and more. Prepare your otaku heart because it also contains ways to win chase items and giveaways! Past boxes have featured One Piece, Hunter X Hunter, Sailor Moon, and more.
Read The BAM! Anime Box Reviews to know more.
Price: Ships every month for $34.99 plus shipping.
---
Image from: Naruto Shippudden Box
Why We Love It: Join Naruto in his journey of becoming a Hokage! Naruto Shippuden Box comes loaded with exclusive limited-edition merch that'll inspire you to become a shinobi. Monthly packages contain 7-10 official Naturo Shippuden goodies and may include apparel, accessories, stationery, homewares, decors, and collectibles. Everything in the box is inspired by your favorite characters and their splendid moments. So venture into the village and become the greatest ninja of your own world!
Price: Ships quarterly for $49.99.
---
And there's the list of the best anime subscription boxes! Have you found the perfect box for the Otaku in you?
Look no further! We've got more subscription boxes from our list that you can try, divided per category!
Say Hello to More Subscription for Otaku Fans!