Anime has become more than just a form of entertainment – it's a way of life for many people, especially those who are into the fascinating world of Japanese culture. If you're a die-hard anime fan, you know that collecting merch from your favorite anime series is a must! From posters and figurines to shirts and accessories, the options are endless. Luckily, there are anime subscription boxes that cater to every anime lover's needs! Get your hands on the best anime subscription boxes and experience the thrill of unboxing a surprise every month or every quarter.
Show More (1 items)
Anime subscription boxes offer fans a way to indulge in their favorite anime fandoms by receiving a curated collection of anime-specific items. These boxes also often include snacks and drinks authentic to Japan. For fans who love to immerse themselves in the world of anime, these subscription boxes provide a great way to do so.
To help you find the best anime subscription boxes for your interests, we've compiled a list of the top options available. With these subscription boxes, you can dive deep into the characters and stories you love without the hassle. Enjoy a regular supply of anime-related items delivered right to your door with the convenience of a subscription service.
The Best Subscription Boxes for Anime Fans!
Image from: Pokémon T-Shirt Club
Why We Love It: With Pokémon T-Shirt Club, you can catch them all! This monthly club gives you a way to discover the Pokémon universe and collect different types of Pokémon's, but in shirt form. Each month, they'll send you one exclusive, limited-edition tee to let your fandom fly! Designs are created and curated for the ultimate fans of the anime franchise. Whether you root for Team Rocket, Team Plasma, or Team Ash, you can wear your fandom up your sleeves with this t-shirt club!
---
Image from: Fangirl Monthly Box
Why We Love It: Fangirl Monthly Box is a monthly subscription where jewelry and accessories are taken to a whole new geeky level! Each month, receive 3-5 anime and manga-related accessories inspired by popular anime series, including titles derived from video games. You may receive bracelets, earrings, necklaces, rings, and other lifestyle items and trinkets. Each box is also themed, and they even include a collectible postcard and custom pouch where you can store your items, all valued at $40 and over!
---
Image from: The Mage's Emporium Manga Mystery Box
Why We Love It: The Mage's Emporium Manga Mystery Box is a monthly subscription for the geek in you! They allow manga lovers to have a copy of their fave manga, minus the heavy price tag. Each month, you'll receive a variety of 5 used English language manga from different genres in good quality to nearly new condition. All manga are safe for audiences over the age of 16. Choose from their boxes: Manga Box, which may contain 5 or 10 books; Shonen Manga Box, which has 5 books that target young female audiences; or Shojo Manga Box, which includes 5 books that cater to teenage boys. There's also the Mature Box, which is for 18+ audiences, and the Japanese Language Box, which is for manga published in Japanese.
---
Image from: Avatar the Last Airbender T-Shirt Club
Why We Love It: Avatar the Last Airbender T-Shirt Club has got your back in the most literal way by sending you a quality, exclusive designed shirt each month. Tees are available in men, women, and kid's sizes, so people of all ages who love Avatar can comfortably fit in. Designs feature Aang the Airbender, Katara the waterbender, Zuko the firebender, Toph the earthbender, and some of the iconic moments from the show. Shirt color and design vary each month to give you something to look forward to, whatever your nation is!
---
Image from: our review
Why We Love It: You can get anime DVDs according to your preference and binge-watch them with the help of Boxuchan! Each box contains at least one whole anime series or a full season on DVD or Blu-ray. They even include bonus surprises, plus reviews for all the items and inclusions, so you are sure of what you're getting and no need to ask yourself, "why?". Boxuchan Lite is also an option with at least one volume, movie, or series based on your preferences and one extra anime-related product. It's one easy way to build your anime DVD collection!
---
Image from: Naruto Shippuden T-Shirt Club
Why We Love It: With Naruto Shippuden T-Shirt Club, you can channel your inner shinobi. A new shirt is delivered straight to the ultimate fans door monthly with designs you can't easily find elsewhere. This tee club invites you to hone your chakra and master your Jutsu to become the Hokage you aim to be! Graphic designs come directly from the brand, so you can be sure they're authentic and officially licensed! Simply choose your size and fit and expect fresh shirts rolling in every month featuring Team 7's Naruto, Sasuke, Sakura, and Kakashi. Available sizes are youth, men, and women 2T – 3X-Large.
---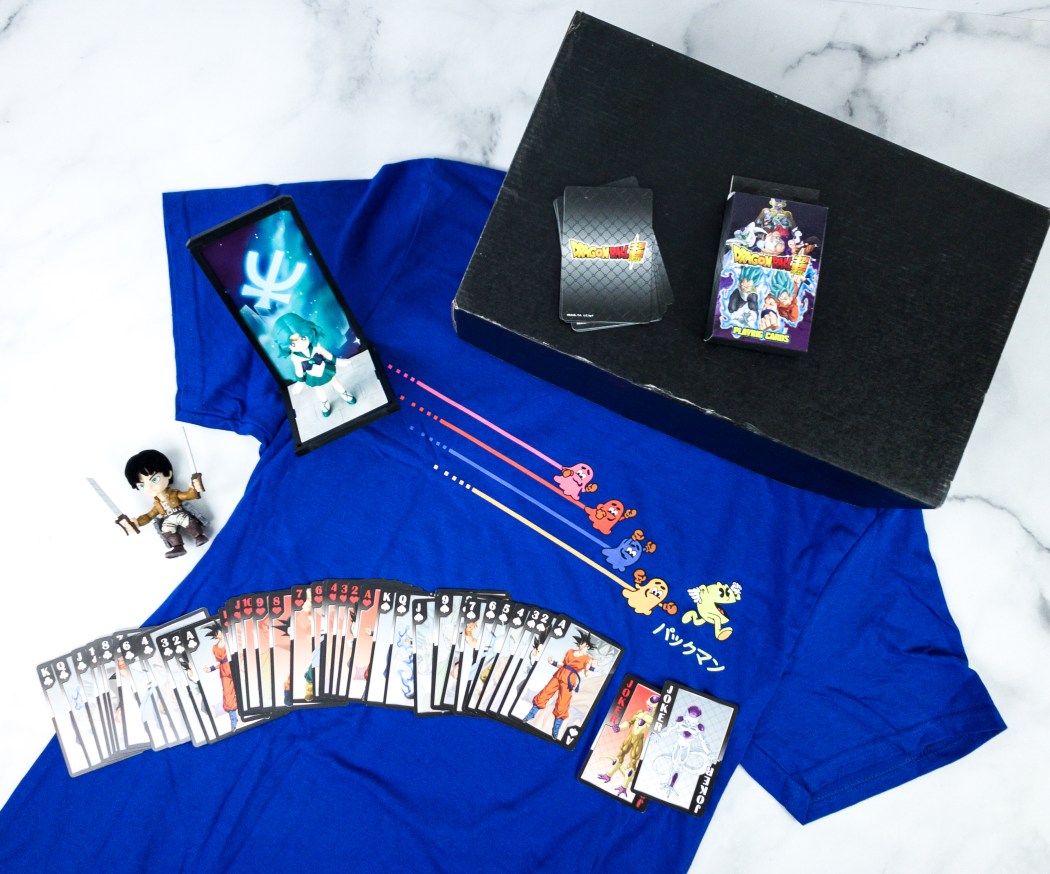 Image from: our review
Why We Love It: From the Loot Crate family, here's the ultimate anime subscription, Loot Anime! They want to give fans access to the best and licensed goods from their favorite anime and manga series, and that's why they send themed monthly crates with a promised value of over $60. Each month, you will receive excellent-quality anime items like figures, collectibles, apparel, accessories, and even interesting manga titles! It is the perfect treat you can give yourself or someone who loves anime as you do! Previous themes include All-Stars, Timeless, Toasty, and Eternal.
Deal: Save 15% on your first box! Use coupon code HELLOSUBSCRIPTION15.
---
And there's the list of the best anime subscription boxes! Have you found the perfect box for the Otaku in you? Look no further! We've got more subscription boxes from our list that you can try, divided per category!
Looking for anime streaming subscriptions instead? We've got you covered – choose from the best anime streaming services below and watch your favorite titles conveniently!
Hulu – This platform doesn't have a content library as expansive as Crunchyroll, but it's still a nice option if you're after popular anime such as Bleach, One Punch Man, Demon Slayer, and Spy x Family. They have over 300 anime titles currently.

Netflix – You'll get a mix of anime originals and mainstream anime from this digital streaming service! Some of the original titles you can look forward to are Exception, Lookism, and Seven Deadly Sins: Grudge of Edinburgh. They have more in the works, with a promising line up that keep anime fans excited. Some of the anime series and movies on Netflix are unavailable for streaming on the Basic plan with ads.