Why do people love hot sauce? It's because they want to add thrill, extra kick, and flavor to what they eat. Admit it or not, hot sauce became one of the staple condiments we sometimes craved for. Hot sauces do have health benefits too! They act as an antioxidant and have anti-inflammatory properties. If you can't get enough of its fiery flavor and want to discover new ones, getting hot sauce subscription boxes is the way!
These subscription boxes deliver hot sauces that range from mild to extreme, so be sure to choose what you can handle. Some of these hot sauce subscriptions also add in spicy snacks and other chili-themed goodies for your delight!
So, get your capsaicin fix with the best hot sauce subscriptions around. Whether you're looking for a great gift for that spicy lover in your life or just for yourself, these subscriptions will make a great choice! Let's jump right in so you can see different hot sauces you're familiar with or didn't even know existed until now.
The Spiciest & Best Hot Sauce Subscription Boxes to Bring The Heat In!
Image from: Flaming Licks
Why We Love It: Spicy food lovers rejoice! Get the best hot sauce and chili products all the way from the UK with Flaming Licks every two months. Their mission is to turn spicy food fans into chili addicts. They deliver small-batch spicy food items that you can't find elsewhere straight to your doorstep! Each box comes with 3 hot sauces, chili jams, chili chutneys, pickles, or chili-inspired marinades. You can also find 1 spicy snack and a collectible recipe card. Vegan? You can also try the vegan subscription option. Subscribe and get a free extra snack on your first box!
Price: Receive hot sauces and spicy food items every two months for $34.45 (£24.99 GBP).
---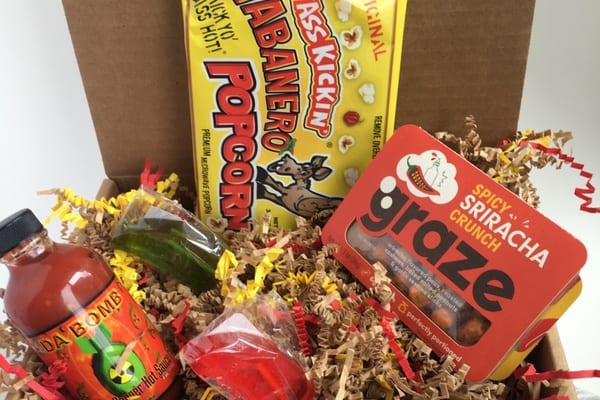 Why We Love It: The Scorchin' Hot Box is a subscription tailored for fans of all things spicy. They searched the globe to find distinctive, award-winning hot sauces and fiery snacks that they can introduce to subscribers. Choose from 5 different subscription options: The Original Scorchin' Hot Box (one hot sauce and 3 snacks), The Mini Scorchin' Hot Box (one hot sauce and 1 snack), The Biggie Scorchin' Hot Box (2 hot sauces and four snacks), The All Snacks Scorchin' Hot Box (4 snacks), and The All Sauces Scorchin' Hot Box (2 hot sauces). If you're a new subscriber, you can get a bonus mystery item with 1,000,000 SHU in your first box! Take on the challenge and enjoy different varieties of hot sauces and snacks.
Price: Hot sauces and fiery snacks delivered monthly, with 5 boxes to choose from! Start your plan and get The Original Scorchin' Hot Box for $19.95 every month.
---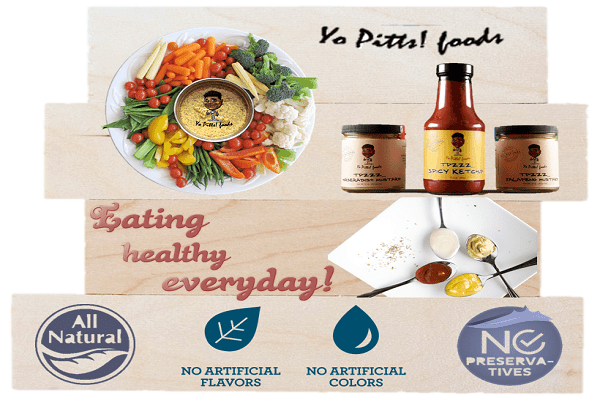 Why We Love It: Yo Pitts! Foods Flavored Condiment Club provides premium quality, all-natural condiments made in-house. They sourced ingredients locally – no additives or preservatives, to give just the perfect taste in a healthy way! They work with artisans across the country who strives to deliver the best and chef-quality sauces and condiments to everyone. Such products include hot ketchup, jalapeno mustard, spicy ketchup, habanero mustard, and more. Subscribers can also choose if they want a 3-pack, 5-pack, or a 7-pack of sweet, mild, or hot condiment.
If you want to know more about this subscription, check out Yo Pitts! Foods Flavored Condiment Club Reviews.
Price: Flavorful condiments straight to your door start at $22.99 monthly.
Deal: Get $5 off your first purchase and free shipping for all subscriptions! Use coupon code YPF sub 5.
---
Image from: Amazing Clubs Hot Sauce of the Month Club
Why We Love It: Amazing Clubs offers a wide variety of clubs that you can try. If you want to turn up the heat and add extra flavors to your meal, then Amazing Clubs Hot Sauce of the Month Club is an amazing subscription to try! You'll receive 2 bottles of gourmet, locally-famous, hard-to-find hot sauces from master chefs, restaurants, or small businesses around the world. Included also in your package is a newsletter containing information about the hot sauces of the month.
Price: Includes 2 new and different varieties each month for $27.95.
---
Image from: Heat Hot Sauce of the Month
Why We Love It: If you're on the look for artisan hot sauces, Heat Hot Sauce of the Month is one of your reliable sources. They have over 400 varieties of flavorful and fiery hot sauces to offer. They want to share their passion for all things spicy with everyone. If you want mellow sauces focused on flavor, you should try the Mild & Medium subscription. If you want to try all levels – from mild to wild, you can choose the Classic subscription, and if you're a diehard fan, why not try the Extra Hot subscription? Subscribers will get free shipping on the entire online shop and exclusive early access to new releases!
Price: Choose from mild, classic, or extra hot heat levels starting at $14.99 per bottle monthly.
---
Image from: Fuego Box
Why We Love It: Fuego Box focuses on the highest quality, craft, and small-batch hot sauces they can introduce to subscribers every month. They search every corner of the world to bring the perfect artisanal sauces – probably, the ones you've never heard of, that doesn't overwhelm! Choose the best subscription that can satisfy your taste buds: Dip Your Toe In, where you'll get 1 full-sized hot sauce with a heat level of mild to hot; Sauce Lover, which includes 3 full-sized hot sauce with a heat level of mild to hot; or Pain Seeker, which gives you 2 full-sized extra hot sauces. Your first order will give you a mini tasting notebook!
See what we've previously received on Fuego Box Reviews.
Price: Box of 1 costs $17.95/month, Box of 2 is at $27.95/month, and Box of 3 is $29.95/month. Save more with prepay option.
Deal: Save $10 on your first box! Use coupon code AMIGOS.
---
Image from: Syracha Cuse
Why We Love It: If you have a passion for heat and love taking your food to another level with an extra kick, then Syracha'Cuse Gourmet Hot Sauce Subscription Club might be the best option for you. What's great with the hot sauces they offer is they are gluten-free except for beer-infused ones. They collaborate with local companies to create unique sauces and share hometown flavors they love with others. Subscribers will receive one bottle of their gourmet hot sauce with a recipe card. Some of their award-winning hot sauces include Maple Garlic, Honeycrisp Habanero, Ginger Reaper, Recess Coffee, Smoked Jalapeno, and more.
Price: Subscribe for $16 per month, or prepay your subscription and save 5%.
Deal: Get your first box for just $5! Use coupon code HELLO7.
---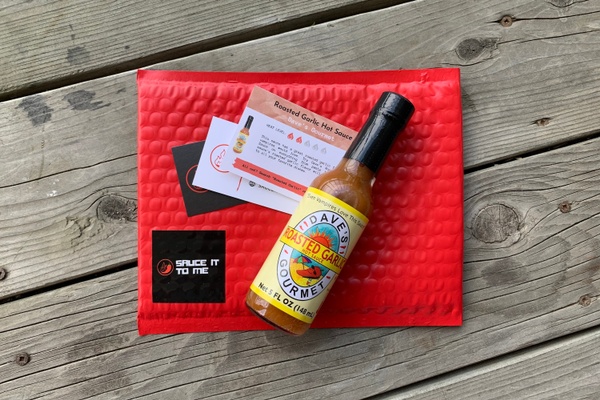 Why We Love It: Spicy flavor doesn't have to be overpowering. Sauce It To Me provides flavorful sauces with just the right amount of heat. They want people to know that hot sauce isn't just heat – it's about flavor too! They search for the finest hot sauces so they can share them with others. You'll receive 1-3 specially selected bottles per shipment, depending on your chosen plan. You also have the option to choose your desired heat level – mild, medium, hot, extreme. The hot sauce subscription plans they offer are Sauce It To Me Just A Lil' Bit (1 bottle), Sauce It To Me Real Good (2 bottles), and Sauce It To Me One More Time (3 bottles). Packages also include info cards, where you can learn all about the hot sauce you received, plus what you should try with it. All subscriptions come with a 10% off code you can use on any individual bottle!
Price: Subscription starts at $15.95 a month.
---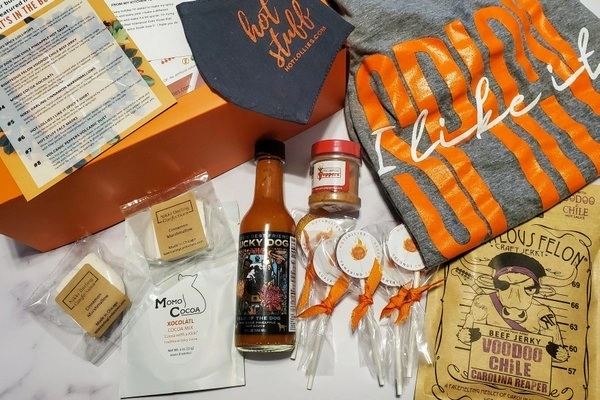 Why We Love It: Hot Lollies will surely melt your cravings away with their burning-flavored goods. This fiery goodness subscription is filled to the brim with artisanal products that will light your tongues to delectable fire. Each box comes with 7-8 small-batch, natural spicy food products worth $90-$100! It will include 2-3 spicy sweets, 2-3 spicy savory treats & spices, 1 full-size sought-after bottle of hot sauce, and one shirt (or other non-edible items). You'll have a taste of specialty goods from all around the US, all while you're in the comfort of your own home, chillin'!
Price: Get the box for $49.99 every two months.
---
And there you have it, our list of the best hot sauce subscription boxes! Which one do you want to try?
Looking for more? Make sure to check out our list of all the best subscription boxes in every category!