Spices can transform a meal by enhancing food flavors and colors. It adds some twist to the usual taste. Each spice has a distinct aroma and flavor that spice up every meal you eat or serve. Using spices also allows you to be creative and adventurous in the kitchen. Sure, there are lots of spices all over the world, and we've probably never heard of some of them. The common ones we know of are cinnamon, paprika, cumin, saffron, chili powder, nutmeg, peppercorn, and others.
The best way to discover and try all of these spices is through spice subscription boxes. These subscriptions offer different spices from all around the world, which are freshly ground and packed to seal up freshness and aroma. Stack up your spice racks with spices that can boost your meals to the next level with the best spice subscription boxes.
If you want to see more flavorful and fragrant spices, you can check out our full list of spice subscription boxes.
The Best Subscription Boxes for Spices!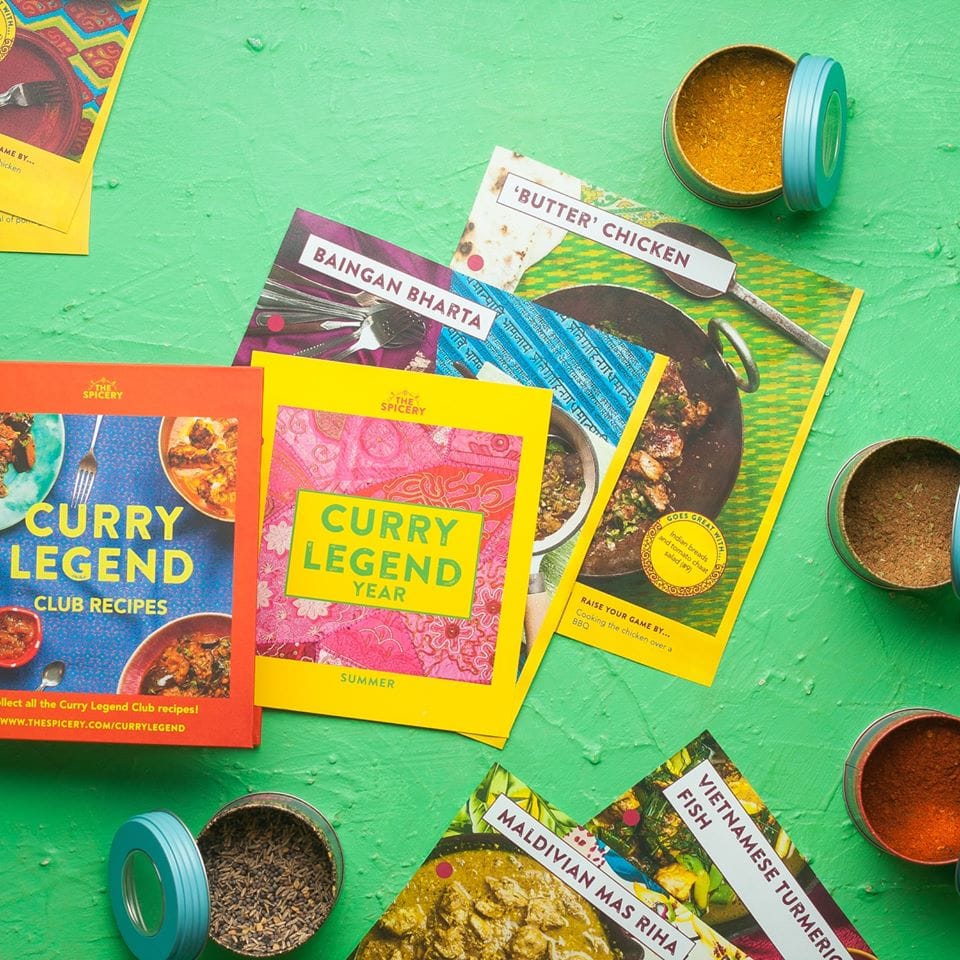 Image from: The Spicery
What you get: Spice up your food with unique spices from The Spicery. They produce products that make using spices easy, accessible, and fun even in modern kitchens! They discover new spices by traveling, and they test every recipe that comes up in every research. They measure, grind, and individually packed each spice to easily create delicious and flavorful meals. Each box includes two new and exotic spices, free samples, and colorful recipe cards that can serve fantastic meals to 4 people. You can choose from:
World Kitchen Explorer Subscription
Friday Night Curry Discoverer Subscription
Date Night Subscription
Indian Restaurant Favourites Subscription
Meat Free Magic Subscription
Spicery Highlights for 2 Subscription
Food Truck Subscription
Easy Kit Subscription
Price: Get spices and exciting recipes for $12 every month!
---
Image from: our review
What you get: Spice Madam lets you explore and discover different flavors of the world. You'll get to travel to different destinations every month from the comfort of your home. They carefully research and test out each recipe to provide you the best options. You'll get 3-4 packets of spices to make 4-6 servings of gourmet recipes. Along with it comes fun cultural facts and a music playlist so you can feel the vibes and set the mood for cooking. Need not to worry about your diet preferences, because their recipes include vegetarians and gluten-free options! They also donate a portion of the proceeds to charitable organizations that support kids through education.
Take a look at what spices they've sent us on our Spice Madam reviews.
Price: Monthly themed spices, recipes, themed music and fun facts for $20!
---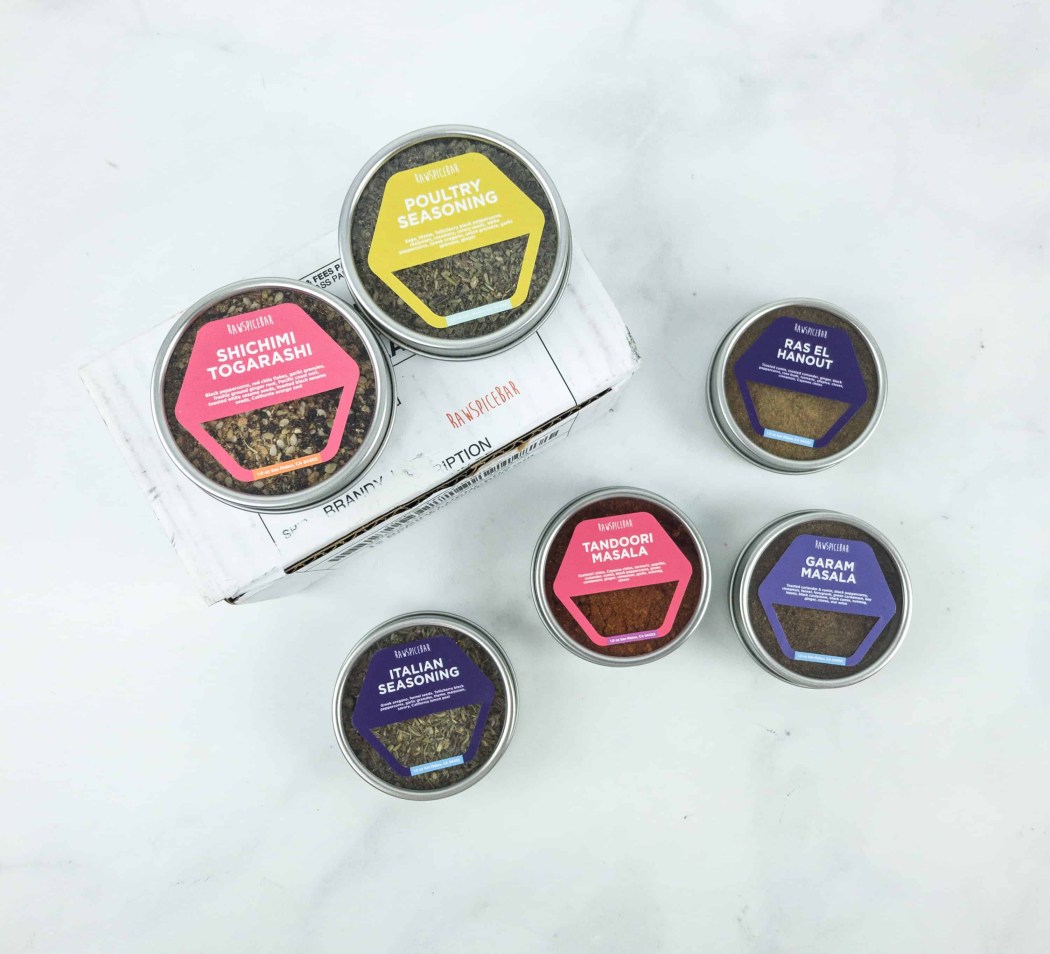 Image from: our review
What you get: Make cooking more fun with different spices that you can try through every box of RawSpiceBar. It is a monthly subscription that sends authentic spice blends that are created by top chefs to all passionate home cooks. The spices they offer are organic, contain no additives or fillers, salt-free, and are sourced from global co-ops and farms. Each month, they'll send 2-3 eco-friendly pouches containing a new spice blend that are freshly ground, and small-batch blended in house. You also have the option to add reusable jars where you can store these spices.
Wondering what kinds of spices are in every box? Check out our RawSpiceBar reviews on this page.
Price: Receive organic spices for just $12 per month with free shipping!
---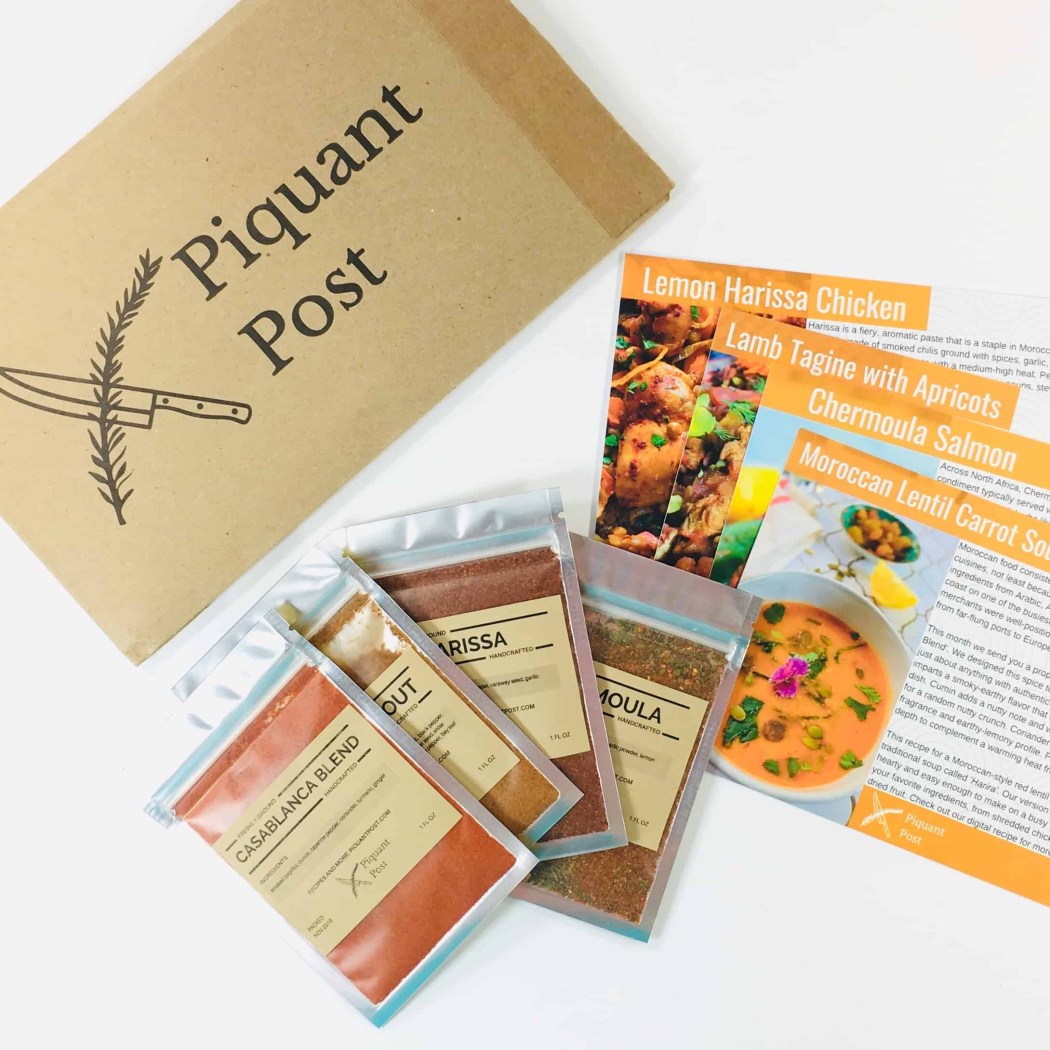 Image from: our review
What you get: Awaken your senses and revitalize your dinner rotation with spices from Piquant Post. They bring the world's flavors to your kitchen through chef-developed spice blends each month. Each box contains 3-4 spice blends from a new region that can make 4+ meals each. You'll also receive step-by-step recipes with detailed shopping lists, so you can cook with no worries! The great thing about this subscription is that you'll never get the same combination of spices or recipes – ever!
See what we've received in the past on our Piquant Post reviews.
Price: Subscribe for $11.99 per month, with savings for longer plans!
Deal: Get 15% off your first order, including 6-month and 12-month prepay subscriptions! Use coupon code HELLO15.
---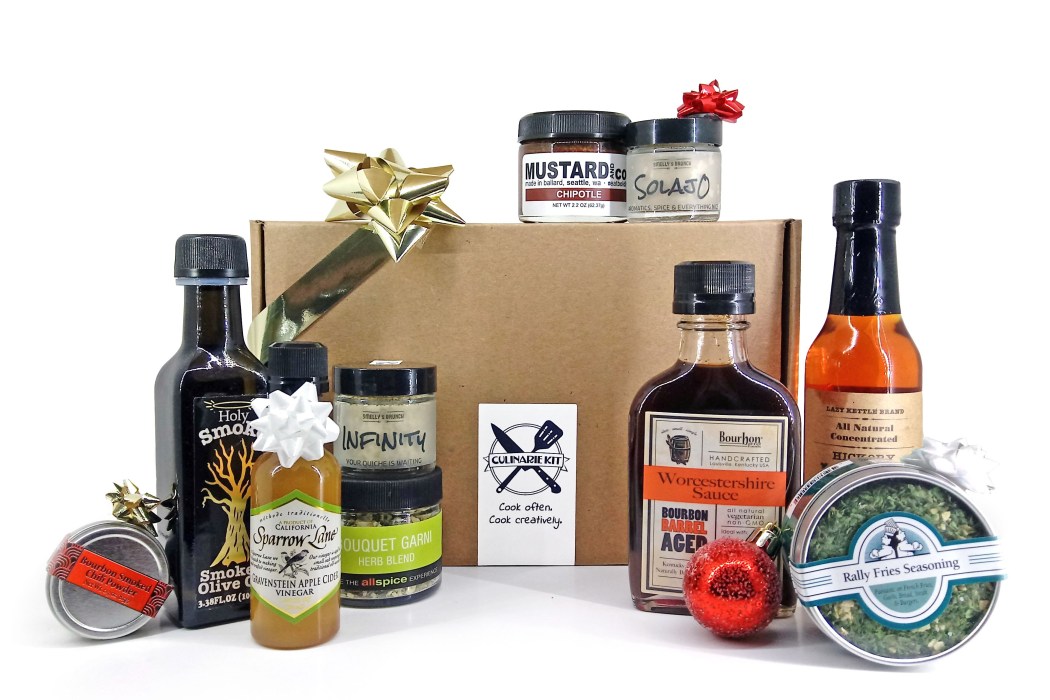 Image from: Culinarie Kit
What you get: Try new recipes and taste new spices with Culinarie Kit. They offer boxes that can touch one's creative minds to make delicious foods that anyone can enjoy, from the kitchen newbie to the seasoned home chef. They test and hand-select ingredients that will surely make your mouth water! Expand your pantry collection with new brands and flavors they feature each quarter. You'll receive a sampling of gourmet, artisan ingredients and one exclusive Culinarie spice blend that's created by their own chef!
Price: Ships every 3 months for $49.95.
Deal: Get 10% off all subscription levels for life! Use coupon code HelloS10.
---
Image from: SpiceBreeze
What you get: SpiceBreeze takes you to different places all over the world with their spices. Choose your desired box size: Wanderlust, Family Size, or Plus. You can also choose your meals from their menu and cook in no more than 30 minutes!  Give yourself the enchanting flavors of freshly ground spices and herbs. You do not only get spices per month but you'll also discover authentic popular dishes from around the world, plus some fun facts. As a subscriber, you'll get instant rewards for up to $10 savings in their shop.
If you want to know more about this subscription, visit our SpiceBreeze review page.
Price: Month to month plans: Wanderlust (Duo Size)- $6.80, Globetrotter (Duo Size with Double Kits)- $12.99 and Cosmopolitan (Quad Size)- $13.99.
Deal: Get 10% off your first box. Use coupon code F10POFFMP.
---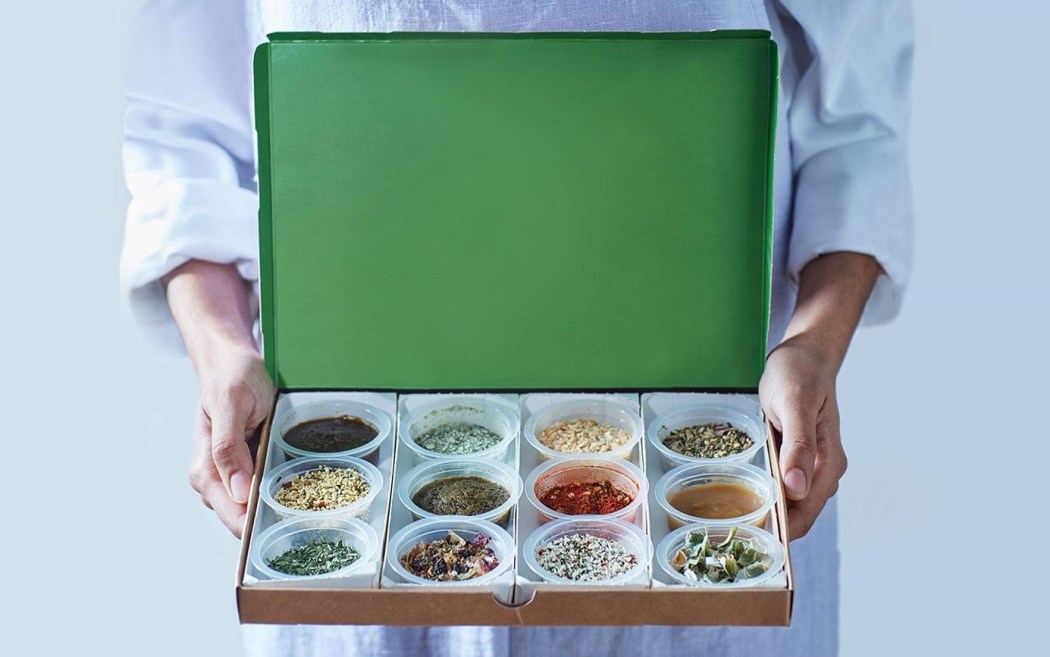 Image from: Simply Cook
What you get: Taste perfect flavors when you subscribe to Simply Cook. They want to make cooking a simple, easy, and hassle-free process and make dinners taste more amazing! Each box includes 4 recipe kits that can transform any meal from boring to exciting! It also includes easy to follow recipe cards with tips to make the most out of your ingredients. Every kit is designed by professional chefs to provide just the perfect taste, which may include culinary pastes, herbs, spices, rubs, garnishes, and more that you can't find in supermarkets!
See our past Simply Cook review for more details.
Price: Box costs $11.15 every week.
Deal: Try Simply Cook and get your first box half price & delivered free! Use coupon code ENJOY10.
---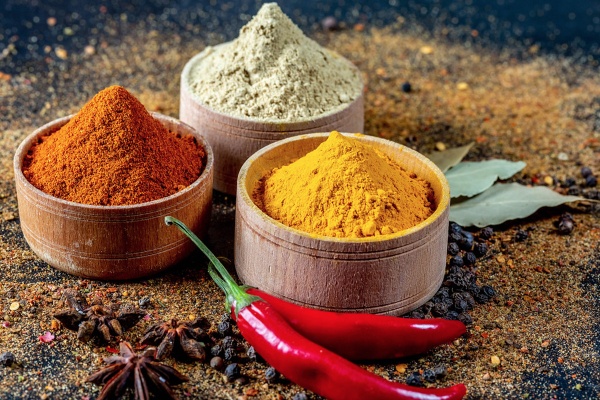 What you get: Taste different kinds of traditional curries every month with Ranger Nick. With curry kits, you can recreate traditional curry dishes at home as easy as 123! They carefully measure and blend Indian spices leaving preservatives behind, so you can make the best tasting curry ever! You'll receive an easy-to-follow recipe and cooking instructions, a link to the "How to" video, a list of fresh produce, and of course, the authentic pre-mixed spices. If you want to try curry, you can choose the Single Curry Spice and Recipe Kit, or if you're a devoted curry lover, you can choose Double Curry Spice and Recipe Kit. You'll get free pappadams (Indian flatbread) when you subscribe to 6-monthly Curry Spice and Recipe Kits.
Price: Subscription starts at $8 ($11.50 AUD) for single curry spice and recipe kit. Get savings when you subscribe on prepaid plan options!
---
And that's our list of the best spice subscription boxes that you can try! Which is your favorite?
Want to see more must-try subscriptions? Check out our list of all the best subscription boxes in every category!