Eating seafood is truly delightful. Just imagine the smell of the ocean and the taste that explodes in your mouth with every bite. Seafood is not only scrumptious but also rich in protein and omega 3, which are good for the body. Finding fresh and quality seafood can be difficult in some areas. Aside from that, the limited availability in the local stores can be frustrating at times, so we've compiled a list of the Best Seafood Delivery Services!
From fresh Maine lobsters and Alaskan salmon to cod, shrimp, scallops, crabs, and much more, these fish subscriptions and seafood delivery services are the best ways to get the freshest and healthiest seafood at home. Check out all the best places to buy seafood online and never have to worry about your seafood cravings as they will now deliver them right at your doorstep!
Don't forget to hit the heart button on top of this page so you can still come back and try all the other boxes, too!
The Best Subscription Boxes for Seafood Delivery Services!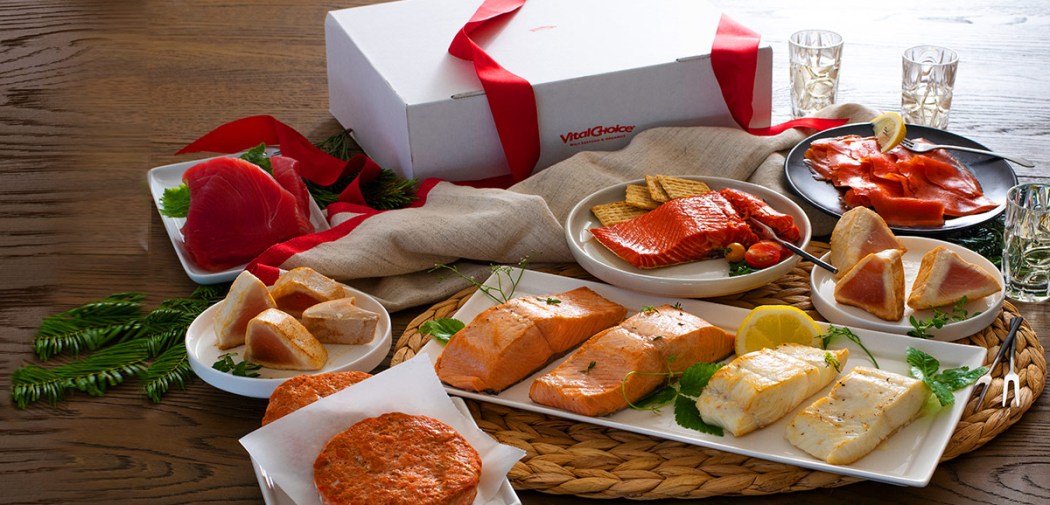 What you get: Please your taste buds with sustainably caught seafood from Vital Box. They only offer wild-caught seafood – not farmed, so you're sure they're free from antibiotics, pesticides, and GMO feeds that are often used on fish farms. Most of their products contain little to no added salt and are naturally gluten-free, making it Paleo, Keto, and Atkins-friendly! Select a box that suits your liking: Wild Salmon Box contains 2-3 products each month and can make 10-14 servings, Wild Fish Box includes 4-5 varieties that can make 14-16 servings, and Wild Seafood Box (contains shellfish) has 6-7 varieties and can make 18-22 servings. These boxes will be shipped to your door, enclosed in an eco-friendly insulated box with dry ice to keep them fresh. What's good is that they donate a portion of their profits to planet-protecting programs.
Price: Choose from the three boxes you want to be delivered: Wild Salmon Box $129 , Wild Fish Box $169 and Wild Seafood Box $199.
---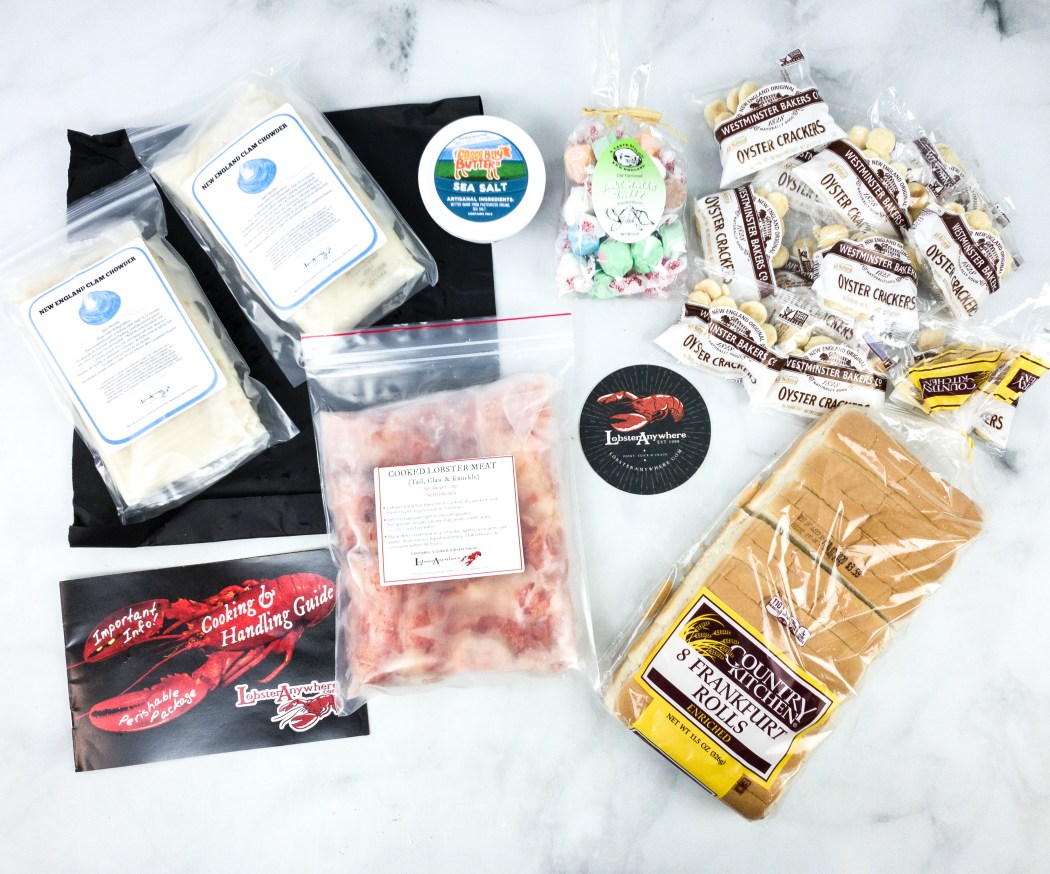 What you get: Get Maine lobster anytime with Lobster Anywhere. Whether you want fresh and live lobsters, frozen, or cooked ones, they all have it! Did we even mention that they also offer other seafood such as sea scallops and colossal shrimps? These are harvested year-round from fisheries under rigorous sustainability regulations. You can also shop by category, so it's easy to find what you like! They'll deliver seafood to you in a styrofoam box with dry ice inside to keep them fresh. It also comes with a cooking and handling guide!
Want to see how plump these lobsters are? Just visit our Lobster Anywhere review, and you'll see mouth-watering dishes!
Price: Prices depend on the size of the lobsters plus the shipping fees. Live lobster 1.25 pounds – $26.95, 1.5 pounds – $29.95 , 2 pounds – $49.25 , 3 pounds – $56.95 and 5-6 pounds – $129.
---
What you get: Give the protein your body needs with Cameron's Seafood. This is the largest fresh seafood retailer in the state of Maryland. You'll receive the highest-quality seafood sourced directly from the Chesapeake Bay with easy to follow reheating or cooking instructions for each item in your box. These are packed conveniently to fit in your freezer or fridge. Choose from their curated boxes featuring their premium selection of Maryland Blue Crabs, Crab Cakes, Alaskan Crab Legs, and more! You can also set the date whenever you want it delivered at your door. You never have to worry about the freshness of every seafood because these are caught daily and shipped at peak freshness from Maryland to your door in less than 24 hours.
Price: Choose your monthly subscription: The Maryland Box- $169.99, The Crab Cake Box- $235, The Crab Legs Box- $299.99, The Crab Cake Sampler-$159.99 and The Crab Soup Box $119.99.
---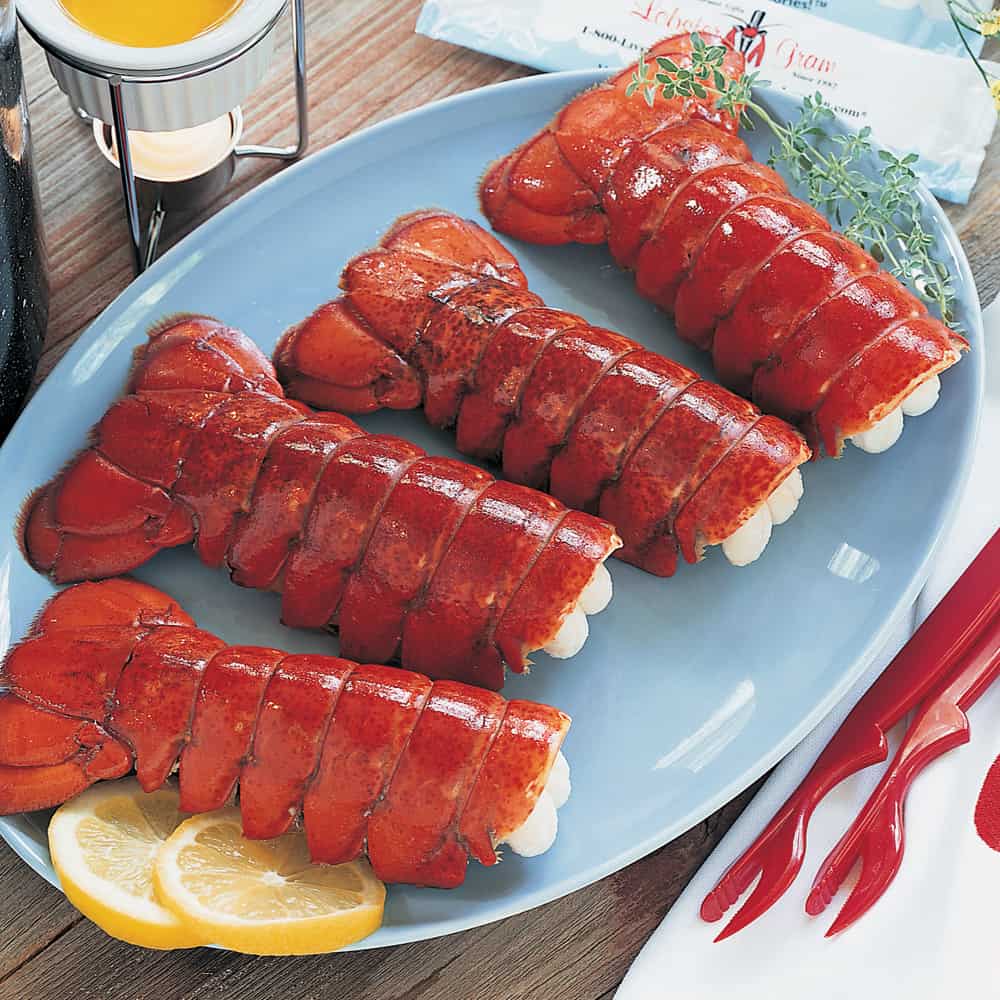 What you get: Serve your family and friends the best dishes with Amazing Clubs Lobster of the Month Club. They offer premium Maine Lobster tail that you can share and serve at the dining table. Every package carries four large and plump mouth-watering, delicious Maine lobster tails that weigh in an average of 7-8 ounces. With this subscription, you'll get the freshest lobster tails whenever you want to!
Price: Get this box for $116.95 per month.
---
What you get: Expect pure natural fish knocking at your door each month with Sizzlefish. They want you to eat well and live better as well as enjoy the heart-health benefits of fish in the most delicious form! This subscription gives you access to the highest quality fish and shellfish available. Pick and choose what kind of fish you'd like to receive from their box subscription options: Sizzlefish Wild Fish Favorites, Sizzlefish Prime, and Sizzlefish Prime Plus. With every box, you'll receive 14 perfectly sized cuts of fish that are vacuum-sealed per piece. Seafood choices are Sockeye Salmon, Coho Salmon, Red bass, Halibut, Rainbow trout, Atlantic cod, and more!
Price: Choose your monthly plan: For 14 parts, the Sizzle Prime Package costs $111.86 and $192.72 for 28 portions. The Prime Plus Package for Sizzle Fish costs $125.86 for 14 parts and $223.72 for 28 parts. The Wild Favorites package costs $109.95.
Deal: Get 10% off your first order! Use coupon code WELCOME10.
---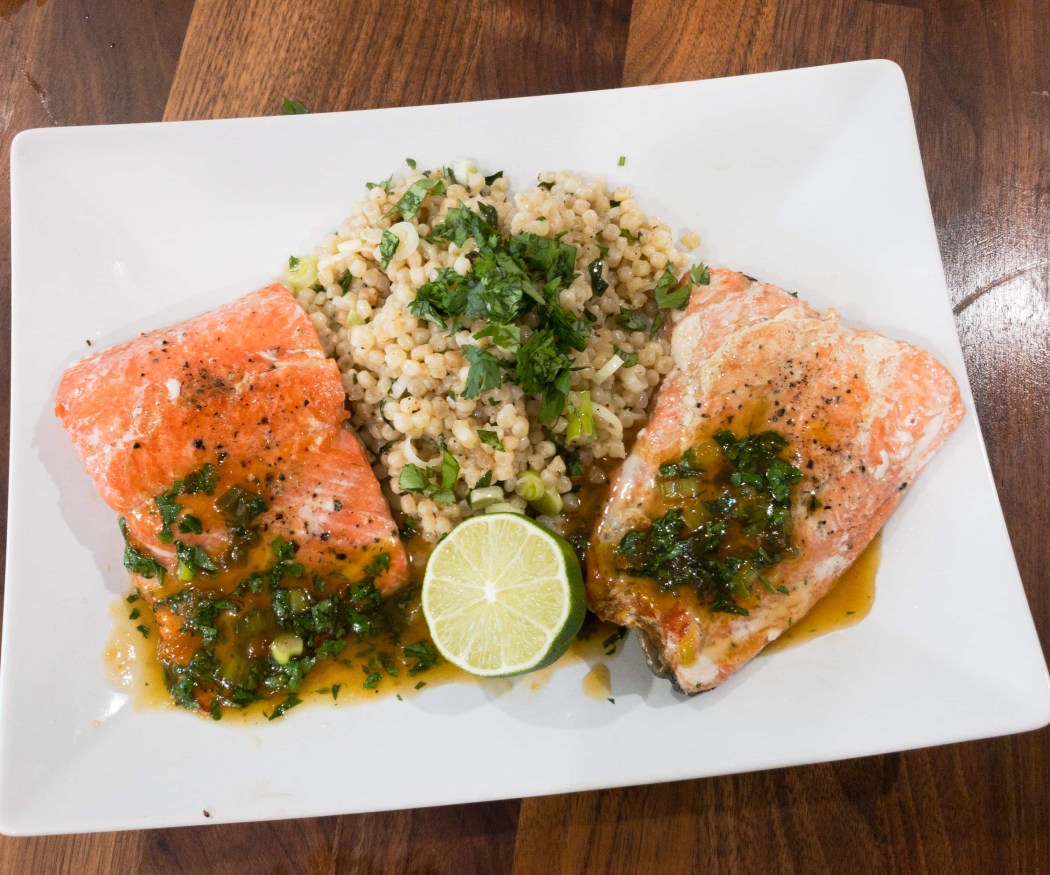 What you get: Explore many possibilities with every box from Butcher Box. Aside from organic, heritage breed, grass-fed meats, they also offer seafood such as salmon, scallops, lobster, cod, and halibut. The seafood they have is wild-caught and sustainably harvested which means no added chemicals, no antibiotics, and no artificial coloring! They offer 5 package options: Mixed Box, Beef & Chicken, Beef & Pork, All beef, and Custom Box. You also have the option to choose your box size – classic or big box. Every product is frozen in freshness, safely packaged, and delivered to you in an eco-friendly insulated box.
See what comes in each box when you visit our Butcher Box reviews.
Price: The Classic Box cost $149 while the Big Box costs $270 each month.
Deal: Check for the latest special offer for Butcher Box! Use this link to get the deal.
---
What you get: Kitchen Catch lets you discover California seafood and expand your palate with its box. They focus on featuring lesser-known California seafood in which they support new local fishermen every week. Each delivery comes in a recyclable cardboard box with a reusable ice pack. You can choose how many servings you'd like and you also have the option to "Make It A Meal" by adding weekly artisanal pantry items to pair with. You'll also receive their weekly members-only newsletter, where you'll learn the science and story of your fish together with prep tips and a weekly recipe!
Price: The price of 1 serving is $10/week, 2 servings is $19/week and 4 servings is $36/week.
---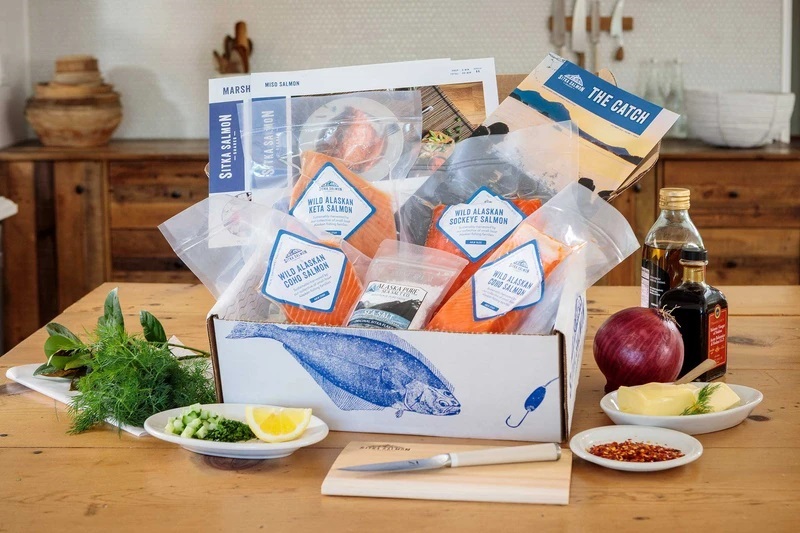 What you get: Sourced directly from small-boat family fishermen in Southeast Alaska, Sitka Salmon Shares brings premium and responsibly sourced wild Alaskan seafood at your door. Fishes are freshly caught, filleted, and cut into portions, then blast-frozen and vacuum-sealed to keep them fresh. Choose from 4 boxes they have: Premium Sitka Seafood Share, Sitka Seafood Share, Sitka Salmon Share, Sitka White Fish Share. You'll receive about 4.5 pounds of fish a month per box. You can also order the Premium Sitka Seafood Share without shellfish if you want to! As a member, you can unlock priority access to special sales throughout the year, receive invites to events, cooking classes, and more!
Price: A regular 9-12 serving box starts at $119 per month. Family Shares will receive a multiple of two boxes 18-24 servings starting at $233 per month. Neighborhood Shares will receive a multiple of three boxes 27-36 servings starting at $343 per month.
---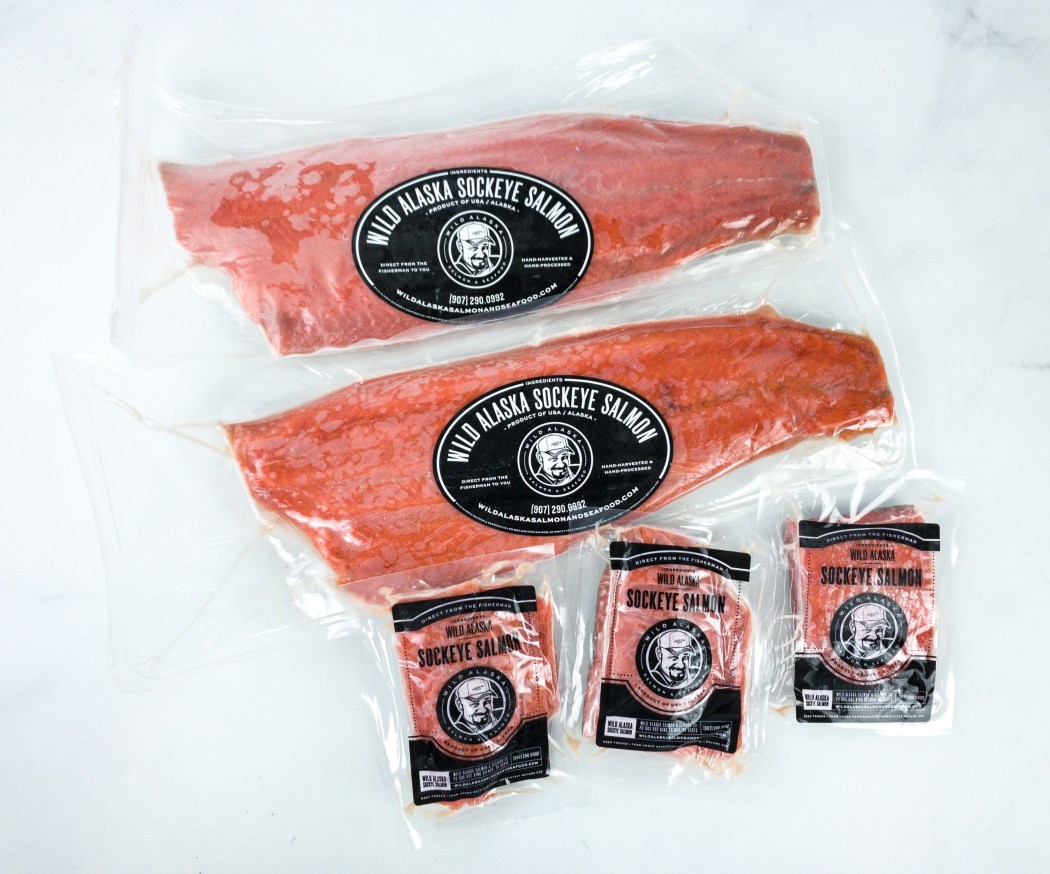 What you get: Moink is a subscription service offering the best, premium wild salmon you'll ever taste from Bristol Bay, Alaska. Aside from salmon, they also offer grass-fed and pastured meats such as beef & lamb, pork & chicken. All you have to do is choose one from their box offerings: Small, Small No Pork, Medium, and Medium No Pork, and then set your delivery frequency. Each box has default selections but you can customize it the way you want it! You'll get to taste premium meats and seafood while supporting family farms.
See more about this box at our Moink reviews!
Deal: Get $20 off your first box! Deal applies automatically, just visit and subscribe.
---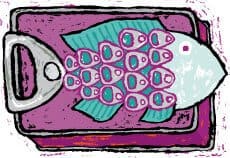 What you get: Zingerman's is a family of small food-related companies and entrepreneurial ventures. They have expanded their business online when they launched Zingerman's Mail Order. It is an online shop for foods, gifts, and more! They offer different food clubs with this platform. One of these clubs is the Zingerman's Frequent Fish Club. You'll get to taste the most glorious seafood they can offer. Whether it's in a tin, jar, or bottle, they'll send a couple of samples to keep your taste palate alive. From smoked salmon and trout to tinned tuna and sardines, these will keep coming to you every month.
Price: Price per quarter is $120.
---
What you get: Taste the best wild-caught American seafood in the comfort of your home. Sea to Table sends healthy – no antibiotics or hormones, delicious and sustainable seafood to your door. Every seafood they include in your box is perfectly portioned and frozen at peak freshness. You can choose from a wide variety of subscriptions they offer. They have Salmon Lover's Box, Alaskan Home Pack, The Kosher Kit, Grill Master's Kit, and more! Select the best subscription pack for you, set the frequency of your delivery, and wait as they prepare and ship your fresh seafood at your door.
---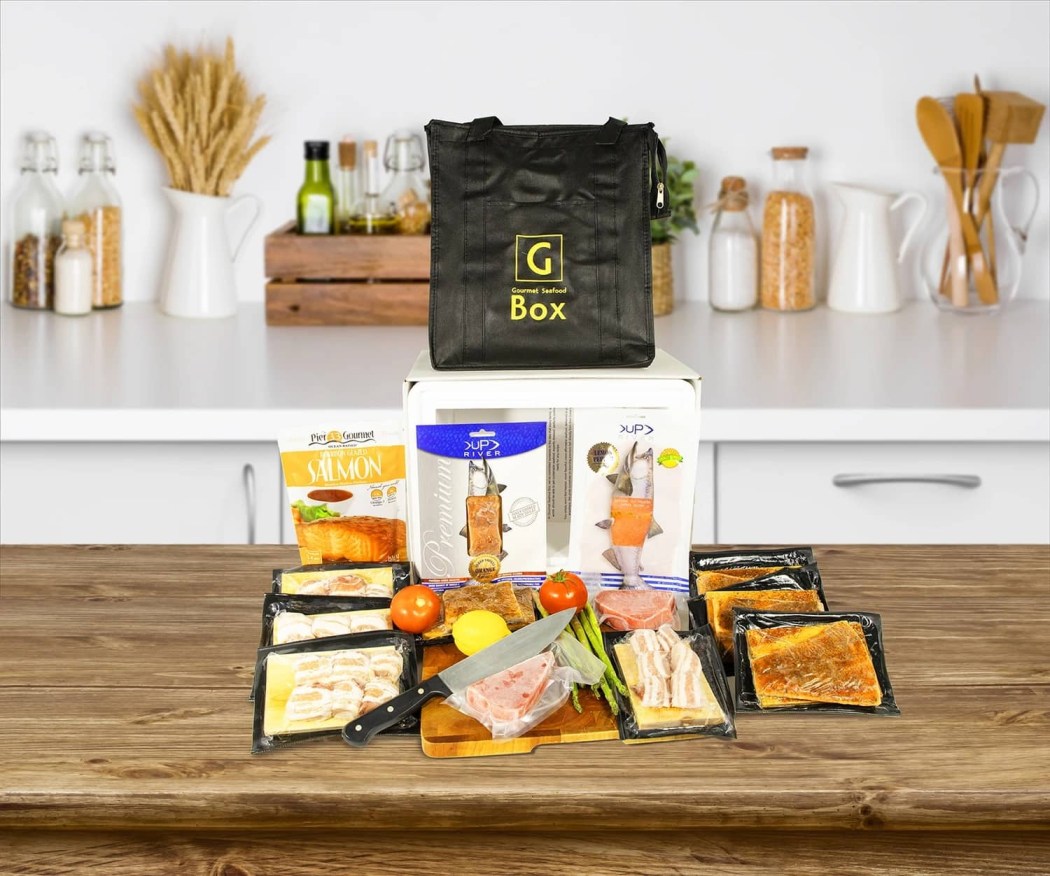 What you get: Receive the finest products available when you subscribe to Gourmet Seafood Box. They work with some of the finest fisheries and fishmongers to give you excellent products at an excellent price! You can save 15% on monthly orders when you subscribe and choose any of their boxes. The Sampler Box has 12 servings, Wild Box includes 14 servings, Combo Box contains 14 servings and Family Box which includes 18 servings. You can also choose your favorites and build your own box with a minimum of 12 items. Selections vary from tuna steaks, cold-smoked salmon to Bourbon-glazed salmon, and more!
---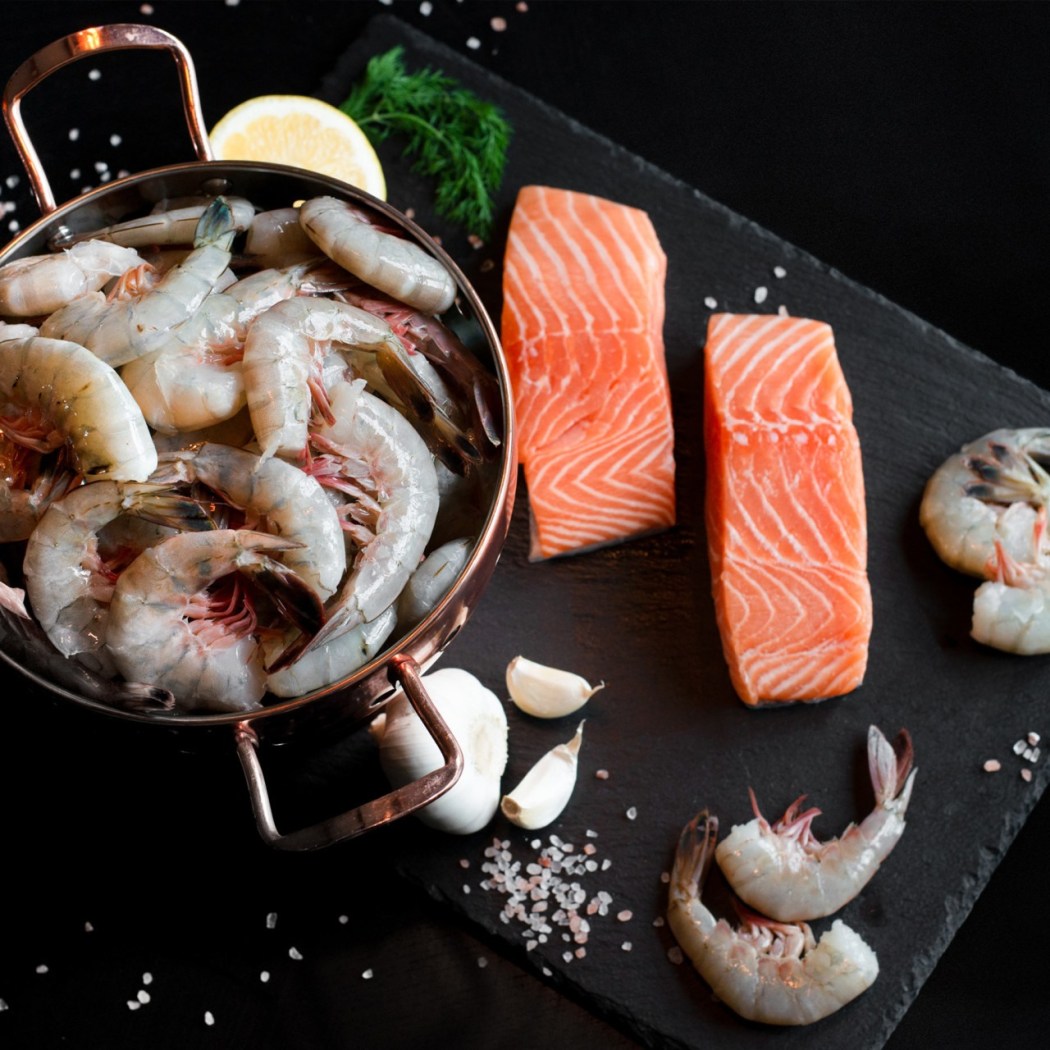 What you get: Discover plenty of fish in the sea with the help of Fulton Fish Drop. You'll receive super fresh, sustainably sourced seafood from the Fulton fish market, the largest and most diverse seafood market in the US. Choose a subscription box – Try 'Em All Box, Fulton Faves, Feelin' Mostly Shellfish, Just for Me & You. You can choose whether you like finfish only or a combination of finfish & shellfish, as well as set your delivery schedule! The seafood they offer is never frozen. They purchase the freshest seafood available, pack it in biodegradable and recyclable packaging with food-safe gel packs to keep them cold instead of freezing. If you want something more specific, you can also ask them to build a custom box just for you!
Deals:
---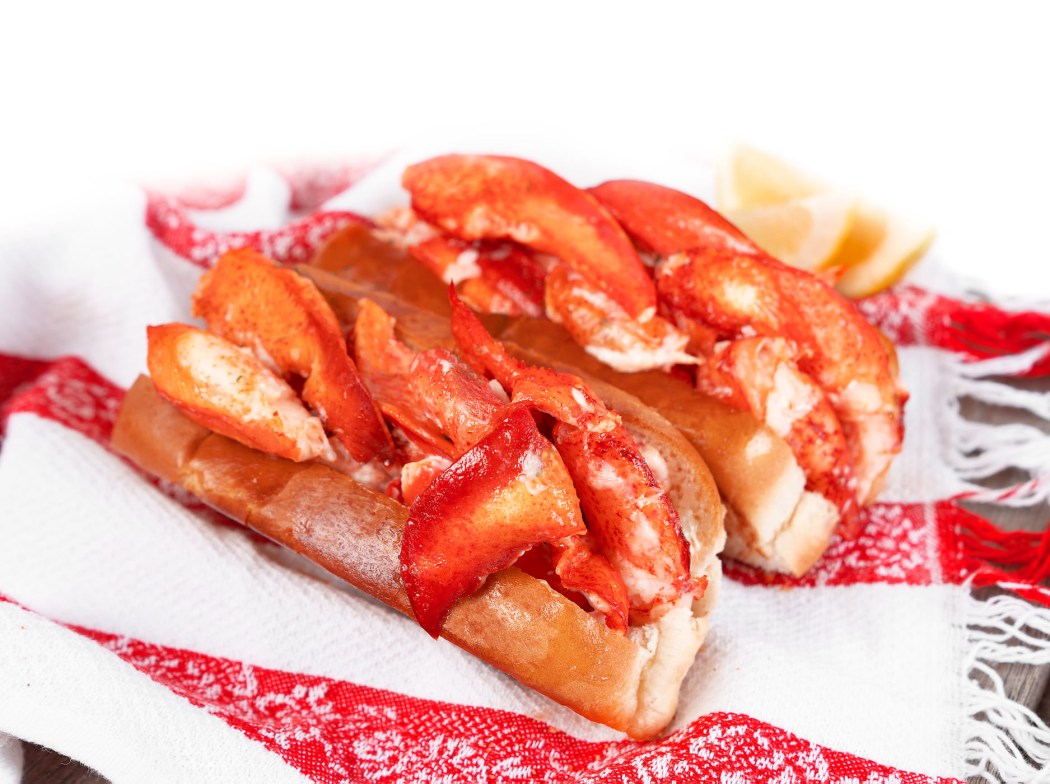 What you get: Get the best tasting, freshest Maine lobster at your door with Best Maine Lobster. You can purchase 'Meals, Feasts & Combos' such as lobster rolls, 'Specialties & Sides' like lobster pot pies, the best clam chowda, lobster mac & cheese, and more, or 'Just the Lobster' – lobster meat and lobster tails. These lobsters are sourced in Maine's cold waters and packed with lots of care.
---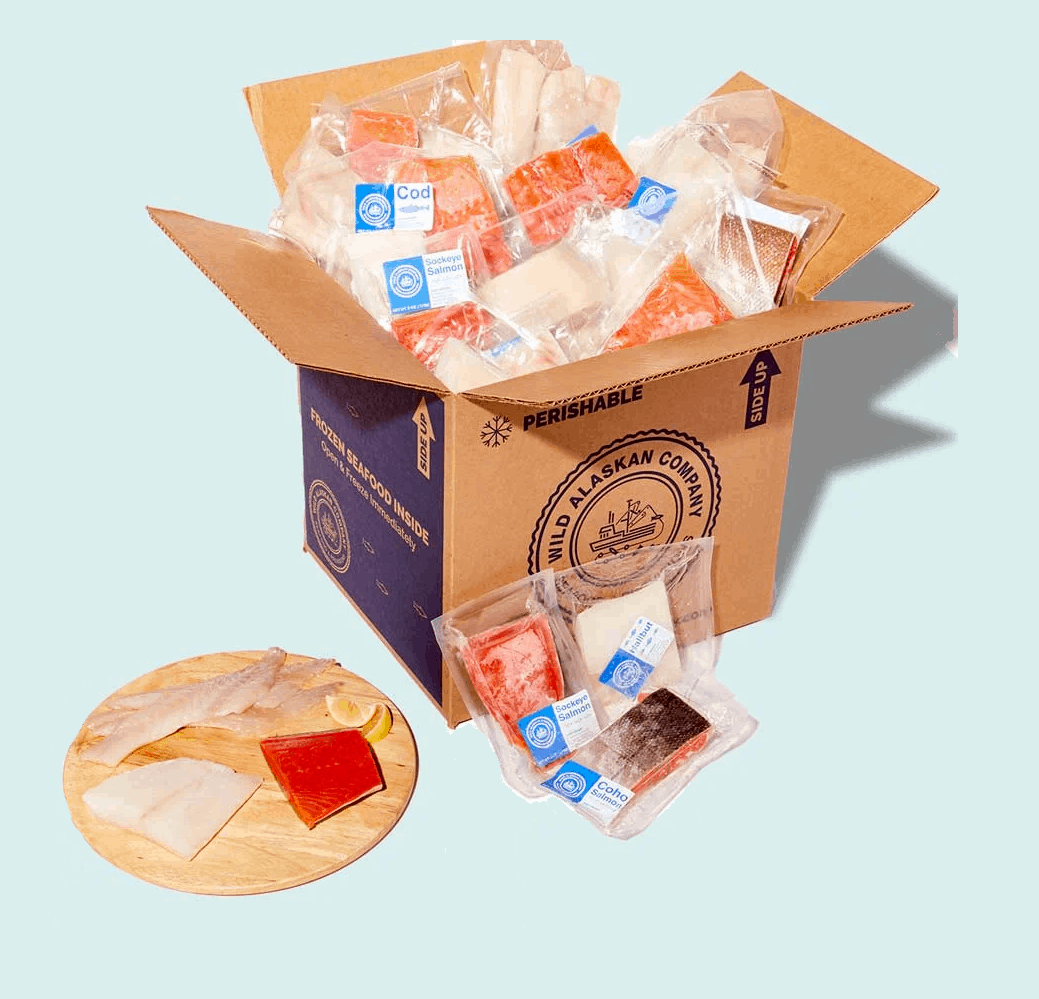 What you get: Wild Alaskan Company is a seafood membership that sends sustainably-sourced seafood straight at your doorstep every month. You'll get 12 or 24 packs of seafood based on your chosen plan. Every seafood they offer is wild-caught, which means never farmed or genetically modified. They also seal perfectly sized portions individually for convenient storage. Expect sockeye and coho when you choose the Wild Salmon Box, wild salmon & wild white fish when you pick the Wild Combo Box, or select Wild White Fish Box for halibut and cod.
Price: Pack of 12 $131.88 per month and Pack of 24 $239.76
Deal: Get $15 off your first order! Deal applies automatically, just visit and subscribe.
---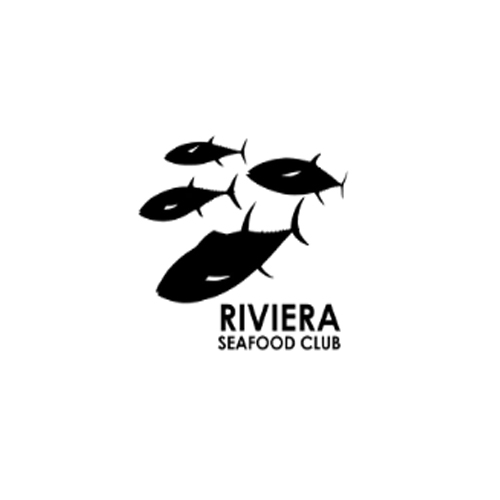 Making responsibly sourced protein accessible. Delivering quality experiences that bring people together, garunteed.
---
That concludes our list of the best seafood delivery services! Did you find the perfect subscription box for you?
Make sure to check out our list of all the best subscription boxes in every category!
Say Hello To More Food Delivery Subscription!