Indulging in seafood is a true delight for the senses. The delightful aroma and the burst of flavors that dance on your taste buds with each mouthful are simply irresistible! Beyond the delectable taste, seafood offers valuable protein and essential omega-3 fatty acids that contribute to a healthy body. However, sourcing fresh and high-quality seafood can sometimes be challenging, especially in certain areas. The limited options at local stores can leave you feeling frustrated. But fear not, because with subscriptions and delivery services, your seafood cravings are about to be satisfied without the hassles!
Show More (12 items)
Indulge in a wide array of mouthwatering options, from succulent Maine lobsters and flavorful Alaskan salmon to delectable cod, shrimp, scallops, crabs, and more. These fish subscriptions and seafood delivery services ensure that you have access to the freshest and healthiest seafood without the hassle. No need to venture to grocery stores or go out on the waters to satisfy your taste buds' desires.
Discover the ultimate seafood experience with our curated list of the best seafood delivery services. Explore the top destinations to buy seafood online, and let them bring the flavors of the sea directly to your doorstep!
The Best Fish & Seafood Delivery Services and Subscription Boxes!
Image from: Sizzlefish
What You Get: Expect pure natural fish knocking at your door each month with Sizzlefish. They want you to eat well and live better, as well as enjoy the heart-health benefits of fish in the most delicious form! This subscription gives you access to the highest quality, finest selection of natural and wild-caught fish and shellfish available. Pick and choose what kind of fish you'd like to receive from their box subscription options: Sizzlefish Wild Fish Favorites, Sizzlefish Prime, and Sizzlefish Prime Plus. With every box, you'll receive 14 perfectly sized cuts of fish that are vacuum-sealed per piece. Seafood choices include Sockeye Salmon, Coho Salmon, Red bass, Halibut, Rainbow trout, Atlantic cod, and more!
Deal: Get 10% off your first order! Use coupon code WELCOME10.
---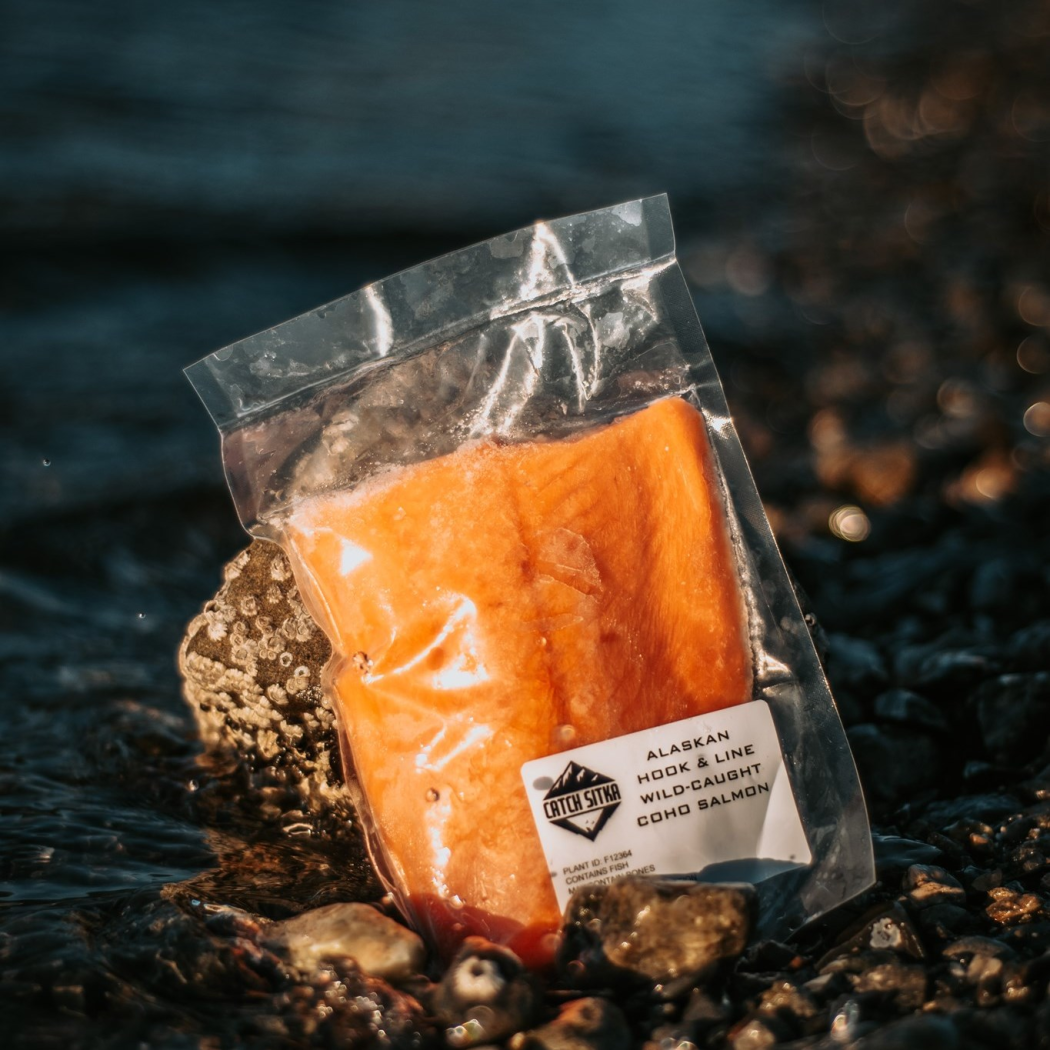 Image from: Catch Sitka
What You Get: With Catch Sitka, you'll have the freshest Alaskan seafood to serve on the table! This subscription offers curated boxes filled with seafood sourced directly from Alaskan fishermen who uses sustainable fishing practices. Fishes are wild-caught by hook and line, artisanally filleted, carefully portioned, and package blast-frozen to lock in freshness. Choose one of the seven curated boxes available and enjoy a meal you can feel good about from your taste buds down to your heart and tummy! The cooking guides and recipes are available on their website.
---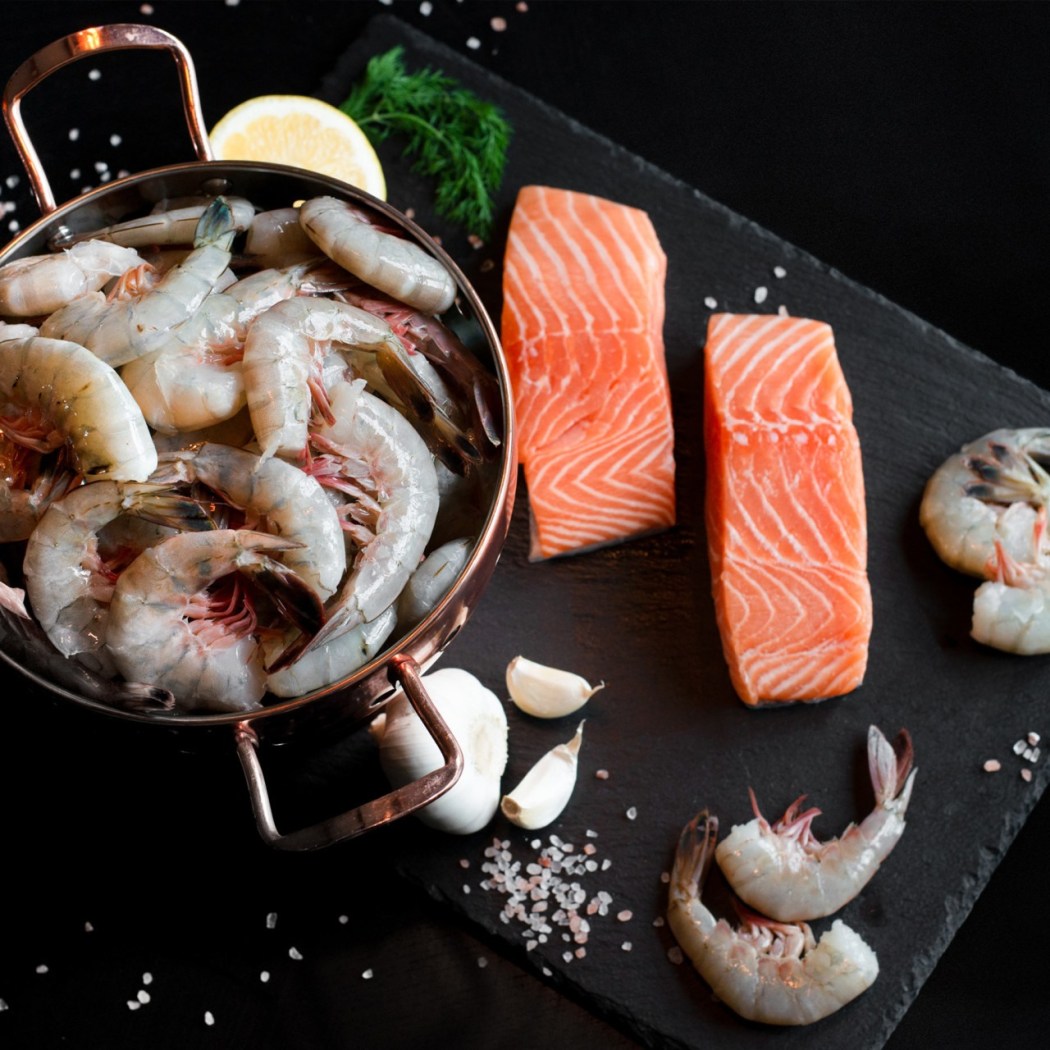 Image from: Fulton Fish Market
What You Get: Discover plenty of fish in the sea with the help of Fulton Fish Market. You'll receive super fresh, sustainably sourced seafood from the Fulton fish market, the largest and most diverse seafood market in the US. Choose a subscription box – Try 'Em All Box, Fulton Faves, Feelin' Mostly Shellfish, Just for Me & You. You can choose whether you like finfish only or a combination of finfish & shellfish, as well as set your delivery schedule! The seafood they offer is never frozen. They purchase the freshest seafood available, pack it in biodegradable and recyclable packaging with food-safe gel packs to keep them cold instead of freezing. If you want something more specific, you can also ask them to build a custom box just for you!
Deals:
Get 15% off your first box + FREE Shipping! Use coupon code FULTONFAN.
Save 15% on your first $150+ delivery from Fulton Fish Market! Use coupon code STOCKUP.
---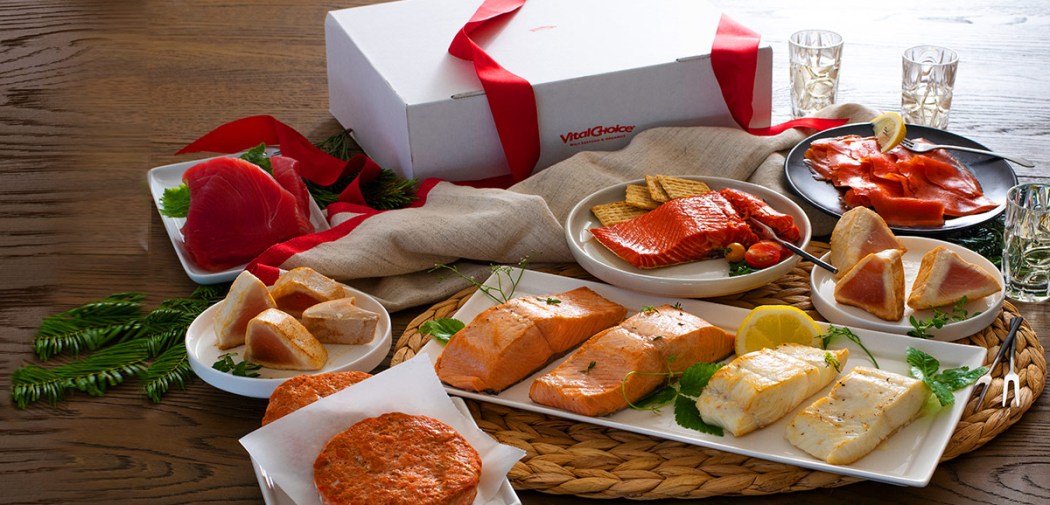 Image from: Vital Box by VitalChoice
What You Get: Please your taste buds with sustainably caught seafood from Vital Box by VitalChoice. They only offer wild-caught seafood – not farmed, so you're sure they're free from antibiotics, pesticides, and GMO feeds that are often used on fish farms. Most of their products contain little to no added salt and are naturally gluten-free, making it Paleo, Keto, and Atkins-friendly! Select a box that suits your liking: Wild Salmon Box contains 2-3 products each month and can make 10-14 servings, Wild Fish Box includes 4-5 varieties that can make 14-16 servings, and Wild Seafood Box (contains shellfish) has 6-7 varieties and can make 18-22 servings. These boxes will be shipped to your door, enclosed in an eco-friendly insulated box with dry ice to keep them fresh. What's good is that they donate a portion of their profits to planet-protecting programs.
---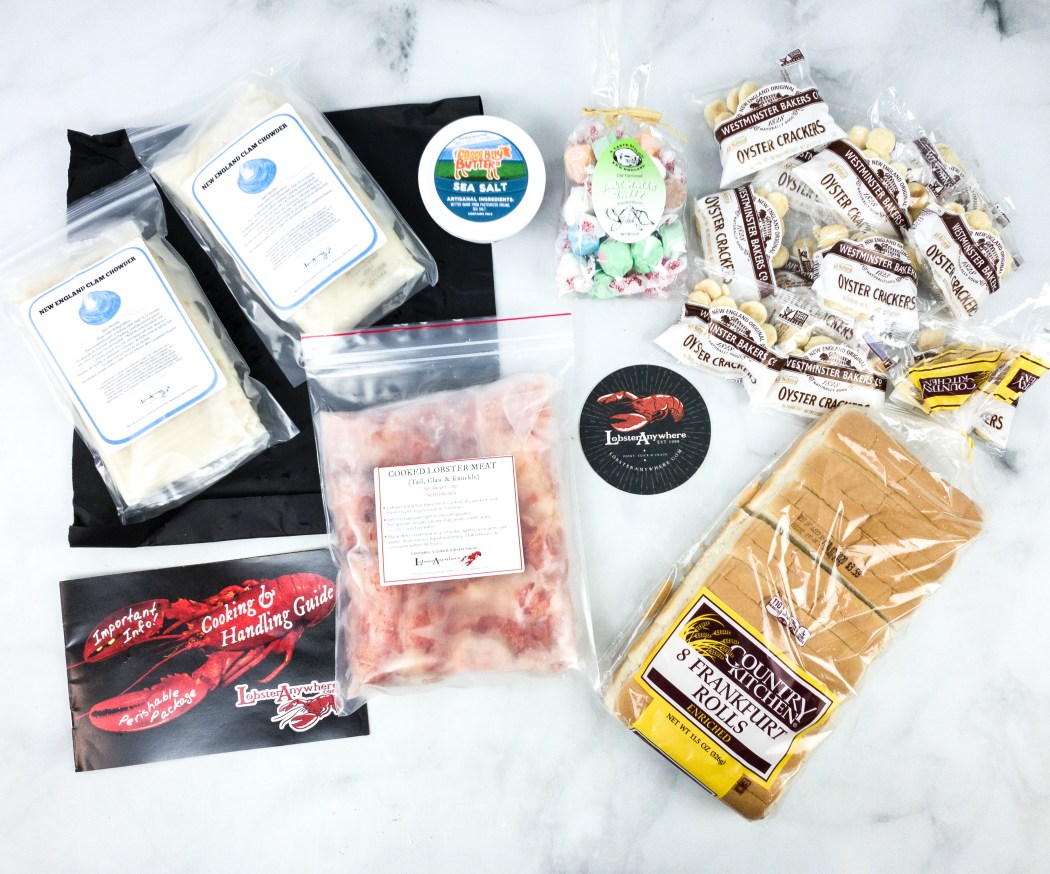 Image from: our review
What You Get: With Lobster Anywhere, you'll have Maine lobster to serve and eat anytime you wish so! Whether you want fresh and live lobsters, frozen, or cooked ones, they all have it here! Aside from lobsters, they also offer other seafood such as sea scallops & colossal shrimps, and even chowder, bisque & soups! These are harvested year-round from fisheries under rigorous sustainability regulations. You can also shop by category, so it's easy to find what you like! They'll deliver seafood on your chosen delivery schedule in a styrofoam box with dry ice inside to keep them fresh – totally hassle-free! It also comes with a cooking and handling guide.
---
Image from: The Maryland Box by Cameron's Seafood
What You Get: Give the protein your body needs with The Maryland Box by Cameron's Seafood, the largest fresh seafood retailer in the state of Maryland. You'll receive the highest-quality seafood sourced directly from the Chesapeake Bay with easy to follow reheating or cooking instructions for each item in your box. These are packed conveniently to fit in your freezer or fridge, so you'll say bye-bye to hassle! Choose from their 5 curated boxes featuring their premium selection of Maryland Blue Crabs, Crab Cakes, Alaskan Crab Legs, and more! And you can also set the date whenever you want it delivered to your door. You'll never have to worry about the freshness of every seafood because these are caught daily and shipped at peak freshness from Maryland to your door in less than 24 hours.
---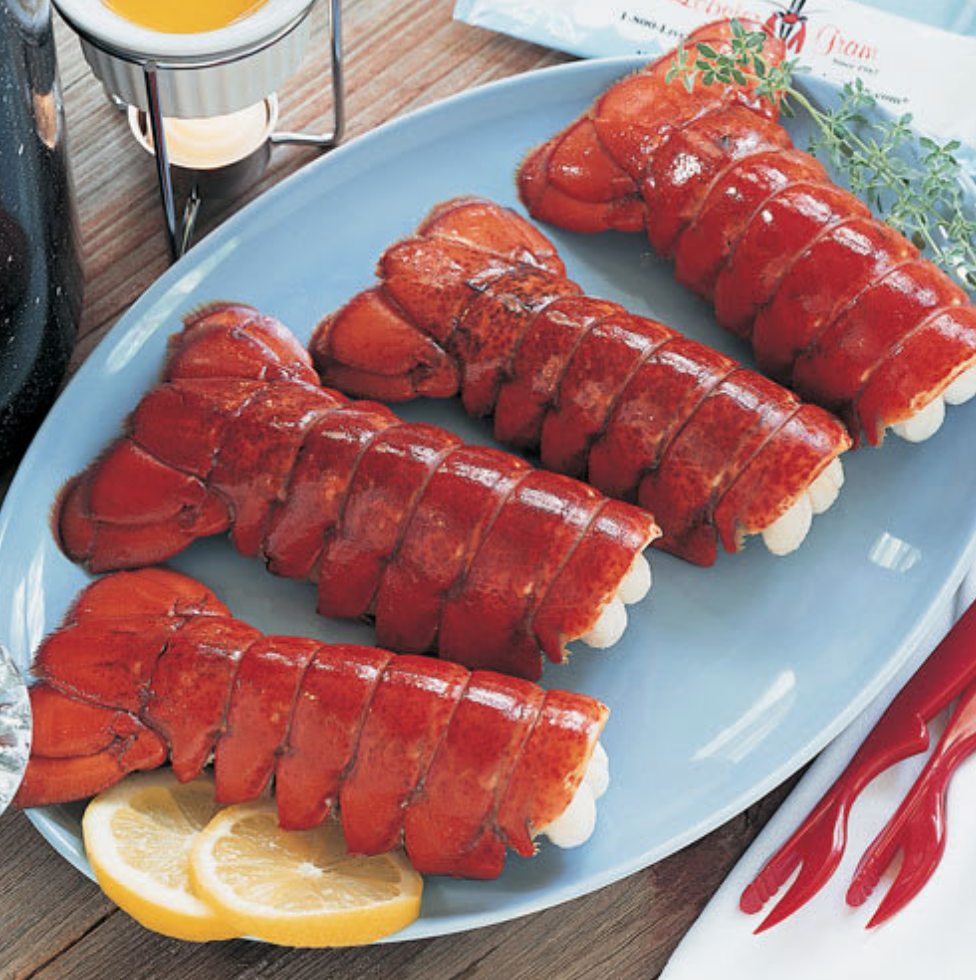 Image from: Amazing Clubs Lobster of the Month Club
What You Get: Serve your family and friends the best dishes with Amazing Clubs Lobster of the Month Club. They offer premium Maine Lobster tails that you can share and serve at the dining table. Every package carries four large and plump mouth-watering, delicious Maine lobster tails that weigh in an average of 7-8 ounces. Each shipment also includes an informative newsletter with fun lobster facts, details about the monthly selection, serving suggestions, and more. With this subscription, you'll get the freshest lobster tails whenever you want to!
---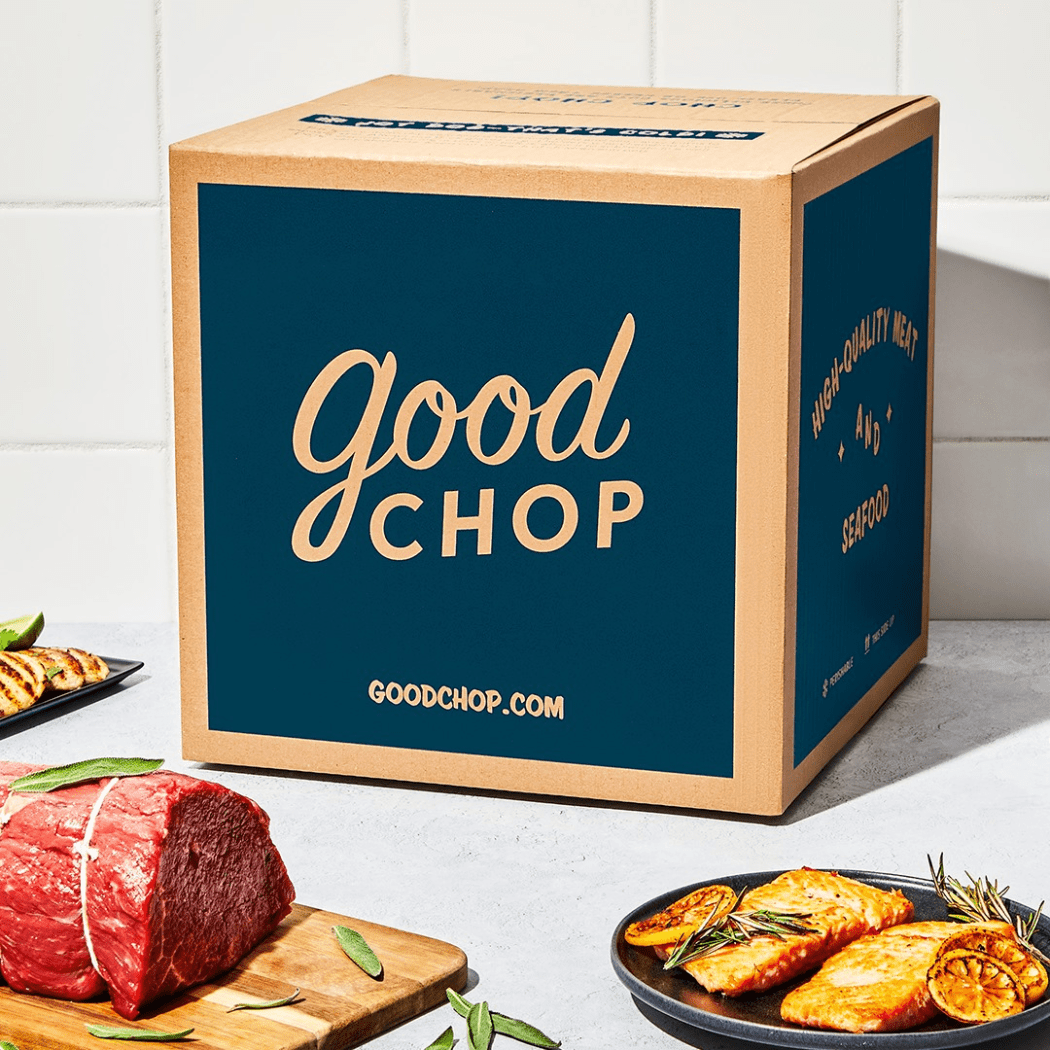 Image from: Good Chop
What You Get: Good Chop offers top-quality, sustainably-sourced seafood, great for your everyday meals or even for special occasions. They only send wild fishes caught off American coastlines and farm-raised seafood directly from US fisheries. These are also free from antibiotics, additives, or coloring. Plus, everything arrives to your door in an insulated, recyclable box, so they stay fresh and delicious. Some of the sumptuous seafood included in their menu are Alaskan sockeye salmon, rockfish, and Pacific cod. Aside from fish cuts, Good Chop also offers beef, chicken, and pork.
Deal: Get $100 off your first THREE boxes with a Medium or Large Box subscription plan - that's $50 off your first box, $30 off your second, and $20 off your third Use coupon code 3W-S6MVO and Use this link to subscribe.
---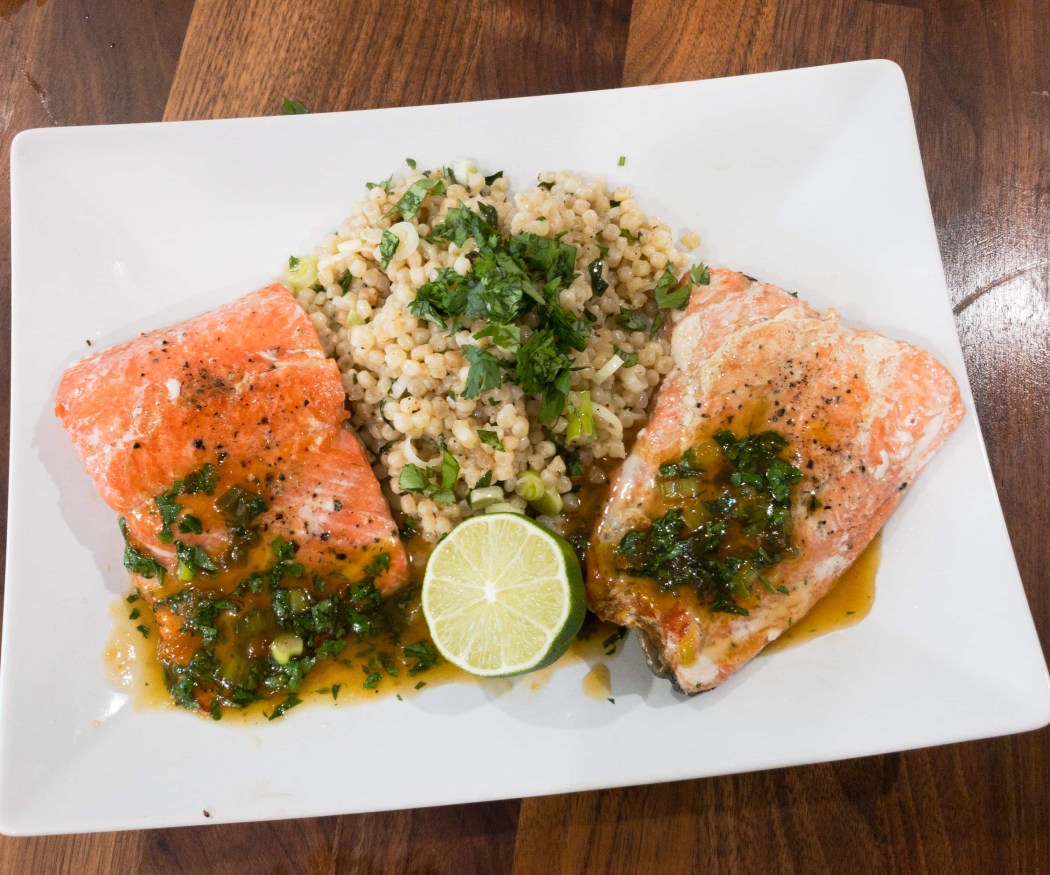 Image from: our review
What You Get: Explore many possibilities with every box from Butcher Box. Aside from organic, heritage breed, grass-fed meats, they also offer seafood such as salmon, scallops, lobster, cod, and halibut. The seafood they have is wild-caught and sustainably harvested, which means no added chemicals, no antibiotics, and no artificial coloring! They offer 5 package options: Mixed Box, Beef & Chicken, Beef & Pork, All beef, and Custom Box. You also have the option to choose your box size – classic (24-30 meals) or big box (48-60 meals). Every product is frozen in freshness, safely packaged, and delivered to you in an eco-friendly insulated box.
Deal: Check for the latest special offer for Butcher Box! Use this link to get the deal.
---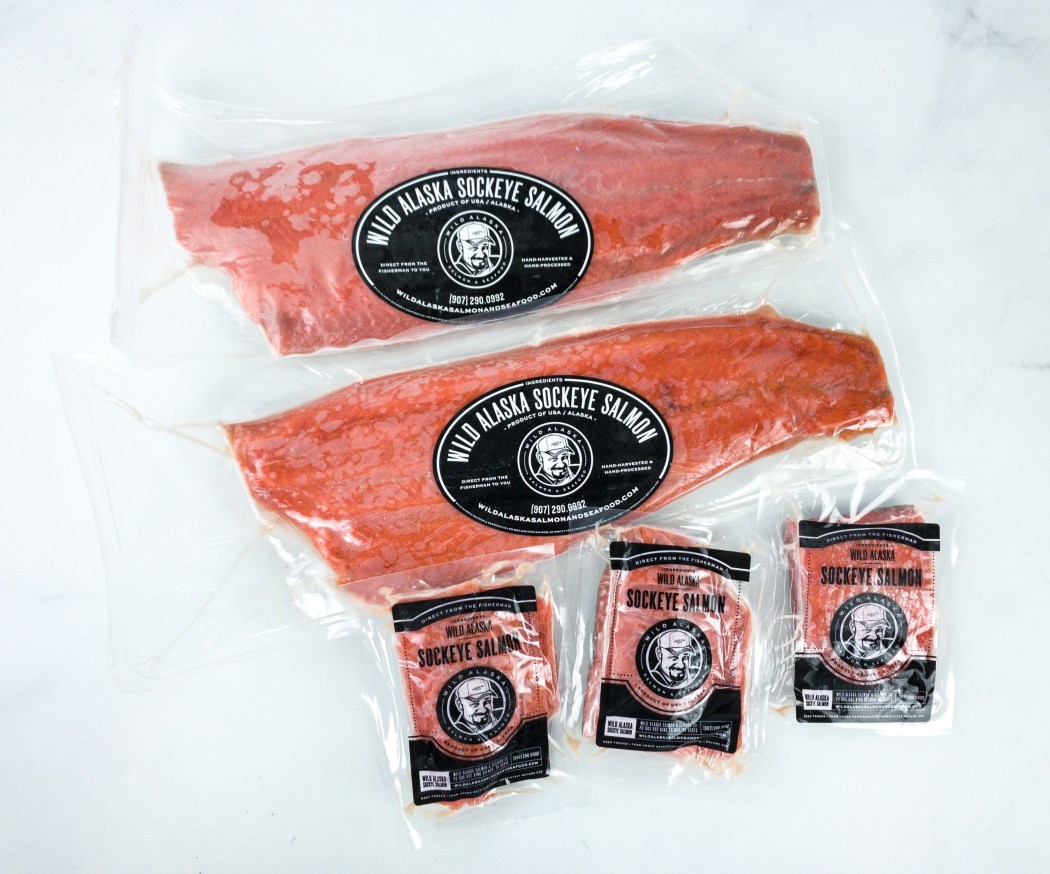 Image from: our review
What You Get: Moink is a subscription service offering the best, premium wild salmon you'll ever taste from Bristol Bay, Alaska. Aside from salmon, they also offer grass-fed and pastured meats such as beef & lamb, pork & chicken. All you have to do is choose one from their box offerings: Small, Small No Pork, Medium, and Medium No Pork, and then set your delivery frequency. Each box has default selections, but you can customize it the way you want it! You'll get to taste premium meats and seafood while supporting family farms.
Deal: Get $20 off your first box! Deal applies automatically, just visit and subscribe.
---
Image from: Sea to Table
What You Get: Taste the best wild-caught American seafood in the comfort of your home. Sea to Table sends healthy – no antibiotics or hormones, delicious and sustainable seafood to your door. Every seafood they include in your box is perfectly portioned and frozen at peak freshness. You can choose from a wide variety of subscriptions they offer. They have Salmon Lover's Box, Alaskan Home Pack, The Kosher Kit, Grill Master's Kit, and more! Select the best subscription pack you want the most, set the frequency of delivery, and wait as they prepare and ship your fresh seafood.
Deal: Get $20 off your first order! Use coupon code FIRSTORDER20. Plus, FREE Shipping!
---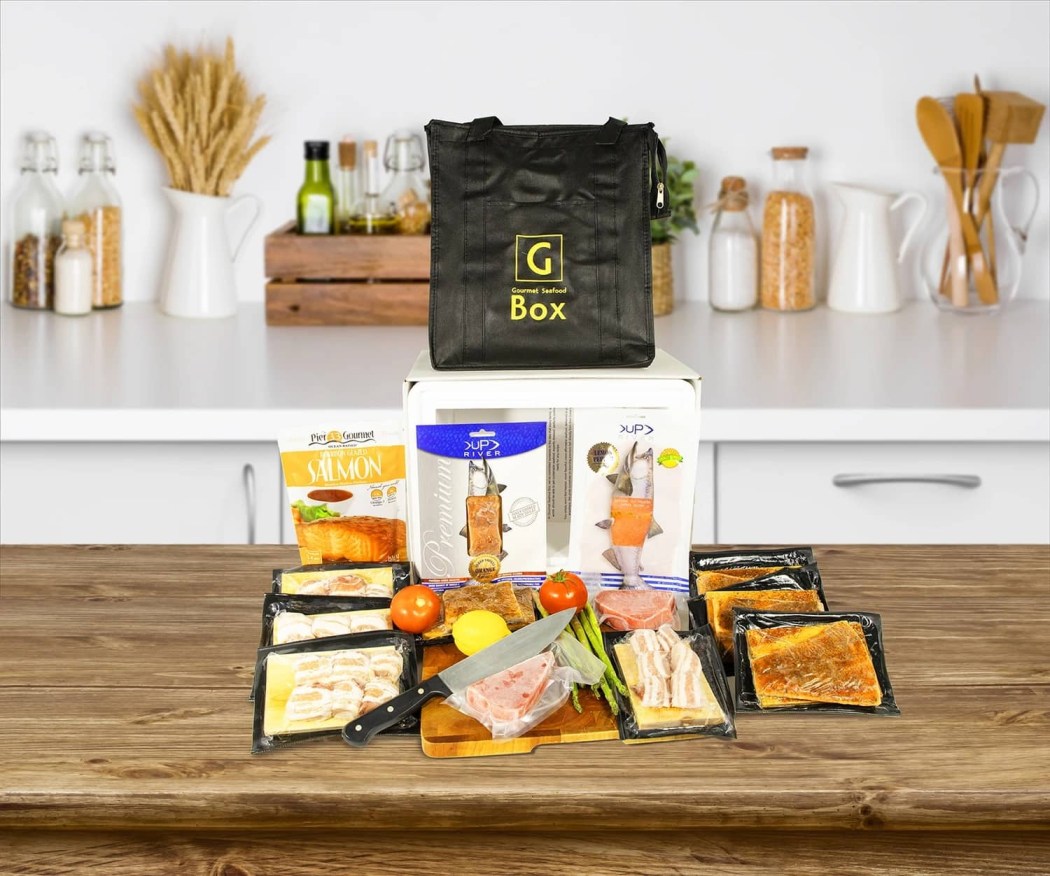 Image from: Gourmet Seafood Box
What You Get: Receive the finest products available when you subscribe to Gourmet Seafood Box. They work with some of the finest fisheries and fishmongers to give you excellent products at excellent prices! You can save 15% on monthly orders when you subscribe and choose any of their boxes. The Sampler Box has 12 servings, Wild Box includes 14 servings, Combo Box contains 14 servings, and Family Box, which includes 18 servings. You can also choose your favorites and build your own box with a minimum of 12 items. Selections vary from tuna steaks, cold-smoked salmon to Bourbon-glazed salmon, and more!
---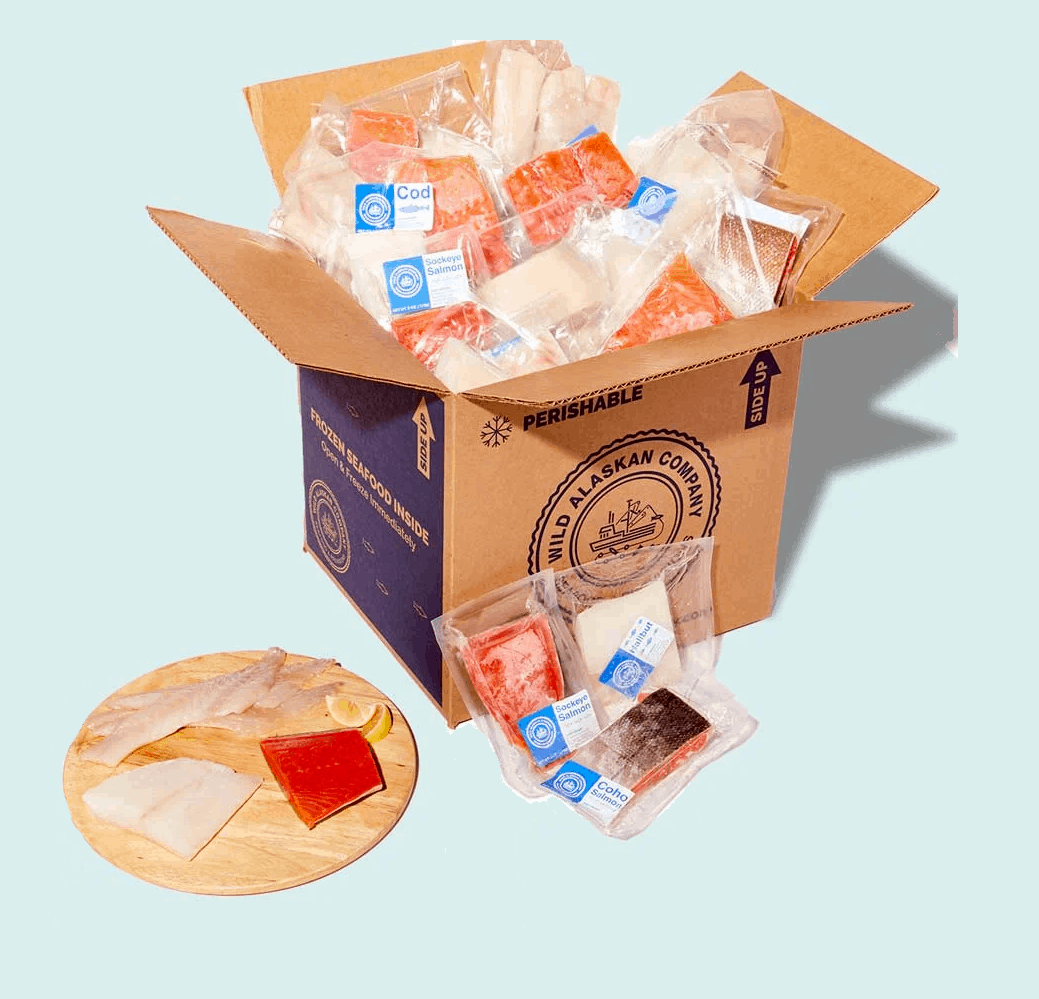 Image from: Wild Alaskan Company
What You Get: Wild Alaskan Company is a seafood membership that sends sustainably sourced seafood straight to your doorstep every month. You'll get 12 or 24 packs of seafood based on your chosen plan. Every seafood they offer is wild-caught, which means never farmed or genetically modified. They also seal perfectly sized portions individually for convenient storage. Expect sockeye and coho when you choose the Wild Salmon Box, wild salmon & wild white fish when you pick the Wild Combo Box, or select Wild White Fish Box for halibut and cod.
Deal: Get $15 off your first order! Deal applies automatically, just visit and subscribe.
---
Image from: Riviera Seafood Club
What You Get: With Riviera Seafood Club, you'll get a hold of responsibly sourced proteins you need for your body! This seafood delivery service bridges the gaps between the waters and your table, so you can easily access the freshest and tastiest seafood ever! They eliminate the process of seafood sitting in grocery stores, and that's why they deliver the seafood directly to you in their freshest state. Their high-quality seafood offerings include Bluefin Tuna, Salmon, Yellowtail, wild-caught uni, scallops, caviar, and a whole lot more unbelievably fresh seafood to enjoy!
---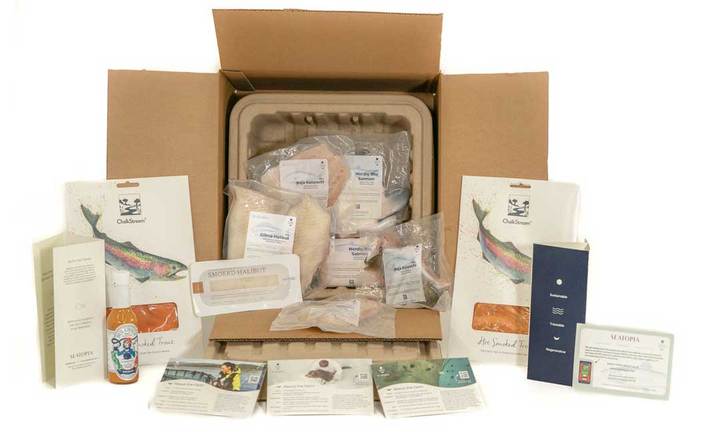 Image from: Seatopia
What You Get: Seatopia is a farm-to-table seafood delivery service that allows you to eat the freshest seafood available! All you have to do is choose one of their curated boxes: Individual Sampler Box (12 servings), Couples Box (18 servings), and Family Box, which has 24 servings. Each box they send out is filled with perfectly cut portions, blast frozen at peak freshness, and packed in compostable vacuum-sealed bags. It's delivered straight to your doorstep, enclosed in a compostable cooler with biodegradable gel packs. On top of it, 1% of sales is reinvested in conservation projects that protect the world's oceans. Fresh seafood with zero antibiotics, grown in clean flowing water!
---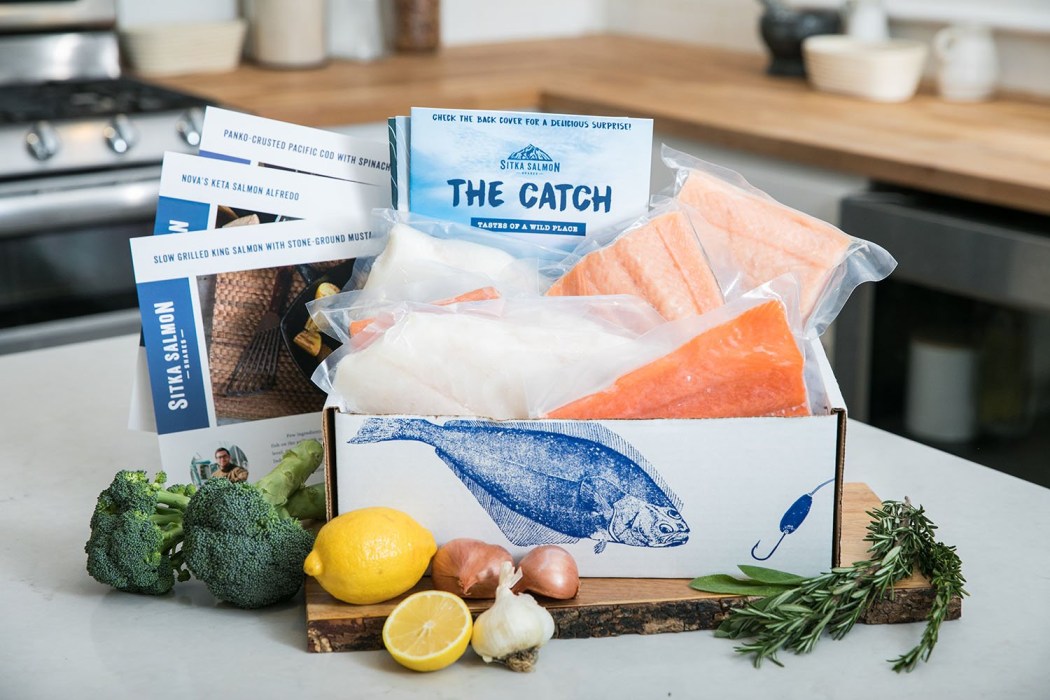 Image from: Sitka Salmon Shares
What You Get: Sourced directly from small-boat family fishermen in Southeast Alaska, Sitka Salmon Shares brings premium and responsibly sourced wild Alaskan seafood at your door. Fishes are freshly caught, filleted, and cut into portions, then blast-frozen and vacuum-sealed to keep them fresh. You can choose from 3 boxes they currently offer: Premium Sitka Seafood Share, which has the best value and may include king salmon, Bairdi crab, and albacore tuna; Seafood Subscription Box, which includes at least 4.5 lbs of wild-caught Alaska salmon and whitefish; and Salmon Subscription Box, which includes at least 4.5 lbs of wild-caught Alaskan salmon. You can also order the Premium Sitka Seafood Share without shellfish if you want to. As a member, you can unlock priority access to special sales throughout the year, receive invites to events, cooking classes, and more!
---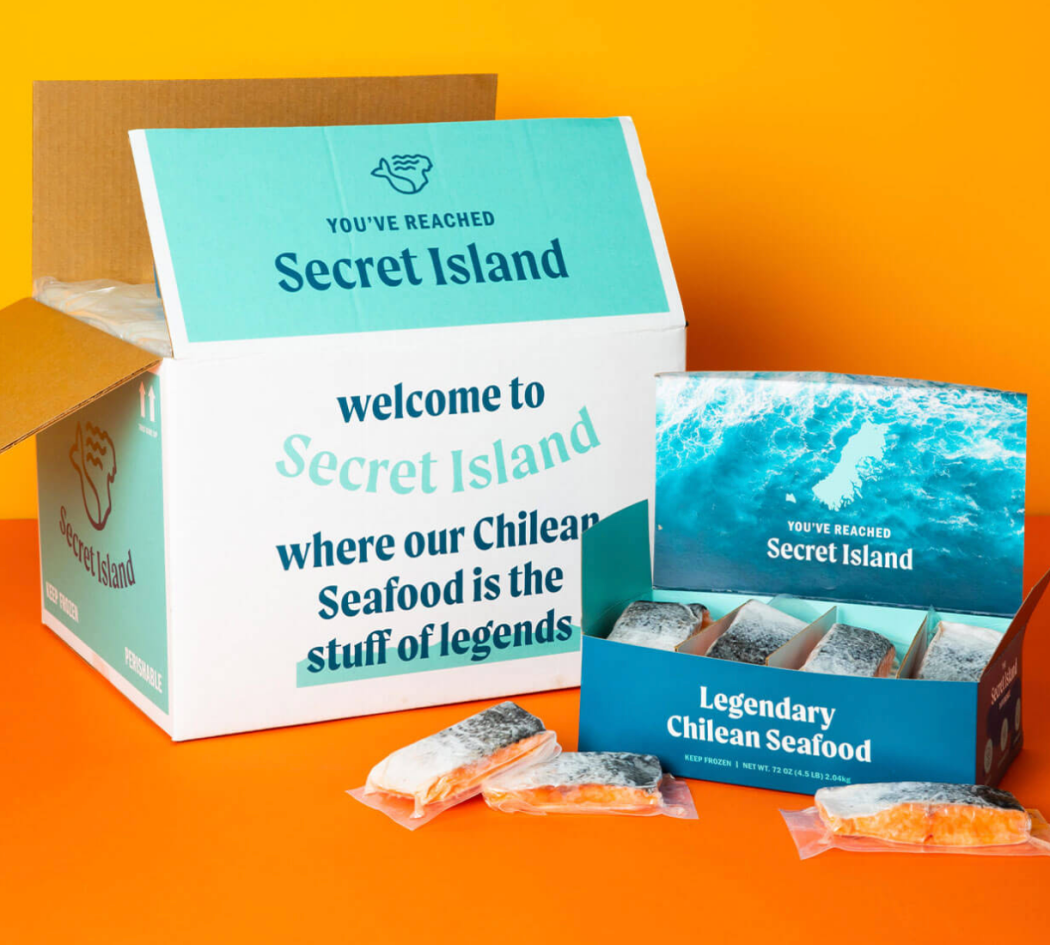 Image from: Secret Island
What You Get: Satisfying your seafood cravings and treating your taste buds has never been easier with Secret Island subscription service. With just a few clicks, you can have the most flavorful Chilean salmon delivered straight to your door. From delectable smoked salmon to expertly portioned fillets and beyond, this service offers a wide range of options to meet all your seafood needs. They offer options for bi-weekly or monthly deliveries, so you can enjoy delicious salmon whenever you want. The salmon will be delivered frozen and conveniently packaged, allowing for easy storage in your freezer until you're ready to cook it.
---
Image from: KnowSeafood
KnowSeafood is an online seafood market that offers sustainable, natural, and trusted seafood. They provide curated box sets or the option to create your own selection. All seafood is deep-frozen, maintaining its freshness. Choose from various box sets like KnowBuddies, Pesca Paleo, Sushi/Sashimi, or Brain & Body, each offering different servings and seafood types. Alternatively, you can build your own box from a wide selection. With mouthwatering recipes and a commitment to quality, KnowSeafood is the perfect destination for seafood enthusiasts looking for a convenient and delightful experience.
---
And that is our list of the best fish subscriptions and seafood delivery services!
Be sure to check out our list of all the best subscription boxes in every category!