Makeup subscription boxes have been increasingly popular in recent times, giving makeup enthusiasts a chance to expand their stash and for newbies to experiment with different makeup looks without spending a fortune. From product quality to variety to value for money, there's just so much to love about makeup subscriptions! Imagine receiving stunning makeup palettes, lipsticks in pretty colors and finishes, and the best makeup tools – it's every makeup lover's dream come true, packed in a box.
Some makeup boxes include drugstore brands in their curations, while others focus on high-end luxury products. There are also makeup subscriptions for those who would like to focus on vegan makeup and eco-conscious brands. If you want to get your hands on makeup without the hassle, consider a makeup subscription box!
We asked our readers to vote for their favorite makeup subscription boxes, and here's the list of the top picks chosen to be included in this year's best makeup subscription boxes!
Top 17 Makeup Boxes – Your Choice!
Our readers voted on the best makeup subscription boxes, here are their selections:
Image from: our review
I love getting makeup picked for me in the mail, I rarely have to go to the beauty store anymore because they are so well rounded, and that saves me money! – Luci

So many high end products at a discounted price. I love we get varieties of products. – michelle03509

It's all about the palettes and the full size goodies! How do they put so much in the box?!?!? – KellyK

Received some nice palettes! – Lisimoomoo

BOXY kills it in the beauty boxes.  Every month they also a have at least one name brand item.  That item is almost worth or over the cost of the box.  They give you enough products every month to do a full face of makeup.  BOXY has a mix of skin care and makeup.  This is an amazing box if you are new to makeup.  You can try out brands and products you would not normally buy. -Prettypony
What You Get: Packed with 4 to 5 full-sized items each month, BOXYCHARM is great value for your money! Each box is curated by their beauty experts to ensure that you receive the hottest styles and products. They send a nice selection of beauty and skincare products, as well as hair care, nail care, and fragrances. You get a complete package without paying the full price! It's a good box for beginners or professionals, as well as those who love to experiment with beauty products.
Check out past box contents by looking at BOXYCHARM Reviews!
Price: The monthly subscription costs $27.99 per month. They also offer 3, 6, and 12-month prepaid options for more savings.
Deal: Get a FREE Gift with Boxycharm - enter code on site! Deal applies automatically, just visit and subscribe.
---
Image from: our review
This is THE entry subscription for anyone who wants to start their box journey with beauty products. – Karissa

My first ever subscription and I still consider it the gold standard for beauty boxes. I have discovered so many favorites from this box. The price point can't be beat and I love the fact that I can choose one of my products and add extras if I want. – MaryA

I always find a new brand that I have never heard, love the variety, Ipsy is my favorite! -May

If you have your profile set correctly you do actually get makeup
What You Get: You can never go wrong with an Ipsy subscription! It contains deluxe samples and full-sized beauty products that you get for only a fraction of the price compared to buying them at retail. What's great is that they also include a cute pouch each shipment to store your monthly loot! There's a Beauty Quiz you need to fill out when signing up, which will help them determine which products suit you best.
Learn more by checking out the Ipsy Reviews!
p.s. If you're surprised that Ipsy won the Beauty Category and Boxycharm won the Makeup Category, so were we! We verified this order multiple times and certainly expected the opposite result!
Price: The subscription costs $13 per month or less for longer subscription plans.
---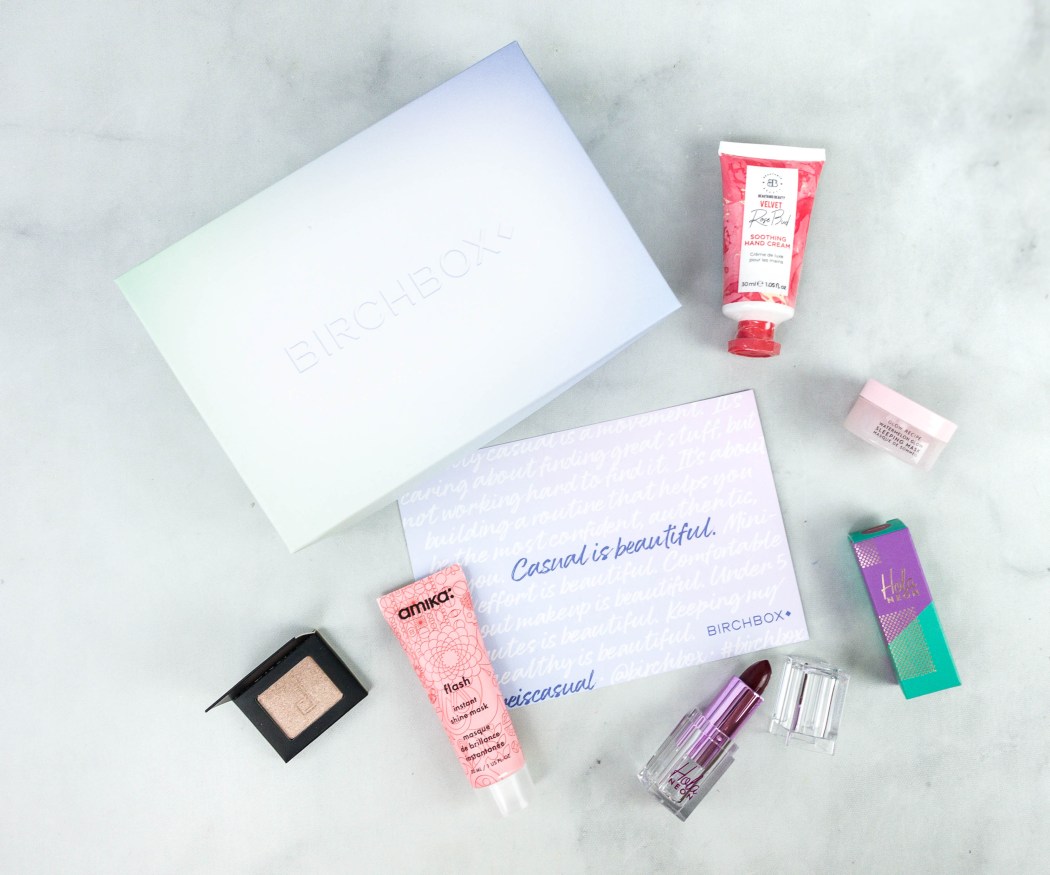 Image from: our review
I really like the ability to select my box! Since they raised the prices I think the value is really there and the brands are hot. Wearing my gold flake smith & cult polish right now! – Leny

Sooo many HG items from this box!!! – MikkiK [ed note – HG = "holy grail"!]

Nice trial size products so you can see what you like. – Mal1994
What You Get: Birchbox is a great discovery box that sends out five deluxe-sized samples of beauty products from makeup to skincare to even haircare! Boxes are tailored to subscribers' beauty profiles, and they're likely to receive products they can add to their beauty routines. They also send a full-sized product every once in a while, so it's too great of a deal to pass up! Some of the brands they've featured include Sunday Riley, MAC, Benefit, DOUCCE, and more.
To know more, visit the Birchbox Reviews!
Price: Each monthly box is $15, with minimal savings for a 6-month and 12-month plan.
Deals:
---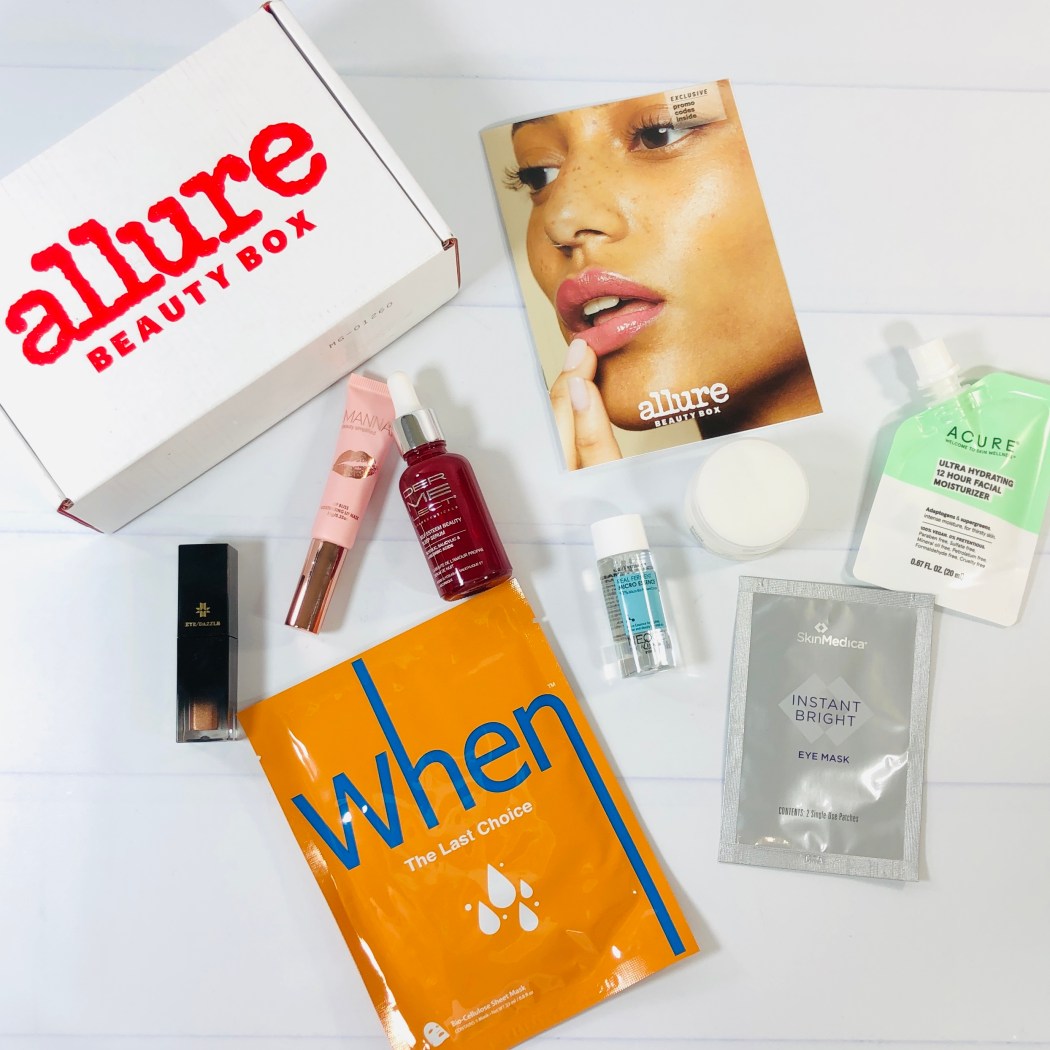 Image from: our review
Such a great variety and value every month. – Debbie

Really like their product variety and value of the samples. – Janice_92

I think that Allure is at the sweet spot for all beauty boxes – mix of samples and full sizes, good amount of skin care AND makeup items, and not too many beauty tools. Fave.  – Meagan P.

Full size products, great selection, matches my personalization quiz
What You Get: Allure Beauty Box treats every beauty enthusiast with expert-approved beauty products from both luxury and indie brands with up to $100 in value every month. Each box includes six or more top-trending makeup and beauty items (with at least three full-sized). Sometimes, they include a bonus product or two from a mass brand as a gift! There's also a mini-magazine with tips and product reviews, as well as exclusive offers.
Check out the Allure Beauty Box Reviews to know more!
Price: Subscriptions start at $23 per month, with FREE Gifts for 1-year subscriptions. Free shipping!
Deal: Get a FREE new member bonus item with your first box! Deal applies automatically, just visit and subscribe.
---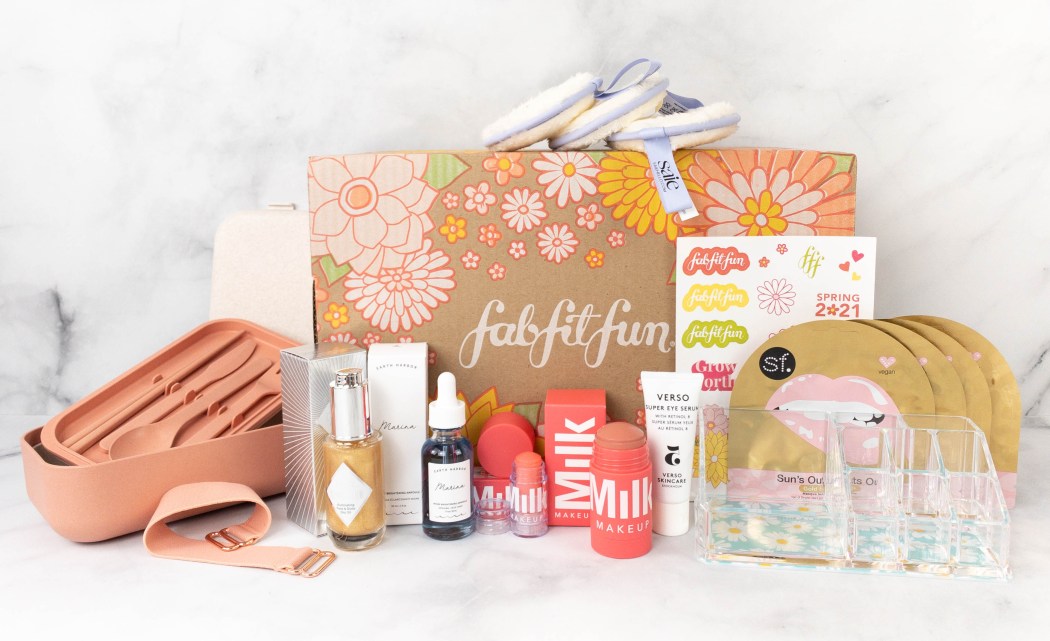 Image from: our review
Excellent variety of products and it's so nice to be able to pick a few of the items as well as have surprises. – Mrs OB

Good selection of full-size product, many products are natural, cruelty- free and from women owned businesses – Statue86

I look forward to my FabFitFun box every season! I have tried so many products that I wouldn't have tried. Also, a huge bonus is the products are full size! I also love shopping the edit sales and getting my favorite products up to 80% off. Definitely worth the subscription price. – Jessica W
What You Get: This VIP subscription sends out products that will help you feel good inside and out, and of course, that includes makeup! From luxurious palettes to makeup tools, you can use the choice process to get something to help you create beautiful looks for all occasions. FabFitFun boxes are curated quarterly, and you're also likely to get makeup products that match the current season's trends!
See the FabFitFun Reviews for more information!
Deal: Take $10 off your first box. Use coupon code FAB10.
---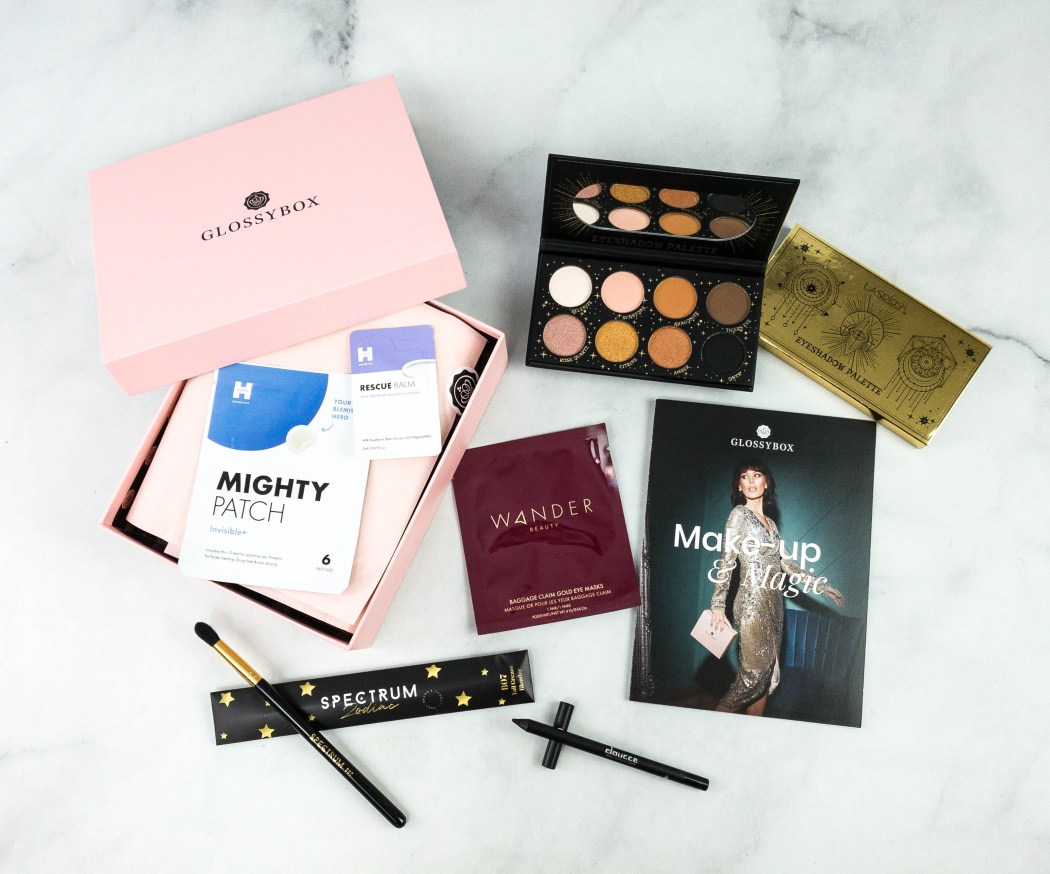 Image from: our review
Good products, lots from U.K. and Europe – keeps things interesting! – Judi

I think Glossybox is always nice for a gift because the box is fancy. – Trst

Feeling like glossy always Keeps it real with the right price and product mix. Makeup but not too much, hair but not too much. Skincare – not too much! – Charlotte
What You Get: GLOSSYBOX sends the perfect deluxe travel-sized products in one box every month, making things more exciting for every beauty enthusiast. Upon sign up, subscribers fill out a Beauty Profile with questions about their beauty preferences and even their skin and hair type. Each box is hand-curated by their in-house beauty experts, and it contains five beauty samples, including cosmetics, skincare, and hair care products from high-end and niche brands. This subscription is a great way to discover new products that will work for you!
Learn more by visiting the GLOSSYBOX Reviews!
Price: The subscription is priced at $21 per month, with savings for longer plans.
Deal: See special savings on your subscription - just enter code on site! Deal applies automatically, just visit and subscribe.
---
Image from: our review
What You Get: Look Fantastic Beauty Box is by far the most convenient way to keep up with the latest UK beauty trends! Each box contains a curated collection of 6+ hand-picked beauty products, including cosmetics, haircare, and skincare. Get this box for even less on an annual subscription but still pay monthly, which is a great deal considering the high-end goodies! Previously featured UK brands include Eve Lom, Korres, Philip Kingsley, and Molton Brown.
Navigate through all our Look Fantastic Beauty Box Reviews to find out more!
Price: The subscription costs $19 per month. Free shipping to the UK & US. FYI – you can sign up for an annual subscription to drop the price, but your payments will be drawn monthly!
Deal: Get your first box for $10 on a 3+ month subscription! Use coupon code TREATBB.
---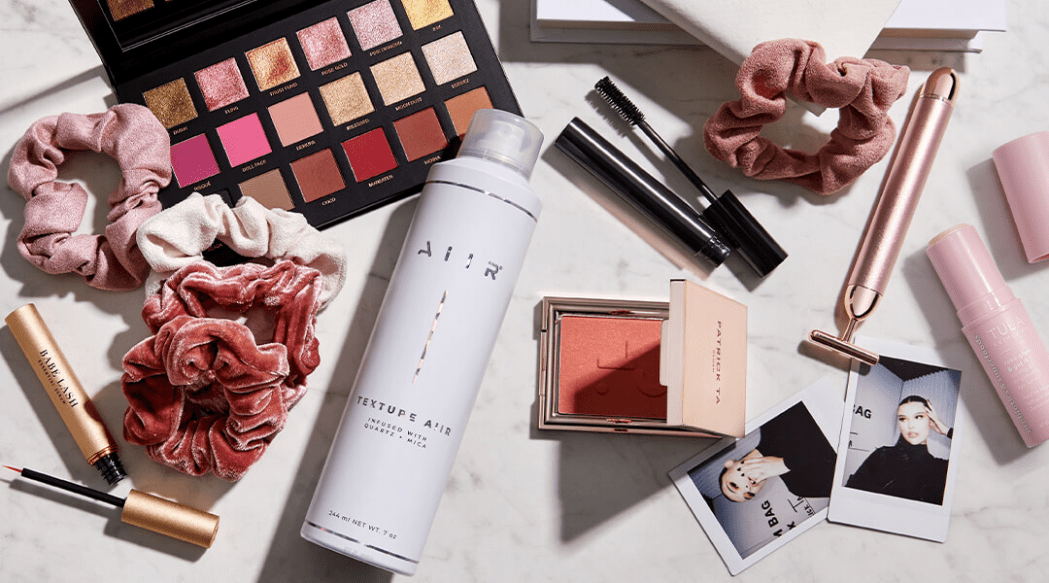 Image from: Ipsy Glambag X
Love that it's quarterly and can't wait to get it. It makes the premium goodies affordable without overload and I will get my monthly Glam bag in between drops – Lulu
What You Get: Ipsy Glam Bag X  is one of the hottest beauty box favorites! It is a quarterly upgrade to the already fun Ipsy Glam Bag and Glam Bag Plus. It replaces your monthly bag every three months, and it's packed with 7-8 full-size products from the best-loved brands, put together by a mega celeb! Subscribers can pick three items from a personalized assortment to include in their beauty stash, including exclusive products you won't find elsewhere, and the rest are curator picks!
See our Ipsy Glam Bag X reviews to find out more!
Price: Glam Bag X is available as a quarterly upgrade for Glam Bag and Glam Bag Plus members for $55 per quarter (including the cost of the bag it replaces – an upcharge of $27 for Glam Bag Plus and $42 for Glam Bag).
---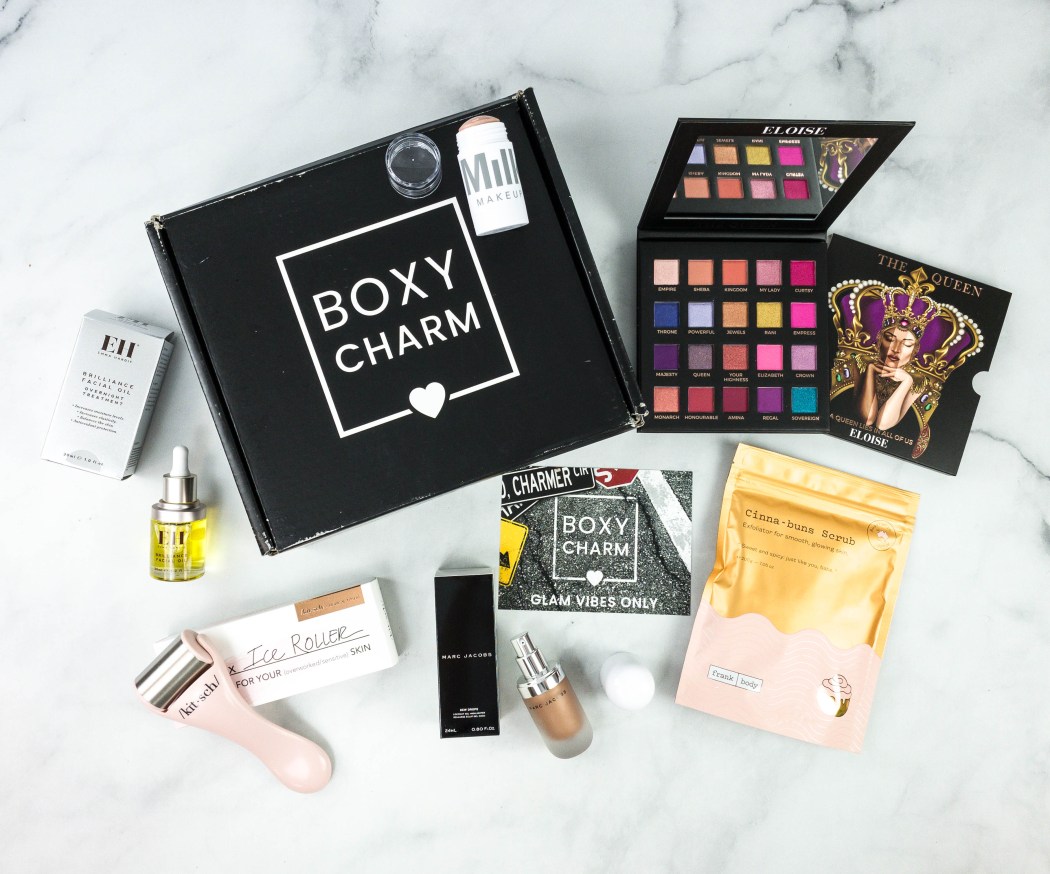 Image from: our review
It's the best value full size products – Bamagirl

I can never get enough! -Jourdin L
What You Get: BOXYCHARM Premium is an upgraded version of our favorite BOXYCHARM, so why wouldn't we love it? Each month, you'll receive six full-size premium beauty products from well-known and emerging brands, including two products of your choice. The promised retail value in every box is $175+, and they ensure that you won't get any product overlaps!
See all the past box contents on the BOXYCHARM Premium Reviews!
Price: The BoxyCharm Premium costs $39.99 per month.
---
Image from: our review
What You Get: LiveGlam Club is your one-stop glam shop! This subscription offers skin-loving beauty finds, including your favorite lippies, dashing beauty palettes, makeup tools, and more. Every month, they release new themed collections that you'll love from the get-go. Boxes have a guaranteed retail value of $30, which is almost double the price of the subscription. Plus, everything is shipped straight to your door, hassle-free!
P.S. It is a new subscription that combines all three LiveGlam clubs for the price of one! Hello Subscription readers are so excited they voted it on the list!
See all LiveGlam Club Reviews for more details!
Price: Get the subscription for $21.99 a month. Save more on longer plans!
Deals:
---
Image from: our review
What You Get: Packed with all the goodness inside, Kinder Beauty Box is your destination when it comes to clean beauty products. This subscription focuses on giving solutions to skin woes by sending up to $165 worth of hand-picked vegan and cruelty-free products ranging from makeup, skincare, haircare, and accessories every month! Each box includes at least two full-sized products to make sure you have enough for the entire month. Some of the brands they feature are Andalou Naturals, 100% Pure, INIKA Organics, Franklin & Whitman, and more.
Check out Kinder Beauty Box Reviews for more details!
Price: The subscription is $26 per month, and the price drops to $23 for a 6-month plan.
Deal: Get $5 off your first box! Use coupon code HELLO5.
---
Image from: our review
Boxyluxe upgrade means that you are also subscribing to boxy, but you get the extra high end stuff once per quarter. I think this prevents overload. With both of these I can also regift because it's all full size. – Vicky
What You Get: Boxycharm Luxe is an upgrade from the already awesome BOXYCHARM! It can be added to your existing subscription, and you'll get a big box filled with makeup, beauty, and even lifestyle items quarterly in place of your Boxycharm Classic box. They also give you the option to choose two items to include in your Luxe upgrade. In the months in between, you'll still be getting the regular box as your monthly splurge!
Hop on over to the Boxycharm Luxe Reviews for more information!
Price: The box costs $59.99, where the quarterly upgrade is charged with an additional $34.99 (plus the regular price of $25) on your existing box once per quarter.
---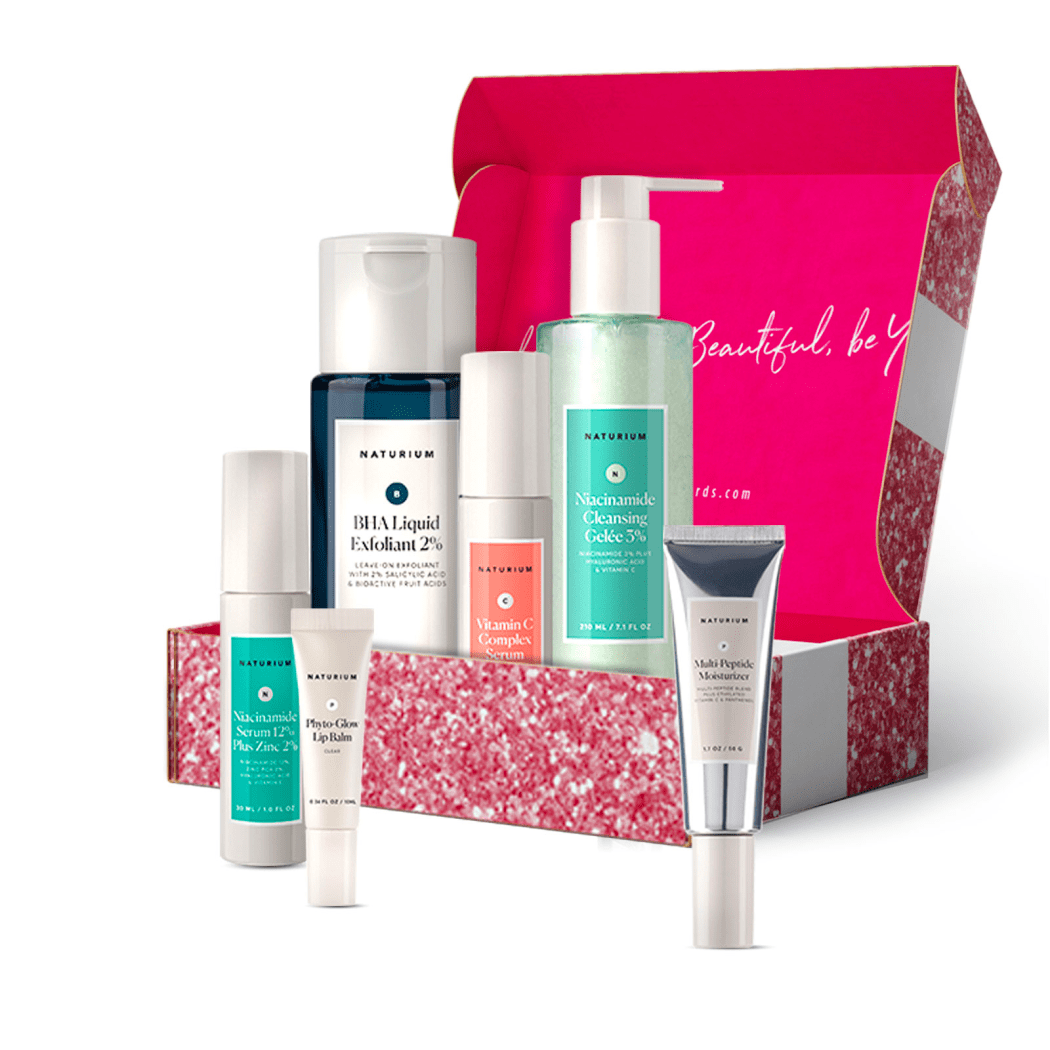 Image from: AIA Beauty Bundle
Hands down the best – Sharon H
What You Get: AIA Beauty Bundle is all about giving beauty enthusiasts the best of makeup, hair, and skincare products in just one box! This subscription serves as your gateway to try some of the influencer-loved items. Every month, a curated collection of at least five full-size beauty products is conveniently sent to your door. Everything is put together by an influencer and valued at over $100, plus it ships free!
Price: The box is priced at $35 a month.
---
Image from: How to Be a Readhead
Colors that don't clash with my red hair -CassieH
What You Get: A box empowering every redhead – that's what this subscription is! How To Be A Redhead offers you the best beauty finds to help you feel more confident to rock your beauty. There are two box options to choose from: H2BAR Monthly Box, which comes with 2 full-size products and 4-6 additional sample items, or H2BAR Quarterly Box, which includes 12 or more (mostly full-size) products. The boxes are packed with redhead-friendly products, handpicked by the owners! It is a great box to help you flaunt your natural beauty!
See more on How To Be A Redhead Reviews.
Price: The monthly box is $24.98, while the quarterly box is $68. Or prepay for longer plans to save more!
---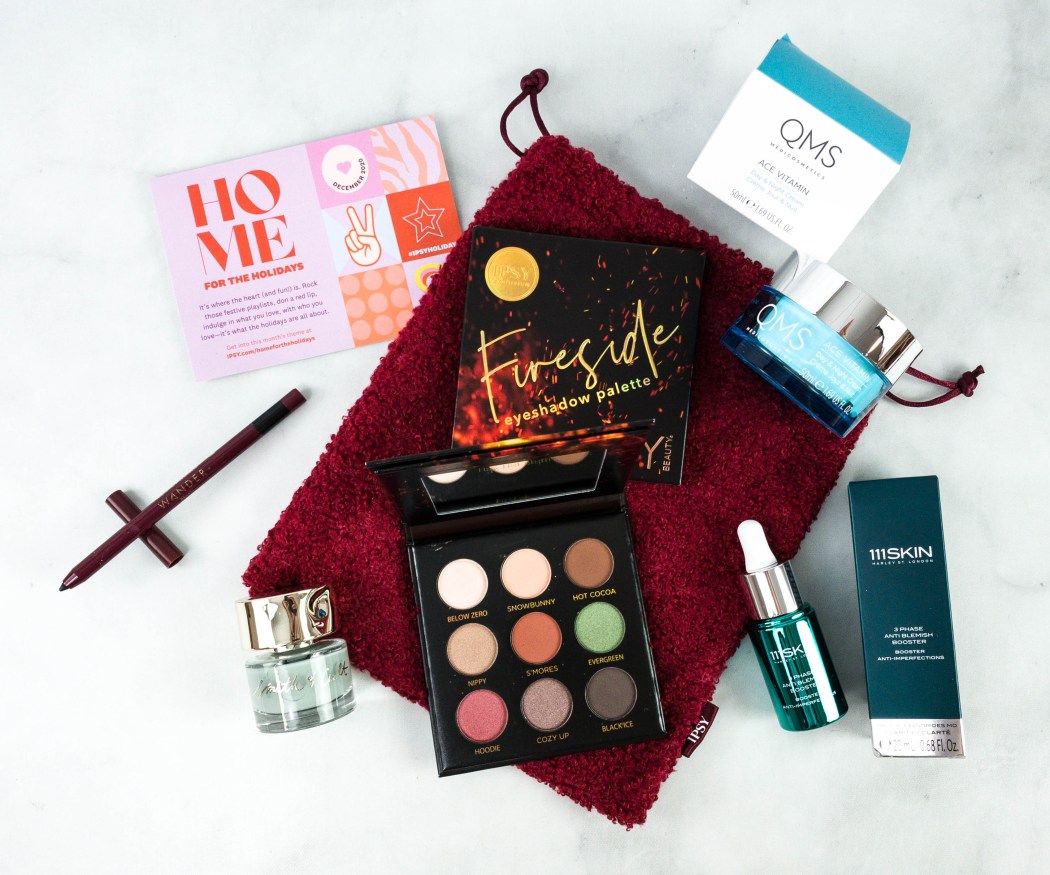 Image from: our review
Unlike the regular glam bag the plus has full sizes which is fantastic for actually using the items like a normal human being. The price and value are ridiculous. Best box. – JessicaE

I am pretty happy they brought the bag back for this sub! It's bigger than the smaller Ipsy and is really usable. The skincare you get in this box is great. Because it's full size you are really getting tons for your money. – Sherrilyn

Best for product/brand selection and size of products allow you to really get a sense of the product. – beachin it

I love that you can customize 3 of the 5 items! This way you have at least a 60% chance of being thrilled about your bag! – Reecie

always open with glee awesome tips – Shaletta
What You Get: Ranked also on this list is another IPSY subscription! If you've got cash to spare, this upgraded version of the regular Ipsy subscription is for you. Each Ipsy Glambag Plus box includes five full-sized products from brands you love, with a promised retail value of $120! Choose three items to include in your kit, and let Ipsy choose the remaining two. You can expect a few variations, and you can also rate and review your bag to help personalize it to your needs.
Check out the Ipsy Glambag Plus Reviews to know more!
Price: Glam Bag Plus is $28 per month.
---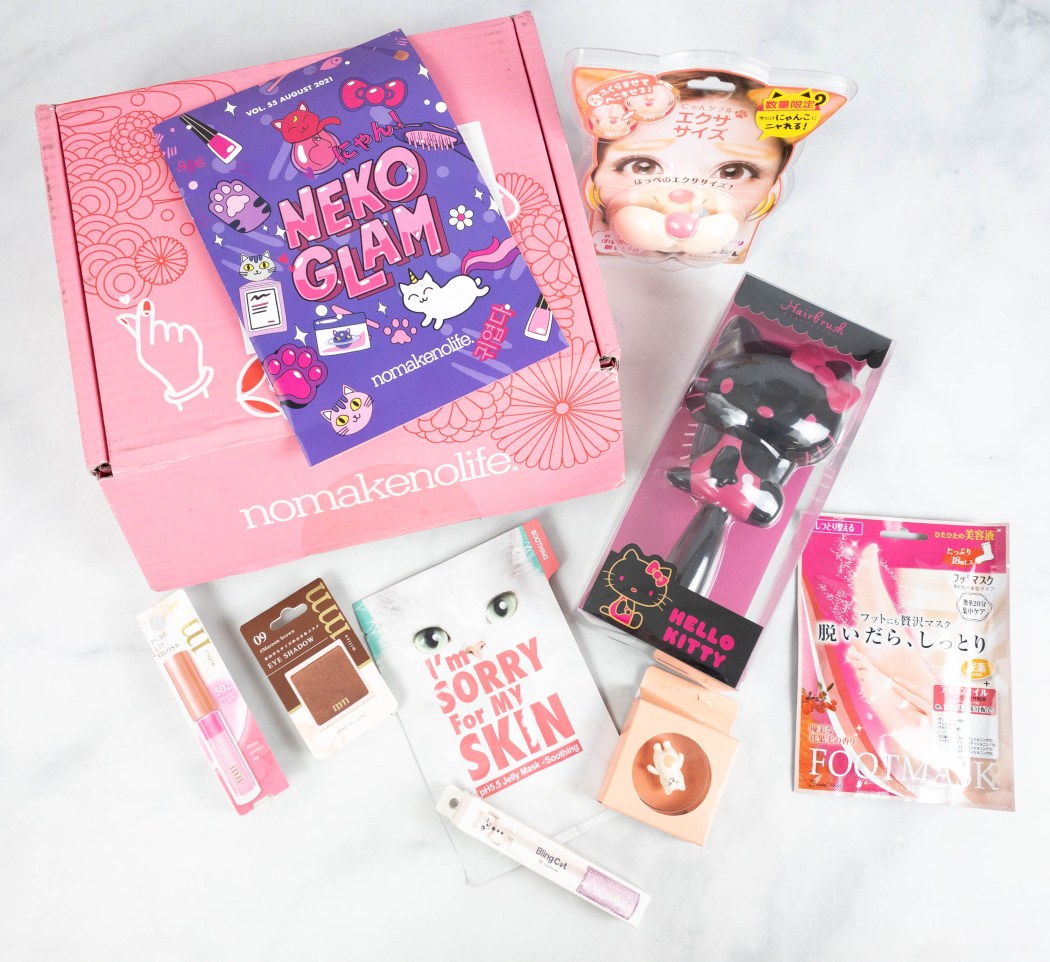 Image from: our review
What You Get: If you're looking for J-beauty and K-beauty products to add to your routine, nmnl is for you! It is a monthly beauty box that comes with 8-9 genuine, high-quality Korean and Japanese items and more, chosen by their in-house beauty consultant! These beauty goodies come from trusted brands like Etude House, Tony Moly, Innisfree, Canmake Tokyo, DHC, and Dolly Wink. With this subscription, you'll get your hands on unique and exclusive Asian cosmetics, plus happiness guaranteed!
Check out what they've sent us in the past on our nmnl reviews.
Price: Subscription costs $35 monthly, with savings when you prepay for more months.
Deal: Check the latest nmnl spoilers to get the latest code! Use this link to get the deal.
---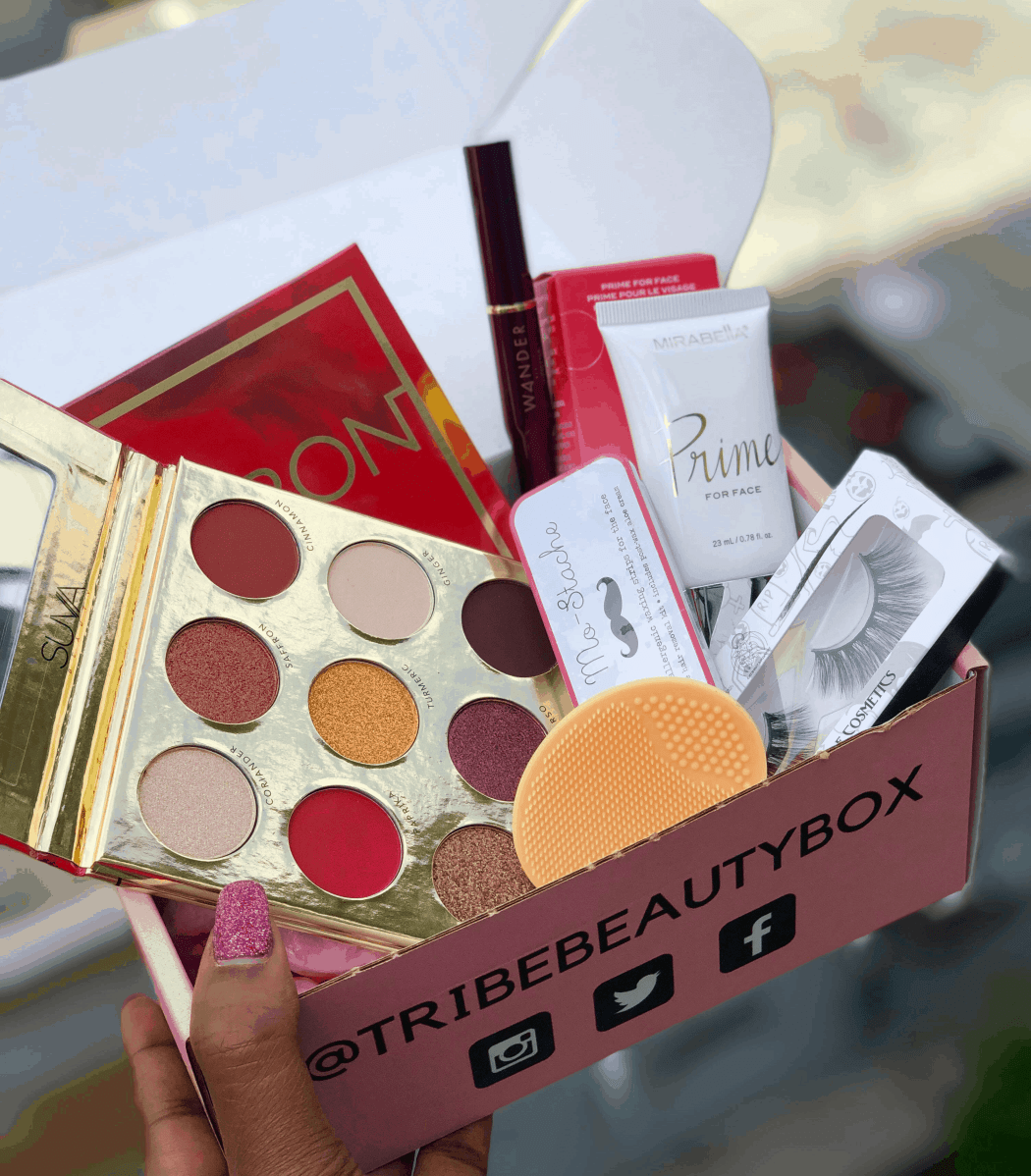 Image from: Tribe Beauty Box
Tribe has trendier brands and it also trends younger than many of the other beauty subscriptions, so I think it's the BEST!! – Cathy
What You Get: Tribe Beauty Box is a great box for any makeup enthusiast! This bi-monthly subscription sends a balanced mix of 5+ full-sized products worth over $125. Items may include picks from trendy, indie, and up-and-coming makeup and beauty brands. These products range from face products to skin prep and eye products to lip products and beauty tools. What's great is the boxes only include cruelty-free products, and at least 4 of these items are from female-owned brands!
Price: Shipped every other month for $39.99.
Deal: Get 10% off your first box! Use coupon code HELLO.
---
That's your list for 2022's Best Makeup Subscription Boxes! Which are you going to try?
If you're looking for even more subscriptions, make sure to check out all the readers' choices for the best subscription boxes in every category!
Say Hello to More Subscriptions with Makeup!
Find more makeup options in these lists: