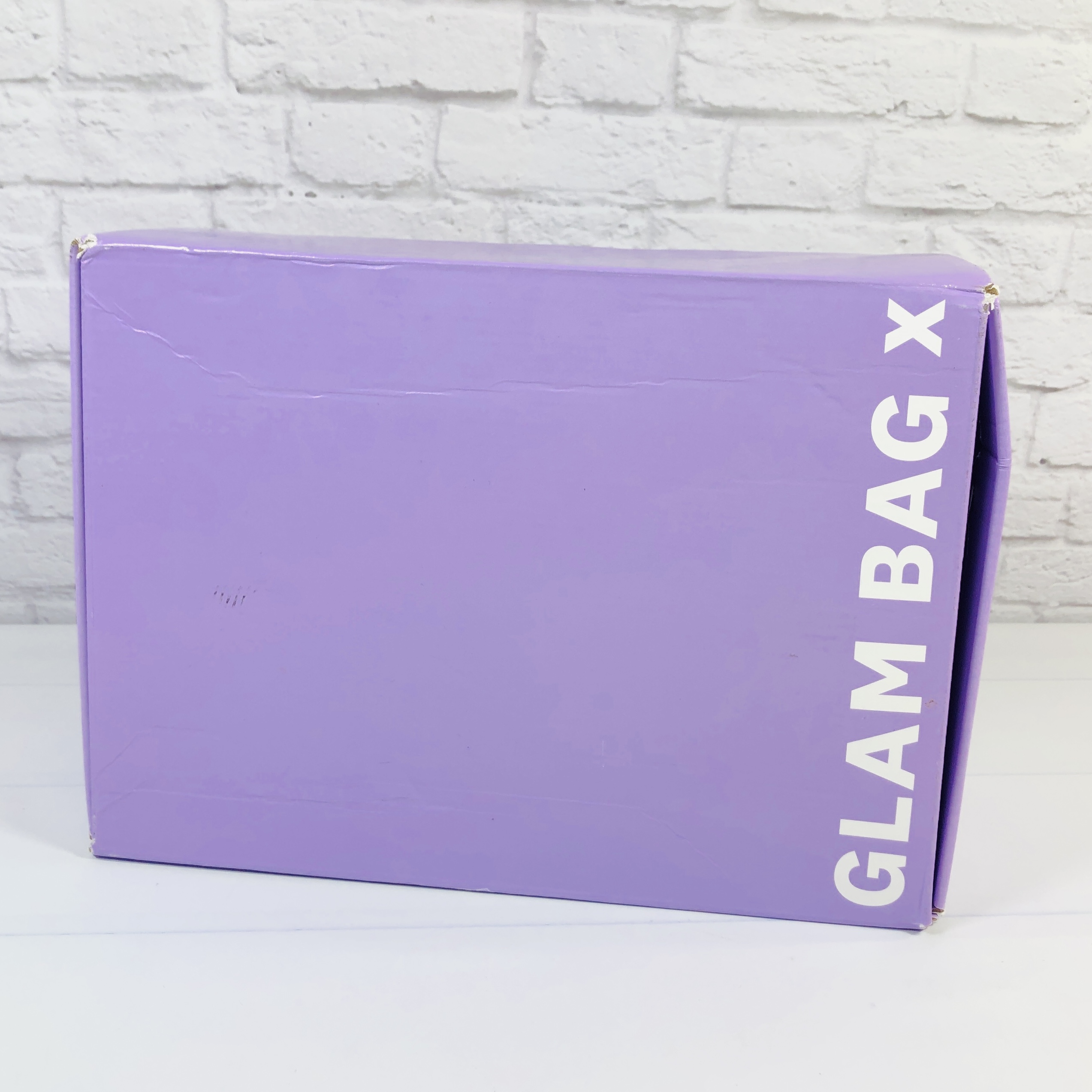 Ipsy Glam Bag X is the upgraded version of the monthly Ipsy Glam Bag! If you subscribe to the regular $12 Glam Bag, you would pay $43 extra and this will replace your usual bag for the month ($55 total). If you are a Glam Bag Plus only member, then this will replace that bag for a $30 upcharge (again, $55 total). If you subscribe to both of those bags, this will replace the Plus bag and you will also get the $12 bag, unless you skip. This will ship in the months of February, May, August, and November.
Think of it as your all-access pass to the most-coveted brands, hottest launches, and need-to-try products in beauty. Your Glam Bag X includes seven to eight full-size products (worth up to $350) specially curated by beauty's biggest tastemakers and celebs, and you'll even get to choose three from a personalized assortment—which, BTW, includes dibs on exclusive product drops you won't find anywhere else.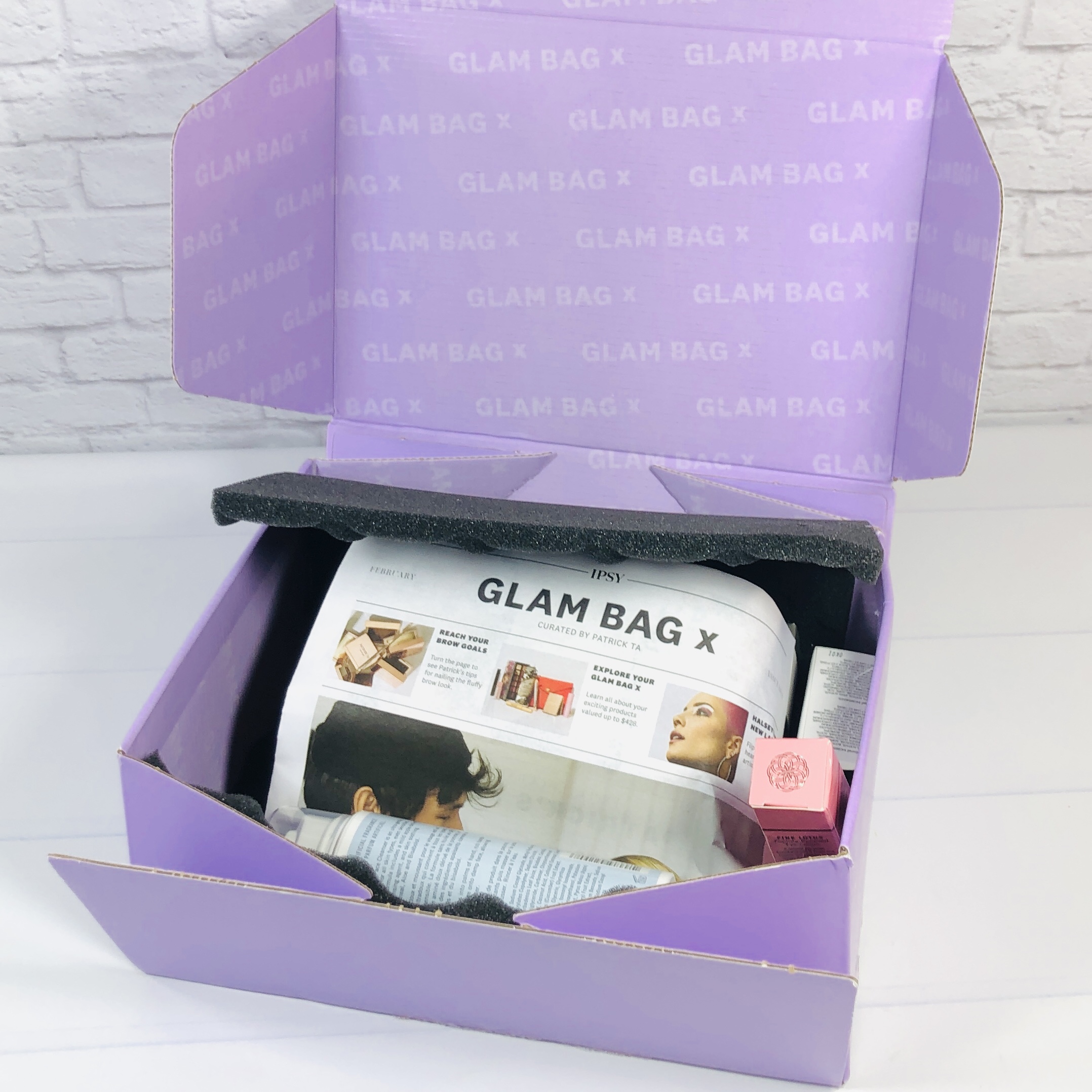 This is the very first Glam Bag X!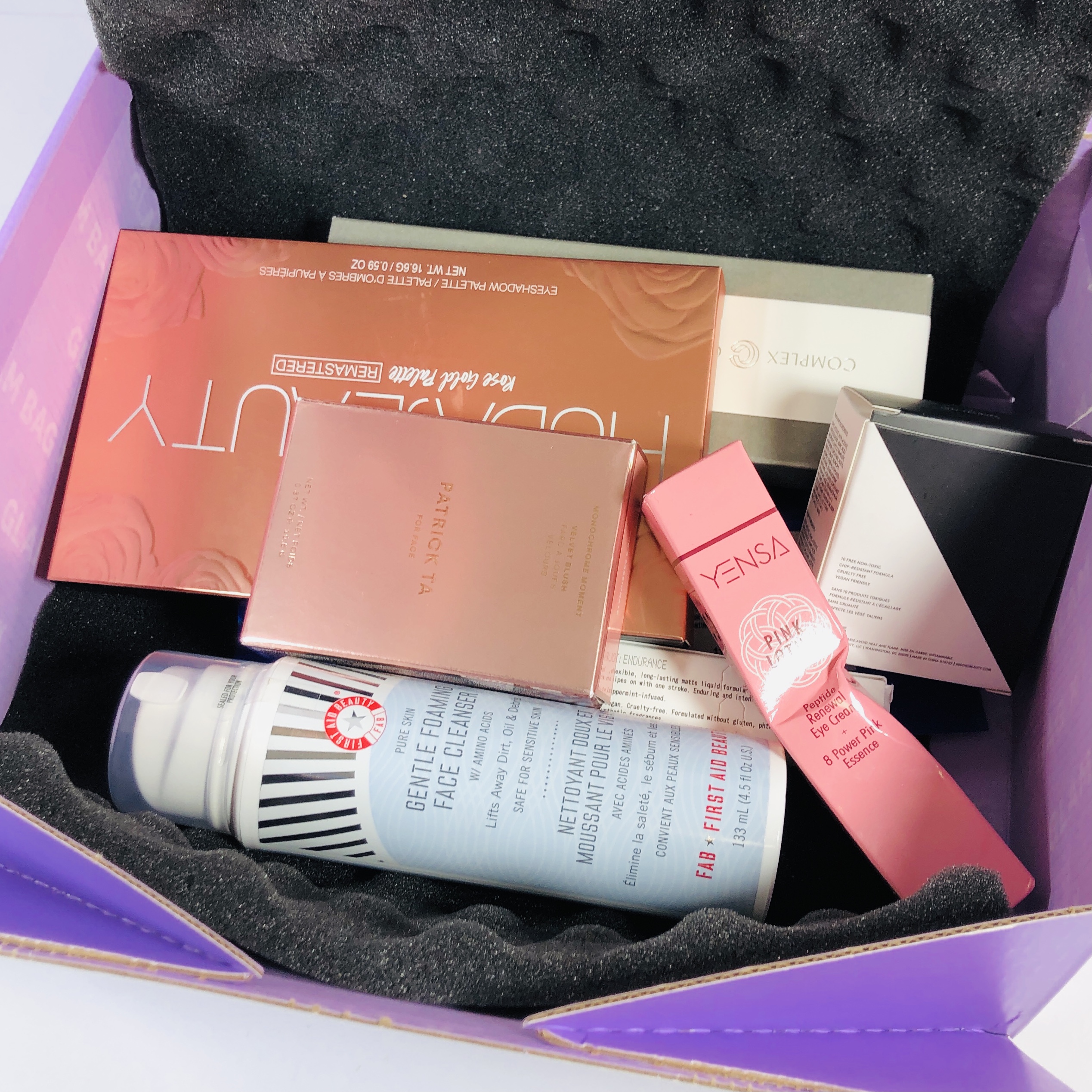 My items arrived in a pretty purple box with a foam cushion insert.
The product info guide was in the form of a newspaper!
It listed all of the items that would be in all versions of this cycle's Glam Bag X; please keep in mind that not all of them will be in your box.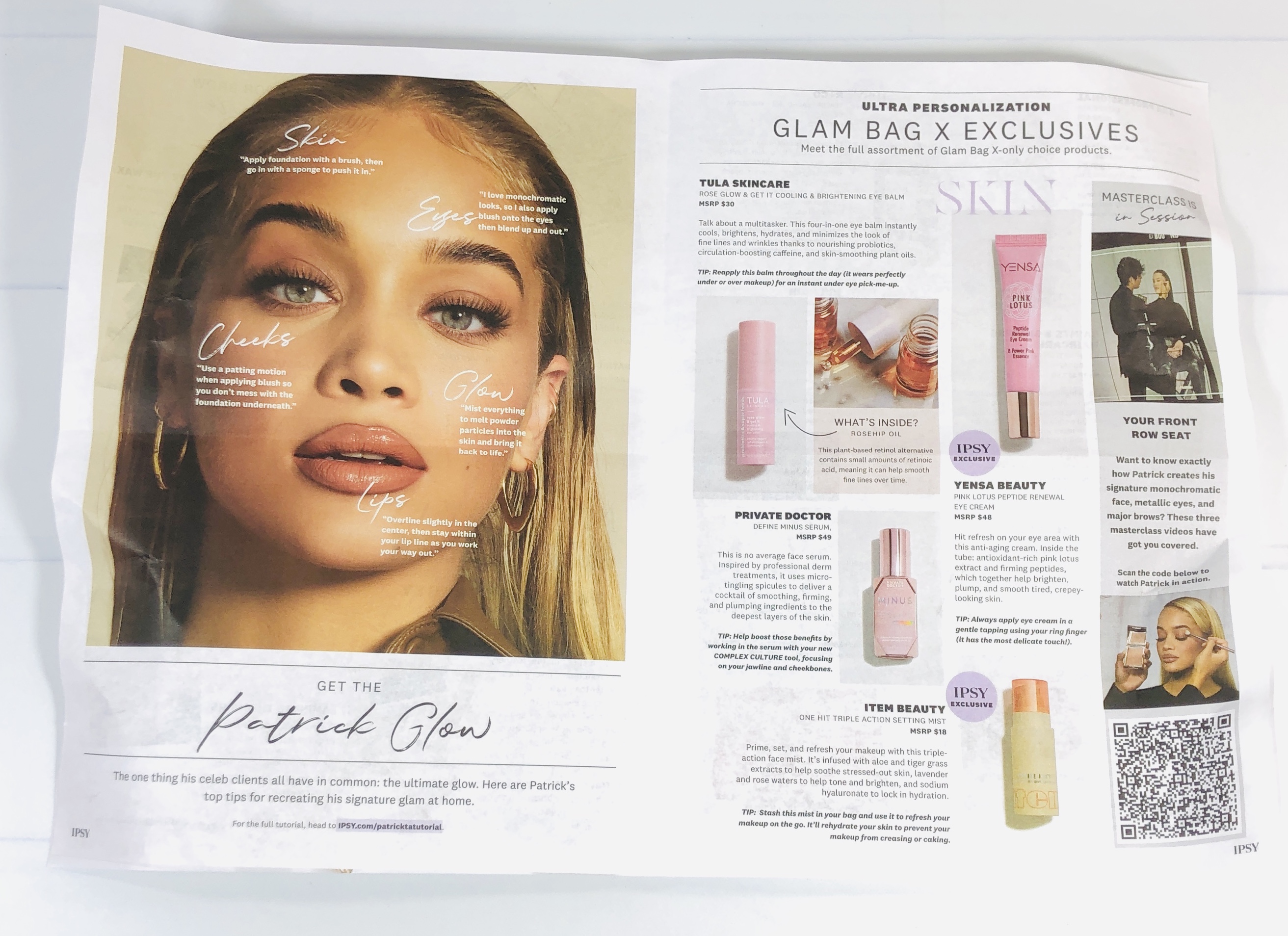 Beauty tips from makeup artist Patrick Ta, who curated the first box, were shown along with links to learn more.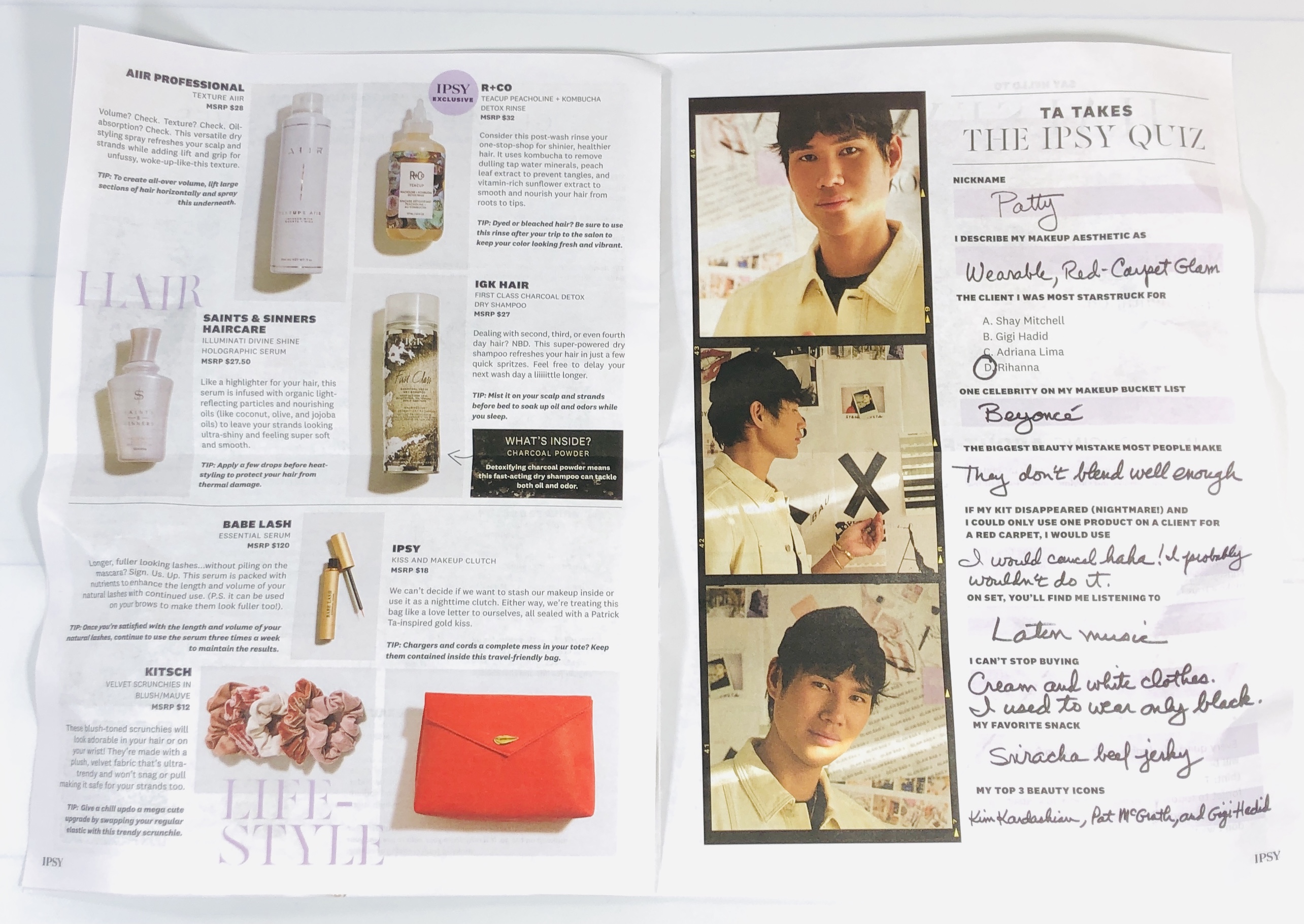 More products and info about Patrick Ta were on this spread.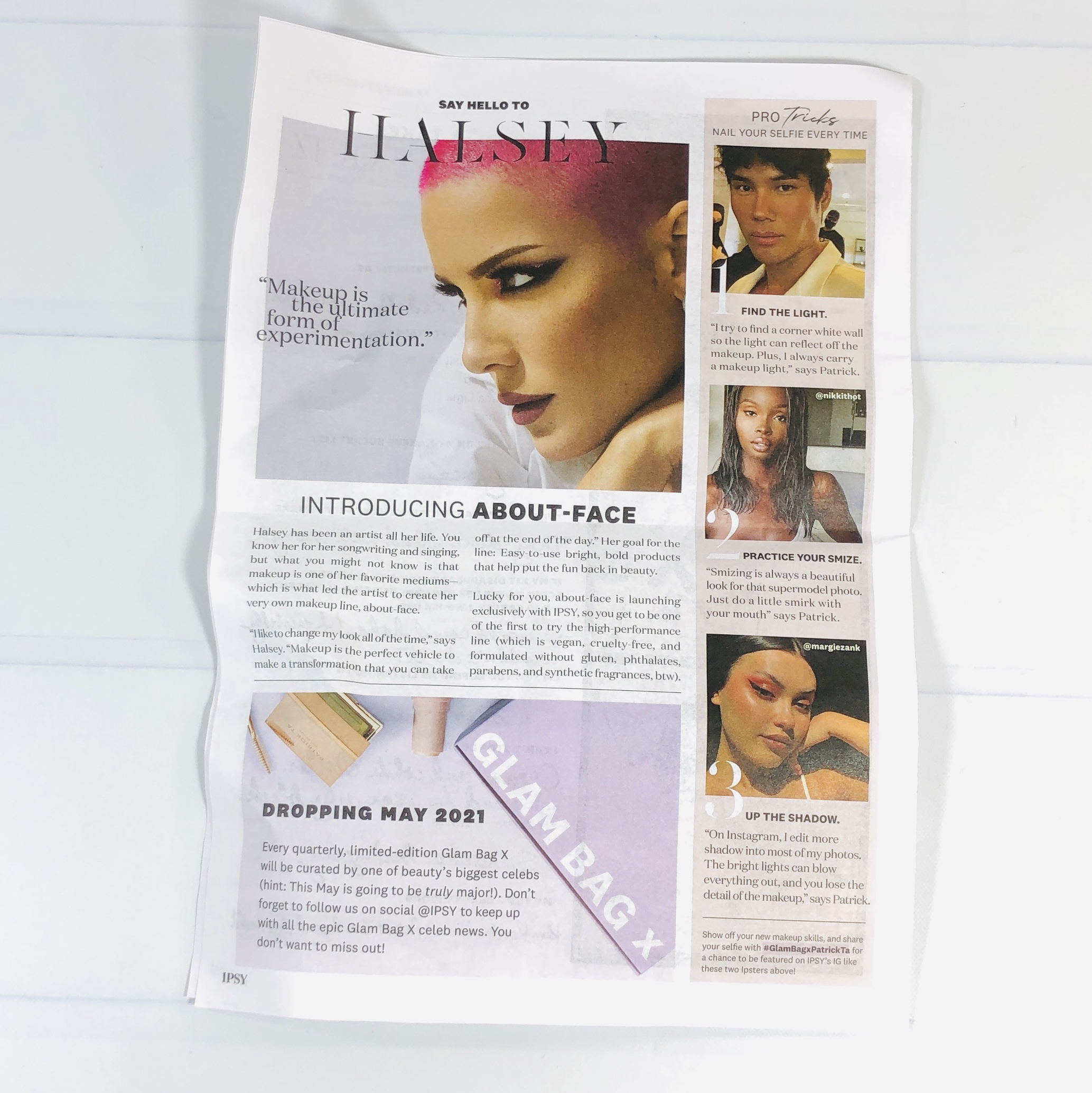 Halsey dropped a makeup line and some of her lippies were in the box.
Most of the items came in their original boxes.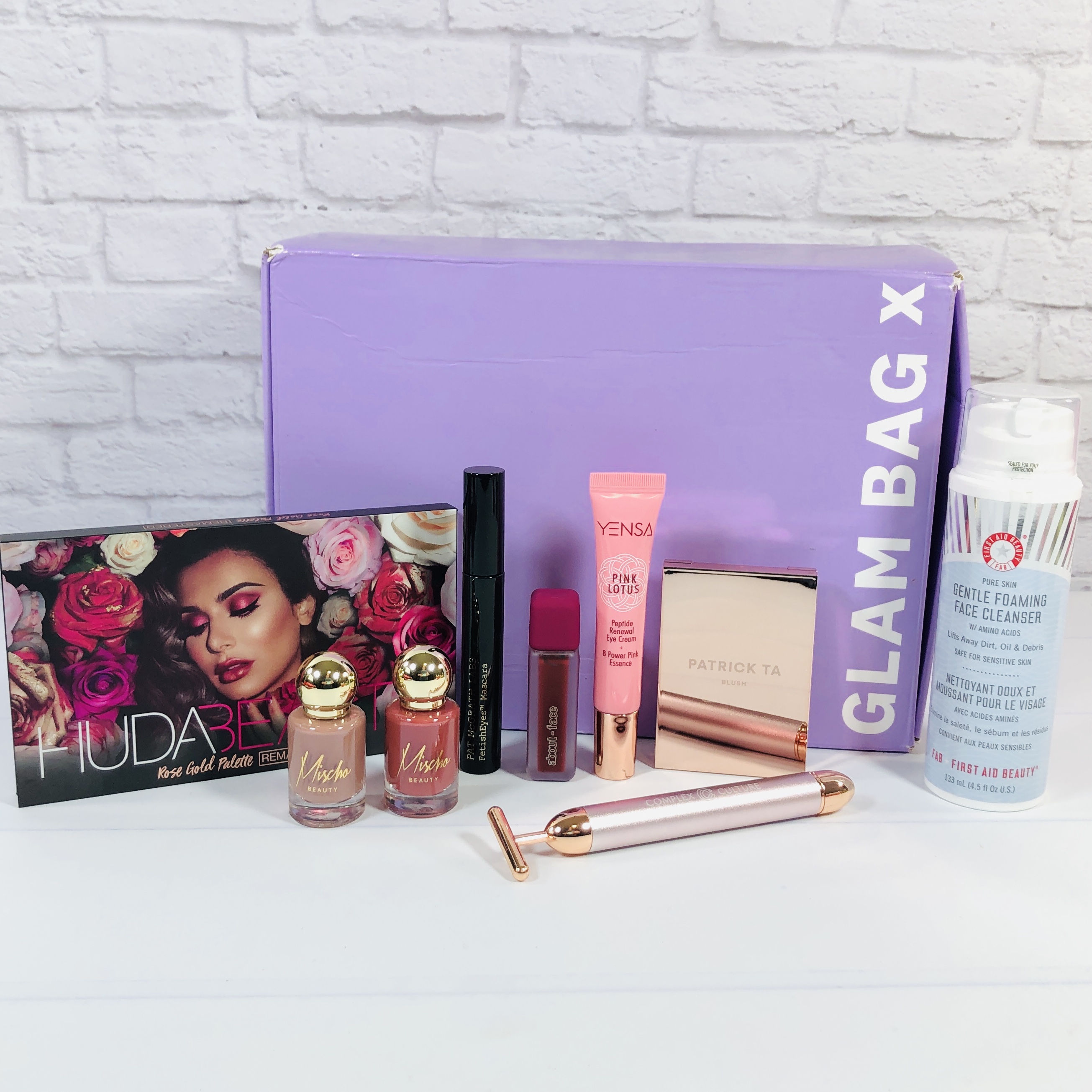 Everything in my box!
First Aid Beauty Pure Skin Gentle Foaming Face Cleanser ($22) Ipsy picked some of my items but I got to pick 3 of them from 3 different categories. One of my choices was this cleanser.
I have sensitive skin and this has worked well for my face. It gets it clean without leaving it feeling dry or tight. It said to dispense two full pumps into my hands and apply to a wet face. That turned out to be way too much product. It's similar to that shaving gel that seems to grow and expand as soon as you start to rub it and it was even inside my nose! Half to one full pump is plenty for me and I am happy to have this new cleanser!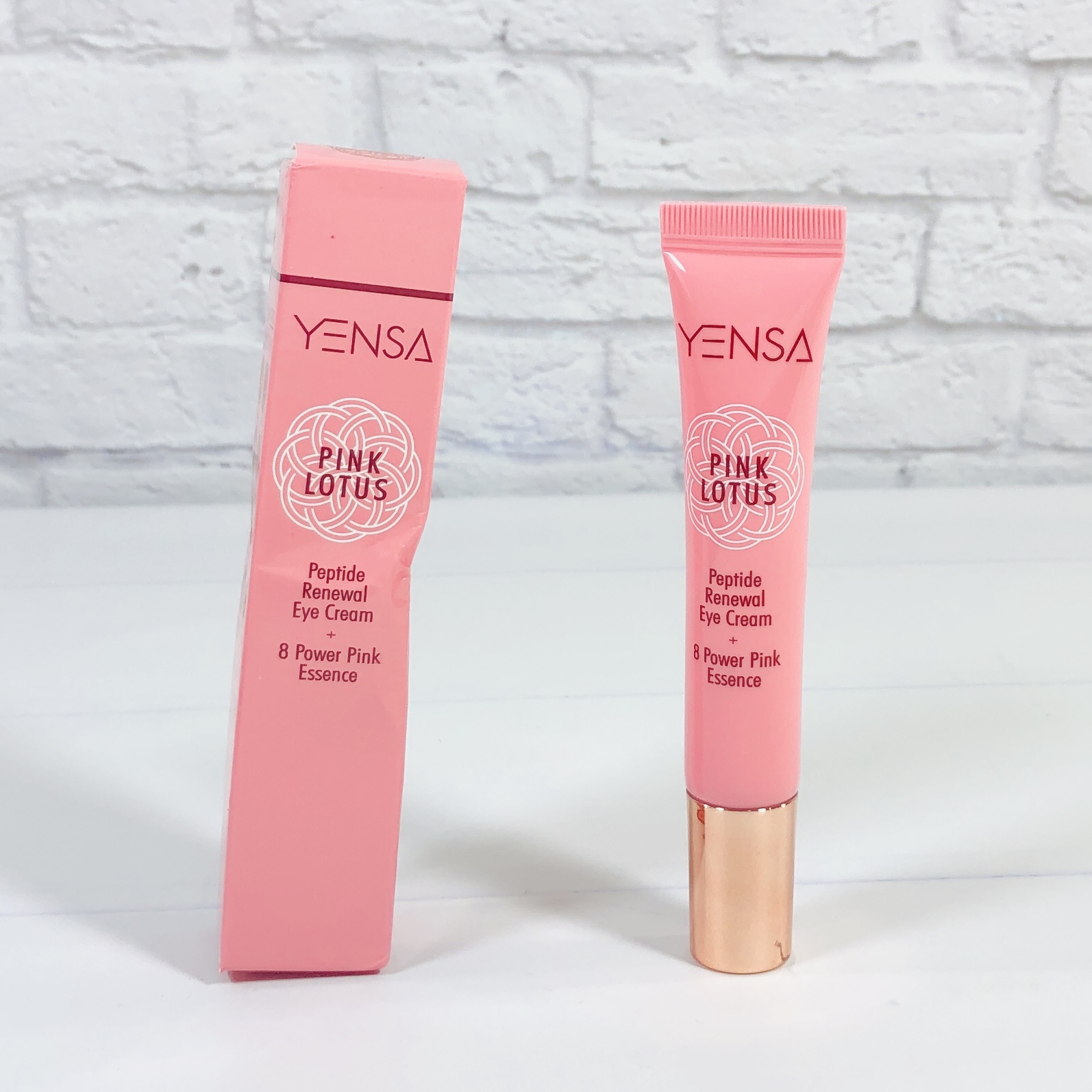 Yensa Beauty Pink Lotus Peptide Renewal Eye Cream ($48) I love using eye creams and I chose this product for my box too!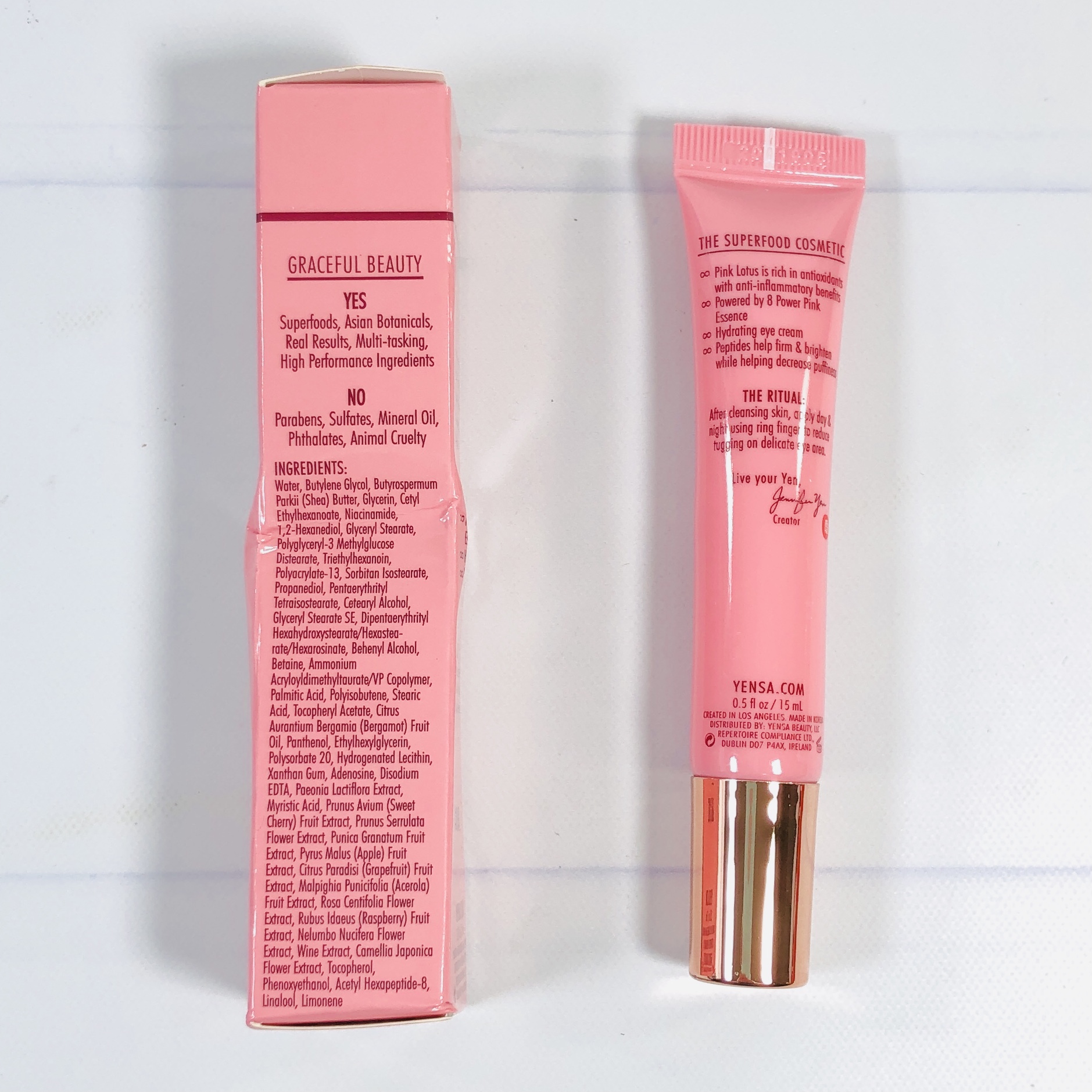 Shea butter and glycerin help soothe and soften the under eye area. This one is a little thicker than others I've tried and I like that about it, watery products don't feel like they help at all. It isn't greasy and I didn't really notice a scent.
Mischo Beauty Nail Lacquer Set in Angel & Manicured ($37) This is the third item that I chose for my box! There are two, 10-free nail polishes in complimentary colors that looked good to me!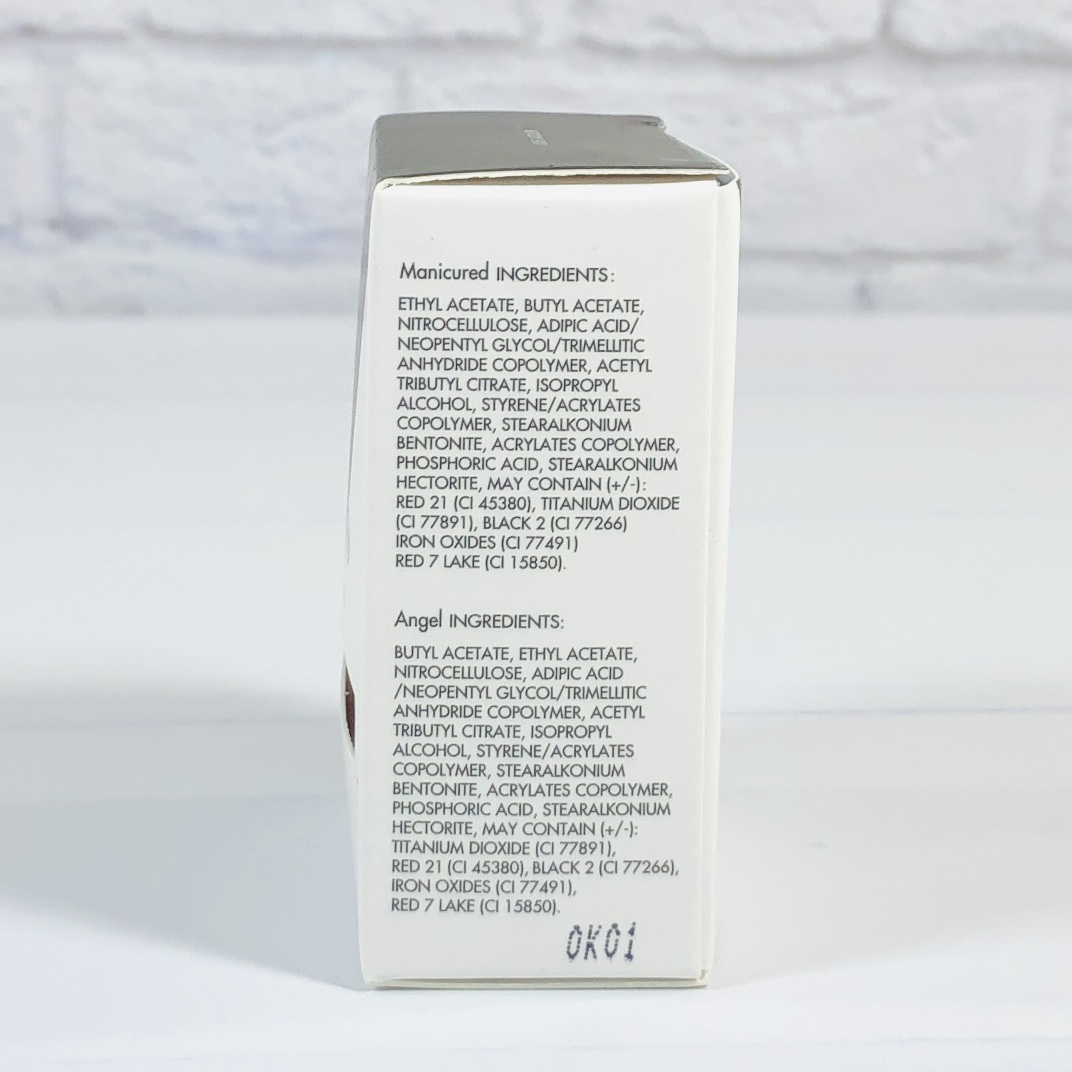 Here are the ingredients. They are vegan and cruelty-free too!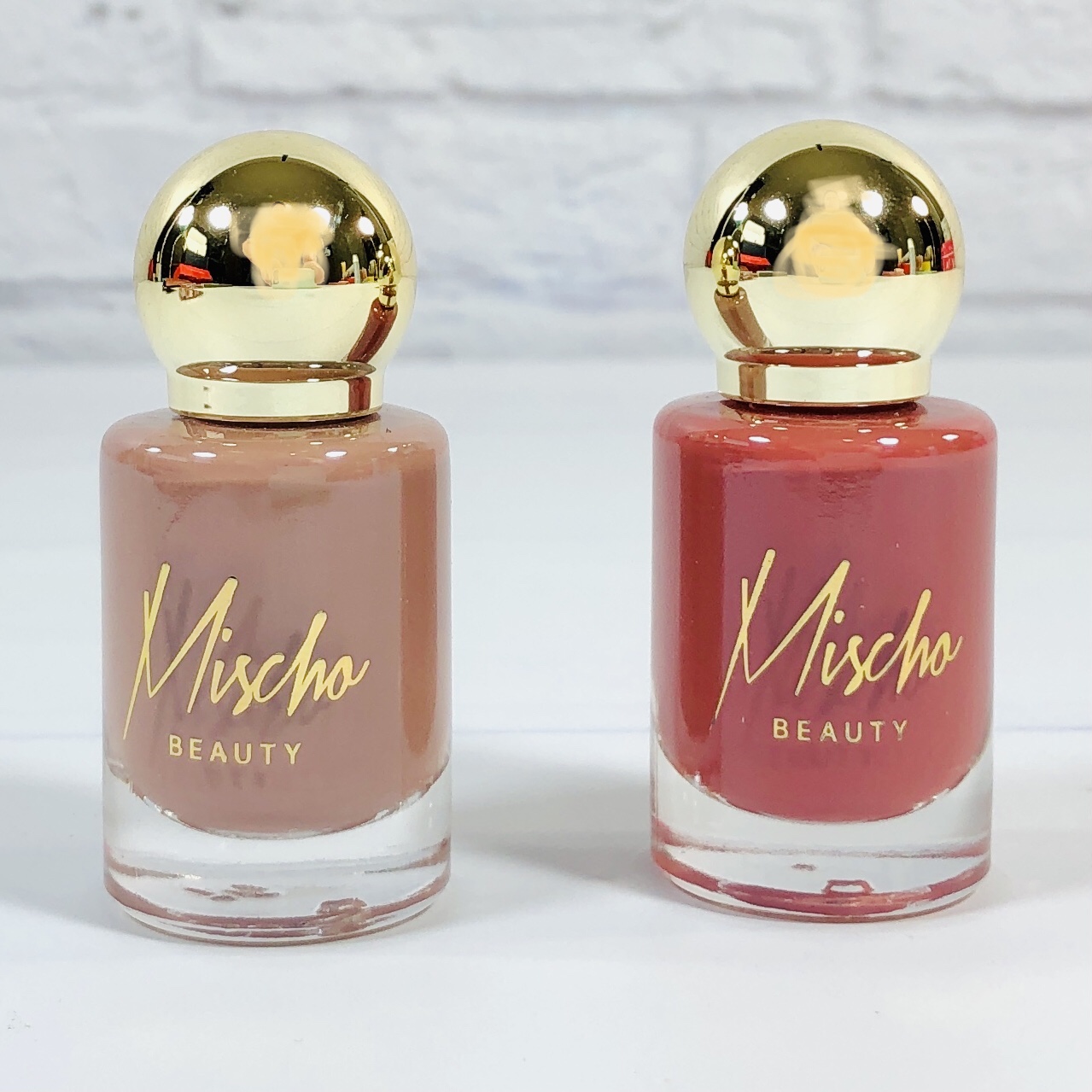 Even the bottles are cute!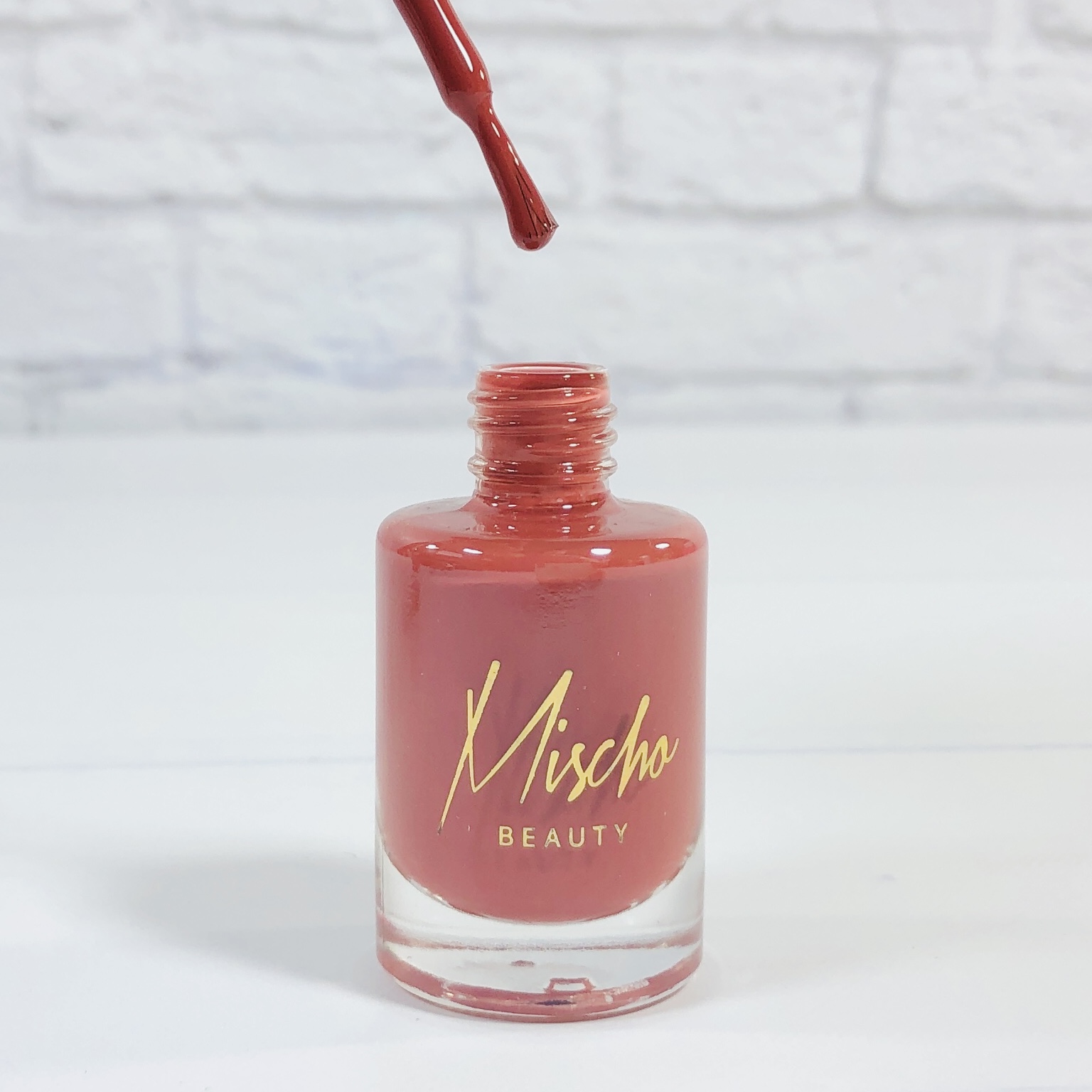 Manicured is described as rusty rose and is the color I would pick out for myself if I was shopping at a store.
Angel is described as softly muted mauve rose and is a great neutral shade.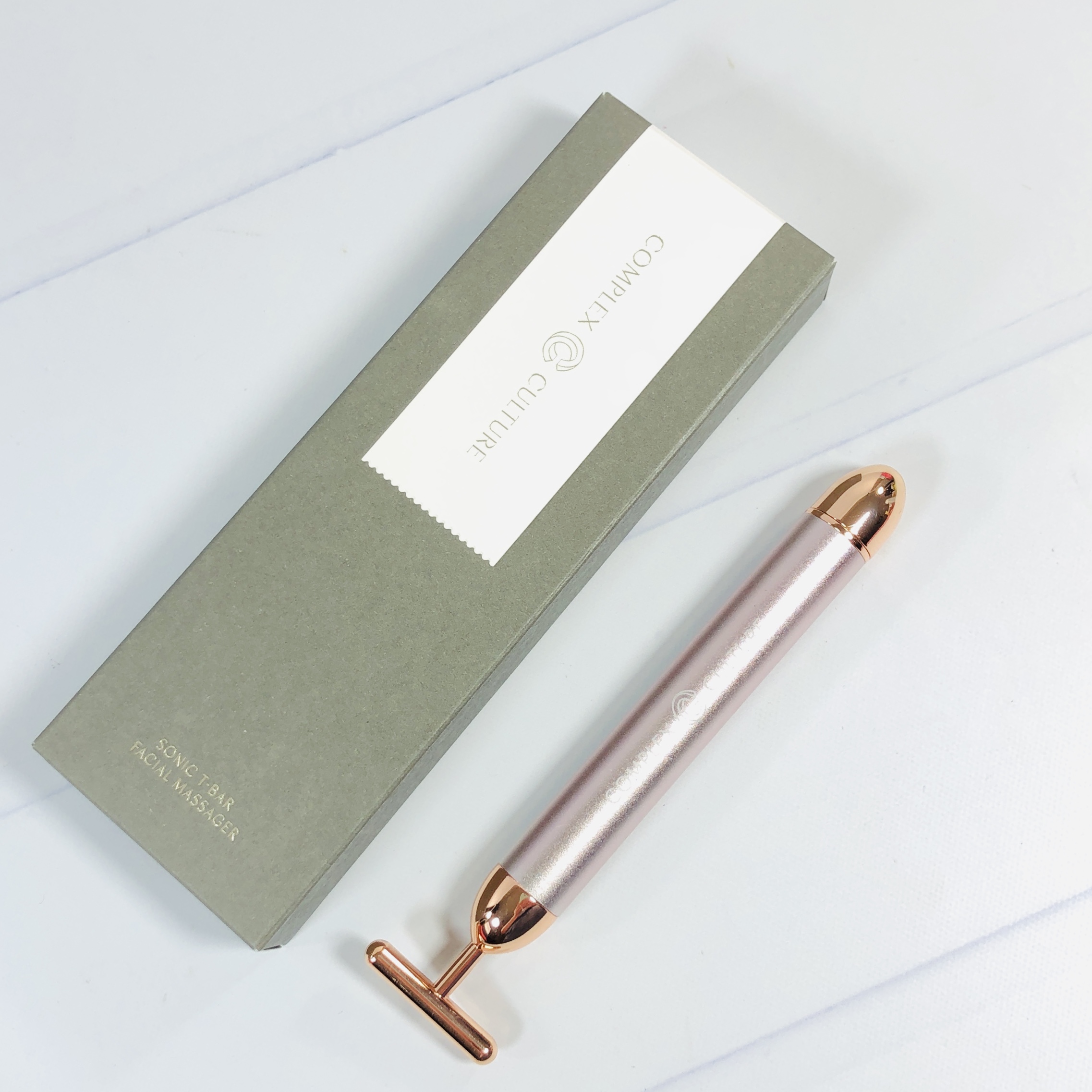 Complex Culture Sonic T-Bar Facial Massager ($58) Even in an amazing bag, there is usually one item that isn't a win for me, and this would be the one.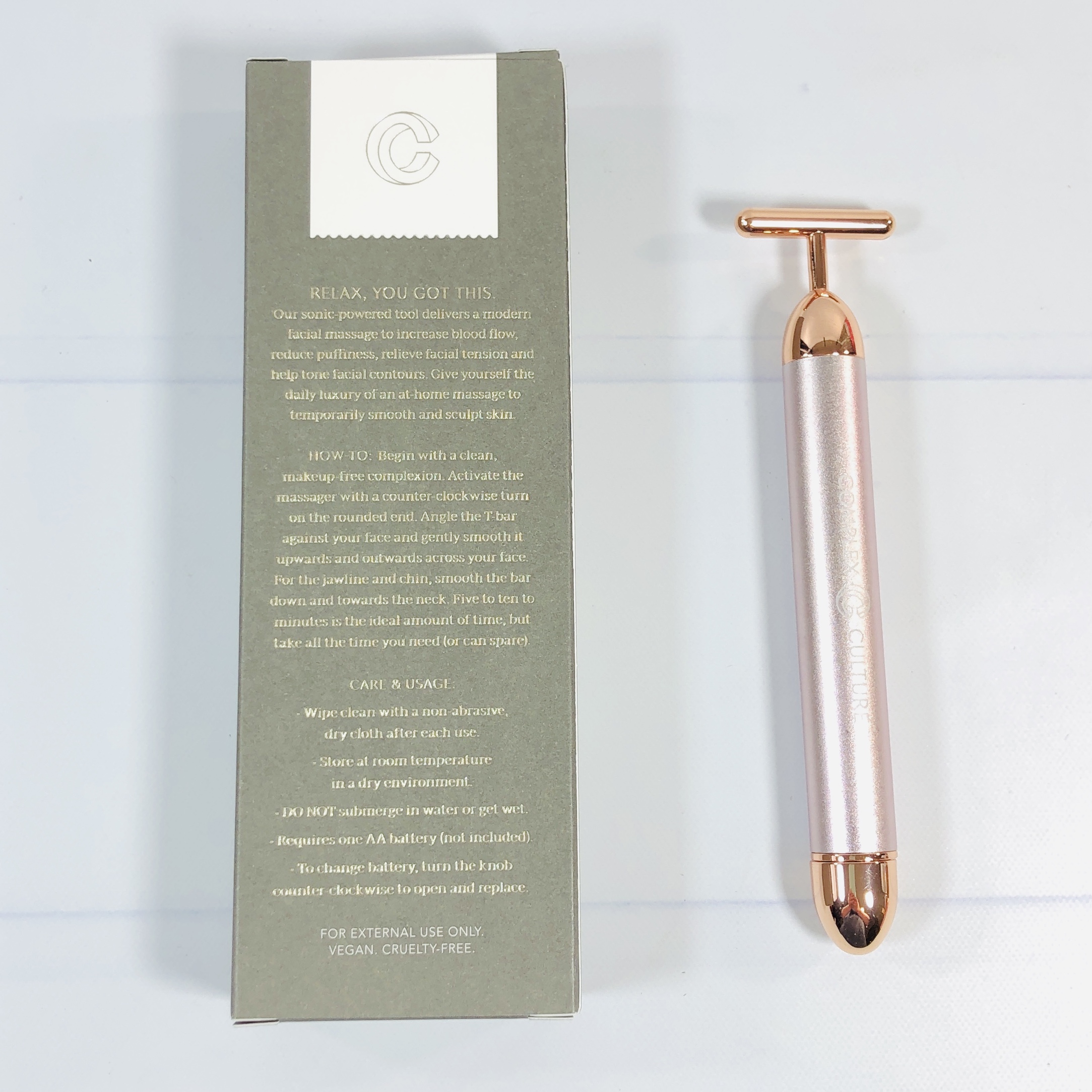 It's a T-bar facial massager, kind of like one of those jade/quartz/obsidian facial rollers but with sonic power, provided by one AA battery (not included).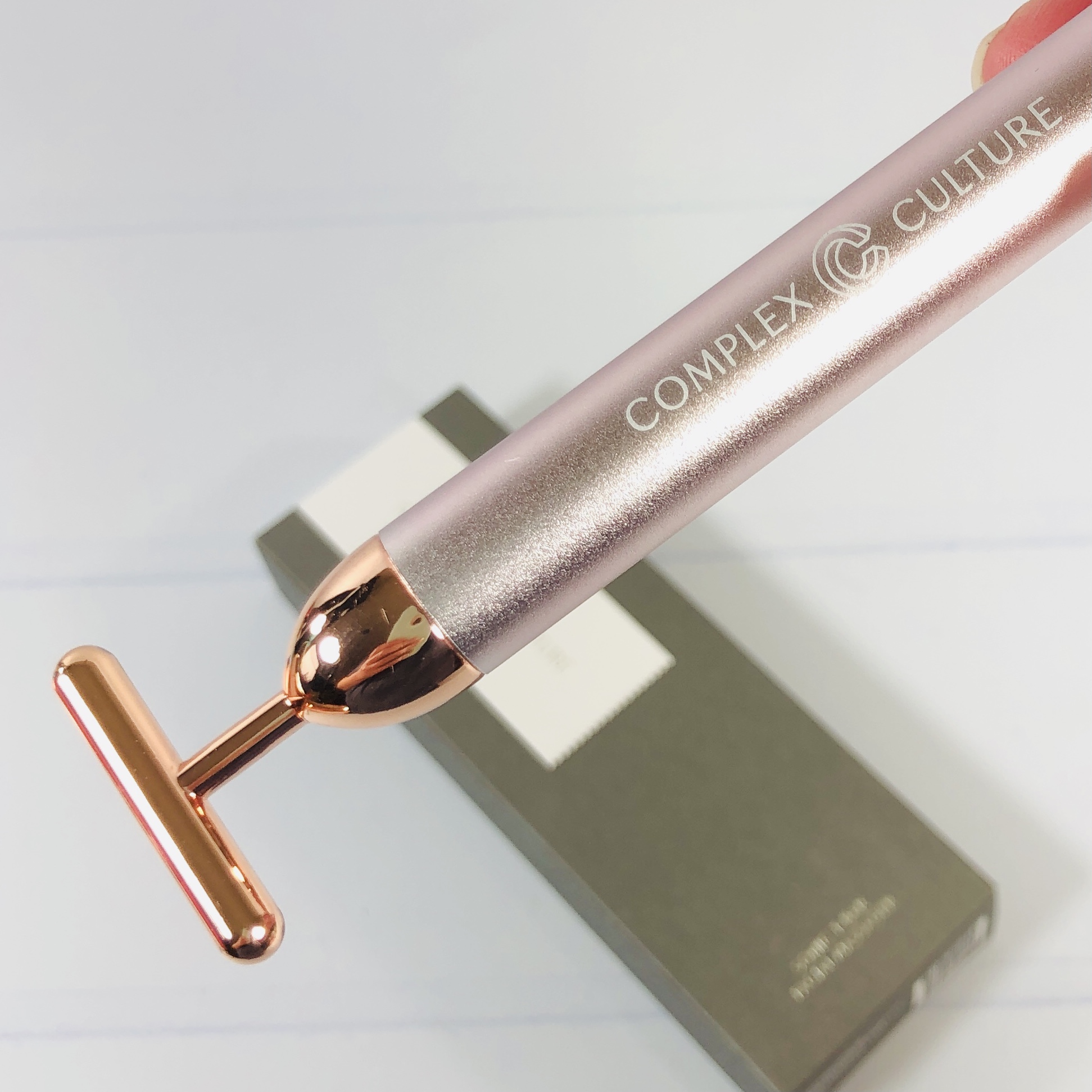 It was hard to figure out how to get the battery in, both ends will open up, but I finally figured it out and then turned it on and rolled it around my face.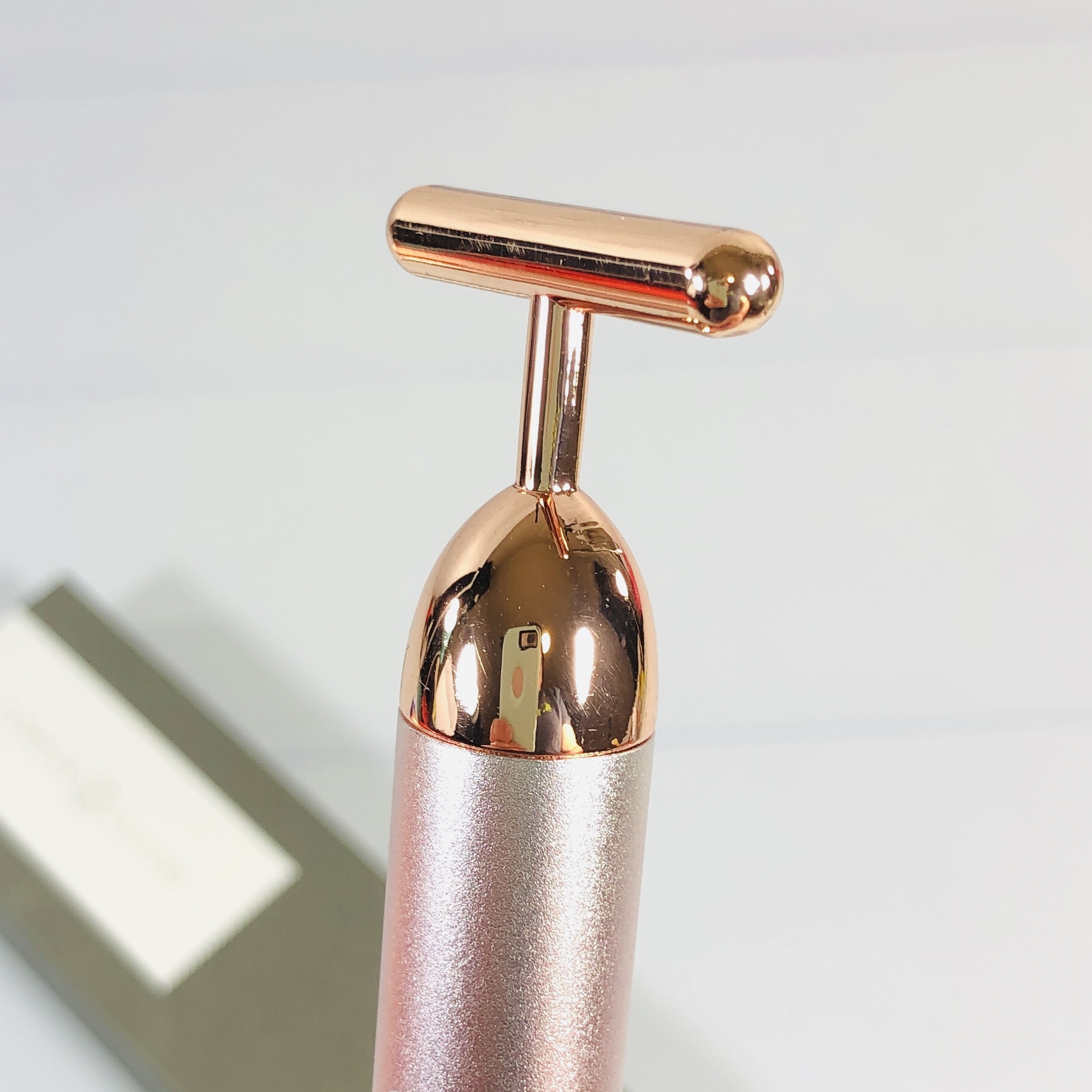 The first problem I encountered is that it made me feel nauseous. I have suffered from motion sickness my entire life and this made me feel "off". I also tried using it around my eyes, alongside my nose, and it made me want to sneeze. It doesn't really glide easily over the skin, which is something those stone rollers would do at the very least, and I just can't imagine doing this to myself for the suggested 5-10 minutes.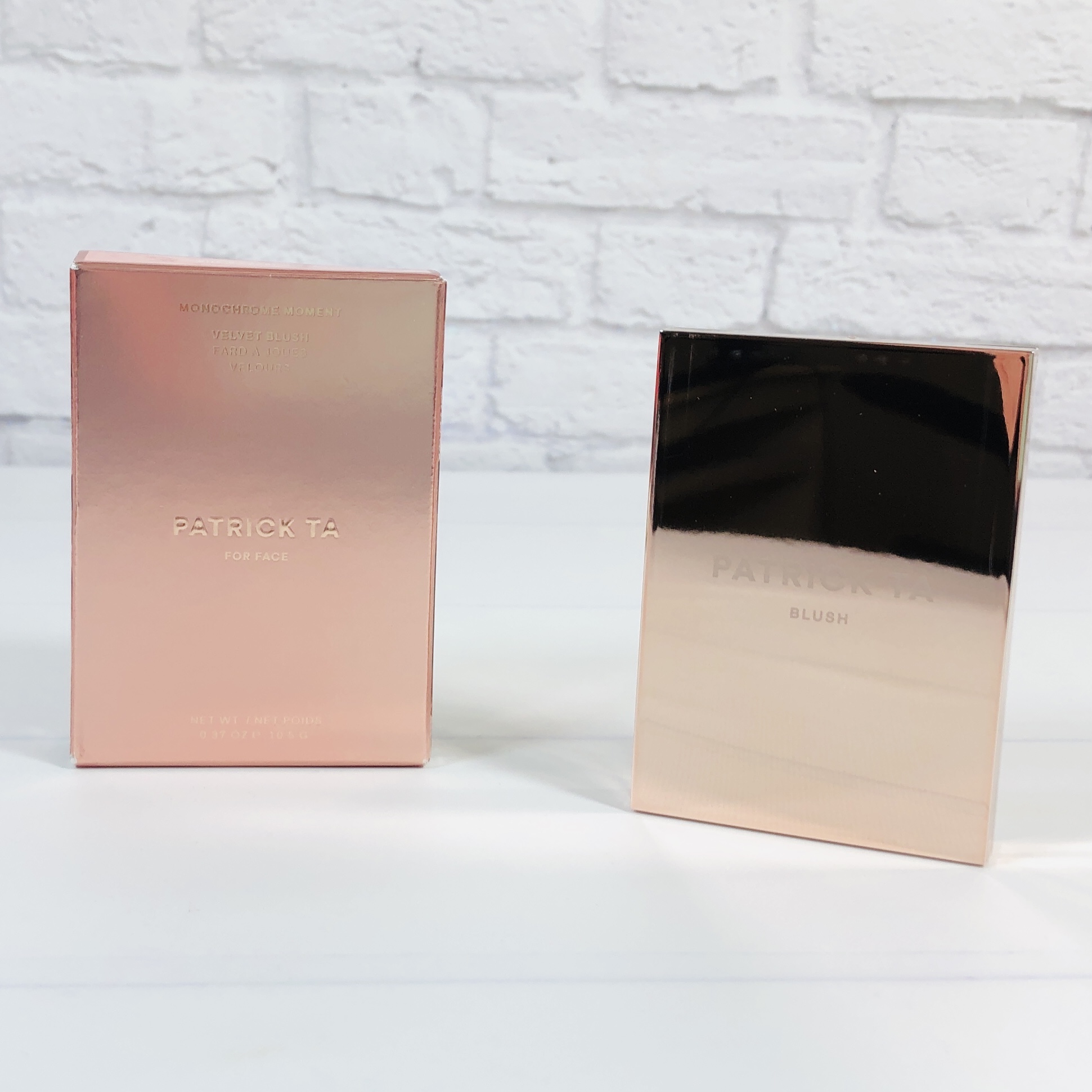 Patrick Ta Beauty Monochrom Velvet Blush in She's Passionate ($32) Ipsy assigned this blush to me and I am loving it! From the rose gold case, to the color of the blush, to the way it brightens up my face, I am super happy!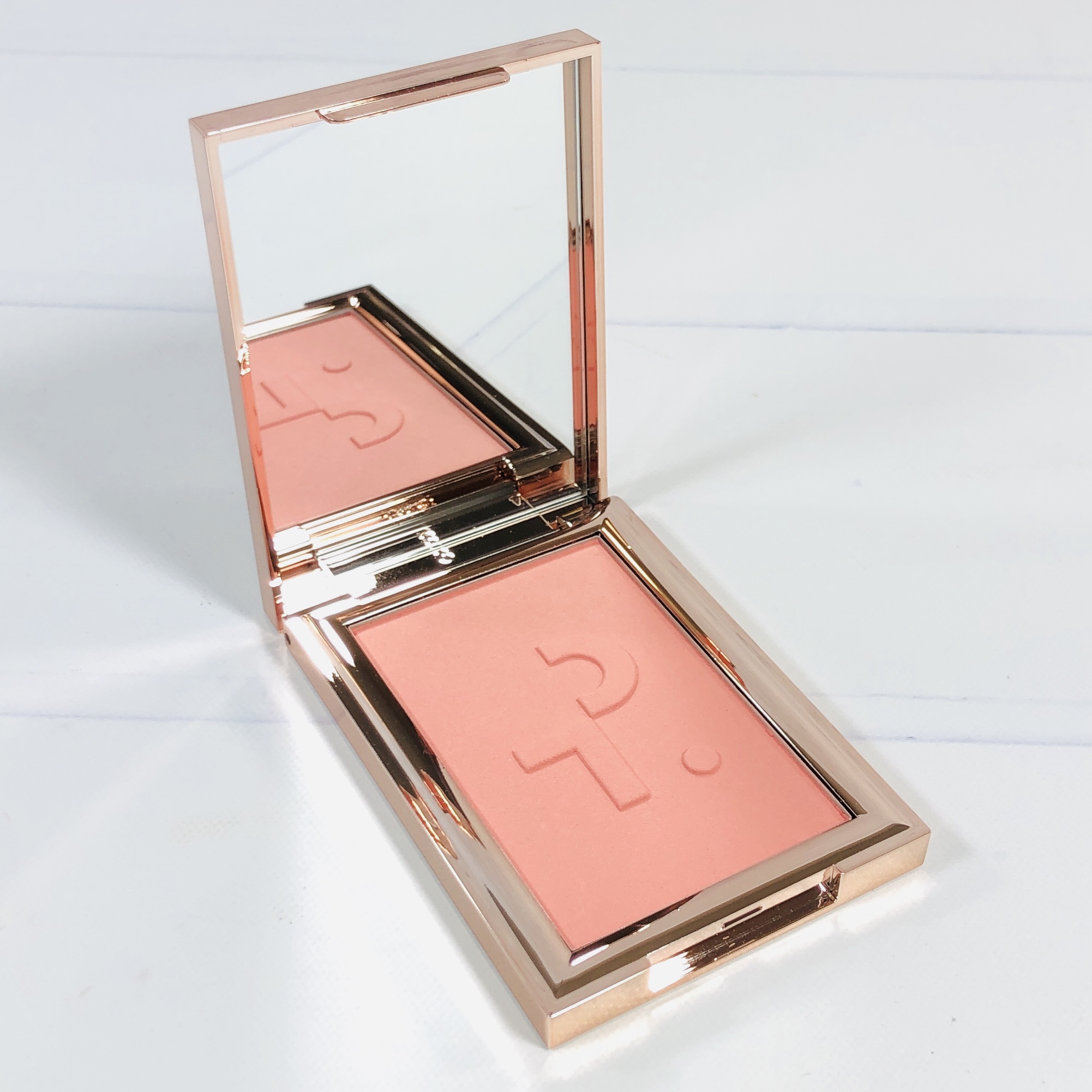 There is a mirror on the inside lid and the shade is described as soft pink.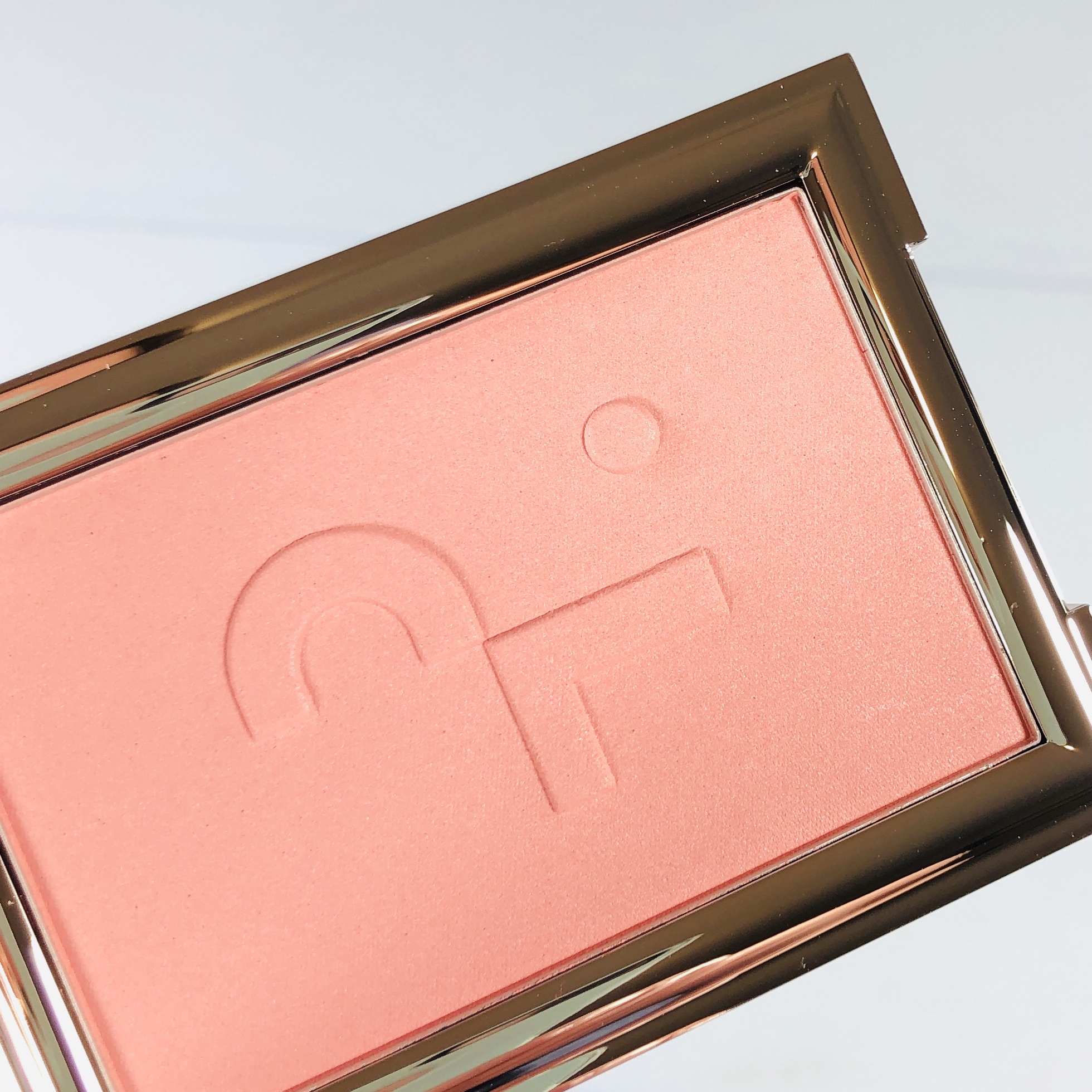 It went on smoothly and wasn't super dark, although it was buildable.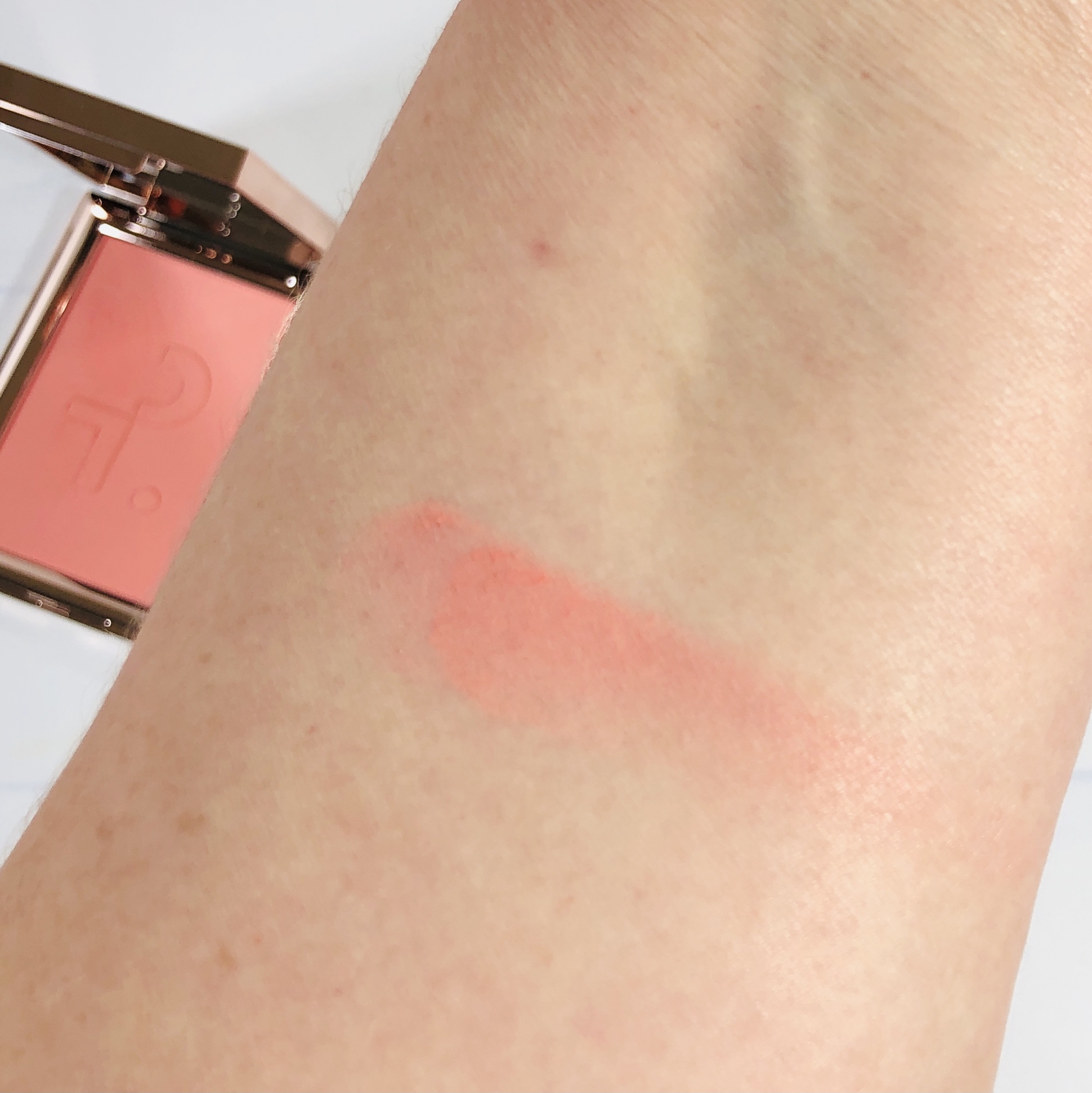 It really brightened up my face and I have been wearing it every single day since I received it!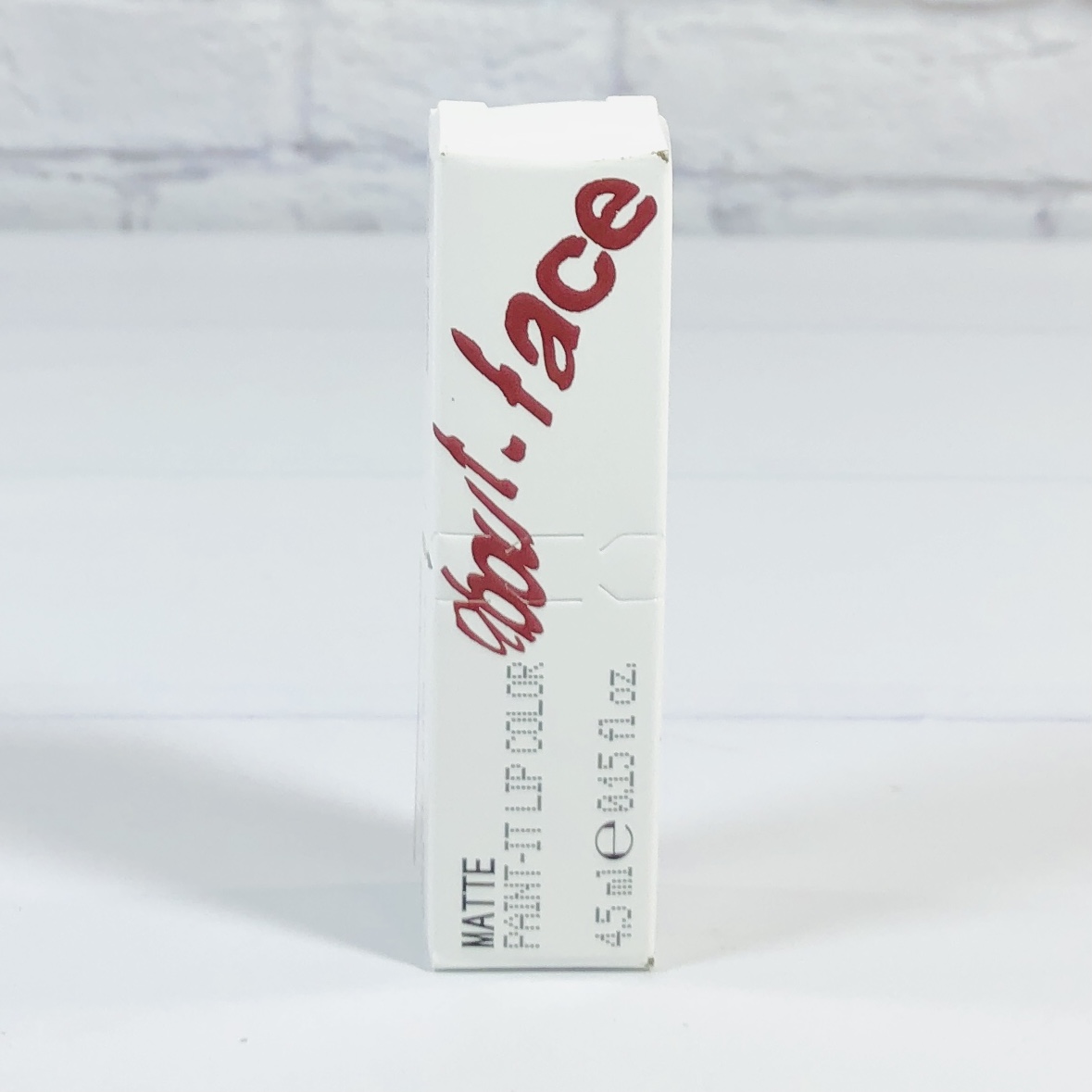 About-Face Paint-It Matte Lip Color in Take Aim ($22) Ipsy also picked out this long-lasting lip color which comes from singer Halsey's makeup line.
I like the container, I like the color, I like the formula, it's another winner to me!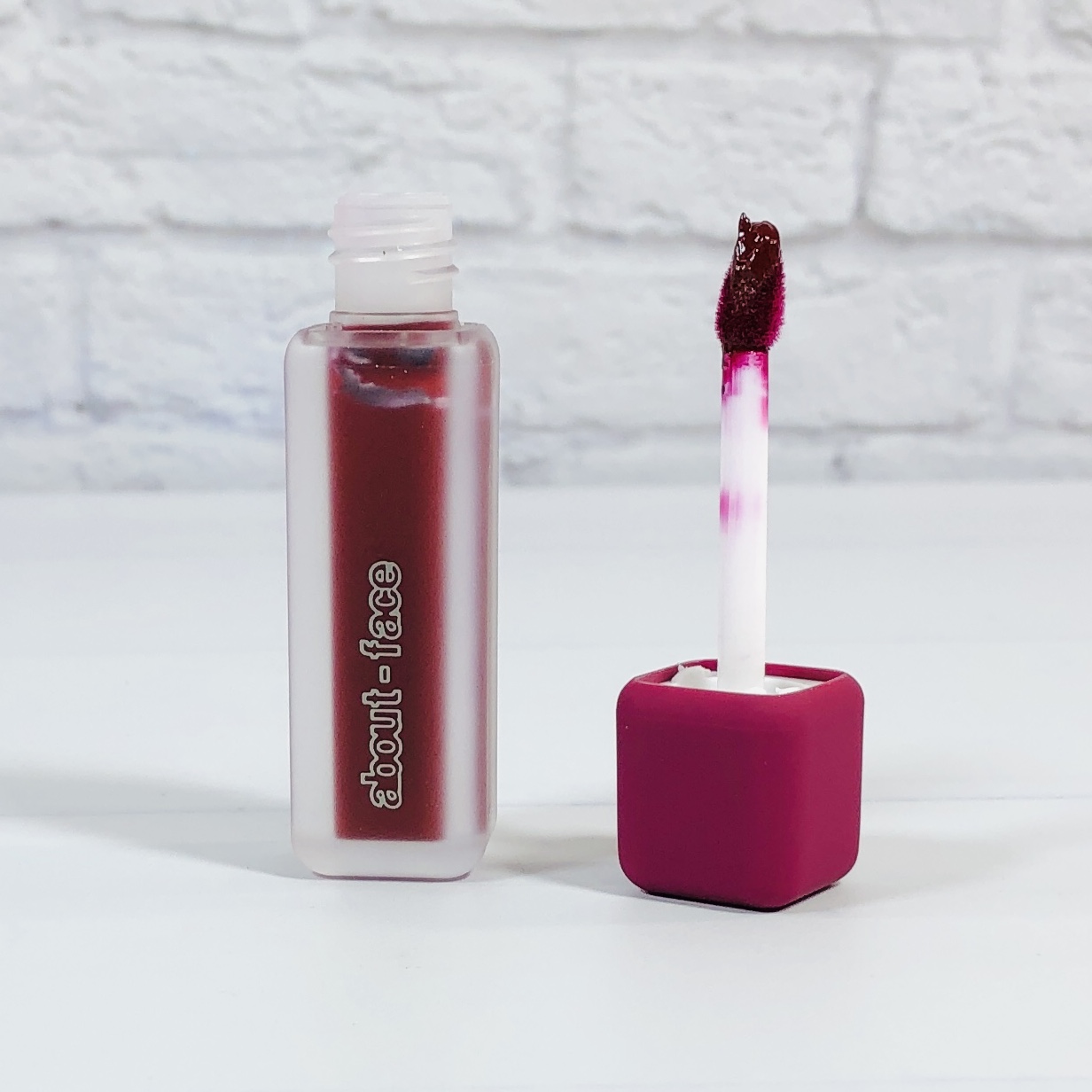 I applied this shade sparingly and then spread it around with a makeup brush. Make sure to work quickly, it dries to a matte finish in no time!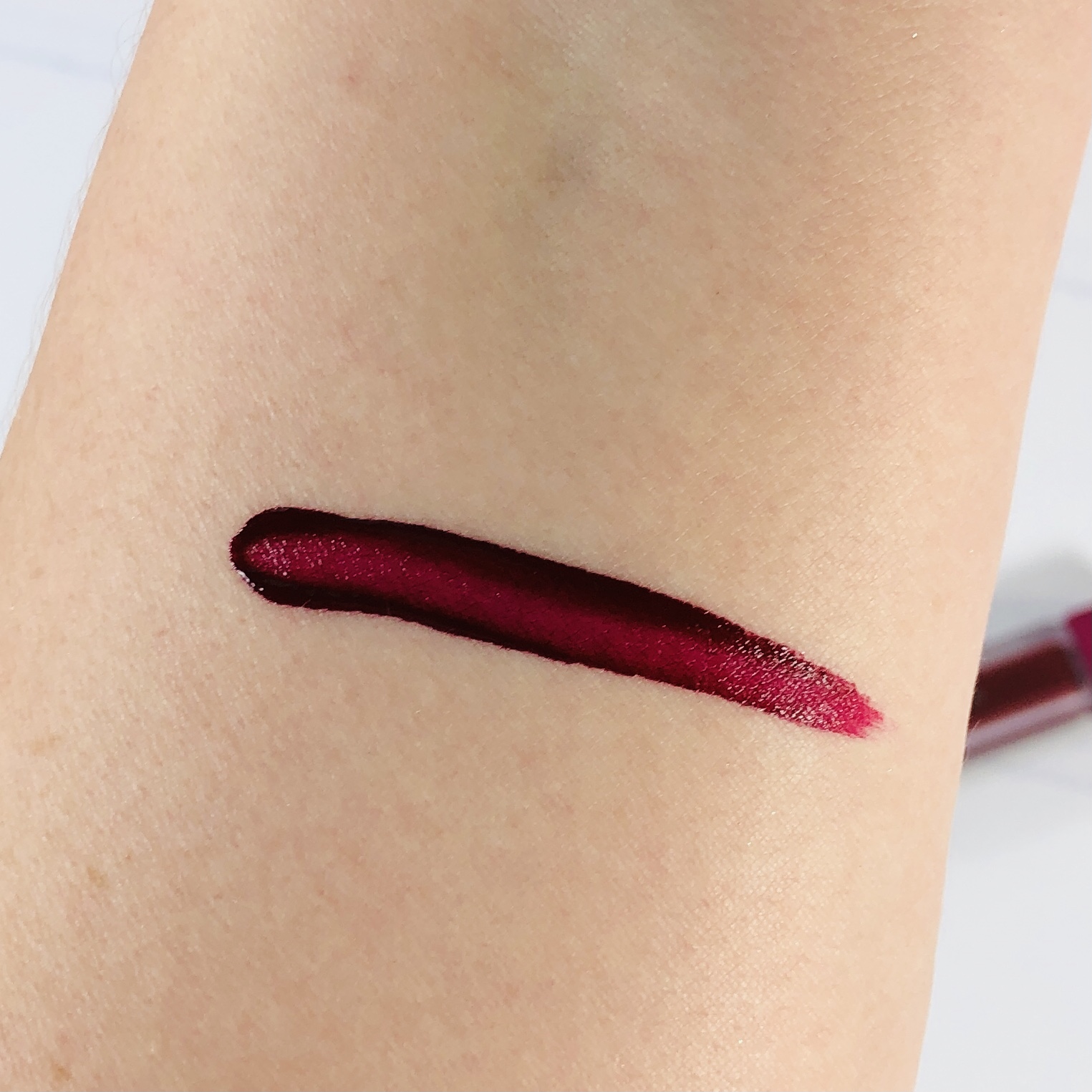 It's one of the darker colors in my collection but it felt good on my lips, didn't smear under my mask, and lasted for quite a while. I messed it up the first time I applied and lip balm helped me smooth it out so I didn't look weird.
Pat McGrath Labs Fetisheyes Mascara in Xtreme Black ($30) I am always up for trying new-to-me mascaras and this one didn't disappoint!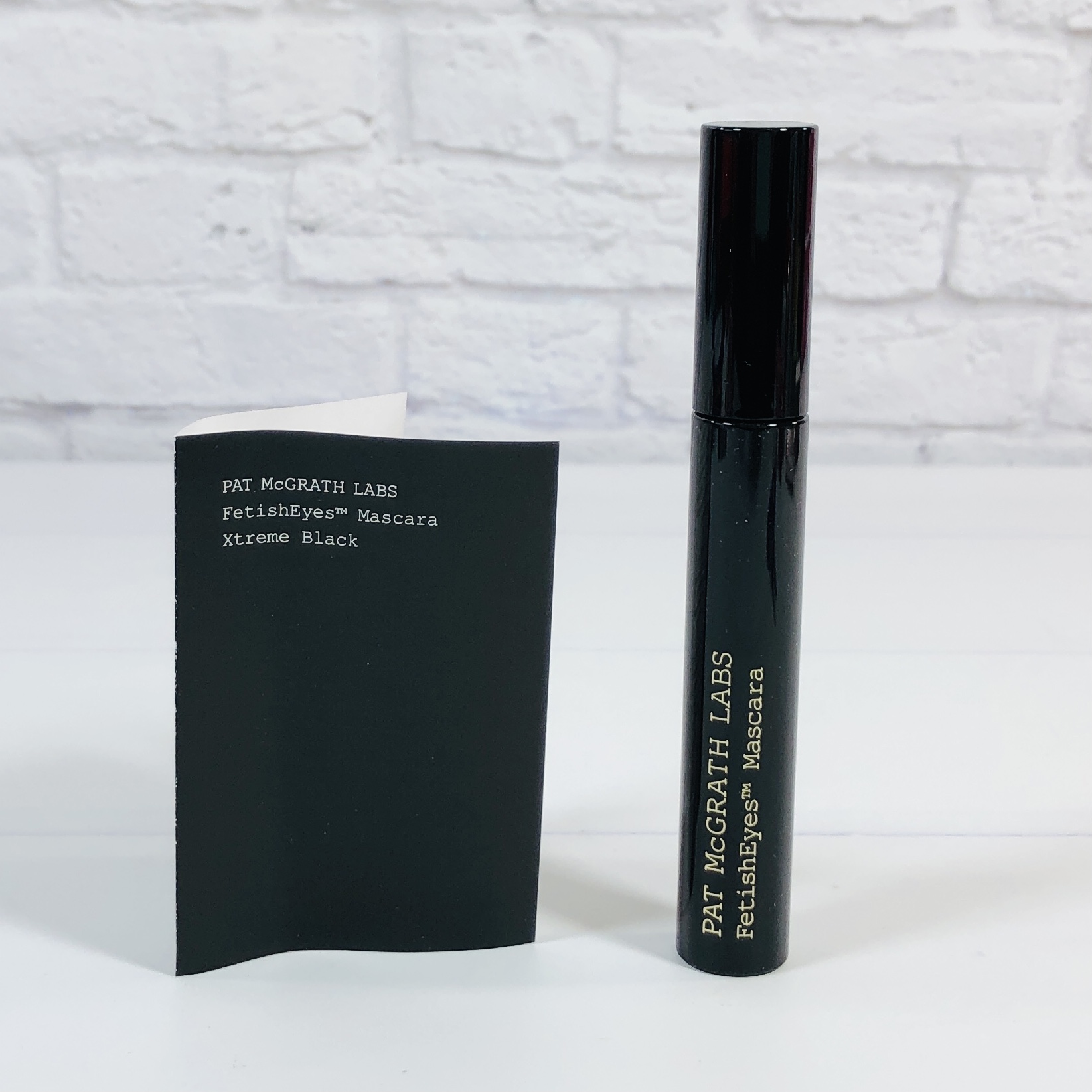 It even came with a little handout on what makes it so supreme.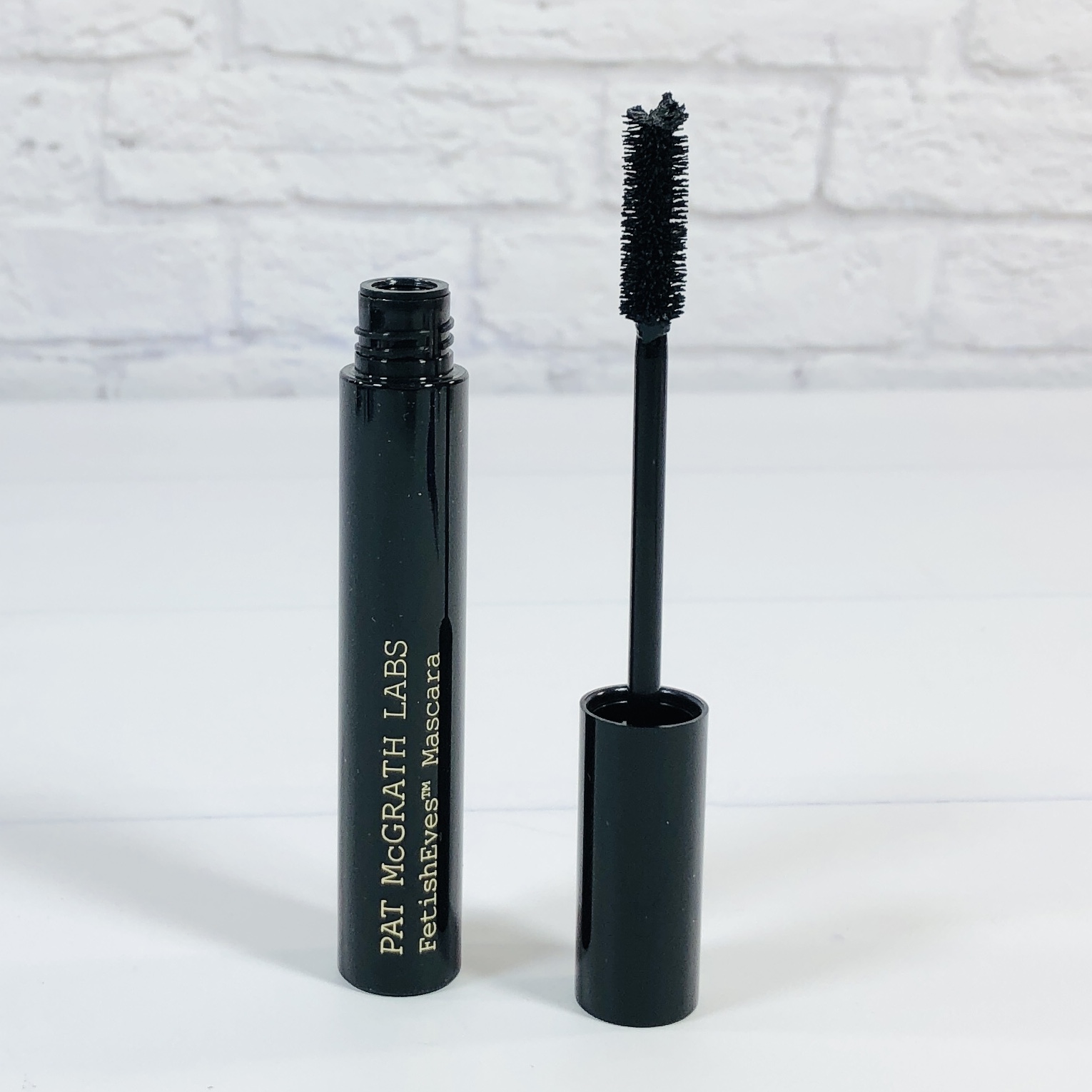 The wand looks different from those I usually use on my lashes. I thought it did a really good job on giving my lashes volume and a little length. I didn't notice fragrance on the list of ingredients but it smells like roses for some reason, at least to my nose.
Huda Beauty Rose Gold Remastered Eyeshadow Palette ($65) I believe everyone received this Rose Gold Remastered palette from Huda and oh my gosh, I am enthralled with it, I am using it every day and haven't worn the same look twice!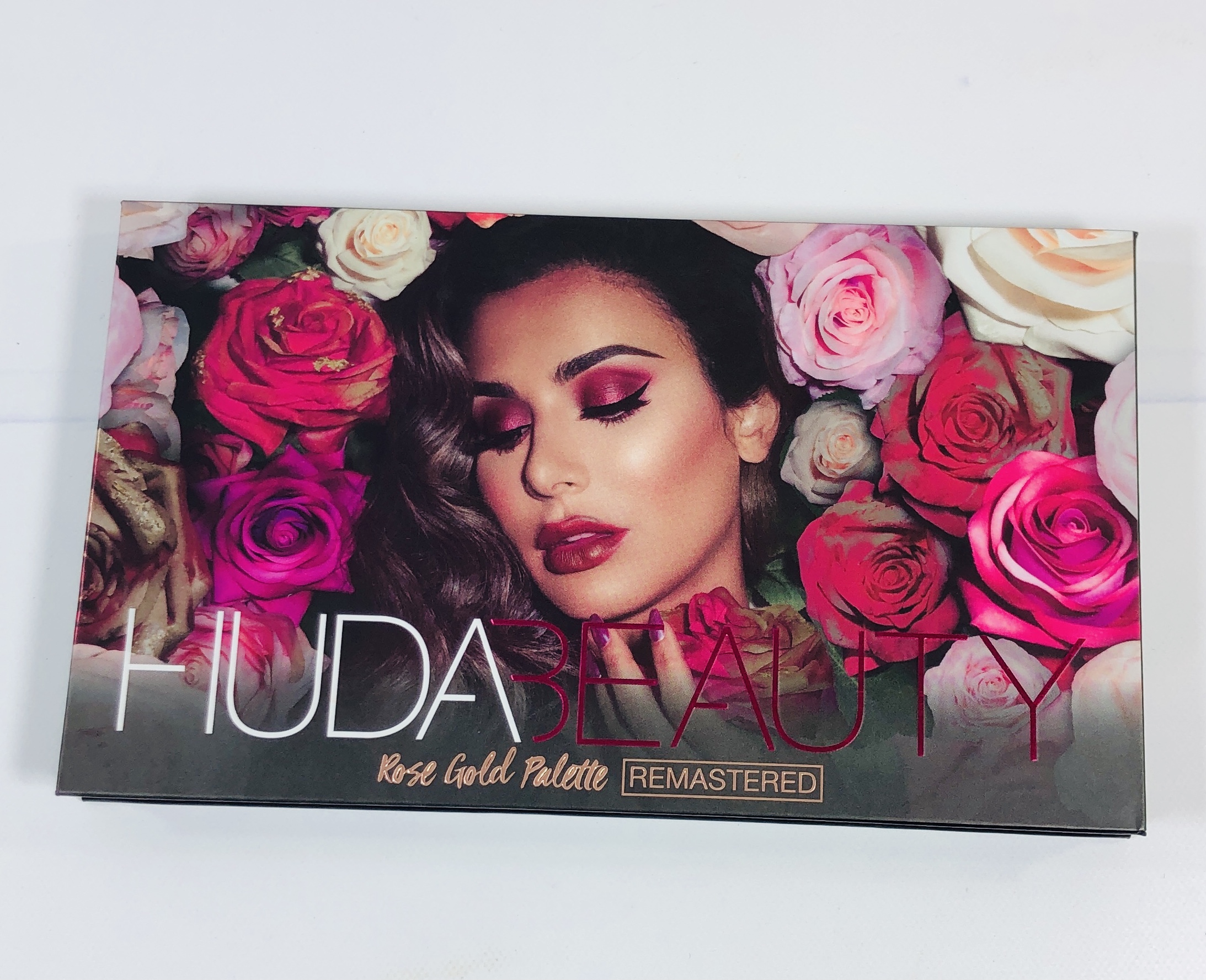 Even the cover is beautiful with some metallic accents here and there.
Oh my gosh with these shades, I just can't, they are too pretty, I'm getting verklempt. Talk amongst yourselves.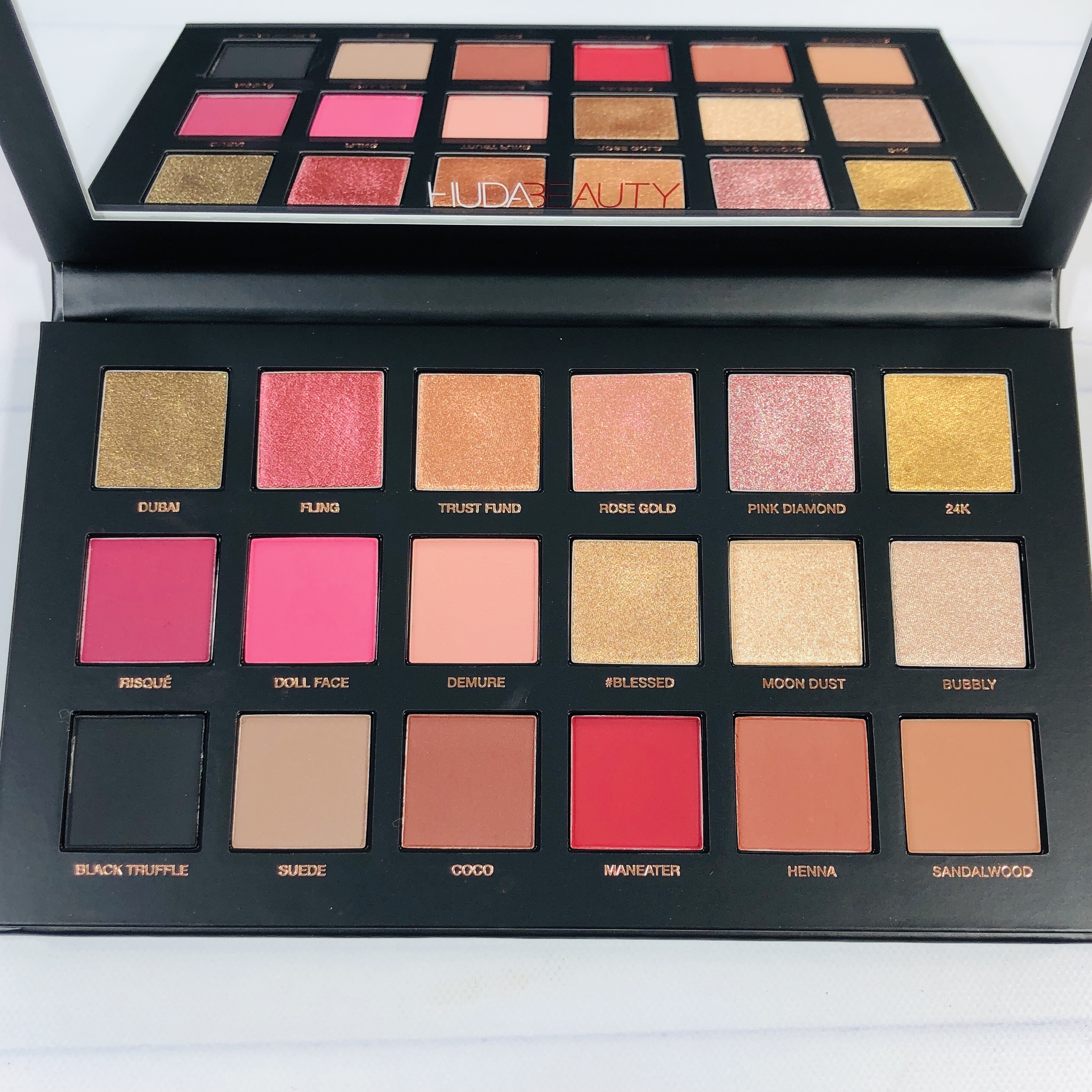 Ok, I'm back. The texture for some of these shades is buttery, that's why there's an indentation in some of them. Here's a description of the textures/finishes:
– 8 Butter Mattes in Risqué, Doll Face, Demure, Suede, Coco, Maneater, Henna, Sandalwood
– 8 Melted Metals in Dubai, Fling, Trust fund, Rose Gold, Pink Diamond, 24k, #Blessed, Bubbly
– 1 Dry and Wet Eyeshadow in Black Truffle
– 1 Pressed Pearls Eyeshadow in Moon Dust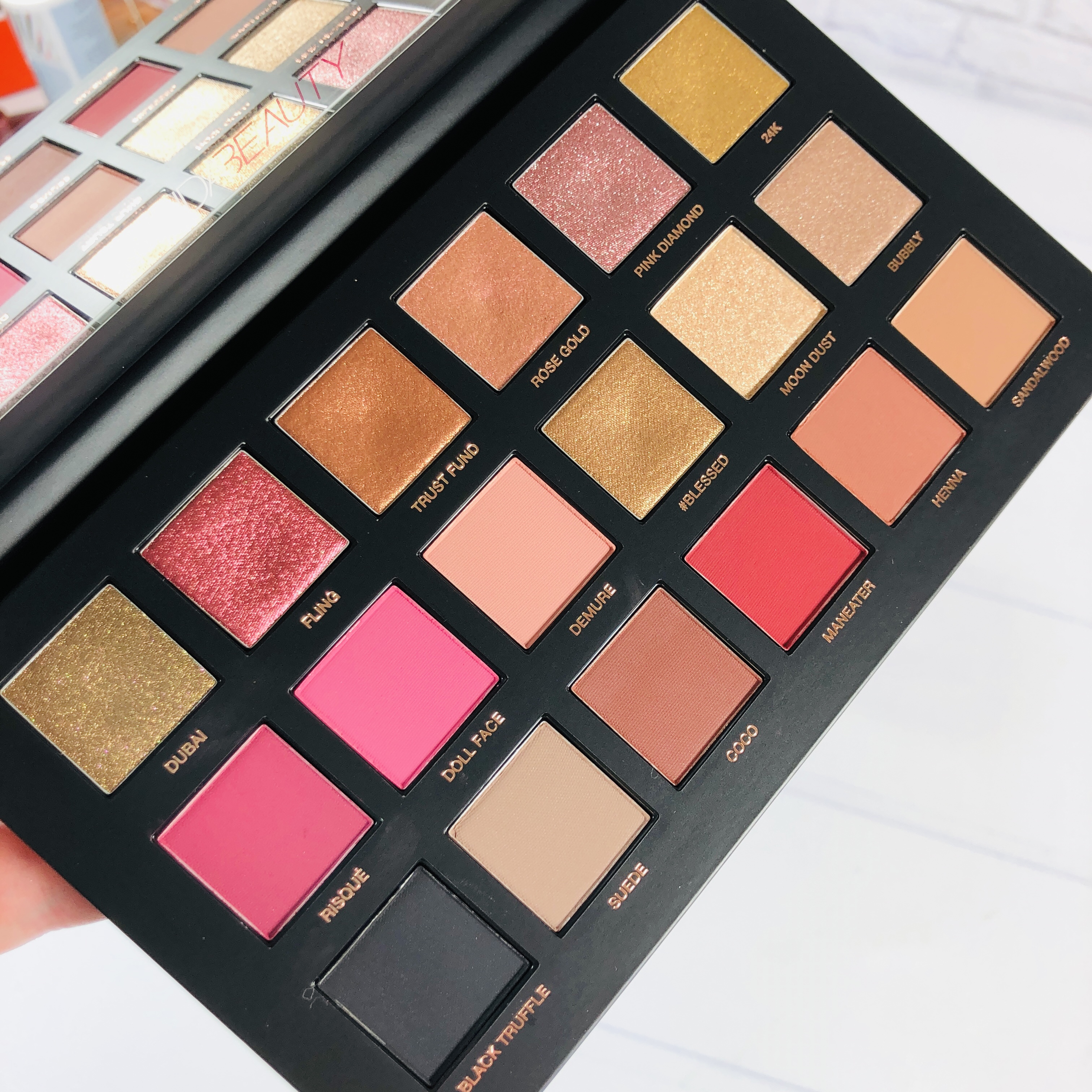 According to Huda, those buttery formulas are similar to fondant: imagine a molten lava cake, liquid in the middle and set on the edges. They feel so cool and go on smoothly.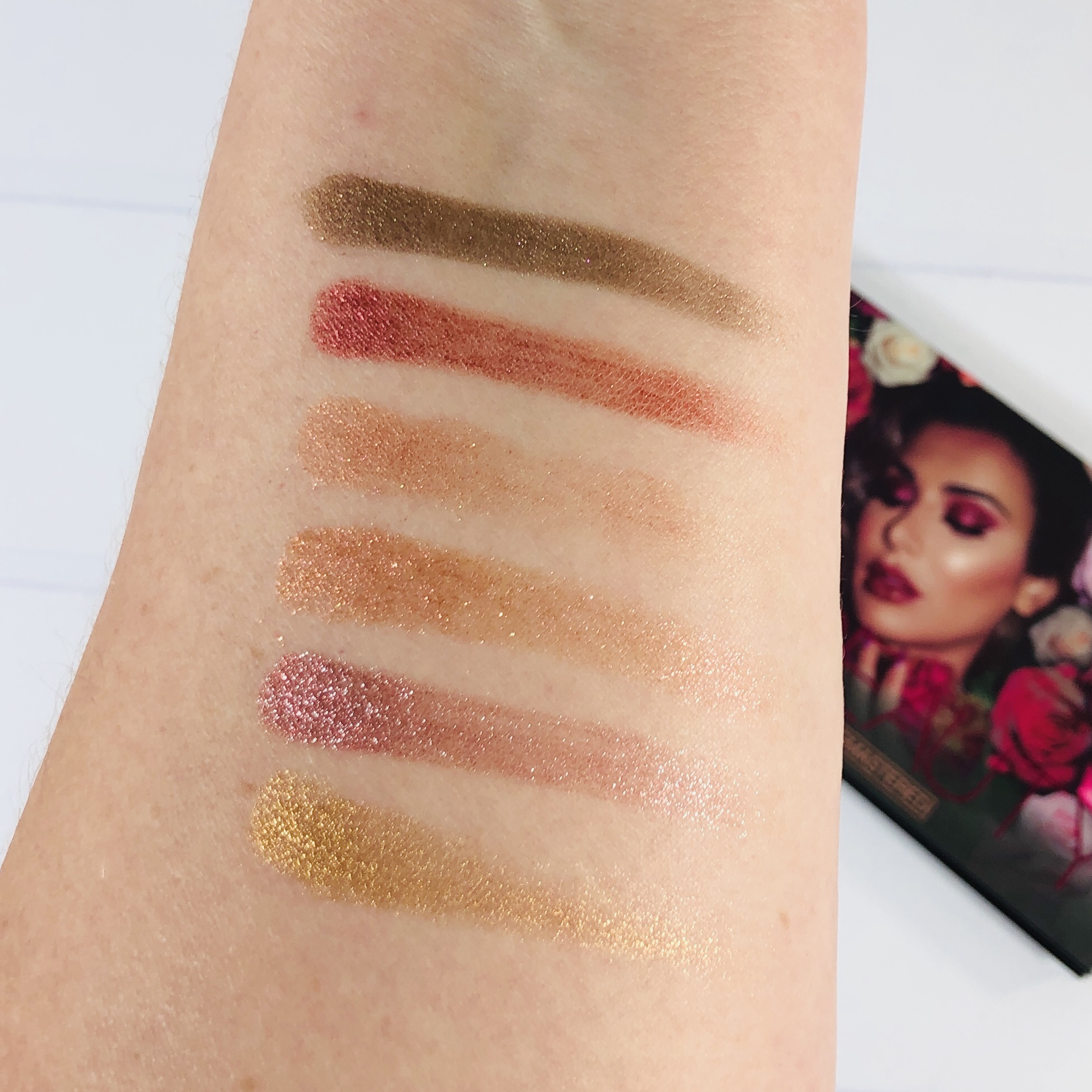 Here's the first row swatched.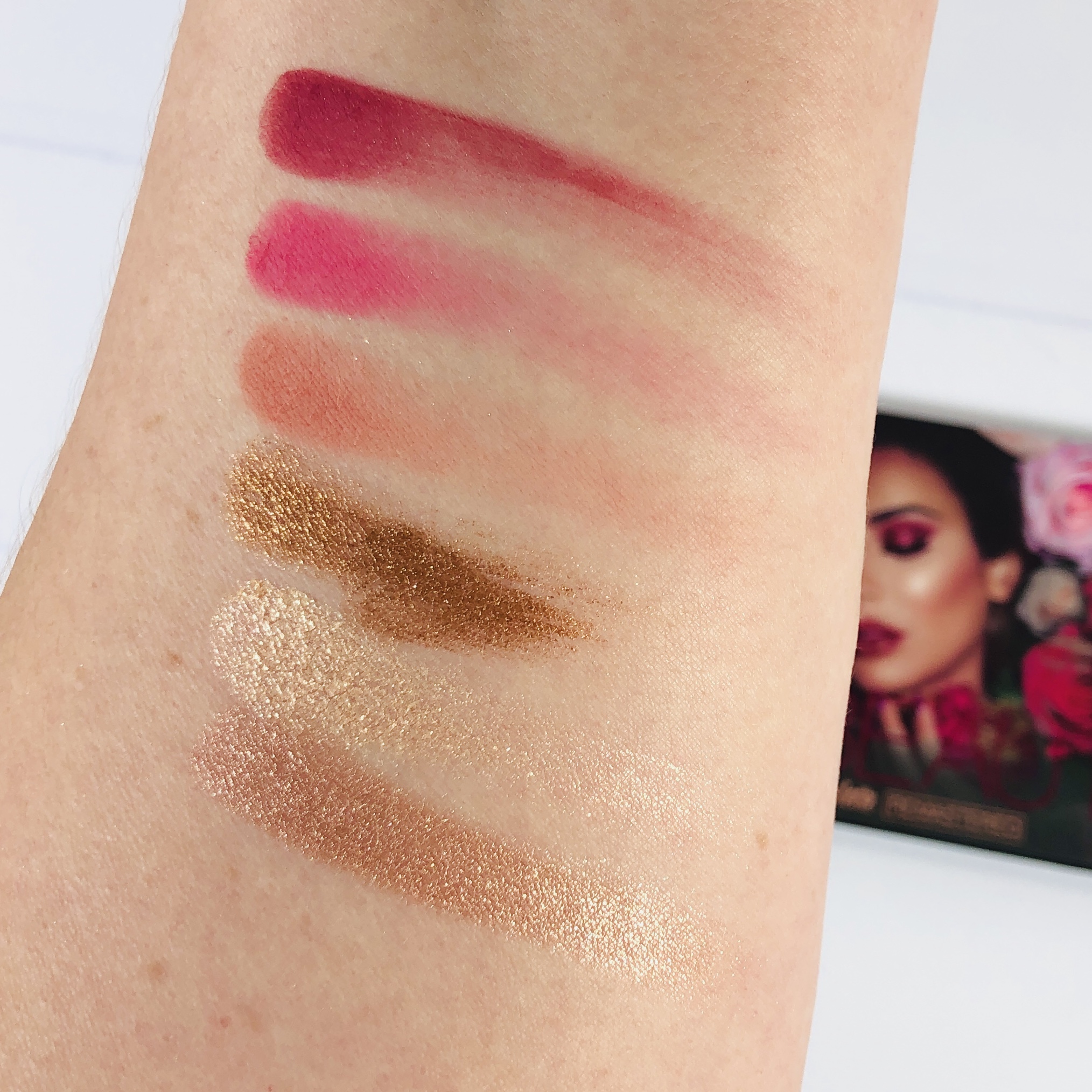 Here's the second row.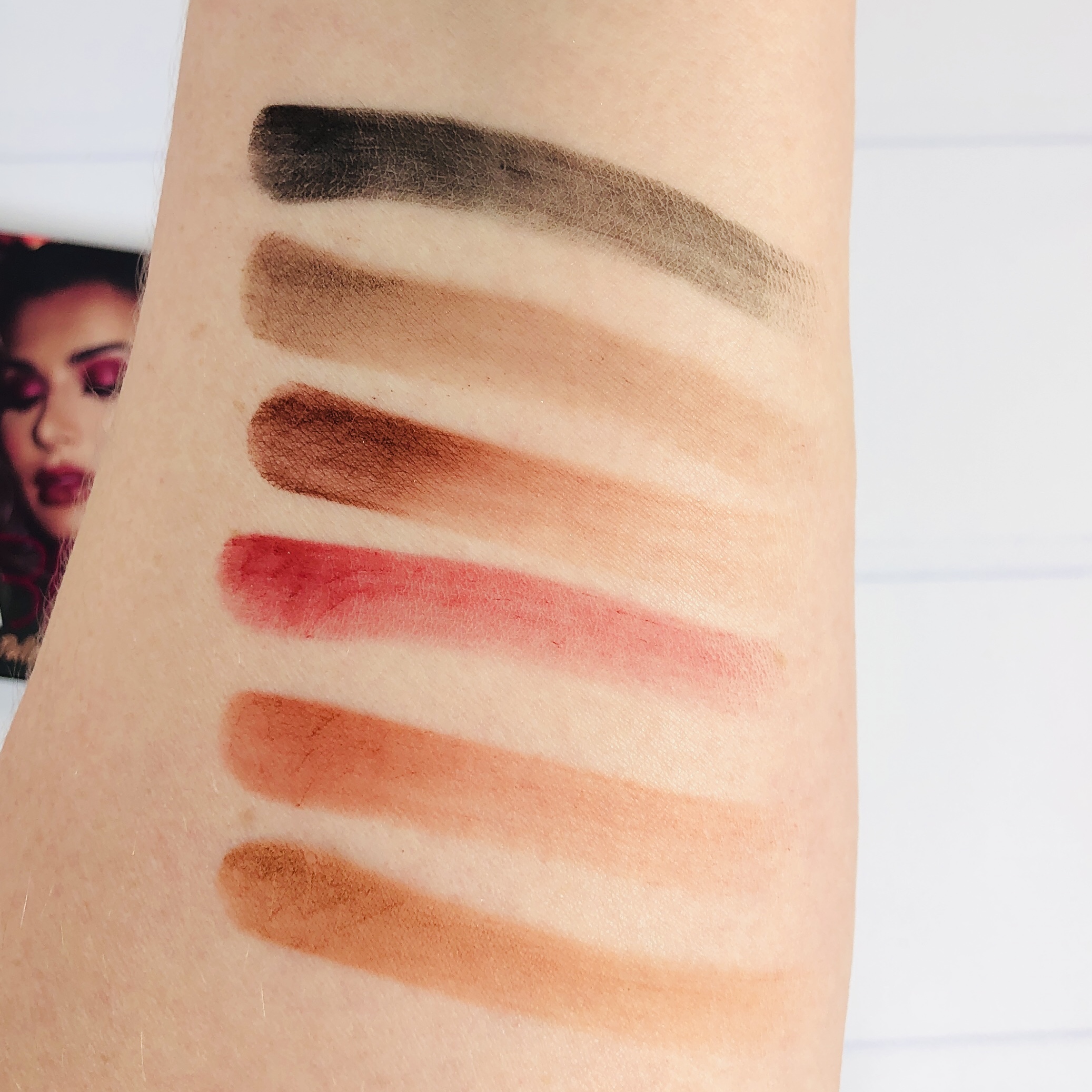 The final row is all mattes. I thought the color payoff was awesome and I really enjoyed playing with this collection.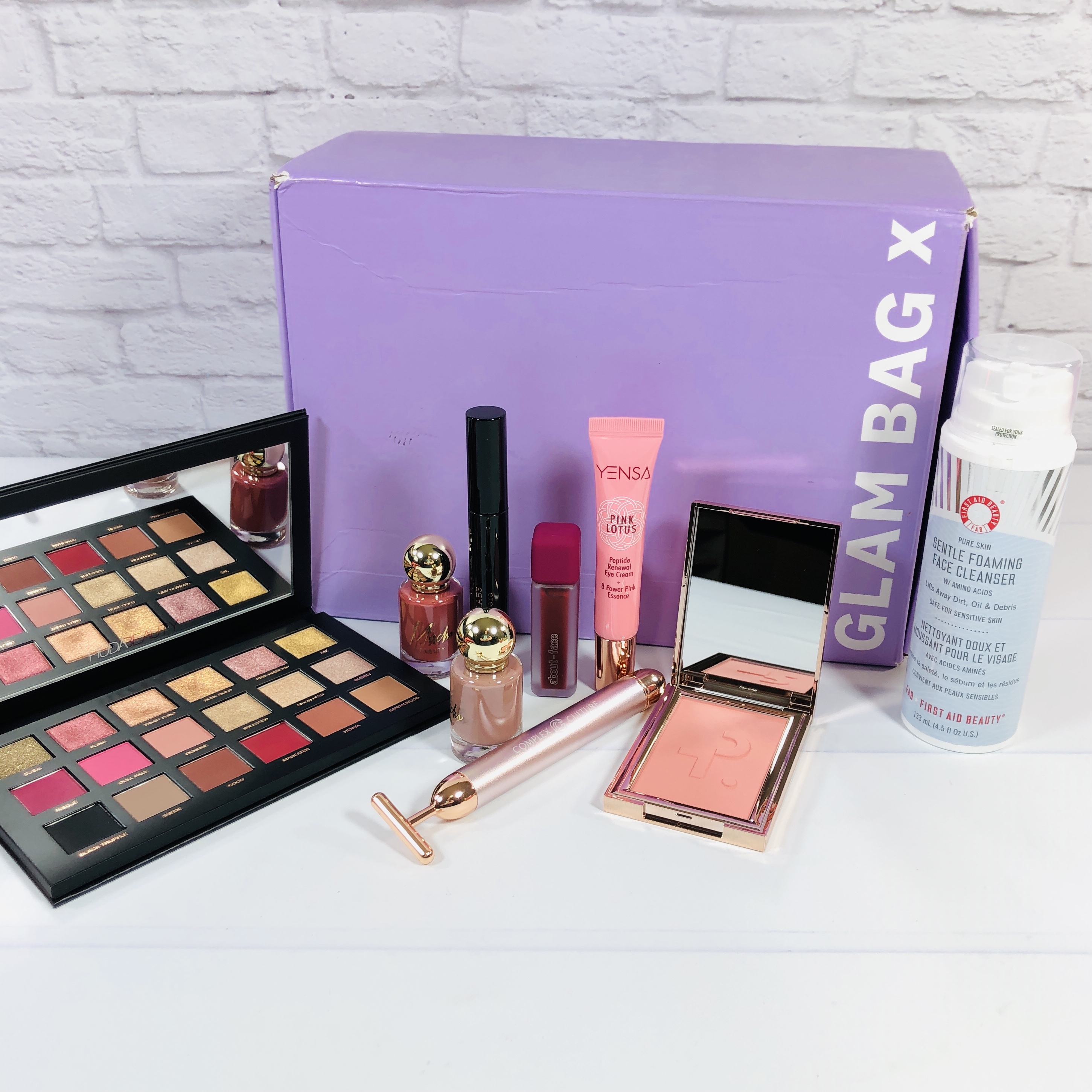 I can't believe how wonderful my very first Ipsy Glam Bag X was, I am in love! I adored both my own picks and the items Ipsy chose for me. I realize that there was a limited selection but they were all solid picks. There was only one item that wasn't a hit with me, and but it was still fun to try it out, you never know until you try. The other 7 products were amazing, with beautiful shades, formulas that worked well, and they just looked so darn cool, my box was almost color coordinated and perfect for February. The value for my assortment was around $314, which is mind-blowing! I am so excited to see what we'll be getting in the May box, and with the upgrade being quarterly, it gives me time to make progress in using up my latest stash.
What do you think of this month's Ipsy Glam Bag X?