There's always the feeling of excitement for every package that comes in the mail. Having to unbox them is quite a thrill! There are lots of subscription boxes for kids that are loaded with fun activities to work on. But finding subscription boxes that ship to Canada can be tough. Let us help by sharing with you a list of the best subscription boxes for Canadian kids. Birthdays, just because, graduation or holidays, they make great gifts, plus they're fun and educational as well!
These boxes send hands-on projects, science experiments, books, apparel, and art supplies that can capture a kid's interest and curiosity. Come along as we tackle each subscription listed below!
P.S. This list features boxes curated from Canada, ships from Canada, and ships to Canada!
The Best Subscription Boxes for Kids in Canada!
Image from: our review
Why We Love It: Kiwi Crate by KiwiCo is a kid's craft and activity subscription box that delivers arts, science, and engineering to various parts of the world, including Canada! It comes with a complete set of materials to finish a project and detailed, easy-to-follow instructions. The contents are intended for kids ages 5 to 8 years old. Projects require parental assistance sometimes, which also makes it a great box for a parent-kid bonding activity! Aside from necessary supplies for the featured activities, each crate also includes an issue of explore! Magazine, which contains comics, experiments, and games! Projects are always age-appropriate, and finished projects are ideal as toys or as playtime props.
Want to know more? Check out our Kiwi Crate Reviews.
Price: Monthly subscription costs $24.49 CAD, with savings for longer subscription plans. Shipping is free for orders $125 CAD or more.
Deal: Save 50% on your first month! Use this link to get the deal.
---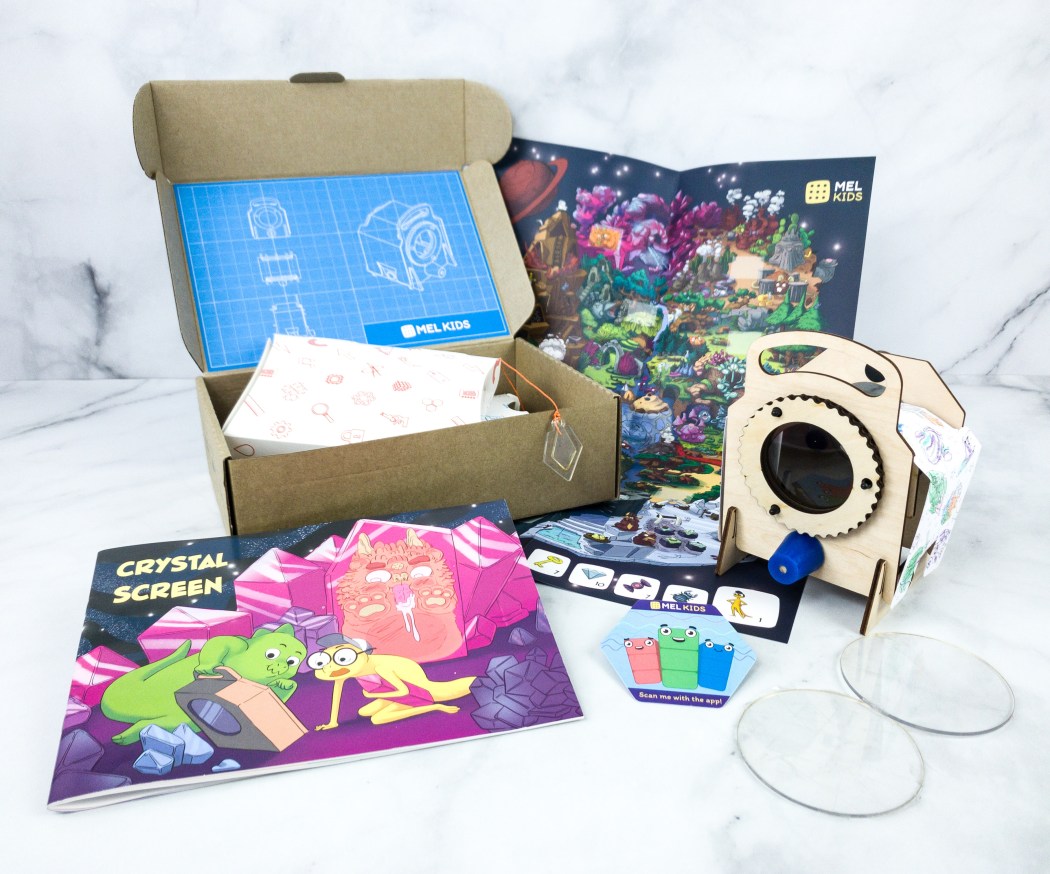 Image from: our review
Why We Love It: Canadian kids can get two or three science experiments with MEL Science. They deliver boxes containing hands-on projects to help expand a child's horizons. This subscription aims to captivate the interest of children by demonstrating real science in all of its beauty and depth. Need not worry because the experiments are designed for home use and are completely safe. It also includes educational comics and a unique piece of a story that kids can collect. Subscribers are also encouraged to download the AR app, which can accompany kids in learning about science!
See what cool stuff we've previously made on our MEL Science Reviews.
Price: The box costs $46.8 CAD a month. Get 1 free month when you sign up for a 10- month subscription and 3 months free for a 15- month subscription. Shipping is $1.90 CAD for each box.
Deal: Get 25% off your first month! Use coupon code HELLO25.
---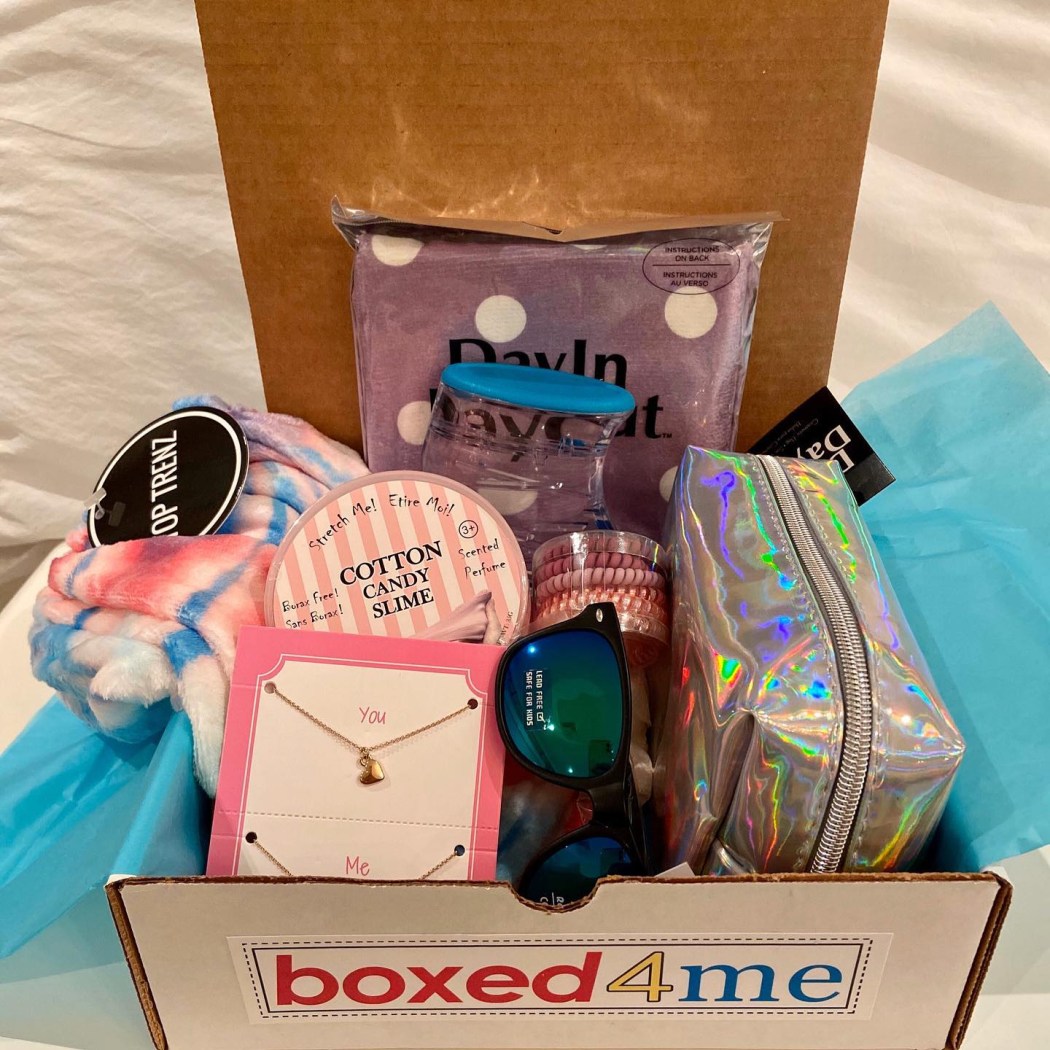 Image from: Boxed4Me
Why We Love It: Boxed4Me is a quarterly trendy subscription created for preteen girls. Two moms from Canada want to find a way to put smiles on their girl's faces, and they did! They curate boxes filled with different and unique items from brands they may not have discovered yet. Each awesome package includes 6-8 items like hair accessories, clothing and apparel, a piece of jewelry or other accessories, room decoration, novelty items, craft & games, and at least one "season-appropriate" item that they will surely enjoy! You can also get the Mini Box and receive 2-6 items previously included in past subscription boxes.
Price: One year subscription costs $199 CAD ($49.75 CAD per box. Shipped every season). Shipping costs $9.99 CAD per box.
---
Image from: Raven Reads
Why We Love It: Give your kids the right resources to enhance their knowledge. Raven Reads send you a carefully curated box containing top-quality indigenous items. This subscription desires to educate others about the devastating impact residential schools had on indigenous people in Canada. Raven Reads For Kids includes a beautifully curated collection of two or three children's books written or illustrated by Indigenous authors that are appropriate for ages 9 and under. There's also a book diary, where they can journal their review of each book! This subscription makes the perfect source for parents looking for age-appropriate books. And yes! Shipping is free within Canada!
Read our Raven Reads Reviews to find out more details.
Price: Subscription costs $70.49 CAD per quarter, $133.99 CAD 6 months prepaid, and $261.99 CAD 12 months prepaid. Shipping is free in Canada and a $5 flat International fee per box.
Deal: Get 15% off your first box! Use coupon code TRYME15.
---
Image from: Banyan Tree Kidz
Why We Love It: With the mission to bring back the art of reading and hands-on learning where young minds learn about science, technology, engineering & math in an exciting way, Banyan Tree Kidz sends a box containing all these! It's Canada's first-ever subscription box catered for young makers, artists, creators, scientists, and innovators, which nurtures their creativity and imagination. Reading and Science combined in a single subscription box! What can we say more? Each box comes with an award-winning hardcover book that's fun and beautifully illustrated, hands-on STEM projects with all the materials needed, and an instruction guide for parents so they can support their little one's learning. You can also enjoy exclusive promo and discount codes!
Price: The box costs $39 CAD per month, with discounts on longer subscription plans. Shipping costs $9 CAD ($7 USD) to US and $13 CAD to Canada.
---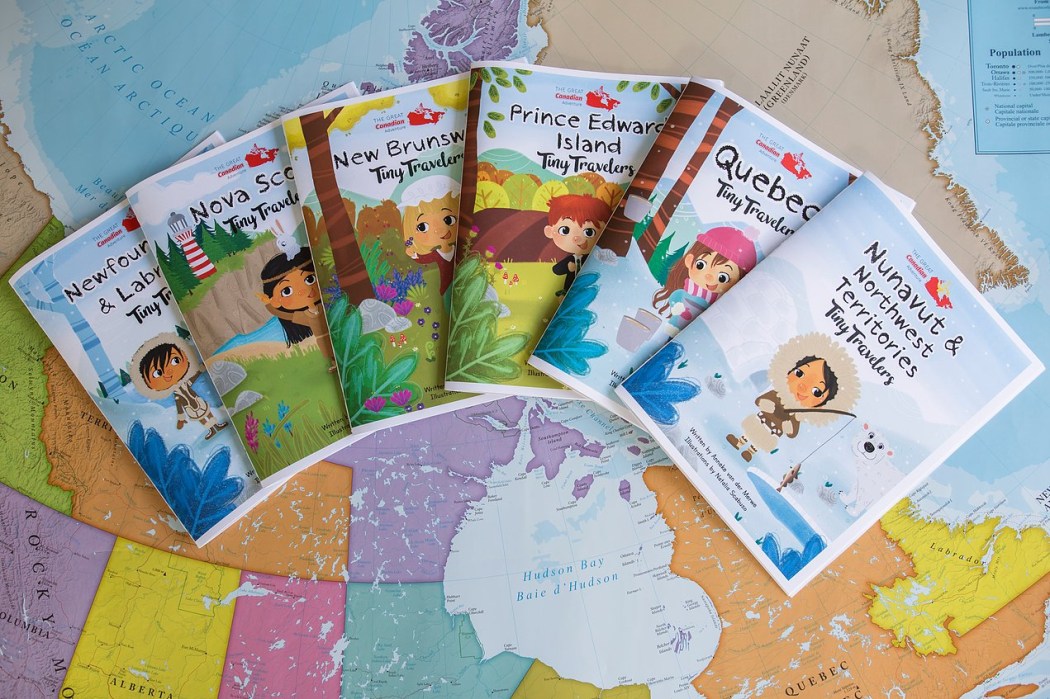 Image from: The Great Canadian Adventure
Why We Love It: Kids will learn more about the geography, history, and culture of different provinces in Canada with The Great Canadian Adventure. Mixing learning and fun in one subscription box makes it the ideal gift to give kids! It delivers high context learning that employs a variety of techniques, including map work, science experiments, research assignments, and discussions to promote active engagement for learning. One Canadian province is featured every month with science experiments that apply to the natural systems in each province. You can choose from 4 subscription adventures:
Tiny Travellers – aims to introduce children ages 5-7 to Canada's province and people.
The Great Canadian Geography Adventure – a geographic journey through each of the provinces and territories of Canada. It also includes one key supply needed for a fun science experiment.
The Great Canadian History Adventure – build-your-own smash book of Canadian history.
Discover Canada Multi-Series – a journey through each of the dominions of Canada. One month is a geography set, and the next is a history set of the same province.
Each series covers ten provinces and the three territories of Canada.
Price: Subscription starts at $24.50 CAD per month, or less on a 6-month and 12-month prepaid plan option. Shipping is free in Canada.
---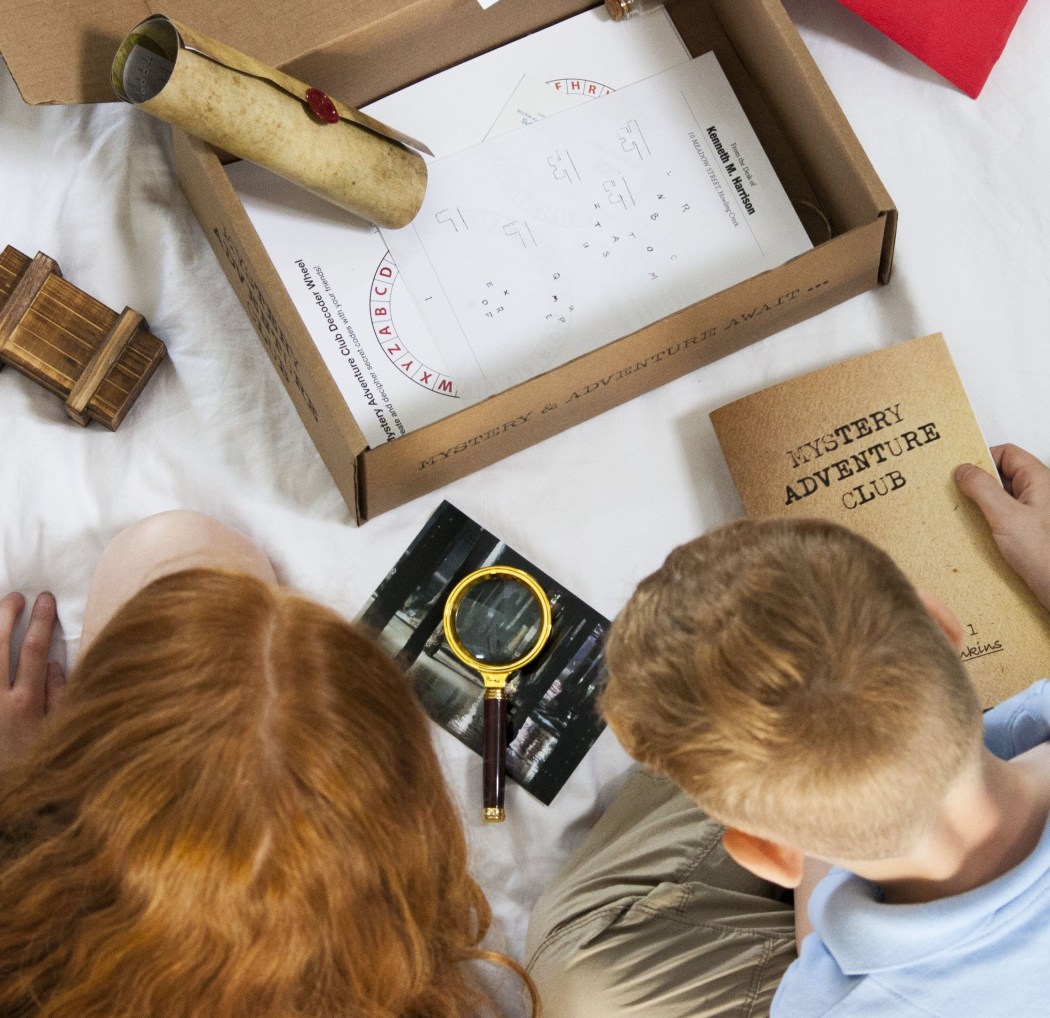 Image from: Mystery Adventure Club
Why We Love It: Mystery Adventure Club is an interactive experience that wakes up your kids' imagination and critical thinking by giving them a contained mystery in a box that ships from Canada! They inspire kids to see themselves as adventurers, explorers, and detectives. Join the club and gift them with a unique challenge they can take their time into. It contains puzzles, clues, and other related items you can use in solving every corner of the mystery. Each box is a stand-alone mystery, so you don't need past boxes to get to the bottom of it. It's a mystery club where they can feel included and connected to the world!
Price: The box is delivered every other month for $35.99 CAD, and less for a 4-month, 6-month and 12-month prepaid plans. Shipping is $20 CAD ($15.7 USD) to Canada and US.
---
Image from: our review
Why We Love It: Kidspire Crate inspires kids, both boys, and girls by featuring a SHEro (female hero) every month. They spend months researching and curating themes and activities that are truly fun, engaging, and developmentally appropriate. This subscription is made with love in Vancouver, Canada, and provides girl power and eliminates the gender gap. It highlights the achievements of women through powerful stories and stimulating activities. Inside every box comes a book featuring a female hero who inspired others and made the world a better place. It also includes toys, crafts, experiments, and a whole lot of fun! Parents can talk about gender equality with their kids through the help of a monthly letter that comes from each package. There's a box for specific age group: Spark Box (3-6 years olds), Ignite Box (6-9 years old), and Mini Mailer Boxes such as Spark Book Mailer (3-6 years old) and Ignite Book Mailer (6-9 years old).
Read the Kidspire Crate review for more info.
Price: The subscription boxes are $43.99 CAD per month plus shipping ($7.99 CAD flat-rate to Canada and the US) and go down the longer you subscribe.
Deal: Get 10% off on your first box! Use coupon code HELLO10.
---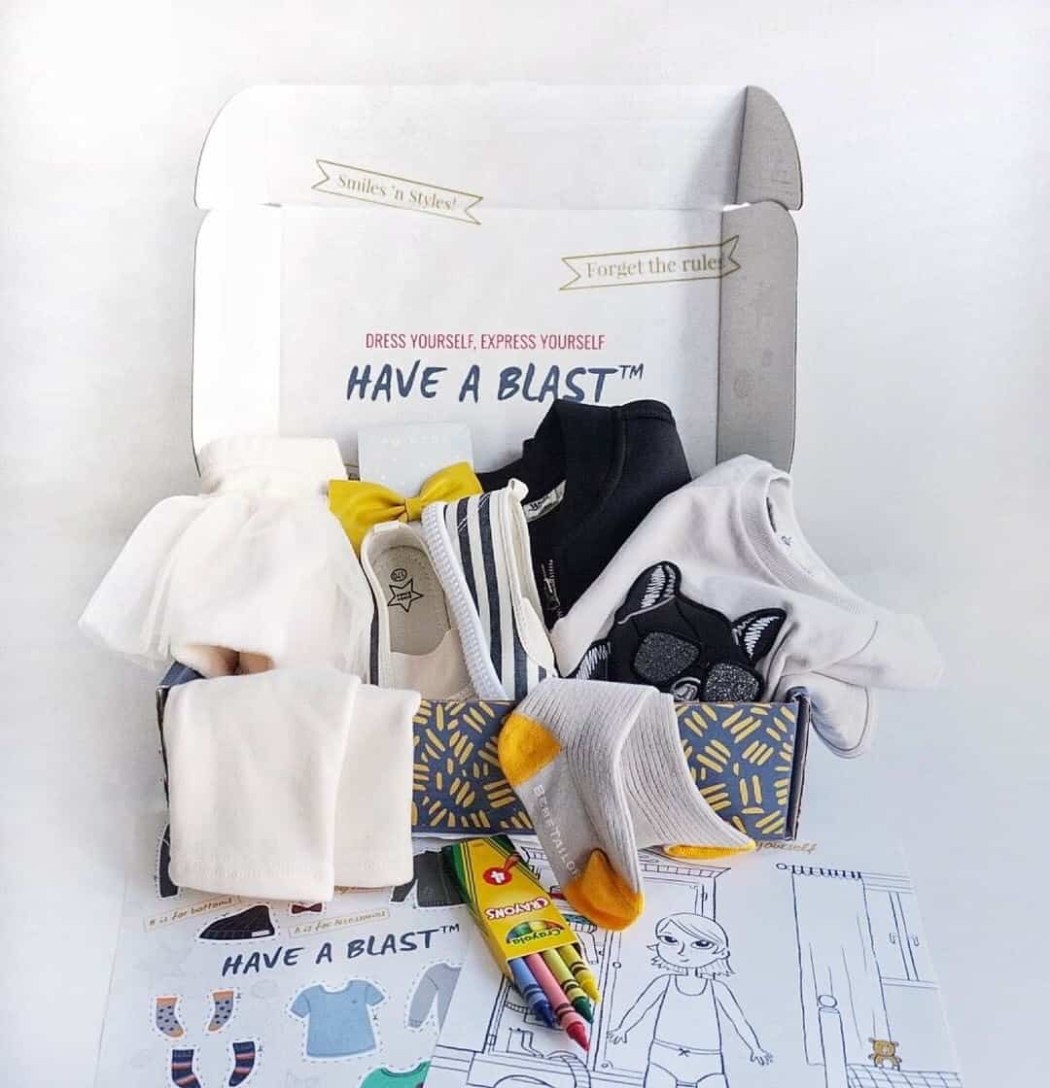 Image from: Choulala Box
Why We Love It: Canadian kids can express themselves through the way they dress, and that's what Choulala Box is all about. They aim to empower kids ages 2-6 years old to cultivate independence through self-dressing and provide moms with a gorgeous, modern, and sustainable solution to wardrobe woes. Pieces can be easily mixed and matched and they carry brands from Canada, the USA, and South Korea. The Blast ™ Box Bundles sends a bottom, a top, accessories, socks & shoes, and layers. You can choose what goes in your bundle, and it must contain at least 3 items. It also includes a free deck of a 49-card set that teaches wardrobe basics, a guide, and a coloring kit! Shipping is free for orders over $100 across Canada! What makes it even greater is for every piece you purchase, they will provide 3 meals to a local family in need!
Price: Subscription costs $87.78 CAD per month, $210 CAD- 3 months prepaid ,and $382 CAD-  6 months prepaid. Shipping is free for orders over $100 CAD.
---
Image from: Curiosity Box
Why We Love It: Feed your kids' minds and develop their artistic skills with the Curiosity Box. It is a monthly arts and crafts subscription that sends fun stuff for kids and helps build creative minds all around Canada! Choose from three available subscription boxes: the Discover Box for kids ages 2 – 4, the Creation Station Box for kids ages 5 – 7, and the Great Explorer Box for kids ages 8+, and get a fun-filled box delivered straight to your doorstep each month. Inside the boxes, you will find an engaging activity, STEAM projects they can work with, craft supplies, books, fun-themed goodies to keep kids playing all month long, and little extras. With each themed box, little ones can discover, create, and explore a whole new world!
Price: Monthly box costs $37.95 CAD. Get savings up to $60.54 CAD when you prepay 3,6 or 12 months. Shipping is Free!
Deal: Receive 15% off on the purchase of 2 or more boxes. Use coupon code SAVE10.
---
Image from: our review
Why We Love It: Nurturing young readers is more fun with Lillypost. They believe that reading changes lives, and so do we! This Canadian subscription lets parents find children's books and send them straight to doorsteps all around North America. It also serves as a way to discover potential favorites. Books are selected by passionate parents, aunts, and uncles just like you. They offer three options where you can choose the box that best suits the age of your child. There's the Board Book Box for ages 0-3 that contains 4 board books, and for ages 4-7, there's Picture Book Box that includes 3 picture books. The Mixed Book Box is suitable for all ages and contains 2 picture books + 1 board book. Aside from cool books, it also includes some bonuses like fun stickers! Another notable thing about this subscription is that for every box purchased, they donate one book to a child in need.
See our Lillypost Reviews to know more.
Price: Lillypost box starts at $25.57 CAD per month + $4.95 shipping per box
Deal: Get 15% off your first box! Use coupon code BOOKS15. Discount does not apply to shipping or gift wrap.
---
Image from: our review
Why We Love It: Give your kids a fun activity that they can enjoy and take their time into. Brick Loot is a subscription box created by a LEGO-loving kid for kids who love to build and who are big LEGO fans too! This subscription ships to Canada and sends LEGO and brick related items that you can put together to create wholesome figures and mini buildings. Items vary each month, so be prepared to be surprised! Each box contains 4-8 unique and never-before-seen items that are handpicked by their LEGO loving team. Also included are brick loots exclusive like Minifigures and custom LEGO kits that kids will surely enjoy. Get your hands with the newest brick items before they hit the market!
See what we've built when you visit our Brick Loot Reviews.
Price: The monthly subscription costs $34.97 CAD, with discounts when you purchase a 3 month, 6 months, or 1-year subscription.
Deal: Get 15% off on your subscription! Use coupon code Hello15.
---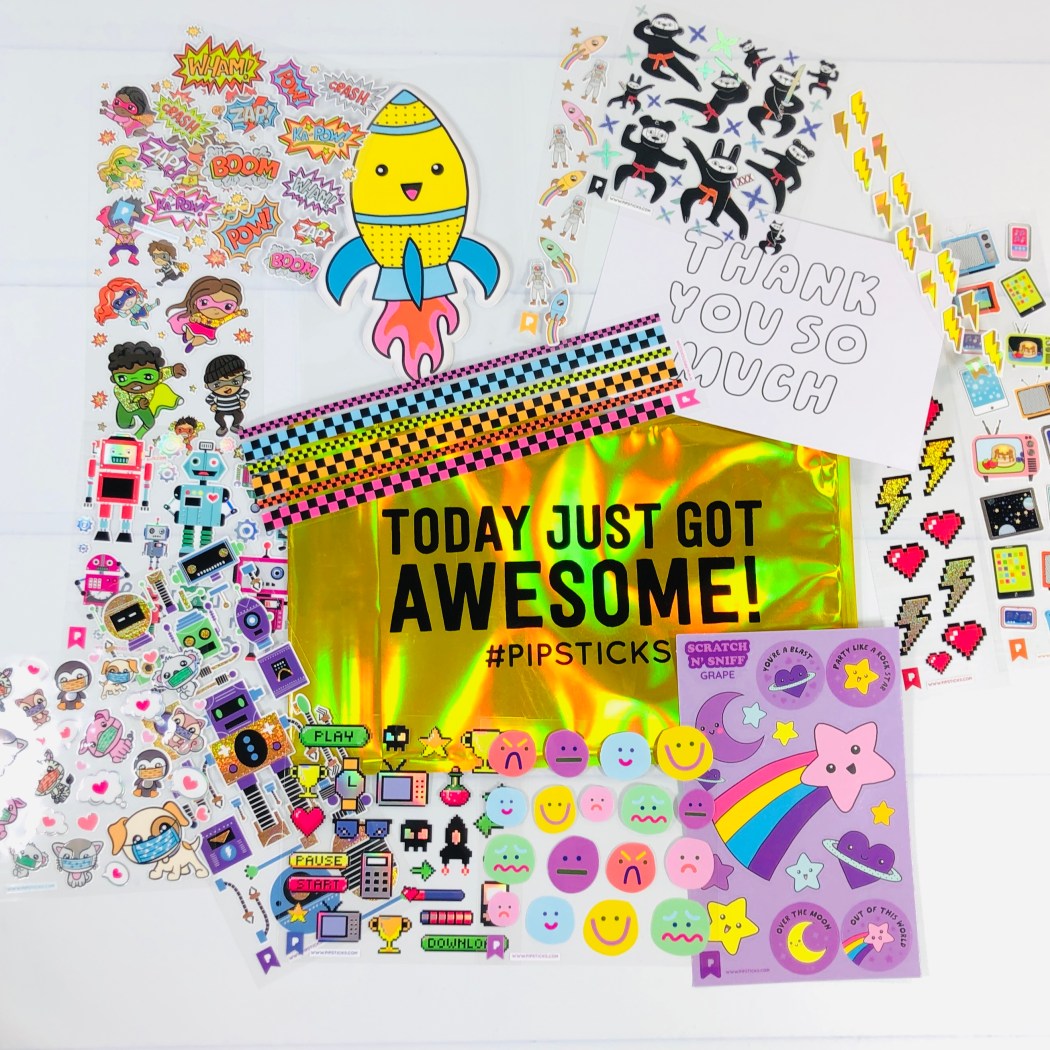 Image from: our review
Why We Love It: Who doesn't love shimmering, colorful, and cute stickers? We know stickers have the magical ability to make kids happy. Canadian kids can also enjoy stickers from Pipsticks because they ship to Canada! They search far and wide to make sure kids always get a variety of cool and cute stickers every month. Each box includes 7-15 fun sticker sheets depending on your chosen plan. It also comes with a coloring postcard, a reusable holographic pouch, and an activity booklet. As a subscriber, you'll get 5% off all online store purchases and access to their VIP Subscriber FB Group. Join Kids Classic or Kids Petite. There's also the Printable Subscription that sends fun activities, coloring pages, and DIYs you can download from your inbox!
Check out different sticker sheets they've sent us on our Pipsticks Reviews.
Price: The monthly subscription costs $15.32 CAD for the Petite Pack and $23.01 CAD for the Classic Pack.
Deal: Save $5 on your subscription! Use coupon code FRIENDSROCK.
---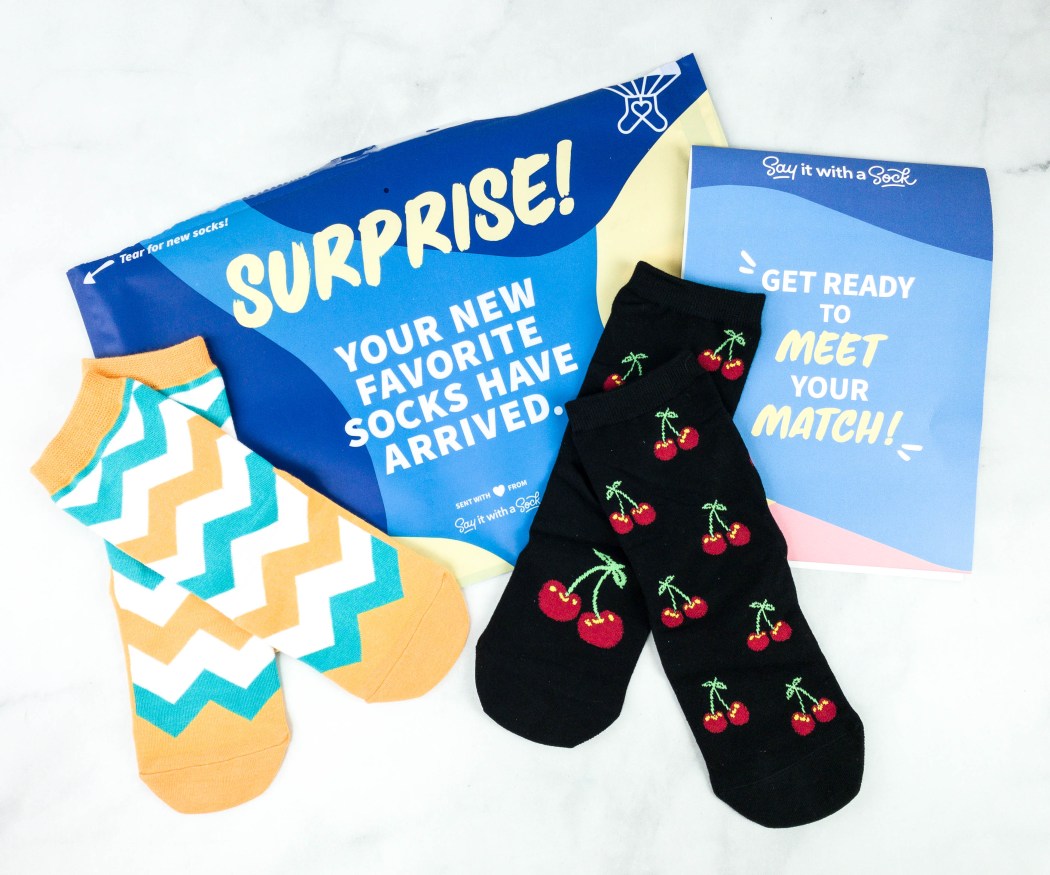 Image from: our review
Why We Love It: Kids have specific tastes when it comes to the clothes they wear, and socks are no exception. Say It With A Sock Kids provides comfy socks that are made from the highest quality combed cotton every month. It features fun, colorful, and cute socks for kids to pair with their fave footwear! Kids who live in Canada can also enjoy wearing these socks because they ship to various parts of the world! Their mission is to help you discover awesome sock styles and brands. There's a style quiz to help personalize the subscription, and the recipient will also get a note along with their new warm fuzzies. Also, this sockscription sends only brand-name socks!
If you want to know more information, check out our Say It With A Sock Reviews.
Price: The 2-Pair Sockscription costs $17.74 CAD per month + free shipping
Deals:
Get your first month for $11.99! Use coupon code WELCOMETOTHECLUB.
Save 15% on your first order. Use coupon code SOCKS15.
---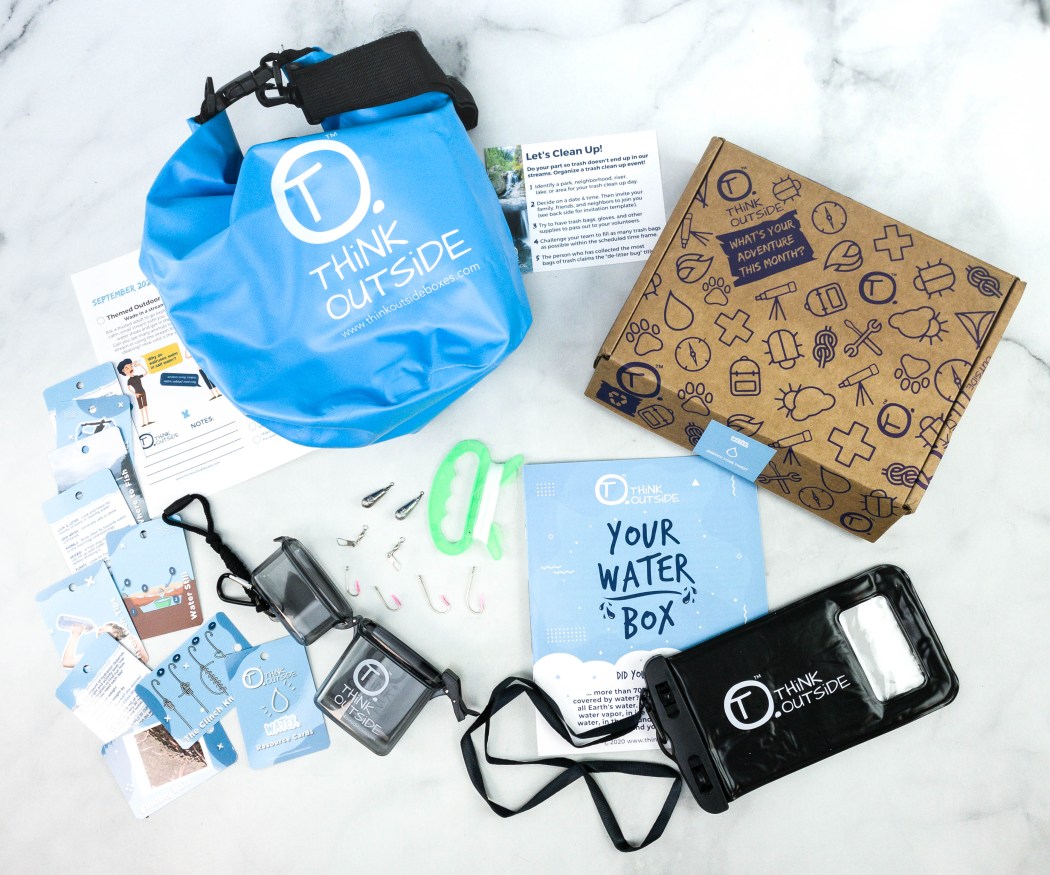 Image from: our review
Why We Love It: Let your kids explore the great outdoors and help them sharpen their instincts for survival with THiNK OUTSiDE BOXES. Young adventurers from Canada can also get this subscription! Get them away from their mobile phones by exploring nature. Over the course of one year, kids can build their own survival pack, as every month includes 3-5 quality outdoor gears, water-resistant resource cards, a 24+ page educational booklet, hands-on activities, and challenges to do as a family. Each box may require parental guidance and participation, so it's a fun bonding time for the whole family! Subscription starts with an initiation box followed by 12 different monthly themes such as stargazing, shelter building, navigations, and more! With this subscription, you can give kids that feeling of accomplishment and independence while learning basic outdoor skills, helping build character, and instilling respect for nature.
Learn more about survival skills when you visit our THiNK OUTSiDE BOXES Reviews.
Price: The box costs $50.66 CAD per month + free shipping within the US
Deal: Get $10 off on any subscription order! Use coupon code HELLO10.
---
Image from: our review
Why We Love It: Bond and create fun quality time with your kids through We Craft Box. Each box of this cool craft sub for kids comes with a themed story to inspire the kids, and crafts with multiple blanks, so that even parents and siblings can join the fun. All materials are included in the box (except for scissors) with easy-to-follow photo instructions. It a good choice if you want to practice your kids' creativity and problem-solving skills. Some of the past boxes have featured themes such as dragons, robots, llamas, camping, and more! Even when you live in Canada, you can have fun creating magical parent-kid moments with this subscription in the comfort of your homes.
Remember to check out our We Craft Box Reviews so you can see what crafts we've worked on in the past months.
Price: A month-to-month subscription costs $38.03 CAD per month and includes free shipping.
Deal: Get $5 off on your first box! Use coupon code HELLO5.
---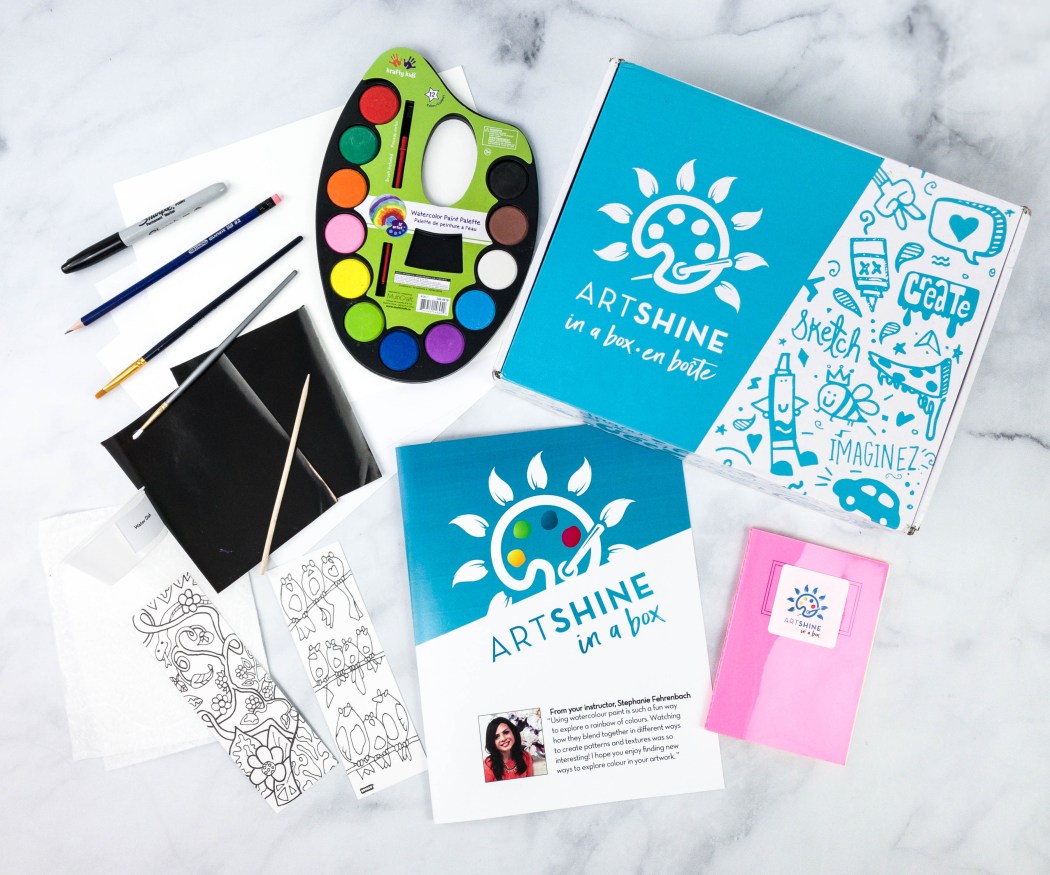 Image from: our review
Why We Love It: Artshine in a Box is a DIY craft subscription for kids from Canada. Kids can make projects and learn different techniques and mediums with an exciting art kit they send to doorsteps! Each month, boxes are differently themed, and it includes the materials for the project, step-by-step instructions, and video tutorials. Choose the appropriate box for your kid's age and receive engaging lessons featuring drawing, pastels, painting, 3D pens, and much more. What makes this subscription great is that for every kit/lesson ordered, they donate one to a child in need!
Price: A box costs $44.32 CAD each month, with savings for longer plans!
Deal: Get 15% off on 3+ month subscription! Use coupon code HELLO15.
---
Image from: craftloots
Why We Love It: Get crafty with each kit that craftloots sends to your door monthly. It contains all the needed materials and instruction sets that will guide you to express your creativeness. Instruction sets include step-by-step instructions, color theory guidance, photo references, suggested design ideas, and tips to finish stylish craft projects! Pick the Solo Kit (1-3 projects) if you want your child to do it alone or the Party Pack (4-12 finished projects) if you want to bond with the whole family.
Price: Kits cost $30 each month.
---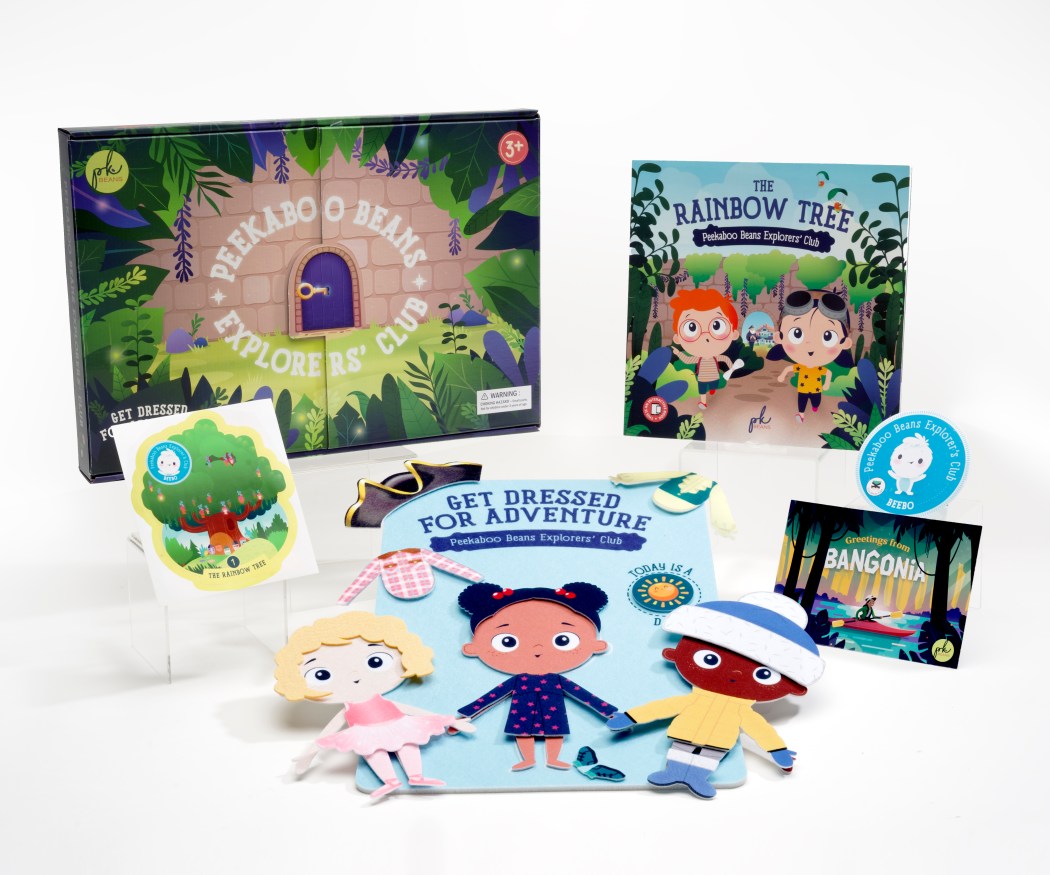 Why We Love It: With Peekabeans Club, you can take your kids on a truly immersive and imaginative fun play at home. Start an adventure they can really enjoy with just one box delivered right to your doorstep. Every month, your kids can take their time into hours of pure fun as each box comes with a colorful and engaging storybook, playset, collectibles, and digital activities like podcasts, animated clips, and augmented reality where they can dive in and explore. Each of the adventures is stand-alone, but there's one bigger surprise when your kid completes all six!
Price: Each adventure box is billed monthly at $19.95, plus shipping.
---
And that's what makes up our list of the best subscription boxes for kids in Canada! Which of these are you most excited for your kids to try?
Look no further! We've got a whole list of all the best subscription boxes in every category! Check them out!
Say Hello To More Fun and Educational Subscriptions for Kids!