They say curiosity kills the cat, but what is the best way to tame curious minds? If you're that person who enjoys brain-wracking mysteries and mind-twisting games, then murder mystery and escape room subscription boxes are right for you! These subscription boxes bring excitement and thrill to your door effortlessly!
Suit up, be like Sherlock Holmes, and outsmart suspects to bring mysteries to light! Unleash your inner detective persona, embark on the adventure, decipher codes, search for clues, and spare no effort to solve the case. Take your game night to the next level, uncover pieces of evidence and crack intriguing mysteries with the best murder mystery and escape room subscription boxes we've gathered on this list!
The Best Murder Mystery & Escape Room Subscription Boxes for Detective Minds!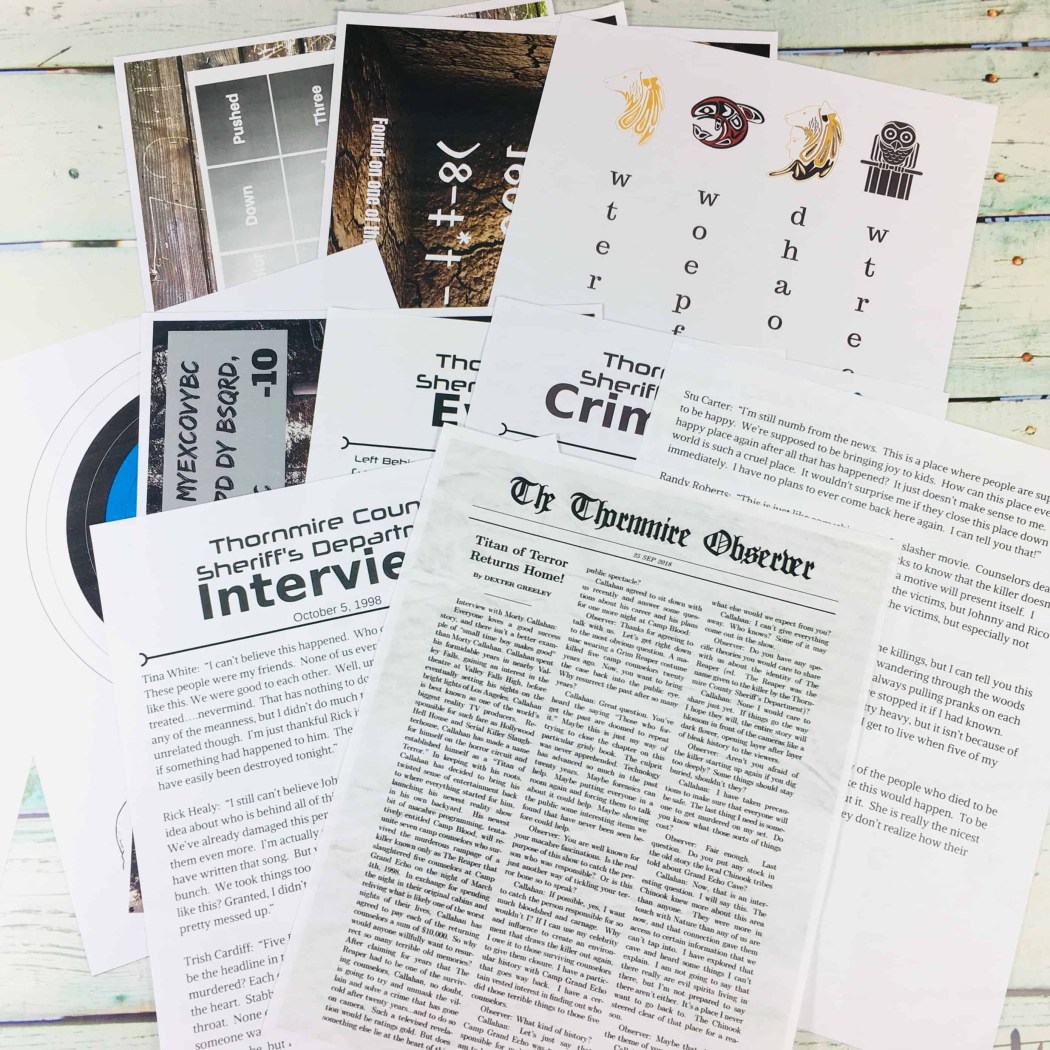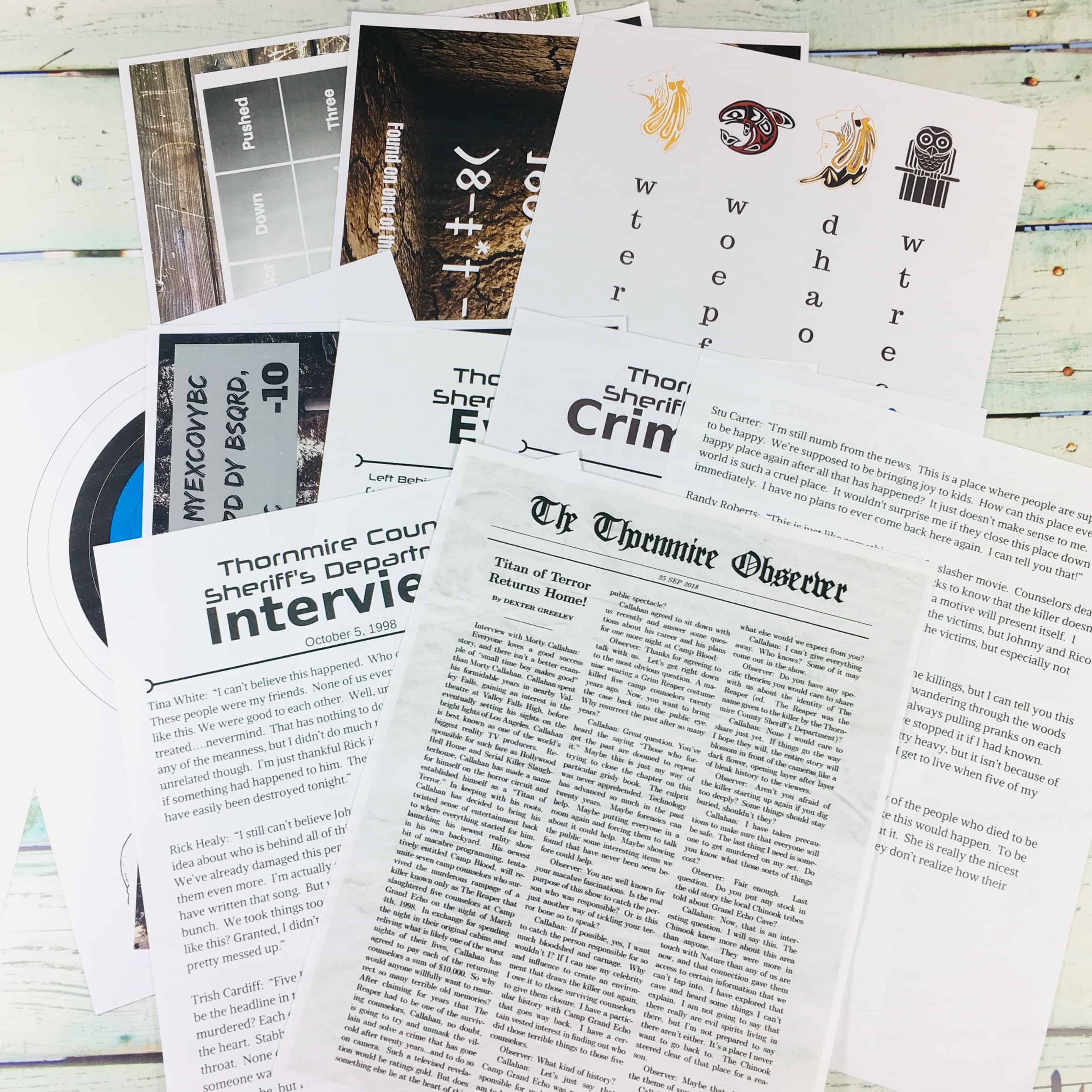 Image from: our review
Why We Love It: Ever dreamt of becoming a detective? If so, The Deadbolt Mystery Society lets you experience being one. This monthly subscription brings the murder mystery straight to your doorstep, allowing you to spend your time on something perplexing and puzzling! Each box is a standalone mystery, requiring no other boxes to complete the case. An original and compelling story lies in each box. Everything you need to get to the very end is included like puzzles designed by escape room creators, pieces of evidence, interviews, and even online components that can help you solve every mystery. Past themes include Framed, Hacked, Sanitarium, Prison Break, The Cabin, and more exciting ones!
Price: The monthly subscription is $26.99.
---
Image from: Hunt A Killer
Why We Love It: Help a private investigator uncover the truth! You'll find yourself immersed with nerve-wracking stories (mystery or horror) from Hunt A Killer. It's a monthly subscription that's filled with hand-crafted yet high-quality clues to make you feel like you're solving a real case! Each investigation unravels over a six-episode season, complete with different clues and physical items to help you get through with the mysteries. Examine the pieces of evidence and eliminate one suspect or uncover supernatural forces each month until you reach the end. Items include autopsy & police reports, witness statements, letters, and more!
Price: Work like a detective for $30 a month.
Deal: Get 10% off your subscription! Use coupon code HELLO.
---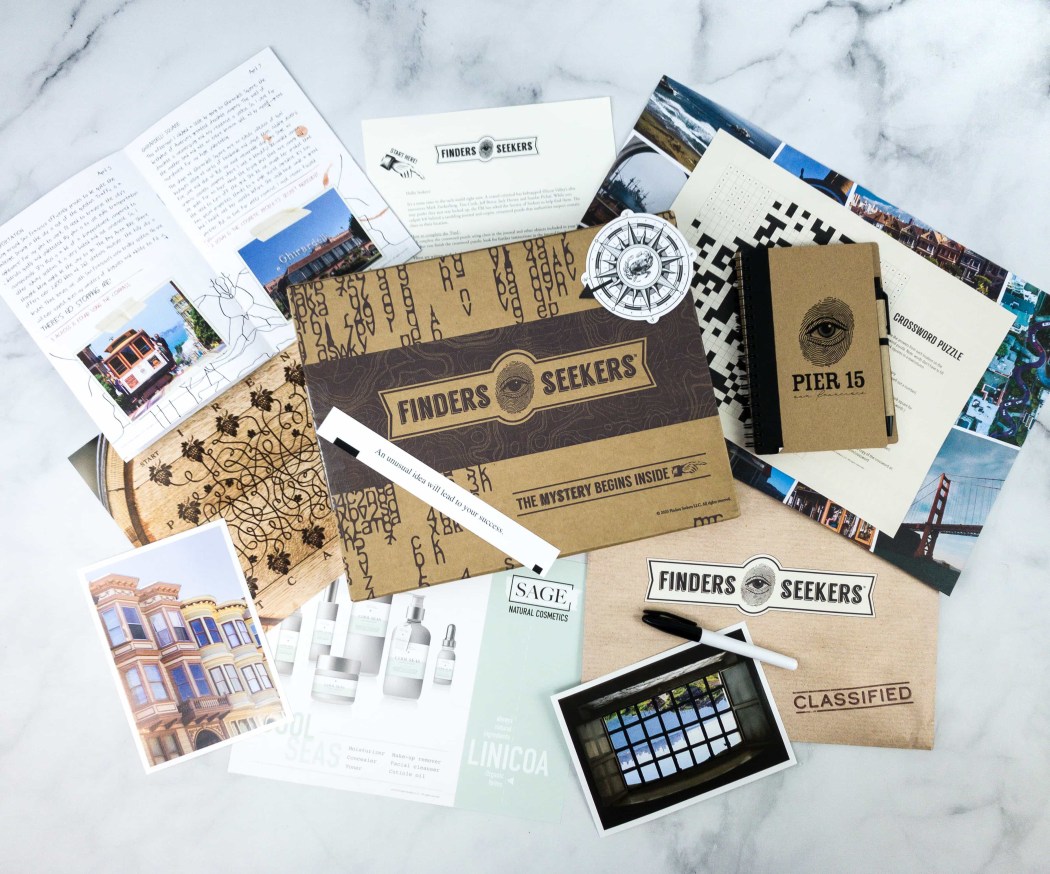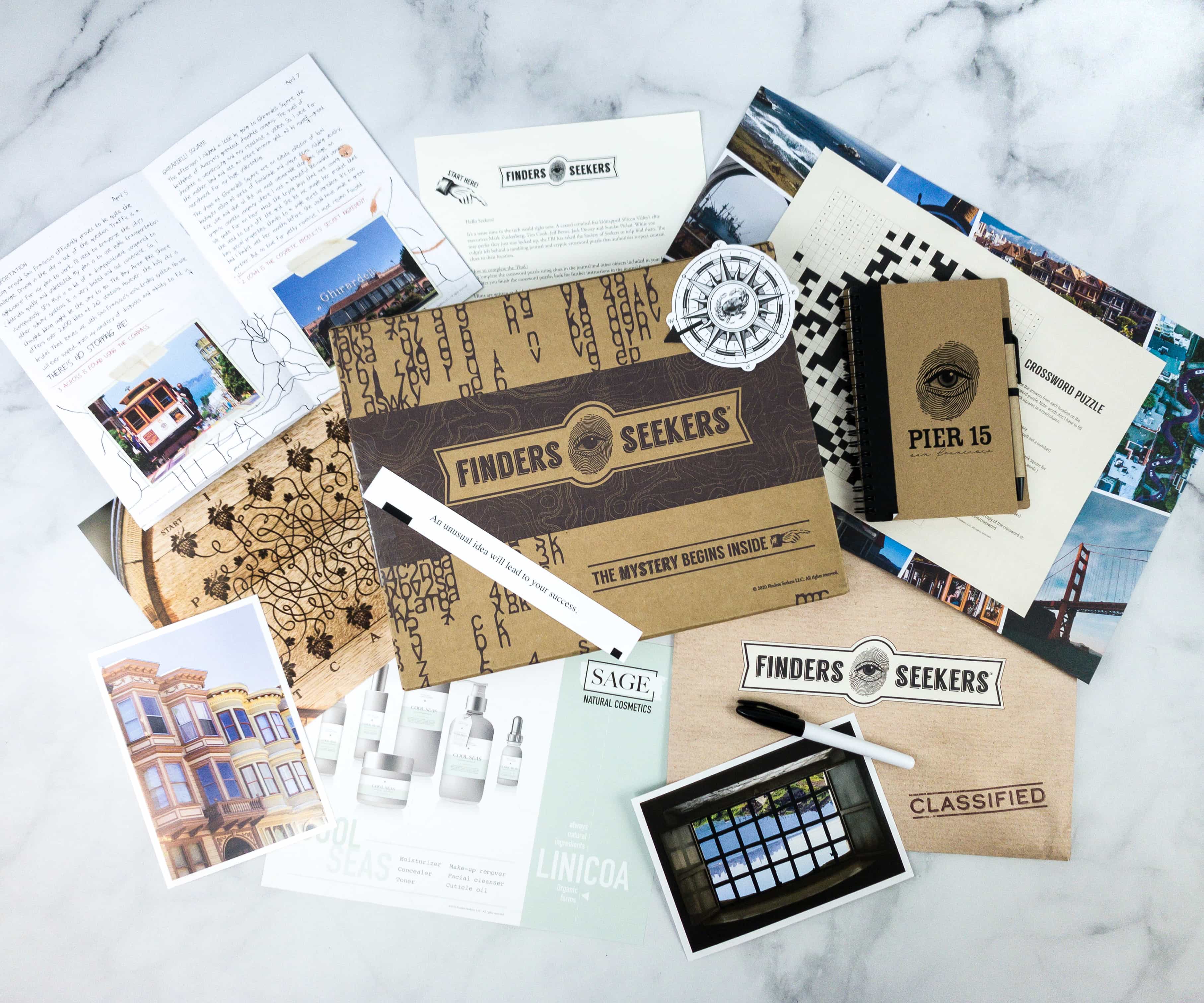 Image from: our review
Why We Love It: Finders Seekers is a self-contained mystery subscription box that comes with a series of clues and puzzles to get your brain ticking! Explore new cities and culture each month while solving cryptic messages and deciphering codes, all in the comforts of your own home. Locations and contents vary with a need for a little online research and tools required for a fun and thrilling mystery revelation. Take your mystery global, uncover underground cultures, explore local traditions, and complete missions to win prizes! Featured past locations include Athens, Toronto, and San Francisco.
Price: Get the Escape Room Game for $33 every month!
Deal: Get $5 off and free shipping Use coupon code HELLOSUB .
---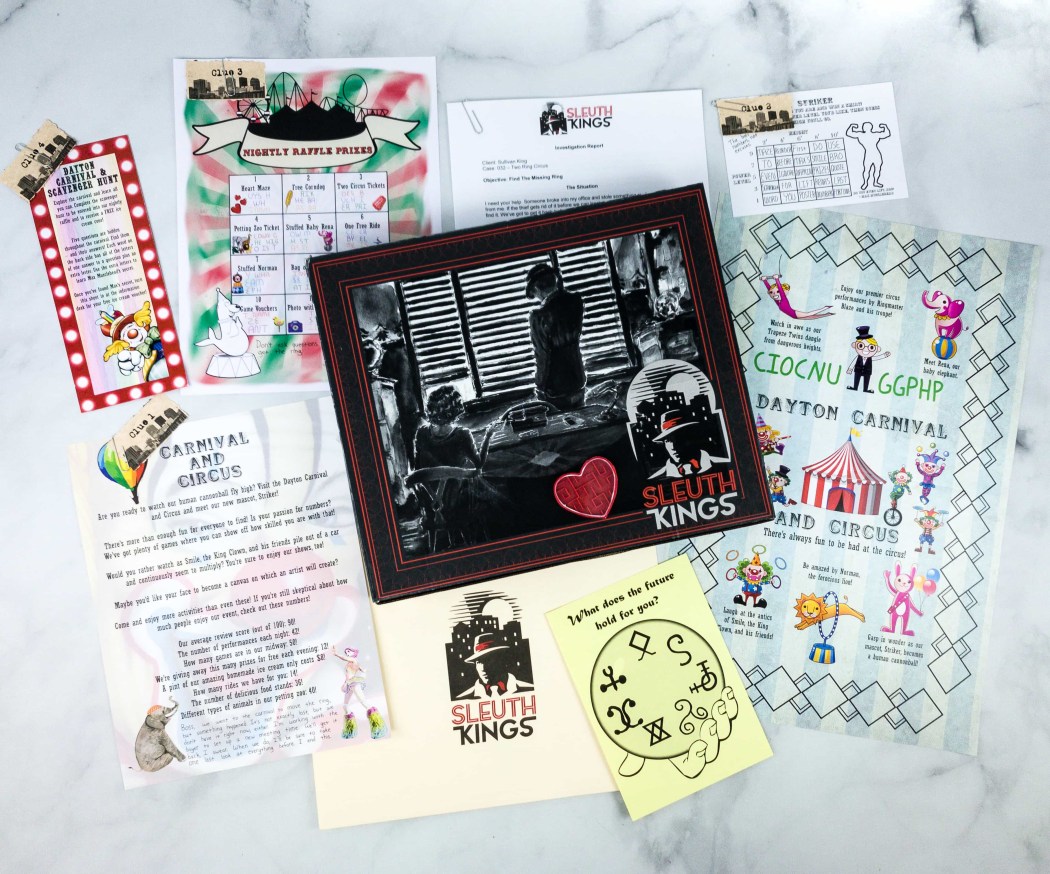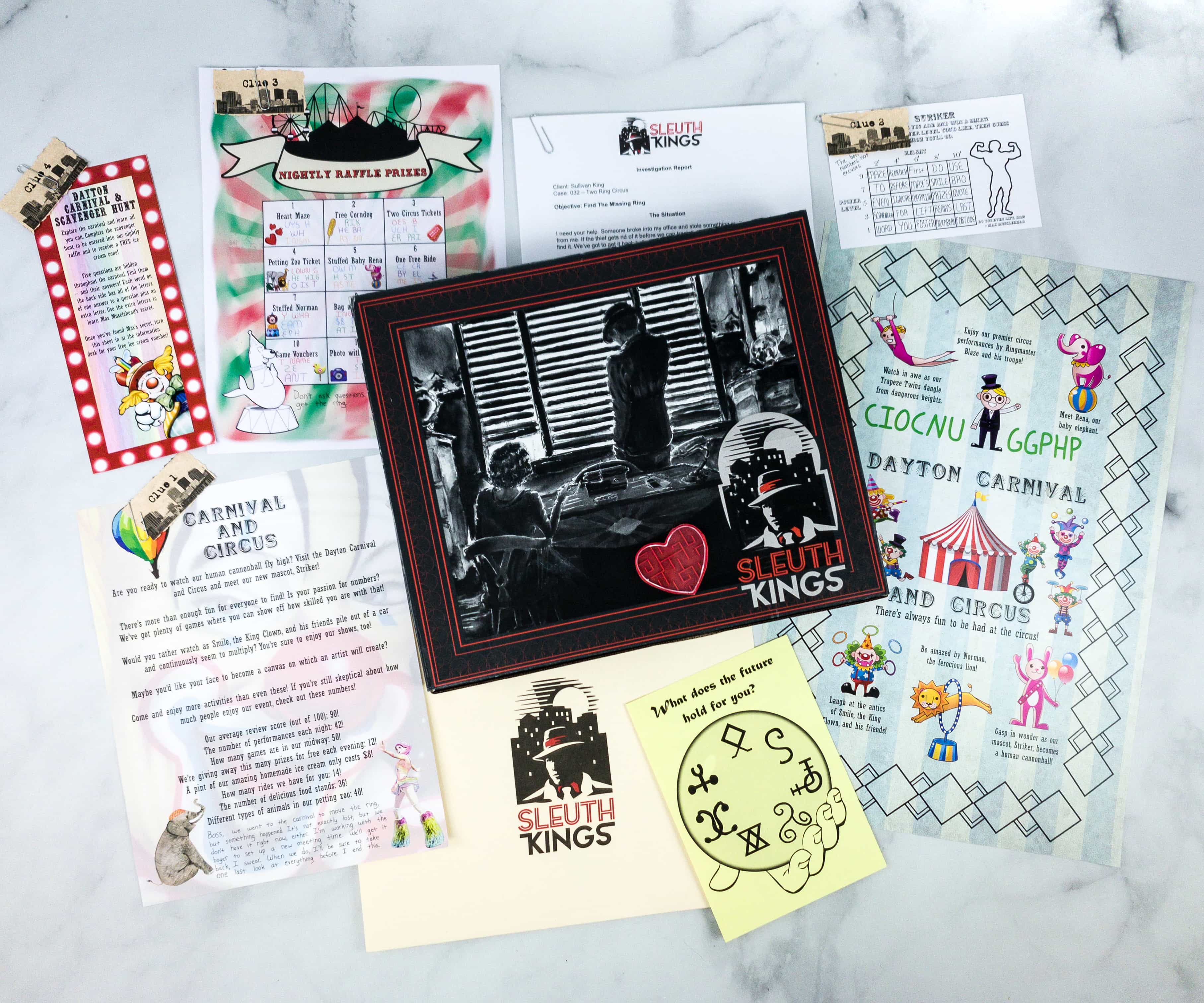 Image from: our review
Why We Love It: Sleuth Kings is an interactive, standalone mystery subscription box that's sent straight to your door monthly! Help the Lead Detective solve cases before it's too late. Use your detective skills and email back-and-forth with the lead detective. A physical case file is sent to you, filled with clues, evidence, and puzzles to solve and crack a case. FYI, you also get to choose which kind of detective you are – Master detective (for the experienced puzzle solvers) or Rookie detective (for the newbie puzzle solver). Pick your choice, solve the case, and uncover the truth!
Price: Get the Sleuth Kings subscription for $29.95 per month
Deals:
---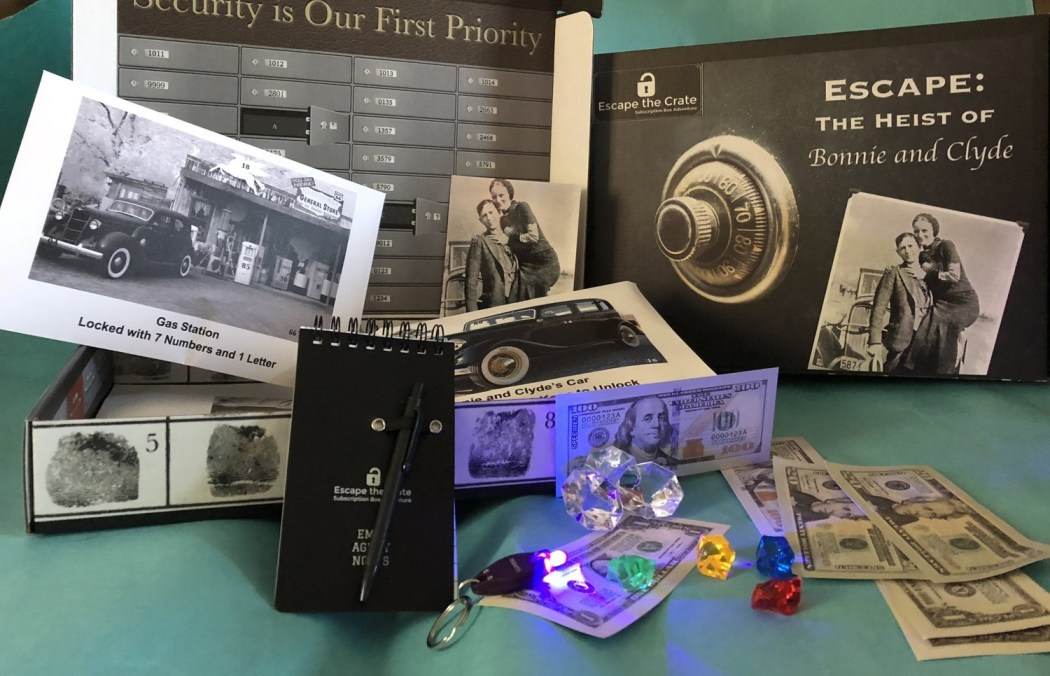 Image from: Escape The Crate
Why We Love It: For escape room lovers, gear up and get ready coz' Escape the Crate will have every inch of your brain working! Bring your family and friends for an exciting adventure into the comforts of your own home. This bi-monthly subscription sends you puzzles and riddles to solve and discover hidden objects, all in a beautifully crafted story. Inside the box, you'll find letters, ciphers, puzzles, tools, and interesting objects to help you stay Focus! Find clues, crack codes, unravel riddles, solve mysteries, and escape the crate!
Price: Time travel every 2 months for $29.99 per box!
Deal: Get 10% off your first box! Use coupon code LOCKPICK.
---
Image from: Dispatch by Breakout Games
Why We Love It: Excited to try an escape game but without having to leave your home? Dispatch by Breakout Games is an interactive mystery in a box that can test your ability and critical thinking with a series of clues to uncover a mind-bending truth. In each box set, you'll find yourself entangled with a new set of physical and interactive clues that will help you progress through the unfolding story and unravel the mystery that surrounds it. Choose a story that excites your mystery-loving senses the most: On The Run, The Cat's Eye, Disappearing Magician, and I, spy. Take your pick, unbox a web of clues, and get ready to escape the room before it's too late!
Price: Box sets start at $44.99.
Deal: Get $10 off your first box! Use coupon code Dispatch10.
---
Image from: Cosy Killer
Why We Love It: Cosy Killer is a mystery-filled subscription that runs over a 12-month case. Unfold every corner of the mystery with new clues coming your way every month. Choose a story you'd excitedly solve – The Hidden Listener, Murder at Malborough House, An Inheritance of Murder, The Curse of King Humanrah. Each box comes with new content that adds up to the last one, creating a connection to fit a whole compelling story. It includes clues & ciphers, puzzles, mementos, sketches & photos, and access to the Facebook group, where you can get amazing support if you need help solving the mystery!
Price: Subscription costs $40 a month.
---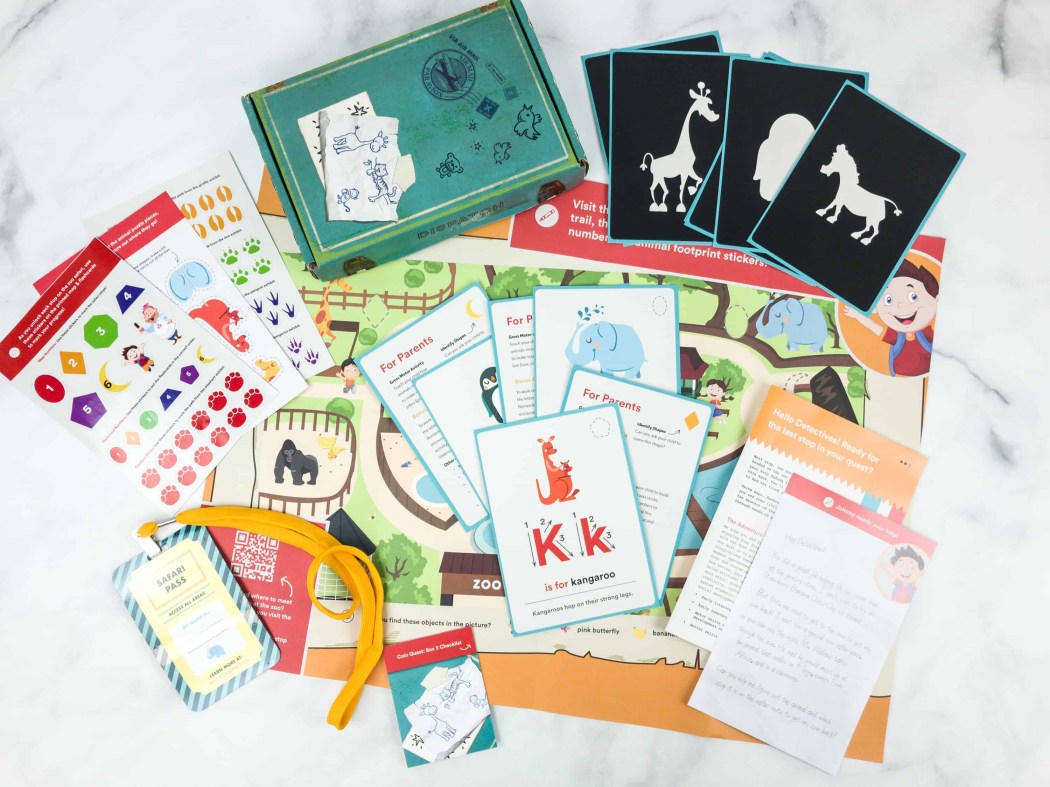 Image from: our review
Why We Love It: Kids can also play detective with every box from Dispatch Kids by Breakout Games. It is a lighthearted detective adventure for kids who aspire to be detectives and have lots of questions in their heads. Each box set has a storyline-based child-friendly mystery, specifically designed for children ages 3-5 through an escape game model that'll help develop kids' cognitive, language, numerical, social, and emotional skills. It includes maps, flashcards, and even digital games to help young ones unravel a mystery. Kids can learn their way with hands-on problem-solving activities that are fun and engaging while earning prizes!
Price: Each kid's box set costs $64.99.
Deal: Get $10 off your first box! Use coupon code Dispatch10.
---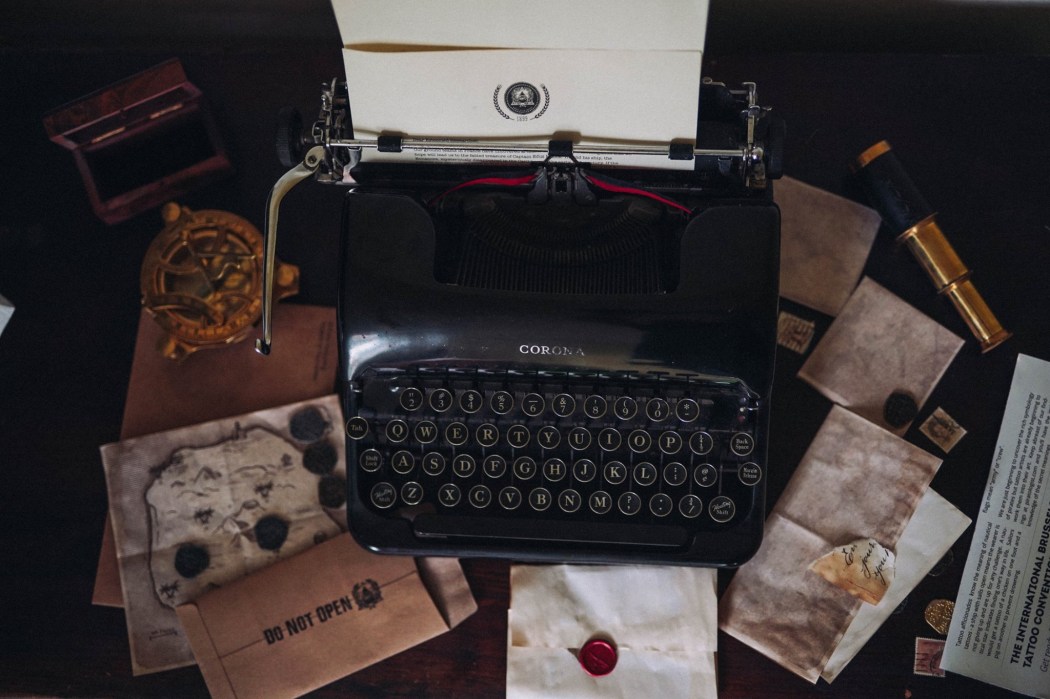 Image from: Society of Curiosities
Why We Love It: Be a researcher and an adventurer in this mystery-filled subscription box. Society of Curiosities offers a play-at-home mystery game, sent to your mail quarterly with a unique variety of artifacts, articles, and more ancient resources to help you get on your feet and sail away with a fun adventure. Find the lost treasure, solve ancient mysteries, and discover the location for a fun-filled night of adventure at the comfort of your home. Follow your intuition to see where it leads you!
Price: Feed your curiosity for $49 per quarter.
---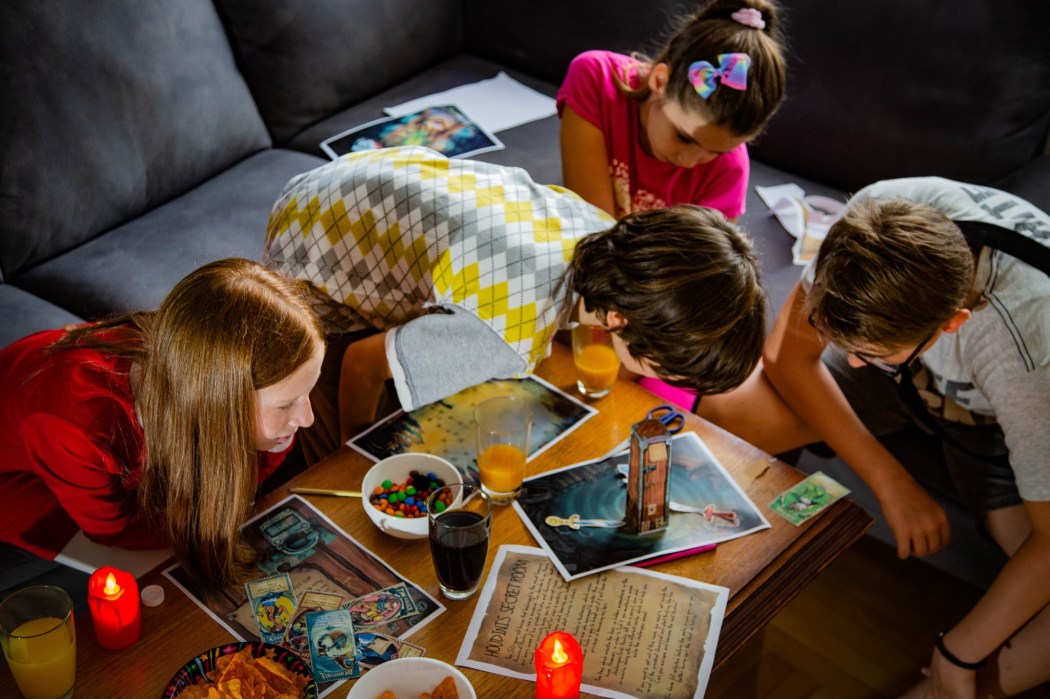 Image from: Escape Room Geeks
Why We Love It: Let your creativity and imagination take you into places. Escape Room Geeks lets you experience an escape-room game anywhere and anytime you prefer doing so. No need for shipping as the whole experience is printable! Everything can easily be set up wherever you may be, whether in the living room, bedroom, camp, or even on vacation! It's a fun activity for the whole family, and kids can learn to cooperate and help each other. Choose from two stories they currently offer – Houdini's Secret Room and Saving The Beauty Of Winter or just get both! You also have the option to choose how you want to play: Games Master Version, if you want to set it up for just the kids, or the Play Along version, which skips any spoilers while setting up so you, as a parent, can join in the fun!
Price: Each escape room kit costs $29, or get the two featured kits for $39.
---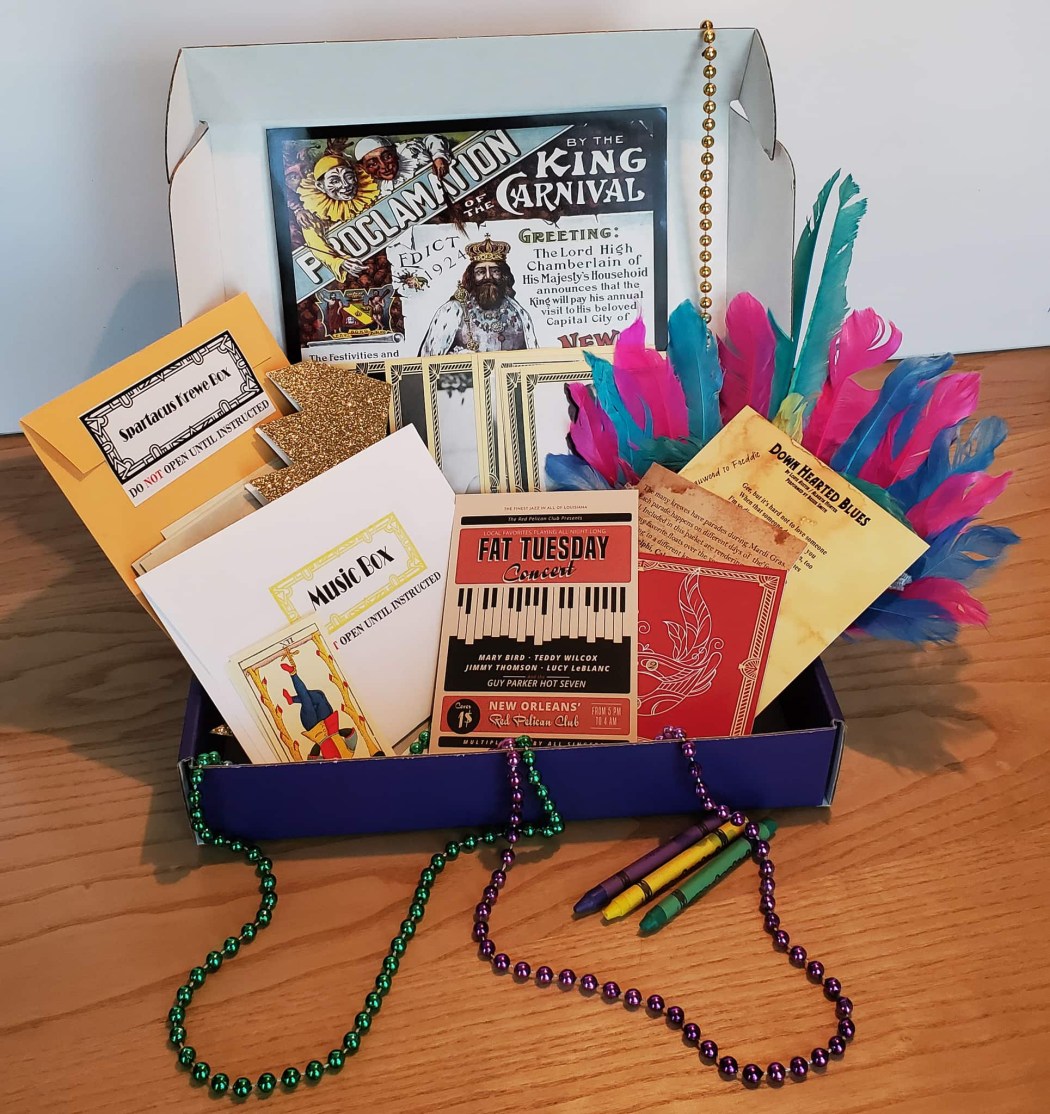 Image from: The Conundrum Box
Why We Love It: A highly-anticipated escape room experience comes in just a box! The Conundrum Box is a part escape room experience and part "choose-your-own" adventure, delivered directly to your doorstep every month. Immerse yourself in different story environments through music, food, and more with each series and let your brain cells work their way to find an escape. A boxed game that's full of puzzles, clues, ciphers, and deep story-driven narratives, all designed for travel and mystery game enthusiasts aged 12 and above! Further your adventure as each series links to an overall story for the season.
Price: Monthly adventure delivered to your door for $29.99!
---
And that is our list of the best escape room and murder mystery subscription boxes! Did you find the perfect subscription box to feed your mystery-loving self?
There's more for you to try! Check out our list of the best subscription boxes for 2023!
Say Hello To More Subscriptions for Geeks & Gamers!