Looking for an amazing subscription box gift to send for Valentine's Day for the ones you love the most? They will crush on these boxes every month!
The best Subscription Boxes to Send On Valentine's Day!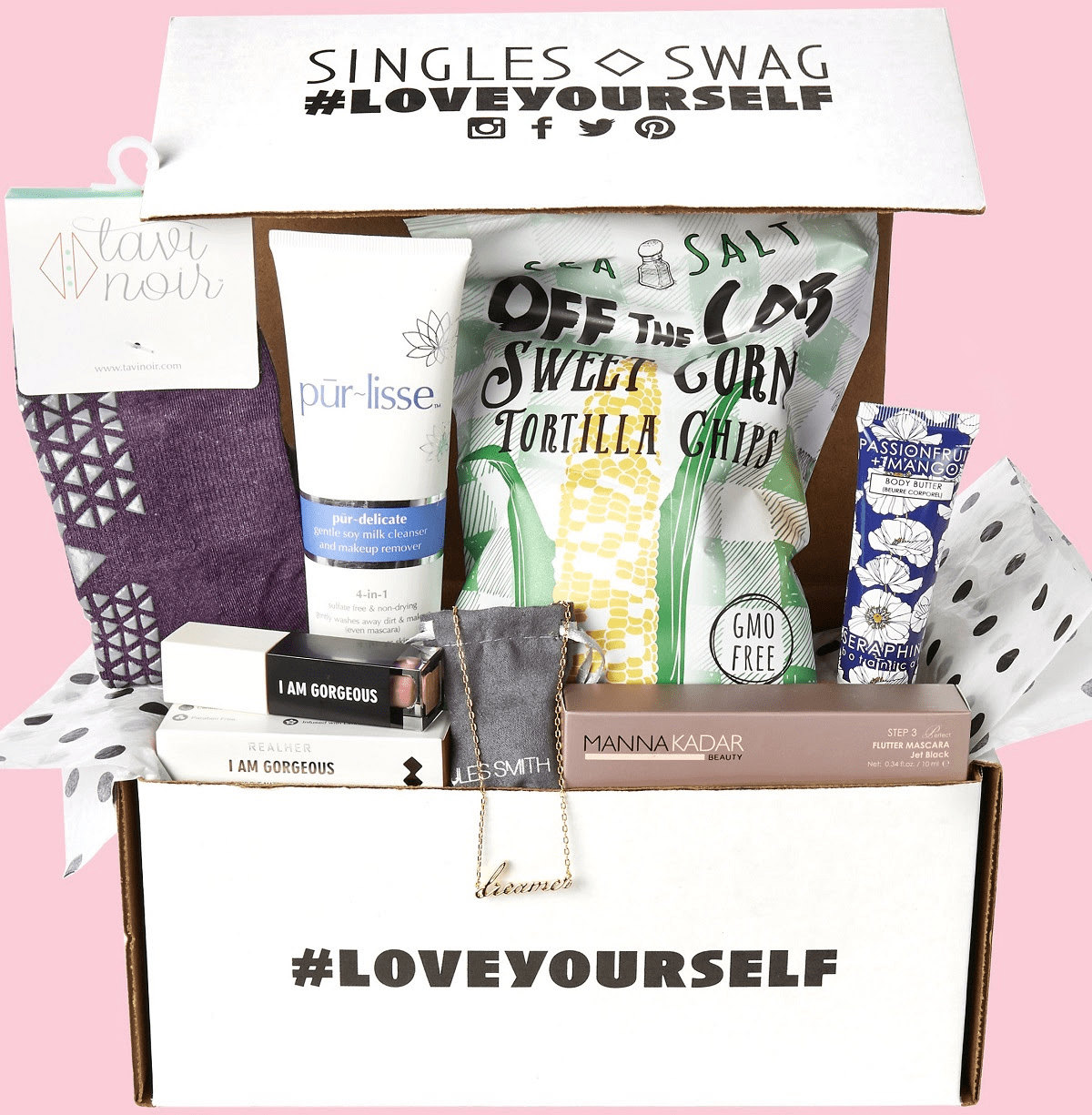 We have the FULL spoilers for the February 2020 SinglesSwag! FYI, this box may not yet be available, see our Singles Swag spoilers posts for current box info!
DEAL: Receive 20% off! Use coupon code HELLO20.
Limited time: Use coupon code VALENTINE to save 40% off your subscription!
Each box includes:
Featuring:
Blue Revival Knit Twist Pompom Beanie (retail value $36)
Lily Sky 3-Piece Beaded Bracelet Set with Charms (retail value $58)
Standup Socks I Love Me Socks (retail value $18)
---
BoxDog has a new sale for Valentine's Day!
Get 50% OFF your first box! Use coupon code VDAY at checkout. ONLY while supplies last!
BoxDog offers a seasonal membership which covers an extra large box delivered to you 4 times per year. Every box is filled with a large assortment of handmade treats, chews, and bakery items from their chefs. Members can customize their box with their choice of toys, wearables, gadgets and more.
See all our BoxDog reviews to find out more about this customizable dog subscription box!
---
The Vinebox Reds & Rosés Valentine's Day 2020 Limited Edition Box is available now! Each collection is $85 + FREE shipping!
A smattering of luscious reds perfect for staying indoors and refreshing rosés to wash down the chocolates. Slip into something more comfortable and enjoy one of the world's oldest aphrodisiacs - wine! Ooh la la. 9 glasses of reds and rosés from the best European vineyards is better than chocolates and flowers any day.

Includes 5 red wines, 4 rosé wines. 100 ml each.
Tasting notes and a special fill in the blank Valentine's Day card.
DEAL: Buy 2 boxes and save 10% on each! No coupon code needed, discount is automatic - just use this link!
About the this collection:
Fall in love with old world reds made in some of the most romantic places on Earth in France, Spain and Italy. Savor rosés grown in the picturesque Loire Valley and more.

Tasting Notes
Notes of strawberry jam, white truffle, pithy blood orange, dark plum, vanilla, fresh raspberry, watermelon, dark chocolate and even fresh snipped roses. Paired with anything from cheese plates to ceviché, take-out Thai or even a steak!
---
The Bouqs is having a Valentine's Sale!
Valentine's is a day for romance, of reminding the most important people in your life that love isn't just something we say, it's something we feel. If you've been searching for the perfect way to show them, we have elegantly arranged floral gifts that will help you make a bold statement beyond your sweet words.

If you're looking for the perfect way to tell that special someone how you feel, why not send a dazzling bouquet that will leave them speechless. As a timeless gesture of love arranged for perfect moments from your first big Valentine's date to an important anniversary, sending a bouquet of red roses is the most popular Valentine's tradition to make your significant other or loved one feel special.

For more Valentines date ideas consider sunflowers, tulips, lilies or even an orchid to show that your love is continuously blossoming. You may have reservations at your favorite restaurant, a weekend romantic getaway, but whatever your plans, wherever they take you, we've got the perfect flower arrangement for every affectionate affair.
Get 20% off sitewide with coupon code BEMINE!
---
Candy Club has a new sale!
Save $20 on your first box! Use this link and coupon code HELLO20!
Check out our Candy Club reviews to find out more about this sweet subscription!
---
Sock Fancy has a new Valentine's Day deal! Get a FREE Valentine's Day socks worth $72 with 6 month subscription when you use the coupon code SWEET.
OR Get a FREE Valentine's Day socks + FREE Month worth $132 with 12 month subscription when you use the coupon code SWEET.
Subscription prices are $12 for one pair, $19 for two pair,  but subscribe for longer term for the best value! See our Sock Fancy reviews to find out more about this sockscription!
Awesome Socks. Delivered Monthly.
Free shipping anywhere in the world.
Swap out any pair you're not happy with.
70% combed cotton, 200 needle socks.
No commitment, cancel anytime.
FEED YOUR ADDICTION WITH A SOCK SUBSCRIPTION.

A Sock Fancy sock subscription features a huge selection of unique, awe-inspiring, and sometimes bizarre socks. But don't let our whimsical nature fool you - we take quality and comfort very seriously. All our socks are made from high quality cotton blends on a 200-count needle machine, guaranteed to last numerous slides down the hallway, Tom Cruise style. These soft cotton blends ensure a more comfortable fit and a sock that won't shrink after a few washes.
---
The Look Fantastic Valentine's Day Limited Edition Beauty Box is available now for $71!
Feel the love this February with the lookfantastic Valentine's Collection – filled with 6 full-size, luxury products for you to adore.  

From brands such as Benefit, Sarah Chapman and Dr. Brandt, it's sure to take your breath away.:
Here's the full box spoilers:
PIXI Hello Beautiful Face Palette: LA Angel
ECOOKNG Eye Cream (30ml)
Color Wow Dream Filter Treatment (200ml)
Benefit Cookie Highlighter
Sarah Chapman Skinesis Intense Hydrating Booster (30ml)
Dr. Brandt Microdermabrasion (60g)
---
BloomsyBox has a Valentine's Day deal!
Save 10% on your first order! Just use this link and coupon code BIGGERBLOOMS at checkout.
Check out all our BloomsyBox reviews to find out more about this subscription box!
Bloomsy Box is a new monthly flower subscription box that sends monthly bouquets filled with the best blooms from around the world to your door in less than 48 hours.
They send single variety hand-tied bouquets (no mixed bouquets with unnecessary extras) with flowers that are sourced direct from suppliers in South America, Holland, Thailand and California meaning no middle-man mark-up to increase the price. Blooms are cut 2-4 days before they arrive at your door.
---
Beachly (formerly Coastal Co.) has a new sale this Valentine's Day!
For a limited time, get $20 off your first box! Use the coupon code LOVER20 at checkout!
See the full review of the Winter Beachly Box!
---
Pet Treater has a new sale this Valentine's for their Deluxe Dog Pack!
Get a FREE 12 oz bottle of Dog Pawrignon Rosé with your first box when you sign-up for the Deluxe Dog Pack! Use coupon code PTWINETIME at checkout. Ends 2/6.
Here's the a peek at the FREE Rosé:
OR Get 20% off your first box on any subscription! Use the coupon code TOTALLYPT.
See our reviews to find out more about the Pet Treater Deluxe Dog Pack!
---
What boxes do you recommend as Valentine's Day subscription box gifts? Let us know in the comments!
See even more lists with gifts perfect for Valentine's Day!