Indulging in chocolate treats is an enjoyable way to treat yourself and others. Whether you prefer rich and velvety or sweet and crunchy, chocolate subscription boxes offer a variety of cocoa creations to satisfy any craving. While it's easy to find chocolate products in stores, chocolate subscription boxes provide a more convenient way to satisfy your sweet cravings. These boxes are specially curated to deliver a variety of chocolates in different shapes, sizes, and flavors right to your doorstep, making them the perfect indulgence for any chocolate lover. With a monthly fix of delectable chocolates delivered straight to you, you can savor and enjoy the rich goodness of cocoa anytime you want.
Show More (19 items)
Get ready to satisfy your sweet tooth with a mouth-watering selection of chocolates delivered straight to your door! From classic favorites to new and exciting flavors, chocolate subscription boxes offer a variety of treats to enjoy. Indulge in everything from truffles and brownies to cookies and hand-dipped fruits, or cozy up with a delicious cup of hot chocolate.
With our list of the best chocolate subscriptions, you can easily find the perfect box for your tastes and preferences. And why not share the joy with friends and family by gifting them with a box of chocolatey goodness? There's nothing quite like the gift of chocolate to brighten someone's day!
The Best Subscription Boxes for Chocolate Lovers!
Image from: Kekao Box
Why We Love It: If you love chocolatey goodness, Kekao Box is here to impress! Filled with luscious and delectable chocolates, you're sure to delight your taste buds with the best-tasting sweets. Searching the world for the finest craft chocolate bars, that's what they mostly do! Every month is filled with luscious creamy chocolate and sweets as each box contains 4-5 premium specialty crafted chocolate bars that's been carefully tasted and selected for anyone to indulge! Love surprises? Each box is as you'll never know what's inside! From renowned chocolate makers to new ones, you'll surely get to have delicious chocolates all for yourself or as gifts to loved ones!
Deal: Get $5 off on your first box! Use coupon code HELLO5.
---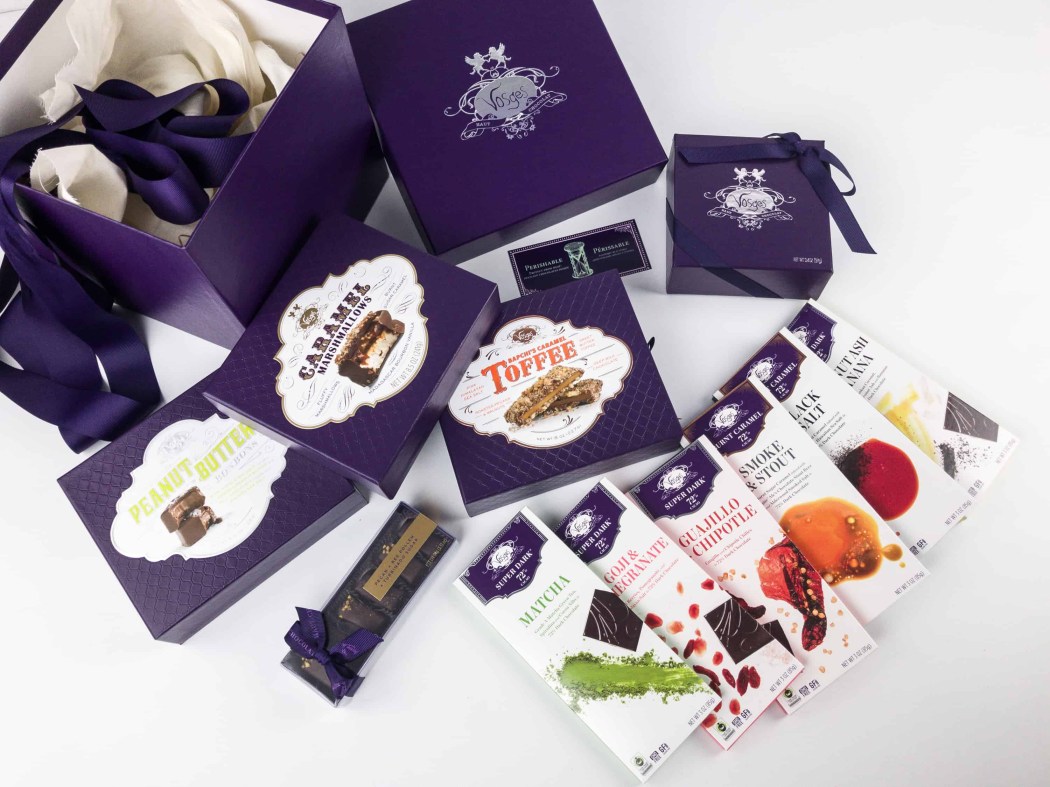 Image from: our review
Why We Love It: Chocolate treats inspired by the moon cycle? With Vosges Chocolate Lunar Club, you'll experience all of the moon phases! Every month, you'll get to taste various chocolate treats that will leave you wanting more. Made from high-quality cacao and superiorly sourced, finest ingredients, each box contains artisan chocolates that will surely melt your heart away, along with crystals and other goodies that will allow you to harvest all of the moon's energy. It also includes an information card regarding a chocolate ritual, plus the meaning of each lunar cycle. You'll not only enjoy biting into sweet treats, but you also get to learn a thing or two about the lunar cycle, from new moon to full moon! Another option for fans of Vosges chocolates is the Vosges Chocolate Signature Club, which features both bestselling chocolates and the newest chocolate creations.
---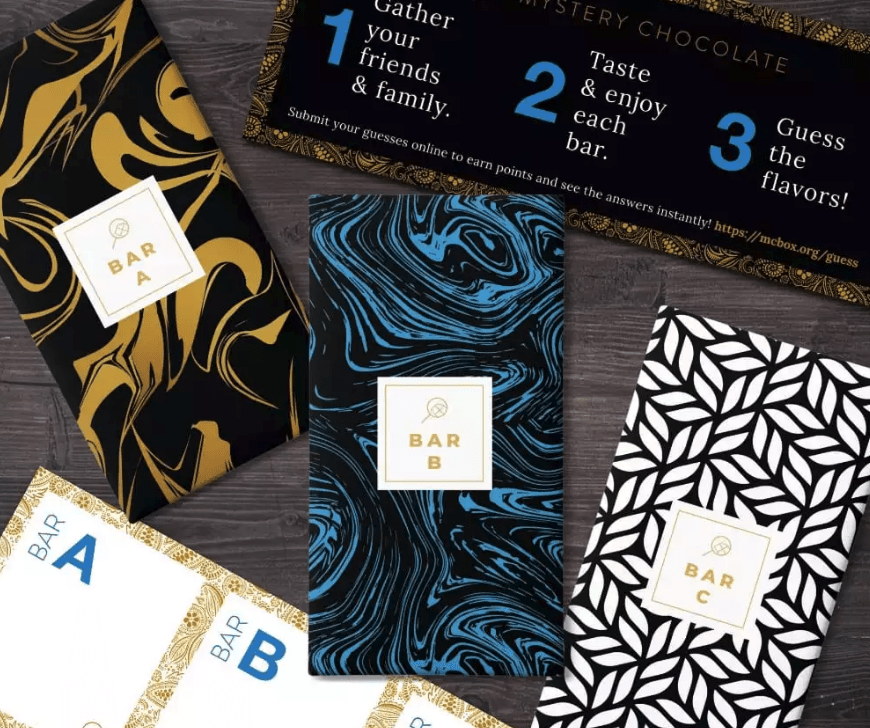 Image from: Mystery Chocolate Box
Why We Love It: Given the name Mystery Chocolate Box, you'll never know what chocolates are inside each box. Every month, subscribers are up to a unique surprise as each box carries a new yet fun experience, all in the comfort of your own home. Receive 3 different chocolate bars – blindly labeled, so you can guess what flavor each one is! The chocolate bars are carefully hand-selected for your enjoyment from top chocolate makers. One commendable thing this subscription does is they donate two meals to charities for every box sold. It's chocolatey goodness armed with a fun twist and a good deed!
Deal: Get 7% off on any subscription! Use coupon code HELLO.
---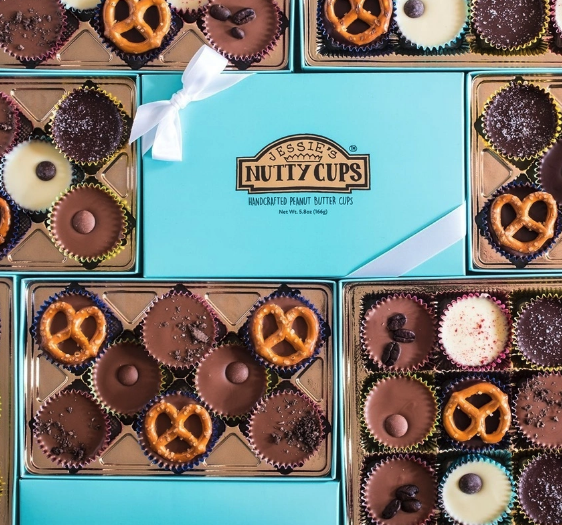 Image from: Jessie's Nutty Cups
Why We Love It: Loving the combination of chocolate and peanut butter? If so, Jessie's Nutty Cups is the subscription to go for! They freshly roast peanuts in-house, sourced from a farm in Virginia, then carefully grind them to make creamy peanut butter cups. Belgian chocolates are then added for a two-flavor decadent indulgence you shouldn't miss out on for the world! Every month, you'll receive a box of 8 or 15 with a mix of their signature flavors and the Nutty Cups of the Month. You also have the option to choose milk chocolate, dark, or a mix of both in each box. Such yummy flavors include Nutty Pretzel Cup, Choco-Hazelnutty Cup, Dark Sea Salt Cup, and more!
---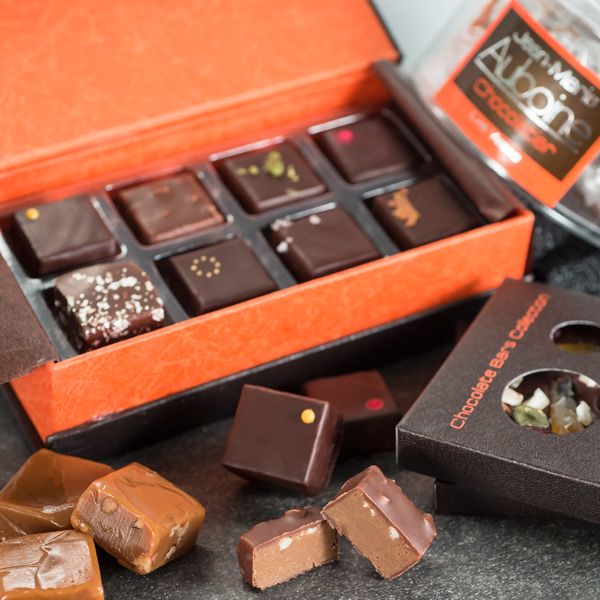 Image from: Gourmet Chocolate of the Month Club
Why We Love It: Nothing tastes better than chocolate made from the finest ingredients, and Gourmet Chocolate of the Month Club is just that! Every month, members get to discover an international variety of artisanal gourmet chocolate and will receive signature creations from a different world-class Chocolatier. They select the best ones based on quality, creativity, and fresh wholesome ingredients to serve you nothing but the best handcrafted small-batch chocolates you'll want to nibble on every time! It also comes with detailed tasting notes, chocolatier profiles, and serving suggestions to maximize your chocolate tasting experience.
Deals:
Save $25 off a 12 shipment order. Use coupon code SAVE30.
Save $15 off a 6 shipment order. Use coupon code SAVE15.
Save $10 off a 4 shipment order. Use coupon code SAVE10.
---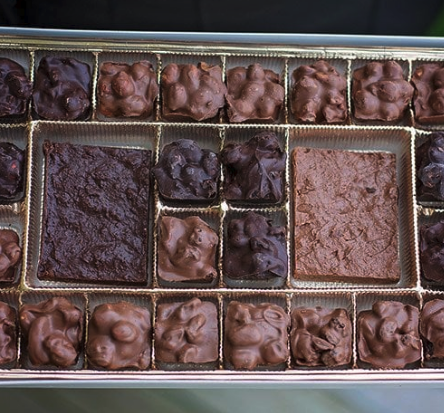 Image from: Chocolate of the month Club
Why We Love It: Chocolate of the Month Club delivers creamy, premium chocolate to all chocolate lovers out there. All chocolates are made from the finest, freshest, and all-natural ingredients, carefully judged and approved by a tasting panel for your chocolate desires! Every month, you'll receive 1 pound of gourmet chocolate hand-dipped by a renowned confectioner, delivered straight to your doorstep in a Styrofoam container with ice packs inside to make sure they don't melt while in transit. It then comes with a newsletter with details about the chocolates you've received for the month. Past selections include truffles, chocolate mousse, macadamia delights, and more to satisfy your chocolate cravings!
Deal: save $10 off a 6-month subscription Use coupon code Discount1.
---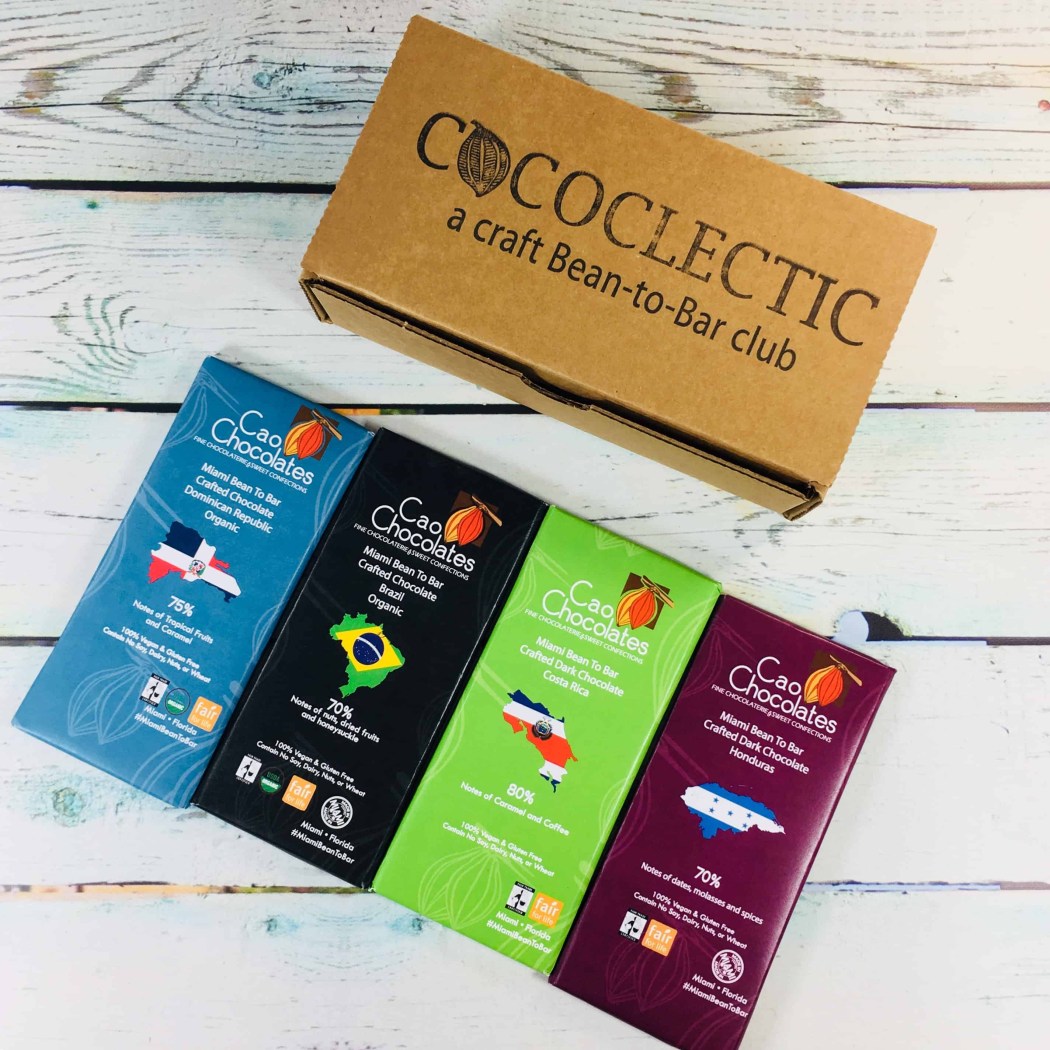 Image from: our review
Why We Love It: Cococlectic is a bean-to-bar chocolate subscription featuring US small-batch chocolate makers who are passionate about their crafts and basically make their chocolates from scratch. Their chocolate offering includes only all-natural, non-GMO, vegan, ethically sourced, and fair trade products, which contain no soy, gluten, dairy, or nuts. Receive a box containing 4 full-sized single-origin chocolate bars made using only three ingredients – cacao beans, sugar, and cocoa butter, along with detailed tasting notes.
Deal: Get your first Cococlectic Coco'nnoisseur Chocolate Box with $10 off. Use coupon code HELLO10.
---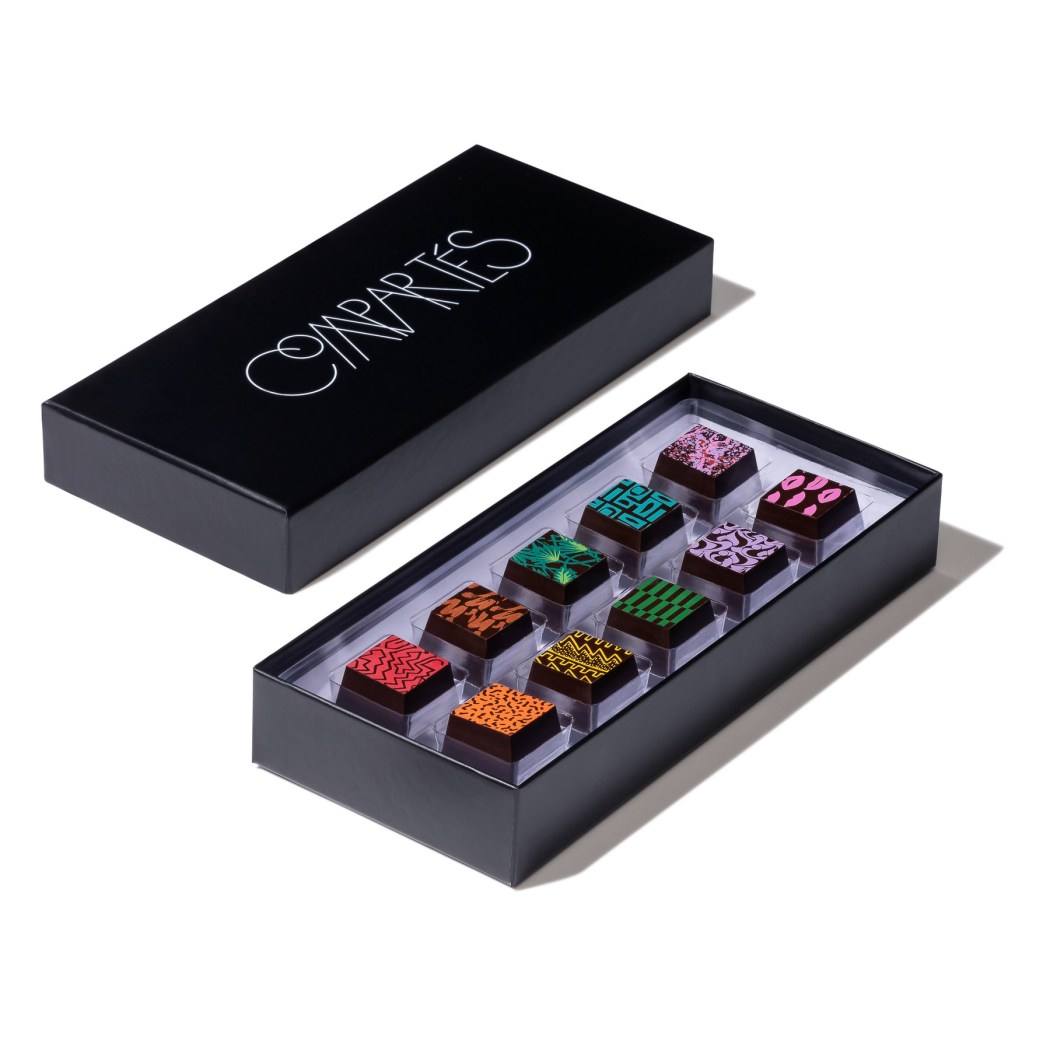 Image from: Compartes Gourmet Chocolate of the Month
Why We Love It: Compartes Gourmet Chocolate of the Month pleases the taste buds with exotic flavored chocolates! This chocolate club offers artisan-made chocolates using the freshest, all-natural ingredients combined with seasonal and exotic flavors of the world. Every month, they'll send a box with gourmet chocolate bars infused with flavors from international destinations worldwide, all valued more than the price you've paid for! Filled with luscious, decadent treats inside, you'll experience an explosion of flavors that are hard to come by – from dark chocolate bars to white chocolate, truffles to bonbons.
Past selections include healthy but delicious chocolate for the new year, Easter-themed goodies for Easter, chocolate surprise with fresh berries and fruit bars for Summer, and more!
---
Image from: Wei Of Chocolate
Why We Love It: For your cocoalicious obsession, Wei Of Chocolate has something to delight your palate with! They'll send you an eco-luxe paper box filled with chocolates that will feed not just your body but your mind and spirit as well. Receive 30 pieces of organic, fair-trade, and vegan chocolates in a silky organza bag delivered directly to your door every month. You can get single flavor bags or an assortment of all the flavors in one. It easily melts in your mouth, giving you a luscious chocolatey flavor you've been dreaming about!
---
Image from: Amazing Clubs Chocolate of the Month Club
Why We Love It: Made with only the finest all-natural ingredients, Amazing Clubs Chocolate of the Month Club is sure to delight your taste buds! Every month, you'll get a fresh box of delicious gourmet chocolates from the country's most renowned chocolatiers. The chocolates are carefully chosen by their taste-testing professionals who live and breathe chocolates as you do! Along with your chocolate comes a monthly newsletter containing fun chocolate facts, info about the month's selection, serving suggestions, and more.
---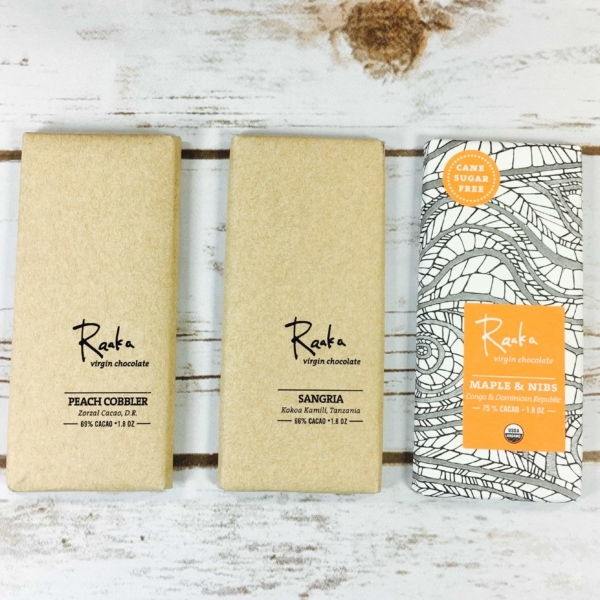 Image from: our review
Why We Love It: Limited small batch dark chocolate bars, that's what Raaka Chocolate offers. Each box comes with two or three fresh, creative and seasonal chocolate bars that pair perfectly with the monthly theme. These are shipped right to your doorstep with tasting notes from their head chocolate maker, so you know just what to expect! These are made from uncommonly delicious unroasted dark chocolate for a bright and bold flavor, mingled and sprinkled with crazily yummy flavors to nibble on! Such flavors include Pink Sea Salt, Rose Cardamom, Oat Milk, Rose Masala Chai, and a lot more!
Deal: Get 50% off your first month! Use coupon code 50HS.
---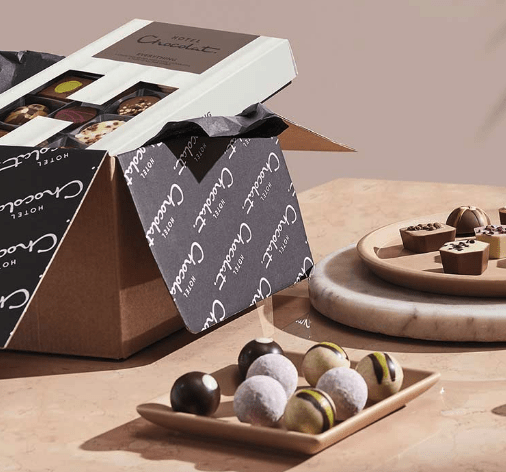 Image from: Hotel Chocolat Tasting Club
Why We Love It: Cocoa is the main ingredient of Hotel Chocolat Tasting Club's chocolates and not artificial additives. With this subscription, you can find delight in all things chocolate! From delectable chocolate bars to hot chocolate and everything that falls in between, you'll surely be surprised with their selections. There are 4 subscription plans available:
The Inventing Room – four new filled chocolates (two of each)
Rabot Coterie – limited edition annual subscription that gives back to the cacao farming community
The Monthly Curated Collection – a minimum of four individually wrapped items. You can choose from four genres – mellow, dark & high, Tipsy or everything.
Sleekster – a selection of 27+ chocolates; available in six different genres, everything, milk to caramel, serious dark fix, exuberantly fruity, tipsy truffles, and patisserie
Boxes might contain new chocolate recipes by their chocolatiers together with classic chocolates and high-scorers delivered straight to your door!
---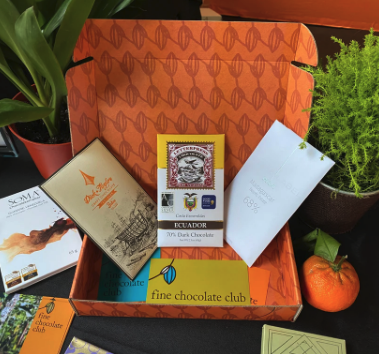 Image from: Fine Chocolate Club
Why We Love It: If you're looking for fine-tasting chocolate bars, Fine Chocolate Club is the right way to go! They offer artisan chocolates made using an ancient technique to fully unleash the chocolatey flavor of cacao beans and produced in small batches with pure, organic premium ingredients. Join the club and receive 5 different handcrafted chocolate bars each month from award-winning chocolate makers across the globe, including Amano, Dandelion, Fresco, Ritual, and many more!
---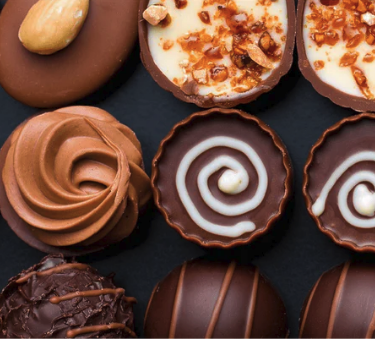 Image from: Chocolate of the Month Club by Chocolate.org
Why We Love It: Chef-crafted chocolates is what Chocolate of the Month Club by Chocolate.org offers. This chocolate subscription brings you great-tasting handcrafted and artisan chocolates that are not the same old chocolates you've tasted. These are created carefully and expertly by chefs who give their all into their passions. You can choose from 5 different collections they offer: Dark Chocolate Loves Collection, Gourmet Truffles Lovers Collection, Milk Chocolate Lovers Collection, Vegan Chocolate Lovers Collection, and Chocolate Lovers Collection (a mix of all). Whatever collection you subscribe to, you'll surely be given the perfect chocolate for your obsession, bursting with chocolatey goodness to satisfy your heart, soul, and sweet tooth!
Deal: Save 15%! Use coupon code ENJOY15.
---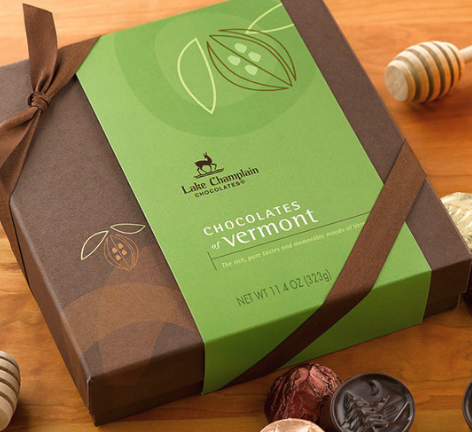 Image from: Lake Champlain Chocolate of the Month Club
Why We Love It: Get the finest chocolate you can indulge in every single day of the month! With Lake Champlain Chocolate of the Month Club, you'll never run out of chocolates to munch on. They make sure that you can enjoy nibbling on delicious chocolates wherever you may be. There are two chocolate clubs for you to choose from: The Chocolate Fanatic Club and The Chocolate Lovers Club. These monthly clubs will give you luscious Vermont-made chocolates that'll make you mouth water! Chocolates may include chocolate truffles, dark chocolate-wrapped sea salt caramel, assorted bonbons, and more delectable treats you can't resist!
---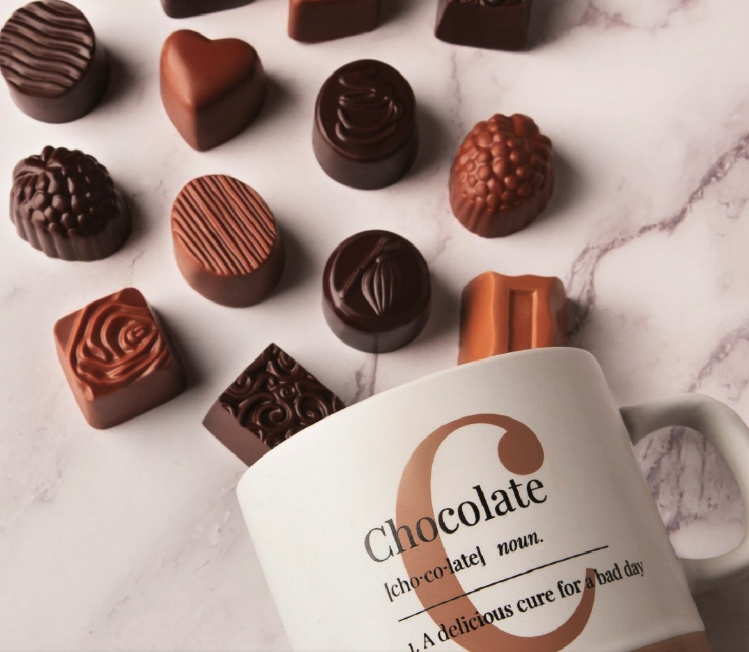 Image from: DeBrand Chocolate of the Month Club
Why We Love It: For monthly chocolatey goodness, DeBrand Chocolate of the Month Club is an ideal subscription to try! You'll be given different gourmet chocolates each month made with the highest quality ingredients you could ever think of! Your chocolate-eating spree can never go wrong as they only send the best ones for you to indulge in. From luscious caramel to rich truffles, your tongue will surely be tantalized with cocoa flavor that's to die for!
---
Image from: Cococa Couriers
Why We Love It: Indulge the finest artisan chocolate comfortably in your home as Cocoa Couriers will deliver luscious chocolates directly to your door. Every month, you have the opportunity to taste 3-5 of the world's best organic, fair-trade artisan chocolate bars from around the world. The Original Chocolate Box comes with a unique selection of three bean-to-bar chocolates, while the Chocoholic Box includes a yummy selection of 5 chocolate bars. Along with the chocolate bars comes pairing suggestions for a maximum chocolatey experience! And if you have diet restrictions, Vegan Chocolate Box is also an option. Receive 5 vegan chocolate bars you can nibble on without the guilt!
Deal: Get $10 off your first chocolate box! Use coupon code YUMHELLO10. Valid to new customers only.
---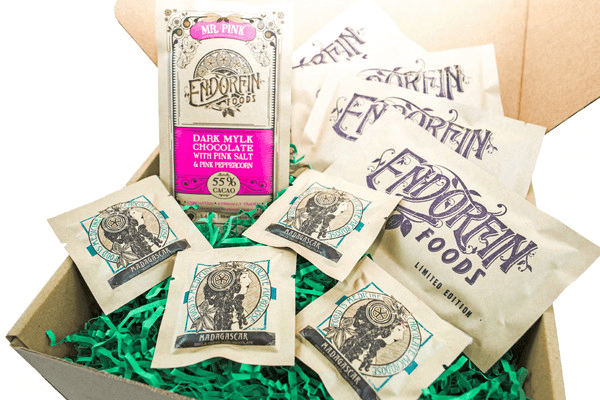 Image from: Endorfin Community Supported Chocolate
Why We Love It: Endorfin Community Supported Chocolate is all about wholesome chocolates made from real ingredients! This craft chocolate bar subscription only sends chocolates made from ethically traded, unroasted cacao, with a mixture of coconut sugar and coconut milk for a unique flavor. The chocolates they offer are free from dairy, soy, gluten and contains no refined sugar. Each box gives you 3-15 bars every month depending on your chosen subscription plan – Joy (3), Euphoria (7), and Transcendence (15). Monthly selections are a mix of limited edition bars and archives of award winners and best sellers. Each shipment also includes a newsletter with pairing recommendations, farm-to-table sourcing notes, and info on rare/uncommon ingredients.
---
Image from: The Monger's Chocolate Club Box
Why We Love It: The Monger's Chocolate Club Box serves as your gate pass to the best and biggest assortment of bean-to-bar chocolates in Detroit. This club sends you a box every month with four craft choco-licious bars selected by their mongers to reward your palate with! Chocolate bars vary each month along with the theme. New subscribers also get a free chocolate journal, where they can jot down notes of their chocolate journey. It's an elevated chocolatey experience in just a box!
---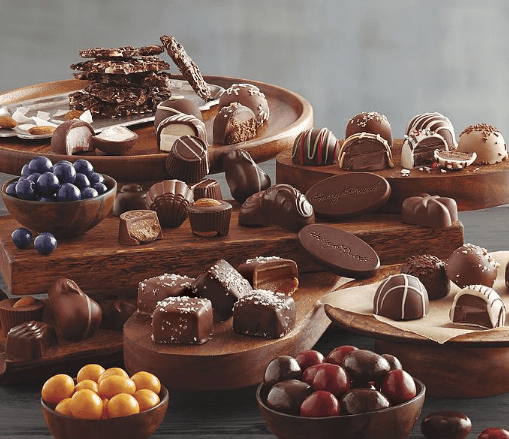 Image from: Harry & David Chocolate Club
Why We Love It: With Harry & David Chocolate Club, you can experience a chocolate delight with every bite of luscious chocolate they offer. You're up for a year-long full of decadent surprises as every month will guarantee you tasty chocolates to nibble on! Receive gourmet chocolates every month of the year, ranging from tried-and-true fave chocolate treats to innovations like truffles infused with classic cocktails. Indulge yourself with their monthly assortment that'll surely delight any chocolate lover!
Deal: Get up to $50 off on select Harry & David clubs! Use coupon code CLUB and Use this link to subscribe.
---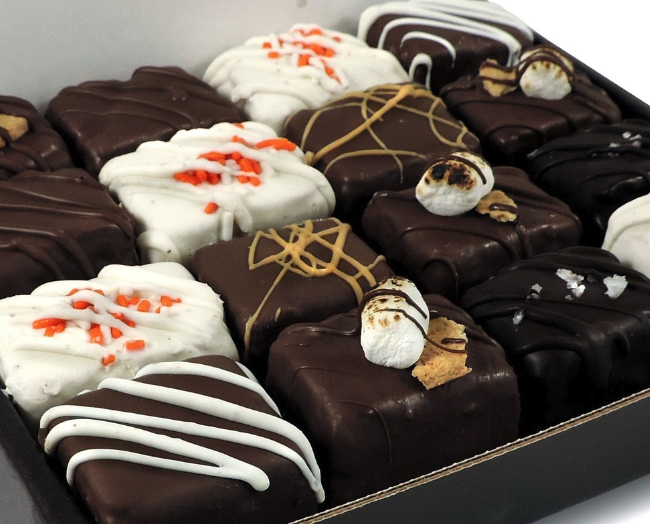 Image from: Nettie's Craft Brownies
Why We Love It: The extra fudgy brownie bites combined with luscious rich chocolate in just one bite, that's what Nettie's Craft Brownies is all about! This subscription box caters to anyone who 100% loves chocolates. They freshly bake their own brownies, using only the highest quality ingredients for exceptional taste. Each bite-sized brownie is then hand-dipped into chocolate and mingled with fun flavors like sea salt, s'mores, espresso, and a lot more! They offer various box collections that are perfect for any occasion, be it Valentines' day, birthday, or just because. And in case you don't want them covered, there is also 'Just the Brownies' option to delight you with!
---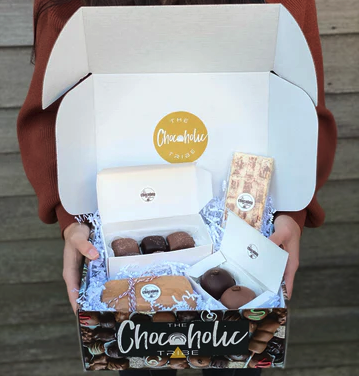 Image from: The Chocoholic Tribe
Why We Love It: For your chocolate cravings, there is The Chocoholic Tribe! This monthly chocolatey subscription will sure to fill your hunger with anything that's chocolate. Each month, you'll receive a selection of milk and dark chocolates in different shapes and sizes that are made entirely from scratch with tastes you'll love forever! Monthly boxes also include one exclusive goodie that's only available to their beloved subscribers. Choose your box size and let yourself drown with some heavenly chocolatey goodness your taste buds deserve!
---
Image from: Hu Kitchen
Why We Love It: Hu Kitchen takes us on a ride down where humans eat healthy and natural foods. They want you to eat the way people used to before – minimally processed foods), which means whole foods that exist in nature and not from labs. Get to experience chocolates made only from simple ingredients such as organic cacao, unrefined organic coconut sugar, and organic fair-trade cocoa butter. There are no refined sugars, no cane sugars, no dairy, no gluten, no sugar alcohols, just pure, simple, and responsible ingredients you can feel good about! These chocolates can also be enjoyed by people who are on a diet with one less guilt to think of.
---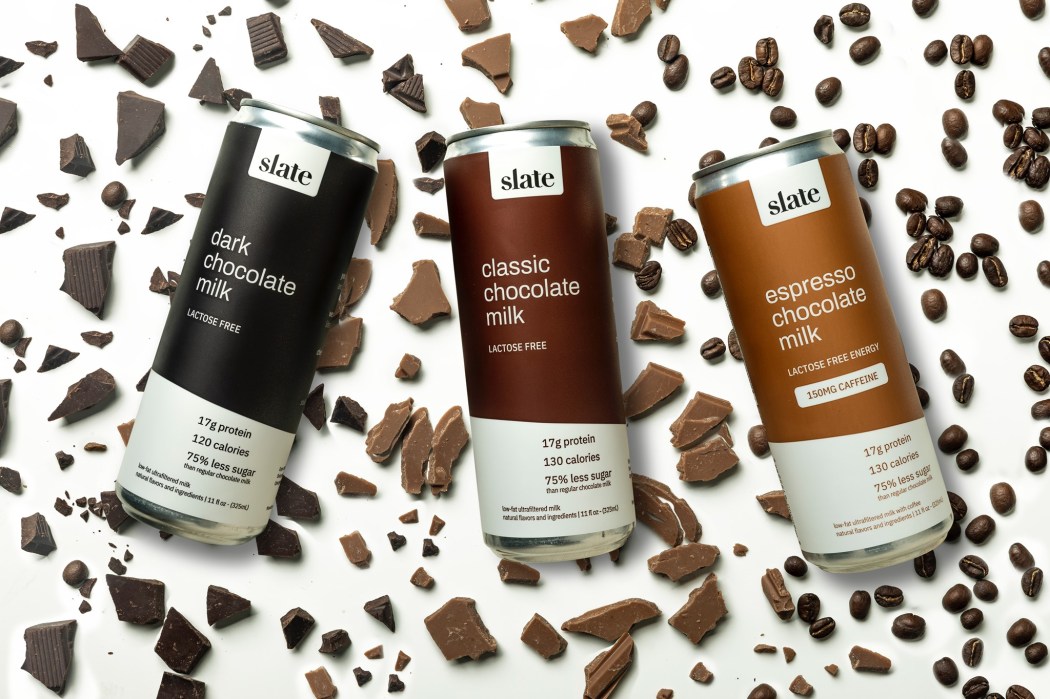 Image from: Slate Milk
Why We Love It: If you're a huge fan of chocolate milk, Slate Milk has you covered! Fill your heart and your tummy with chocolate milk drinks that are lactose-free, high in protein, and has 75% less sugar delivered directly to your home. What makes them more convenient is that these chocolate milk drinks are contained in cans. You can take it anywhere with you, and drink it whenever you want to! Receive 12 or 48 cans in your desired flavor – dark chocolate milk, classic chocolate milk, and espresso chocolate milk. Or you can also try all flavors when you subscribe to Variety Pack. It's the perfect drink for breakfast, 3 pm pick-me-up, or even on the go! No chemicals are involved, just the pure real taste of chocolate milk.
---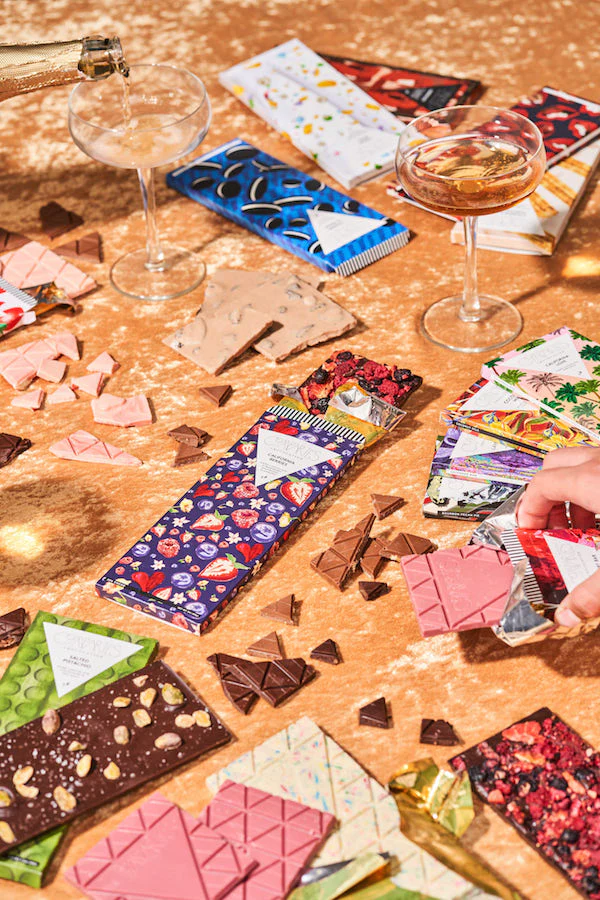 Image from: Compartes Gourmet Chocolate of the Month
Why We Love It: Compartes Gourmet Chocolate of the Month delivers themed monthly chocolates based on the occasion or what their chocolatiers are whipping up!
---
And that's our list of the best chocolate subscription boxes and clubs! Which ones appeal most to your taste buds?
For those looking for more subscriptions, check out our list of the best subscription boxes for 2023!