The world is a scary place to live in, and tomorrow is truly uncertain. The world is changing every day, and we have to plan and prepare ourselves. Doomsday, earthquakes, and other natural disasters – we never know what will happen next. Being prepared is not a bad thing. We need to have the right supplies to keep our minds at ease at certain points. Fill your bags with all the necessary tools for unpredictable events. We picked out some of the best tactical subscription boxes to help you prepare.
Whether you love adventures or you simply want to get prepared for tough situations, these tactical subscription boxes would be worth a try! Receive bi-monthly, monthly or quarterly boxes with items that range from personal emergency needs and survival tools to storable food items, as well as camping gear.
The Best Tactical Subscription Boxes!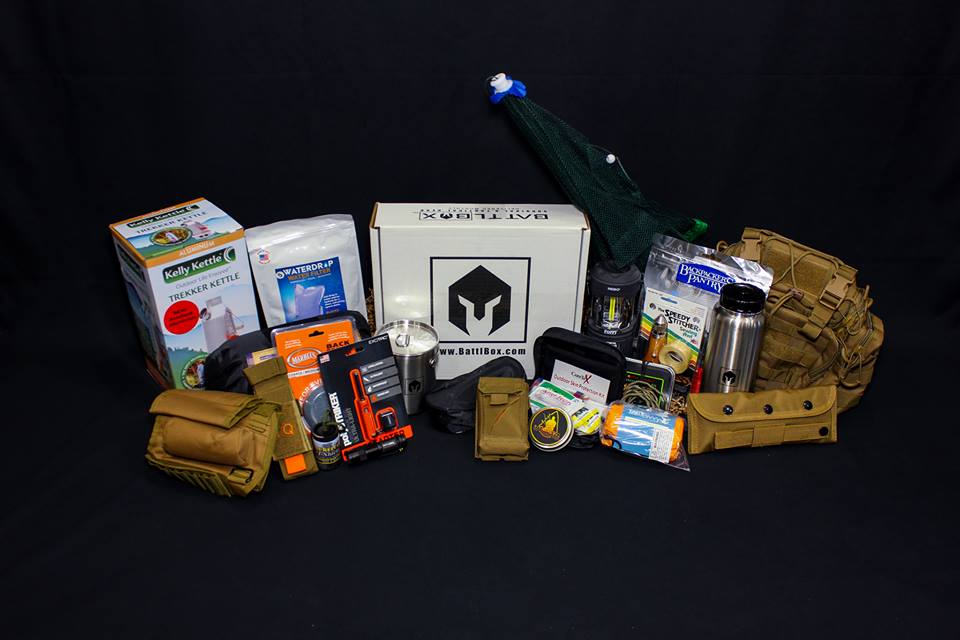 Image from: BattlBox
What you get: BattlBox gets you prepared for tough and extreme situations by sending camping, survival, EDC, and other kinds of outdoor gear every month! You can choose from four different kinds of boxes such as Basic, Advance, Pro, and Pro Plus. Basic is ideal for those who are just starting out, while Advance is for the gear junkie. If you're a survival minded person, Pro is for you. Another option for enthusiasts and big spenders is Pro Plus. They even partner with the best brands to give you top quality gear, like Lord & Field Outfitters, Going Gear, and Grenade Soap Co.!
Check out the BattlBox Reviews for more information!
Price: Subscriptions start at $29.99 per month.
Deal: Save 5% on any subscription. Use coupon code HELLOBATTL.
---
Image from: our review
What you get: Great gear from great companies, all in one TacPack! This monthly subscription delivers a variety of tactical and survival gears straight at your doorstep with a promised value of $80 – $100. To ensure that the items they send are high-quality and effective, they test each product before they send it out to subscribers! Some of the brands they've featured are Kershaw Knives, Xtech Tactical, Mission First Tactical, Armaspec, and more!
Read Tac Pack Reviews for more information!
Price: Monthly boxes start at $49.95.
---
Image from: Knife Subscription Club
What you get: If you are a traveler or an avid knife collector, Knife Subscription Club is the most suitable box for you. It's a monthly subscription that provides 1 high-quality, stainless steel, branded knife and/or EDC gear delivered straight to your door on auto-pilot. This knife box is available in 4 different packages: Basic, Advanced, Premium, and Ultimate.
Price: Boxes start at $17.95 monthly.
---
Image from: our review
What you get: Barrel & Blade collaborates with the top experts in the field to make sure that every subscriber will only be receiving the highest quality, most badass, and best value gear available, including knives! There are two plans available in this subscription: Level 1, which has an average box value of $85+, and Level 2, which promises a value of $175+.
See all Barrel & Blade Reviews to know more about this subscription!
Price: Each monthly box is $49.99.
---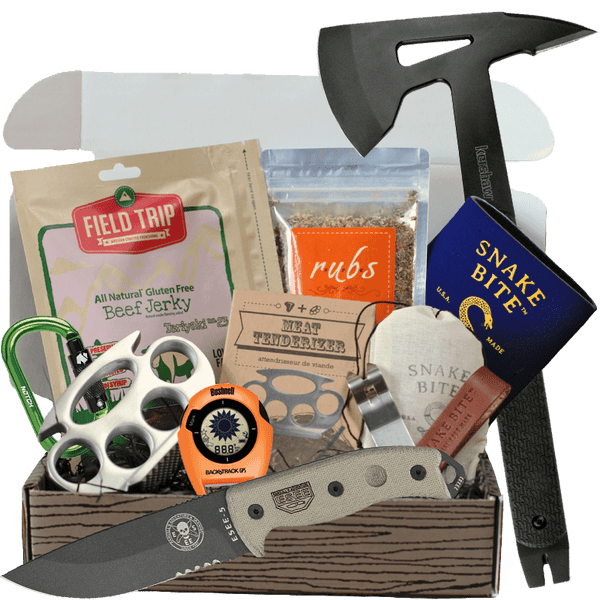 Image from: Primal Outpost
What you get: Primal Outpost is designed for explorers, outdoor enthusiasts, and everyone in between! Each month, you'll be receiving a variety of new box with at least five innovative products like climbing gear, knives, camping equipment, healthy snacks, and survival tools. This box also makes a great gift for anyone who loves adventure.
Visit the Primal Outpost Subscription Reviews page to know more!
Price: Subscriptions start at $35 per month.
Deal: Get 20% of all purchases! Use coupon code PRIMAL20.
---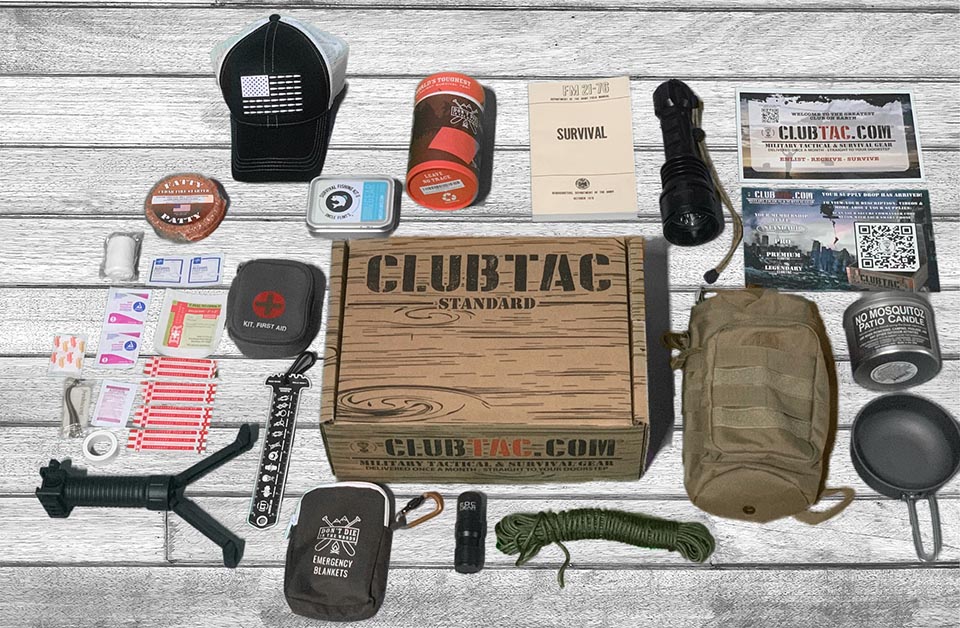 Image from: Club Tac
What you get: Survive every dilemma that comes in your way with Club Tac. Each box includes a variety of hand-picked survival and tactical gear that are tested and approved by marines and survival specialist. Select a crate: The Standard Crate, The Pro Crate, The Premium Crate, The Legendary Crate, and set your desired delivery frequency. Level up and unlock achievements with every box you'll receive and get rewarded!
Deal: Get 15% off your first box! Use coupon code HELLO15.
---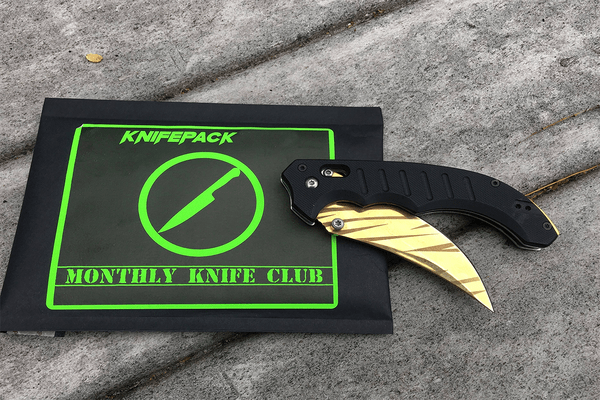 Image from: Knife Pack
What you get: Knife Pack is a monthly box subscription that delivers high quality, unique knives from the best brands available, at the most affordable price. Each box includes a variety of knives like Karambits, folding knives, spring assisted opening knives, fixed blade knives, throwing knives, butterfly knives, and many more.
Price: Boxes start at $14.95 per month.
---
Image from: Crate Club
What you get: Crate Club makes it easy to get your hands on premium quality survival, tactical, and outdoor gear from well-known brands around the world. What separates them from all other subscriptions is that most of their staff are from US Special Operations veterans, meaning that the items you'll get have been vetted by the utmost experts! They offer four different kinds of crates for various needs, including the Standard Crate, Pro Crate, Operator Crate, and Premium Crate!
Price: Boxes start at $29.99 per month, or less for longer subscription plans.
---
There you have it, our list of the best tactical subscription boxes! Have you made up your mind on which box to choose?
Interested in more subscription boxes? We have a full list of the best subscription boxes in every category!