Hidden gem subscription boxes are those amazing boxes you didn't know you needed! Not many people may know about them, but they are commendable for the value, useful content, and convenience they bring – making them always worth the wait!
We asked our readers to pick the best hidden gem subscriptions for 2021! Check the list and see if there's one that will also appeal to you!
Our Readers Found These Hidden Gems!
Image from: Babacorn-Bricks Box
My son gets a box every month and he loves all the Lego surprises, it's really good value for money and good communication. – Philippa

Such a thoughtful well designed selection each month, my nephew can't wait for his box to arrive, & each month is a different theme – Rach W
What You Get: With Babacorn-Bricks Box, kids will get 5 LEGO Minifigures in their Minifigure surprise and at least 5 other items, which may include LEGO construction sets, polybags, and brick-themed/inspired stationery, gifts, accessories, stickers, sweet treats, toys, handmade goodies, and many more! And on your kid's birth month, they'll get to receive a card and a gift in their box!
Price: Boxes start at about US$22.75 (£17.95 UK) per month, postage is £3.95 UK; £15.95 Worldwide.
---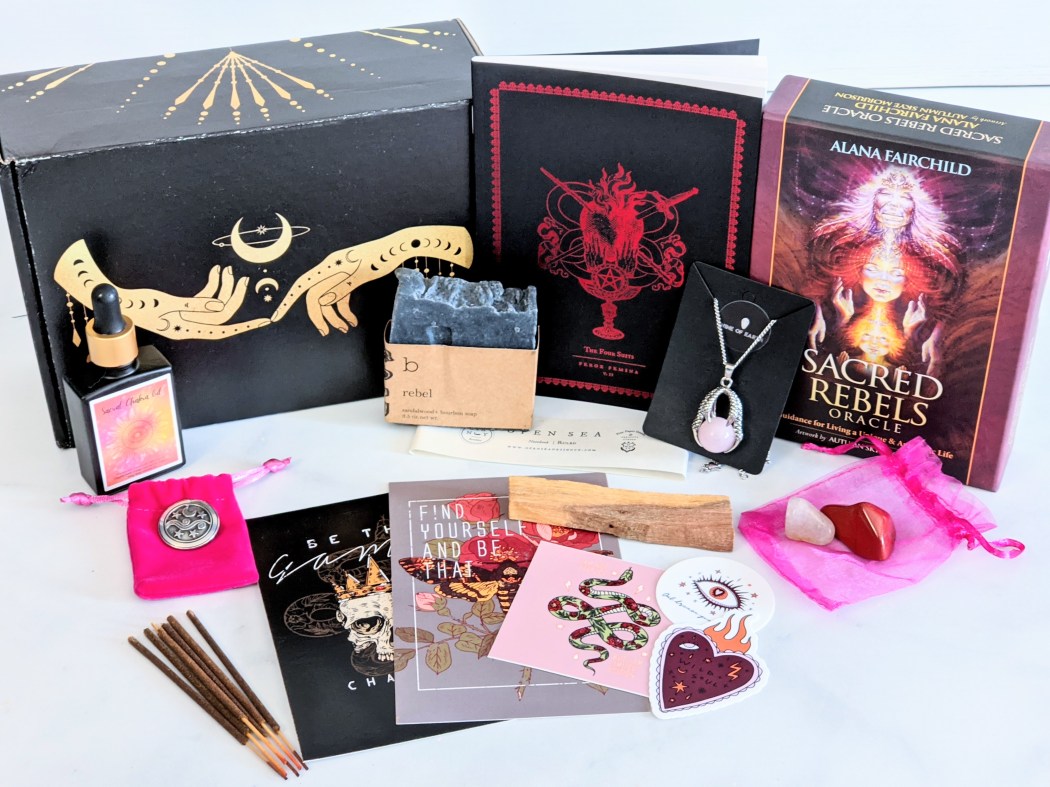 Image from: our review
A hidden gem!!! Every other month you receive a box with a Tarot or Oracle deck and many little extras… crystals, incense, etc. Great box!! 🙏 – Susann
Love the curation for these tarot/oracle decks boxes. The themes are awesome, fun and magical and the items that come are thoughtfully brought together into cohesiveness. Even the actual box matches the theme and can be kept for organization or decoration. Crystals, candles, you name it. Nine of Earth is one of my top favorite! A lot of love goes into these. They are a gem. – Juliane
Absolutely love this box, I get a new tarot or oracle deck along with jewelry or other related items for that box every other month. Great box for adding more tarot or oracle decks to my collection that I may not have heard of before. – Mindy
This is the most beautiful subscription box EVER. The items I received in these boxes are gorgeous and top notch. Everything is packaged so beautifully that it almost hurts to dig into each box. – Rachael D.
What You Get: Give guidance to your personal orbit with Nine of Earth. This subscription caters to witches and mystic loving women who like to step up their mystical routines. Every 2 months, you'll receive a box containing at least 6 witchy and lifestyle items, including a full-size Tarot or Oracle deck, a unique piece of jewelry, crystals, candles, books, and a lot more! Each box revolves around a theme and has over $ 100 retail value. Past themes include Forest Witch, Sacred Rebels, Mysterious Souls, Sea Witch, and more.
Learn more by checking out Nine of Earth Reviews.
Price: Get the box for $59.99 every 2 months.
Deal: Get 10% off on your first box! Use coupon code HELLO10.
---
Image from: Bama in a Box
I gave the Bama In A Box subscription to my parents and they look forward to receiving the box each month and trying all of the products that are made in their own state. – Amy

I LOVE Bama in a Box! I enjoy receiving all of the unique products available in Alabama! Many of them I am trying for the very first time. The subscription boxes have a variety of products, from cleaning products to candles to food! You never know what you are going to get! I also have had three of their specialty boxes! They are AMAZING and make wonderful gifts! Often times I share the Alabama produced-product on my social media pages! Many of my friends have subscribed and/or sought out a particular product I received in my BIB and posted about. – Jackie E

In this case Hidden Gem has a double meaning – Bama in a Box is a new subscription box service  that introduces you to "hidden gems" that are small businesses in Alabama. Since your box is different each month – every one is filled with 5 to 7 products made in Alabama – you get a surprise when you receive Bama In A Box. It's like getting a treasure trove of hidden gems every month! – Debra D
What You Get: Support Alabama businesses by getting the Bama in a Box. You can get your hands on new Alabama-made products each month, delivered straight to your doorstep. Each shipment is an assortment of 5-7 food products and useful items such as homeware, jewelry, pet items, and more! It also comes with detailed information about each product and directions on where to purchase them directly. They also assure that you won't get the same product twice as each box contains a completely new array of products. Sit back, relax and wait for the box to arrive so you can experience what Alabama has to offer!
Price: Get the box for $39.95 a month.
---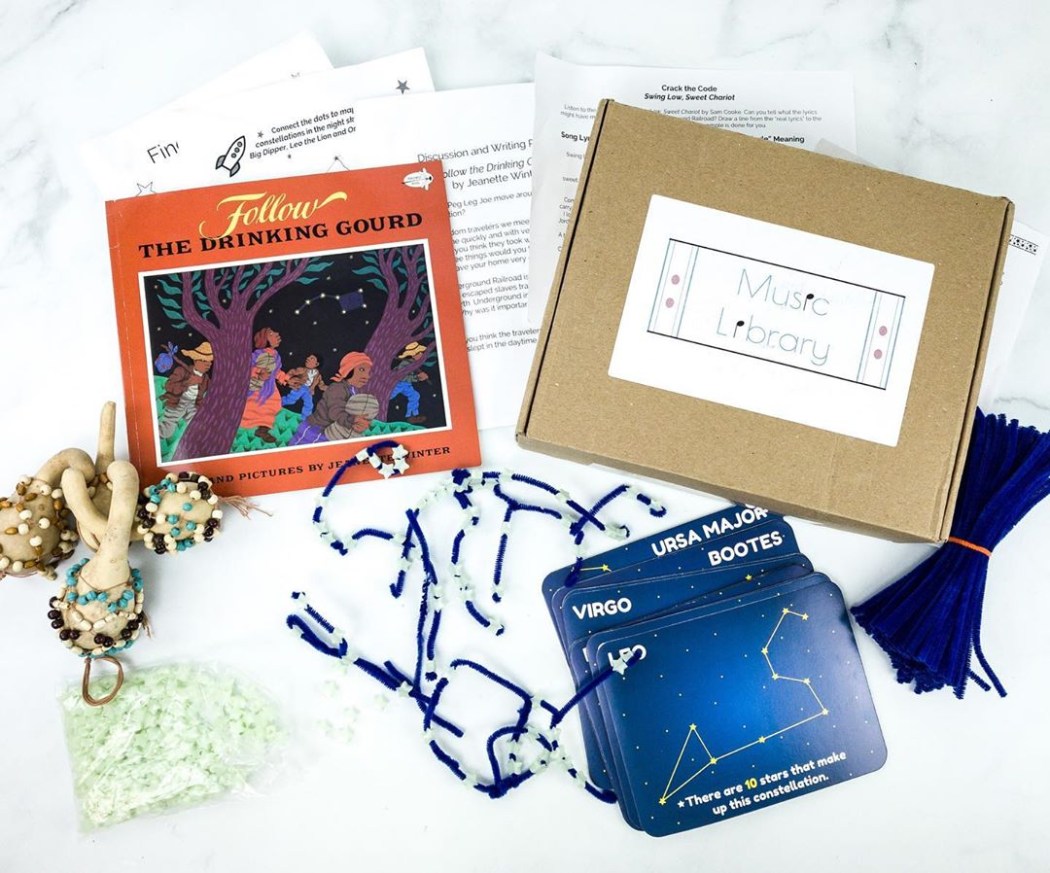 Image from: our review
Great content and SO fun for the family!  – Jess

I loooooooove this box!!!!! – Crystal

This is an amazing musical subscription box for kids with hand picked items from a fellow mom who has a love for music! I love that it comes with a book, craft, and instrument each month that the kids look forward to open! – Ashley

With wonderful online resources and activities the music box is a well curated introduction to different genres and aspects of music. Every month we learn new things, about a different part of the world, culture, type of music and theres always a fun craft and quality book at the core of the experience. – Laurel
What You Get: Kids can now easily learn everything about music with Music Library. This monthly subscription aims to introduce kids to different styles of music and musicians through children's books. From the classical musician Beethoven to Reggae singer/songwriter Bob Marley and everything in between, this will help spark kids' appreciation for music. Each box includes a new children's book about music, engaging hands-on activities, and online resources available only to subscribers. Through this box, kids can enhance their literacy skills and develop an interest in music!
See more on Music Library Reviews.
Price: The box costs $40 per month with lower prices on a 3-, 6- or 12-month subscription.
Deal: Get 15% off any Music Library subscription! Use coupon code HELLOML15.
---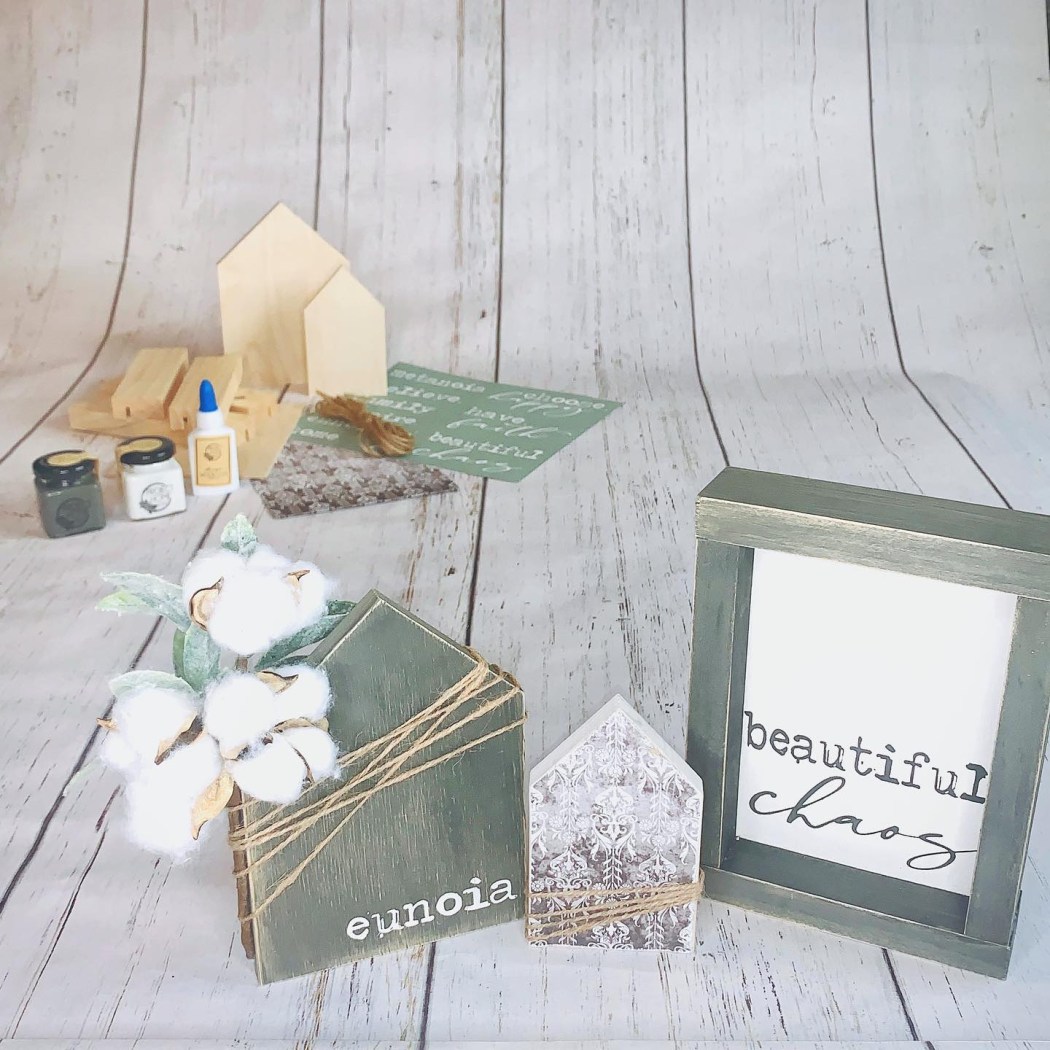 Image from: Project Home DIY
I've always loved crafting but I don't always have the "vision". This gives me the how to and all the supplies I need to make it happen. By far the best part of the month is when this package arrives at my home. – Heather
Love everything about this box. Every month it's like waiting for Christmas. Projects are simple. – Jen
Love the crafts they send. So much easier than gathering all the supplies – MeLinda C
Love this box! It comes with all the supplies. Easy to follow instructions, and many was to customize and make it your own and match your decor at home. – Kristen
Such cute and fun home decor delivered to your door each month!!! I look forward to it every month. It's like Christmas!!! – Lindsay Mary
What You Get: Give your home a fresh, new look by decorating it with DIY furnishing that has a personal touch. There's no need for you to rush to the store to buy home décor because Project Home DIY will send everything you need directly to your door each month. The box contains the supplies and the materials so you can create your very own DIY home décor that will accentuate your home! You'll also gain access to a video tutorial and written instructions, where you can learn techniques and tips to complete your DIY project. As a first time subscriber, you'll get a starter kit that includes a glue gun, glue sticks, paintbrush & sanding block.
Price: Get the monthly box for $49.99.
Deal: Get 15% off any new subscription! Use coupon code NEWVIP15.
---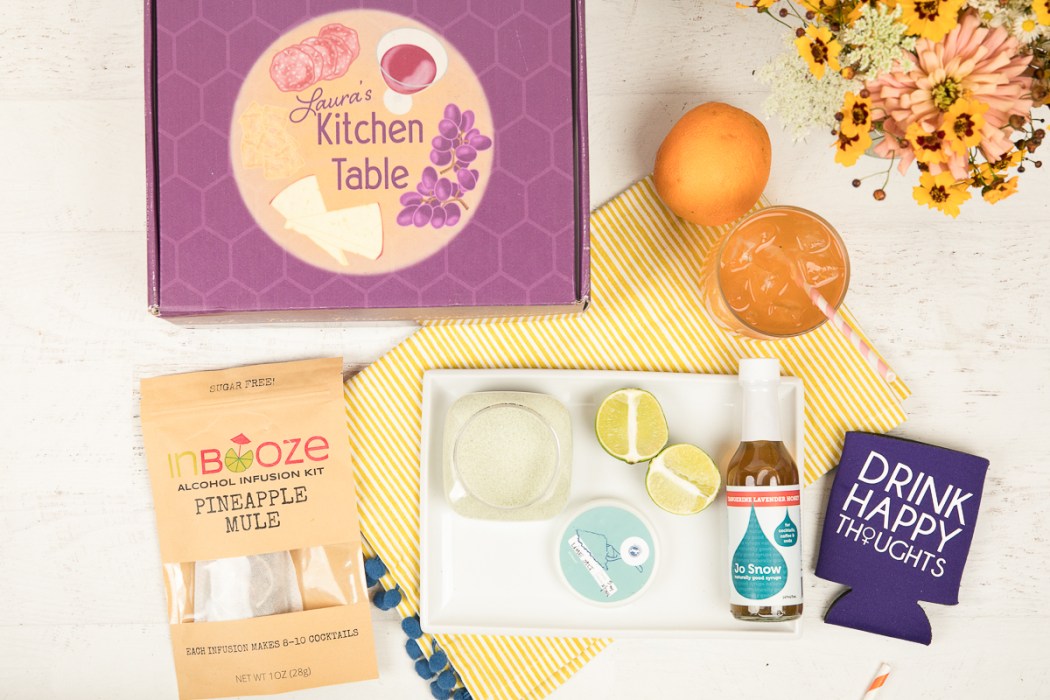 Image from: Laursd Kitchen Table
I love LKT. Great subscription box with amazing products that I may not have known about otherwise. – Vanessa

I love that it highlights woman owned business only and the creative ideas each month are great! – Matthew

Something new every month from a woman owned small business! – MK007

It's filled with awesome food and food related items that are all from small businesses and mostly women owned businesses. – Jacqui
What You Get: If you're a total foodie and loves working in the kitchen, Laura's Kitchen Table will support you with your passion! This subscription is all about cooking and the fun that comes with it. Each month, they'll send a box containing 4-6 products ranging from tasty food and beverages to fun items you can use in or decorate your kitchen from female-owned small businesses. Along with the products in your box comes a featured recipe where you can use at least one of the items in your box and a kitchen conversation card you can use to stir up a fun and delectable topic!
Price: The monthly subscription is priced at $44.95 with savings on longer subscriptions.
---
Image from: Hikewize
Love the quality of the items and the number of items that you get. When comparing boxes, Hikewize had the best bang for the buck and really offered hiking needs that suited me best. I didn't want just cheap snacks or small items – I wanted high quality items to get my started on my hiking journey and Hikewize delivered! My first box came with a hiking journal, recipe book, trail sunglasses, a filtration straw (Life Straw), blow up cushion, camping soap and more. I felt that the items I received were worth more than I paid and that's what I love about this subscription box! – Niki

They have great boxes! Nice knickknacks and great "Big one" item. We camp and hike a lot and their boxes are great! Also, AMAZING customer service! – Juanzo84

This box always delivers, with an assortment of items perfect for outdoorsy people! Whether you're hiking, camping, or exploring a local park, Hikewize has you covered. Items in previous boxes include beanies, headlamps, biodegradable wipes, mess kits, hiking socks, and much more. As a bonus, they include a written guide to some of the items and to some awesome places to visit as an inspiration to adventure! – Tori F
What You Get: Hikewize lets you explore the great outdoors with no worries! This subscription sends a box full of useful goodies to help you maximize your hiking experience and gear you up for your next adventure. All you have to do is create a profile and provide them information such as shoe and shirt size, level of outdoor experience, last adventure, and food allergies to help them curate a box with hiking essentials tailored to your preferences. Each quarter, you'll receive 5-7 full-size items along with general trail tips and advice on National Parks. Such items include apparel, hydration gear, snacks, and more.
Price: Subscription costs $55 per quarter and drops down to $50 when you prepay for a year!
---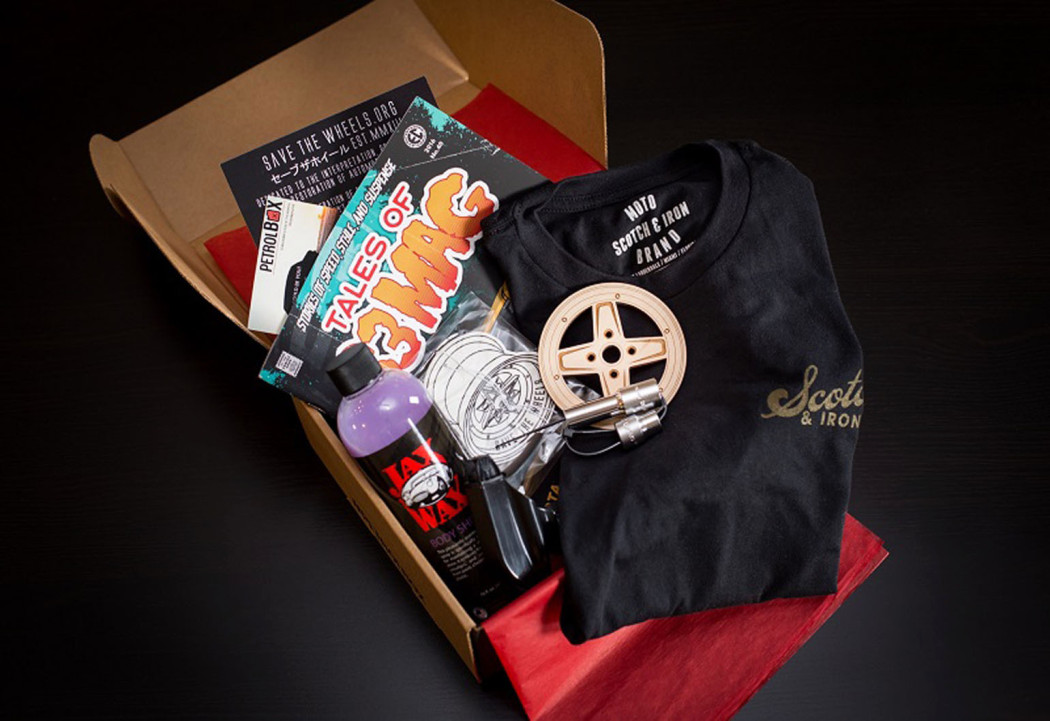 Image from: PetrolBox
What You Get: PetrolBox is a monthly subscription box for your car made by car enthusiasts. Each box comes with premium car items that may include tools, detailing supplies, apparel, gear, and more from top-notch brands and upcoming yet hottest brands and a chance to win a free set of Rotiform wheels! Choose from their 2 boxes: PetrolBox Premium, which contains 5-7 items, or PetrolBox Basic, which includes 2-3 items. If you want to get quality items, this box doesn't disappoint!
Price: The PetrolBox premium costs $39.95 per month and it's $19.95 per month for the classic box. Get savings when you prepay for more months!
---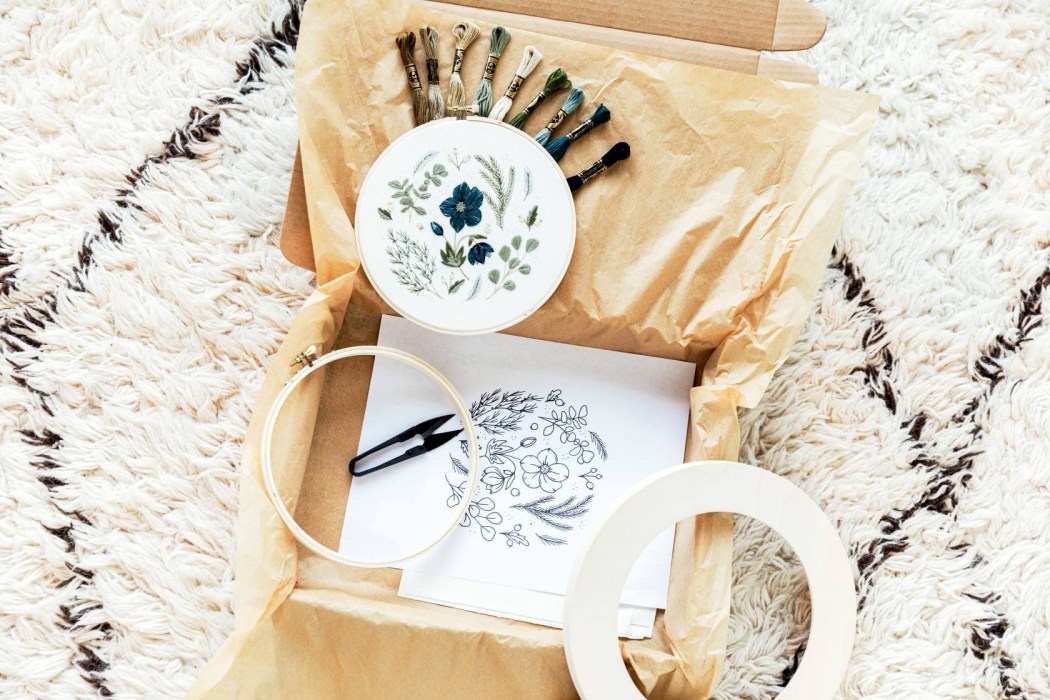 Image from: Crafter's Box
What You Get: Nourish your creative soul with The Crafter's Box. A workshop in a box, that's what defines this subscription. It lets you learn different craft techniques, explore new mediums, and practice the art of making. Be a crafter and receive a box filled with the artist's favorite tools and materials, along with a video tutorial led by an expert maker. Projects include home decors, tote bags, baskets, pillowcases, and even soaps! With different tools included in each box, you can build your own crafting toolbox. Through this subscription, you can unleash your inner creative persona and be the artisan you want to be.
Visit The Crafter's Box Review to learn more.
Price: Subscription is priced at $65 per month, or save more on 3-month and 6-month subscription plans.
---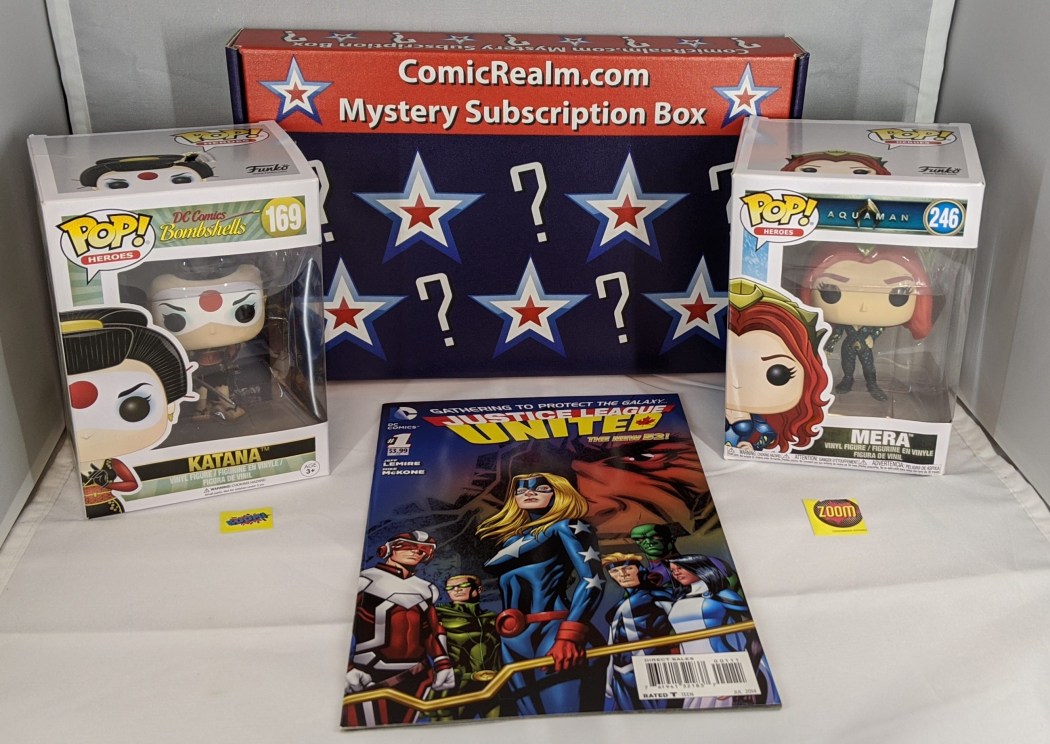 Image from: ComicRealm
ComicRealm delivers every month with personally curated boxes to each individual and the value of each box is usually double or more than what you paid. Great mystery subscription box! – Spidermonkey
Definitely an excellent choice for a box if you are a comic book or graphic novel enthusiastic. – Chaitali
I had this subscription for two years and adored it! They work hard to customize the selections for you. Its a great value too! Wonderful customer service. – mecularmuse
This is such a niche gift! Love it! – Ro Levine
What You Get: If you're fond of reading comics and loves collecting them, ComicRealm is the source you're looking for! Get the comics you love with their mystery box offerings. Each month, you'll get a surprise package that has a value doubled or more than what you've paid for, and it contains 4-5 hand-selected items like TPB/Manga, variants, signed & remarked comics, and more depending on your chosen subscription. It features comics from companies like DC, Marvel, Image, Drak Horse, and more.
Price: Subscriptions start at $19.99 per month. Get savings when you choose a prepaid plan option!
Deal: Save 10% off every month in your subscription! Use coupon code COMICS10. Excludes already discounted 12 month subscriptions.
---
Image from: our review
The best clean beauty subscription box, that always includes at least 4 FULL size items! Love everything in every single box from the beginning! – iuls

I love my subscription to Jiyubox! I love that I receive full sized products, making the value of the box more than what I pay for it. The products are all amazing and I've enjoyed using all of the products within the box. Jiyubox also has great customer service! – Sophie

I really love the message and sustainability this business represents! – Nai

Jiyubox is a seasonal subscription of clean, Indie beauty products. They support small businesses and feature high quality skincare, bodycare, and wellness items that would have been hard to find on your own, or you might have been hesitant to try out! – Jess
What You Get: Get yourself ready for any upcoming season with the help of Jiyubox. Their mission is to make all-natural skincare, beauty, and wellness products more accessible to anyone! Each box will always have 4-6 handpicked, full-size beauty products from amazing indie brands who care about ingredients – free from toxins, fillers, and animal cruelty! Not only do you have the chance to know indie brands, but you also gift yourself the best of clean beauty!
Go to Jiyubox Reviews for more info!
Price: The seasonal subscription costs $59.99, and the annual subscription costs $223.96.
Deals:
---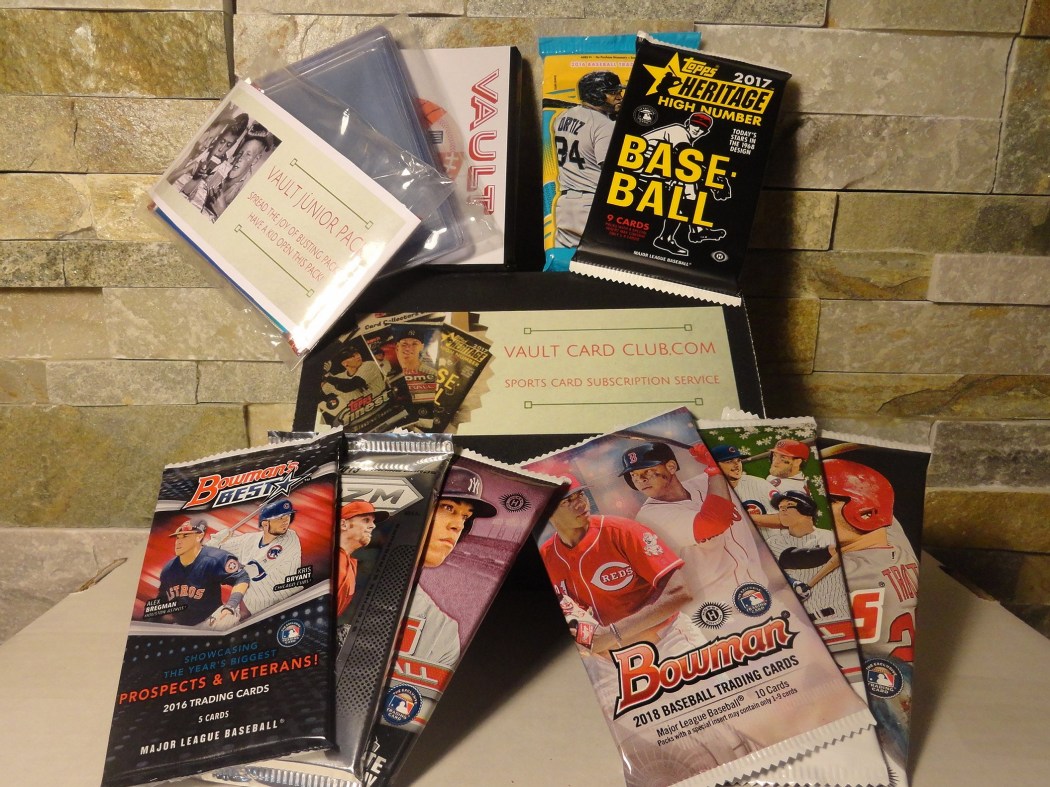 Image from: Vault Card Club
I used to collect cards when I was a kid and I started to collect again so I could share my love of football and baseball cards with my sons. I had no idea where to start as in, what brands to collect but Vault Card Club made it easy for me and my boys to collect cards by sending me random packs of some of the best brands on the market. My boys score at least 1 to 3 "hits" (autographs, jersey cards) in almost every Vault Card Club box that is sent! I highly recommend Vault Card Club for those looking to dive back into collecting sports cards as it saves the hassle of having to research which brands are best to collect! – Carlos S
What You Get: Sportscard collectors will surely be delighted with Vault Card Club. This sports card subscription service caters mainly to Baseball, Basketball, and Football fans. Choose which box you like (Experience, Deluxe, Hi-Roller, and Classic) and receive between 6-10 Hobby packs. You can also substitute one hobby pack for a vault pack, which includes auto's and relics. Each box also includes a Vault Junior Pack to share the experience with your son, daughter, nephew, or niece. Subscribers also have the chance to pull a golden ticket, where they can use to shop from the list of available high-end bonus items. If you want to add more to your collection, this subscription is a great deal!
Price: Subscription starts at $29.95 a month.
Deal: Get 20% off your first box. Use coupon code Newcust20.
---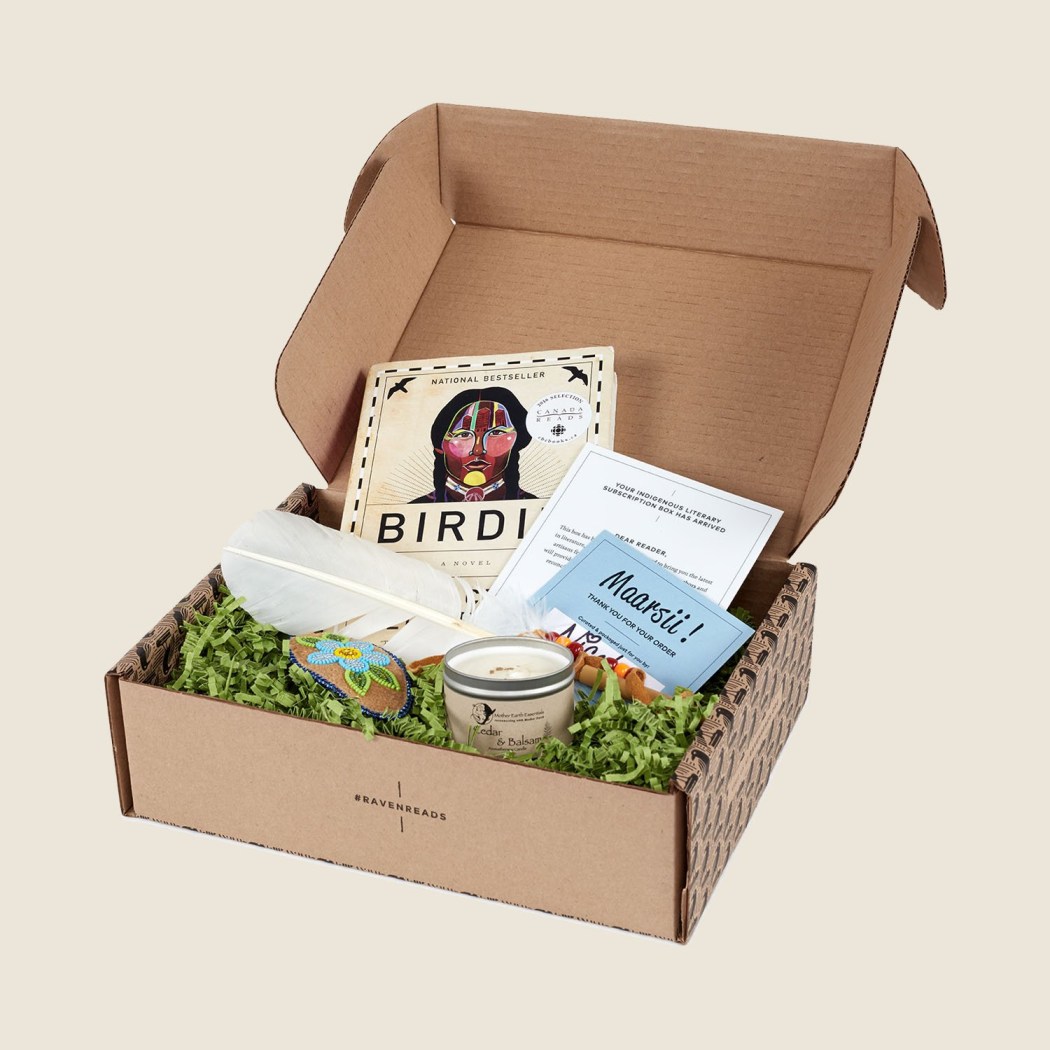 Image from: Raven Reads
I love Raven Reads because they curate amazing Indigenous authors and Indigenous designed bookish goods…The women at Raven Reads work tirelessly to make reading a magical experience for all! – Audrey

Makes my heart full to read books from these talented authors. – Mrs OB
What You Get: Raven Reads want the wider audience to experience incredible books, that's why they send a carefully curated box containing top-quality Indigenous literature together with giftware. You can choose from two subscription boxes they offer – Adult Box, which includes a book written by an Indigenous author, a letter from the author, a culture card teaching about Indigenous culture, one hand-made craft or art piece, and one lit-themed trinket or Kids Box, which includes a beautifully curated collection of two or three children's book written or illustrated by Indigenous authors and a book diary card where they can journal their review of each book. This subscription makes the perfect resource for adults and children to learn more about Indigenous culture and history.
See Raven Reads Review for more information.
Price: Subscription costs $69.67 ($87.99 CAD) per quarter, with savings on Bi-Annual and Annual subscriptions. Shipping is free in Canada and a $5 Flat International fee per box.
Deal: Get 15% off your first box! Use coupon code TRYME15.
---
Image from: Tom & Lily Creations Monthly Thread Subscription
Amazing coloured hand dyed threads and great quality! – Megi
Beautifully dyed threads, a pleasure to stitch with – Stitchyjo
Great colors and quality threads. – Mimi
Lovely overdyed threads for crosstitching and embroydery on your doorstep every month, You receive 10 thread packs that are coordinating for the theme of that month with a little surprise. – Mieke
What You Get: Tom & Lily Creations Monthly Thread Subscription will supply you with threads you can use in your embroidery project. Each month, you'll get a pack of 10 beautifully hand-dyed threads along with a small gift and other surprises. All threads are created and produce in France and delivered to your home. Create a project to your heart's content using these threads and see colors come to life!
Price: Subscription starts at 33,00 € (approx. $40 USD) a month.
---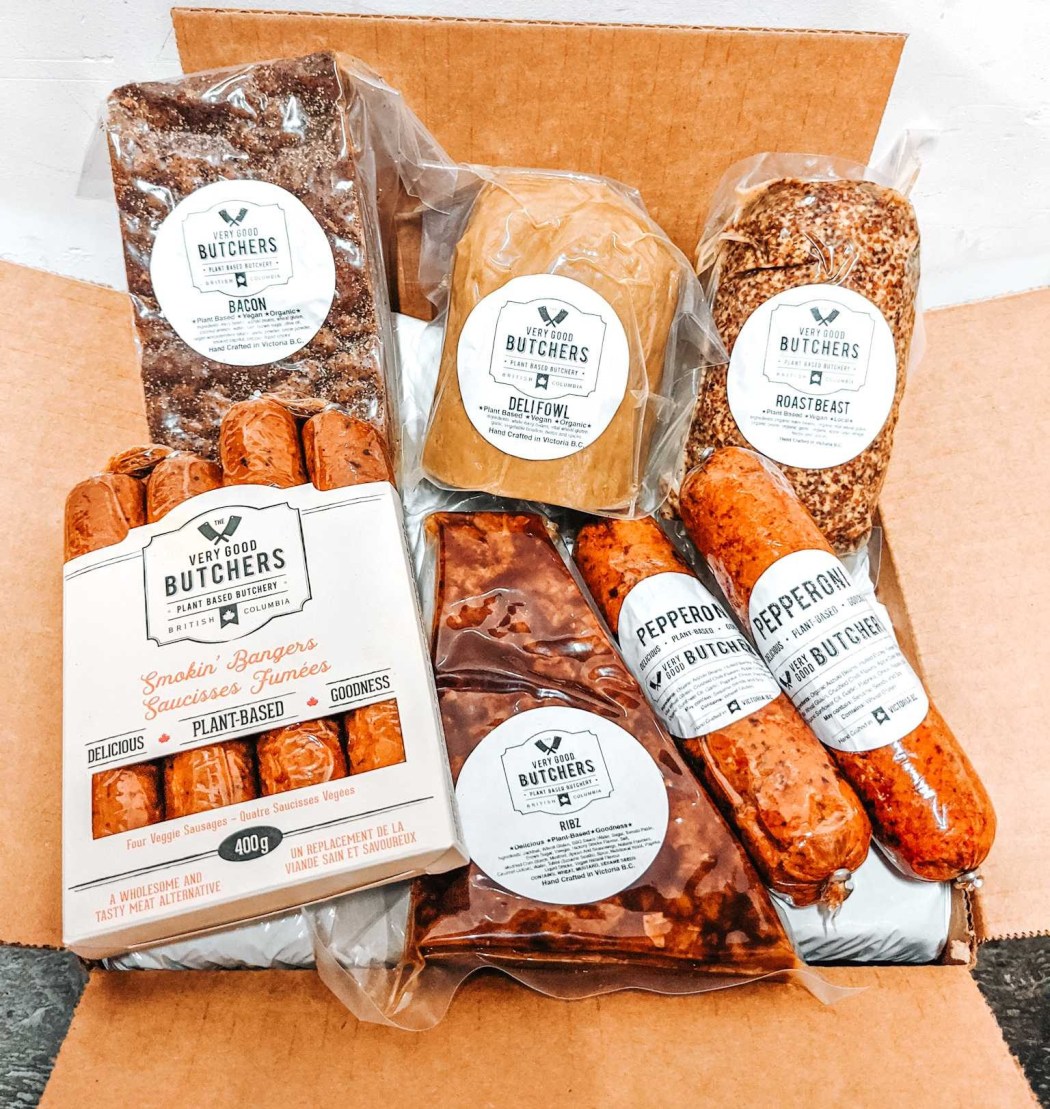 Image from: The Very Good Butchers
Amazing food from an even MORE AMAZING source… BEANS! It feels good to eat good at a fair price and know you're making the conscious choice to reduce the harm you cause on the animals, the planet and on your own peace of mind. – AJrasfaV

Awesome vegetarian alternative meat box! Quick insulated shipping & the food beyond delicious! Organic without additives & chemicals. You can actually find a quick, convenient & healthy food box option here! – Poppy
What You Get: If you're looking for a more healthy option but find it hard to let go of meat taste, The Very Good Butchers is the perfect option for you. They produce quality plant-based meats so you can still enjoy the flavors you've been craving – steak, burger, pepperoni, bacon, and more, minus the guilt! These vegan meats are handcrafted in small batches with real and whole-food ingredients, you mostly will find in your kitchen like beans, grains, vegetables, herbs, and spices. Get A Big Box of (Plant-Based) Meat (12 packs), A Very Good Box (6 packs), or The Charcuterie Box (2 large charcuterie boards' worth of plant-based meat) and indulge in healthy eating without compromising your taste buds!
Price: A Big Box of (Plant-Based) Meat costs $99, A Very Good Box is at $50, and The Charcuterie Box is priced at $60.
---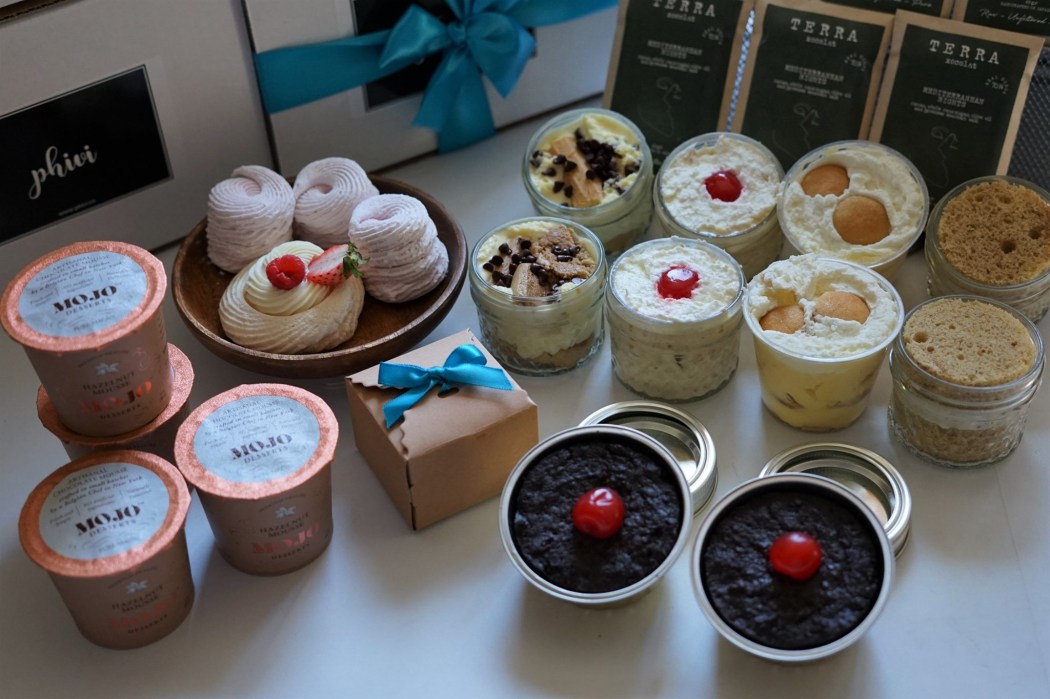 Image from: Phivi Artisanal Desserts Box
What You Get: Eating delectable treats while supporting a good cause, that's what Phivi Artisanal Desserts Box is baking! With different themes every month, you'll surely satisfy any cravings your sweet tooth has! Receive an assortment of 8 or more desserts that are all-natural, handcrafted, and freshly-baked from small businesses in NYC using fine and fresh ingredients. Desserts vary each month and may include cakes, cupcakes, macarons, cookies, cake pops, brownies, truffles, and a lot more! Aside from directly supporting a local baker for every box ordered, Phivi also donates $1 to the rescue and rehabilitation of street dogs and cats in Baku, Azerbaijan.
Price: The box starts at $39 a month with lower prices on longer subscriptions.
---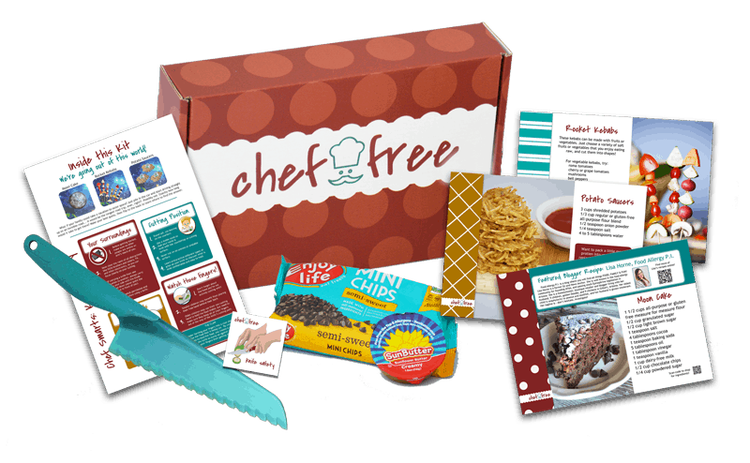 Image from: Chef Free Club
In today's busy household, parents and children hugely benefit from the guidance and motivation from CFC boxes to create something healthy and have fun too! I have IBD so with many food restrictions, this is especially helpful for my family.  – Findsyl
What You Get: Kids tend to enjoy food when they experience the fun of cooking, and that is what Chef Free Club is about. This monthly subscription encourages kids to learn how to cook for special diets and establish healthy eating at the same time using natural and real-food ingredients. Each kit they send includes easy-to-follow recipe cards, games & activities, reward stickers, themed educational resources, and more bonus surprises! There's also a new kid-friendly kitchen tool included in each kit so kids can have their own kitchen tool set – no box is the same! With this club, kids can have confidence in the kitchen and beyond.
Price: Membership costs $25 per month.
---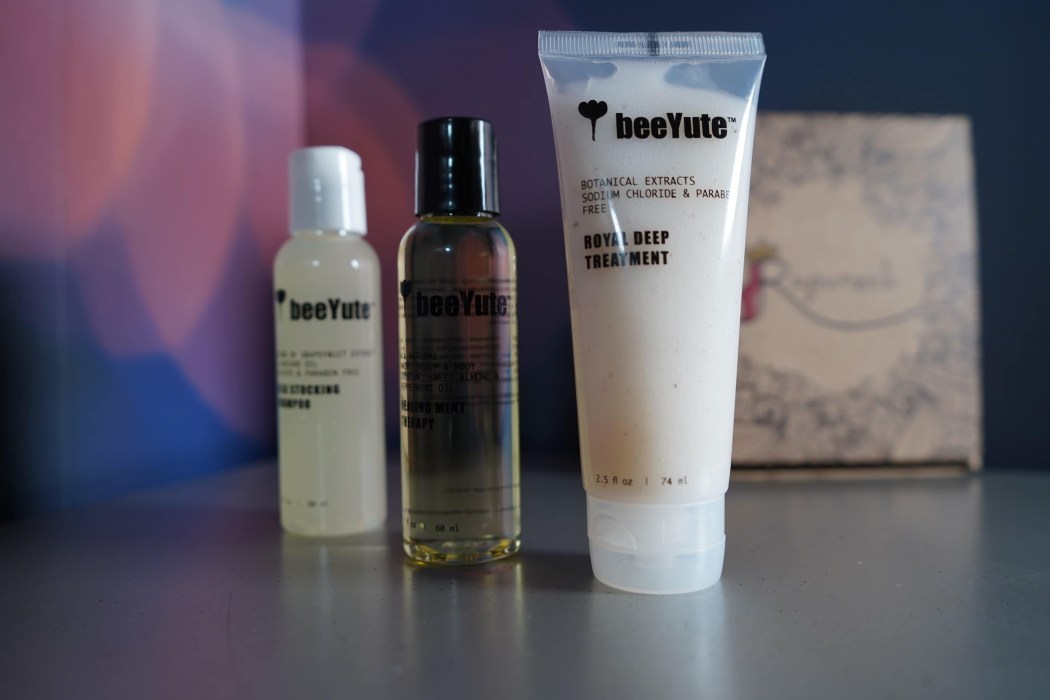 Image from: Club Rapunzel
What You Get: For those who want to repair and grow their hair, Club Rapunzel offers a 4-step hair repair and growth program. It's a quarterly plan for all hair types. All products are paraben and sodium chloride-free, safe for color, and chemically treated/straightened hair!
Need more similar boxes? Go and check out the full list of Subscription Boxes for Hair!
Price: Boxes start at $60 each quarter.
---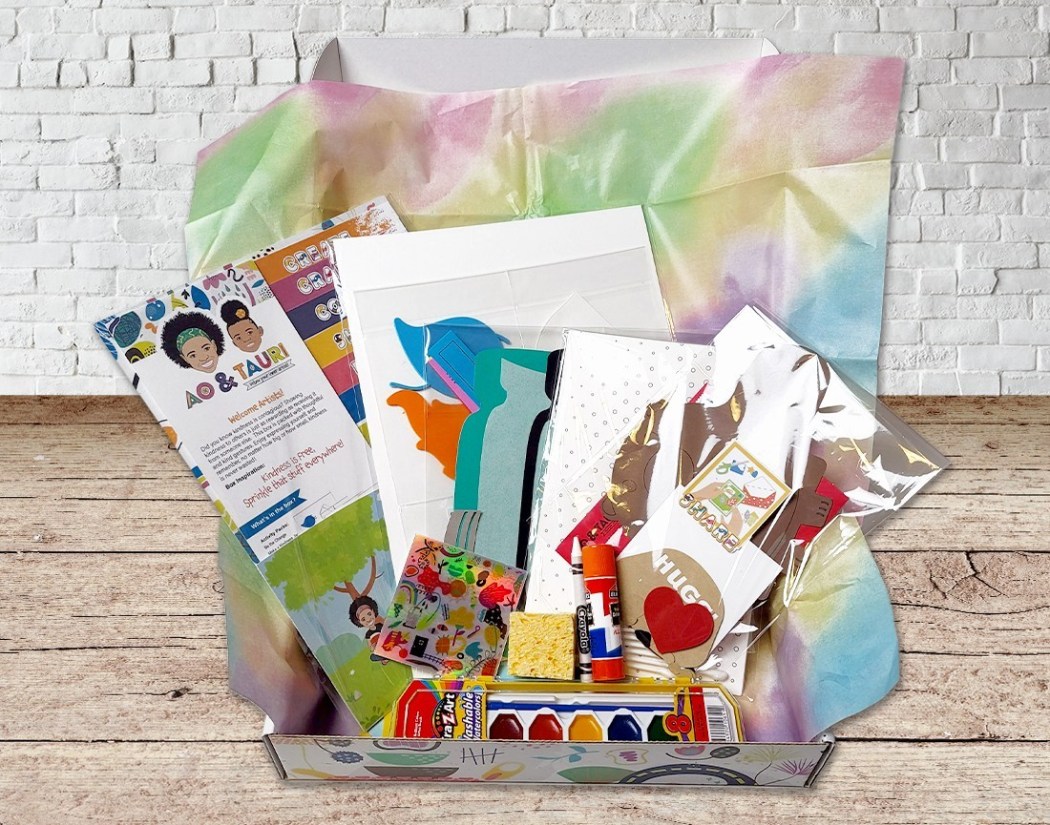 Image from: Ao and Tauri
What You Get: Keep your kid's creative juices flowing through Ao and Tauri. Let them unleash their inner artist by giving them arts and crafts to work on. This subscription inspires kids to be artistic while having fun and learning more about life. Every 2 months, kids will receive nine interactive activities along with all the materials needed. They'll find coloring sheets, cards, stickers, and more that will help them learn and grow in a fun way! This box is great for kids ages 4-10 years old. Brighten your kid's day by bringing another day of play but in a different way.
Price: Shipped every 2 months for $39.95.
---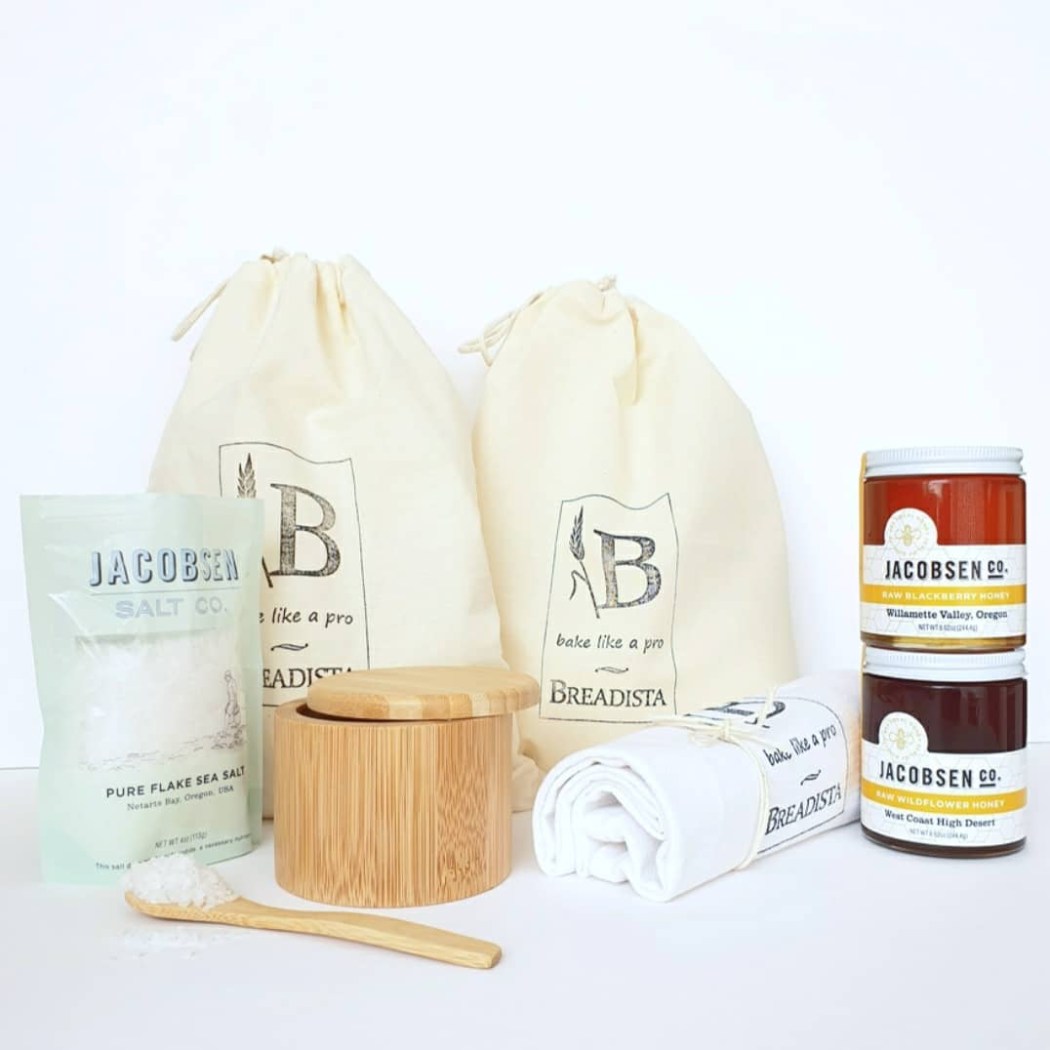 Image from: Bread Baking Box by BREADISTA
What You Get: Bread Baking Box by BREADISTA makes it easy for bread lovers to bake at home. They send monthly baking boxes filled with all the ingredients needed for warm, delicious homebaked bread. These ingredients are pre-measured, so all you need to do is add water, butter, or other dairy products (depending on the recipe), mix them up, and knead. Each baking box also includes a delicious spread, some practical add-ons, and a detailed instruction card that will guide you towards baking a perfect bread!
Price: 3-month subscription – $129; 6-month subscription – $252; 12-month subscription – $492.
---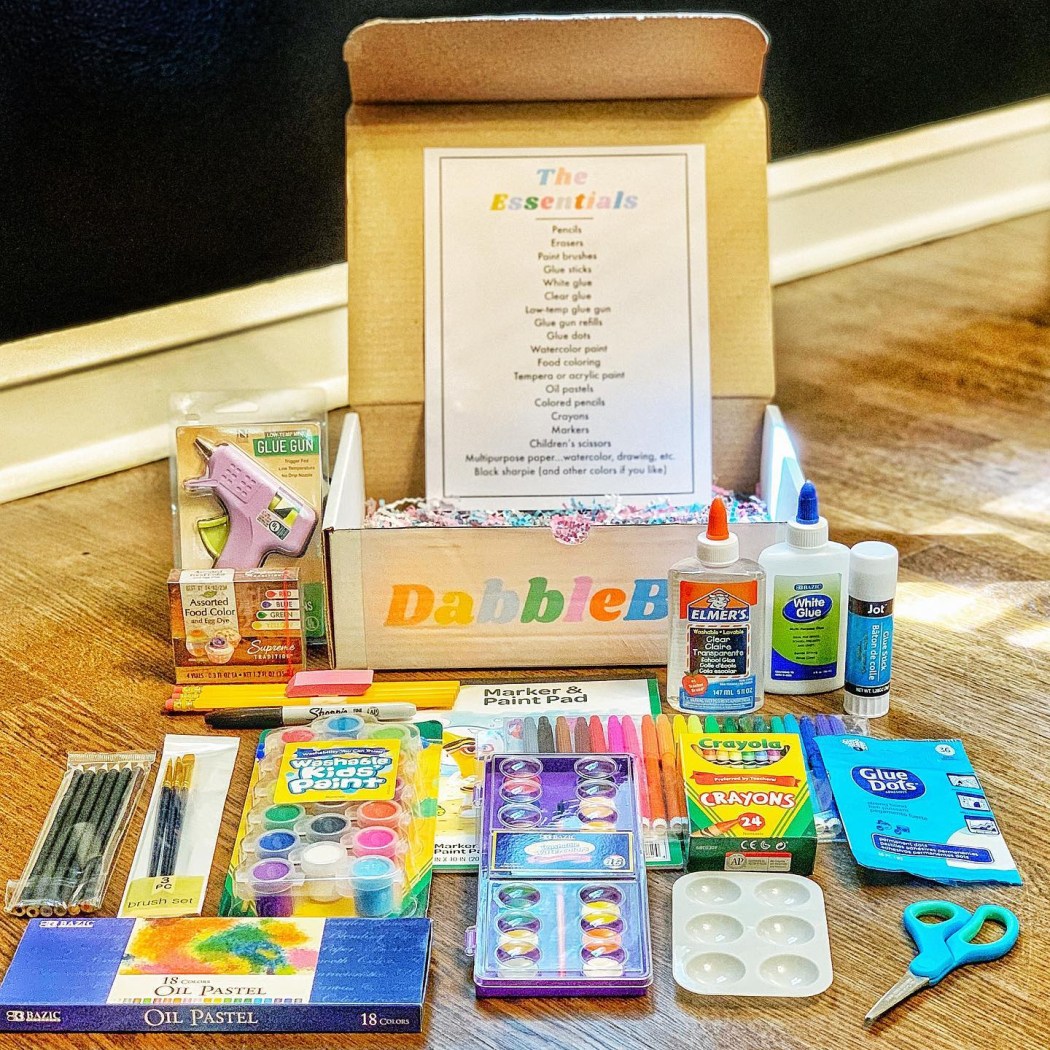 Image from: DabbleBox
What You Get: To keep your kids' creative minds active, there's the DabbleBox! This monthly subscription aims to inspire imagination, develop skills, spark curiosity and promote creativity in kids. Each art & craft kit includes four projects to work on each month based on a theme paired with instructional video so kids can create the project with ease! You can also get the Essential Box (one-time purchase), which includes basic art & crafts supplies like watercolor, paintbrushes, pastels, markers, pencils, glue, and more.
Price: Each box is priced at $65 per month with savings on longer subscriptions. The Essential Box is available for $50.
---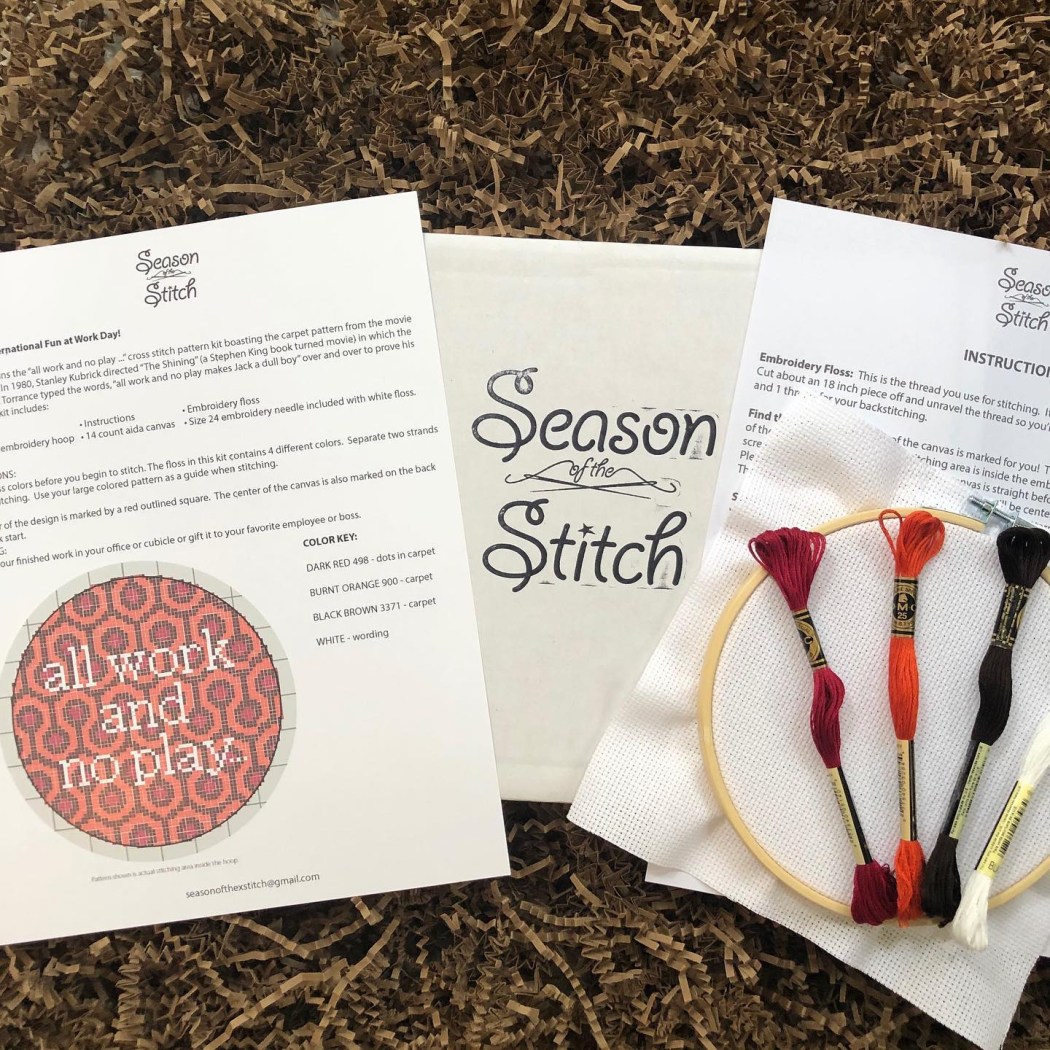 Image from: Season of Stitch
What You Get: If you enjoy cross stitching, Season of the Stitch will accompany your love for it even more! Receive a box each month containing a 6-inch embroidery hoop, Aida canvas, 3 to 13 colors of floss, a needle, and a witty pattern about a quirky holiday of the month like World UFO day or Twin Peaks Day. It's classic handicraft + modern humor in one! With this box, you can create a lovely yet fun piece of art.
Price: 3-month subscription is $90, 6-month subscription is $165, and 12-month subscription is $300. Ships monthly.
---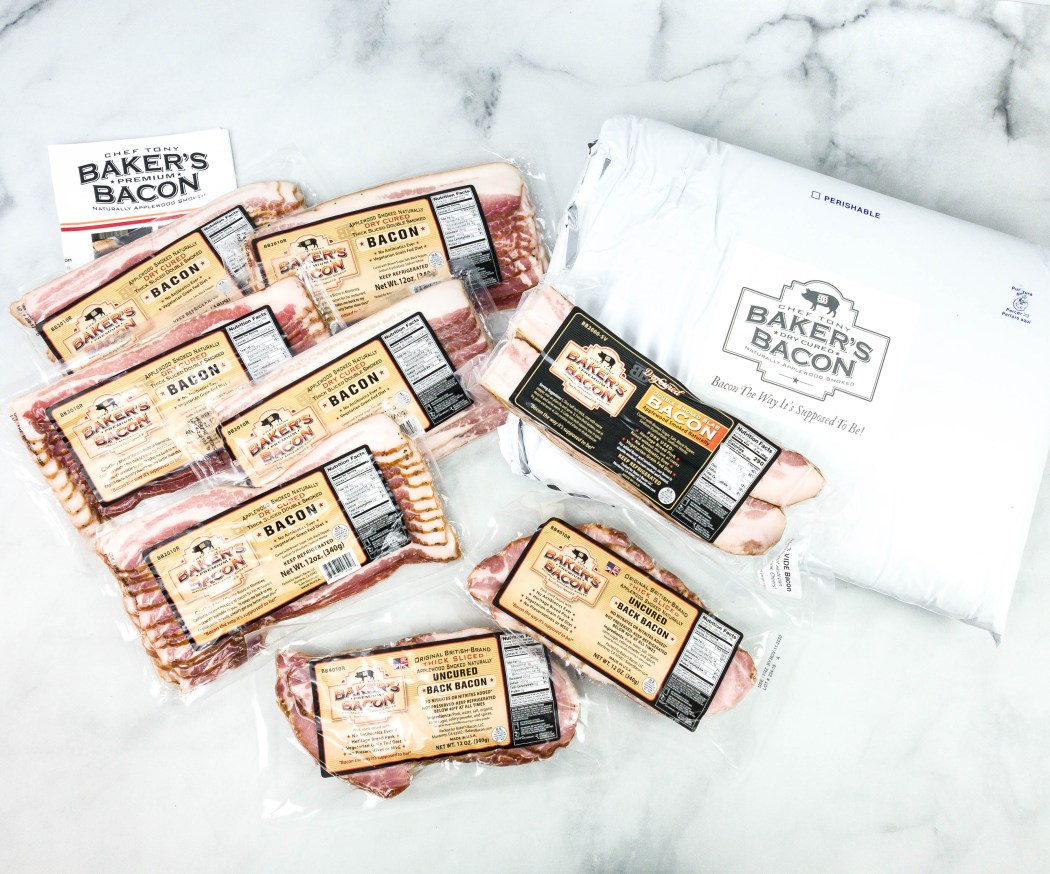 Image from: our review
Each month they send a large printed piece with great photos and recipe from well known celebrity chefs with video links from the chefs themselves.  Really well done with great packaging. – Tony B
What You Get: Craving for some bacon to hype up your day? Baker's Bacon leads the way! They ship perfectly flavored artisan bacon straight to your door each month! These are responsibly sourced from vegetarian-fed, humanely raised, antibiotic-free heritage breed pork, cured in small batches, and has the perfect balance of smoke, sugar, and salt! Each shipment contains five 12oz packages of thick-sliced double-smoked bacon, two 12 oz packages of thick-sliced uncured back bacon, an additional surprise cut that changes every month, and a chef-curated seasonal recipe!
Learn more about this subscription on Baker's Bacon Reviews!
Price: A box costs $95, and you can choose if you want to receive a box every month, or every 2, 3, 4, or 6 months.
---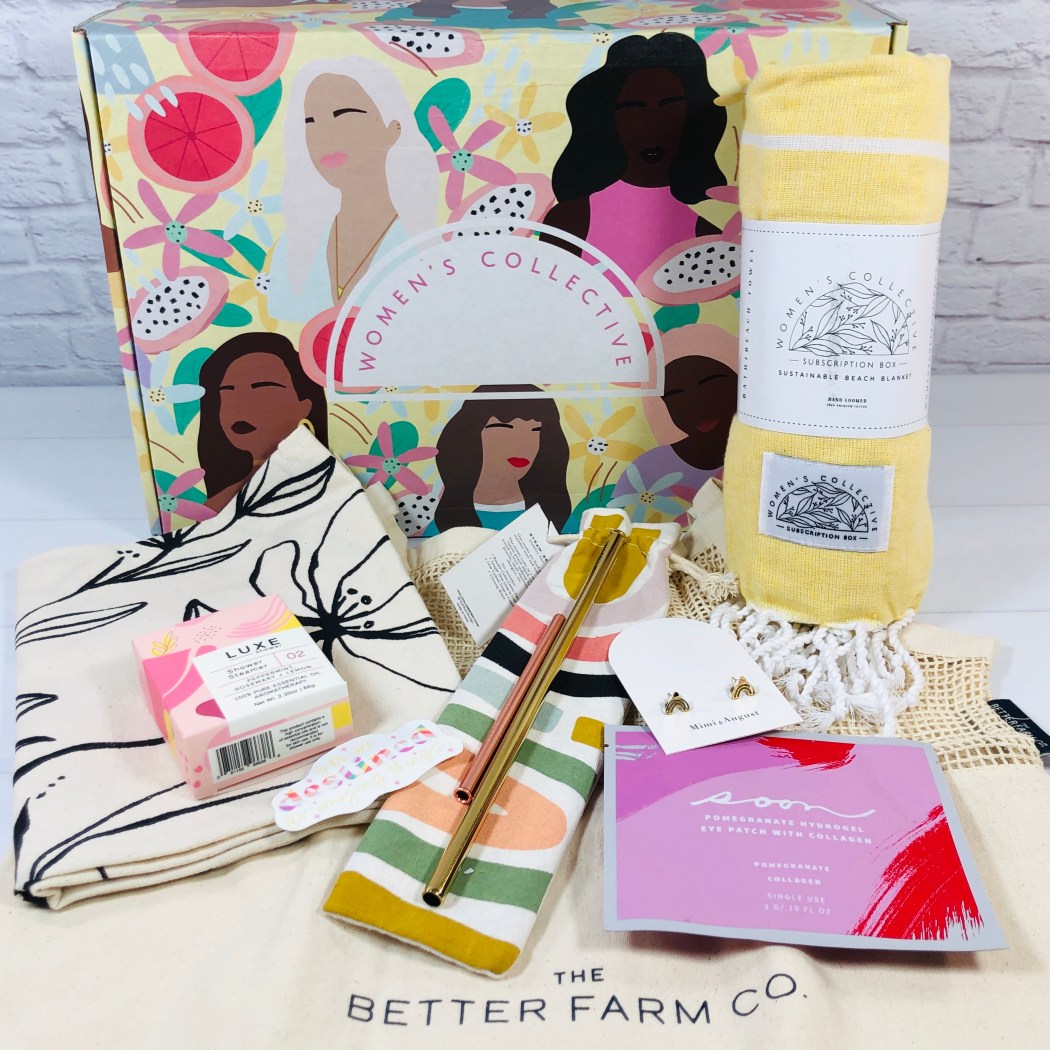 Image from: our review
What You Get: Women's Collective Box is a subscription created by women for women. Treat yourself to high-quality and useful items highlighting unique woman makers and curators. They aim to lift and put the spotlight on women from all walks of life! Each season, they'll send you a carefully curated collection of hand-picked, practical, pretty, and sustainable products like home goods, bath+body, jewelry, bags+accessories, and more, enveloped by the power of sisterhood from women-run brands. Through this subscription, you're helping up-and-coming female entrepreneurs as 5% of the proceeds goes towards them to take their ideas to the next level.
Visit Women's Collective Box Reviews and see past box contents.
Price: The box is $54.95 a quarter or sign up for an annual plan and save $20.
Deal: Get 15% off on quarterly subscription! Use coupon code HELLO. Does not apply to annual plans!
---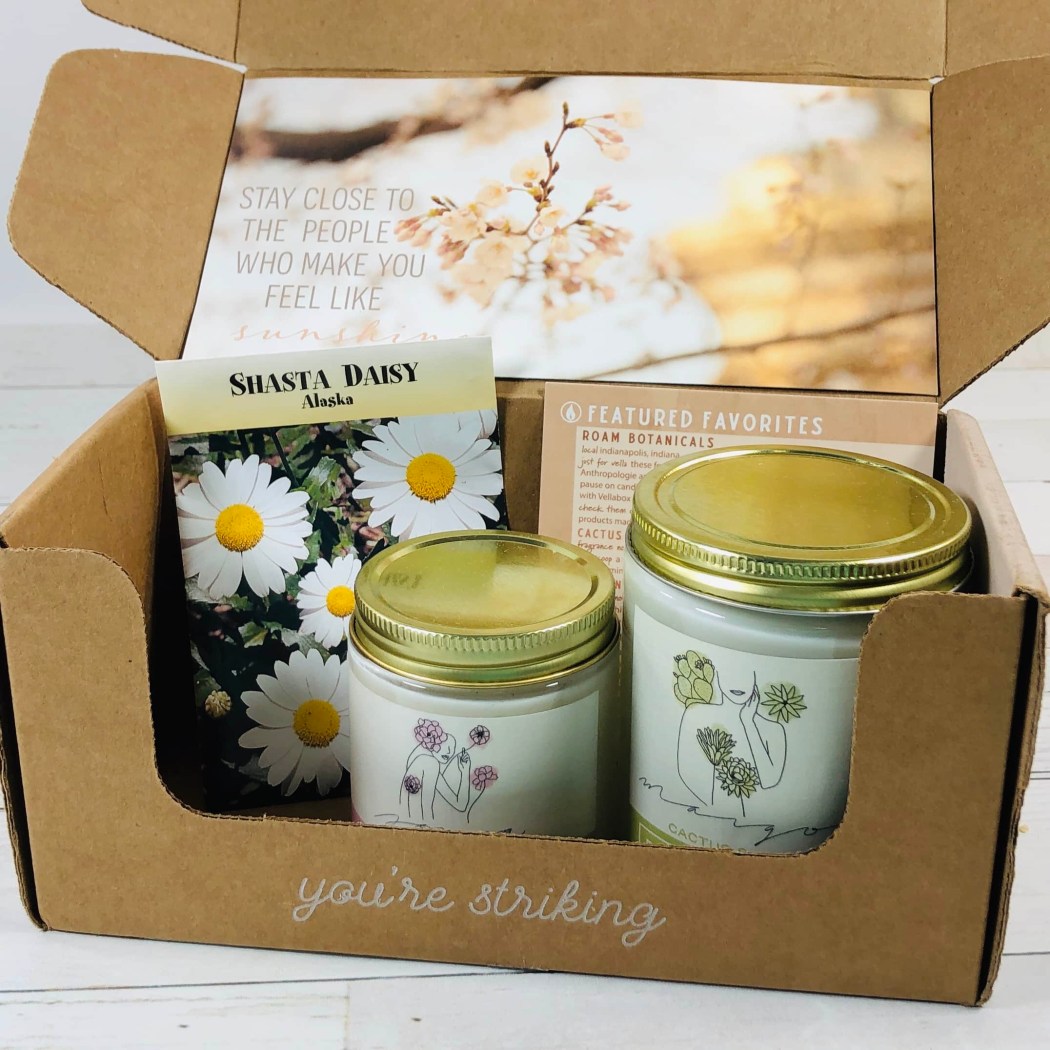 Image from: our review
What You Get: With scented candles from Vellabox, you can elevate any corner of your home! This candle subscription offers small-batch, artisan-made candles with lead-free wicks and scented with premium fragrance oils that give a long-lasting aroma – no parabens, artificial dyes, and animal-by products! Not only you be getting candles, but you are also introduced to an American artisan featured each month. Choose from 3 different candle sizes – The Lucerna Box (one 4 oz candle), The Ignis Box (one 8oz candle), or get both candles in The Vivere Box. Each box also includes a surprise gift! Strike a match and let the scent linger in your home.
Go to Vellabox Reviews for more information.
Price: The Lucerna Box is priced at $18/month, The Ignis Box is at $28/month, and The Vivere Box costs $38/month.
Deal: Get $5 off any purchase! Use coupon code HELLOSUB5.
---
Image from: Clean Beauty Kit
What You Get: Get clean and sustainable beauty, wellness, and lifestyle products straight at your door with Clean Beauty Kit. They offer monthly kits filled with woman-owned beauty, self-care, and lifestyle brands approved by a professional makeup artist. And because they don't skimp on their subscribers, you'll find a themed collection of full-size and deluxe products each quarter! They'll also include a variety of emergency items like instant coffee or tea and a sewing kit. You can also get Clean Beauty Kit Mini, which includes 4-5 full-sized products, valued more than double the price you're paying for!
Price: Subscription costs $49.99 per month, with savings when you subscribe for more months.
---
Image from: our review
What You Get: With Desk Stash, you'll never run out of stationery supplies. Whether you're a professional or a student, this subscription will give you the most unique desk and office items. They want to inspire everyone to work more creatively and have fun doing so! Each box has an average retail value of $80 and includes 5-7 fun and funky products that will make any workspace fun and admirable.
See cool stuff we've got by visiting Desk Stash Reviews.
Price: You can choose to pay quarterly for $45 or annually (four boxes) for $170.
---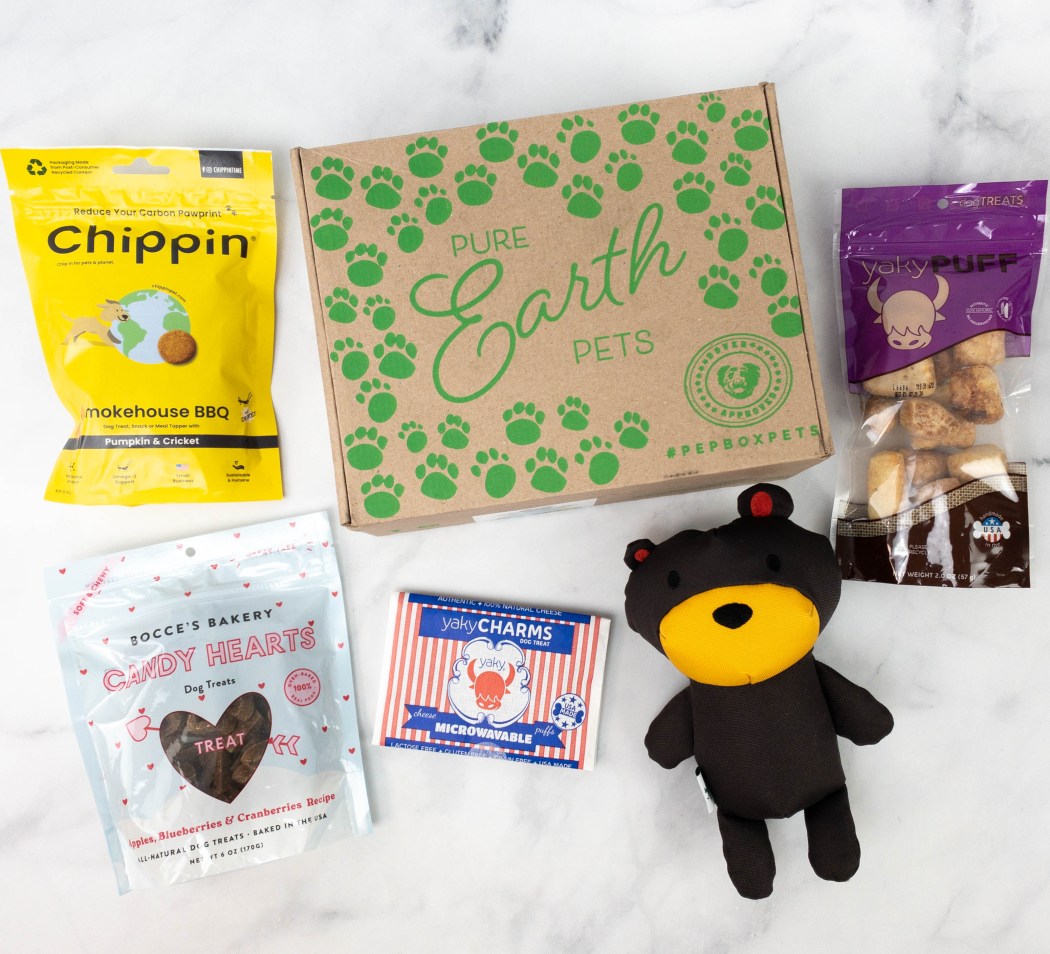 Image from: our review
What You Get: Loving your pet and the planet is easy with Pure Earth Pets. Dedicated to helping the planet, they provide sustainable items for your pup. They always have you and your pet alongside the environment in mind, that's why they thoughtfully curate boxes that are fully biodegradable and printed with soy ink to help reduce waste. It contains 5-6 eco-friendly items, including durable recycled toys and all-natural treats your doggo can enjoy! On top of it, they also donate a portion of profits to various organizations relating to the environment and animal rescues.
Visit our Pure Earth Pets Review to find out more!
Price: Monthly subscription costs $39, with savings for longer subscription plans.
Deal: Get 10% off your first order! Use coupon code WELCOME10 .
---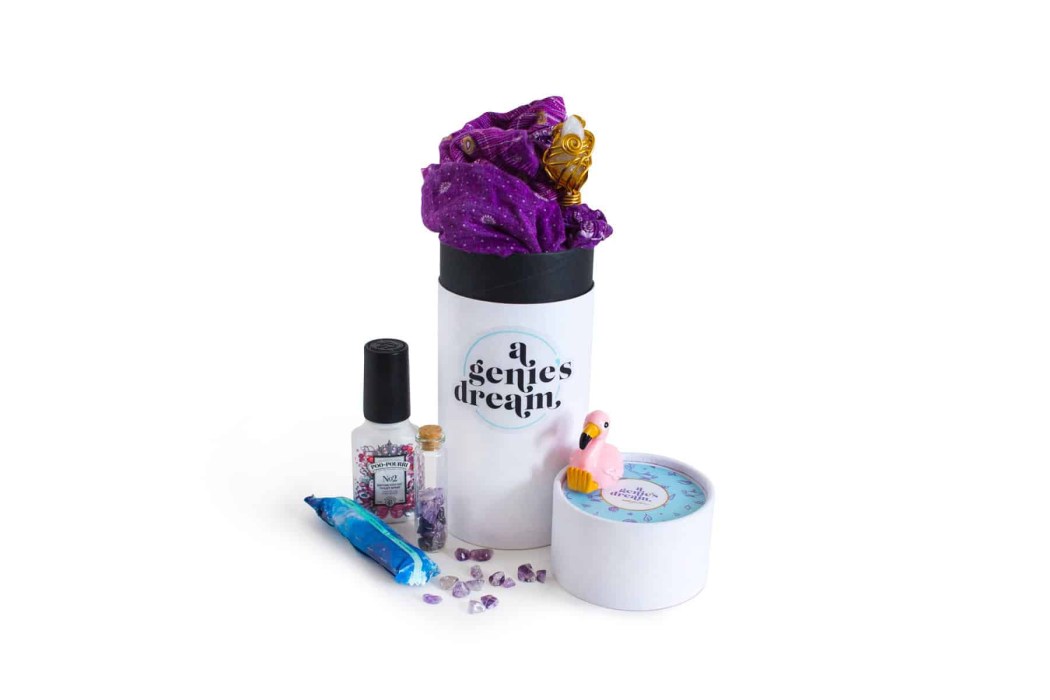 Image from: Calyx Flowers
What You Get: A Genie's Dream is a subscription intended to inspire young women! Instead of a box, they send a tube filled with 4-6 items, which may include healing crystals and spiritual items, as well as organic tampons, soaps, essential oils, and local teas.
Check out Faith, Religious, and Spiritual Subscription Boxes too!
Price: Subscriptions cost $37.77 a month.
---
Image from: Makerly Crafts
Varied, great instructions, pack a lot in with little extras – Lucy H

I love learning new crafts each month! The box is fun and the instructions are clear, it's a great way to unwind and clear some head space. I love the surprise each month of not know what will be in the box. As well as teaching me new crafts each month, it helps me build up my craft tools so I can do future crafts on my own – Helen
What You Get: Each month, Makerly Crafts sends DIY kits that focus on fun contemporary ideas by certain artists and designers. The box contains everything that you'll need to do the craft, from patterns, tools, and instructions to complete the surprise craft for the month!
See more on Craft Kit Subscription Boxes.
Price: The box costs £18 (approx. $24.65 per month) and ships from the UK.
---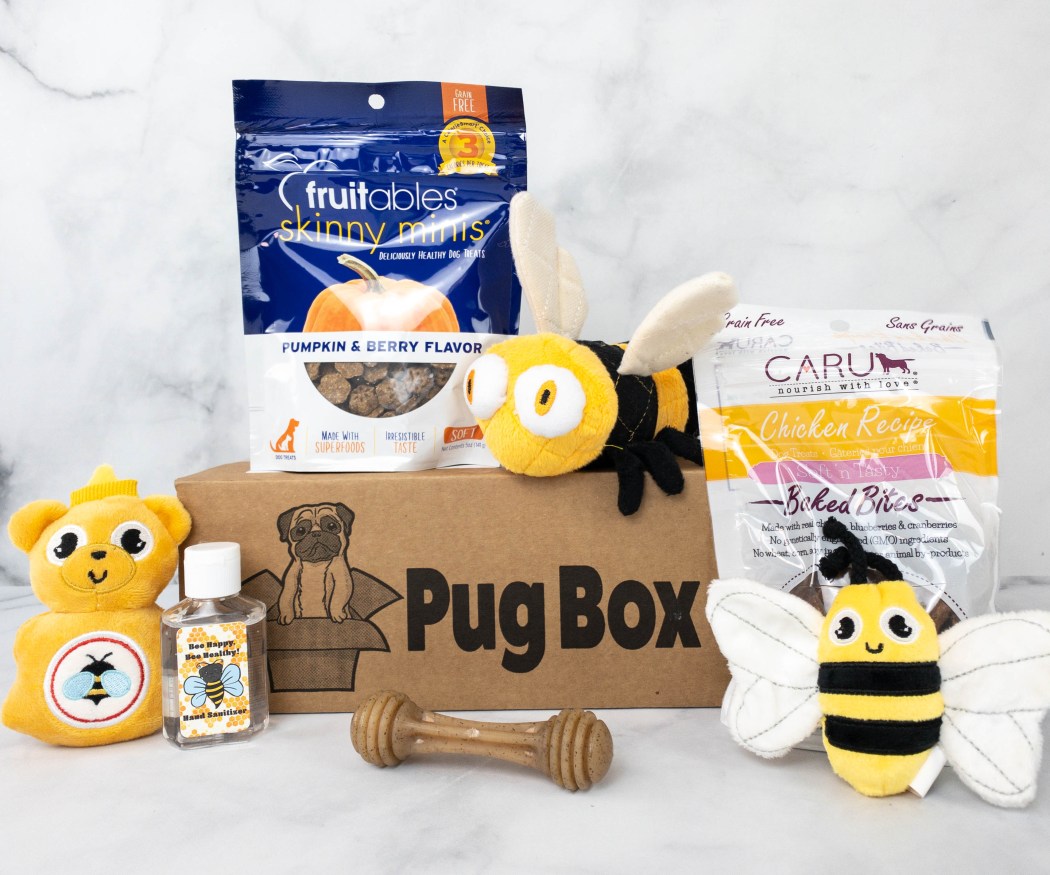 Image from: our review
What You Get: If you love dogs, specifically pugs, you might find it amusing taking care of them. You can subscribe to Pug Box, where you'll get fun toys and delicious treats for your pug/s, and get cool pug-themed items for yourself! Regular Pug Box contains 4 to 6 items, while the Premium Box contains 5 to 7 items.
Check out the Pug Box Reviews for more!
Price: You can get the regular Pug Box for $29 each month, and you can also get the Premium Pug Box for $38.
Deal: Get $5 off on your first box! Use coupon code HELLO5.
---
Image from: our review
What You Get: Treat yourself with delicious and sweet treats! Marshmallow of the Month Club by Edible Opus uses all-natural ingredients and colors to make their marshmallows flavorful and bright! Instead of pork or bovine gelatin, they use fish-based ones that everyone can enjoy, plus the marshmallows are egg- and corn syrup-free! Along with your marshmallows, you can also get the pairing of hot beverages or cookies!
Check out our Marshmallow of the Month Club by Edible Opus Review to find out more!
Price: Mni Box costs $18.99/mo, Deluxe is $32.99/mo, Family Pack costs $62.99/mo, and Vegan Box is $35.99/mo.
---
Image from: Mystic Pup
What You Get: Mystic Pup provides a unique experience you can share with your hyper pooch every other month. They'll send a package with an assortment of 5-8 high-quality, natural products you and your little furball can enjoy! There are healthy, natural treats and durable, non-toxic toys for dogs, while for the loving pet parent, there are spiritual and self-care items like aromatherapy oils, tea, books, candles, healthy snacks, and more magical items. Grab one and experience a mystical vibe you've never felt before! What's even great is that a percentage f each box is donated to therapy and guide dog associations.
Price: A box costs $45.75 every two months.
---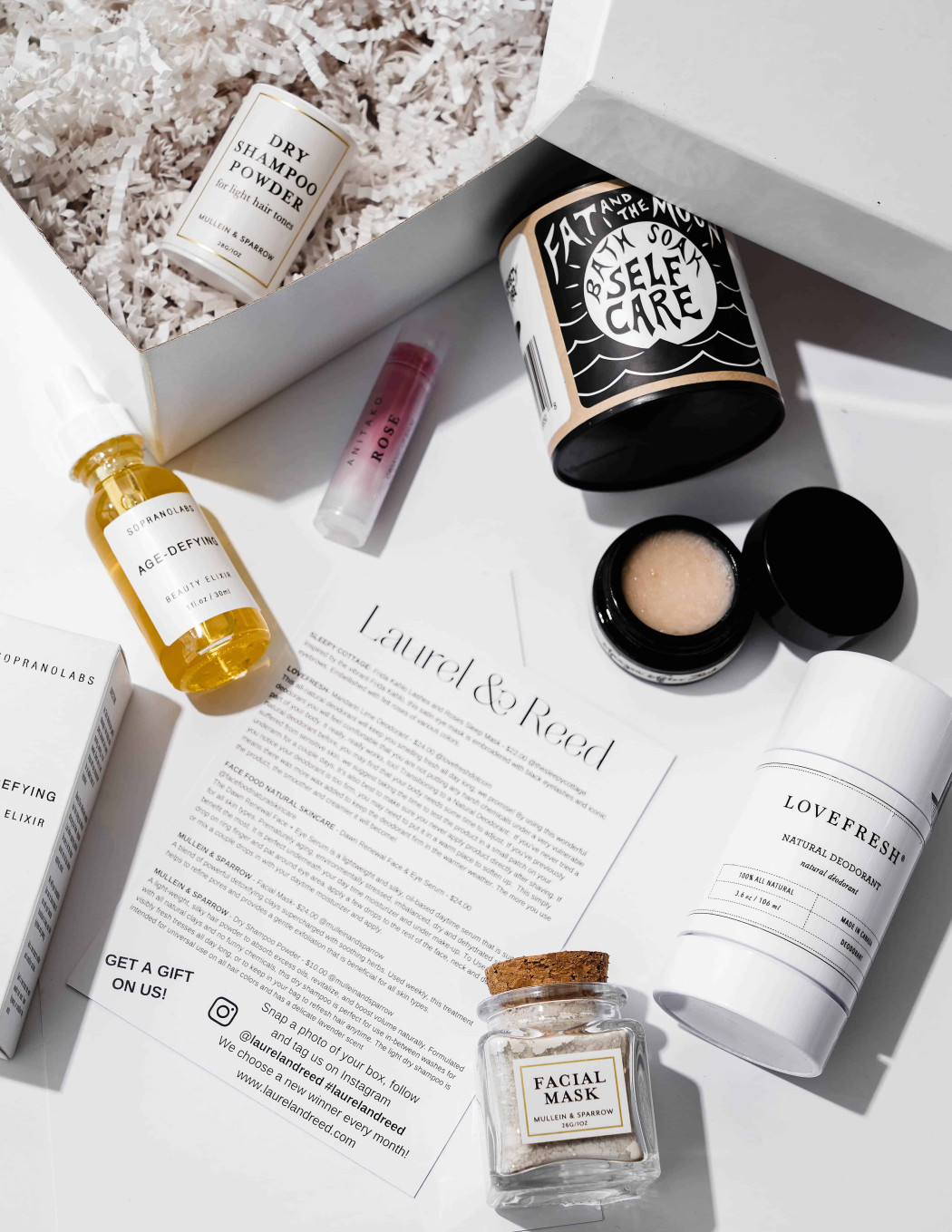 Image from: Laurel & Reed
What You Get: Being luxurious doesn't mean you leave the clean behind. Laurel & Reed worked its way to introduce you to luxurious, clean, and green beauty products. They'll provide you with the safest products to use, ranging from beauty to wellness to lifestyle. Receive an assortment of 3 or more full-sized products valued at over $125 in beautifully wrapped boxes! Committed to inspiring women to live a healthy and clean life, they assure that every product is all-natural, non-toxic, and cruelty-free. Achieve gorgeous healthy skin with clean products that work wonders!
Price: Receive a combination of 3+ full-size items per month with a minimum total retail value of $125+ for just $49.95!
---
And that's our list of the best hidden gem subscription boxes! Have you found a potential favorite among these boxes?
Peek through our readers' choices for all the best subscription boxes in every category to see more!
Say Hello to More Lifestyle Subscriptions!