While it seems like everything has gone digital these days, there's just something special about putting pen to paper and expressing yourself through these beautiful paper products. If you're a stationery enthusiast or just looking to add some flair to your organization game, subscription boxes are the way to go. Imagine a steady supply of your favorite pens, paper, stickers, and washi tape delivered right to your doorstep each month. Not only is it a fun surprise to receive in the mail, but it also keeps you creatively inspired all year round!
Show More (4 items)
Whether you're a bullet journal fanatic, a card-making extraordinaire, or simply love to doodle, there's a subscription box that caters to your every need! From whimsical designs to sleek and modern styles, the possibilities are endless.
If you're ready to up your stationery game and add a little more fun to your life, check out our selection of the best stationery and greeting card subscription boxes. Trust us, once you get started, you won't be able to resist the urge to subscribe to them all!
The Best Stationery and Greeting Card Subscriptions!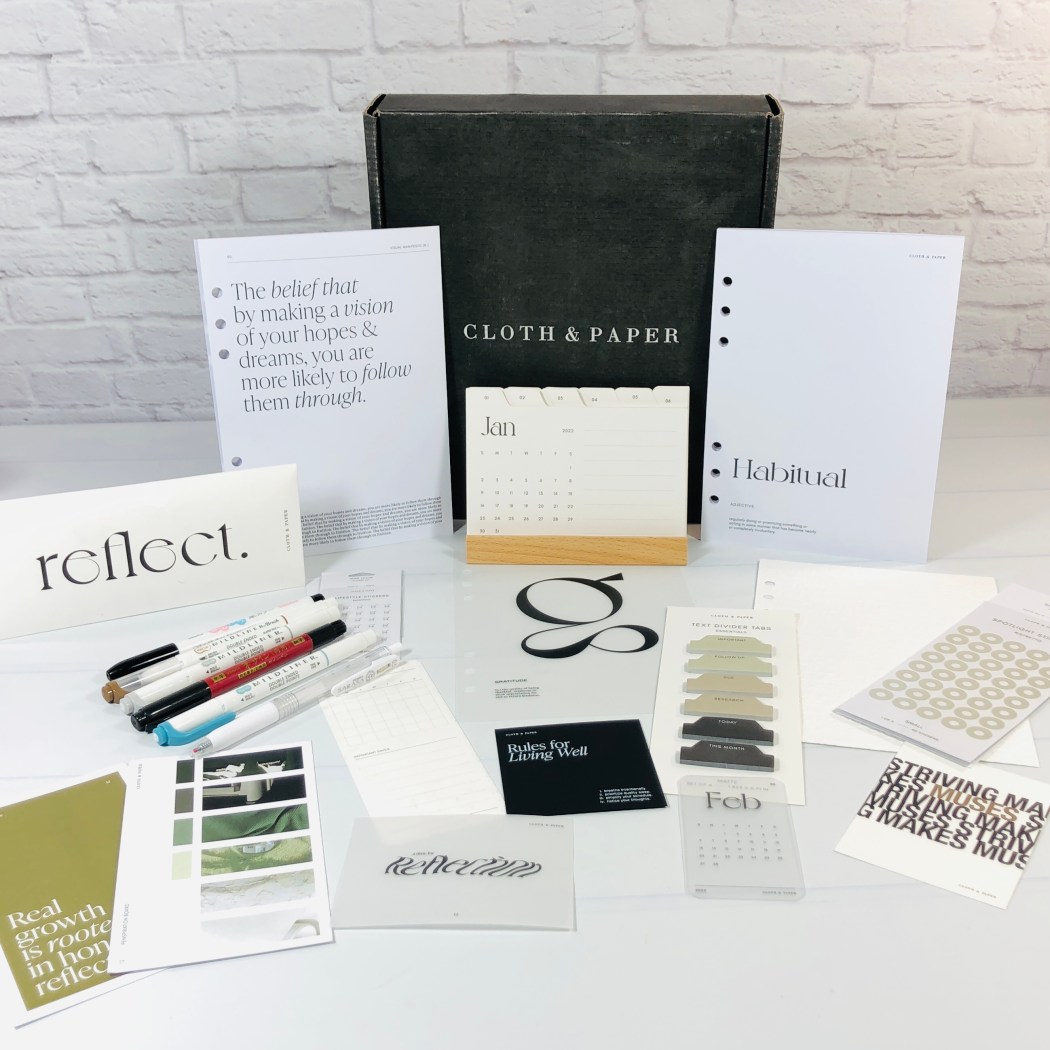 Image from: our review
Get a luxurious pen and stationery fix when you choose CLOTH & PAPER! This monthly subscription offers a wide range of fancy pens, high-quality stationery, and other useful goodies for your next-level planning and organization. If you want to add some flair and luxury to your planner, this is one of the best stationery subscriptions that you can get! Choose between three types of monthly boxes depending on your needs: the Penspiration Box (5-7 stylish pens, pencils, and/or writing tools), the Planning + Stationery Box (planner-related stationery items, organizational supplies, and other accessories), and the Penspiration & Stationery Box (includes all items from both boxes).
Deal: Get 10% off your first box! Use coupon code HELLOSUB10.
---
Image from: our review
Keeping your stationery stash updated every quarter, Erin Condren Seasonal Surprise Box features early access items, popular accessories, and exclusive surprises from Erin Condren. This box isn't available for a recurring subscription, and you must purchase each box individually. Still, it's a fun way to make sure you have enough planning supplies in your drawer – with fresh, seasonal designs at that! If you love decorating your planner or simply starting afresh every quarter, you'll love getting a unique package filled with the best designs to help you savor the season. You also have the option to customize your box with your preferred cover design and size and to grab a deluxe add-on for more planning fun!
---
Image from: Pipsticks Stationery Club
Pipsticks Stationery Club features a monthly collection of high-quality stationery with coordinating colors, patterns, and themes. These collections are carefully crafted to help you create a cohesive and stylish look in all of your paper-based projects. From washi tape and specialty stickers to pens, paper goodies, and more, there's no shortage of tools to help you craft the snail mail, planner spreads, or DIY projects of your dreams. It's like opening a treasure chest filled with everything you need to create something truly special!
---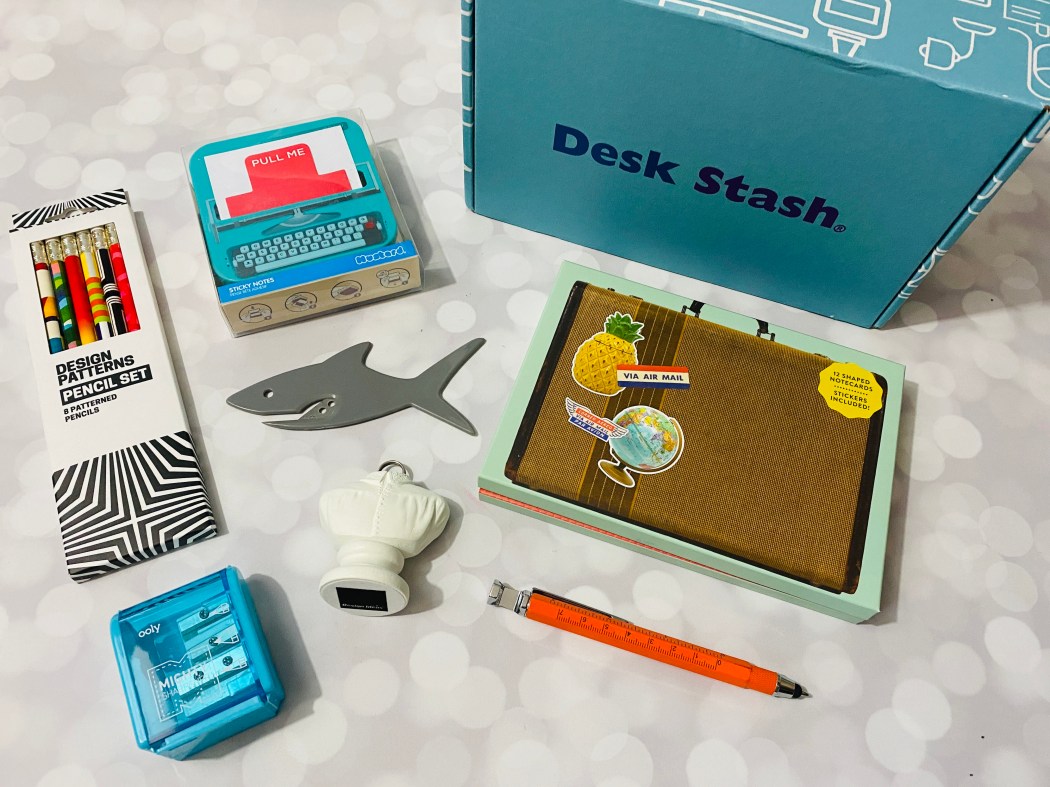 Image from: our review
With Desk Stash, you'll receive a new batch of quirky stationery every month to keep your space fun and fresh, whether you're a professional or a student. Expect the most unique desk and office items because they want to inspire everyone to work more creatively and have fun doing so! Each box has an average retail value of $80, and it includes 5-7 fun and funky products that will transform any workspace from dull and boring to something full of excitement!
---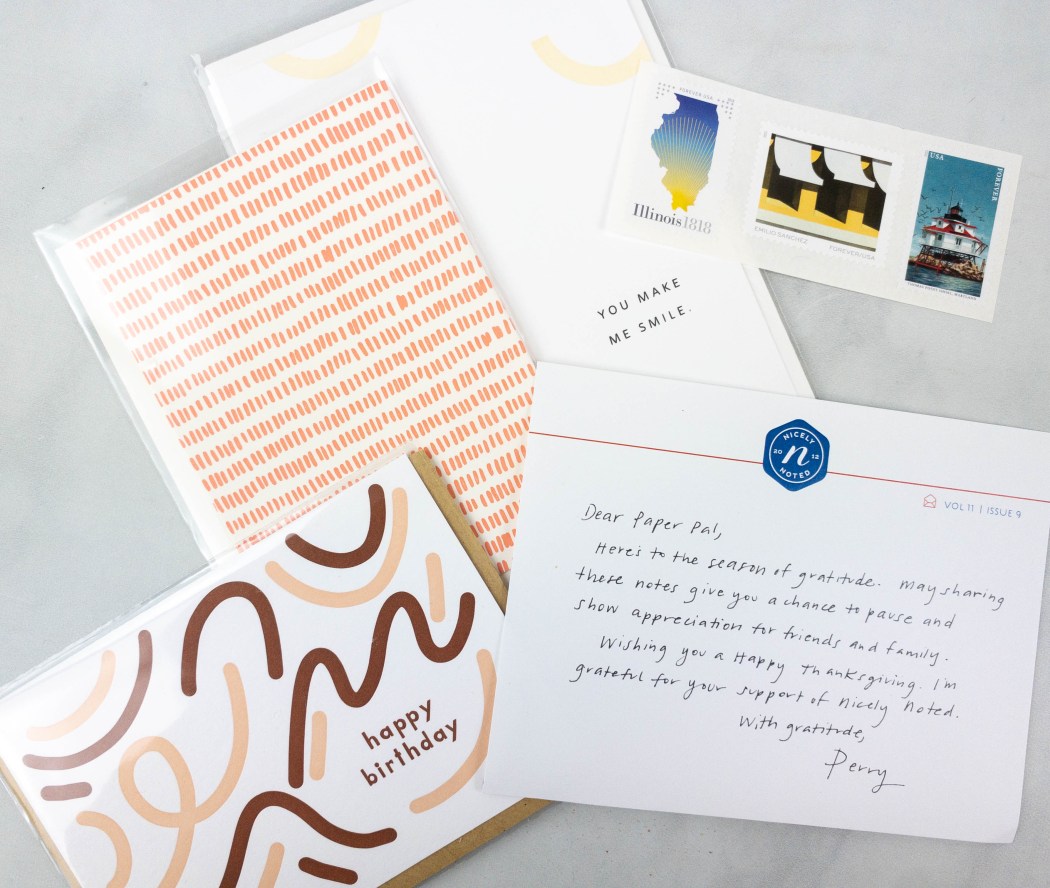 Image from: our review
Times may have changed but greeting cards remain one of the sweetest ways to tell someone how you feel! Collect beautiful greeting cards for different occasions from Nicely Noted, a monthly greeting card subscription for mail lovers. With every mailing, you'll receive a collection of handmade letterpress cards plus the stamps you will need to send them. Each card even comes with an envelope in which you can tuck your heartfelt messages. This subscription is also an amazing way to discover the best card makers and designers!
Deal: Save 20% off your first box! Use coupon code NICE20 .
---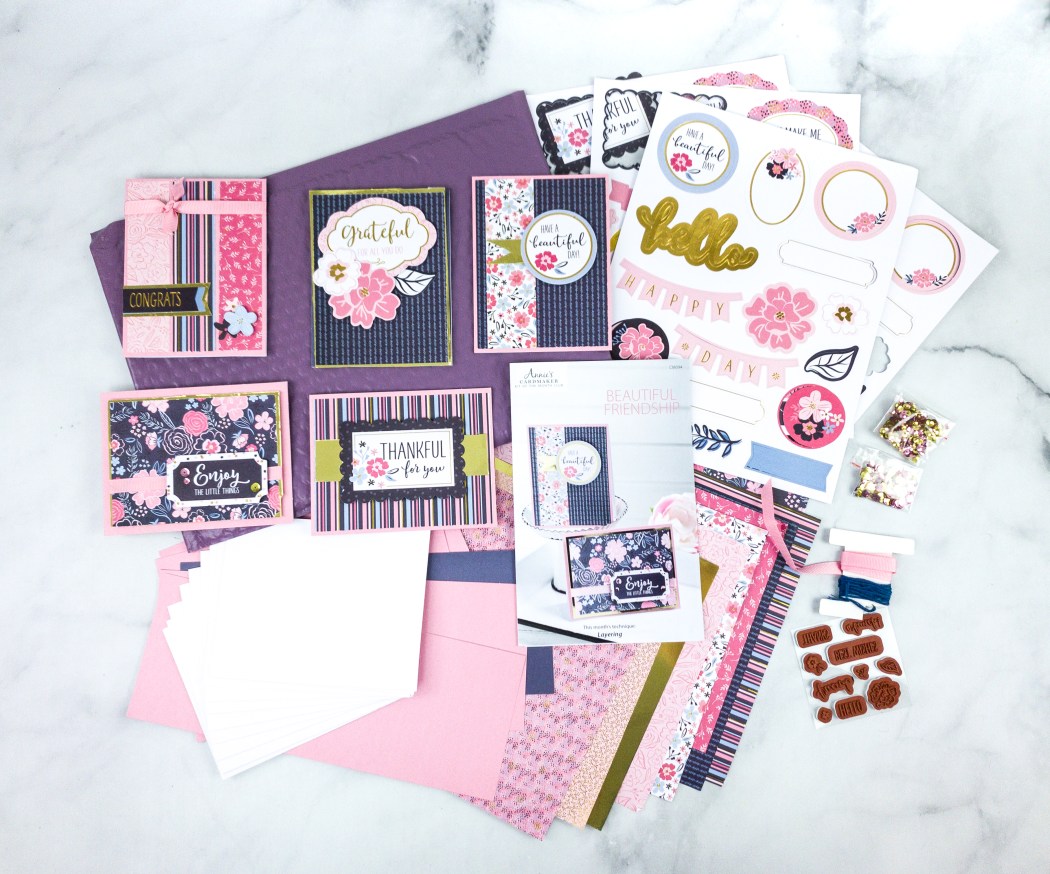 Image from: our review
For the creative ones who like making their own cards, Annie's CardMaker Kit-of-the-Month is a subscription service that offers special supplies and instructions to create 8-10 personally made cards you can send to your loved ones. Go all out on sending love by learning new crafting skills and creating art. It's a great choice if you want to put a personal touch on your greeting cards, whether it's for a birthday, anniversary, or even when you just want to say hello!
Deal: Get 50% off your first month's kit on any clubs! Use coupon code SHARE50.
---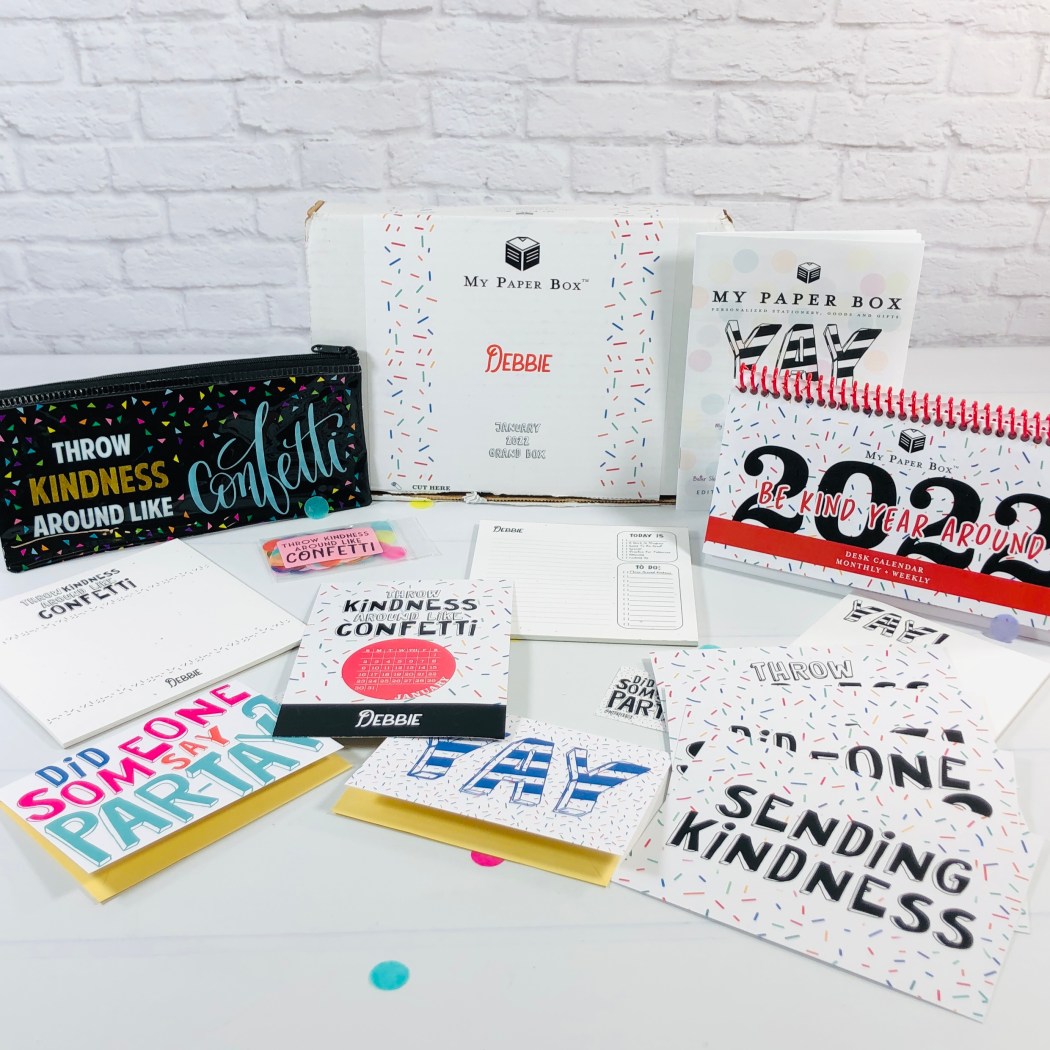 Image from: our review
My Paper Box is for the stationery enthusiast who enjoys all things personalized! From themed greeting cards to envelopes, stamps, notepads, and even calendars, each item will be inscribed with the name of your choice. You can choose from their three subscription plans: My Paper Box Greeting Card, Mini Monthly Notepad Subscription Box, and the Grand Monthly Stationery+ Subscription Box. Having customized and matching paper goods can spruce up your desk and also keep you excited about your daily tasks!
---
Image from: our review
Journal Junk Box helps you unleash your creativity by providing you with the best junk journaling supplies! Enjoy stationery items in different colors and themes, as well as pen kits and other adorable office supplies. These can add character to your journal or spruce up the pages of your scrapbook, perfect for creative journalers and those planning on becoming one. You can subscribe to their Mini Subscription Journal Junk Sak or their Full-Size Journal Junk – either way, you'll enjoy unboxing a new stash of creative journal essentials every month.
Deals:
---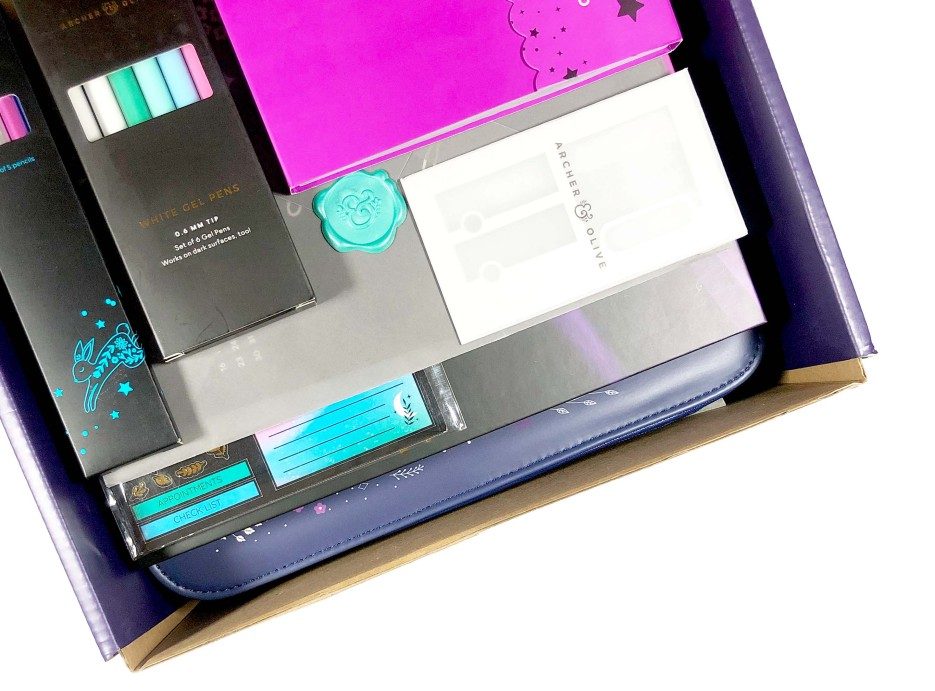 Image from: Archer and Olive
More and more people are getting hooked on bullet journaling – a system that makes journaling a more organized and efficient process. Whether you're already experienced in bullet journaling or you're just starting out, Archer and Olive has a quarterly subscription box that you will love. It contains art and journaling supplies to aid you in planning your day, month, or year. Every 4 months, expect to get an exclusive collection of limited-edition products, including at least one ethically-made notebook and various journaling items inside an elegant box!
---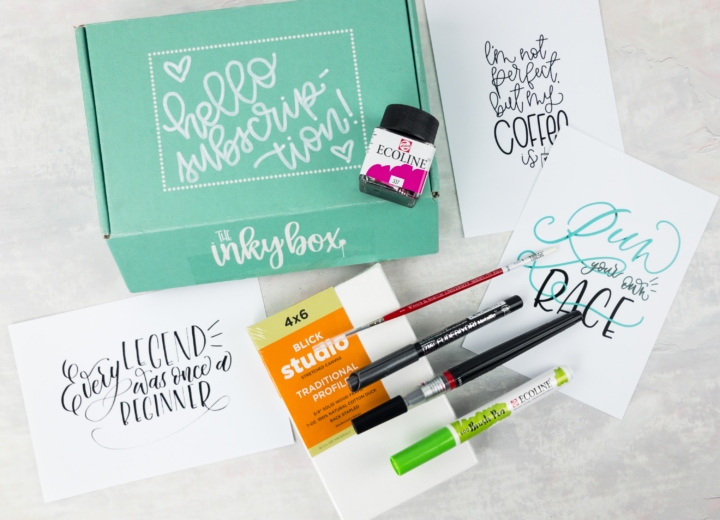 Image from: The Inky Box
The Inky Box delivers premium lettering and calligraphy tools, supplies, and greeting cards right to your doorstep! Each box is carefully curated to help you get creative and includes a variety of high-quality products, such as brush pens, watercolors, and paint pens. As a subscriber, you'll also gain access to exclusive tutorial videos, a private Facebook group, and downloadable practice sheets in a range of different styles.
Deal: Get $5 off your first box when you choose the month to month plan. Use coupon code HELLOSUB.
---
There you have it, the best stationery and greeting card subscription boxes!
Dive into our list of all the best subscription boxes in every category to see other amazing subscriptions!