Whether you're a kid or an adult, making art has always been a delightful thing to do. The mixing of colors and blending of ideas is what people of all ages get attracted to arts. No more rushing to your arts & crafts store because everything you need to create masterpieces will be delivered right at your doorstep. How fun can it be when you receive a box full of watercolors, crayons, paints, pastels, brushes, and more! Express your creative side and let your imagination loose to turn once visions into an artistic reality.
An art subscription box is one of the best ways to feed your inner Picasso. Jam-packed with art supplies, it sure will hone your skills and will let your creative juices flowing! From painting to doodling to writing expressive poems, these boxes are a great deal!
Whatever kind of art you wish to pursue, whether you're a beginner or a seasoned artist, you can create a masterpiece with the best art subscription boxes listed below. These boxes also make the best gift to art enthusiasts like you!
The Best Art Sets and Painting Kits Subscription Boxes!
Image from: our review
Why We Love It: Paletteful Packs lets you be the artist you want to be! This subscription provides you with the best and high-quality art supplies that'll keep you rolling, so you can finish your beautiful masterpiece in no time! Boxes are filled with a thematic collection of art supplies, which may include colored pencils, sketchbooks, acrylic paints, and more. There are three art boxes for you to choose from – Young Artist Paletteful Pack, Premier Paletteful Pack, Paletteful Petite Pack. Pick which art box you like best and let your imagination flow freely. This subscription is committed to giving you a full introduction to the media selection for each month, and there's even a digital page with box contents, tips & techniques, and prompts for the month.
See all our Paletteful Packs Reviews to learn more.
Price: Choose from 3 monthly subscription options: Premier Pack – $35 (5+ artist quality supplies per box), Petite Pack – $24 (4+ artist quality supplies per box), and Young Artist $30 (for Ages 8 and up, 4+ items per box).
Deal: Save 10% on your first box. Use coupon code 10HOORAY.
---
Image from: Maker Crate by KiwiCo
Why We Love It: Get inspired making arts and crafts with every box you'll receive from Maker Crate by KiwiCo. It is a monthly craft box that inspires young makers to learn new skills and have creative confidence through arts and craft projects that they'll be proud of afterward! Each crate is passionately designed and tested by their in-house experts to make sure the experience is fun while turning artistic imaginations into reality. It includes high-quality materials and easy-to-follow video instructions, loaded with lots of inspiration. Be introduced to different art techniques and tools with every box delivered to your door each month. With this subscription, you can make something fun and functional. Sample projects include macrame planters, punch-needle pillows, terrazzo clay organizers, and more!
Learn more when you visit Maker Crate Reviews.
Price: Subscription costs $32.95 every month + free shipping to the US.
Deal: Save 30% on your first month! Use this link to get the deal.
---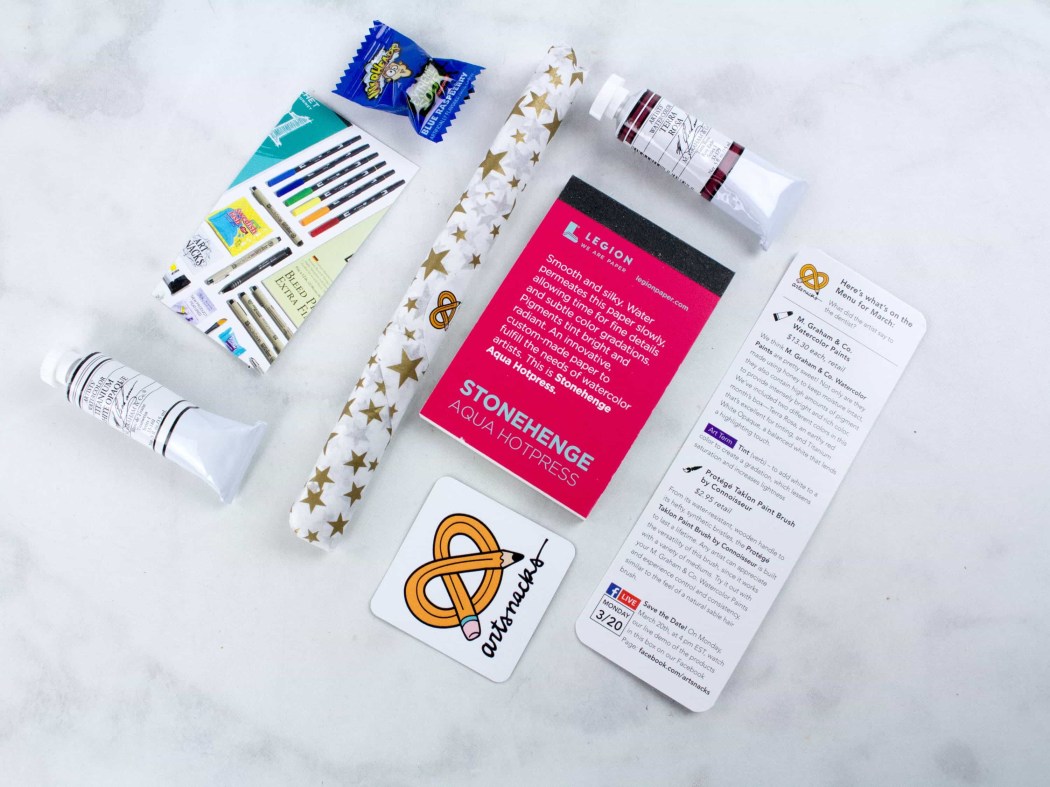 Image from: our review
Why We Love It: With Art Snacks, you can easily discover new art products, limited-edition tools, exclusive supplies, and useful techniques, all while at home. Every box contains 4-5 full-sized premium art products that are tested by experts. Also included is a menu that describes all the products in the box, plus a small snack and a bonus ArtSnacks sticker. All the products included in your box will give you the perfect comfort to finish your art project straight away! The ArtSnacks Plus is also an option, where you'll have 5-6 full-sized premium items and a full-sized surface to practice your art skills with, right out of the box itself!
Check out Art Snacks Review for more information.
Price: Receive 4-5 full-size premium art products for $24 each month.
---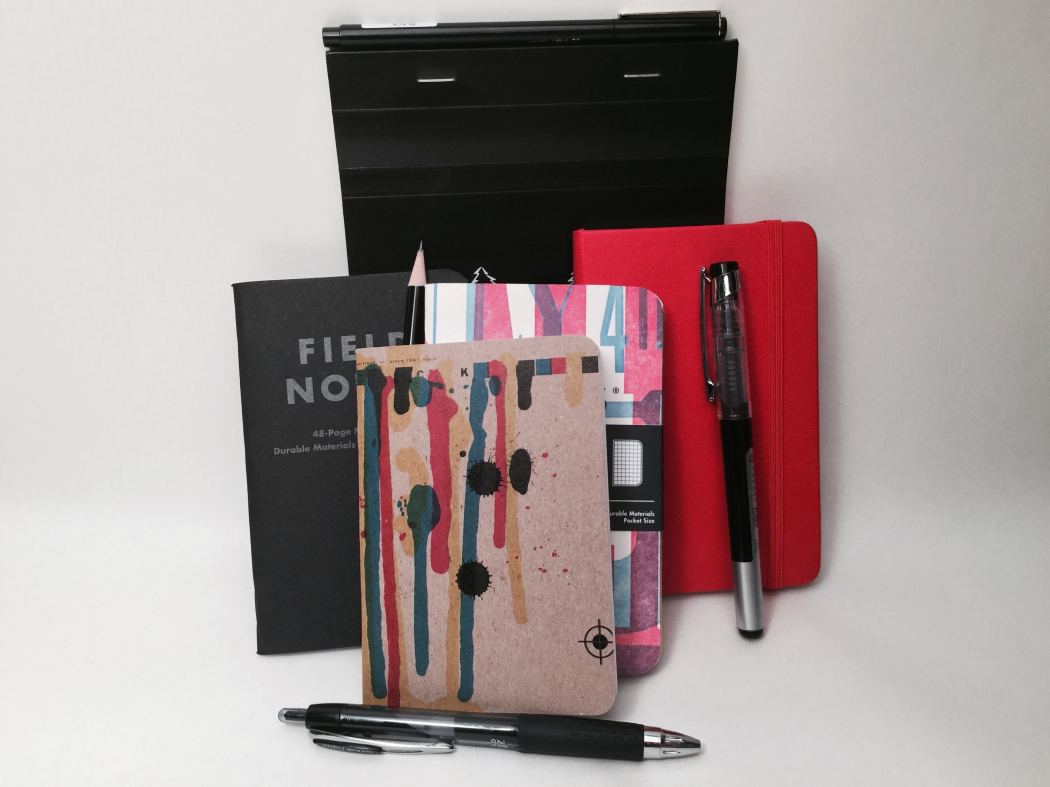 Image from: SCRIBEdelivery
Why We Love It: SCRIBEdelivery fits best for people who like to jot down notes and scribbles a lot. This subscription is committed to creativity and community, and that's why they curate themed boxes to inspire anyone to write, create, and share. Boxes always come with pens, pencils, notebooks, and more stationery goodies, plus ideas to help you fill the notebooks up! It's a great way to fill your pen and paper drawer as products each month varies, making your stationery collection assorted and fun!
Price: Month to Month Plan is $29.
---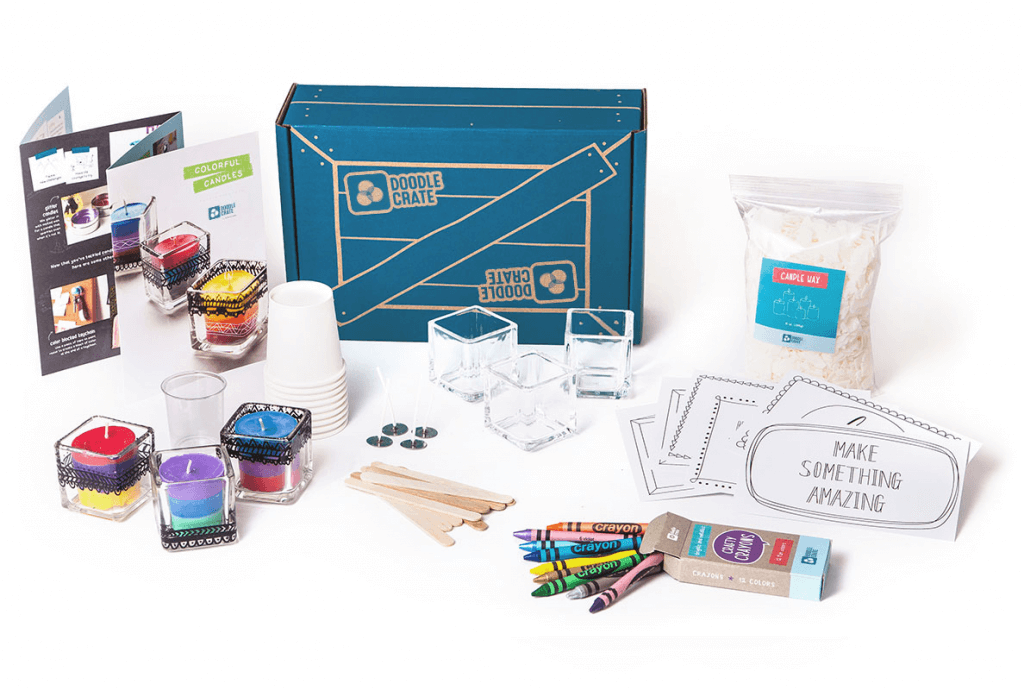 Image from: Doodle Crate by KiwiCo
Why We Love It: Doodle Crate by KiwiCo is a monthly subscription box offering various hands-on activities and amazing DIY projects, inspiring young makers to learn new crafting skills and express themselves creatively! Designed for kids ages 9 to 16+, each box is tested to ensure that the projects are seriously fun and enriching. It includes quality materials like washi tapes, yarns, craft papers, paints, and more that's needed for you to create amazing projects. There's also a detailed instruction sheet with design inspiration that's easy to follow, so you'll never get lost making a beautiful work of art.
See more on Doodle Crate Reviews.
Price: The subscription costs $23.95 per month, with savings for longer plans!
Deal: Save 30% on your first month! Use this link to get the deal.
---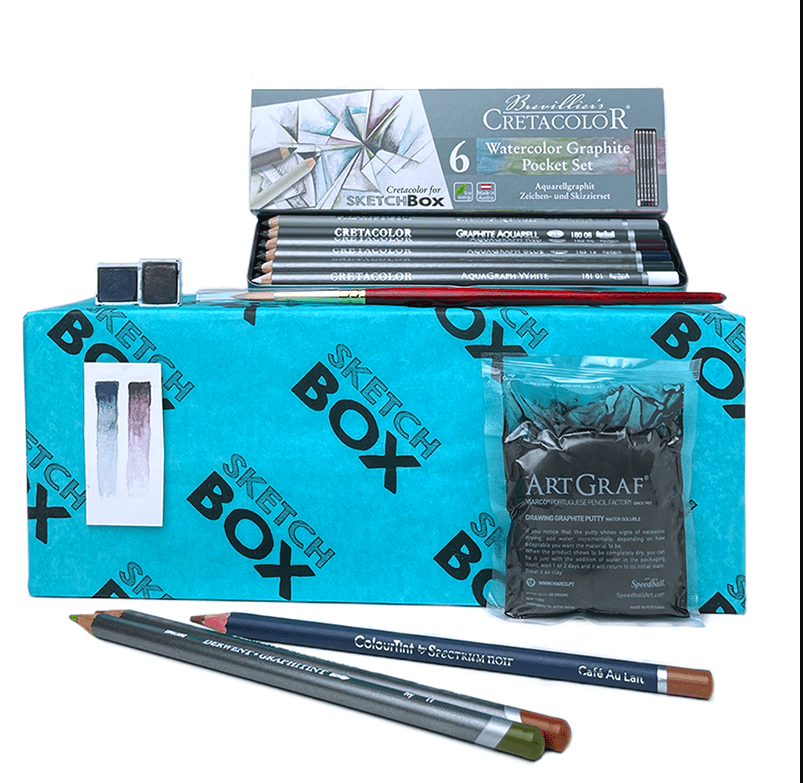 Image from: SketchBox
Why We Love It: Creating wonderful art projects at home requires the right tools, materials, supplies, and inspiration, and SketchBox is great at all those! This subscription sends out hand-picked art supplies curated by great artists to ensure that you're doing your masterpieces right. Each month you'll receive hand-picked art supplies, an art piece from the featured artist of the month to inspire you, and access to an educational video! The Basic Box is a good introductory pick for people who are looking for new stuff to try. The Premium Box is for individuals who are looking for premium and higher-quality fine art supplies. What's even great is that aside from receiving supplies to feed your inner artist, you also support art programs, as a portion of every sale goes to Dreaming Zebra Foundation.
See SketchBox Review for more information about this box.
Price: Choose from: Basic Box – $25 and Premium Box – $35. Save money when you commit to a longer subscription.
Deal: Save 5% on any subscription! Use coupon code HELLOSUB2016.
---

Image from: Tombow VIP Club
Why We Love It: Through Tombow VIP Club, you can keep your artistic juices flowing! This box is for the crafty ones or the bullet journal enthusiasts. Assorted Tombow items are put together in a package to deliver you all the good things your imagination needs, including exclusive and newly released items that are not even readily available in the US or Canada. Each curated box will include at least one exclusive item and new products, as well as traditional faves to help you create your best work. As a member, you'll gain access to members-only deals and special sneak peeks.
Price: Get the box for $20.
---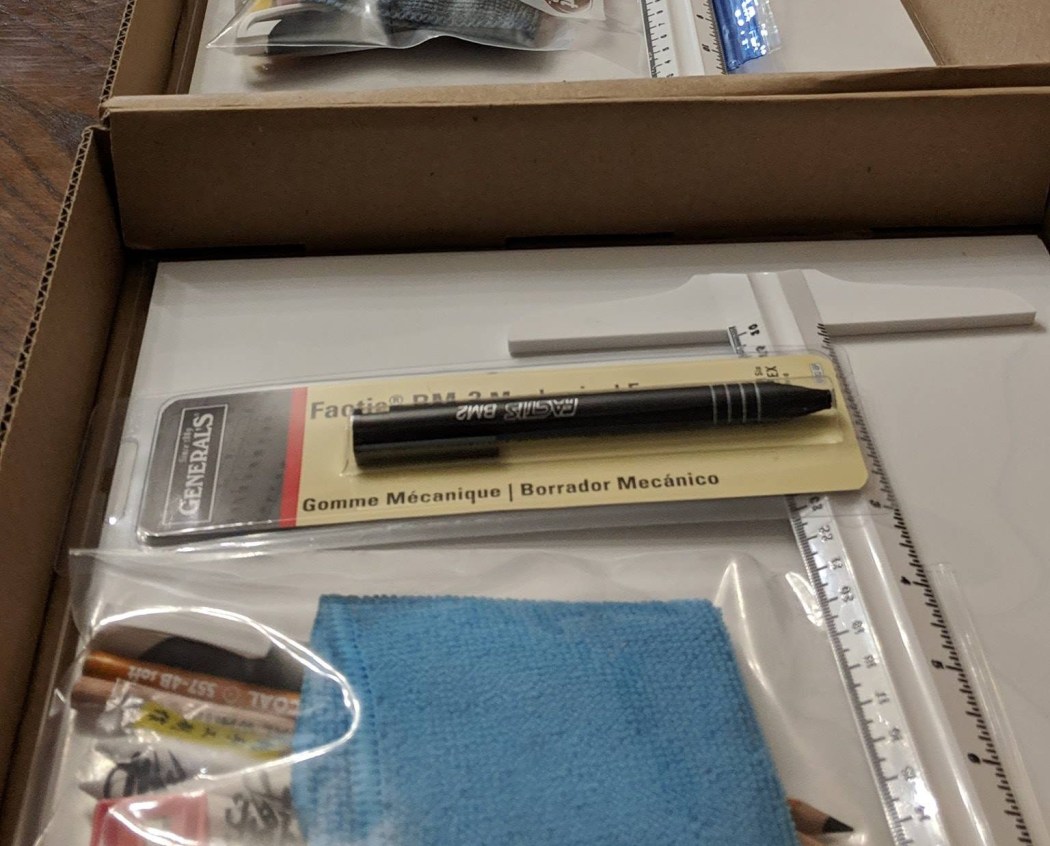 Image from: Charcoal Expressions
Why We Love It: It's easy to hone your charcoal drawing skills when you have the right materials to do so, and Charcoal Expressions sends just that with every box. This subscription serves as your art teacher and lets you explore with your inner artists. Boxes come with all the supplies you need to finish two charcoal challenges, plus paper, video tutorials, and mattes for easy framing. No need for a drawing experience! This subscription will teach you everything you need to know for creating masterpieces, even when at home. It's one fun way to channel the creative you and make every drawing your own, totally worry-free!
Price: Pay $119.85 for 3 months ($39.95 per month).
---
And that's our list of the best art subscription boxes! Which one is your favorite art subscription? Let us know in the comments!
Looking for more? Check out our list of all the best subscription boxes in every category!
Say Hello to More Arts & Crafts Subscriptions!