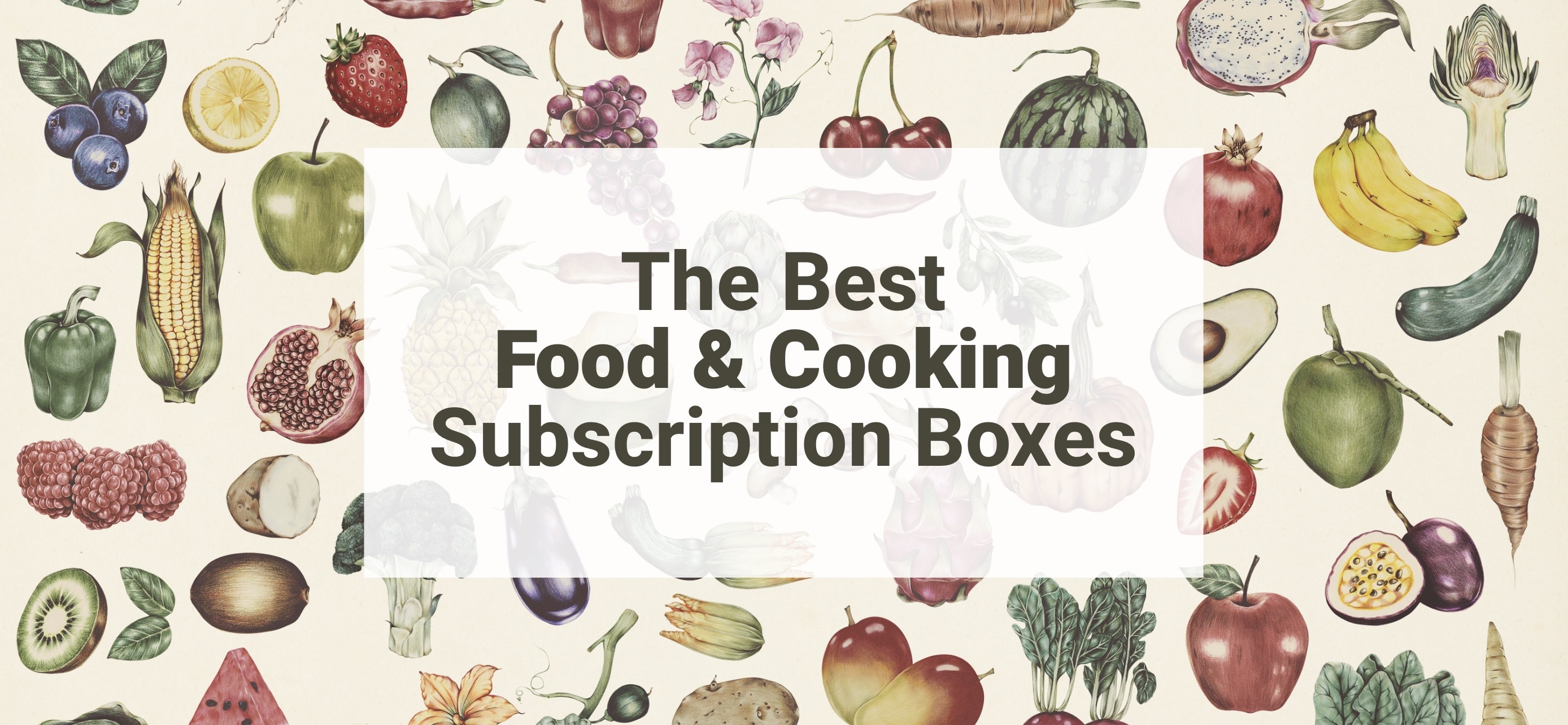 Whether you're a busy person who has little or no time to cook or someone who just wants to explore more food options, there are food & cooking subscription boxes for you! There are meal kits that include recipes and the main ingredients, saving you a lot of time and money in the long run. No need to go to the grocery and come up with a meal plan from scratch! While there are meal kit subscriptions that help you easily prepare lunch, breakfast, and dinner meals, other food subscriptions focus only on sending meats or vegetables that you can easily incorporate into your daily dishes.
With all these great options, it could be tough picking the right meal kit that matches your needs and your taste! We totally understand, so we asked for the help of our readers to come up with a list of the best food & cooking subscriptions for 2022! See which boxes made it to the cut!
The Top 25 Food & Cooking Subscription Boxes According To Our Readers!
Here are the best meal kits and cooking boxes for the year: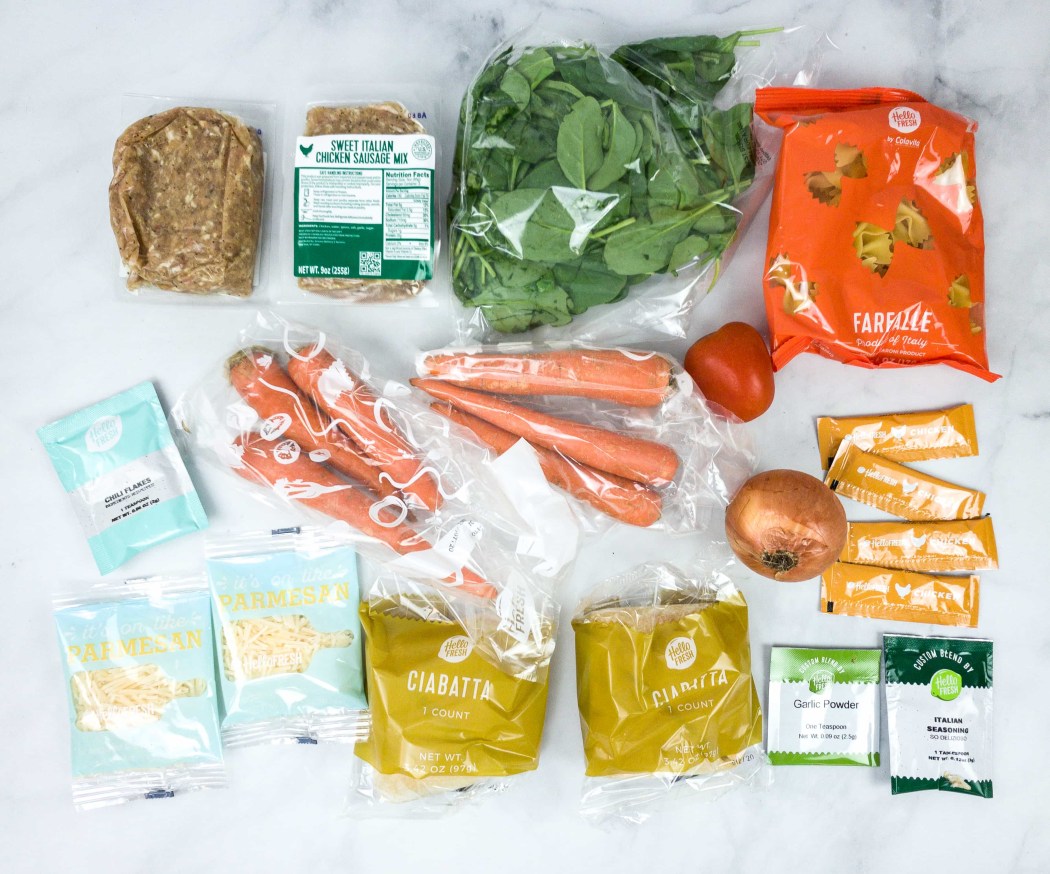 Image from: our review
I am not a cook, at all, in fact I don't like it, but they made me one. The recipes are easy and I love that they send just want you need, pre measured seasonings, etc. There were even a couple of recipes that I kept and have bought the ingredients on my own to make again b/c it was so good and simple. -Jen

I love every meal we have received! It got us out of our weekly dinner routine of the same stuff. Everything tastes great and they fix any problem very quickly. – Kayla

The pre made meals saved my hubby and I so much time in the kitchen, plus little to no cleanup! Win-Win. -Corrie

So simple, yet so delicious…and I hate to cook but really got into it with Hello Fresh! – Memphislisab

The box provides unique ingredients for remarkable dishes. I have enjoyed meals I never would have if it weren't for Hello Fresh. I love barramundi now, and I didn't even know it existed until Hello Fresh! – Todd E
What You Get: Hello Fresh continues to wow subscribers with their selection of healthy and delicious meals approved by dieticians! Their recipes only take 30 minutes to complete, making cooking easy for everyone. You can get a 2-person meal plan or a 4-person meal plan, depending on your household size. The number of recipes per box depends on you as well. Each box has step-by-step instructions, along with individual meal kits containing all the pre-measured ingredients.
Some of the most popular Hello Fresh recipes are Hearty Steak and Potatoes, Mozzarella-Crusted Chicken, Rapid Stir-Fried Beef with Broccoli, Winner Winner Chicken Orzo Dinner, and Butter-Basted Sirloin Steak. On a diet? No problem! They offer recipes for different dietary lifestyles, including low calorie, low carb, vegetarian, and pescatarian.
Read Hello Fresh Reviews and see previously featured recipes!
Price: Meals start at $47.96 per week.
Deal: Get up to 16 FREE Meals across 6 boxes + FREE Shipping on your first box + 3 surprise gifts! Deal applies automatically, just visit and subscribe.
---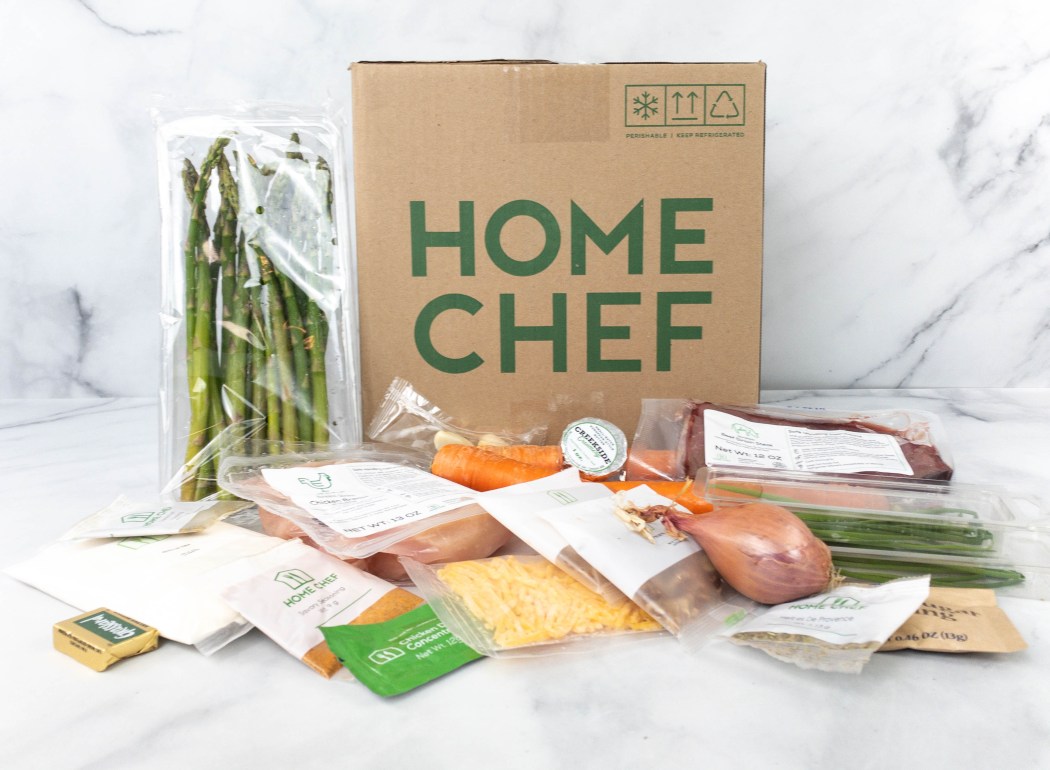 Image from: our review
Love the clean flavors, good sized portions and easy cooking of home chef. -Reisel

Nice and easy dinner options with low prep -McG

We have been using this service for a few years now, and we love the flavors and selection!

Great recipes, great products, consistently fresh produce, and awesome customer service.
What You Get: Home Chef lets you take a break from grocery shopping by supplying fresh and easy recipes with pre-portioned and ready-to-cook ingredients. It offers a diverse selection of food, ranging from Asian, Indian, African, and South American-inspired dishes to classic American meals. Every week, you get to choose from a variety of recipes and have all the ingredients and preparation instructions delivered to your door. Expect at least one oven-ready meal a week, as well as protein packs and seafood samplers.
Among the customer favorites from Home Chef are Teriyaki Ginger Glazed Salmon, Brussels & Brown Butter Risotto, Crispy Onion Chicken, Sirloin Steak with Blue Cheese Compound Butter, and Farmhouse Fried Chicken. If you're on a special diet, they also offer vegetarian, pescatarian, nut-free, soy-free, wheat-free, milk-free, carb-conscious, and calorie-conscious recipes.
Take a peek at our Home Chef Reviews to know more!
Price: Boxes start at $60 per week. Delivery costs $13.99 for orders under $49.99 and $7.99 for orders over $49.99.
Deal: Get $90 off your first THREE boxes! Deal applies automatically, just visit and subscribe.
---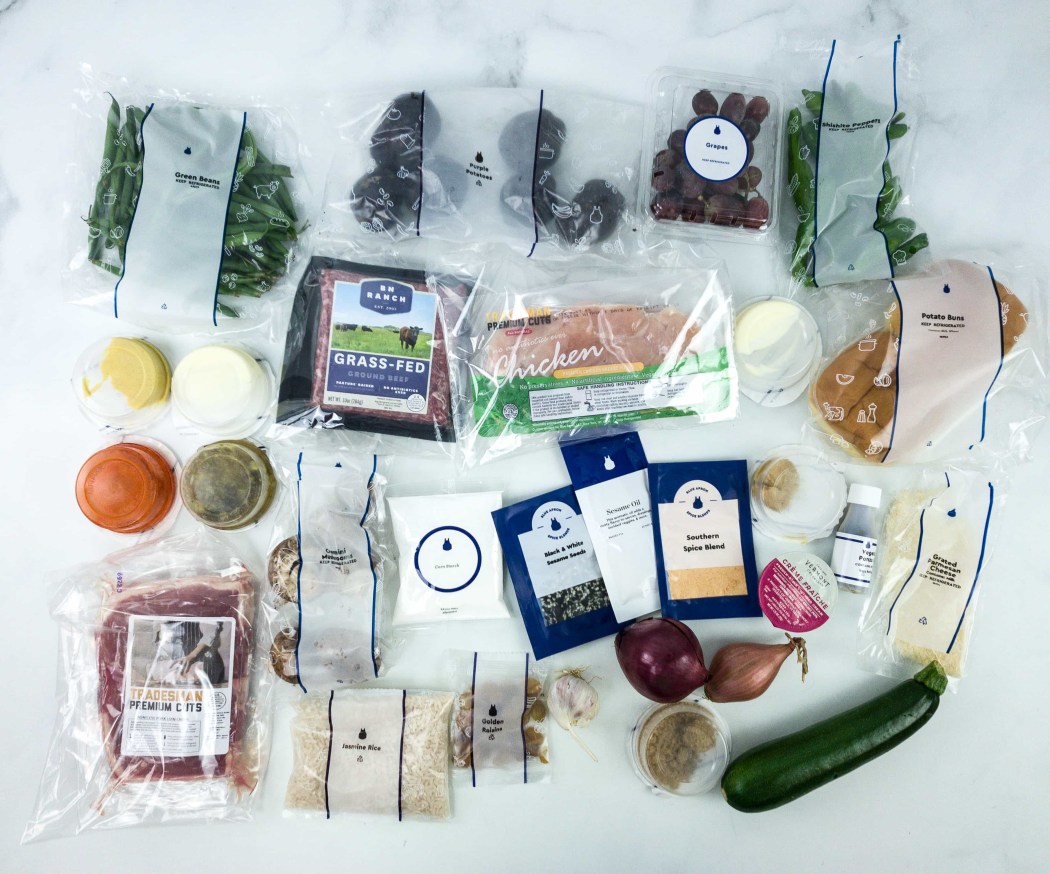 Image from: our review
Loved the freshness of the food and the recipe cards are fantastic! – Ida G.

Simple, tasty, and a dinner for 2 – no one leaves hungry – Janet

I love that they send 100% of everything you need (no need to keep butter in stock!) -McMonkey

I've tried other subscriptions and I love that Blue Apron sends you almost all the ingredients you need to make the meals and that the meals are very tasty.  -TB
What You Get: Blue Apron subscribers can get their hands on chef-designed recipes, which may include meals inspired by international cuisine, one-pan dishes, and classics! Step-by-step instructions and responsibly-sourced ingredients are packed in every box, along with recyclable ice packs and eco-friendly packaging that keep your food in its best condition. 2-Person recipes and 4-Person recipes are available, as well as options for those who have dietary preferences!
Curious about Blue Apron's best recipes? Check out their Wonton Noodle Stir Fry, Steak Tacos & Mole Verde, Chipotle Chicken Chili, Southern-Spiced Steaks, and Seared Cod & Olive Tapenade! For people who are on a low carb, low calorie, Mediterranean, pescatarian, or vegetarian diet, no worries because they have meals to support special diets like yours.
Check out Blue Apron Reviews to see past recipes featured in our boxes!
Price: Blue Apron meals start at $47.95 per week for 2 or as low as $8.99 per serving.
Deal: Save $60 on your first THREE boxes - that's $20 off each box! Use this link to get the deal.
---
Image from: EveryPlate
We've been getting this since 2019. It is perfect during quarantine bc groceries are delivered to your door. The price is great and I have always found their ingredients to be fresh and really great quality. Nice sized portions also. – MaryA

Affordable, great menu -Adamarie

I like that I can select from a variety of options each week and skip a week without being charged. The meals are relatively easy and often allow for prep ahead of time and we've enjoyed everything we have gotten (household of twin 8 yrs. olds!) -Lindsay

I love to cook but needing to make time for planning and shopping on top of everything else makes it difficult. EveryPlate made it so simple and the food was absolutely delicious. -Alex McE

Ok, so i know it can be a little basic, but the price is great, the meals are simple enough that even my hubby has become a chef and you get a little more bang for your buck. -evrythngzen
What You Get: EveryPlate is a flexible meal kit subscription service that delivers stuffing, classic, home-style recipes, and fresh ingredients monthly. They offer plans for 2 and 4 people, and you get to pick the dishes you want in your box as well! Each box contains three recipes and most of the ingredients you need, minus a few pantry items like salt and pepper. Ingredients are carefully packed and insulated to ensure they arrive at your doorstep at peak freshness. From meat to veggies, they have it all here.
EveryPlate's best meals might just be your next favorite, like Crispy Buffalo Ranch Chicken, Griddled Onion Burgers, Sweet Chili Pork Tacos, Garlicky White Sauce Flatbreads, Roasted Garlic Dijon Butter Steak, and more. Looking for vegetarian meals? This meal kit service also offers vegetarian recipes, although they don't provide diet-specific meal plans.
Price: Weekly boxes start at $29.94.
Deal: Try Everyplate at $1.79/meal + get 20% off next 2 boxes - that's up to $62 off! Use coupon code WST179 and Use this link to subscribe.
---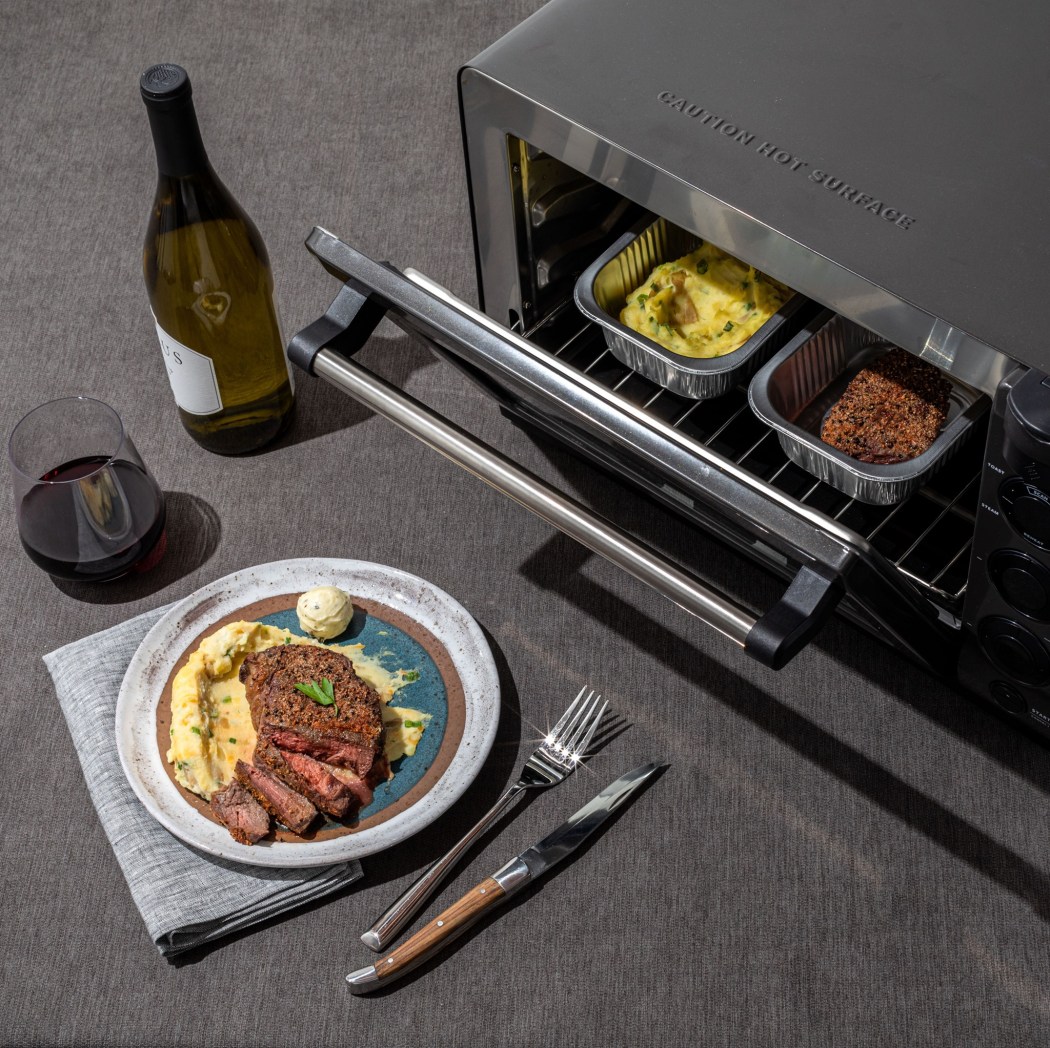 Image from: Tovala
What You Get: With Tovala, you can enjoy fresh-cooked meals anytime you want! They reinvent home cooking to provide you with mouth-watering meals while saving you time and effort. Choose your meals from a new menu each week crafted by professional chefs, and they'll deliver fresh, raw, real, carefully sourced ingredients directly to your door. No shopping, no chopping, no cooking, let the oven do all the work for you! All you have to do is sit back, relax, and eat well without much work.

Taste Tovala's most popular meals, like Four Cheese Frittata, Maple Bourbon BBQ Meatballs, Garlic Pepper Chicken Breast, Everything Bagel Spiced Salmon, and Chicken Florentine Casserole! For guilt-free meals and diet-specific recipes, check out their Calorie Smart, Carb Conscious, Gluten-Free, and Vegetarian options.
Price: Meals start at $35.97 per week plus tax and $9.99 shipping on orders of 3, 4, or 6 meals. Free shipping on orders of 8 meals or more!
---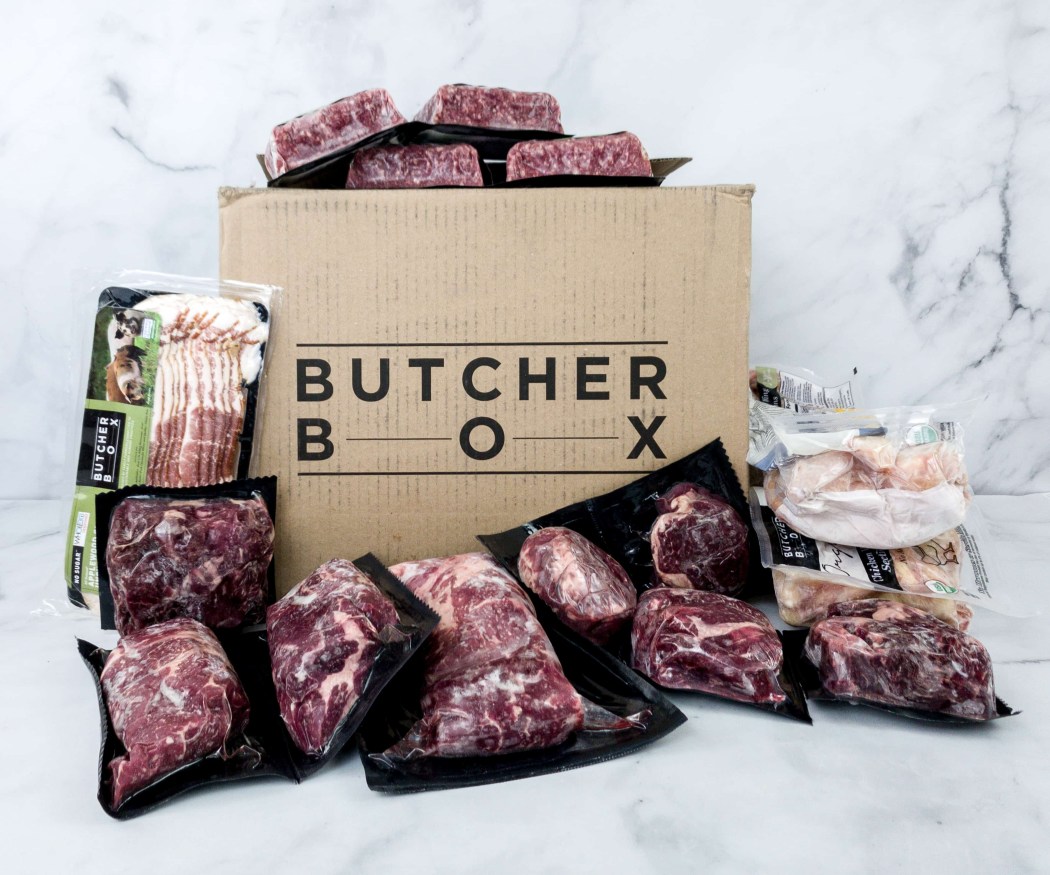 Image from: our review
I signed up with a promotional add-on that lasts for life of the subscription! -TiiBone

Amazing quality of products, fair priced, lots of variety, my favorite – Member Exclusive sales! and their customer service is fantastic! – Krissy

Best meat and delivered to your door!

This is most definitely worth your money! And who doesn't love free bacon! -Icon qs
What You Get: Butcher Box delivers a selection of premium quality meats, enough for about 15-20 meals in each box! Everything has been carefully cut and prepared, saving you a lot of time compared to when purchasing from butcher shops. Their 100% grass-fed beef is top-notch, and they also offer pork, chicken, and other meat products. Depending on your needs, you can have the box delivered every two or three months.
They even provide tailored recipes to help at-home cooks discover and explore new cooking ideas. Some of these recipes are Stout-Marinated Flank Steak, Pineapple Pork Noodle Bowls, Scallop Pasta Puttanesca, Fennel-Orange Salad with Lobster Tails, and Citrusy Herbed Lamb with Lemony Potatoes!
Visit Butcher Box Reviews to learn more about their offerings!
Price: Boxes start at $169 per month.
Deal: Check for the latest special offer for Butcher Box! Use this link to get the deal.
---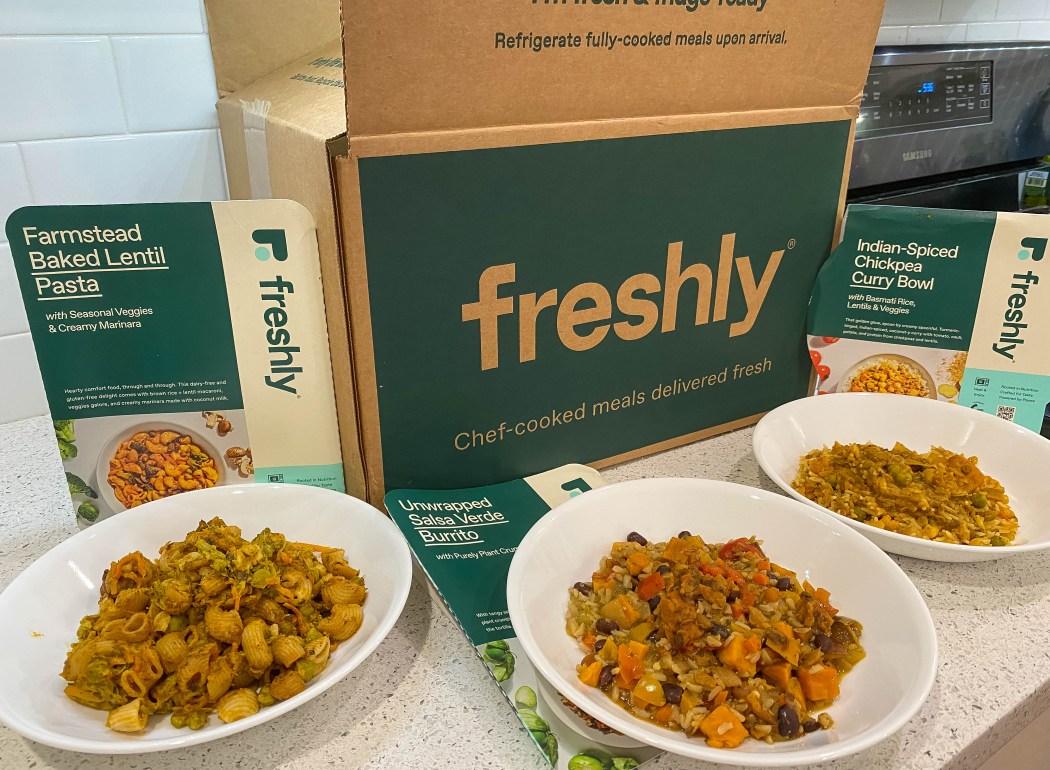 Image from: our review
They have a variety of meals to choose and they taste really good. – Deb

I enjoyed the fact that I could heat up an individual serving. -Kelly

Definitely would recommend this company to anyone looking for good food.  -Dee D

I love this heat and eat dinner option, I'm not much of a cook.
What You Get: Freshly lives up to its name by sending fresh, premade, and prepackaged food, which are never frozen! It's ideal for people who want to spend less time cooking but still want perfectly nutritious meals. They offer an array of healthy meals, including those that are free from gluten, refined sugars, and artificial ingredients. Subscribers can select the exact meals and the number of meals they want each week to fully customize their plan. The meals arrive at your door fresh, and all you have to do is to heat them up for 3 minutes!
Freshly's delicious meals include Steak Peppercorn, Homestyle Chicken, Savory-Sweet Chicken Teriyaki, Protein-Packed Chicken Parm, and Golden Oven-Fried Chicken & Mash. They also offer meal options for special diets including gluten-free, dairy-free, plant-based, and low-calorie!
Learn more by visiting the Freshly Reviews!
Price: Weekly meal plans starts from $47.16 for 4 meals/week.
Deals:
---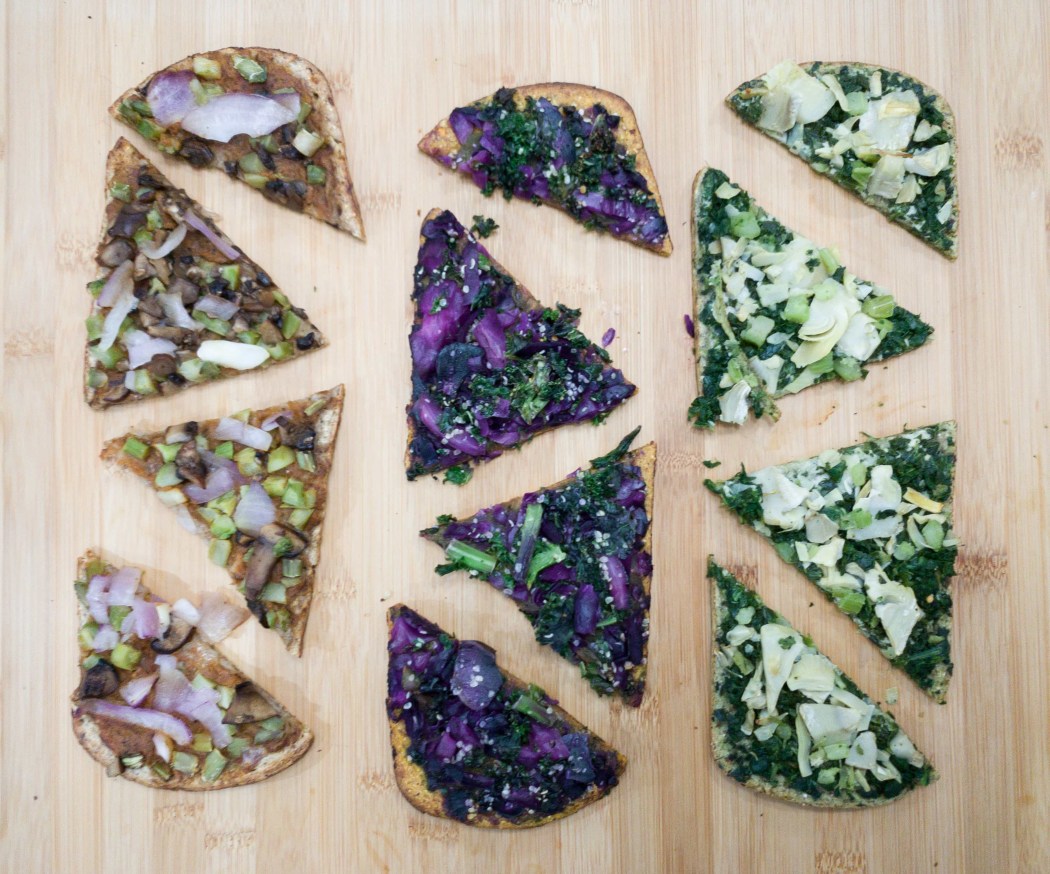 Image from: our review
I like the quick on-the-go access to high quality food. – Shana

I started ordering from Daily Harvest a few months ago and I love it. Fresh, cooks easily from the freezer, recyclable materials. Smoothies, bowls, flatbreads, ice cream, protein balls, acai bowls, etc. – all sustainable and fresh -JA
What You Get: Daily Harvest uses fruits and vegetables to make their food offerings, which include smoothies, harvest bowls, soups, bites, oat bowls, chia bowls, and lattes, providing an easy way to add superfoods to your diet! Subscribers can choose how many recipes they want to receive (9 to 26) and if they want it delivered weekly or monthly. You can also take their quiz and get started with a custom taster box!
Some of Daily Harvest's best-sellers are Strawberry + Peach Smoothie, Acai + Cherry Smoothie, Sweet Potato + Wild Rice Hash Harvest Bowl, Broccoli + Cheeze Harvest Bowl, and Artichoke + Spinach Flatbread. Although they don't have diet-specific meal plans,  all of Daily Harvest's offerings are plant-based and vegan.
Check out Daily Harvest Reviews for more information!
Price: You can choose a plan of 9-26 items and the pricing ranges between $6.79-9.79 per item.
Deal: Save $25 on your first box! Use coupon code HELLOSUB and Use this link to subscribe.
---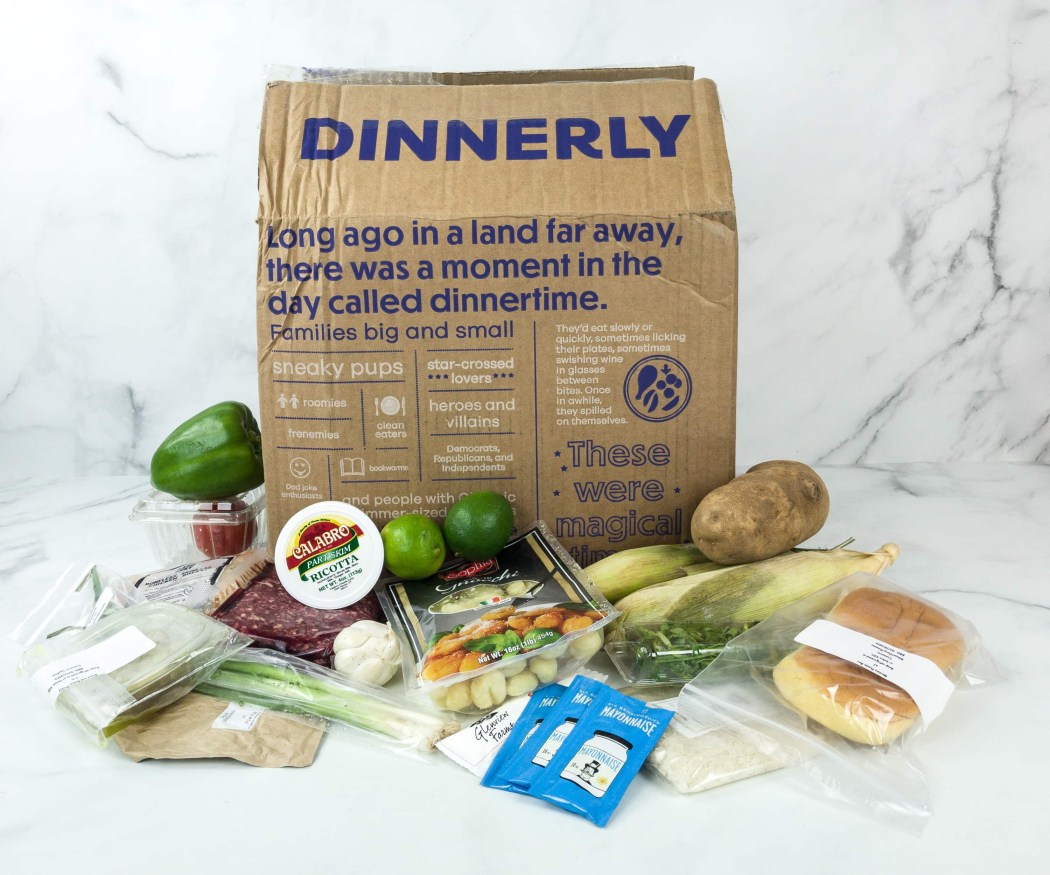 Image from: our review
Fun, new recipes.

Worth every penny. Food looks amazing. something for the whole family. Variety to keep it interesting and yum. -vodakira
What You Get: Dinnerly is for the home chef who wants to simplify their life by having delicious recipes without overspending. It is a dinner meal kit subscription that is simple and affordable, making at-home cooking a breeze! You can avoid the hassle and confusion as most of their recipes require fewer ingredients. It also allows subscribers to pick the delivery day and their preferred recipes or skip any week and change the number of portions they'd like to receive. It's the helping hand you need in cooking, minus the fuss and heavy price tag!
Some of the delicious meals you can look forward to from Dinnerly are Seared Steak with Garlic Potato Wedges, Chicken Caprese Bowl with Basil Pesto, BBQ Steak with Cheesy Cajun Cottage Fries, and Kung Pao Chicken with Steamed Rice. Dinnerly meal kits include low-calorie, low-carb, keto-friendly, vegetarian, vegan, no added gluten, and no added dairy options.
See more on Dinnerly Reviews.
Price: A Two-Person Box starts at $44.33 per week, while a Family Box starts at $76.07 per week. Shipping included.
Deal: Get up to 57.5% off your meal orders - that's 57.5% off your first box, and 20% off your second and third boxes! Use coupon code A57SUBX20W.
---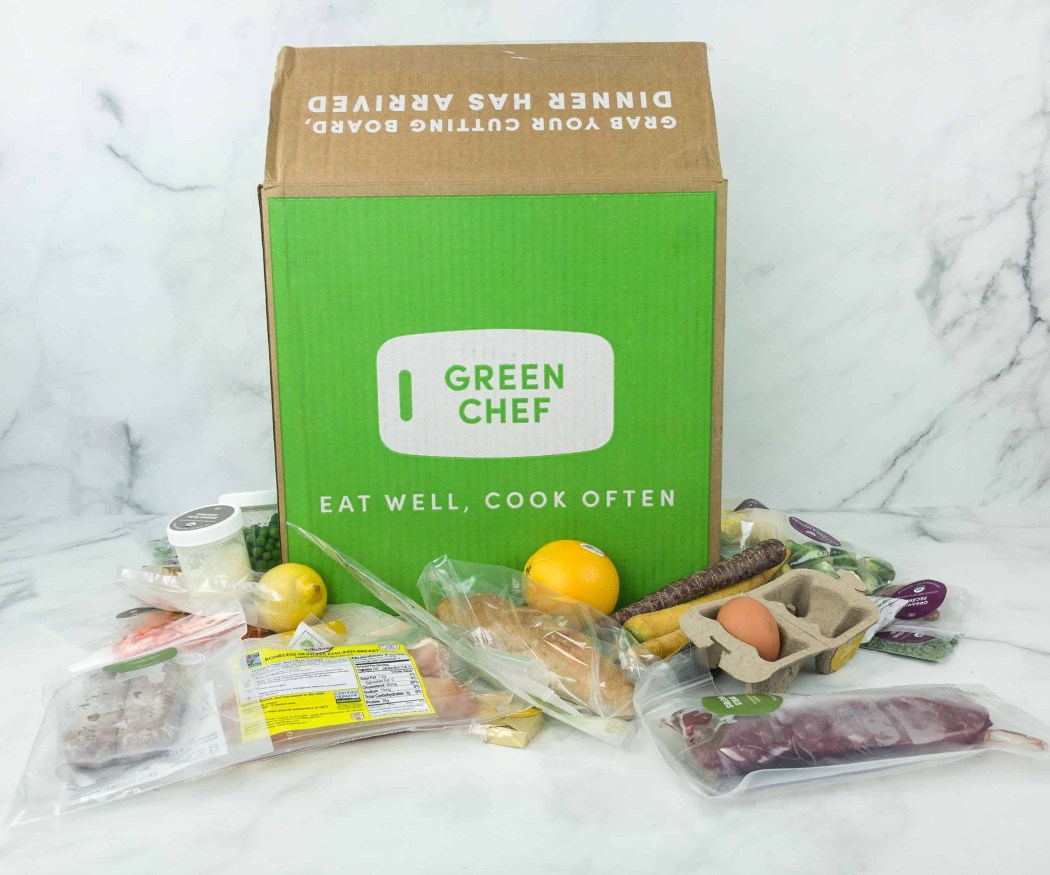 Image from: our review
It's so easy and DELICIOUS! -Julia

Method me on my keto/paleo plan with easy and delicious meals. And their SAUCES are off the charts!

Perfect for clean eating, love the organic ingredients and ability to tailor to my dietary needs!

I like how the meal prep is separated into bags instead of a single box
What You Get: Green Chef makes sure you get your healthy dinner fix in just 20 – 30 minutes. Each box comes with recipes and ingredients for at least three meals for the week. The ingredients are fresh and sustainably sourced, and they're even color-coded for easy sorting! The only thing you need at home is olive oil, salt, and pepper!
Green Chef has tasty recipes Spicy Chicken Stir Fry, Moroccan-Inspired Shrimp Bisque, Sausage & Zucchini Peperonata, Beef Tenderloin with Creamy Chimichurri, and Sesame Ginger Salmon. For those with dietary restrictions, you can check out their vegetarian, omnivore, carnivore, gluten-free, keto, and paleo meal options.
See Green Chef Reviews for more information!
Price: Meal kits start at $77.94.
Deal: Save $35 on your first box, $20 on your second and third, and $15 on your fourth – that's $100 savings! Deal applies automatically, just visit and subscribe.
---
Image from: our review
What You Get: For those who want to start eating healthy, Sunbasket is a great subscription to try. This healthy meal kit service sends easy-to-follow recipes along with organic ingredients every week. Select two or more dinners from their weekly meal plan menu. Add-ons are also available! All recipes and ready kits are chef-crafted and dietitian-approved, so you're sure you'll only be taking in the good!
Some of the mouthwatering Sunbasket Meal Kits you can try are Chicken & Pesto Penne and Honey Umami Glazed Salmon. Meanwhile, for Fresh & Ready Meals, they have Smokehouse Sausage Jambalaya, Spaghetti Alla Beef Bolognese, and more. Sunbasket includes carb-conscious, paleo, vegetarian, pescatarian, and diabetes-friendly meals in their weekly menu.
Read Sunbasket Reviews to find out more.
Price: Fresh & Ready starts at $51.96 per week for 4 servings and the Meal Kits starts at $57.96 per week for 4 servings.
Deal: Get up to $90 off on your first FOUR orders + FREE Food Gift! Deal applies automatically, just visit and subscribe. Must meet $65 minimum order per box.
---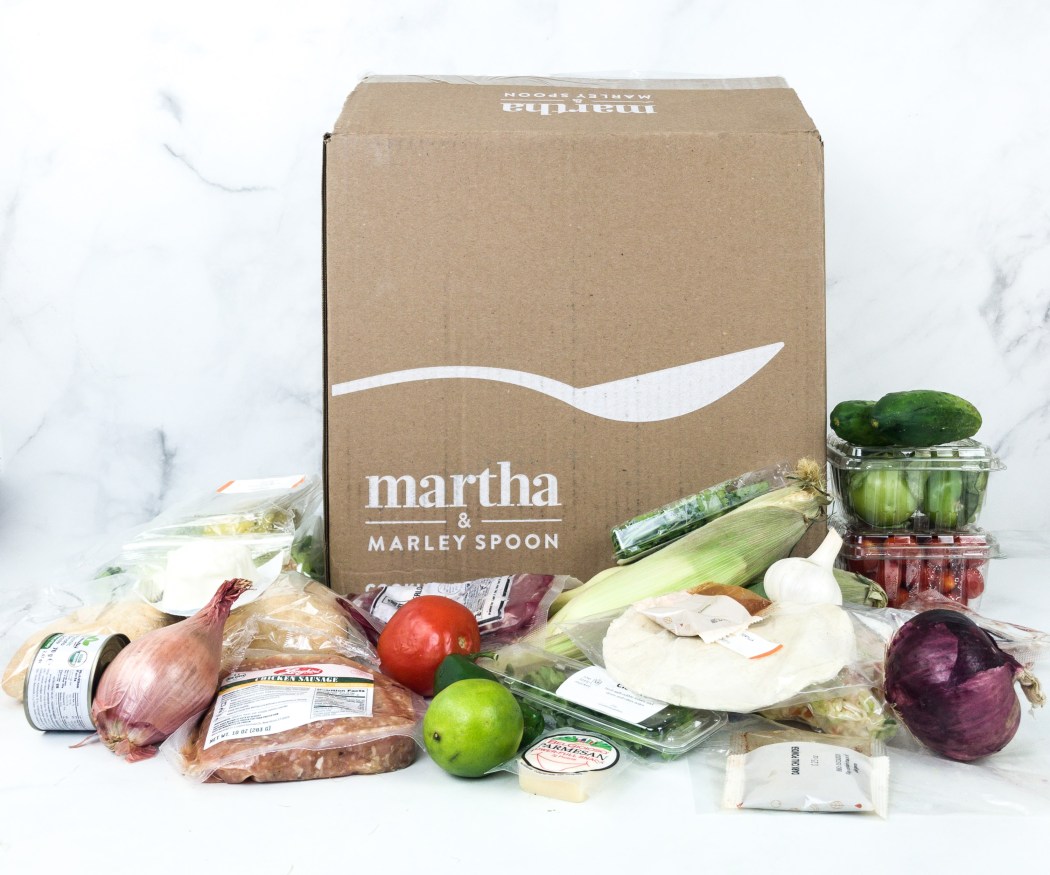 Image from: our review
What You Get: Martha & Marley Spoon is a dinner meal kit subscription service with two options: a 2-person and a 4-person box. Subscribers can choose how many recipes they'd like to receive weekly from more than 29 dishes offered. Expect recipes that include seasonal fruits and vegetables, as well as high-quality fish, poultry, and meat in each box. It also comes with easy-to-follow recipe cards featuring only six steps, precise instructions, and helpful photos. Boxes are chilled, and the ingredients are already sorted by recipe, making it easy for you to grab and prepare!
Excite your tastebuds with meal offerings such as Grilled Lemon-Garlic Sirloin Steak, Skillet Chicken & Gnnochi Parmesan, Marinated Steak with Oven Fries, Lemon-Rosemary Chicken, and French Onion Beef Stroganoff. For special diets, you can currently get recipes that have no added gluten and no added dairy, as well as vegetarian and vegan meals.
Take a peek at Martha & Marley Spoon Reviews for more details!
Price: Boxes start at $56.95 weekly for the 2-person box.
Deal: USA: Save up to $120 off on your first FIVE boxes! Deal applies automatically, just visit and subscribe.
---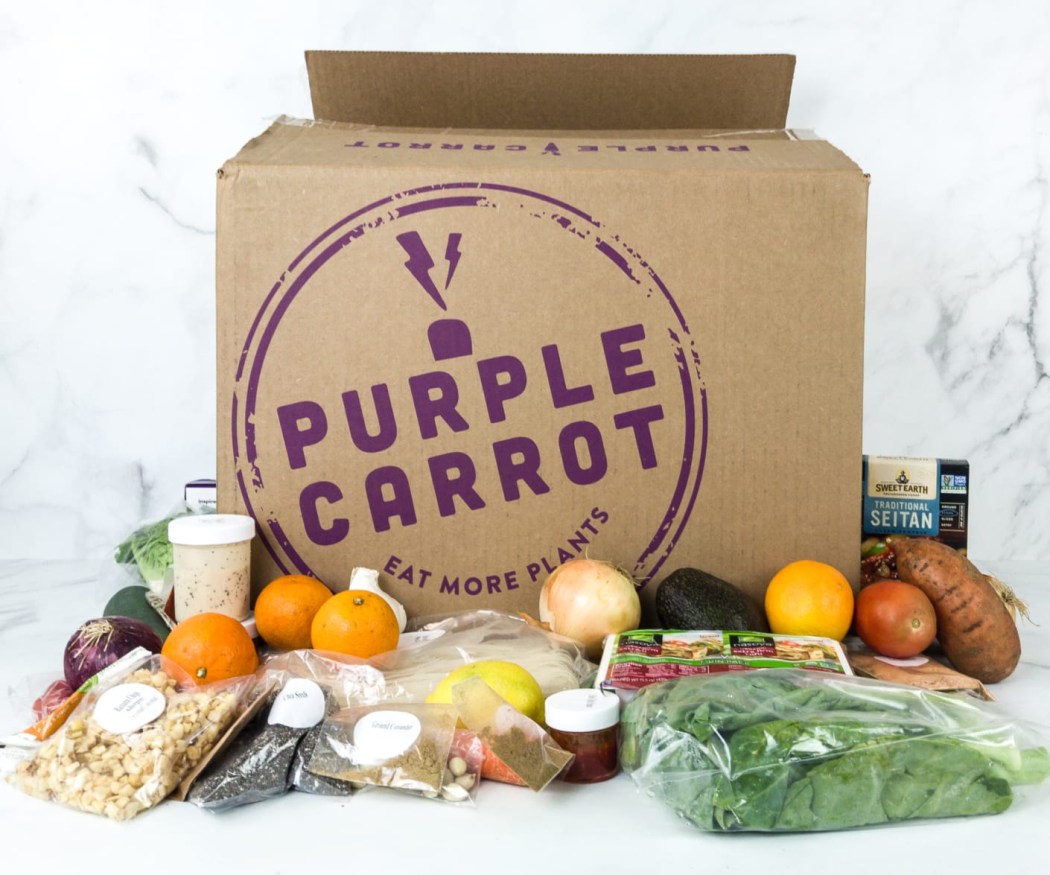 Image from: our review
Awesome food and little packing

Vegan pick -Denice S
What You Get: The Purple Carrot is perfect for those who are looking for easy-to-prepare and delicious vegan meals for dinner. You can get either a 2-Serving Plan with three meals of your choice or a 6-Serving Plan with two meals chosen by their team. Each box comes with complete ingredients, already perfectly portioned for you to cut down prep time. Breakfast and lunch meals are available as add-ons!
Look forward to tasty The Purple Carrot Meals such as Tomato Farro Risotto, Sri Lankan Beef Curry, Seitan Asada Tacos, Falafel Bowl, and Kimchi Sweet Potato Collard Wraps. If you have a special diet, no worries because this subscription caters to gluten-free, high-protein, low carb, nut-free, and soy-free diets as well.
Check out The Purple Carrot Reviews to know more!
Price: Boxes start at $71.94 per week.
Deal: Get $30 off your first order! Use coupon code carrot30.
---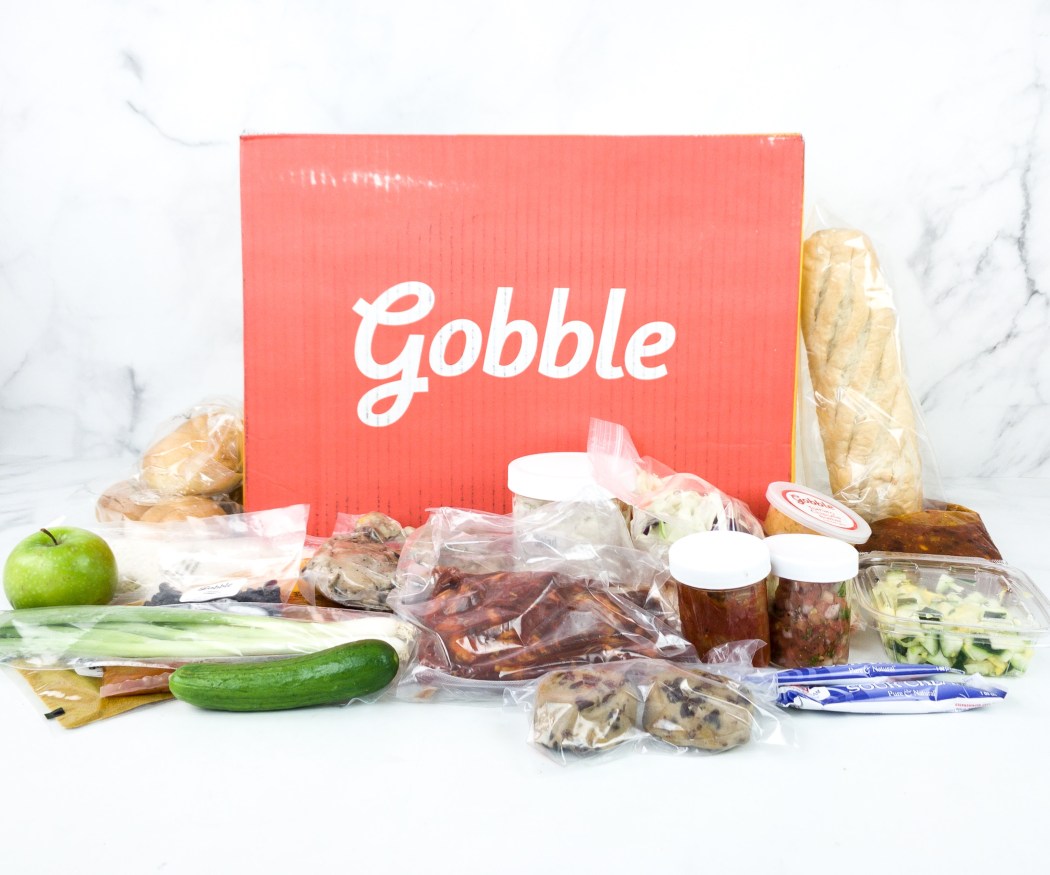 Image from: our review
Most of the prep is done for you, unlike other meal kits (I hate chopping vegetables!)

simple and easy -Patrick
What You Get: Weekly Gobble deliveries include three dinner kits, each with 2 or 4 meals. To guide and help you make your dinners a breeze, each dinner kit will include a three-step recipe card with instructions. Ingredients are par-cooked and vacuum-sealed to keep them fresh. Every meal is designed to fit within 700 – 900 calories, perfect for those who are watching their calorie intake. They do all the work – peeling and chopping, so you only need to grab the ingredients from the box and cook.
Gobble has a diverse menu, including Butter Chicken with Basmati Rice & Naan Bread, Lemongrass Pork Stir-Fry, Chicken Fettuccine Alfredo, Wagyu Beef Swiss Cheeseburger, and Pan-Roasted Chicken Breast. They currently offer two plans: the Classic Dinner plan and the Lean & Clean plan.
Visit Gobble Reviews to see past box contents!
Price: Weekly dinner kits start at $71.94 for 2 persons.
Deal: Get 50% off your first box - that's 6 meals for $36! Use this link to get the deal.
---
Image from: Factor_
So convenient!
What You Get: Factor_ is a meal subscription that delivers healthy, expertly-developed meals straight to your doorstep. Subscribers have the option to order as many as 18 meals per week or as few as 4. Each box includes well-prepared meals made from carefully sourced ingredients that contain no hormones, antibiotics, GMOs, or any additives. Every meal also goes through their in-house dietitian, making sure that you'll only get the best and most nutritious meals ever!
Factor_ offers healthy and delicious meals such as Steak with Roasted Sweet Potatoes, Mustard Salmon, Carnitas Style Pork, Grilled Pesto Chicken, and Peanut Buddha Bowl! They also have meals for the most popular diet plans including keto, paleo, low-calorie, plant-based, and dairy-free.
Check out Factor_ Reviews to learn more about this meal subscription.
Price: Choose your meal plan and how many meals you need per week starting at $60.
Deal: Get $120 off your first FIVE weeks - that's 50% off your first box, 20% off your second, third, and fourth boxes, and 12% off on your fifth box! Use coupon code FACTOR120OFF.
---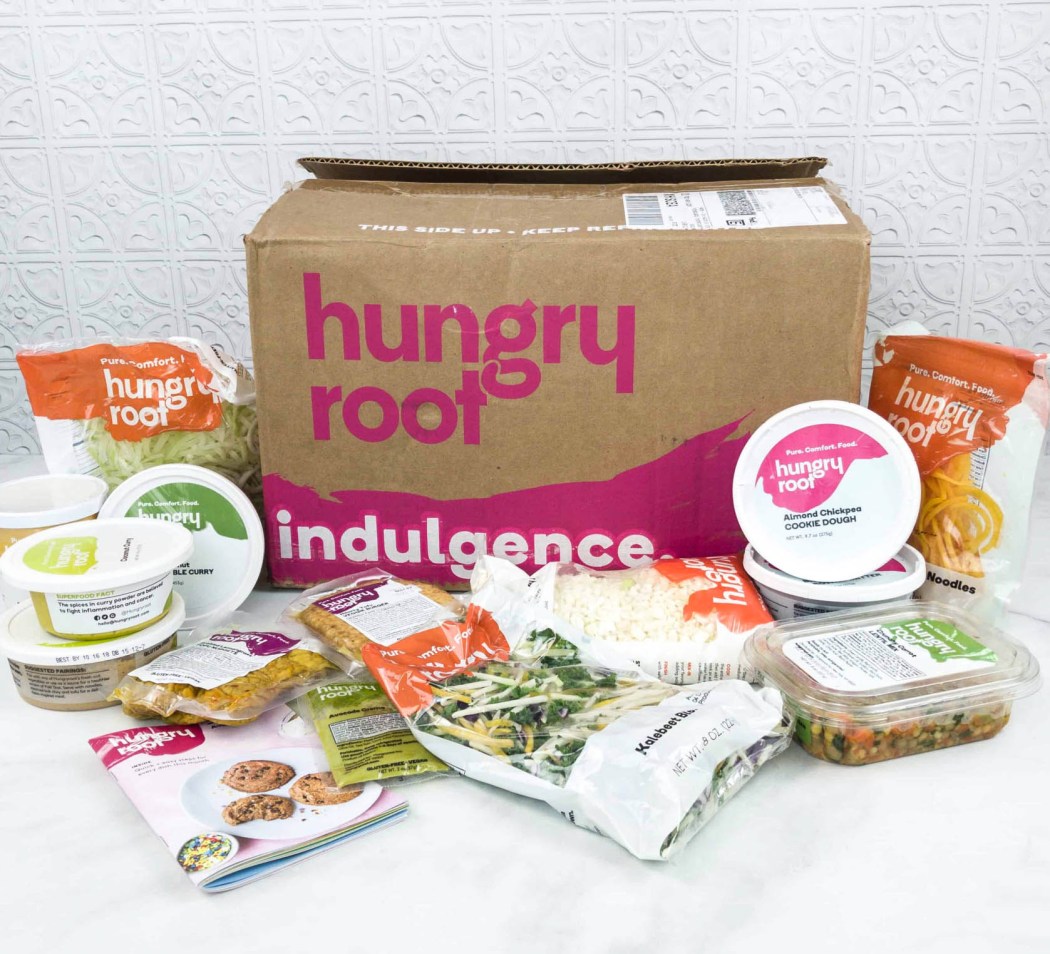 Image from: our review
What You Get: Hungryroot's mission is to make it easier for people to eat more healthy and feel great every day! They find the most nutritious options out there, made with wholesome and trusted ingredients. Based on your preferences, they'll send groceries you love and even give you recipes so you can make them with ease!
Hungryroot has diverse food offerings such as Classic Shrimp Alfredo, Taco Truck Style Pork Tacos, Bazaar-Style Chicken Shawarma Bowl, Korean Bulgogi Chicken Rice Bowl, and Tex-Mex Beef 'n Cheese Tostada. You can even choose meals based on your specific dietary needs, whether they are vegan, vegetarian, pescatarian, dairy-free, gluten-free, soy-free, tree nut-free, peanut-free, egg-free, and shellfish-free.
Make sure to check out Hungryroot Reviews!
Price: Boxes start at $69 per week.
Deal: Get 40% off on your first $99+ order + FREE Bonus Groceries FOR LIFE! Deal applies automatically, just visit and subscribe.
---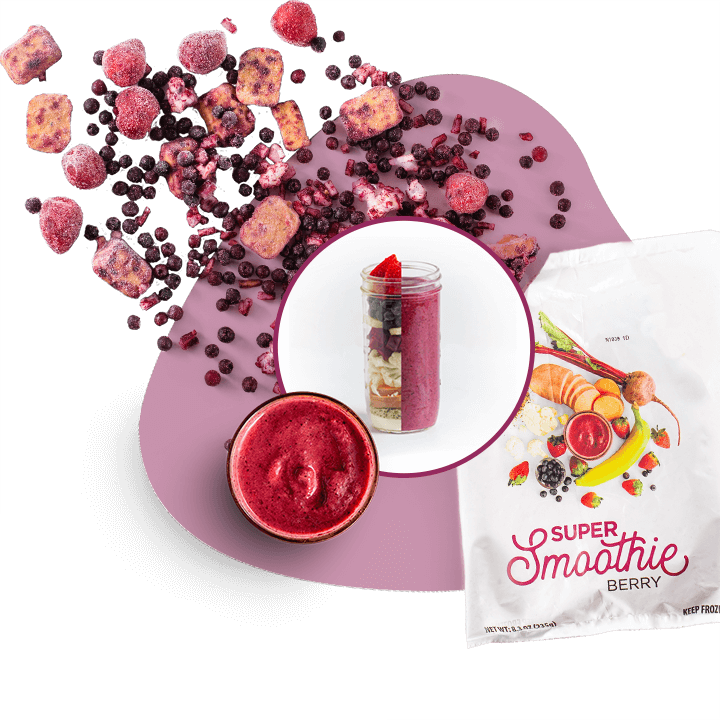 Image from: SmoothieBox
I love having organic smoothies in my freezer ready to make. It helps me stay on track with my health goals. They also have a fun challenge each year that I participate in. – Nikkie

I love SmoothieBox for the ease and convenience it provides for making my daily smoothie! No more wasted stuff, and I'm losing weight! Win, win! – Em

Makes eating my veggies so tasty & delicious! – Nancy
What You Get: SmoothieBox makes preparing a delicious and filling smoothie as easy as 1,2,3! You can choose from their variety of ready-to-blend goodness, along with your desired delivery frequency. Each smoothie has a balance of complex carbohydrates from organic fruits and veggies, healthy fats from seeds, and clean protein from grass-fed collagen, without the added sugars or fillers. With this subscription, you're sure that what you're digesting is healthy, nutritious, and delicious!
They offer smoothies in different flavors such as Berry, Chocolate, Orange, Green, and Strawberry Banana.
Don't forget to check out SmoothieBox Reviews!
Price: The box containing 20 smoothie pouches costs $129, plus free shipping.
Deal: Get $10 off your first box + FREE Shipping! Use coupon code SAS10 and Use this link to subscribe.
---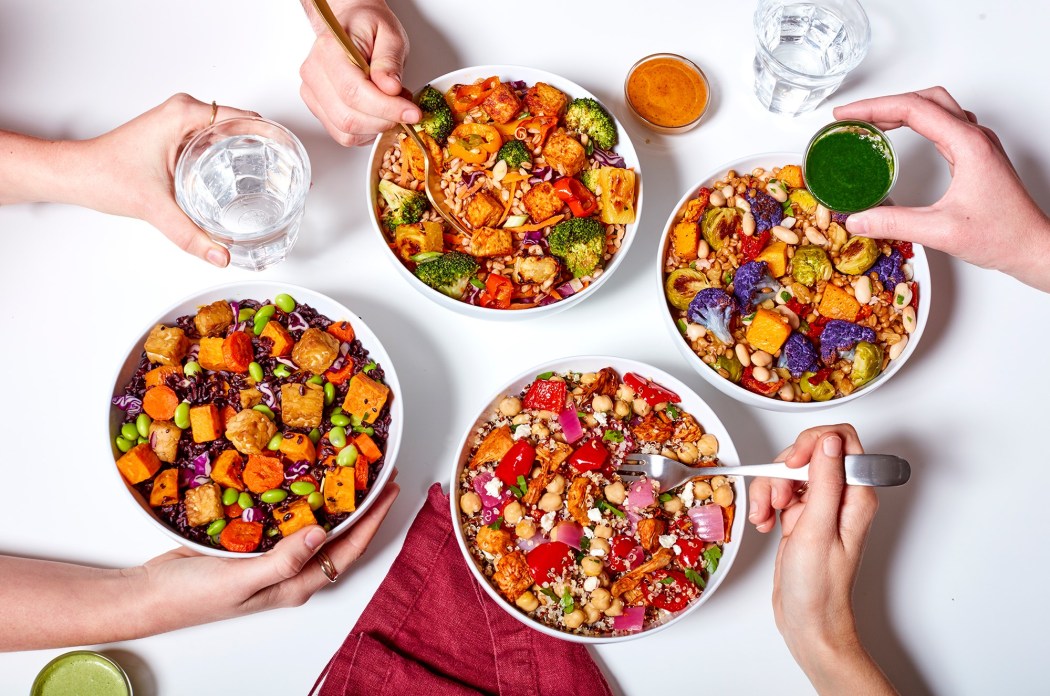 Image from: Mosaic Foods
What You Get: Open the box, heat, and eat! Mosaic Foods is a fantastic meal subscription that delivers ready-to-eat meals straight to your doorstep. Each box contains a variety of delicious dishes packed with natural, clean ingredients, roasted, sauteed, and seasoned in a real kitchen. All you need to do is heat them in the microwave and they'll be ready in five minutes or less. A good deed follows as per every box sold, they rescue and distribute 2 pounds of nutritious foods to those in need.
Some of Mosaic Foods' healthy meal offerings are Peanut Tofu Bowl, Butternut Squash & Sage Pasta, Veggie Pot Pie, Curried Lentil Soup, and Cranberry Cinnamon Oats. This meal subscription's focus is on plant-based and vegan meals.
Check out Mosaic Foods Reviews to know more!
Price: Build and fill your box with a $70 minimum order size.
Deals:
---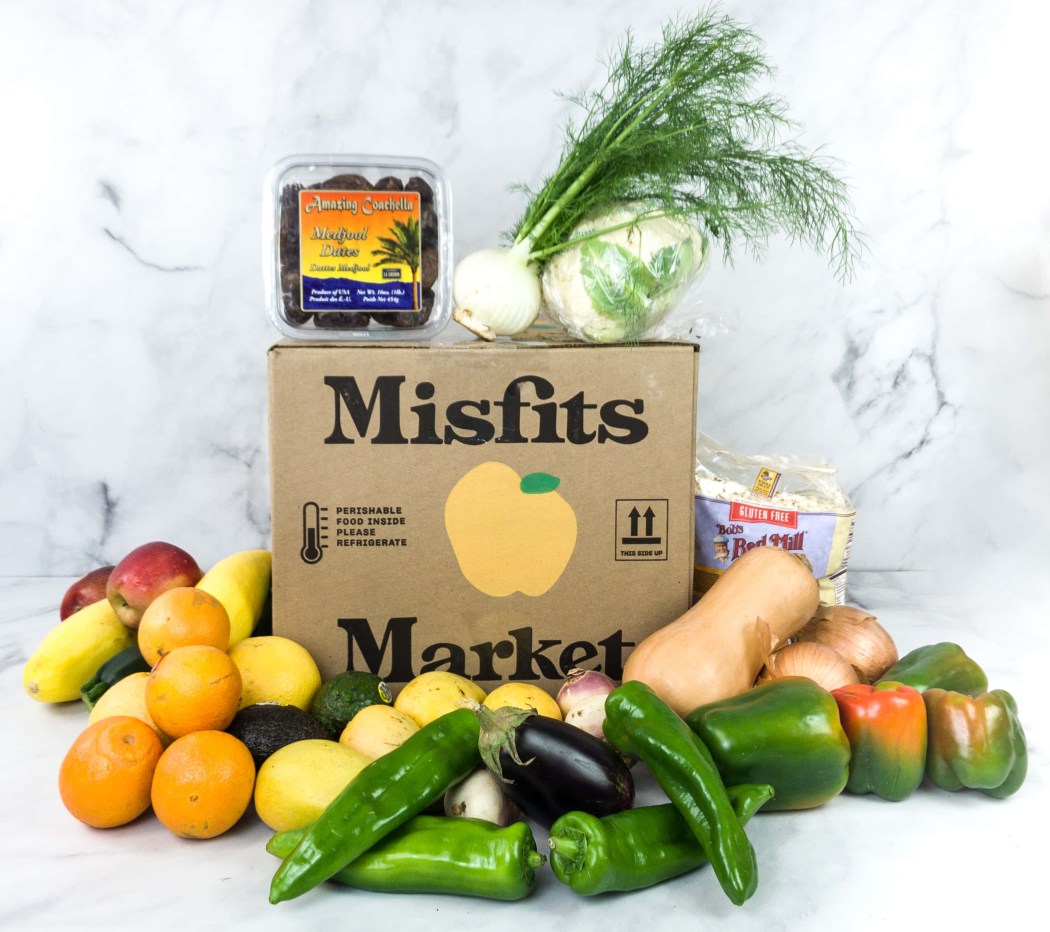 Image from: our review
Fantastic produce
What You Get: With their mission to combat food waste, Misfits Market sends "misfit" fruits and vegetables, or those produce that look weird but are definitely ideal for consumption. They source fresh produce from organic farms and offer it to subscribers for a much lower price than grocery stores! And now there are no more restrictions on the Mischief and Madness box! You can build your box as long as you meet their $30 order minimum. It's easy shopping while saving money, all in the comfort of your home!
Aside from fruits and veggies, they also offer bakery items, coffee & tea, snacks & sweets, dairy & eggs, deli, pantry, wine, and meat & seafood.
Hop on to Misfits Market Reviews to know more about this subscription!
Price: No membership or monthly subscription fees. Just build your box to meet the $30 minimum purchase. Ships to the 48 contiguous states.
---
Image from: our review
What You Get: Splendid Spoon is a scrumptious meal subscription plan that delivers vegan, gluten-free, GMO-free, ready-made smoothies, soup and grain bowls, noodles, and even wellness shots! They deliver plant-based meals to subscribers every week, and the orders can be customized as well. You can also choose a plan from Breakfast, Lunch, Breakfast+Lunch, or Breakfast+Lunch+Reset. Their new plan also includes dinner, making it easy for you to kick start healthy habits!
Their most popular smoothies include Pineapple Passionfruit, Blue Majik Smoothie, and Coffee Frappe Smoothie. Other delicious offerings are Kimchi Fried Quinoa Grain Bowl, Green Tomatillo Chili Soup, Tofu Veggie & Noodles, and Cauliflower Potato Chowder Soup. Splendid Spoon's meals are plant-based, vegan, dairy-free, and gluten-free.
Visit Splendid Spoon Reviews to know more details.
Price: The subscription cost starts at $65 per week, and you can choose a plan from Lunch, Breakfast+Lunch, or Breakfast+Lunch+Reset.
Deal: Get $60 off your first 3 boxes! Deal applies automatically, just visit and subscribe. First 3 boxes must be ordered within 90 days from the shipping date
---
Image from: our review
What You Get: RealEats sends chef-prepared meals that are vacuum-packed into food-safe recyclable pouches. This ensures that the freshness, flavors, and nutrients of the ingredients are preserved! It's easy to prepare the meals. You can heat the pouch in boiling water or in the microwave. It's the perfect subscription box for people who don't have time to cook!
Excited about the RealEats menu? Some of the tastiest food they offer are Stir Fry Beef, Homestyle Turkey Breast, Grandma's Beef Meatballs, Shredded Chicken Fajitas, and Citrus Miso Salmon. Subscribers can personalize their meal plan by choosing from low-calorie meals with gluten-free, high-protein, and plant-based options.
Check out RealEats Reviews to know more!
Price: Meal plans start at $59.96 for 4 dinners.
Deals:
---
Image from: our review
What You Get: To help reduce food waste, Imperfect Foods sources food items that might otherwise go to waste and deliver those right to your door. You get to pick which items you'd like to receive, and you even get to save because the items are priced at 30% less than grocery store! Or you can take a quiz for them to recommend a grocery plan that'll last you a week. Filled with affordable, delicious fresh produce and grocery staples, this is a great subscription for anyone who wants to save!
Some of the items you can get from this box are seasonal fruits and vegetables, pantry items, eggs, and dairy, snacks, plant-based food items, meat and fish, wellness products, and more.
Go to Imperfect Foods Reviews to learn more about this box!
Price: Boxes start at $63 per week for breakfast, lunch, and dinner plus $4.99 s&h.
Deal: Get 20% off your first FOUR boxes! Use coupon code SAVE20X4. Maximum $20 discount per box.
---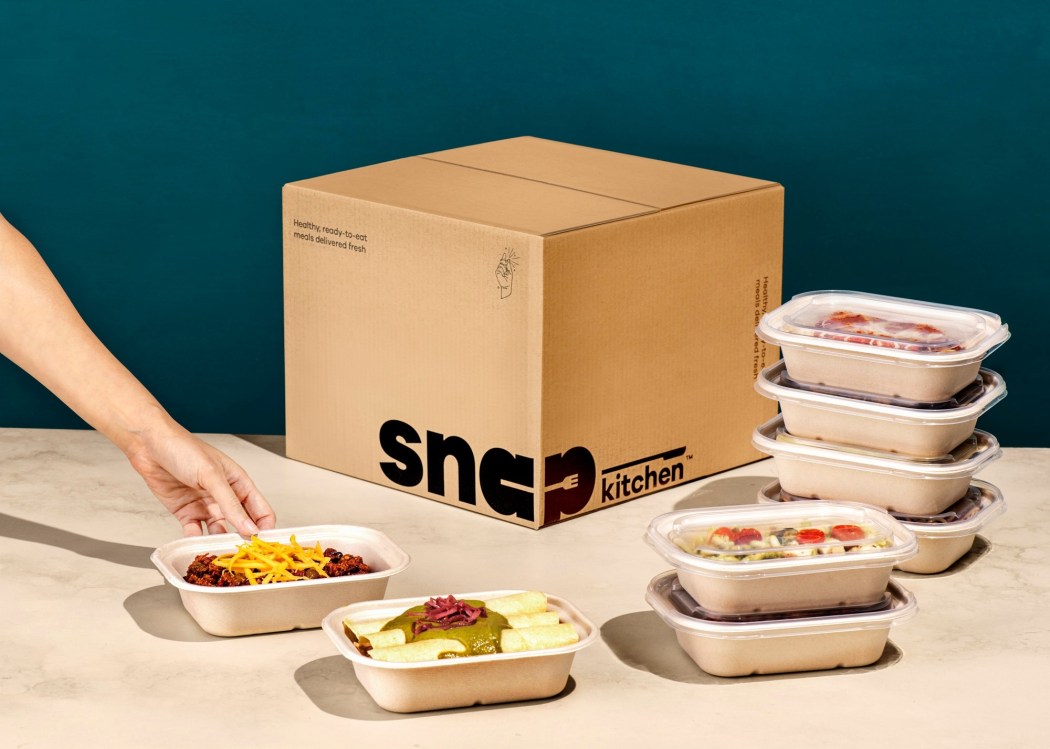 Image from: Snap Kitchen
What You Get: Snap Kitchen caters to various lifestyles, offering meals from low-carb to keto-friendly. Subscribers can select their meals and switch them up each week. Every box contains highly nutritious and delicious meals made from high-quality ingredients without antibiotics, GMO, Gluten, and any added hormones. Receive 6 or 12 meals per week from their rotating menu. When the meals arrive at your door, all you have to do is heat them up and enjoy – no cooking involved!
Snap Kitchen will keep you nourished with their delicious meals such as Korean Steak Bowl with Dynamite Mayo, Pesto Pasta with Sausage Meatballs, Beef Burgundy with Potato Turnip Mash, and Creamy Chicken Stew with Rice. Their meals also cater to different dietary needs, including low carb, vegetarian, balance, whole30, high protein, keto-friendly, and paleo.
Price: The 6-meal plan costs $75.99 per week and the 12-meal plan costs $ 125.99 per week.
Deal: Get up to $60 OFF your first 4 weeks of Snap Kitchen! Use coupon code HABIT60.
---

Image from: The Challah Box
A beautiful box that makes for a great gift and a perfect subscription. I got one for everyone I know and they all love it. It's great for anyone who wants to learn a new skill and who likes food.

So easy to use, amazing packaging and speedy shipping. I love the intention behind the Challah Box and it really makes me feel good every time I make challah…not to mention it's DELICIOUS! LOVE this! -Natalie
What You Get: Something delicious awaits you with The Challah Box. This subscription ensures that your pantry is stocked with challah ingredients, allowing you to quickly knead and bake whenever you're craving it! Every month, they'll send you a box with five pre-measured and labeled ingredients, so you can try to recreate their signature challah recipe at home with ease. What's not to love about this box when you can be creative with new braids and seasonal topping/fillings, then have tasty fresh-baked loaves as a result?
Price: Get the box for $40 a month or less with longer subscription plans.
---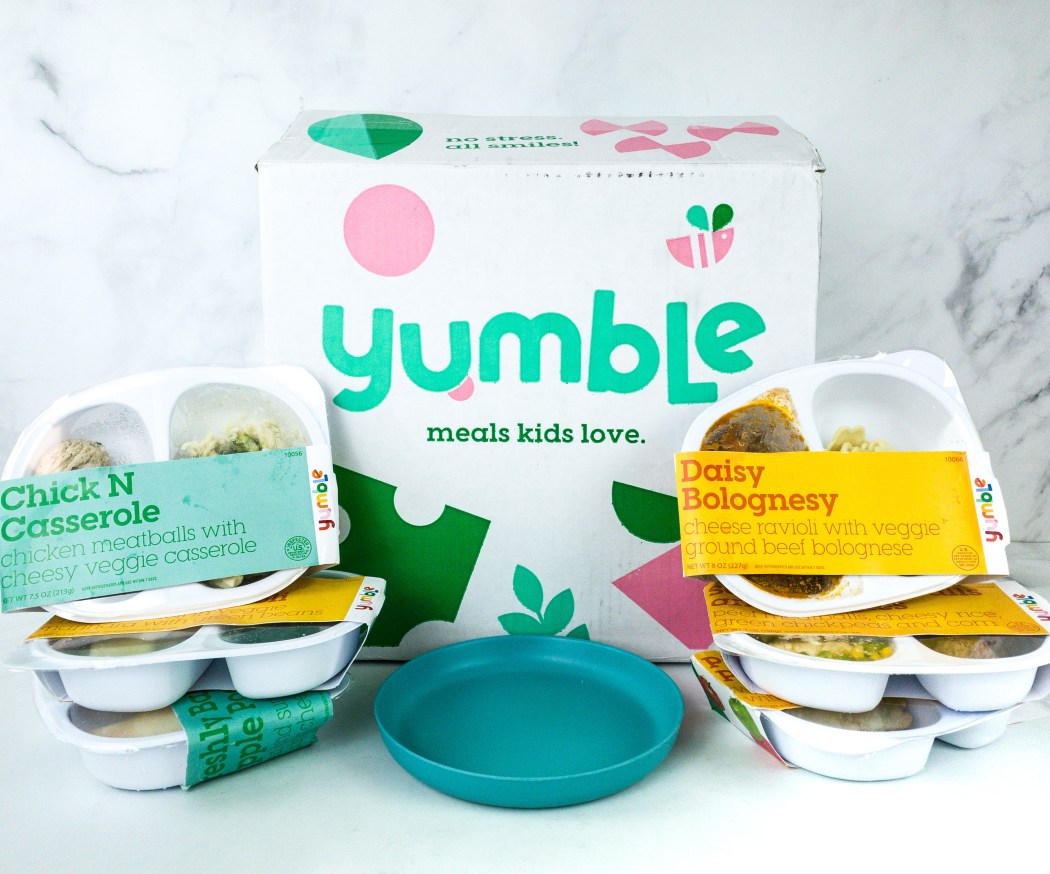 Image from: our review
What You Get: Yumble Kids understands that kids have different tastes and nutritional needs, so they offer meals tailored specifically for them! This weekly subscription service sends pre-prepared, pre-cooked meals suitable for your kid's preferred taste and needs. Also, you can customize what meals you want to receive or have Yumble automatically send meals for you. The meals are great for school lunches and even for an easy weeknight dinner or snack time.
Kids will love the variety of meals offered by Yumble, including Pizza Bagel with Pepperoni, Classic Cheese Ravioli, Savory Meatballs & Veggies, Freshly Baked Apple Pocket, and more.
Visit Yumble Kids Reviews to learn more!
Price: Weekly boxes start at $47.94.
Deal: Get free shipping on every delivery + save up to 25% on meals! Deal applies automatically, just visit and subscribe.
---
That's all the 2022 winners for the Best Subscription Box Awards for meal kits! Which of these meal kits would you like to try?
For even more box suggestions, see all the best subscription boxes in every category!
Say Hello to More Food Subscriptions!
Find more food options in these lists: