Working out can be quite overwhelming, especially if you're a beginner. It's a challenge every day to keep up with those routines and diet restrictions. We need some inspiration and motivation to help us keep moving towards achieving our fitness goals. If you want to explore new fitness apparel, equipment, vitamins and supplements, and snacks, it's best to subscribe to fitness boxes.
There are many fitness subscription boxes around that offer almost everything you need to help you in your fitness journey. Some of these subscriptions will ask you to create a fitness profile, while others may surprise you with their product selections! Some boxes also cater specifically to yoga fanatics. Whether you're looking for a way to start a healthy routine or elevate your workout sessions, there's a fitness box available for you. And if you want to see what each box has to offer, check out our list of the best fitness subscription boxes below!
The Best Fitness Subscription Boxes For Achieving A Healthy Lifestyle!
Image from: Fabletics
What You Get: Be inspired to stay active and healthy with comfortable clothing for your workout. Fabletics offer hundreds of on-trend designs and colors that are made from high-quality fabrics at an accessible price!  Take their quick lifestyle quiz so you can get personalized outfit picks perfect for your workout routines. Be a member and unlock member-exclusive collections at VIP prices like sports bras, leggings, sneakers, workout tops, and more available in sizes XXS-3XL for women. You can also shop for coordinates or individual items. Looking for size-inclusive undergarments? Lizzo's shapewear brand Yitty is also part of the membership!
Visit our Fabletics Reviews for more information.
Price: You can subscribe for $54.95 (USD) per month.
Deal: Get 2 pairs of leggings for just $24! Use this link to get the deal. Valid to new subscribers only.
---
Image from: our review
What You Get: Miss Muscle Box is a monthly subscription designed for women. The goal of this box is to get you motivated to smash your fitness goals! Every box contains 7+ items that are based on a monthly theme. These bodybuilding and fitness products include apparel, equipment, and treats! Be a member so you can customize a box and get started working out!
Check out our Miss Muscle Box Reviews to learn more.
Price: The subscription costs $29 per month.
Deal: Get $10 off your first box! Use coupon code HS10.
---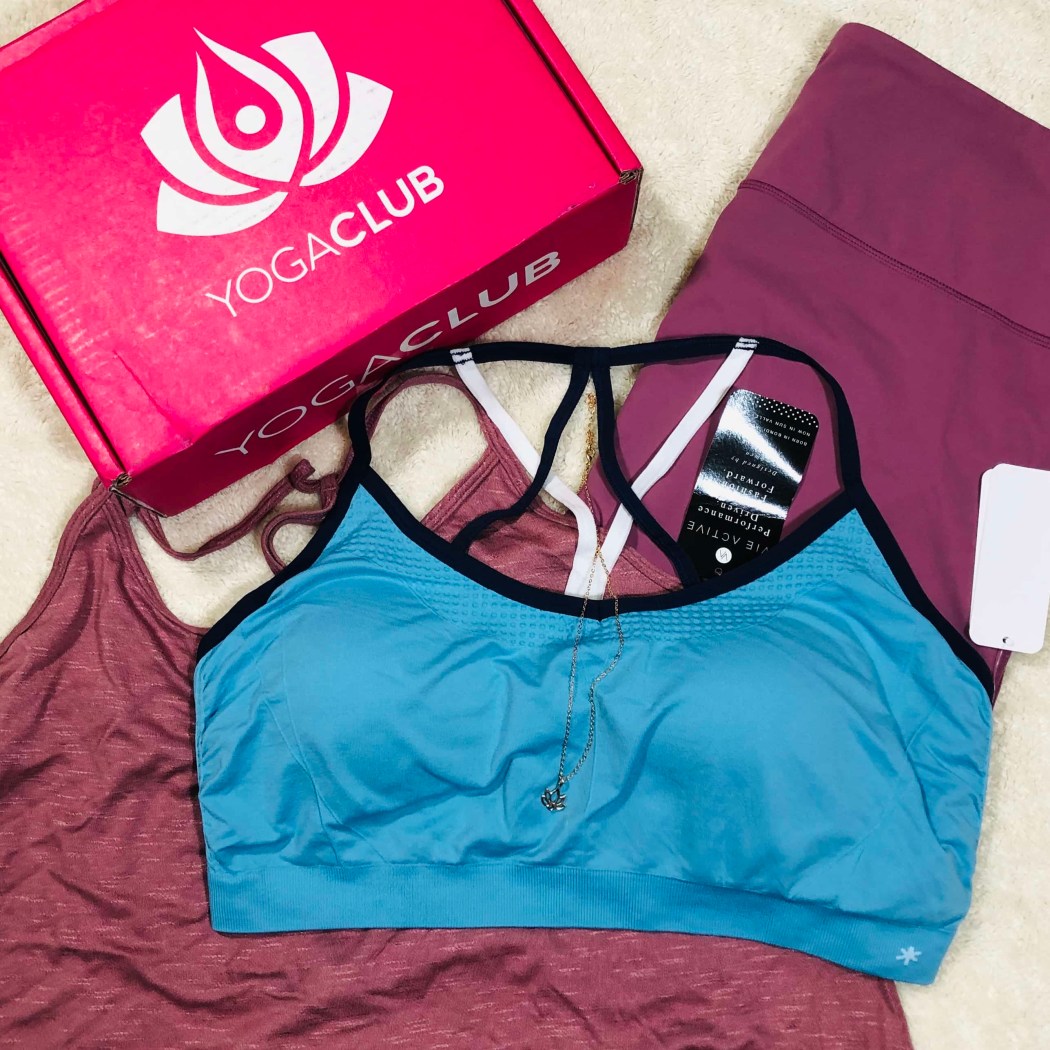 Image from: our review
What You Get: Receive activewear curated based on your profile. YogaClub is a monthly subscription that sends apparel customized to give you comfort while you work out. Tell them what you want, and they'll create it just for you! Each box contains one, two, or three pieces from brands that you love and trust like Teeki, Beyond Yoga, Onzie, Columbia, and more. Subscribers can purchase items that are 50-88% off retail value! They currently offer 3 packages: The Mantra (1 pair of leggings), The Karma (2-piece outfit), and The Guru (3-piece outfit). What's good is that for every box delivered, they will provide a yoga class to a child in need!
Read our YogaClub Reviews to find out more.
Price: Guru Membership is $79 a month. Shipping is $6.95 to USA and $9.95 to Canada, Alaska & Hawaii. They also ship to the UK, Europe, and Australia.
Deal: Get an additional FREE Legging ($92 VALUE!) with your first Seasonal Guru Box! Use coupon code FREELEGGING.
---
Image from: Wantable Fitness Edit
What You Get: Having to try outfits before buying them is a great deal! Wantable Active Edit let us try this experience so we'll get what suits our preferences. Take a short time to fill up their active quiz. Based on their innovative algorithm result, they would curate a box with extra care to deliver what they think matches what you need. Try 7 items for five days, pay for what you find attractive and return/exchange what you don't. There's a $20 styling fee, but you'll get it back if you buy any of the items included in your personalized active edit! Buy five or more pieces and they will take 20% off your total!
Visit the Wantable Active Edit Reviews.
Price: The box applies $20 styling fee that is credited to anything you purchase from your Edit! Get 3 or more pieces from your box and you'll save 20%, and keeping them all would mean a 30% savings!
---
Image from: Ellie
What You Get: Be stylish even when sweating out with Ellie. It is one of the original activewear subscriptions that deliver premium quality women's apparel. They believe that self-care and self-love matter. To get you started, they will ask you to choose one of the outfit styles they have. Then, choose from the three subscriptions that they offer: 2 item boxes (top and bottom), 3 item boxes (top, sports bra, bottom), and 5 item boxes (3 apparel items + 2 fitness accessories). Subscribers can also purchase additional outfits every month.
Check out Ellie Reviews to see past boxes.
Price: The subscription costs $49.95 each month. The apparel-only subscription costs $39.95.
Deal: Get 25% off your first month subscription! Use coupon code HELLOSUB25.
---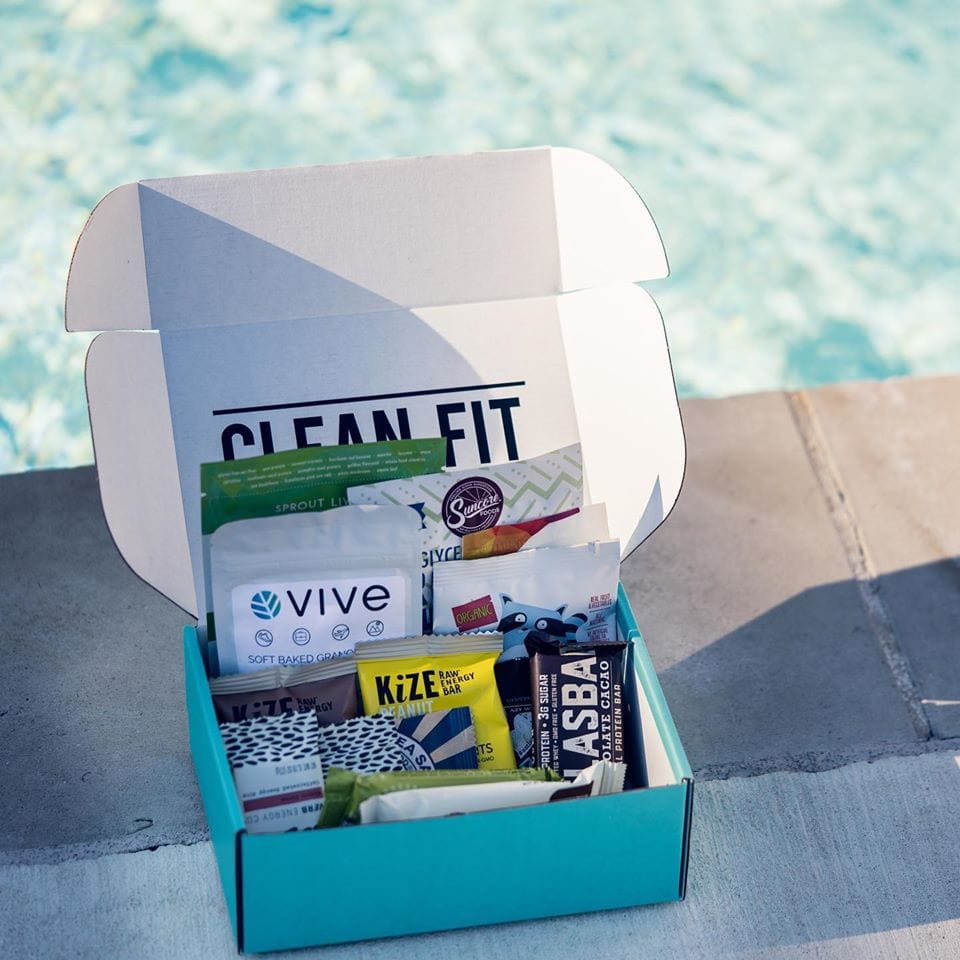 Image from: clean.fit box
What You Get: Have something to go along with your exercise! clean.fit box offers 100% natural, healthy, delicious protein snacks, and supplements to fitness enthusiasts. They provide only the cleanest and quality products made from natural ingredients without artificial preservatives, flavors, fillers, or colors. The Regular Box contains 9+ items while the #SuperSnacker box includes 18+ items. Every month, you can try different products like protein bars, granolas, energy beverages, grass-fed jerky, and more! Plus, a free workout in every box.
Check out the past clean.fit box review to learn more.
Price: You can get the Regular size box for $40 per month.
Deal: Get 10% off on your first box! Use coupon code HELLO10.
---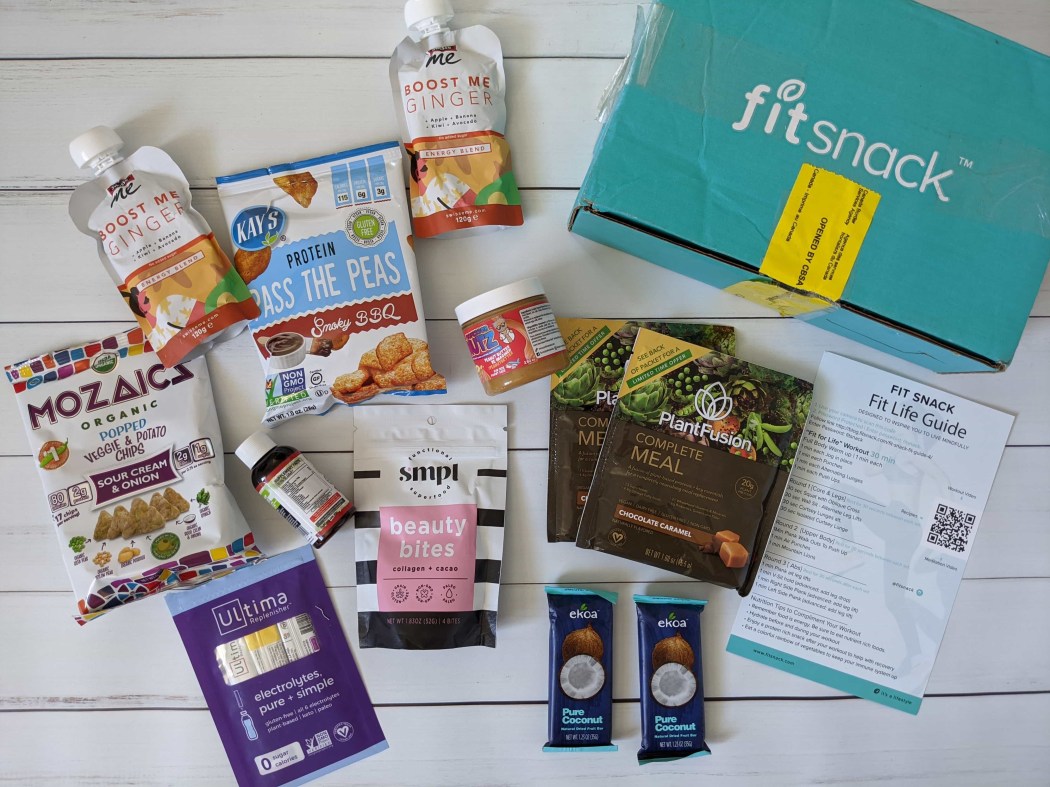 Image from: our review
What You Get: Find the tastiest snacks you can enjoy even when keeping fit! FitSnack gathers healthy snacks and nutritious drinks from the world's best brands. Every snack in the box is carefully selected by a nutritionist with varieties such as GMO-free, Gluten-free, organic, vegan, low in sugar, high in protein. With every box, you'll get 7-10 full-size or deluxe samples. There are also exclusive workouts created by professional trainers. Some of the brands that they feature are Uplift, Superseedz, Lesser Evil, and more! With every purchase you make, they donate snacks to kids in need.
See our FitSnack Reviews for additional information.
Price: The subscription costs $29.90 each month, shipping included.
Deal: Save $3 on your first box! Deal applies automatically, just visit and subscribe.
---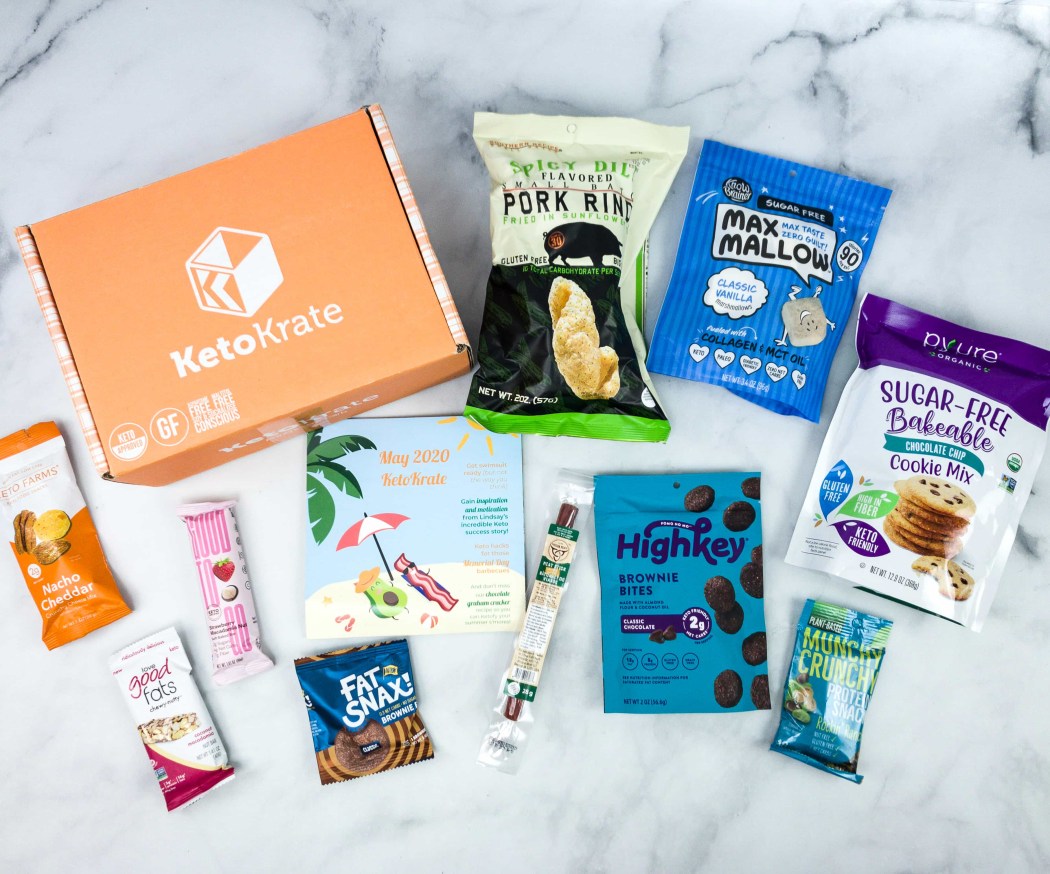 Image from: our review
What You Get: If you're on a diet but have been craving snacks to munch on, then subscribe to KetoKrate. You'll get 10+ keto-friendly snacks delivered to your door monthly. Everything inside the box contains less than 5g net carbs per serving, gluten, and maltitol-free, full-size, sucralose & soy-conscious, and it's a mixture of sweet & savory snacks. When you subscribe, you can have access to members-only Ketoshop!
Visit KetoKrate Reviews for added info.
Price: Full-size keto snacks delivered monthly for $39.99.
Deal: Get $10 off your first Krate! Use coupon code HELLO100FF.
---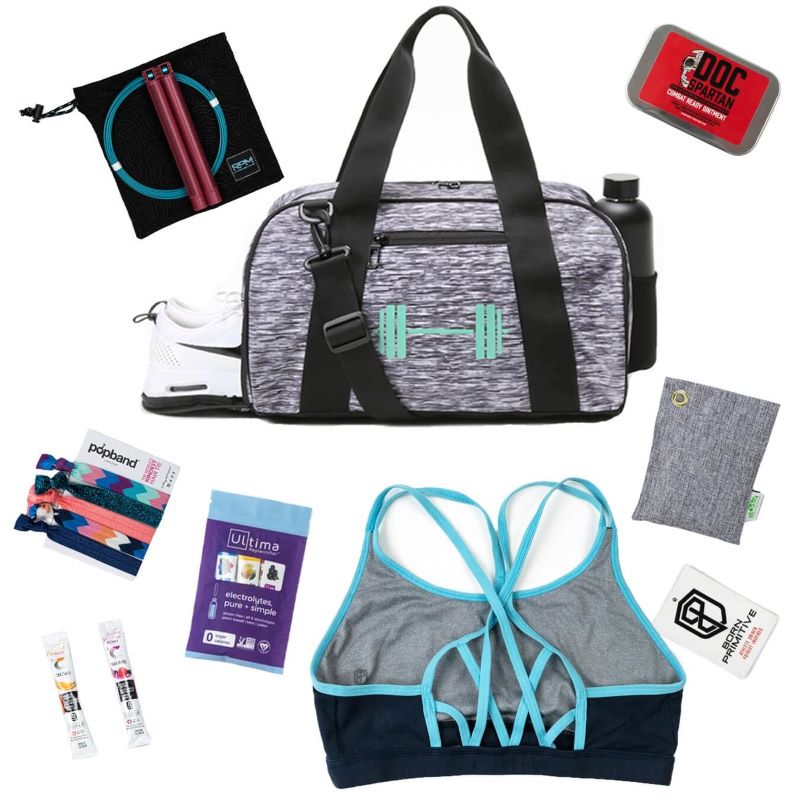 Image from: Barbella Box
What You Get: Barbella Box is a monthly subscription exclusive for women. You get to have control of what will go inside your box. Every package is customized to fit your preferences. Get products you actually need and want. It is filled with a mix of 4-6 items like fitness apparel, gear, accessories, supplements, snacks, workout tips, and more from famous to upcoming brands. Sign up, choose the sizes, and wait for the package to arrive at your door.
Price: The subscription costs $54.99 per month.
Deal: Save $5 on your first month! Use coupon code HELLO.
---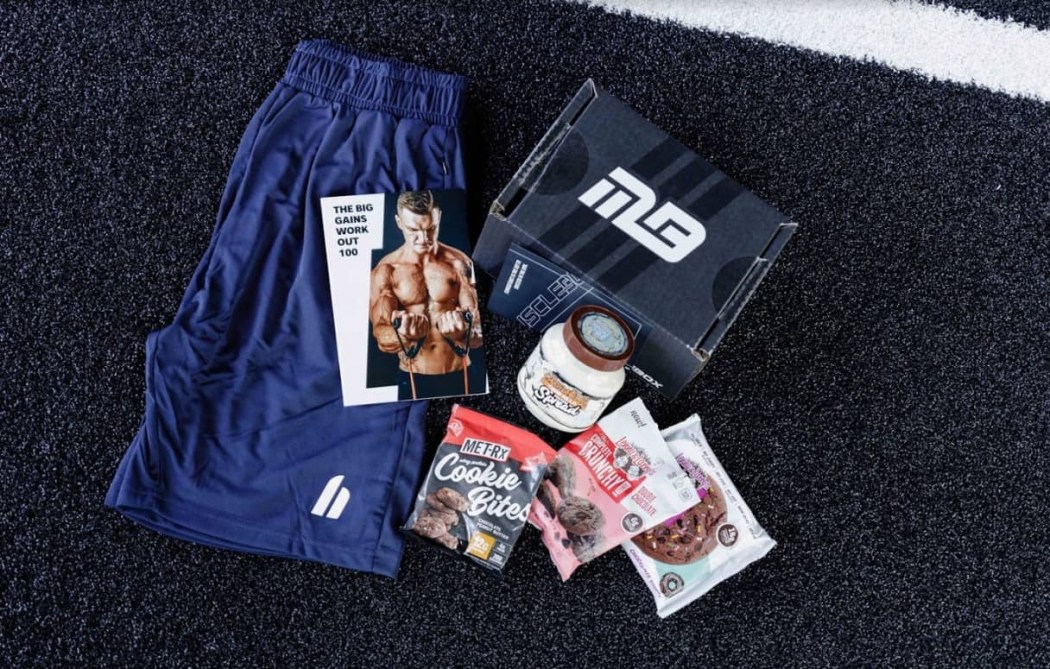 Image from: Muscle Box
What You Get: Muscle Box, the counterpart of Miss Muscle Box, sends every item that will help you stay motivated and fit. Subscribe and get access to all custom workouts by their qualified personal trainers. You can even see the contents of past boxes! You'll get 7+ items, including apparel, supplements, goodies, and inspiration every month. Also, every box purchased makes a donation of $1 to Paradise 4 Kids, a charity that supports Reverend Themi in his mission to provide necessities to many people in Africa.
Price: Subscription costs $29 per month.
---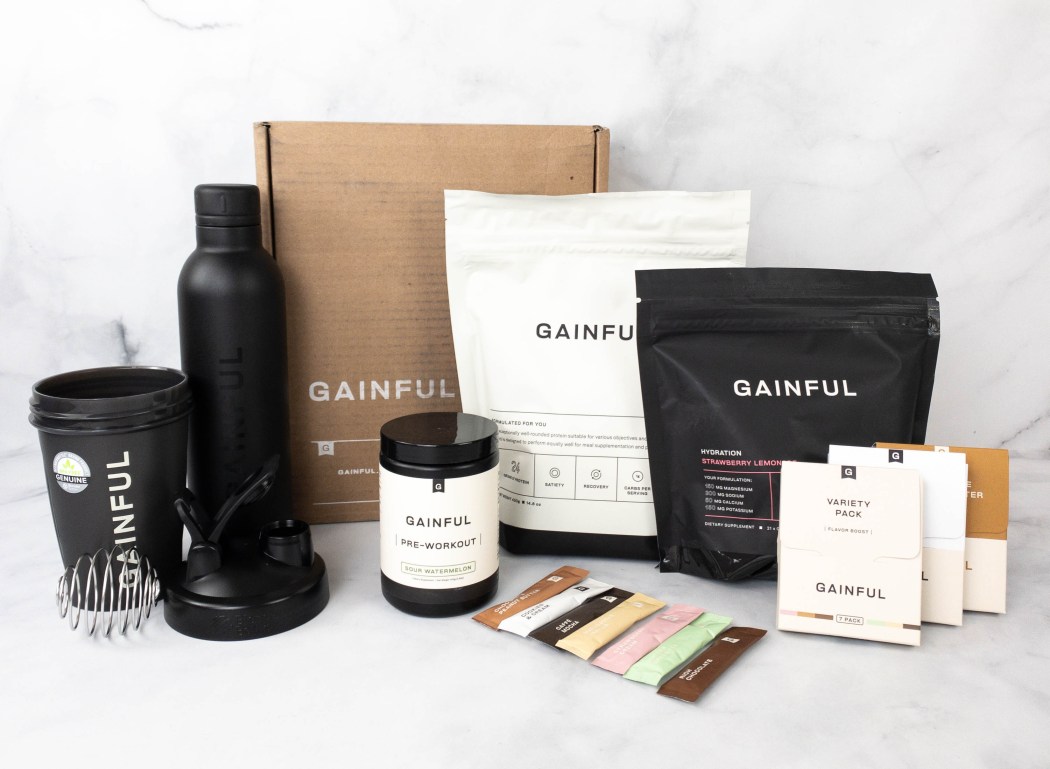 Image from: our review
What You Get: Take your daily dose of protein in the form of a drink. Gainful aims to empower individuals to feel pride in attaining their goals. Rest assured, they will provide a supplement containing the finest ingredients tailored specifically for you. Every protein blend they make is customized to every client's body type, allergy restrictions, lifestyle, and goals. They will also give you the power to choose a different flavor for every scoop of personalized protein. Subscribers can also have free, one-on-one access to their very own Registered Dietitian to answer all of their queries about fitness and goals.
Read the Gainful Reviews to know more!
Price: Get the subscription for $45, and your plan will renew every 28 days at the price of $39.00.
Deal: Get $10 off your order! Use coupon code SAVE10.
---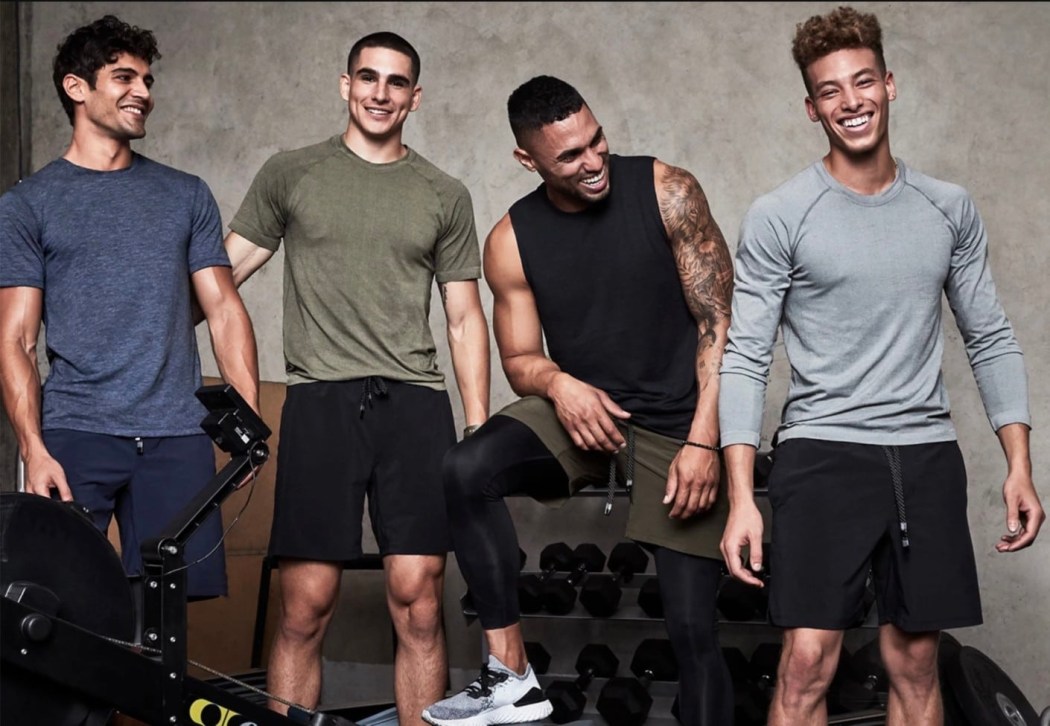 Image from: Fabletics Men
What You Get: Find premier workout pieces for men through Fabletics Men. Choose from one of their suggested looks, try your own picks or skip a month. Sign up and unlock VIP exclusive collections at 50% off all day, every day! As a member, you have early access to new launches, and you can even receive free gear and more! You can return or exchange your new gear if you're not totally satisfied.
Read our Fabletics Men Reviews to find out more!
Price: You can subscribe for $54.95 per month.
---
Image from: The Barbell Box
What You Get: The Barbell Box is designed to elevate your training sessions!  This fitness subscription box curates supplements along with fitness gear for you to try, and each box will feature a new theme. To further support your fitness journey, subscribers will also receive workouts developed by qualified contest prep coaches, supplement plans, recipes, and motivational materials. A portion of all the proceeds will be donated to Canada's Right to Play.
Price: Subscriptions start at $54.99 CAD per month.
---
And that's our list of the best fitness subscription boxes! Which is your favorite?
Find more must-try subscriptions on our list of all the best subscription boxes in every category!
Say Hello to More Subscription Boxes for Healthy & Active Lifestyle!